A few years ago we went to Orlando for two weeks and, at the time, we thought it was going to be a once in a lifetime holiday. But, after the pandemic we decided to go back to Florida again and to go for three weeks – and this post will share everything we did over the course of those three weeks.
How long to go to Orlando for?
When deciding how long to go to Orlando for there are so many factors. Obviously work commitments are a big issue – you may not be able to get more than two weeks away from work. Staying for longer feels cheaper as the flights are a big part of the cost. However, the longer you go for the more spending money you'll need.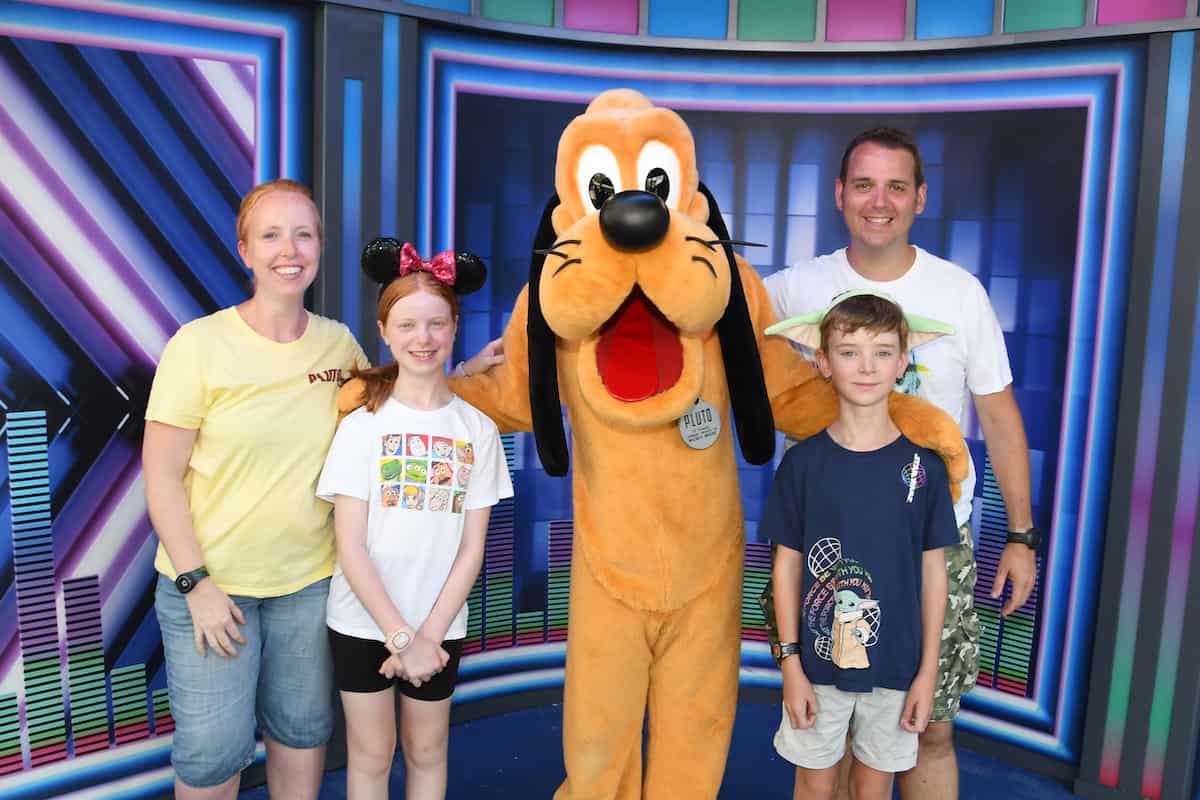 For us, with the children being older and taller, we wanted to experience much of what we did on our last trip but also go to the Universal theme parks this time. This meant we needed longer than two weeks to fit everything in. Three weeks felt like a good amount of time to go but we could have happily stayed longer – it's one trip where I doubt we'd ever feel ready to come home.
Where to stay for a trip to Orlando?
We have chosen to stay in an Orlando villa for both our trips to Florida but you may want to stay in the Disney World Resort or in the Universal Orlando Resort or even in an independent hotel in the local area. Wherever you decide to stay, your itinerary will vary in some ways and also be similar in some ways to ours.
Where to get park tickets from?
We bought most of our tickets for this trip from Orlando Attraction Tickets during their Black Friday sale. They had amazing communications, helping with even the smallest of queries, and as well as great prices they had so many special offers like free discount cards and booklets and added extras like free Gatorland tickets when you spent over a certain amount.
Do we need fast passes / Genie+ / Lightning Lane passes?
For our trip we didn't use any kind of fast passes at all aside from the free virtual queue for the Guardians of the Galaxy ride at Epcot. We used the Universal and Disney apps to keep track of ride times and planned our days around the rides we wanted to do and what had the lowest queue times. We decided early on that we didn't want to queue for longer than an hour for any ride.
There were a couple of big name rides we didn't get on but we didn't mind too much – if you really want to get on certain rides and don't want to queue then fast passes may be a better option for you.
Eating in Orlando
One thing to bare in mind with our itinerary is we didn't eat out very much at all. We wanted to keep costs down and one way we could do that was by eating in our villa as much as possible. So, we had breakfast in the villa, took snacks to eat during the day at parks and then mainly had dinner at the villa at whatever time we got back. But we did have treats most days like ice cream, dole whip or loaded fries. We had a good balance with food over our holiday.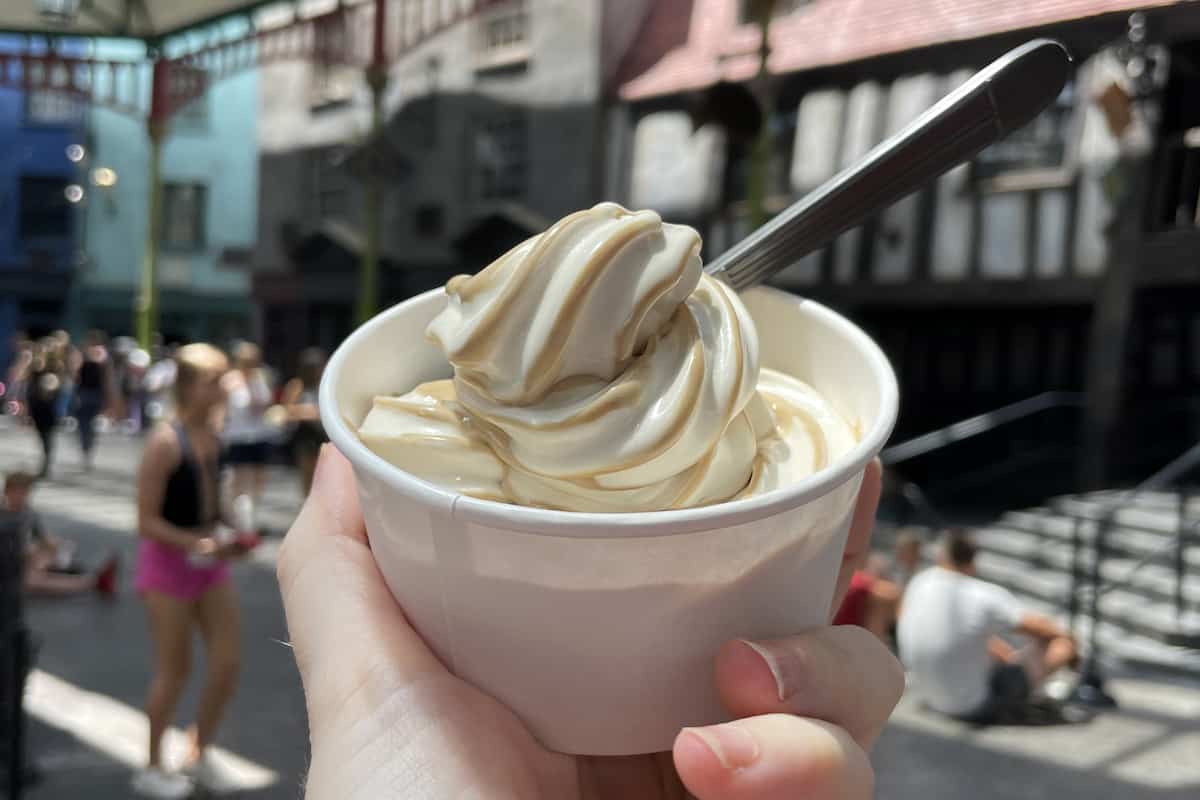 Our 3 Week Orlando Itinerary
Day 1 – Fly to Orlando – Pick Up Car – Get Food Shop
Our first day in Orlando will always be the same. Arrive at the airport, get our bags together, pick up the car and find our villa, picking up a grocery shop on the way. We also picked up an Orlando Visitor Toll Pass from the airport this time which made going through tolls so much easier, We also had a Walmart at the entrance to the resort we were staying on which was super handy.
Day 2 – Universal Studios Florida
We kicked off our holiday with Universal Studios. We had bought two week park hopper tickets and decided to use them straight away as we'd never been to a Universal park before and didn't know what to expect. Then, if we needed more or less time at the Universal parks we could factor it into the holiday later.
We ended up doing much of Universal Studios on this first day. We kicked off with ET Adventure and Men in Black: Alien Attack before going on The Simpsons Ride and Transformers the Ride 3D. We also saw The Tales of Beedle the Bard, The Blues Brothers and the Animal Actors on Location shows.
Day 3 – Magic Kingdom
The next day took us to the Magic Kingdom theme park and our first Disney day. The Disney tickets we had were 14 day tickets but they allow you to use them on 15 days through an 18 day window so we had Disney access for the majority of our time in Florida.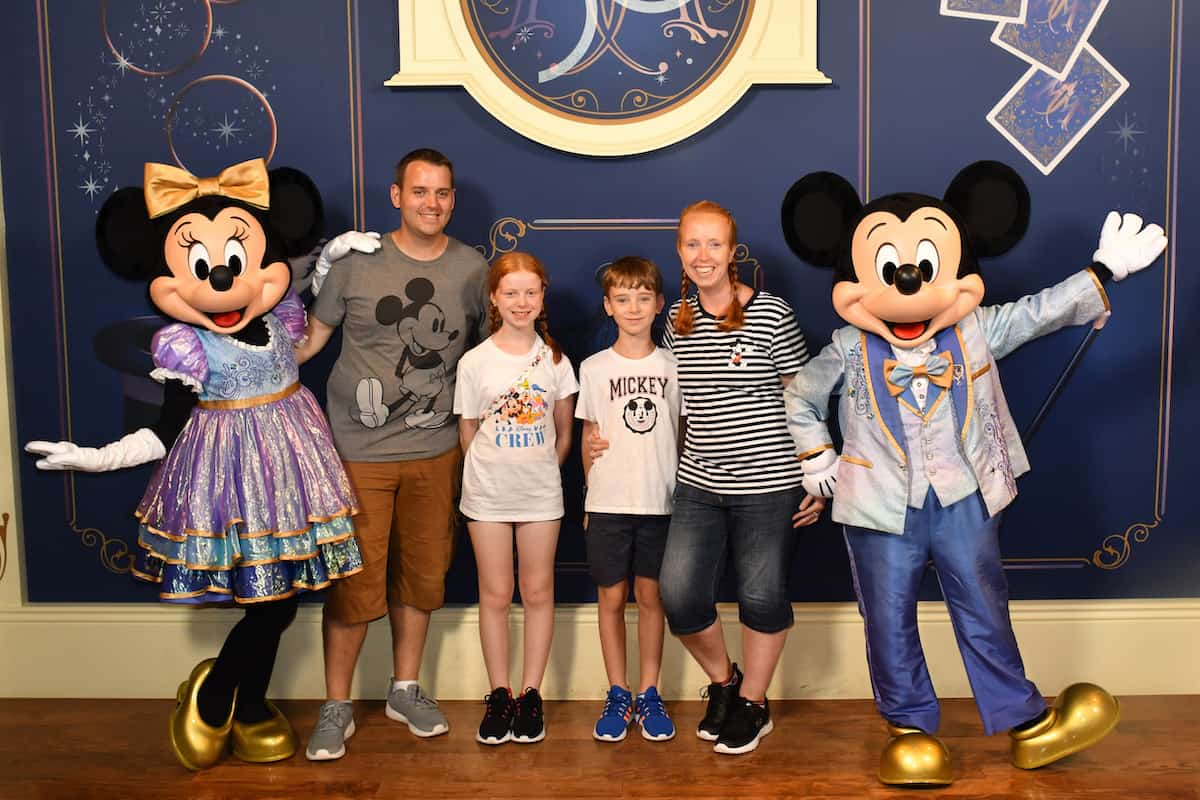 We managed to get on Big Thunder Mountain Railroad, Buzz Lightyear's Space Ranger Spin, It's a Small World, Pirates of the Caribbean, Tomorrowland Speedway, Tomorrowland Transit Authority People Mover and Under the Sea: Journey of the Little Mermaid.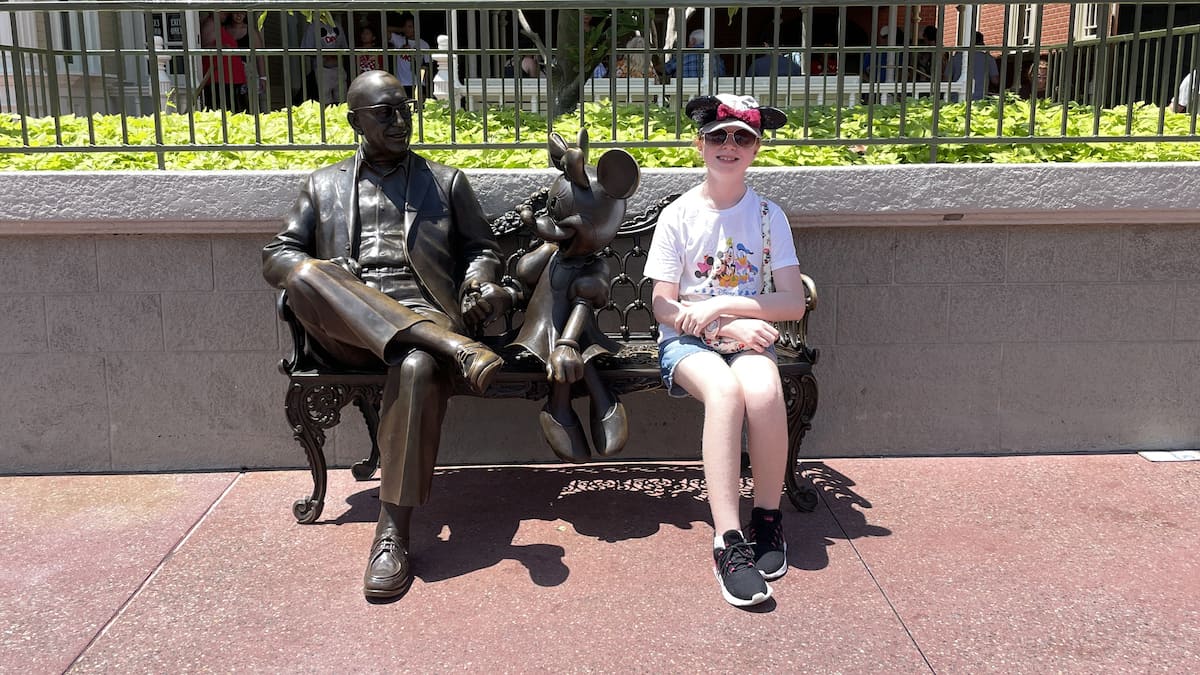 We also saw the Dapper Dans, Mickey's Philharmagic, Monsters Inc Laugh Floor and the Enchanted Tiki Room. We met so many characters too and a big part of our time at Disney World was spent looking for golden statues and interacting with them using our Magic Bands – the new plus ones are great!
Day 4 – Animal Kingdom
We ended up only being at Animal Kingdom until about 2pm as a thunderstorm came and showed no sign of moving. But, we still managed to go on Expedition Everest, Kali River Rapids and Na'vi River Journey plus we saw the It's Tough To Be a Bug show – which was great but really not for anyone who has any bug phobias!
Day 5 – Hollywood Studios – Savi's Workshop
The next day took us to Hollywood Studios mainly to build a lightsaber at Savi's Workshop that we'd booked before we left the UK. It's not a cheap experience but a fantastic one that the children loved.
We managed to go on Smuggler's Run before we went to Savi's Workshop and afterwards we took the lightsabers back to the car before carrying on with our day. We went on Star Tours and Tower of Terror which I think scarred LP for life! And we saw the Indiana Jones Epic Stunt Spectacular, Muppet Vision 3D and Vacation Fun shows as well as meeting lots of characters,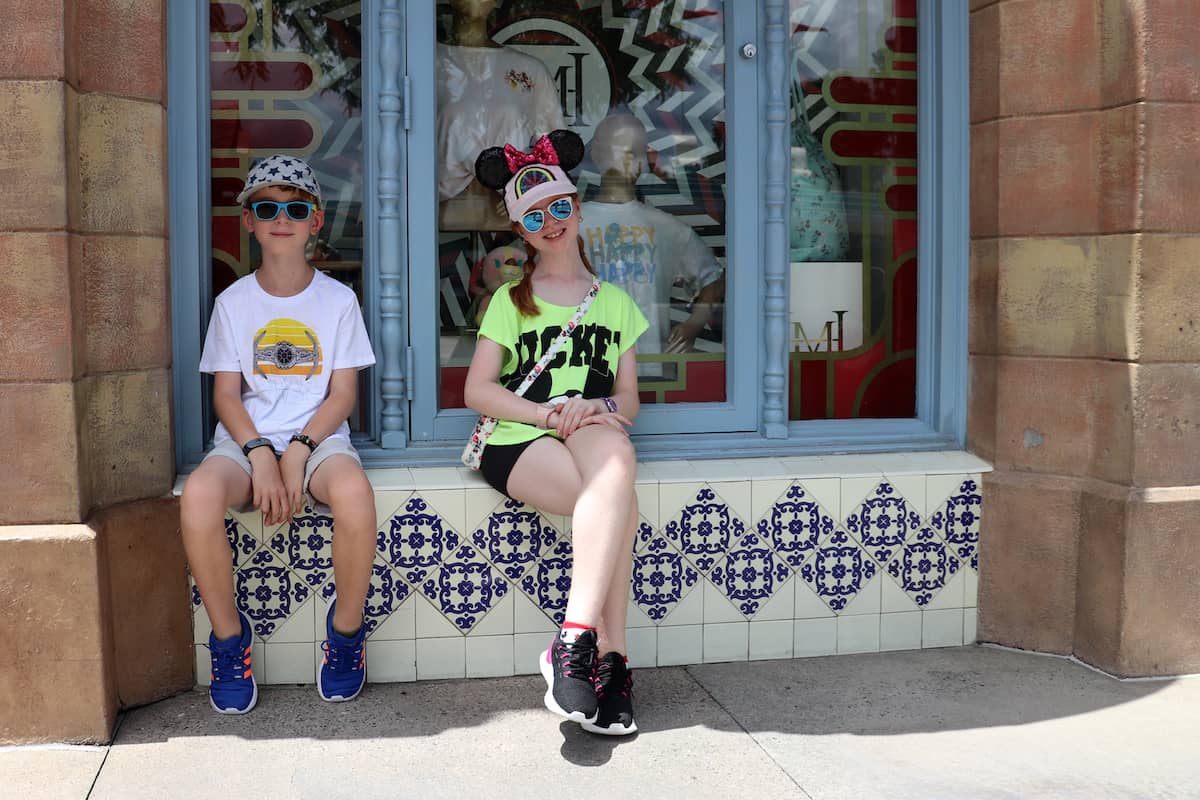 Day 6 – Islands of Adventure
We had our first experience of Universal's Islands of Adventure park which was fantastic. We went on the Jurassic Park River Adventure, Harry Potter and the Forbidden Journey, Popeye and Bluto's Bilge-Rat Barges – where we got absolutely soaked, much wetter than any other water ride! Then there was Skull Island: Reign of Kong and Poseidon's Fury. We did also go to the Triwizard Spirit Rally but it ended up being a photo opportunity rather than an actual show.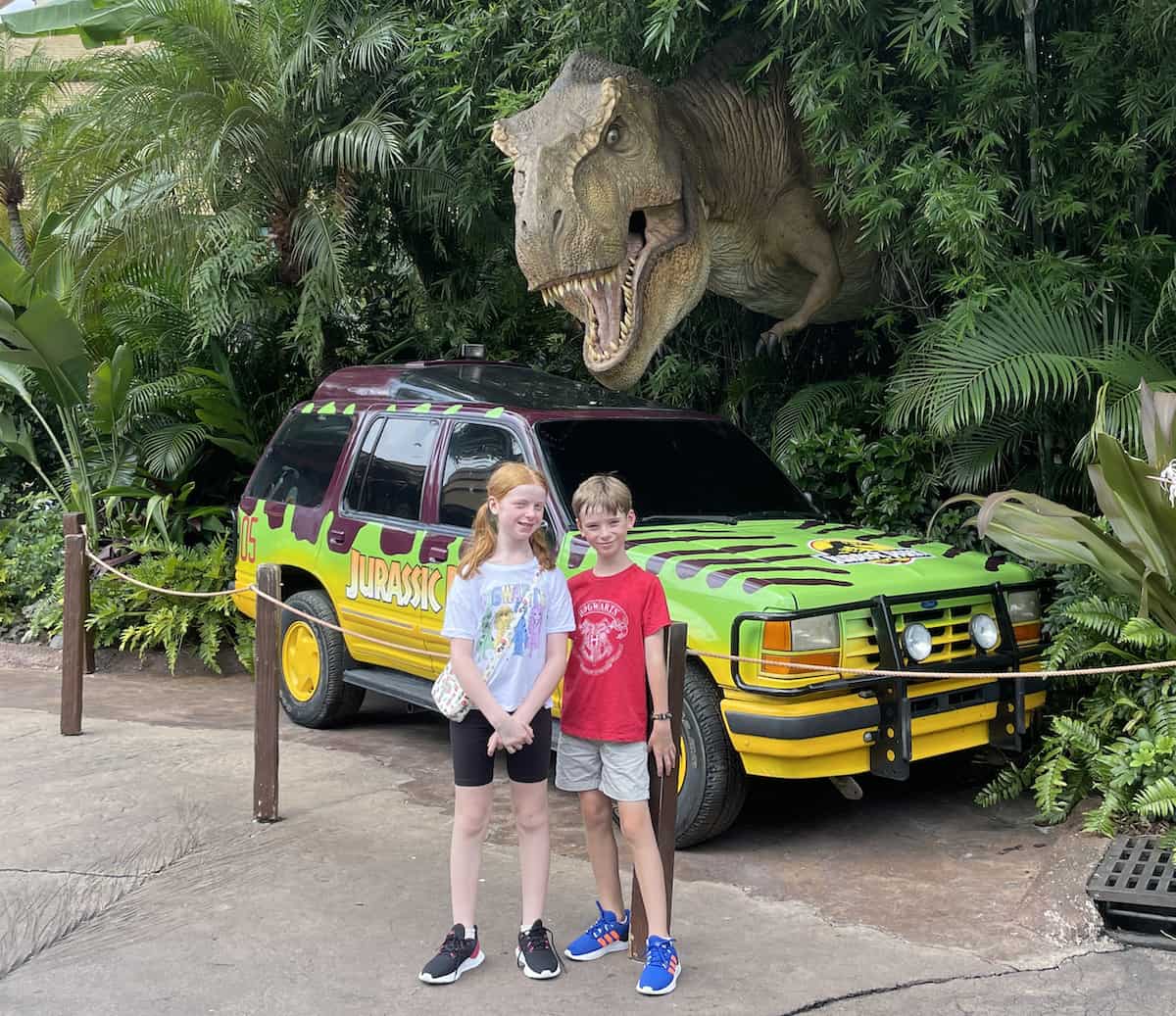 Day 7 – Epcot
Our first day at Epcot ended up being another day that we left early due to the weather. But, we still managed to meet lots of characters and go on the Soarin' Around the World, Gran Fiesta Tour Starring the Three Caballeros, Living with the Land, Turtle Talk with Crush, The Seas with Nemo and Friends and Guardians of the Galaxy: Cosmic Rewind which, in Little Man's words, was epic! Such a great ride.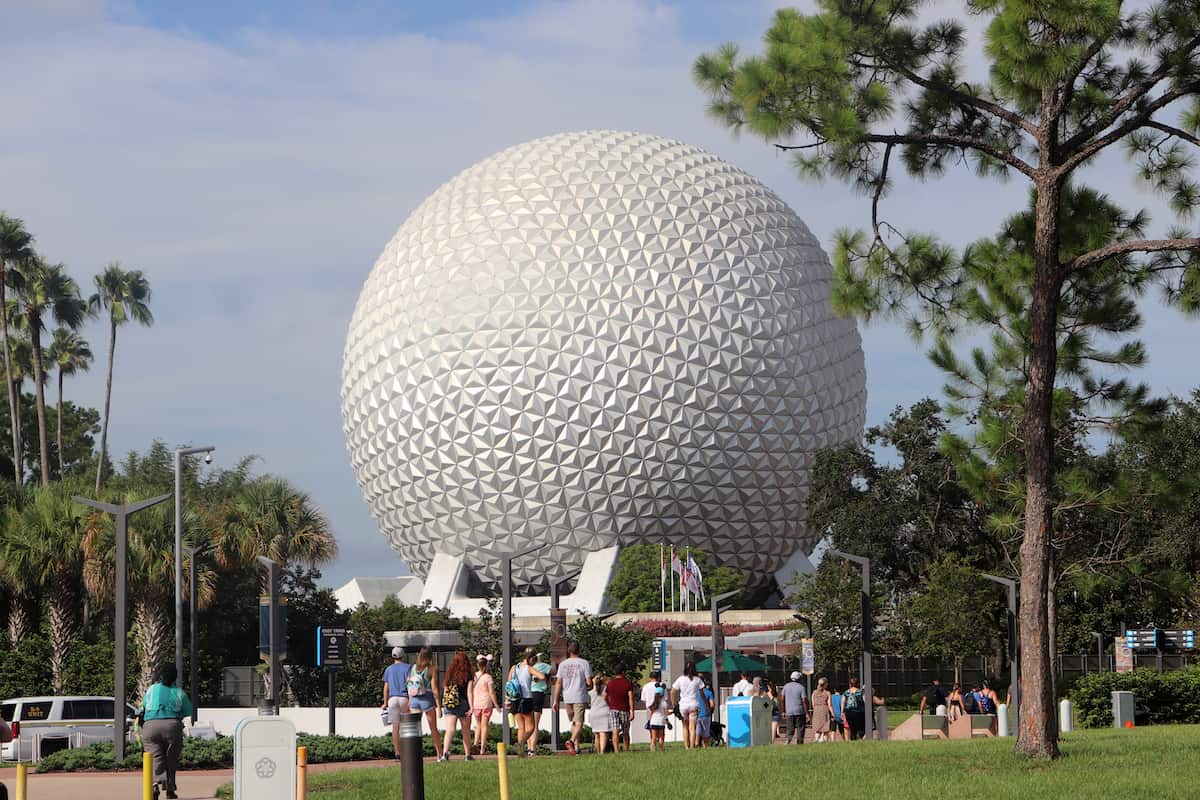 Day 8 – Typhoon Lagoon – Denny's – Magic Kingdom & Fireworks
After a whole week of back to back Orlando theme parks we wanted a slower pace so decided to spend the morning at Disney's Typhoon Lagoon. It was super busy and really hot with very little shade unless you rented a parasol or cabana but we really enjoyed the wave pool and the couple of water slides we went on.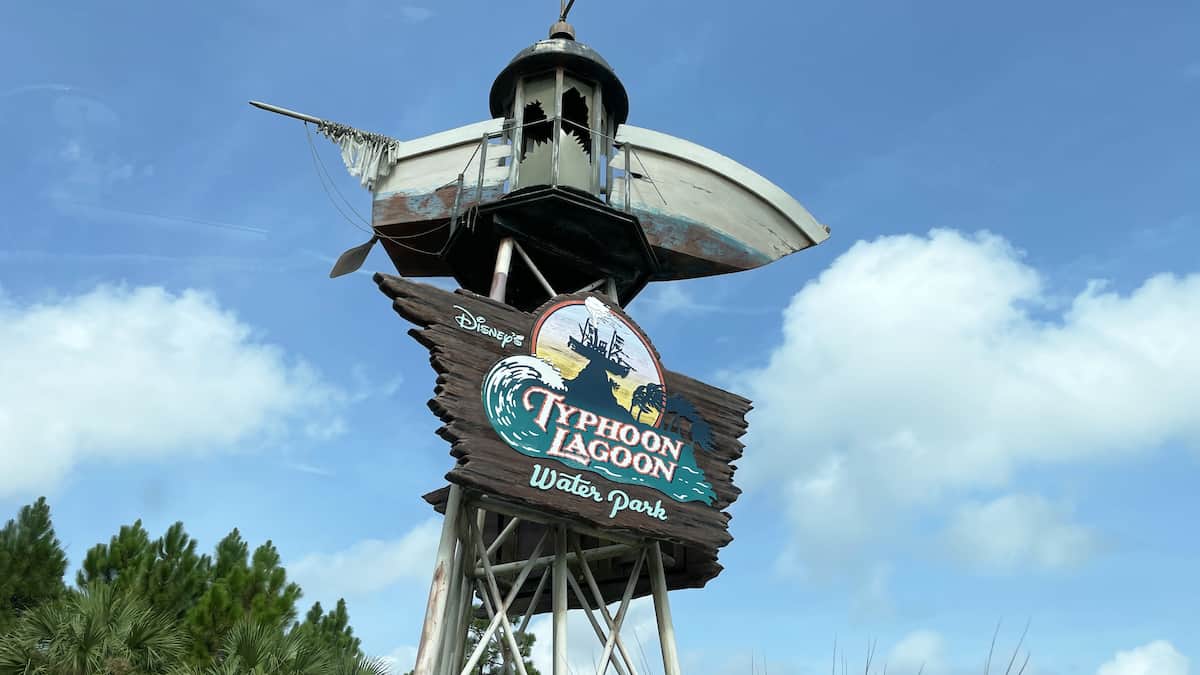 We had Denny's for an early dinner/late lunch and then went to the Magic Kingdom park for the rest of the day with the aim of staying for the fireworks. We went on Splash Mountain and Jungle Cruise plus saw the Country Bear Jamboree which has to be one of the weirdest, creepiest things we have ever seen! We also tried to go on Carousel of Progress but after ten minutes someone tried to exit the theatre, even though we were told we couldn't for the duration of the experience, and it broke the ride.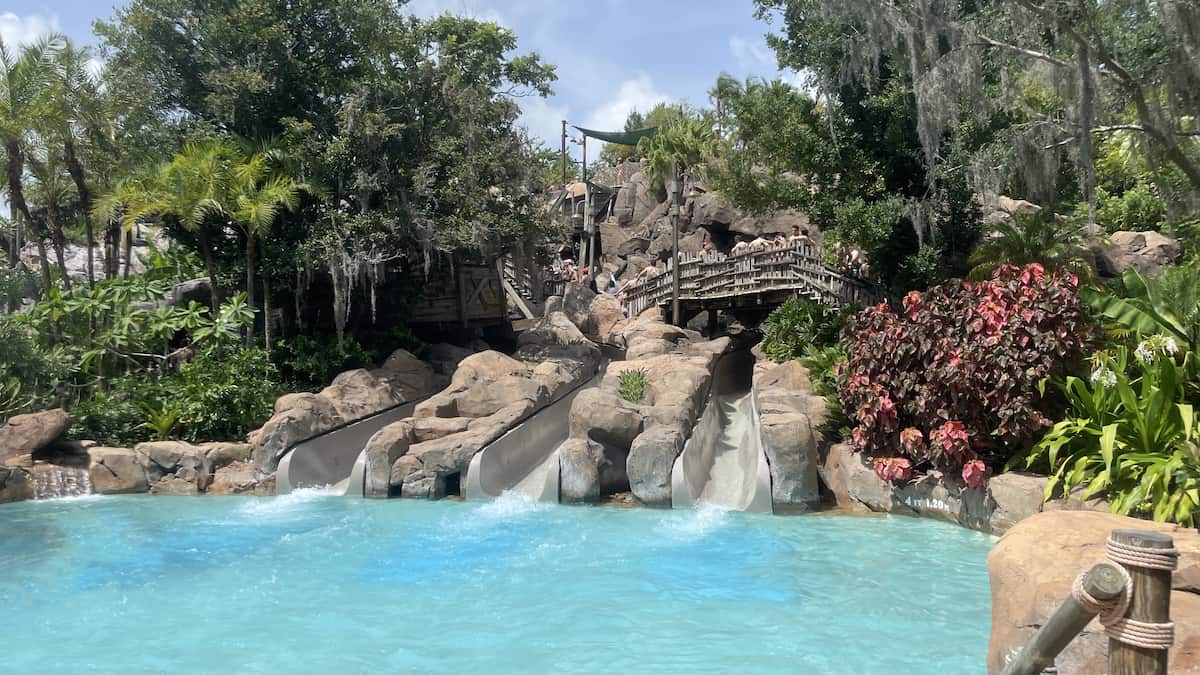 The Disney Enchantment fireworks were amazing. With characters and scenes projected onto the castle, colours changing constantly and fireworks and music that complimented each other beautifully. It was a lovely end to the day – but incredibly busy trying to get out of the Magic Kingdom afterwards!
Day 9 – Old Town Kissimmee – Celebration – Museum of Illusion – ICON Wheel – Titanic Exhibition
We had our first non theme park day but did so much instead. We started off in Old Town Kissimmee where we pottered around the shops and went on the iconic ferris wheel before heading to Celebration for an ice cream, a walk along the lake, a look in the shops and a play in the water fountains. It's a lovely place to spend time.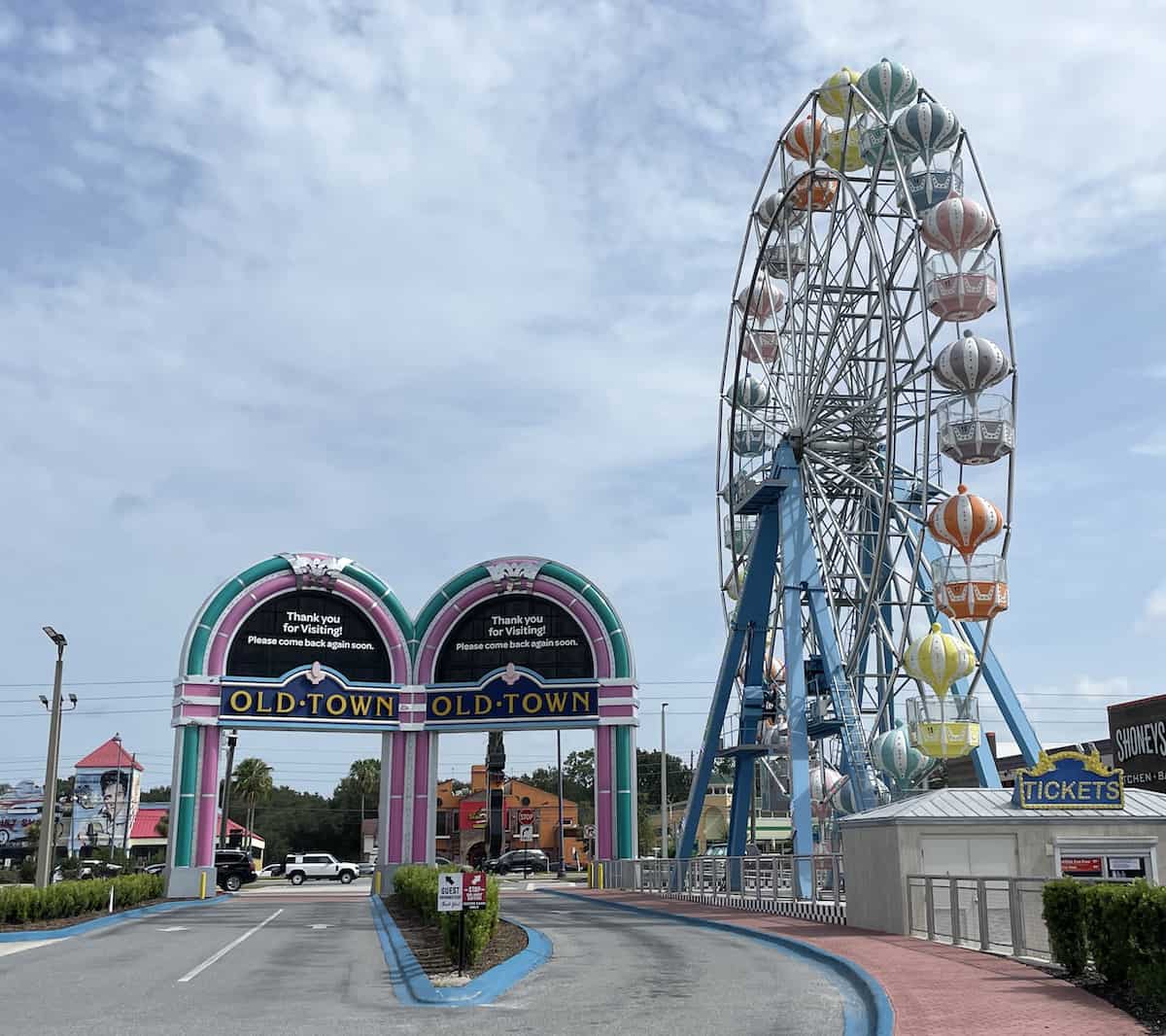 We then headed to ICON Park and went in the Museum of Illusions which was great fun and something a little different. We also went on the ICON Wheel and looked round the shops and finished up with the Titanic Exhibition on International Drive which was really educational – and really well air conditioned too!
Day 10 – Universal
We decided we only needed one more day at Universal, spent across the two parks, to experience everything else. Sso we started our day at Universal Studios where we went on the Hollywood Rip Ride Rockit, Fast and the Furious Supercharged, Race Through New York with Jimmy Fallon and saw the Bourne Stuntacular which was one of the best things we have ever seen! On the flip side, we went on Harry Potter and the Escape from Gringotts and found it really disappointing. It really wasn't worth the queue time.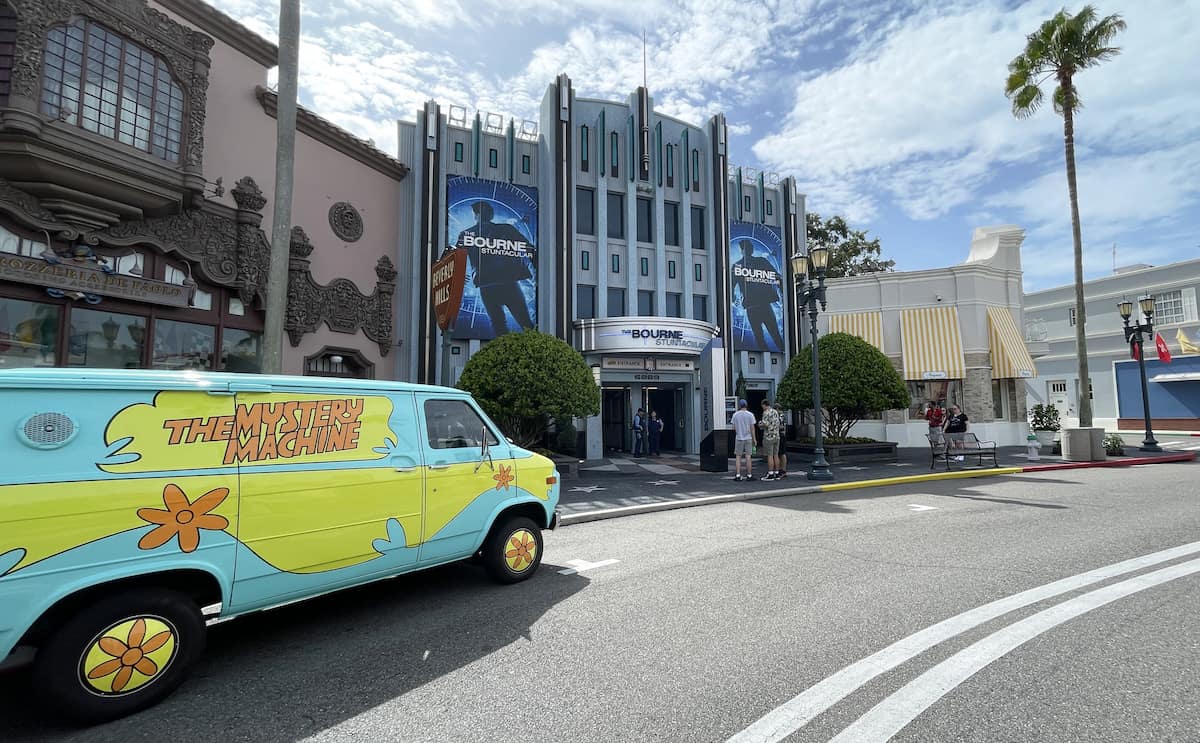 We then hopped on the Hogwarts Express over to Islands of Adventure where we went on the Jurassic World VelociCoaster, Dudley Do-Right's Ripsaw Falls and the Amazing Adventures of Superman. The rides at Universal were some of the best we have ever been on.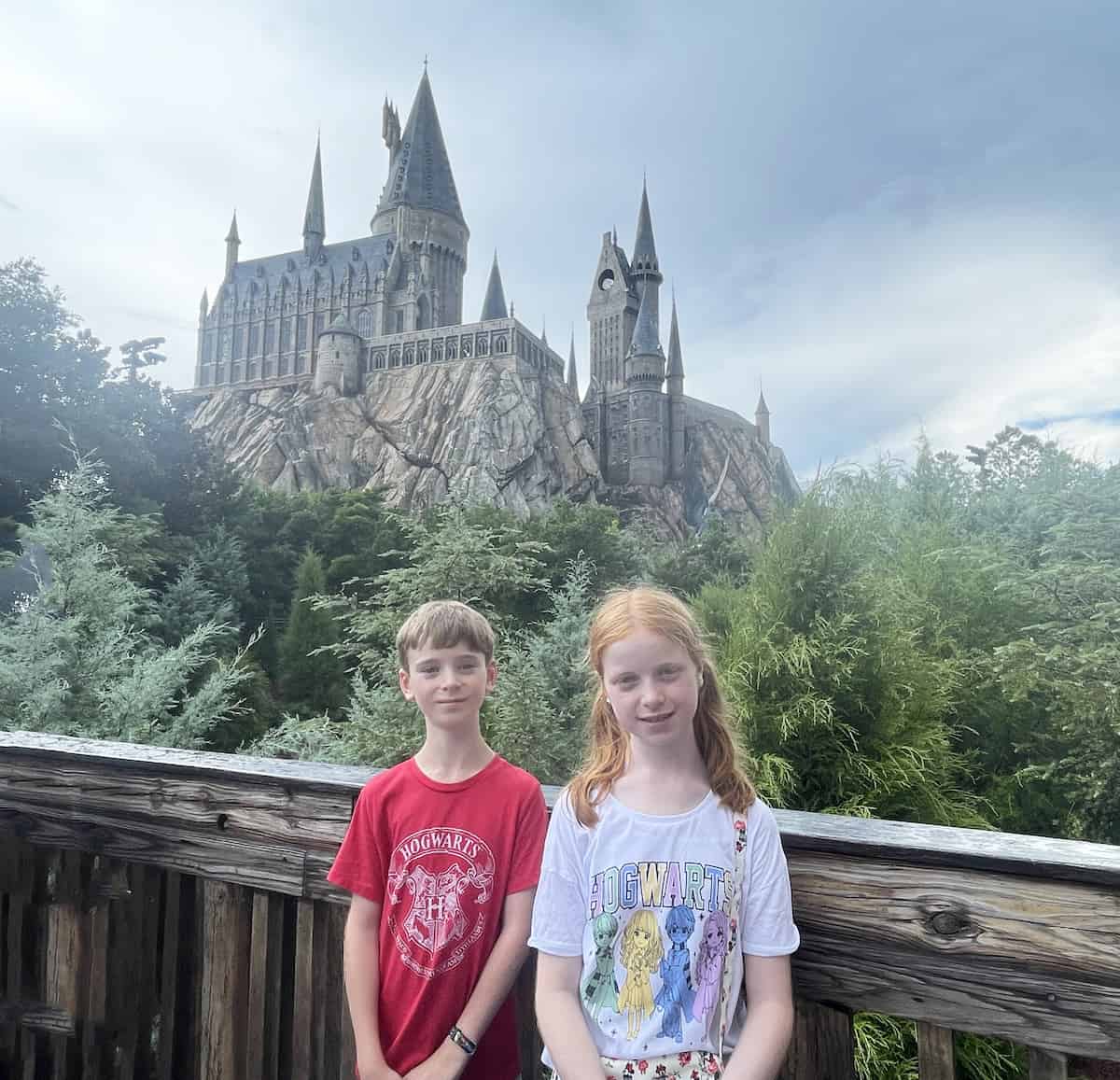 Day 11 – Kennedy Space Centre
One of our favourite days is the Kennedy Space Center. We worked through a child friendly itinerary, seeing the Heroes & Legends exhibition and U.S. Astronaut Hall of Fame, exploring Gateway: The Deep Space Launch Complex and doing the Kennedy Space Center Bus Tour including Apollo/Saturn V Center. We saw Space Shuttle Atlantis and did the Shuttle Launch Experience. It was a busy but amazing day.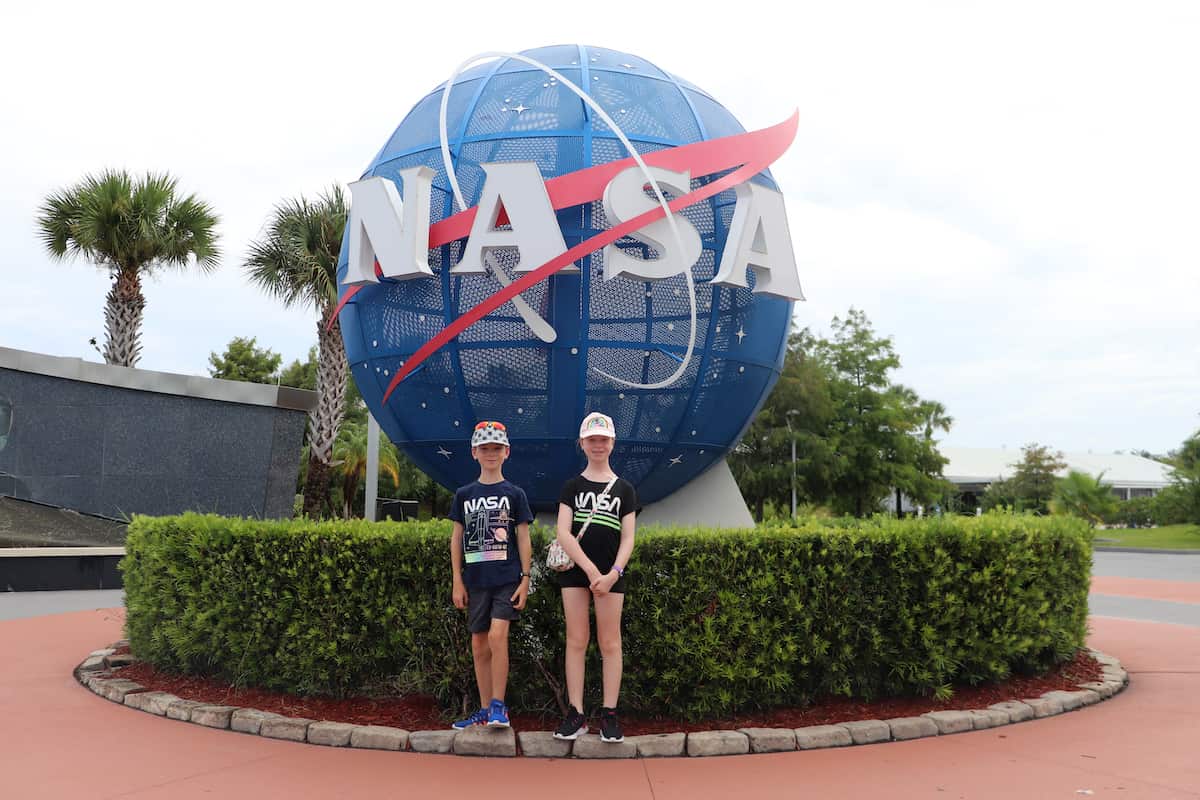 On the way home we went to IHOP for dinner and weren't impressed. The portion sizes were really small compared to typical US standards and the service was definitely lacking. We much preferred our Denny's experience.
Day 12 – Villa Morning – Hollywood Studios
By this point in the holiday we felt like we needed some down time so we spent the morning at the villa, swimming, reading, relaxing and making plans for the rest of our break.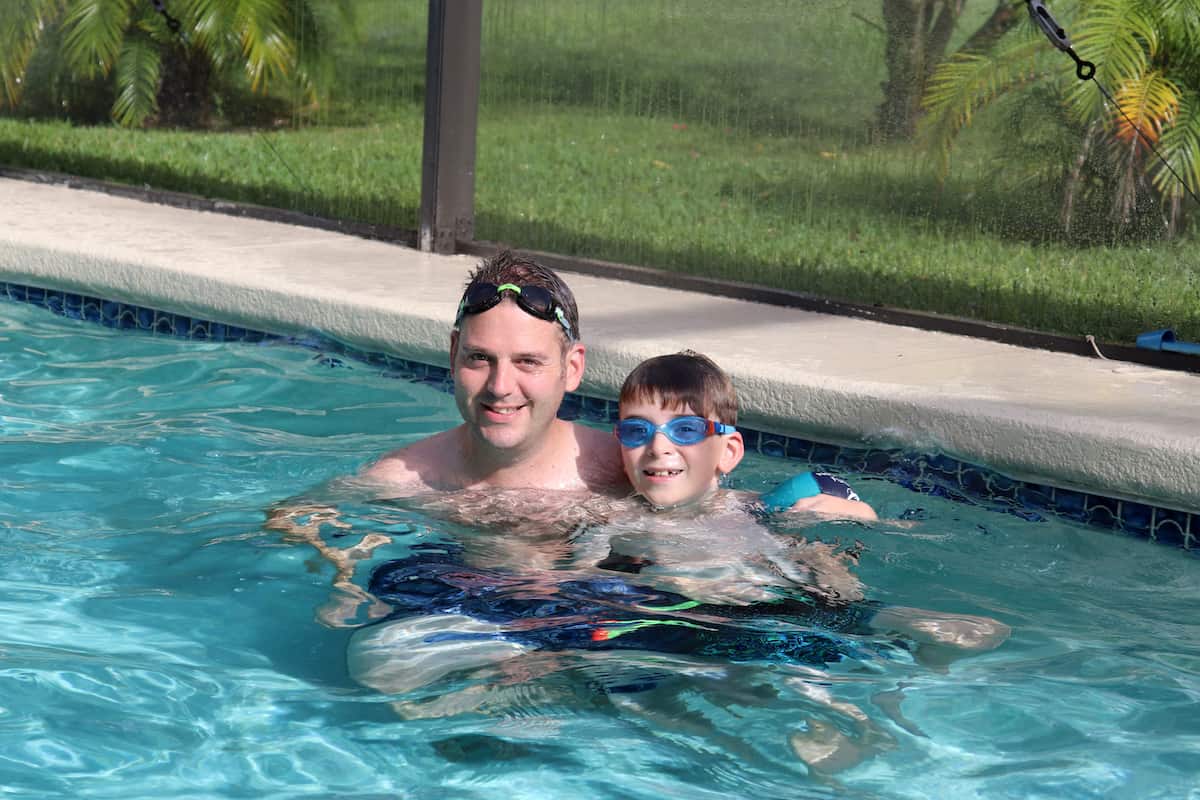 We then went to Hollywood Studios in the afternoon and grabbed a McDonalds on the way – and I had no idea how expensive McDonalds in America is. We easily spent £40 on four medium meals! We did go to McD at other times but just for drinks.
At Hollywood Studios we went on Mickey and Minnie's Runaway Railway which was a fantastic ride. We went on Slinky Dog Dash and although we enjoyed it we didn't think it was worth the queue time and we had an unsuccessful attempt at going on Rise of the Resistance – it broke halfway through and didn't reopen that day. It's one ride that just breaks all the time.
We also saw Lightning McQueen Racing Academy and Beauty and the Beast Live on Stage which were both fantastic and we stayed for the Wonderful World of Animation evening light and firework show which was amazing – I found it quite emotional. A journey through the whole world of Disney.
Day 13 – Legoland
Another favourite day out for us is Legoland Florida. It has a few similar aspects to Legoland Windsor but is a great day out in it's own right with so many bigger, better rides and an incredible water based pirate show. It's also very quiet on weekdays in August after Florida schools go back so you can go on rides again and again without queuing.
Day 14 – Seaworld – Dining with Orcas
We went to Seaworld for the day but added on a Dine with Orcas lunch experience that was fantastic. It cost about £100 for the four of us and gave us a really nice lunch that we enjoyed whilst watching the orcas have some of their down time, do a few tricks and interact with their trainers.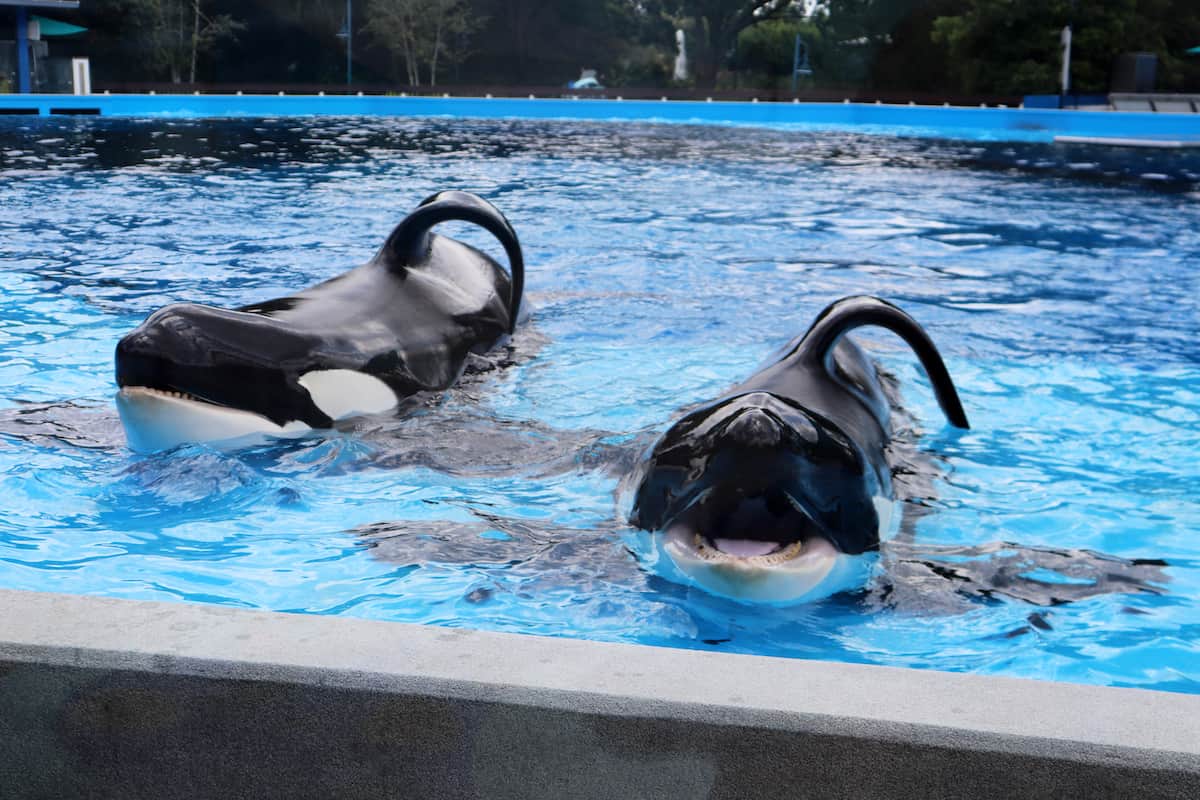 As well as the experience, we saw the orca, dolphin and sea lion shows that were all fantastic and went on most of the rides. Ice-Breaker, Mako, Kraken and Manta were great rolelrcoasters!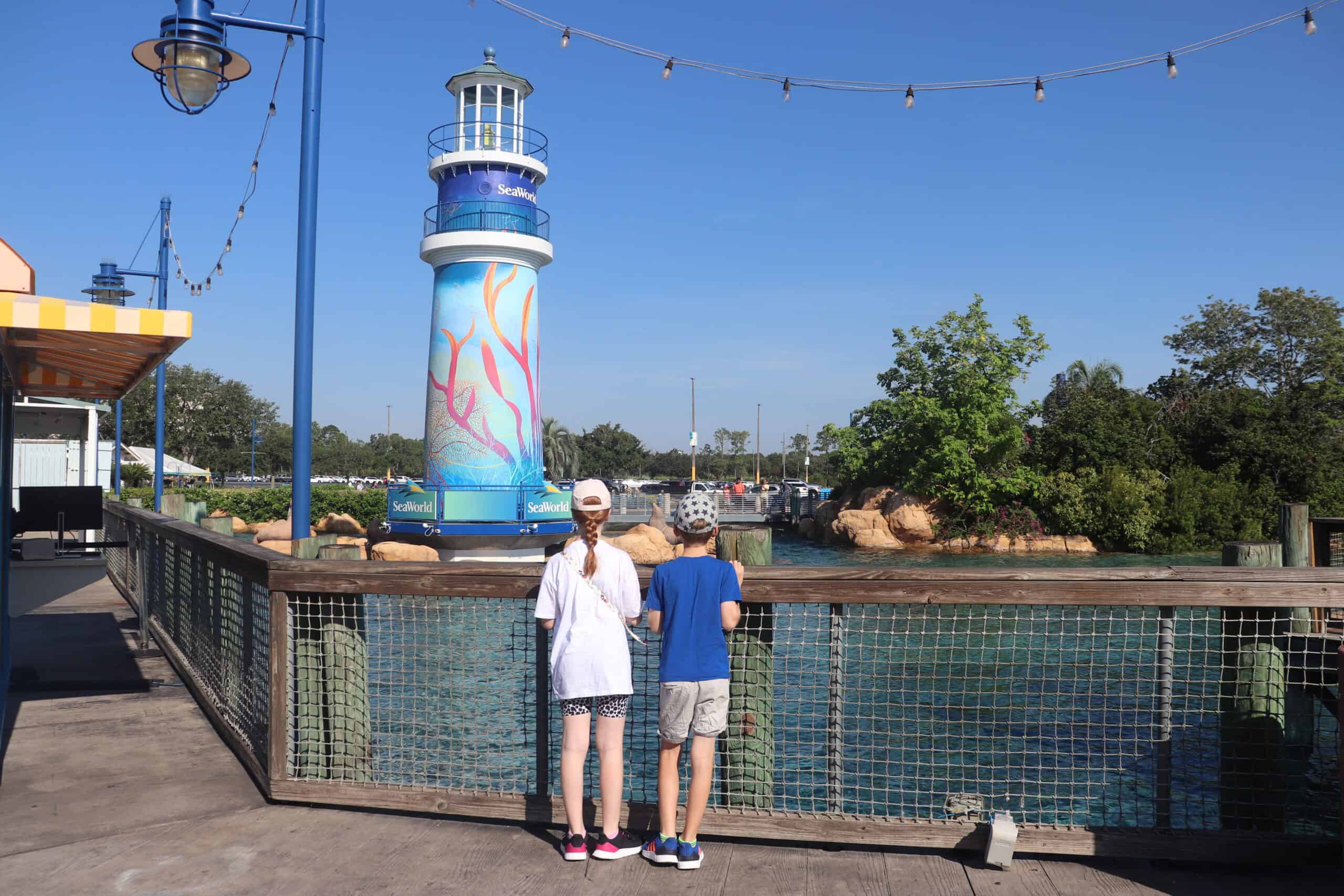 Day 15 – Discovery Cove
Another highlight for us was our day at Discovery Cove. We bought a premium dolphin swim package that came with 14 days access to Seaworld, Busch Gardens and Aquatica including free parking which ended up being great value. We all did the dolphin swim and Dave and LP did Seaventure too, an experience they'll always remember.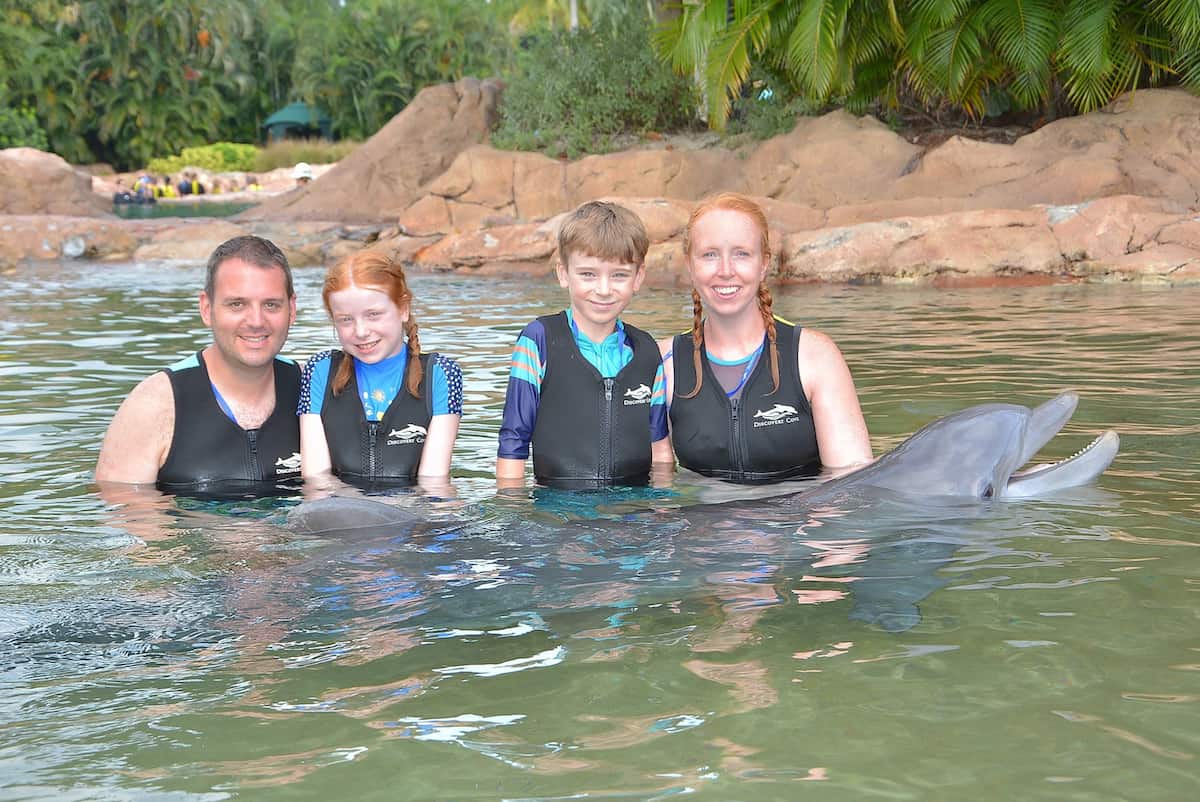 Day 16 – Busch Gardens Tampa
Our first experience of Busch Gardens wasn't the best as all the ride stopped at 1:30pm due to storms and, as it's in Tampa, it's a long way to go just for a couple of hours. We did manage to go on a few rides – Iron Gwazi, Cheetah Hunt, Cobra's Curse, Montu and we all went on the Serengeti Express that was a great way of seeing the animals!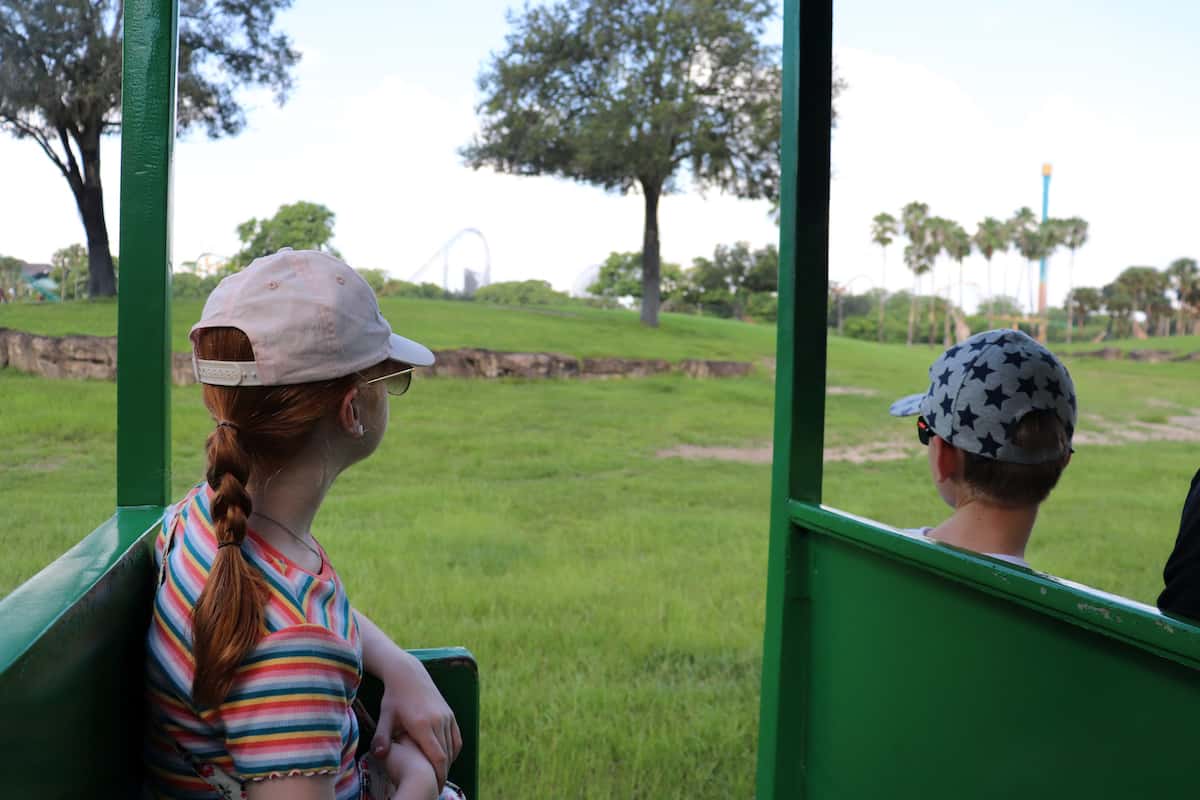 Day 17 – Aquatica – Disney Springs
We went to the Aquatica water park for the day to have some down time and absolutely loved it. It was so much better than Typhoon Lagoon, with plenty of sunloungers, shade that you didn't have to pay for and loads of different rides and attractions for all ages.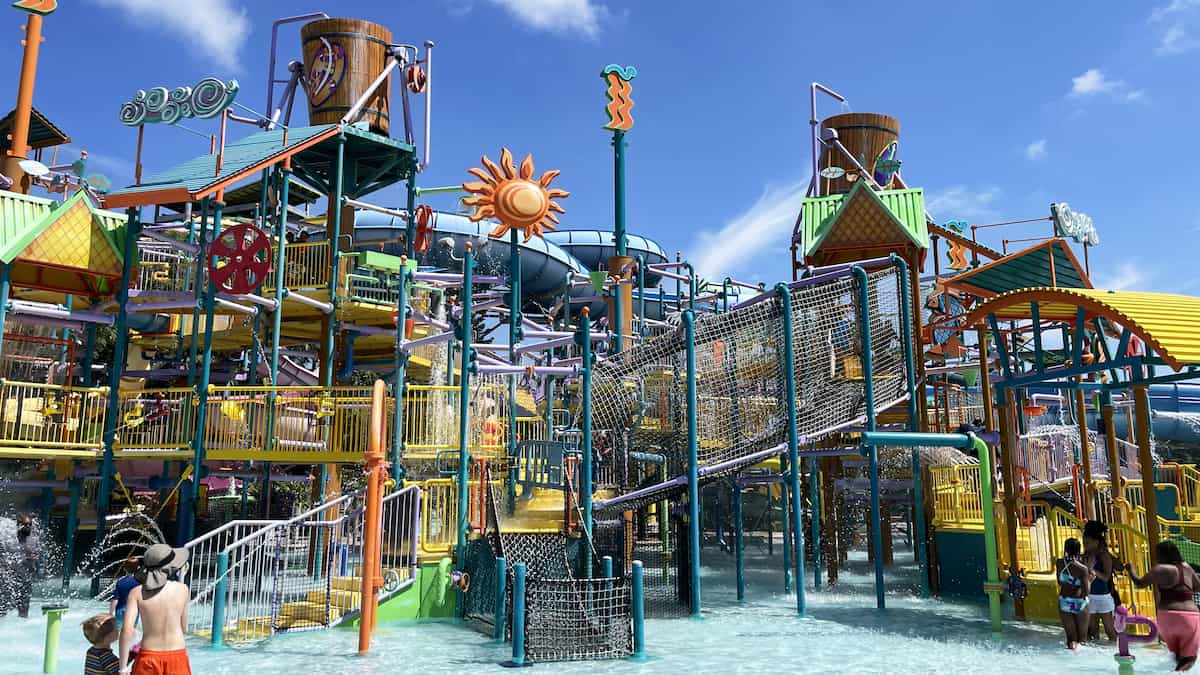 On the way home we went to Disney Springs to do some shopping and did the Coca Cola Around the World experience which was fun. I think we all decided we mainly like traditional coke brands and not ones from other countries!
Day 18 – Magic Kingdom – Animal Kingdom
We spent a day split between Magic Kingdom and Animal Kingdom, meeting the last few characters and doing the last few rides we wanted to do before the end of our trip. We went on Astro Orbiter, The Barnstormer, Buzz Lightyear's Space Ranger Spin and Space Mountain which was so much clunkier than I remembered!
Over at Animal Kingdom we went on Dinosaur that we all thought was super scary and we saw the Festival of the Lion King and Finding Nemo: The Big Blue and Beyond shows which were both phenomenal. We also went on the Kilimanjaro Safaris ride that is one of our favourites.
Day 19 – Lake Eola – Winter Park & Boat Ride – Mead Botanic Garden – Dog Man: The Musical
The next day was completely different for us. We started by visiting Lake Eola park in downtown Orlando where we hired a swan pedalo for half an hour. This was a great experience but it was baking hot. Definitely visit early in the day if you're there over the summer like us.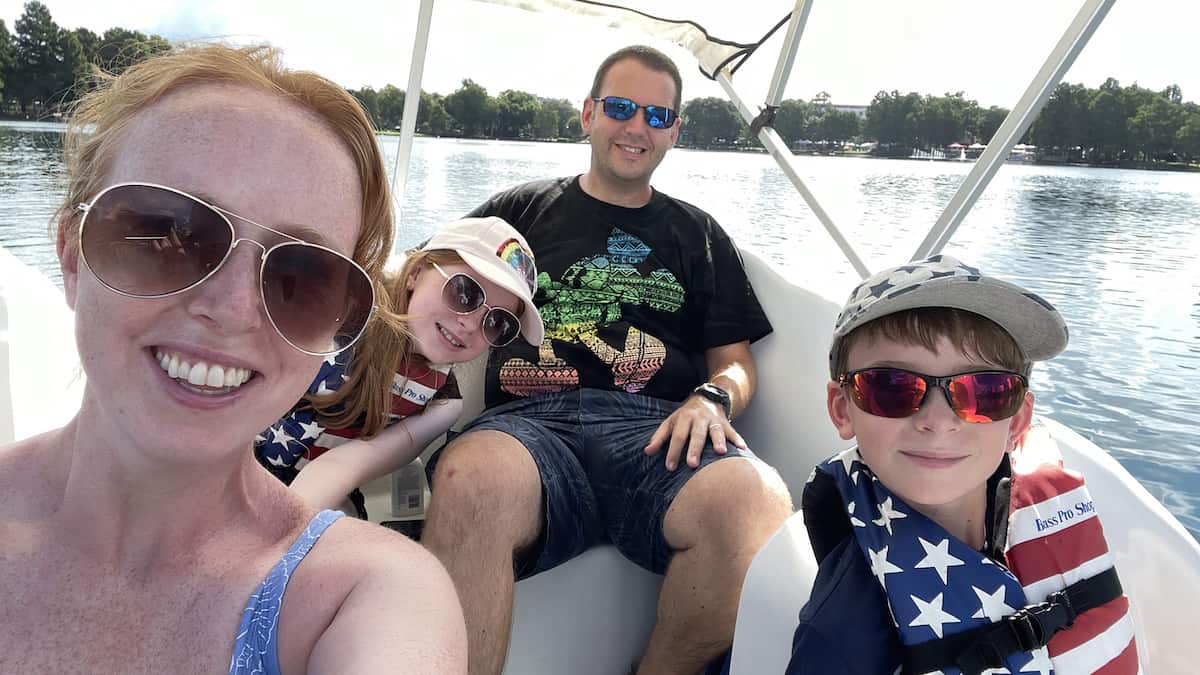 We wandered through the farmers market and grabbed an ice treat before heading over to Winter Park where we did the Scenic Boat Ride – one of the oldest attractions in Orlando. It was a lovely way to spend an hour and afterwards we wandered around Winter Park and got an ice cream. It's a lovely area to spend time in.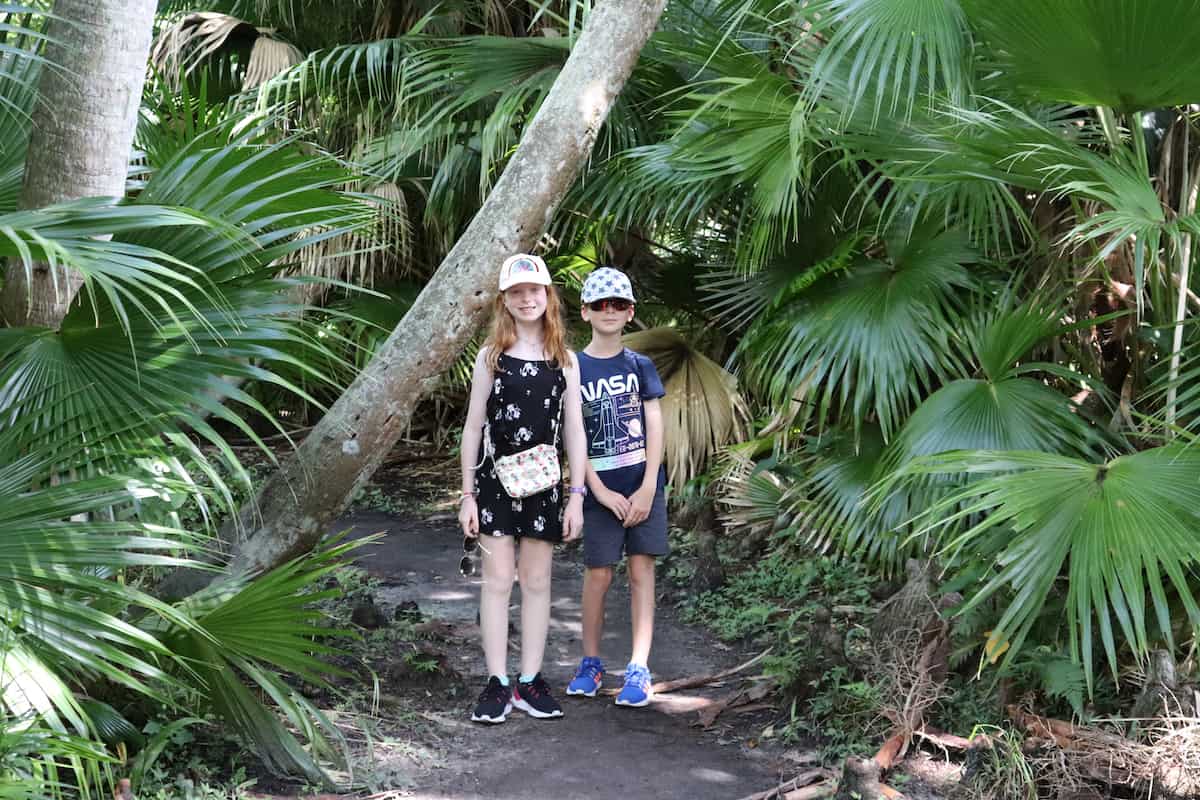 Next, we drove to Mead Botanic Garden for a wander before going to Culvers for dinner. We absolutely love their burgers and the kids meals are great value. The frozen custard is delicious! Then it was time for a special treat – Dog Man at the Orlando Repertory Theater. It was something different that the children absolutely loved.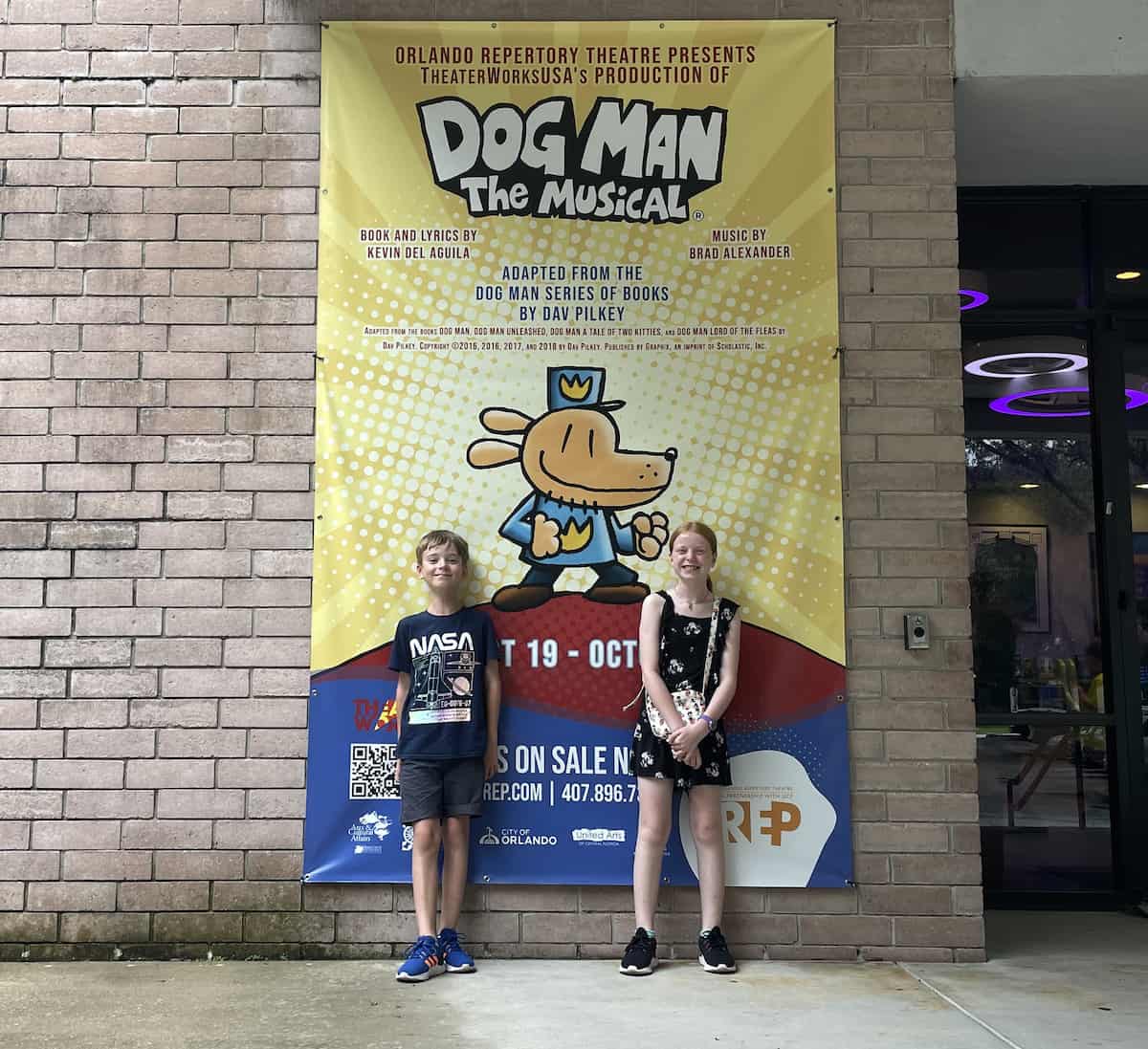 Day 20 – Hollywood Studios – Epcot
We spent our last Disney day split between Hollywood Studios and Epcot. At Hollywood Studios we managed to do Rise of the Resistance – and it was worth the wait! We also went on Star Tours again and loved that it was a different tour – we hadn't realised that each pod you go in plays a different tour.
Over at Epcot we went on Spaceship Earth, Mission: Space and Remy's Ratatouille Adventure which was a really nice ride. We also explored more of the World Showcase at Epcot and met a few more characters.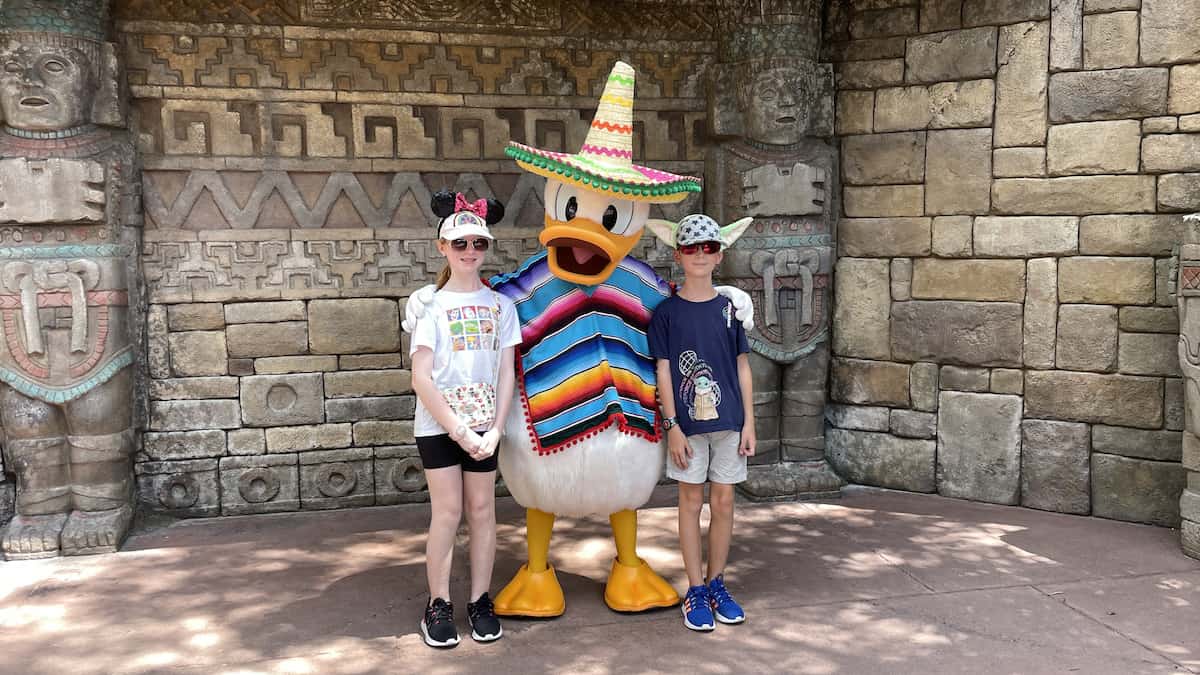 Day 21 – Gatorland – Pioneer Village – Ripley's Believe It or Not
We started our day at Gatorland and it was a nice morning out but not something I'd pay to go to again. The shows seemed really dated and once you've seen one alligator you've seen them all – although Gatorland does have other animals to see too and a nice splash park.
We then went to Pioneer Village at Shingle Creek which is a really nice living history museum with old, traditional, reclaimed and recreated buildings. It was something completely different and a nice break away from the traditional Orlando attractions.
We then spent the afternoon at Ripley's Believe It or Not which was a great way to get out of the heat or avoid a downpour. There was so much to see and many wow moments.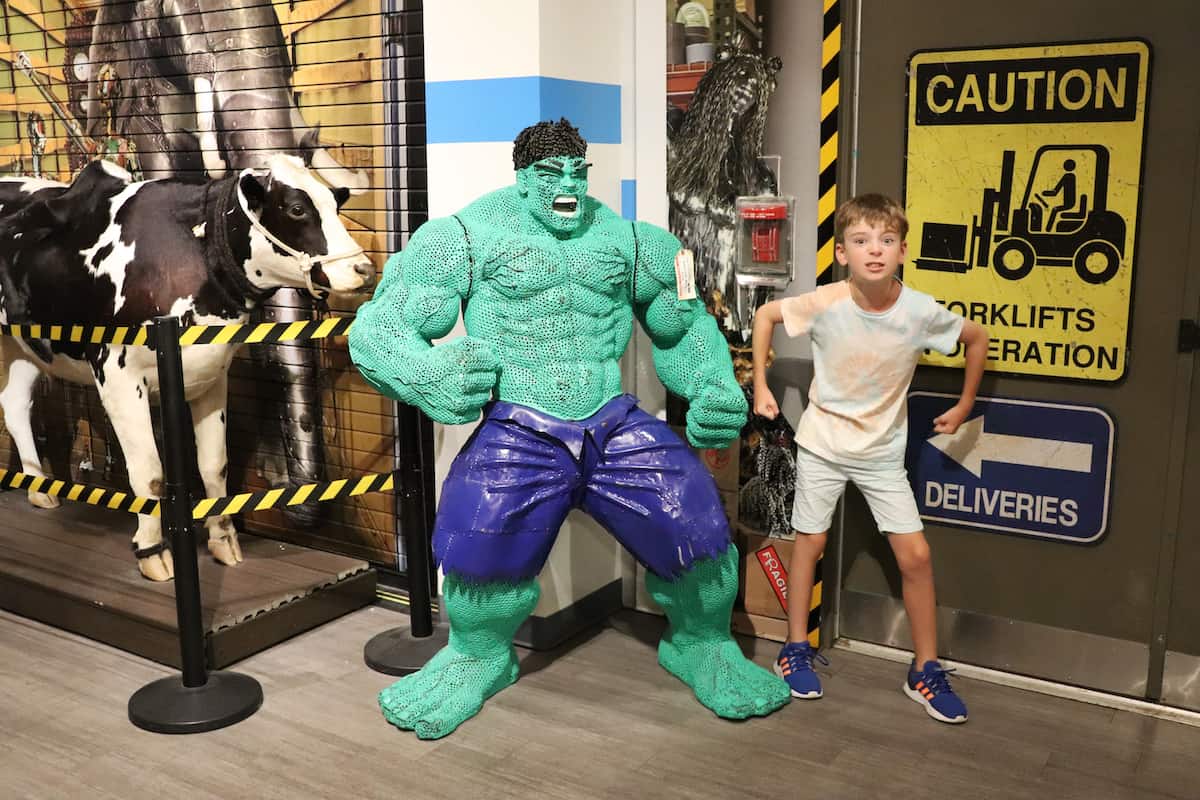 Day 22 – WonderWorks – Drop off car – Fly home
Our last day in Orlando was spent at WonderWorks in the morning which was a nice way to pass a few hours but in some aspects quite similar to Ripley's Believe It or Not and the Museum of Illusions. I don't think we needed to go to all three but the children loved them.
We then went to the airport, dropped off the car and the Visitor Toll Pass and started our epic journey home.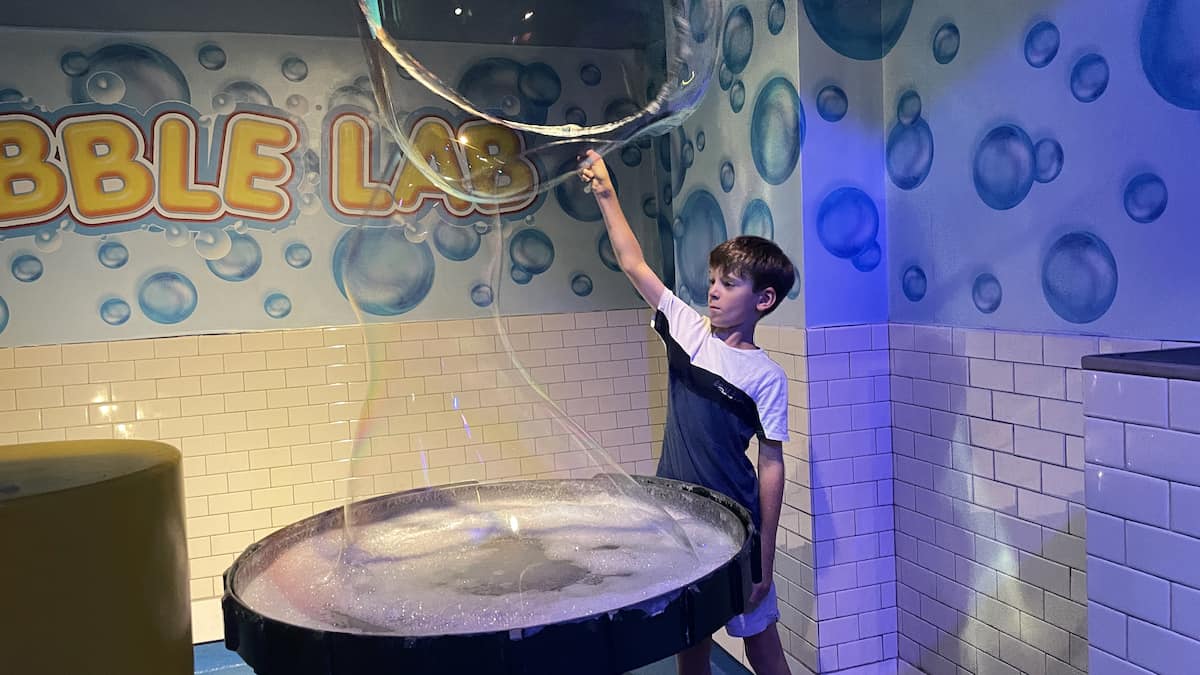 What did we not do when we went to Florida?
When we went to Florida this time there were some things that we didn't have time to do and others that we had done previously and we decided we didn't need to do again. The main one of those was an airboat ride and I know a lot of people love the Boggy Creek airboat experience.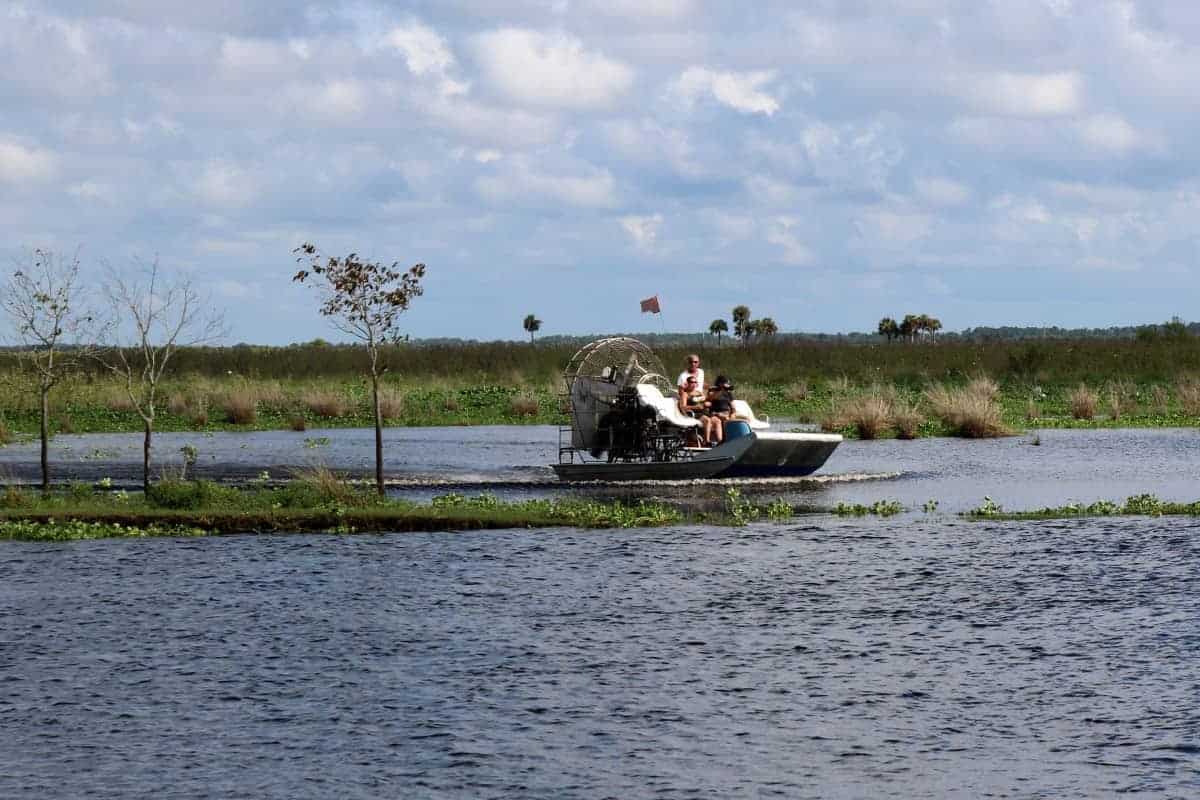 Aside from that, we didn't have time for a beach day during our trip and decided that we didn't need to do the Merlin attractions again – Madame Tussauds Orlando and Sea Life Orlando. We also had tickets to the Volcano Bay water park that we didn't use as parking at Universal, getting a bus to Volcano Bay and then having to get a bus back to the car park before continuing our day didn't feel as convenient as going to Typhoon Lagoon or Aquatica.
It was also Mickey's Not So Scary Halloween Party at Disney whilst we were in Orlando but it was such a late night that we didn't think the children would cope with it so we gave it a miss.
Where else would we like to go in Orlando?
There isn't a huge amount extra that we would have liked to do in Orlando this time. It felt like three weeks was a really good amount of time to do as much as possible and be left feeling like there wasn't much else to tick off. One thing we did see that we would have loved to make time for was Showcase of Citrus – but maybe if we go back again in the future. We also still haven't made it to the Orlando Premium Outlets!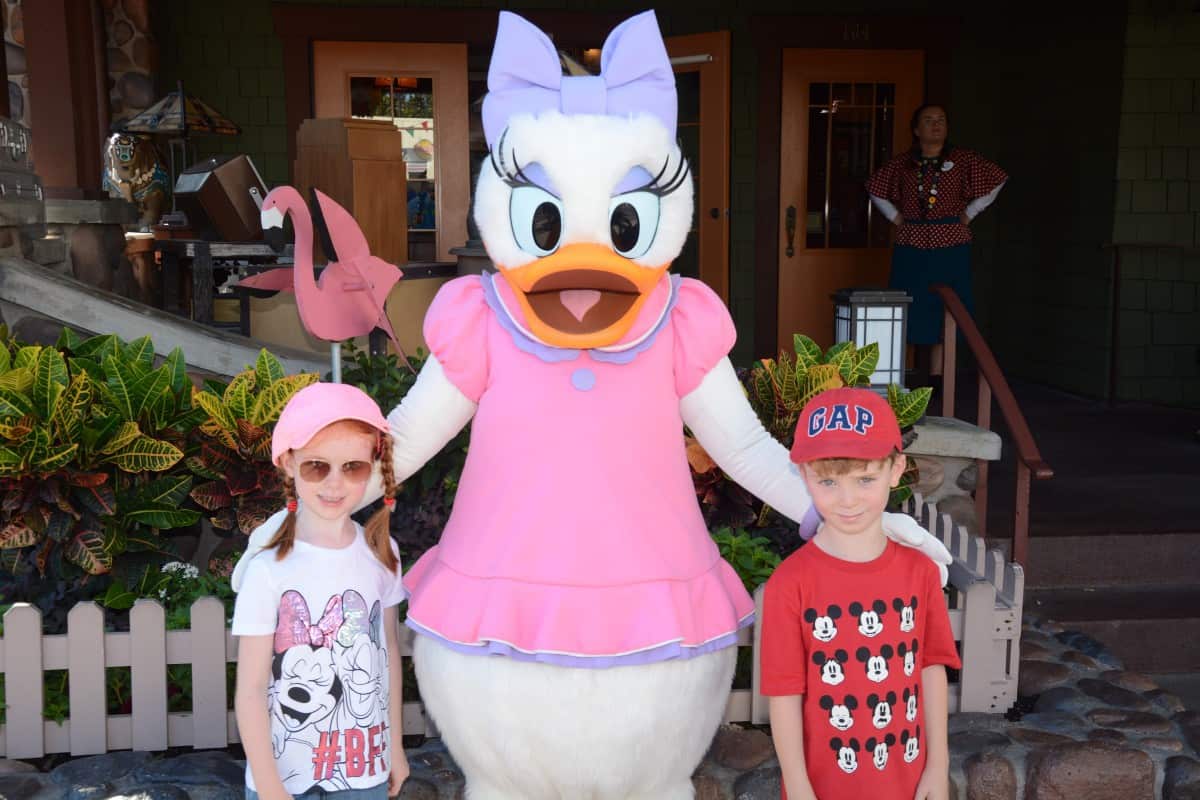 I hope you've found our itinerary for our 3 weeks in Orlando vacation helpful. If you'd like more inspiration for planning your trip we've also written the following posts: