Disclosure: We were invited on this day out for the purpose of this post however all opinions are my own.
A few months ago I had an email from Visit Orlando inviting us to visit SeaWorld Orlando Florida on our trip over the summer. It's somewhere I have always wanted to visit although, like most people, I have seen the media attention surrounding SeaWorld. I always like to experience things for myself before passing judgement and, considering Dave and his parents visited SeaWorld thirty years ago, we were intrigued to see how SeaWorld had changed in that time.
So, during our trip to Florida we visited SeaWorld and honestly, I had no preconceptions. I hadn't looked at the Seaworld Orlando map or even show times. I just knew what time the park opened and I downloaded the SeaWorld app to help us whilst we were there. We arrived early, went through the security process we'd already got accustomed to at other parks in Florida and then started our day.
Seaworld Orlando parking is plentiful and easy to navigate just like any of the major Orlando attractions. You do have to pay to park which is just under $25 per car and can be booked online along with your Seaworld Orlando tickets.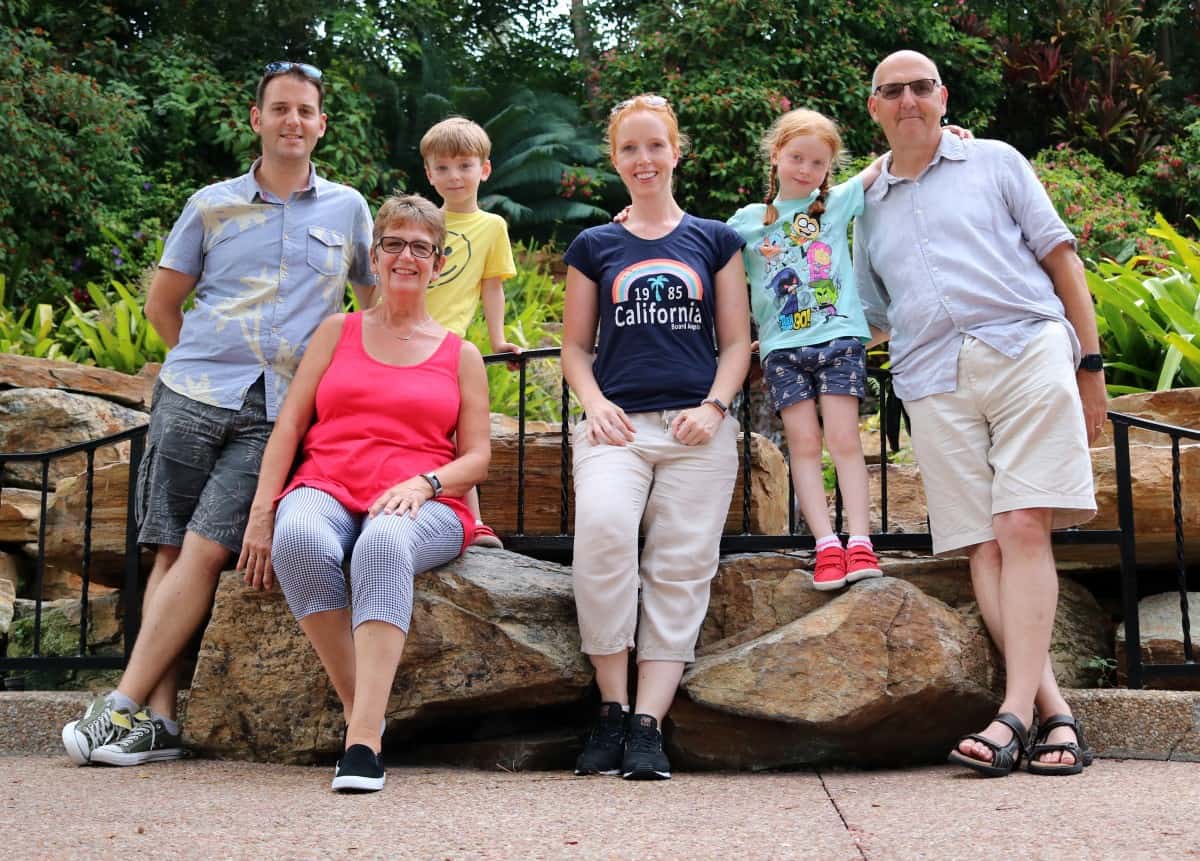 The app had an interactive map to help us work our way around the park and also had Seaworld Orlando show times and timings of the talks through the day. We realised that soon after we arrived there was a sea lion show, followed by a dolphin show and then an orca show, with all the shows repeated in the afternoon. But, the app also showed me that the animal shows weren't all that SeaWorld was about – they were actually only a small part of the day.
As well as the shows there were so many rides – with wait times shown clearly on the app – and animal handler feeding times and talks spread throughout the day too. So we started the day with the sea lion show – which was in a really lovely, open air theatre but with a cover over the seating area to keep it protected from the elements.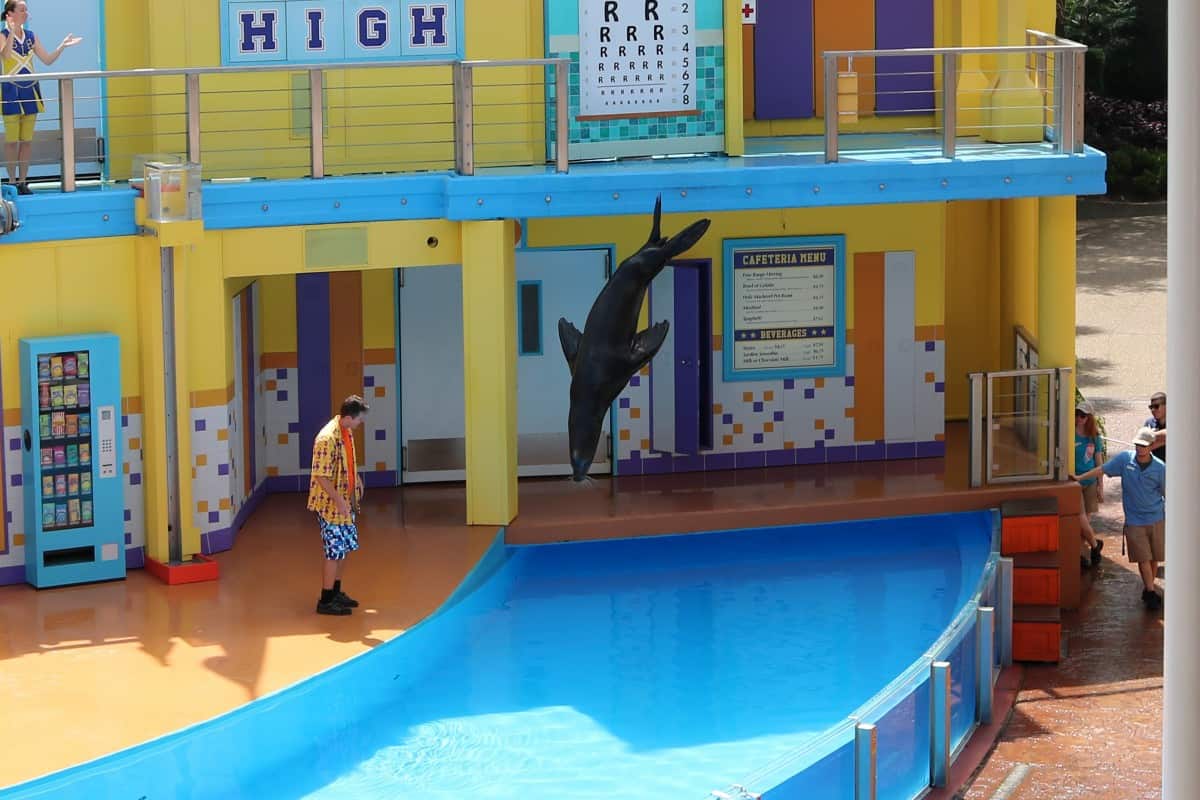 The show was fun and lively, with so many staff members involved, two sea lions and even a cheeky otter making a couple of appearances. The children loved watching the sea lions and humans interacting on stage and there were so many laugh out loud moments – as well as good use being made of the splash zone at the front! It was a great start to our day.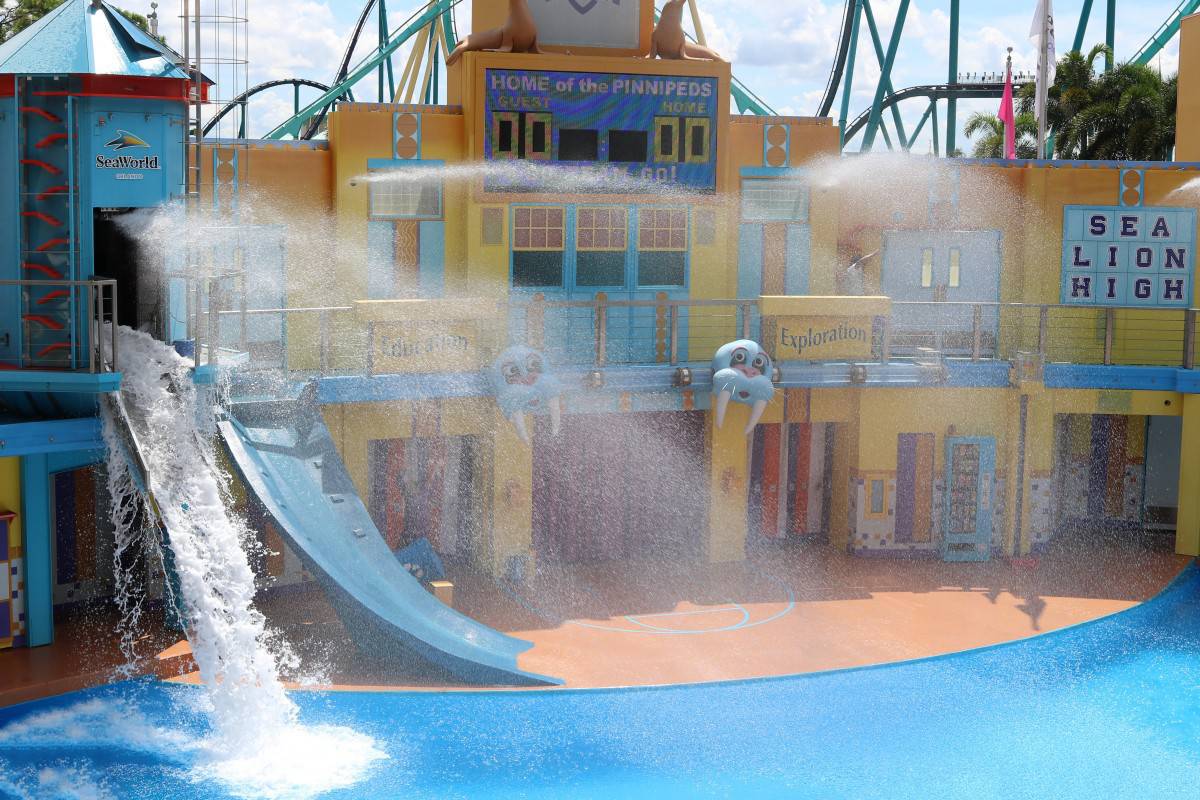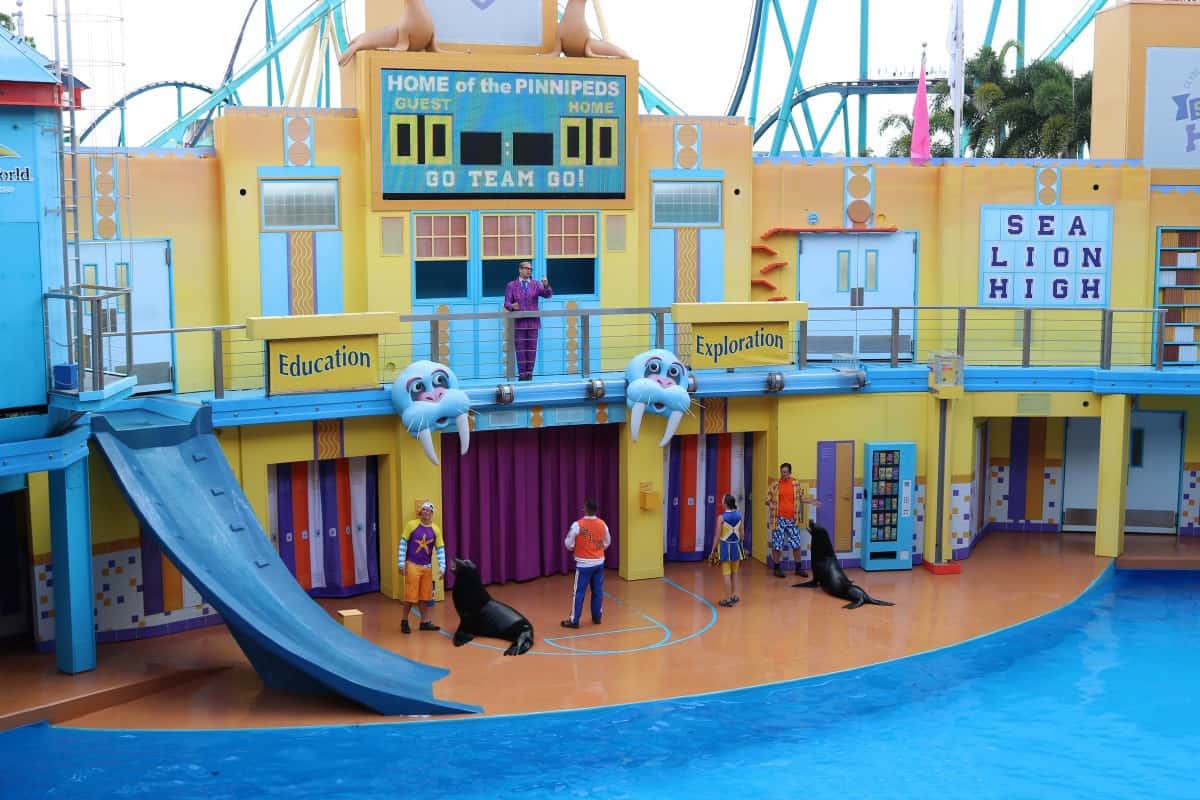 After the show we walked around the park and Dave and his Dad went on the Mako rollercoaster – which they vowed never to go on again! It was fast, incredibly high – giving views of the whole of Florida – and moved in every conceivable direction. It was definitely an experience and not for the faint hearted!
We then found ourselves at a shark pool where feeds and talks happen regularly. There were so many types of sharks, all swimming happily below us and the children loved watching them.
It was then time for the One Ocean orca show where we sat in a huge stadium. This felt like going to a big event in London – with different seating areas and walkways to access them but with great views from every seat. We saw the orcas as soon as we entered the stadium and they were beautiful – I think anyone seeing an orca for the first time will be blown away by them.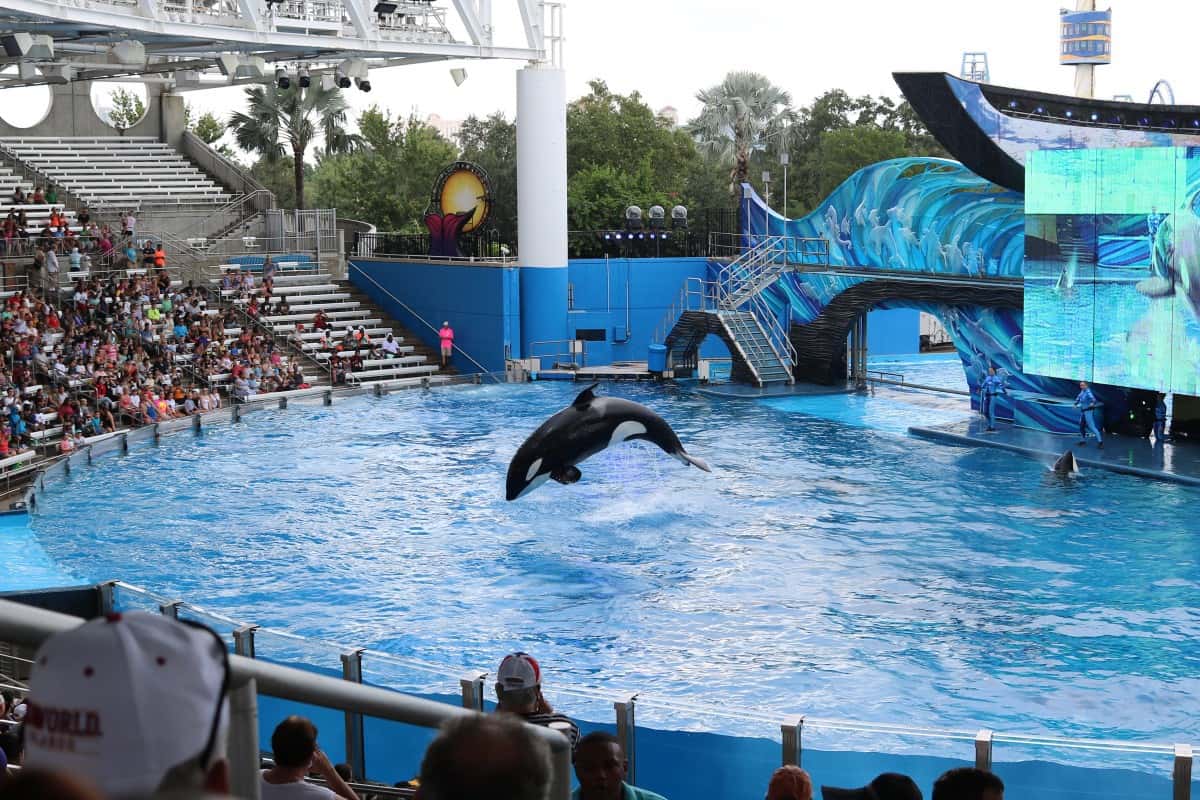 I found the orca show really emotional. The combination of the music with the images projected on the screen combined with the orcas swimming around their pool and jumping at different points in the show was just amazing to watch. There were six orcas in the show we watched and they took it in turns to perform, giving the others a chance to rest.
After the orca show quite a lot of the rides were closed due to the rain so we went inside to watch Elmo Rocks – a rock show featuring all our favourite Sesame Street characters. This was such a great show, full of familiar songs that had us all singing and clapping along.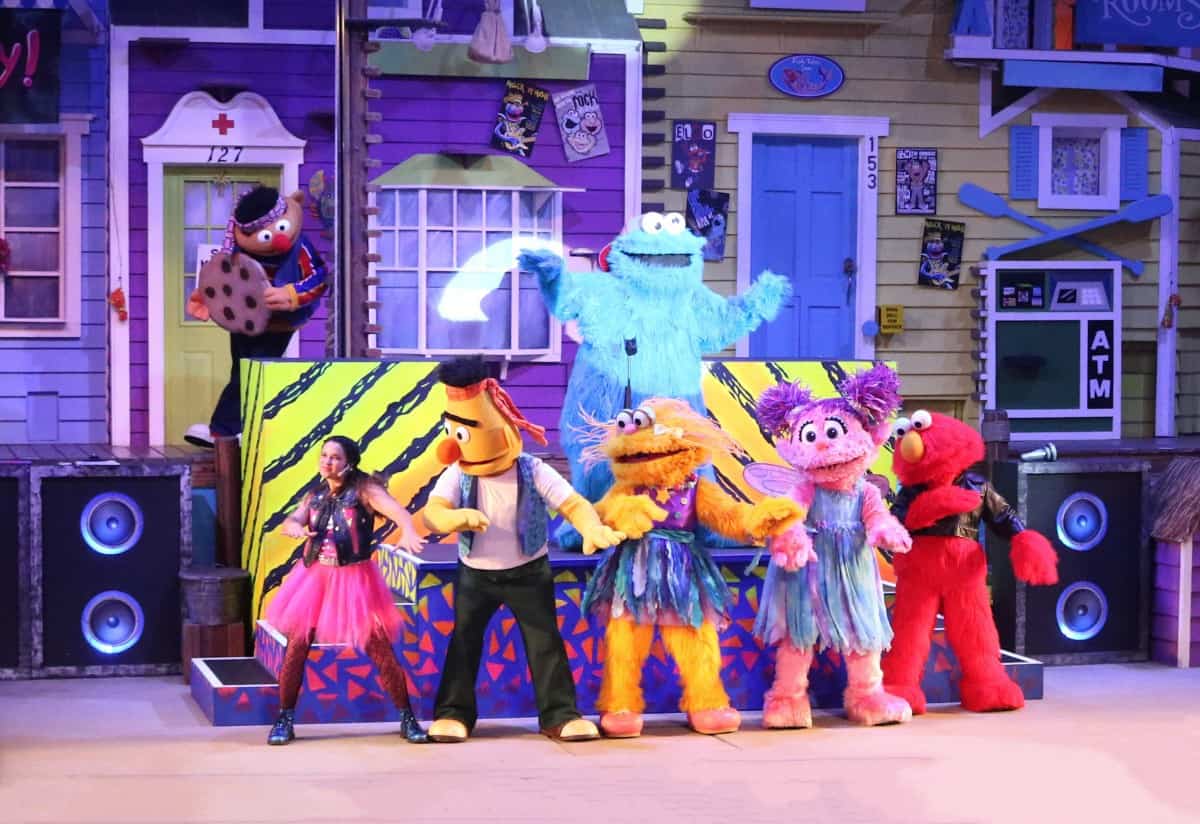 After the show the rain had stopped, the Seaworld Orlando rides were running again and Dave and his Dad did both of the other big rollercoasters at SeaWorld – Kraken Unleashed and Manta. Neither rollercoaster was as scary as Mako but both were great rides that they'd go on again. Kraken Unleashed was full of twists and turns at high speed and Manta suspended you upside down and moved you in every direction – even backwards and upside down facing the sky.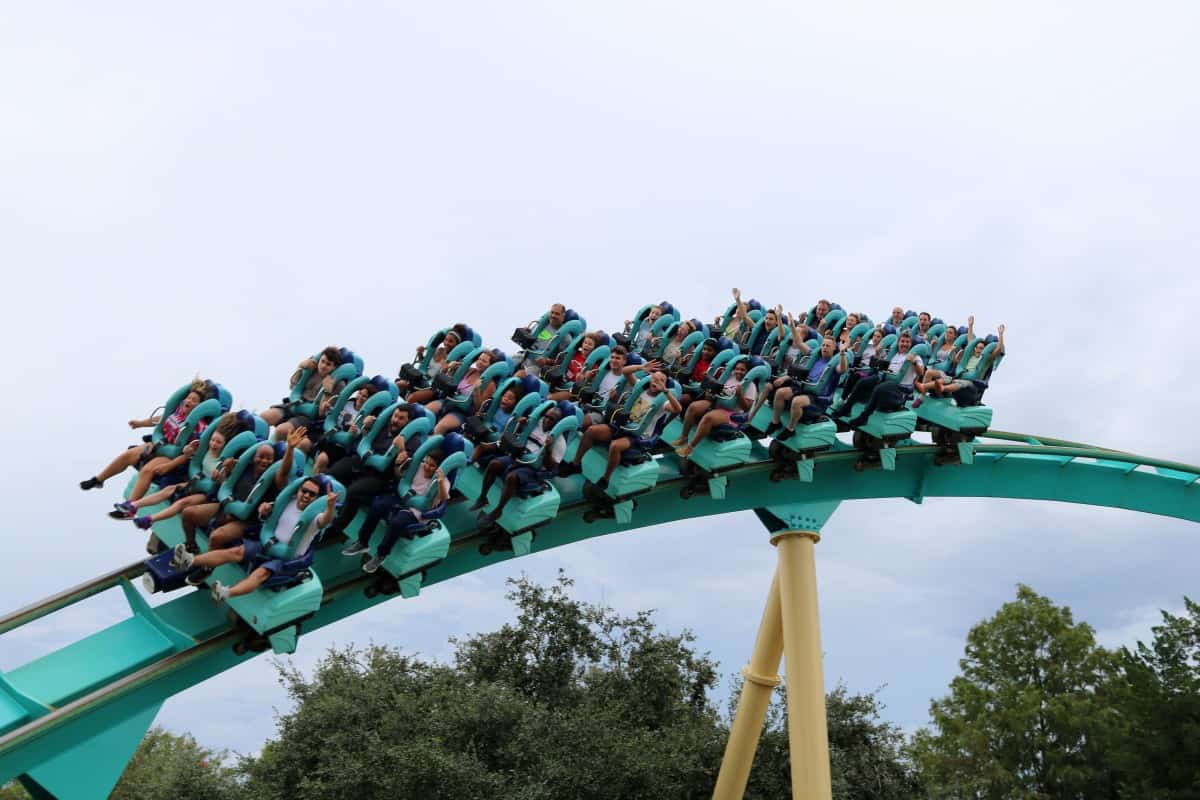 We had an ice cream stop at the Ice Cream Parlour near the park entrance – which did amazing ice creams, so many flavours, so many different types of cone and they even had Shamu bowls and Shamu shaped ice cream sticks. The ice cream prices were on a par with other tourist attractions but the portion sizes were much bigger than other parks we visited during our holiday making SeaWorld ice cream great value for money.
After our break we saw the dolphin show which was in another huge arena. It had a fantastic soundtrack, incorporated exotic birds into the routine and featured so many different dolphins and their trainers. Unlike the orca show, the dolphin show featured the trainers doing tricks with the dolphins – with trainers being pushed along on top of and under the water as well as being thrown in the air. But a large proportion of the show was just the dolphins swimming and jumping naturally. It was beautiful to watch.
After the show we saw the dolphins in the nursery pool outside where LP loved spending time with the dolphins who were happy to play in front of her. It was the first time she'd seen a dolphin before and she was absolutely in awe of them.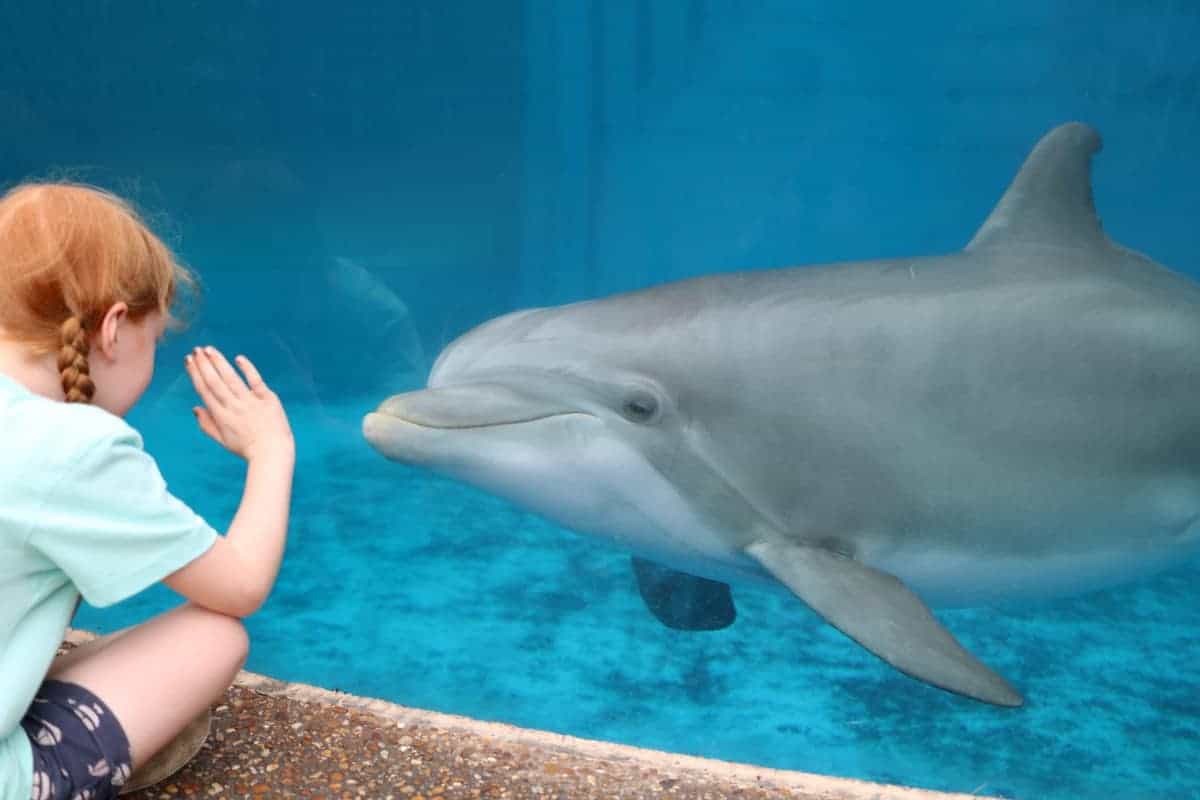 During our day at SeaWorld we also saw manatees at their rehabilitation area, flamingos, a full tropical aquarium and a close encounter with rays. But, one unexpected animal part of the park came at the end of the Antarctica: Empire of the Penguin attraction where, after a fully immersive ride into the arctic, following a young penguin from chick to adulthood, we came face to face with a whole colony of real penguins in their own arctic environment.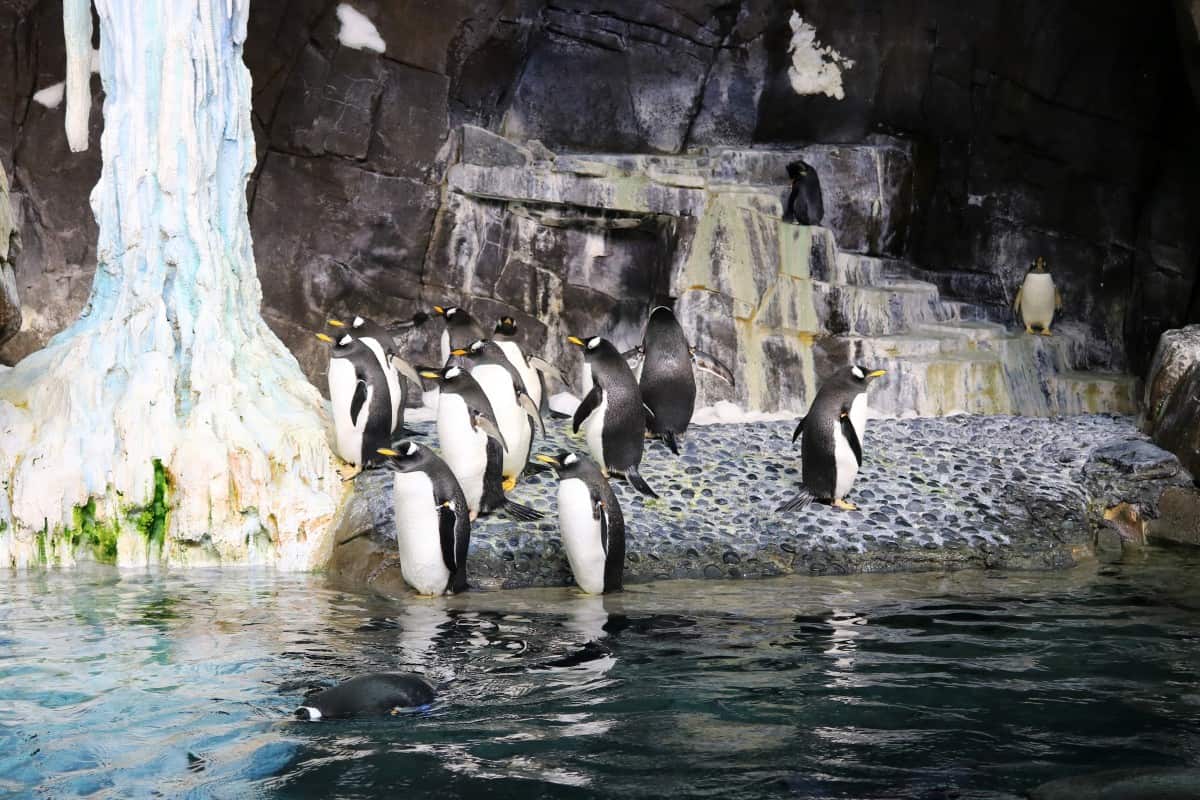 There are two additional attractions at SeaWorld that you can pay a fee to participate in. One was having a ride in pink flamingo pedalos which looked so much fun but we just didn't have time for. Instead we went on the Sky Tower which, at $2 per person was an absolute bargain. It takes you 400ft up in the air and rotates at the same time, giving 360 degree views of the whole surrounding area. It only lasts for six minutes but is a fantastic experience and we could see so many of Orlando's other attractions during the ride.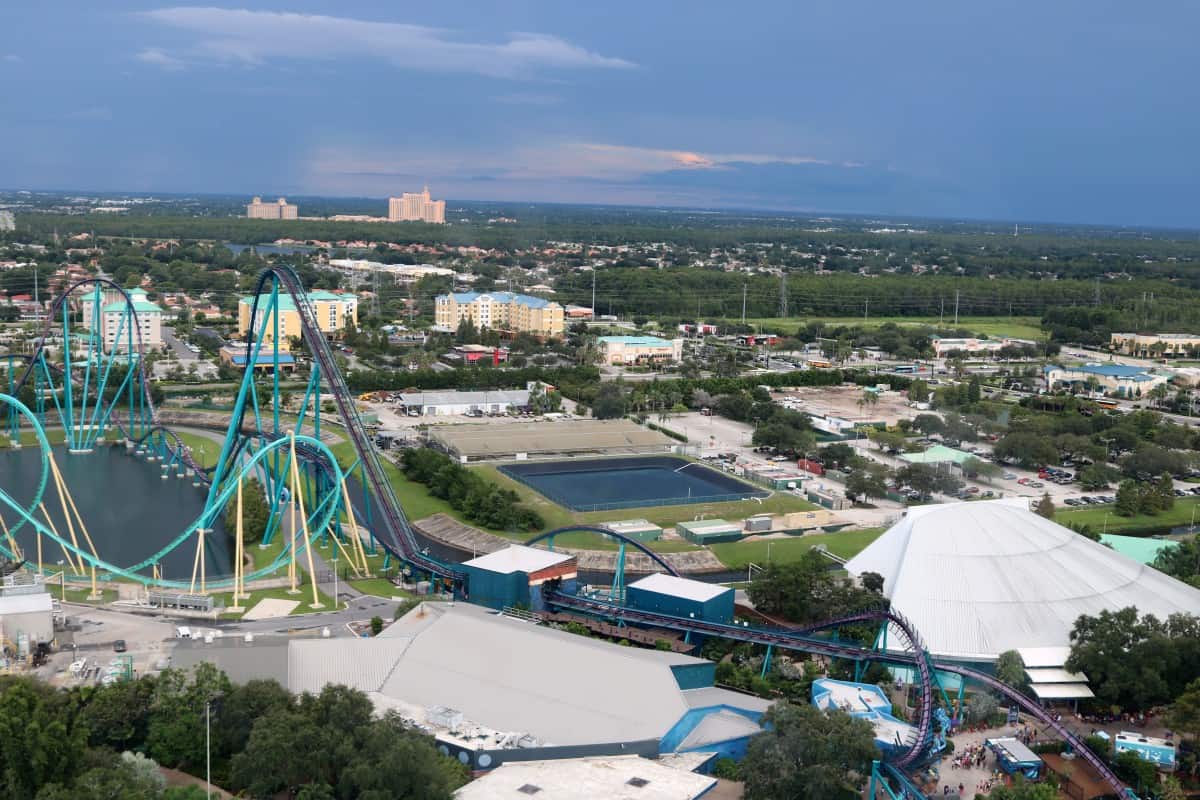 We had such a great day at SeaWorld and I'm so glad we went. The whole place was so clean and well maintained and it was an experience that I know the children will remember for their lifetime.
Dave and his parents went to SeaWorld back in 1989 and we talked a lot about how SeaWorld has changed in that time. Back then SeaWorld was just about the animals but now SeaWorld is a theme park in it's own right with rides and attractions that are as much part of the experience as the shows. But, thirty years ago, the shows were so different too with the main difference being that trainers would ride the orcas – which is unimaginable now. I feel that over the years SeaWorld has made great steps in the right direction and, although we all agree orcas should not be in captivity, they are making sure that the last generation of captive orcas at SeaWorld are treated as well as they possibly can be. They have stopped the breeding program and in the not too distant future the orcas at SeaWorld Orlando will be moving away from theatrical shows and towards educational encounters that focus on orca enrichment, exercise and overall health in more natural settings. This is another step in the right direction, still educating the public about orcas, helping orcas to be one of the most loved creatures in the oceans, but making the whales' lives as natural as possible whilst in captivity at the same time.
I'm happy to hold my head up and say that we had a really lovely day at SeaWorld. I felt we learnt a lot about the animals at SeaWorld and the conservation work that they do – from animal rescue to beach clean ups, rehabilitation and research – as well as enjoying rides and beautiful scenery too. I think SeaWorld would be a really lovely day out for any family planning a trip to Orlando and we are looking forward to visiting Seaworld San Diego and Seaworld San Antonio in the future too.
Here's a video we made of our trip and there's a little Reel over on Instagram too:
You can also read about other days out we had in Florida – Discovery Cove, Magic Kingdom, ICON 360, an Airboat Ride, Kennedy Space Center, Hollywood Studios, Epcot, Animal Kingdom and Legoland Florida.