This post contains affiliate links and I may receive commission if you visit a link and buy something. Purchasing via an affiliate link doesn't cost you any extra, and I only recommend products and services I trust.
Ever since I first made a simple slow cooker fudge I haven't been able to get enough of it. I would make it every week if I could and it's one of my favourite parts of baking and something we often do on a rainy day.
Our slow cooker fudge condensed milk recipes are so easy to make and once you get used to the quantities of ingredients you can make pretty much any flavour fudge you like. All you need to make delicious chocolate fudge is semi sweet chocolate chips or bars of chocolate, condensed milk and flavouring like a teaspoon vanilla extract and you're all set to make all sorts of fudge variations. Plus, the slow cooker makes it a super easy process too.
So I thought as a starting point I would put together some of the delicious Slow Cooker Fudge flavours we have made so far, literally in minutes, to give you a bit of inspiration. But, first you need to know what you need to get started making fudge.
What equipment do you need to make slow cooker fudge?
Slow cooker fudge doesn't need anything special to make it, and you probably already have everything you need at home, but this is the equipment we use:
Once you've got everything you need to make the fudge you can just keep making it again and again – in so many of these different flavours too!
I'll be updating this page with other similar recipes as time goes on so make sure you check back regularly for updates and let me know any weird fudge flavours you'd like me to try too. I'm all for creating unusual fudge flavours to add to my collection! You can never have too many easy slow cooker fudge recipes!
If you'd like to narrow down your choice, you can find our top ten slow cooker fudge flavours here – the ones that have proven to be most popular so far. But, you can be sure that whatever flavour fudge mixture you make, it'll be delicious – and great to share too.
The only fudge we haven't quite been able to perfect, and which is still a work in progress, is a real slow cooker vanilla fudge recipe. Other than that, making fudge in a slow cooker couldn't be easier and something that I really hope we've inspired you to try.
Slow Cooker Fudge Flavours
Nutella Fudge
One of the easiest fudge recipes we've ever made is our Nutella Fudge slow cooker recipe. Perfect for any Nutella fan but great for anyone who loves chocolate. It's simple to make with fantastic results and one that everyone will love.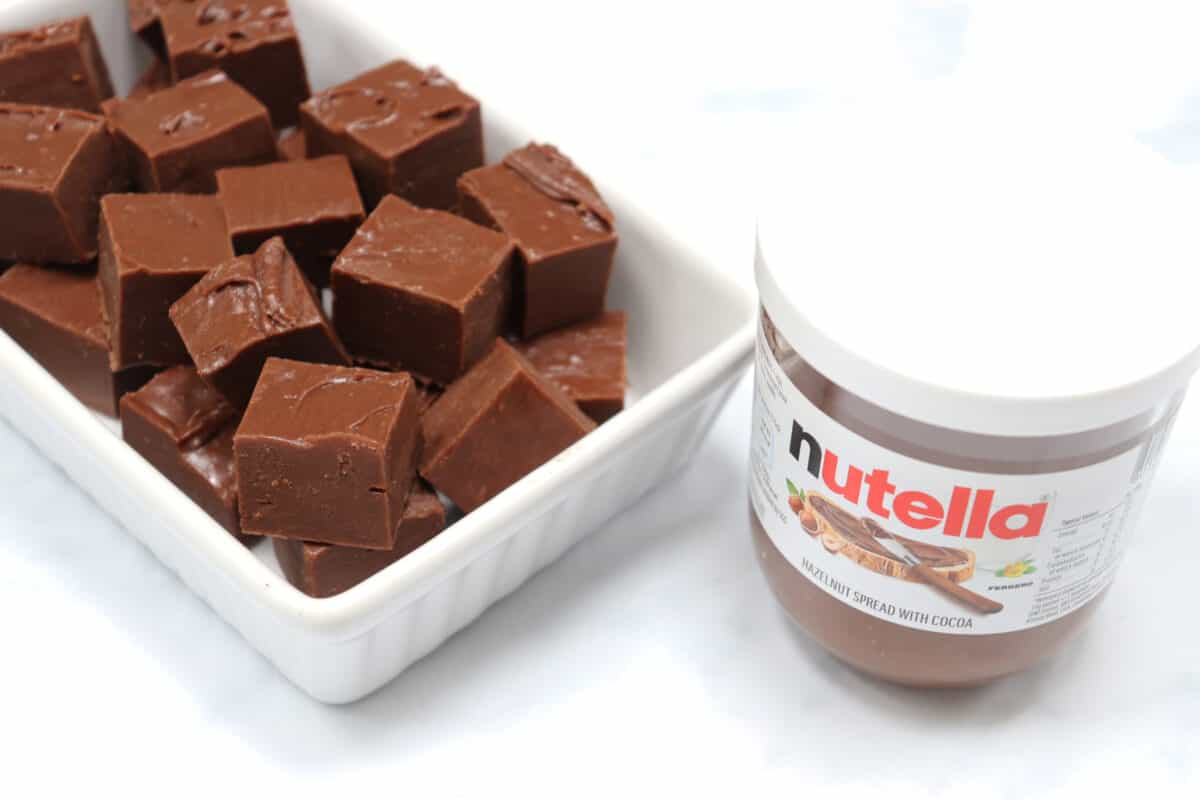 ---
Nutella Peanut Butter Fudge
Combining two classic flavours, this Nutella and Peanut Butter Fudge is delicious! Rich, nutty and full of flavour. It's one that everyone will love.
---
Ferrero Rocher Fudge
If you love Nutella or the Nutella Fudge above, you'll love this Ferrero Rocher fudge. With the great Ferrero Rocher texture, encased in rich Nutella fudge, it's a real delight for any chocolate fan.
---
Munchies Fudge
This Munchies Fudge is a must for any Munchies fan. Chocolate, biscuit and caramel, it's rich and full of flavour. A really moreish fudge that is great for sharing – but you might just want to eat it all yourself.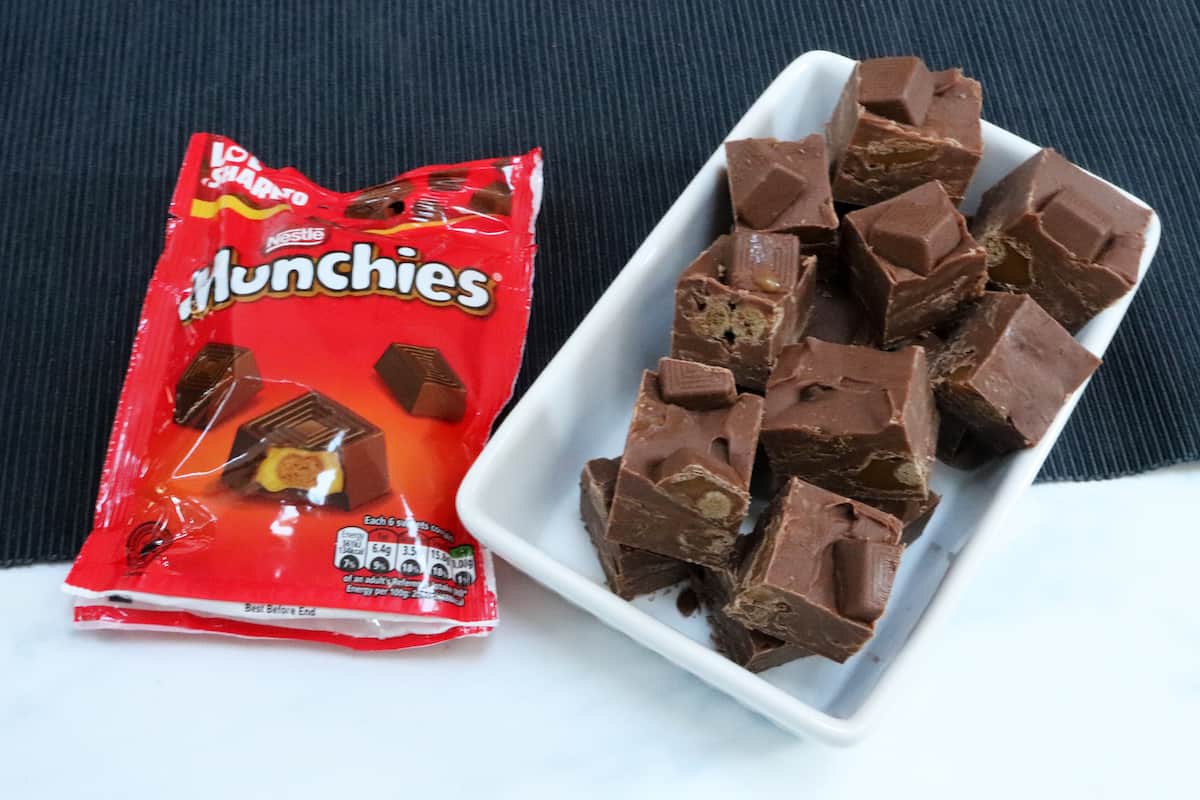 ---
Kit Kat Fudge
This Kit Kat Fudge recipe is so moreish and full of flavour. It's great for anyone who loves Kit Kats but also just anyone who loves a sweet treat. It's great to share.
---
Lotus Biscoff Fudge
This is, without a doubt, our favourite fudge of the moment. The mix of Lotus Biscoff spread and actual Biscoff cookie pieces is a real winner, giving the slow cooker Lotus Biscoff fudge fantastic texture. It's so easy to make, so rich and a wonderful treat.
---
Turkish Delight
Turkish Delight is one of those things that you either love or you don't. This Turkish Delight Fudge is perfect for any Turkish Delight fan. Turkish Delight pieces encased in rich fudge. It's perfect!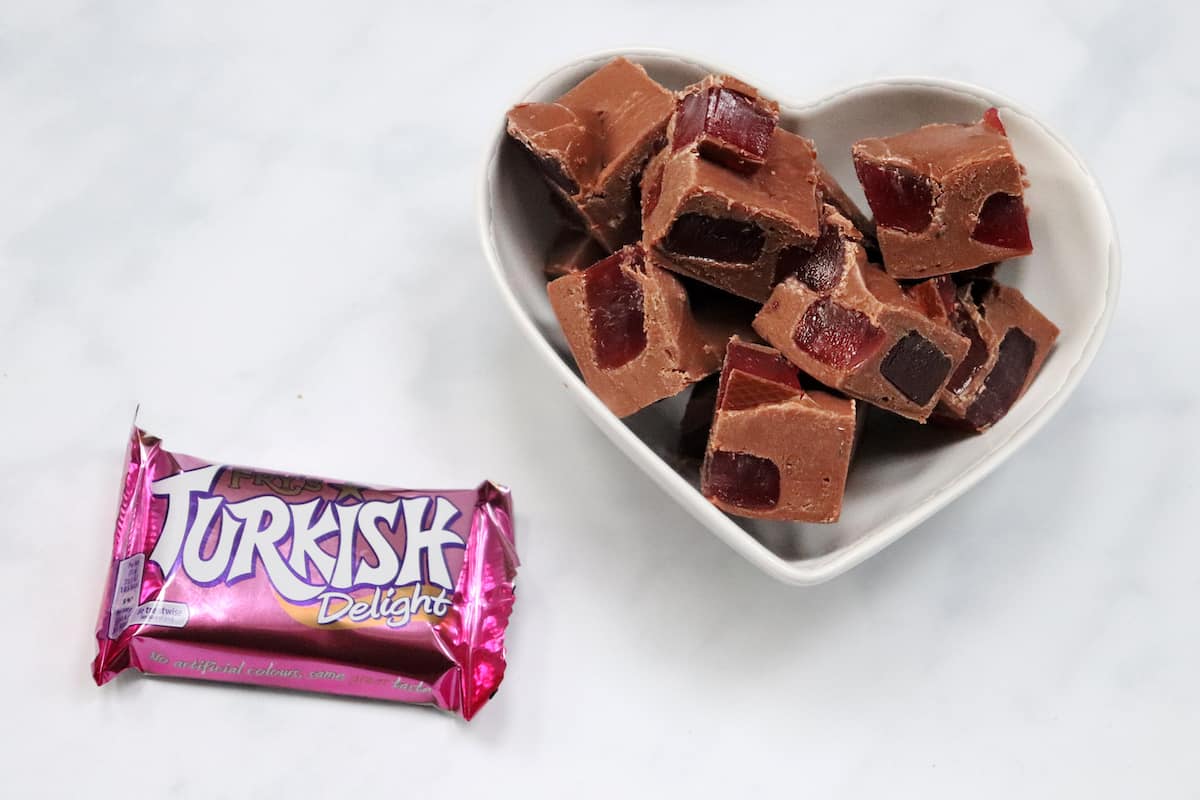 Rolo Fudge
I love Rolos, and they are so moreish that I just had to make a Slow Cooker Rolo Fudge. This uses a mix of Rolos and milk chocolate to give a really rich flavour that tastes just like eating Rolos. It's perfect for any Rolo fan.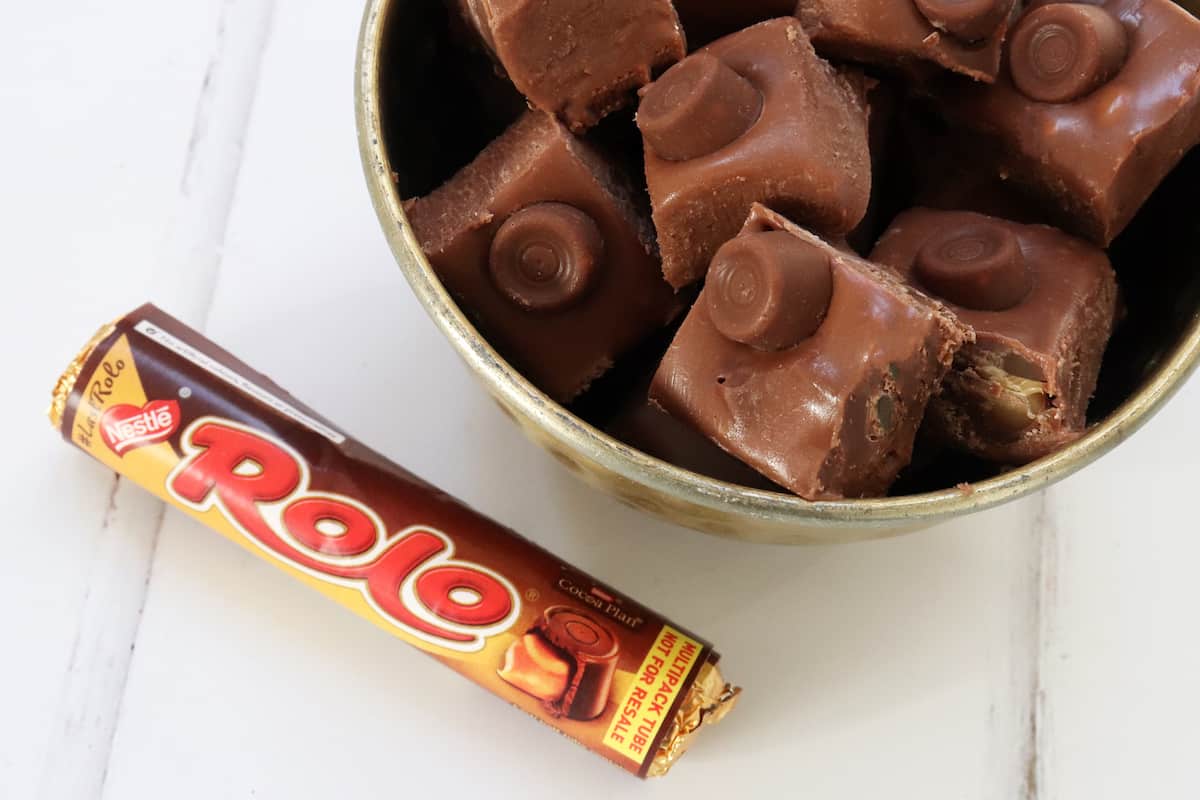 ---
Picnic Fudge
There's nothing quite like a Cadbury Picnic and this Picnic Fudge is the ultimate treat for any fan of the moreish chocolate bar.
---
Galaxy Fudge
This is the fudge for any Galaxy chocolate fan. Soft, creamy and delicious, it's full of that wonderful flavour that you only get from bars of Galaxy chocolate!
---
Cookies & Cream Fudge
I wanted to make a chocolate chip cookie fudge that was as good as the Lotus Biscoff one – and with this Cookies and Cream fudge I definitely succeeded. It tastes just like Hershey's Cookies and Cream but without the price tag!
---
Oreo Fudge
A great alternative to Cookies & Cream Fudge is Oreo Fudge, with Oreo pieces in the fudge mix and also over the top, giving a real dose of that classic Oreo flavour.
---
Two Ingredient Bournville Fudge
If you love Bournville Chocolate then you will love this Bournville Fudge. It tastes just like the chocolate but with that rich, fudge texture and flavour. It's delicious!
Creme Egg Fudge
Another classic chocolate that I had to make into fudge was Creme Eggs. Such an iconic Easter treat and one that works so well in fudge recipes. We used Mini Creme Eggs for this Creme Egg fudge and it's now one of my favourites!
---
Rocky Road Fudge
Rocky Road is my favourite sweet treat so it made sense that we would create a Slow Cooker Rocky Road Fudge too. This gives a good fudge texture with all your favourite Rocky Road elements which can be easily tweaked to include anything you have in the cupboard – just make sure you don't scrimp on the mini marshmallows!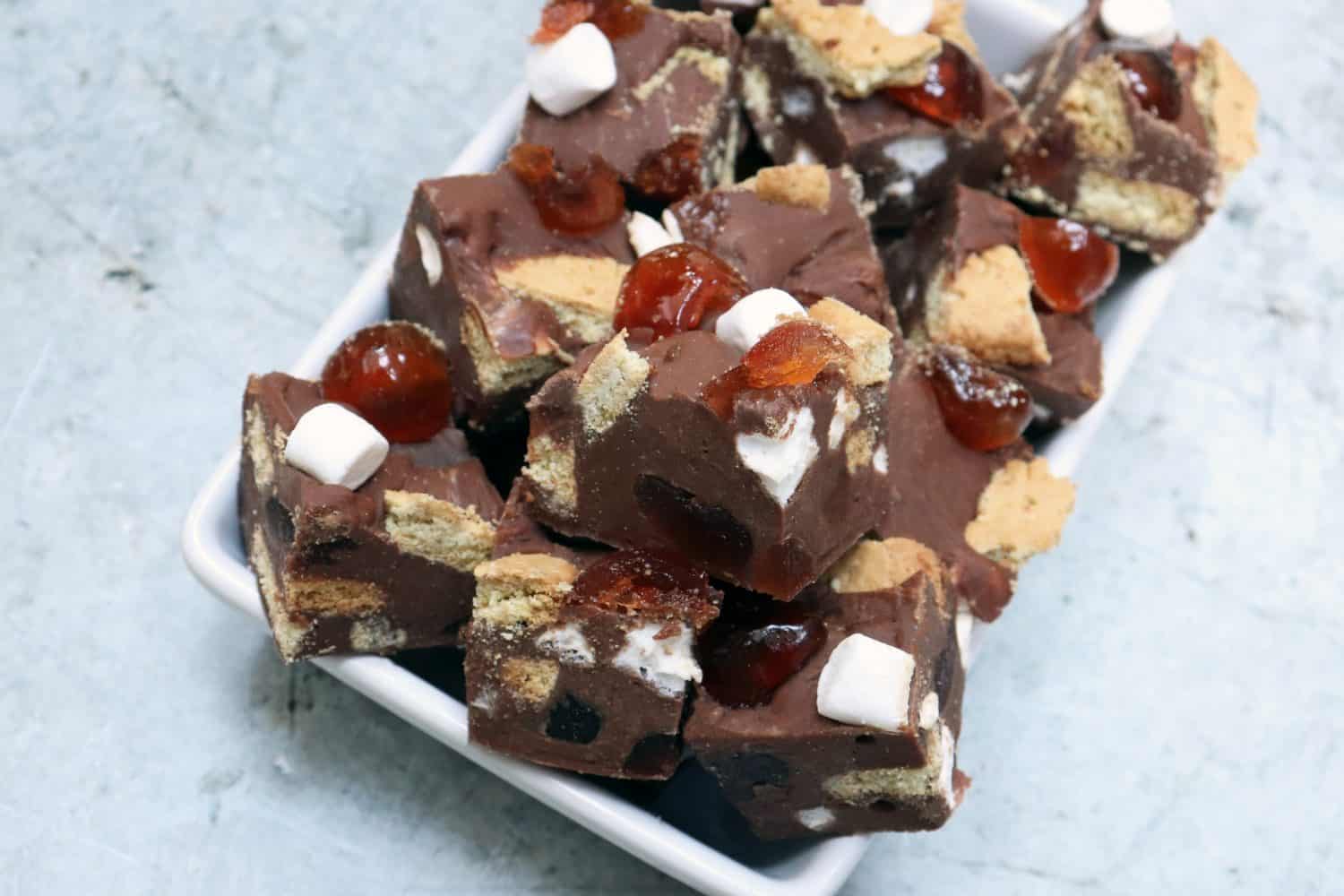 ---
Fruit and Nut Fudge
Just like a lovely bar of fruit and nut chocolate, this Fruit and Nut Fudge is full of flavour and texture. Easy to make, you can use any fruit and nuts you like for delicious results.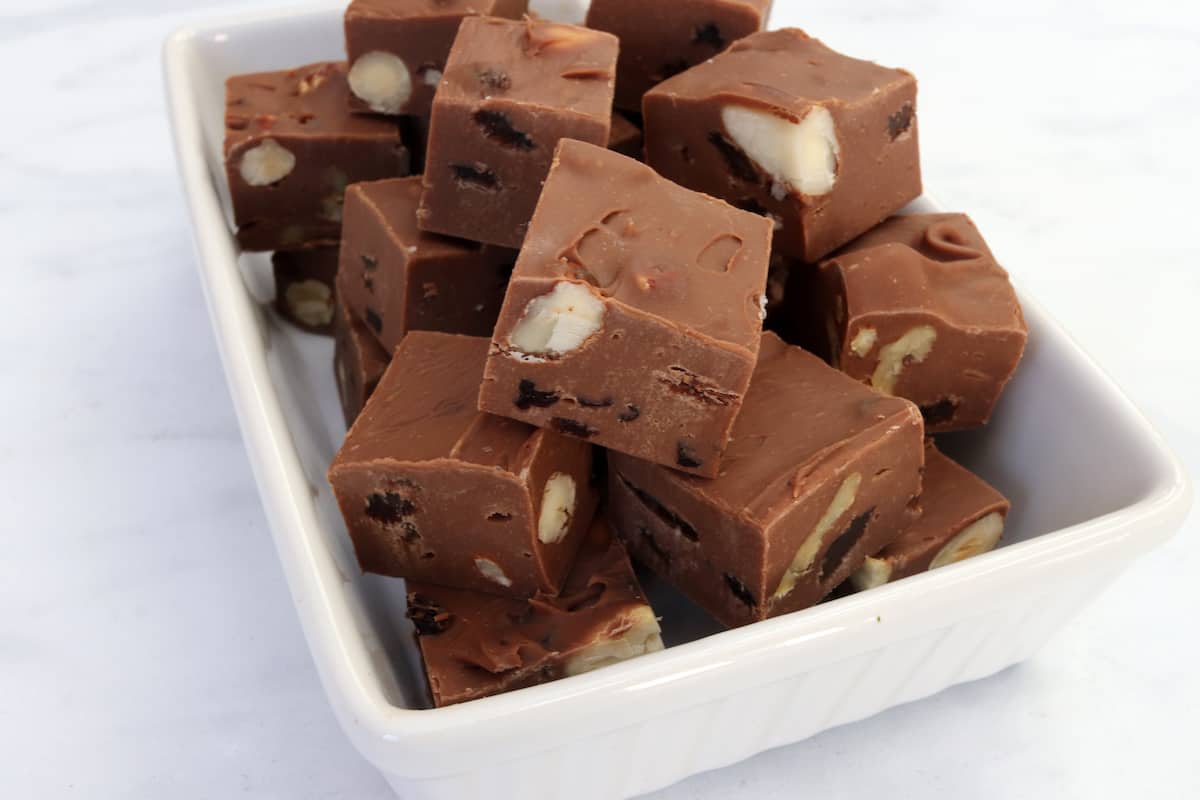 ---
Malteser Fudge
This Maltesers Fudge is so good and fantastic for any Malteser fan. Full of malty pieces and rich chocolate it's a really great fudge to make and share – or just indulge in by yourself!
---
Bounty Fudge
Another super easy fudge, based around a classic chocolate bar, is our Slow Cooker Bounty Fudge. A great consistency, so much flavour and a pretty lovely sweet treat too!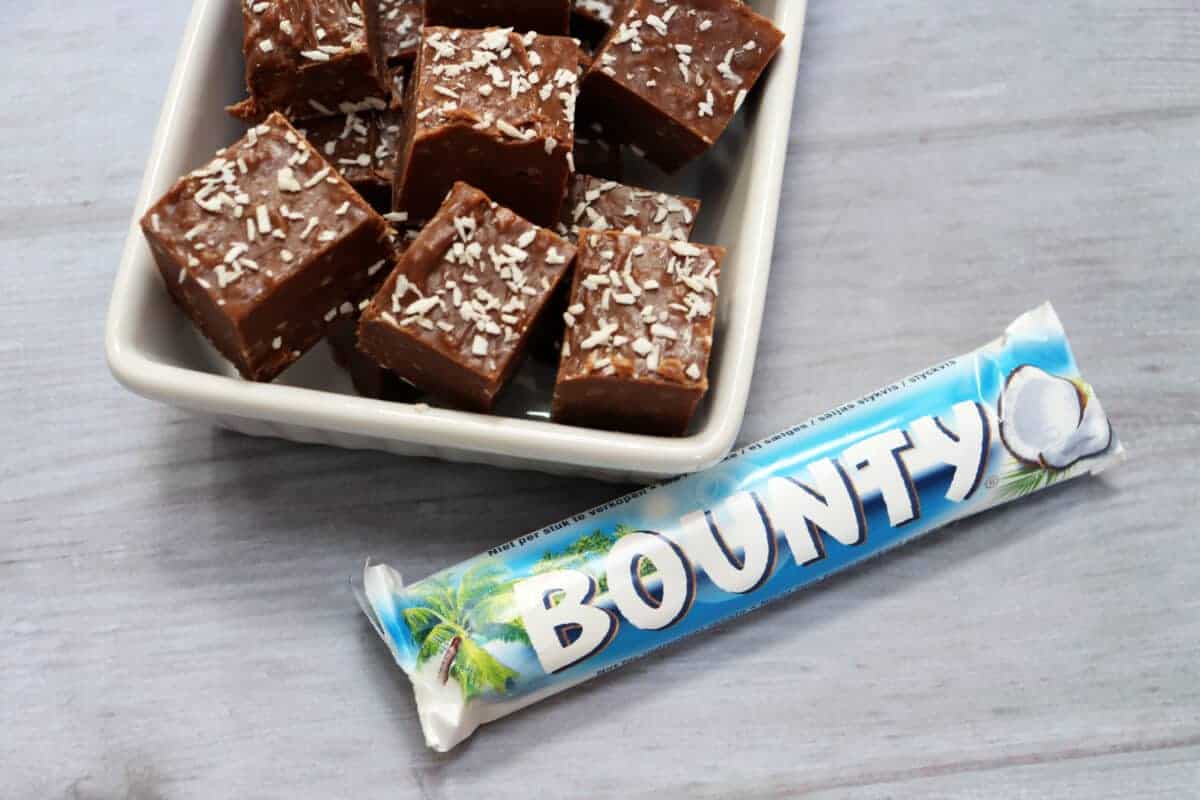 ---
Toblerone Fudge
Another great chocolate bar fudge, that only uses two ingredients, is this Toblerone Fudge. It tastes just like Toblerone and you won't be able to get enough of it!
---
Two Ingredient Caramac Fudge
This Caramac Fudge only uses two ingredients and is really sweet and rich just like Caramac bars. It has such a nostalgic flavour to it and one that any Caramac fan will enjoy.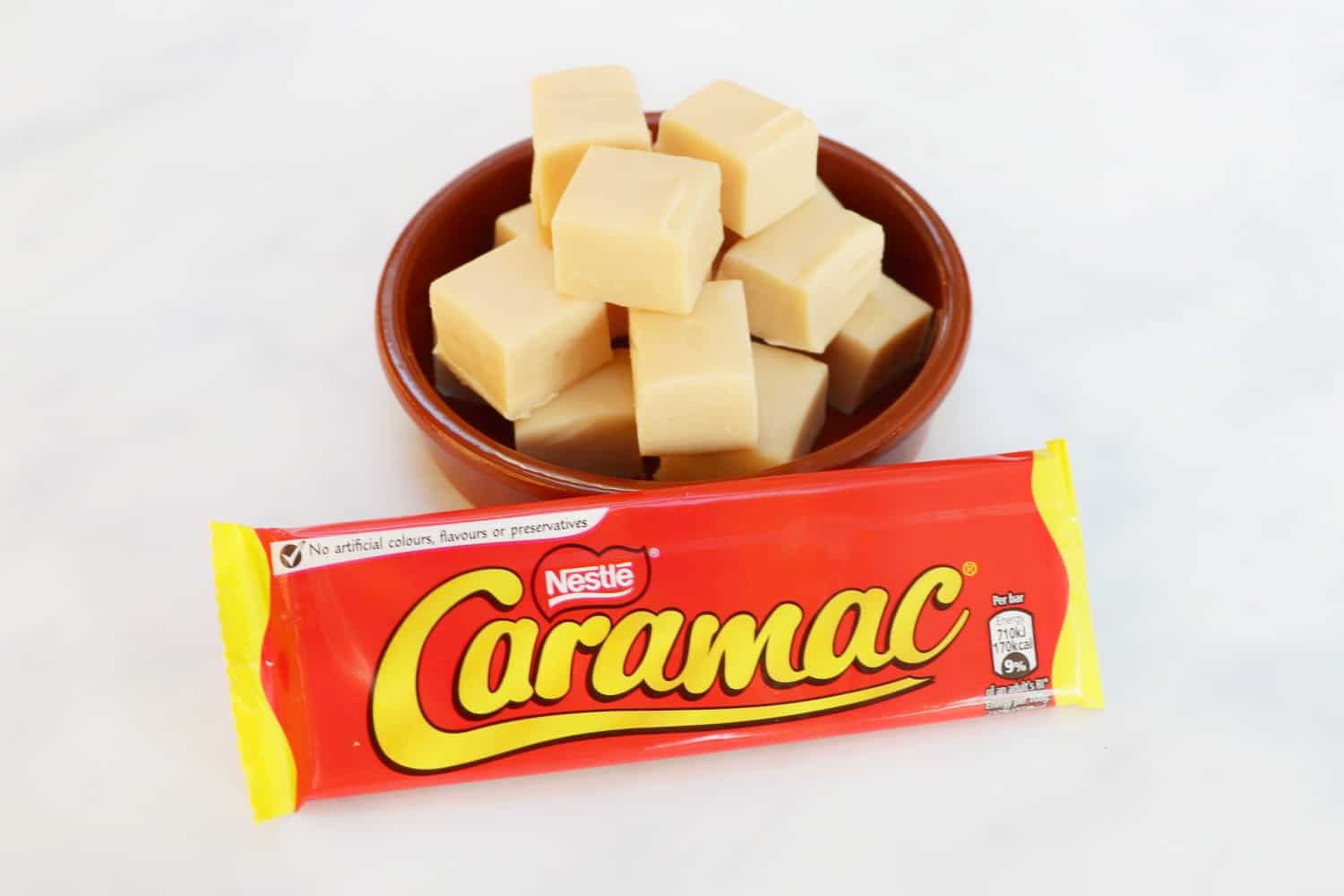 ---
Two Ingredient Cadbury Caramilk Fudge
I thought this Caramilk fudge would be just like the Caramac Fudge above but it's so different. Rich and creamy, with just a hint of caramel flavours. It's wonderful – and if you love Caramilk chocolate you will love this too!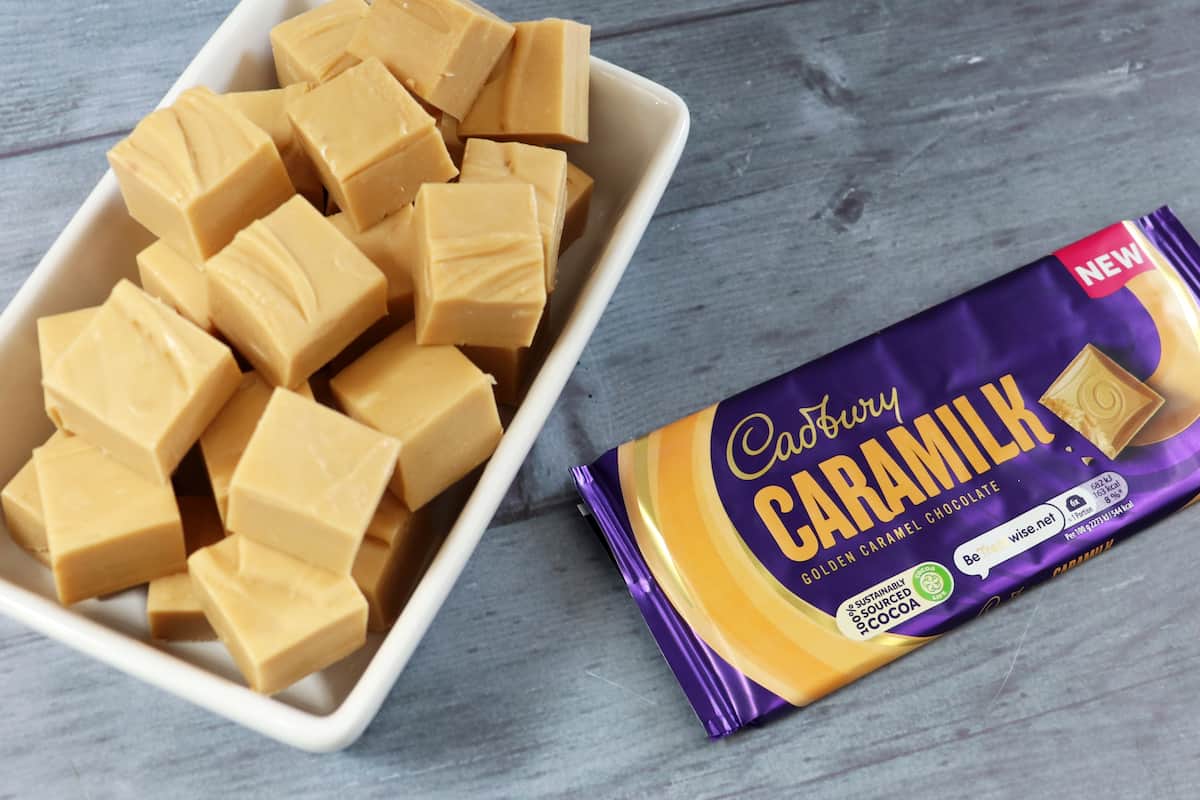 ---
Baileys Fudge
This slow cooker fudge Baileys Flavour really isn't just for Christmas. It's such a rich fudge, full of flavour and so easy to make. It's perfect for any time of the year and one of my favourites.
---
Amaretto and Cherry Fudge
Another fantastic fudge with a little alcohol kick is this Amaretto and Cherry Fudge. It looks great, smells great and tastes pretty amazing! A fantastic fudge to gift.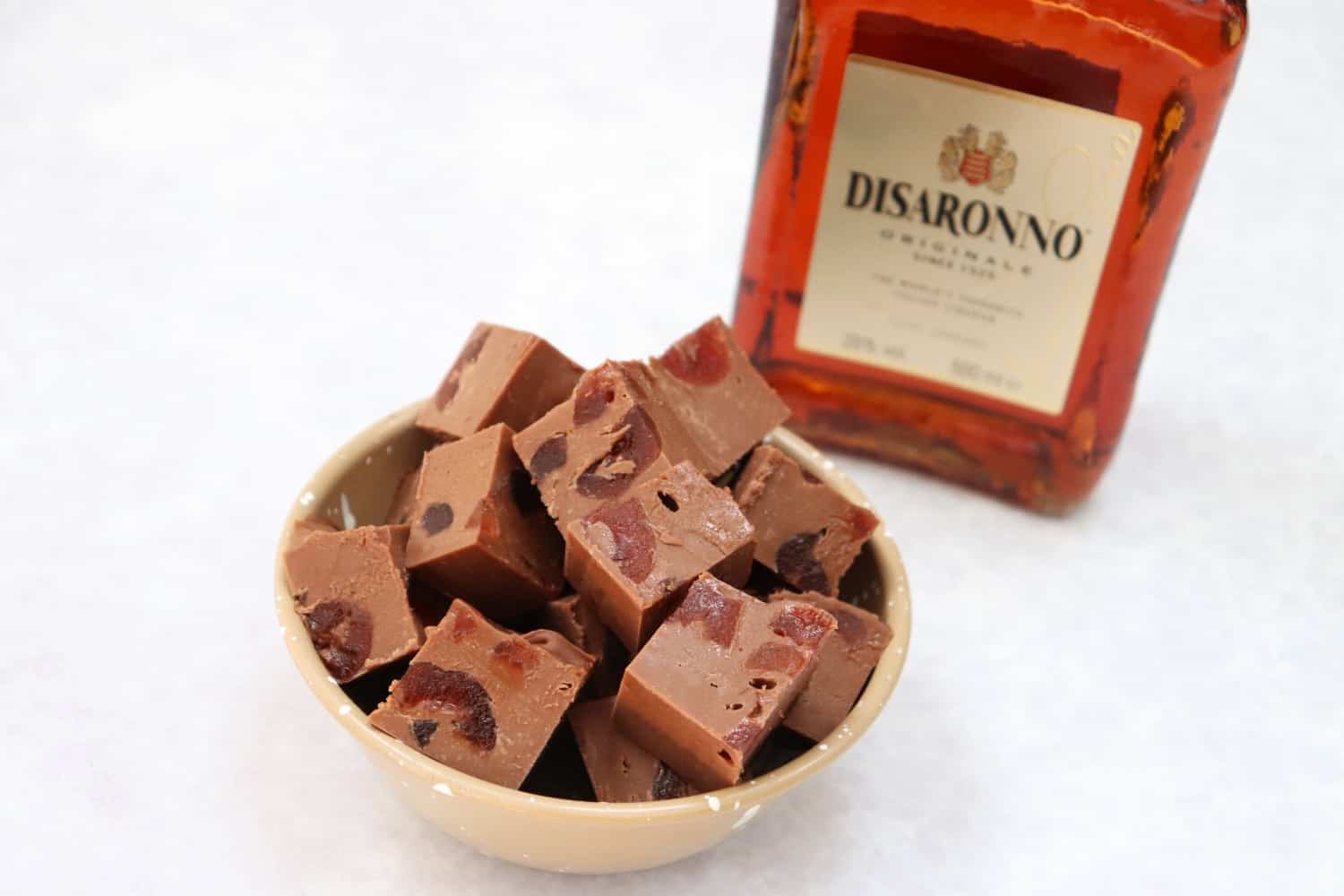 ---
Gin Fudge
Any gin fan will love this Gin Fudge which you can easily tweak to be Gin and Tonic Fudge too. Light and full of flavour, it's perfect for spring – or any other time of the year!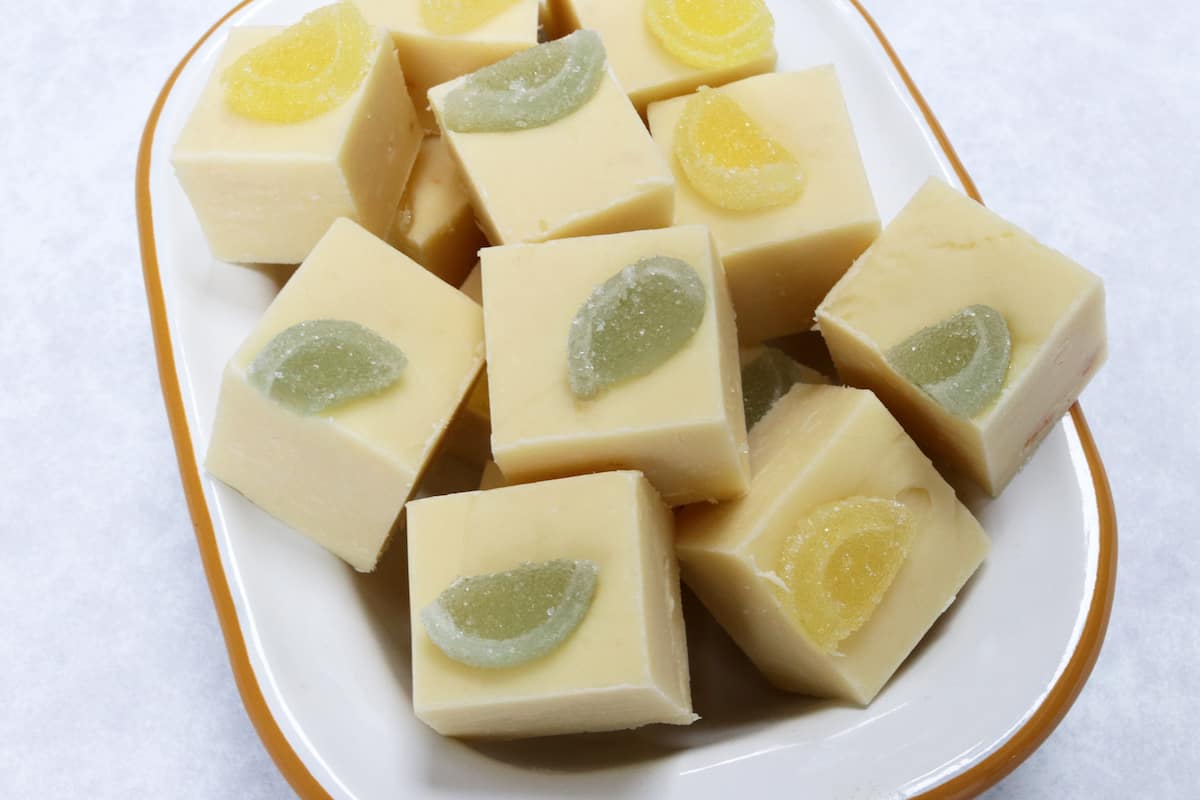 ---
Gingerbread Fudge
If you're looking for seasonal fudge recipes to try then they don't get better than our Gingerbread Fudge. Full of festive flavour and with a wonderful texture and biscuit pieces, it's great to indulge in or share over Christmas and one of our favourite Christmas fudge recipes.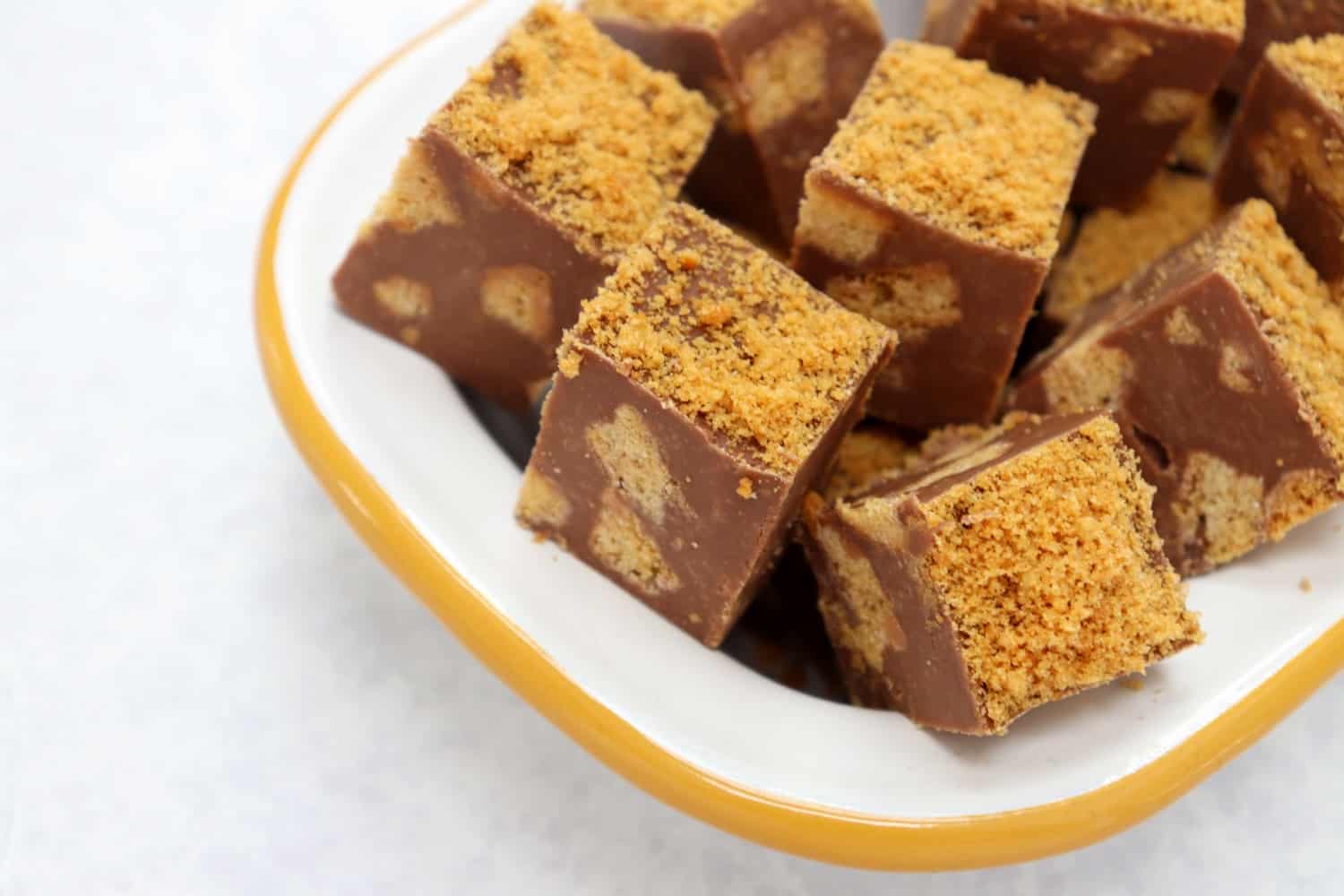 ---
Honeycomb Fudge
If you're a fan of honeycomb or Cadbury Crunchie then this is the fudge for you! Just the right amount of honeycomb pieces, topped with crushed honeycomb and perfect to share.
---
Christmas Fudge
Our most festive of fudge recipes is the Christmas Fudge. A lovely chocolate fudge, decorated to look as Christmassy as possible. It's delicious and perfect to share over the festive season. We have a lot more slow cooker Christmas fudge recipes planned – you just cannot beat crock pot Christmas fudge.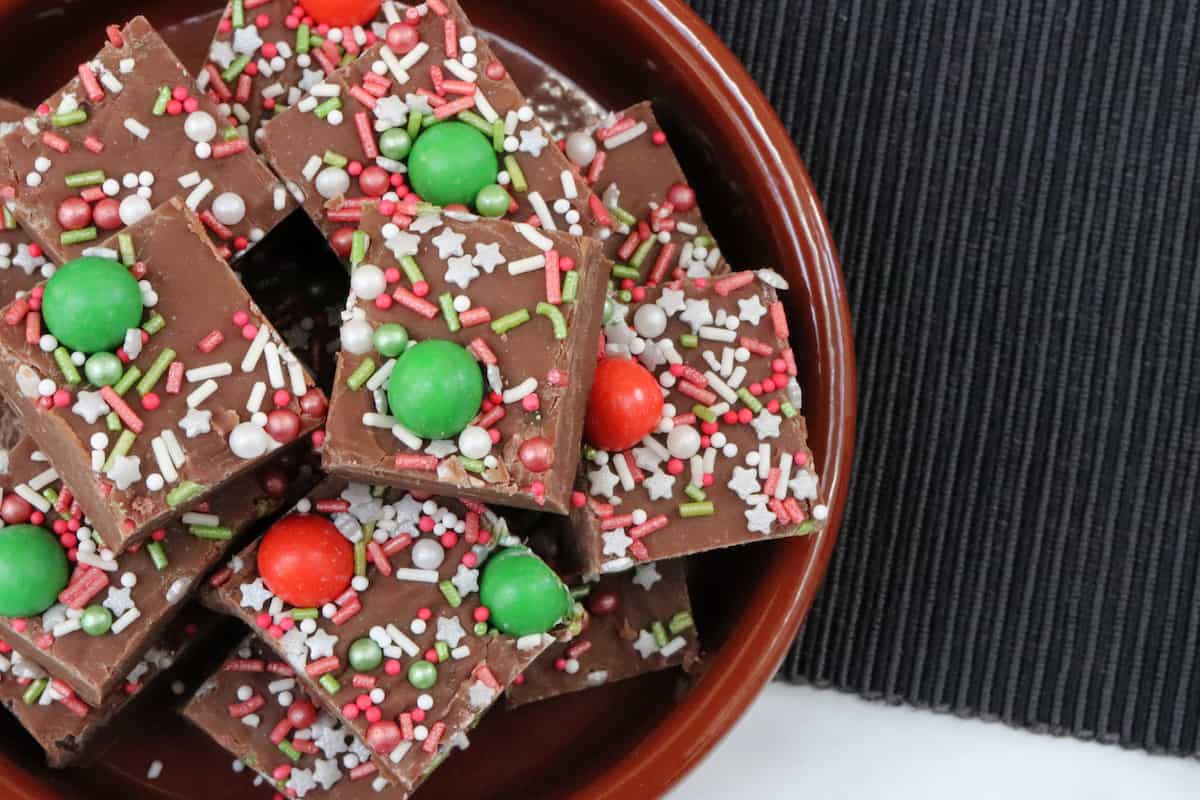 ---
Reindeer Fudge
Nothing says Christmas like reindeer, and so this Reindeer Fudge is a really fun treat to make over the festive period. Just slightly trickier than our other slow cooker fudge recipes, it's something the whole family will love.
---
Mincemeat Fudge
Mincemeat Fudge was our festive attempt at slow cooker fudge and it worked perfectly. The mincemeat and added dried fruit gave a really nice texture to the Christmas fudge and it had a really moreish quality to it. The perfect Christmas gift or treat to enjoy over the festive season and a great way to use up leftover mincemeat too.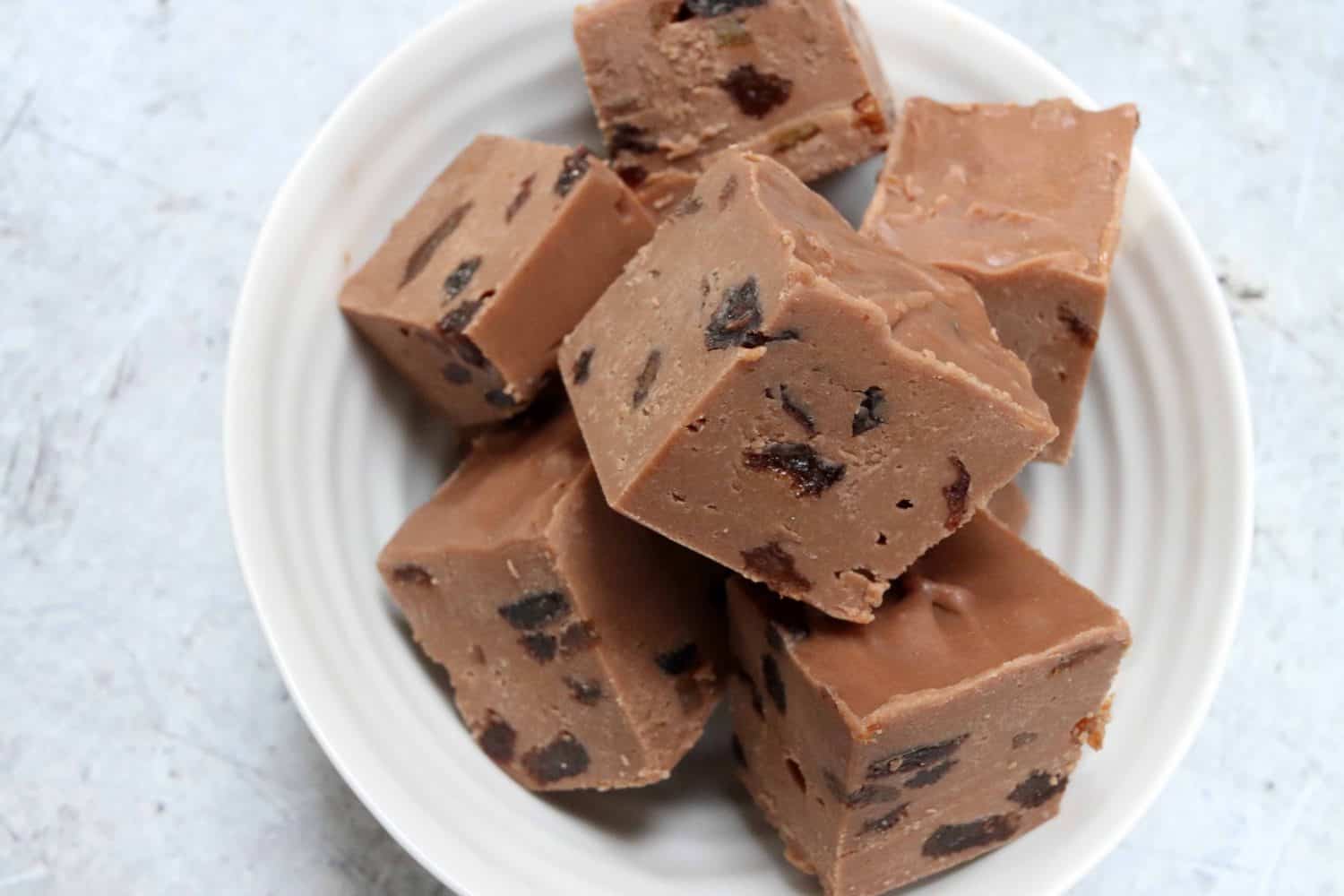 ---
Mince Pie Fudge
Taking the Mincemeat Fudge to another level, this Mince Pie Fudge has added pieces of pastry, making it taste just like a really rich and flavoursome mince pie. Great for gifting.
---
Christmas Pudding Fudge
Christmas pudding is a really classic Christmas flavour and this Christmas Pudding Fudge tastes just like Christmas! Easy to make and perfect to share over the festive season.
---
Candy Cane Peppermint Fudge
Another great festive option for the holiday season is our Candy Cane fudge. Lovely and minty, with a nice texture from the candy cane pieces, it's a sweet treat that the whole family will love and looks fantastic given as gifts too.
---
Cherry Bakewell Fudge
This Cherry Bakewell Fudge has all the flavours of a Cherry Bakewell that can be enjoyed all year round. If you love those sweet little tarts with a cherry on top then you will adore this fudge too!
---
Lemon Meringue Fudge
Lemon Meringue is such a classic flavour combination that it was only right for us to make a Lemon Meringue Fudge too. The meringue pieces in this fudge add a really lovely texture.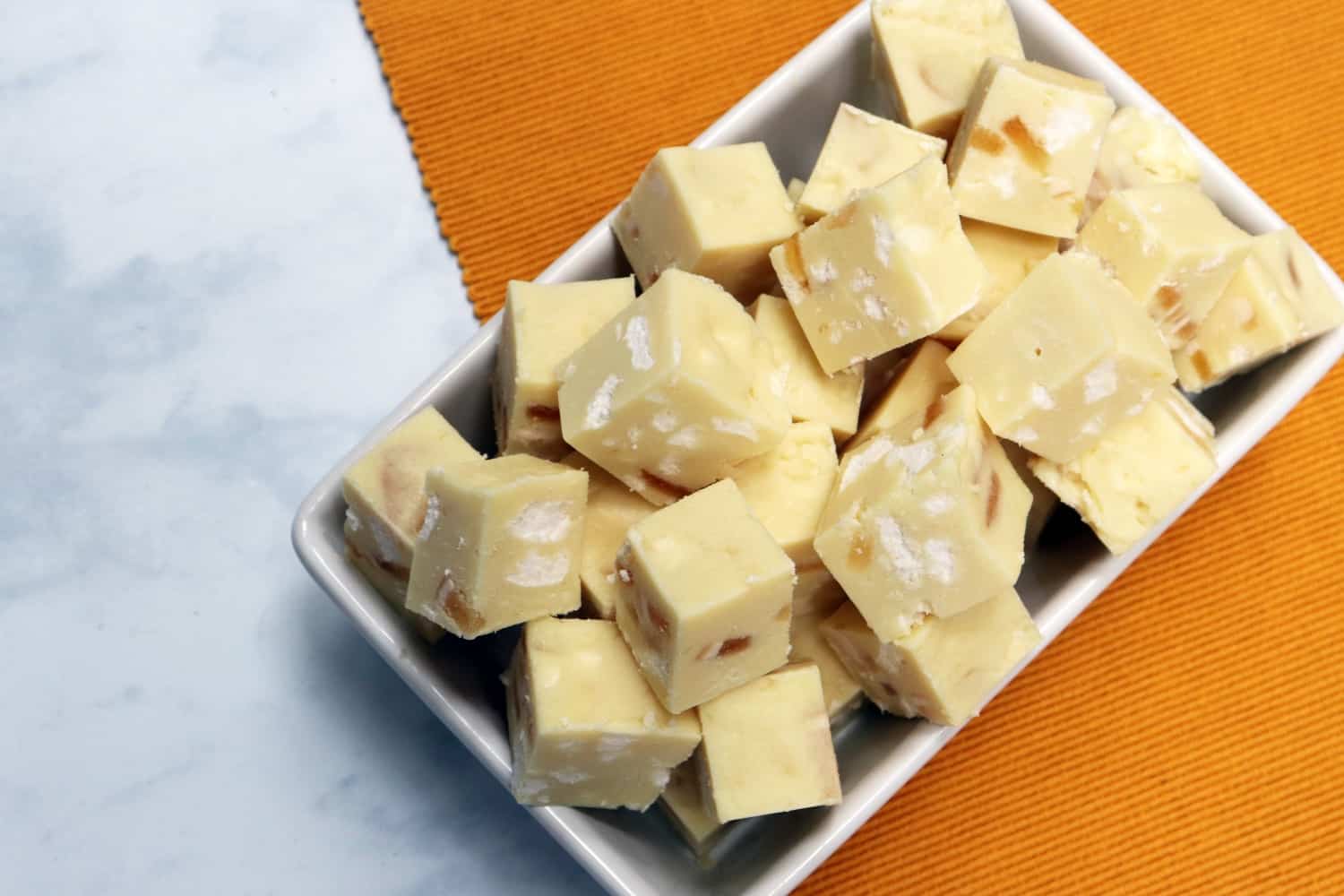 ---
Love Hearts Fudge
A fudge option that children will love, and that's great for Easter of Valentines, is Love Heart Fudge. So simple to make and tastes great, with a slight fizz to it. So different to other fudge flavours we've made.
---
Heart Shaped Fudge
Another great option for Valentines is this Heart Shaped Fudge. So easy to customise and looks fantastic too. Such a lovely treat for anyone you're thinking about.
---
White Chocolate Valentines Fudge
This Valentine's fudge is super easy to make and perfect for Valentines Day. It's a great recipe to make for seasonal treats and looks amazing in gift bags.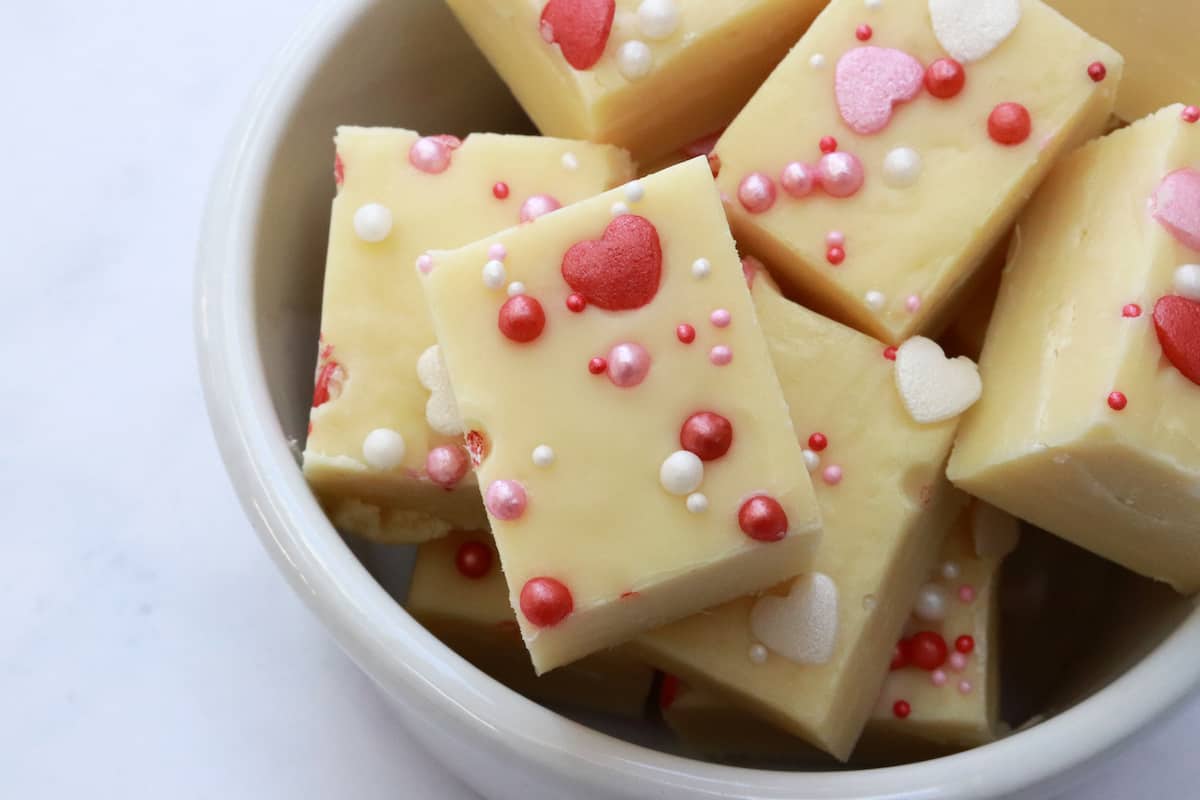 ---
Bubblegum Fudge
This Bubblegum Fudge is perfect for any child who love bubblegum flavour. Lovely and sweet, it's the perfect birthday or party treat and one that really won't last long!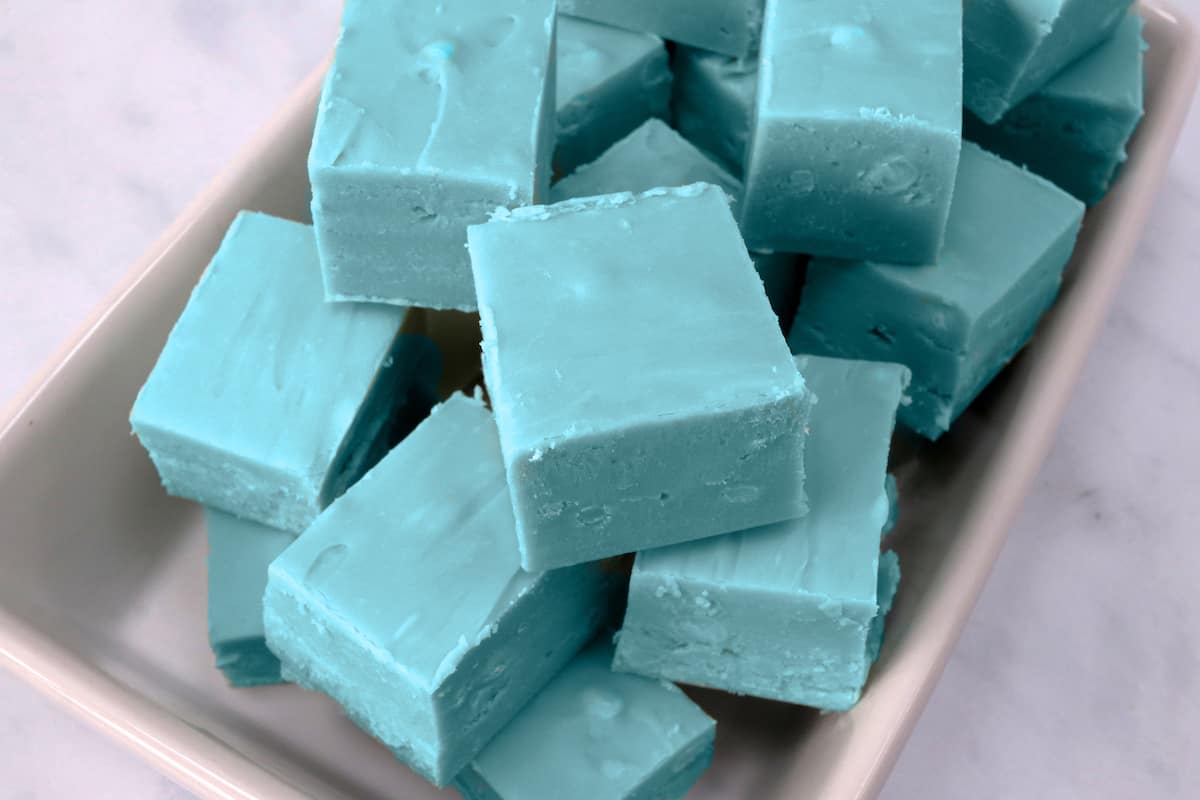 ---
Easter Egg Fudge Shapes
Seasonal fudge doesn't get better than these Easter Egg Fudge Shapes. Bite size chunks of deliciousness, a wonderful sweet treat that looks great and is wonderful to gift.
---
Mini Egg Fudge
Keeping the Easter theme, our white chocolate Mini Egg fudge is a great treat for Easter – or any time of the year you can get your hands on some Cadbury Mini Eggs! Just delicious.
---
Parma Violets Fudge
Another classic sweet flavour is Parma Violets – and one you either love or hate! Parma Violet Fudge was a natural creation for me as I absolutely love them!
---
After Eight Fudge
This may be my absolute favourite fudge to date. It tastes just like After Eights, is so rich and I've always loved dark chocolate. After Eight Fudge is a must for any After Eight fan!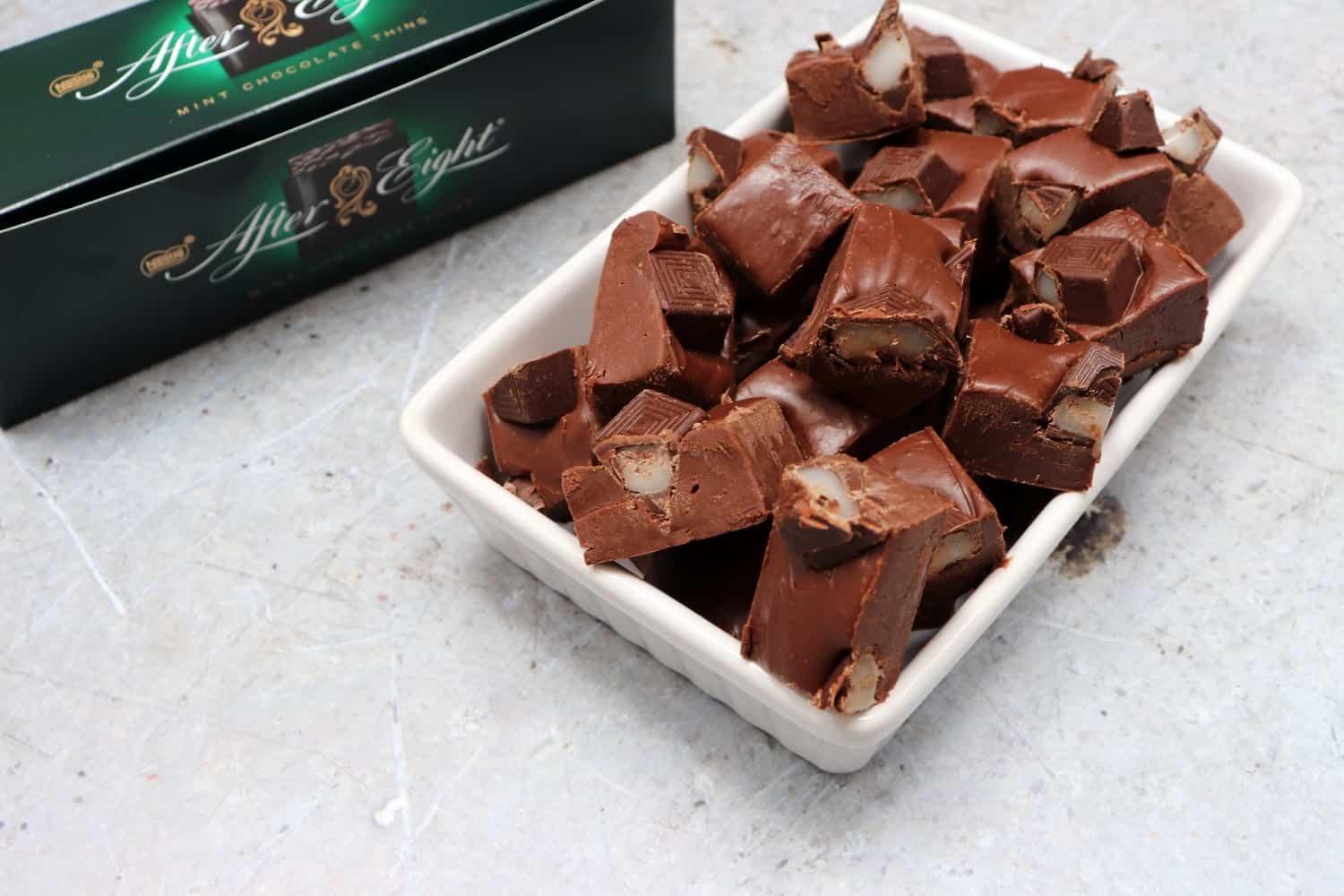 ---
Mars Bar Fudge
This three ingredient Mars fudge is one of the easiest slow cooker fudge recipes we've made but also one of my absolute favourites!
---
Snickers Fudge
This Snickers Fudge is the perfect recipe for a Snickers fan! Full of rich chocolate, peanuts and nougat, it's utterly delicious and one you just won't be able to stop eating!
---
Reese's Peanut Butter Cup Fudge
This Reese's Peanut Butter Cup Fudge is a must for any Reese's fan. The taste is just like that in the iconic chocolates and good enough to share.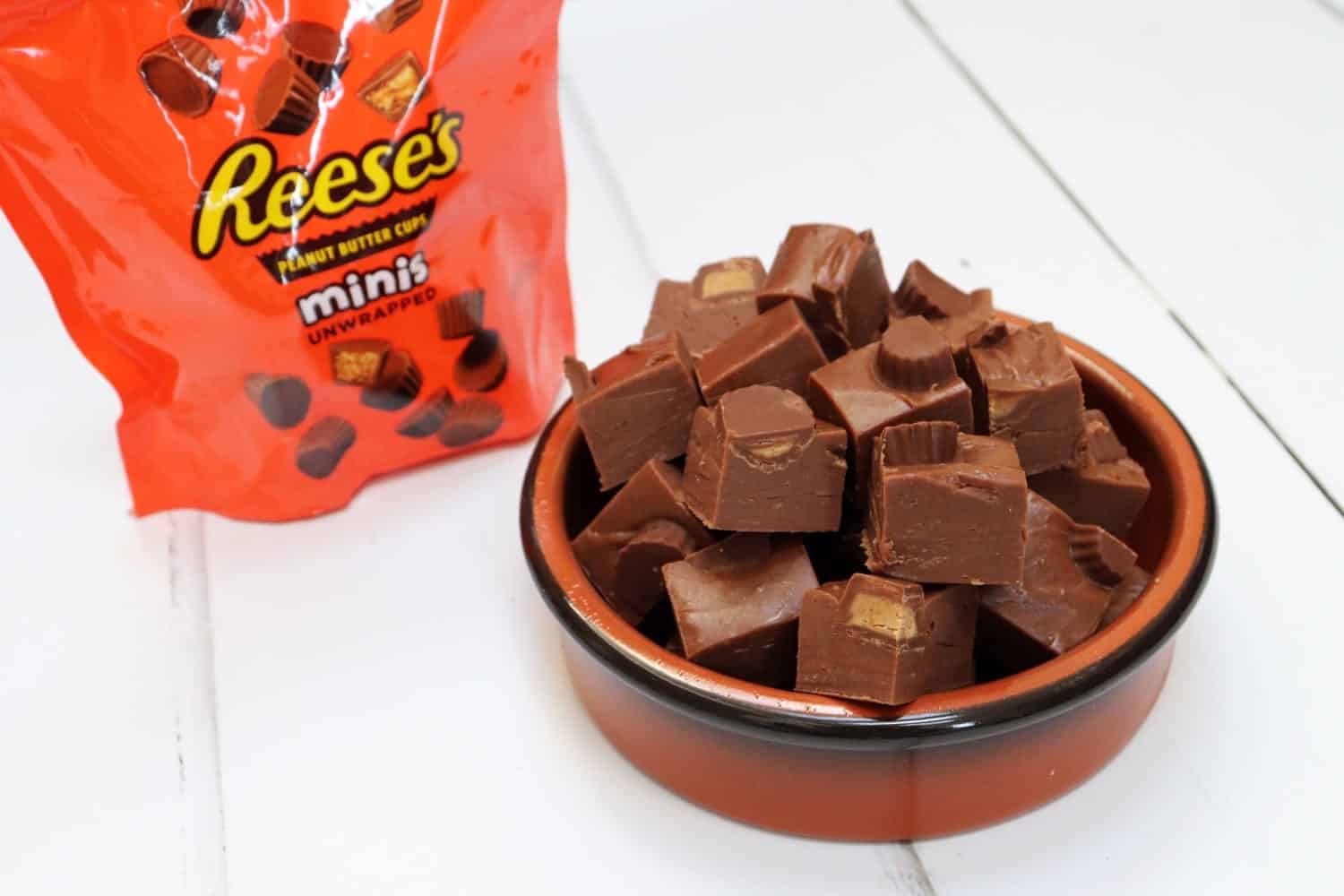 ---
Reese's Pieces Fudge
Another great options for any Reese's fan is this Slow Cooker Reese's Pieces Fudge. So full of flavour, it's moreish and delicious. Such a great sweet treat!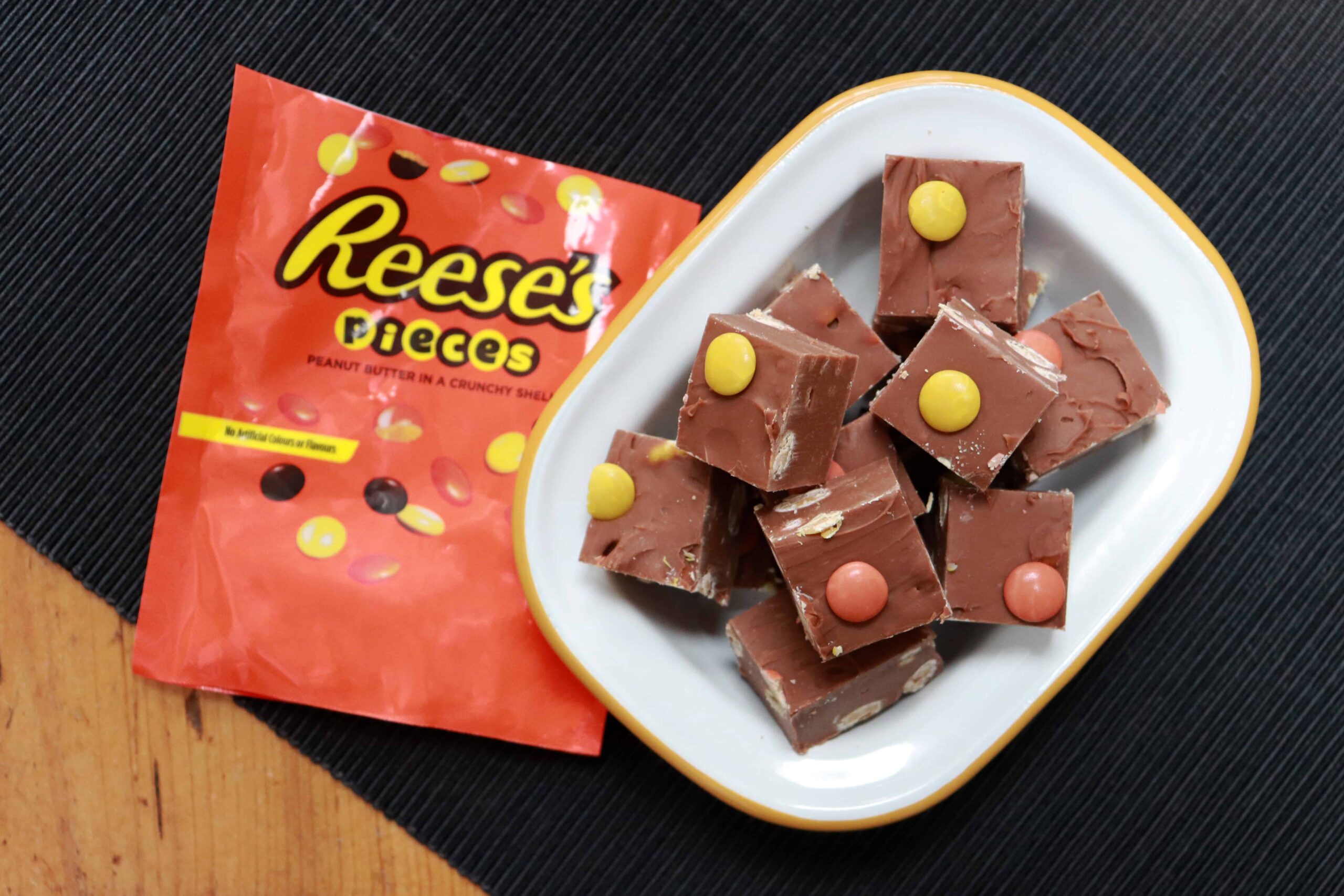 ---
Rum and Raisin Fudge
A really classic flavour combination has to be Rum and Raisin. This rum and raisin fudge has just the right amount of dried fruit and just enough rum to give it a fantastic flavour and the raisins add a lovely texture too.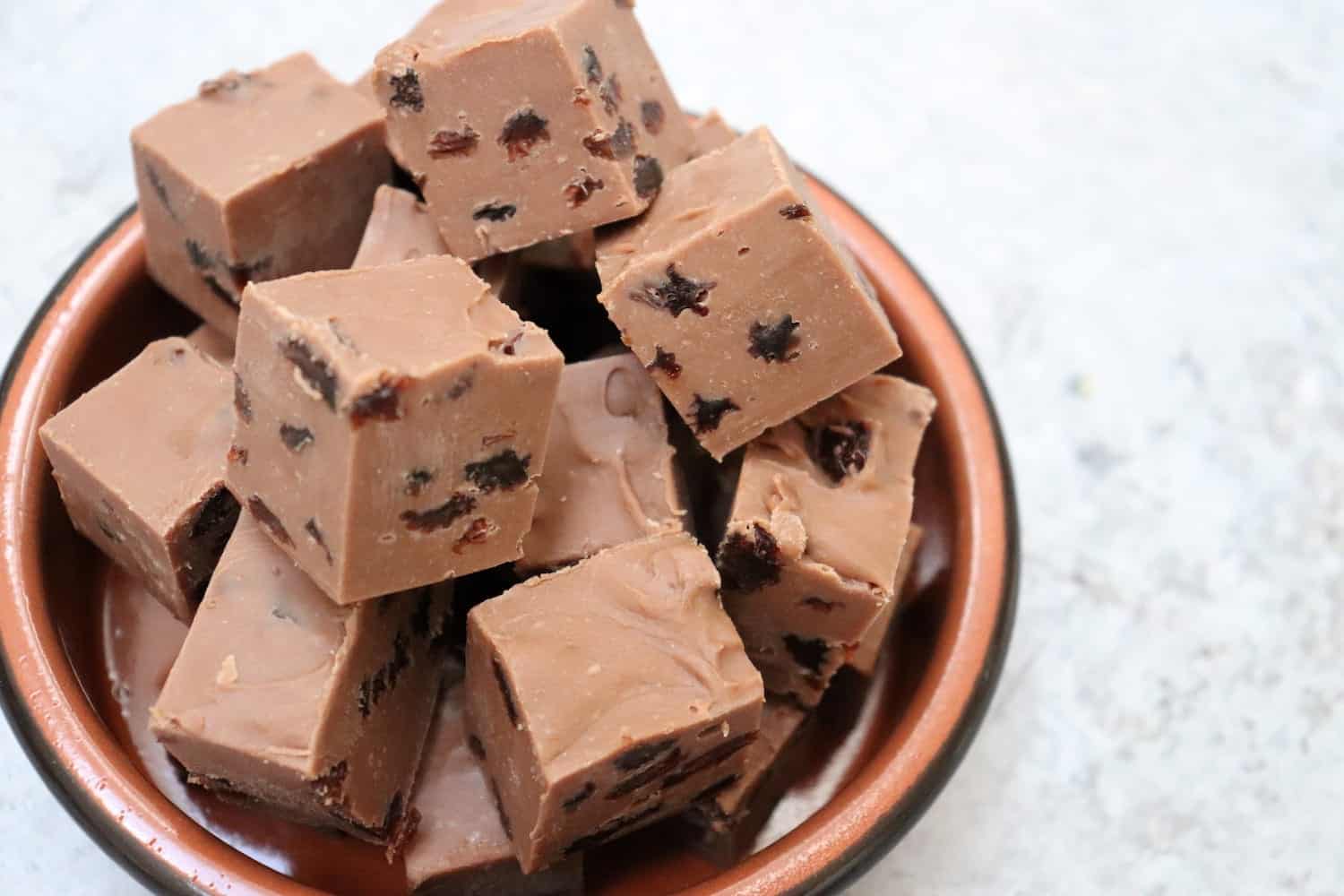 ---
Pistachio and Cherry Fudge
I love pistachio anything and so I created this Pistachio Cherry Fudge to suit my own tastes – and it's a good one! The cherry and pistachio pieces give it a great consistency and it's really full of flavour.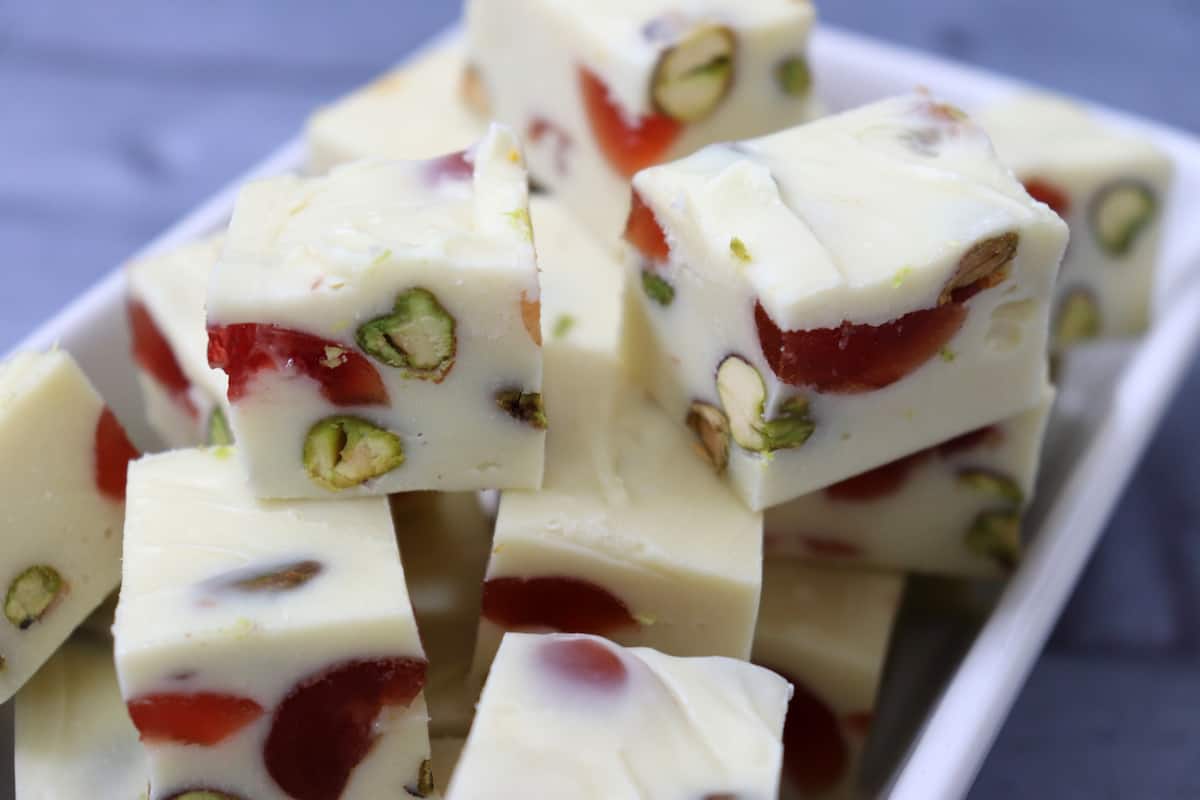 ---
Pistachio and Cranberry Fudge
This is another great pistachio based fudge that is fantastic for the festive season or any other time of year. Pistachio and Cranberry Fudge is a great fudge flavour to share.
---
Pistachio Fudge
If you'd rather have a pistachio fudge without the cherry or cranberry then this one's for you. Full of pistachio flavour and wonderfully creamy. It's delicious.
Eton Mess Fudge
I wanted to create a fudge with all the flavours of summer and one of my favourite summer desserts is Eton Mess. This Eton Mess Fudge is full of strawberries, meringue and creamy white chocolate.
---
Pumpkin Fudge
In the spirit of seasonal fudge we made pumpkin fudge over the autumn, and for Halloween. It's made simply with pumpkin spice syrup, milk chocolate chips and condensed milk but you could also try and make it with pumpkin puree too.
---
Halloween Fudge
For another autumnal version, our Halloween fudge is easy to make and something the whole family will love. Using just three ingredients, it look great and would be perfect as part of a Halloween buffet spread or given as gifts,
---
Coffee and Walnut Fudge
If you love coffee then you'll love this Coffee and Walnut fudge. Such a wonderful flavour combination for any coffee fan and one that is just so easy to make too. You can use any coffee you have to hand or even just coffee flavouring – and leave out the walnuts if you feel like it as well!
---
Maple and Pecan Fudge
I loved the nutty texture of the Coffee and Walnut Fudge recipe so wanted to create another classic fudge flavour with a similar texture. This Maple and Pecan Fudge is wonderful, rich and full of flavour with a really nice consistency.
---
Terry's Chocolate Orange Fudge
This Terry's Chocolate Orange Fudge is one of our simplest fudge recipes – using only two main ingredients. You literally need nothing more than condensed milk and chocolate oranges! This chocolate orange fudge slow cooker recipe is one of our favourites.
---
Dark Terry's Chocolate Orange Fudge
After making the original Terry's Chocolate Orange Fudge it felt only right that I should make a Dark Terry's Chocolate Orange Fudge too. A great option for any dark chocolate fan and it tastes just like the dark chocolate oranges as well. Deep and rich.
---
White Terry's Chocolate Orange Fudge
And the Terry's hat trick is complete! It was only right to make a Terry's White Chocolate Orange Fudge and this one is perfect. It tastes beautifully of orange but lovely and creamy with the white chocolate too. Just like a Terry's White Chocolate Orange!
---
White Chocolate Fudge
Slow cooker fudge doesn't get simpler that this Slow Cooker Fudge White Chocolate. It's so creamy and a fantastic base for adding dried fruit or nuts to give the fudge a bit of texture. This is a great recipe to start on if you're looking to make your very first slow cooker fudge.
---
Easy Chocolate Fudge
But, if milk chocolate is more your thing then a really simple Slow Cooker Chocolate Fudge recipe could be perfect. We stirred in Smarties at the end of cooking and then topped with some extra Smarties too but you could add any chocolate confectionary you like. This makes such a rich and creamy crock pot chocolate fudge and it's an instant hit with the kids too.
---
Two Ingredient Caramel Fudge
This is such a simple slow cooker fudge caramel recipe – using just two ingredients – and giving such a wonderful caramel chocolate fudge flavour. It's the perfect gift or sweet treat and so easy to make.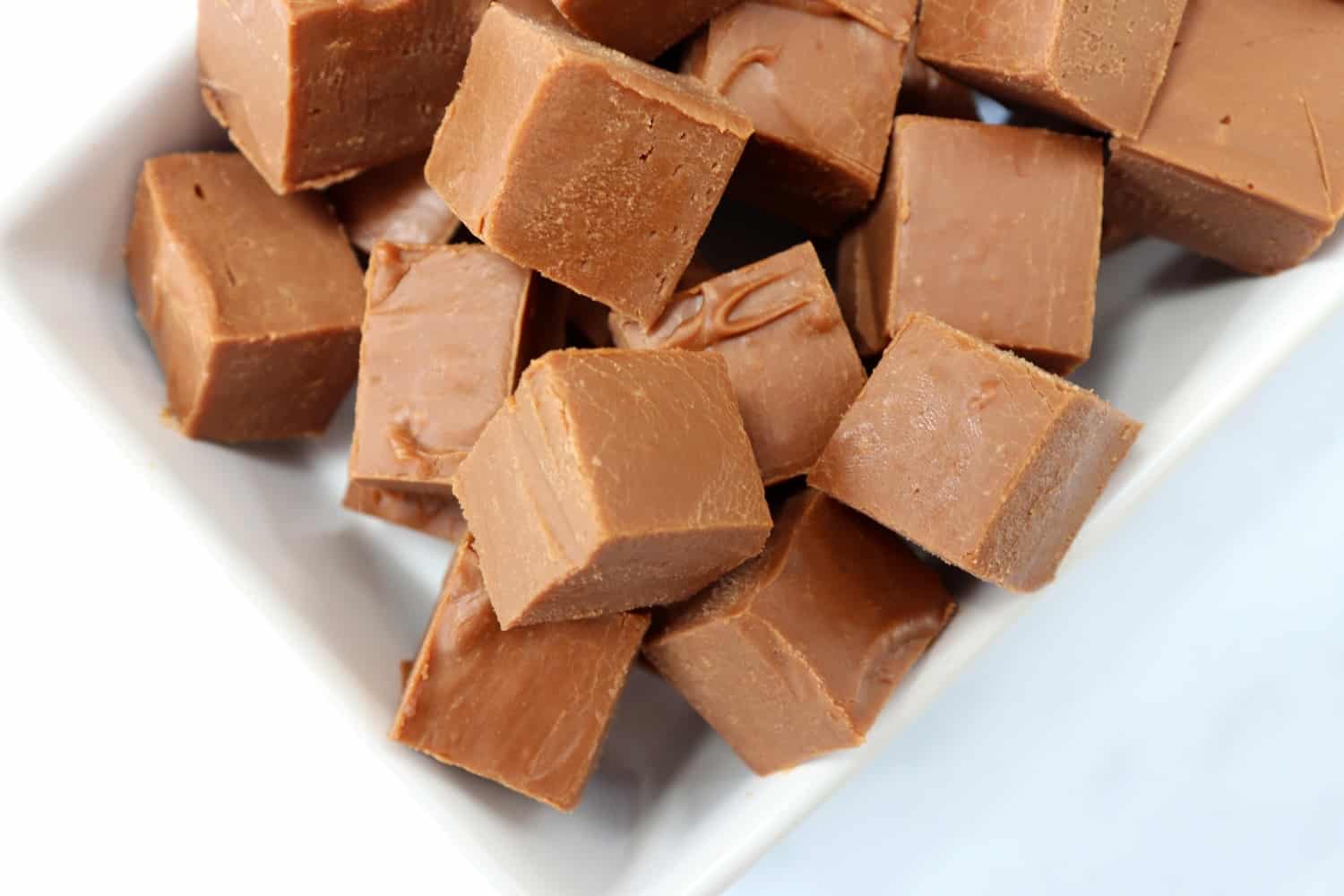 ---
Salted Caramel Fudge
A really nice variation of the Caramel Fudge is Slow Cooker Fudge Salted Caramel. I don't know about you but I always find Salted Caramel is never quite salty enough, and mostly just caramel. Well, this Salted Caramel has a wonderfully natural salty tang to it – and you can easily vary the amount of salt too. A must for any real Salted Caramel fan!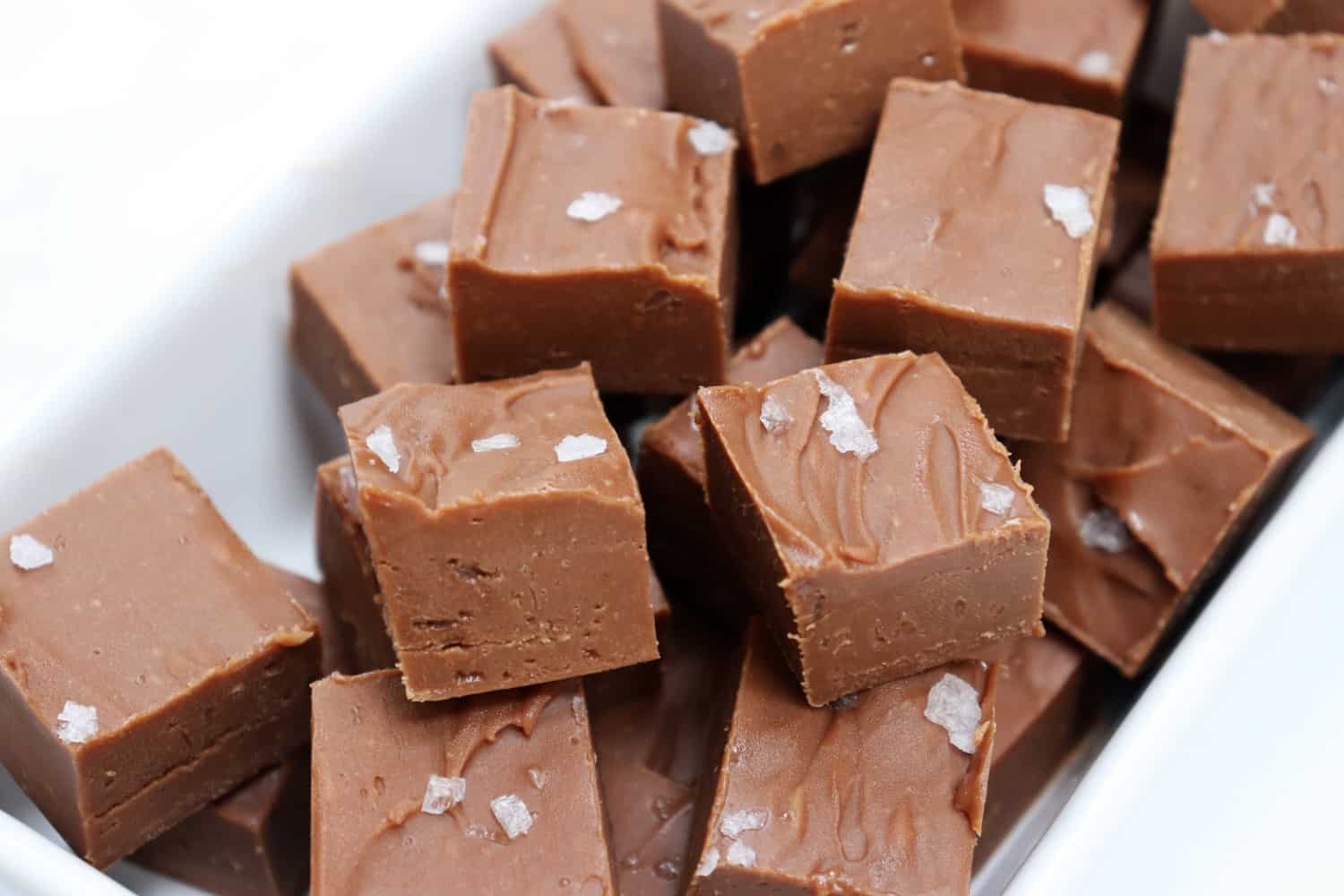 ---
Mint Aero Fudge
If you love mint chocolate then this is the Mint Aero fudge for you. Using a combination of Mint Aero and Mint Aero Bubbles as well as normal milk chocolate it gives a rich and minty flavour just like eating Aero bars!
---
Mint Chocolate Fudge
This Mint Chocolate Fudge is reminiscent of mint chocolate chip ice cream. It's so fresh and minty with a lovely chocolate flavour too. A flavour that so many people will love.
---
Kinder Style Fudge
This is the fudge for you if you love Kinder chocolate. That fantastic mix of white and milk chocolate that just melts in your mouth. Kinder style fudge is a great way of using up chocolate after Easter or Christmas as pretty much anything goes!
---
Kinder Bueno Fudge
This fudge is a must for any Kinder Bueno fan. Full of delicious Kinder Bueno pieces, surrounded by Kinder flavour fudge, it's utterly delicious!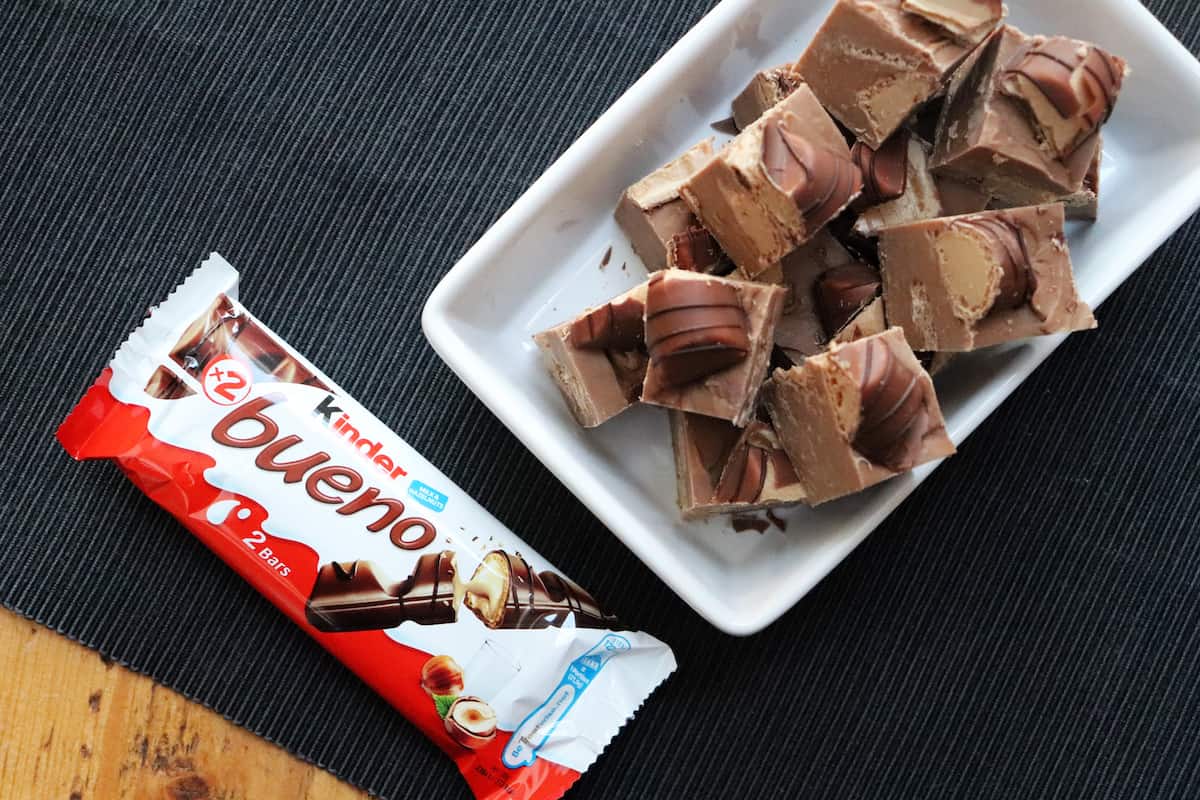 ---
Peanut Butter Fudge
This easy peanut butter fudge took me a couple of attempts to perfect and now has just the right amount of peanuts and chocolate. If you add too much peanut butter you get a super crumbly fudge – which may be just the thing you like. I wanted to keep the same softer fudge consistency so used less peanut butter but it still gives a really peanutty flavour. If you love peanut butter you'll love this!
---
Vegan Dairy Free Coconut Fudge
I realised when making all the above fudge flavours that I didn't have a vegan fudge recipe or one that anyone dairy free could eat so I tried to find a sweetened condensed milk alternative. Condensed coconut milk was the answer and this pretty good vegan, dairy free coconut fudge was the result!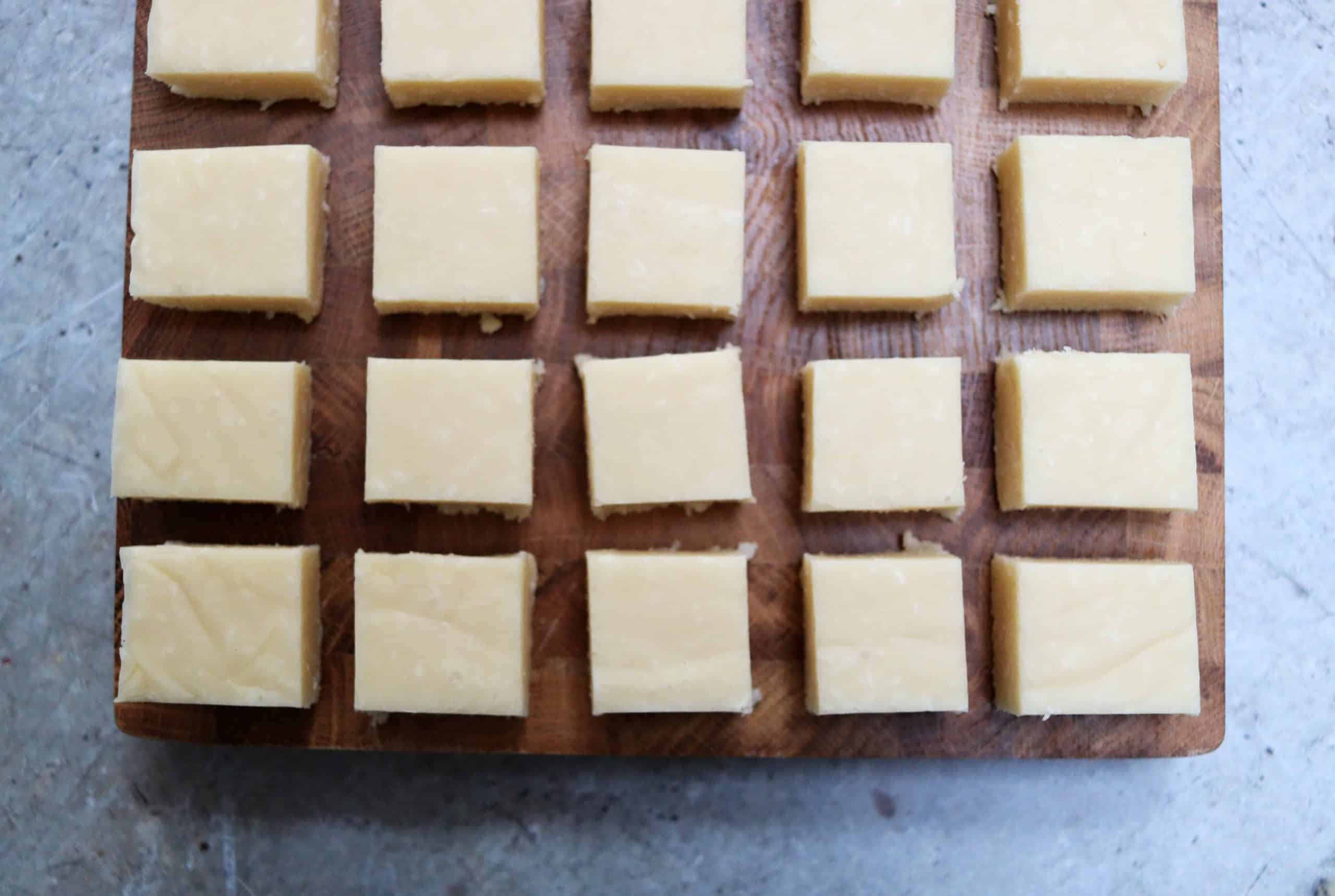 ---
Vegan Fudge
Since making the coconut fudge above, Carnation have launched a Vegan Condensed Milk Alternative which is fantastic for making true vegan fudge without the coconut flavour. So, I thought I'd make a basic Vegan chocolate fudge for anyone that doesn't have dairy.
---
Clotted Cream Fudge
Unlike the recipes above, this clotted cream fudge is made in a more traditional way – without the use of condensed milk. And it's delicious! For any fan of vanilla fudge or traditional, crumbly fudge this will be a winner with them.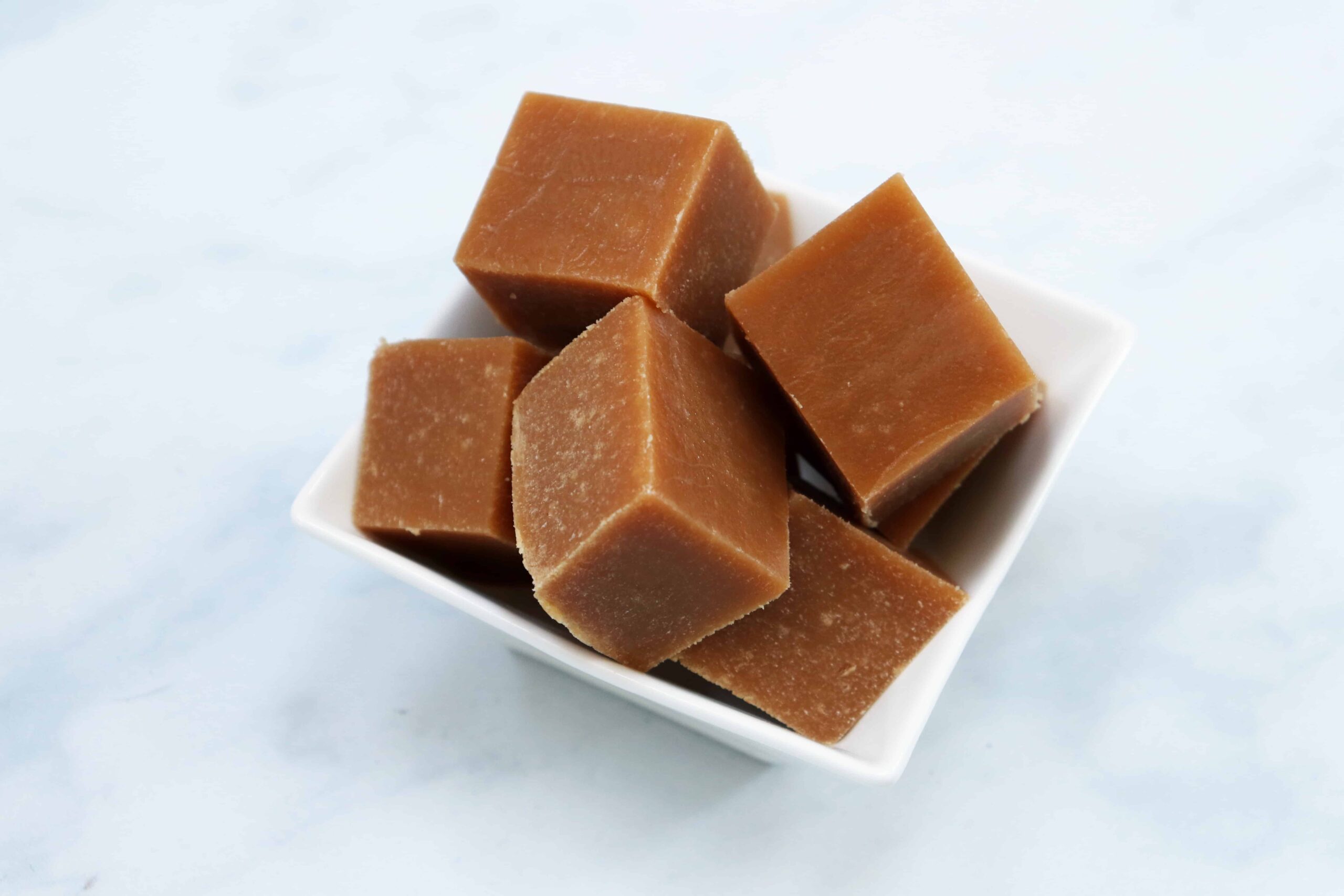 ---
So there you have all our fabulous fudge recipes so far – and I'm sure there are many more homemade fudge slow cooker recipes that we can create as time goes on. They have turned into our most favourite slow cooker desserts. I'll update this with any new creations – we really do love fudge recipes!
What crock pot fudge flavors would you like to make in your kitchen? I'm already planning a Chocolate Peanut Butter fudge, Key Lime Pie fudge, a simple Vanilla Fudge, one that includes cookie dough and a Strawberry Fudge too! Let me know if you have any more suggestions to add to the list.