This post contains affiliate links and I may receive commission if you visit a link and buy something. Purchasing via an affiliate link doesn't cost you any extra, and I only recommend products and services I trust.
The children love it when we make sweet treats at home and there really is nothing simpler than making a batch of Slow Cooker Fudge. Our really simple Slow Cooker White Chocolate Fudge uses just three main ingredients and is one of the easiest crock pot recipes to make.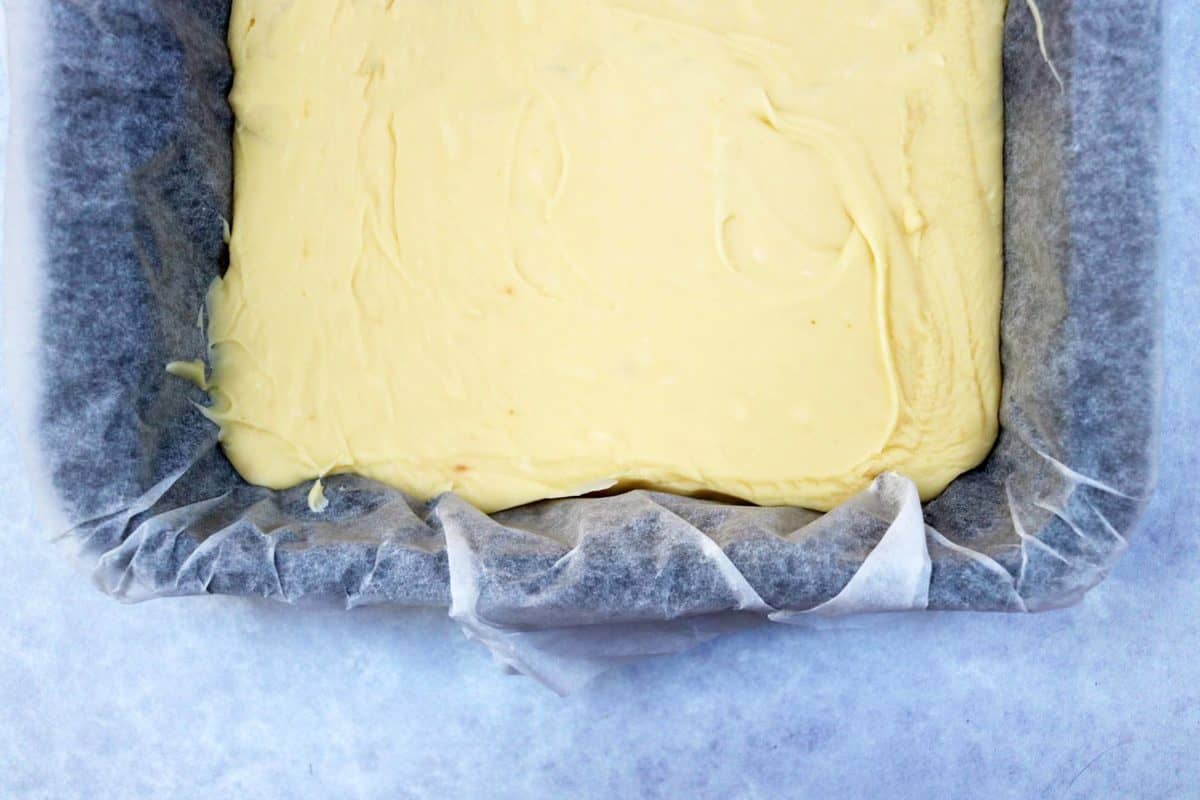 White Chocolate Slow Cooker Fudge is a great festive gift at Christmas or as an end of term thank you for a teacher from the kids. You can put it into individual gift bags or pretty jars to make it a really beautiful gift and everyone always loves slow cooker christmas fudge!
Crock pot fudge is also lovely to have to dip into when friends or family come round. It looks pretty and tastes pretty great too. It's quickly become one of our favourite slow cooker recipes.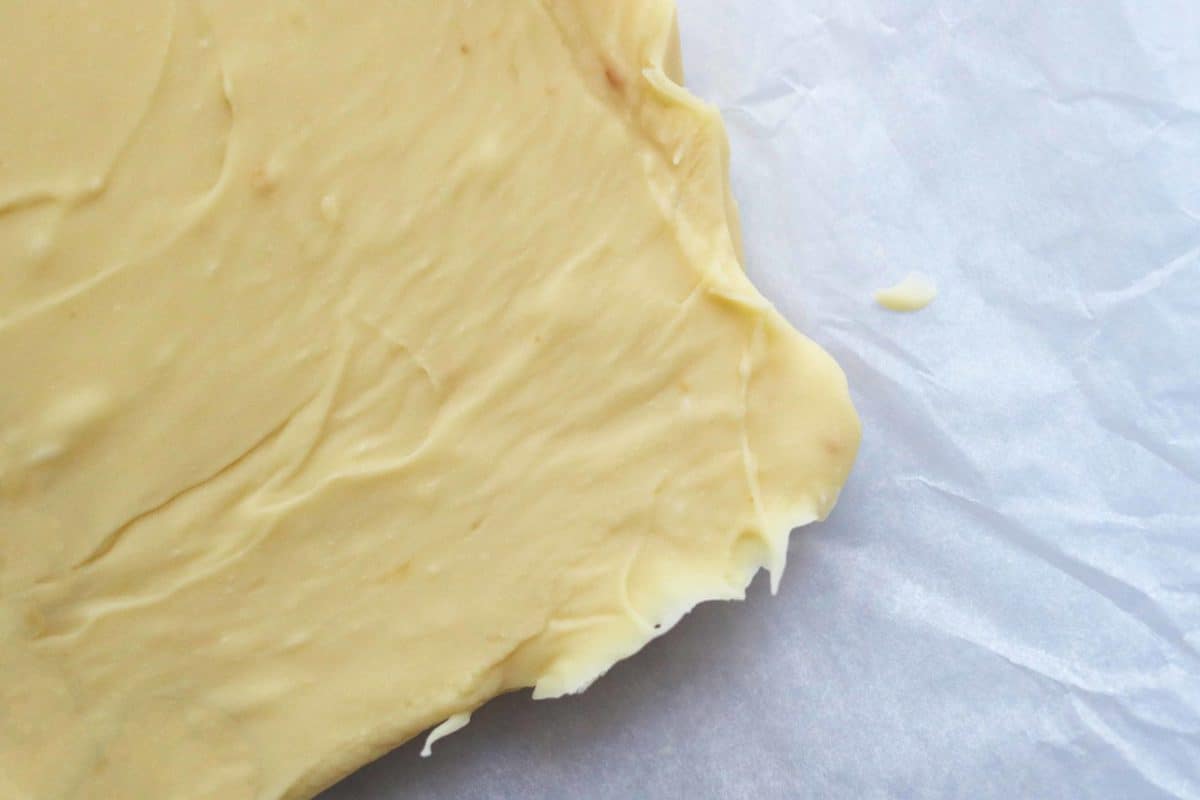 LP and Little Man love that they can make this easy slow cooker chocolate fudge pretty much completely by themselves – and the only tricky bit is pouring it into the dish and waiting for it to cool and set. They would eat it straight from the crock pot if I let them!
Can you make this white chocolate fudge slow cooker recipe in the microwave?
Many people make fudge in the microwave but I much prefer the control I have when I make it in the crock pot or slow cooker. If you don't have a slow cooker, make it in the microwave by putting the ingredients in a microwave safe bowl and heating on short bursts in the microwave, stirring in between. Then follow the instructions as per the recipe below.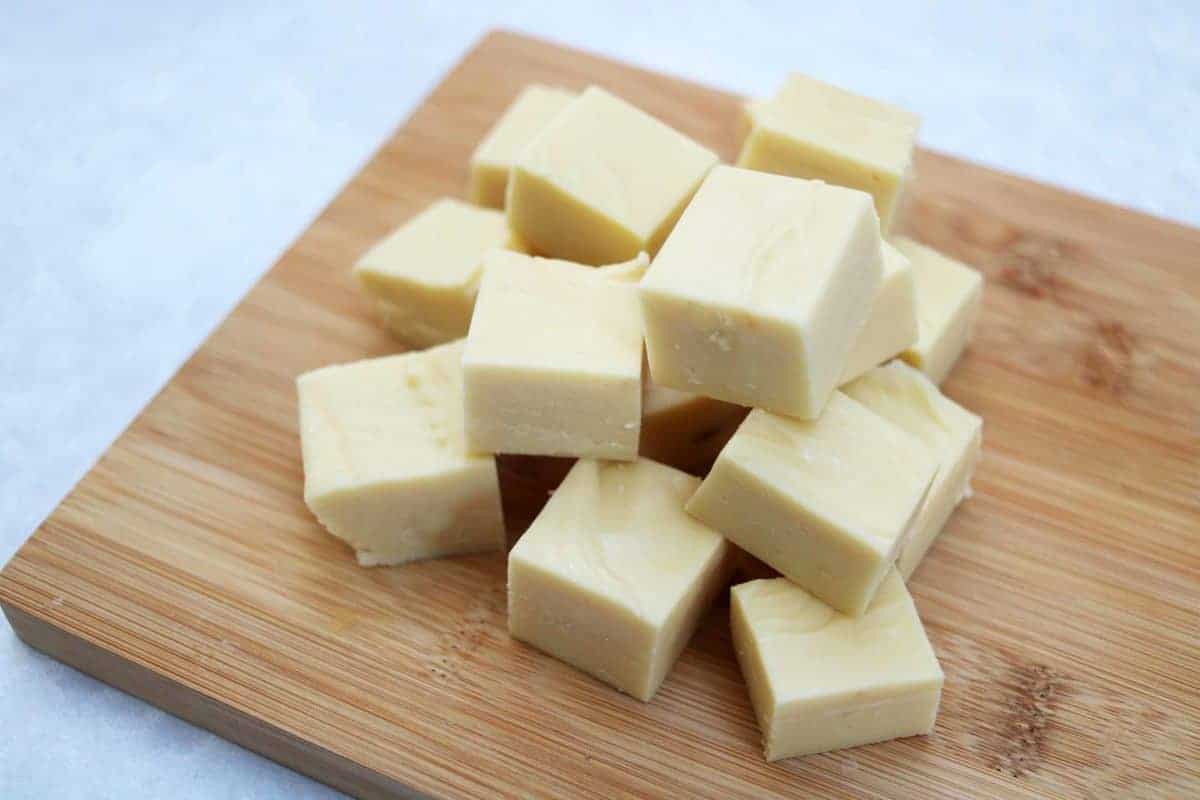 This fudge is great as a plain white easy chocolate fudge or you can add sprinkles to the top, a drizzle of milk chocolate sauce or any other flavourings that you feel like.
There are so many flavours that work well with white chocolate – raspberry, chocolate cranberry, strawberry, pretty much any dried fruit or even some nuts to add a bit of texture to the slow cooker fudge recipe or add broken up cookies to make something like our Cookies and Cream fudge. We loved the white chocolate cranberry fudge we made.
If you were looking to create a creamy milk or dark chocolate fudge instead just substitute the chocolate in this recipe for semi sweet chocolate or milk chocolate chips as appropriate.
What sort of slow cooker or crockpot should I use?
You can use any slow cookers for this home made fudge but if you have an overly large one you may find it doesn't take quite as long to cook so adjust the cooking time accordingly.
As with all baking recipes you do need to invest in decent baking paper – we've found having good quality sheets makes all the difference.
How long does slow cooker fudge keep for?
This slow cooker fudge keeps well in the fridge, in an airtight container for a couple of weeks. The flavour matures over the first couple of days of it being in the fridge so you get the full flavour after it's been in the fridge for a few days.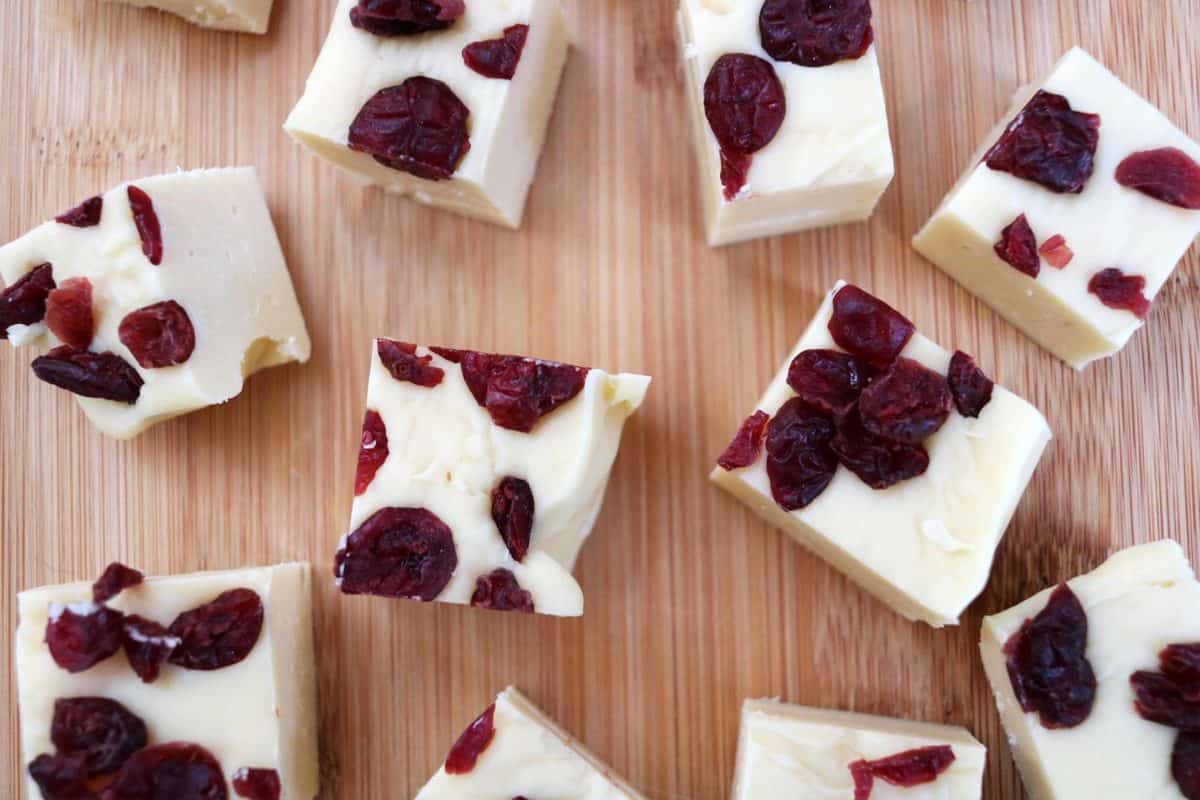 Can you make slow cooker fudge with evaporated milk?
Our slow cooker fudge works because condensed milk has a really high sugar content, needed to create that beautifully rich fudge. Evaporated milk isn't the same, doesn't have that sugar content and isn't thick enough to help the fudge thicken and set. You can't use evaporated milk in these recipes – so get some condensed milk instead.
Do you cook slow cooker fudge high or low temperature?
We always cook fudge on a high slow cooker temperature setting and it takes around 40 minutes in total. You could make it on the low setting but it would take longer and would still need to be stirred regularly. You may as well keep the slow cooker on high and be done in under an hour!
When cooking, is the slow cooker fudge lid on or off?
When making slow cooker fudge, you need to remove the slow cooker lid otherwise excess moisture would be retained in the slow cooker pot and the fudge wouldn't thicken as it needs to.
Don't worry about needing an excuse to make crock pot chocolate fudge – I can guarantee that if you make it someone will eat it and it's our first choice when it comes to slow cooker desserts.
So what are you waiting for? This easy white chocolate fudge recipe is something that everyone would appreciate and it really is an foolproof easy fudge recipe. I have also made a version of this with coconut milk and free from chocolate for a dairy free option.
Can you make this homemade fudge recipe into Milkybar Fudge?
To make Milky Bar fudge you would simply use Milkybar chocolate bars instead of generic white chocolate. You could also leave out the vanilla to have that pure smooth Milkybar taste. This would be a super simple two ingredient fudge recipe using just the candy bars and condensed milk.
I know not everyone likes white chocolate but it works really well in this recipe. You could also try a chocolate peanut butter fudge recipe – this recipe turned out so well! If you're looking for other easy slow cooker fudge ideas to try then here's our rocky road fudge, Oreo Fudge, Lotus Biscoff fudge, Salted Caramel Fudge and Terry's Chocolate Orange fudge! You can find all our similar fudge recipes here and we have a slow cooker vanilla fudge in the pipeline!
What equipment do you need to make slow cooker fudge?
Slow cooker fudge doesn't need anything special to make it, and you probably already have everything you need at home, but this is the equipment we use:
Once you've got everything you need to make the fudge you can just keep making it again and again – in so many different flavours too!
So here's our recipe for perfect White Chocolate Fudge made in the slow cooker:
Ingredients
To decorate
sprinkles/chocolate/dried fruit – anything you like!
Instructions
Break the chocolate up and add to the slow cooker bowl with the sweetened condensed milk and vanilla.
Turn the slow cooker on to high and leave to cook for 40 minutes with the lid off, stirring every ten minutes.
When melted, thick and well combined, pour the mixture into a tin lined with parchment paper or silicone baking tray, add toppings if you like, and put in the fridge to set – preferably overnight.
If you'd like to pin or print this Slow Cooker White Chocolate Fudge recipe for making fudge later you can do so at the bottom of the page. Happy baking!
Slow Cooker White Chocolate Fudge
A really simple, three ingredient fudge recipe that's lovely to enjoy at home or give as a gift.
Ingredients
397

ml

tin condensed milk

600

g

white chocolate – can be bars or chocolate chips

1

tbsp

vanilla essence
Instructions
Break the chocolate up and add to the slow cooker bowl with the condensed milk and vanilla.

Turn the slow cooker on to high and leave to cook for 40 minutes with the lid off, stirring every ten minutes.

When thick and well combined, pour into a lined tin or silicone baking tray, add toppings if you like, and put in the fridge to set – preferably overnight.
*Note: Nutritional information is estimated, based on publicly available data. Nutrient values may vary from those published.