This post contains affiliate links and I may receive commission if you visit a link and buy something. Purchasing via an affiliate link doesn't cost you any extra, and I only recommend products and services I trust.
I saw someone make reindeer brownies last year and ever since I have wanted to make reindeer fudge. I've spent all year procrastinating and trying to work out the best way of making fudge reindeers – and I finally created reindeer fudge that I was happy to share with you all.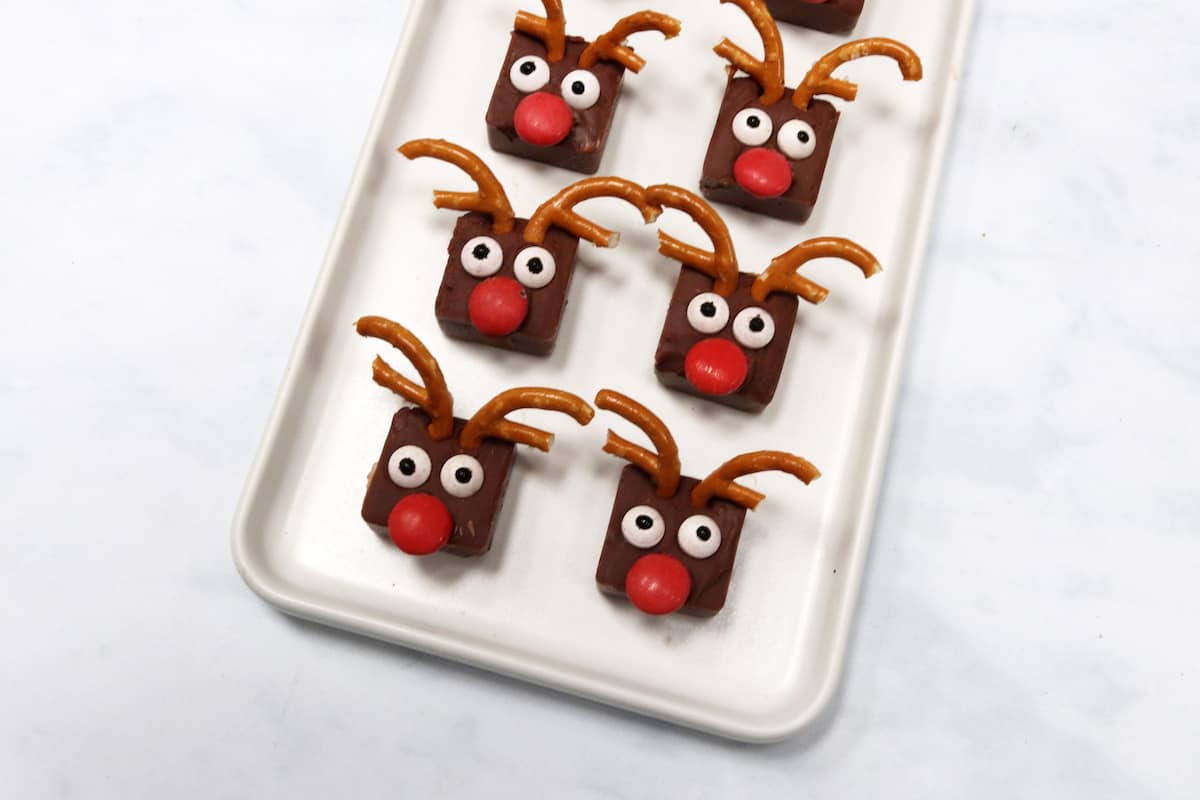 This fudge is made with our most basic, simple fudge recipe. It's made with sweetened condensed milk and milk chocolate, cooked in the slow cooker for just 40 minutes and then put into moulds and decorated to look like reindeer.
How do you make fudge into reindeers?
The problem with making fudge look like anything is that you need to be able to decorate the fudge once it's cut into pieces and, as anyone will know that has made slow cooker fudge previously, it's too firm once set to attach anything to.
Instead, we decided to make individual fudge cubes using moulds – much like the fudge hearts and fudge Easter shapes I made previously – and decorate them before they set. This works perfectly!
The finished fudge is cute but delicious. It uses simple decorations of edible eyes, red Smarties and pretzels that we cut to make antler shapes. It could not be easier – the only tricky bit is filling the moulds with chocolate but even that isn't difficult, just fiddly.
The children loved this fudge the minute they saw it and have told me I have to make it every week over the festive season. They can't get enough of it and want all their friends to be able to try it too. Who knew reindeer fudge would be so popular?!
What flavour reindeer fudge can you make?
Our children love easy milk chocolate fudge but there's nothing to stop you making other flavours of fudge reindeers if you wanted to. Peanut butter fudge would work really well and give light brown reindeer. You could also make festive Baileys fudge reindeer or any other flavour you feel like. You can see all our fudge flavours here for inspiration.
How long does slow cooker fudge keep for?
This slow cooker fudge keeps well in the fridge, in an airtight container for a couple of weeks. The flavour matures over the first couple of days of it being in the fridge so you get the full flavour after it's been in the fridge for a few days.
Can you make this fudge in the microwave?
Many people make fudge in the microwave but I much prefer the control I have when I make it in the crock pot or slow cooker. If you don't have a slow cooker, make it in the microwave by putting the ingredients in a microwave safe bowl and heating on short bursts in the microwave, stirring in between. Then follow the instructions as per the recipe below.
Can you make slow cooker fudge with evaporated milk?
Our slow cooker fudge works because condensed milk has a really high sugar content, needed to create that beautifully rich fudge. Evaporated milk isn't the same, doesn't have that sugar content and isn't thick enough to help the fudge thicken and set. You can't use evaporated milk in these recipes – so get some condensed milk instead.
Do you cook slow cooker fudge high or low temperature?
We always cook fudge on a high slow cooker temperature setting and it takes around 40 minutes in total. You could make it on the low setting but it would take longer and would still need to be stirred regularly. You may as well keep the slow cooker on high and be done in under an hour!
When cooking, is the slow cooker fudge lid on or off?
When making slow cooker fudge, you need to remove the slow cooker lid otherwise excess moisture would be retained in the slow cooker pot and the fudge wouldn't thicken as it needs to.
This crock pot chocolate fudge is really simple to make and it's one of our easiest slow cooker recipes to make and any chocolate fan would enjoy it. The kids love to help with cooking this as well as eating it afterwards!
If you're looking for other slow cooker Christmas fudge recipe ideas to make, why not try our peppermint candy cane fudge, Terry's chocolate orange fudge or Baileys fudge? You can see all our fudge recipes to date here.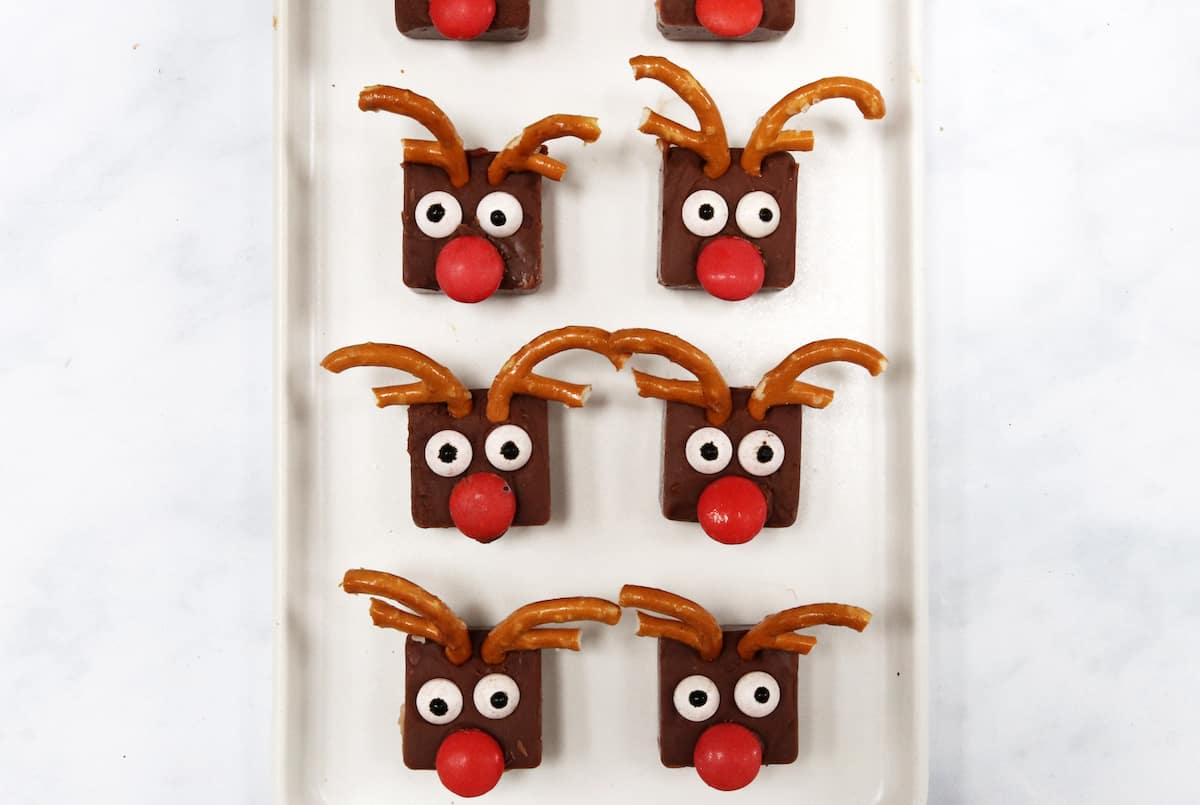 What equipment do you need to make slow cooker fudge?
Our usual slow cooker fudge doesn't need anything special to make it, and you probably already have everything you need at home, but this is the equipment we use:
For this Christmas Reindeer Fudge, instead of our typical tin that the fudge sets in, we use square moulds. You could also try using circles or triangles – whatever moulds you feel like to get that cute reindeer finish!
So here's our Christmas Chocolate Reindeer Fudge recipe:
Ingredients
To decorate
Instructions
If you'd like to save, pin or print this Slow Cooker Reindeer Fudge recipe for later you can do so below. Happy baking!
Slow Cooker Reindeer Fudge Recipe
This Slow Cooker Reindeer Fudge is a fun treat for the festive season. Cute and quirky, kids will love it and it'll look fantastic as part of any Christmas buffet spread.
Ingredients
397

ml

condensed milk

400

g

milk chocolate

– can be bars or chocolate chips
To decorate
Edible eyes

Red Smarties

Pretzels

– cut in half
Instructions
Break the chocolate up and add to the slow cooker bowl with the condensed milk.

Turn the slow cooker on to high and leave to cook for 40 minutes with the lid off, stirring every ten minutes with a wooden spoon.

When thick and well combined, pour into moulds. Leave gaps between the moulds you fill so there's room for the antlers whilst the fudge sets!

Add edible eyes, pretzel antlers and Smarties to create your reindeers.

Put in the fridge to set – preferably overnight.
*Note: Nutritional information is estimated, based on publicly available data. Nutrient values may vary from those published.