This post contains affiliate links and I may receive commission if you visit a link and buy something. Purchasing via an affiliate link doesn't cost you any extra, and I only recommend products and services I trust.
I have made so many fudge recipes and am always having slow cooker fudge ideas but for Valentines I thought I would try something a little different. I had the idea that Valentines Day fudge should be heart shaped – and so that's what I've created.
This easy heart shaped Valentines fudge uses food coloring and candy sprinkles to make delicious hearts of fudge that anyone will appreciate. Whether you're making fudge for your loved ones, children or work colleagues, everyone will enjoy these – and they really look the part too.
For this chocolate Valentine fudge I used our basic white fudge recipe, tweaked to make it different colours. You can make whatever colour fudge you like to suit your Valentine's Day theme. Pink fudge or red fudge with red food coloring work really well.
However, you could use standard easy white chocolate fudge for white hearts, milk chocolate fudge for brown hearts or even caramac fudge for a nice creamy variation too. Whatever colours and flavours you go with, the fudge will definitely be cute Valentine treats for everyone.
Can you flavour this fudge?
If you want to add flavours to this recipe you could add a few drops of flavouring at the same time as adding food colouring. Strawberry fudge or raspberry fudge hearts would be a great variation and the perfect fudge for Valentines Day.
What sprinkles should we use?
For this easy fudge recipe I used simple pink and white hundreds and thousands but you can use any sprinkles that you like. There are so many Valentine Day candy options from heart sprinkles, to sugar strands. For best results, and to keep the true heart shape, go for smaller sprinkles over bigger ones.
What moulds should we use to make Valentines heart fudge?
I used silicone heart shaped ice cube trays for this recipe. Each tray had 14 sections and the fudge filled four trays – making 56 hearts. But, you can use any size heart moulds you like, if they're a lot bigger than ice cube size you will need to leave them to set longer.
Can you make this fudge in the microwave?
Many people make fudge in the microwave but I much prefer the control I have when I make it in the crock pot or slow cooker. If you don't have a slow cooker, make it in the microwave by putting the ingredients in a microwave safe bowl and heating on short bursts in the microwave, stirring in between. Then follow the instructions as per the recipe below.
How long does slow cooker fudge keep for?
This easy homemade fudge keeps well in the fridge, in an airtight container for a couple of weeks. The flavour matures over the first couple of days of it being in the fridge so you get the full flavour after it's been in the fridge for a few days.
Can you make slow cooker fudge with evaporated milk?
Our slow cooker fudge works because condensed milk has a really high sugar content, needed to create that beautifully rich fudge. Evaporated milk isn't the same, doesn't have that sugar content and isn't thick enough to help the fudge thicken and set. You can't use evaporated milk in these recipes – so get some condensed milk instead.
Do you cook slow cooker fudge high or low temperature?
We always cook fudge on a high slow cooker temperature setting in the crock pot and it takes around 40 minutes in total. You could make it on the low setting but it would take longer and would still need to be stirred regularly. You may as well keep the slow cooker on high and be done in under an hour!
When cooking, is the slow cooker fudge lid on or off?
When making slow cooker fudge, you need to remove the slow cooker lid otherwise excess moisture would be retained in the slow cooker pot and the fudge wouldn't thicken as it needs to.
If you're looking for other fudge inspiration, why not try our Cookies & Cream Fudge, Lotus Biscoff Fudge or Baileys Fudge? You can see all our fudge recipes to date here.
What equipment do you need to make slow cooker fudge?
This homemade fudge recipe is slightly different to our normal fudge, needing a little more equipment due to the heart shapes. Here's what we use:
Once you've got everything you need to make the fudge you can just keep making it again and again – in so many different flavours too!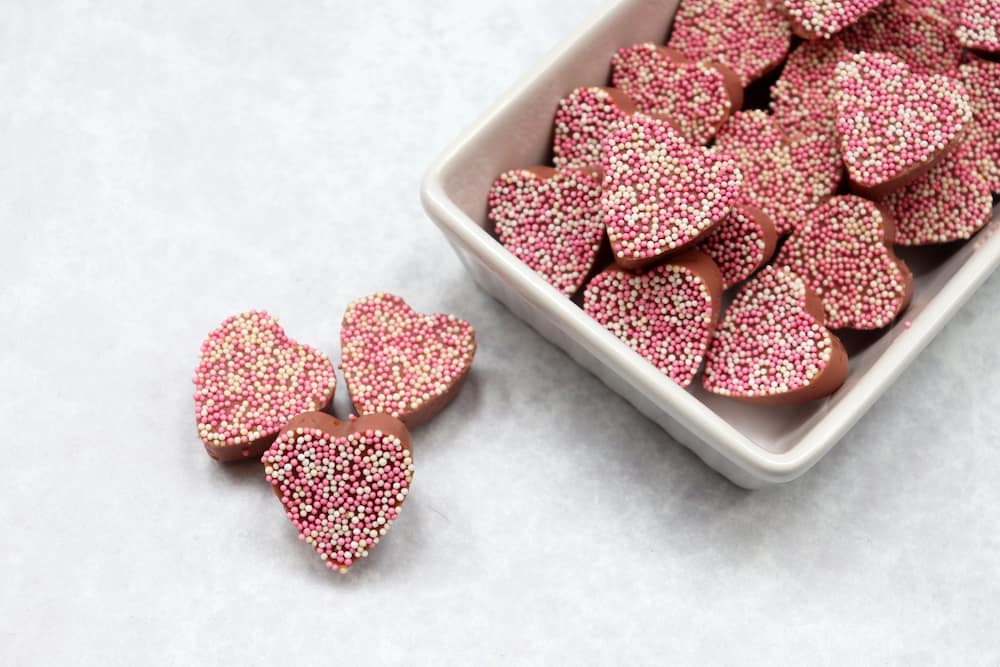 So here's our heart shaped Valentines Day fudge recipe:
Ingredients
To decorate
Instructions
If you'd like to pin or print this Slow Cooker Valentines Heart Shaped Fudge recipe for later you can do so below. Happy baking!
Slow Cooker Valentines Heart Shaped Fudge
This easy heart shaped Valentines fudge uses food coloring and candy sprinkles to make delicious hearts of fudge that anyone will appreciate.
Ingredients
397

ml

condensed milk

600

g

white chocolate – can be bars or sweet chocolate chips

Food colouring
Instructions
Break the chocolate up and add to the slow cooker bowl with the sweetened condensed milk.

Turn the slow cooker on to high and leave to cook for 40 minutes with the lid off, stirring every ten minutes.

Each time you stir, add a few drops of food colouring until you get the desired colour.

When melted, thick and well combined, spoon the mixture into silicone moulds. Use a spatula to flatten the tops.

Sprinkle with decorations and put in the fridge to set. They should be ready in a couple of hours.
*Note: Nutritional information is estimated, based on publicly available data. Nutrient values may vary from those published.