Disclosure: We have been gifted Merlin Annual Passes for the year however all opinions are my own.
It will come as no surprise to anyone that knows us – or follows us on social media – to hear that we love Legoland Windsor. It's so close to where we live and somewhere we spend so much time each year with our Merlin Annual Passes. So, when we booked our holiday to Florida we knew that we just had to visit Legoland Florida whilst we were there – especially as we got a 50% discount on ticket prices with our Merlin Annual Passes. It was high on our list of things to do in Florida that didn't involve the Disney or Universal parks.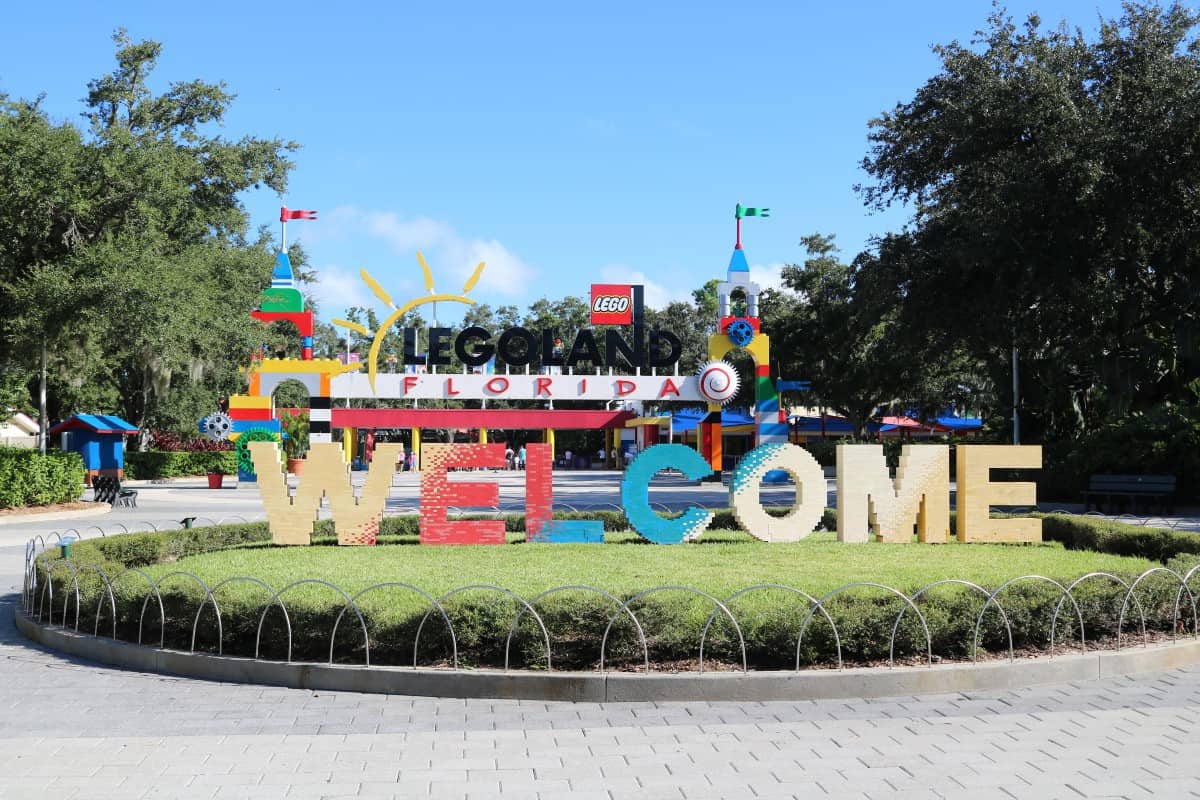 We arrived at Legoland Florida bright and early. There's so much parking which usually costs $17 a day but they had an online voucher to show to get free parking – so definitely check the website before you visit.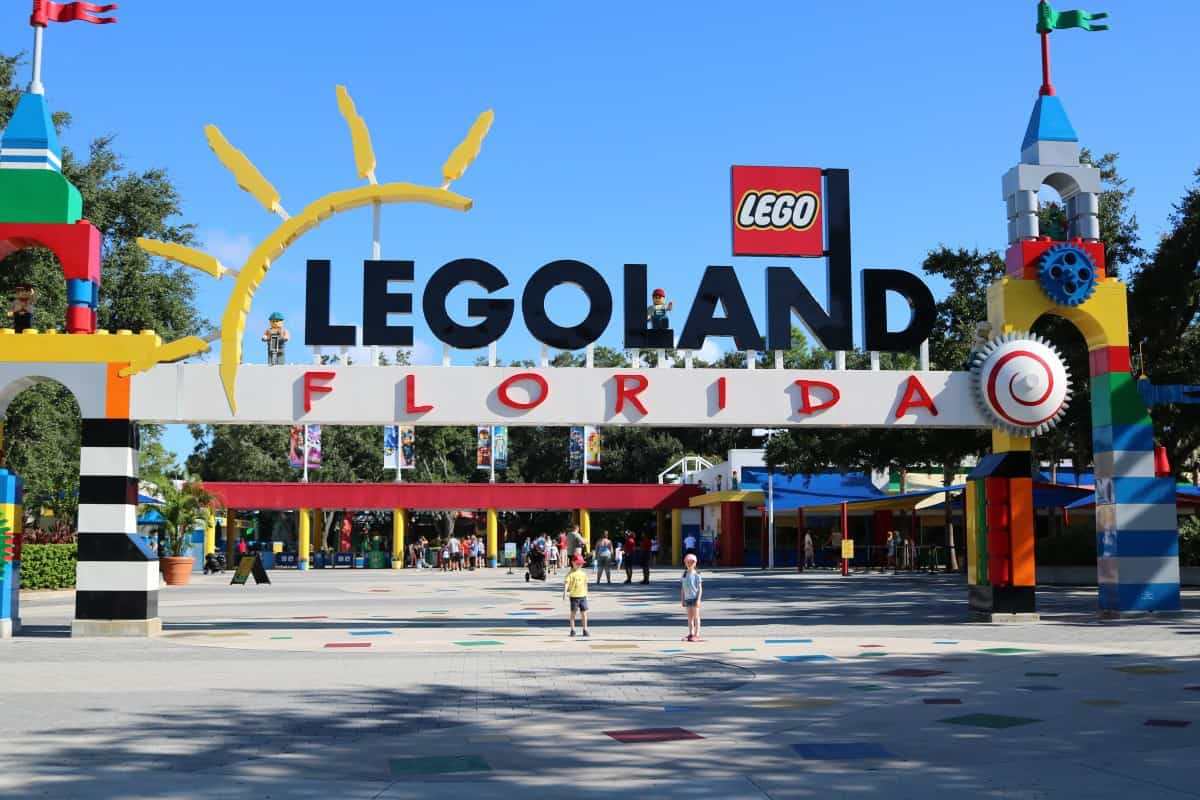 Maps were available as soon as you entered Legoland Florida but I downloaded the resort app which was an amazing resource for our day out. Not only was it an interactive map but it also showed us ride queue times, when the shows were and how to get anywhere in the park. If you're planning a visit I would definitely download the app – especially as there's free WiFi throughout Legoland Florida.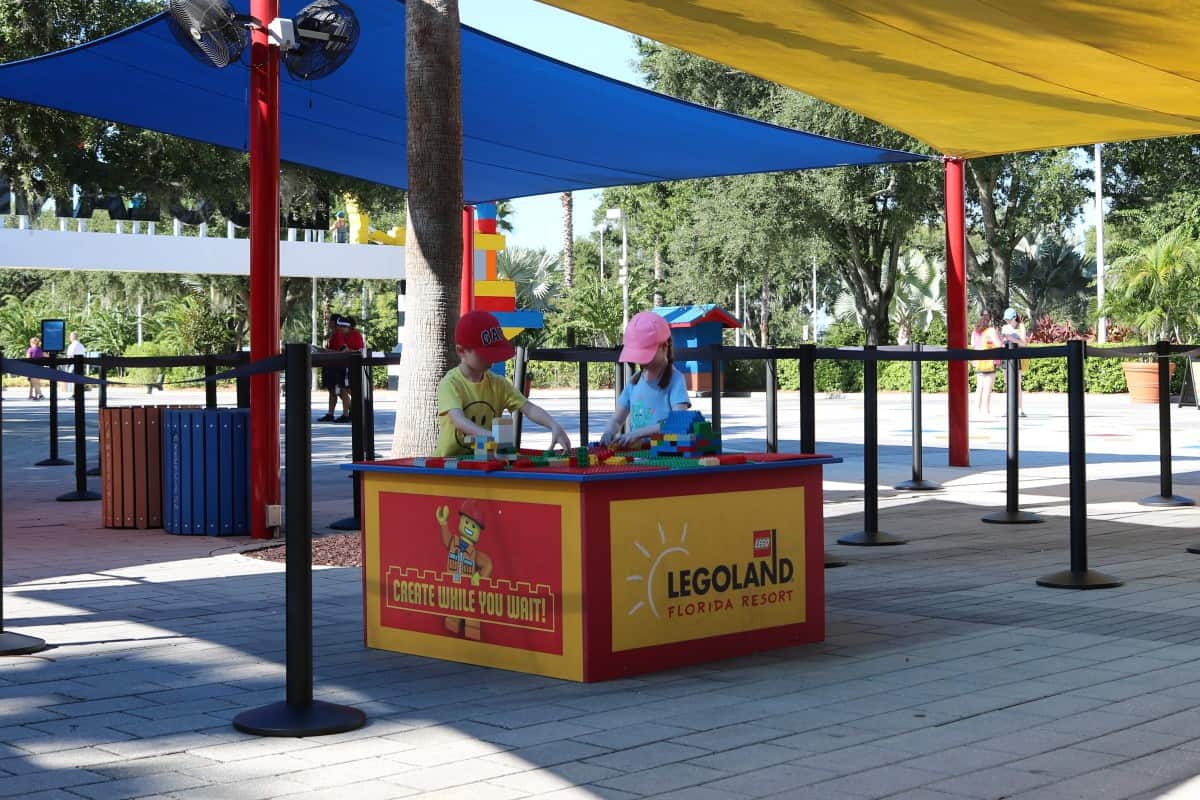 We walked all the way through the park to the very furthest point at the start of the day so we could do all the big rides first, skip the queues and work our way back towards the entrance to leave at the end of the day. This worked really well but we soon realised that, actually, there were no queues to skip. None of the rides through our day were busy at all and I think visiting at the end of August, after the US schools have already gone back, worked really well for us – and not just at Legoland Florida but everywhere we visited during our trip.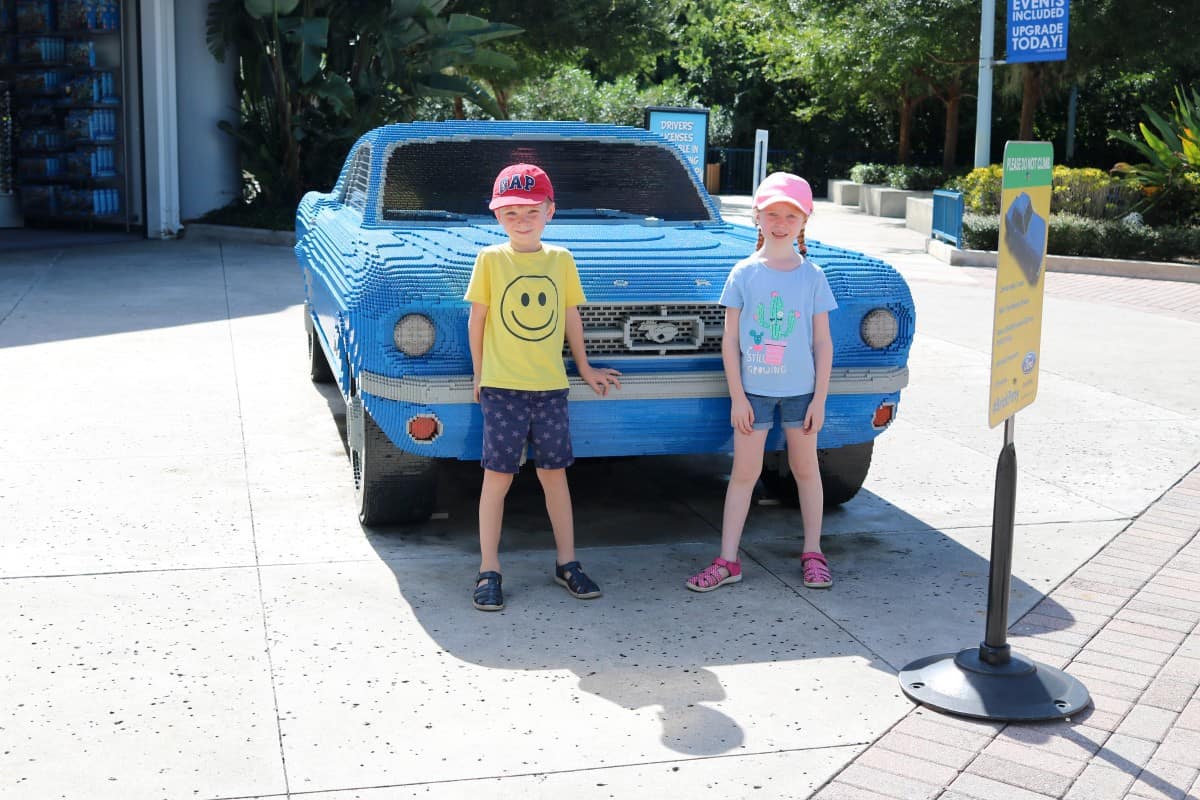 Our first ride was the Flying School – a rollercoaster where you're suspended under the rails rather than riding above them. It's fast and fun and the children loved it. Afterwards we went to the Driving School so the children could get Legoland Florida driving licences. They watched a safety briefing and information video and then got in their cars to drive around the track. They absolutely loved this but we were amazed that they only got two minutes (literally) in the car – the briefing video lasted longer than the time they spent driving. It was far too short and over by the time they'd got used to the car controls. They still got driving licences though – at $18.80 each! They're not something you'd buy more than once but are a fantastic souvenir of our holiday. Legoland Florida also have a Junior Driving School where for children under six years of age – something the children have loved since their toddler days.
Our next ride was the Boating School where we got to steer a boat around a track, getting squirted by various characters along the way. Little Man and I got stuck in our boat for a while before we were given help to get back on track but the ride was still enjoyable and a lovely thing to do in the sun.
We went to the Rescue Academy next which is a really popular ride at Legoland Windsor but the Legoland Florida one is much smaller and lacked the same excitement and urgency as the one we're used to. You drive the fire truck across to the burning building and then squirt water at it to put the fires out but there was something lacking in the Legoland Florida one – it may have been the staff not having much enthusiasm or getting into the spirit of it in Florida but the children loved it anyway.
Next we went on another familiar ride – Aquazone Wave Racers. The children absolutely loved this ride and you spend it moving quickly around in a circle, steering your boat in and out. It was fast paced and fun and another great ride to do in the Florida sunshine.
Next up was Technicycle, a ride that we'd been on before at Legoland Discovery Centre in Manchester. It's fun and fast and you cycle to move the vehicle up and down as it moves around.
We decided to squeeze in one more ride before seeing a show and went to the Great Lego Race. This is a rollercoaster where, if you're over 48″ tall, you can wear a VR headset whilst you ride it. However, if you have anyone in our party under 48″ the whole carriage can't have the headsets. So, as LP and Little Man are under the height requirement we didn't have the VR part. The rollercoaster was still fun although the most exciting drop is at the start and the rest is a little repetitive – plus, without the headset on you can see signs coming up saying Break Point so you know exactly when the car will stop and start. Really, I think they should make the Great Lego Race just for people over 48″ tall and make it so everyone has the VR headset – I'm sure it's a much more exciting experience with the headset on.
It was then time for our first show where we sat in a lovely covered grandstand on the side of the lake. It was a beautiful setting – made even better when characters came out on water skis. The show is half on water and half on dry land and tells the story of pirates trying to capture the ship and the cove. It was so much fun and was such a good length of time and the children got so into it throughout. The water skiing was amazing to watch and we really enjoyed the show.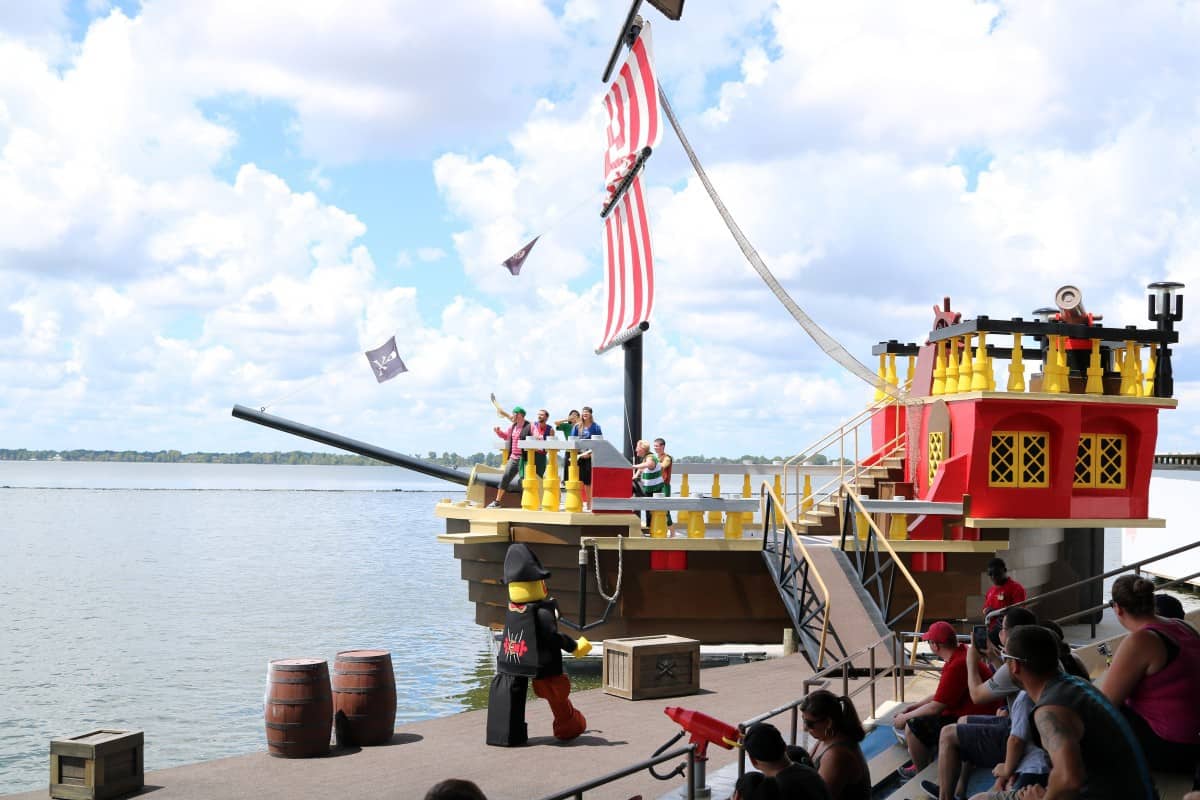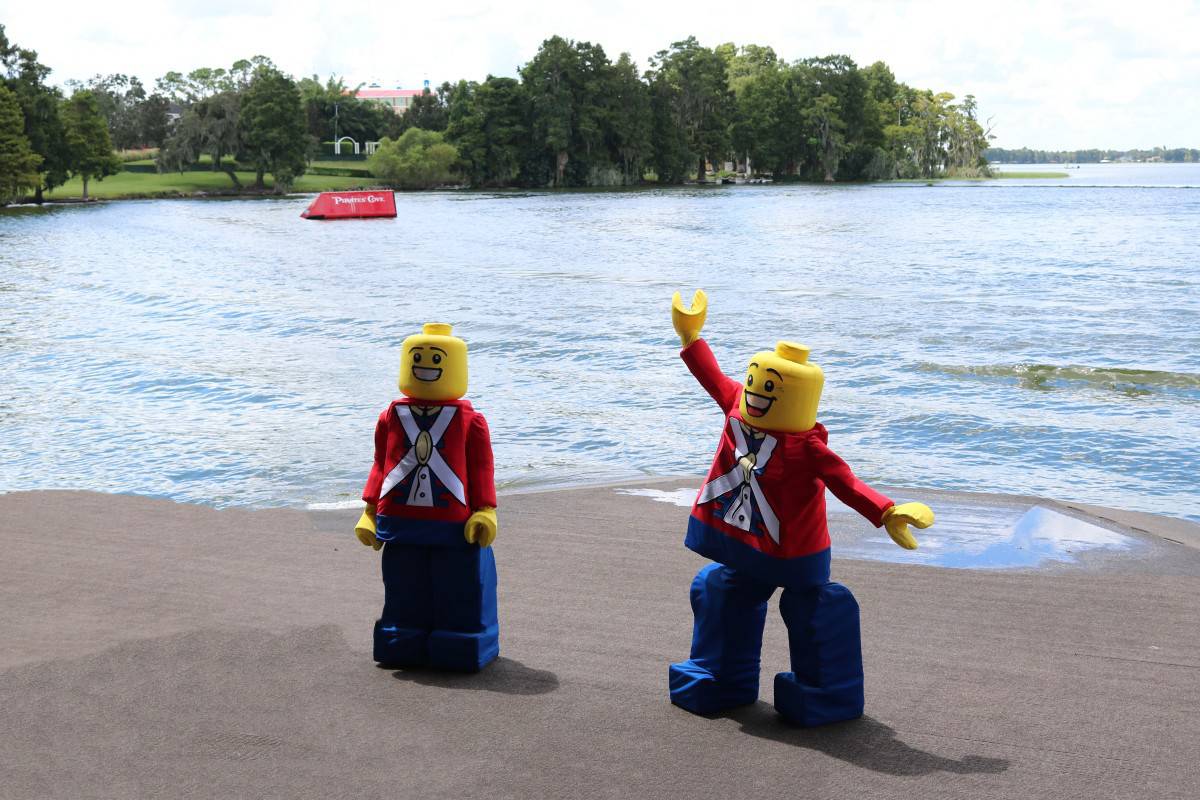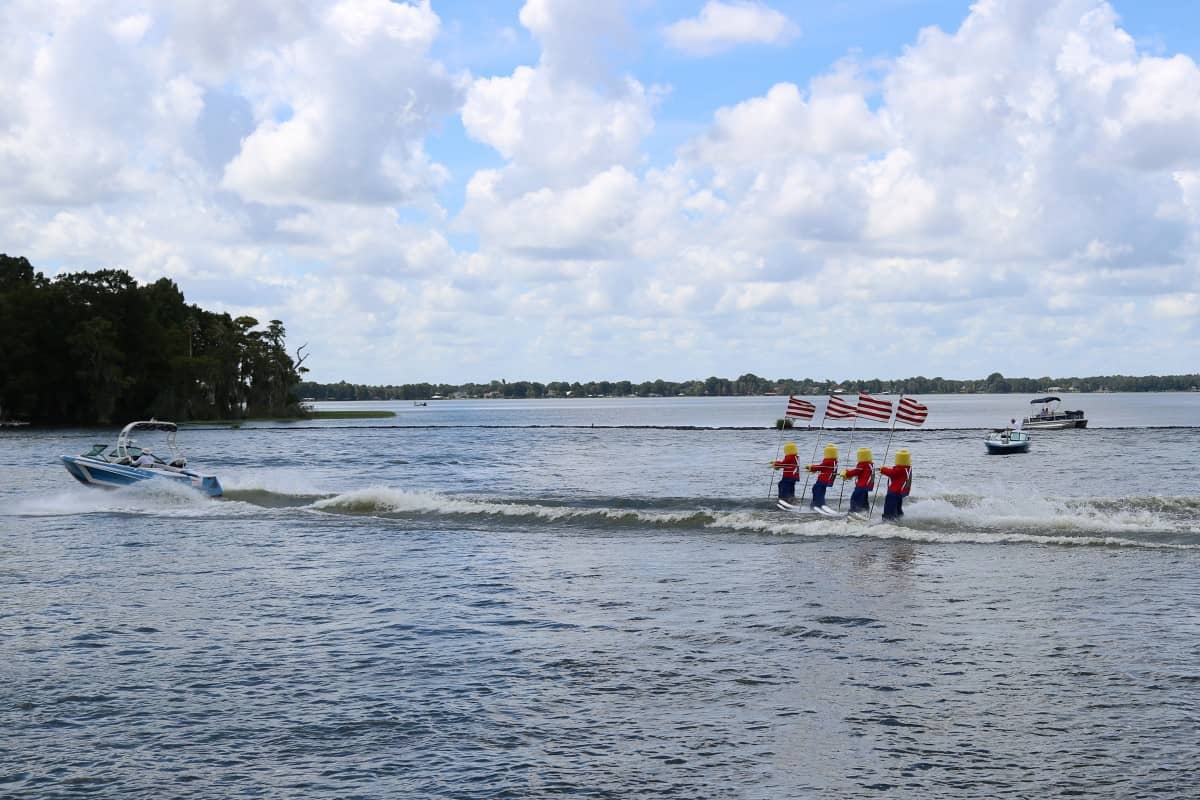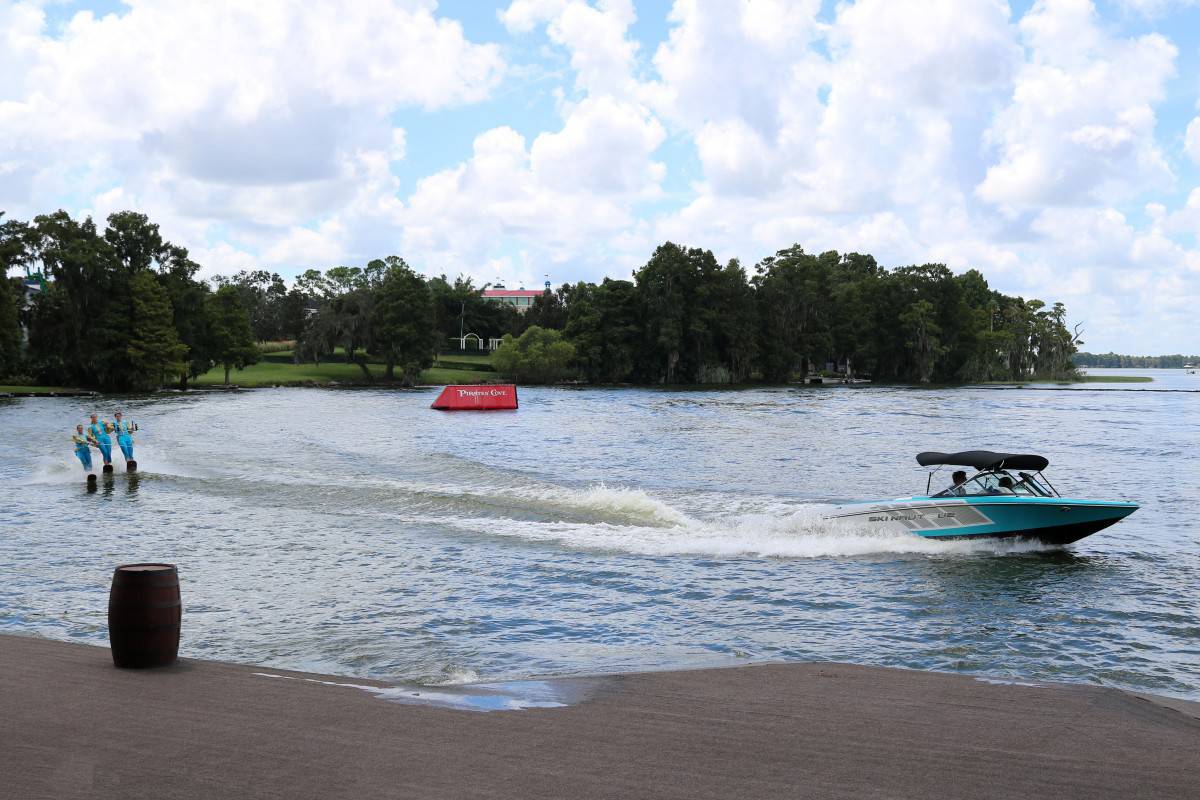 After the show we wandered around the Cypress Gardens which gave a nice bit of respite from the park and a lovely place to have a break, relax and just spend some time. The gardens are a mix of tropical walkways, places to sit and views across the gardens or lake. They were a beautiful place to spend time.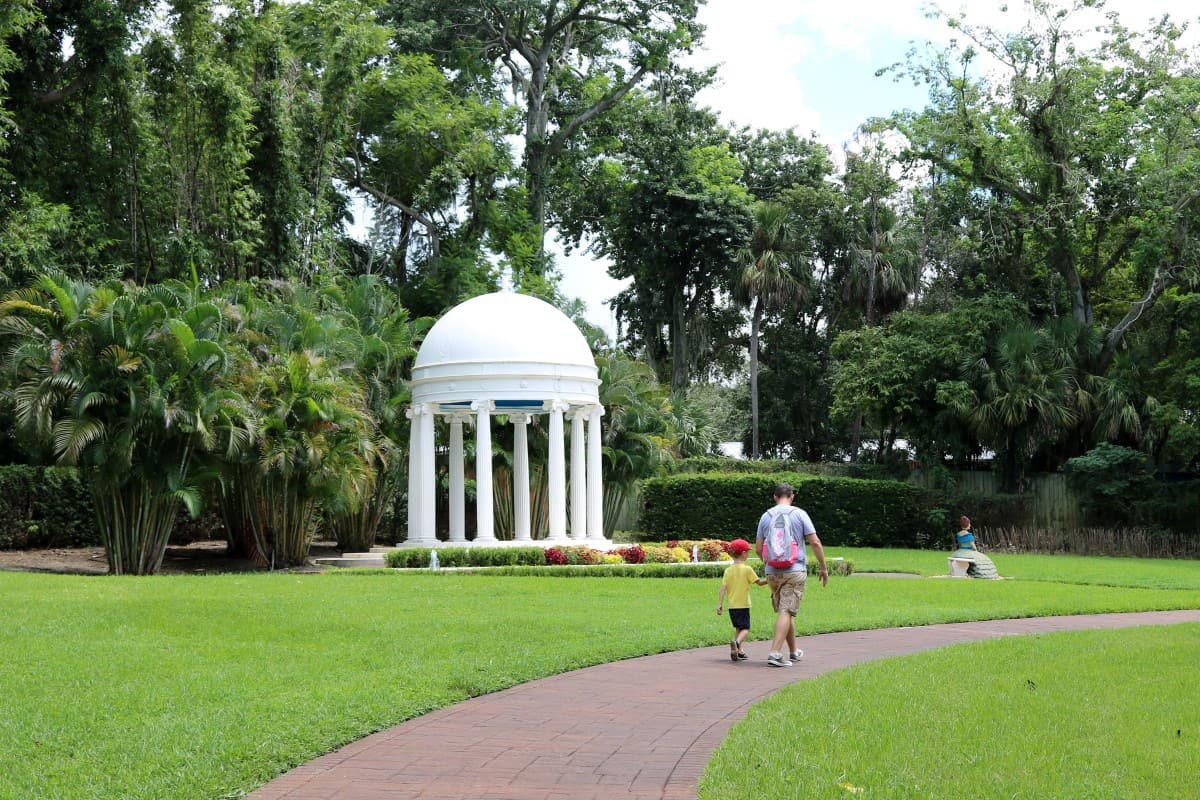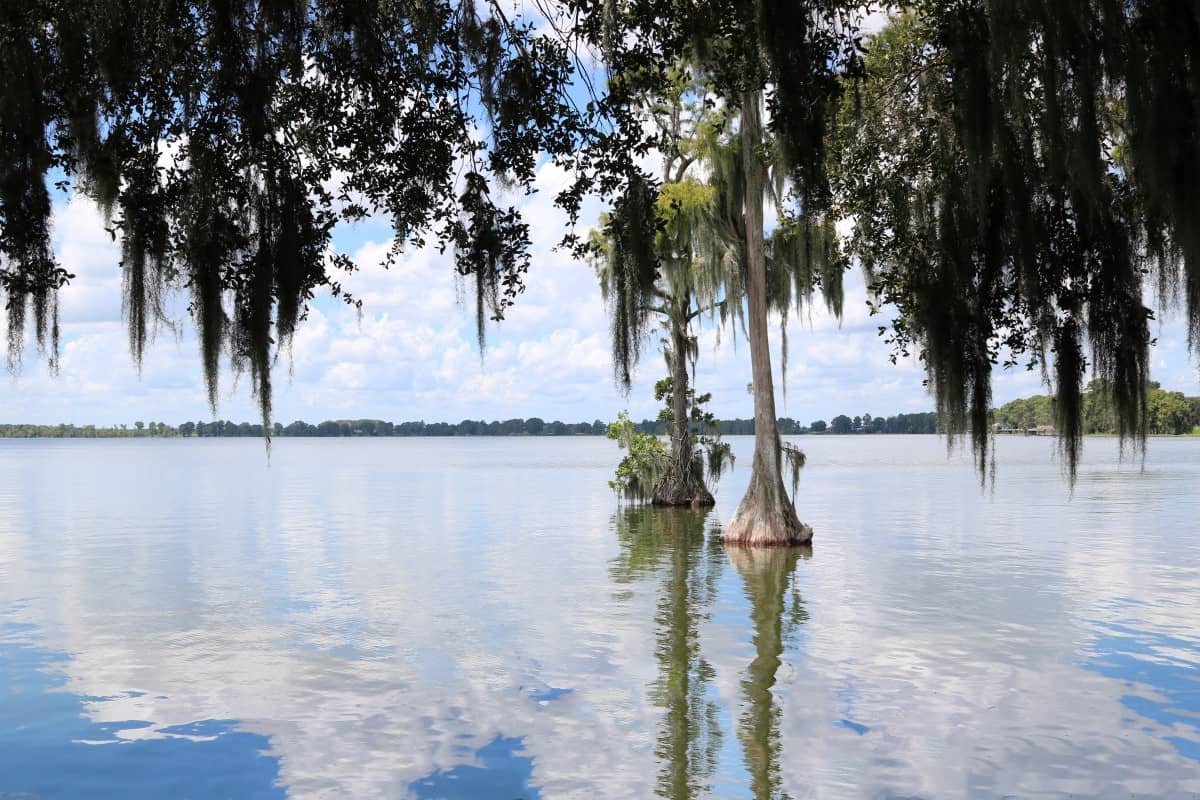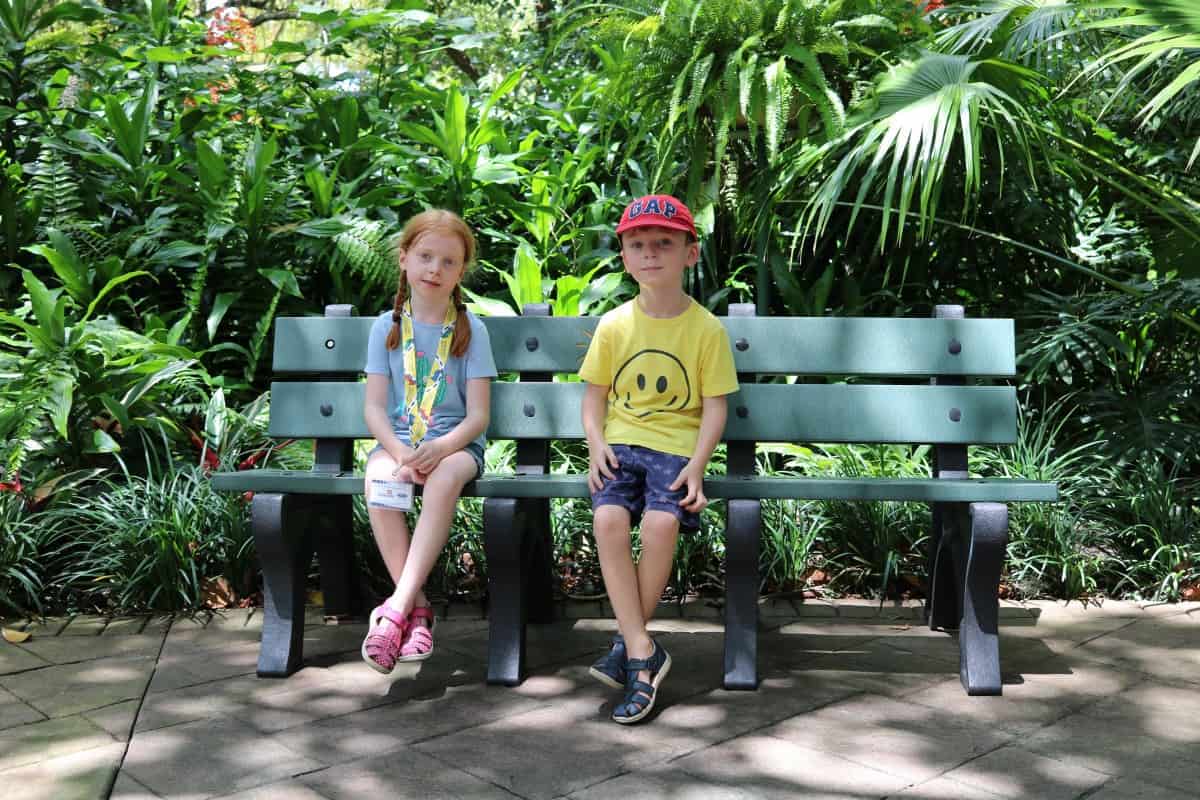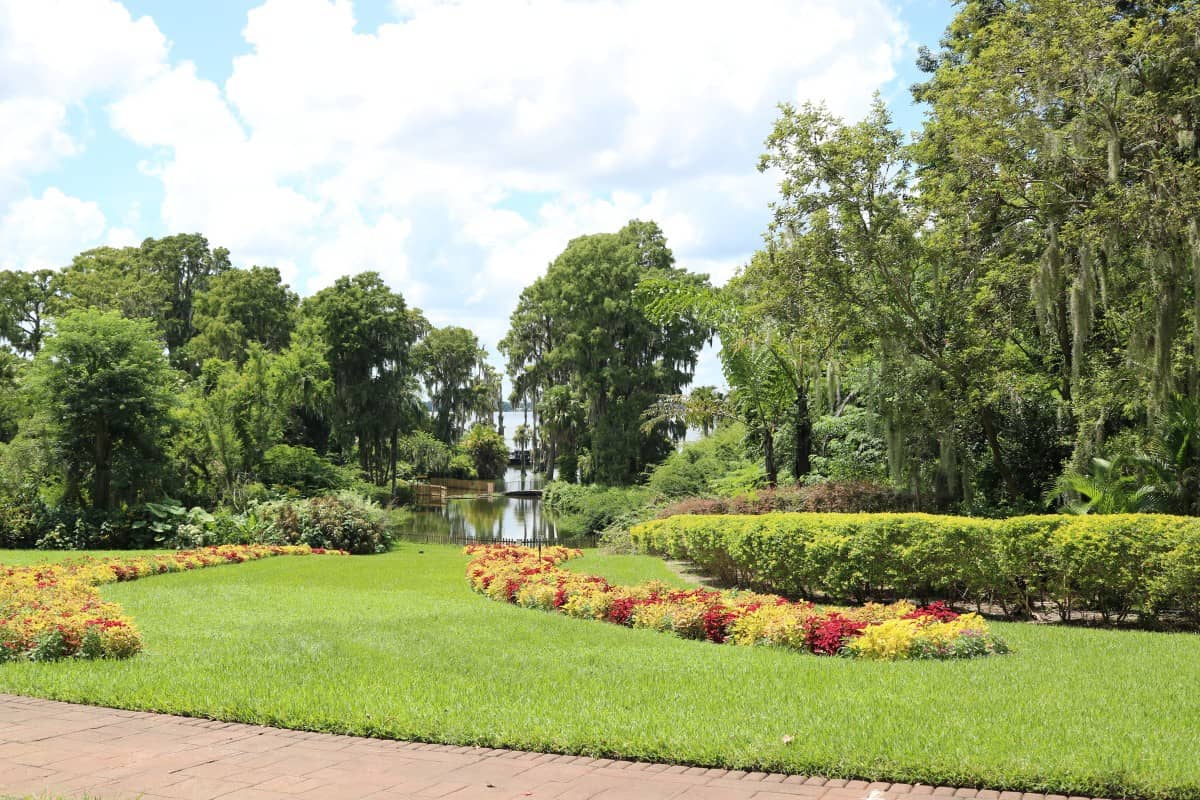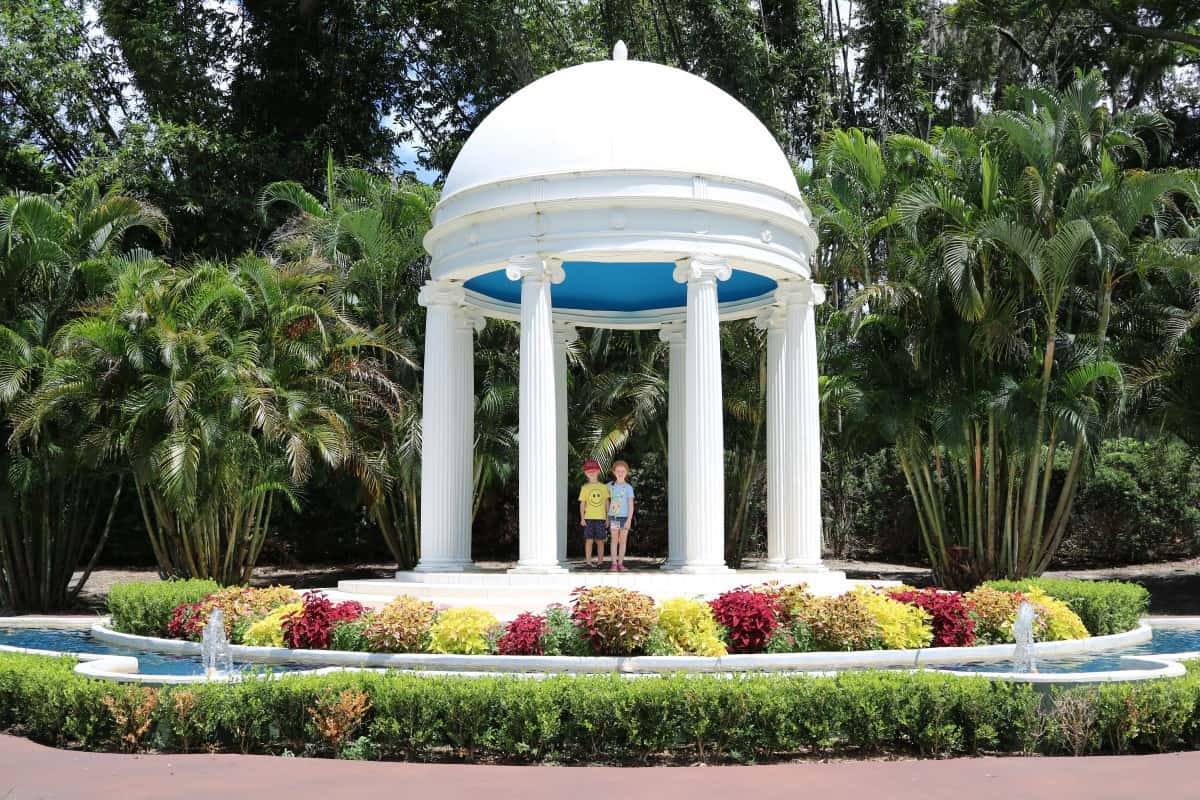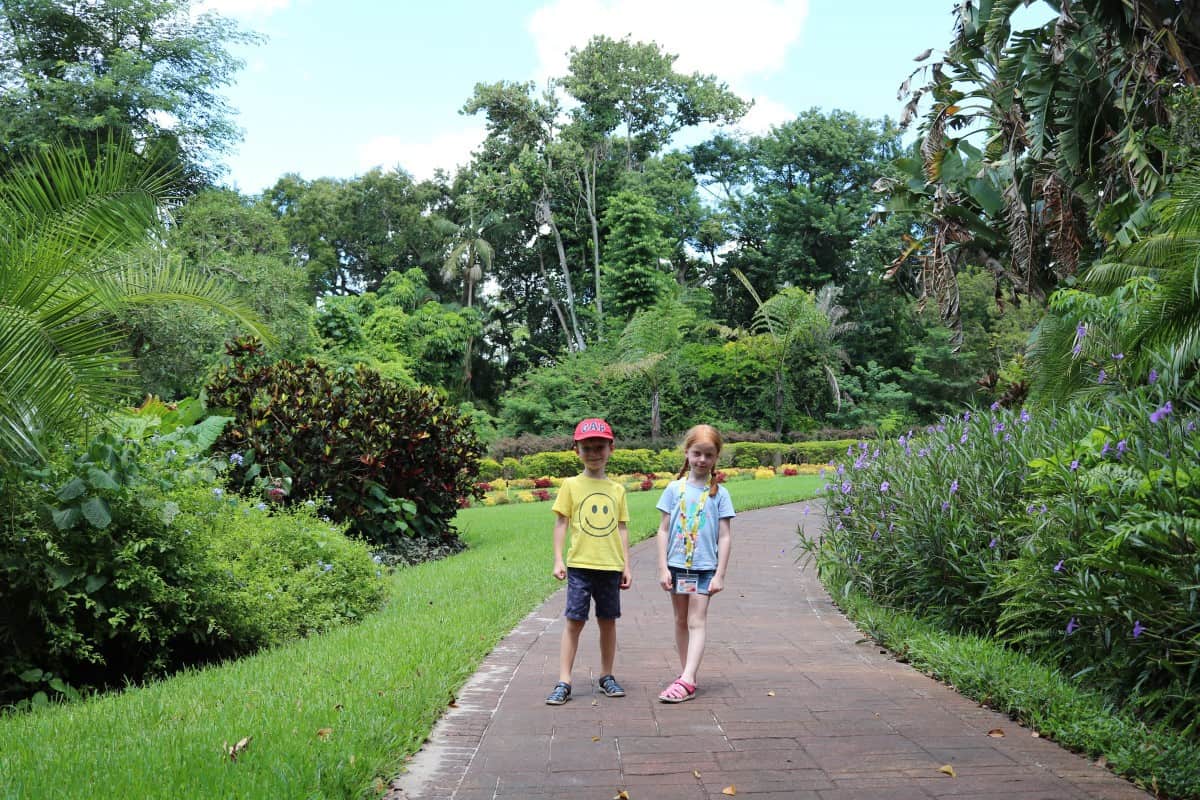 We then headed back to the main park and went on the Lego Ninjago Ride. This is a 4D ride where you wear glasses and then have to act like a Ninjago, waving your hands around over a sensor to shoot at the screen. This was a fun ride for the whole family that you really get into and as you get a score it can be quite competitive too.
We then went on our most anticipated ride – Coastersaurus. It's a big wooden rollercoaster with so many ups and downs – we loved it! Plus, it was so quiet we got to stay on for a second go. This was definitely a highlight of our day and if you go on a busy day make this the ride you queue for. It's well worth it.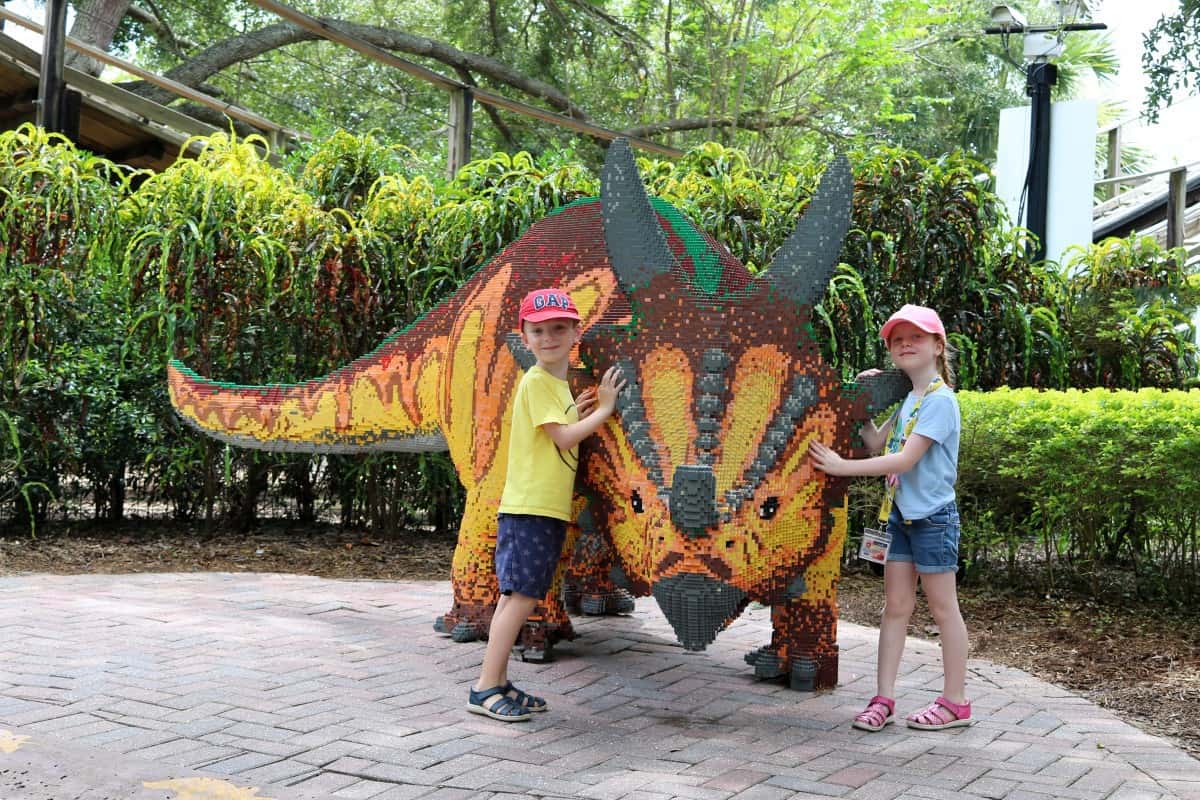 LP then chose to go on the Safari Trek ride which was a really nice little jeep trip through a safari park full of Lego animals. It wasn't very long but it was really cute and we all really enjoyed it.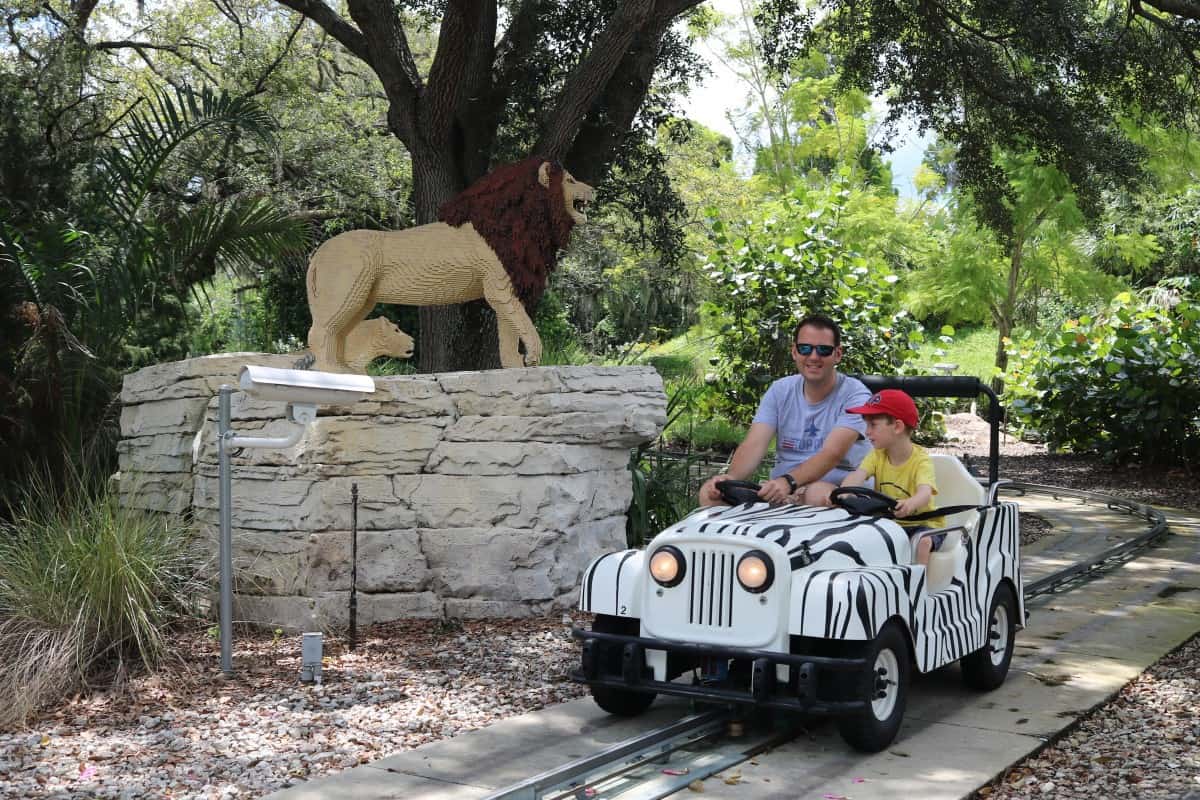 We saved one of our favourite parts of Legoland Florida until last – Miniland. We always love this bit and it was great to see so many familiar buildings made out of Lego. The first section was Star Wars themed and had so many characters, lands and vehicles that we all really liked looking at.
After that we wandered around so much America made out of Lego and it taught us so much about America at the same time. My favourite parts were New York – because of the sheer size of the buildings, the Golden Gate Bridge and Las Vegas – where LP loved seeing the Eiffel Tower even if she didn't quite understand that it wasn't actually the Eiffel Tower but a Las Vegas hotel.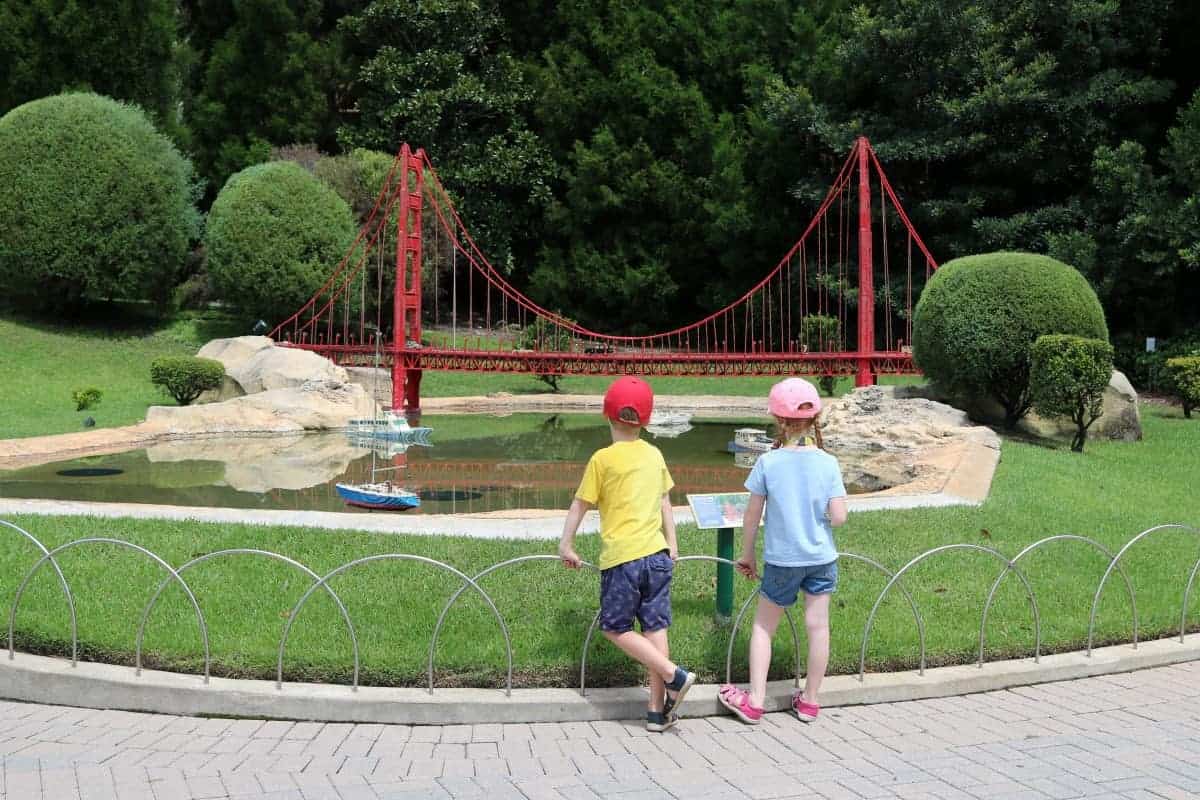 We finished the day seeing a 4D Nexo Knights show before wandering around shops, buying so much Lego and taking photos with more Lego models. The summer afternoon rains had started at about 4pm which stopped the rides and signalled for our home time – but by then we were pretty done anyway.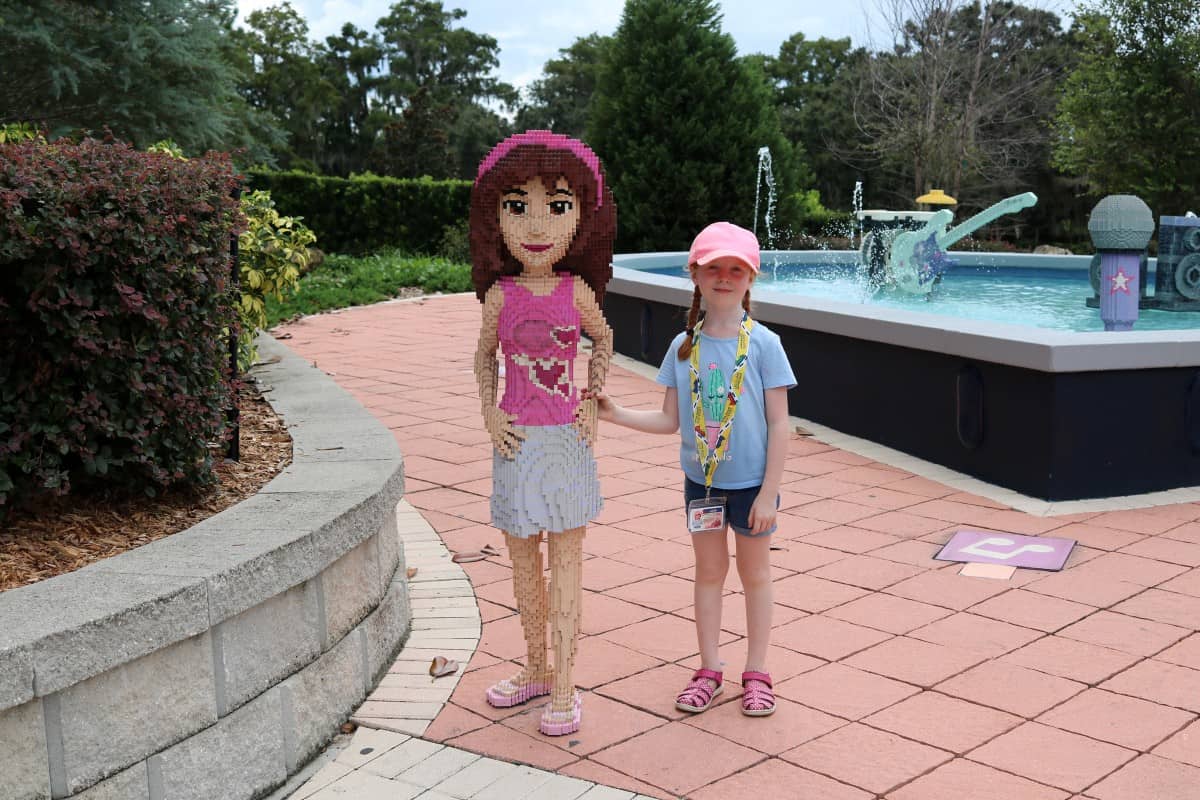 If we'd wanted longer at Legoland Florida I know we could have enjoyed two days there, with more rides to enjoy and also the Legoland Florida Waterpark which has an additional entry cost but looks amazing compared to the waterpark at Legoland Windsor.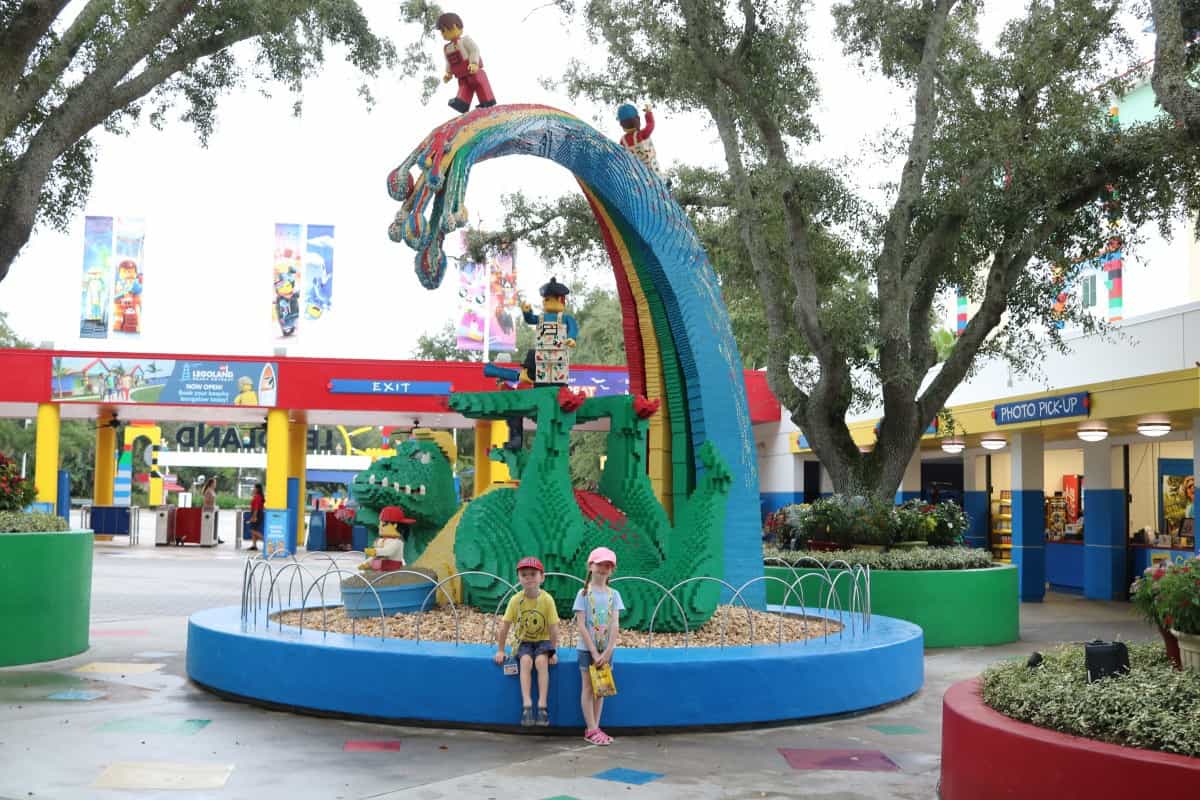 We had such a great day at Legoland Florida. The whole park is well laid out, really clean and well maintained and had a really good variety of rides and attractions that the whole family can enjoy. It was also great to see that LP and Little Man, at 44″ tall, can go on the majority of the rides. We would definitely return to Legoland Florida in the future.
Here's a little video we made of our trip and there's a little Reel over on Instagram too:
You can also read about other days out we had in Florida – Discovery Cove, Magic Kingdom, ICON 360, an Airboat Ride, Kennedy Space Center, Hollywood Studios, Epcot, Animal Kingdom and Seaworld Orlando.