We finished our summer holidays with a midweek break at the Higher Moor Farm Campsite in Nottington near Weymouth in Devon. Our friends had stayed there a few times before and so we booked as a little family break near the coast and a nice way to end the holidays.
What is Higher Moor Farm?
Higher Moor Farm is a boutique campsite in the heart of the Jurassic Coast. It's quiet, family orientated and has won numerous awards in it's 40 year history. It's set in a small village and we found it easily, stopping off at Stonehenge for a leg stretch on the way!
What accomodation options are available at Higher Moor Farm?
Higher Moor Farm caters for tents, touring caravans and motorhomes but also have a beautiful range of bell tents, pods and lodges available for hire. The also have a great range of facilities so that however you stay you will have a really comfortable break.
The pitches at Higher Moor Farm are perfect for camping as it's such a flat campsite but with fantastic views across the Dorset countryside. They also have hard standings available for caravans and motorhomes and there's space for cars to be parked next to your pitch or pod/lodge. The site has numerous toilet blocks, despite being a fairly small site, and they have really great facilities in them.
There are individual power showers, hair and hand dryers, plenty of mirrors and great baby change facilities. There are both male and female sections as well as family bathrooms and they are always kept really clean and tidy. We saw staff around the site constantly cleaning and keeping on top of everything.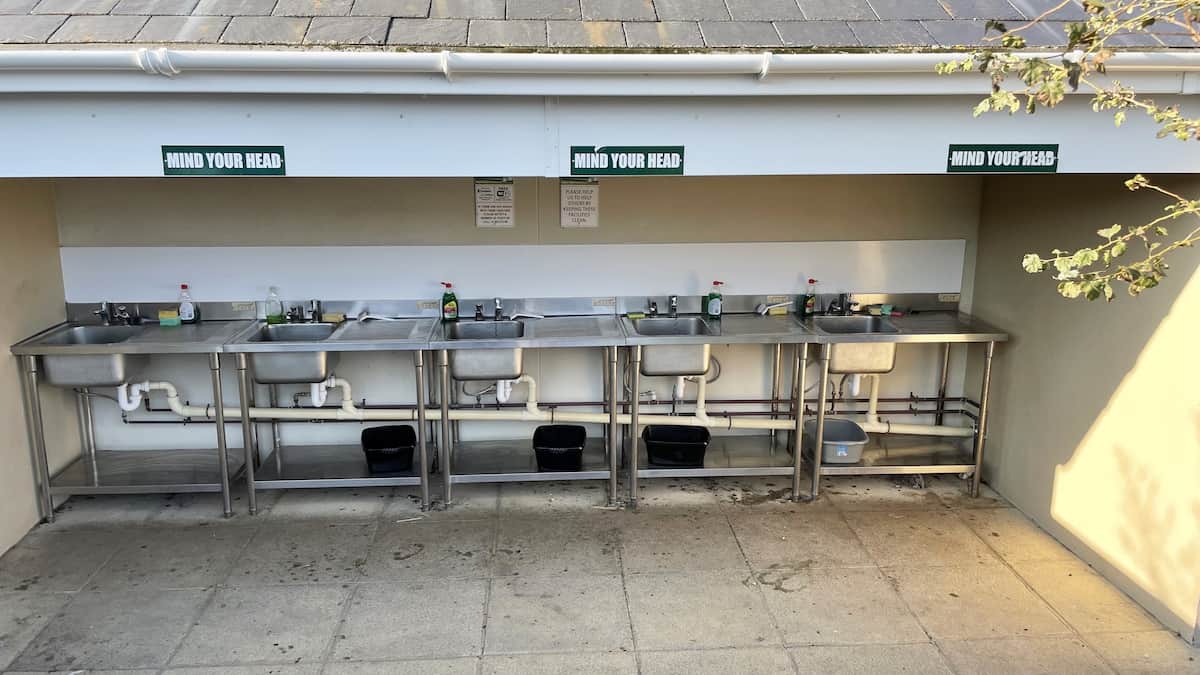 As well as toilets and showers, there are plenty of washing up stations around the site and I never saw a queue for anything. There's also a dedicated room with washing machines, tumble driers and even an iron and ironing board! There's a freezer for ice packs and it really feels like Higher Moor Farm have thought of everything.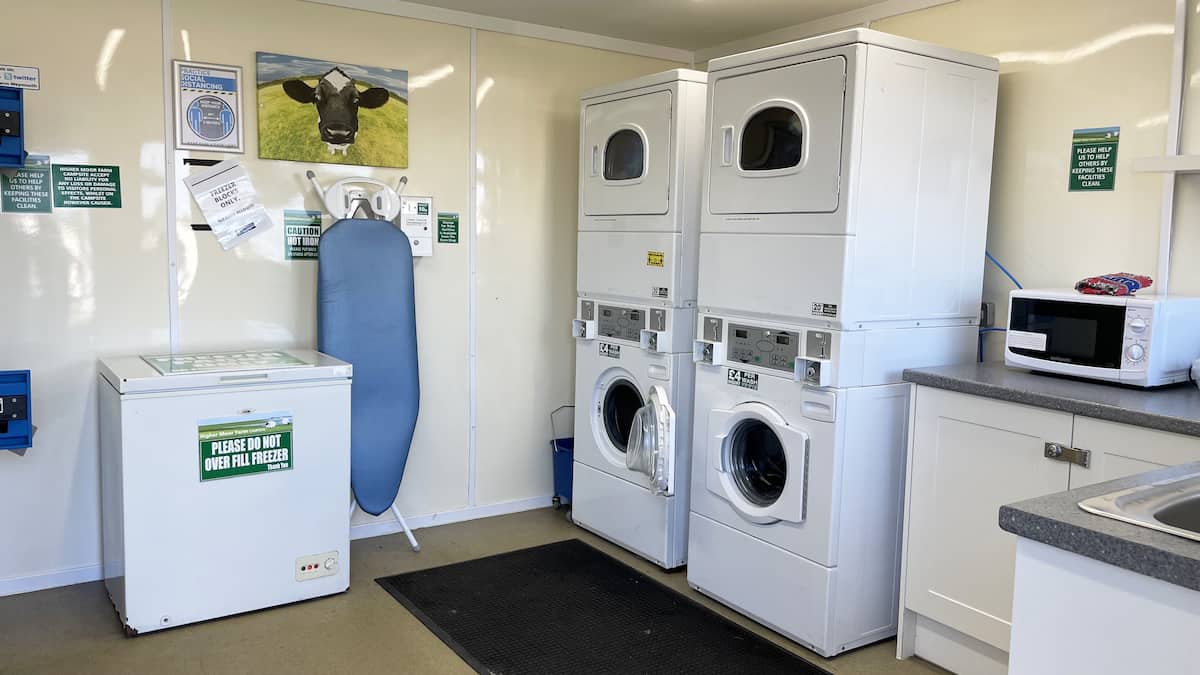 There are also electric hookups, free WiFi although this was pretty hit and miss – not the biggest issue on a holiday though and we had good phone coverage throughout the site. There's also phone charging lockers that we thought were a great idea if you're camping!
The site also has a ball play area, a compact but lovely children's play area, bikes to hire and a fantastic games room that the children loved. This is full of arcade machines, air hockey, table tennis and more. A great space for older kids to hang out in the evenings!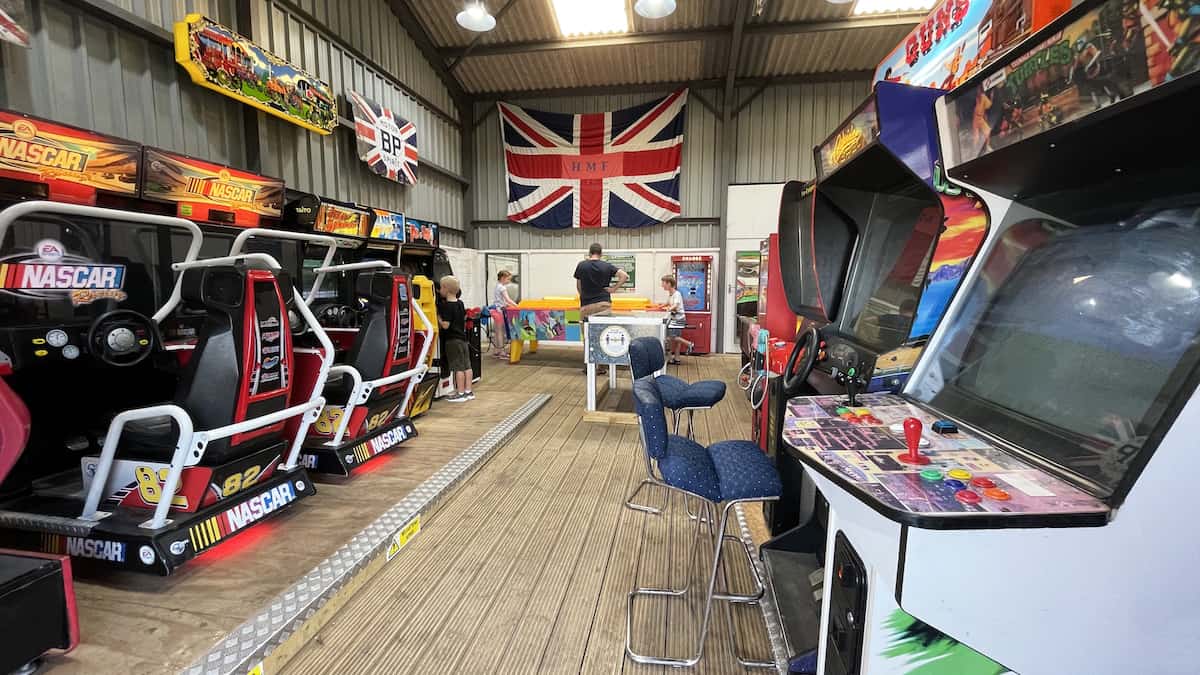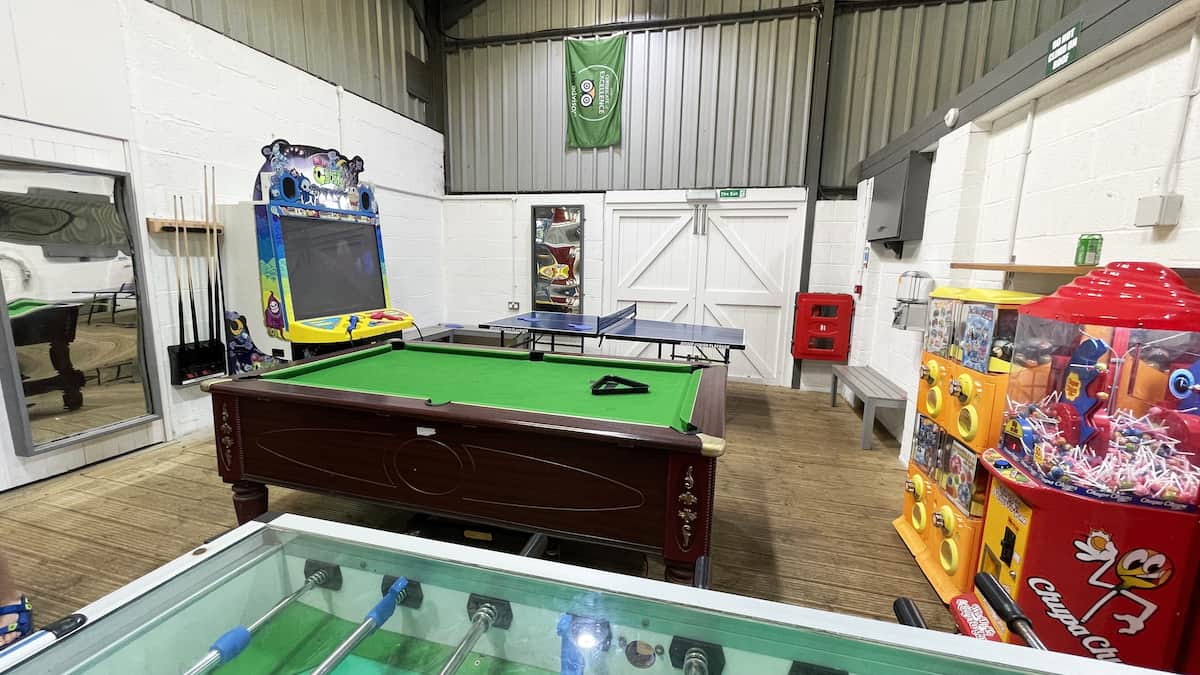 What are the Higher Moor Farm Pods and Lodges like?
We stayed in a four person pod at Higher Moor Farm and it was perfect for our needs. We ended up calling it a plodge – as it's much bigger than a pod suggests and more like a lodge! The pods and lodges sit nicely around the edge of the campsite, facing all the tents in the middle. They frame the site really nicely.
All of the pods and lodges have a car parking space next to them and an outside seating area – either decking or your own grassy area with a picnic bench. I loved being able to sit outside in the evening with a gin and tonic or in the morning with a nice cup of tea.
When we arrived at Higher Moor Farm the pod was super clean and ready for our stay. The main room has a sofa in it that pulls out into a double bed and then a sofa with a bunk above it. The bottom sofa turns into a bed, making bunk beds which are perfect for children.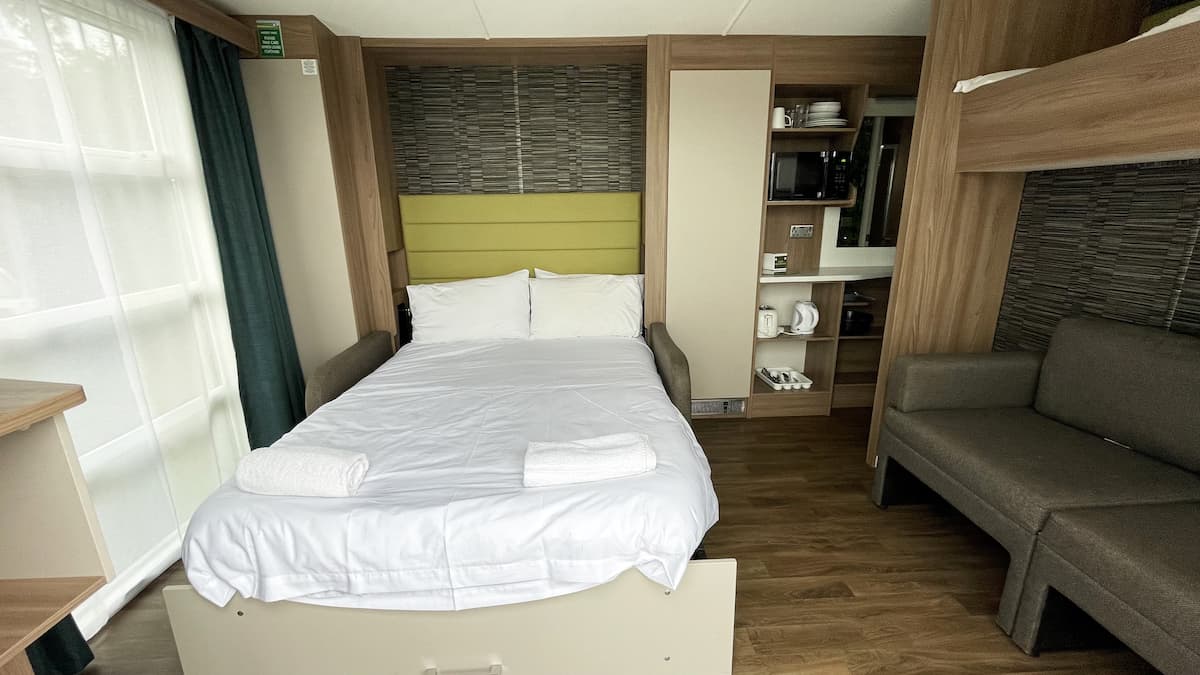 There's also a little kitchen area with a sink, toaster, kettle and microwave plus all the crockery and cutlery you could need. There's also a little fridge with tiny freezer compartment – big enough for ice packs – and a box of essentials to get you started like a new tea towel, washing up liquid and even kitchen roll. There's even a folding camp table that stores neatly under the sofa.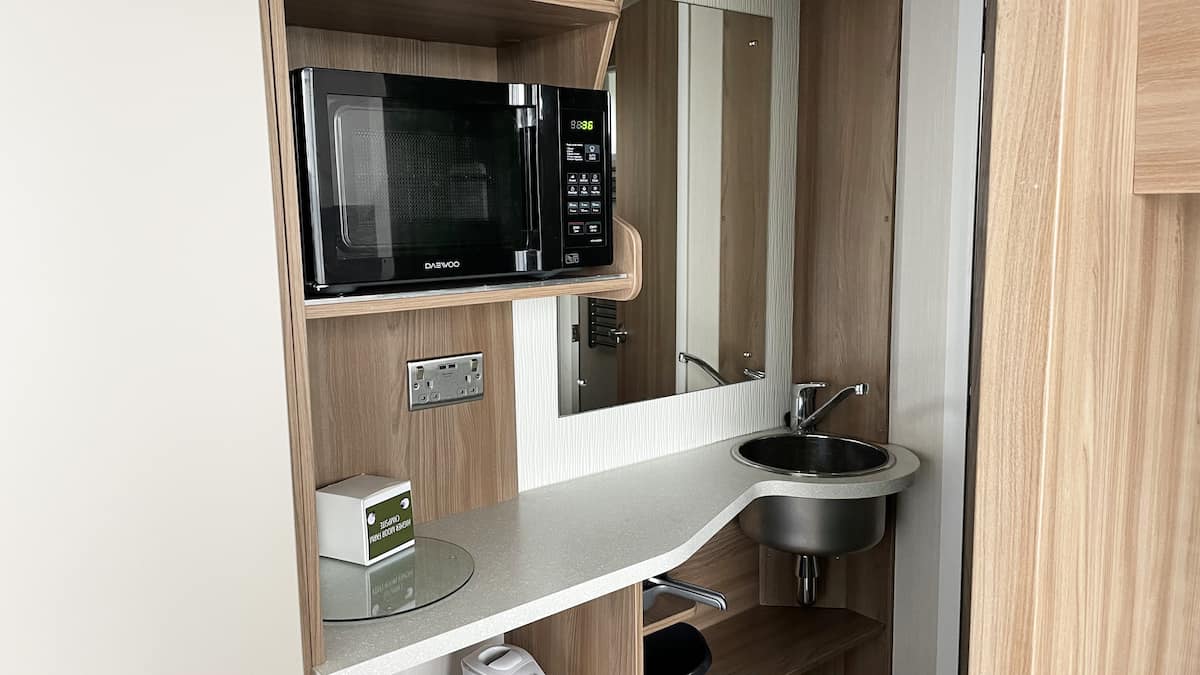 The pod also has a compact but functional shower room and it feels like such a luxury to go glamping and have your own toilet and shower. We really appreciated this, especially in the middle of the night! There were plenty of towels, toilet rolls and toiletries.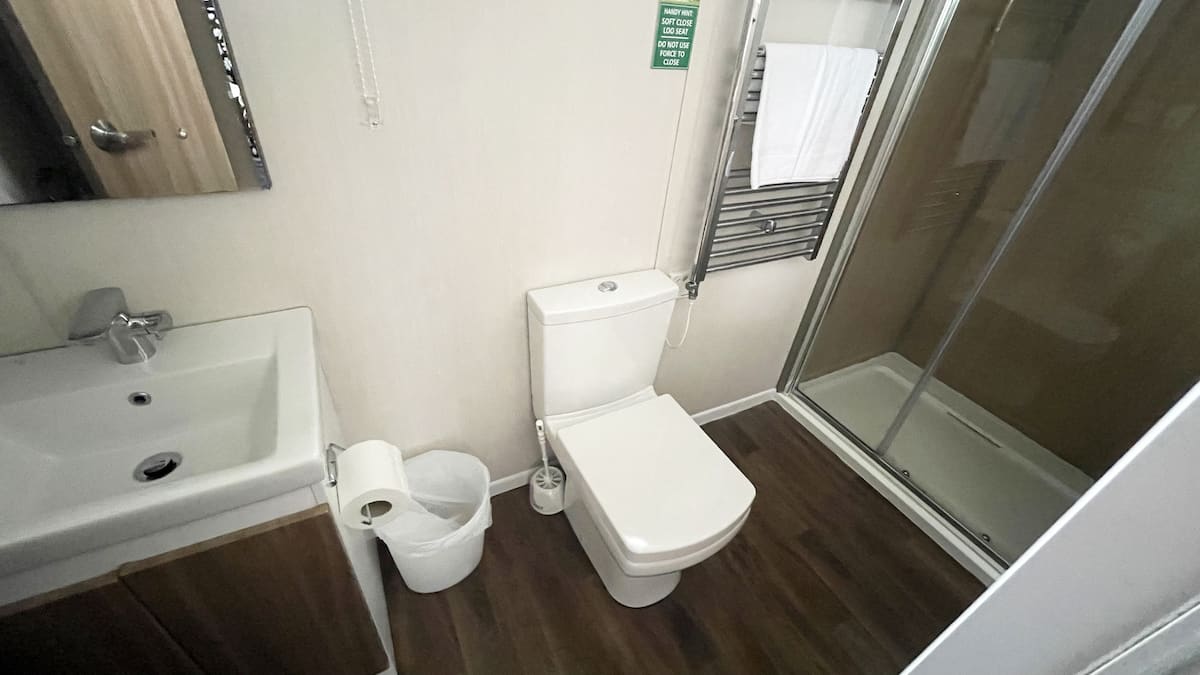 Unlike most self catering or glamping holidays, Higher Moor Farm have gone to a lot of effort to make sure there isn't really anything else you need during your stay. There's even a TV and plenty of storage space too.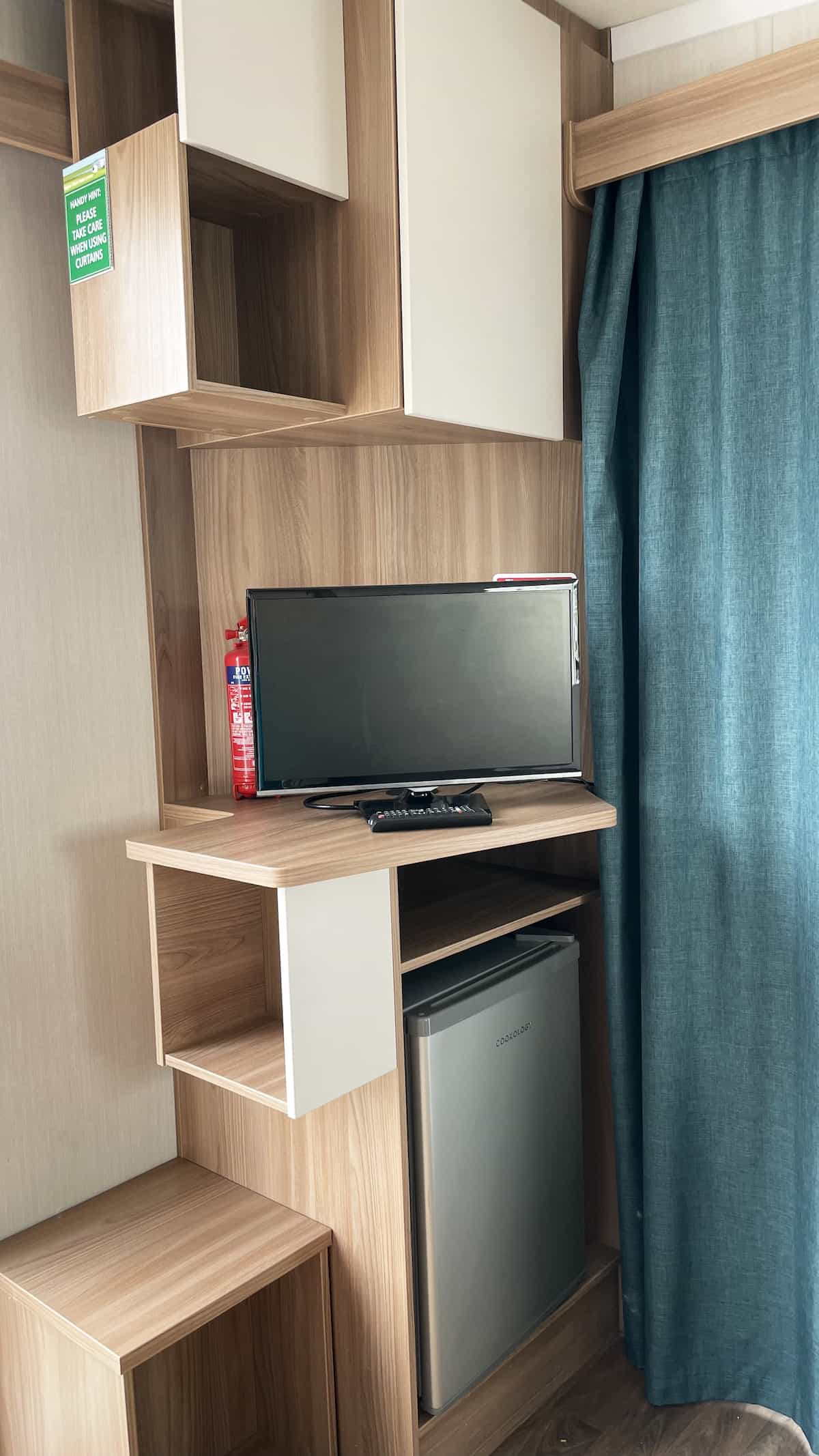 We were nervous that the beds wouldn't be comfortable or that the site would be noisy but we needn't have worried. The site has a no noise after 10pm policy and everyone abided by it – the site was so quiet at night and the pod was really well insulated and soundproofed too.
We slept so well in the pod. The beds were comfortable, it was silent and completely dark – the curtains were amazing. We couldn't have had a better stay as far as our sleep was concerned!
Eating at Higher Moor Farm
The pod lodges we stayed in don't have a full kitchen so you can't really cook aside from microwave meals or toast but this wasn't a problem for us. We had breakfast in the pod, made picnics to take out with us and then ate out in the evenings.
But, Higher Moor Farm does also have some catering vans that come along in the evening. We had amazing burgers from the Dorset Food Co who produced the best chips I have ever eaten. The burgers cost £7-£8 including chips which was great value for the quality.
We also had pizzas from Dorset Pizza which ranged from £7-£9 and were freshly made. They had a standard menu, a specials menu and were happy to add or take off ingredients to suit the children's tastes. They were fantastic and just the right size too.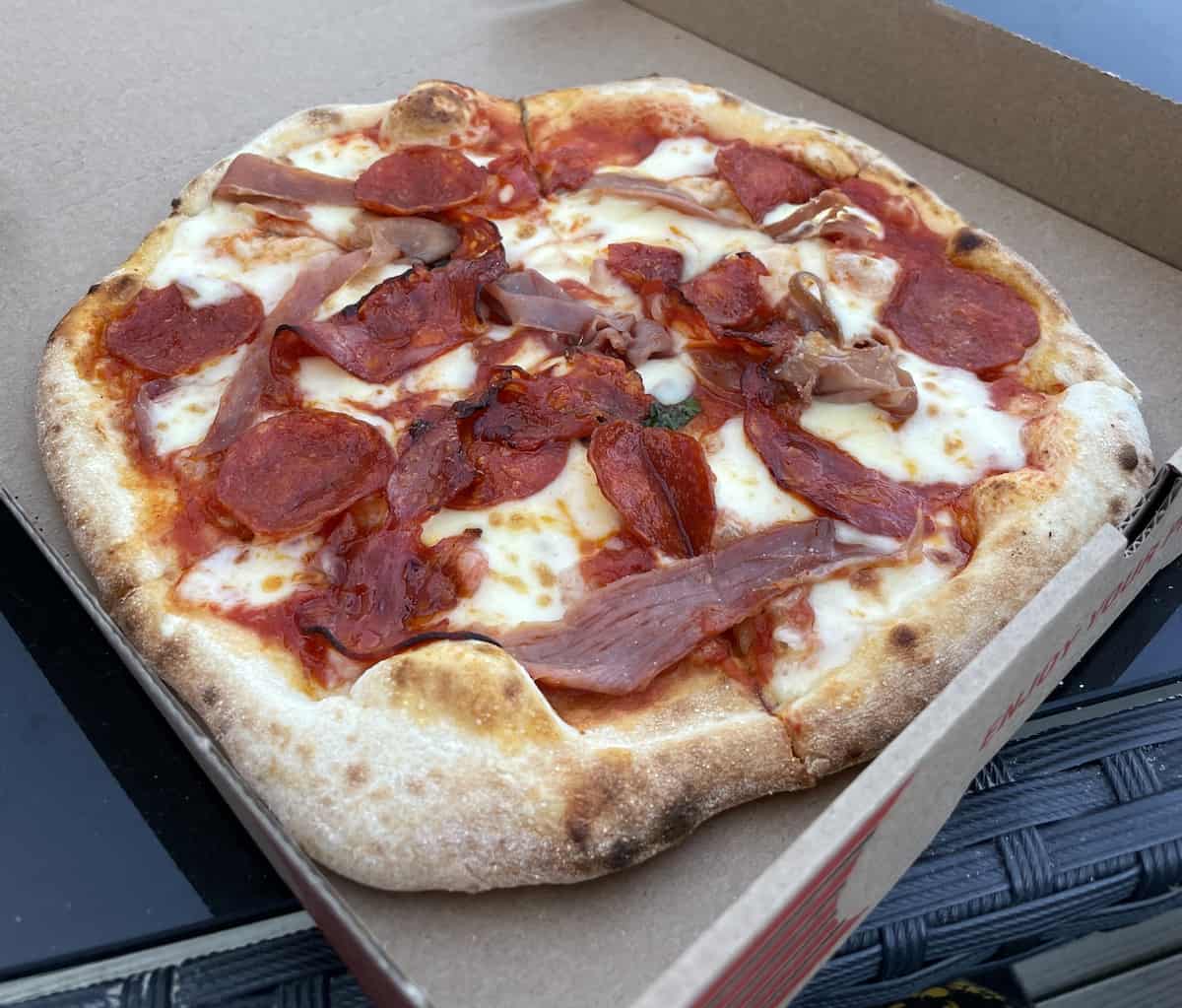 Higher Moor Farm was a fantastic family friendly base for exploring Weymouth. We went to Weymouth last year on holiday and couldn't wait to explore more of the area. It's not far to any of Weymouth's attractions and it really is such a beautiful place to visit, perfectly situated in South West England.
Dogs are welcome at Higher Moor Farm camp site too and they even have a dedicated dog walking area. It really is a lovely place to stay for a family trip away – and it's super dog friendly so you can even take your dog with you too.
Higher Moor Farm has a lovely farm shop on site, selling local produce, essentials and activities for the children. The staff are really friendly and they will do all they can to help with any issues or questions you might have. It's so nice to stay somewhere so friendly, so welcoming and just perfect for a family break away.
You can find out more and check availability over on the Higher Moor website and for reference the address is: Higher Moor Farm Campsite, Nottington, Weymouth, Dorset DT3 4BW