When we went to Florida in August, I randomly came across theatre tickets to Dog Man The Musical online and quickly realised it was a US tour and not coming to the UK. The children are huge fans of the Dog Man and Captain Underpants books – anything Dav Pilkey and so it felt like we just had to go and see the show as it was on in Florida when we were there.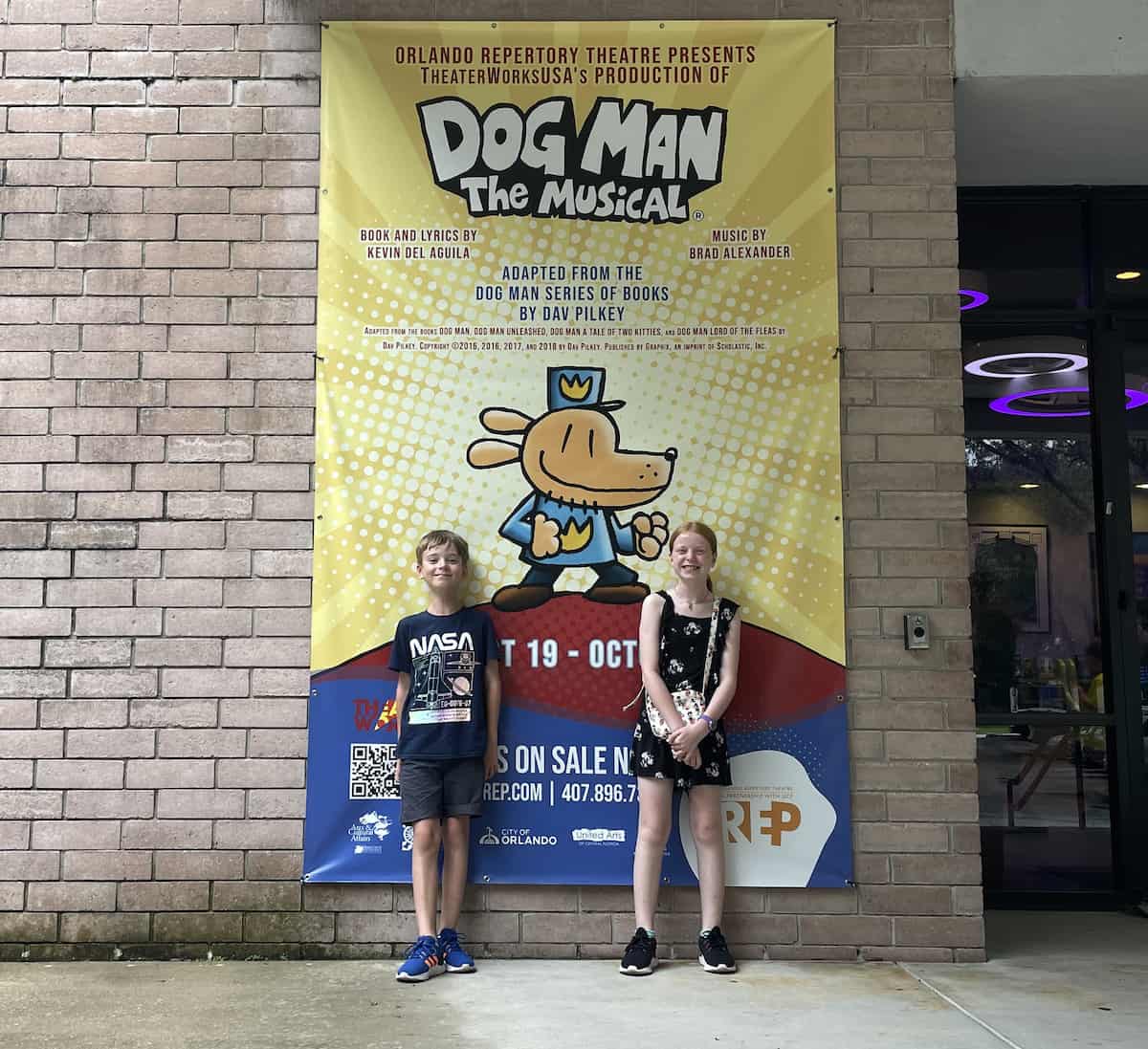 What is Dog Man The Musical?
Dog Man The Musical is an epic musical adventure featuring all our favourite Dog Man characters, created by TheaterWorksUSA based on the Dog Man book series. Aimed at 6-11 year olds, we thought it would be perfect for LP and Little Man – and they were so excited to see the musical as they love the graphic novels so much.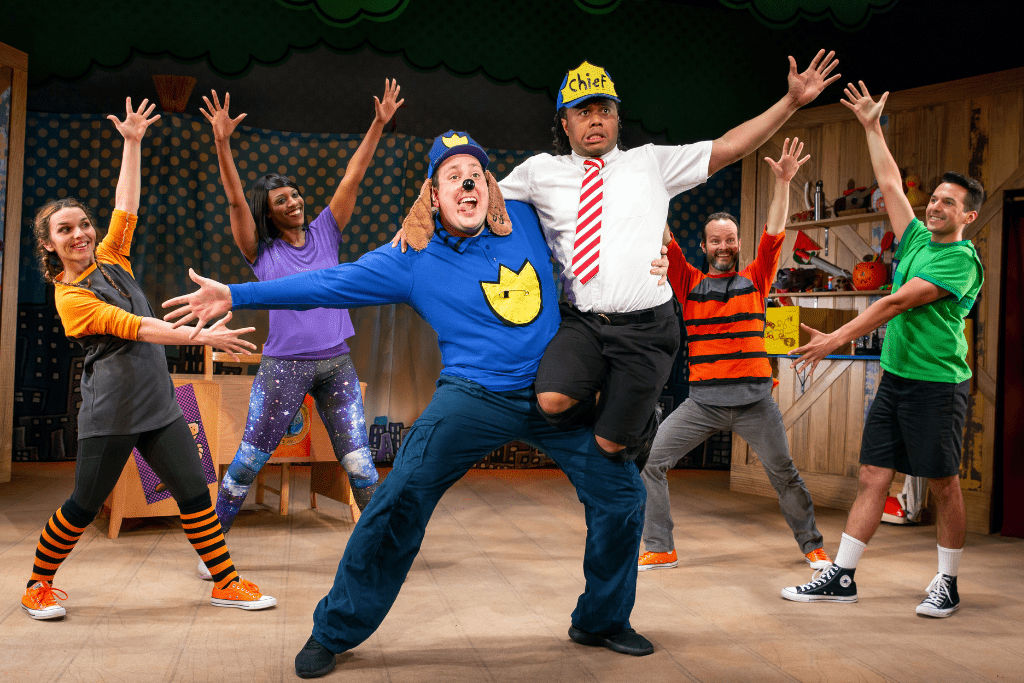 The show follows best buds George and Harold, who have been creating comics for years, as they write and perform a musical based on their favorite character, Dog Man, who is part dog, part man, and all hero!
The TheaterWorksUSA site says: With the head of a dog and the body of a police officer, Dog Man loves to fight crime and chew on the furniture. But while trying his best to be a good boy, can he save the city from Flippy the cyborg fish and his army of Beasty Buildings? Can he catch Petey, the world's most evil cat, who has cloned himself to exact revenge on the doggy do-gooder? And will George and Harold finish their show before lunchtime??
We saw Dog Man The Musical at Orlando Repertory Theater which was a great location. Although an old building, the inside is bright and modern with bold colours everywhere. It's a venue that would immediately appeal to children.
We were able to buy snacks and drinks in the theater foyer and there were plenty of Dog Man products on sale too – everything from the books to cuddly toys and lunch bags. We took photos with a poster of Dog Man on our way to our seats and got ready for the show to start.
As soon as George and Harold came on stage we were gripped – and not just the children. The show was energetic and punchy with constant jokes and gags. It was hard not to laugh along with it.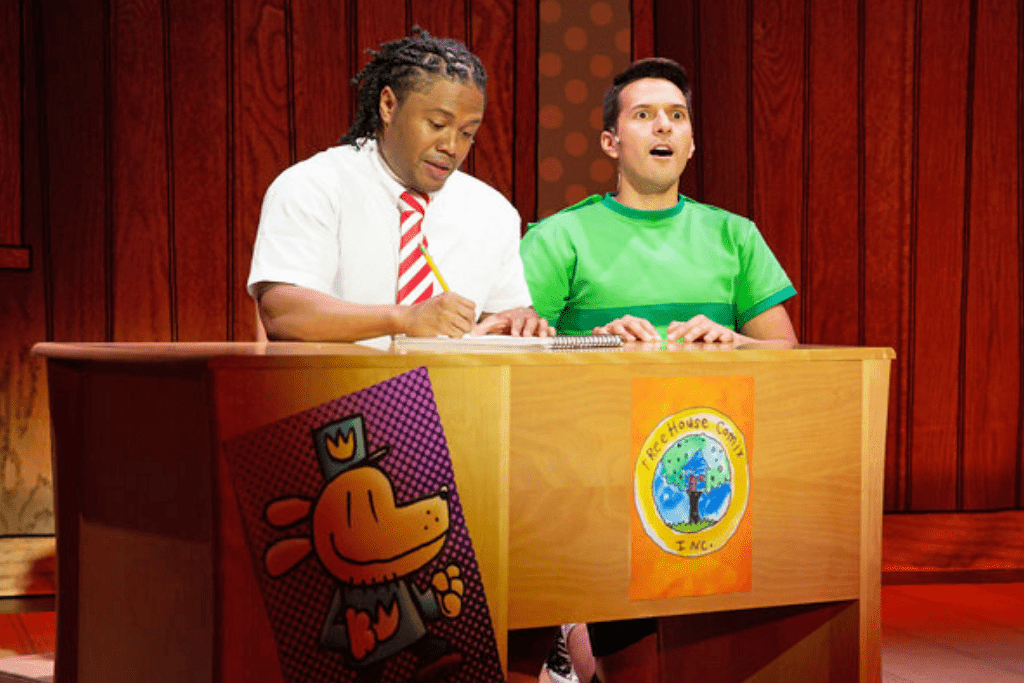 The show has one main set – George and Harold's treehouse – that gets transformed to so many different locations during the show. We are transported into a comic book style world where we find out how Dog Man came into being, how a fish turns evil and tries to take over the world and how a cat called Petey ends up in Cat Jail, clones himself creating Lil' Petey and ends up turning his back of evil in favour of love and happiness.
We found Dog Man The Musical to be a really involved show – there were so many characters, costumes and set changes. But, everything was done really well. The costumes and sets were basic but perfect and the actors were able to portray multiple characters seamlessly.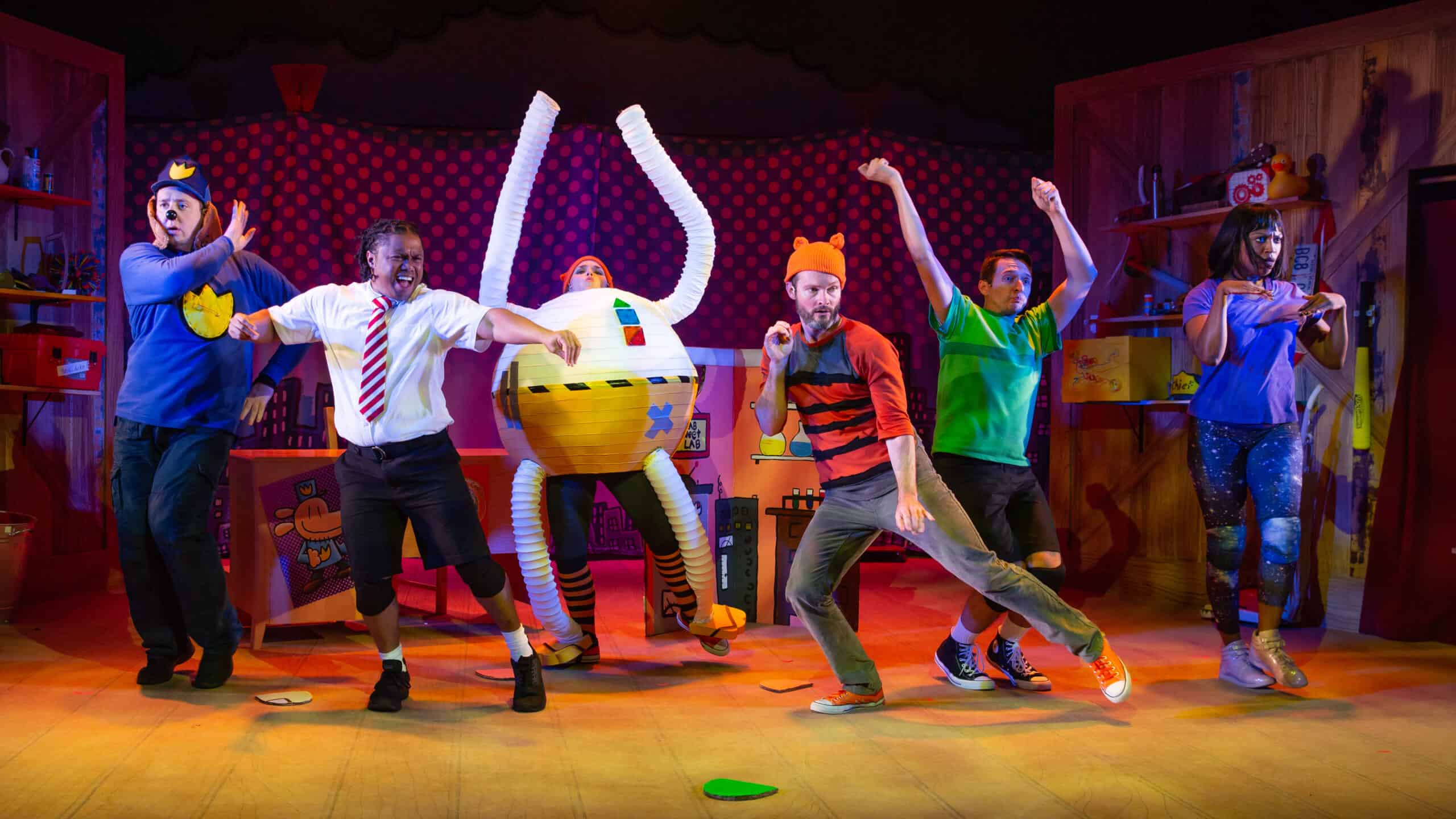 Dave and I really enjoyed the show but straight afterwards we asked the children what they thought – and they loved it. Little Man told us that the show was basically the first three Dog Man books and that it was really similar to the books although some of the characters didn't look the same – Lil' Petey, for example, was played by a girl but was a boy in the books.
This sort of thing didn't bother the children though. They were completely immersed in the show, loved every joke and on the edge of their seats at the cliff hangers. We were all singing along and we all loved the hang glider scene near the end. It was a fantastic finale!
At 90 minutes, including a 15 minute interval, the show is just the right length for fans of Dog Man. It's fun and engaging with catchy songs and a fantastic cast. It's a must-see for any Dog Man fan. You can find out more over on the TheaterWorksUSA website and there's even an original cast recording of the show too!