Disclosure: We were sent the featured products for the purpose of this post however all opinions are my own.
This post contains affiliate links and I may receive commission if you visit a link and buy something. Purchasing via an affiliate link doesn't cost you any extra, and I only recommend products and services I trust.
365 days of Kind is a new quote book for children by wellbeing author and psychotherapist Becky Goddard-Hill. It is colourful fun and packed with insight and motivation and is released alongside 365 days of calm and 365 days of happy.
It is designed for kids' child age 6-12 to give their emotional wellbeing a daily boost and makes a lovely gift.
Each week has a theme and begin with an activity related to the theme followed by quotes and affirmations all related to kindness on each following day. Mornings are a great time for them to dip into their book to begin their day with intention and inspiration.
Take a look at the activities, quotes and affirmations for the week focused on giving …
Giving
Activity: What could you give away today? Could it be a compliment, an hour of your time, a game you have outgrown?
Check in with yourself how it feels when you give something away. I think you will find you are smiling
Kindness in words creates confidence. Kindness in thinking creates profoundness.
Kindness in giving creates love. – Lao Tzu
Set your heart on doing good. Do it over and over again and you will be filled with joy.-Buddha.
Generosity takes an open heart and a love that asks for nothing in return.- unknown
For it is in giving that we receive. ―St. Francis of Assisi
Helping children understand that giving boost s everyone encourages them to practice it and this knowledge is  lovely tool for promoting happiness and wellbeing.
Social and emotional learning works best when it is part of daily life. A daily dose of kindness directed to wards the self, others or the world is truly a beautiful thing,
 365 days of kind is available now.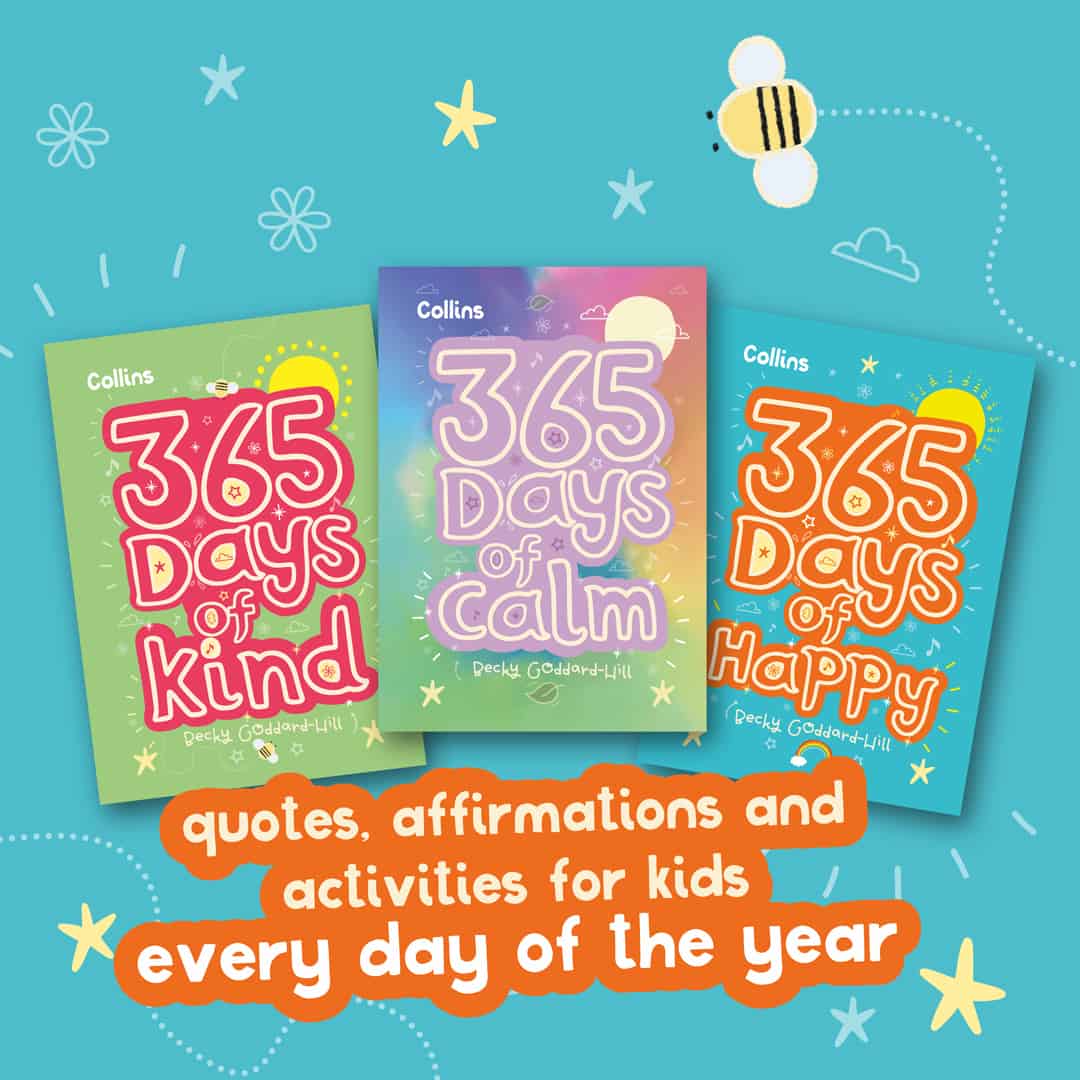 I have teamed up with Becky to give away a set of these three fantastic books to one lucky reader. To be in with a chance of winning, just complete one or more entries on the Rafflecopter below. Good luck!
365 days of calm, kind, and happy book tour
To follow the rest of the 365 days book tour and see more extracts from the books take a look at the following blogs:
29 /9 We're Going on an Adventure www.goingonanadventure.co.uk
30/9 Thrifty Mum thriftymum.com
01/10 Down Side Up www.downssideup.com
2/10 Emma and 3 www.emmaand3.com
3/10 Mummy Mummy Mum www.mummymummymum.com
4/10 Rainy Day Mum www.rainydaymum.co.uk
5/10 What the Redhead Said www.whattheredheadsaid.com
6/10 Growing Family www.growingfamily.co.uk