Disclosure: We were invited on this break for the purpose of this review however all opinions are my own.
Over May half term we travelled to Billund in Denmark to have our first experience of the original Legoland and explore some of the surrounding area and other local attractions. For our trip we stayed at Hotel Legoland, part of the Legoland Billund Resort.
Where is Hotel Legoland?
As you'd expect, Hotel Legoland is right next to Legoland Billund and is connected directly to the resort with a handy footbridge. There's also the Castle Hotel Legoland right next door and the whole resort is just a mile from Billund Airport. It's really accessible by bus and you can also get a taxi really easily.
Getting to Hotel Legoland
We flew to Billund Airport and hopped on a bus right outside the airport. There are a lot of buses and they all have Legoland signs in the front window making it a foolproof way to travel. The bus stops right outside the Legoland Hotel.
Getting to Legoland Billund from Copenhagen
I know a lot of people want to travel to Legoland Billund from Copenhagen and you can travel by road or rail although it takes around 2.5 hours. Getting to Legoland from Billund Airport was definitely a quick and simple option for us.
If you have a car and are staying at one of the Legoland hotels, car parking is free. You just need to get a permit from the hotel reception.
The Legoland Hotel Billund
Hotel Legoland is instantly an appealing place to stay. There are bright colours, Lego bricks and Lego models everywhere and the minute you walk up to the front of the Legoland Hotel a huge Lego dragon roars at you. The children loved it.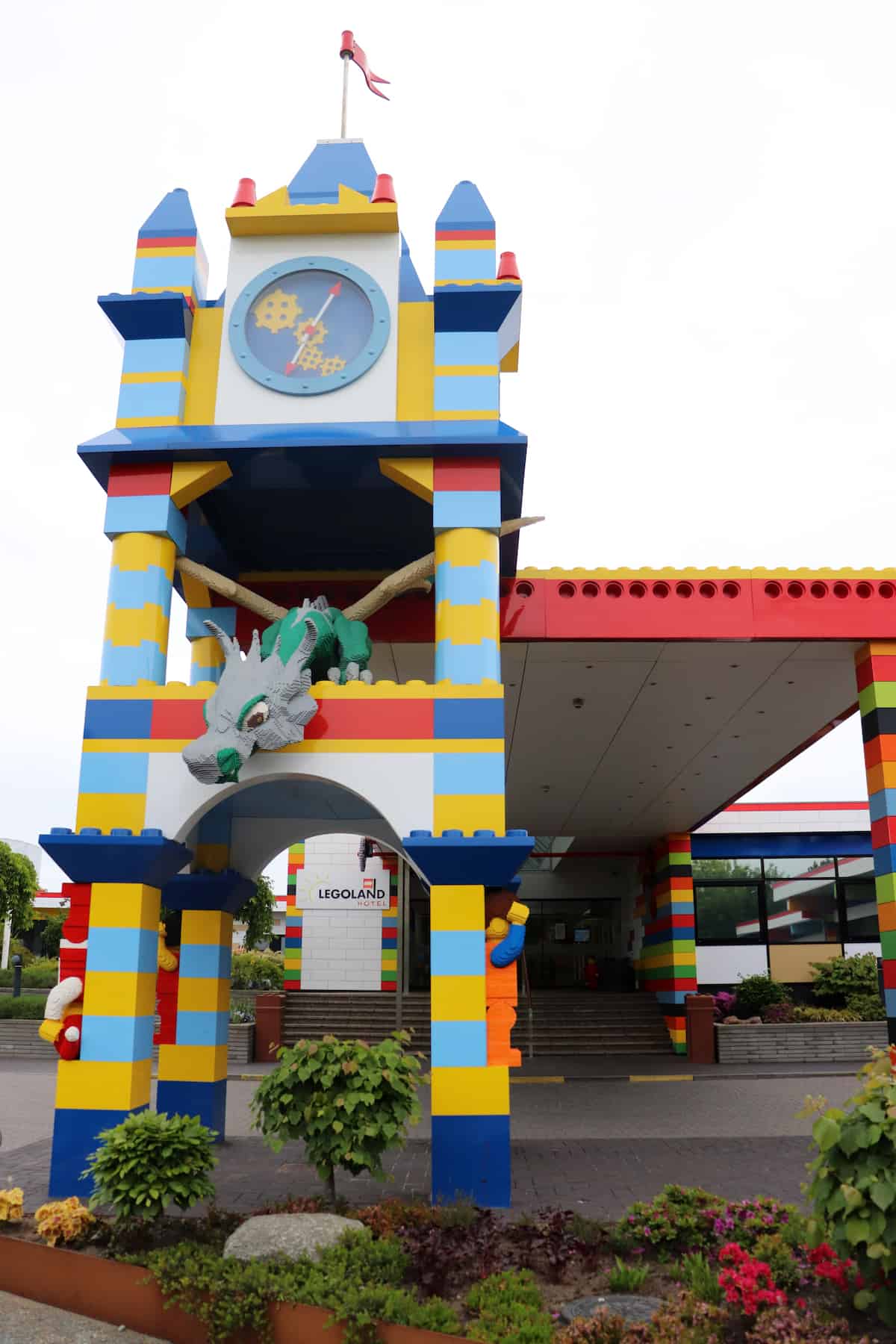 Our check in was seamless and we were given key cards and directed to our room. Breakfast is included in stays at the Legoland hotels and you can book a time to dine at reception or online and it's really easy to do. The hotel are also happy to keep hold of luggage before you check in or after you check out so that you're free to really make the most of your trip.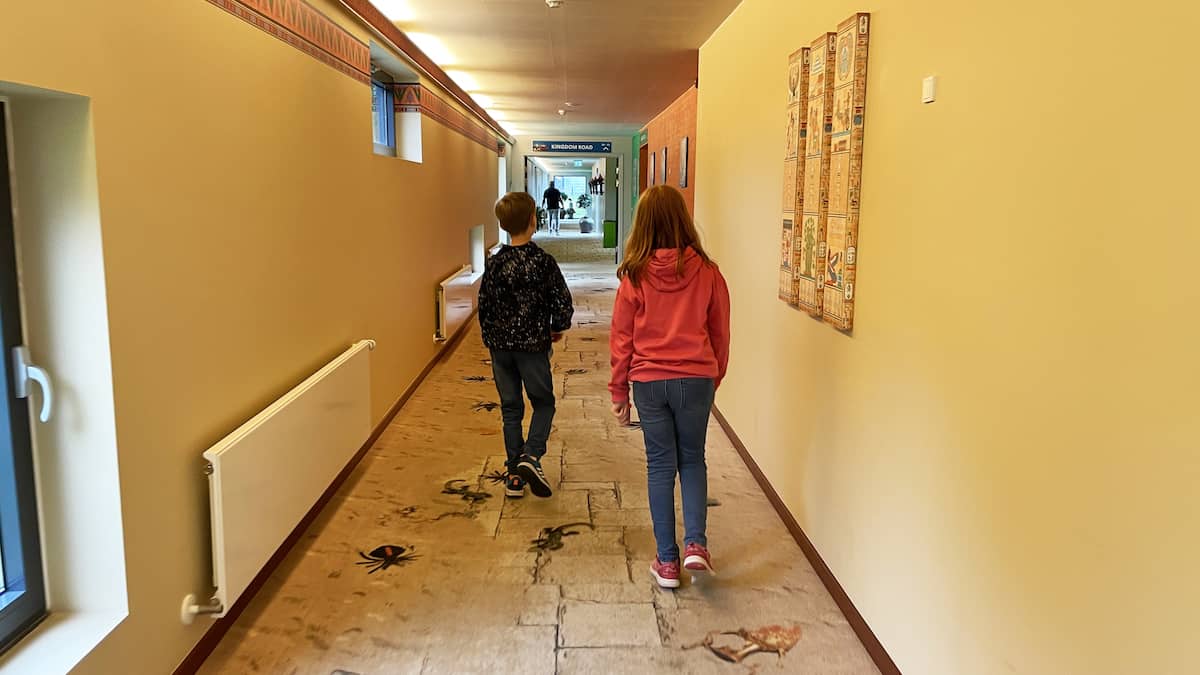 Walking through the hotel we loved the different decor that changed as you moved through the areas. We had to walk along the pirate themed corridors to get to our Kingdom part of the hotel and everything was just so fun! There were themed carpets, themed Lego models on the walls and Lego Minifigures standing in the corners. It's the coolest place we have ever stayed!
The Legoland Kingdom Room
We were in a Kingdom Room for the duration of our stay and as soon as we opened the door we loved it. It was spacious, bright and airy with so much to complete the Lego Kingdom theme. With Lego murals on the walls, Lego creations in the corners and even a little set of Lego as a gift for each of the children. It was perfect.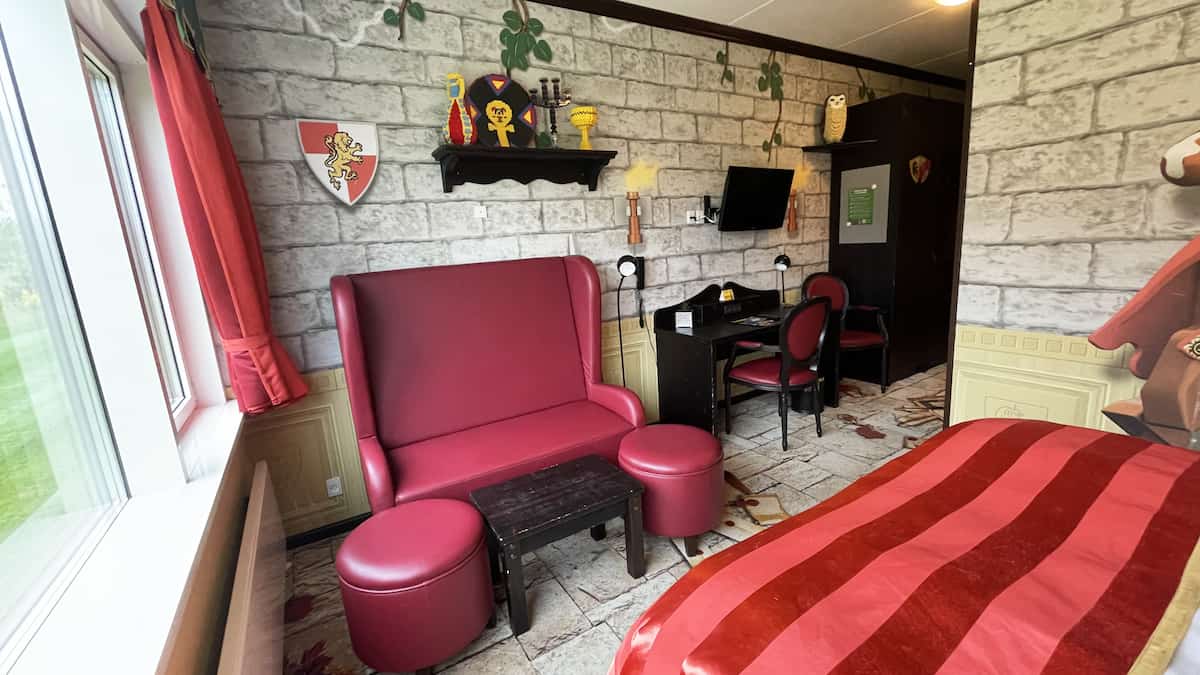 The room consisted of an initial bunk bed room for the children that can have up to 4 bunk beds in it but two were folded away to give us more room during our stay. I love that the Hotel Legoland rooms cater to larger families.
There was also a main double bedroom that looked fit for a king – with curtains around the headboard, a seating area and desk. It was a lovely space and completely separate from the children's beds so we could stay up later than them if we wanted.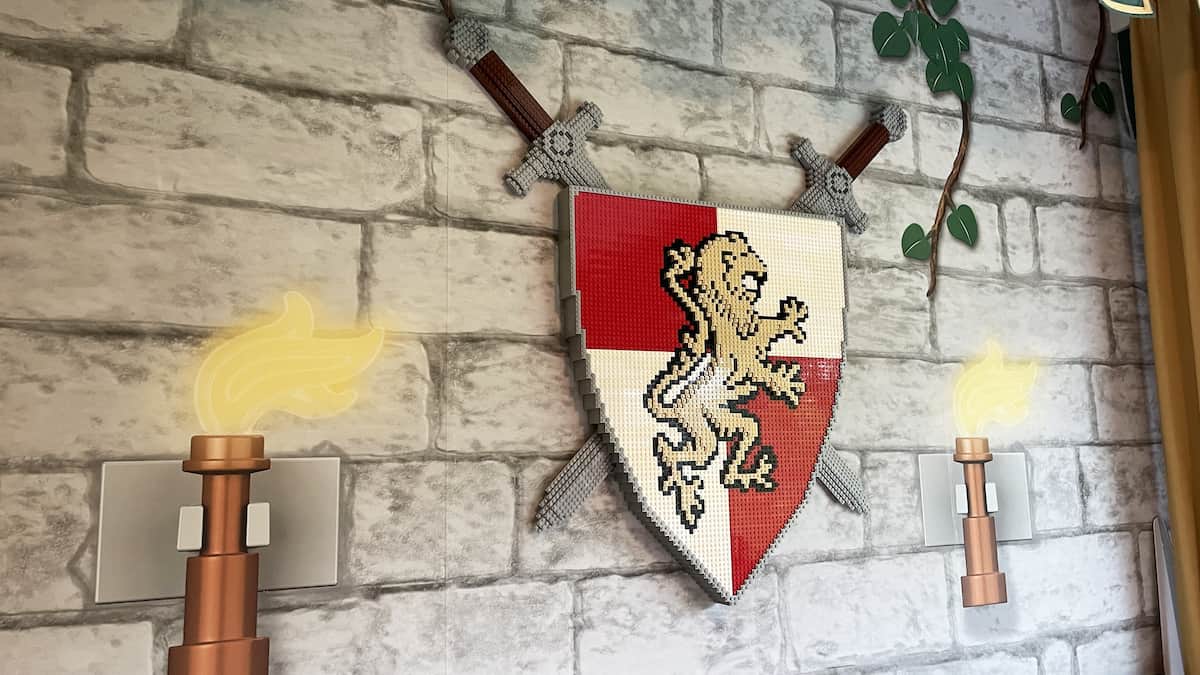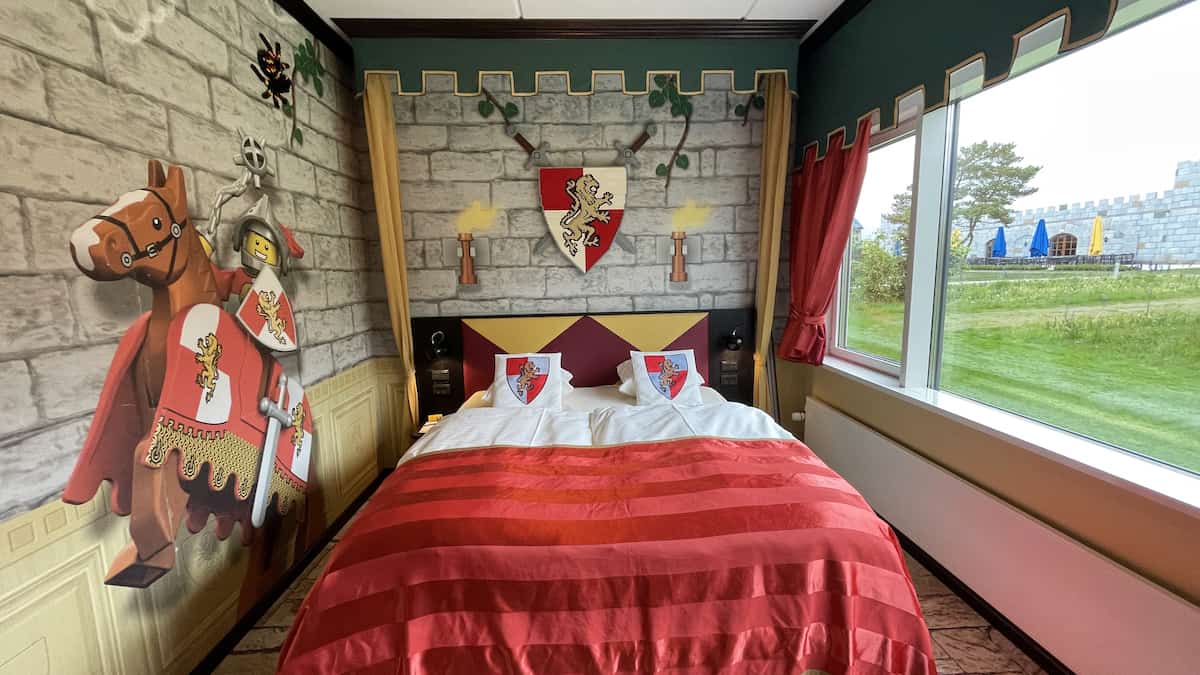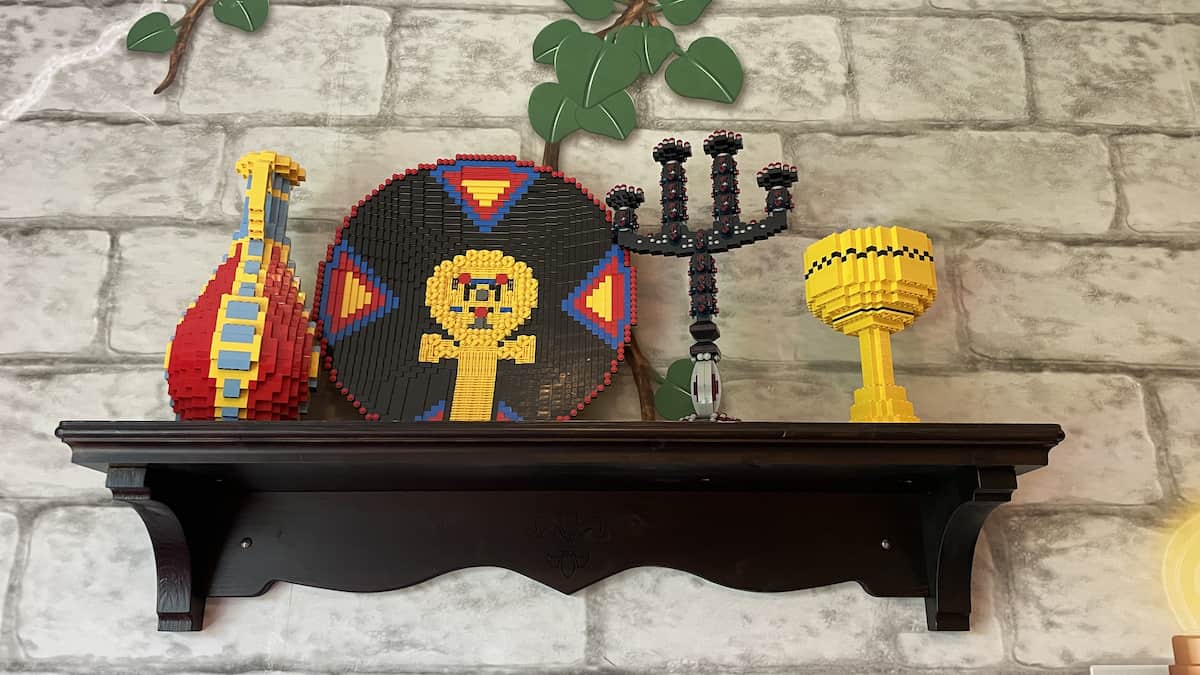 Between the two sleeping areas there was a spacious shower room that was really clean and functional. Toiletries were supplied along with plenty of towels and we were asked to reuse towels during our stay if we could to help reduce environmental impact which is something I always appreciate.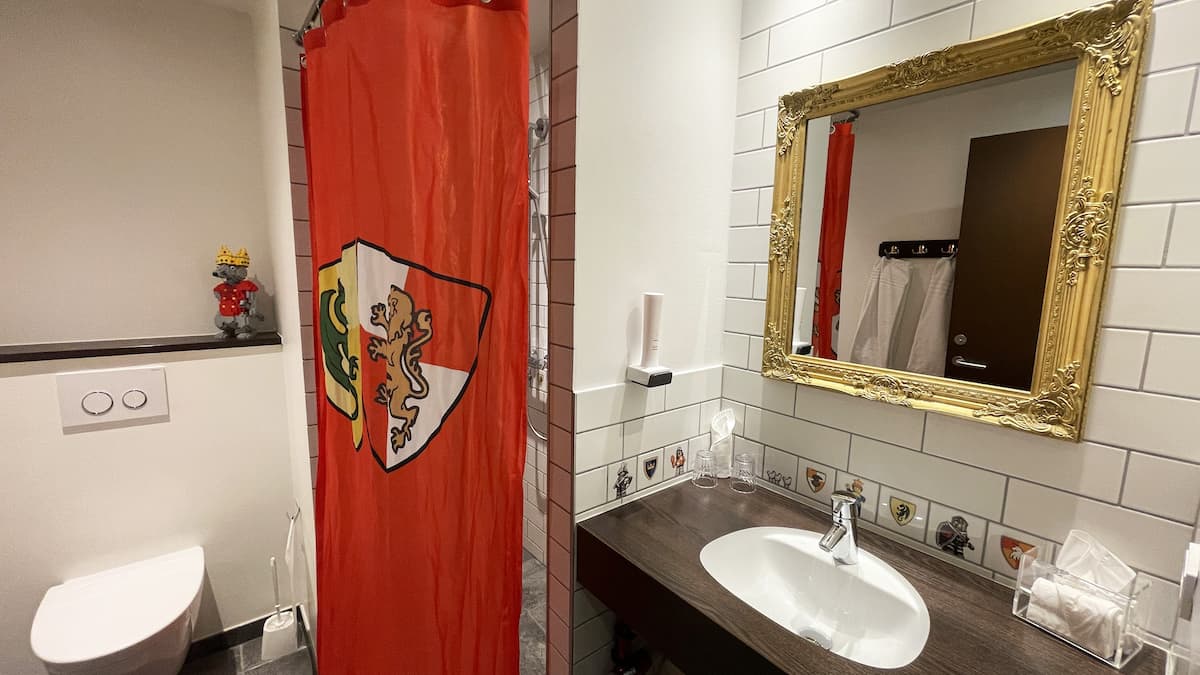 Our room had a lot of storage space, coat hooks and tea and coffee making facilities – although getting normal tea seemed difficult and they only supplied coffee creamer, no milk. But there was plenty of coffee and even hot chocolate sachets. There was also a fridge in the room to keep your own supplies in which was a great touch and something we all appreciated.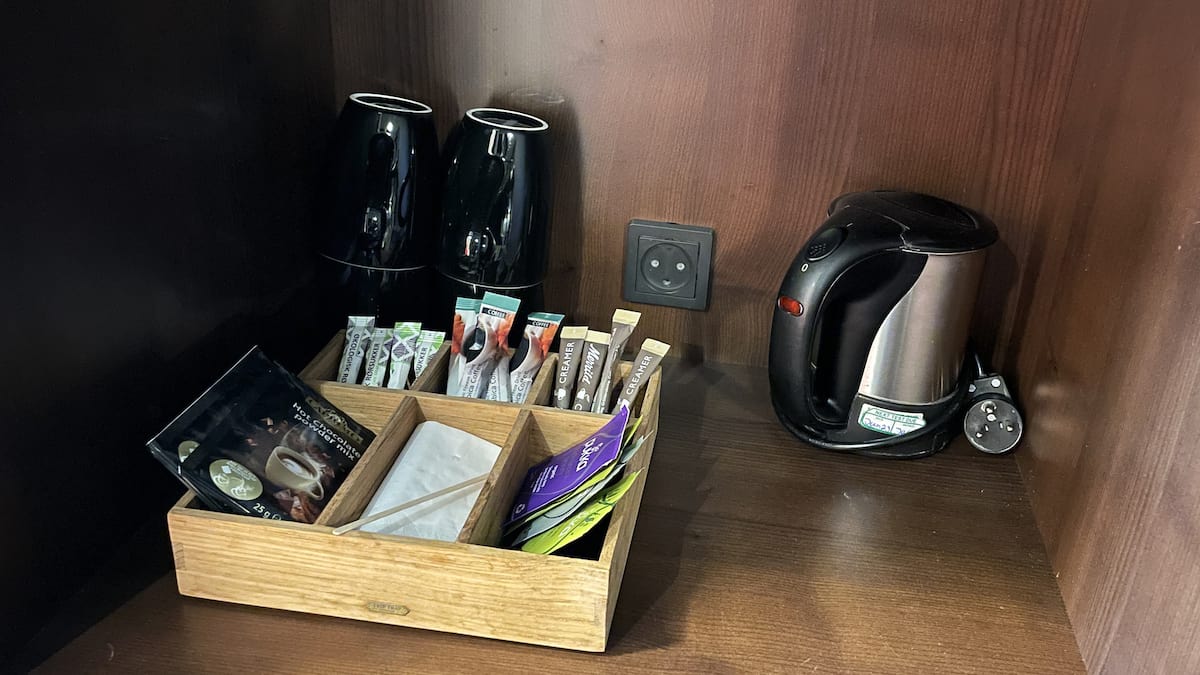 The room had an ironing board, iron, hairdryer and plenty of plug sockets although we did need UK to EU plug adapters that we took with us. There was also free wifi that worked well throughout our stay.
The room came with a big tub of Lego that the children loved playing with during our stay. It was so nice to have additions like this in the room, giving the children instant entertainment during the little pockets of down time.
Entertainment at Hotel Legoland
Around the hotel there were so many play areas – and one was pretty much right outside our room. Kids of all ages love a simple play space and the Legoland Billund Resort couldn't have done this better. With so many different pieces of play equipment set around the two hotels, it was somewhere the children absolutely loved to play.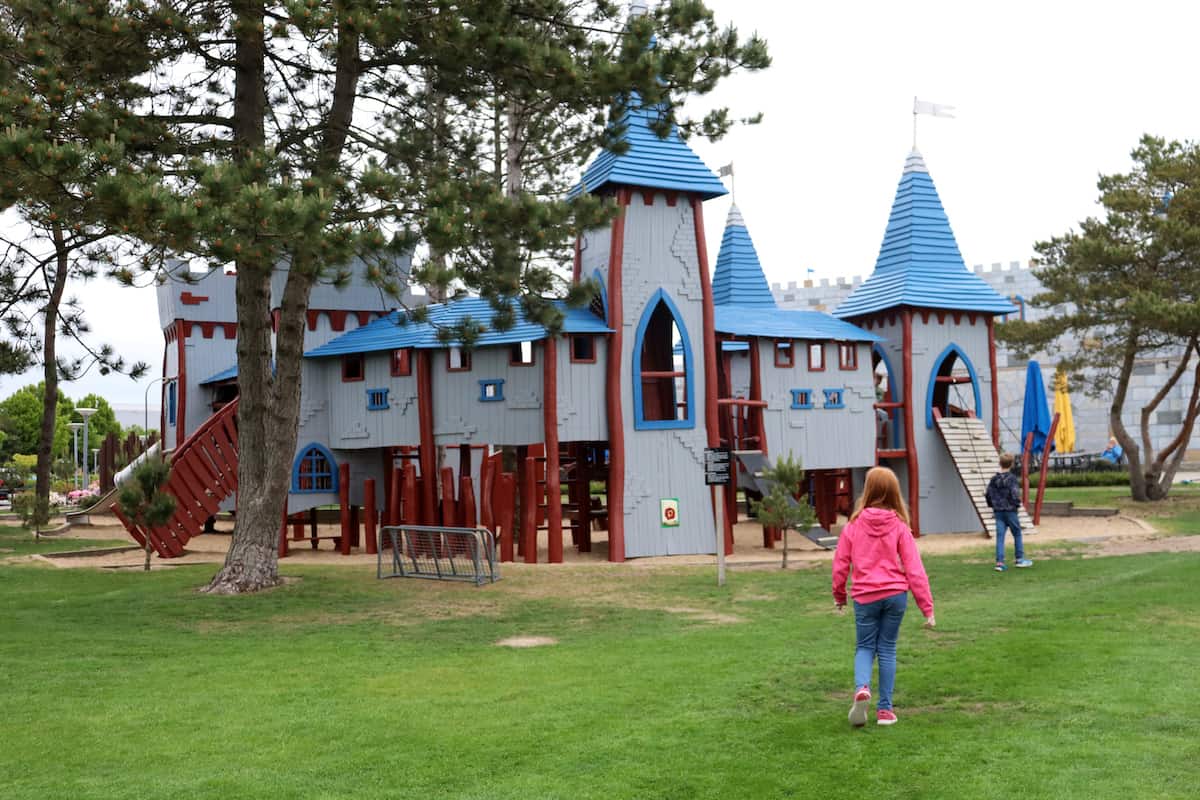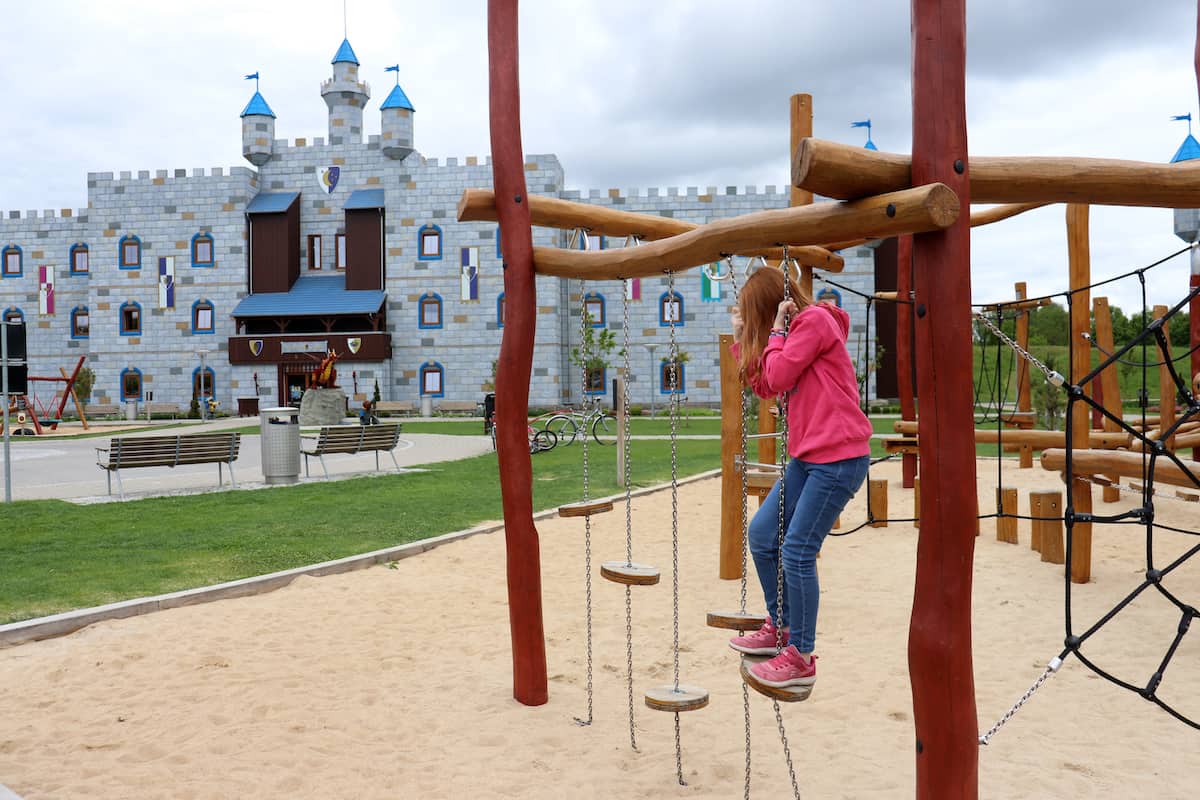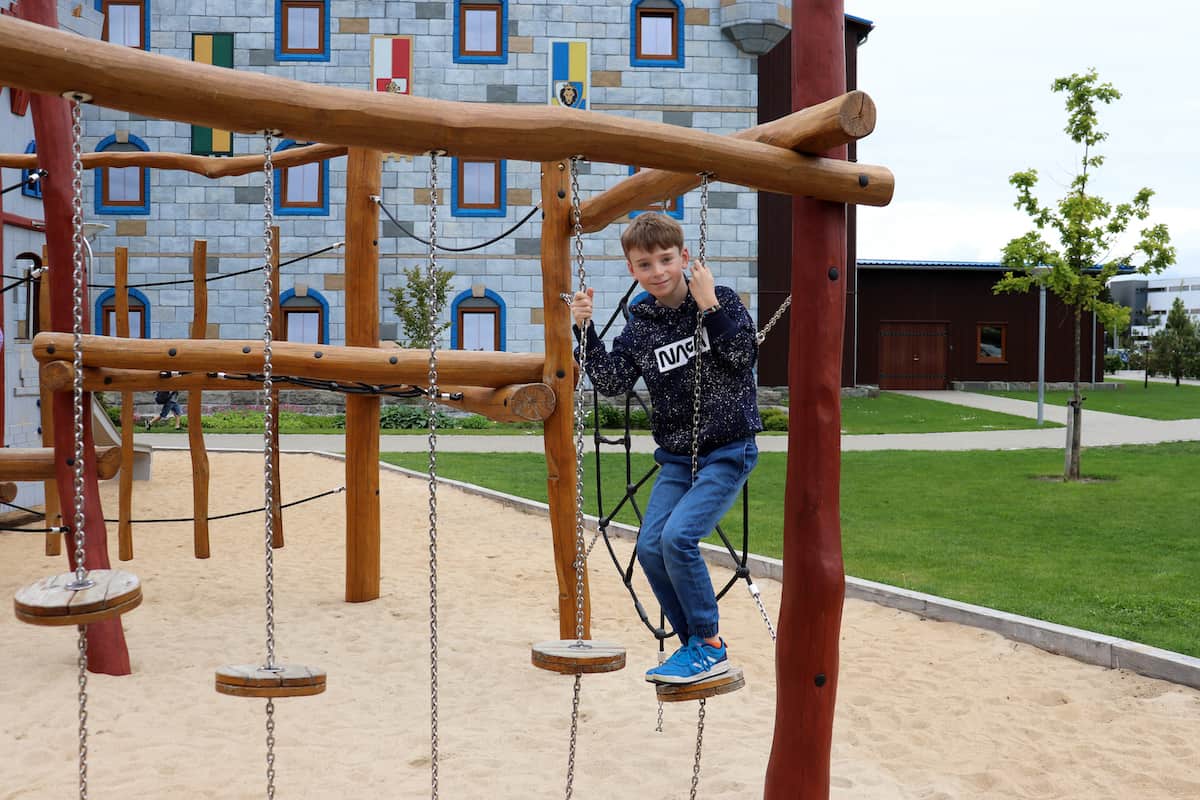 Inside the hotel there was also areas to make Lego creations and Kids Hub spaces for children to play, build and use Nintendo products. This included a huge fire engine in the reception area full of Nintendo Switch consoles. We didn't see it empty once during our break – it was a super popular area.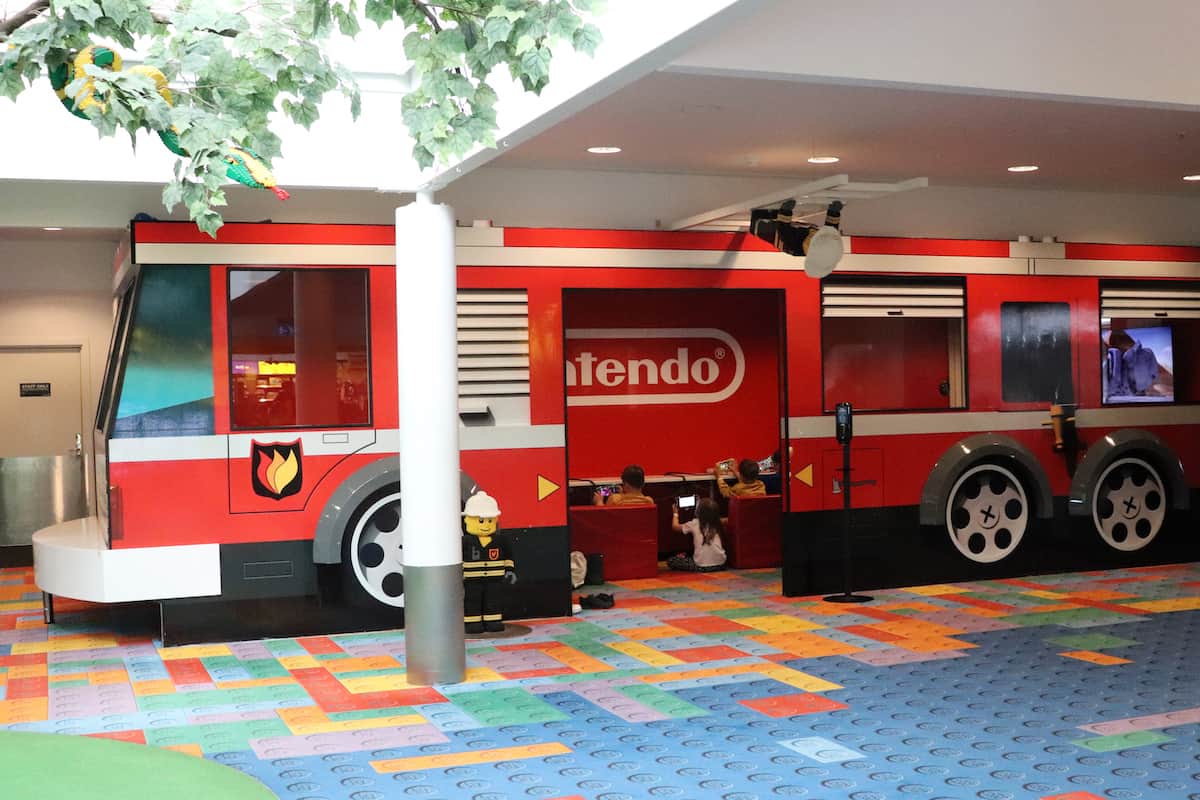 There were so many other little touches like a whole wall of Minifigures behind the reception desk, over 5000 of them, with a bicycle on a tightrope magnifying them as it rolled past. There were so many things to look at throughout the hotel and the children were constantly spotting new things, in awe at their discoveries.
Right in front of the main hotel doors there was also a huge Lego dragon with a playhouse on the top. The children loved climbing up to this treehouse to play hide and seek or just get a nice view of the whole reception. Little things like this add so much to a child's experience. They loved it.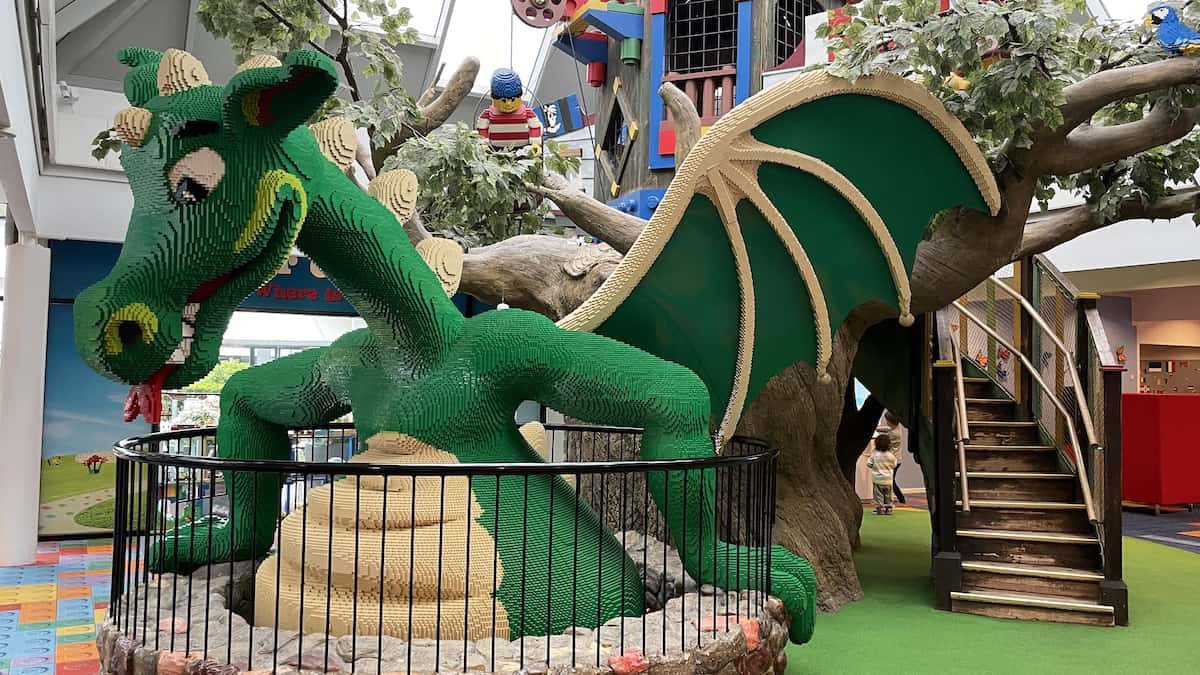 Food and drink at the Legoland Hotel
At the Legoland Hotel we had breakfast each day in the Panorama Restaurant. It was a fantastic buffet of cold meats and cheeses, fruit, cereals, pastries and a lot of cooked options too. The children feasted on pancakes and watermelon each day whilst Dave and I had a cooked breakfast of sausages, bacon, eggs, tomatoes, mushrooms and beans. It was a great way to start the day.
The Panorama Restaurant also has a buffet dinner or a la carte menu available in the evening plus snacks and drinks are also available at the hotel's Lego shop. There are also many places to eat, grab snacks or a drink locally – inside the Legoland park, at Lalandia or in Billund town centre just a short stroll away.
Hotel Legoland facilities
Hotel Legoland has a lovely lounge area to relax in, a fitness centre and sauna plus so many places for the children to sit and play. A trip to the Legoland Billund Resort is bound to be busy and exciting but it's nice to have somewhere to relax and unwind during your stay and Hotel Legoland is perfect for that and caters so well for all members of the family.
We had such a great break at the Legoland Hotel. We were able to walk straight through the hotel to Legoland on our days in the park, had a delicious breakfast to start each day and when we went on a day out to WOW Park the staff were only too happy to organise a taxi for us.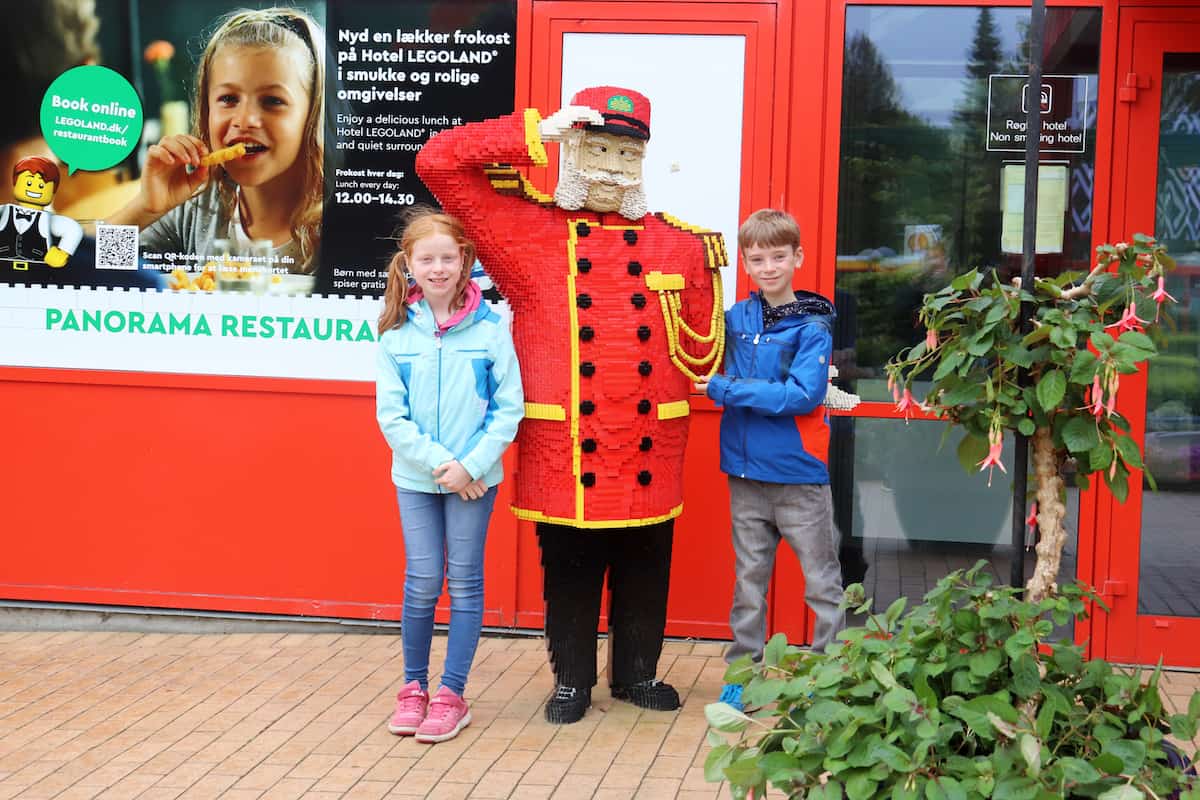 If you're organising a trip to the Legoland Billund Resort, staying on site at a Legoland Hotel would be a fantastic option. Everything is so close by, easily accessible and the rooms are super comfortable and great for a family.
You can find out more about Hotel Legoland, check rates and book rooms over on their website. For reference the address is: Aastvej 10, 7190 Billund, Denmark. You can see a little Reel of our stay at Hotel Legoland over on Instagram here.