Disclosure: We were invited on this day out for the purpose of this post however all opinions are my own.
We spent half term in Billund, Denmark, staying at Hotel Legoland. The main reason for our trip was to go to Legoland Billund, the original Legoland park, as we're huge fans of the Lego brand and Legoland sites, having been to Legoland Windsor countless times and Legoland in Florida a few years ago.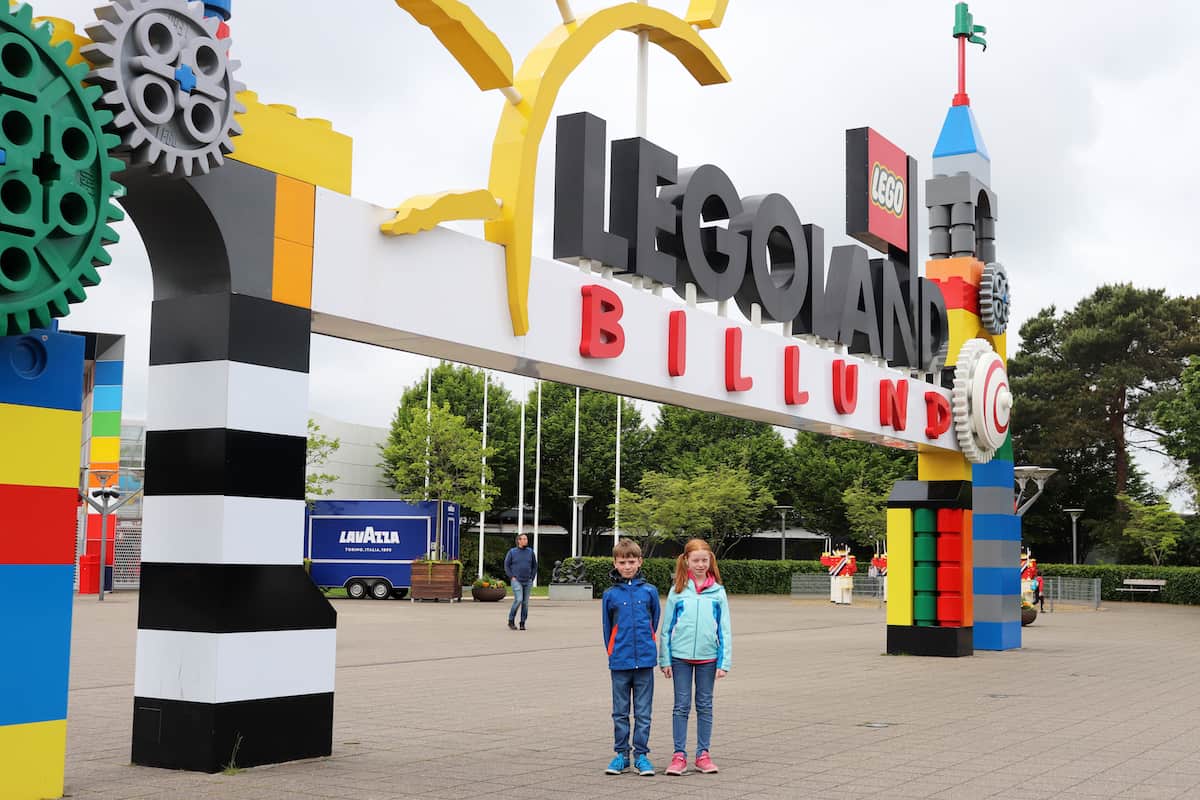 How to get to Legoland Billund
We flew direct to Billund airport for our trip to Legoland Billund. You can also fly to Copenhagen and get a train or drive to Billund but this does take 2.5-3 hours. Legoland is only a mile from Billund airport with plenty of buses going straight to Legoland and with a very low cost too. You can also drive from the airport if you hire a car, get a taxi or even walk if you wanted. Parking at Legoland Billund costs 60 DKK a day – around £6 but is free for people with disabilities.
Exploring Legoland Billund
We arrived at Legoland Billund ready for opening time on our first full day in Billund. The excitement was building from the moment we saw the Legoland Billund sign and the Lego band that played music as you approached it. When the gates opened dead on 10am there was an audible cheer from the children – and the grown-ups!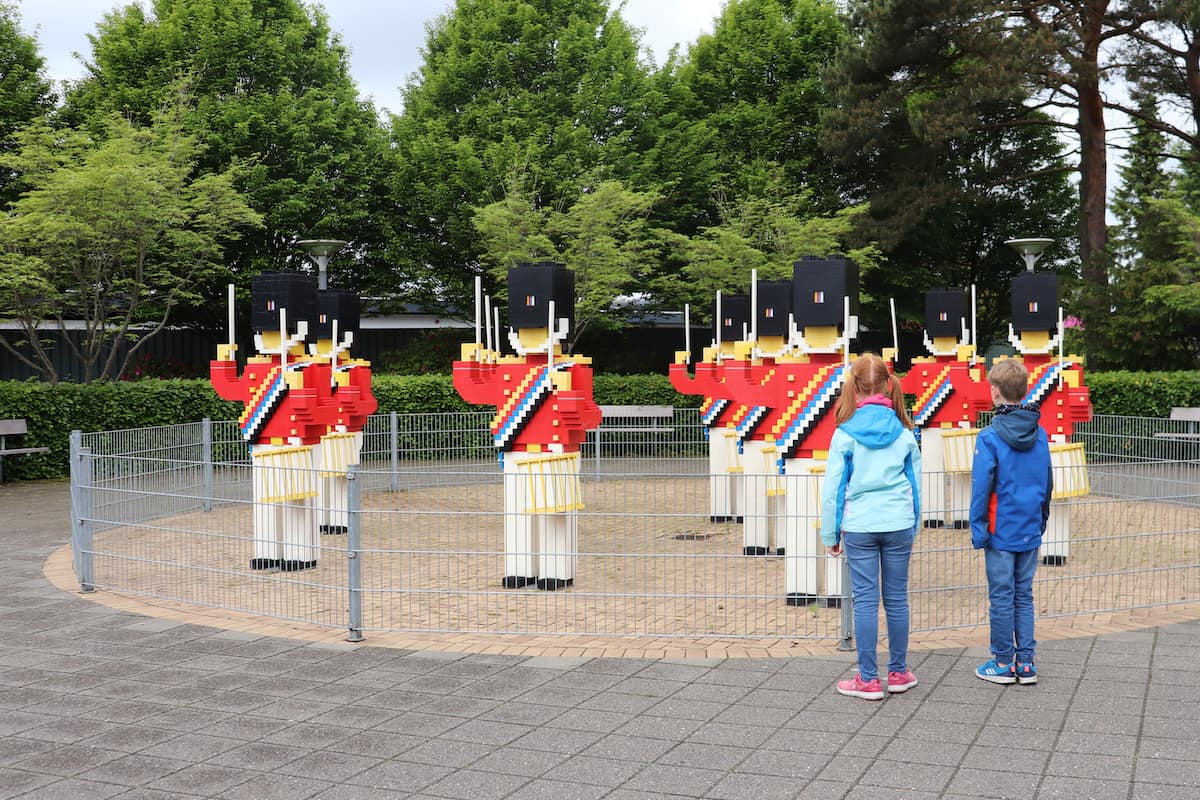 As soon as we walked into the park, Legoland Billund felt so familiar, yet so unique too. As we ventured further into Legoland, using the downloadable app to guide us around towards our favourite rides, we spotted some familiar models that are firm family favourites, such as Bronte the big dinosaur, the Tourist Guy and the girls from Lego Friends who were standing at a bench with a space on it for eager fans to have a photo with.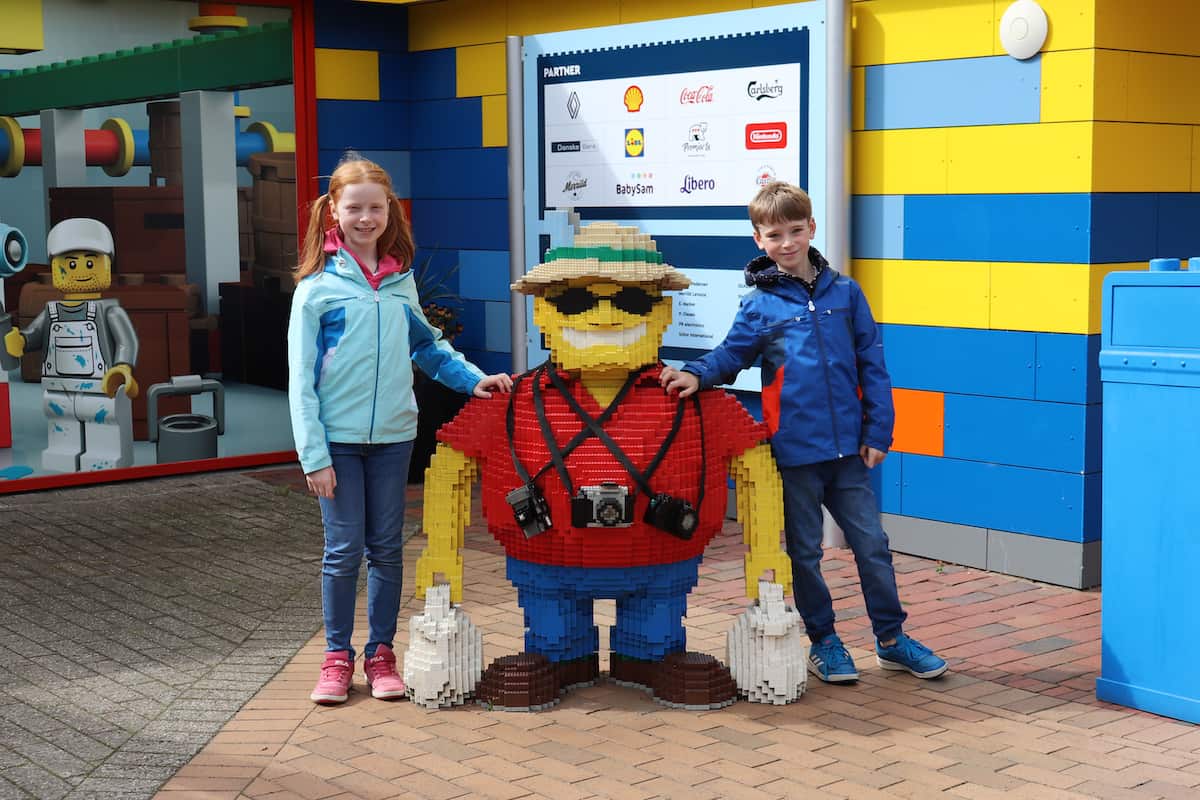 We made a decision to first head for the Renault Traffic School to reserve a place later in the day. The app and website let you know that you need to book a slot on the day and that there's also an additional charge – the only ride in Legoland Billund with an additional cost. The cost is really for the driving licence rather than the ride and this is one of the only ways Legoland Billund varies from our other Legoland experiences as everyone who rides gets the licence, rather than it being optional, and being ticketed means queues are really well managed.
If you're heading to Legoland Billund, make sure you head to the Traffic School first to book a slot as it can get booked up really quickly and it's an experience that your children really won't want to miss out on. Our children were really keen to get their Danish Licence to go with their ones from Legoland Windsor and Legoland Florida!
We had some time to pass before our Traffic School slot so we headed right next door to the Lego Ninjago World. The first ride we went on was Ninjago – The Ride which is very much like the same ride at Windsor. This is always very busy at home, so we've not been on it every time we've been, but as we were at Legoland Billund during Danish term-time, we pretty much had the place to ourselves with queue times for all rides being virtually non-existent.
As we snaked around the queue area for the Ninjago Ride, there were Lego portraits on the walls to pass the time and familiar troughs of themed Lego elements to play with if there was a bit of a wait. We walked onto the ride having collected our 3D glasses and had great fun helping the Ninjago crew use the four elements to defeat The Great Devourer.
The next ride was the unique to Legoland Billund 'Lloyd's Laser Maze'. We didn't know what to expect but when we found the entrance to the two dark tunnels, it soon became apparent. A button marked easy, medium or hard mode activates the experience and green laser beams fill the tunnel. A timer begins counting down and you have to get to the end of the ten metre tunnel without breaking any of the laser beams as quickly as you can, or at least within the 120 second timer.
The harder the mode, the more laser beams there are! Little Man buzzed through in easy mode and Dave decided to do the hard mode – pretty much impossible for him although he did try to blame the backpack he was carrying! This simple and fun experience is the kind of thing that makes Legoland Billund stand out against it's sister sites around the world. It's an activity that is as simple as putting two pieces of Lego together, yet fiendishly addictive! Little Man would probably tell you this was his favourite thing we did!
Next up we visited the interactive musical instrument fountain and nearby Duplo playground. There are so many different things to look at and activities that don't require any queuing, perfect if you have young children or visit at peak times. The play area was fantastic for little ones, brightly coloured and with so much to do.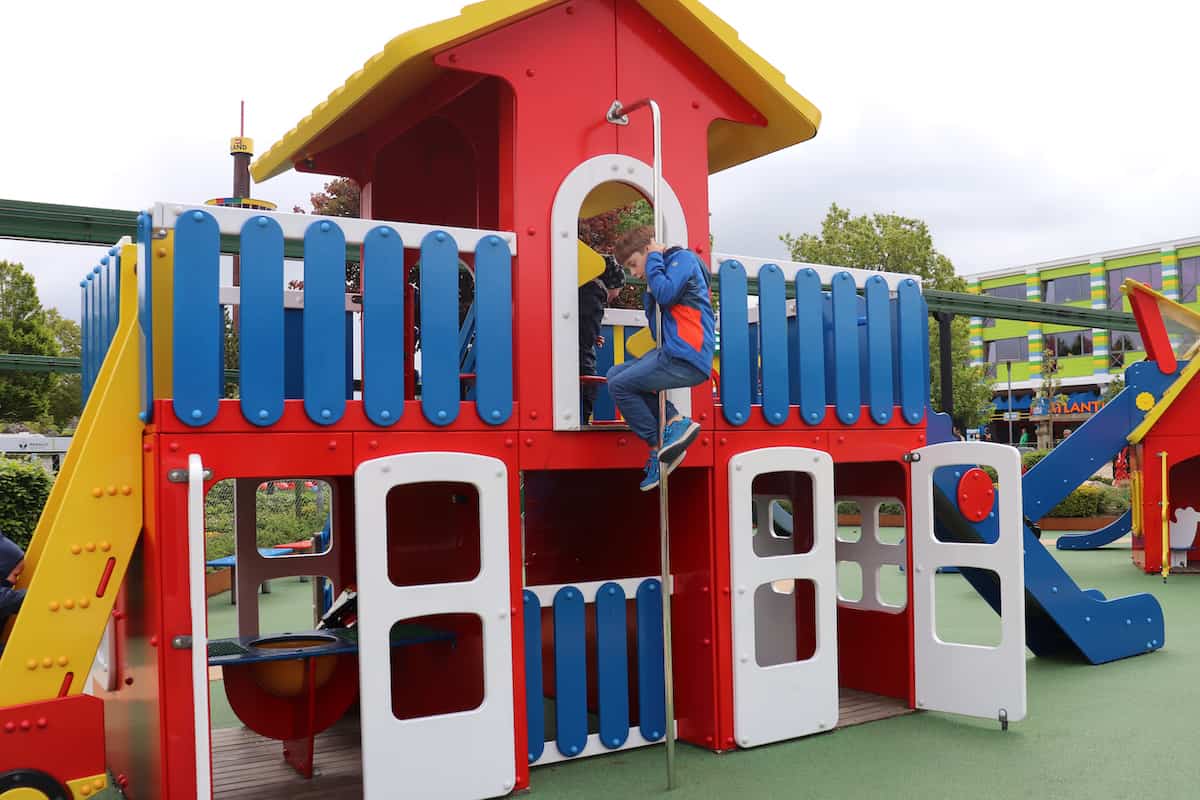 We then spotted one of the children's favourite rides, the little Duplo Express Train. The member of staff operating it – René – clearly loved his job as he entertained our two as they were waiting for the previous ride to finish. He was just being daft, making music with his hands and mouth to the great amusement of everyone nearby. It was great to see him bringing joy to all, including the grown-ups, to make any wait time pass quicker with the true spirit of Lego. We followed this with a quick trip on a Duplo flying ride which the children loved.
Atlantis by SEALIFE was next and it's a completely different experience to the ride at Legoland Windsor. Atlantis by SEALIFE is a lovely walk through experience with a few smaller tanks with tropical fish and information boards to start with before you reach the main tank.
It has fantastic underwater themed Lego models, like divers, mini submarines and ancient artefacts like sculptures and treasure, surrounded by massive viewing windows. All the marine life is on show from black tipped reef sharks to ginormous rays and a variety of smaller sea life too.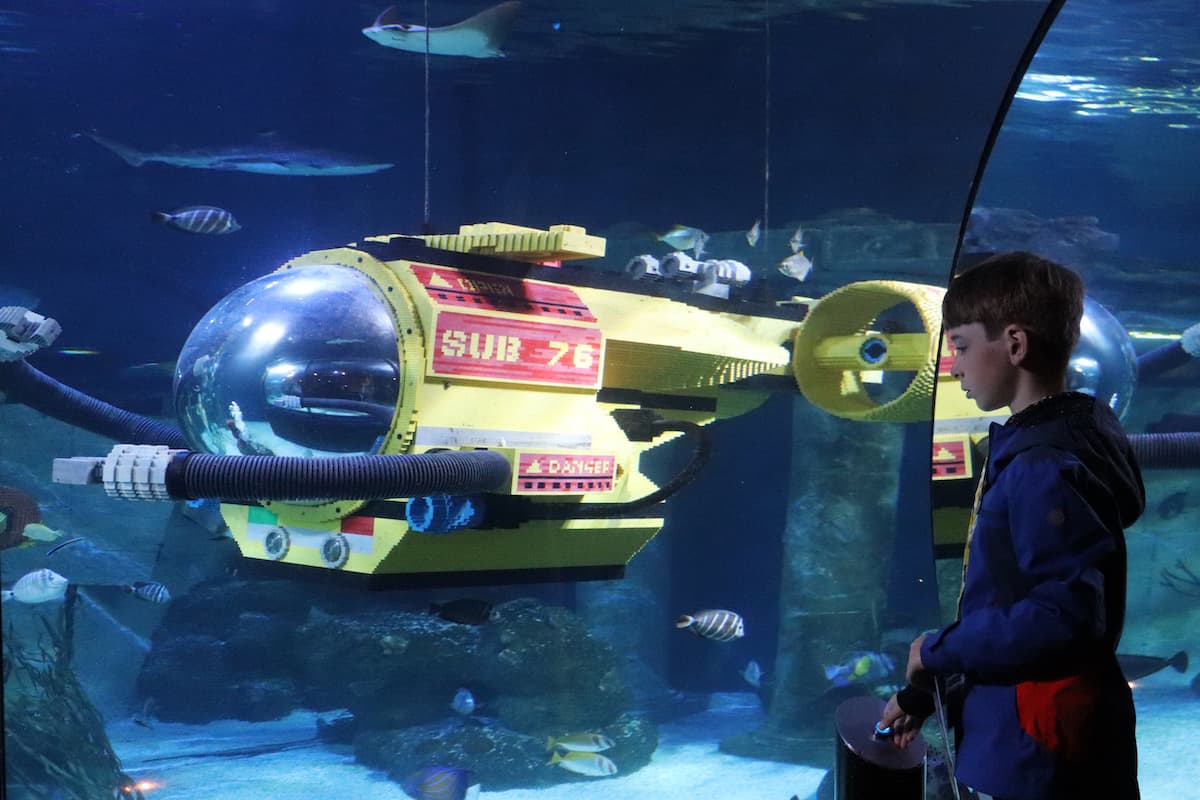 Dotted around were buttons on pedestals and after pressing them, the models inside the tank came to life, releasing bubbles and sounds. There's also a great see-through tunnel to walk through followed by a more open section where we were able to get up close to some starfish under the guidance of a friendly staff member. We also learnt about efforts to release Beluga whales back into the wild in Scandinavia.
It was now time for the Renault Traffic School. The children were greeted by the multilingual staff in their native languages, who instantly made them all feel at ease. Photographs were taken for their licences and safety demos were held so that all those taking part knew what to do. Drivers were also given flags made out of Lego bricks to put on the front of their cars so the instructors could speak to them in their own languages. This was a fantastic addition to the ride and it was incredible seeing the staff switch seamlessly between Danish, English and other languages.
The staff obviously love their jobs and we understand why there was an extra charge for this experience – aside from the driving licence. Instructors made it really fun, but in a safe way, so all the little drivers loved it. They gave running commentaries on drivers who were doing good, praising those who were finding it difficult but persevered until they got the hang of it and even enforcing the traffic laws about going on the correct side of the road.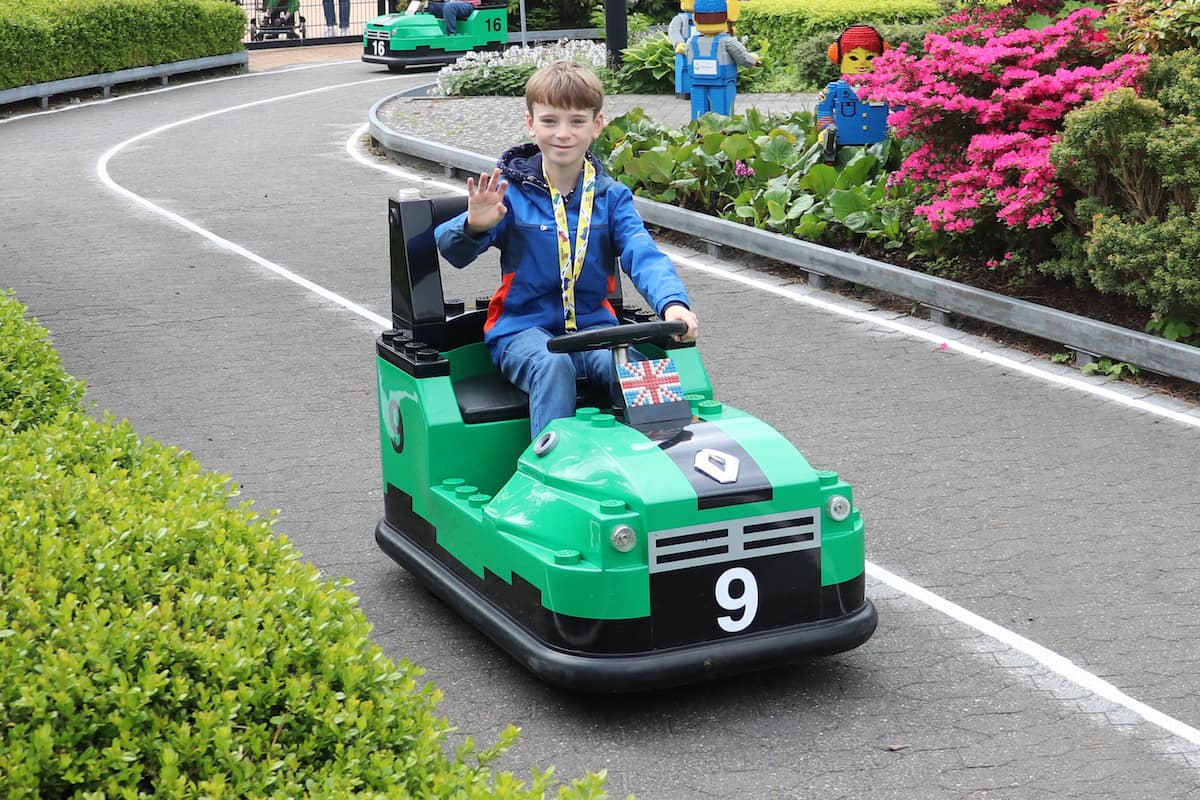 From experience, other Legoland driving schools don't seem to be as well run, with staff not really bothered if people are going round the wrong way, or constantly running red lights. The instructors at Legoland Billund were fantastic and really put their all into it. They even got to have a go themselves when we spotted them out in Lego police cars making sure the roads were safe. Once presented with their licences, you could see all of the young drivers beaming from ear to ear. It was an incredible experience and a real highlight of Legoland Billund.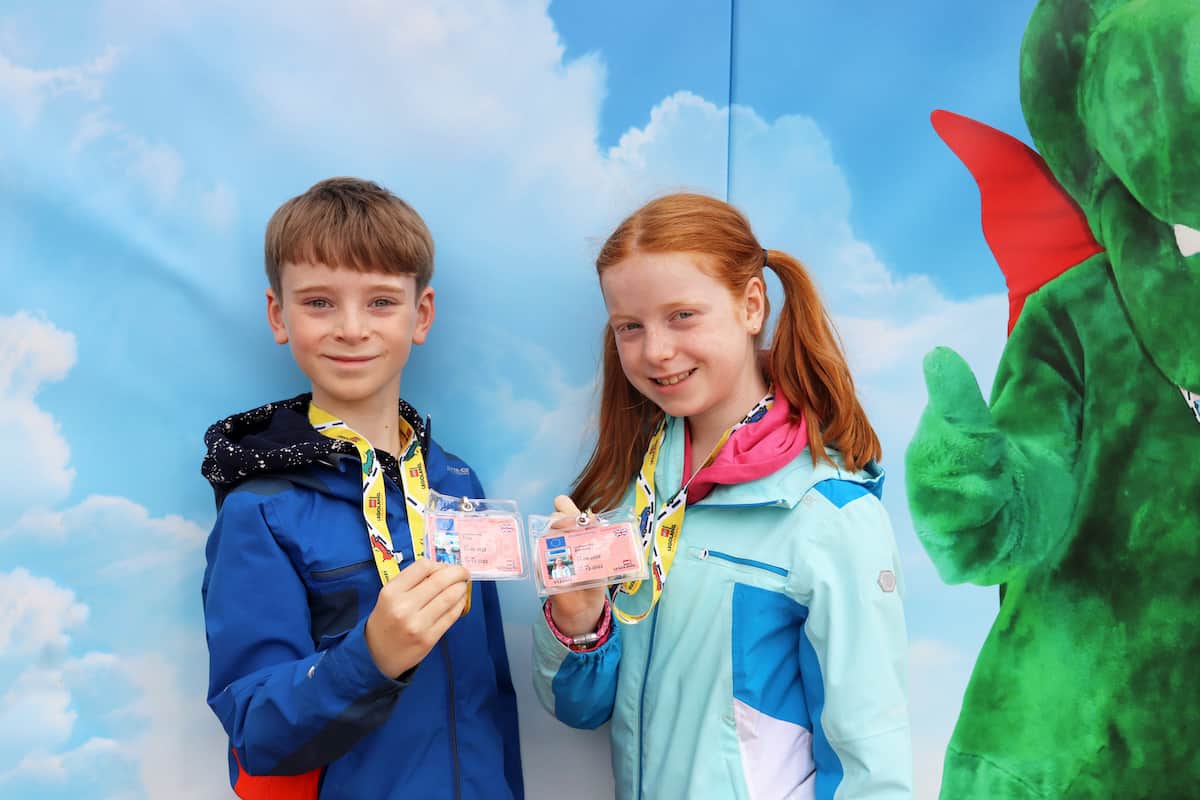 Legoredo was our next port of call, a classically styled western themed area where we made the brave decision to go on Lego Canoe, a water ride. Whilst meandering around the course in our boat, we had fun spotting the Lego wildlife before plunging down a huge water slide! Classic theme park fun with a Lego twist.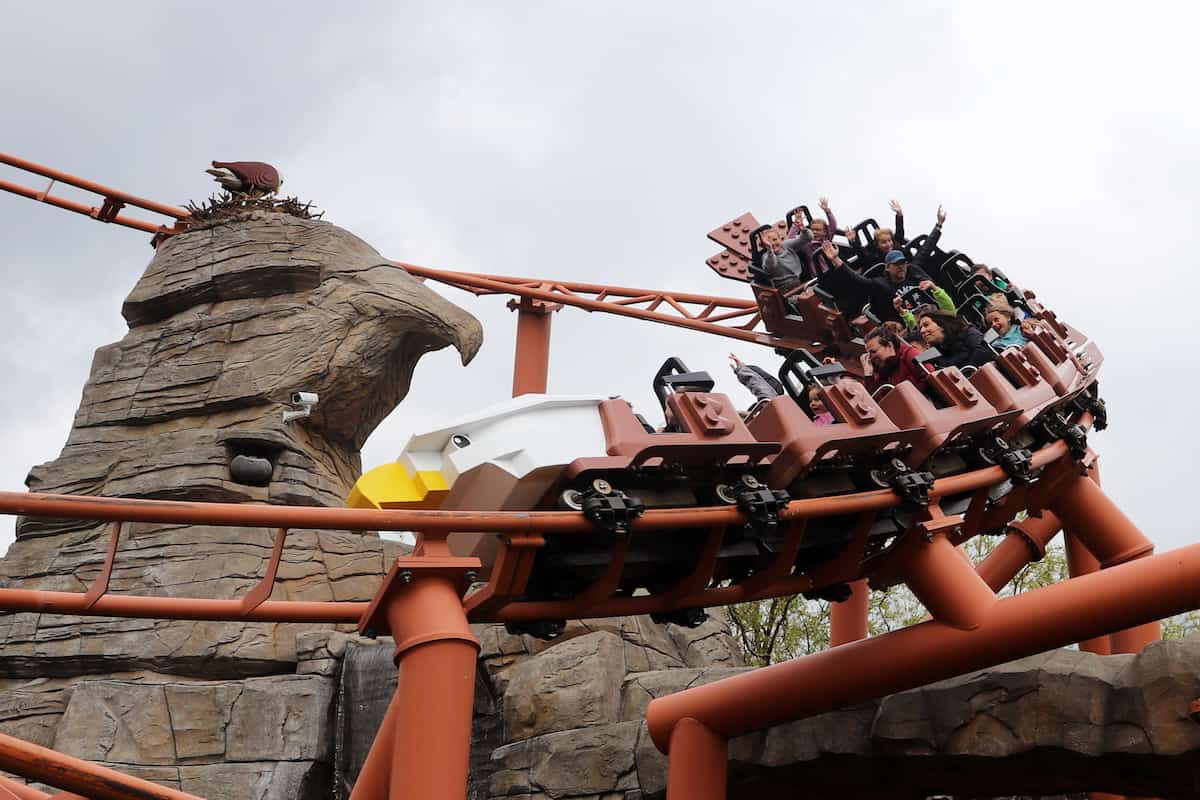 Legoredo also had a really cool rollercoaster in the shape of the Flying Eagle. We saw people on it as we approached and it seemed like a good idea. After two high speed laps, we left the ride on a high, declaring it awesome. The Pirate Boats were fun too, a slower paced ride around a cave inhabited by a gang of pirates and Redbeard himself. The treasure was at the end and it was a nice change of pace after the Flying eagle.
Any visit to Legoland wouldn't be complete without watching the stunt show. Arriving a few minutes before the start we took seats on the front row. The Legoland Billund show has a medieval theme complete with a Princess, King, Knights and a dastardly wizard. Plus plenty of high jumps and massive water splashes!
Having been thoroughly entertained, we then went straight onto the famous Dragon rollercoaster where we got to sit at the front. It built up our adrenaline levels ready for our trip into Lego Movie World! Apocalypseburg Sky Battle looked harmless enough, like a wonky ferris wheel when at it's full height. But, it turns out, it was one of the scariest rides we, the grown-ups, had ever been on anywhere. Of course, the children loved it and wanted to go back on straight away!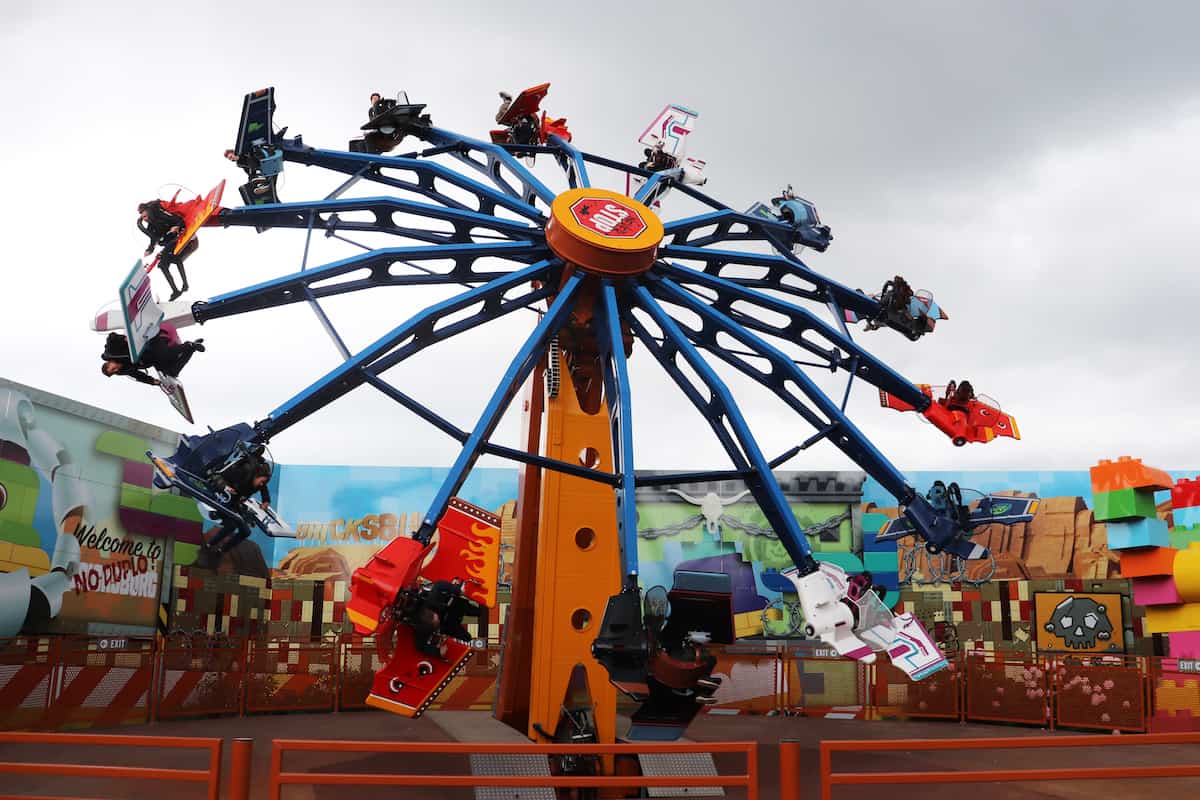 It began to rain so we sought refuge in a nearby indoor experience, Emmet's Flying Adventure. This is a huge ride that is also a massive immersive experience, with riders floating on Emmett's triple decker couch in front of a huge screen as you are transported around locations from the Lego movies. It was so much fun, we had only ever been on a similar ride in Disney World Florida, so this was great to see and one of our favourite rides at Legoland Billund.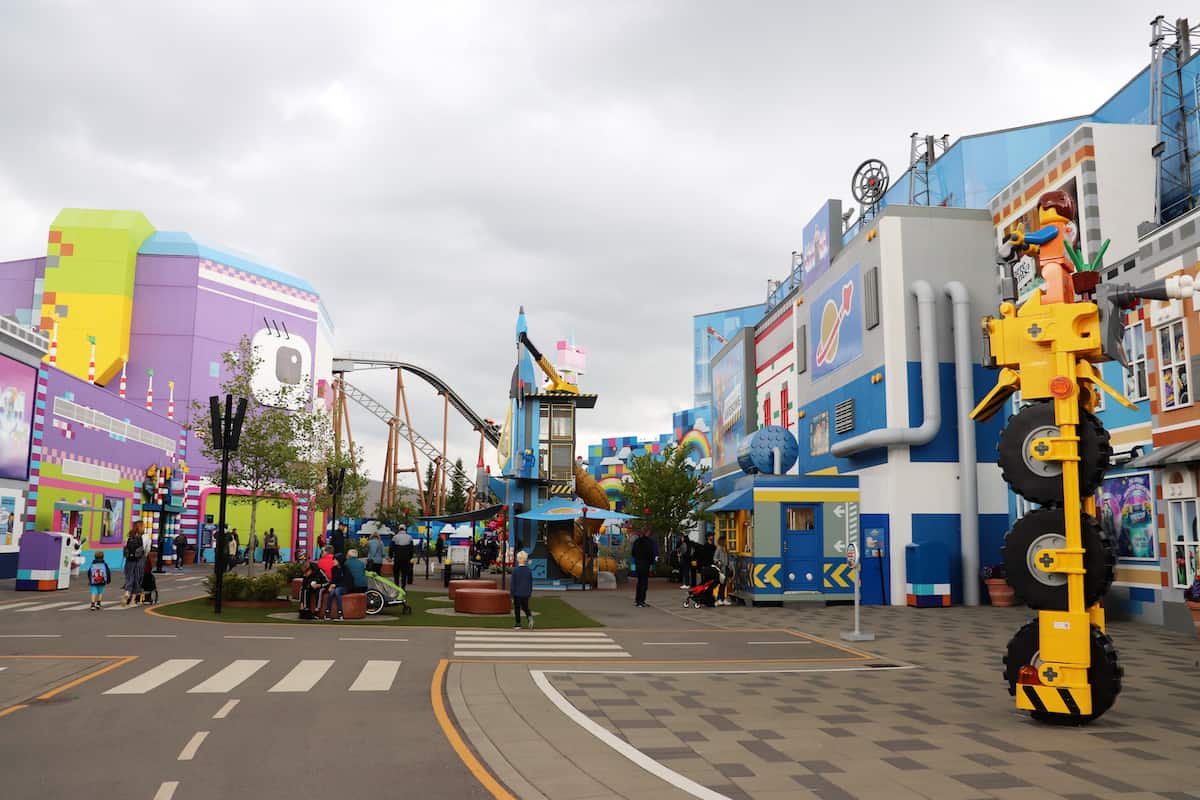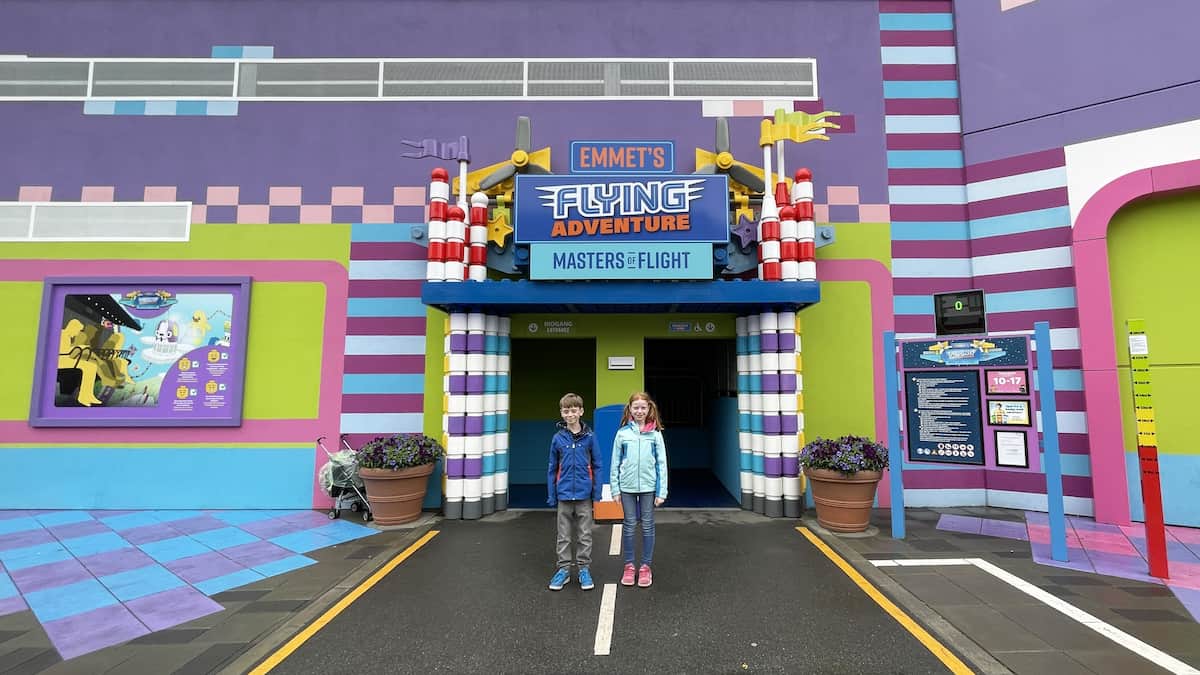 With the rain slowing, we explored the rest of the Lego Movie area – enjoying the play area and taking photos everywhere! This is a great place for photo opportunities and just being in this part of the part created so many wow moments. It's all so familiar from the Lego Movies.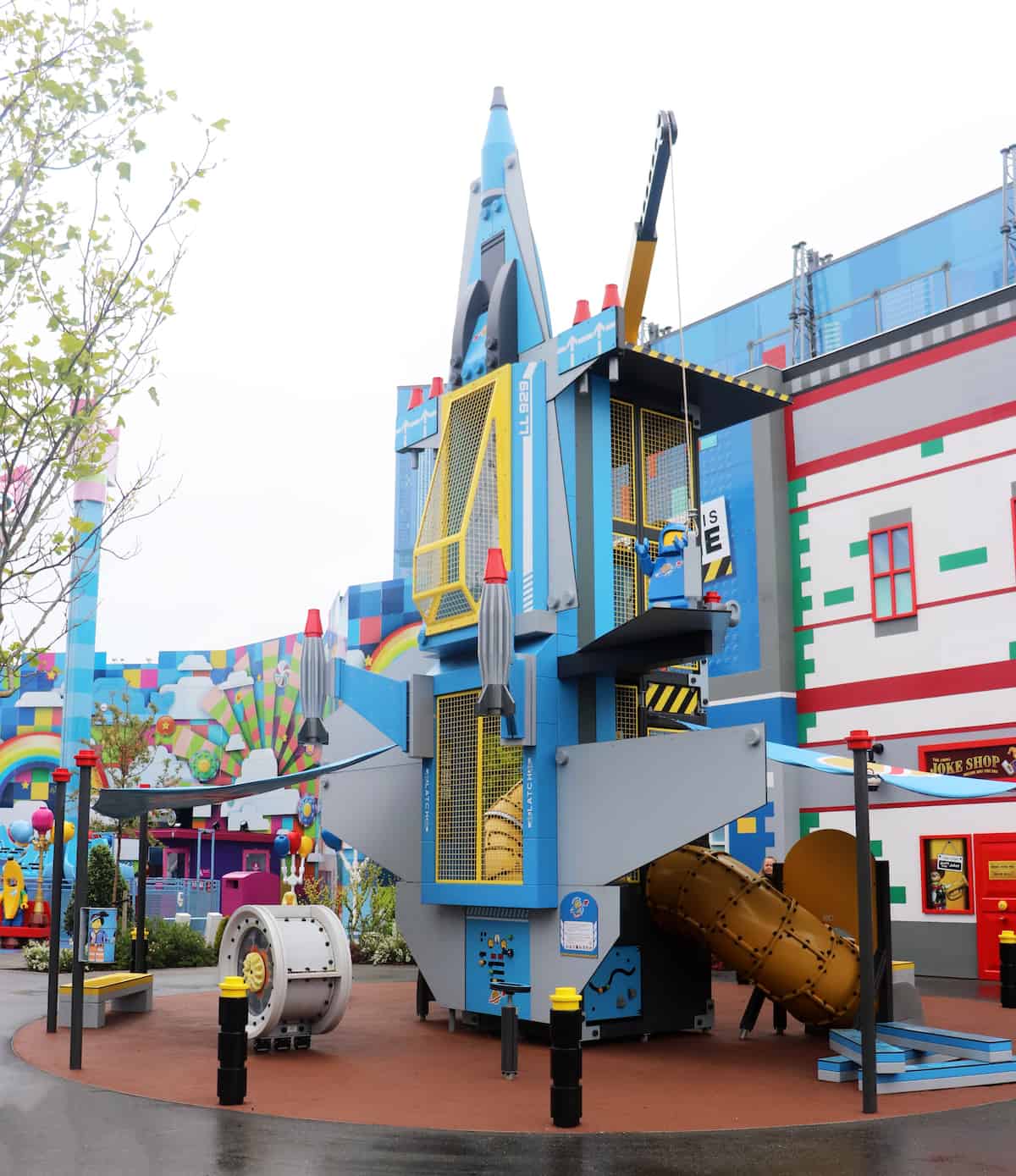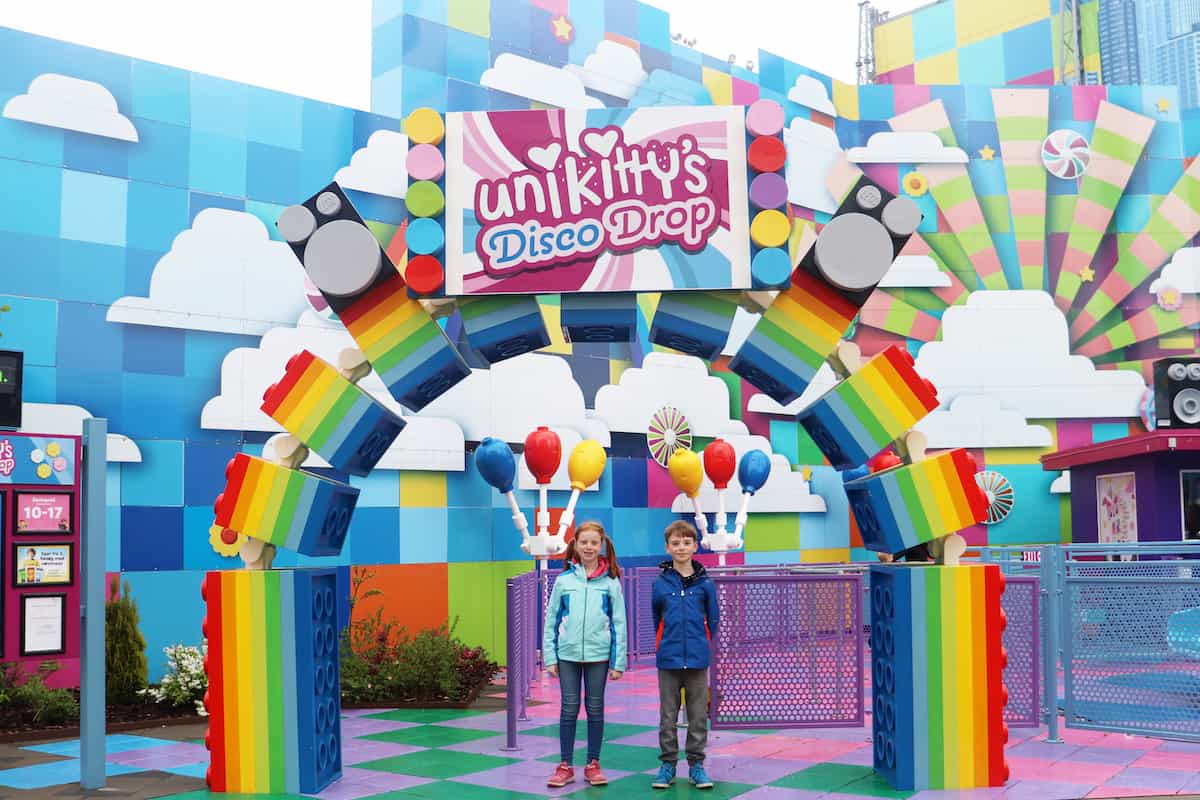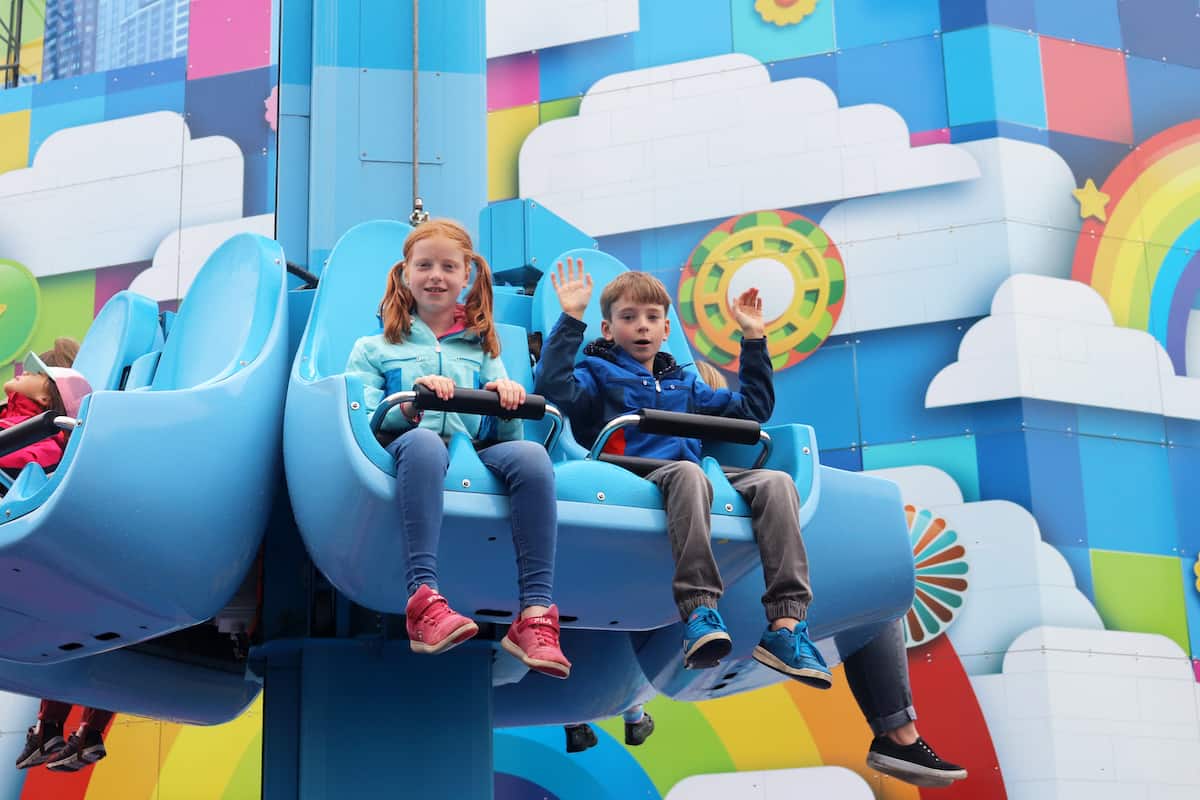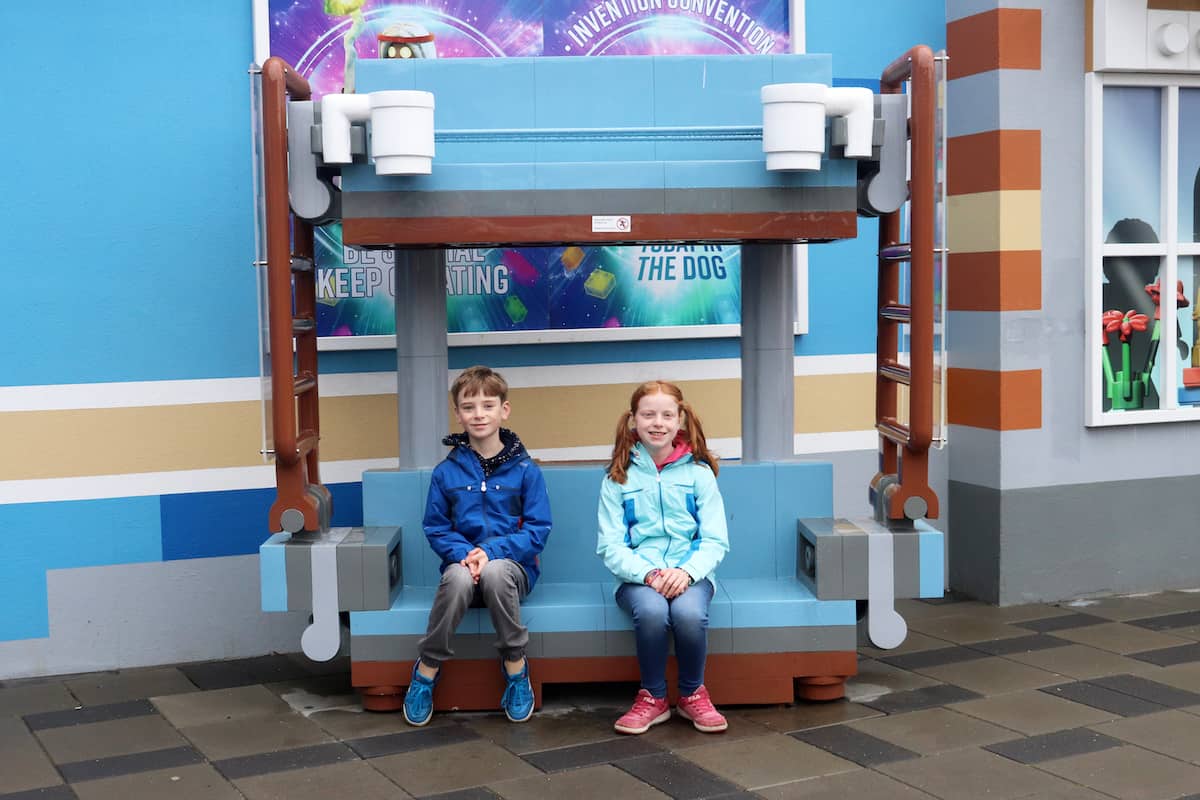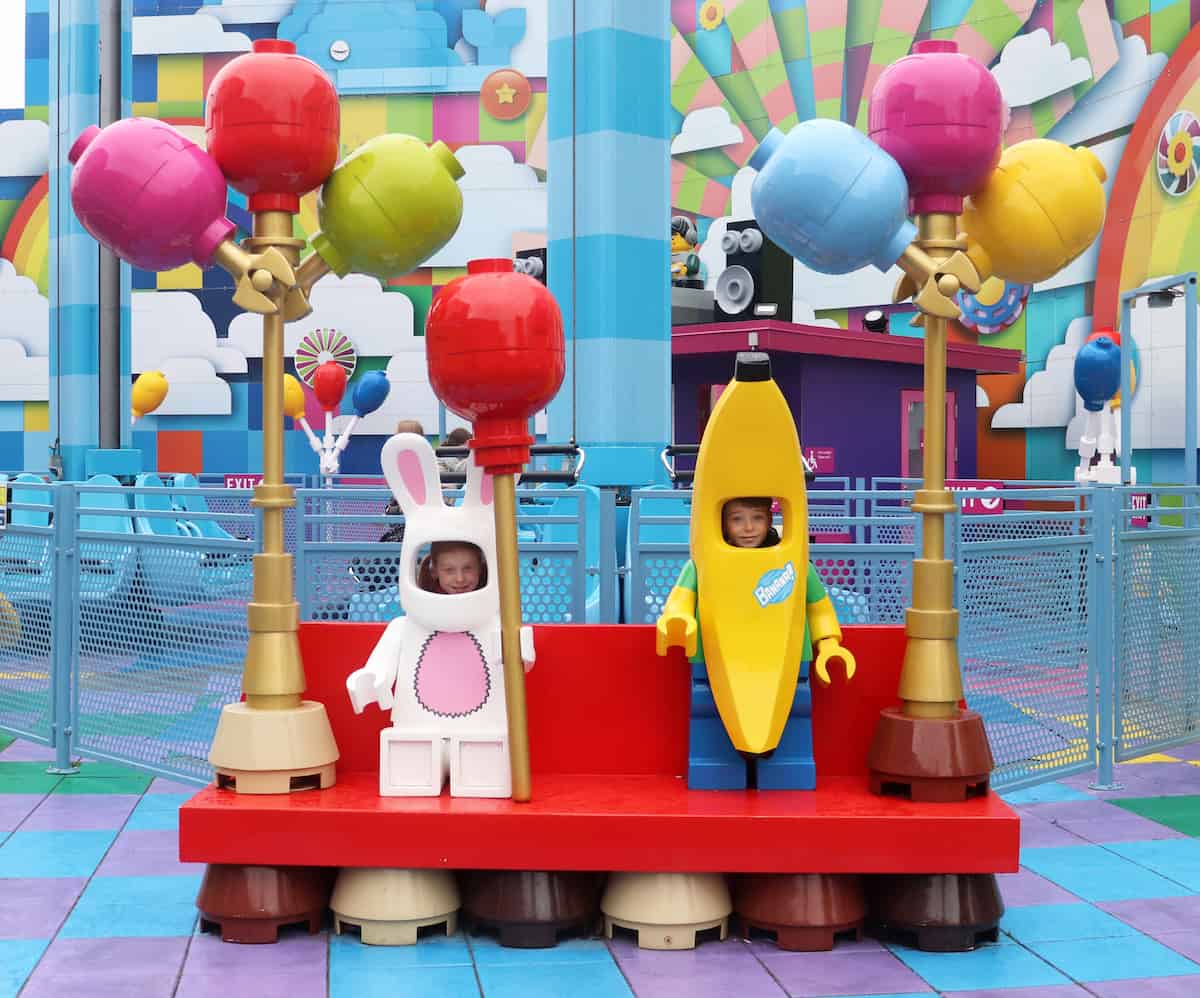 We then moved towards the Arctic area and found the Polar X-plorer rollercoaster. We had seen it from Apocalypseburg and it looked tame enough, but unless you've been on it before, there's a massive surprise towards the end. A ride you have to go on!
Next to the Polar X-Plorer, there is a small colony of penguins that love to show off to humans in their giant habitat, darting through the water and playing on the ice beach. There are lots of seats to watch them from and a great place to sit for a while, recover and have a snack or lunch.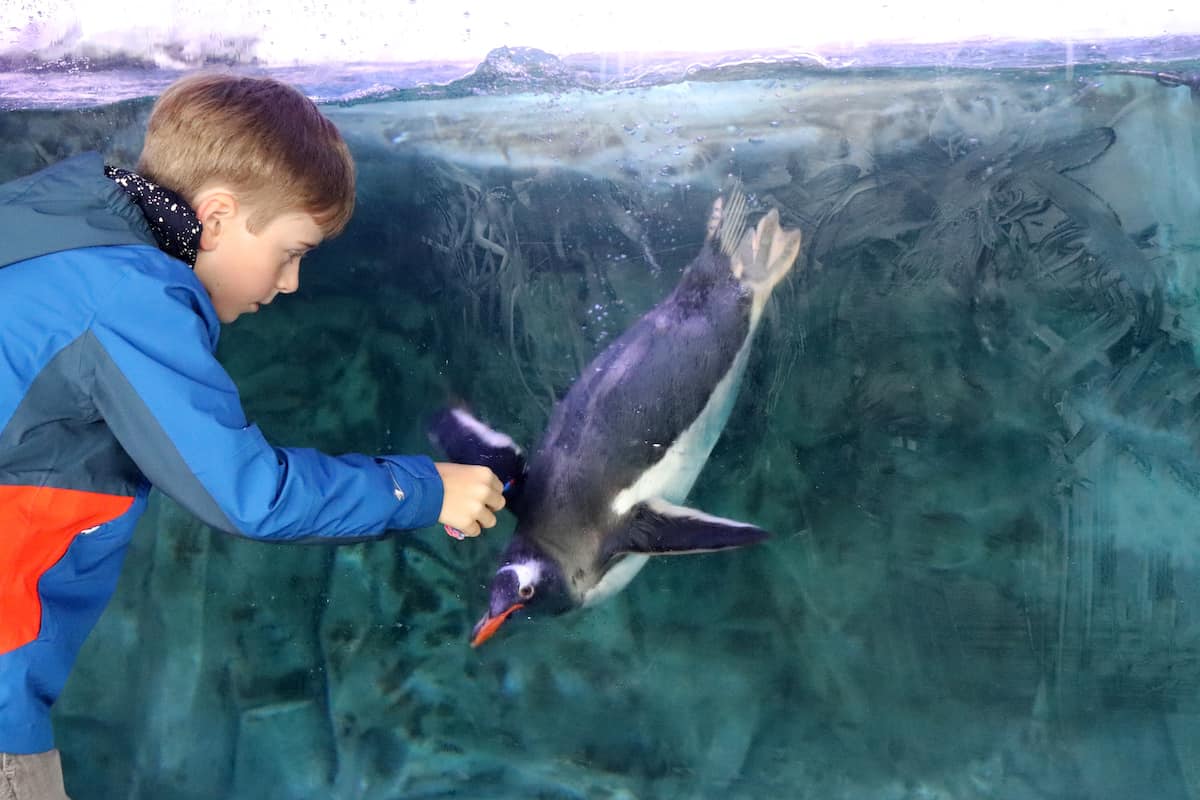 Ice Pilots School is also located in the Arctic zone. No two goes on it are the same as you get to program it yourself! You can select slow or fast, then a combination of several different movements that the two seater robotic arm swings you through. When LP went on it for a second time with Dave, she declared "I'm gonna make Daddy be sick!". Thankfully, she wasn't quite true to her word, but she gave it a good go! It's an experience like nothing else we have ever been on.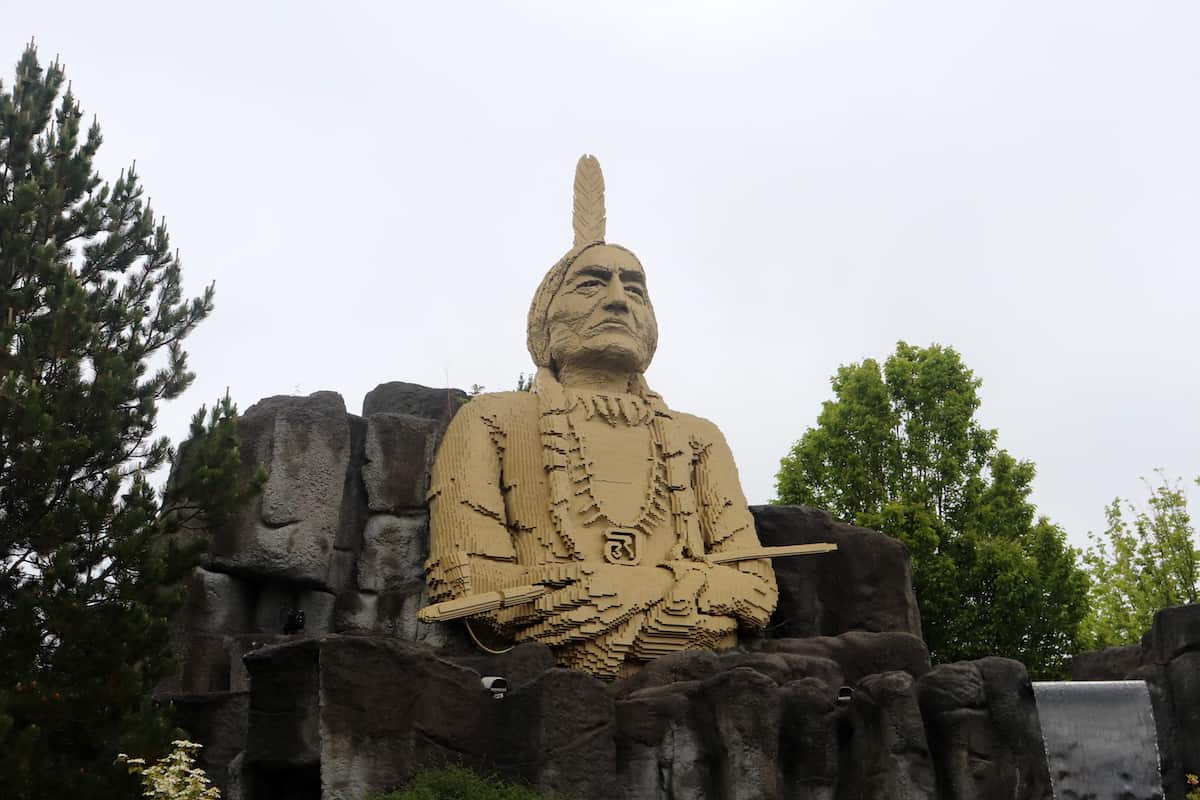 Next up, The Temple was fun and we got to sit down and use laser guns to shoot moving Lego targets of an Egyptian theme, to try to get the highest score on the four seater car. There is also the Fire Brigade, Jungle Racers and another cool rollercoaster, X-treme Racers which is based around Lego Technic and racing cars. It was quick and very high, so high that we could see the Lego House in the town centre!
Viking River splash was also a fantastic wet ride, which, after a lazy river kind of experience, built up into a massive slide with a huge splash. There was only really one big ride that we weren't too impressed with, this being The Haunted House. It turned out to be a kind of indoor big drop but we seemed to spend more time just sitting in the ride whilst staff re-arranged riders to get the balance right than we did with the ride in motion. But it's obvious that safety is paramount in Legoland so we managed to look past this.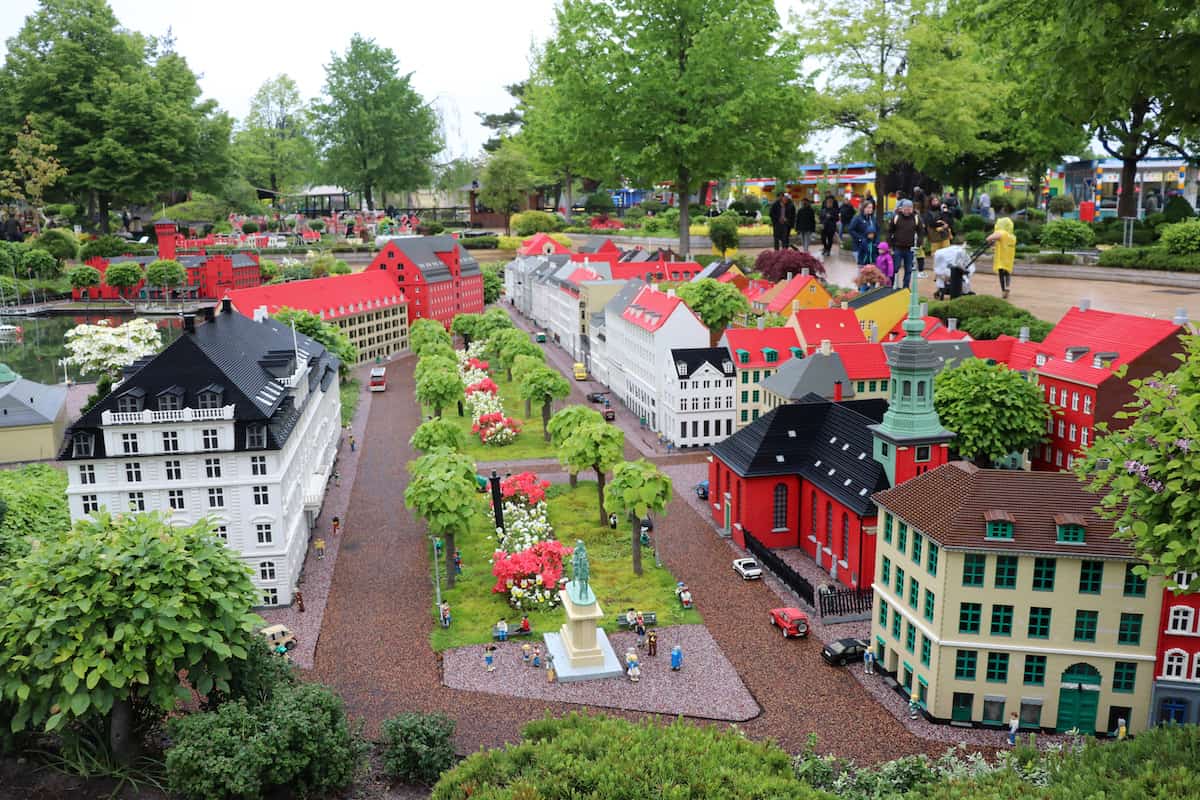 One of the main reasons Legoland stands out all over the world is of course the intricate Miniland sections of Lego models. With signage in Danish, German and English, you're able to enjoy the models and spot all of the little details that the master builders have put a lot of time and effort into.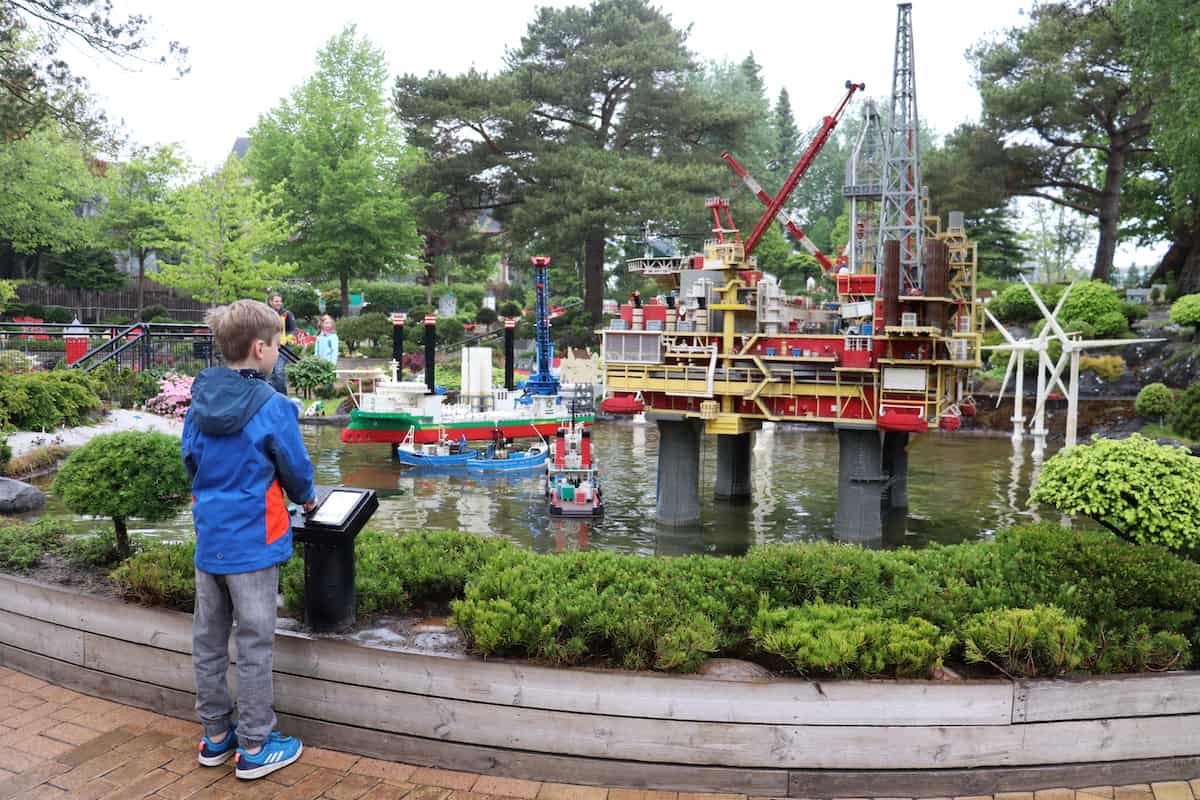 Everywhere you look, something catches your eye, whether it be a plane taking off, a mini marching band or a town square full of people playing football. With plenty of buttons to press and things to watch, you could easily spend a day in Miniland and not go on many rides!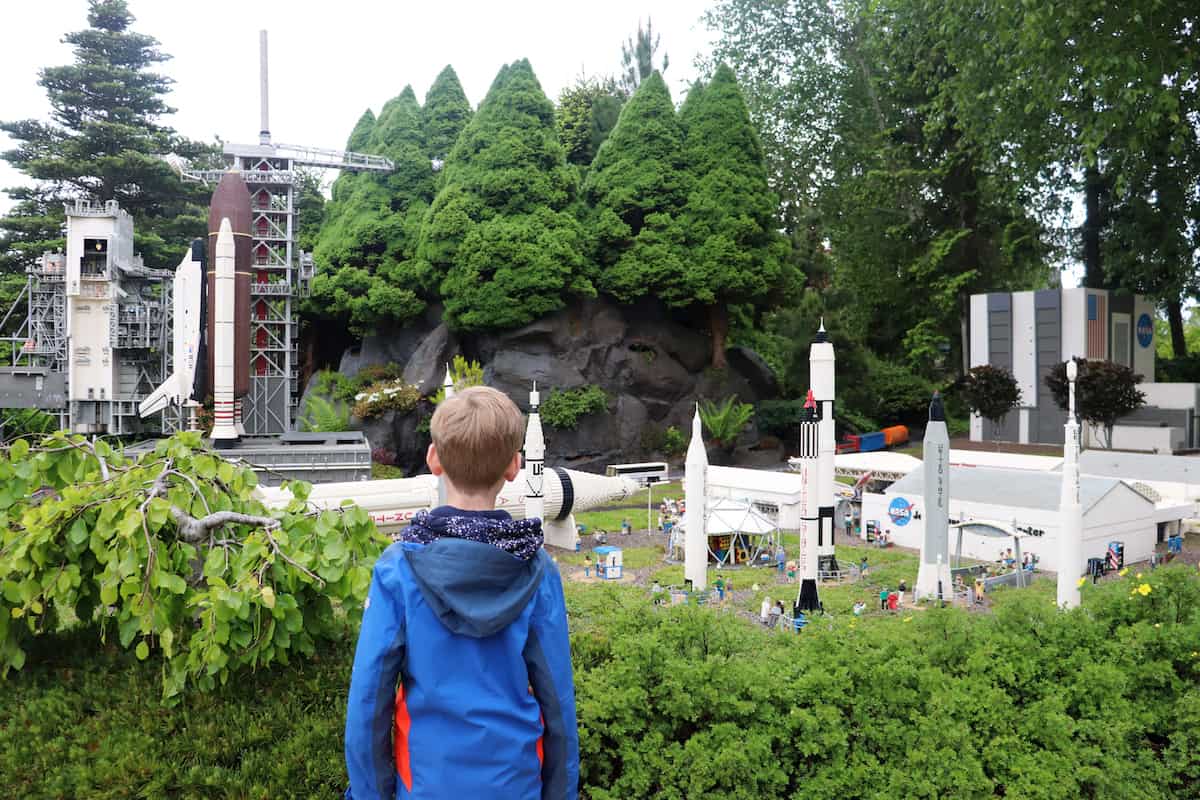 There were so many more rides that we enjoyed. The Legoland Express train that takes you all around the Legoland park and the Lego Safari jeeps that give you a nice ride surrounded by Lego safari animals. There's also a monorail that shows you the whole of the Duplo area from above which was a great little ride.
There's also LEGOTOP, an observation tower where you get amazing views of not just Legoland but the local area and the Mini Boats that you steer around a lovely river, seeing iconic buildings from across the whole world made from Lego as you pass.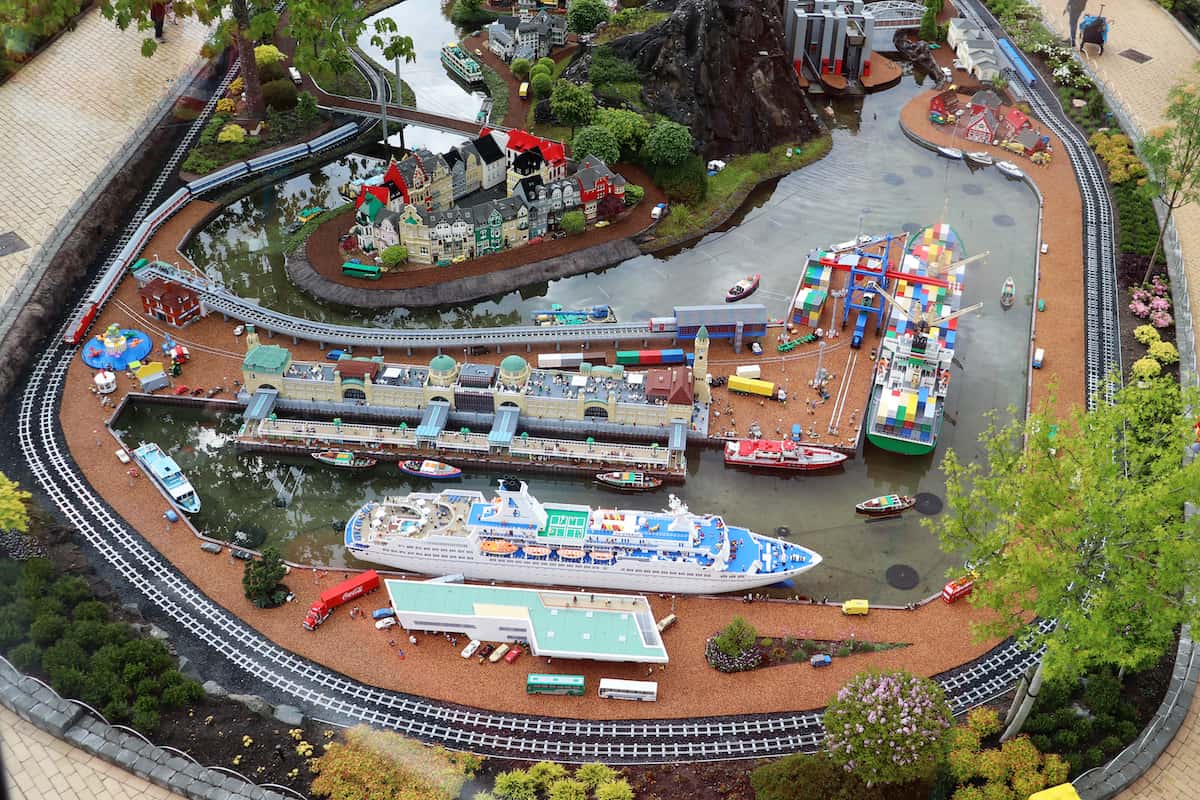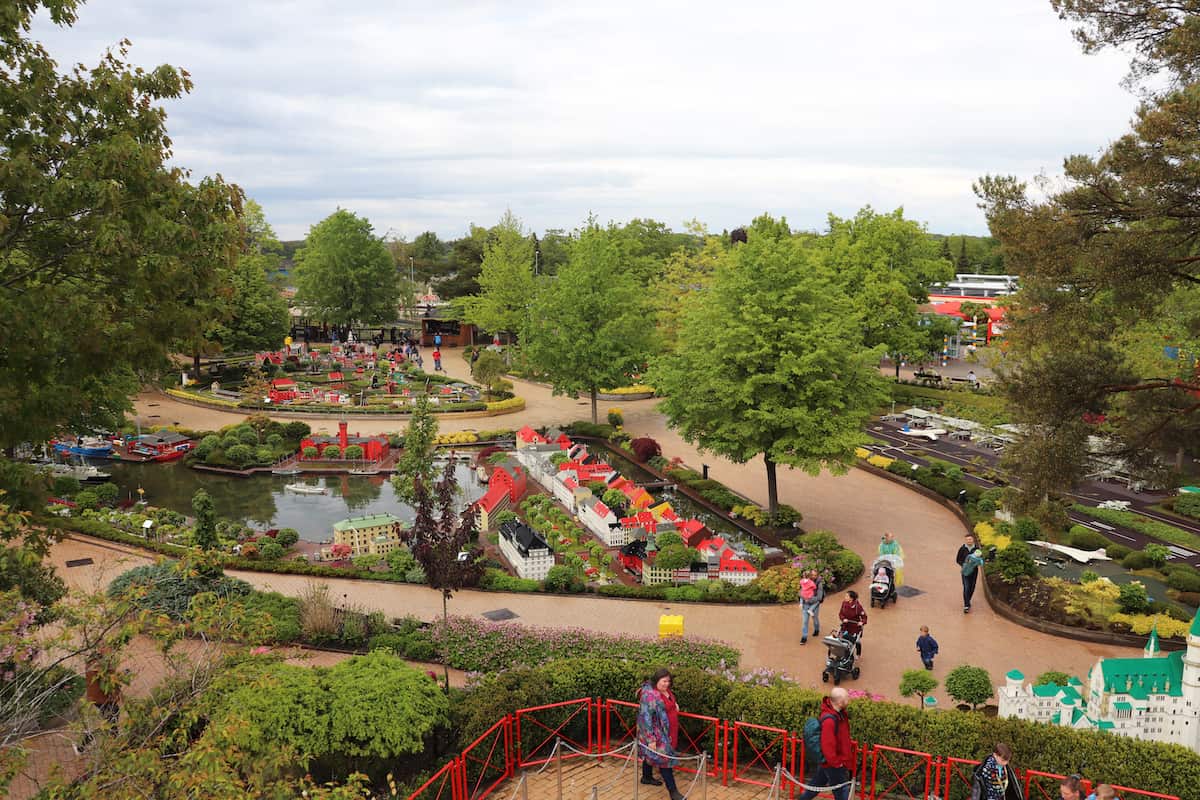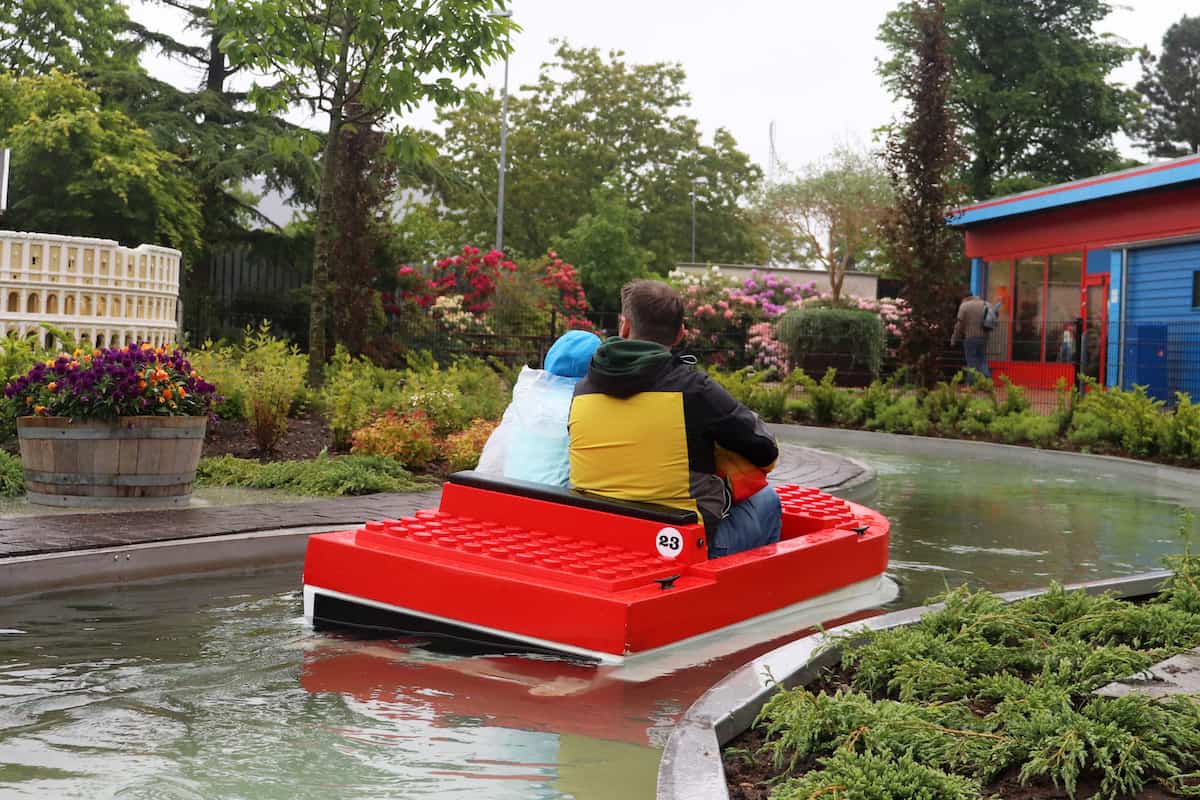 Building and creativity at Legoland Billund
As well as all the rides and Lego models to discover, Legoland Billund also has so many Lego building opportunities. The whole of Brick Street is full of places to build, get creative and express yourself in Lego. It's a fantastic place for some down time, a break between rides or somewhere to shelter from the rain and the children loved building everything from Lego fish to Lego bridges.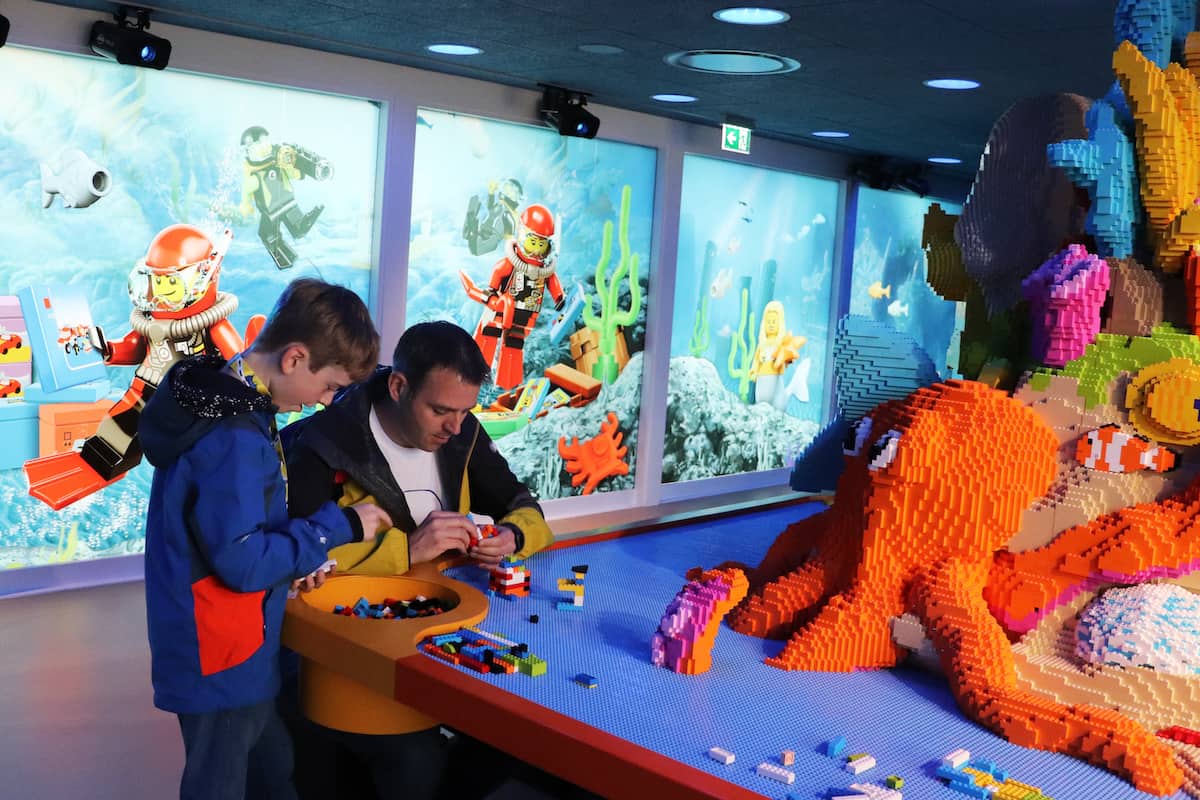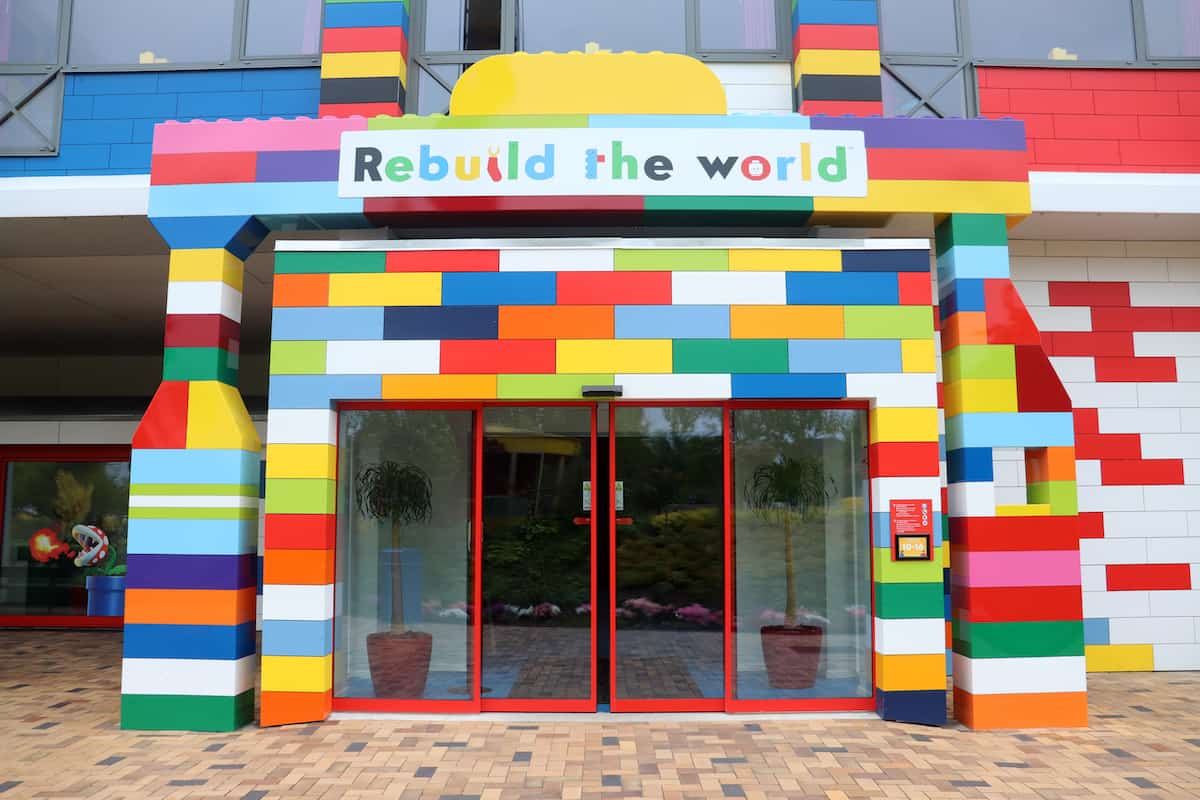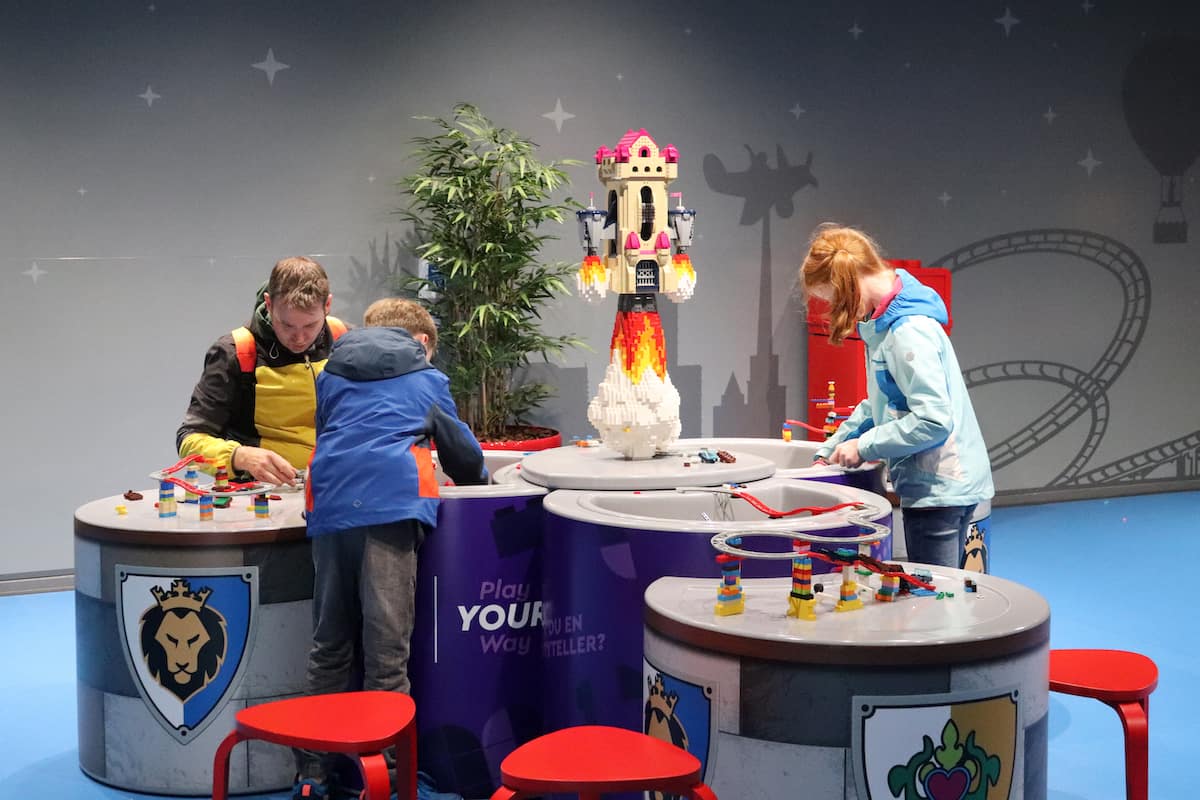 Food and drink at Legoland Billund
Food and drinks are reasonable priced and delicious – Lego brick shaped fries and chocolate Lego bricks were favourites with the children. There is something for everyone from traditional Danish hot dogs to fish and chips or the iconic all you can eat buffet if you really want to fill up.
You can also take snacks, drinks or even a picnic into the park. There's plenty of seating throughout Legoland to stop and rest or to have your lunch. There's also a lot of places to buy snacks from ice creams or doughnuts to candyfloss or popcorn.
We finished our day with the obligatory wander around one of the biggest Lego shops we have seen, taking in the newest and latest releases, along with some hard to find sets and Legoland Billund exclusives. Just be prepared to take your credit card! We might have bought a few souvenirs to bring home.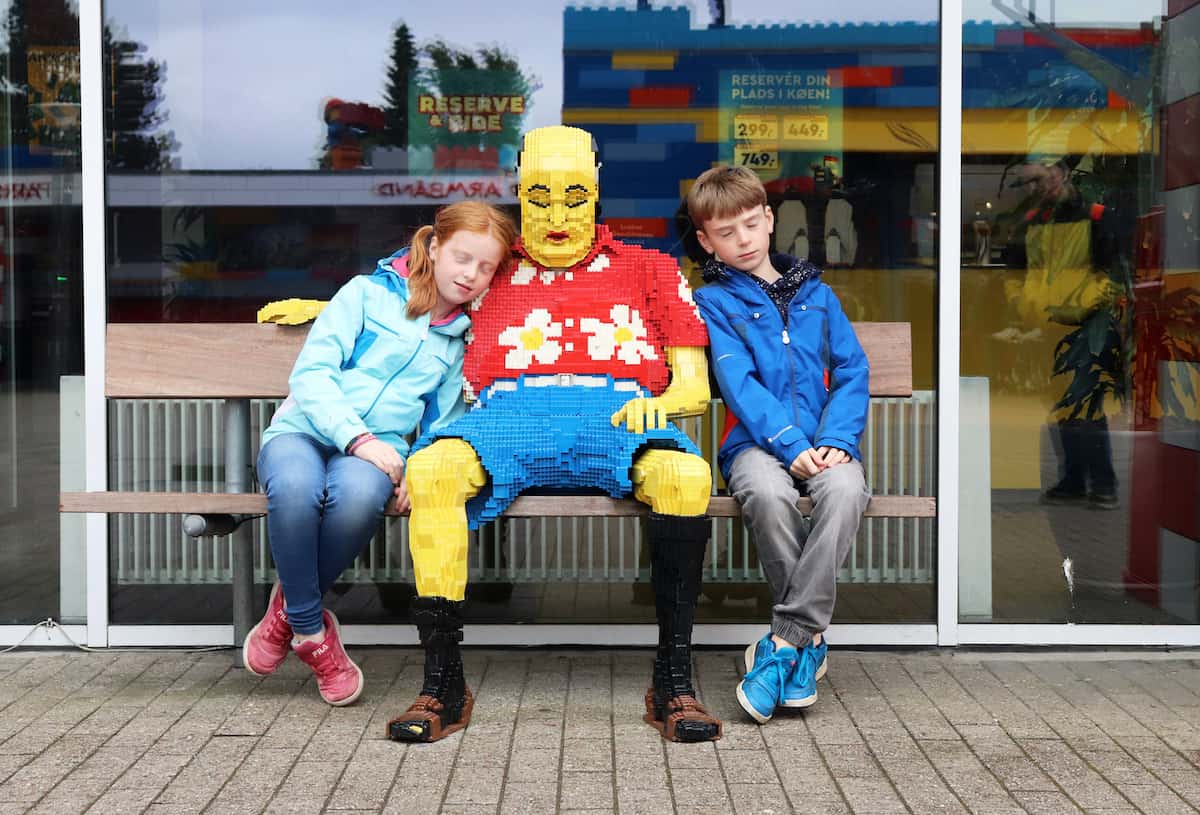 Staying at Hotel Legoland and visiting Legoland Billund
If, like us, you stay on site at the Legoland Hotel or Castle Hotel, you can walk through the Legoland Hotel in the morning, across a footbridge and straight into the park. This brings you straight into the Duplo area of the park and would be a quieter and quicker entrance if you have young children with you. It's also a great way of getting back to the hotel quickly at the end of the day.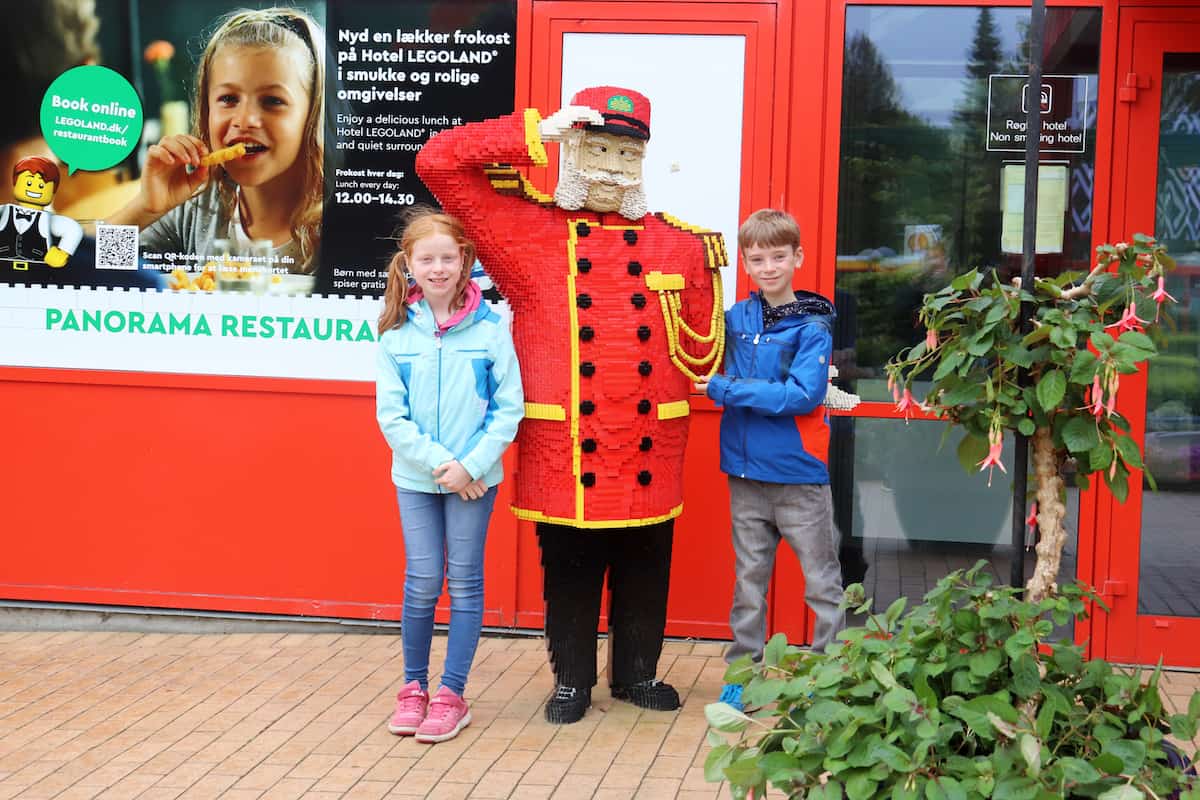 We absolutely loved our trip to Legoland Billund and had two days in the park – although the majority of what we did we repeated on the second day. On a weekday in Danish term time, the queues were very small at Legoland Billund and we only had to queue for a maximum of five minutes. It was a great, relaxed experience that we would definitely do again.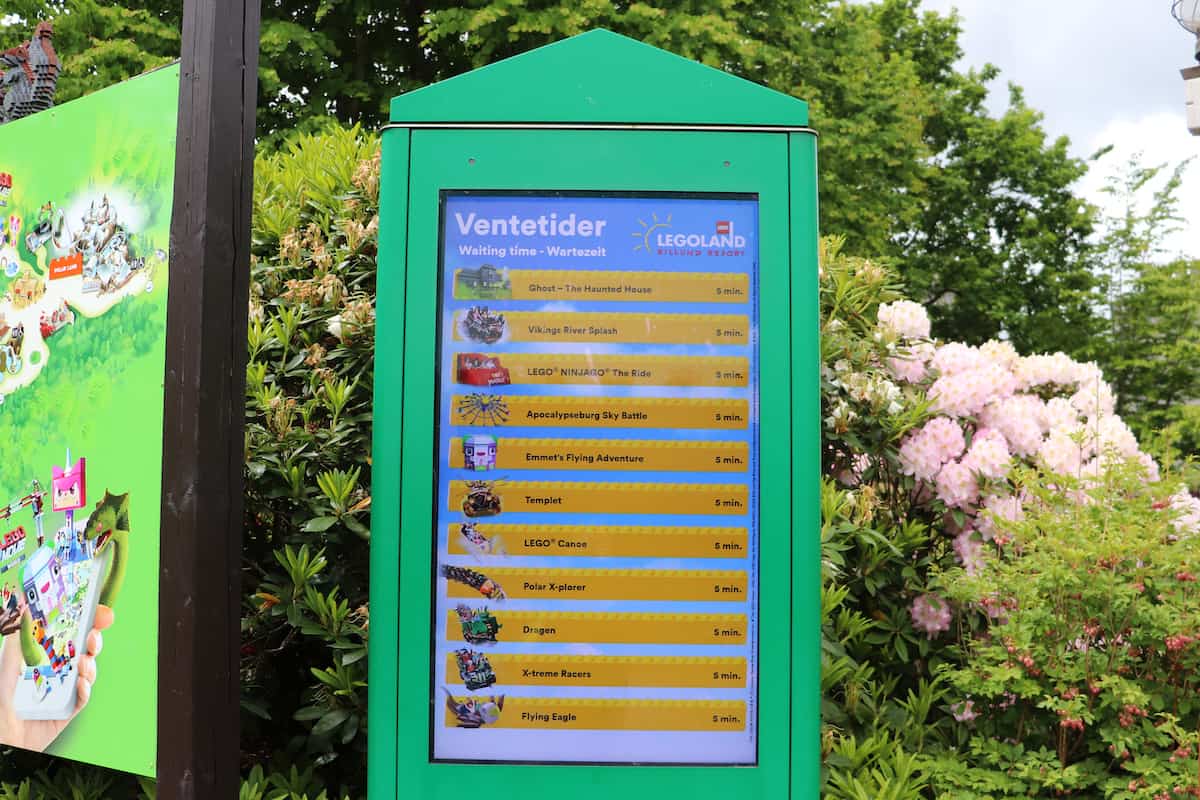 For more information, to check opening times and book tickets visit the Legoland Billund website. For reference, the address is: Nordmarksvej 9, 7190 Billund, Denmark
Here's a video of our trip to Legoland Billund and you can see a little Reel of our trip over on Instagram too: