Disclosure: We were invited on this day out for the purpose of this post however all opinions are my own.
When we went to Billund, Denmark, over half term one of the top places on our list to visit, aside from Legoland Billund, was the Lego House. Built in 2017, it's an iconic place for any Lego fan. The true home of the brick.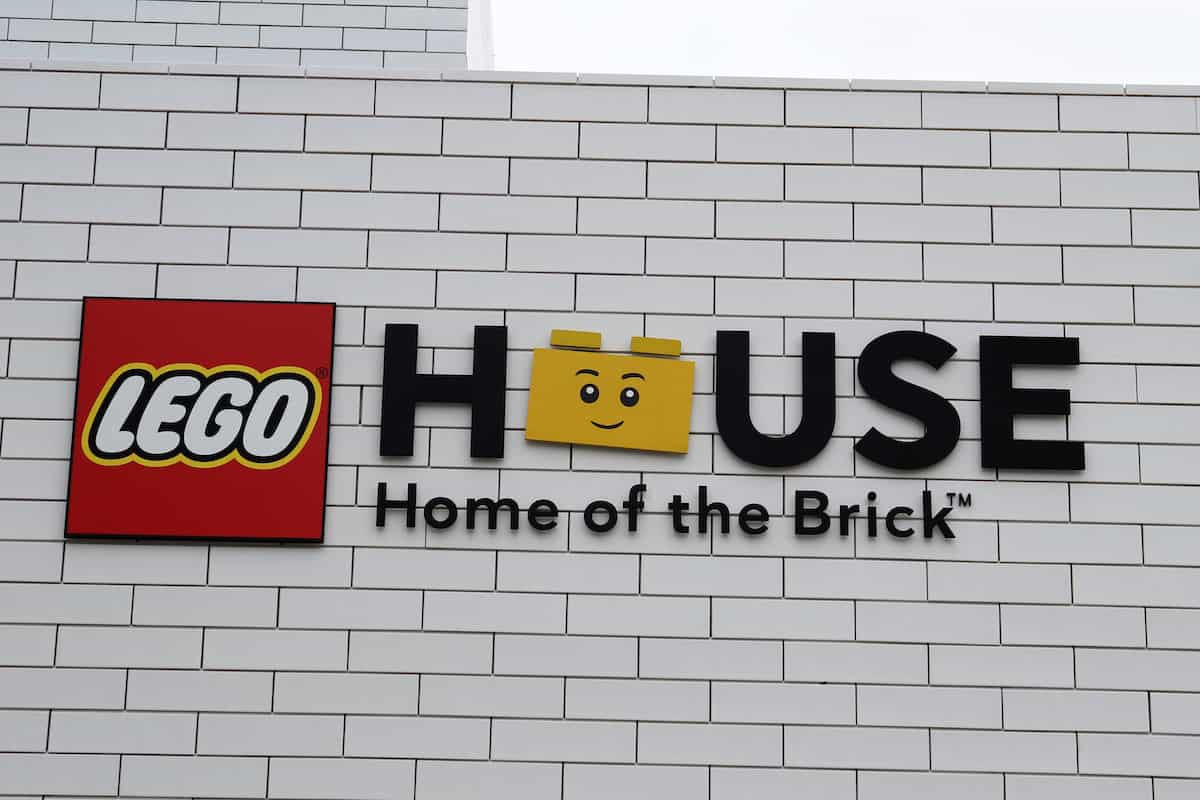 What is the Lego House?
The Lego House is a fantastic brick-like structure full of experience zones that offer creative experiences for Lego fans of all ages. It caters to all ages and personalities and uses millions of bricks in the process. It's basically Lego heaven and we were blown away as soon as we walked through the main doors.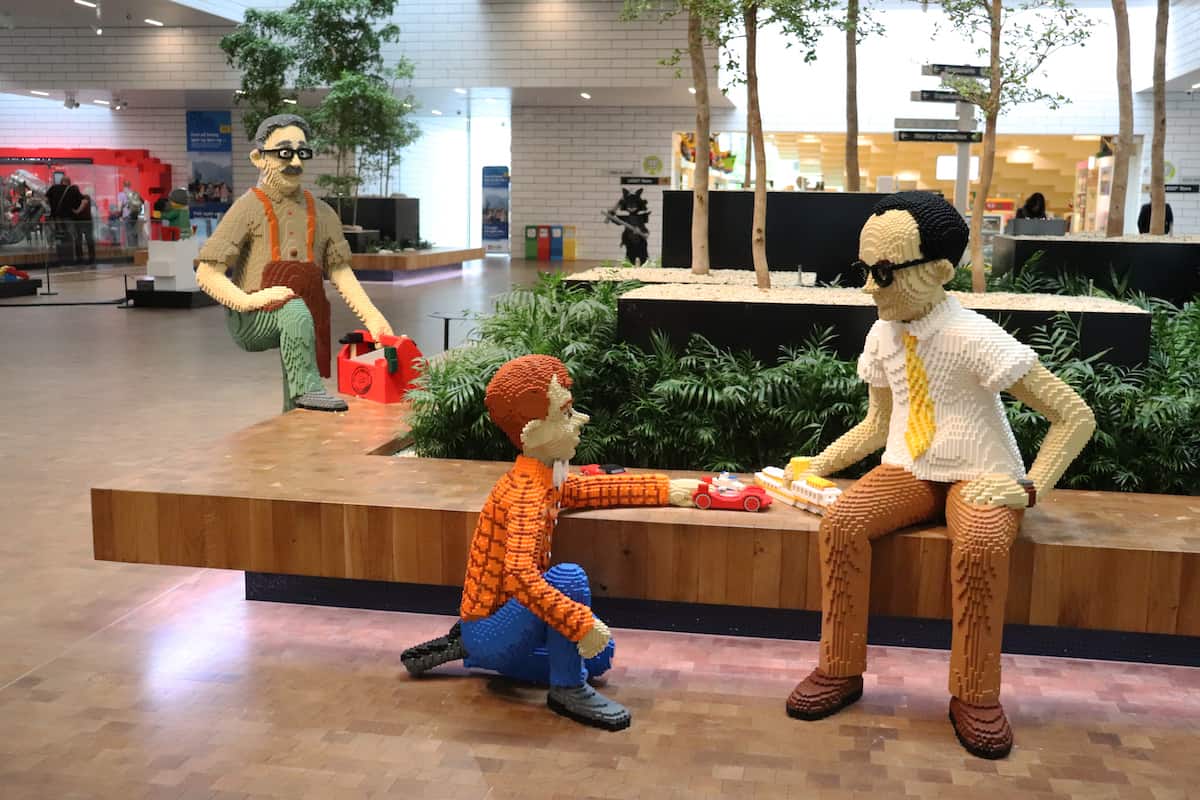 You walk into Lego Square, a big open foyer in the Lego House with so many Lego models and an open staircase in the centre surrounding an immense Lego tree, with each branch featuring different Lego ranges perched on the leaves. We were in awe as soon as walked into the building and looked up.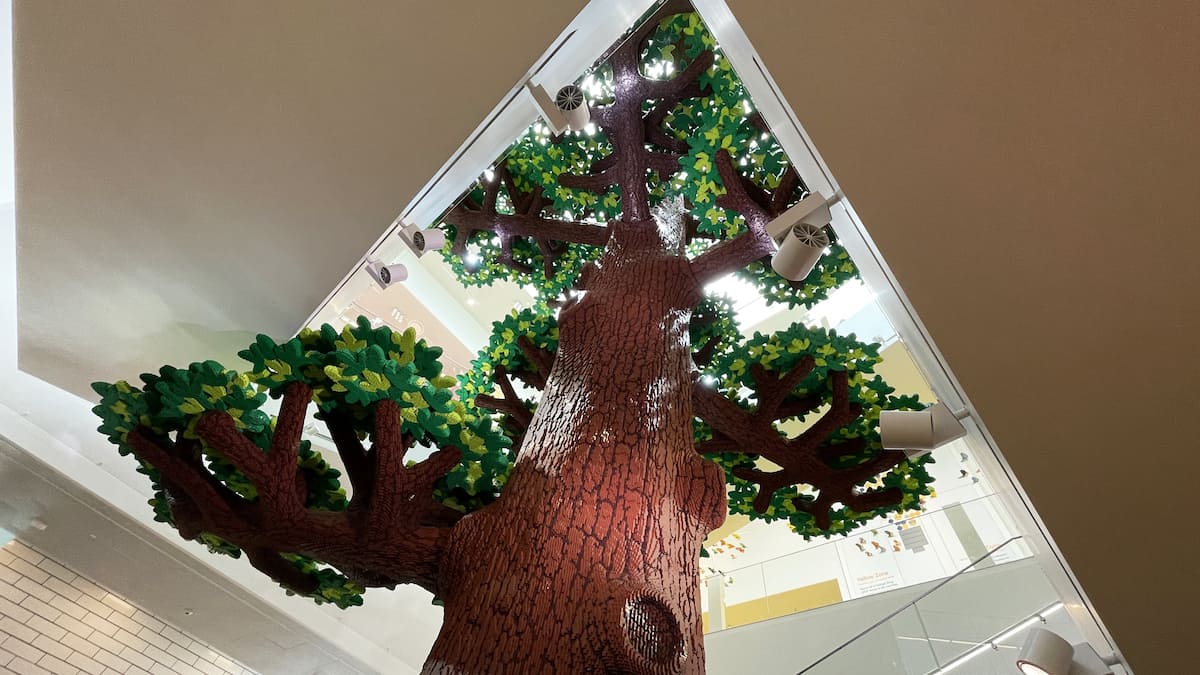 The main entrance leads to a cloakroom, toilets, eateries the Lego shop and also roof terraces that are all free to explore and use. But, to really delve into the Lego House you buy tickets and are given a wristband – a wristband that turned out to be nothing short of magical.
Lego House Wristbands
The Lego House Wristbands open up a whole world of experiences in the Lego House. They let you enter and exit through the Lego House barriers but also let you check in to different experiences, save photos around the Lego House and make use of so many interactive exhibits. The wristbands are pretty super duper – a really cool addition to the day out that add so much excitement for anyone that visits.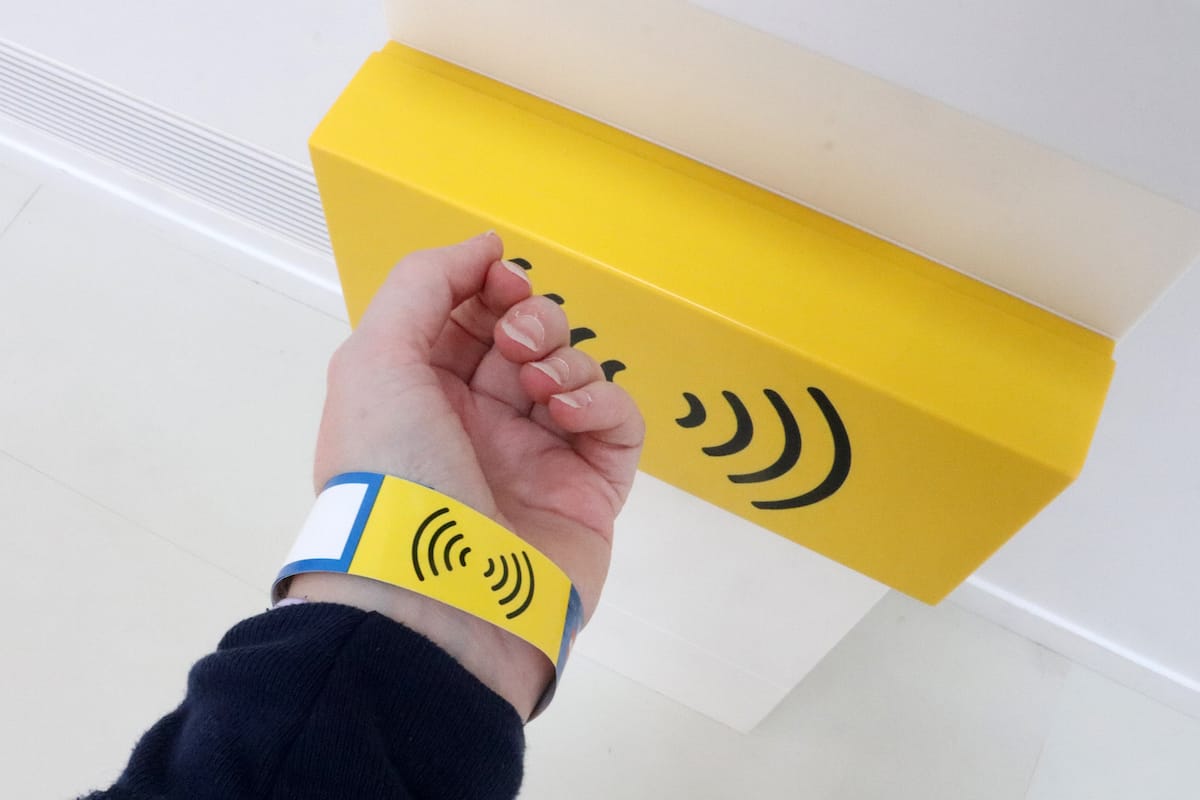 The Lego House Experiences
Ascending the main Lego House staircase you get to walk around the Tree of Creativity, seeing it from all angles before finding yourself in the Masterpiece Gallery. This is an epic space, complete with huge dinosaurs and surrounded by cases full of Lego masterpieces from some of the best LEGO designers, engineers and executives. The models were incredible and so inspiring.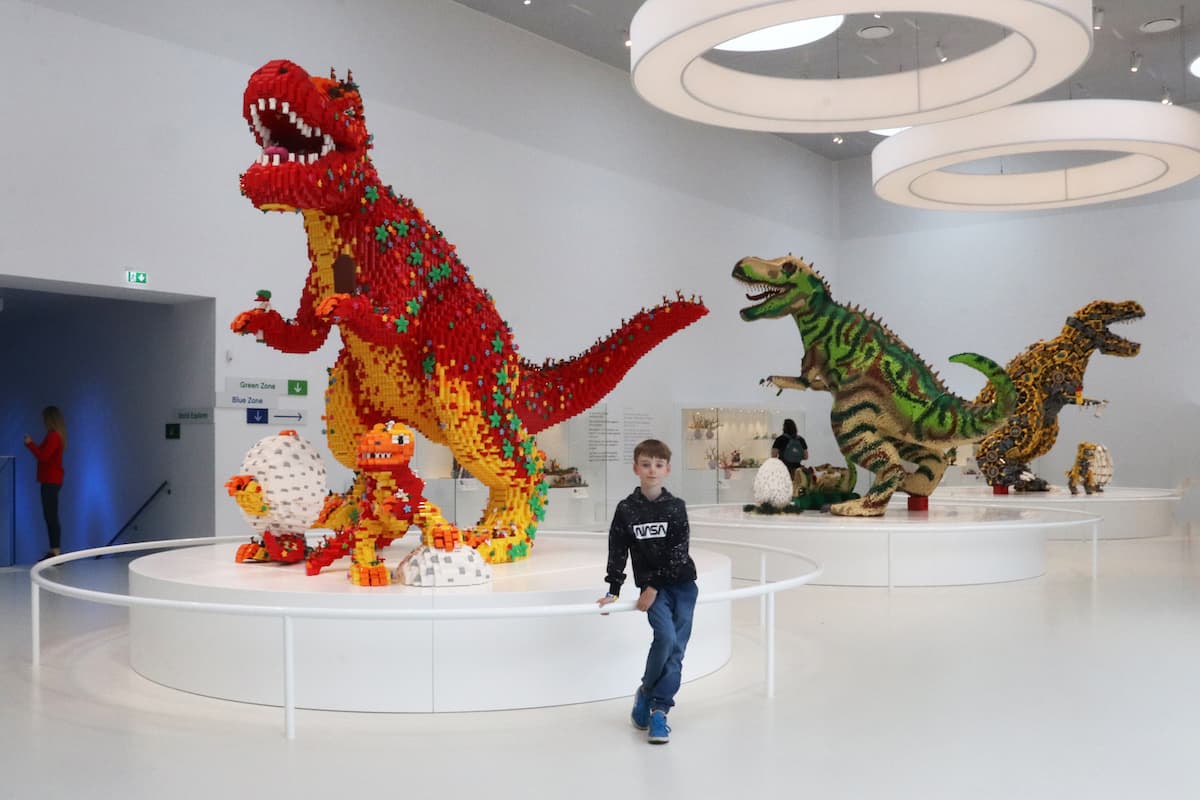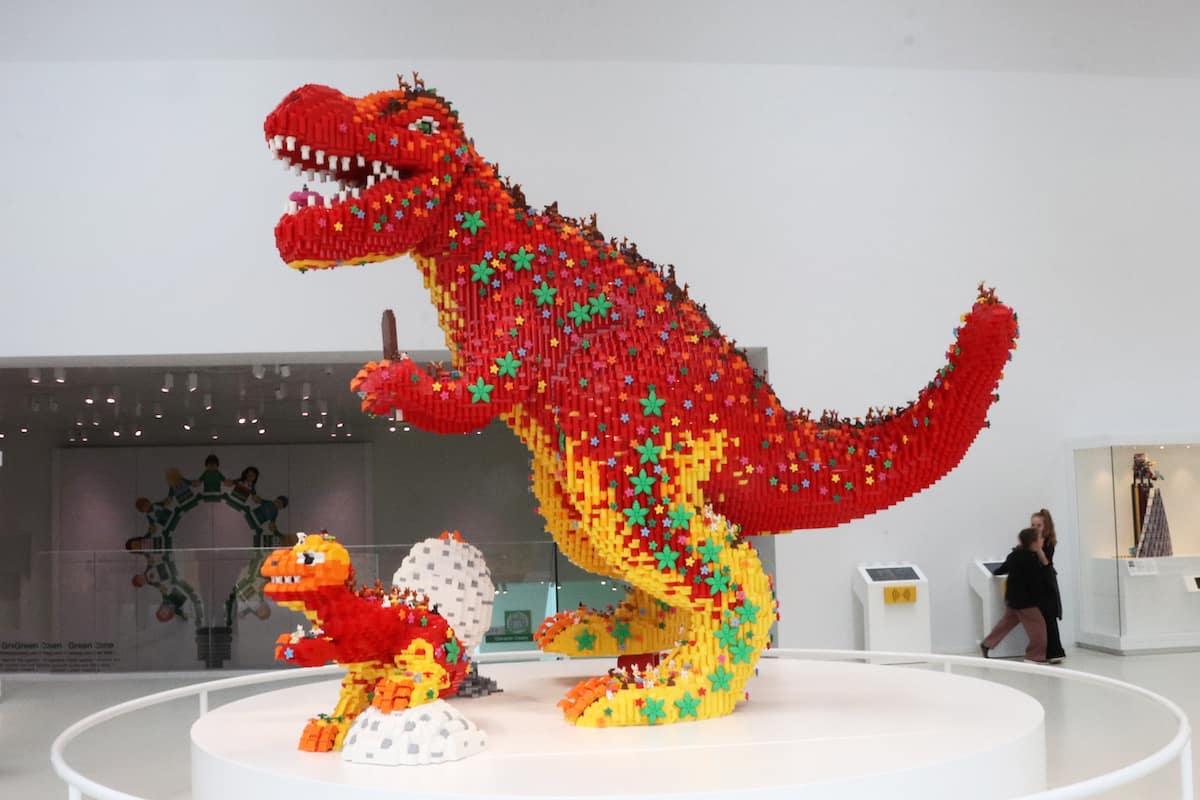 Here we found our first interactive exhibits where we could take photos of ourselves and see them made instantly into Lego mosaics on the wall for everyone to see. It was great fun – and even better that all the photos got saved on our wristbands to access at home later.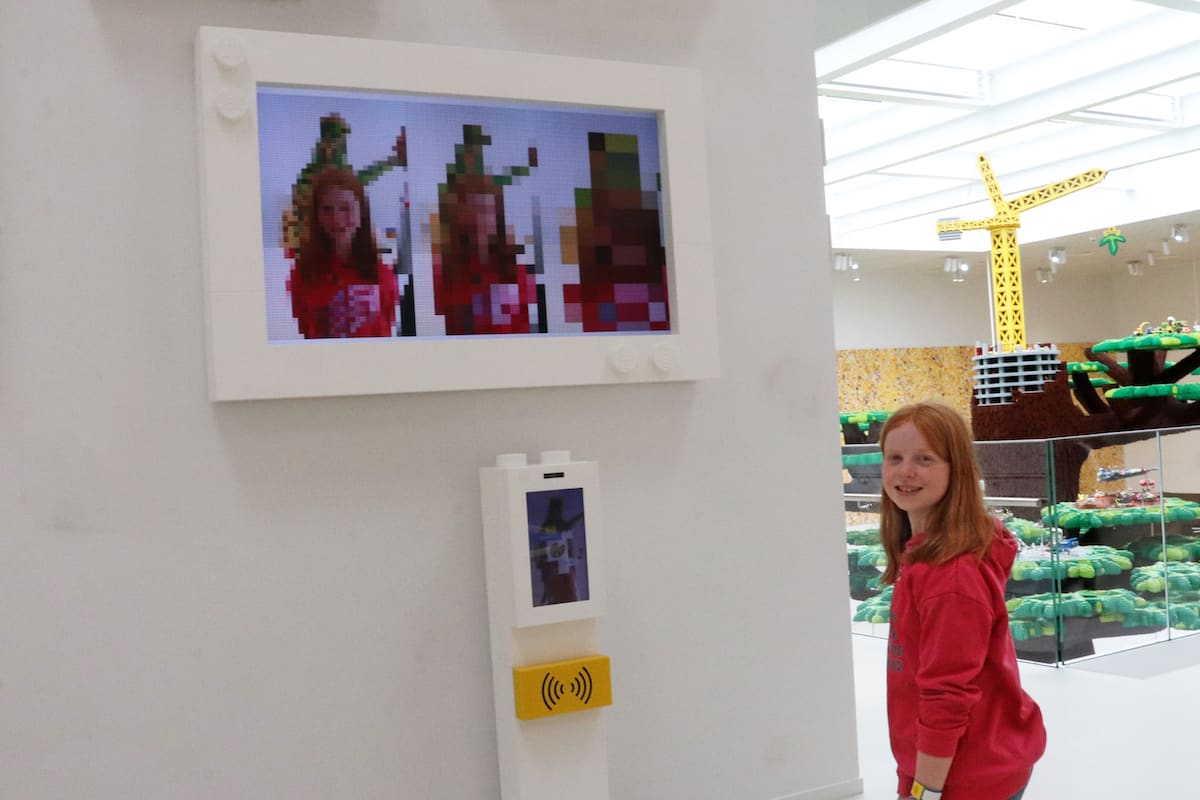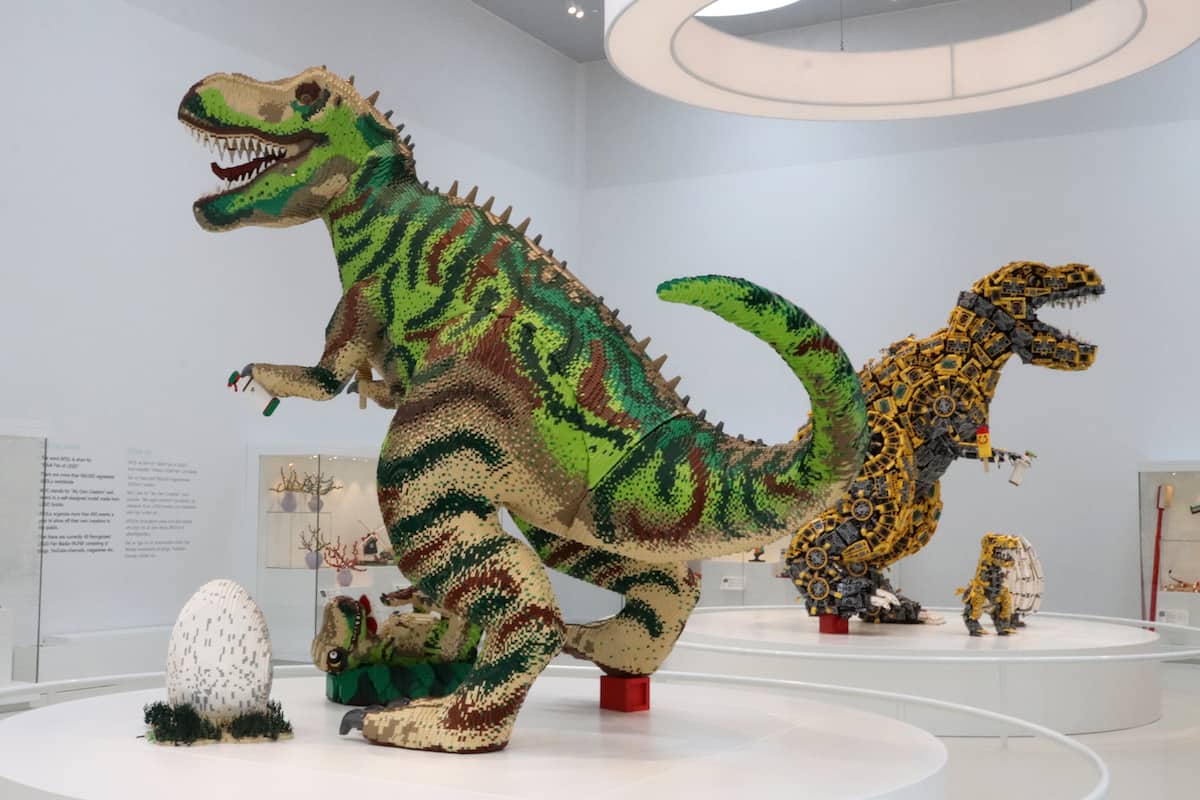 From the Masterpiece Gallery you can see down into different areas of the Lego House and it gives you an introduction to the different coloured zones within the house. There is a Red Zone, Yellow Zone, Green Zone and Blue Zone, all with different focuses and we were able to explore them all, one after the other, throughout the course of our visit.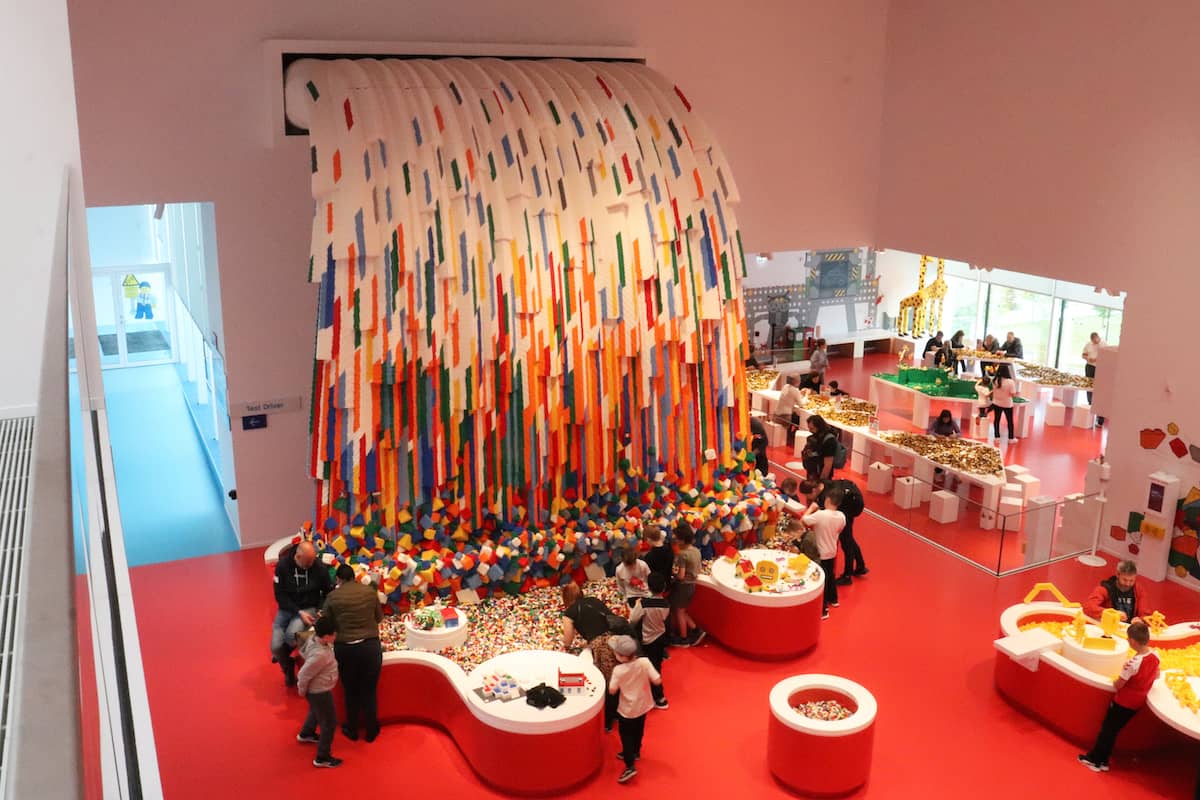 The Red Zone features a giant waterfall of LEGO bricks and an ocean of colors. There are building areas that feature standard Lego bricks and also Lego Duplo and an area dedicated to building bees. Each thing you build you can take a picture of on the screens dotted around and save your treasure forever before adding it to one of the displays in the House.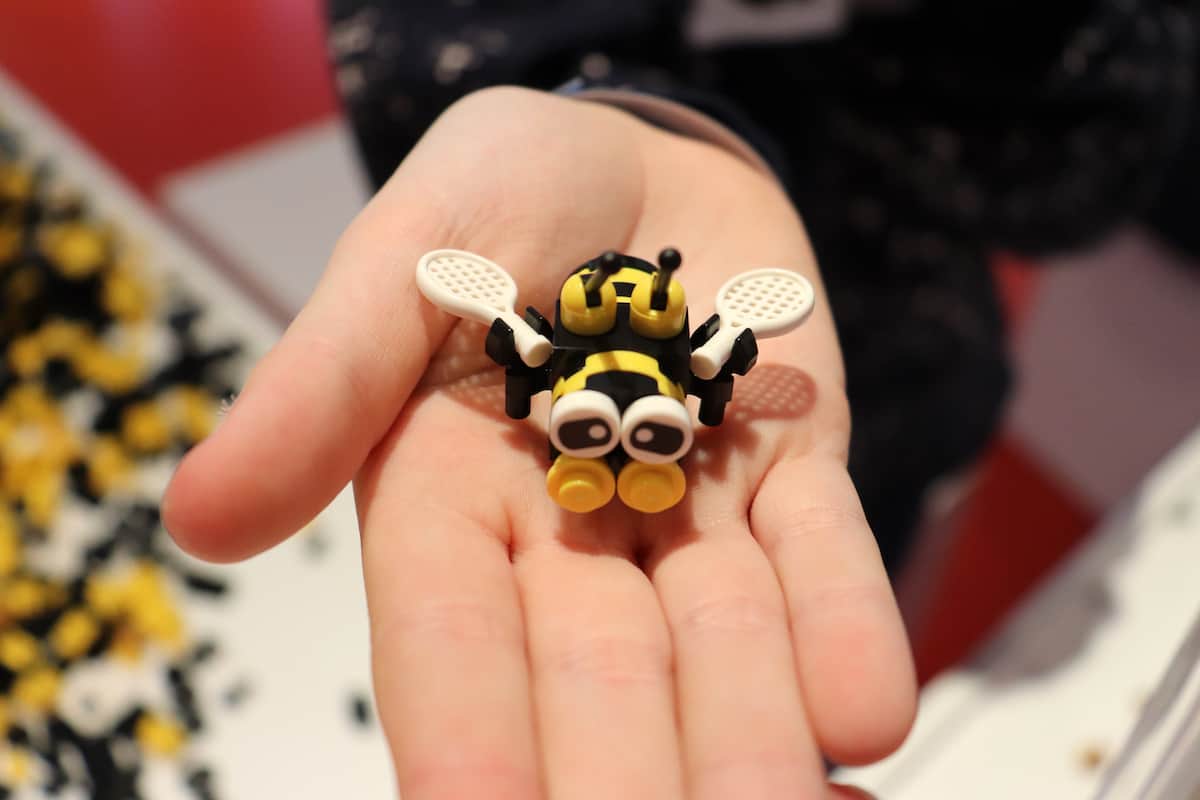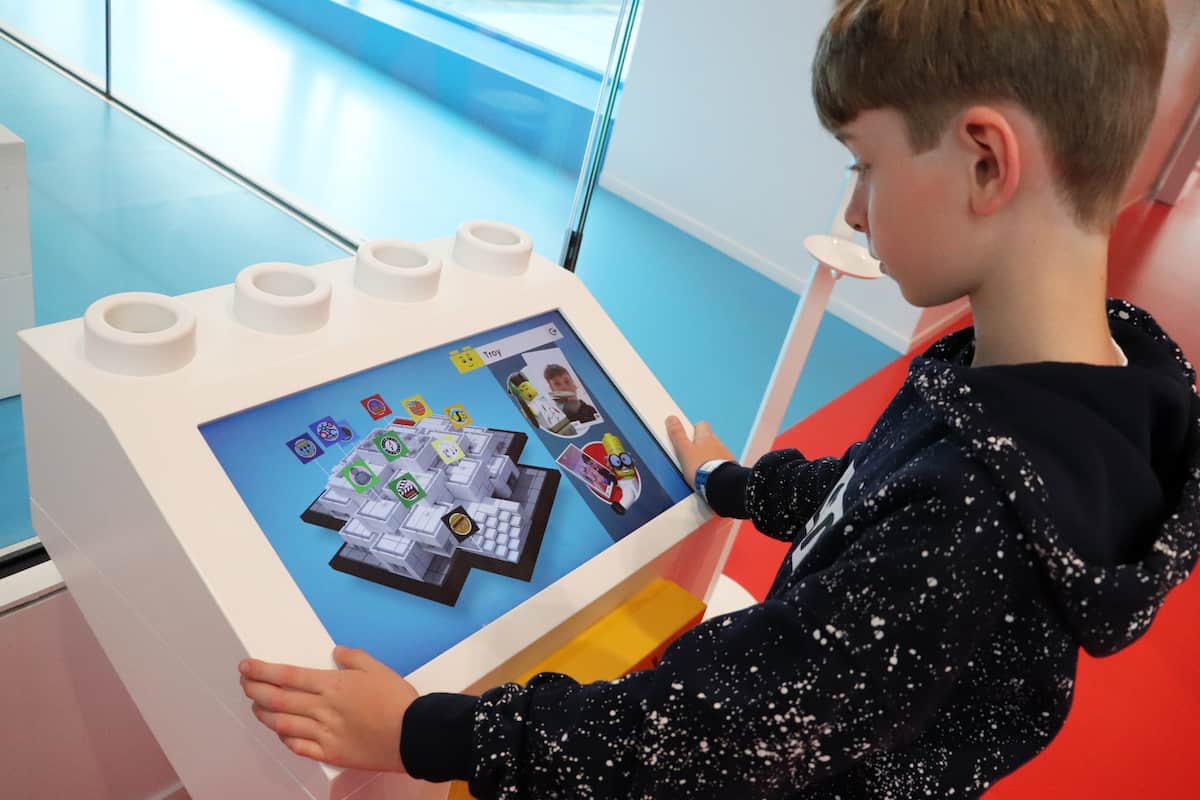 After all our building in the Red Zone we found our first Lego Terrace, an outside space on the roof where you can relax, unwind and even play. The play areas in the Lego House are amazing and a great way of seeing Billund from different vantage points too. Each zone has its own terrace and then there are public terraces you can explore by getting a lift from the Lego Square too.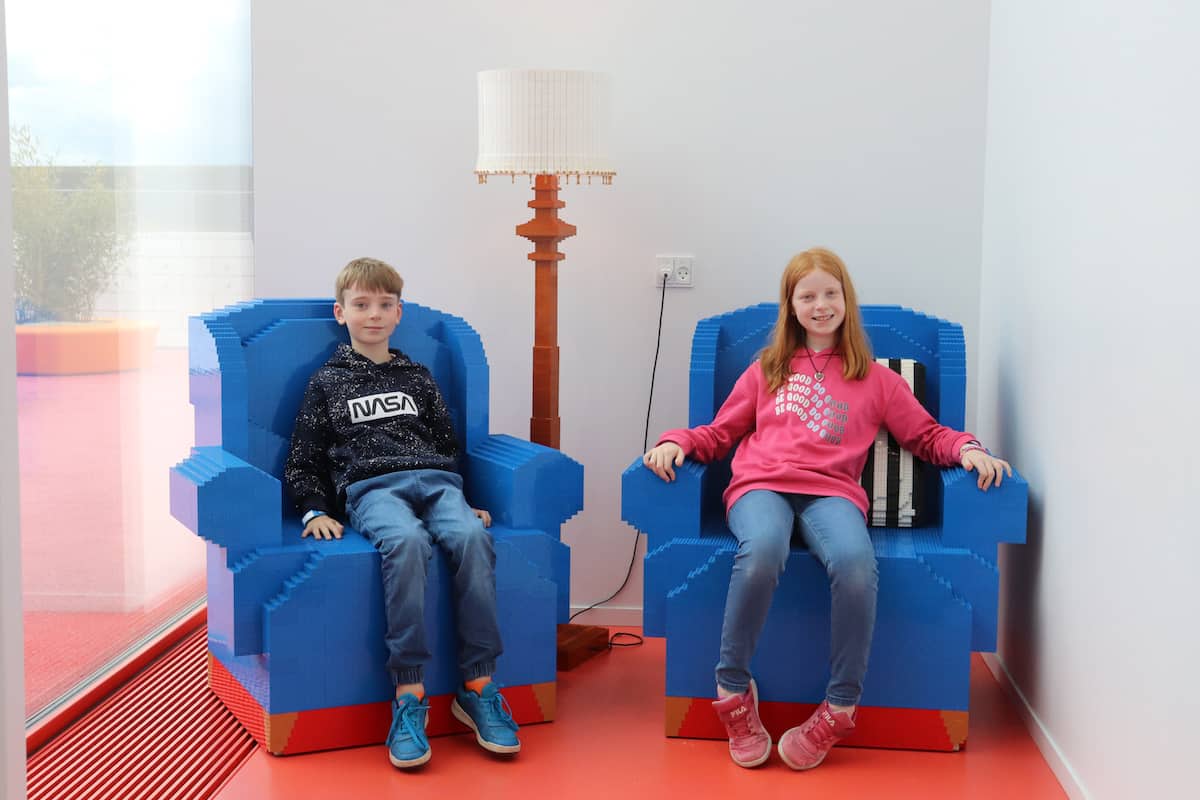 The Yellow Zone has areas to make Lego fish before turning them into cartoon fish swimming around a huge digital aquarium. Seeing your creations come to life in the Lego House is amazing. You can make flowers and even make your own Lego character, complete with personality, before seeing it come to life on the screen right above you. The children spent most of the day with their mouths open in wonder. Ever step brought new surprises.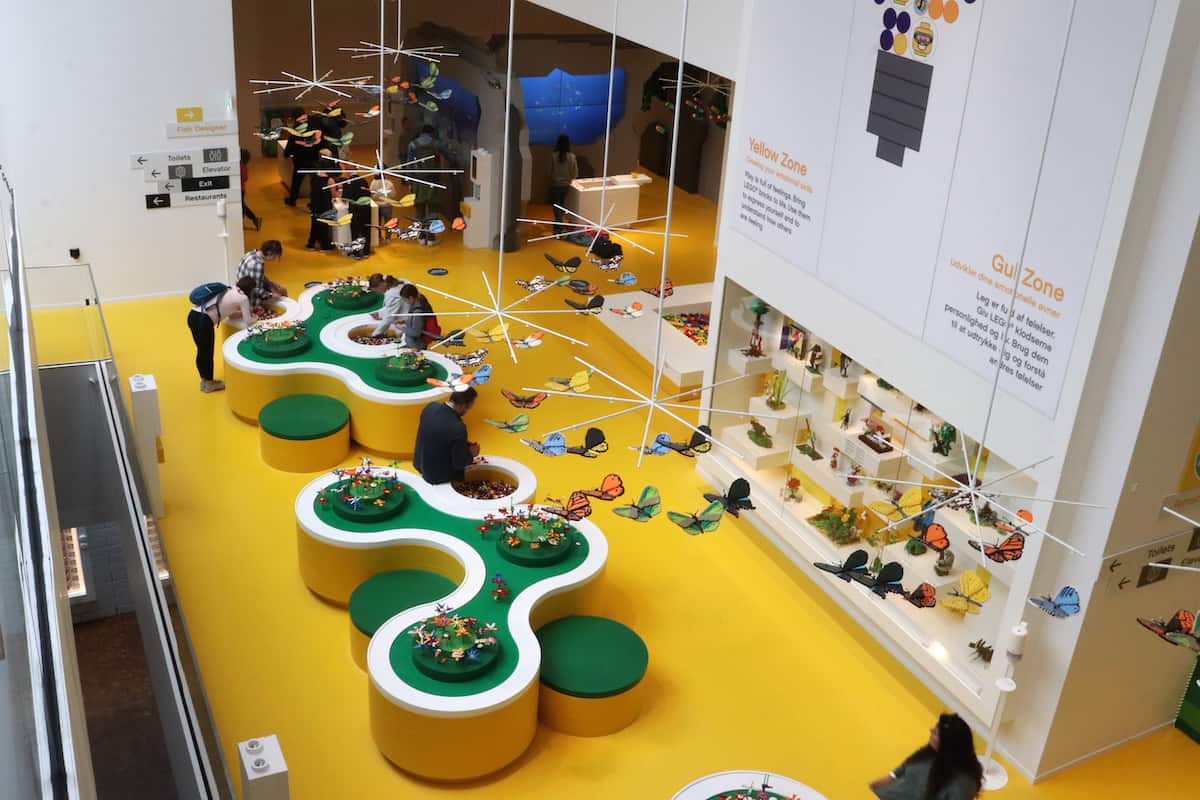 In the Green Zone you have the opportunity to create minifigures of yourself or your friends and family, make a stop motion blockbuster movie and explore so many different Lego worlds. There are also incredible Lego landscapes, mountains and cities with so much attention to detail.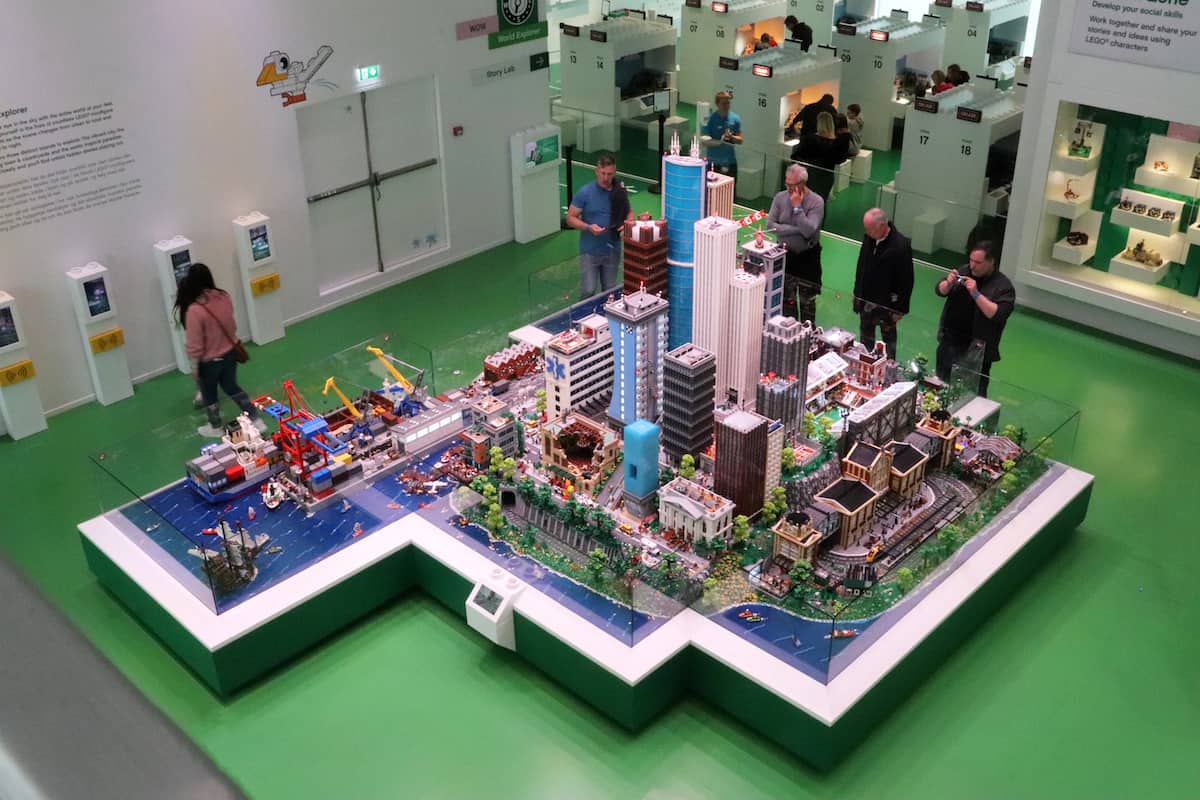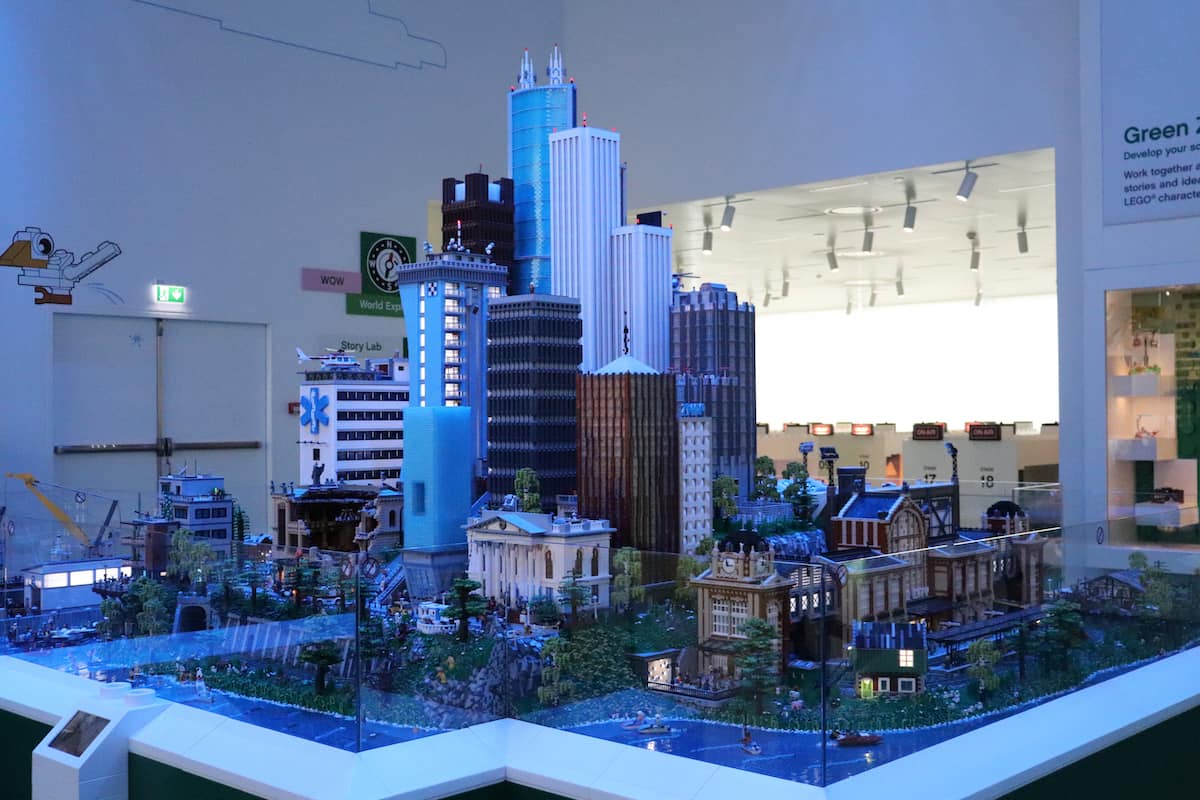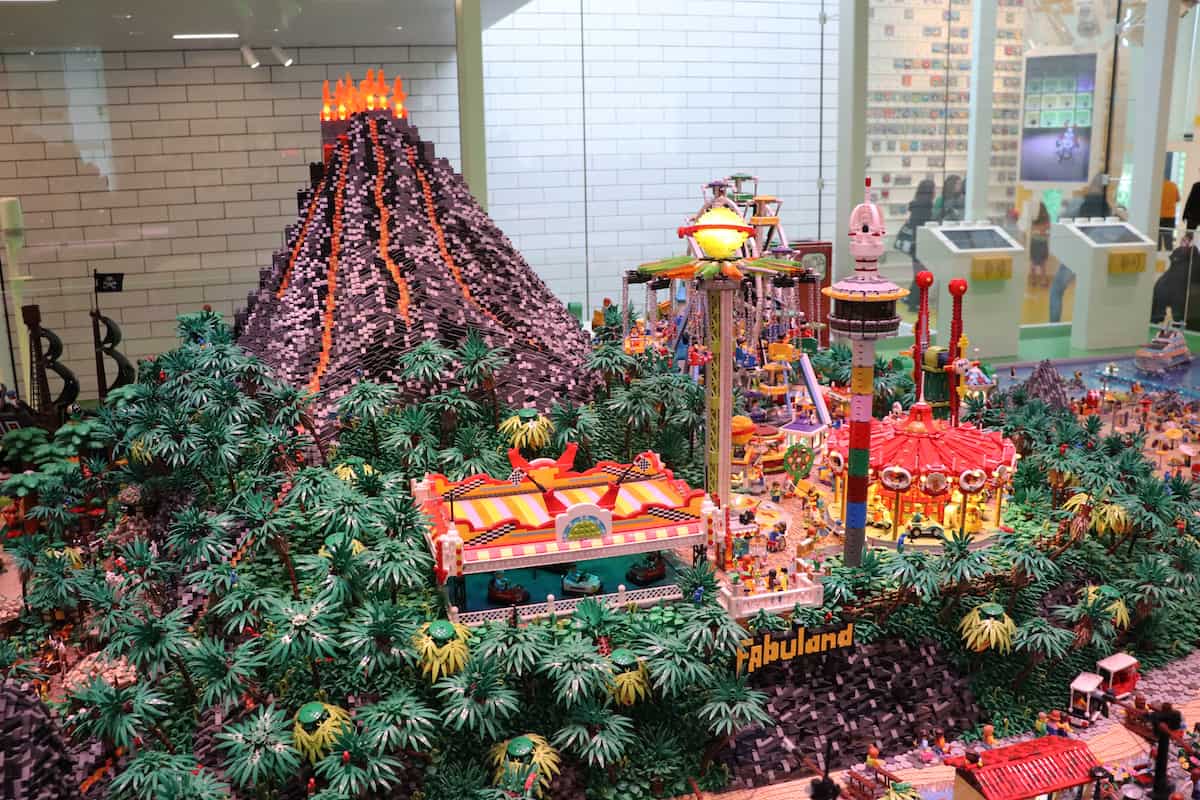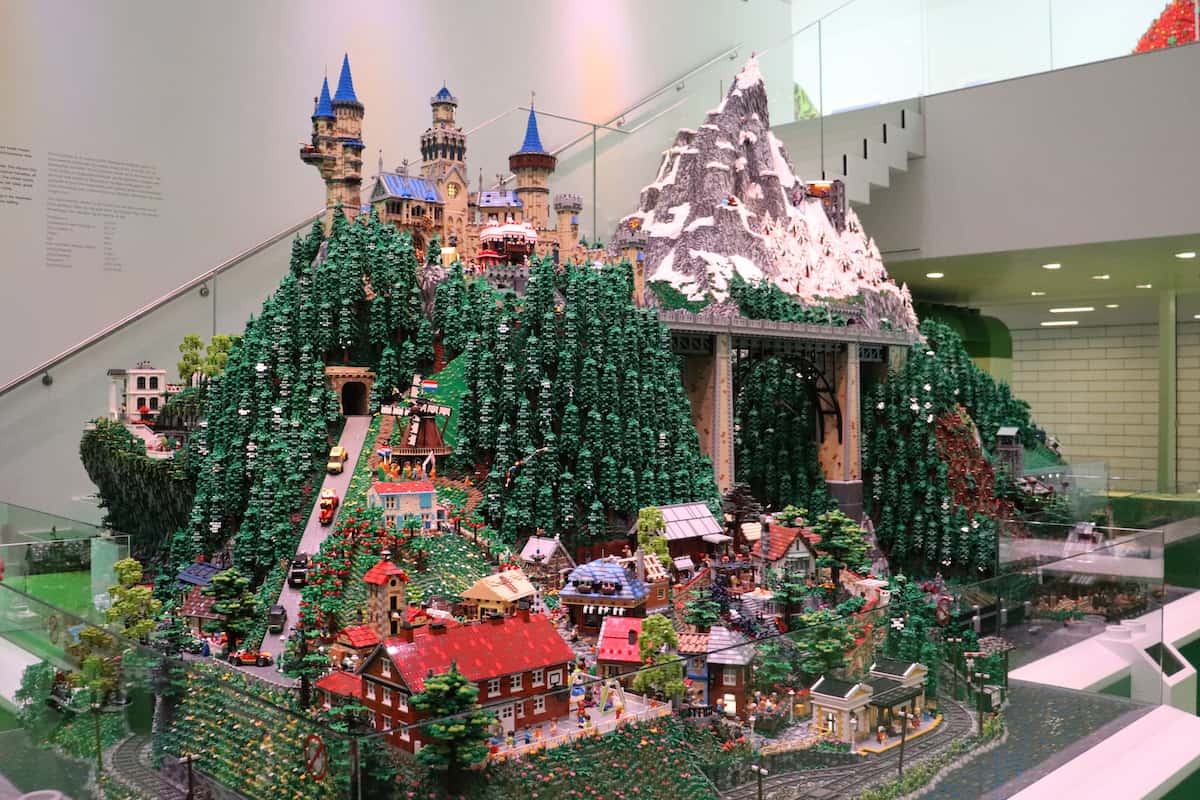 We found the Green Zone to be one of the most relaxed and quietest during our visit, somewhere that was lovely to sit and spend time. Plus, the stop motion movie studio was great fun and really well managed too.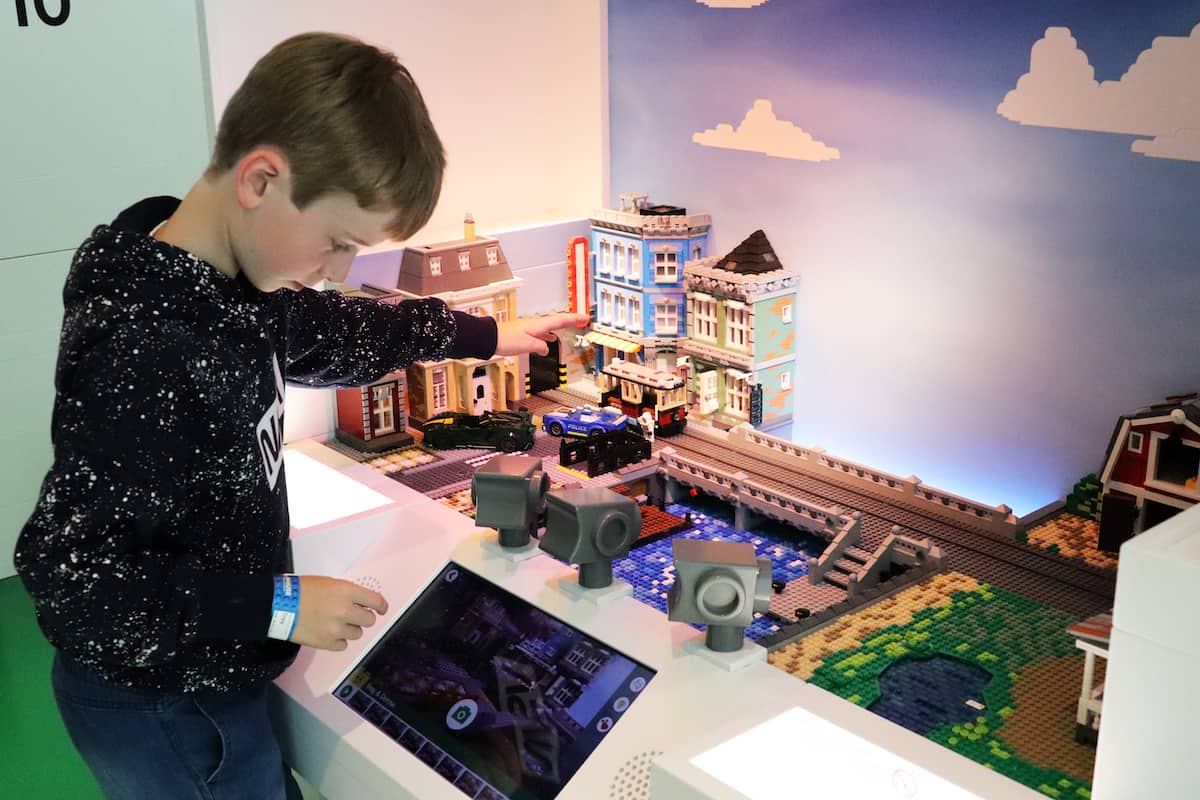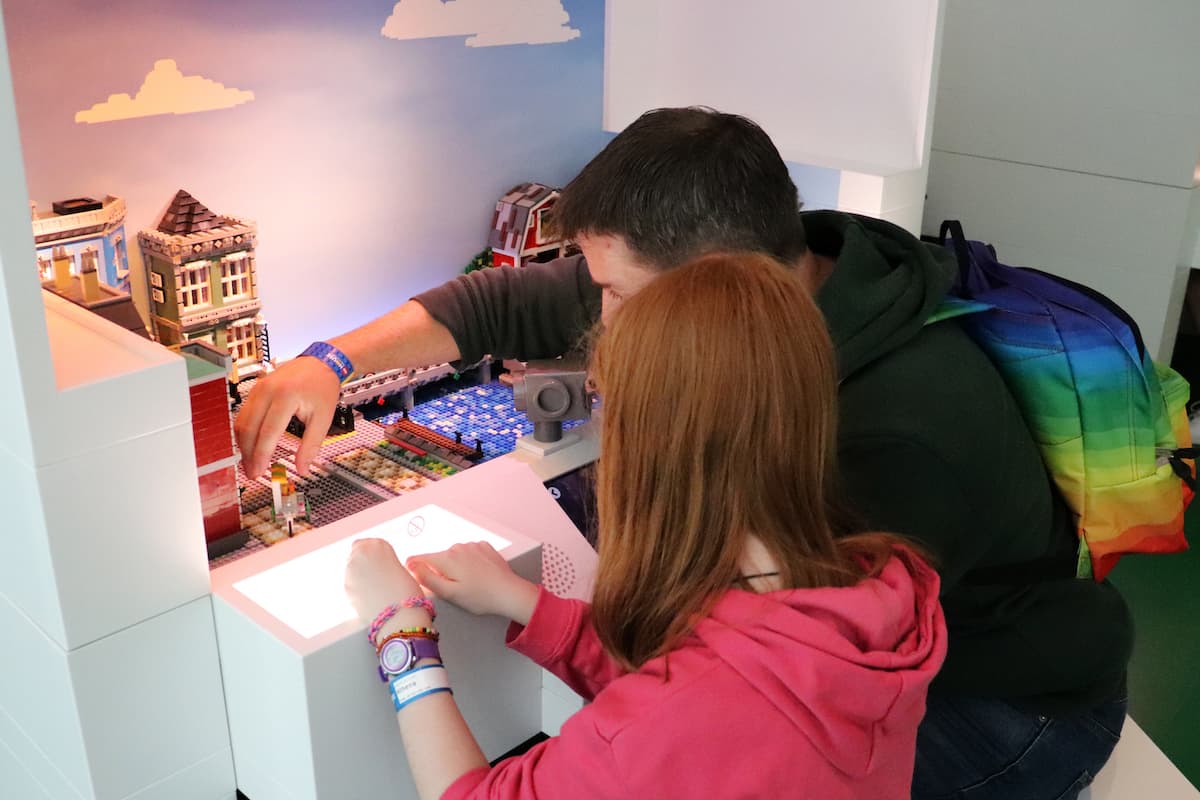 Last but not least, the Blue Zone gives you the opportunity to power up your own beekeeper robot to help the bees make honey. Or, you can build a racing car and race it on the test track, seeing who can make the fastest vehicle. If that wasn't enough, you can build sections of a city and play as a Lego City mayor, managing the whole interactive town.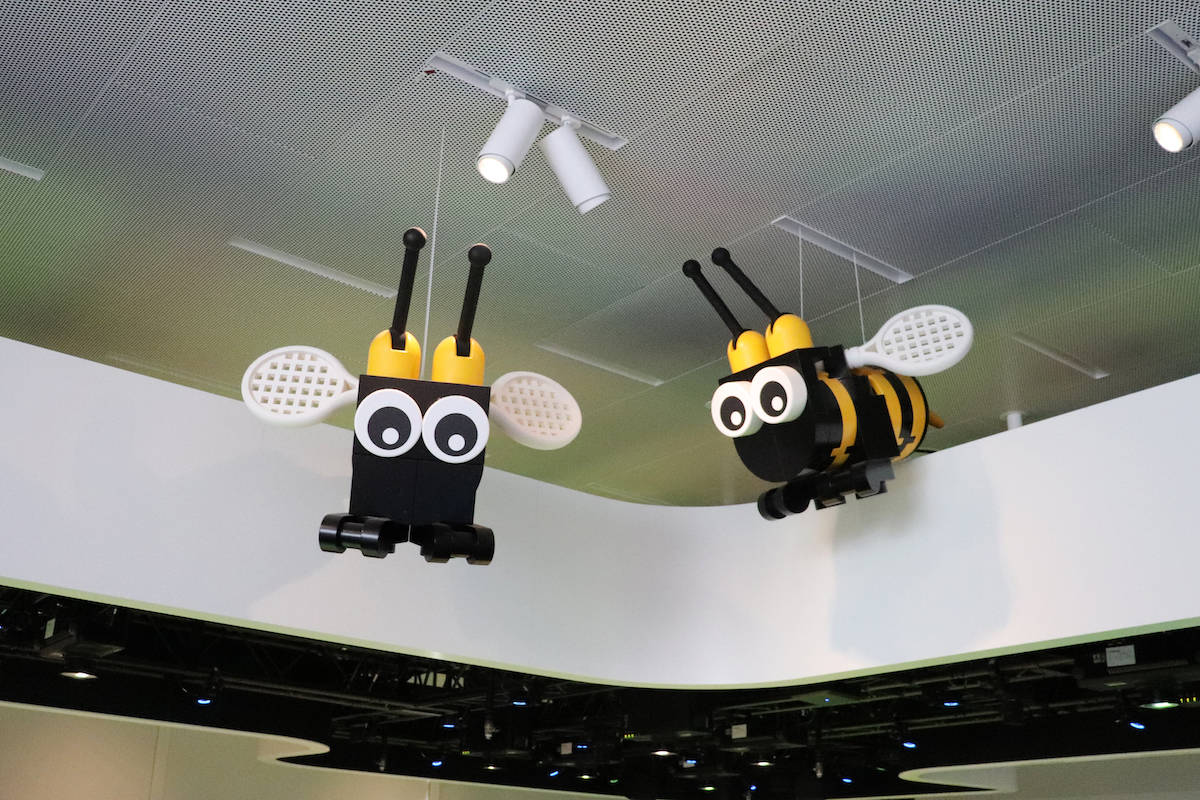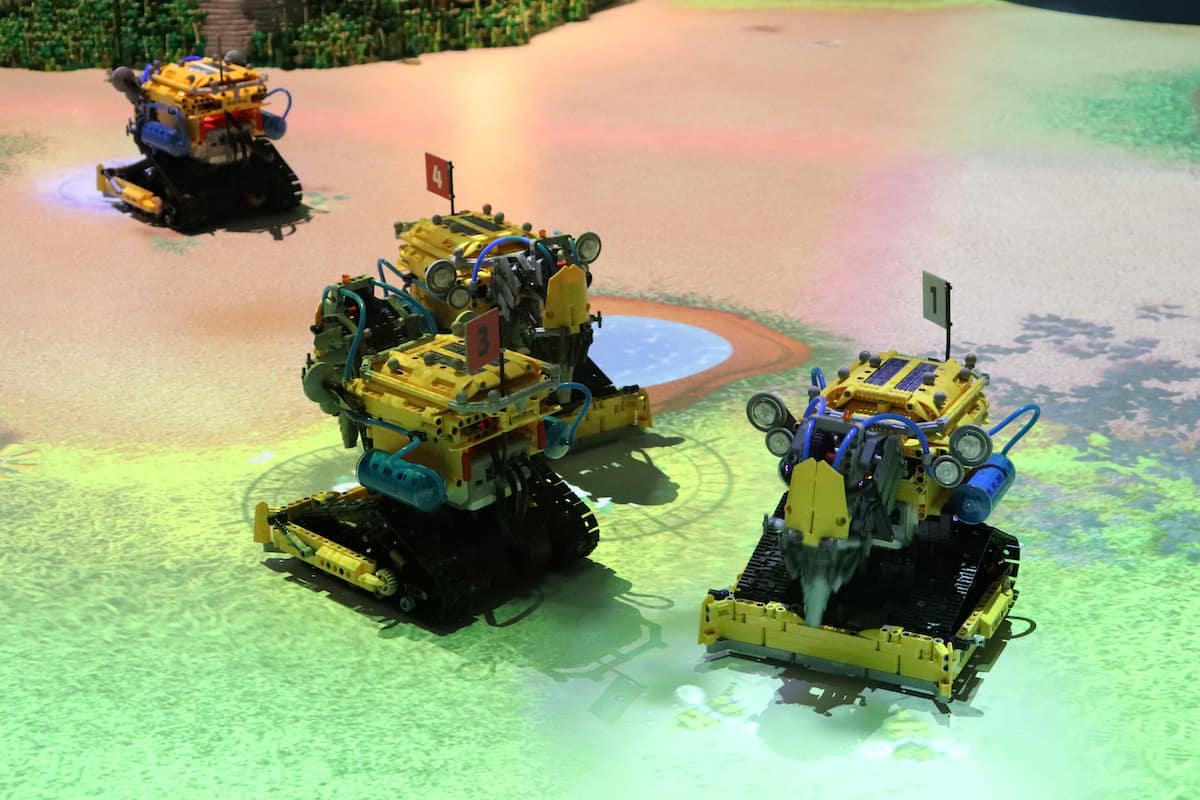 Each zone of the Lego House had smaller areas for younger children to play or build as well as the bigger activities and experiences. There was so much to do in each area and we thought how well designed it was to keep all members of a family happy and entertained.
Although a lot of children visit the Lego House, adults were clearly having a great time too. lego is something all ages love and the Lego House lets you embrace your love of Lego, whatever you age, get creative and enjoy yourself. It's a great place to spend time.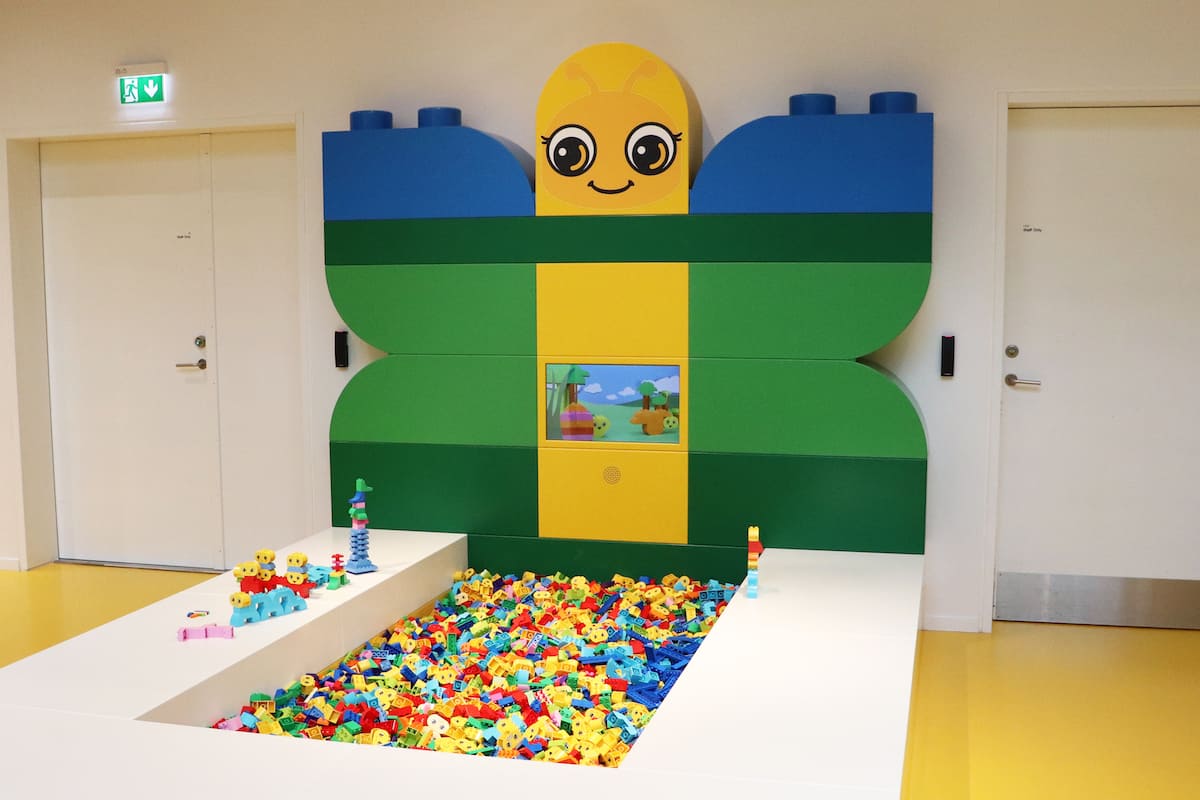 The Lego House History Collection
At the end of the four zones we went downstairs to explore the Lego House History Collection. In the basement of the Lego House is a fantastic museum that lets you walk through the history of Lego from back when the bricks were wooden through to the modern day.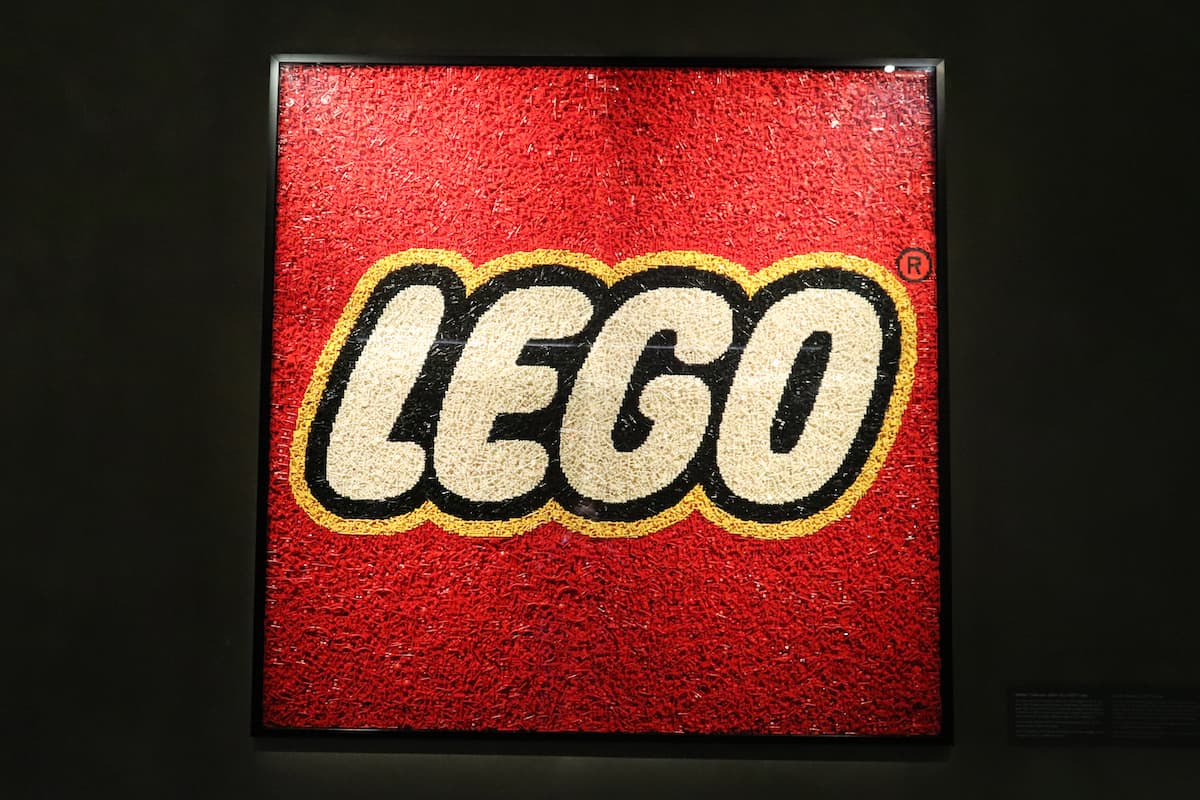 The History Collection features so many Lego sets from through the years and it was amazing to see ones from our own childhoods. There's even an interactive Lego library that features all the Lego sets ever made and we spent some time saving all the ones we had to our own bookcase of Lego using our wristbands. It was great fun and full of nostalgia.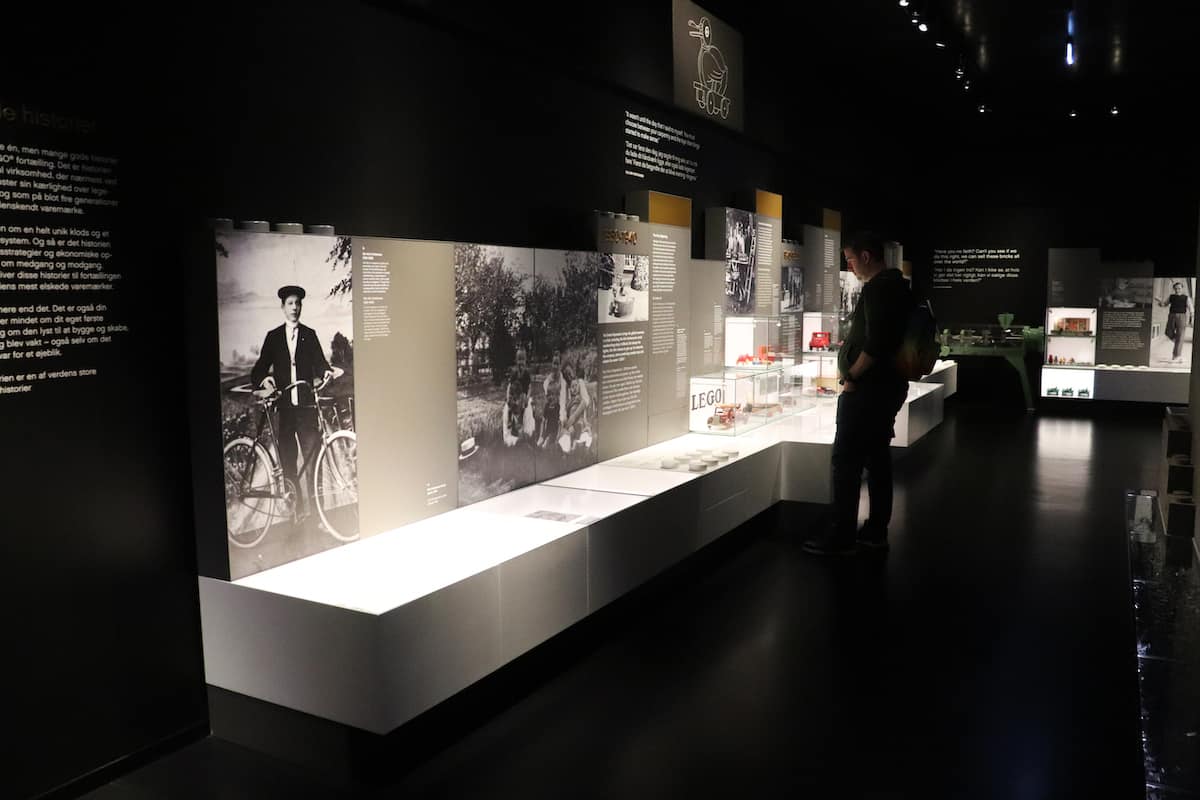 At the end of the zones, just before you exit through the barriers to go back into the main reception area, you can see Lego bricks being made. Each visitor can scan their wristband on a machine, get a printed card with a Lego design featuring just six bricks and then pick up a special pack of Lego bricks that have just been made right in front of you so you can make your creation at home. It's a lovely souvenir and even better that we saw it being made!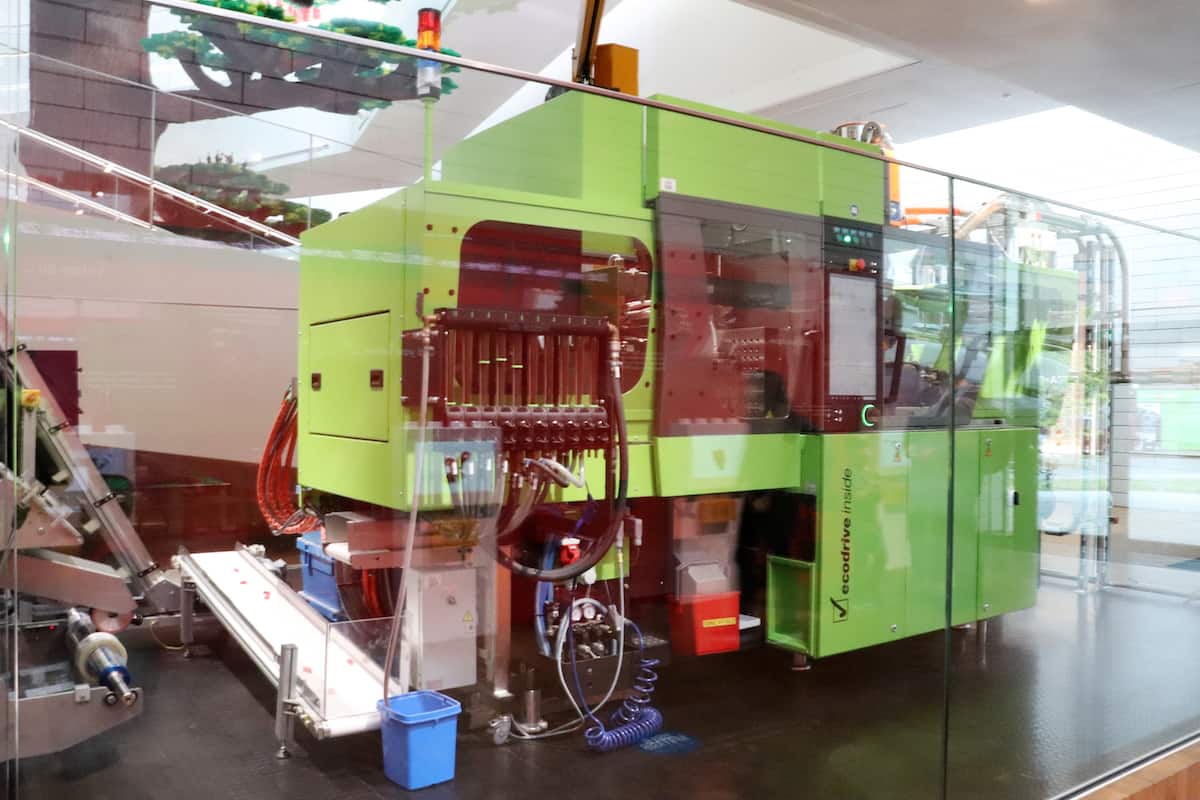 After exiting the main Lego House we took the lift up to the Public Terraces where the children got to play on so many different play areas. I love how the Lego House have made use of literally all their available space and the highlight was the giant Lego brick on the highest roof where you could look down into the Masterpiece Gallery. The terraces are a fantastic place to spend time.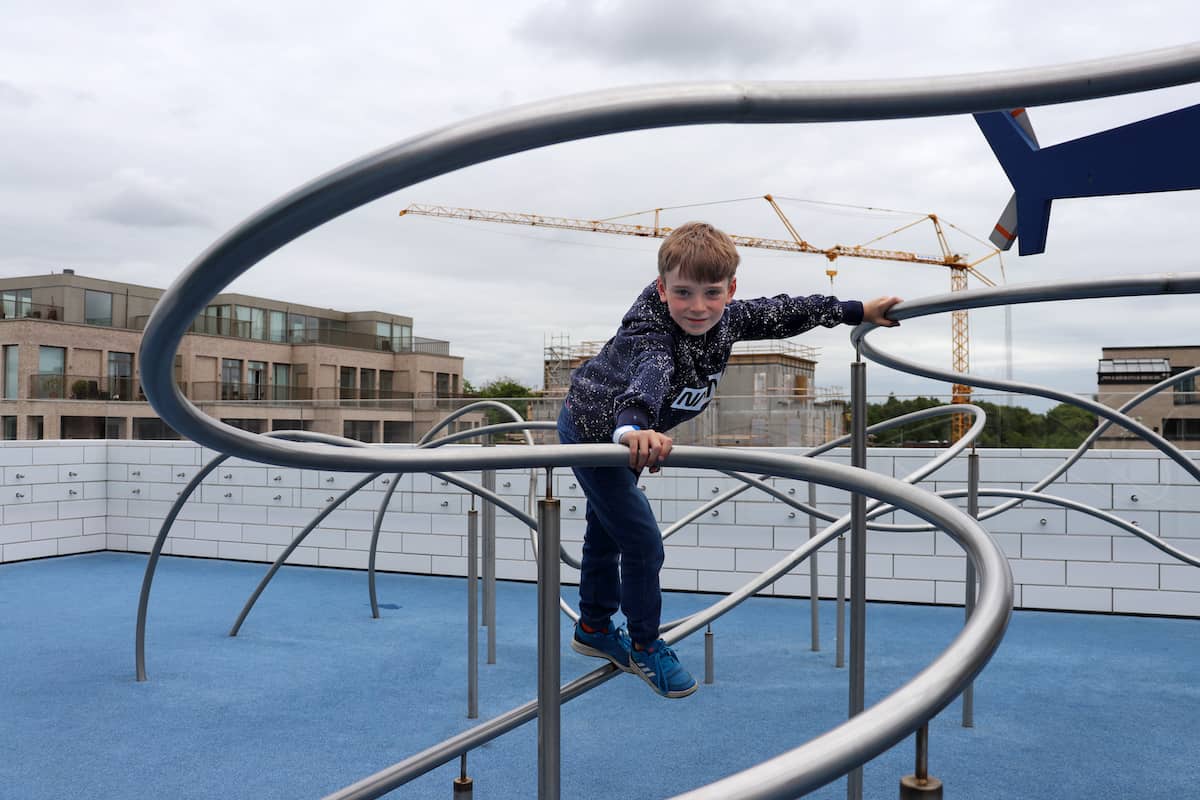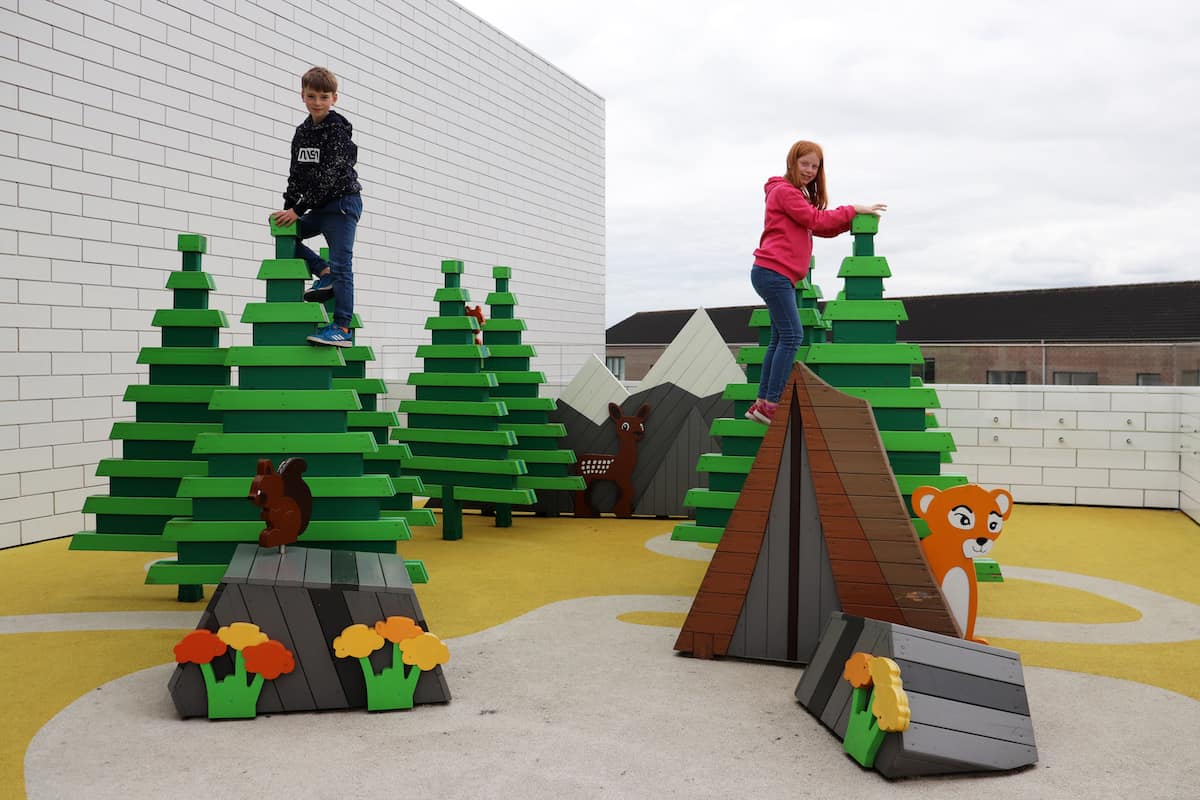 Eating at the Lego House
The Lego House has the Mini Chef family restaurant where booking is advised. When we visited it wasn't open the same hours as the Lego House, and closed earlier, so check the times when you visit. There's also the Brickaccino coffee shop for snacks, desserts, sandwiches and hot and cold drinks plus plenty of seating if you were to take a picnic with you.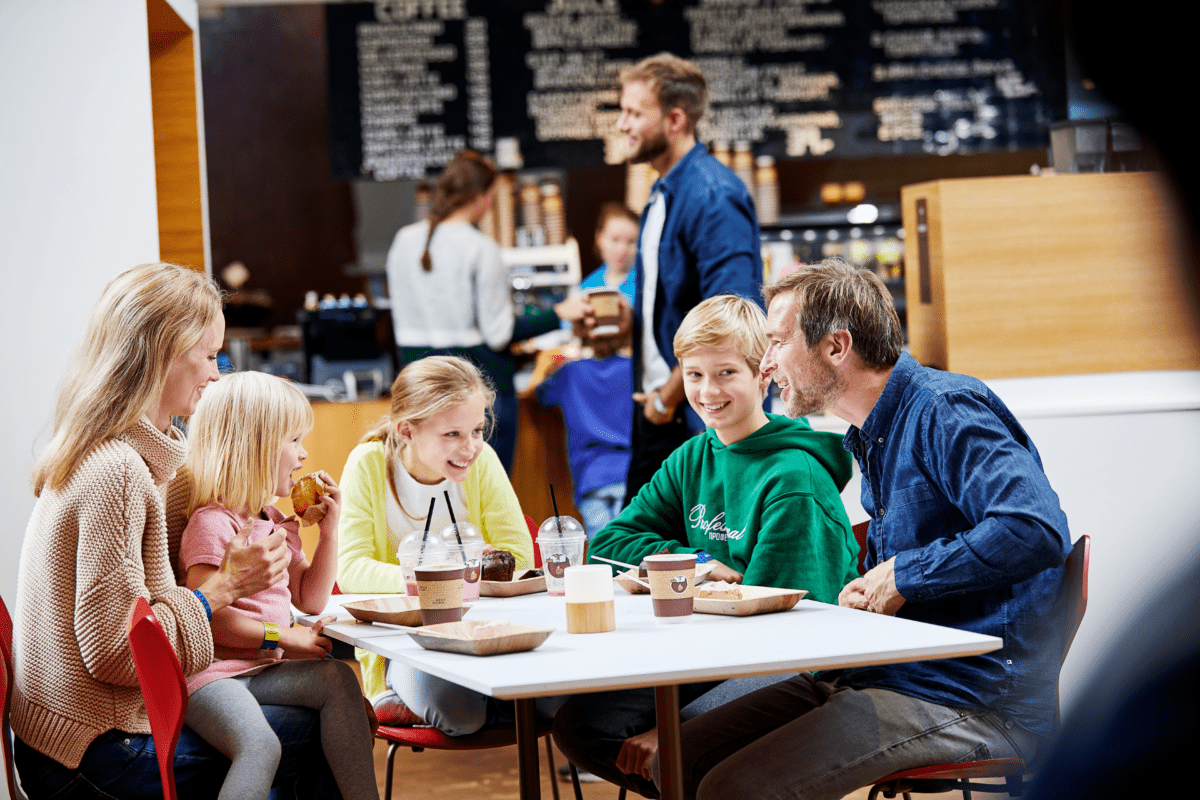 Lego House Facilities
The Lego House has a cloakroom to drop off coats or bags, plenty of toilets, bins throughout the zones and so many places to sit and relax. It's not a day out where you have to stand all day and despite there being so much to see it's a really relaxed day out and one where you can go at your own pace.
We finished our trip to the Lego House with some time in the Lego Shop. There's the opportunity to print your own Minifigures in the Minifigure Factory plus Lego sets that you won't see anywhere else. We had to pick up our very own Lego House set that you can only get from the Lego House.
We loved our day at the Lego House. It's so different to any other Lego experience we have had. There are no rides or shows but there is so much creativity and so many experiences. It's a place that will easily inspire anyone and really, it's just so much fun. Plus, we have all our Lego House Memories to look back on thanks to our wristbands.
If you're making a trip to Billund definitely go to the Lego House. It's somewhere you will never forget. Plus, Ole Kirk Christiansen's house is directly opposite – where the story of Lego started – and if you're staying at Legoland Billund or Lalandia you can take a lovely walk through the Billund Sculpture Park straight to the Lego House.
You can find out more about the Lego House, check opening times and book tickets over on the Lego House website. For reference the address is: Ole Kirks Plads 1, 7190 Billund, Denmark
Here's a video we made of our trip and you can find a little Reel over on Instagram too: