*This is a paid post
We've just discovered Banjo Robinson and the brand has quickly become one of Little Man's favourite things! If you have children aged around 4-9, you need Banjo Robinson in your life! So, read on to find out more and get a fantastic FREE SAMPLE + world map poster, worth £11.99 too!
What is Banjo Robinson?
Banjo Robinson is an award-winning education company who are focused on improving early childhood literacy. Banjo Robinson publish picture books where, at the end of the book, the story continues in the form of physical letters that arrive through the post each month straight from Banjo Robinson – a magical, globetrotting cat!
All of the letters are written by well known and well loved children's authors and inspire early or reluctant readers to fall in love with reading and writing. The idea is that your child reads the letters from Banjo and writes back to him, leaving their reply under the sofa at bedtime ready for the United Paws Postal Service to collect.
My initial thoughts were that Banjo Robinson looked bright, fun and super cute. Little Man loves cats and anything cartoony so, even though he has just turned ten, slightly older than the suggested age range, I thought he might enjoy conversing with Banjo Robinson. And he actually loved it more than I expected!
Can you believe that a Banjo Robinson subscription costs just £2 a month? It's the cheapest subscription we have ever come across and yet one of the most rewarding.
As a little spoiler, Banjo Robinson gave Little Man time away from screens that was easy – not a battle like it usually is! It's helped Little Man to start reading for pleasure again, something he lost the joy of earlier this year and it has seen him write something constructive for the first time in years that wasn't school work or homework!
Letters from Banjo Robinson
When you sign up to the Banjo Robinson postal subscription your child receives a letter each month from a magical cat! Banjo Robinson have two different subscriptions available tailored to the child's age and reading ability – Mini Explorer aimed at 4-6 year olds and Globetrotter aimed at 6-9 year olds.
We signed Little Man up for the Globetrotter option and he was so excited when the first letter arrived! If you sign up to the free trial, the first delivery includes a bonus world map poster along with the letter from Banjo, a guide dedicated to a specific country with a country map, creative activities, paper and an envelope to reply to Banjo and stickers for the world map.
Little Man wasted no time unfolding his map and pointing out all the different countries he knew before working his way through the rest of the pack. The letter was his next port of call and he loved how fun it was – like Banjo had put a lot of effort into writing it just for him!
The letter is cute and personal, with Banjo talking directly to the child about how he can't wait to take them on his adventures with him through the letters he sends. Little Man loved reading it and it made him laugh at points too!
Along with the letter there was Banjo's guide to the Ocean – the first place on his travels! The guide is packed full of facts, jokes, activities and ideas to extend the child's learning – like watching a surfing video, looking at photos of coral reefs or thinking of all the ocean words they know.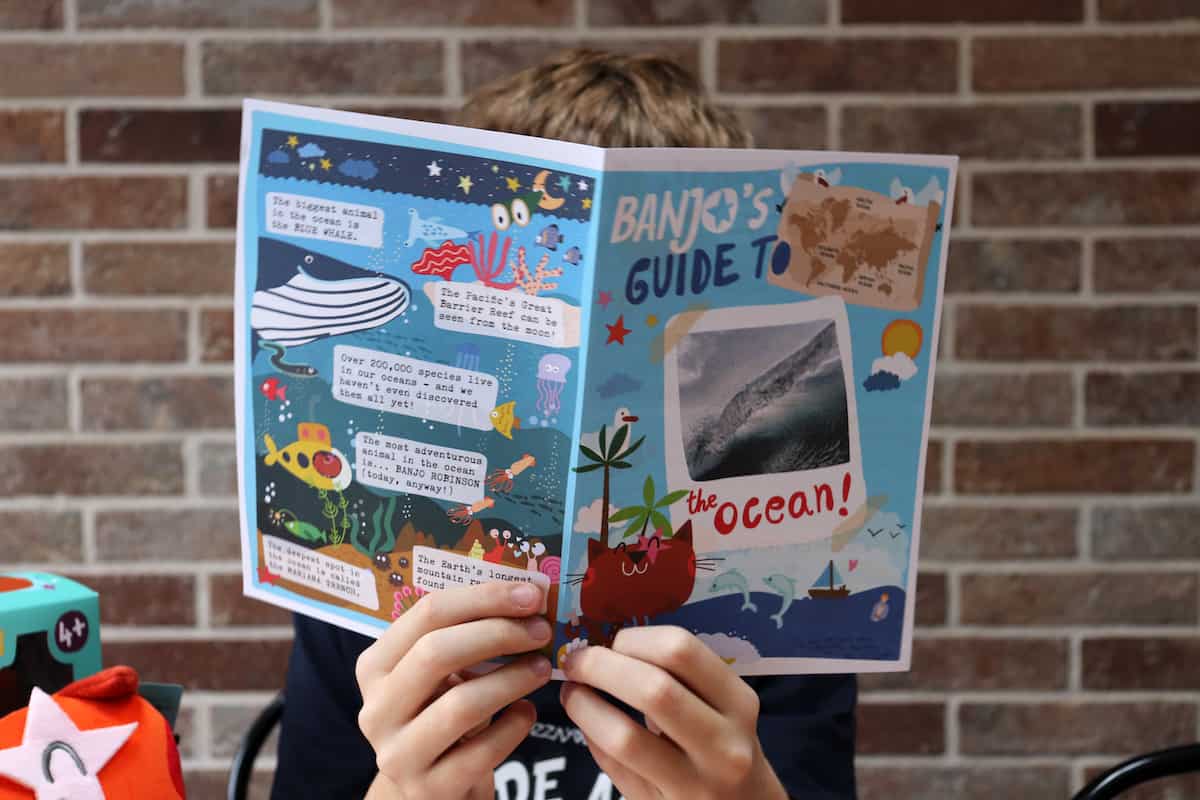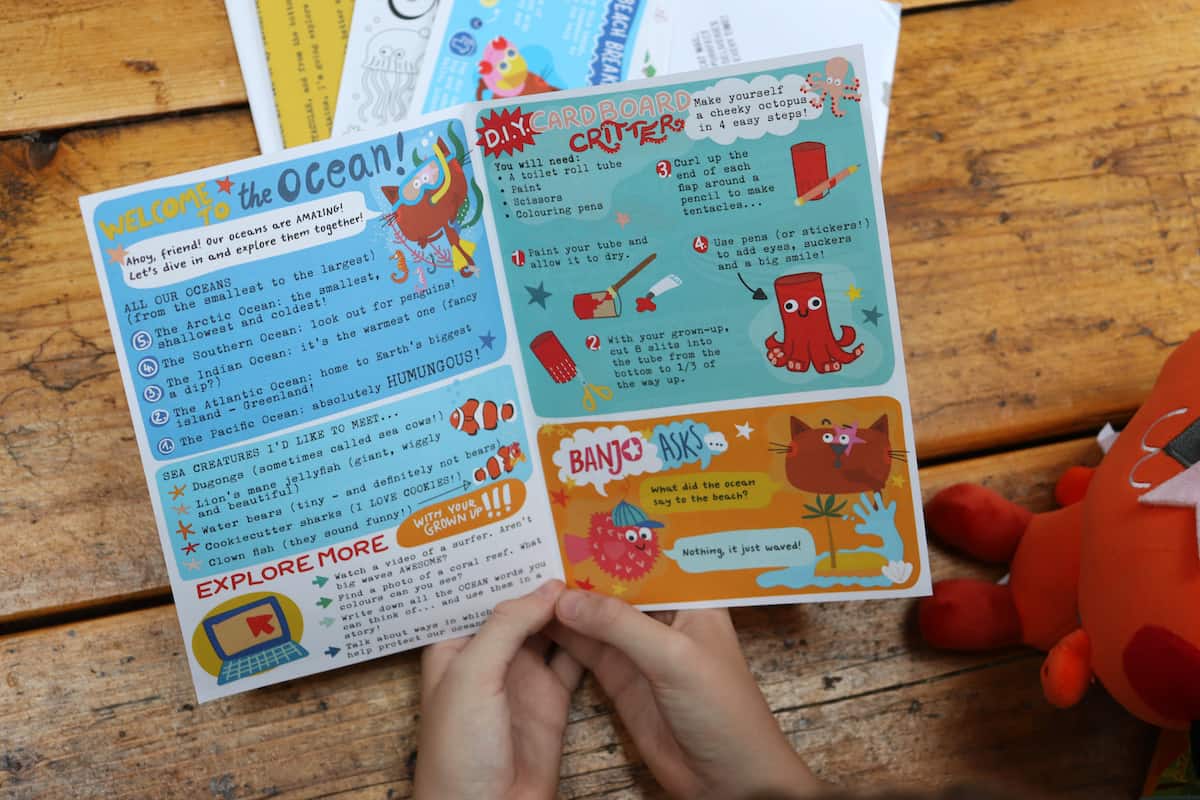 There's also a recipe card for Little Man to make Banjo's Beach Breakfast – a croissant and fruit crab! Plus a cute colouring sheet. Everything is bright and colourful, making it really engaging and something Little Man was instantly interested in.
And then there's a sticker sheet with places to stick on the map and paw stickers to show how much of the world your child and Banjo have explored together. Little Man immediately said that there were 24 places for paw stickers and so the subscription would last two years. He was excited to think that he could travel the world with Banjo for two whole years and learn about every place!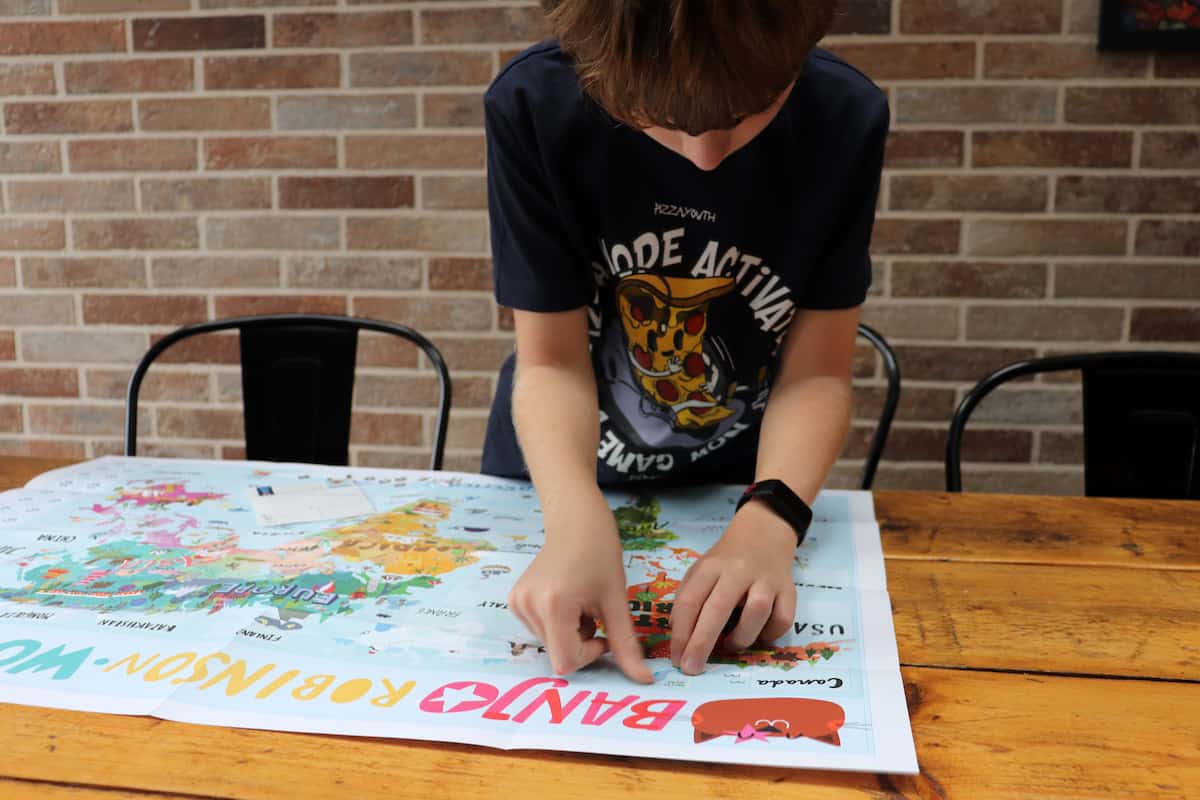 Replying to Banjo Robinson
Naturally, if you're working through the activities in the pack each month, you're going to find the letter writing paper and envelope and want to complete it too! Or at least, that's what the vast majority of children who receive letters from Banjo Robinson do – and it's exactly what Little Man did too!
He was very excited to write back to Banjo and I asked him if he knew how to write a letter and what sort of things to write in it and I was impressed that he knew how letters worked. So he replied to Banjo with things Banjo had mentioned in his letter, things that he enjoyed in the activities he'd already worked through and things he was excited about learning about in the future as Banjo travels more of the world. It was a really cute letter.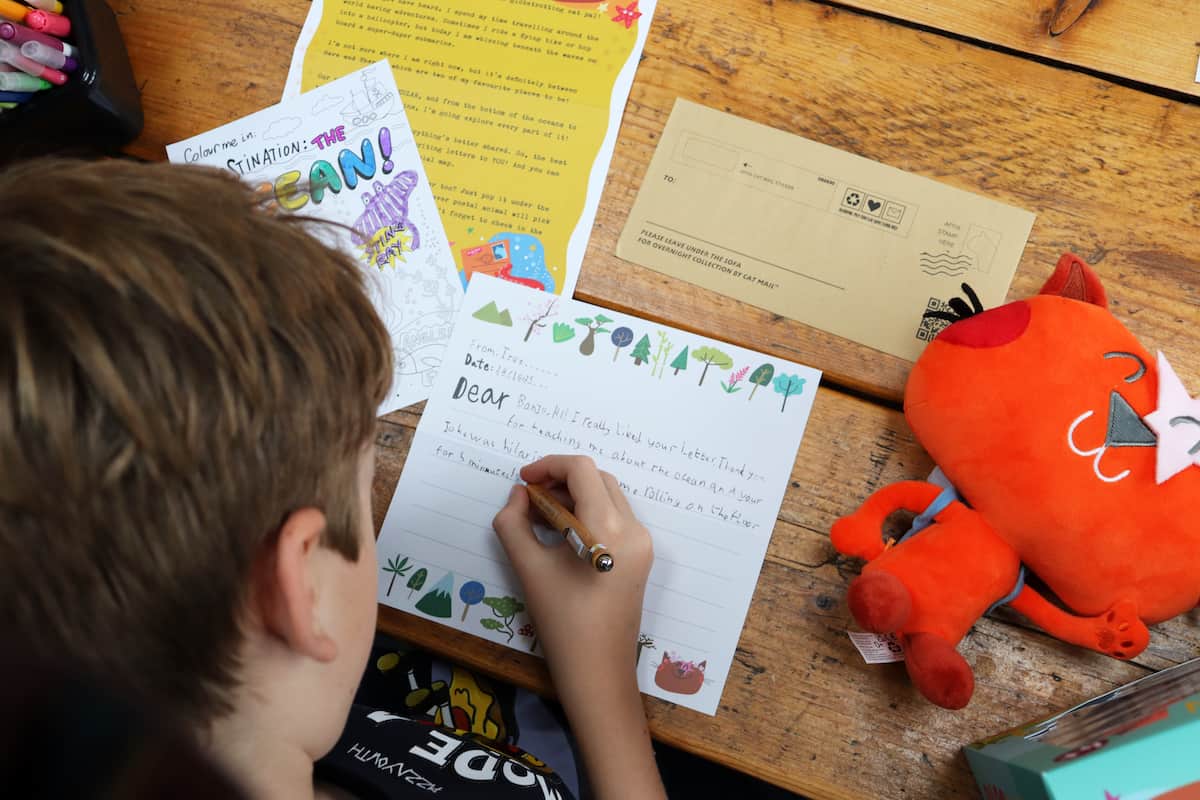 I was most impressed that Little Man really wanted to do his best handwriting – and was upset when he made a mistake and had to cross it out. He wanted his reply to be perfect for Banjo and I loved how immersed he was in the whole concept of Banjo Robinson, the globetrotting cat!
Once the letter has been written, put in the envelope and had a cat mail stamp attached, it's placed under the sofa ready for a little animal to come and collect it – actually parents once the child is in bed! You can then print out thank you notes to leave in place of the letter, encouraging your child to write again next month.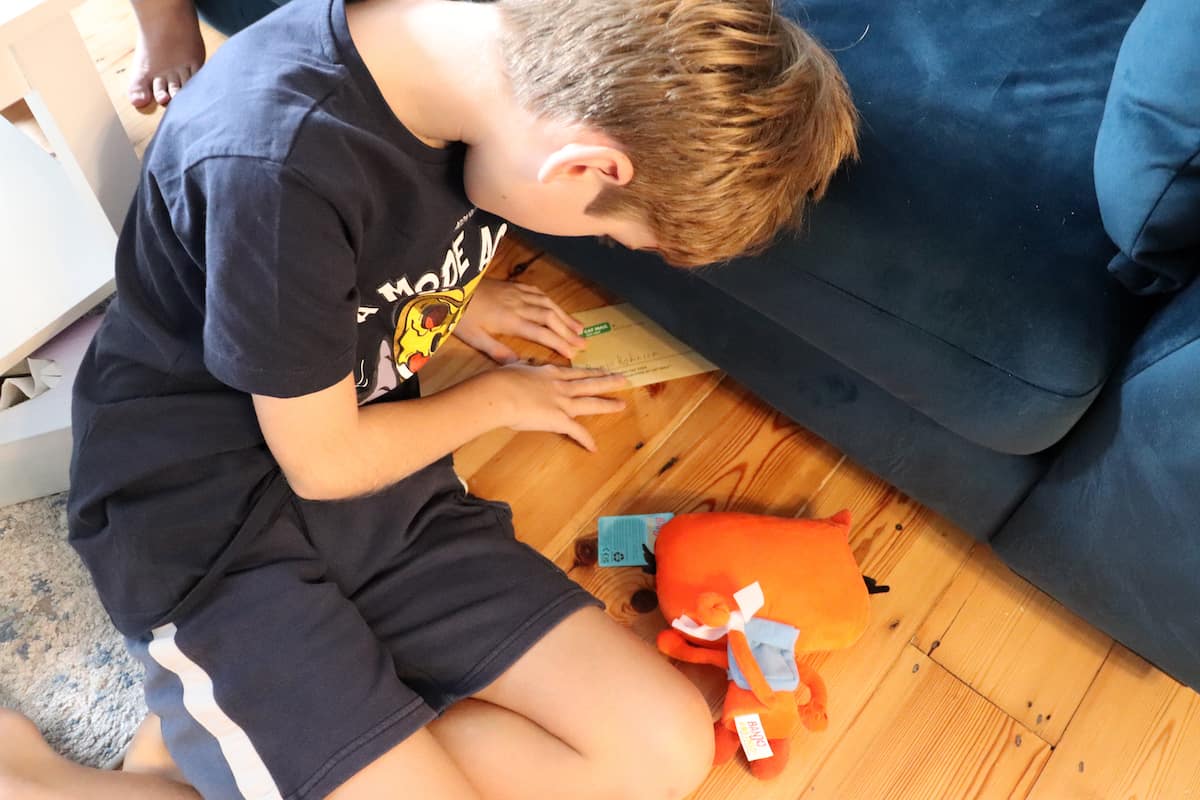 The benefits of Banjo Robinson
After just our first letter, both Little Man and I were sold on Banjo Robinson. He loved that a cute cat was writing to him and telling him about his travels whilst also sending him fun things to read and do.
It inspired him to use his imagination and taught him new things in a way that was super fun and really didn't feel like learning at all.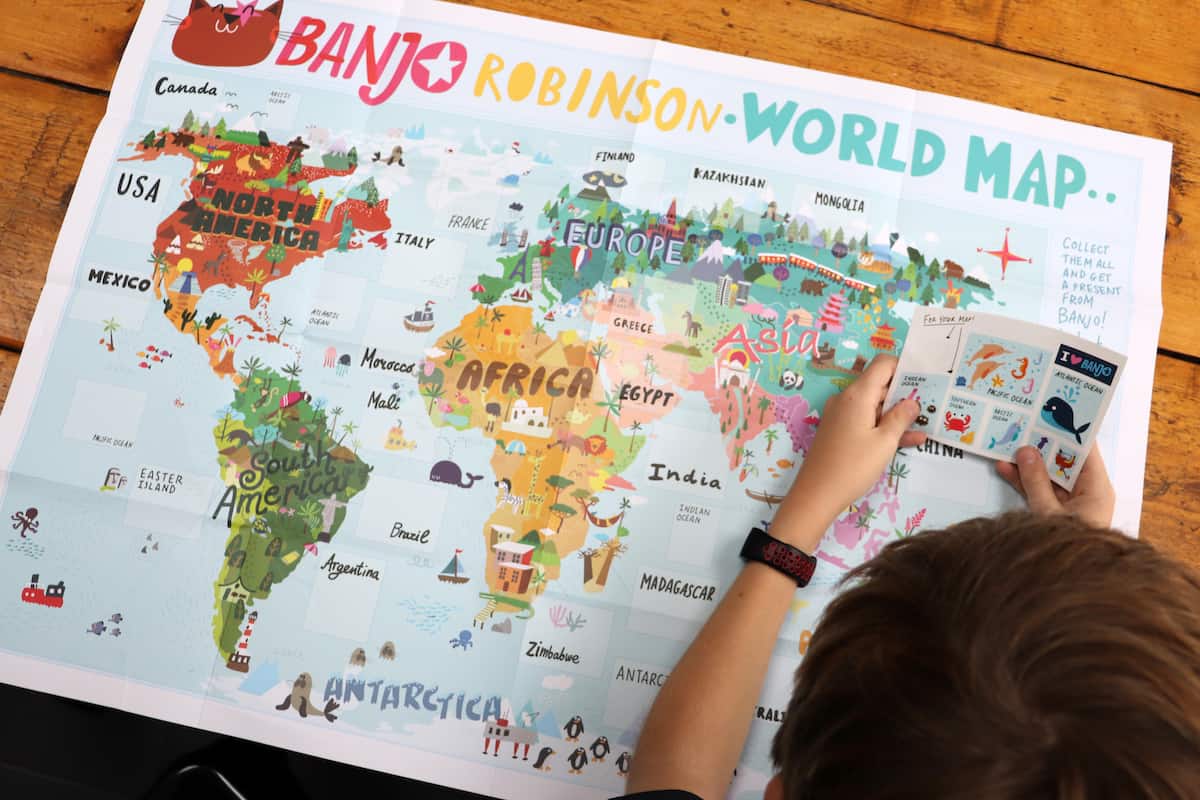 Plus, Banjo Robinson works alongside the national curriculum so as well as helping children with reading and writing it also teaches them geography and about different cultures and inclusivity.
The Banjo Robinson toy and book
One thing that really made Little Man fall in love with Banjo Robinson was the Banjo plush toy. A gorgeous, cuddly Banjo complete with a backpack you can actually put things in, he's the perfect companion for any child and really makes the Banjo Robinson character come alive.
There's also the Banjo Robinson book – The Book That Writes Back: The Story of Banjo Robinson, Global Explorer which Little Man loved. With 13 full page illustrations, it's really colourful, engaging and easy to read either independently for older children or with a grown up for the younger ones.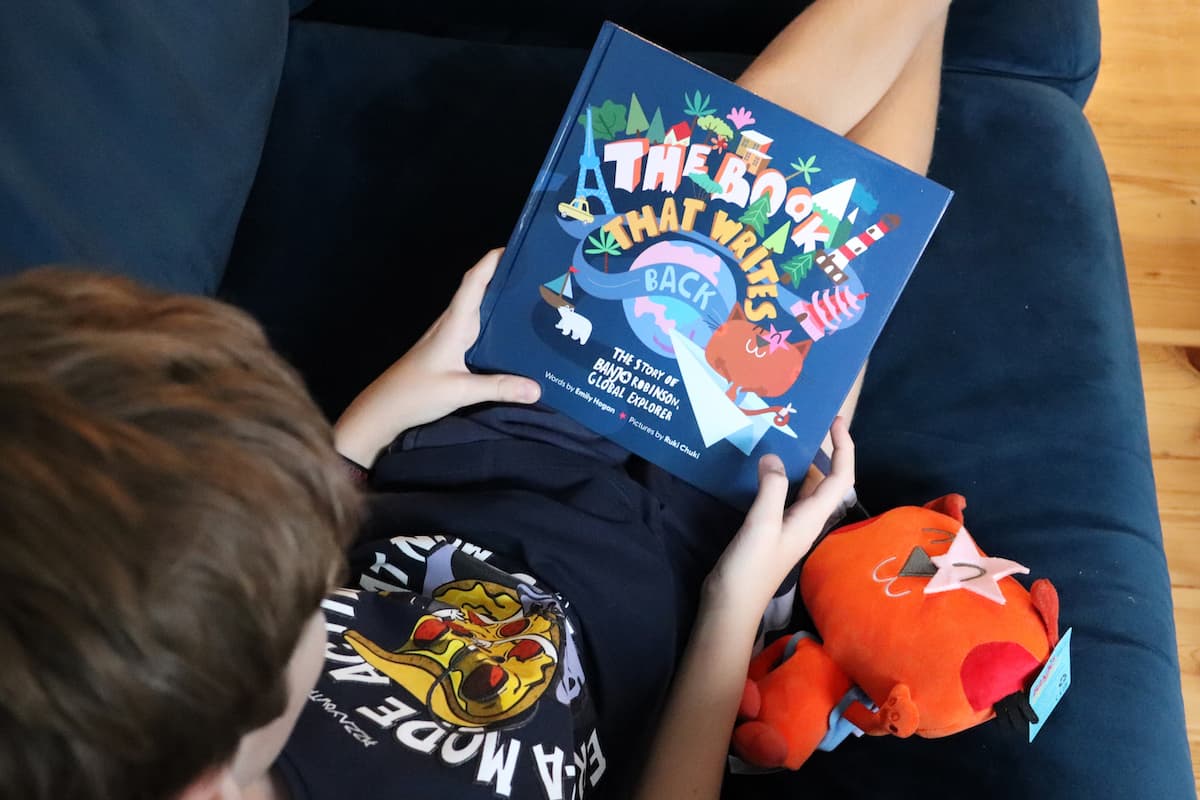 The first Banjo Robinson book takes children on a journey to the Robinson Street Shelter, where Banjo's adventure begins. It's a really lovely story that Little Man really enjoyed – and even more so when Banjo Robinson wrote to him too!
Banjo Robinson as a gift
The Banjo Robinson plush toy or book would make lovely gifts – especially as each one also includes a free trial of the Banjo Robinson subscription. Plus, there's a bundle available of the book and toy at a reduced price and the standalone Banjo Robinson subscription can also be purchased as a gift and it would definitely be something that young children would love.
How much does Banjo Robinson cost?
I wish I'd known about Banjo Robinson when LP and Little Man were much younger – we would have signed up without a second thought. At just £2 per month, it's amazingly good value and children get so much out of it. We absolutely love Banjo Robinson.
I have teamed up with Banjo Robinson to give you a FREE SAMPLE + world map poster, worth £11.99. Sign up for the free sample here using code BANJOXREDHEAD
You can find out more about Banjo Robinson over on their website and Banjo Robinson can also be used in schools! Find out more here.