Disclosure: We were invited on this break for the purpose of this review however all opinions are my own.
The children have been asking to go camping for literally years so when we were invited to have a self catering holiday for a week of the Easter holidays at Crealy Adventure Park's Crealy Meadows in Devon it was the perfect opportunity to give the children a taste of the great outdoors.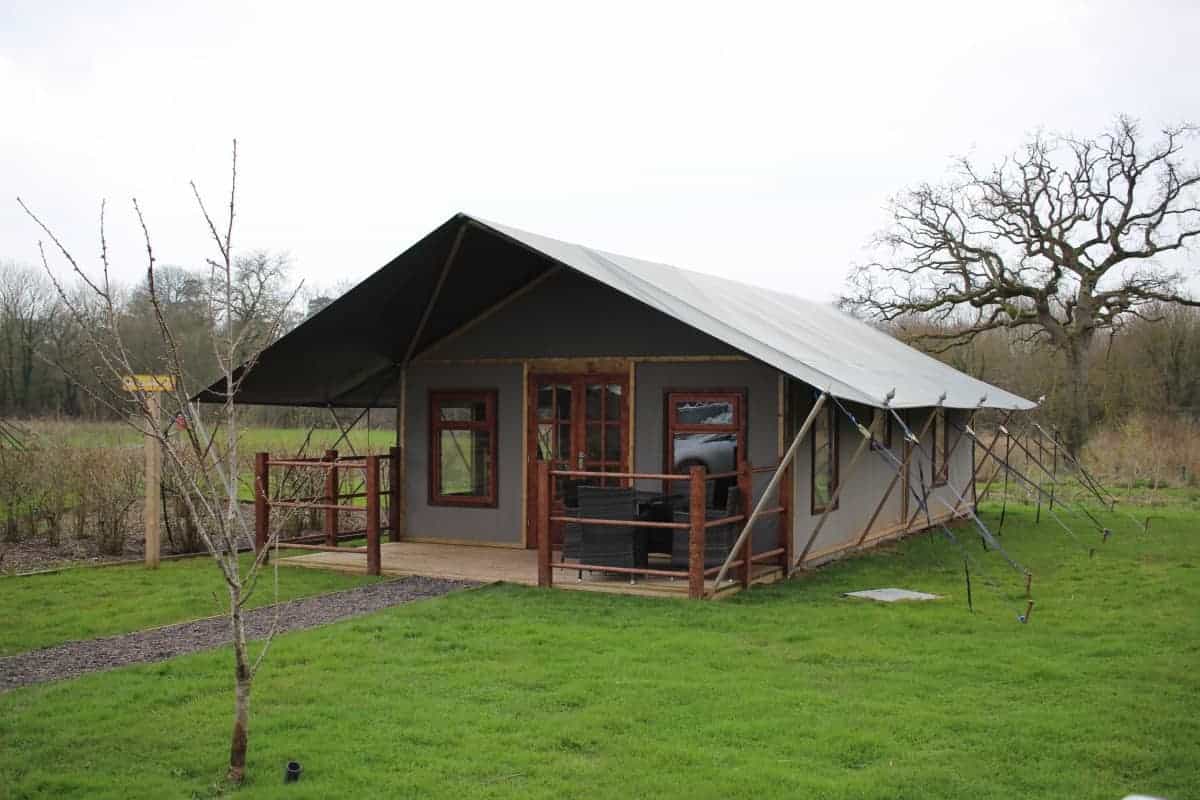 What were our first impressions of Crealy Meadows?
We arrived a little early to Crealy and were given wristbands to go and explore the park until our accomodation was ready. As official check in time isn't until 4pm it's great that you can arrive during the day and make use of the facilities.
Our Safari Tent was ready slightly early and I had a phone call to let me know we could go and collect the keys. We were given an information pack with everything we needed for our stay as well as a number for the barrier to get our cars in and out. Our whole time at the Crealy Meadows site felt so safe and secure because of this.
What was the safari tent like at Crealy Meadows?
Our tent was really well situated, a short walk from a toilet block and with parking for two cars outside. Our first impressions were brilliant – it had a mainly wooden frame with real doors and windows, a canvas roof, decking and a table and chairs outside and living space that was perfect for us.
There was an open plan kitchen, living and dining area complete with a sofa bed, two bedrooms – one with bunks and one with a double bed – and a cabin bed style double with doors to close either side. The children thought this was great – like sleeping in their own private cupboard.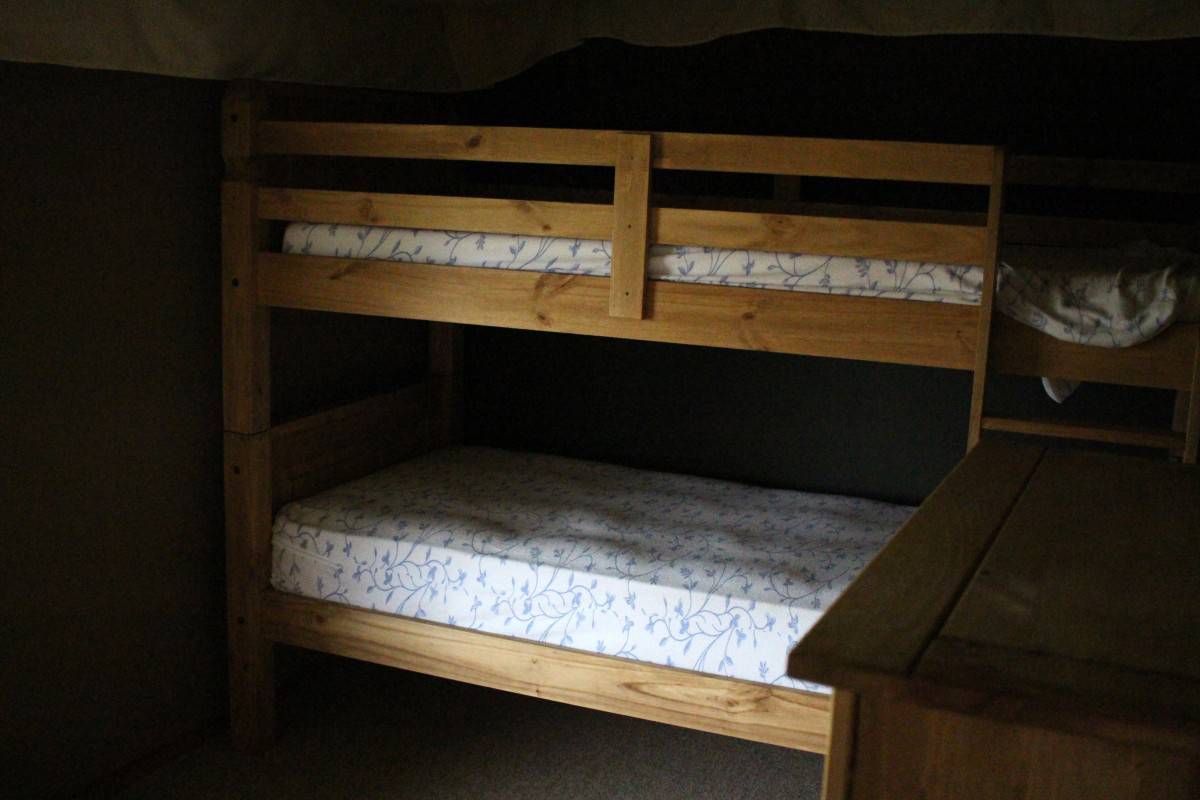 Our safari tent had a fully equipped kitchen with everything we needed for our stay but you do need to bring things like tea towels, washing up supplies and spare bin bags. Our kitchen also had a hob, microwave oven and fridge which was all we needed to cook basic meals – and a lovely step up from actual camping!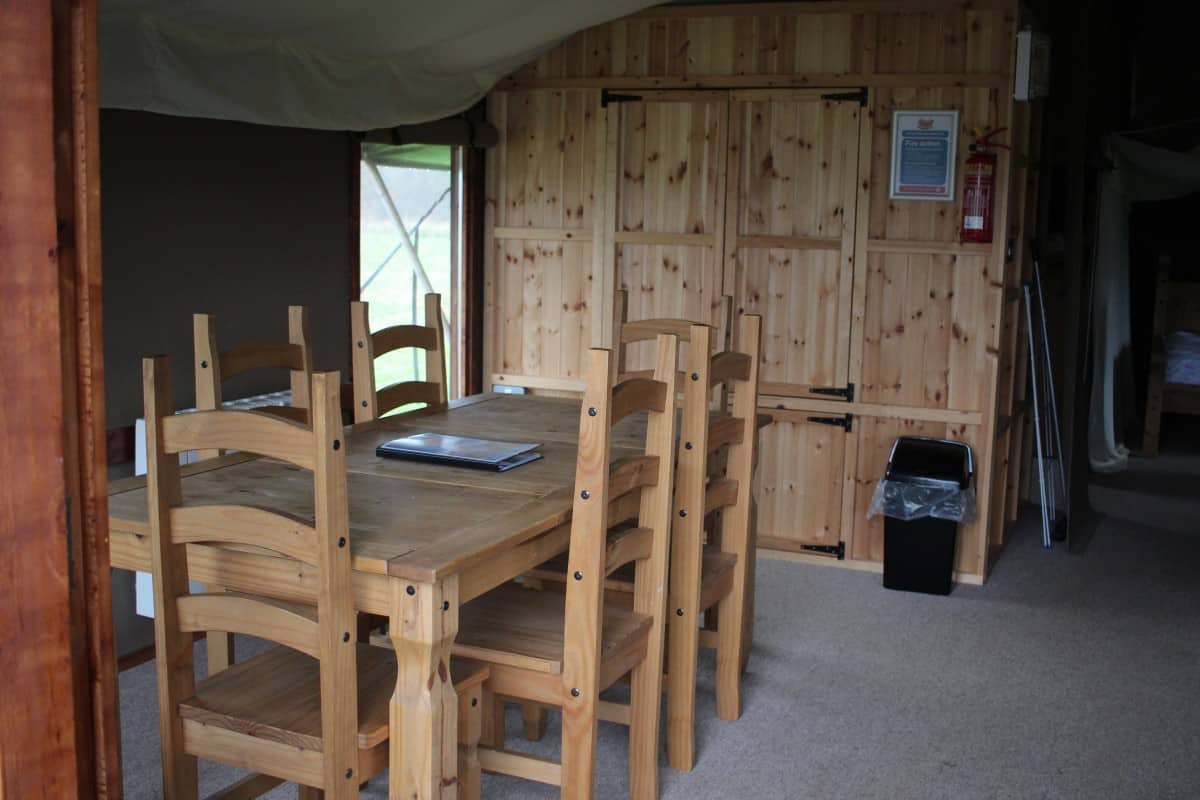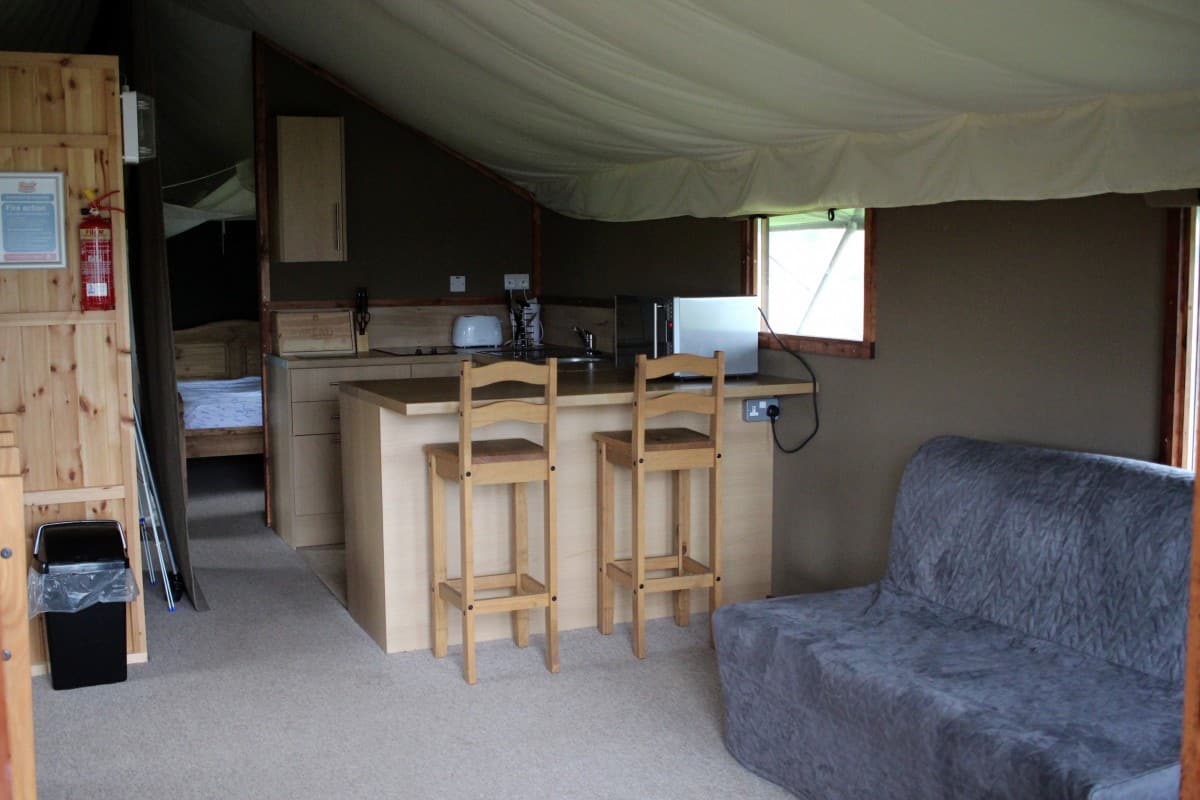 We had to take our own beddings and towels with us too which the children quite liked – there's nothing like having your own duvet and pillow on holiday. But aside from that the tent had everything we needed – including plenty of plug sockets and an electric light. We did take camping lanterns to help in the evening though which proved to be really useful as it does get very dark – especially when walking to and from the toilet block.
What were the facilities like at Crealy Meadows?
Crealy Meadows has beautiful play areas dotted around that the children loved to play in. They're all enclosed with fences around them and are really well maintained too.
There was also a shop which had any necessities for your stay – bread, milk, sweets, Calpol – and this was linked to reception where we were always met with such friendly staff. There was also a clubhouse building that had activities going on throughout the day and evening. Some had a small charge involved but others were free to participate in and it really added to the activity program available at Crealy Adventure Park.
One thing that has always worried me about going camping – or glamping – is the toilet facilities. But, at Crealy Meadows the facilities are fantastic. In each of the toilet blocks there are main male and female toilets with plenty of sinks and cubicles as well as shower cubicles – with really great showers and a seating area in them. These were perfect for showering either by myself or with the children and the addition of underfloor heating throughout meant the floors dried really quickly too.
But, as well as the main toilet and shower rooms each toilet block also had two family bathrooms – which are a complete game changer as far as camping is concerned. They are super clean and have an adult toilet, a child size toilet, a sink, baby change unit, full size bath and even a separate shower cubicle. We used these rooms a few times when we were away and found them such a luxury. They're tucked down the side of the toilet buildings so make sure you look for them if you stay at Crealy Meadows.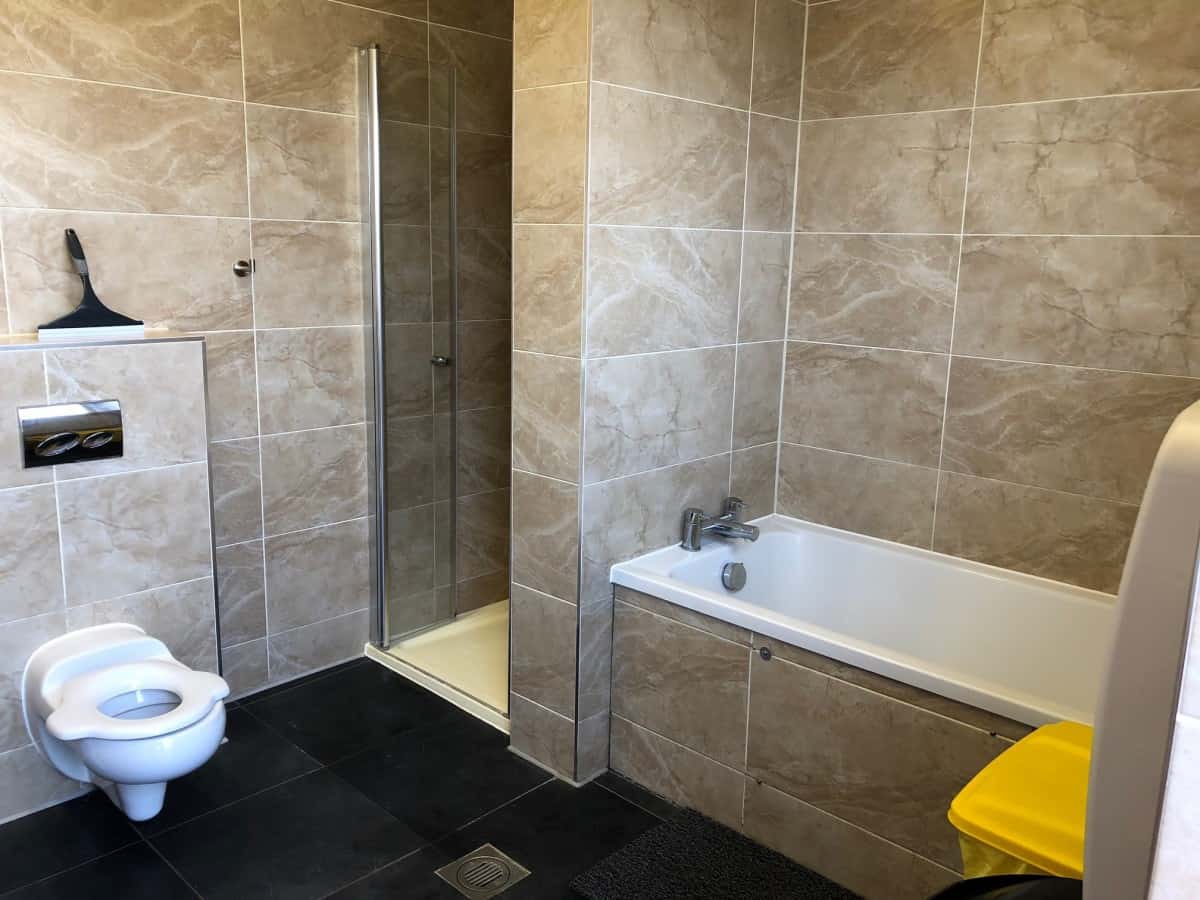 Our safari tent was the perfect home from home for the week – although the weather noise took a bit of getting used to as we don't often sleep under canvas. It was warm – with radiators dotted around – dry and comfortable. Plus, it had a lovely new wood smell every time we came in from outside.
I think if we stayed at Crealy Meadows again, at any time of the year, we would pack our wellies for trips to and from the toilet block as it did get very muddy but, that's all part of the fun of camping!
As part of our stay at Crealy Meadows we got entrance into the Crealy Adventure Park every day – and even had a special gate to make accessing the park that much easier. We could have happily stayed at Crealy Meadows and the Crealy Adventure Park all week – there was so much to do and I'll write about it all in a seperate blog post.
For us, Crealy Meadows gave us a great break, time together and some really simple fun – away from the internet and TV. There was wifi and 4G signal across the resort but not really in our tent and it made for a refreshing change. We could switch off and just enjoy time together and we ended up having a lovely week – although Little Man got chicken pox on the Wednesday and so we didn't get to do as many activities as we would have liked.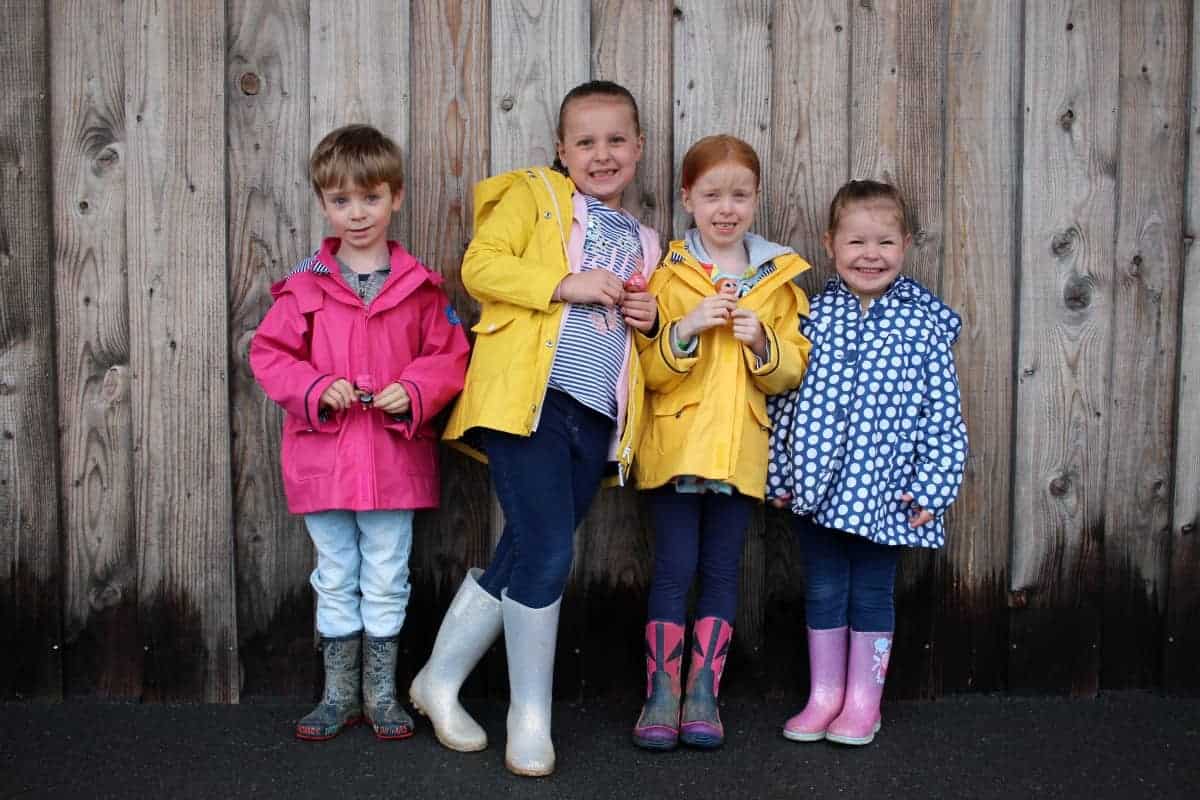 But, Crealy Meadows for us was the perfect holiday. By the end of the week we were used to the routine of using the toilet block and going for showers and baths, we had everything we needed in the tent and the Crealy Meadows site was clean, well maintained and so quiet too. It couldn't have been a better week.
Here's a little video of our break: