Disclosure: We were invited on this day out for the purpose of this post however all opinions are my own.
Over Easter we were invited to Diggerland in Strood, Kent to see what we thought of the attraction. We'd never been to Diggerland before and hadn't heard of it until a couple of years ago so we headed to Kent with completely open minds, excited for a day of family fun.
The concept behind Diggerland theme parks is quite unique, and something that we've not come across in the UK before. Remember when you were a kid and saw a building site? All those big, yellow shiny machines, digging up the earth? Well, at Diggerland, all of your childhood construction based dreams can come true! You (and your children) can have a go on all sorts of machinery, from driving dumper trucks to digging a hole in the ground and even being raised fifty feet in the air to survey the park!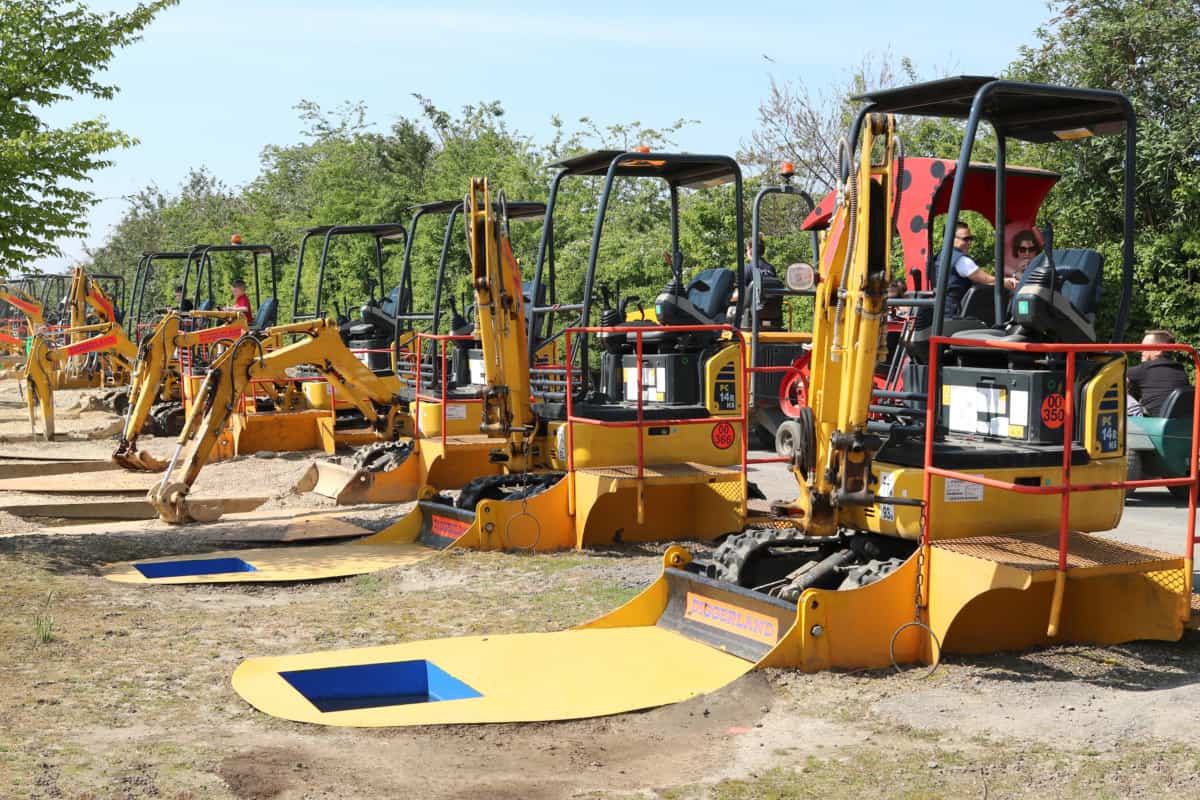 Diggerland operate four sites in the UK – Durham, Yorkshire, Kent and Devon. With Kent being our closest, we set off to get there for opening time on Good Friday, to make the most of our last full weekend of the Easter holidays. We arrived literally just before it was open, with people and families queuing up, waiting for the main doors to open. There was ample free parking and once the queue was moving, we got in fairly quickly, having already pre-booked our tickets.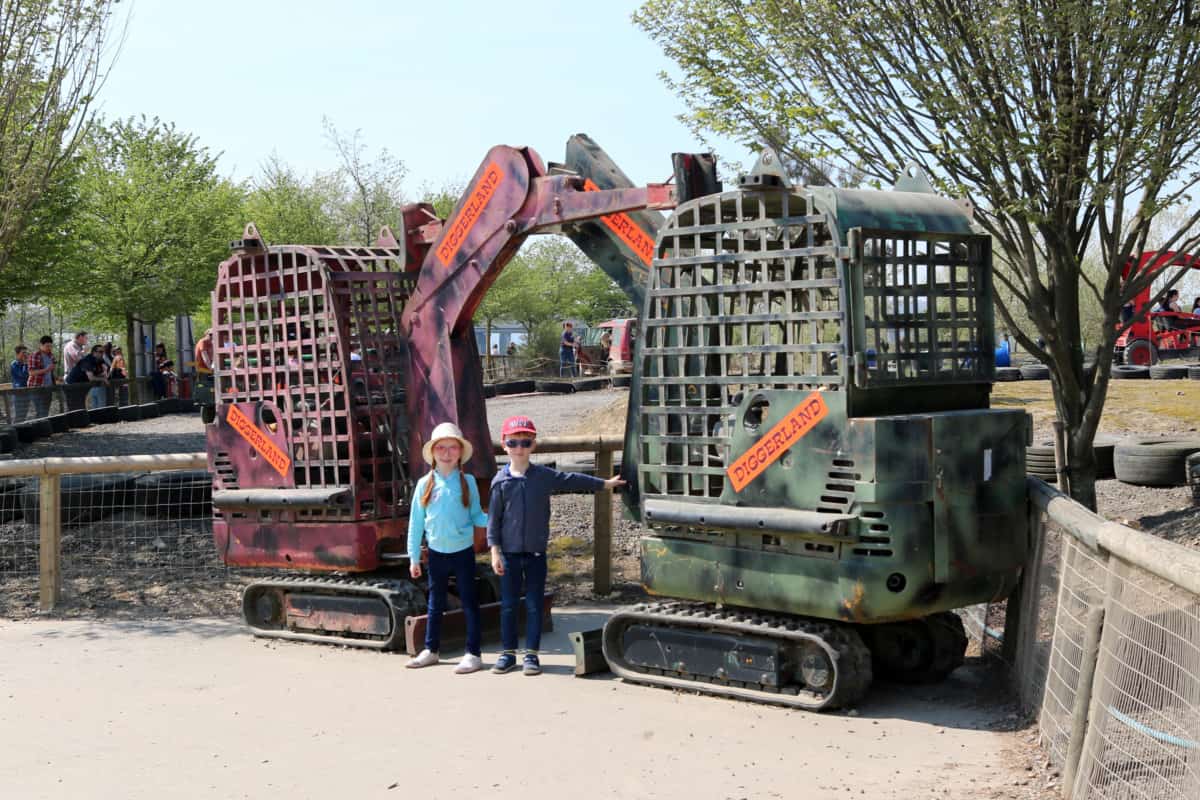 As soon as we made our way through the entrance building, we were greeted by Duggy and Dotty, the Diggerland mascots. We were then instantly drawn to one of the main attractions – the 'Spindizzy'. This is basically a very large digger with a specially constructed bucket with eight seats in it. The operator lowered the previous occupants down and helped them off with a little portable step. It was then our turn and as we sat in the seats, we wore a lap belt and familiar theme park style restraints were pushed towards us for extra security. One slightly unnerving thing about the restraint was that it appeared to be a foam tube over a steel frame, much like lagging on outside pipes in your house, wrapped in heavy duty silver tape. This was the same for all of the rides at Diggerland, and something we got used to quickly. It wasn't unsafe – just not the same as you would expect from the big name theme parks.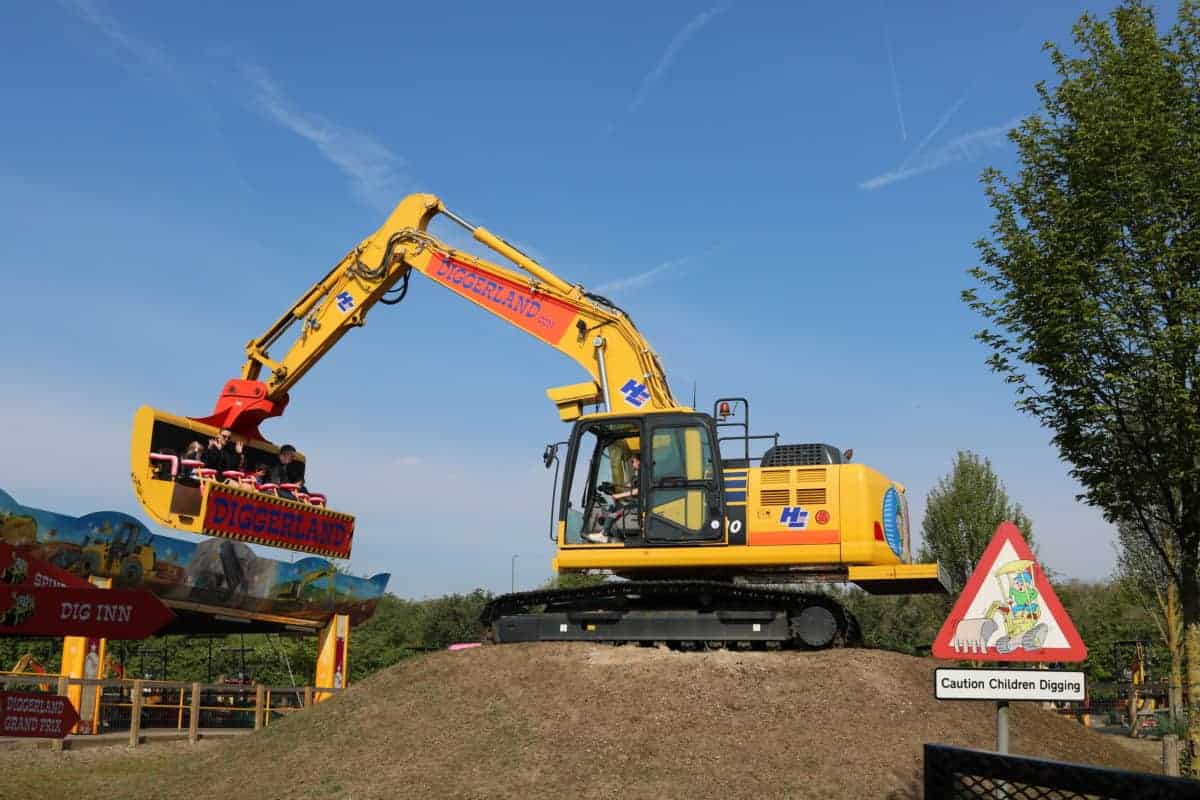 The Spindizzy then hoisted us in the air and literally spun around at what seemed like high speed, pinning us in the seats! Just as we thought it was over, it went back the other way before then going up even higher! It was both exhilarating and scary at the same time, we agreed that we had not been on anything like it ever before. The kids both loved it. A picture was taken and we were given a printed ticket with a barcode to look at our picture and potentially purchase it later.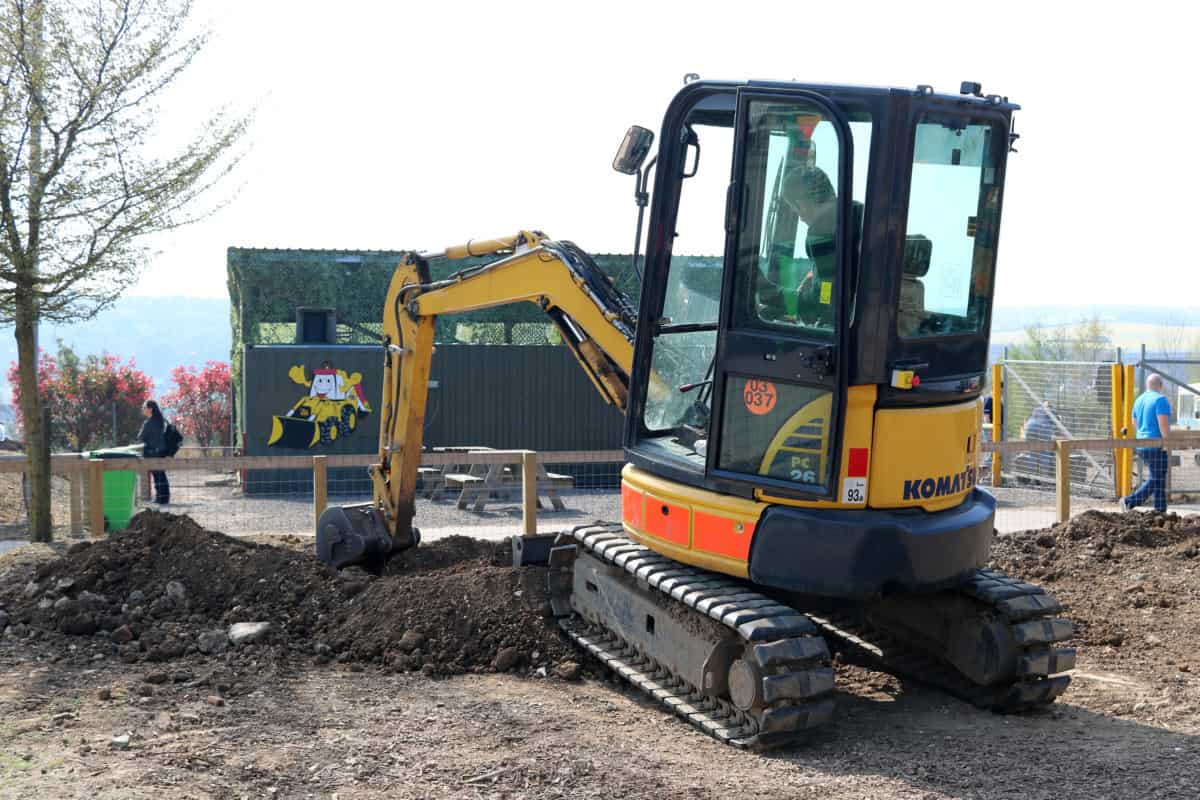 We moved onto a more sedate attraction next, where we were sat in the cab of a smaller digger and let loose on a hole in the ground. Dave and I took a child each to help them with the controls and played around. Once the kids had the hang of it, they were in their element just emptying and filling a massive hole in the ground, just because they could! They didn't want it to end.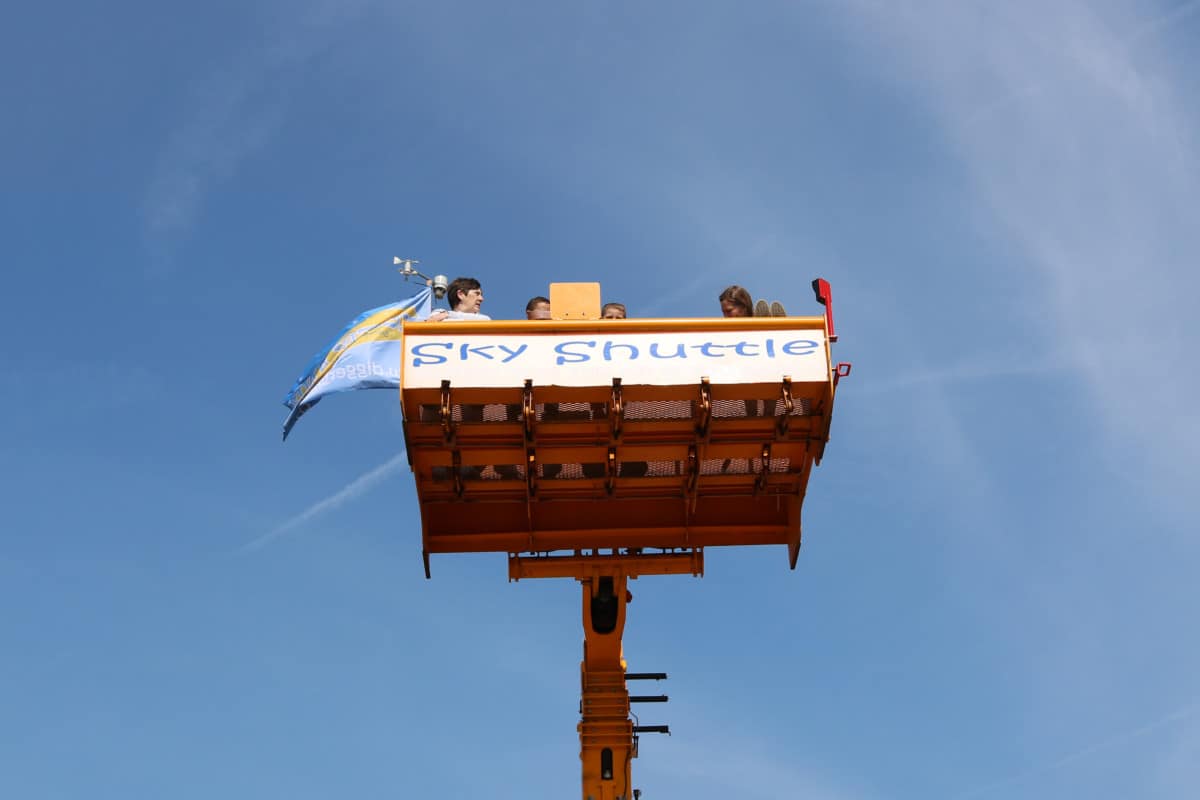 We went on the Sky Shuttle next and soon found ourselves over fifty feet in the air, with a fabulous view of the park and the river Medway. We could even see Rochester Castle as the weather was so clear. The Sky Shuttle let us see every corner of the park and to see where we would like to go next. We spotted what looked like a Merry-Go-Round (Dig-A-Round) and the children made a beeline for it as soon as we were off. They were secured by a harness and off they went, waving to us with each turn!
Next up were mini electric jeeps for the children before we took a break for lunch. We had bought our own picnic and were glad that we did, as the café was quite busy and we enjoyed the glorious sunshine outside instead.
After lunch, we hit the Groundshuttle, another custom built carriage ride on a JCB loader. We were whizzed around the bumpy track with ease and everyone aboard loved it.
The children were then keen to have a go on the electric go-karts that we saw from the Skyshuttle. Adults were allowed in these too, but we decided to just let the youngsters have a go, as this helped the queue of kids along quicker!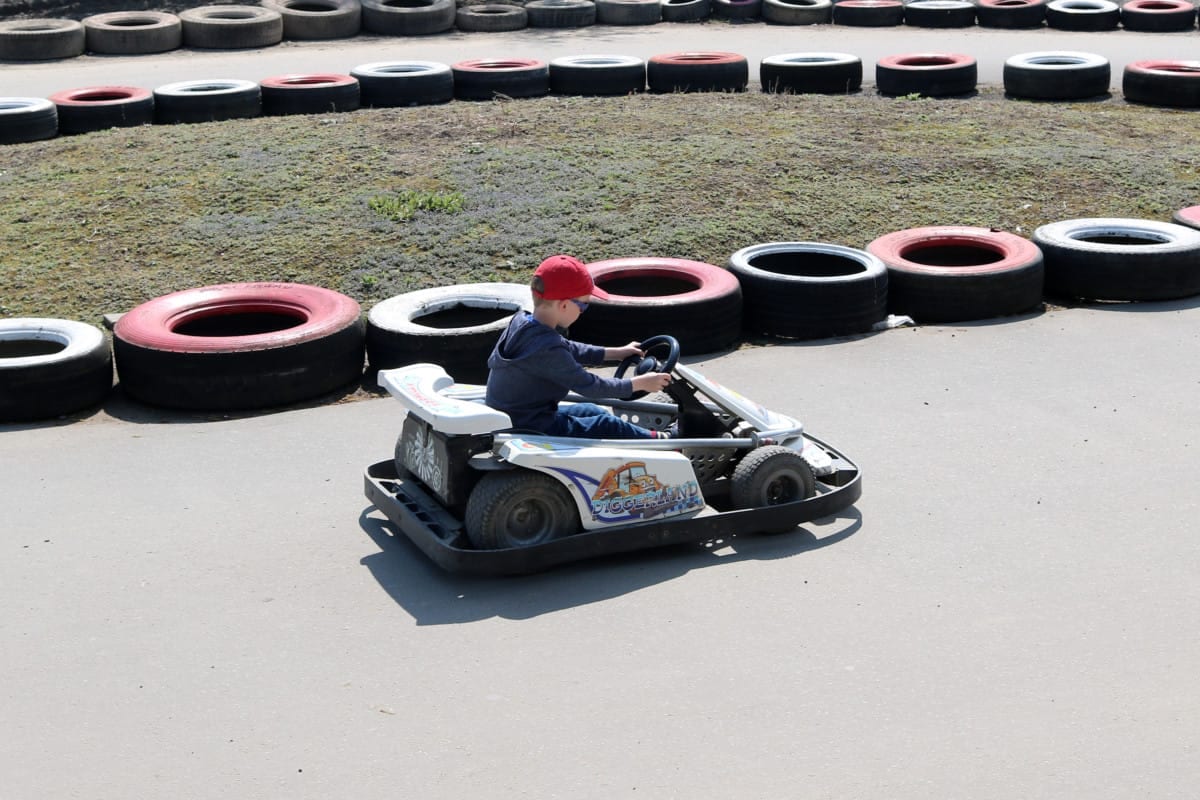 The 'Robots' were up next. These are specially adapted skid steer JCB loaders that anyone over 110cm can drive on their own, around a specially designed track. Both of our kids were eager to have a go and after a bumpy start, they were having the time of their lives, driving this great big machine around, as if they were very important on a building site! It was great to see them having so much fun in something that looked so weird!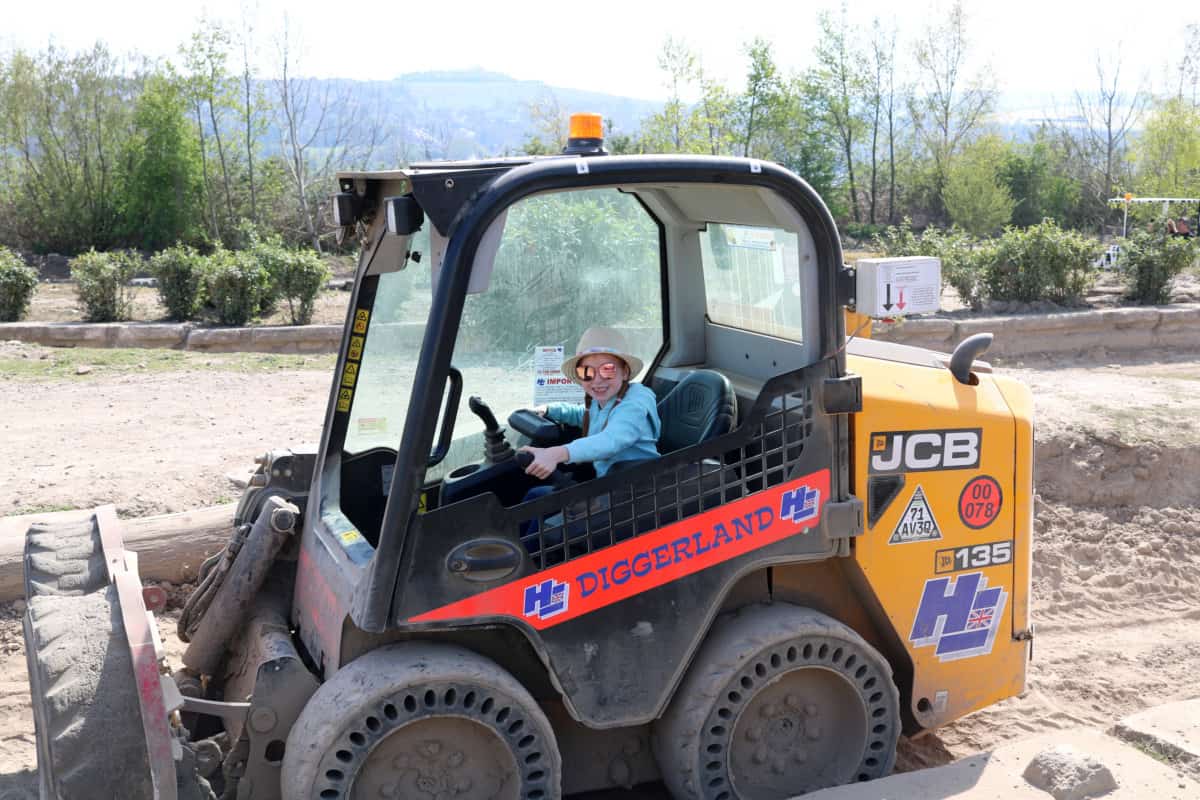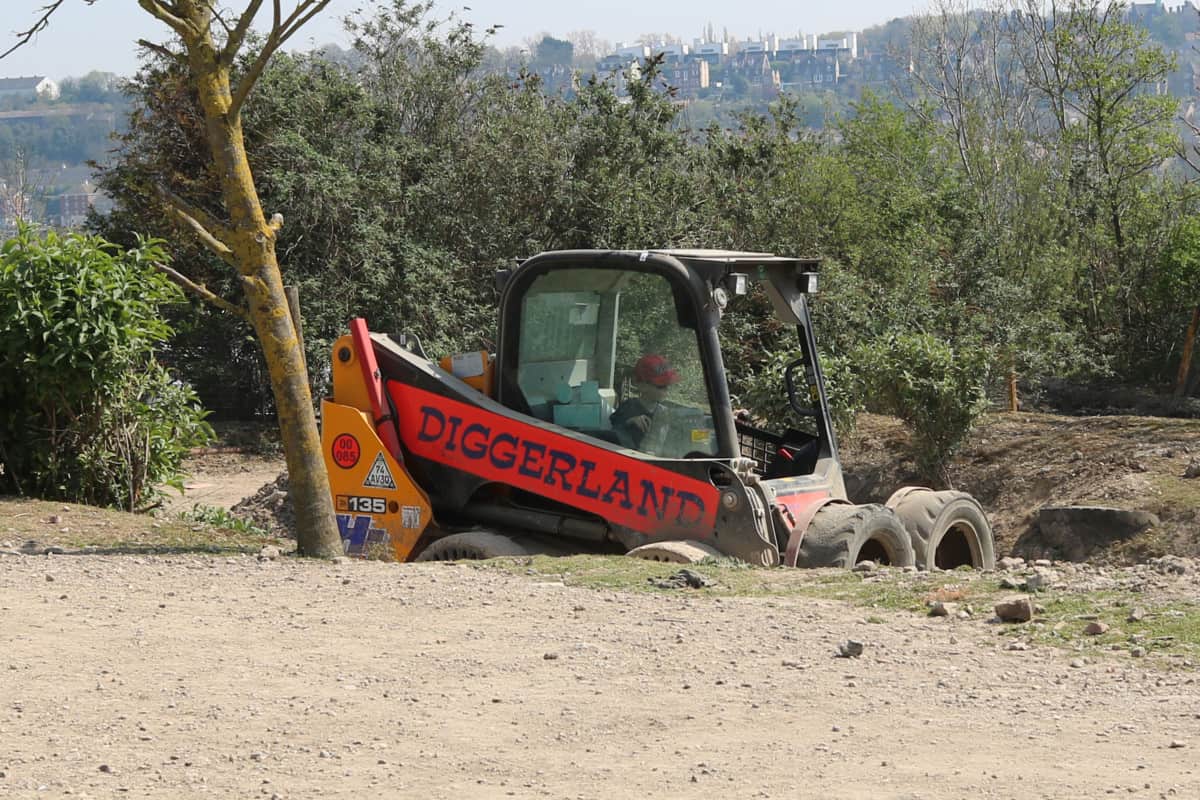 We finished our day in pairs on the large dumper trucks, again, navigating our way around a special track. This was a little on the slow side as you could only go as fast as the person in front of you and we had a bit of a traffic jam for the duration of our time on the track but the children didn't notice and loved every minute of it.
There were so many more rides that we could have done at Diggerland if the children had been taller or the queues had been shorter. There were tyre stacking challenges, a train ride, crazy carts, an SUV safari, JCB ride and even a Joyrider where children over 140cm can drive a real SUV.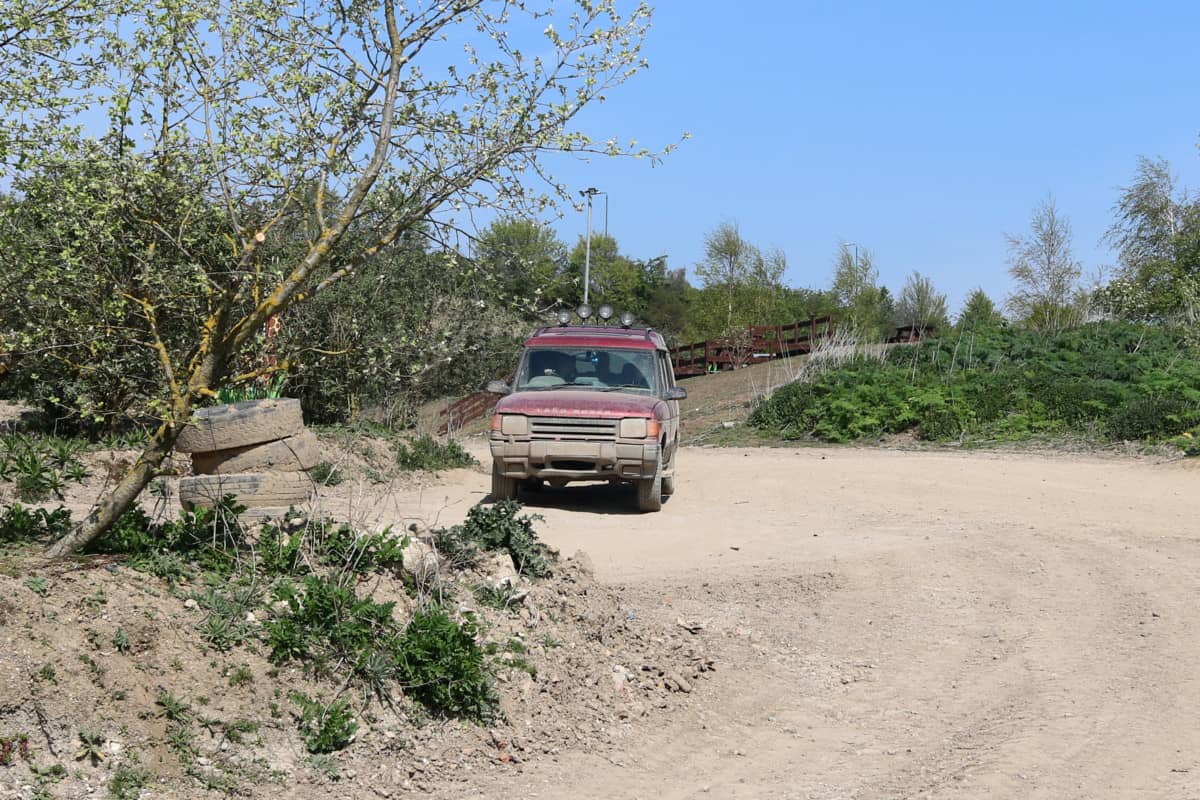 After waiting in queues for most of the day near to running diesel engines, we did come away feeling a little queasy and as if we'd spent the day on an actual construction site. This made me look up the environmental impact of Diggerland and I was pleased to see that they use electric vehicles where possible and plant trees every year too as well as having carbon-neutral biomass boiler systems to generate both heat and electricity. You can find out more about that side of things here.
We had a great day out at Diggerland and we really enjoyed the construction theme park. It's definitely one of the best days out in Kent that we've had as a family. The children loved the adventure of it and keep asking to go back and I am sure we will visit the other Diggerland locations as we venture across the country. Diggerland also offer many driving experience days which I am sure would appeal to many adults too. You can find out more and book Diggerland tickets here.