A week or so ago I met up with my lovely blogging chum Lauren. She lives at the coast and so we had to find a halfway point to meet at, picking a new soft play place in Haslemere. It's often hard to find family friendly days out in Surrey!
What were our first impressions of The Hen House, Haslemere?
The Hen House is a really accessible soft play in the heart of Haslemere. Having looked at their website I knew that they offered different toddler classes during the week, children's parties and also gourmet food for adults and children.
Lauren tried to book a table online but after registering the prices for the children were coming up wrong so we decided that we'd just go along without booking as the website said that tables were kept available for walk ins.
When we walked into The Hen House we realised this had clearly been a mistake. If you are thinking of going – book a table. The place was rammed with parents, children and pushchairs. We went in anyway as the children were looking forward to soft play and so they ran off into the fun immediately.
I loved that there was storage near the door for shoes, that there was a secure gate to stop children getting out without their parents and that there was a tab system to pay for your entry price and food and drinks at the end of your time there.
What activities are available at The Hen House, Haslemere?
The Hen House is made up of a role play area with shops and play houses, a toddler area with ball pool and soft play shapes, a disco room with light up floor, mirror and musical instruments and then a conventional soft play from with slides and lots to climb on.
The children had a great time but Lauren and I felt a bit out of place as without a table there was nowhere to put our coats and bags and nowhere even really to stand. We would have liked to get a cup of tea but there wasn't even really anywhere to perch to drink it.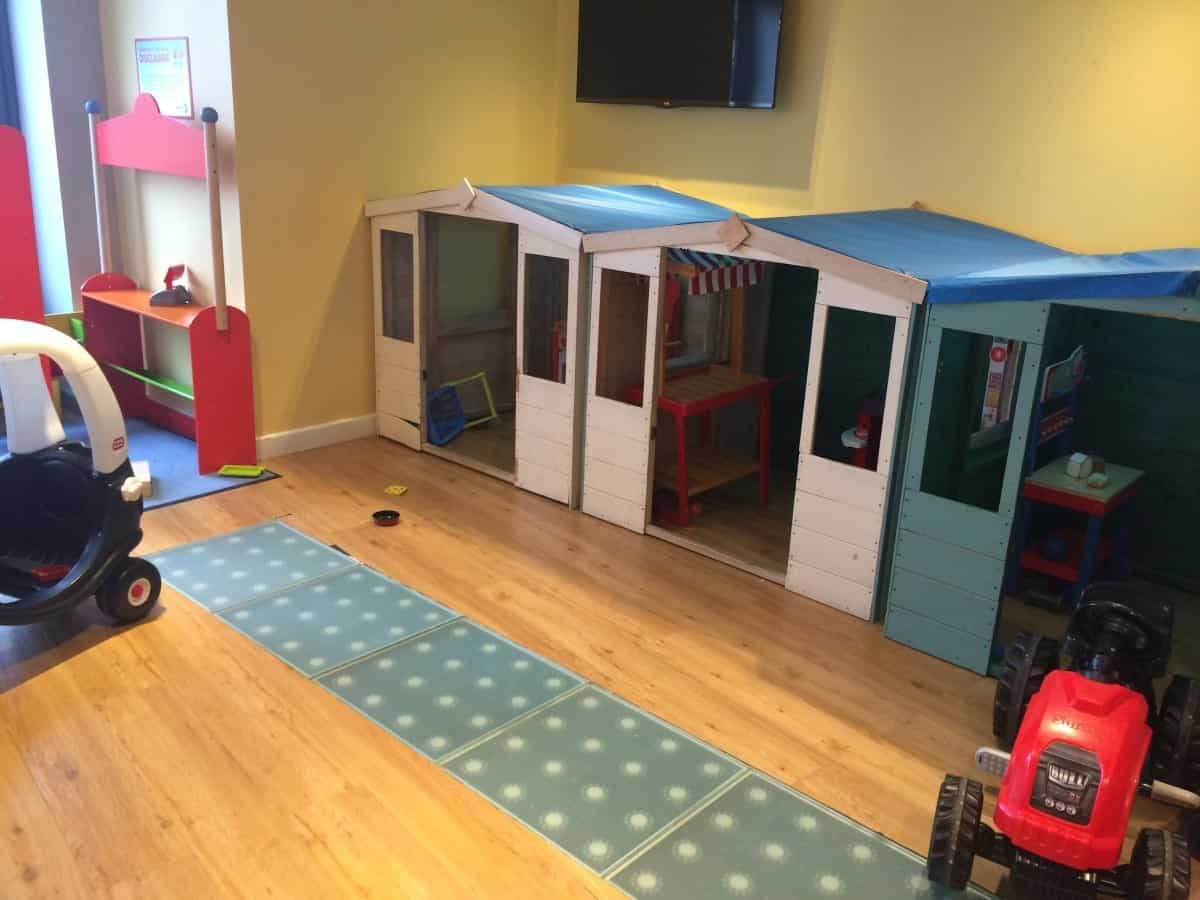 It got to about 11:30am and there was no sign of the tables emptying so we asked what happens about ordering food as we wanted to have lunch but would need somewhere to sit to eat it. The staff weren't sure what to do but we had been told previously that tables were only kept for two hours whilst people were having food but no-one keeps track of when people actually start using a table so not a great system.
In the end we decided to go somewhere else for lunch and were told we could come back to The Hen House afterwards and not pay for re-entry. At that point though a table became free and so we decided to stay for lunch as if we had left we probably wouldn't have come back.
Between us we ordered a sausage bagel, toasted tuna and cheese sandwich and a children's cheese sandwich and toasted cheese sandwich. The children's meals came out really quickly and I loved that their sandwiches were accompanied with crudities and humous, a really nice meal for a child.
My toasted sandwich came out just after the children's ones but could have really been done with a bit more toasting as the cheese wasn't fully melted. It was served with a nice salad and crisps although I would have rather had plain or salted crisps than any flavoured ones as they should really compliment the meal.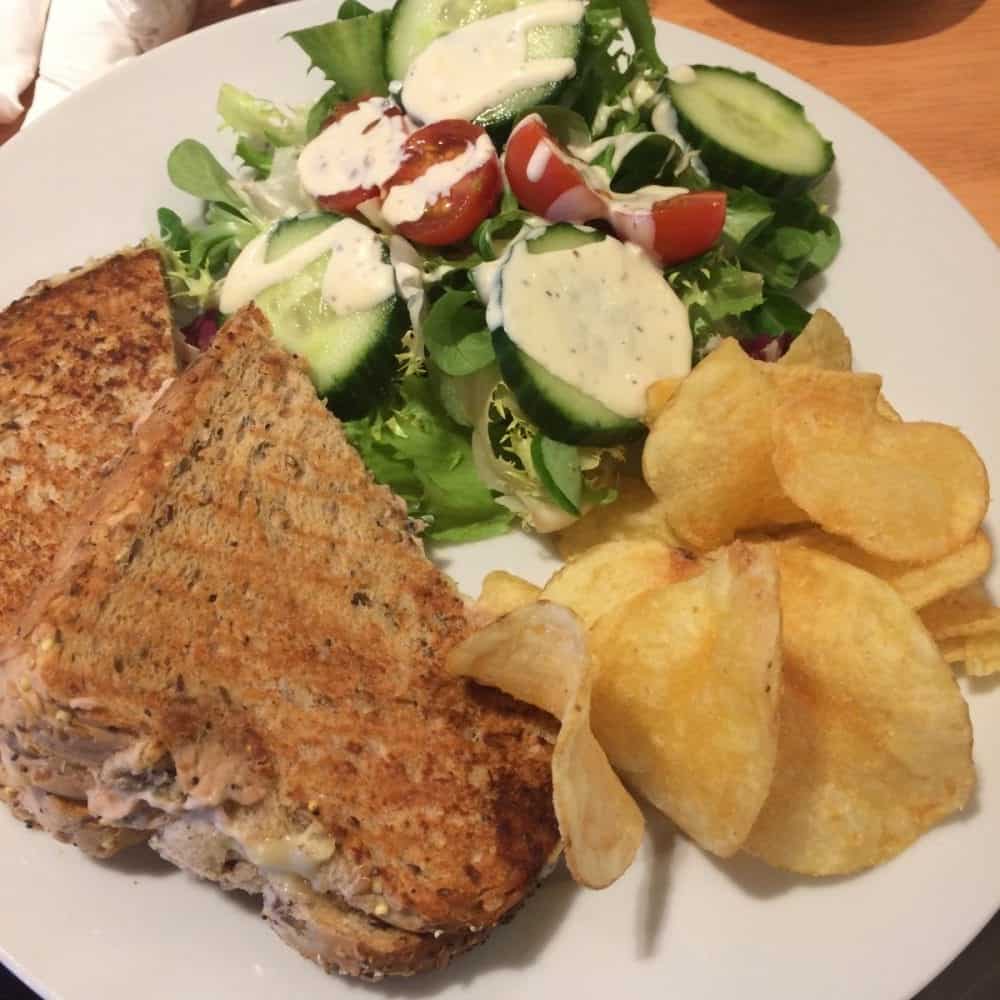 Lauren's bagel took forever to come – so much so that the children had finished eating, as had I and a member of staff gave a half hearted apology just before the bagel arrived stating that they were having problems with the oven. Overall the food was nice but I think gourmet is stretching it a bit too far.
After lunch the children kept playing and it was lovely to just let them go and explore knowing that they were safe, happy and easily viewable from wherever we were in The Hen House. Throughout our three hours at The Hen House the children had a great time, enjoyed the variety of things to play with and didn't want to leave at the end.
As parents though the experience wasn't as good. The staff seemed nonplussed whenever we spoke to them and when we came to leave I had to wait for the staff member to send a text message before she took my payment. The floor around the tables was covered in food for the duration of our visit and no-one bothered to even attempt to clean it. The same for the toilets – although newly fitted they were in need of a clean and the bins were overflowing. I could say this was due to it being busy but by 1pm The Hen House had really quietened down and in reality the staff just didn't seem too bothered with actually working and more with organising their own social lives.
Having said that we would still visit again but we would visit after lunch. Considering we visited on a term time weekday morning – the quietest times for most things – The Hen house was really busy and I can only imagine that gets worse after school and at weekends. To make the most of your visit to The Hen House make sure you reserve a table online and for the best experience visit at a quieter time – 1-3pm for preschool age children would probably be ideal!