Disclosure: We were invited on this day out for the purpose of this post however all opinions are my own.
Yesterday we were invited to afternoon tea with father Christmas at our local Wyevale Garden Centre in Winnersh, near Reading. We hadn't been to the garden centre before but it was easy to find, had ample parking and had everything you could need from a garden centre – including Father Christmas at this time of year!
The afternoon tea Christmas event is help in the garden centre restaurant which is a really welcoming space to visit at any time of the year. A table had been reserved for us at one side of the restaurant although it was set back from the rest of the tables in a slightly different area. It was decorated well for the festive season and had activity packs for the children and crackers waiting for us.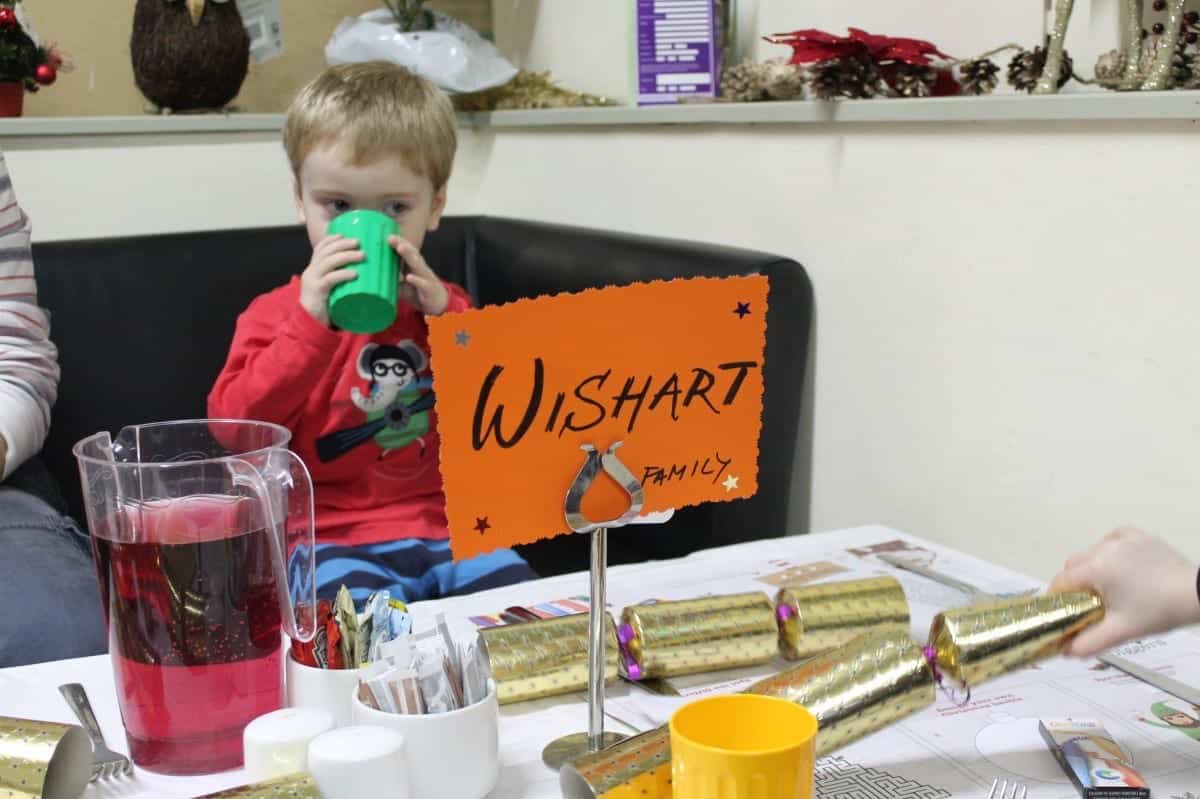 Before long our food arrived. Dave and I had chosen to have the full Afternoon Tea of a turkey sandwich, mince pie, sweet treat and pot of tea. The sandwich was one of the best Christmas sandwiches I have ever tasted – full of turkey, cranberry sauce and stuffing. It couldn't have been better.
Our sweet treat turned out to be a whole plate of fudge, chocolate stars and chocolate coins – more than we could manage but definitely a lovely treat. The staff were also happy to keep bringing us tea and coffee too which was much appreciated.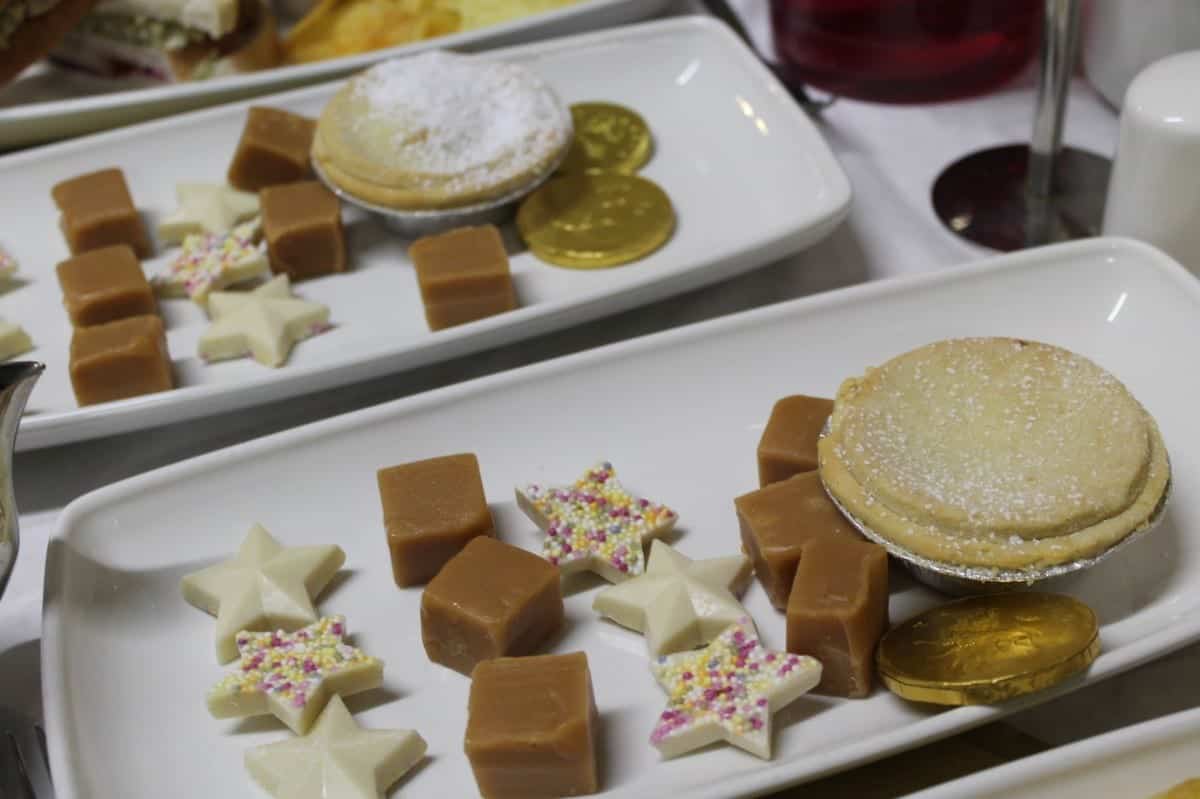 The children had a hot meal of sausages, mash and beans which they really enjoyed instead of a children's afternoon tea. The sausages were great quality and a nice change to the typical mass produced sausages we are used to in children's meals.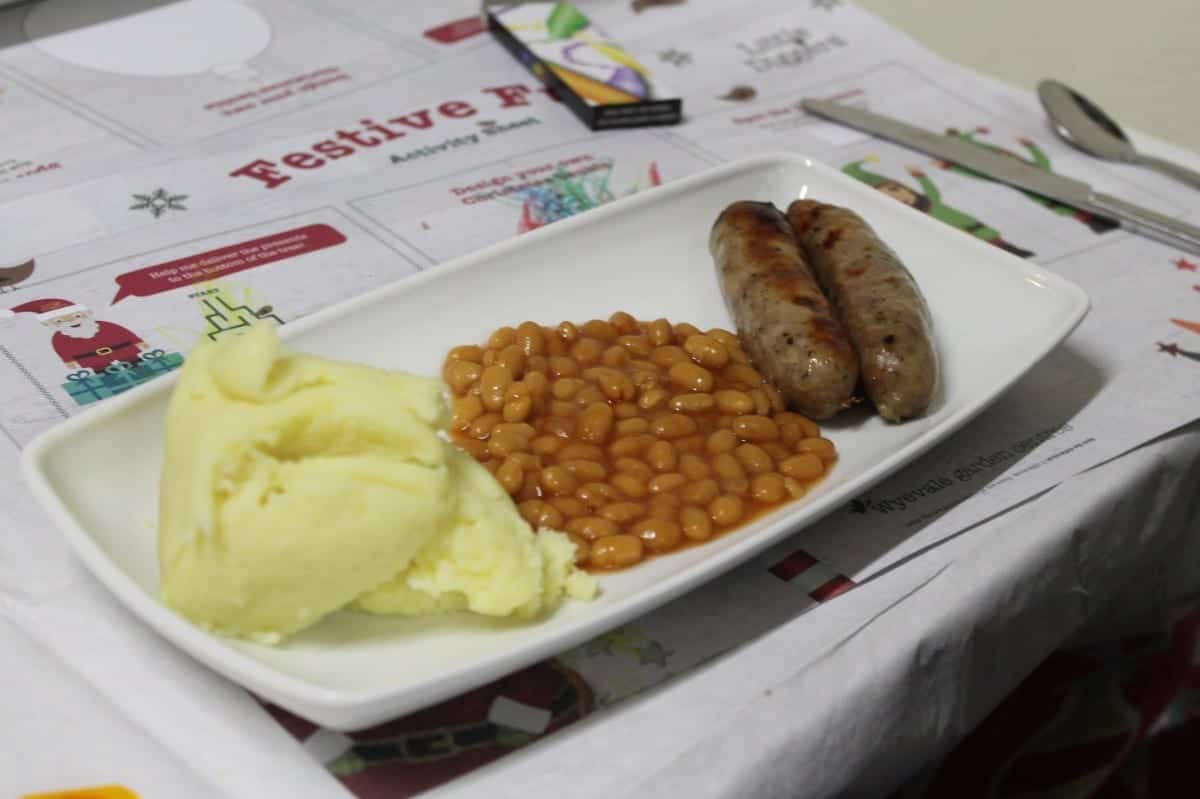 After the children had finished eating they were given a Christmas tree cookie to decorate. This included a piping bag of icing and pots of sweets and both LP and Little Man had a great time decorating although neither of them could then eat the biscuits. The staff gave them boxes to take the biscuits home with them which was a nice addition to a lovely activity.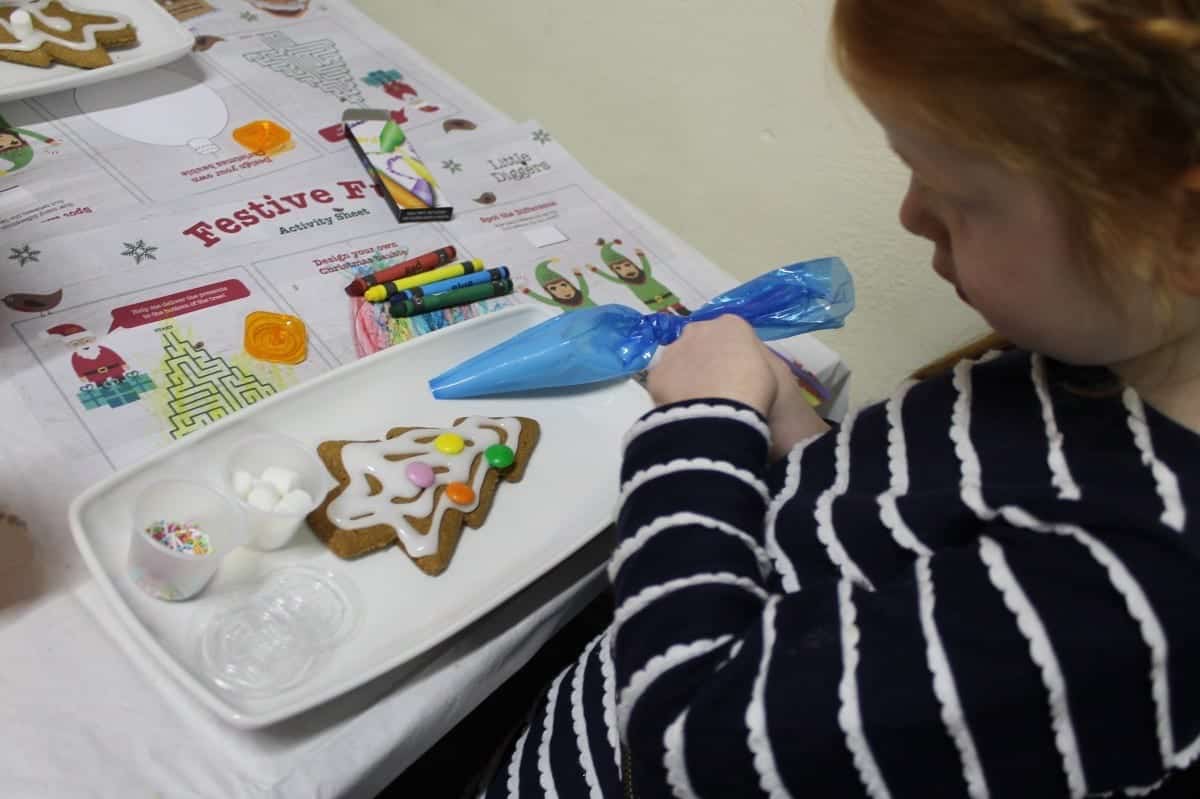 At this point families started going up to see Father Christmas, who had arrived a few minutes previously and spent time saying hello to everyone as he walked through the restaurant. As each family went up individually it did take quite some time to get through everyone and due to where we were sitting we were we went up last. This did mean the children were fairly restless by the time it came to our turn but it can't really be helped – someone has to go last.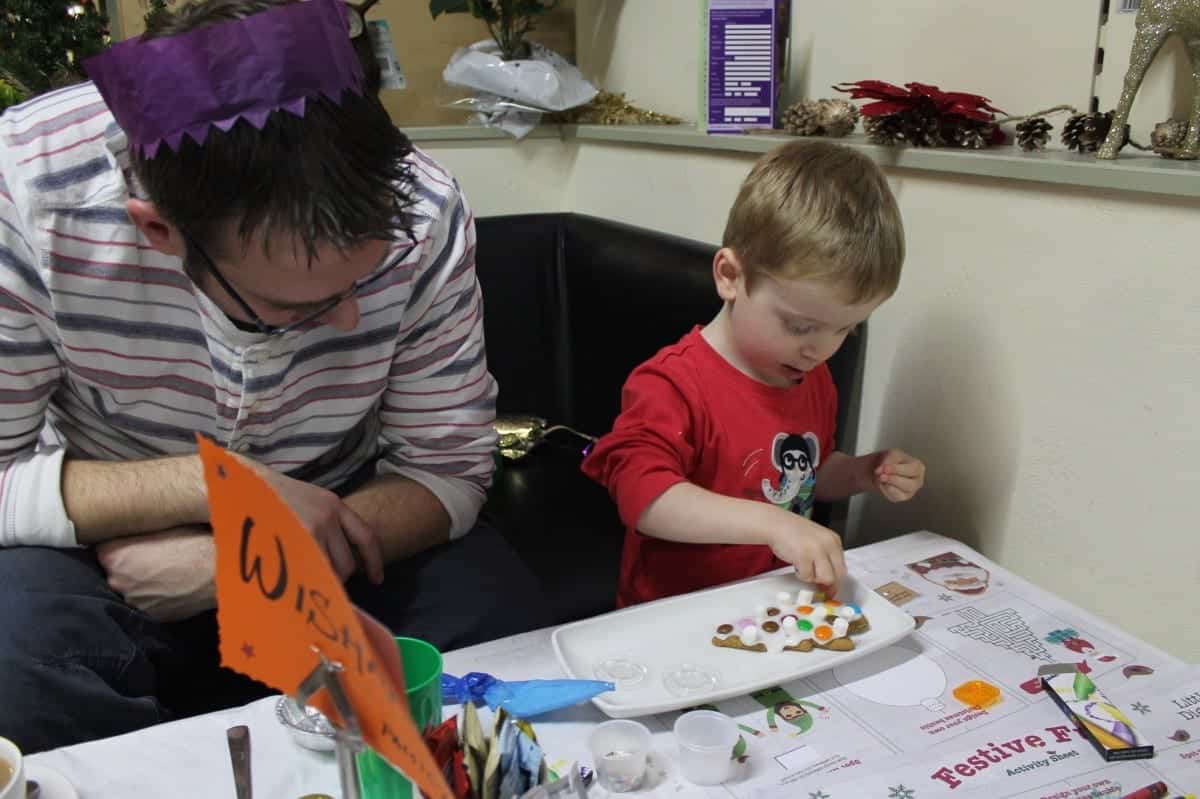 Father Christmas was so lovely. Just a really lovely man who would have spent all evening chatting to the children given half the chance. He spent time asking the children what they would like for Christmas and just chatting to them and then happily posed for photographs, encouraging the children to smile for the camera.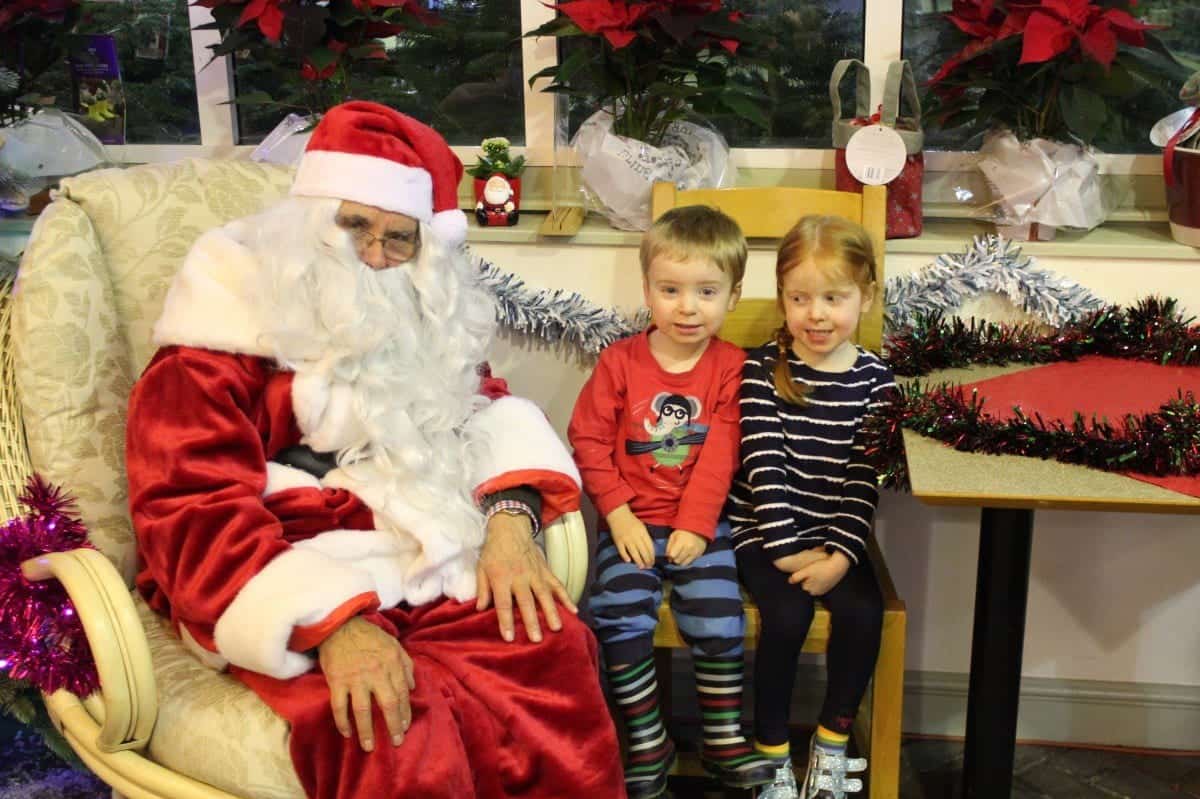 It was then time to give the children each a gift although they only had girls' beauty sets left. A staff member went to get more gifts and brought Little Man back a choice of animals in a jar or a car racing set, remarking that all the boys' toys had been chosen by both boys and girls previously so they'd run out. LP happily took the beauty set she was offered but it would have been nice if she'd had more of a choice or if all the toys were more gender neutral – jars of animals would be fine for most children.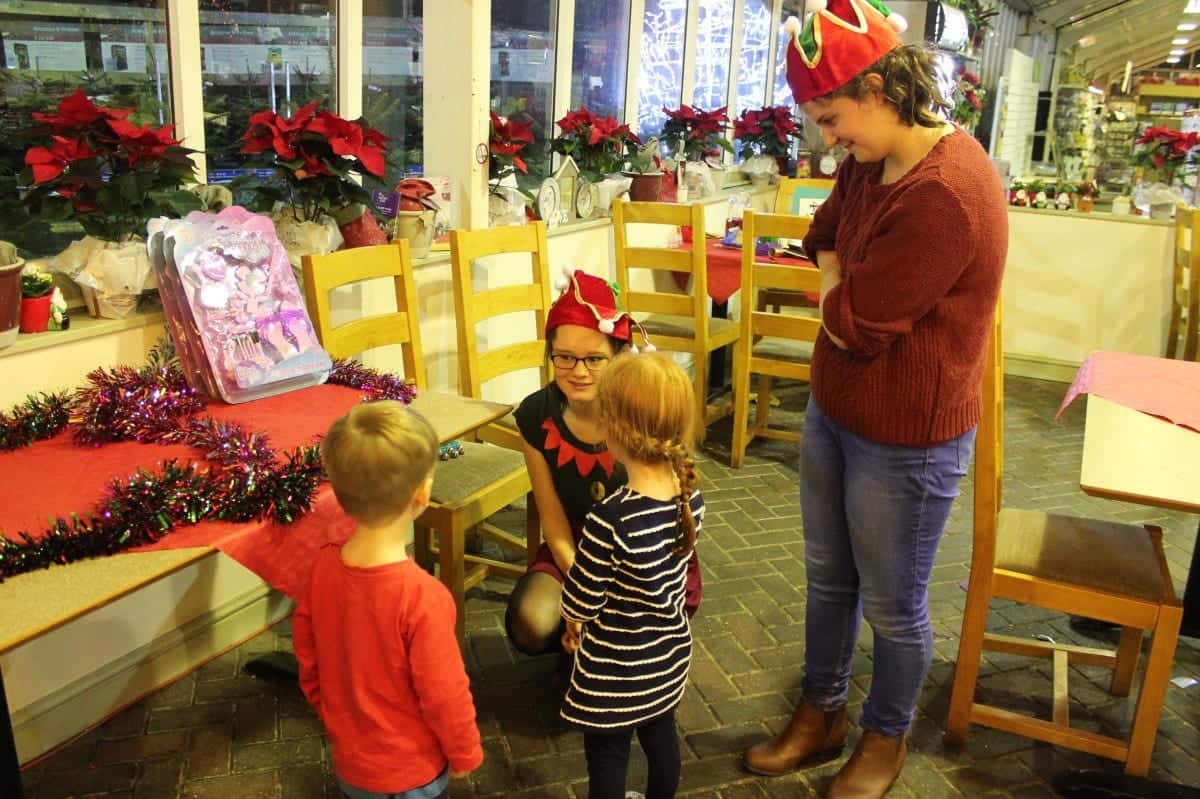 Apart from that, and the elves needing better uniform and a bit of festive cheer we had a great time at Wyevale Garden Centre and would definitely go there again to see Father Christmas. There was also a Breakfast with Father Christmas option that would be just as lovely as afternoon tea and means there are options for all families whatever your schedule.
Breakfast or Afternoon Tea with Father Christmas costs £9.99 for children and from £3.99 for adults depending on which food option you choose. I think that is great value as for a children's meal and a quality gift we would usually pay more than £9.99 – and you get the biscuit decorating too – as well as the whole experience of meeting a really lovely Father Christmas.