Disclosure: We were invited on this break for the purpose of this review however all opinions are my own.
Last weekend, after the children finished school on Friday, we drove up to Manchester for a self catering weekend in Salford Quays. It's somewhere we've never visited as a family and although I'm in that area twice a year for the Blog On conferences I have never explored further than the venue. We were looking forward to a festive weekend somewhere new.
We stayed in TheHeart Apartments for the weekend which was a fantastic base for our stay. Parking in MediaCity is reduced to £10 per 24 hours for guests making it a really accesible place to stay.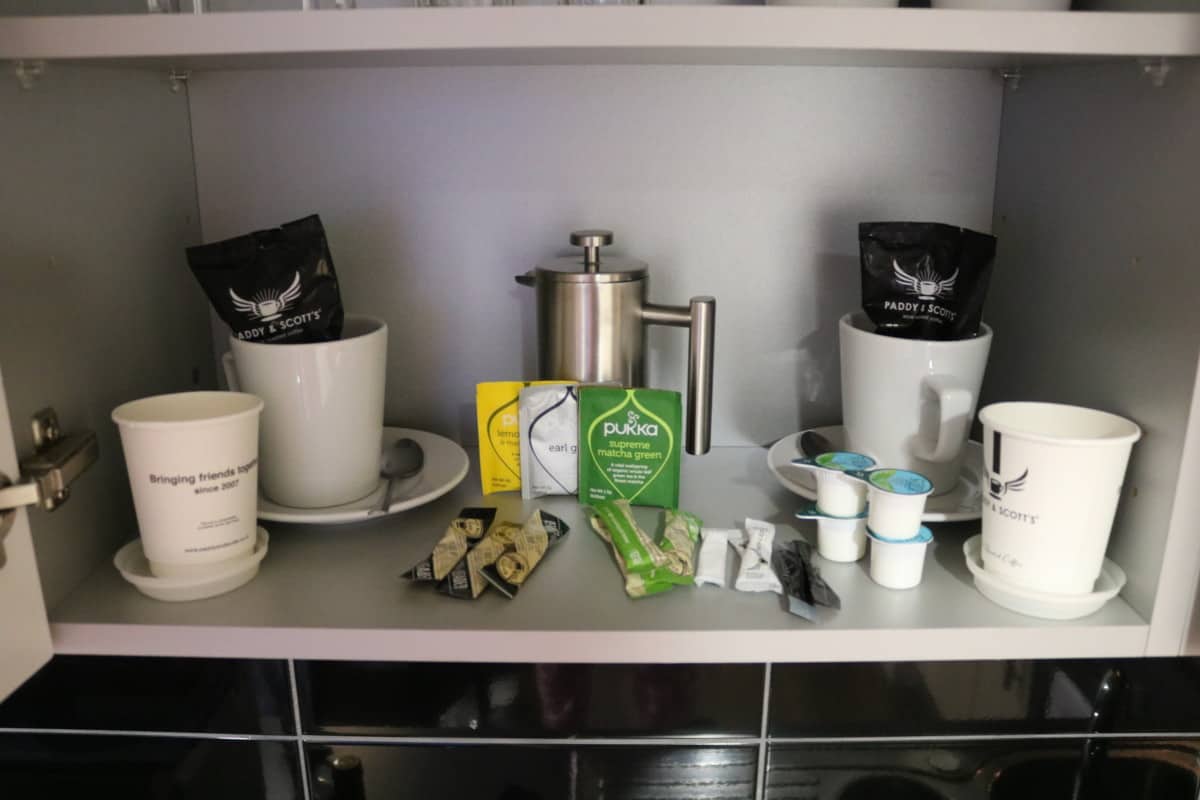 We had a two bedroom apartment that had everything we could need for the weekend – including tea and coffee, complimentary toiletries and really comfortable beds. It was a great size apartment, with an open plan living and dining room and great views over the surrounding area.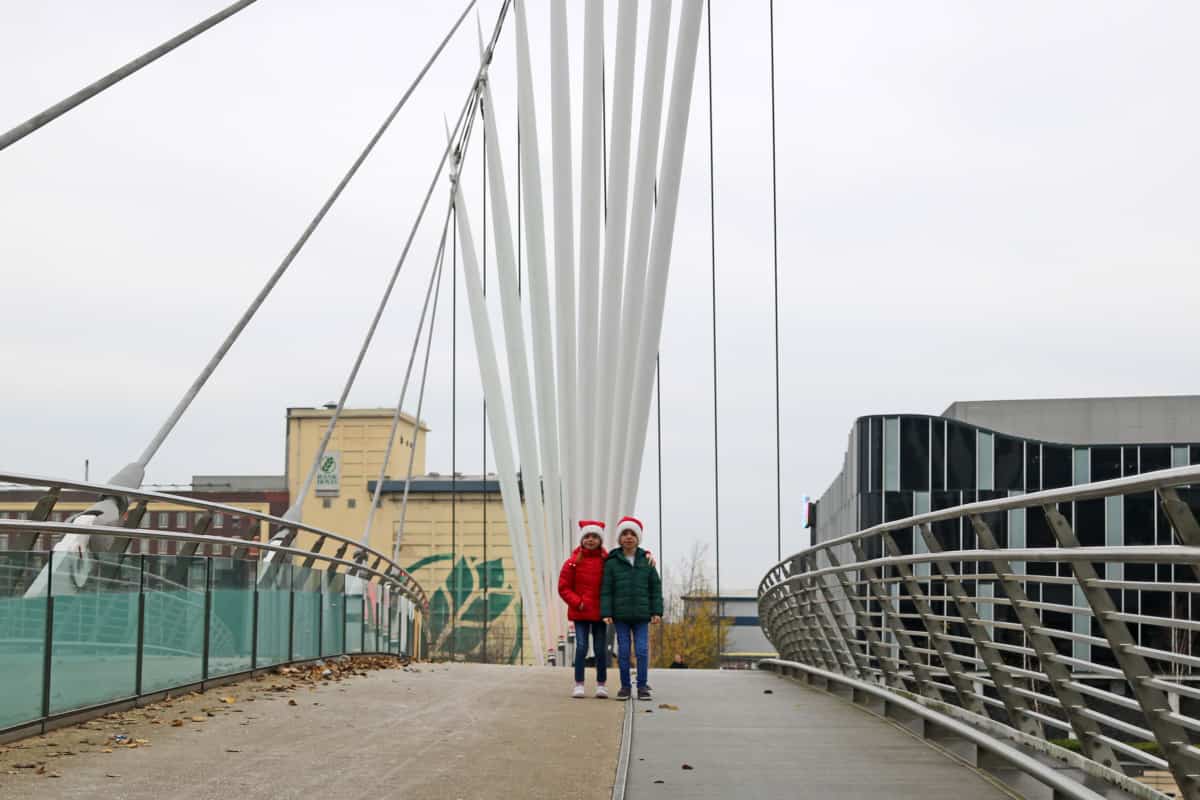 Our stay kicked off with a wander around Salford Quays to get to know the area. This was helped along by the Walking with the Snowman trail – twelve snowmen decorated in the theme of each of the twelve days of Christmas.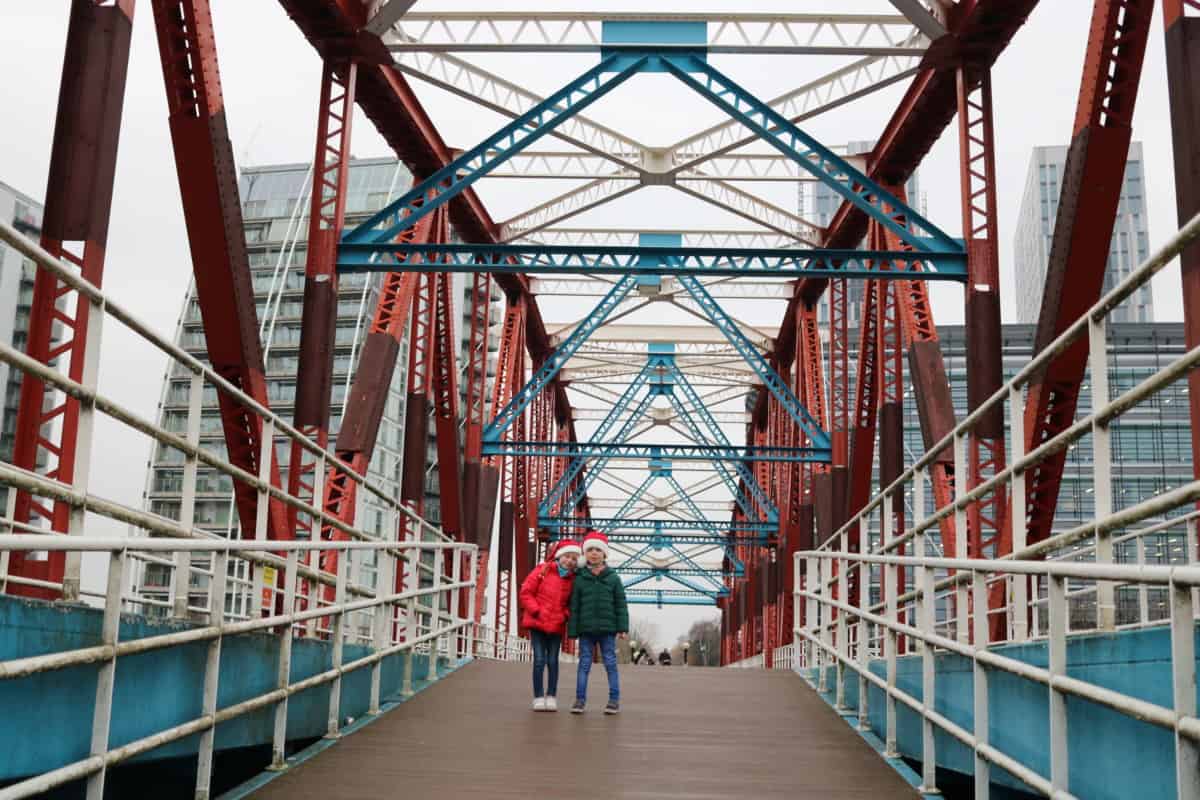 The children loved finding the snowmen and happily had photos taken with each of them. This was such a lovely, free activity and the sort of thing LP and Little Man really enjoy. It's nice to have something to do as a family that doesn't cost money at this time of year.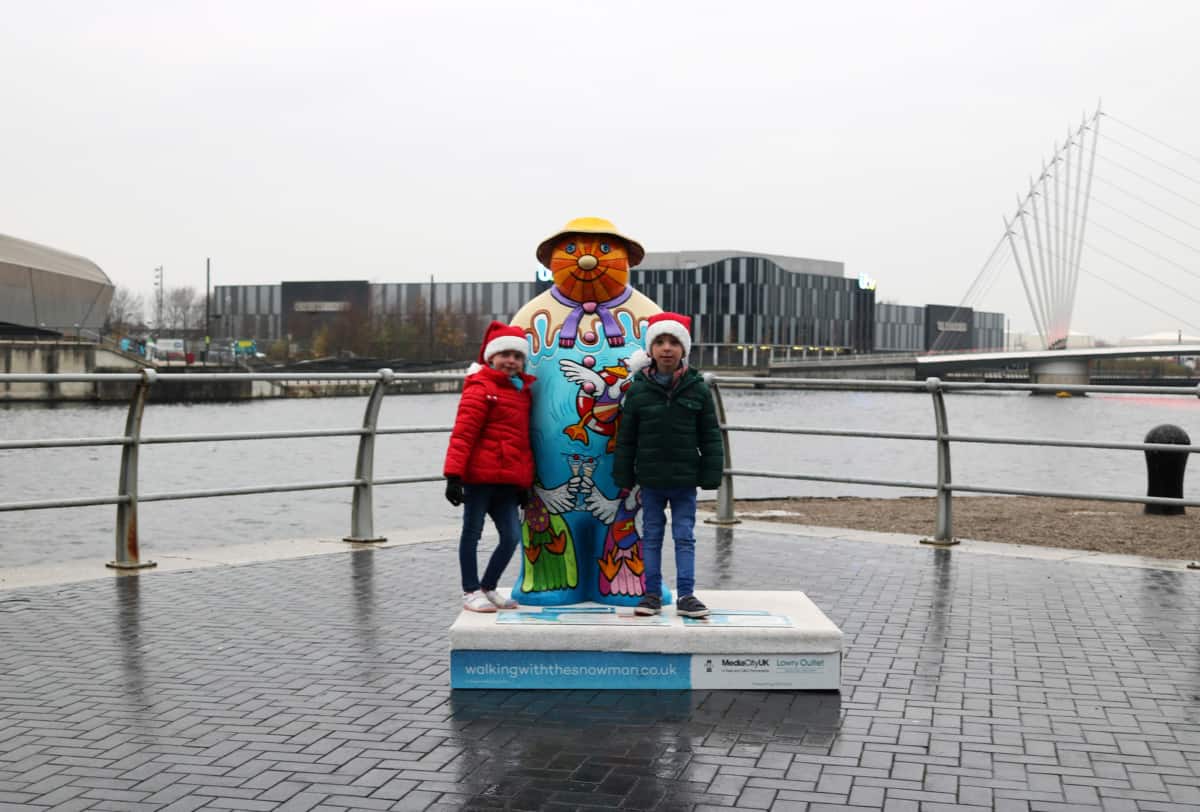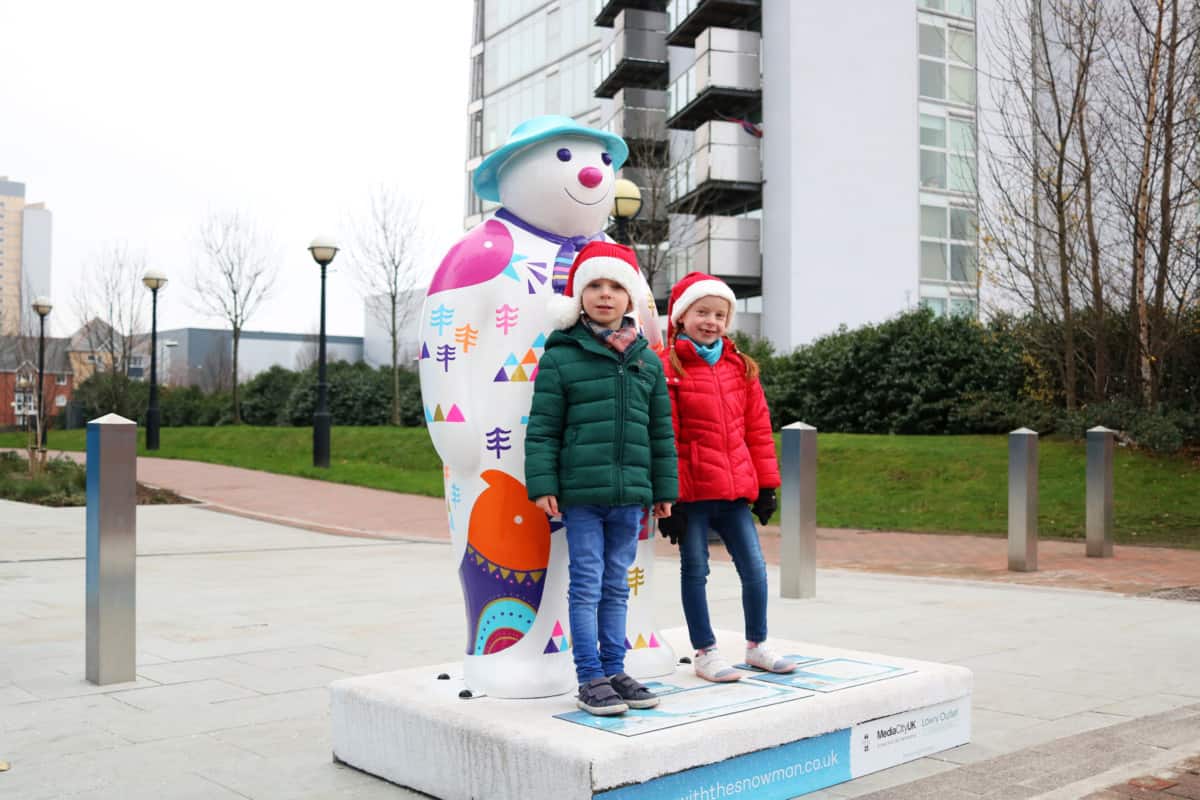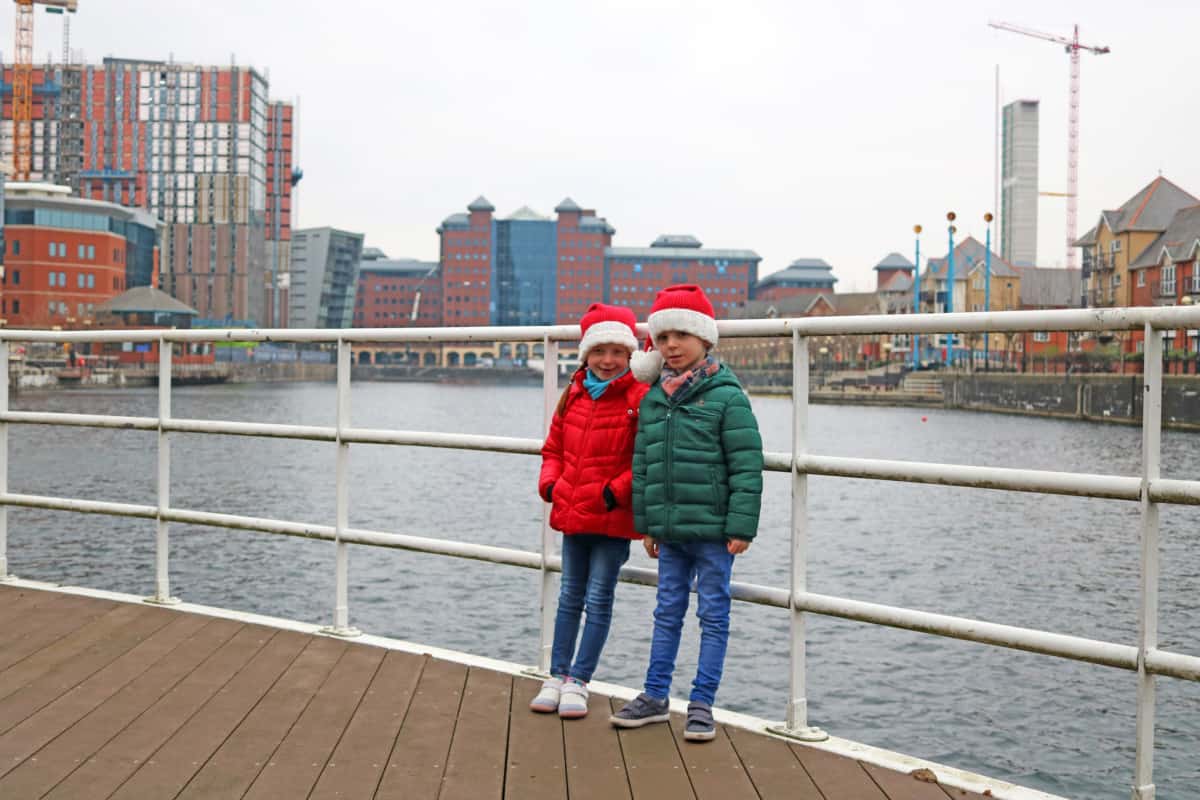 Half way through the trail we went to the Lowry Outlet, a really lovely shopping centre that had displays of more mini snowmen decorated by local schools and community groups. There was also an indoor market where you could buy Christmas gifts, adding more variety to the shopping centre and making it a great place for Christmas shopping. There's also a Santa's Grotto and interactive reindeer to talk to as well – the children loved this.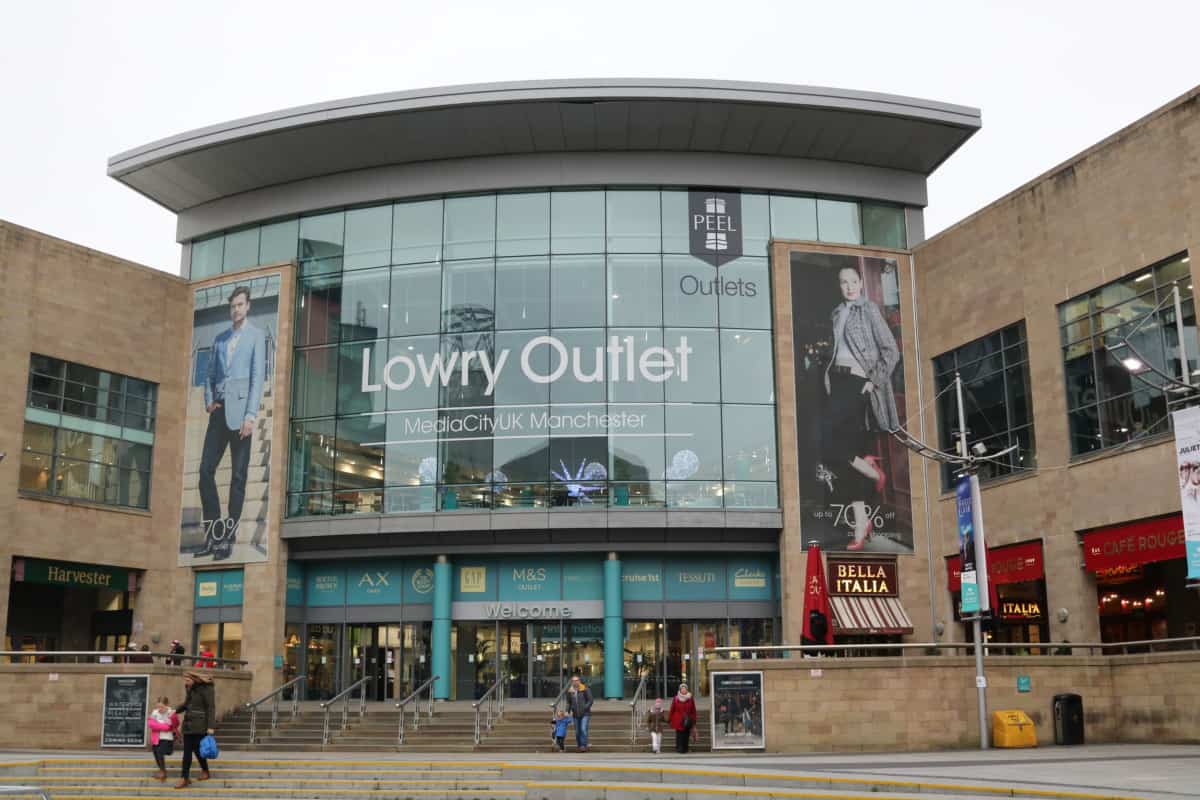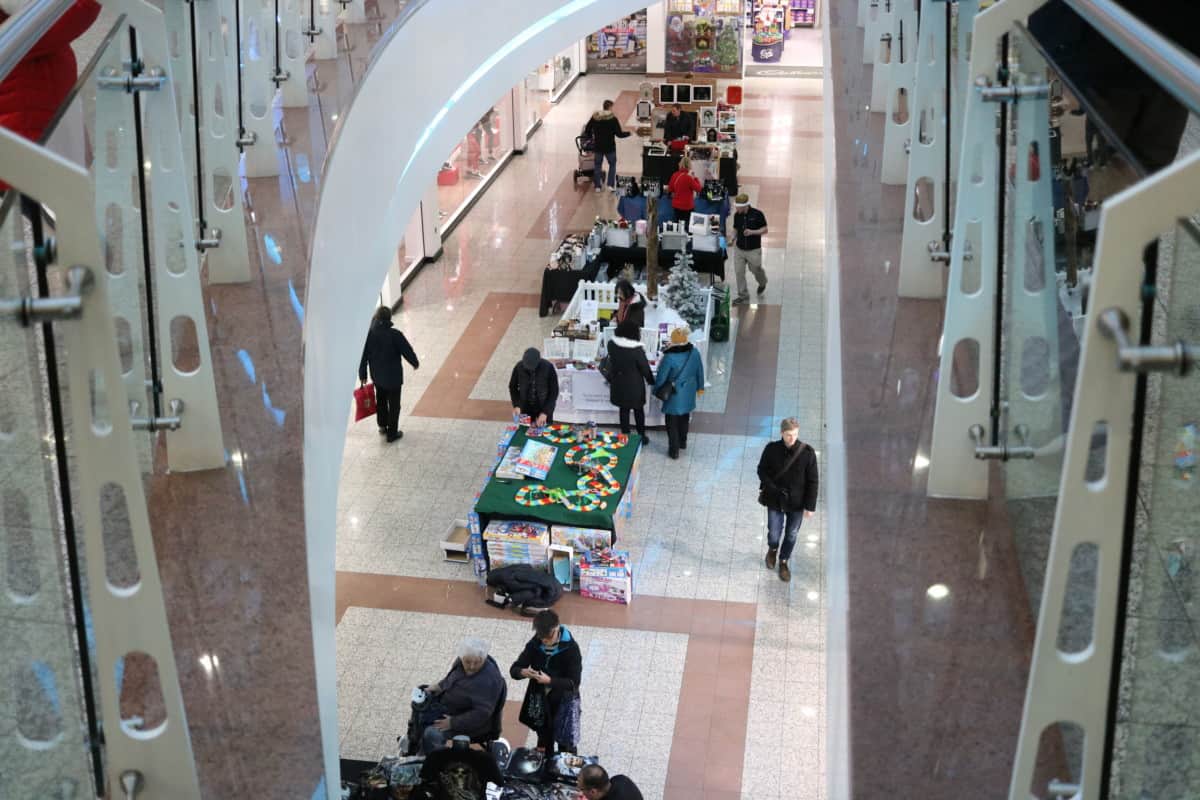 We stopped off for a hot chocolate in the Lowry Outlet before heading back outside to wander around the Imperial War Museum North. We love a museum and they are always great places to spend time if the weather isn't great – and another free option too. The children learnt so much during our visit and it's always really sobering teaching them about the country's history.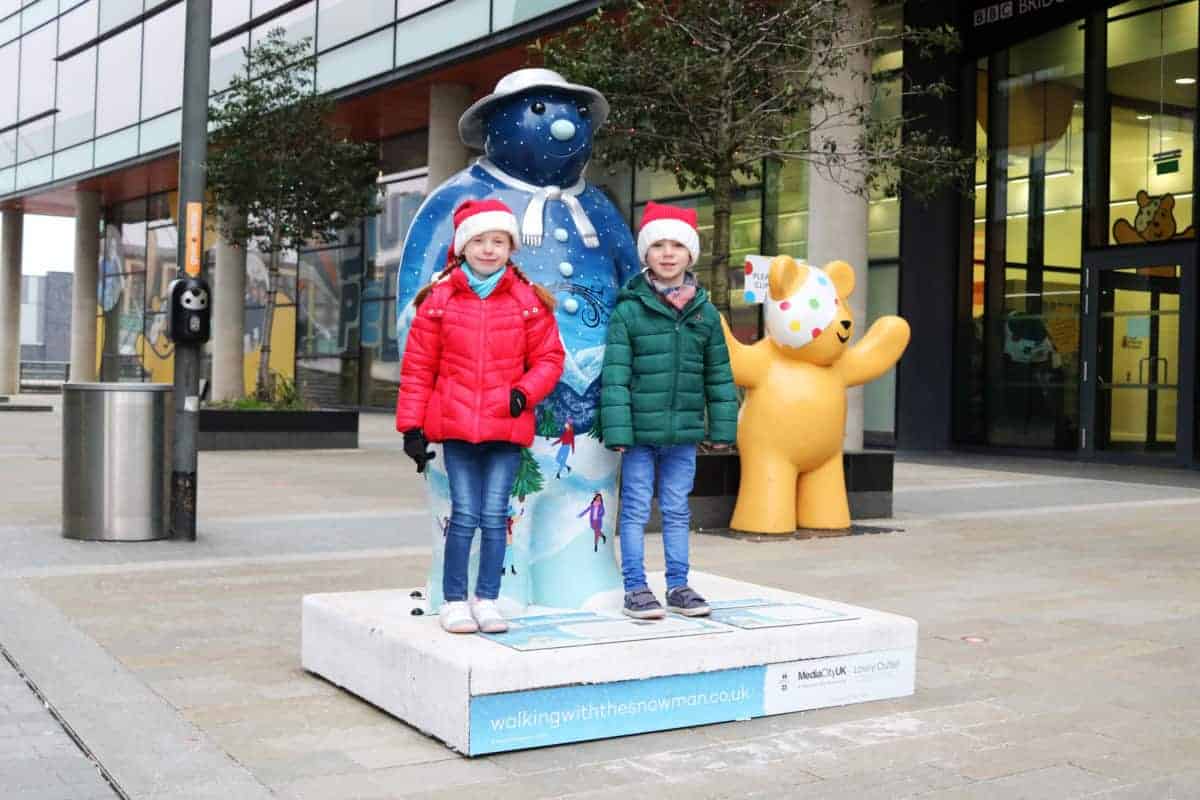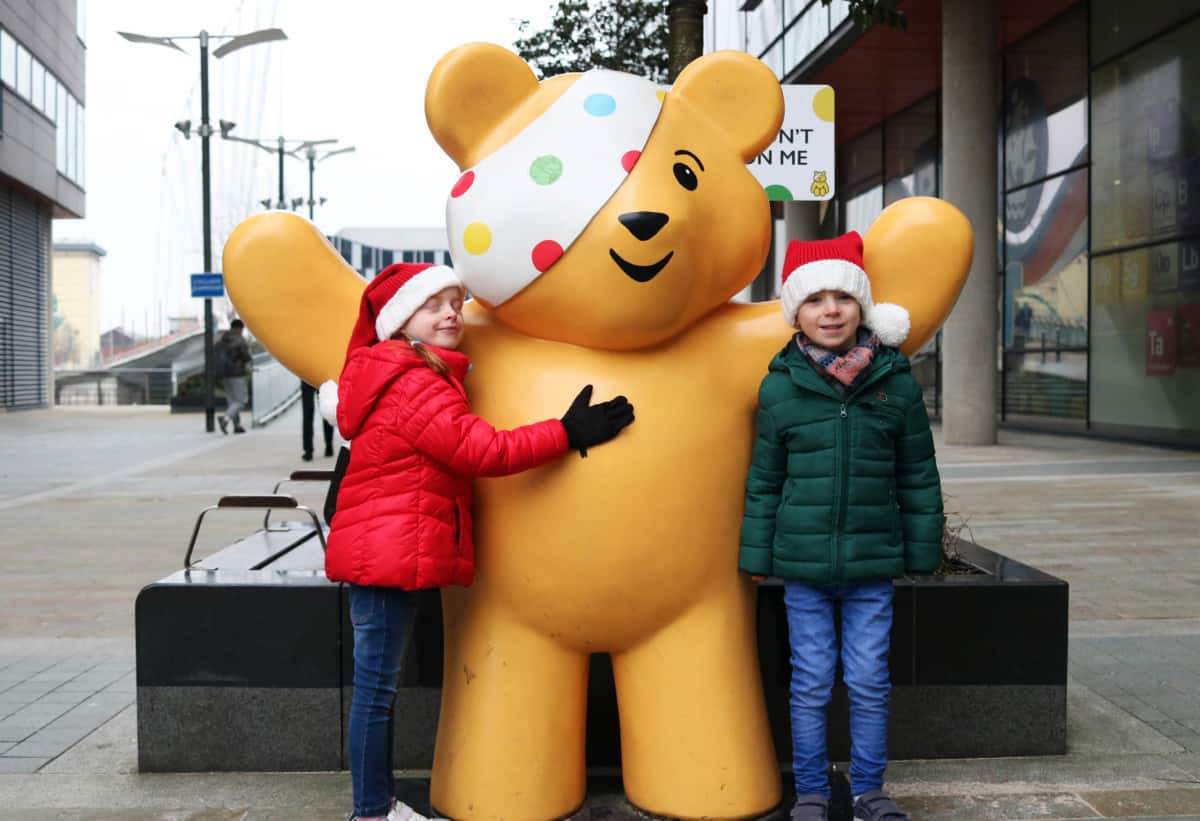 We had lunch at the museum and then headed over to The Lowry for the matinee showing of Dr Dolittle the Musical. LP and Little Man have no experience of Dr Dolittle – it's not a story they were aware of at all – but I think this worked in our favour as they had no preconceptions.
We all loved Dr Dolittle the Musical. It was a really good length for a theatre show, with an interval halfway through. It had great characters, realistic puppet animals and a really happy ending too. It's a great show that the whole family will enjoy. Plus, every seat at The Lowry gives a great view. It was our first visit to the theatre and we were so impressed with how modern, clean and welcoming it was.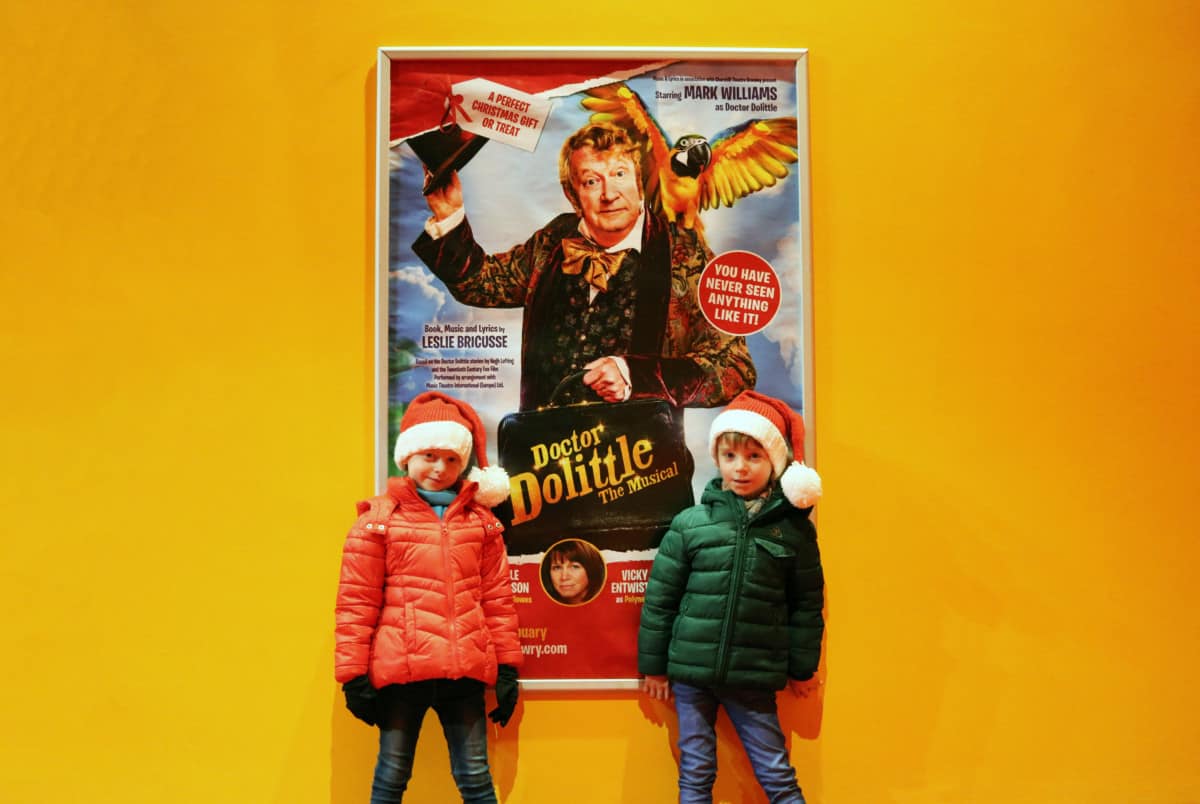 We stepped outside The Lowry straight into the Lightwaves Exhibition. There were light installations throughout Salford Quays, with many being interactive. We spent an hour in the rain exploring them all, retracing our Snowman Trail footsteps to take in all the beautiful lights.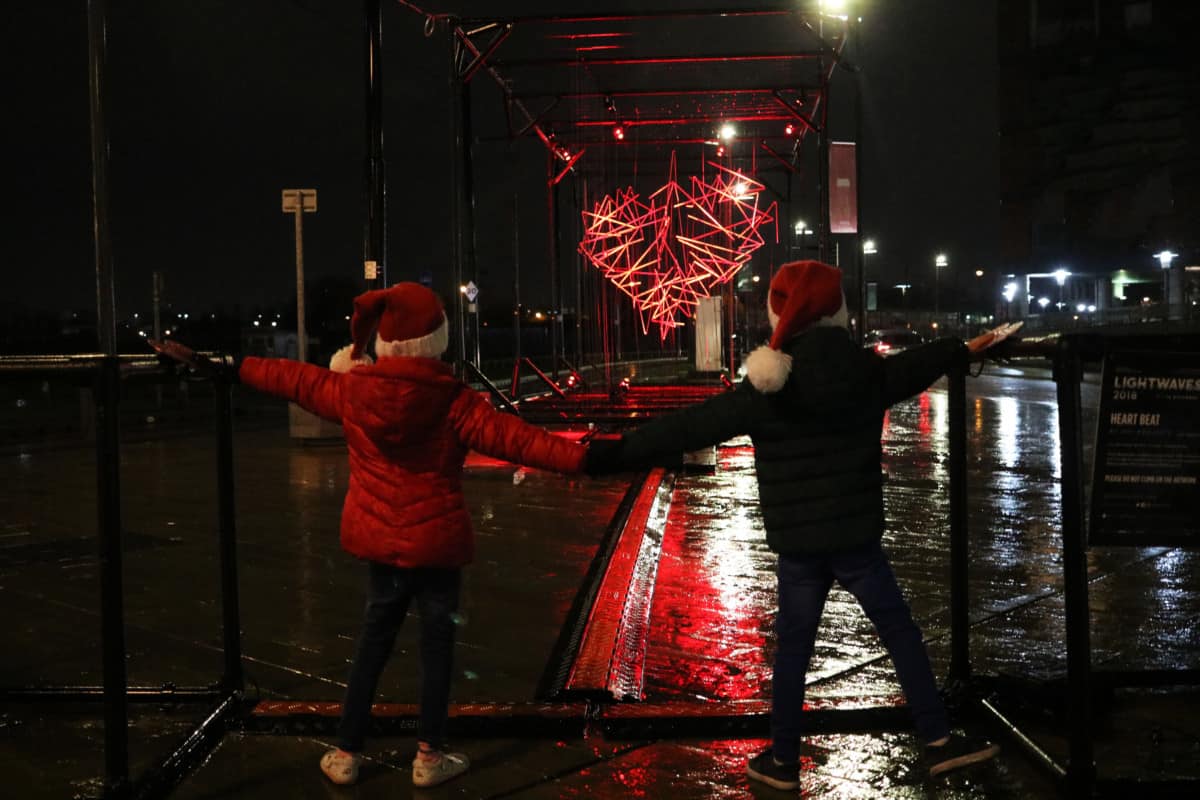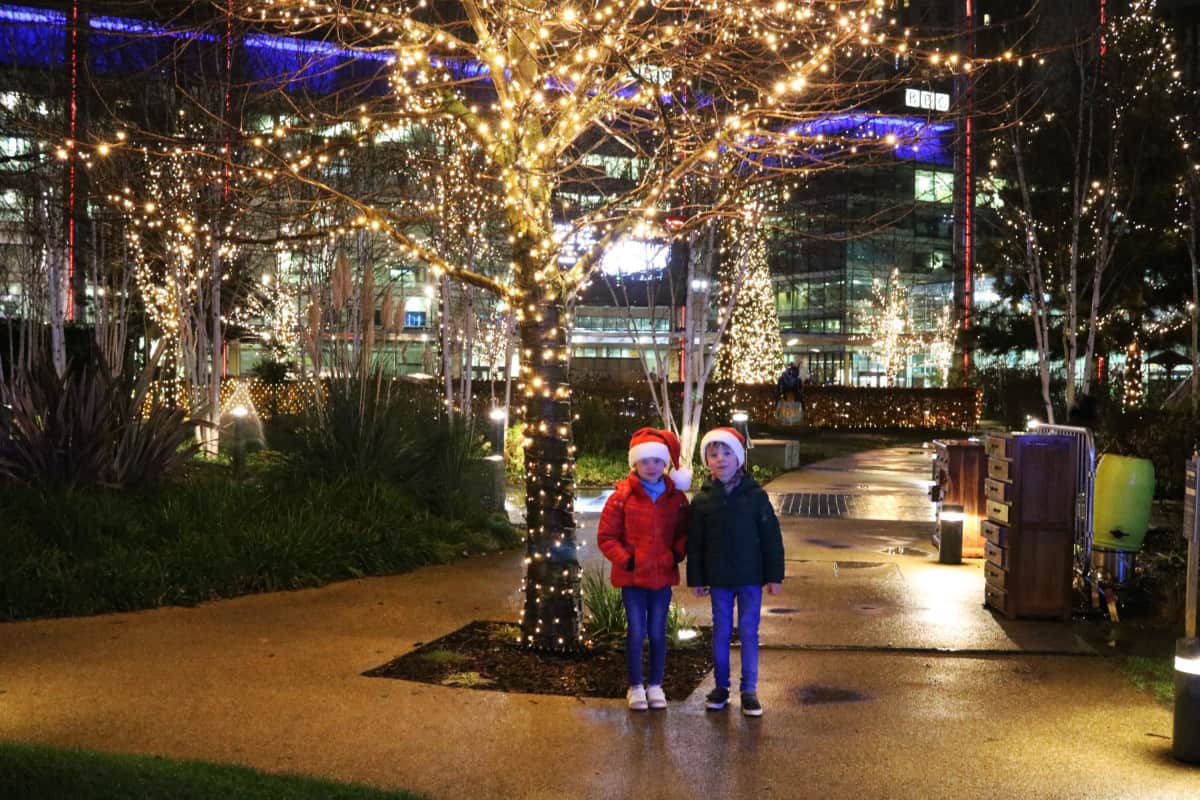 The Lightwaves Exhibition is like an open air art gallery, with exhibits from do many different designers and it was a really lovely way to break up our evening. The lights were beautiful and there were lights that worked if you shouted at them, lights that needed you to hold someone's hand to activate them and lights that we could just look at and enjoy. It was beautiful.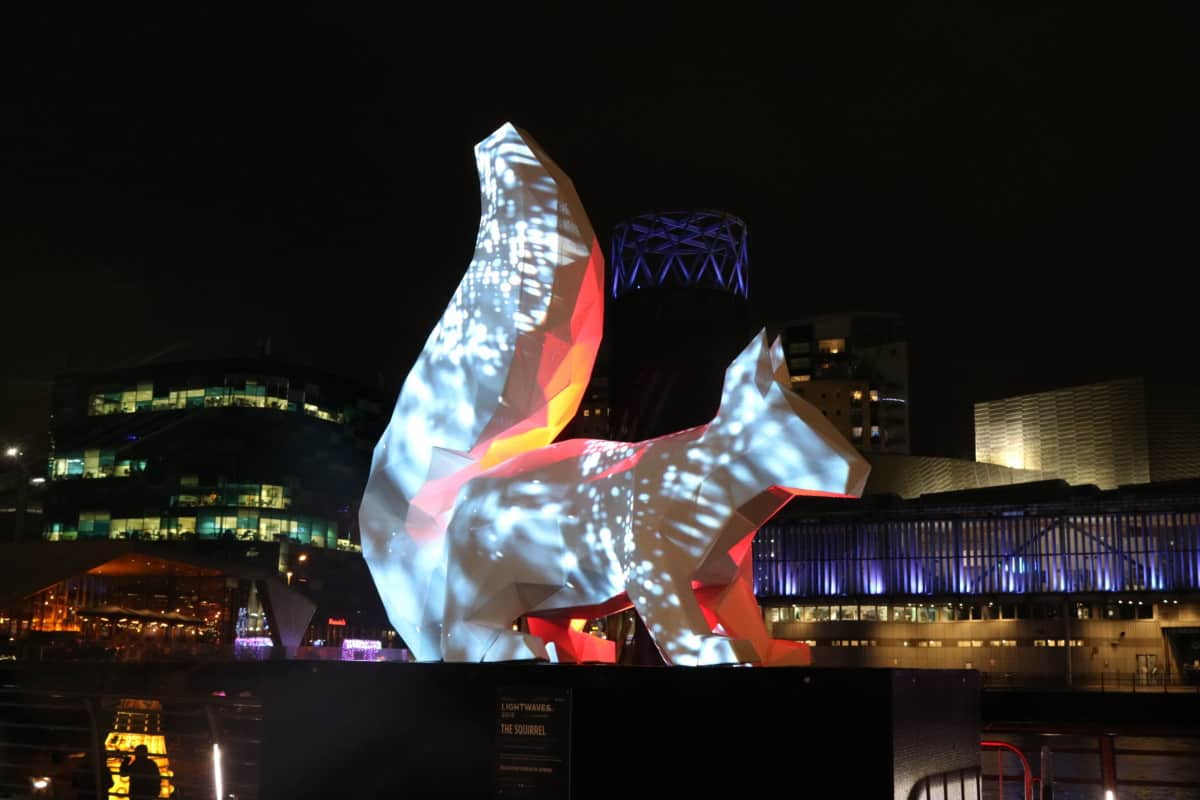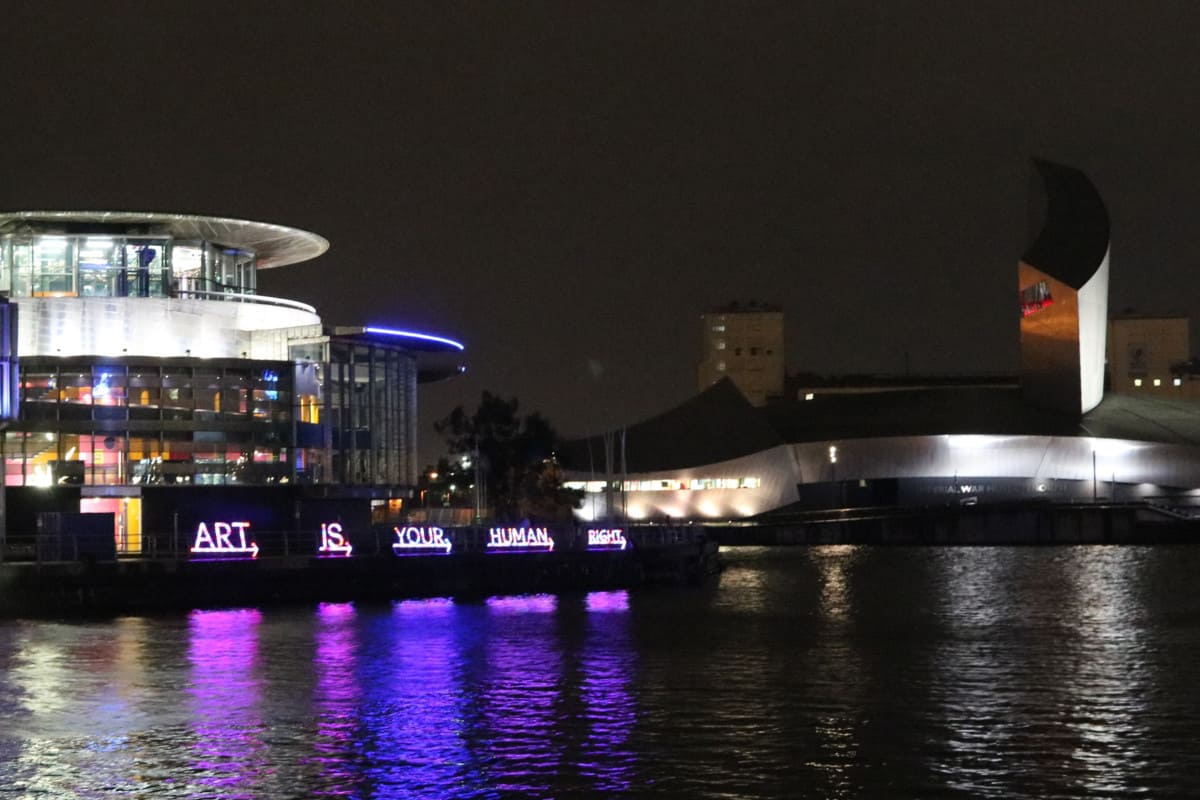 We had dinner in Lime at the Lowry Outlet which was really warm and welcoming. It had activity packs for the children and a children's menu, making it really family friendly but it also had a lively bar area adjacent to the restaurant, making it a real hub for everyone.
The children had burgers for their dinner with juice to drink and ice creams at the end and we found the children's menu to be great value at just £6.50, varied and perfect for LP and Little Man.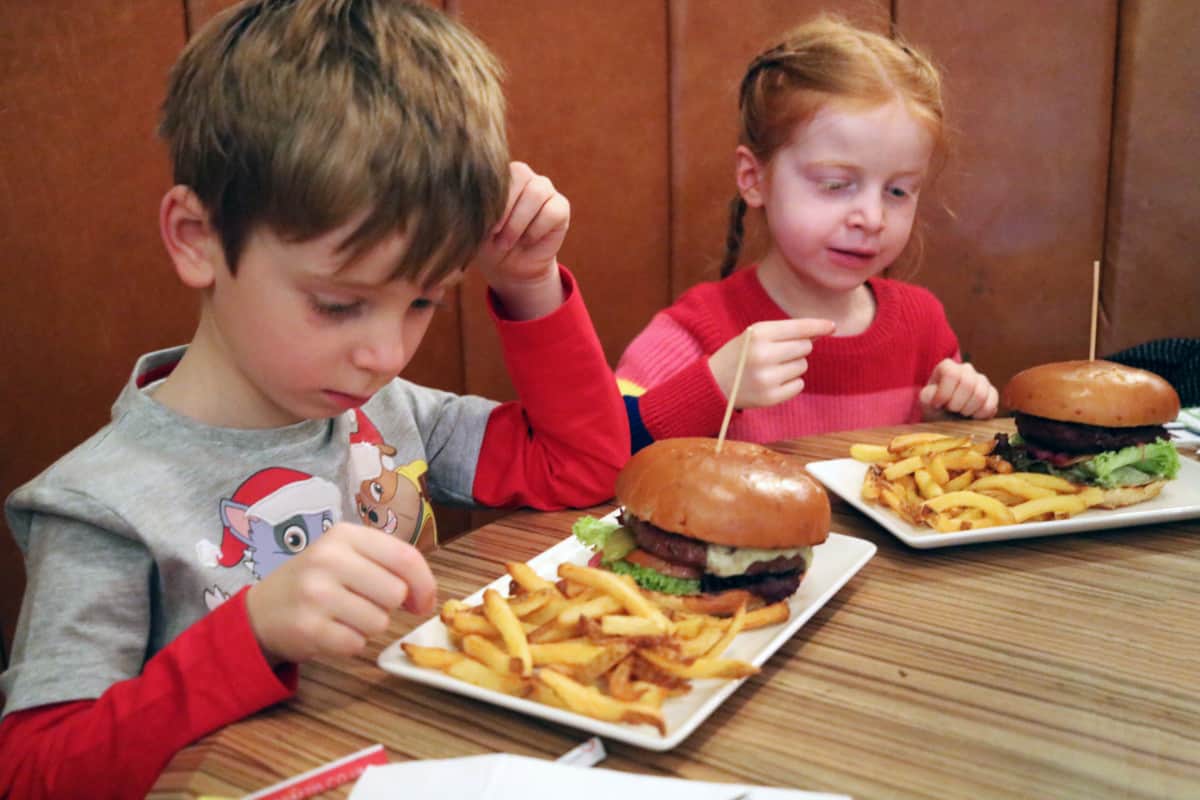 To start Dave chose the duck hash and I went for the mackerel pate. Both were beautifully presented and a great way to start our meal.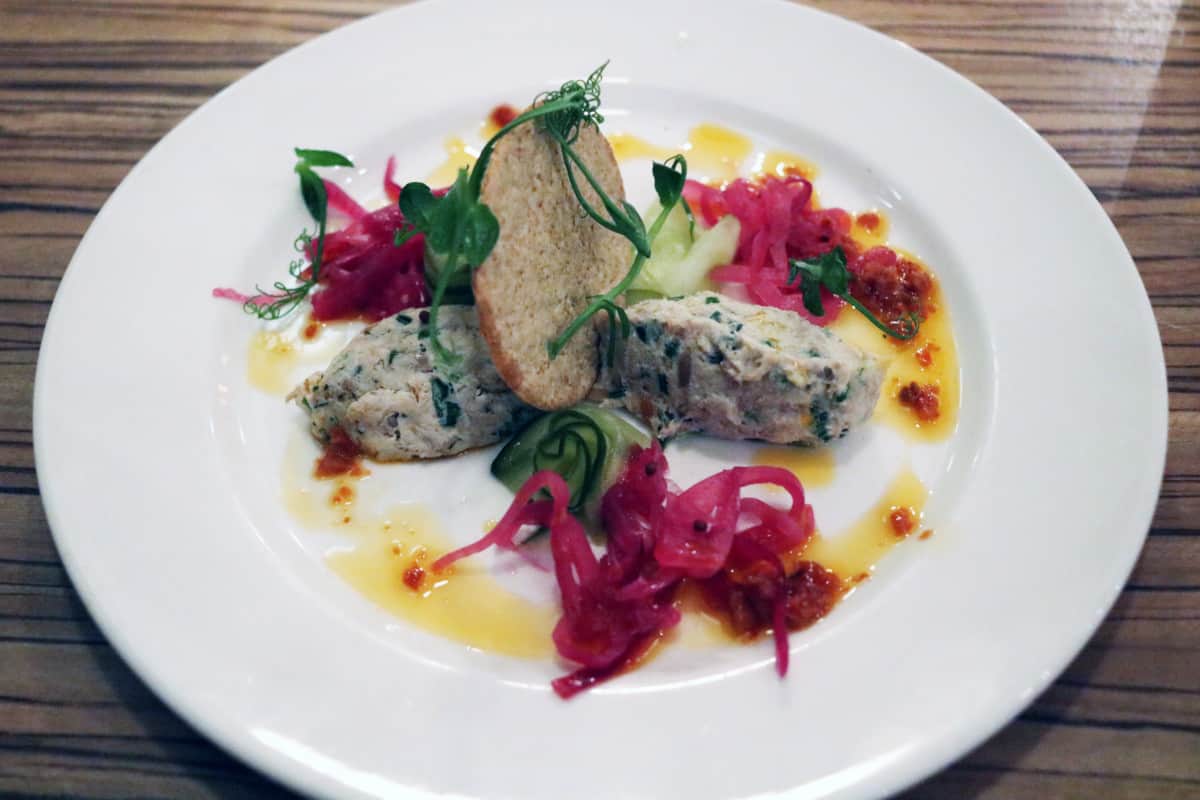 Dave and I both went for the traditional Christmas dinner which was one of the nicest restaurant Christmas dinners I have ever had. It came with really thick gravy, slices of stuffing, turkey and pork as well as so many accompaniments.
For our desserts dave chose the orange drizzle cake and I had mixed berry crêpe, both of which were fine and a nice end to our meal. Our three courses were part of the Christmas menu where you can get three courses for £25 a head with a really lovely variety to choose from.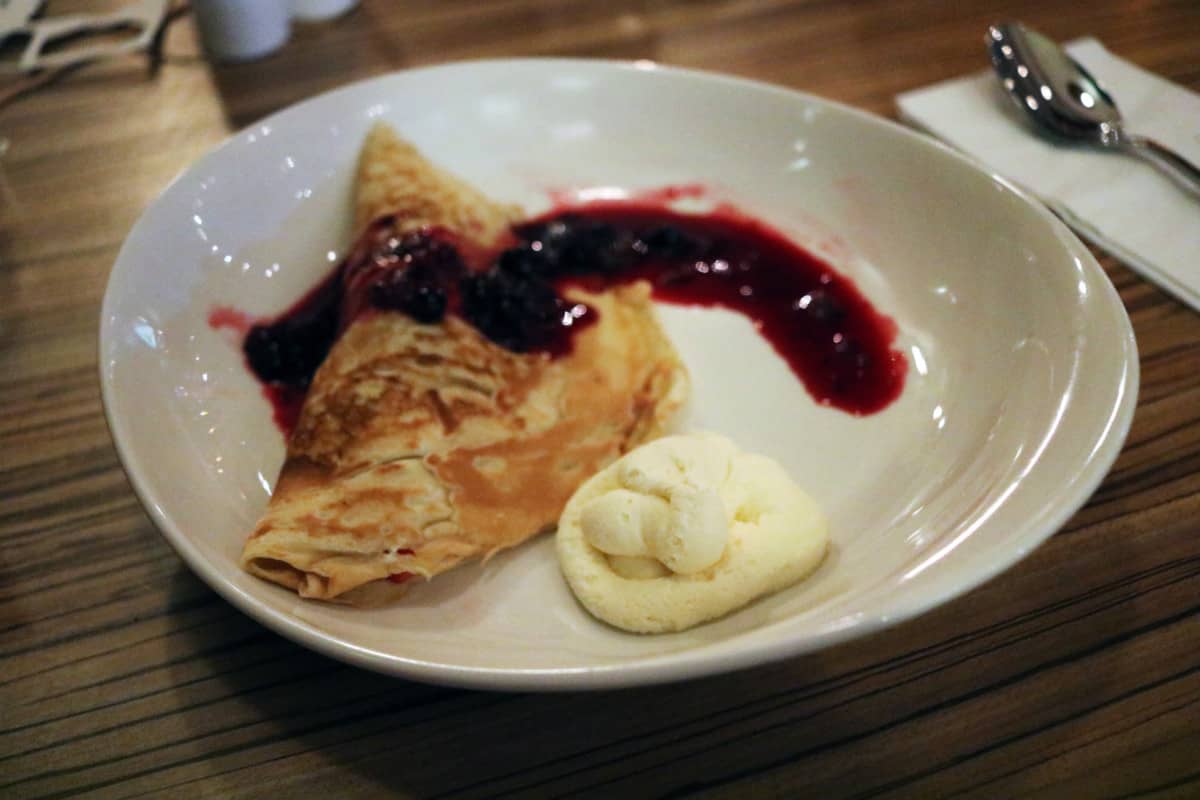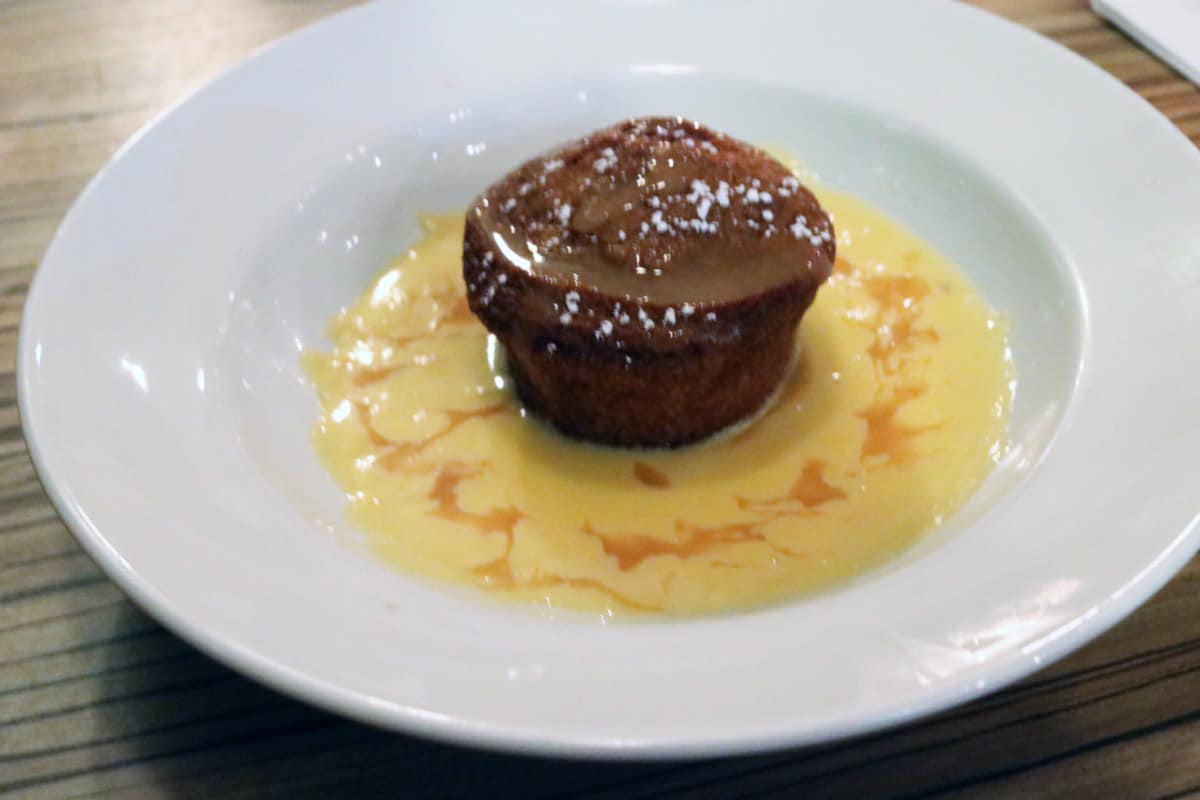 The following day we finished our weekend in Salford with a visit to Ordsall Hall. The hall felt like a National Trust property but is owned and managed by the local council. Amazingly, it's free to enter and I can imagine it being a really lovely day out for local families and the sort of place we would visit to wander around and enjoy tea and cake in the cafe.
Ordsall Hall has so many interactive things for the children to do and it's a really family friendly venue – especially at this time of year when they have Father Christmas visits for just £3.50 each. LP and Little Man loved meeting Father Christmas – although the room he was in was incredibly dark – and they received two lovely gifts as well.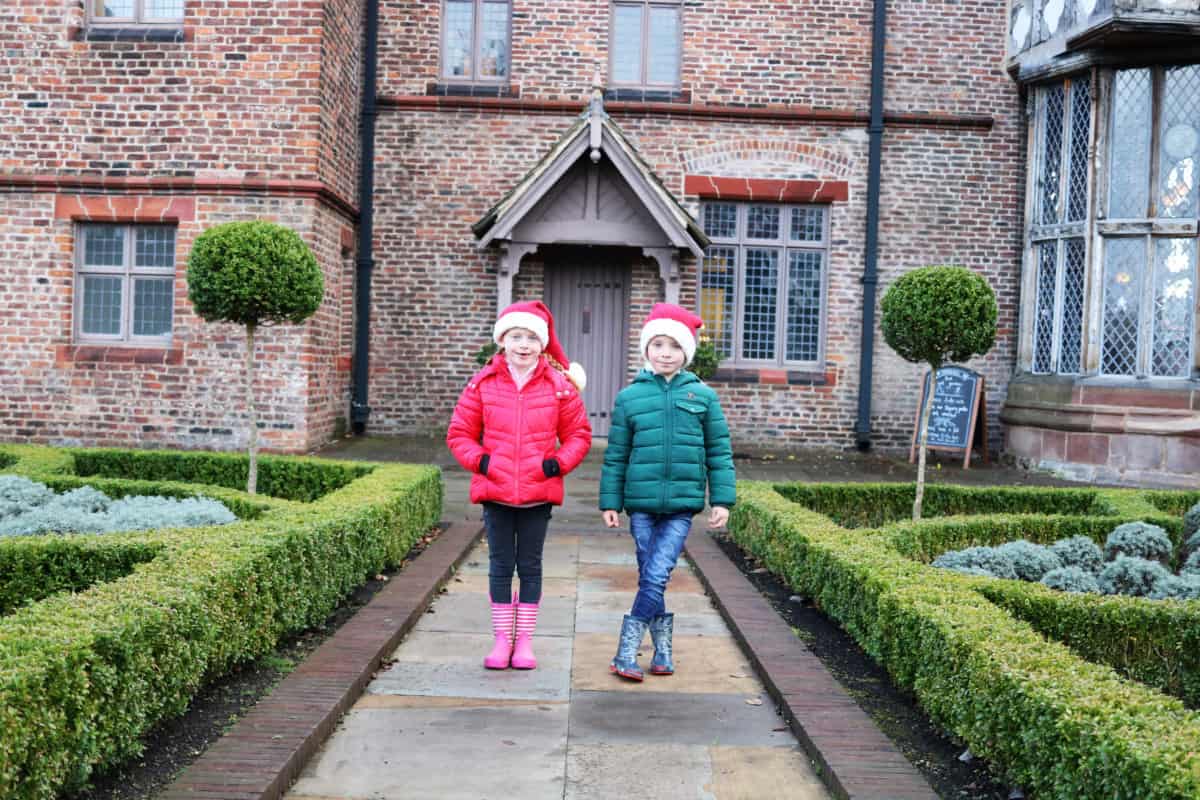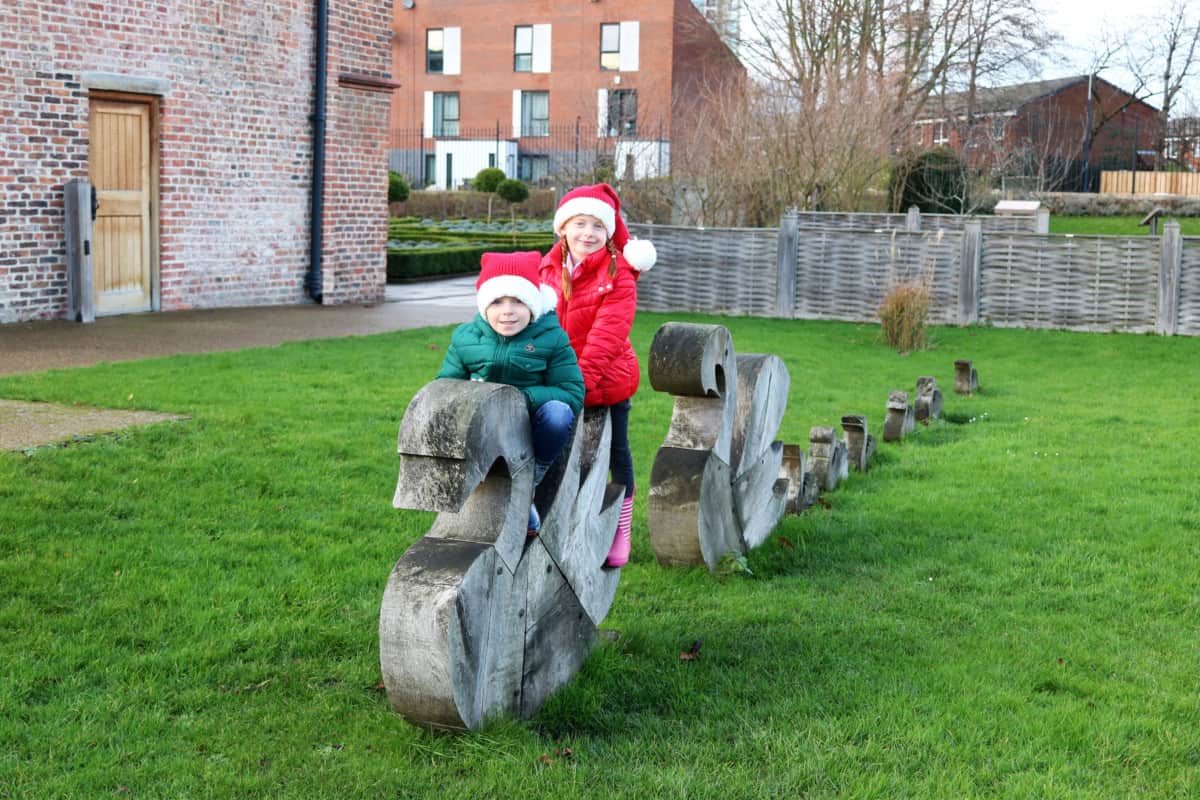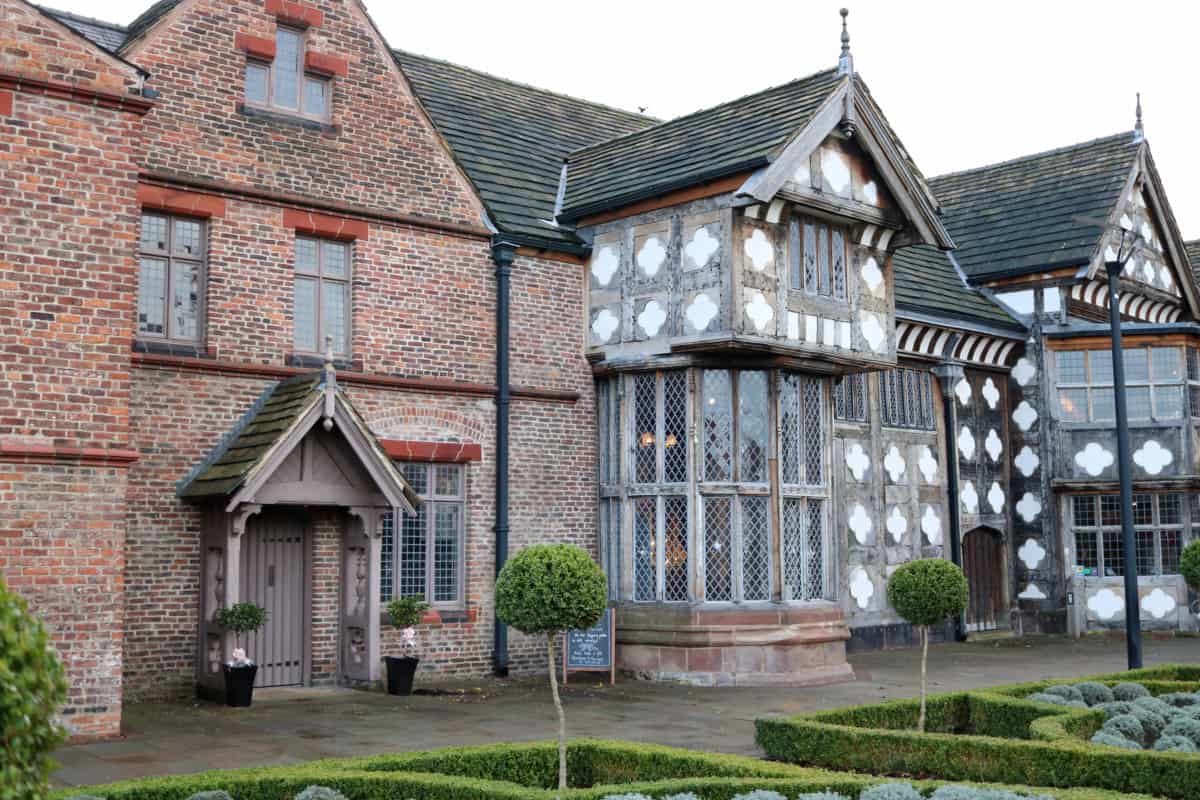 Ordsall Hall was a really nice way to finish our Salford Quays break. We had a really nice weekend an it was great to experience so much of a new area in one go. The children loved it and we found it such a family friendly place for a break away.
Here's a little video of our weekend: