Disclosure: We were invited to this hotel on a dinner, bed and breakfast basis for the purpose of this review however all opinions are my own.
It's always nice finding a really family friendly hotel. We were lucky enough to spend last weekend at the Runnymede on Thames Hotel. It's not far from us, in Egham and right on the Thames. It's a beautiful location for a weekend away – whether you are coming from near or far.
What were our first impressions of the Runnymede on Thames Hotel?
The Runnymede on Thames is so easy to find and has plenty of parking on site too. The grounds are well looked after and beautiful – giving us really great first impressions of the hotel. The children loved the giant fruit as we walked to the entrance and the revolving door made them feel so important as we walked in the foyer.
The staff at the Runnymede on Thames were all so friendly and we had a lovely warm welcome. We were told all the important information we needed to know for our stay and the children were given lovely goodie bags with activities and a cuddly duck inside. Ducks are a bit of a theme at the Runnymede on Thames and the children loved spotting the ducks wherever we went – it definitely kept them entertained, especially the big rubber duck display in the main lounge.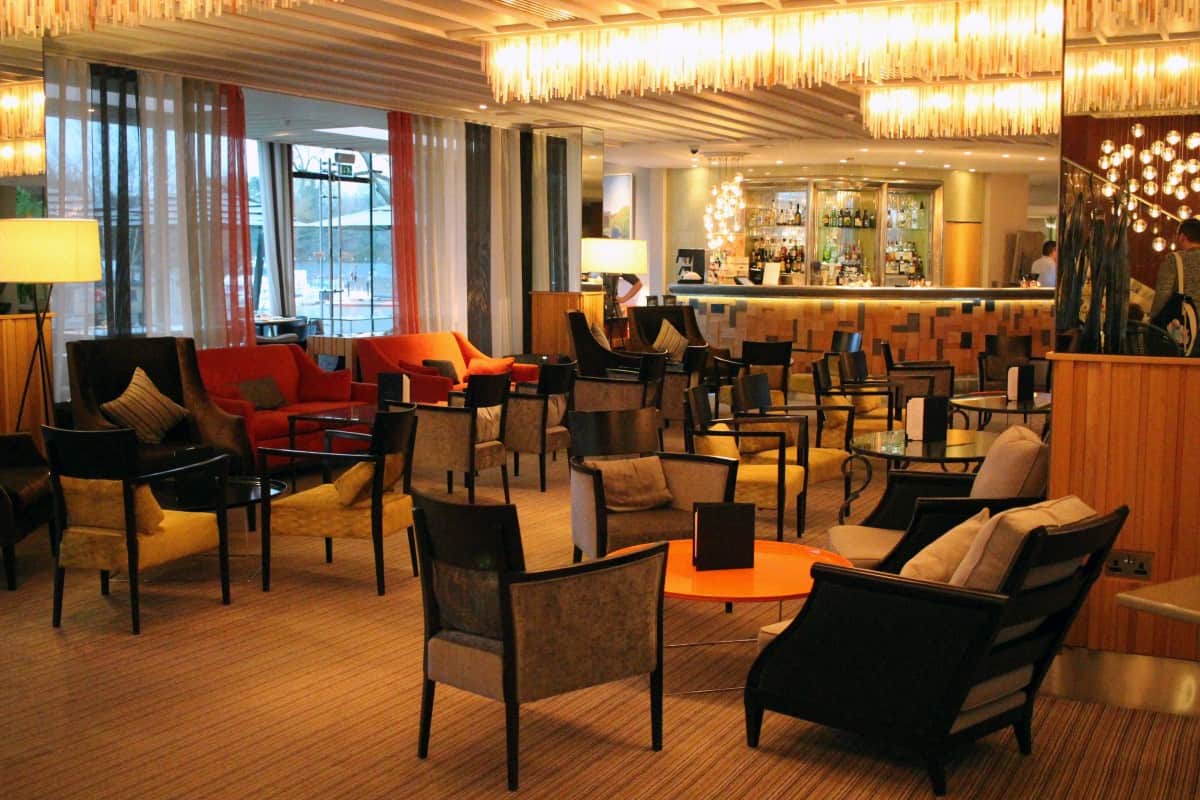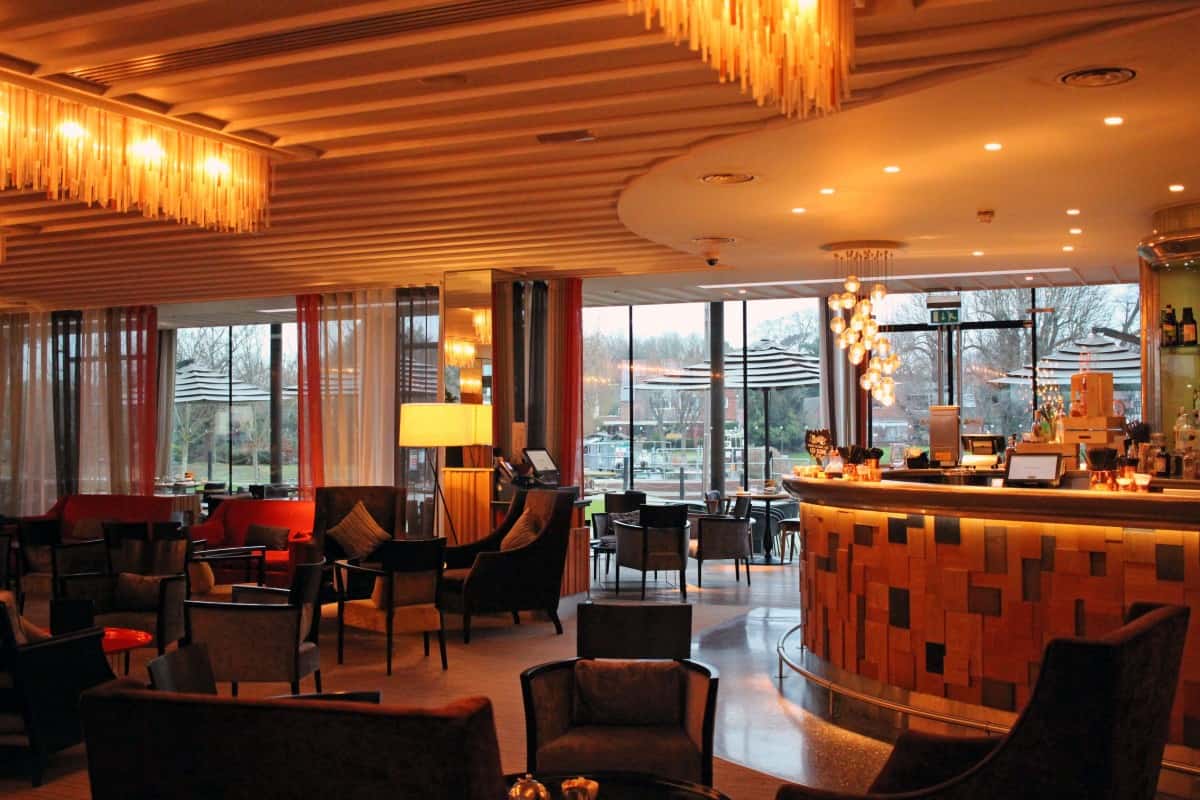 What was our family room like at the Runnymede on Thames Hotel?
We were staying in one of the hotel's three duplex apartments for the weekend which were situated at one end of the hotel, nicely tucked away from the noise of the bar and event spaces. this was perfect for a family weekend.
The apartment had our very own parking space and stairs up to our front door. We could either access our room through the hotel or by walking around outside the hotel and it was nice to have the option.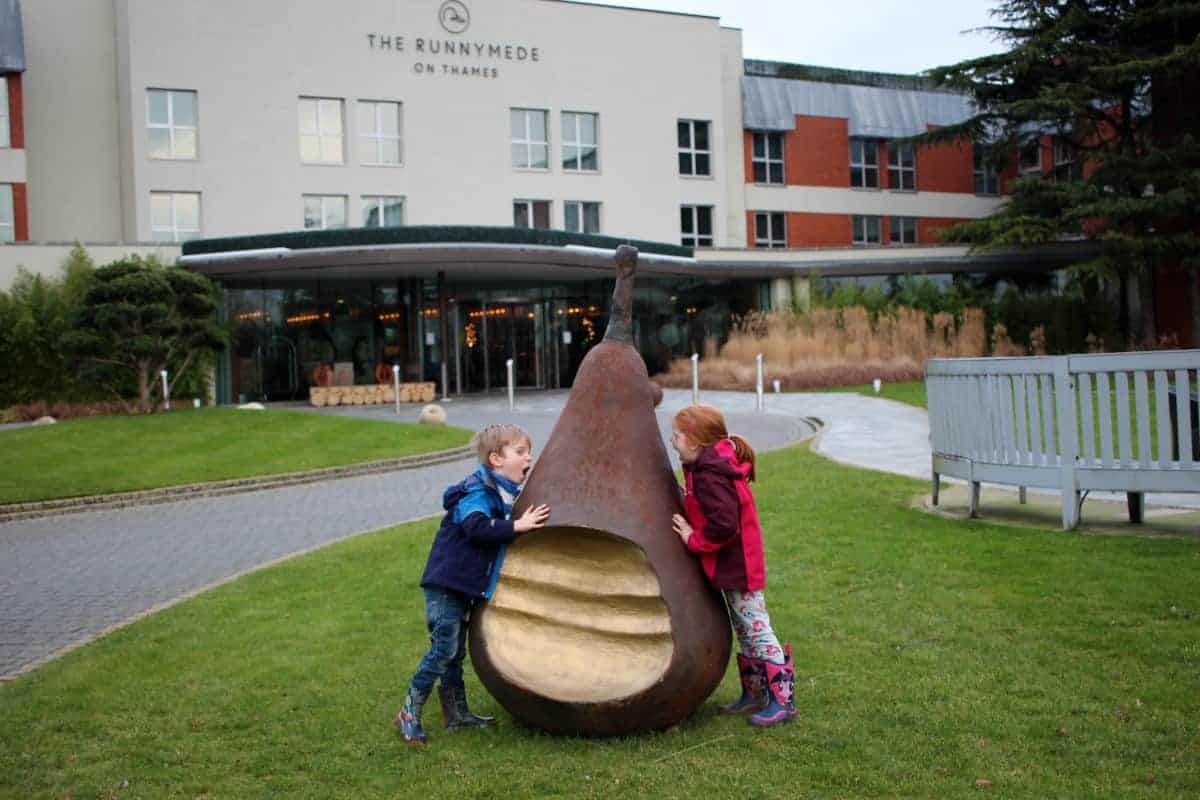 The apartment had a large bedroom that incorporated a living area with a table and chairs as well as a sofa and a large TV. There was also a seperate bedroom for the children which had a day bed and a roll out bed too as well as their own TV.
The bathroom was a great size for a hotel with a bath with a shower over it. This is something we always love on a family trip away as they children always prefer a bath to a shower. There were plenty of fluffy towels, complimentary toiletries and robes to use too.
The room had tea and coffee facilities – including a coffee machine – and a mini fridge with complimentary bottled water. The room was absolutely perfect for us and a great space to relax and pass time.
What were the facilities like at the Runnymede on Thames Hotel?
The Runnymede on Thames has fantastic leisure facilities. It offers spa packages as well as the facilities being open to hotel guests. Because of this, children are able to use the pool until midday and then again between 3pm and 7pm. This worked well for us as we used the pool at 3pm after we checked in and again the following morning before we checked out.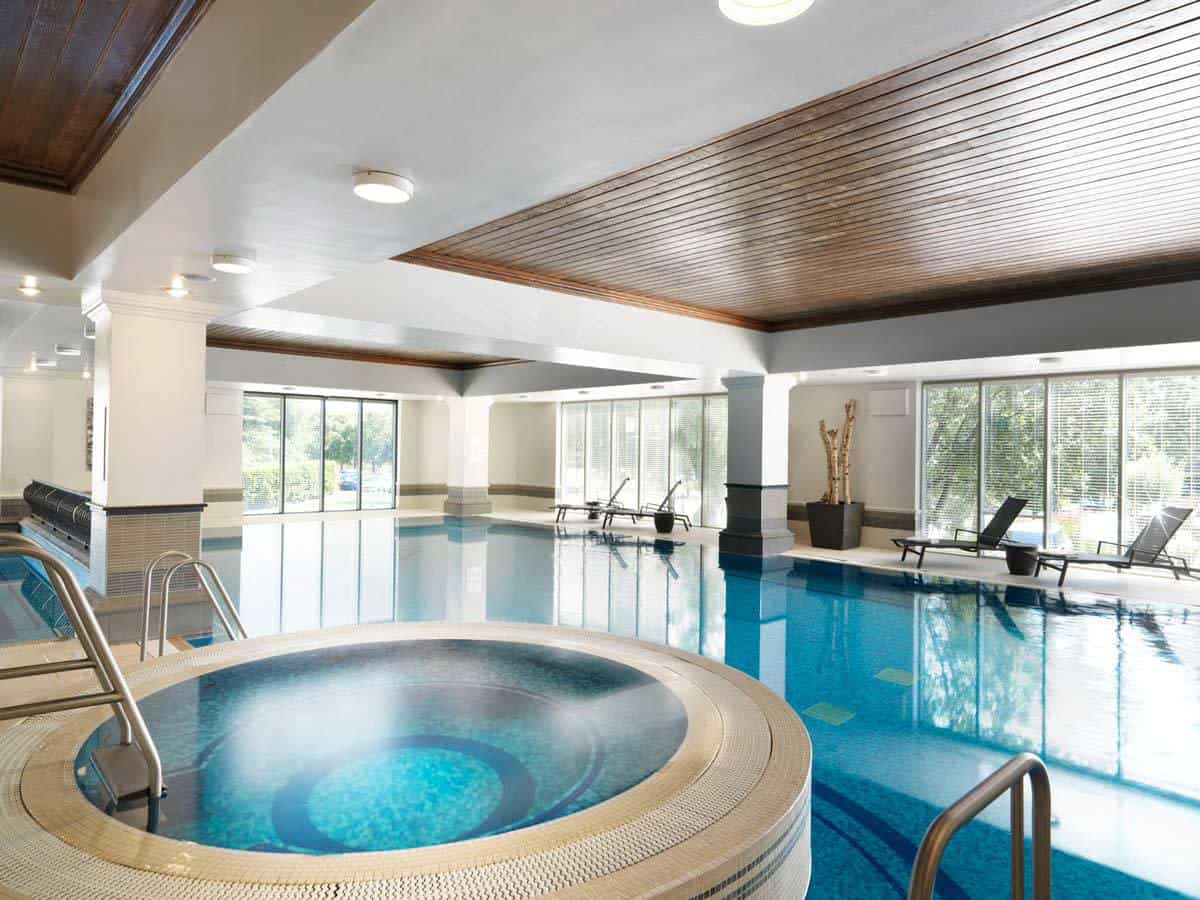 The indoor pool has both a typical swimming pool and a seperate children's pool which was a nice depth for them to splash, play and even practice swimming in. There was also a jacuzzi, saunas, steam room, studio and a really good size gym. The changing rooms were also really modern and everything was so clean and well looked after. Plus, there were fresh towels whenever you needed them.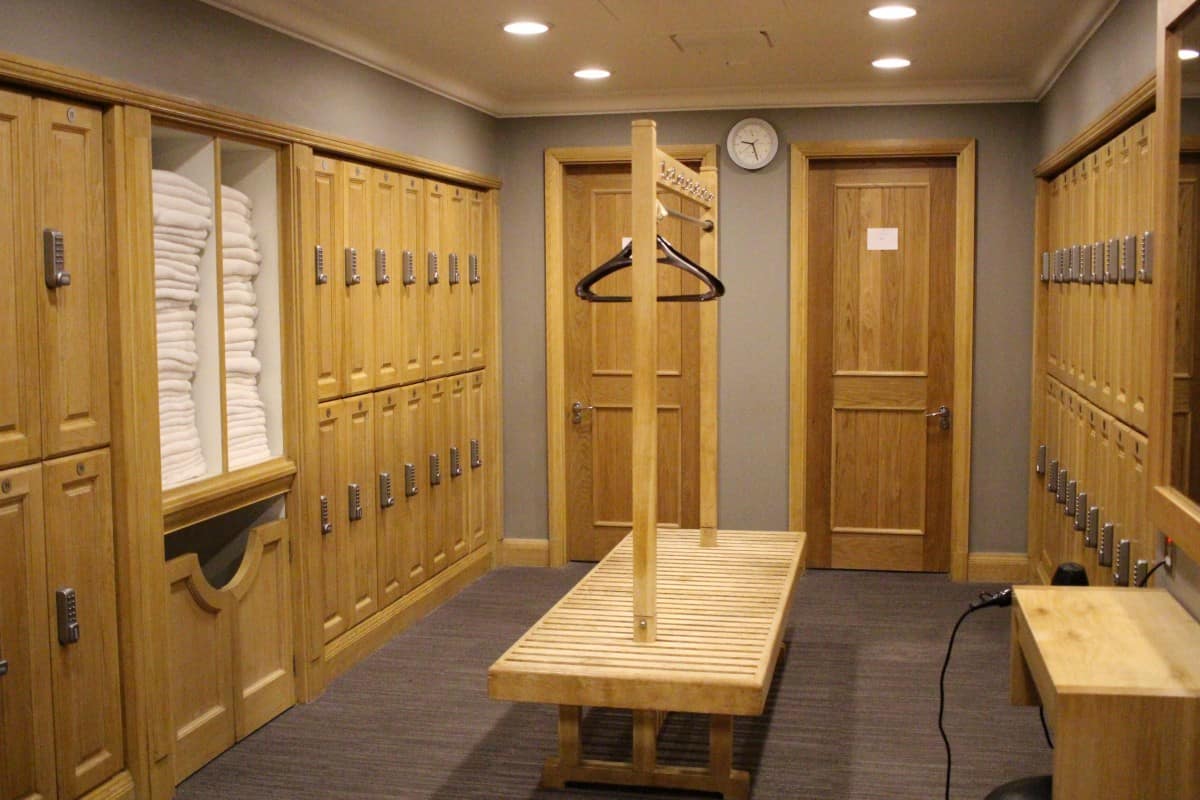 The pool did get really busy on our first afternoon but I heard comments from other guests that it wasn't typically that busy. I think there were just a lot of spa guests over the weekend. However, our morning swim was really quiet, we almost had the pool to ourselves.
If you visit the hotel as a spa guest there is a beautiful garden room to relax in and so many treatments on offer too. It's now high on my list of places to visit next time I book a spa day!
As well as the indoor leisure facilities there's also an outdoor pool for the warmer months and a fantastic outdoor play area for the children. I think LP and Little Man would have happily spent all day here! Like the rest of the hotel it was well maintained and so lovely for a hotel to have facilities like this for the children. The Runnymede Hotel is clearly a very family orientated place to stay and the children couldn't have felt more welcome.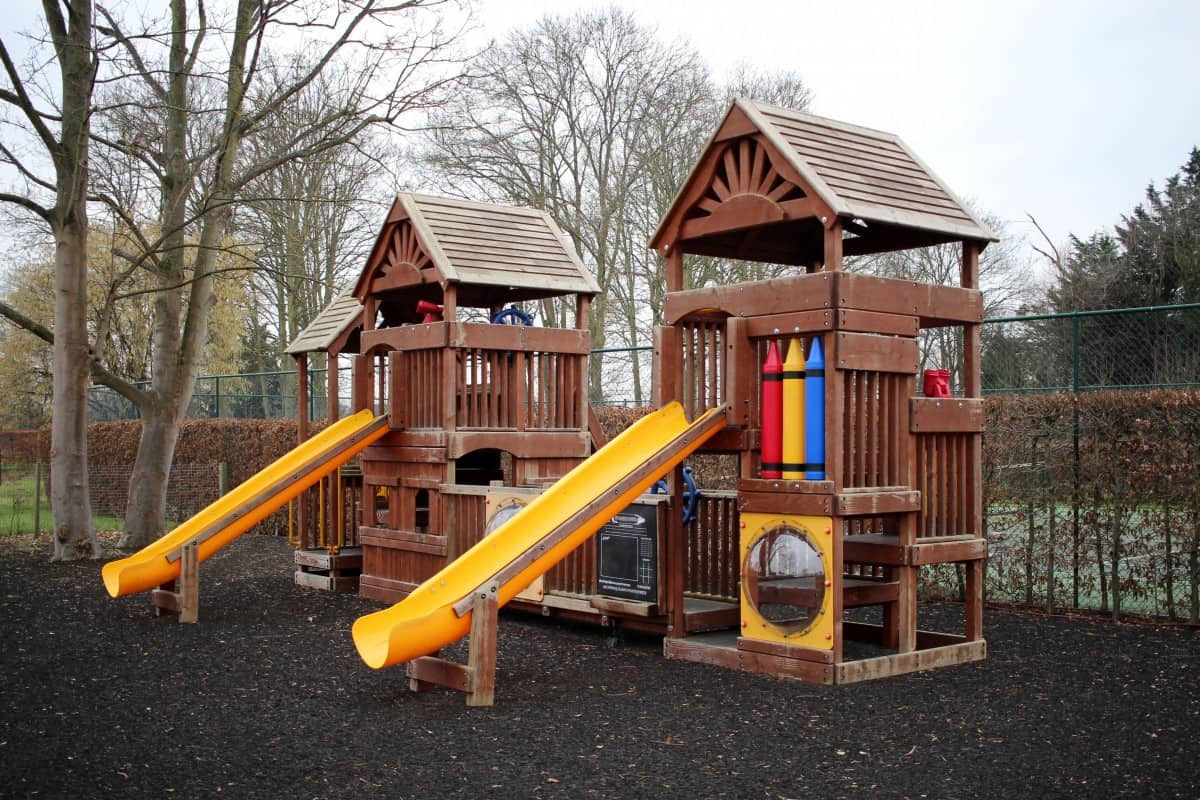 The Runnymede on Thames backs onto the Thames and the whole of the rear of the hotel is really made to make the most of the surroundings. There are great views down the Thames and so much ground for the children to run and play. We could tell that in the warmer months the outside would be a hub of activity – with access to the bar and so many areas to sit and socialise whilst enjoying the view.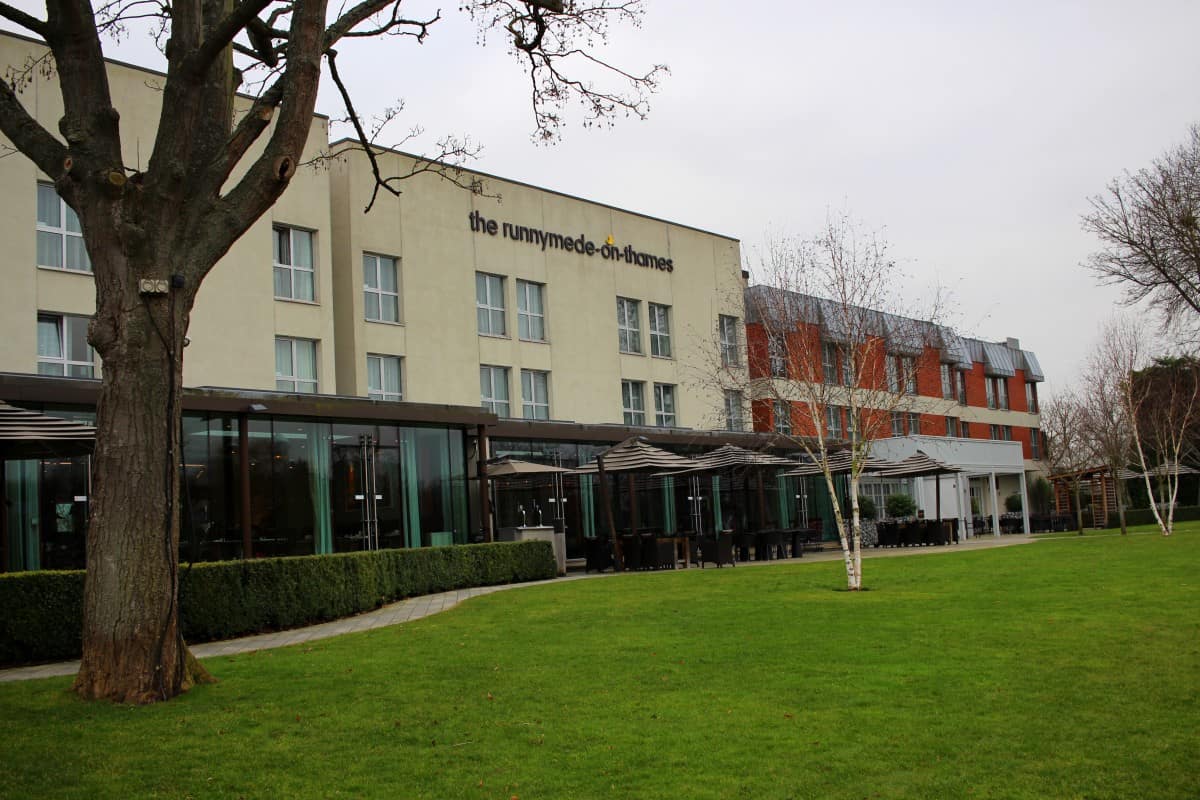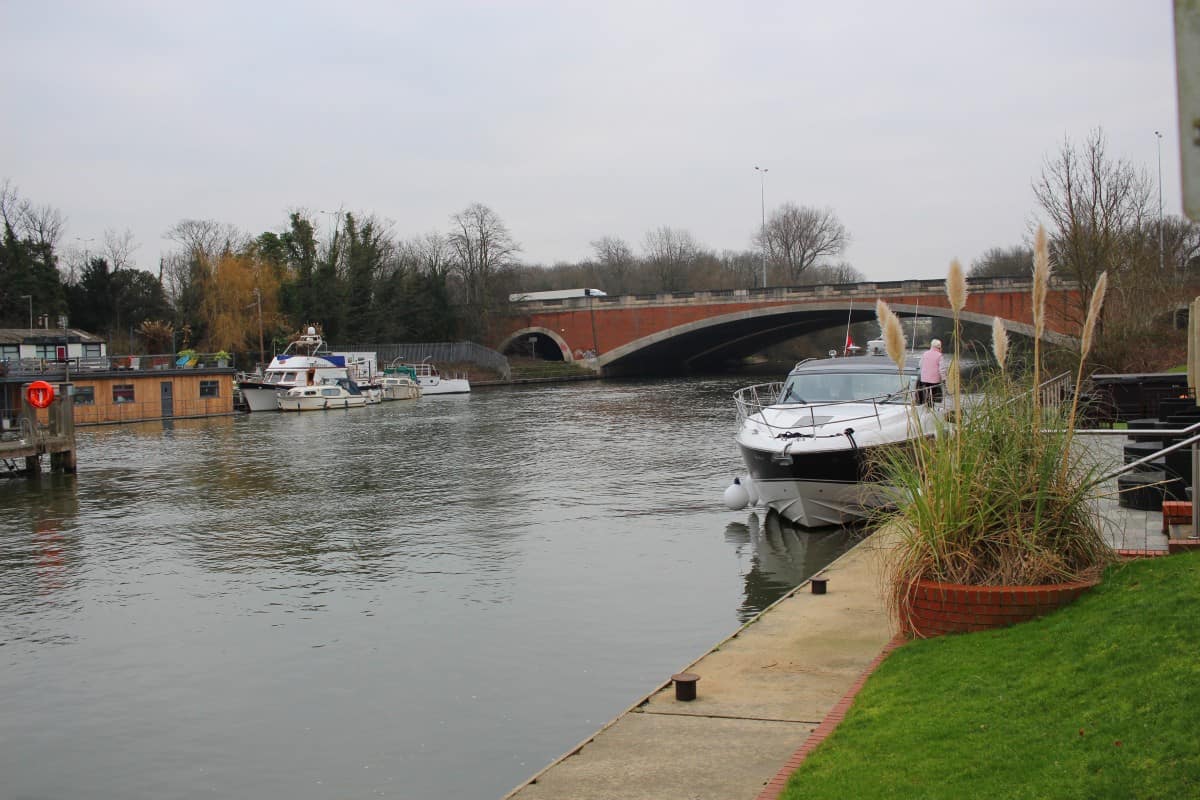 What are the Runnymede on Thames Hotel dining options like?
We had dinner in the hotel's Leftbank Restaurant which is buffet style but there is a more intimate al la carte restaurant too – The Lock Bar and Kitchen. The Leftbank Restaurant was perfect for us though – we always love a buffet restaurant as we know there will be something the children will love to eat.
But, the Leftbank Restaurant is a buffet like no other. The food was incredible. There was a whole area of starters with salads, breads, cheese and biscuits, meats and so many different sauces and nibbles. It was a feast before we'd even got to the other courses.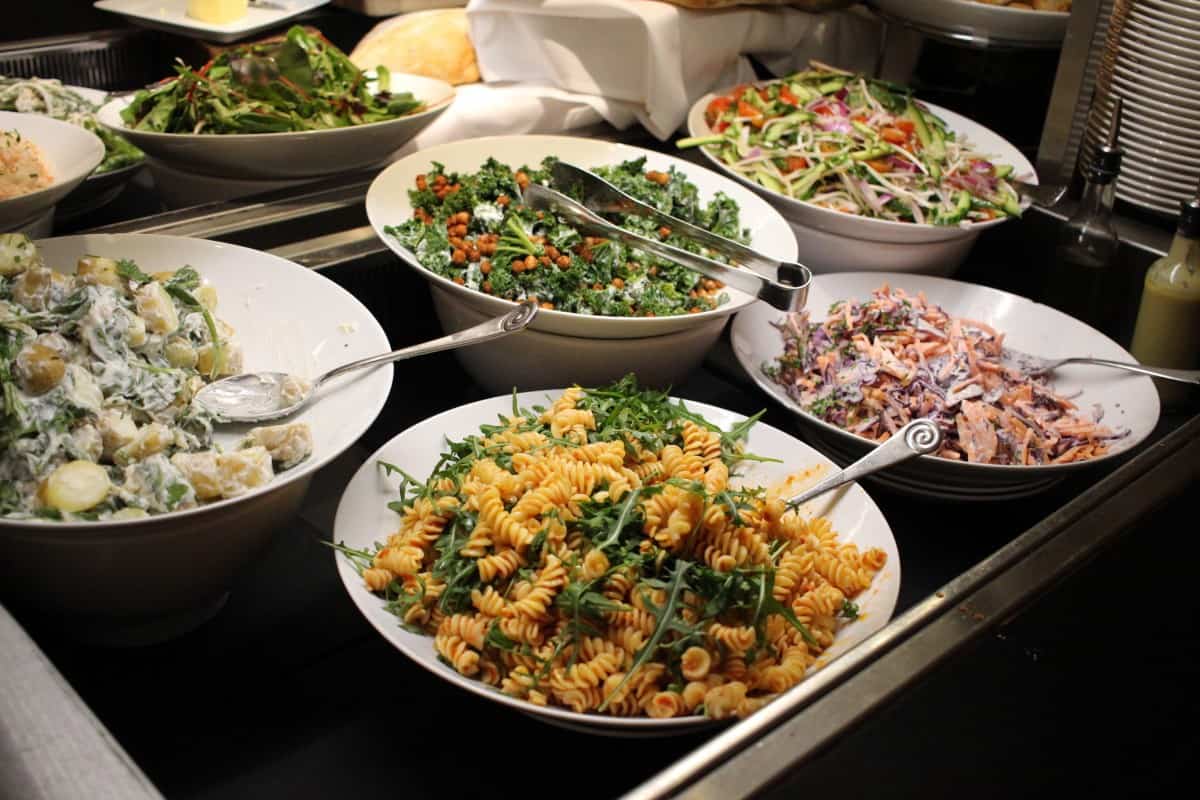 The main course had so many options – roast chicken, lamb, beef rib and all the sides as well as things like chilli. The children had their own area to create pizzas as well which was so much fun and something they really enjoyed.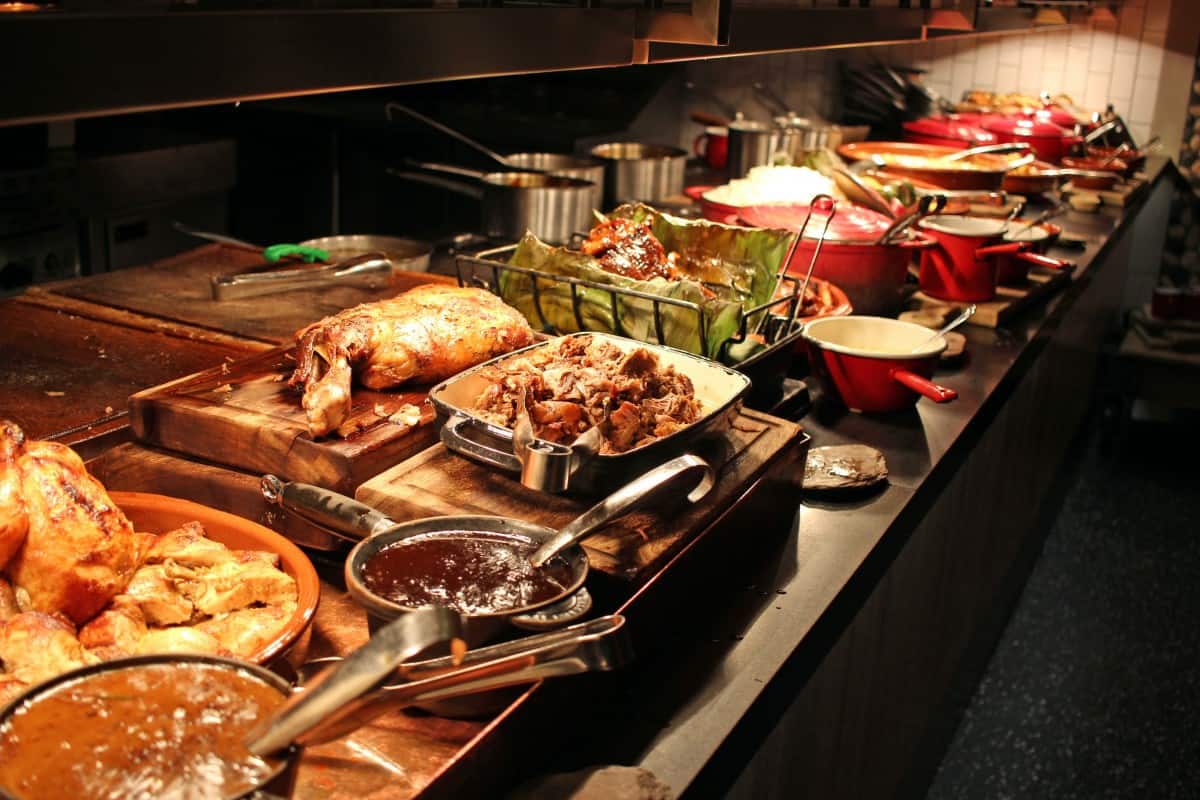 For desserts there was so much choice. Fruit salad, cupcakes, slices of cheesecake or salted caramel tart and then hot puddings like sticky toffee pudding and apple crumble – not forgetting the custard and cream too! There was even a chocolate fountain – something the children couldn't get enough of.
All of the food tasted amazing. It was, without a doubt, one of the best meals we have ever had. Each dish was cooked to perfection and the fact it was buffet style didn't take away from the flavours and variety. It was perfect. If anything, having a buffet style meal worked better for us as a family. There was no waiting for the next course to come out and instead the food just flowed really nicely. I would love to go back to the Leftbank Restaurant, the food was so good, it had a lovely atmosphere and the children really enjoyed it too.
After dinner we went back to our room, the children had a bath and then we all relaxed for a few minutes before bed. We had one of the best night's sleep in a hotel that we've ever had. Our bed was just so comfortable and both our room and the children's room were so dark and quiet – it couldn't have been better.
In the morning we got ready and went for breakfast before swimming. Breakfast was in the Leftbank Restaurant again, and so well set out for a breakfast buffet. Hot drinks and orange juice were served at the table and the staff were so attentive, filling drinks when needed and clearing dirty plates so swiftly.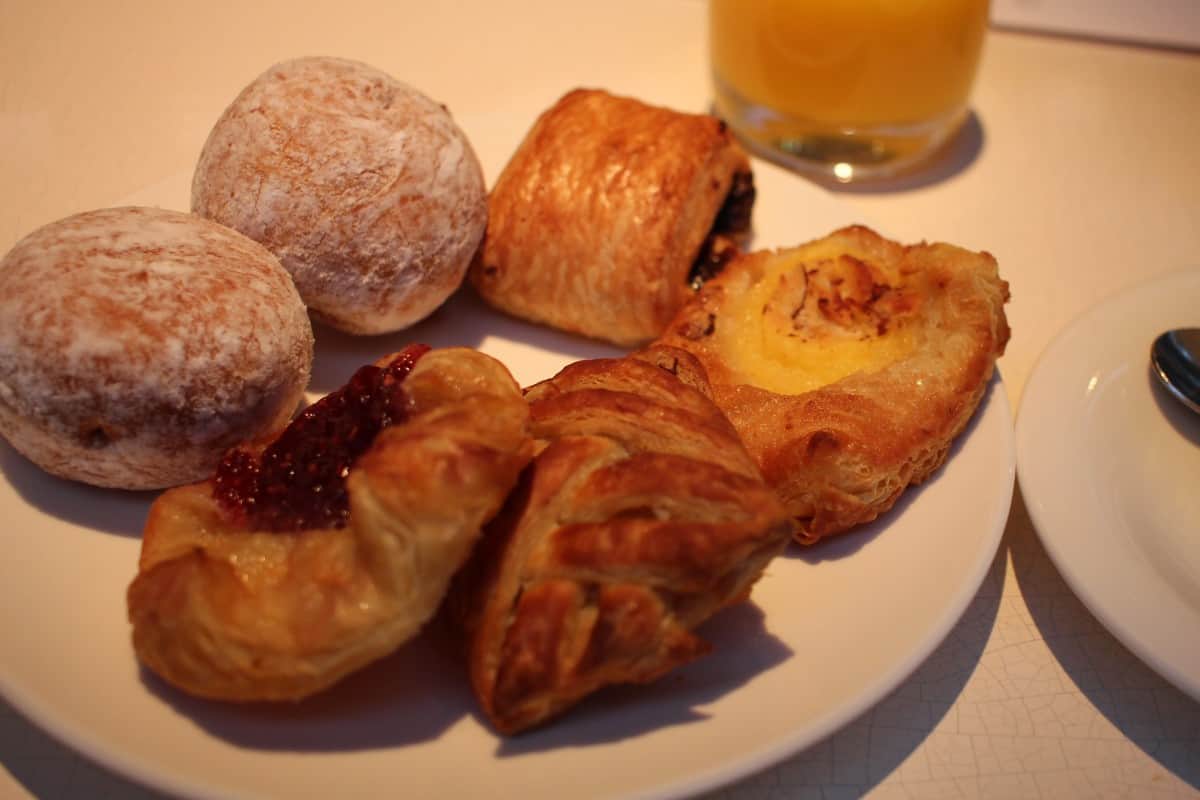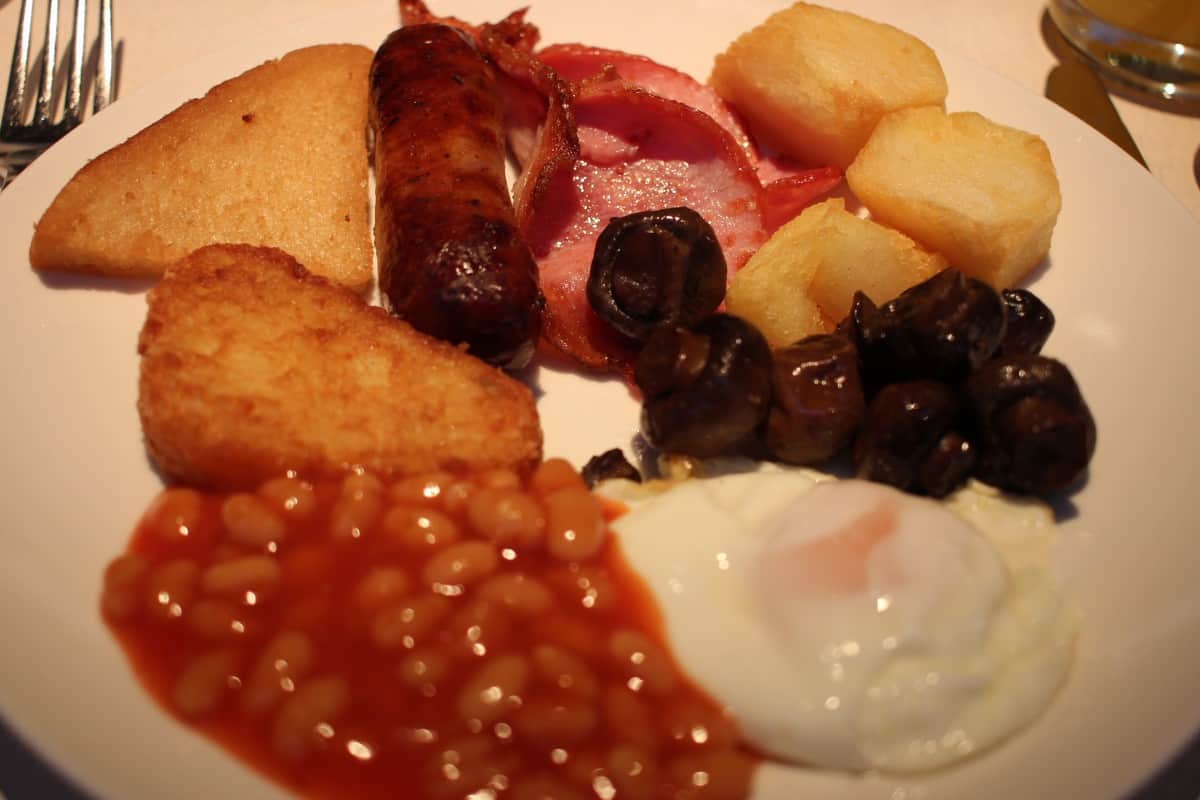 The breakfast buffet was vast. There were different fruits and yogurts, cereals and so many breads and pastries as well as a whole hot food counter with different types of bacon, sausages, egg, hash browns and even fried bread and potatoes! It was the best way to start the day.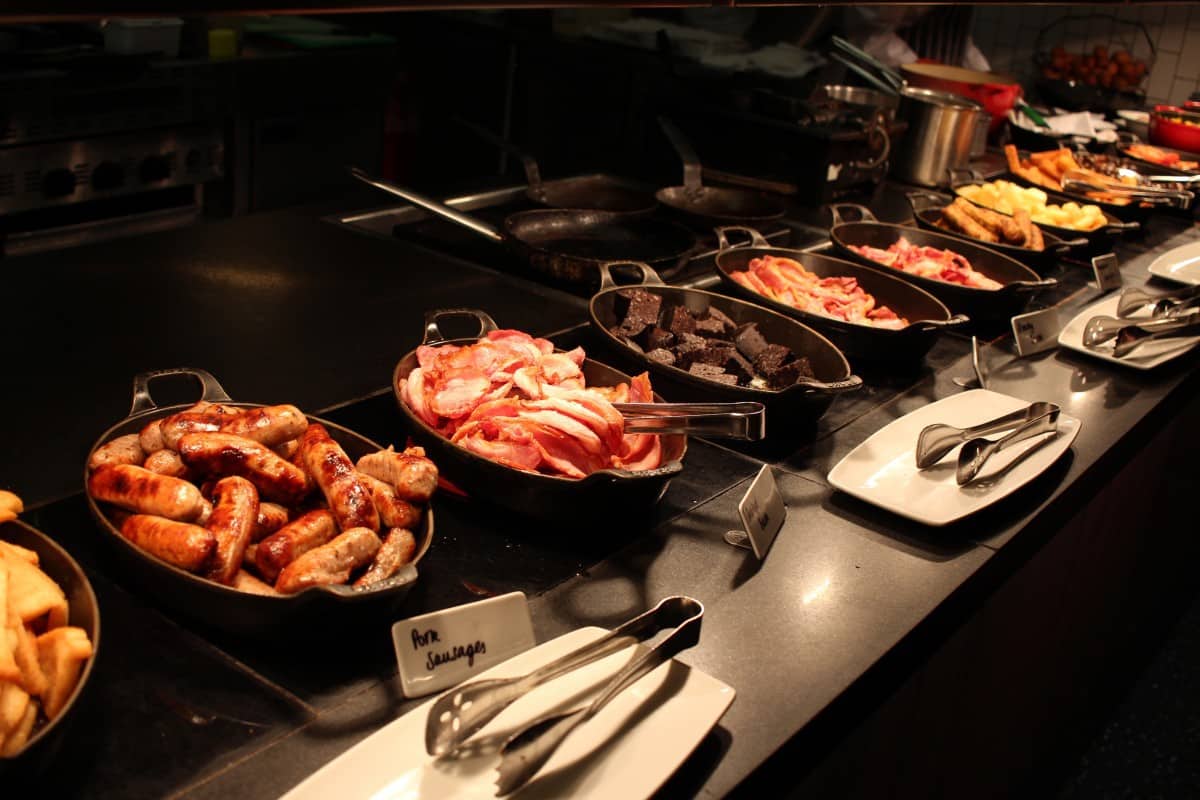 Check out wasn't until 11am so we went swimming, wandered around the grounds, played on the adventure playground and relaxed a little before heading home.
Our stay at the Runnymede on Thames was as close to a perfect family break as it gets. So much so that really there aren't any negatives here. The hotel ticked every box. It had so many facilities, a lovely swimming pool and the food was fantastic. Plus, it had so many places to sit and relax, wonderful staff and it was in a great location. I'm so happy we had the opportunity to stay at The Runnymede Hotel and I know we'll visit again in the future.
Disclosure: We were invited to this hotel on a dinner, bed and breakfast basis for the purpose of this review however all opinions are my own.