I love nothing more than a spa break so I thought it would be good to put together our favourite spa hotels across the country that would be perfect for an overnight spa break. So many of them have one night spa packages available per person and many couples spa treatments available too.
Why go on a spa break?
Spa breaks for me are the ultimate romantic escape or just time out. A chance to relax and unwind, enjoy quality time together, have a treatment, read a book before getting ready for a lovely dinner, having a few drinks followed by a great night's sleep and a full english breakfast in the morning!
I most often go away for a one night break but a two night break is the ultimate luxury. A full weekend away where you can squeeze in afternoon tea, a three course dinner and maybe even a light lunch in the middle too!
Hampshire Spa Hotels
Careys Manor Hotel – Brockenhurst
Our favourite spa break has always been Careys Manor in the New Forest. No other hotel spa has quite compared and it's somewhere we would happily go back to again and again. The hotel is beautiful and feels like a real country retreat. Hotel guests get access to the basic spa facilities of an indoor swimming pool, sauna and steam room.
However, you can upgrade to the full spa package to have access to a whole range of experience rooms and a magnificent hydrotherapy pool too. It's well worth upgrading for the extra facilities and would be perfect for a romantic spa break.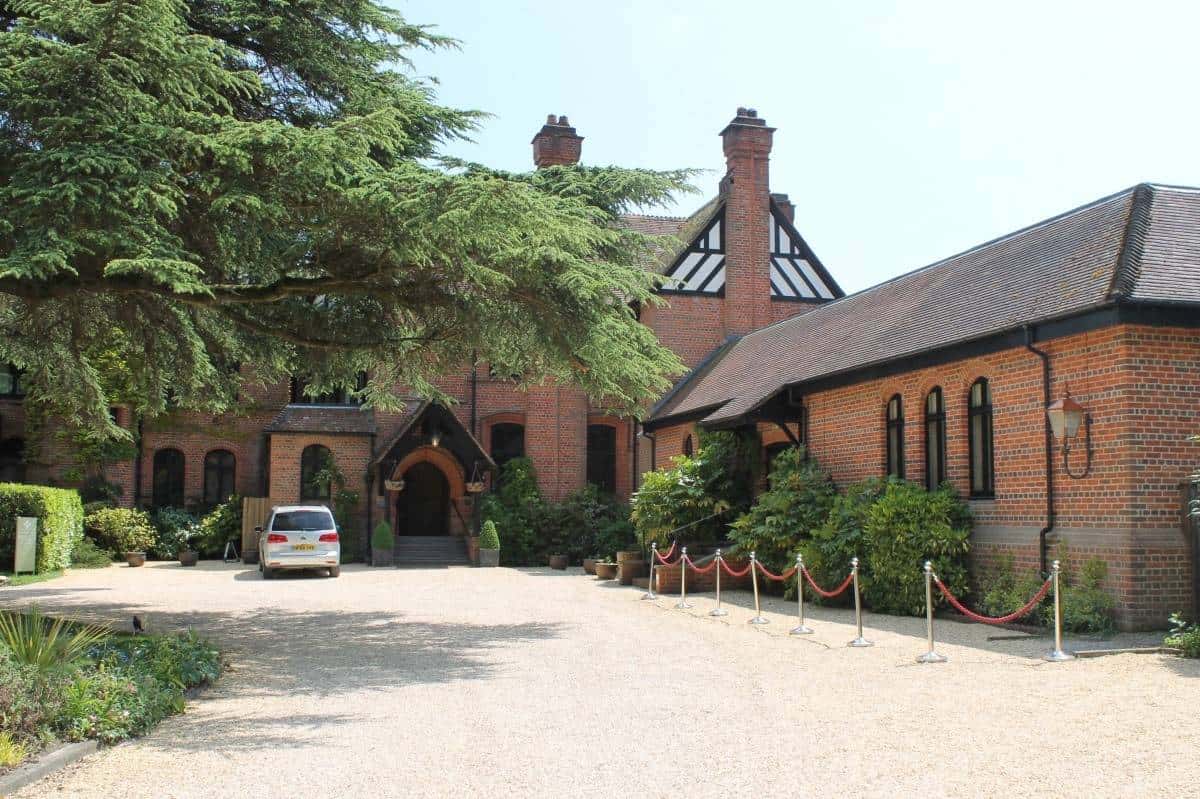 Other New Forest spa options include New Park Manor, MacDonald Elmers Court Hotel, Lime Wood Hotel and Chewton Glen Hotel and Spa.
---
Solent Hotel and Spa – Fareham
The Solent Hotel and Spa is well situated on the south coast with plenty to do in the local area. The spa has a fantastic pool, plenty of loungers and a good size jacuzzi too. It has a steam room and sauna as well as a fantastic treatment menu using Caudalie products.
The Solent Hotel has a really great range of spa day and spa break packages to suit every budget and occasion. They also have some of the best food options that I've ever experienced on a spa break and it would be a great base for a weekend getaway.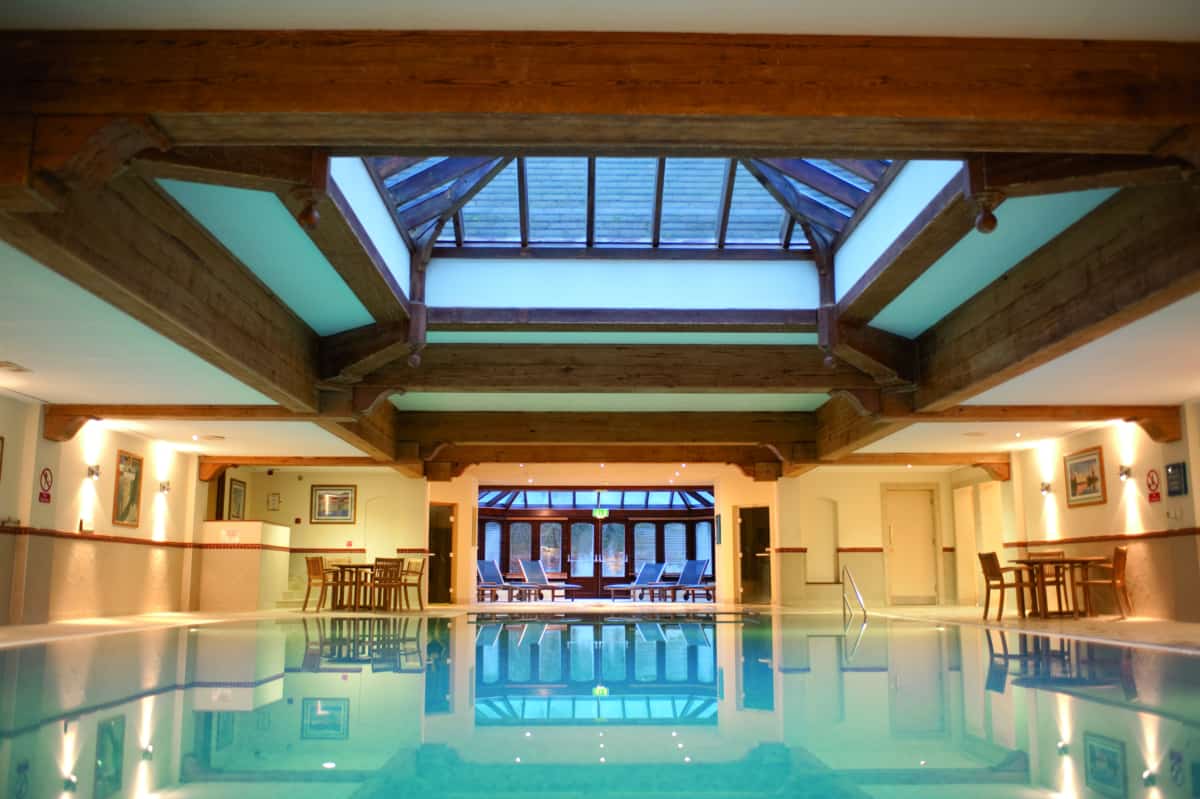 ---
Buckinghamshire Spa Hotels
Crowne Plaza Marlow
The Crowne Plaza Marlow is a fantastic chain hotel. It's situated within walking distance of Marlow which is a really lovely base for a weekend away. There are shops, restaurants and plenty of places to stop for a drink or a slice of cake too.
The spa has a good size indoor pool as well as both indoor and outdoor jacuzzis, a sauna and steam room, treatment rooms and a bar to order refreshments throughout your time in the spa. There's so much outdoor space and it would be glorious on a sunny day.
---
Surrey Spa Hotels
Brooklands Hotel and Spa – Weybridge
We found the Brooklands Hotel and Spa to be a really unique experience. Unlike other spas it doesn't have a pool but it does have a big outdoor hot tub with views over the Mercedes Benz test track. This is fantastic to relax and watch whilst enjoying a cocktail or two.
The Brooklands Spa has a great range of treatment rooms that are complimented by his and hers saunas and steam rooms and a new sunlight therapy room too. It's a lovely choice for a spa day or an overnight spa break.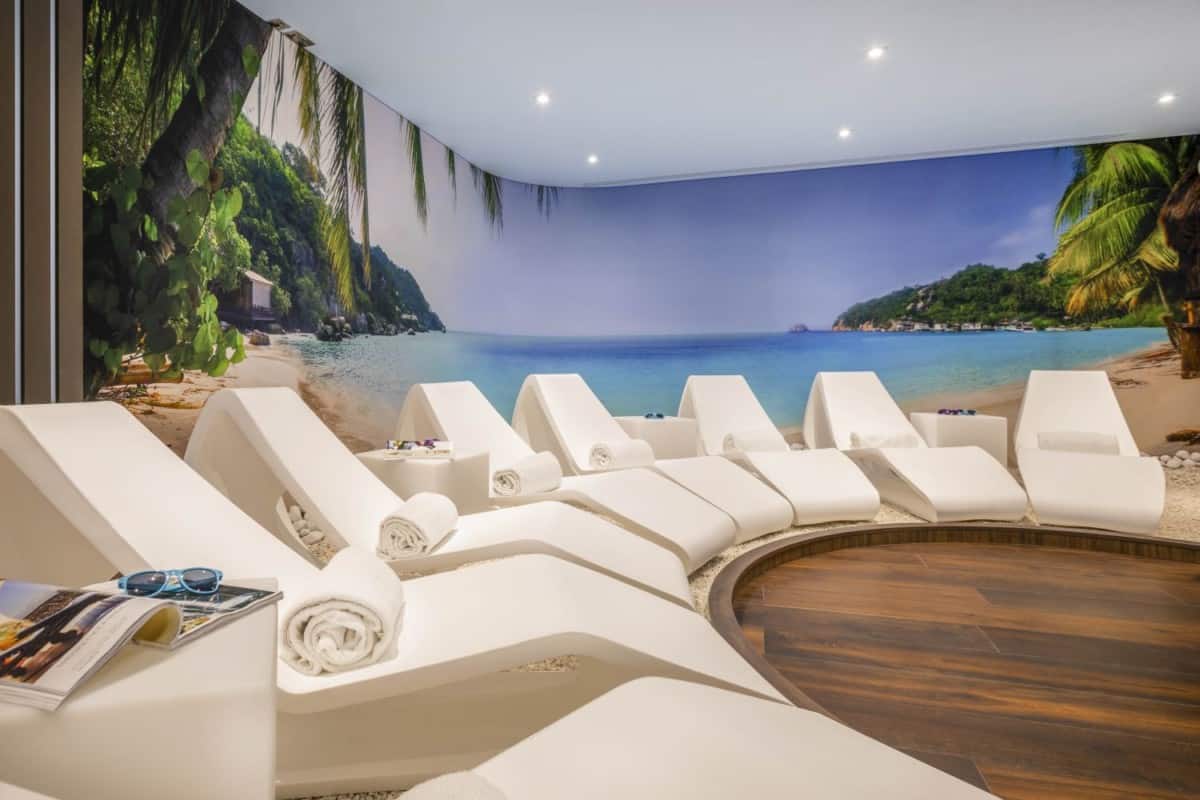 ---
Runnymede on Thames – Egham
The Runnymede on Thames Hotel would make a fantastic location for a spa break. Set on the banks of the Thames and with wonderful facilities it really is a little retreat just a stone's throw from London. The hotel has both indoor and outdoor pools, an extensive treatment menu and so many spa experience packages to choose from.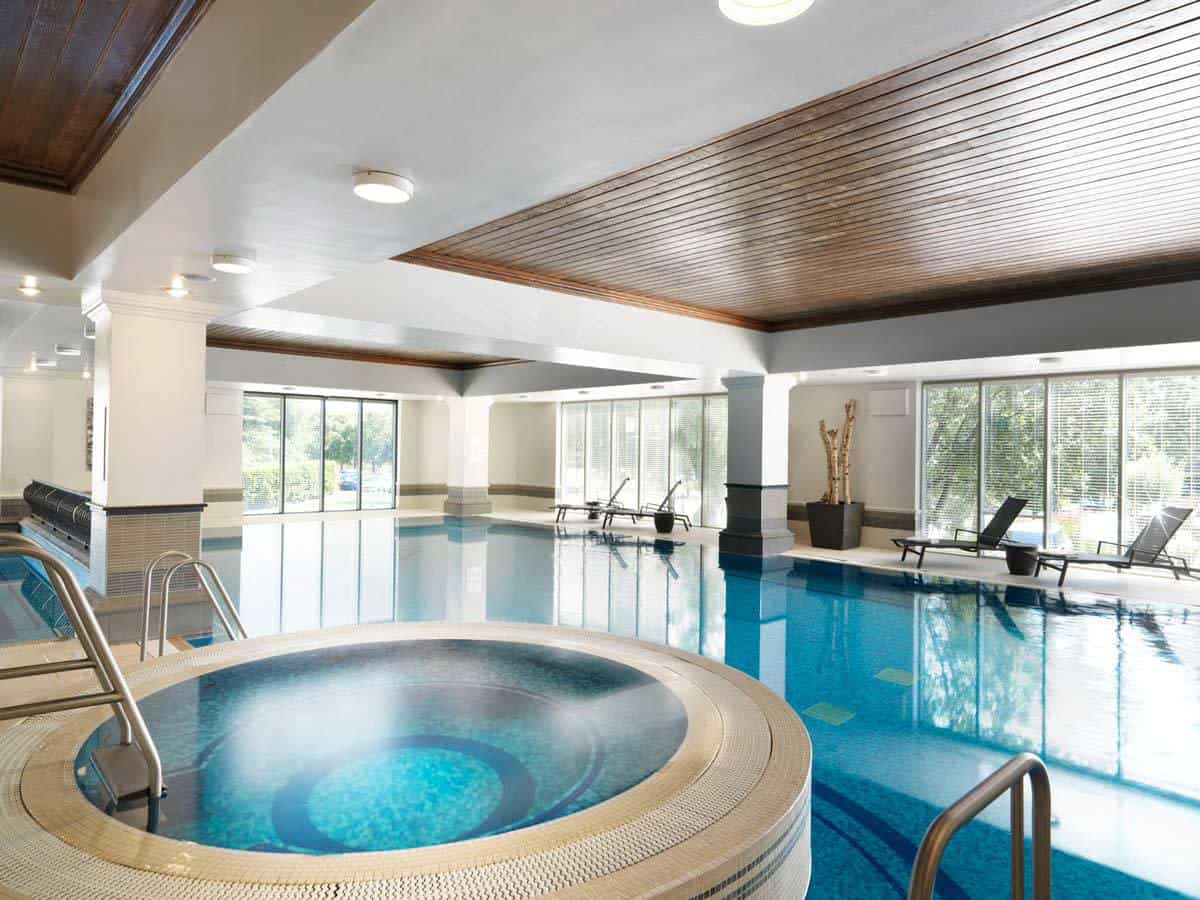 ---
Handpicked Hotels Nutfield Priory Hotel and Spa
The Nutfield Priory Hotel and Spa is set in the heart of the Surrey countryside. It's a beautiful gothic building with great spa facilities and the high end treatments and dining that we've come to expect at all the Handpicked Hotels venues. It's a beautiful place to relax and unwind.Image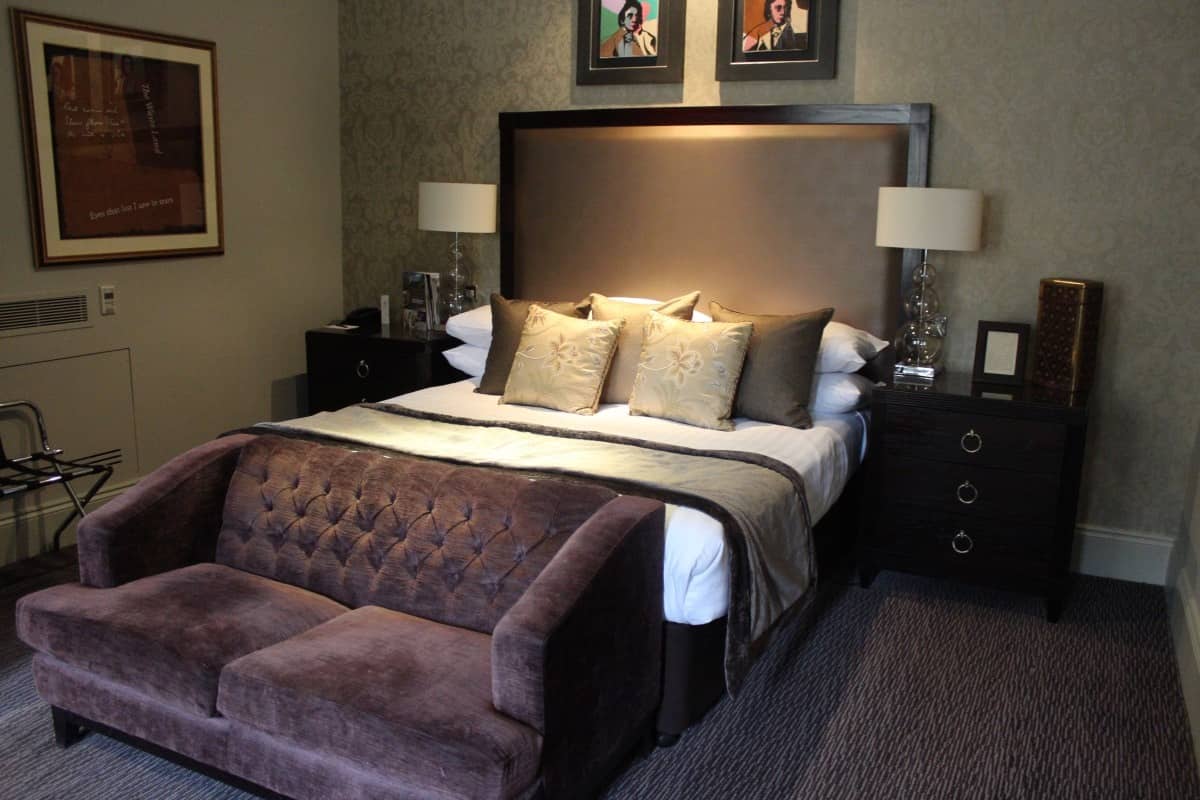 ---
London Spa Hotels
K West Hotel and Spa
The K West Hotel and Spa is well situated for Westfield London, Shepherds Bush and Notting Hill. It has a compact but lovely spa with hydrotherapy pool, sauna, steam room and loungers set in a really modern hotel.
---
Berkshire Spa Hotels
Donnington Valley Hotel – Newbury
Donnington Valley Hotel is well situated to visit from anywhere in the home counties. It has a fantastic pool and leisure facilities as well as a lovely lounge area to relax in and plenty of treatments on offer. With great food and comfortable rooms it's a lovely choice for a spa break.
---
Nirvana Spa – Wokingham, Berkshire
The Nirvana Spa isn't actually somewhere for an overnight spa break but I thought I'd throw it in as a wild card option for a pretty special spa day or spa evening instead.
Nirvana Spa is like walking into a completely different time. It's like being on holiday in Ancient Rome. There are so many magnificent pools, experience rooms and places to relax. It's a beautiful place and the food is lovely too.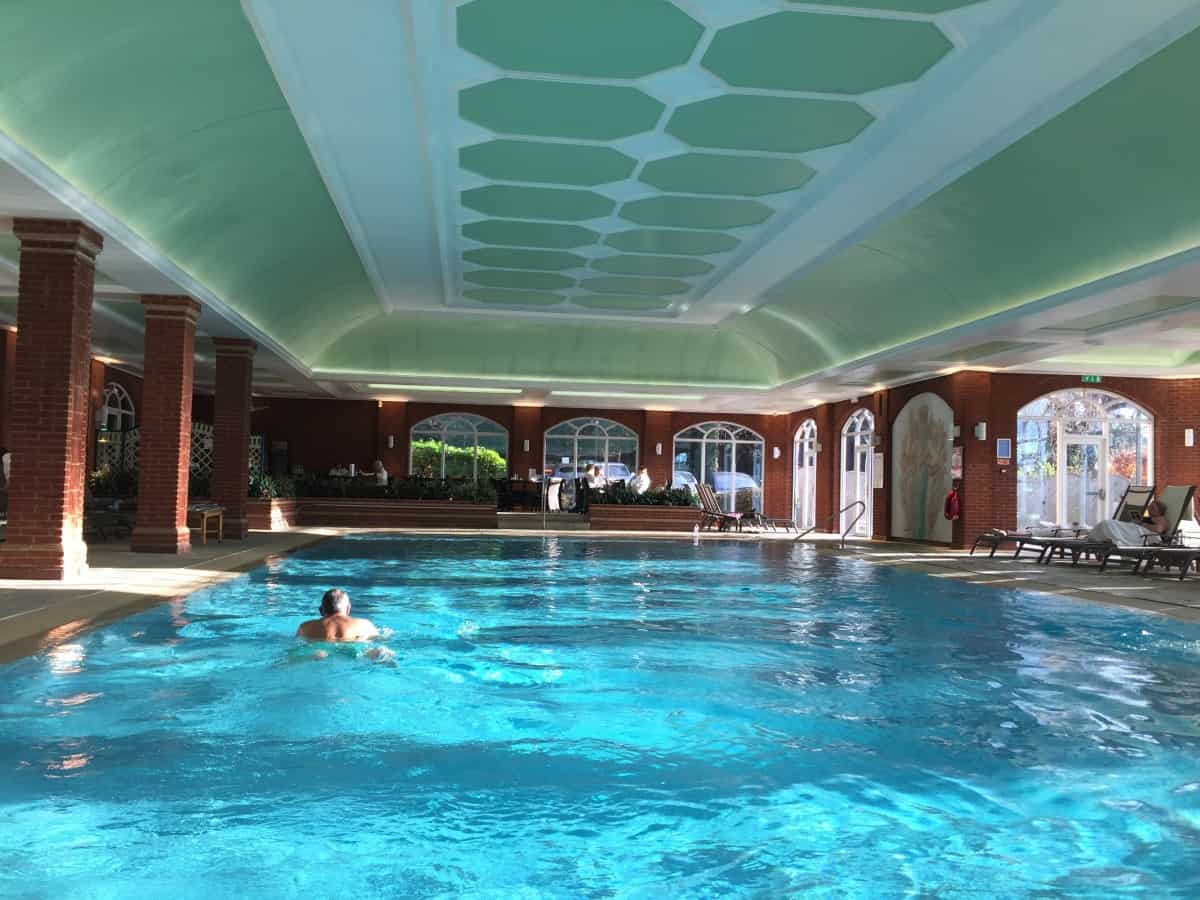 ---
Worcestershire Spa Hotels
The Malvern Spa Hotel – Worcestershire
The Malvern Spa Hotel is in one of the most beautiful parts of the country and it's a real retreat amongst the Malvern hills. With a fantastic pool which is both indoor and outdoor, plenty of places to sit both in the pool and out and many lounge areas to relax in this is a really lovely place for a spa break.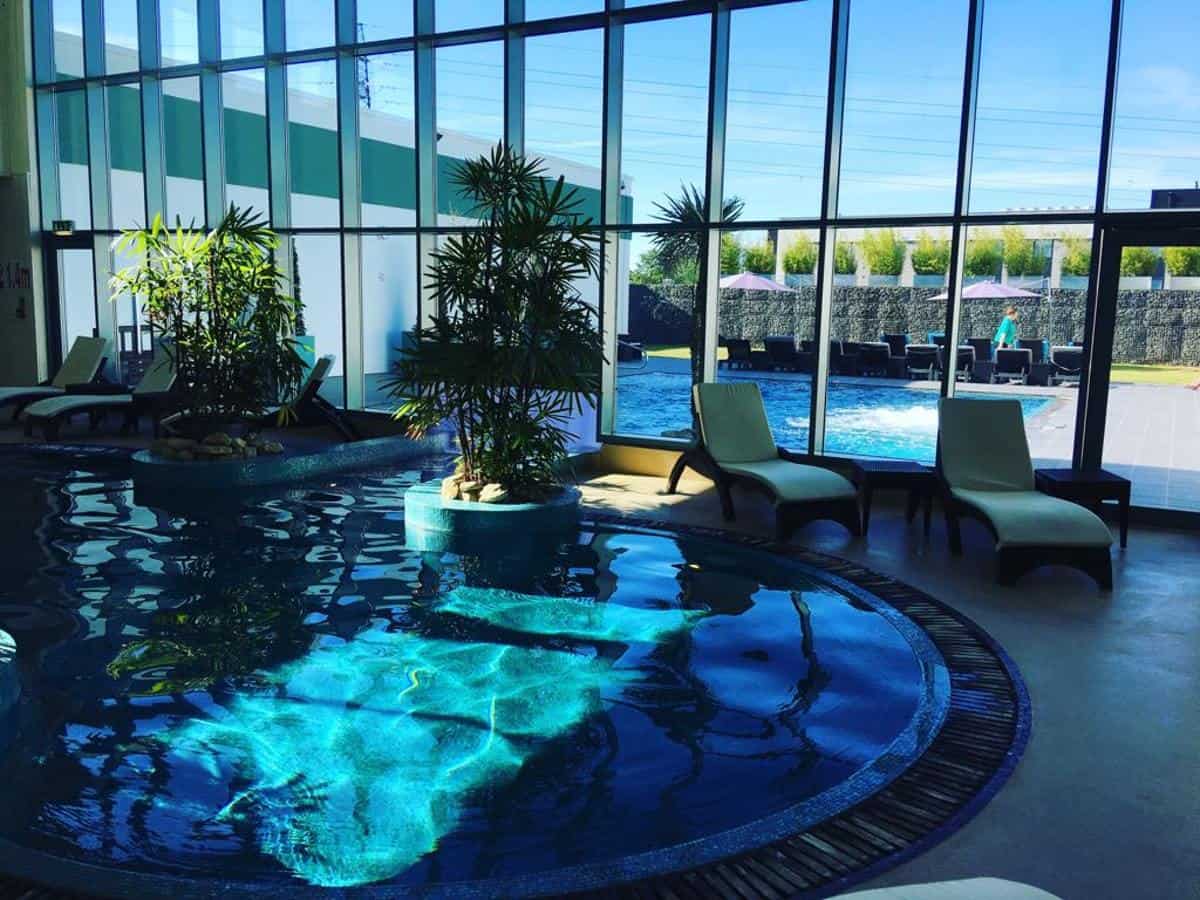 ---
Warwickshire Spa Hotels
Ettington Park Hotel – Stratford Upon Avon
Ettington Park Hotel is a beautiful country house hotel from the Handpicked Hotels collection. It's a neo-gothic mansion – complete with turrets, arched windows and so much historic extravagance. It's a very high class hotel with wonderful staff, amazing food and a really beautiful pool too.
---
Lancashire Spa Hotels
Ribby Hall Village
The Spa Hotel at Ribby Hall Village is one of the most recommended spa break locations in the country. The four star hotel is in the heart of the North West has a variety of packages available, a fantastic treatment menu – including the luxurious aqua thermal journey – and incredible looking food.
---
Kent Spa Hotels
Handpicked Hotels Brandshatch Place
Situated just off the M20 in Kent, Brandshatch Place couldn't be better situated for a spa break. It's easily accesible with wonderful facilities, beautiful rooms and fantastic food. It's a little bit of tranquility just a stone's throw from London and you can't go wrong with a Handpicked Hotel either.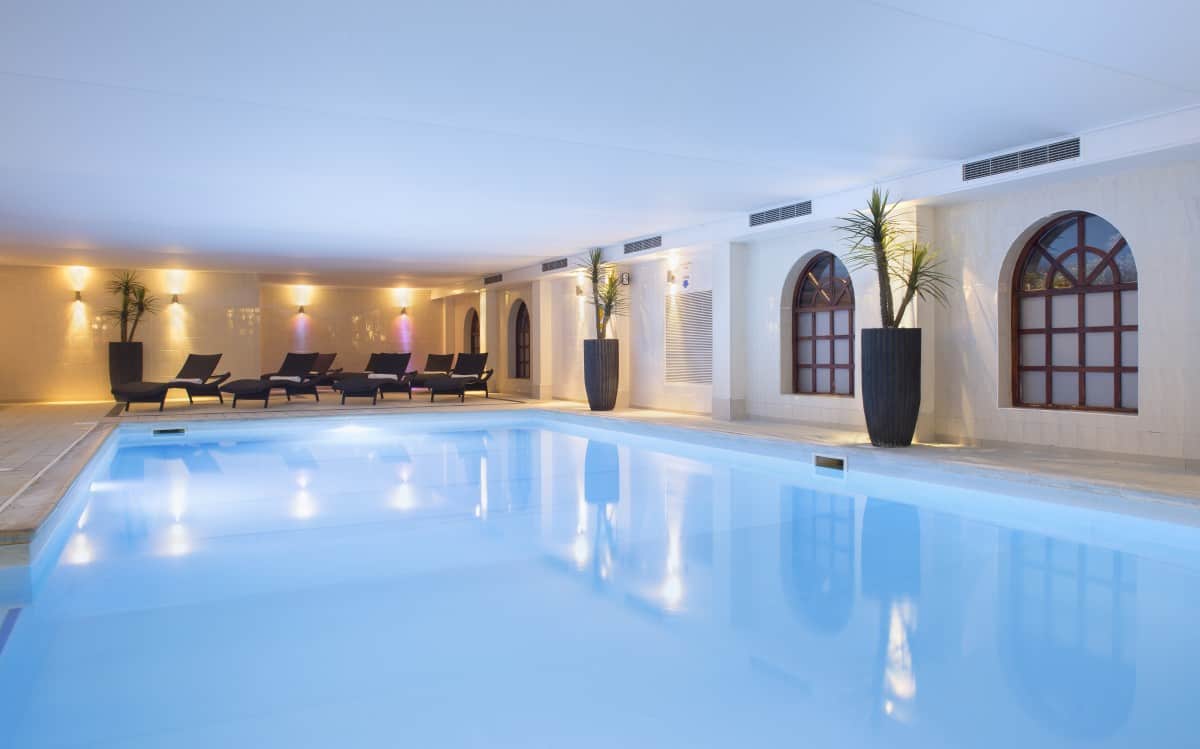 ---
Champneys Eastwell Manor – Ashford
The Champneys Spa at Eastwell Manor is a completely separate building to the main Eastwell Manor house but still within their grounds. This makes the spa resort a really secluded place to spend a day or two and you get star treatment from the moment you arrive. With breakfast, lunch and refreshments as well as first class treatments it's a really lovely place to spend time.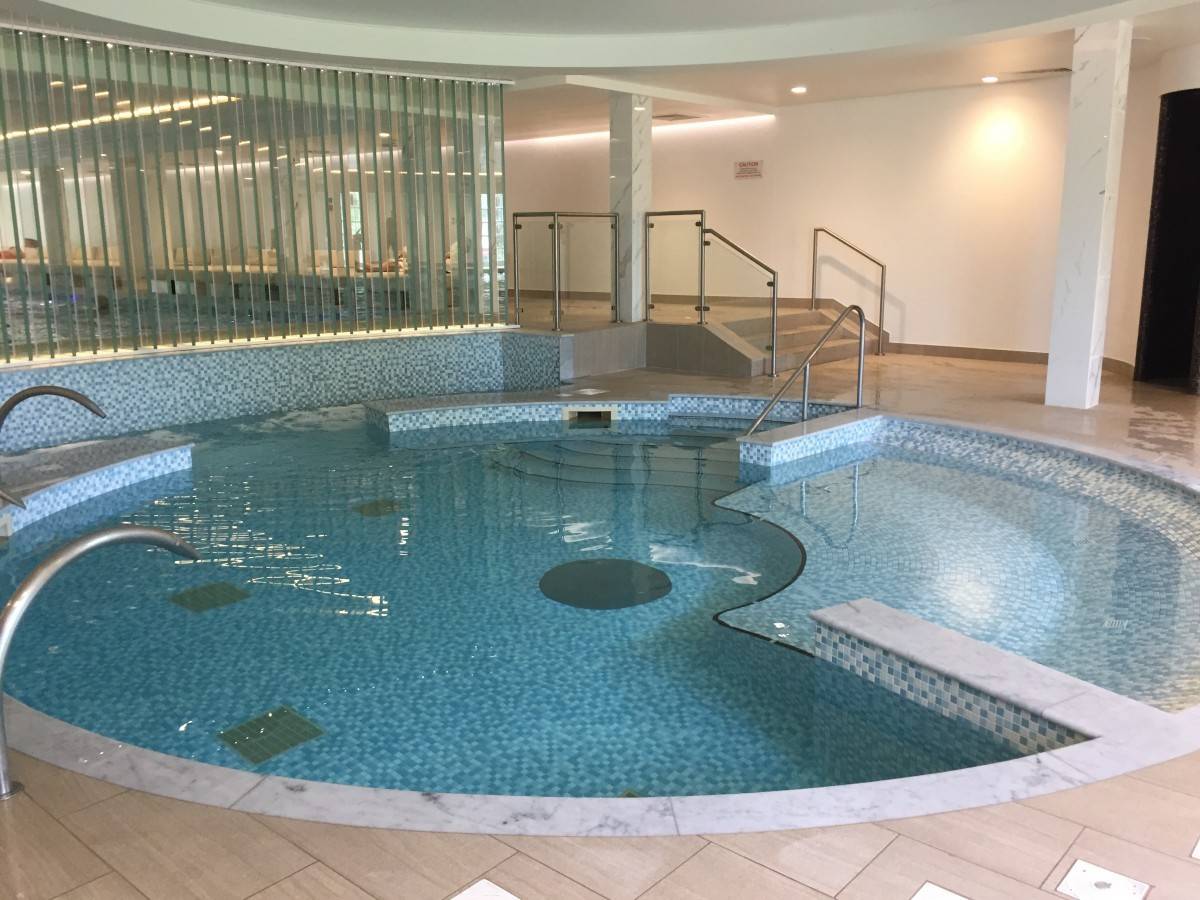 ---
Bedfordshire Spa Hotels
Wyboston Lakes – Bedfordshire
Wyboston Lakes in Bedfordshire is a complete destination in the world of spa breaks. With beautiful rooms and some of the best spa facilities I have come across it's somewhere you could spend a whole weekend without a care in the world.
---
Center Parcs Woburn Forest
The spa as Center Parcs in Woburn Forest is incredible and they do dedicated spa breaks in the Aqua Sana area of Center Parcs. You can hire a bike and explore the forest or just relax and unwind within the spa complex. With many different rooms offering different experiences and a whole array of treatments it's a really indulgent spa break option.
---
Somerset Spa Hotels
Homewood Park Hotel and Spa – Bath
I think Homewood Park is one of my favourite spa breaks so far. Set in the heart of the countryside near Bath, it's in a beautiful location and feels like a real oasis of peace and calm. It has a beautiful outdoor pool, an indoor hydrotherapy pool, sauna and steam room as well as a wonderful array of treatments on offer. Their food and cocktails are amazing and the rooms are pure luxury. This is definitely somewhere everyone should treat themselves and visit.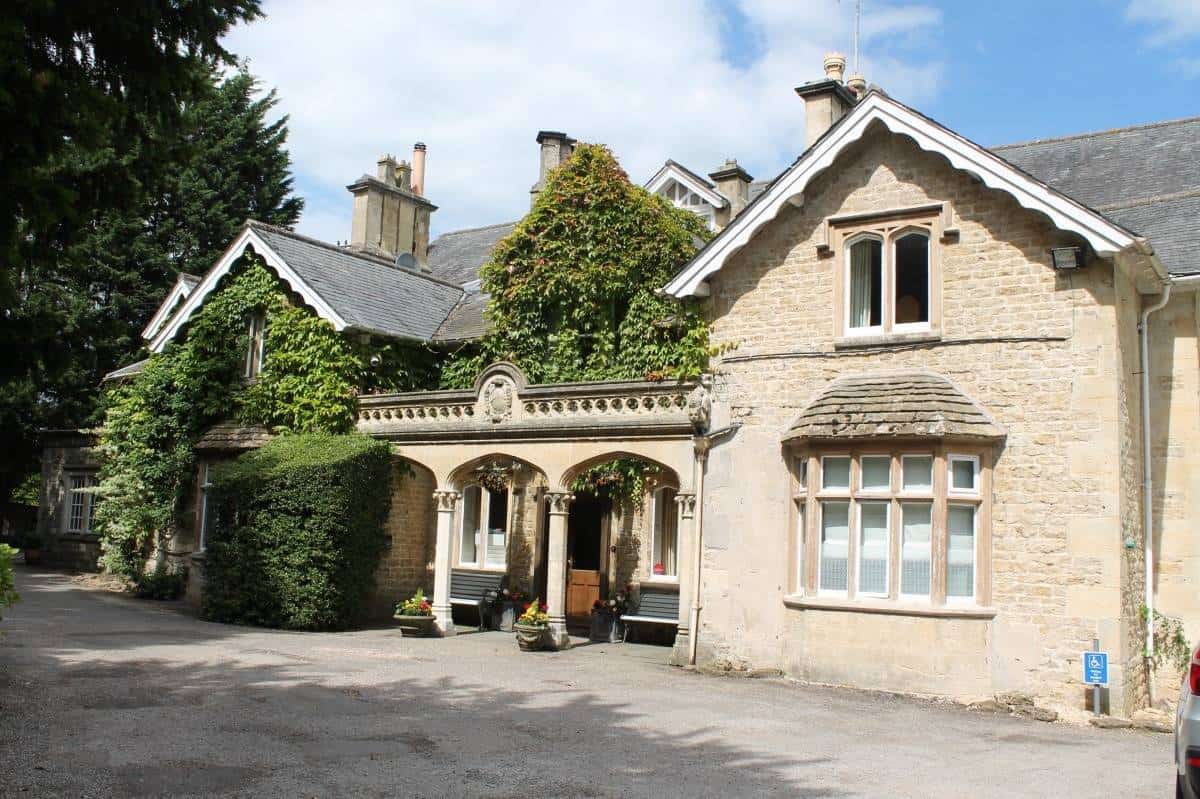 ---
Wales Spa Hotels
Mercure Cardiff Holland House Hotel and Spa
The Mercure Cardiff Holland House Hotel and Spa is just a short walk from Cardiff city centre, well located for a day of shopping or an evening out. It has beautiful rooms, great dining options and a huge pool as well as steam room and jacuzzi. This is a fantastic location for a city spa break.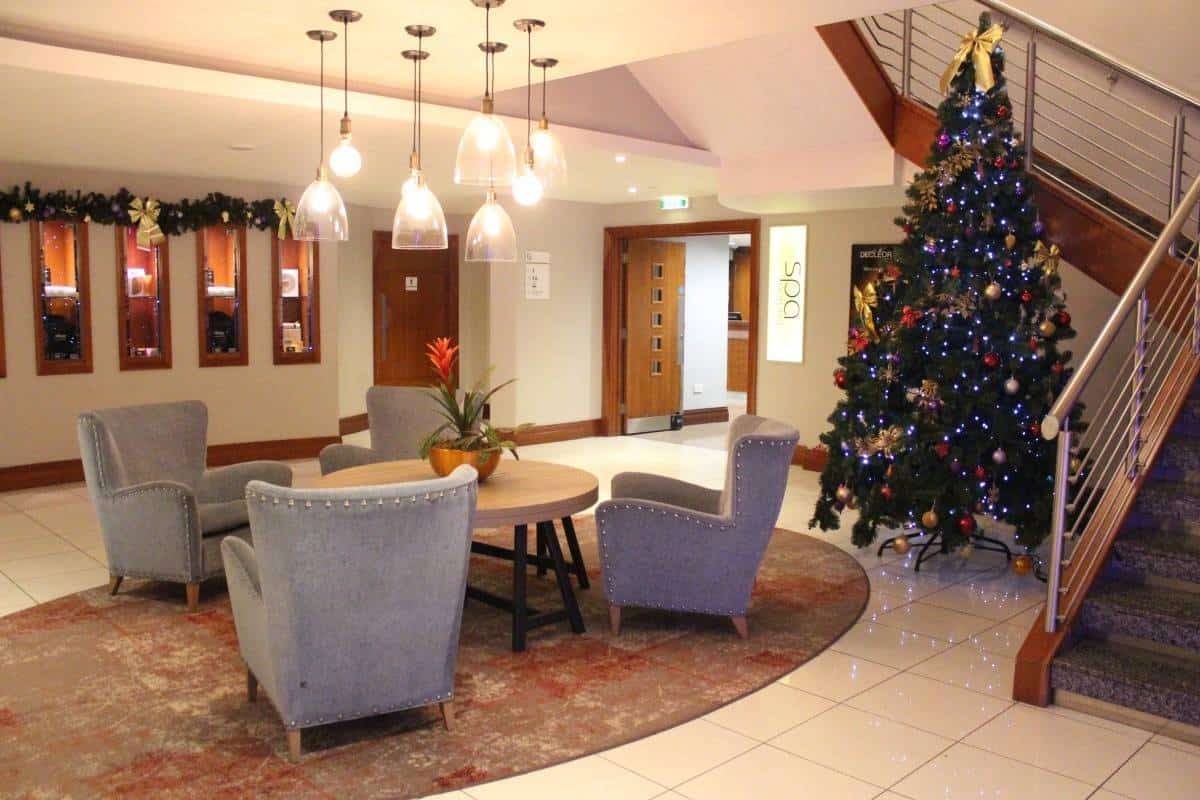 ---
Bluestone Spa
The Bluestone Spa is just a day spa but if holidaying at Bluestone you can book a spa day or even just treatments to make the most of your break and in that sense, if you're not too far away you could book a weekend at Bluestone for the ultimate rural spa break. With a whole thermal suite of different rooms to explore as well as an outdoor jacuzzi it's a really lovely place to relax and unwind.
---
Northamptonshire Spa Hotels
Fawsley Hall Hotel
Fawsley Hall Hotel was one of the first spa breaks that Dave and I went on – and it was pure luxury from start to finish. There's a heated indoor hydrotherapy pool, a sauna, steam room and fantastic treatment menu all set within beautiful grounds and a really lovely hotel.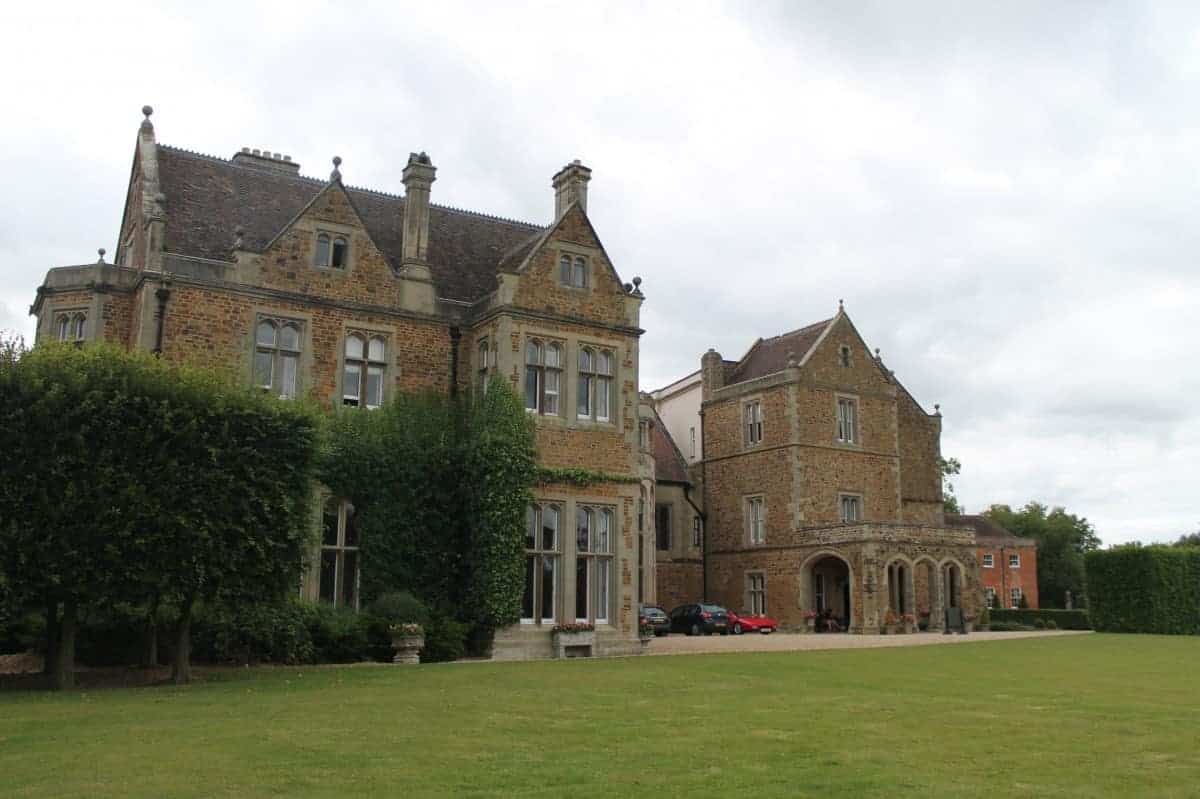 ---
Gloucestershire Spa Hotels
Calcot Manor
The Calcot Manor spa is one of the nicest we have visited because the hotel has childcare facilities that you can make use of whilst you use the spa – every parents' dream! With an outdoor hot tub and real fire it really is a little bit of rural luxury and a real country retreat.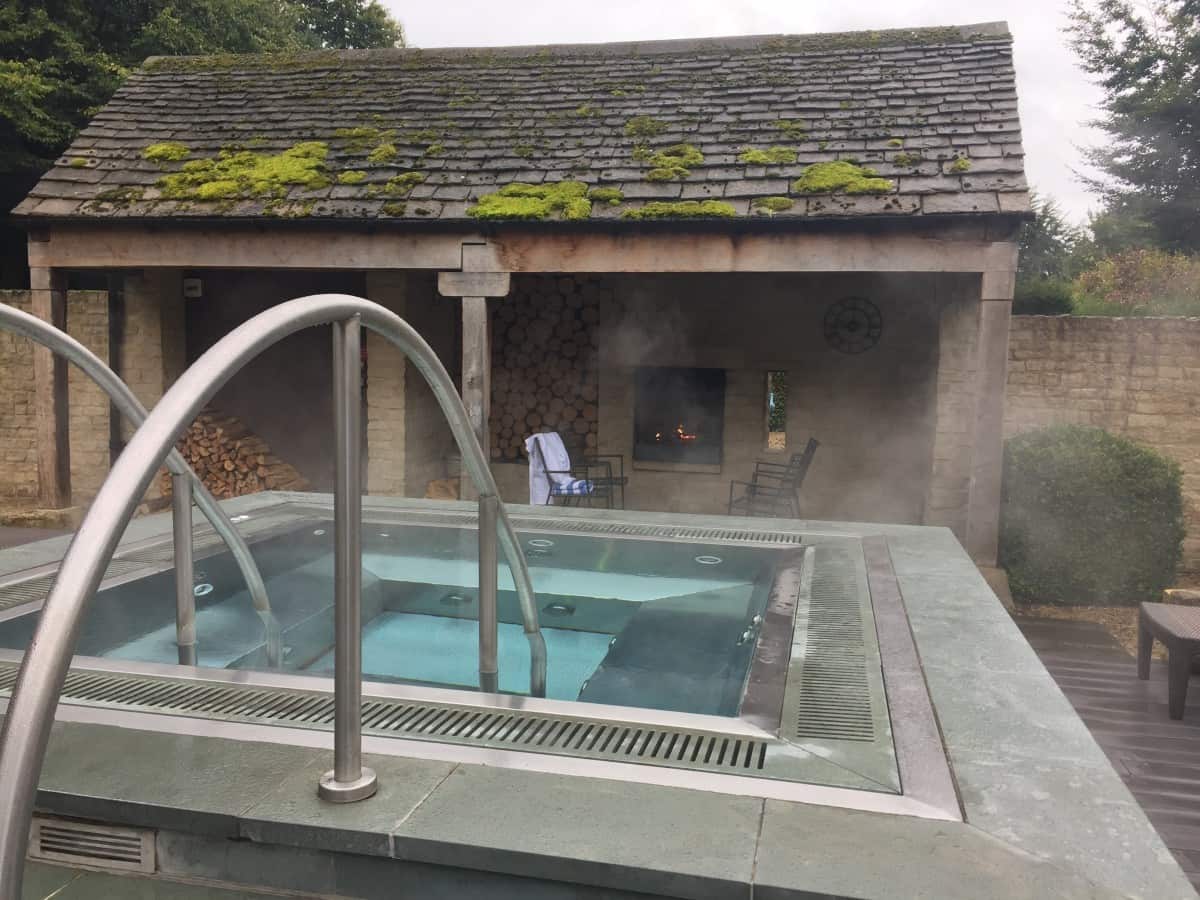 ---
So there are all the spa hotels we have visited so far and I hope they give you some inspiration for your next spa getaways or even just a spa day. I'll add more as we stay at them and if you have any you would like to recommend please do let me know.