Disclosure: We were invited on this day out for the purpose of this post however all opinions are my own.
Earlier this week I was invited to the Solent Hotel to enjoy a spa day with a group of other lovely bloggers. It was such a nice way to extend the bank holiday weekend and something I had been looking forward to for weeks – especially as we stayed at the spa hotel with the children just a few months ago and got to experience what a family friendly place it is. I knew it was going to be a pretty lovely day.
The Solent Hotel in Fareham is such a lovely retreat, easily accesible and with plenty of free parking on site. It has fantastic spa facilities, a really fresh and welcoming vibe to it as well as the Lodge at Solent right next door which even allows dogs to stay for holidays too. The Solent Hotel really is a destination for any break away – whether a family trip, a break with friends or a little couples weekend away.
Our spa day began with a smoothie and fresh fruit whilst we met the other bloggers and caught up with the ones we already knew. We toured the facilities, admiring the swimming pool, treatment rooms, fitness centre and relaxation room before heading to get changed and make the most of our day.
Spa days at the Solent Hotel can be anything from simply using the pool, sauna, steam room and jacuzzi to a day full of treatments, food, drink and relaxation. The spa can cater for exactly the break that you want and during our day we got to experience a little bit of everything.
All spa guests are given robes, slippers and towels plus there are fresh towels to hand whenever you need them. We were also given a wristband to access the lockers and there were complimentary drinks and snacks available throughout the day that we could just help ourselves to. This isn't something I've had in a spa before and it was such a little touch that really went a long way. It was lovely to be able to use the coffee machine or have a cup of tea and a sweet treat whilst lounging by the pool.
Throughout the morning we each had treatments. We met our therapist in the relaxation room and were taken to quite, dimly lit treatment rooms. I went for a facial, something I have never had before, and it was one of the most relaxation thirty minutes of my life. My skin felt amazing afterwards and it was the nicest time out I have had in ages. I'll definitely be getting a facial again in the future. The Solent Hotel also has a double treatment room with a private outdoor hot tub which would be a wonderful addition to a romantic break away.
The Solent Hotel spa treatments on offer are a really good variety and great quality too. They all use Caudalie products and we were lucky enough to have a Caudalie skin care demonstration during our spa day and learnt a lot more about the brand and their new suncare range too. It was really informative and for someone that usually only uses wipes as far as skin care was concerned it taught me so much about what I should be doing each day and the sorts of products I should be using. Caudalie are really fantastic quality products, they're great value and they're available to buy from the Solent Hotel spa too.
After our morning of relaxation and our treatments we had a lovely lunch in the spa lounge, still in our fluffy robes. There's something so lovely about spending the day in a robe on a spa day and not even having to get dressed to eat. We got to pick two courses from a wonderful three course menu and I chose the club sandwich and Greek yogurt for dessert. It was just the right balance of healthy but really tasty and it was just the sort of meal you want on a spa day – nothing too heavy or rich.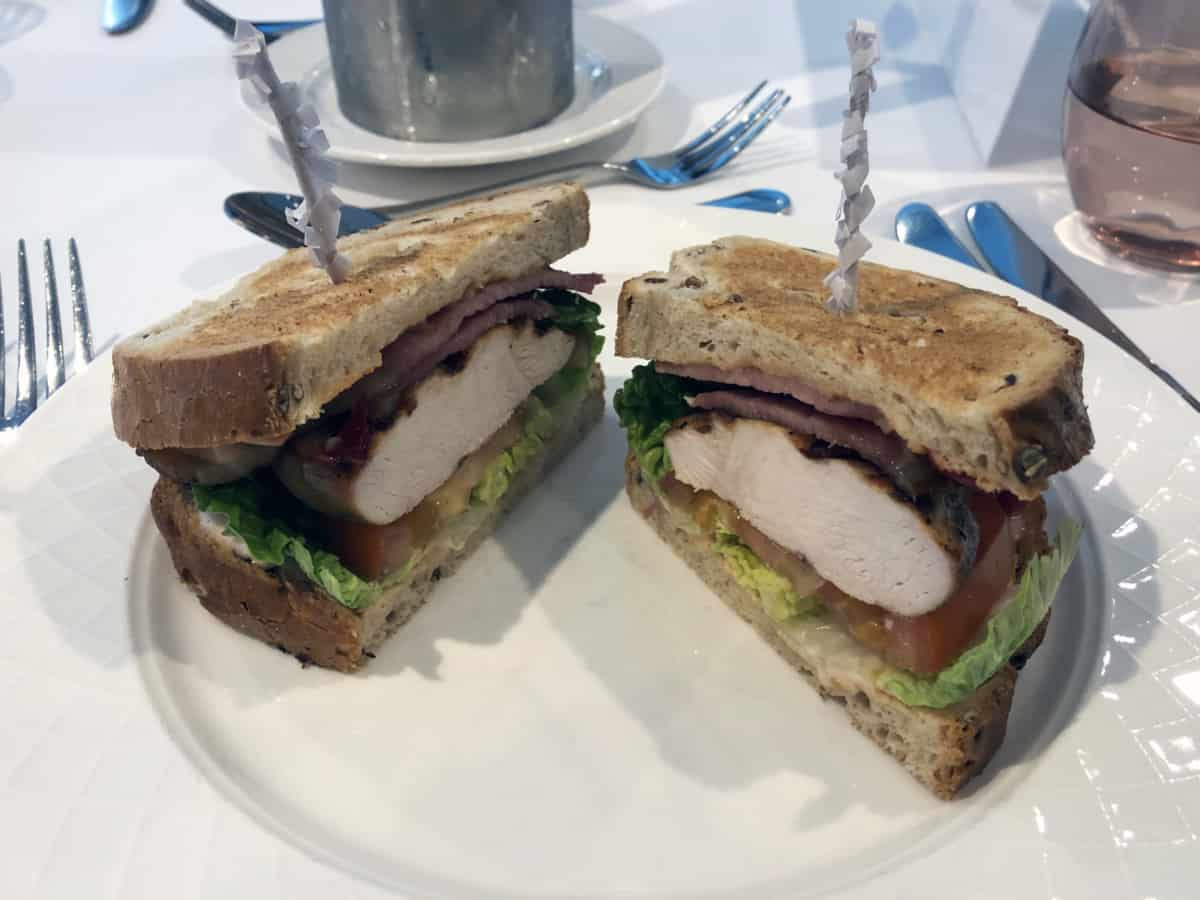 Once we'd finished our lunch and had our Caudelie demonstration we finished the day with yet more time to relax. With a dip in the pool, a sauna and steam room to enjoy and plenty of loungers to rest a while it really was a wonderful place to spend a day and to have some time out from work and the stresses of day to day life.
The Solent Hotel have so many spa days and spa breaks available and it's now something I'm looking to add to my calendar regularly. Having a little bit of me time and switching off from housework and all that life admin even just for a few hours does everyone the world of good. You can find the full range of Solent spa days and breaks here and they have a lot of special offers too.