Disclosure: We were sent the featured products for the purpose of this post however all opinions are my own.
The children have always loved being creative, making things, crafting and letting their imaginations run wild. But, as parents, we have never been ones to just raid the recycling bin. We often lack ideas when it comes to getting creative at home and much prefer investing in craft kits that have all the pieces we need to create something tangible the children can keep forever once they've made it.
So you can imagine our delight when we discovered Build Your Own and their range of fantastic eco-friendly toys that the children build themselves! We were sent the Build Your Own Plane Launcher to test out and Little Man was excited the minute he saw it – paper planes are one of his favourite things and having a plane launcher would take paper plane play to a whole new level!
The Plane Launcher kit comes with everything you need to slot together and build the finished toy. Unlike many other kits we've used in the past you don't need anything from home – no glue or tape – literally just the kit. This is fantastic – especially as the whole paper plane launcher kit is made using sustainable cardboards and no plastics. It's a really environmentally responsible product.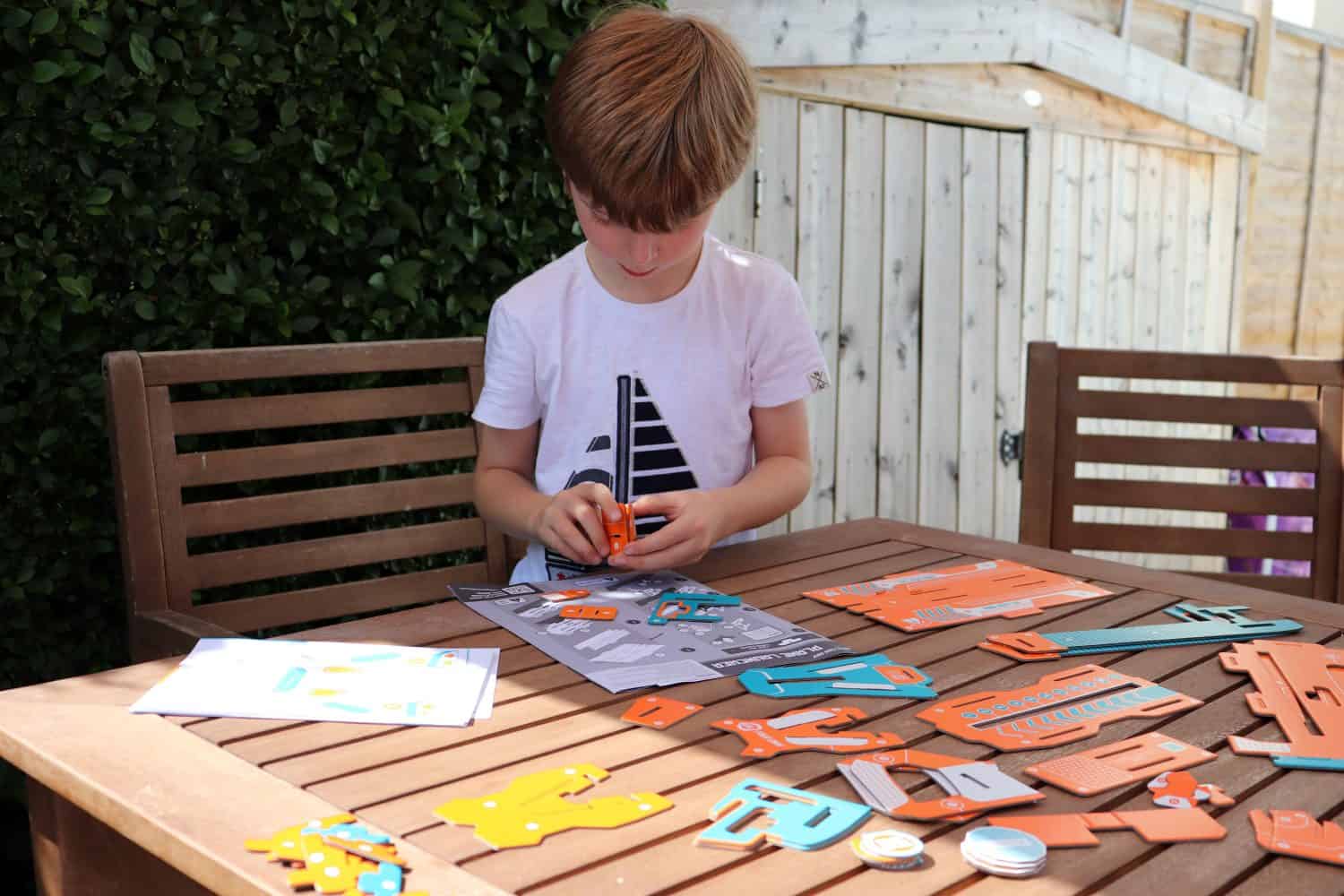 The kit is aimed at age 8 and above so Little Man, aged 7, worked through making it with Daddy sitting by his side in case he needed any help. There are 47 pieces that are simple to press from the sheets they arrive in and Little Man was able to follow the instructions, attach the elastic bands and create the plane launcher with just a little adult help. The kit also comes with spare rubber bands just in case you need them.
The finished paper airplane launcher is surprisingly sturdy. It's a really durable toy that is made to last. The set comes with a whole selection of paper aeroplanes with different folds to create ones we had never even thought of before. Some of the planes were tricky to fold but Little Man didn't mind at all – he just loved being able to launch planes further and faster than ever before.
The kit also comes with targets to aim your paper planes towards to see how far you can get them to travel. This makes the finished launcher a great toy for siblings or a family to share, taking it in turns to see who can get their paper plane the furthest and score the most points.
The plane launcher includes an integrated power scale so children know how much force the paper airplanes will be launched with. It's great for teaching them more about physics and the science behind how paper planes fly.
It's safe to say Little Man absolutely loves this launcher. It's such a good investment for a family home. He would have loved to just receive the constructed plane launcher but to be able to make it himself was incredible. He's so proud that he can have such fun with something he created.
The Build Your Own kits are something I would love to give as a gift, knowing the recipient could spend time building the project and then enjoying it indefinitely afterwards. It's something all kids would love. As well as the plane launcher there's a Telescope kit and a Microscope kit coming soon.
The Build Your Own Plane Launcher has an RRP of £16.99