Disclosure: We were sent the featured products for the purpose of this post however all opinions are my own.
This post contains affiliate links and I may receive commission if you visit a link and buy something. Purchasing via an affiliate link doesn't cost you any extra, and I only recommend products and services I trust.
We are huge Trunki fans in our house and LP is never far from her Trunki pal – Playing with it most evenings before her bath. The original Trunki suitcase is only one of many innovative products that Trunki produce – The latest being the Trunki Yondi which we were sent to review.
What is the Trunki Yondi Travel Pillow?
The Trunki Yondi is a kids travel pillow, available in a variety of designs that all incorporate magnets under the chin to keep the Yondi snug and in place during your trip. Yondi neck pillows form a soft but supportive cushion that stops your child's head from flopping forwards or to the side when they sleep.
A great addition to the Trunki Yondi is the Trunki Grip which can be used to attach a soft toy, comforter or blanket so that the child always has it within easy reach. LP has been attaching her Dribble Dog toy or her teddy bear to the Trunki Grip which holds them nicely in place when she's asleep in the car seat or just during the journey – She loves having her toys as close as possible!
Why would we use the Trunki Yondi neck pillow for kids?
We often go on car journeys as a family which are two or more hours long. LP will generally fall asleep half way through the journey but never looks particularly comfortable and I had never thought to use travel pillows. I didn't know how she'd take to her own Trunki Yondi, whether she'd like something being round her neck but she surprised me and after the first time of using it she started to ask for it when we got in the car. LP would snuggle into the pillow and I think she finds it comforting, plus it stops her head rolling forward when she's asleep. (Excuse the fat lip in this picture – LP had a little accident the night before.)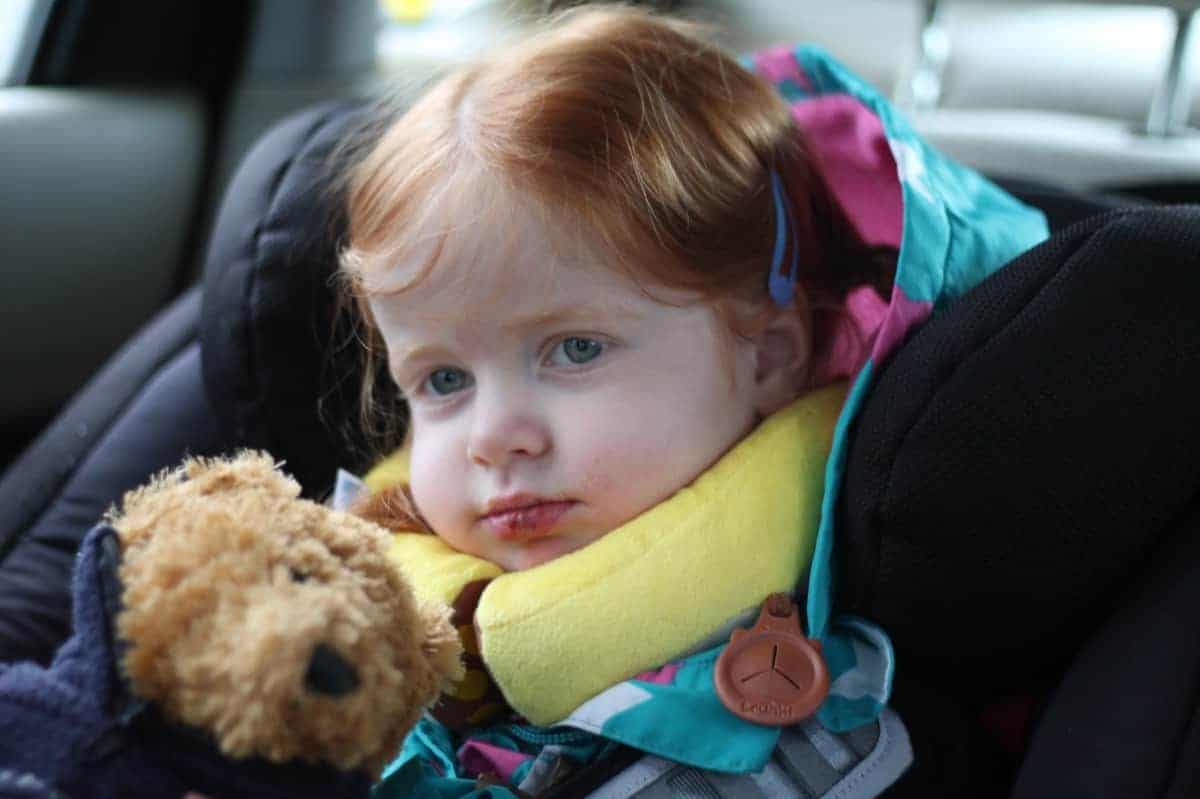 I love the fact that there are so many designs of Trunki Yondi toddler neck pillow to choose from – We were sent the Leeroy the Lion but there are most colours and animals to suit any child's preferences. LP has always had a love of jungle animals and loved Leeroy from the start!
Trunki Yondi would be great neck rests for any journey – Whether in the UK or going abroad. The kids travel neck pillow would also be great to use on a day to day basis in a pushchair or on day trips for any little one and the hidden magnets keep is safely in place. The children's neck support pillow also doesn't take up very much room so can be taken with you easily and the plush fabric and microbead filling is soft and comfortable.
The Trunki Yondi is recommended for age 2+ and has an RRP of £12.99.