Disclosure: We were invited on this break for the purpose of this review however all opinions are my own.
We love finding family friendly accomodation options wherever we travel. When we were planning our trip to Rome we were invited to make use of a Stay Park and Fly at the Holiday Inn London Heathrow M4 J4 to make the 7am flight time just a little easier.
A Stay Park and Fly package is fantastic for early flights but it's also great if you live further afield and have to travel some distance to the airport. Holiday Inn have so many packages, some with parking included and others consisting of a night in the hotel before or after your flight as well as food and airport shuttle transfers.
Our Stay Park and Fly package gave us parking for the duration of our trip and when we arrived at the hotel we did find the parking situation quite interesting with cars parked literally everywhere. But we found a space by a rear entrance to the hotel, unloaded the car and began our stay.
The staff were really lovely at the Holiday Inn and gave us all the information we needed for our stay. We paid £8 per adult for return transfers to the airport the following morning and were advised of where to have dinner and breakfast – although we'd be leaving before the breakfast service started the following morning. However, we could request a breakfast to take away at no additional cost.
The hotel was really modern and had a really bright and airy feel to it. We were on the third floor and had no idea how vast the hotel was until it got busier later in the day.
We had been given adjoining double rooms which were perfect for a family stay and each room had the addition of a sofa bed, TV, air conditioning, free wifi, tea and coffee making facilities and a good size bathroom with complimentary toiletries. As each room had a sofa bed a standard room can accommodate a family making this a really great option when travelling with children.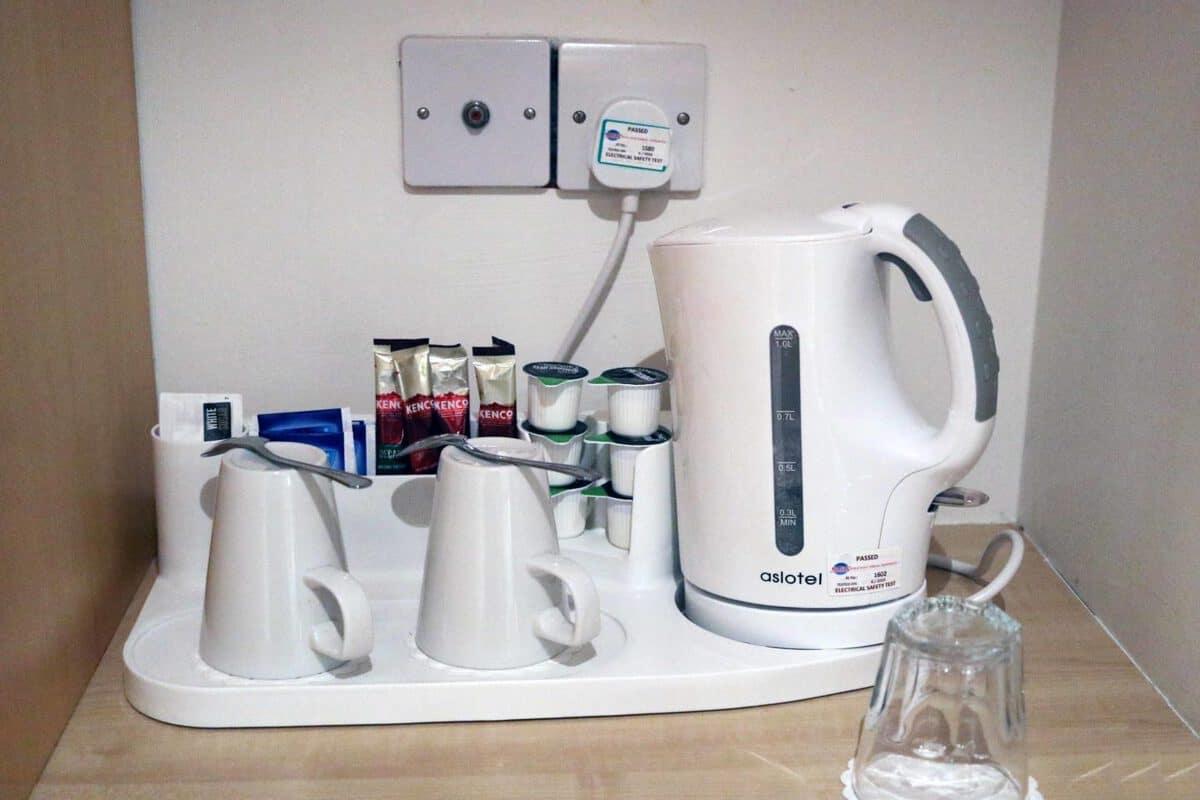 We relaxed in our room for a couple of hours before dinner and it was lovely to just unwind for a while. The children loved their room and made themselves really comfortable whilst watching cartoons on the TV.
For dinner we went to the Seasons Restaurant and had our meal included in our package. It's great to know though that children stay and eat free at Holiday Inn making them one of the most family friendly chains I have come across.
There was some confusion over our included meal and we did feel pushed to have a buffet option that had quite limited choice for the children. When we queried it we were told we could also order from the main menu which had much wider choice and a fantastic children's menu too. The children were given colouring sheets and crayons which is always really appreciated.
For our starters I chose prawns and chorizo which was served with bread and was full of flavour. Dave went for the calamari which was a really good size portion and a really good way to start a meal.
For our mains I went for a superfood salad which had a choice of add ons like chicken or salmon. I chose chicken and it was a really lovely meal with so many different elements to it and so filling too.
Dave chose the Mediterranean Chicken Burger which made a really nice change to a traditional burger. It was served with fries and coleslaw and had the addition of a pesto dressing in the burger too. It was a really lovely meal.
For our desserts I chose a crumble which couldn't have been better. Lovely and warm, lumps of fruit and served with custard. Dave went for the honeycomb cheesecake which was so rich and had just the right amount of honeycomb in it.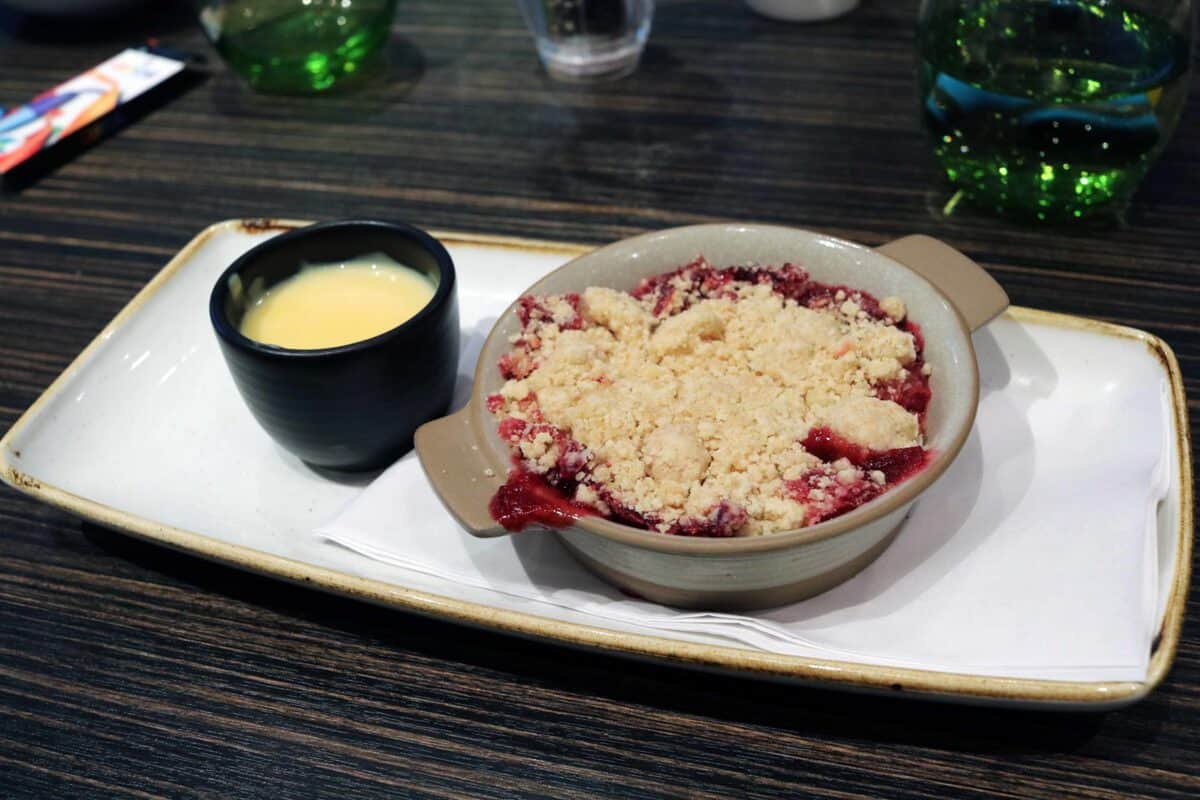 The children had garlic bread with cheese, followed by sausage mash and beans. These were really great portion sizes and we found the whole of the children's menu really varied and homely.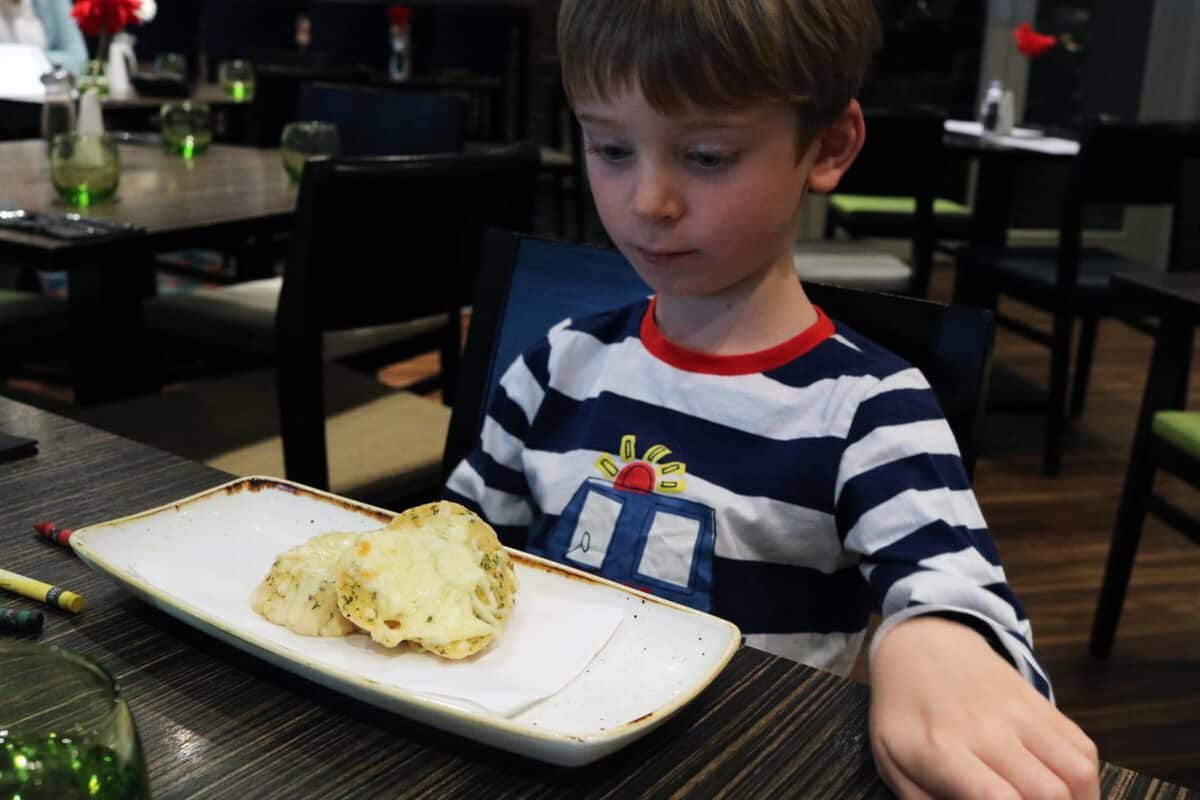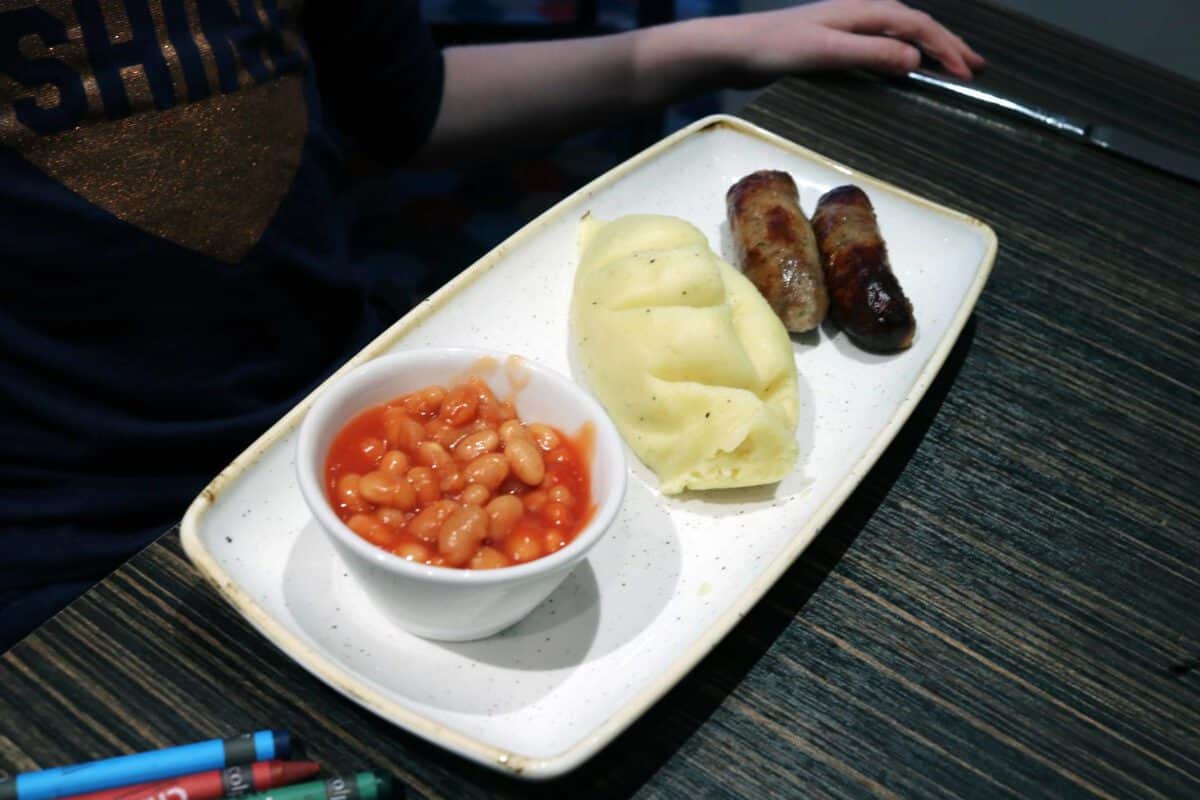 For desserts Little Man had ice cream and LP chose the fruit sticks served with dipping sauce however, there was some confusion and a simple fruit salad appeared. We asked about the fondue style dish and the waitress brought out a bottle of chocolate sauce to put on the fruit salad but LP had been excited at the prospect of a fruit chocolate fondue. The waitress didn't really understand our issue and in the end we asked for ice cream for LP instead. It was a bit of a disappointment for LP and really it wouldn't have been an issue if we'd been told the fondue element hadn't been available when we ordered.
After dinner we went straight to bed and slept so well. The room was a really good temperature and we had our own temperature controls, the beds were comfortable and the bedding was great quality. The room was completely silent despite it being a hotel airport in a busy location and the blackout curtains were fantastic.
In the morning we got ready quickly – at 4am – and checked out of the hotel. We were then able to board our London Heathrow airport transfer bus directly outside the hotel and as it was the first stop we practically had the bus to ourselves.
The transfer took about twenty minutes and before we knew it we were at our terminal ready to drop our bags off and go through security. It couldn't have been easier.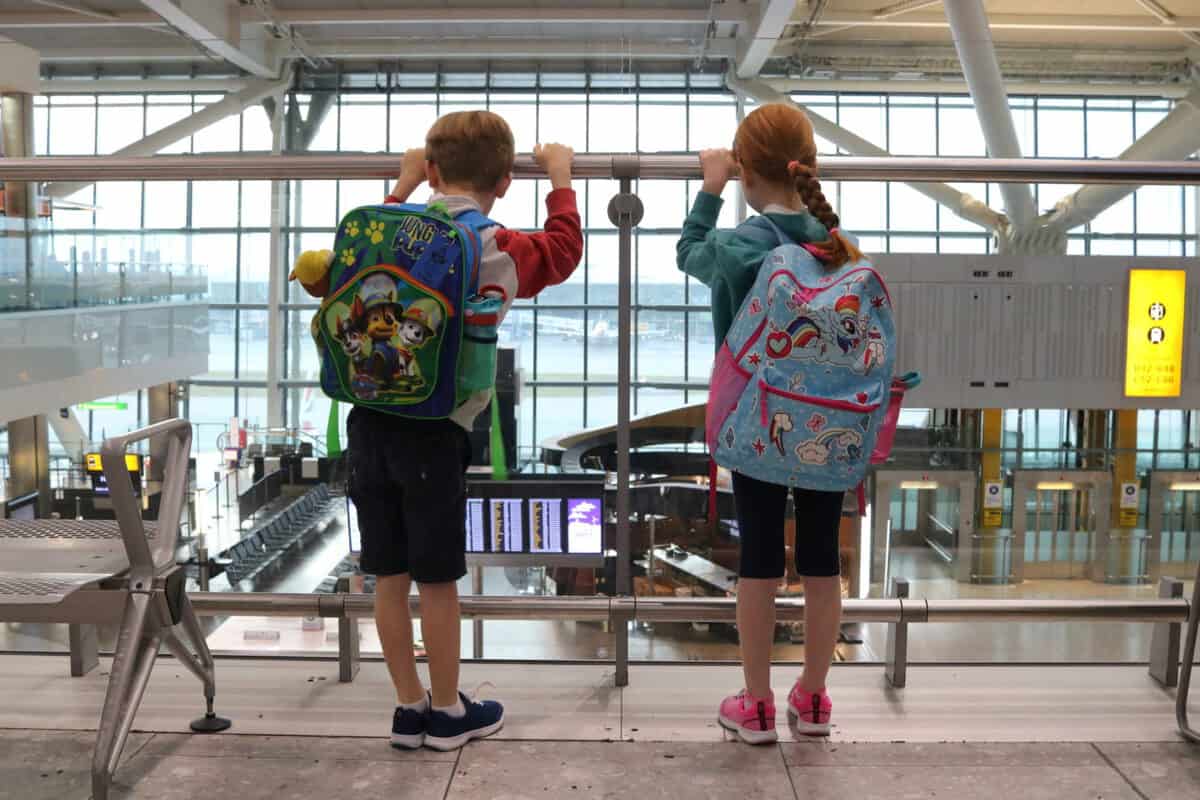 When we arrived back at Heathrow after our holiday we just had to pick up the airport transfer bus from the designated bus stop – which runs every ten minutes during day time hours – and stay on it until the final stop for the Holiday Inn Heathrow M4 Jct 4. Our car was then waiting for us right where we had left it.
Our Stay Park and Fly package at the Holiday Inn London Heathrow M4 J4 took so much of the stress out of travelling with a family and made a really early flight much more bearable. We didn't have to leave our keys with the hotel – something I always worry about with park and fly packages – and it as nice knowing that our car was in such a safe location whilst we were away.
Children eat and stay free with Holiday Inn and the Stay Park and Fly Package would be just slightly more than a standalone airport parking package which makes it fantastic value. I would definitely stay with Holiday Inn when we next have an early flight!