Disclosure: We were sent the featured products for the purpose of this post however all opinions are my own.
This post contains affiliate links and I may receive commission if you visit a link and buy something. Purchasing via an affiliate link doesn't cost you any extra, and I only recommend products and services I trust.
A few weeks ago we reviewed the FurReal Chatty Charlie the Barkin' Beagle which is now one of Little Man's most prized possessions – he loves him dearly. So when we were sent another toy from the Furreal Friends range, the FurReal Roarin' Tyler, the Playful Tiger to review I wasn't sure if it could match up to the high standards that Chatty Charlie had set!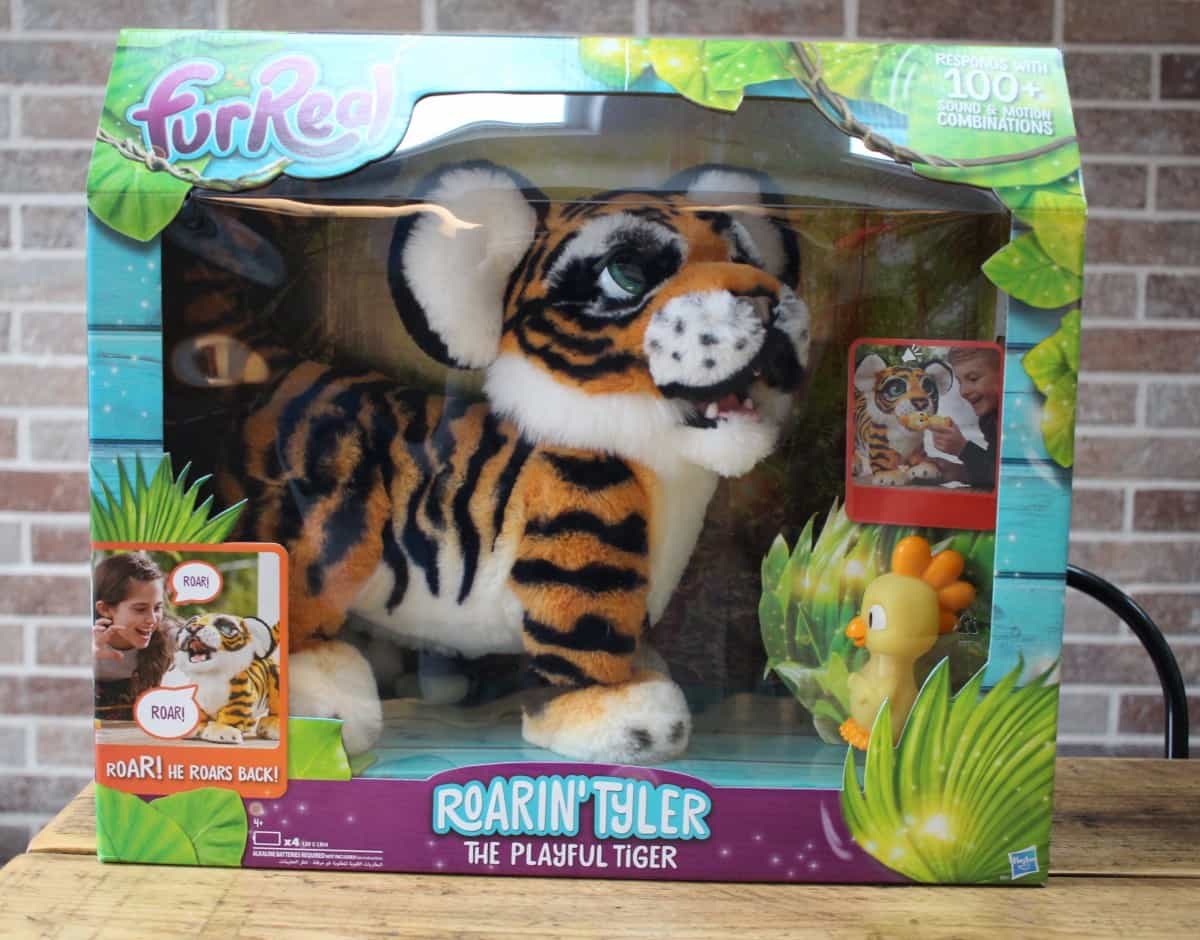 What is the FurReal Roarin' Tyler, the Playful Tiger?
The Roarin Tyler, the Playful Tiger is quite a big plush toy – about the size of an actual tiger cub. He's very solid although cuddly too and comes with a little chick chew toy. Sadly though he doesn't come with batteries – something I'd expect of toys at this price point. He needs 4 C size batteries and once inserted he comes instantly to life.
How does the FurReal Tiger compare to other interactive toys?
Compared to other FurReal toys, the Furreal Friends tiger pet moves quite a lot with different motion combinations and is very animated. He crouches down on his front paws and stands up straight, his head moves and his facial features show so many different expressions – with his eyes opening and closing, his mouth moving and even his ears moving.
LP and Little Man absolutely love Tyler. He has over 100 sound and movement combinations so rather than having a set routine and pattern of sounds he actually seems to be engaging with you and doing something new every time.
Tyler Tiger's chick is meant to be a chew toy and if you put it in his mouth he will make eating noises but we haven't been able to make this happen but, watching other YouTube videos of Tyler I know that it does work, we must just be doing something wrong! Although he holds the chick in his mouth he doesn't seem to want to eat it – we might have got a vegetarian Tyler or something…!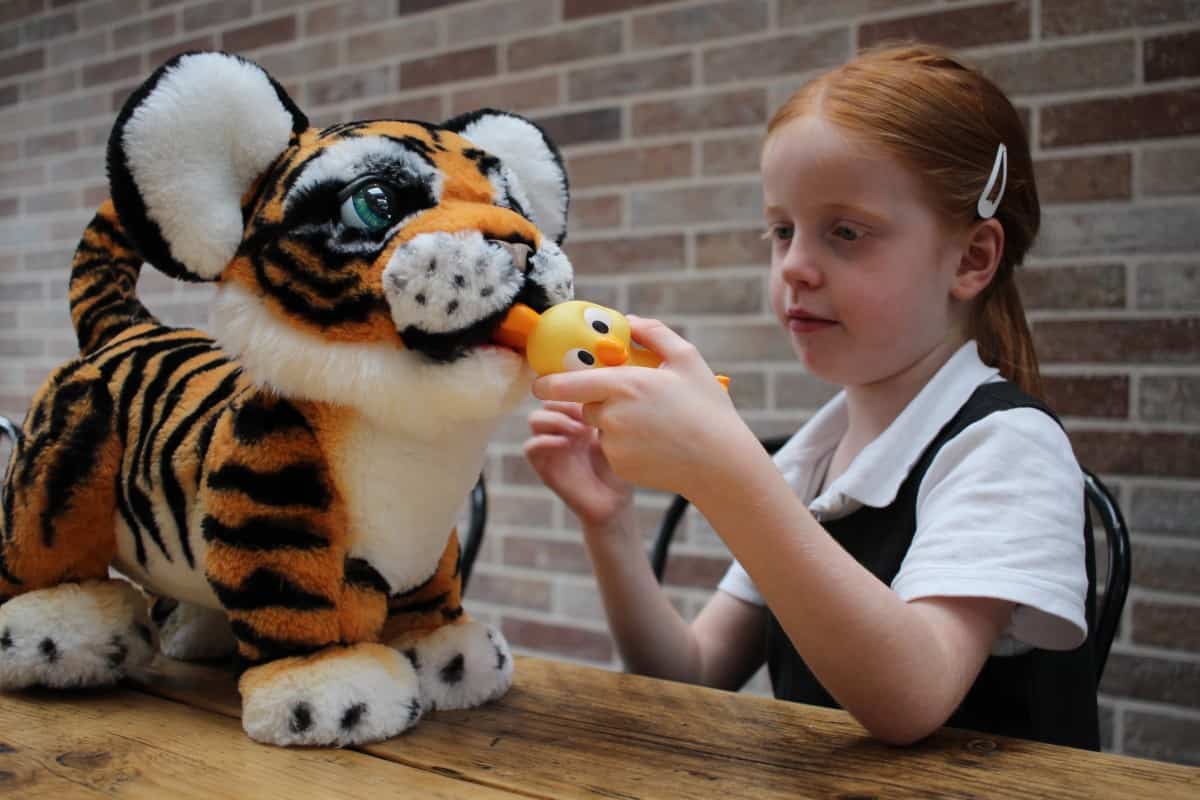 The children love that Tyler roars when they roar at him but they have to roar loudly for him to respond. We have had most success when Dave has roared as the children can't roar at the right level for the interactive tiger toy to respond. But, if they talk to him and play with him he responds to everything they do.
The children loved that if they rubbed Tyler's back or head he would almost purr and make happy noises. The tiger toy seems to love attention from the children and really liked being petted and played with.
If you're looking to get your child an interactive toy that can be just like a real exotic pet for them then the Fur Real Roarin' Tyler, the Playful Tiger from Hasbro would be a great investment and a lovely addition to a gift list. He's turned into a real part of our family and he's often found sitting with the kids, snuggling up and watching TV with them. He's the sort of toy all children would love and one that siblings can easily share too.
FurReal Roarin' Tyler, the Playful Tiger has an RRP of £134.99
Here's a video so you can see Roarin' Tyler, the Playful Tiger in action:
If you've lost your FurReal tiger instructions, you can find a replacement manual here and if you find your Furreal tiger not working properly you might need to change his batteries. You'll find the Furreal tiger reset button on his back, so if he's in sleep mode this will wake him up.