When I was compiling my Mother's Day Gift Guide a few months ago, Buyagift sent me a Treat Her Smartbox. When looking through the available experiences I found a family ticket to Hampton Court Palace and, having never visited with the children, I thought it would make a fantastic day out and it's billed as one of the top family days out in Surrey too.
What is Hampton Court Palace?
Hampton Court Palace is perhaps one of the most well known of the royal palaces as it's doors have been open to the public since Queen Victoria's reign in 1838. It is probably more famously known as Henry VIII's place of residence as it was he who did most of the work on it after taking it from the original owner, Sir Thomas Wolsey.
The palace was designed by Sir Christopher Wren before being transformed into the palace we know today by Cardinal Wolsey.
Today, Hampton Court Palace is owned by Her Majesty Queen Elizabeth II but the grounds and structure are looked after by a charity, Historic Royal Palaces, receiving no funding from the Government or the crown.
Hampton Court Palace is somewhere that Dave and I visited many years ago, before the children were even thought of, but as the children have learnt about the Tudors and the history of the Royal family they were excited to go and see where the famous Henry VIII actually lived more than 500 years ago.
Is Hampton Court National Trust?
Sadly, Hampton Court Palace isn't a National Trust property or part of English Heritage so your passes won't work here. Hampton Court castle is part of the Historic Royal Palaces.
Can you park at Hampton Court Palace?
As we arrived not long after the Palace opened for the day we made use of the on site car park. But it is quite small and fills up quickly. You can also get the train to Hampton Court – and Hampton Court Station is really close to the palace and operated by South Western Railway.
You can also walk to Hampton Court, along the Thames river from Kingston and it really makes a lovely day trip from any part of London or the South East. Whether you arrive by foot, by car or on public transport you're sure to have a great day out. Just remember your Oyster Cards!
We followed the signs to the newly renovated ticket office and gift shop, both very tastefully done and in keeping with the part of the building they are housed in. We were able to exchange our Buyagift voucher for a ticket with ease and this gave us full access to the palace, gardens, maze and the Magic Garden play area. Audio tours are available but we decided to use the map and make our own way around.
We started our day with the palace itself, following a walking route suggested on the map. We walked through a magnificent courtyard and made our way to Henry VIII's apartments which took in the Great Hall and a recreation of Henry VIII's crown as well as historical paintings and portraits throughout each room.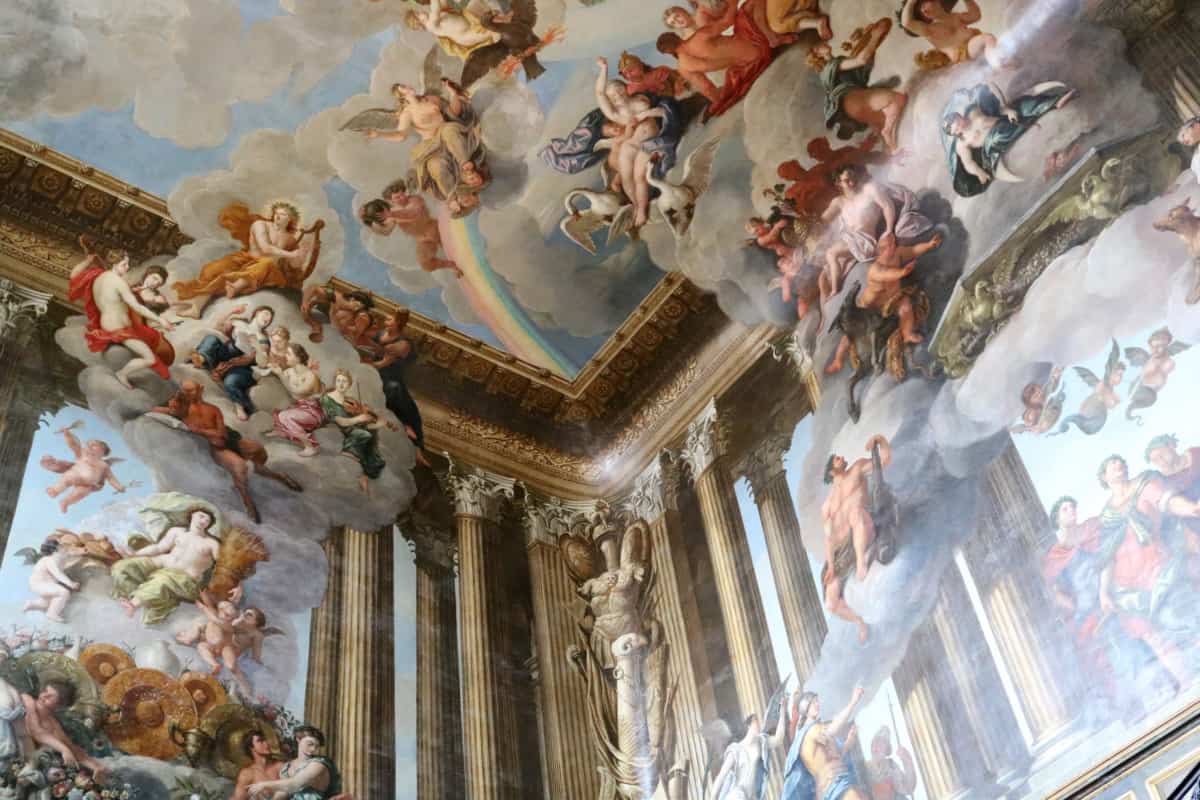 We then found ourselves in a wing of the Palace that held the Queen's Chambers and many more fine portraits. The day at Hampton Court taught us so many facts about Anne Boleyn, Jane Seymour, King Henry and their lives together.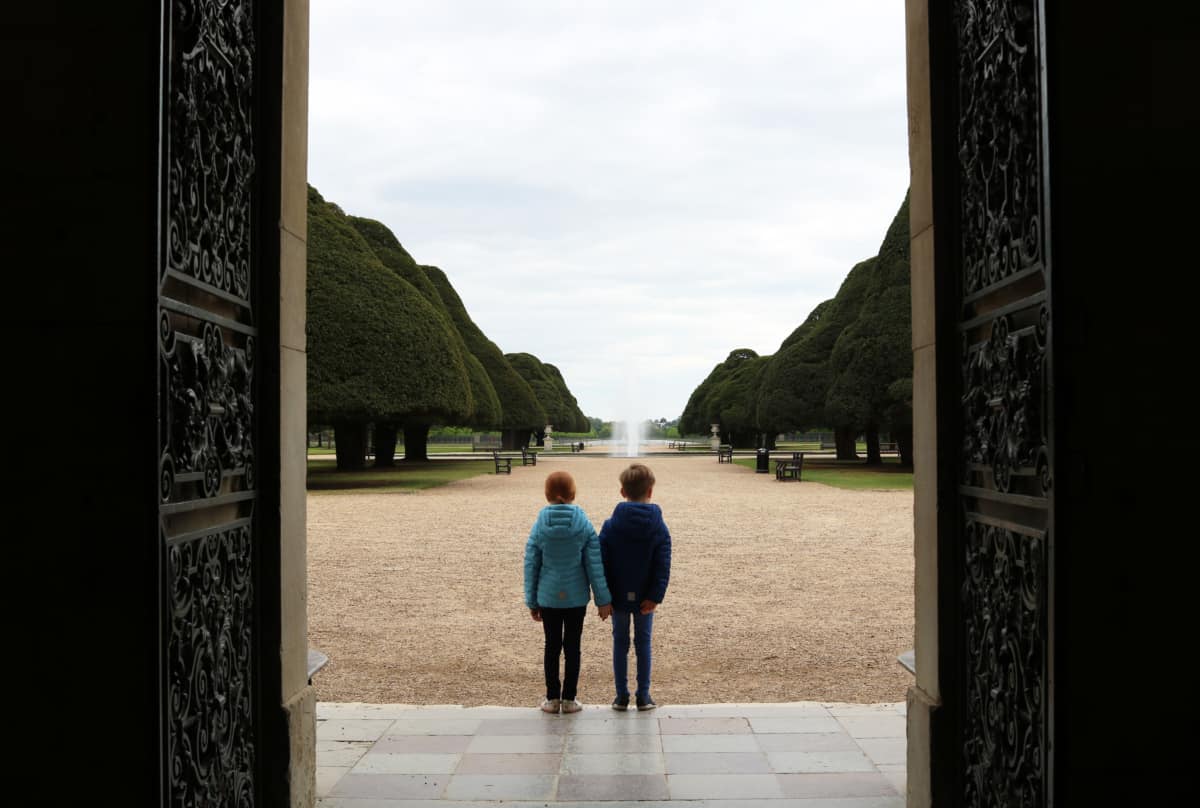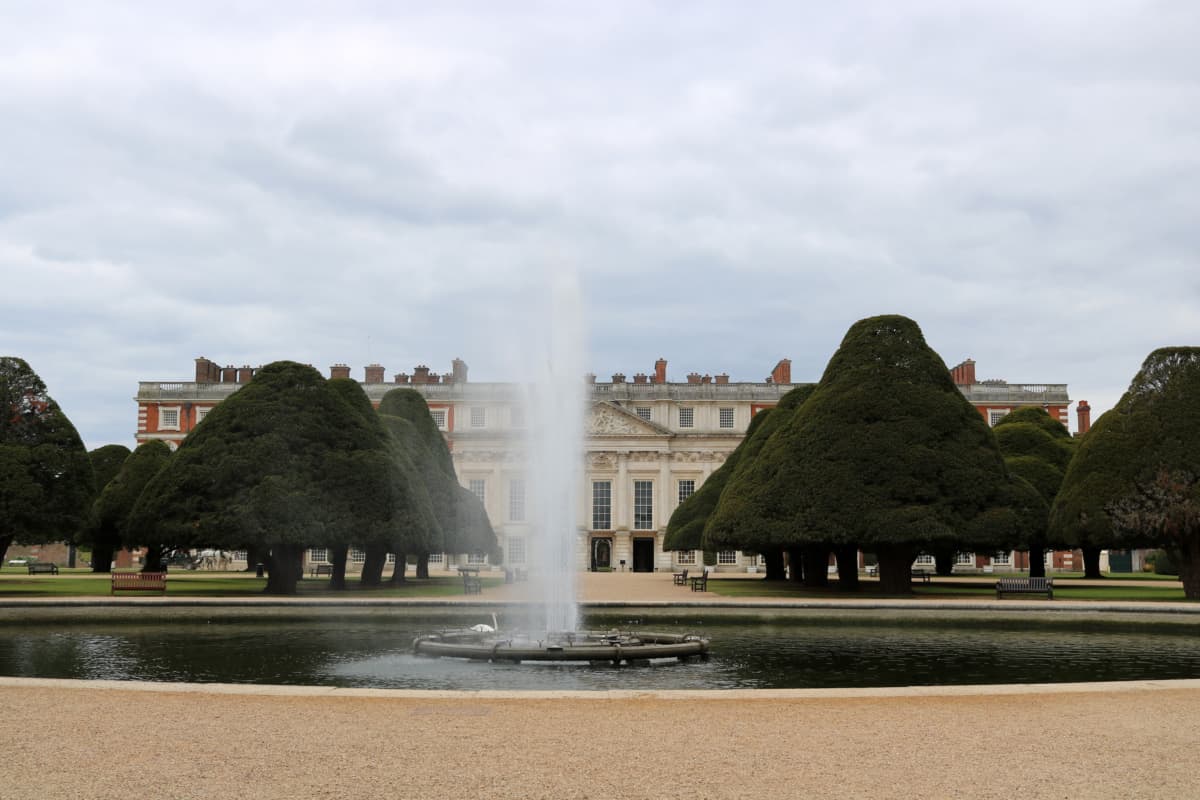 What are the Hampton Court Palace gardens like?
The outside space is pretty much as it was 500 years ago, its amazing to think that the well established trees and hedges have been there all that time. The Great Fountain Garden is quite spectacular and the Privy Garden is also a sight to behold with its ornate gates and boundary that run alongside the River Thames. The kitchen Garden is very well kept and you can buy items in the shop to plant at home. Horse drawn carriage rides are also on offer in the gardens at an extra cost.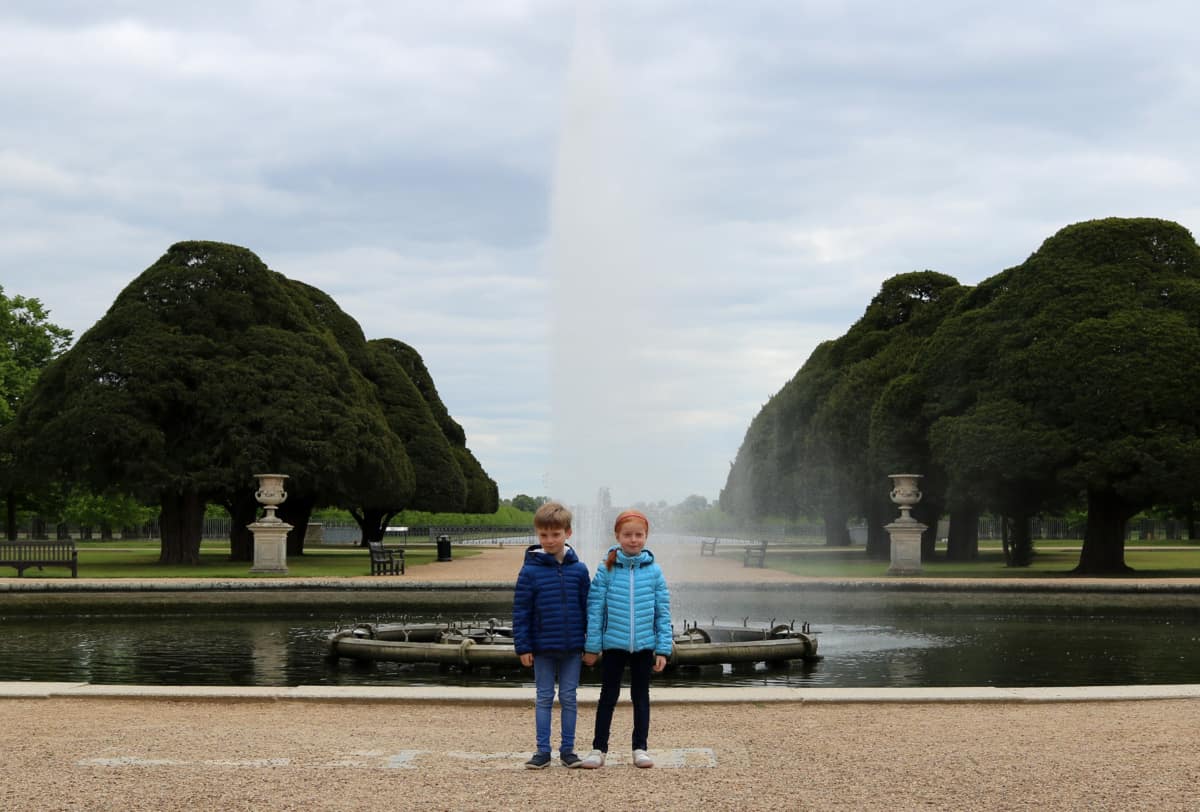 After making our way through William III's apartments, the children were getting hungry and a little tired of looking at paintings. We decided to then go towards the famous Maze to see if we could find the middle without getting too lost which we managed to do with ease.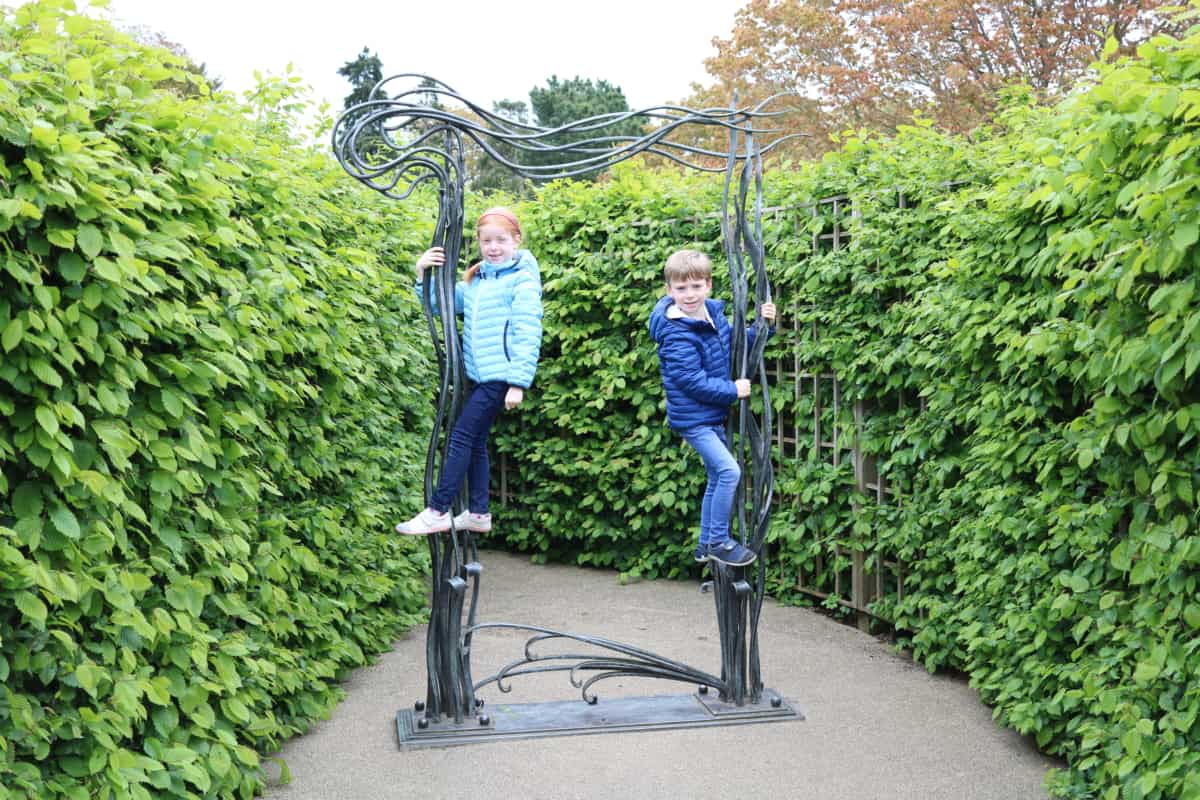 What is the Hampton Court Magic Garden?
After this we ventured to the Hampton Court Magic Garden play area, a fairly recent addition to the grounds. There was a short queue to get into the Magic Garden, and we were given wristbands to give us a two hour slot, to prevent overcrowding. Once inside, it was easily one of the best play areas we had seen at this type of attraction.
There was a giant hill to climb, tunnels underneath it, a sand and water area, massive climbing structures and even a huge wooden dragon to clamber over! It was all set around an amphitheatre type of green area from where Parents can give their children some freedom but are easily spotted after a moment or two. We found a place to sit and eat before the children vanished and had a great time,checking in with us every once in a while. Two hours was more than enough time to let off some energy and broke up the day so it wasn't too heavy going for the little ones.
We left the Magic Garden just before our time was up and made our way back to the palace to see areas we hadn't been to yet. The kitchens were huge, with two medieval chefs cooking an actual spit roast on an open fire (well, they were letting kids do the turning for them!) with mock ups of typical foods on display that would have been served to Royalty and their guests. LP and Little Man found the kitchens a great source of entertainment and loved the different sorts of food that Henry VIII enjoyed.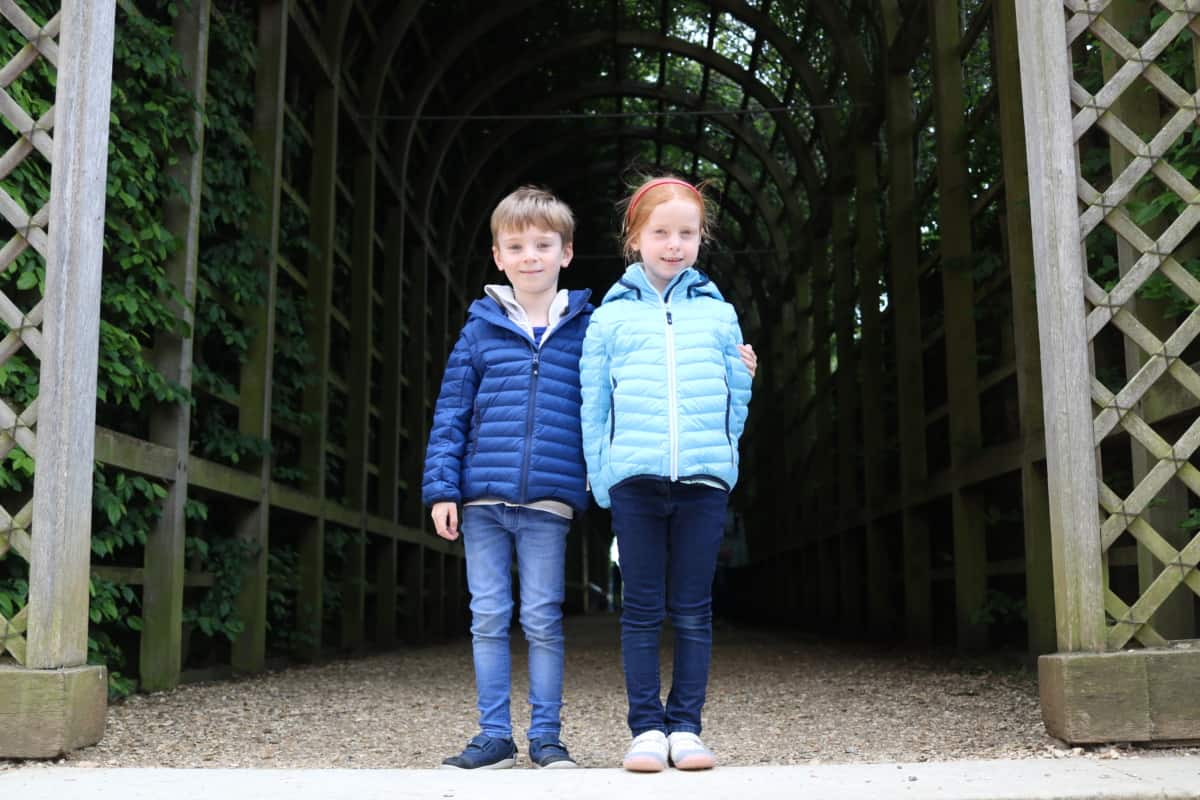 Our map then took us through Young Henry VIII's story before we went outside again to marvel at the Great Vine, said to be the world's largest single grape vine that still produces a decent crop of desert grapes that are sold at the Palace in July and August.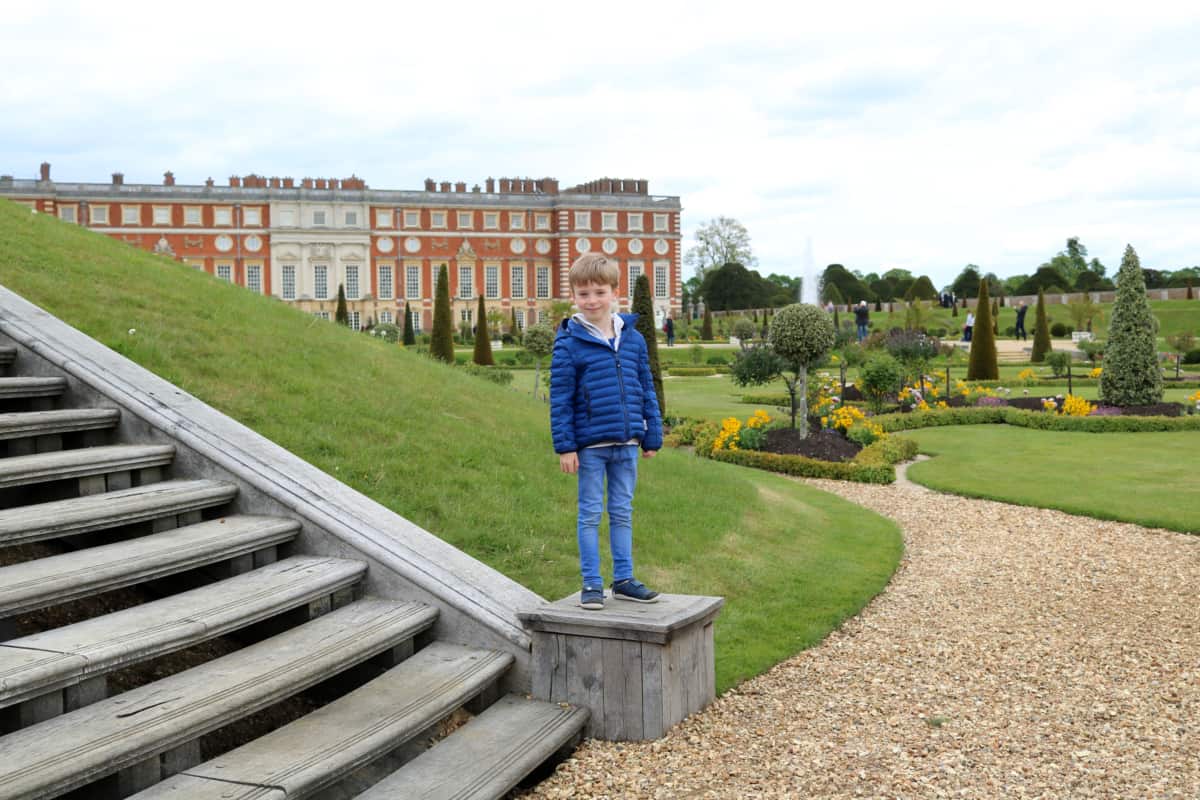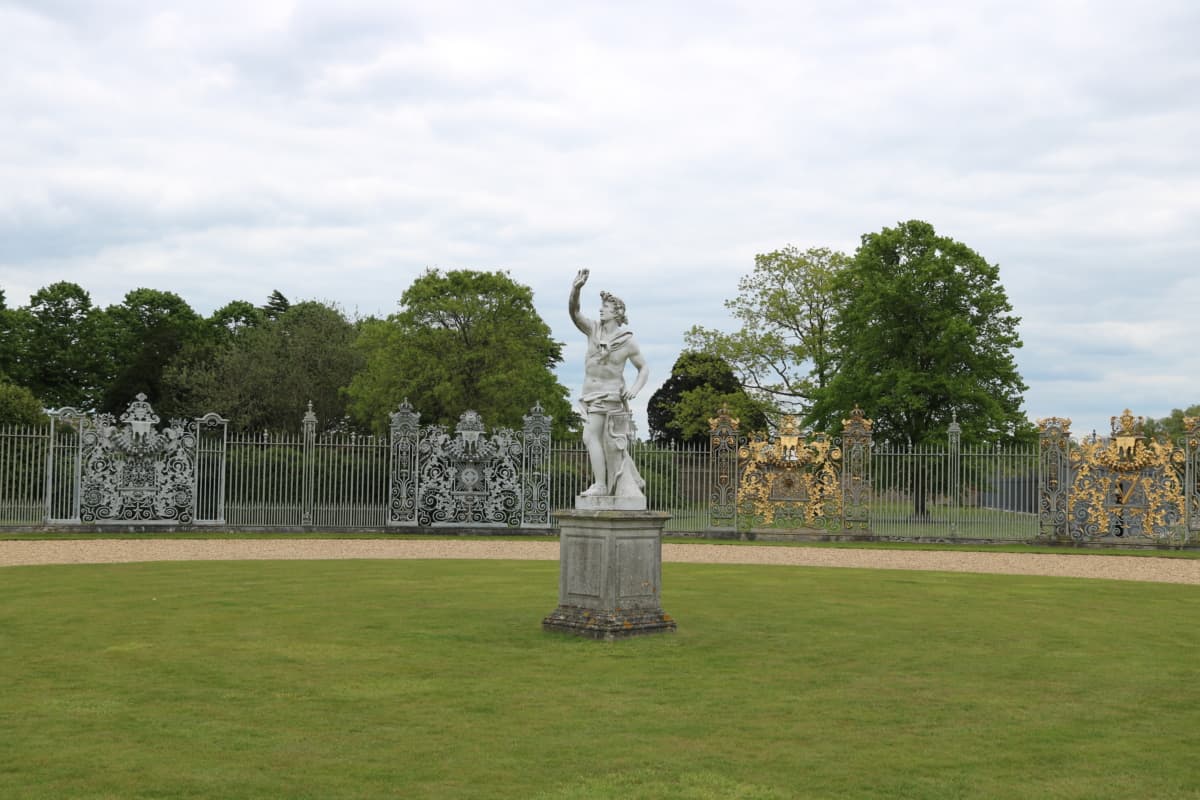 We had a great day out at Hampton Court Palace and I wish we'd visited sooner. The children had a great day and loved learning more about history they are already so familiar with. It had the right balance of history and entertainment and the outside space – including the play area – was fantastic. I know we'll be back.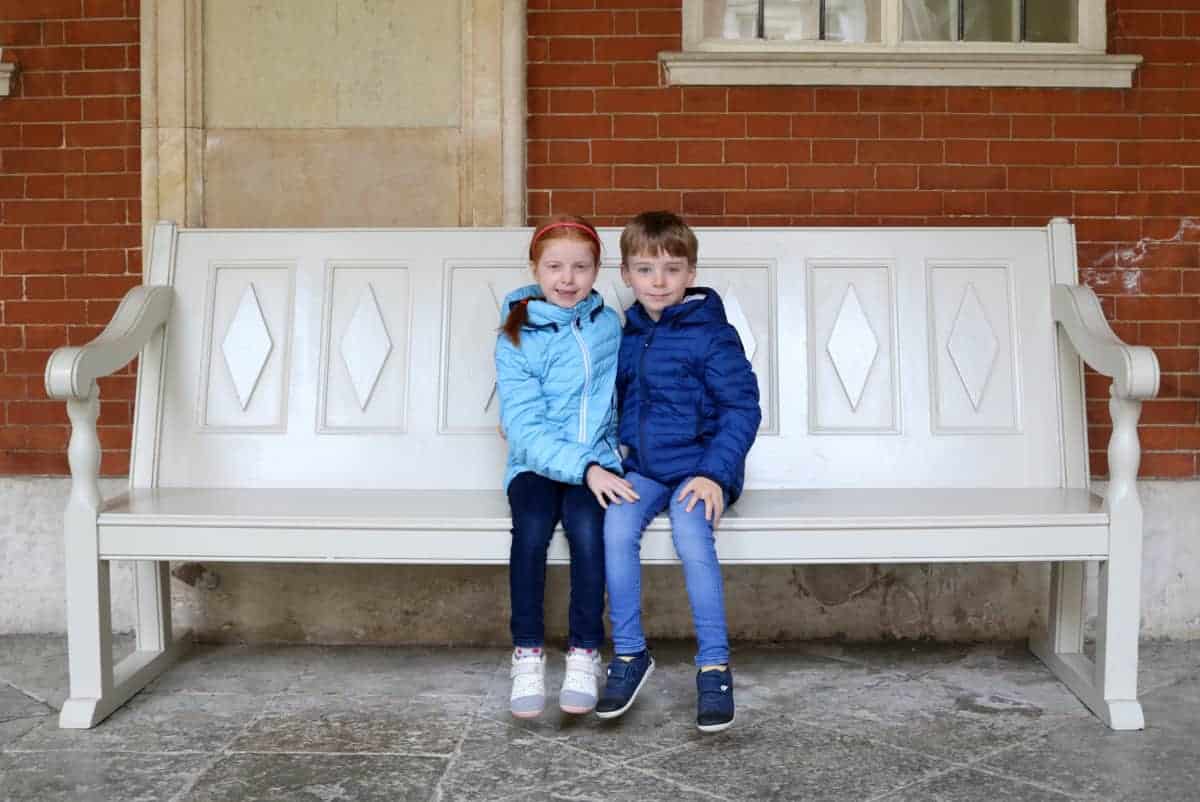 If you're looking to experience Hampton Court Palace for yourself, you can find out more and book tickets online. They also offer Hampton Court Palace tours and even a Hampton Court Palace private tour. Check out the guided tours section of their website for more information.
For reference, the address is: Hampton Court Palace, East Molesey, Surrey, KT8 9AU.