Disclosure: We have been gifted Merlin Annual Passes for the year however all opinions are my own.
Although it isn't a theme park like many other Merlin attractions, Warwick Castle is a fantastic day out at any time of the year and it's a really great place to visit as a family. I thought I'd put together a few tips for visiting Warwick Castle with kids to help you get the most from your trip.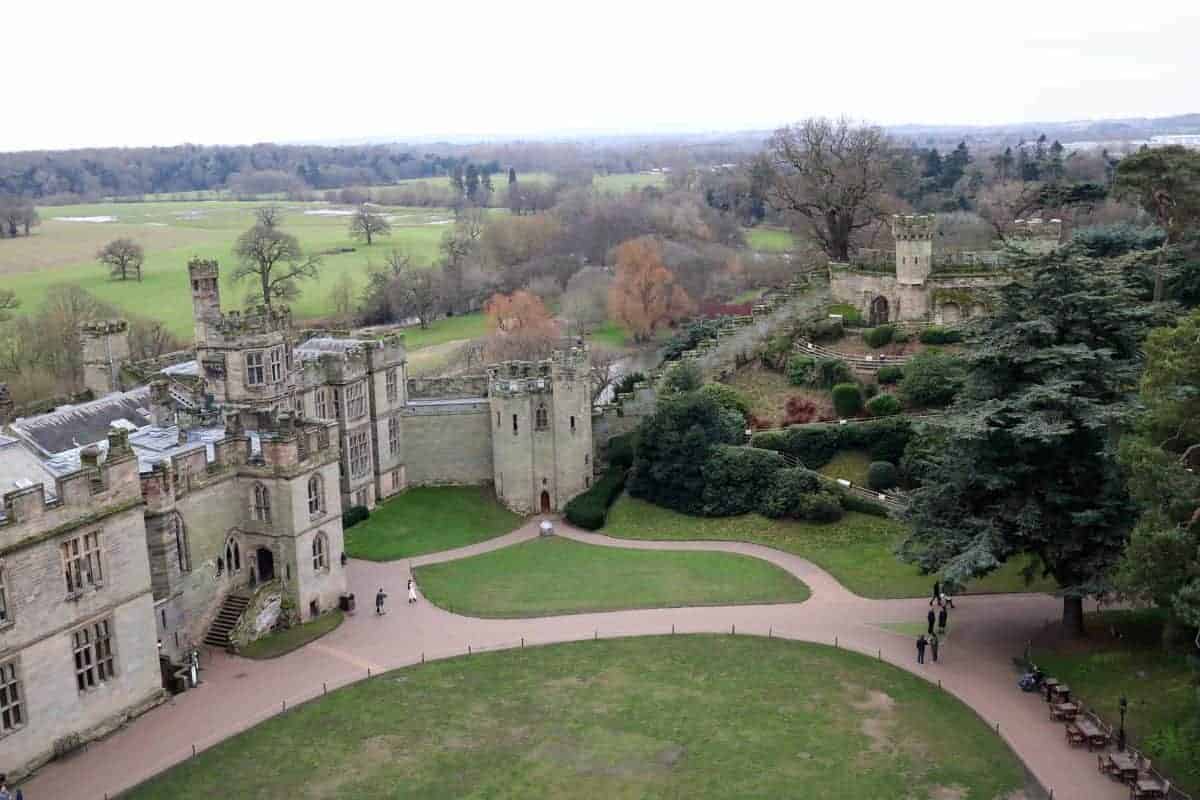 Warwick Castle tickets and car parking is included with a Merlin Annual Pass. Parking at Warwick Castle outside of this is charged at a minimum of £6 per car per day.
You can also get tickets on their website which is cheaper than on the door plus with online tickets you can benefit from the Warwick Castle rainy day guarantee. If it rains for one hour or more during your visit, they guarantee you a free return visit to the Castle, Grounds and Gardens. This must be taken within 60 days of your original visit.
Under threes don't need a ticket and they also have toddler and parent/grandparent tickets available at a reduced rate at certain times throughout the year.
Warwick Castle has a lot of stairs. There are steps going up to the ramparts, spiral staircases up every turret and steps up and down to each floor in the castle. It's to be expected with an old building but it does mean it's not a very pushchair friendly place to visit.
There are buggy parks around the castle to leave a pushchair if you take one but this is one day out where I'd recommend using a baby carrier for the castle parts and saying the buggy for the gardens and bird displays.
The bird displays and shows are fantastic – something that children of all ages will love to watch. Make sure you get the display area ten minutes or more before the start of the display so you can get a prime position where the children can see everything that's going on.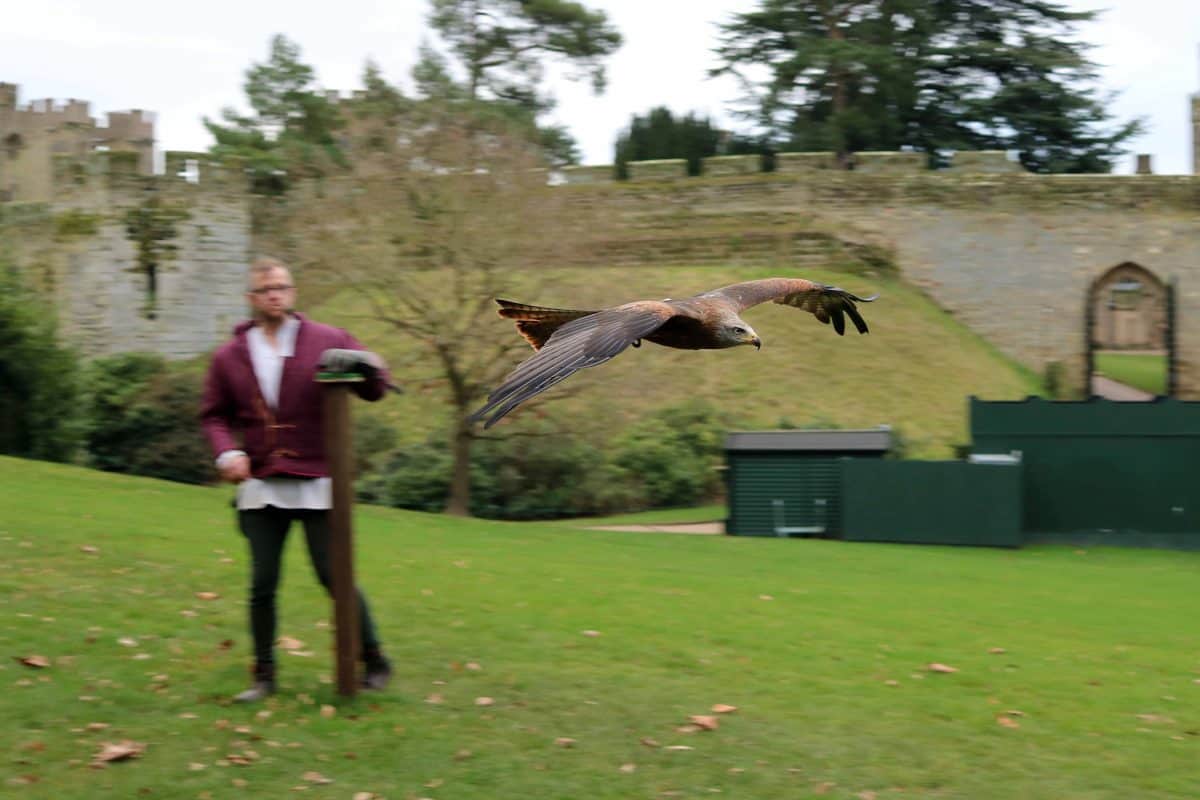 There are many eating options at Warwick Castle. There's an all you can eat buffet restaurant, The Conservatory Tea House and the Coach House restaurant next to the castle entrance that we found to be really affordable – roughly £25 for two adult meals, two children's meals and four drinks.
But, there are also plenty of places to have a picnic which is definitely our preferred option for keeping costs down and keeping the children happy over the warmer months. Just make sure you put the picnic away when you're watching the bird displays!
The inside of the castle is beautiful and won't take you long to walk around. It's not extensive like many historic buildings so definitely worth popping into even if you're visiting with young children. They'll love the Great Hall.
There are so many activities for children at Warwick Castle. The children love the Horrible Histories Maze which is fun to navigate and educational too. It teaches so much history and interesting facts in a way that even young children can understand. Just be aware that if you visit out of season it may be closed. We visited the day the ice rink was being taken down and they closed it for access. Something worth checking before you visit.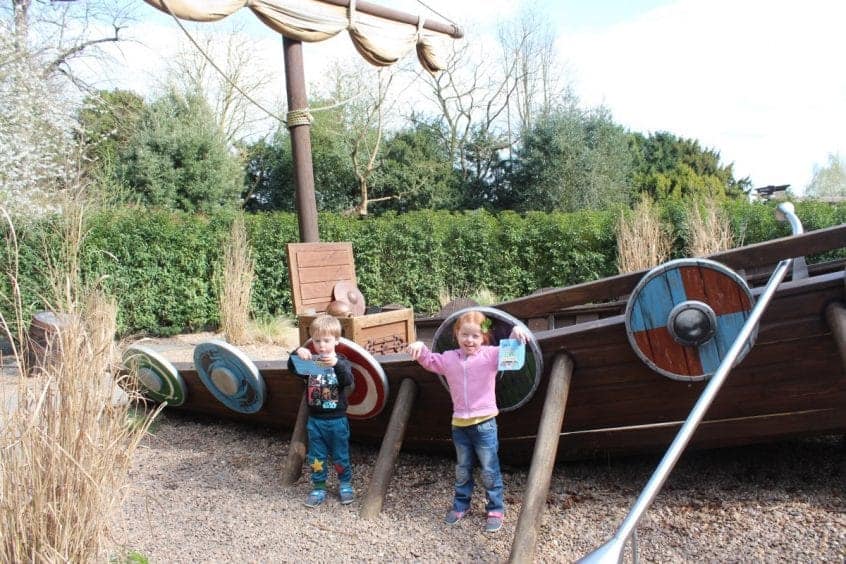 The Time Tower is fun and educational. It takes about twenty minutes to go through the rooms of the tower, watching videos in each room. LP and Little Man enjoyed this when we last visited – aged 6 and 8 – but when we visited when they were toddlers they got restless quickly.
The Mighty Trebuchet at Warwick Castle is amazing to look at – and even more so if you get to see a live demonstration. It's closed at the moment but will hopefully be open on our next visit.
LP and Little Man love The Princess Tower. Children get to help the Princess solve a riddle to break a curse and get her true love back. It's a really imaginative, role play experience but it is worth noting that it's only open at weekends seasonally through the year. If your children really want to experience it then I would check before you go whether it's open or not. It's also limit to 30 people per session so arrive early to guarantee your place.
Warwick Castle isn't just about the castle. They have 64 acres of gardens too! This includes the Peacock Garden and Conservatory, the River Avon and the mill and engine house. Sometimes children just need space to run around and explore. We found this part of Warwick Castle fantastic when the children were younger and it's always a highlight of our visit.
When you visit Warwick Castle you have the option of also visiting the Warwick Castle Dungeons. This is at an additional cost and isn't suitable for children under the age of ten and under 18s must be accompanied by an adult. If you've visited, let me know what it's like!
So I hope that helps if you're planning a trip to Warwick Castle. It's a great day out for the whole family and we're looking to extend our next trip by booking a short break there next time we visit too.
You can find out more about Warwick Castle, the Warwick Castle opening hours, their short breaks in the Warwick Castle lodges and their special events and Warwick Castle offers over on their website.