Disclosure: We were invited on this break for the purpose of this review however all opinions are my own.
It's always nice to spend a weekend on a family break at a hotel somewhere we haven't really explored before. Recently we were invited to stay overnight at the Solent Hotel and Spa in Fareham, Hampshire. This is quite local to us, about an hour's drive away, and we were all looking forward to some time to relax after the first week back into the usual school and work routine.
The Solent Hotel is within easy reach of junction 9 of the M27 and really well placed for the surrounding big cities of Southampton and Portsmouth being approximately halfway between the two. We found ample car parking around the hotel and lovely, well kept grounds.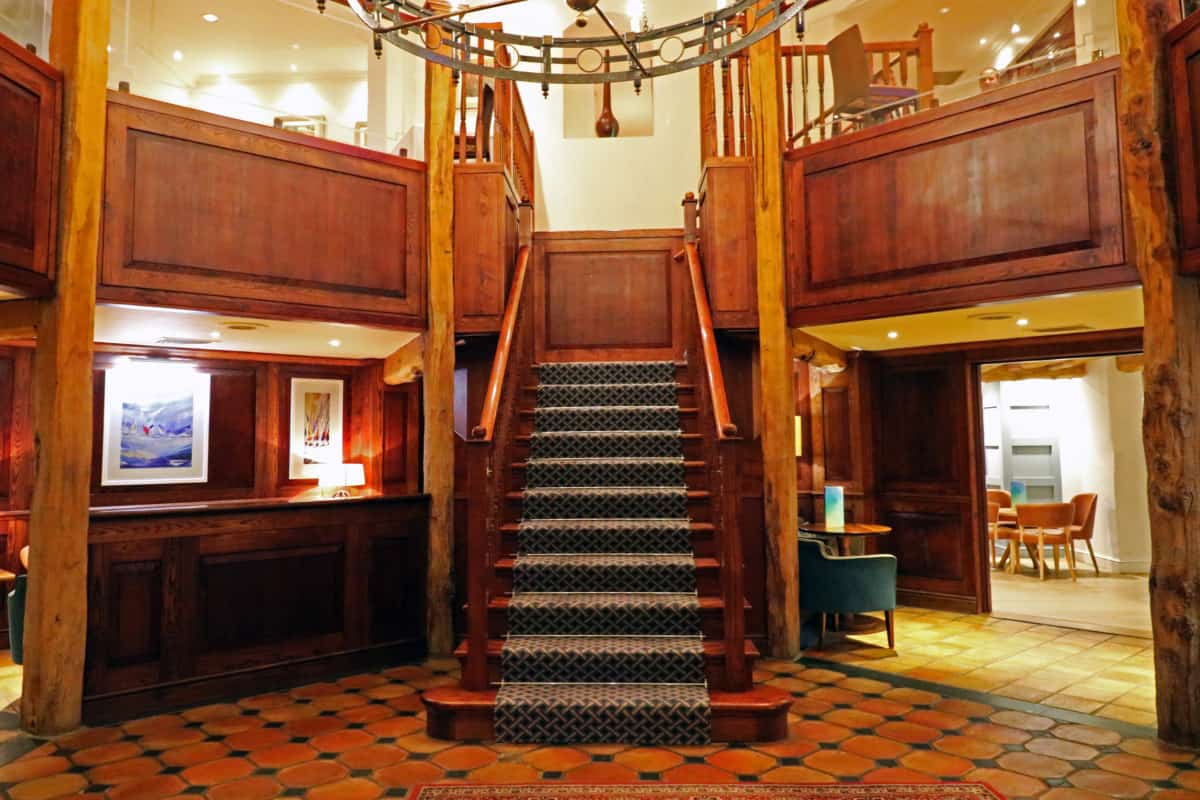 As soon as we entered the main reception area, we were stunned by the grand entry hall with it's beautiful wood panelling, magnificent staircase and comfy seating. It was very atmospheric.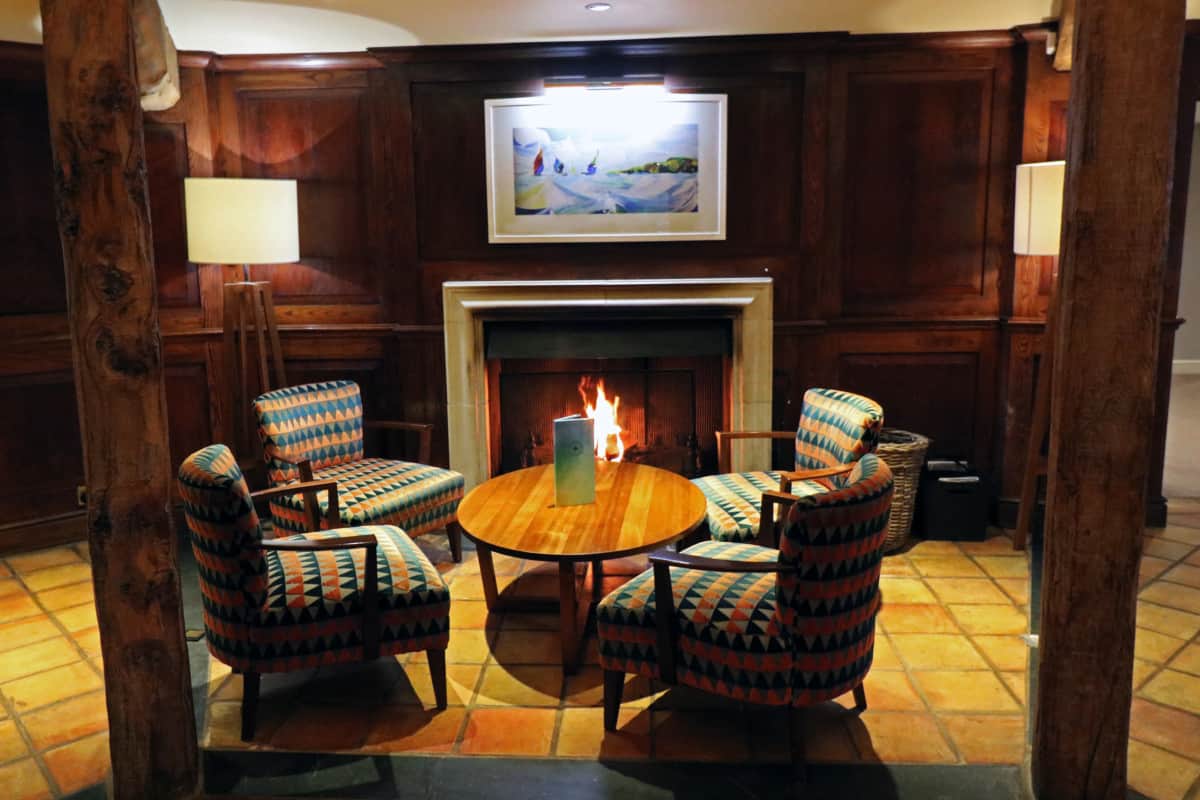 After a smooth check in process with the lovely receptionist, we were offered an escort to our room with our bags but we said we could manage, nothing was too much trouble. We found this with all of the polite staff throughout our stay.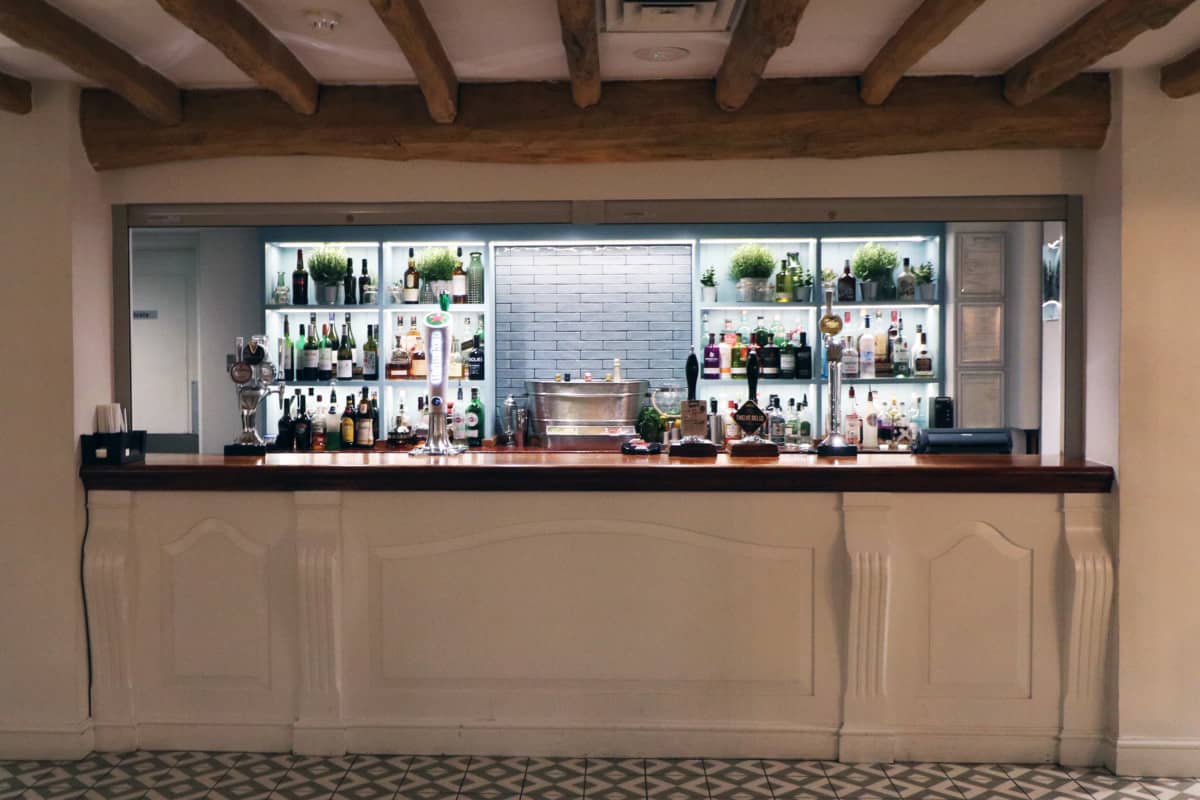 We made our way up to the third floor in one of the two comfortable lifts and we were not disappointed with our suite. In the main room was a large comfortable bed and a large flat screen TV on the wall above a writing desk.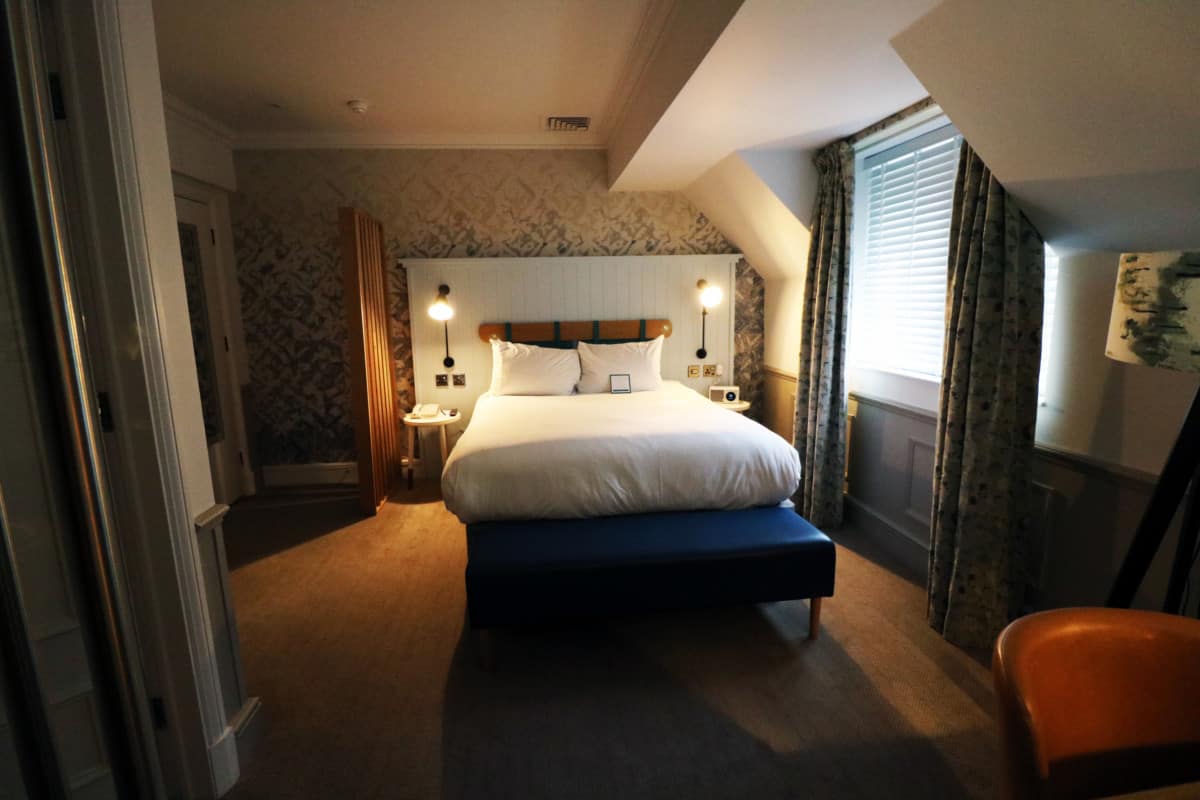 Much to Dave's delight, there was electrical sockets at the bedside tables, something we have generally found to be lacking in hotels we visit. But not only were there plug sockets but they had USB sockets too! The main bedroom had large recessed wardrobes in where we found robes and slippers for the spa – a lovely touch.
There was also an awesome, powerful shower room off of the main bedroom, one of the better showers we have seen in UK hotels. Everything was really clean and there were complimentary toiletries too.
The second room of our suite was separated from the main room by a glass door, something we had not come across before. This room had a comfy sofa bed, tea facilities and a capsule coffee machine. Another plus was the presence of actual fresh milk in the fridge, not the long life UHT portions that there never seems so be enough of! There were ample Twinings tea bags, sugar and even takeaway cups if you fancied taking your drink with you.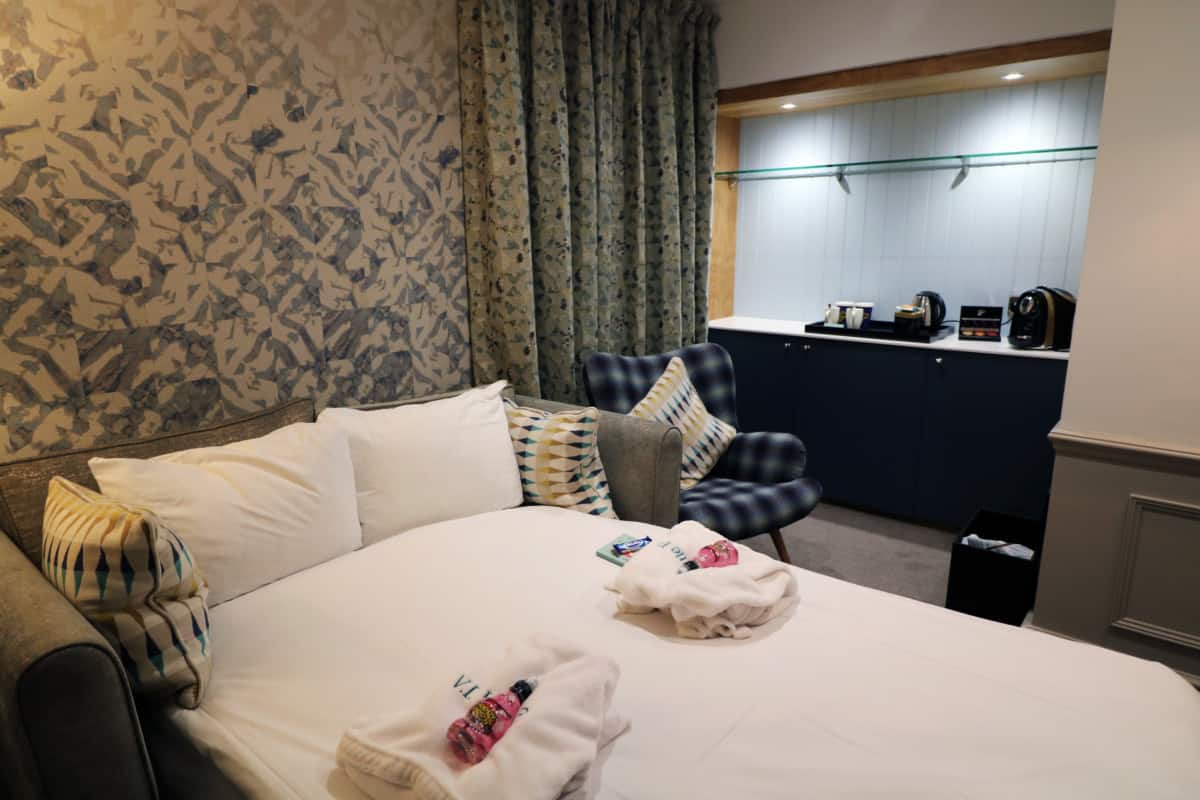 The sofa bed was already made up for us into a bed for the children to share, something which they love doing at hotels. A similar TV set up was also in this room which was a novelty for the children to be able to watch TV in their own bed. There were also child sized robes for them on the bed along with activity packs to keep them entertained and even cookies on the side.
After relaxing for a while LP and I headed to the spa for a Mum and Me spa treat. It's a package where I had a glass of bubbly, LP had a glass of pink lemonade and we sat in our robes and had our nails done side by side. It was so lovely and not something we have ever done before. The spa facilities at the Solent Hotel are wonderful with a lounge to relax in, multiple treatment rooms and a really extensive treatment menu too.
Dave and Little Man made the most of the swimming pool and played whilst we were being pampered. The pool was not crowded at all, with one section roped off for those doing lengths, whilst the main area was mainly for recreational swimmers. There were a few pool noodles along with a number of larger floats, big enough for the children to sit on and really have some fun. They had a whale of a time and were sad when it was time to get out and get ready for dinner. The changing rooms were well equipped with hairdryers and lockers available along with those handy spinners that magically dry your swimwear.
Before dinner, the children made use of the large bath tub before we all headed down to the Rosette awarded restaurant, which we had reserved a time for when we checked in. The Maitre 'D on duty was lovely and really made us all feel well looked after, taking time to explain the Chef's table, a buffet style selection of locally sourced food which is quite unique to the UK.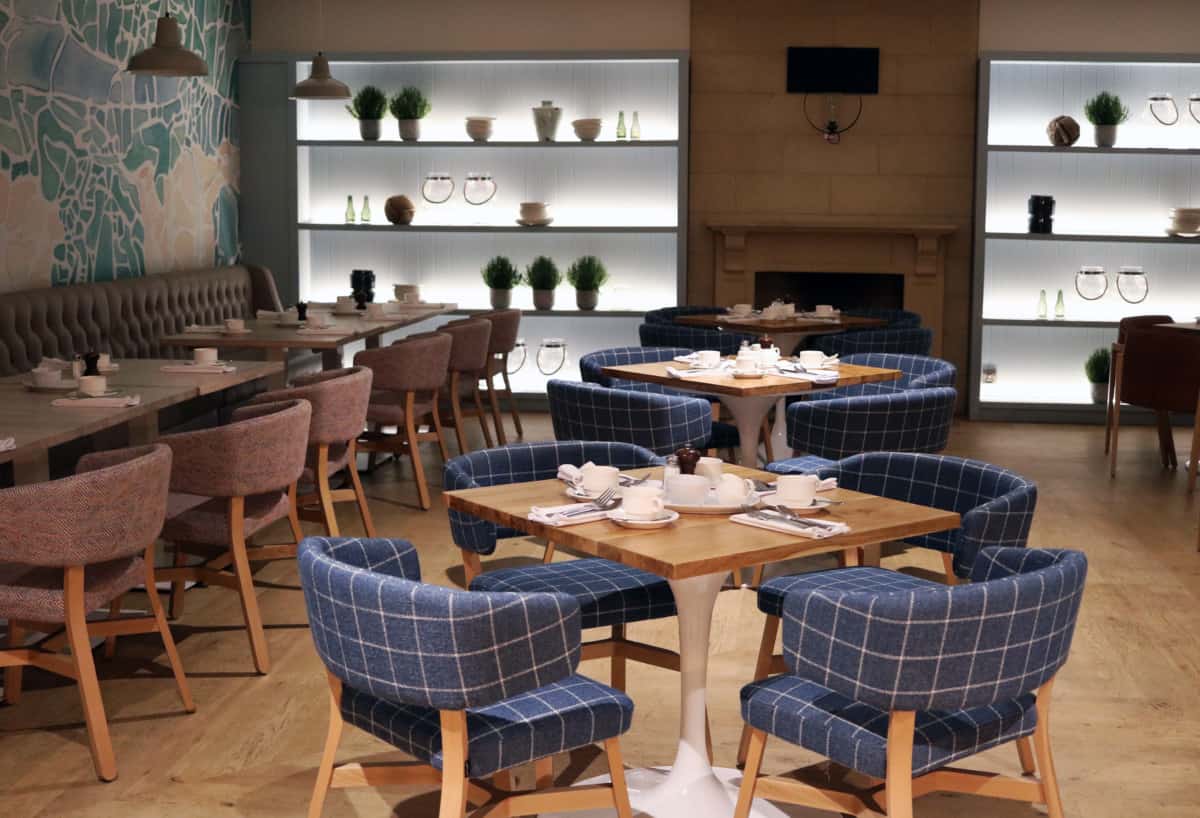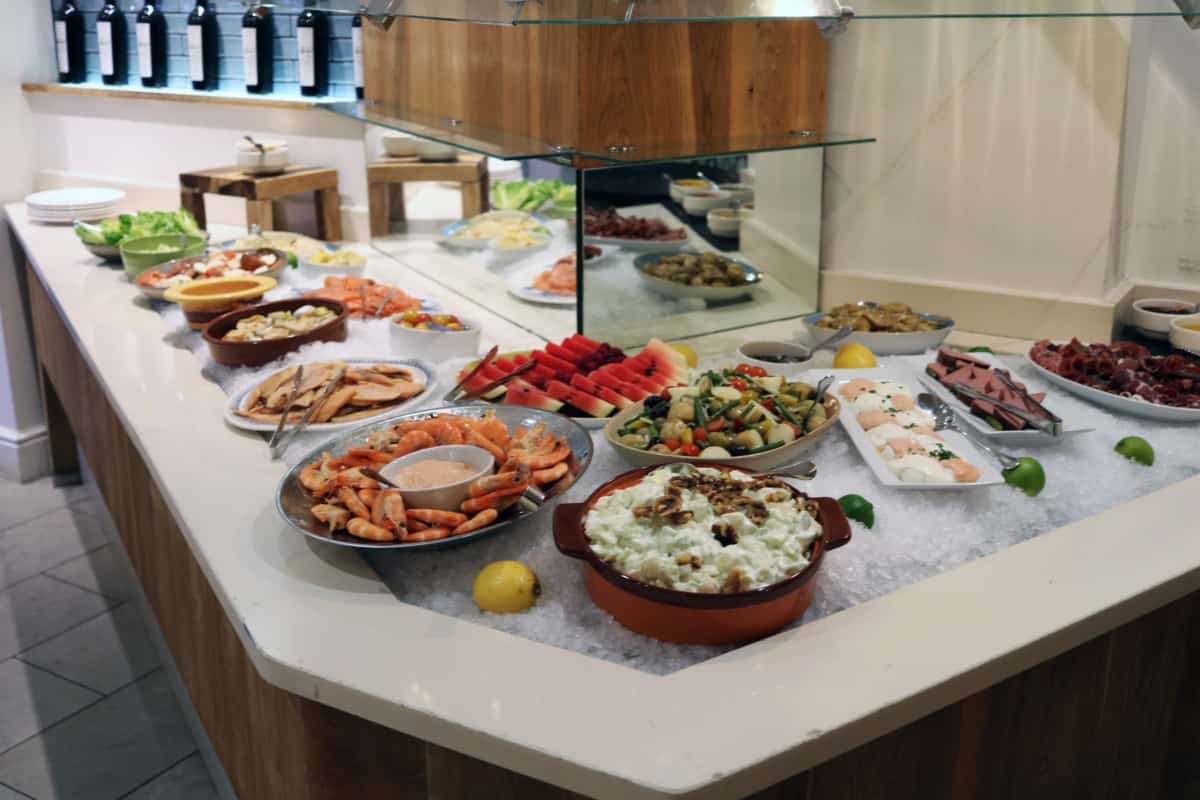 We were offered drinks and fresh juice for the children, who also got a glass of pink lemonade each – such a treat! Once we had ordered, the nibbles of a bread selection was bought out that we all shared with some dipping oil and balsamic vinegar. This was just what we needed to start off what was going to be a lovely family dinner.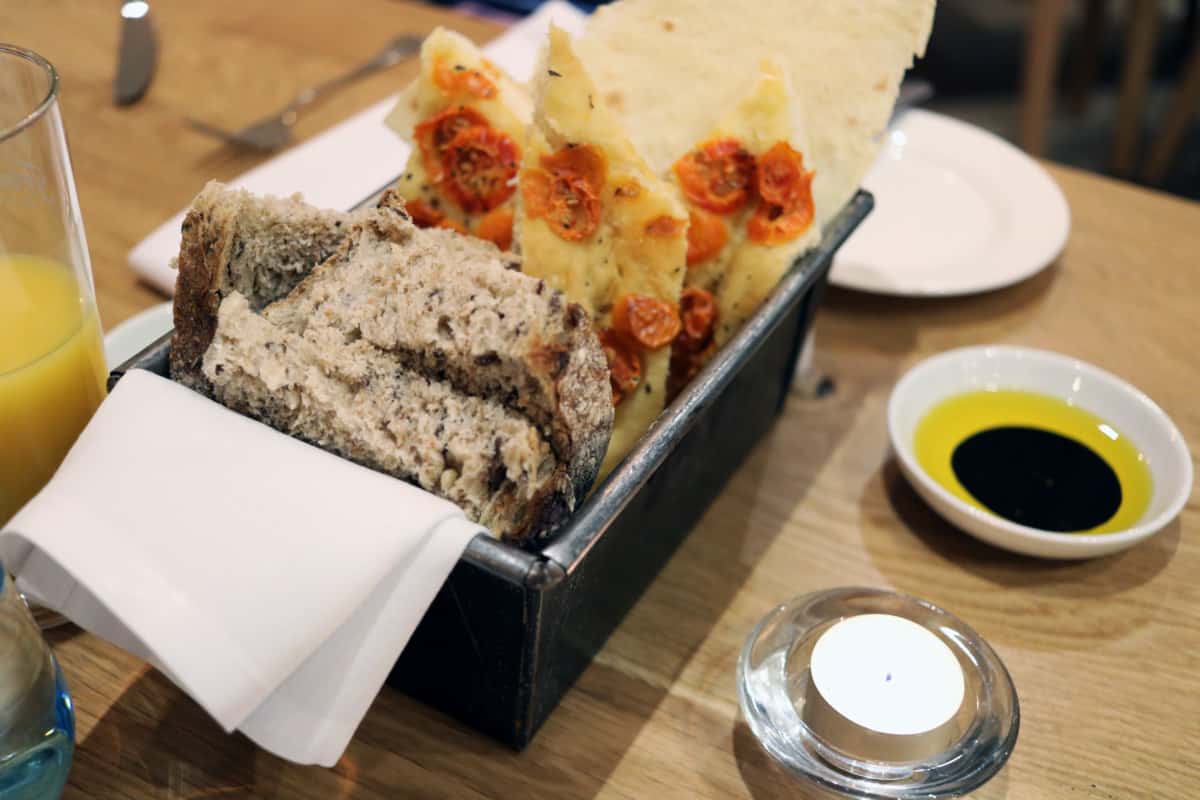 Little Man had a classic garlic bread with cheese to start whilst LP adventurously went for a prawn cocktail, something she's never tried before. It got a big thumbs up from her and made us really proud.
I had one of the most colourful and flavoursome lamb kofta kebabs I've ever had and Dave had gnocchi in a mushroom sauce. For someone who's not keen on mushrooms, he loved it!
The main courses were great too, Dave had rotisserie chicken and I went for fish and chips, both were perfect and mine wasn't too greasy, was full of flavour and was even presented in newspaper!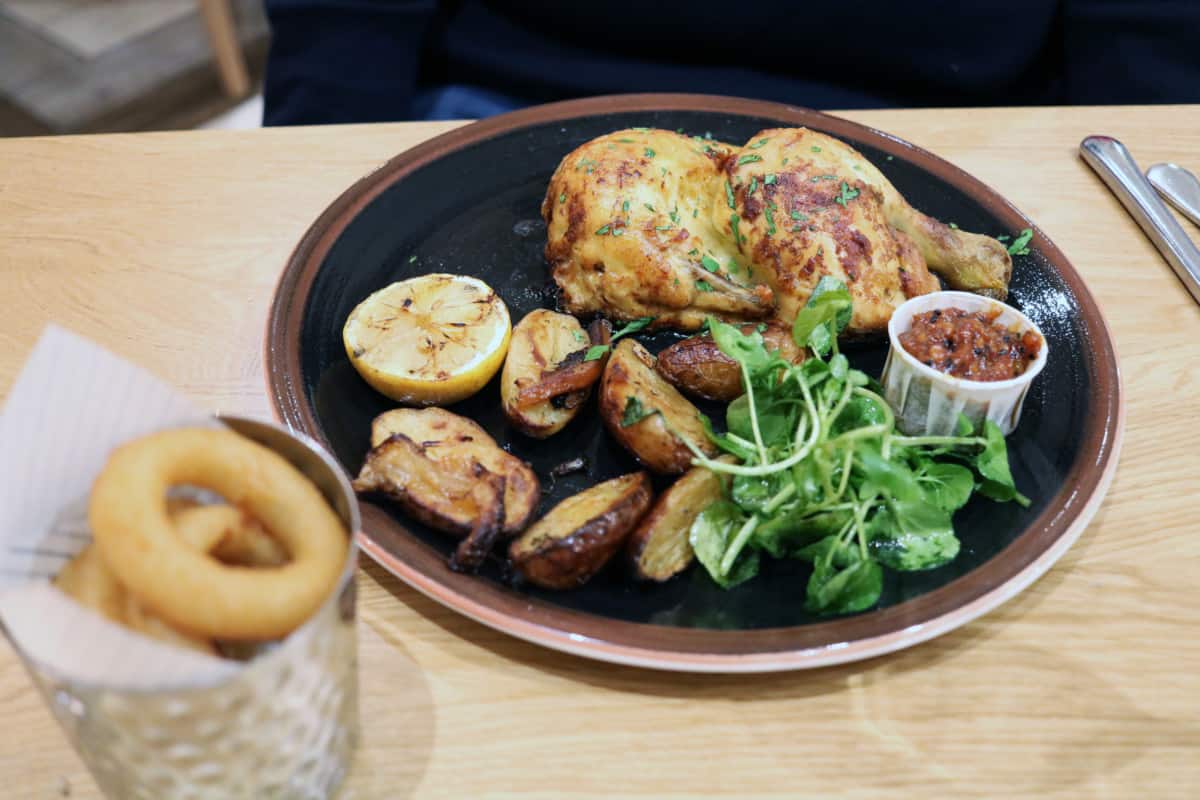 LP had a deli board of fresh breads, ham and cheese and Mister had one of his favourites – sausage and mash. The gravy that came with it was so meaty and went perfectly with the sausages.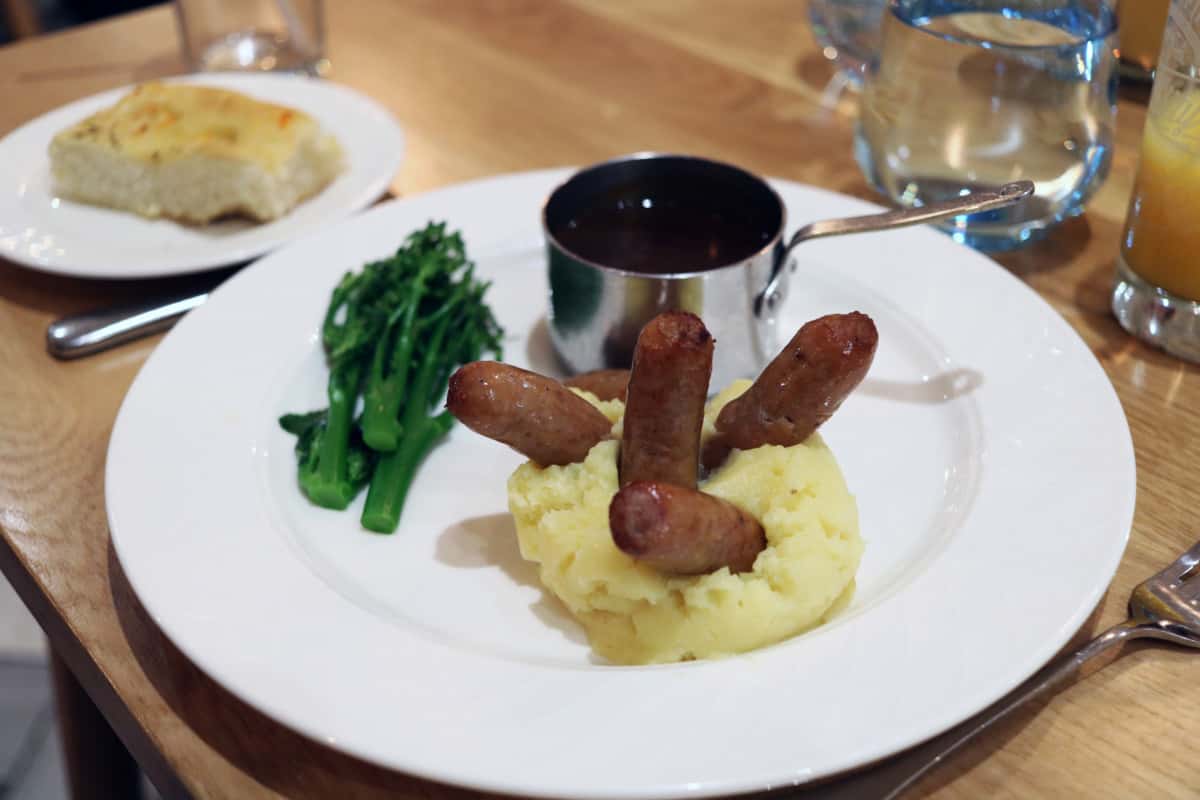 Dessert was a sticky toffee pudding for LP, three scoops of chocolate ice cream for LM and Dave had a chocolate tart. I tried a black cherry clafoutis, something new to me and a really great choice. We all agreed that the desserts rounded off the meal perfectly.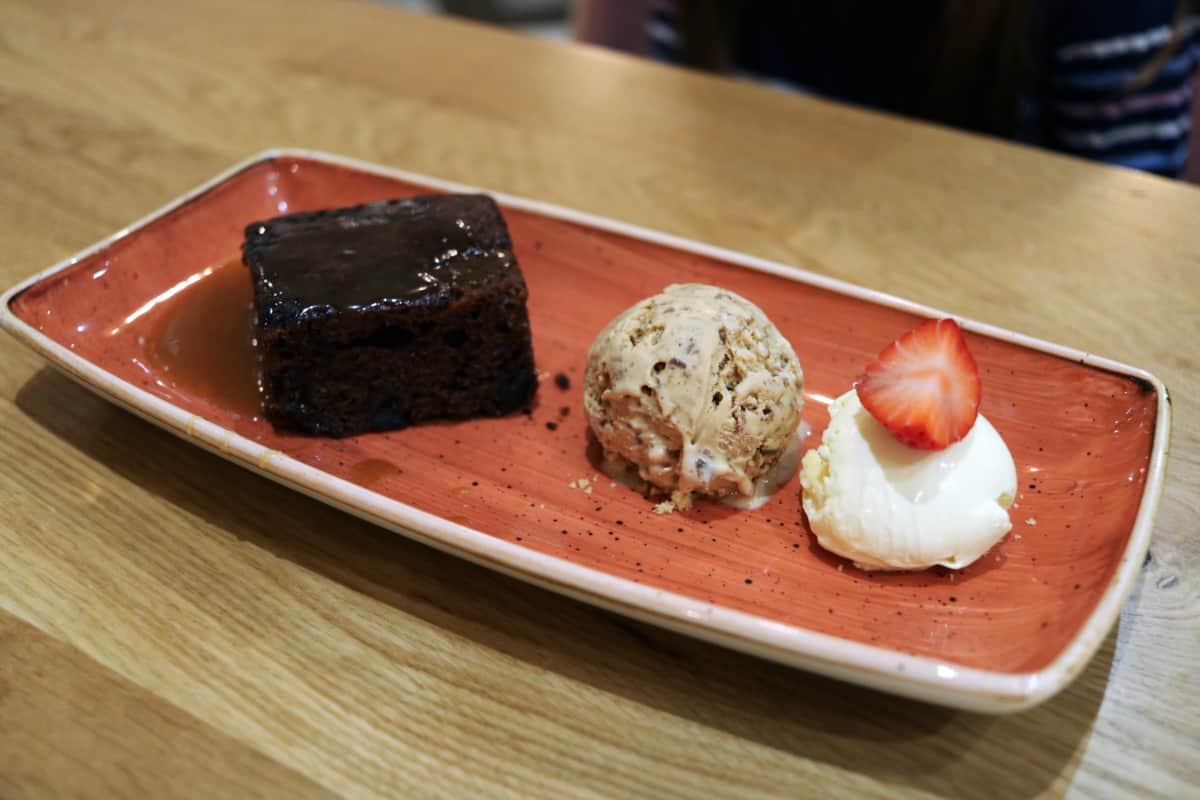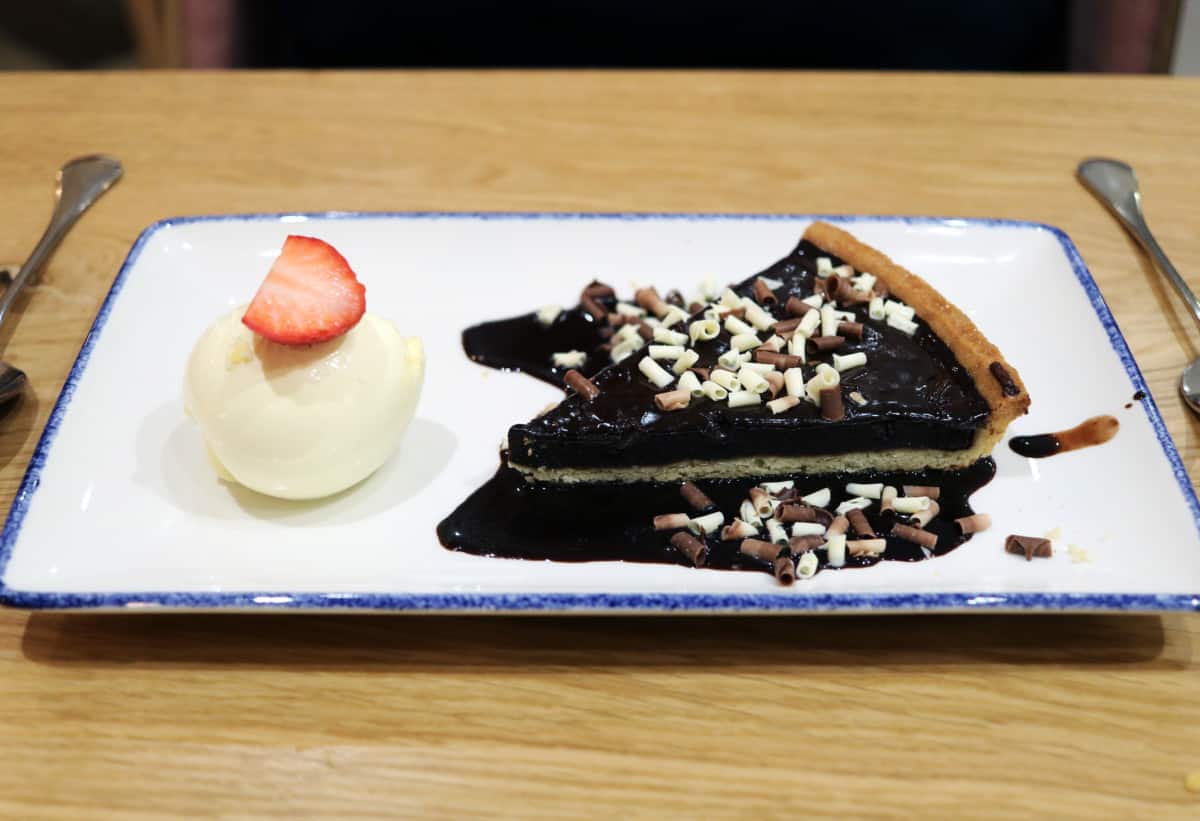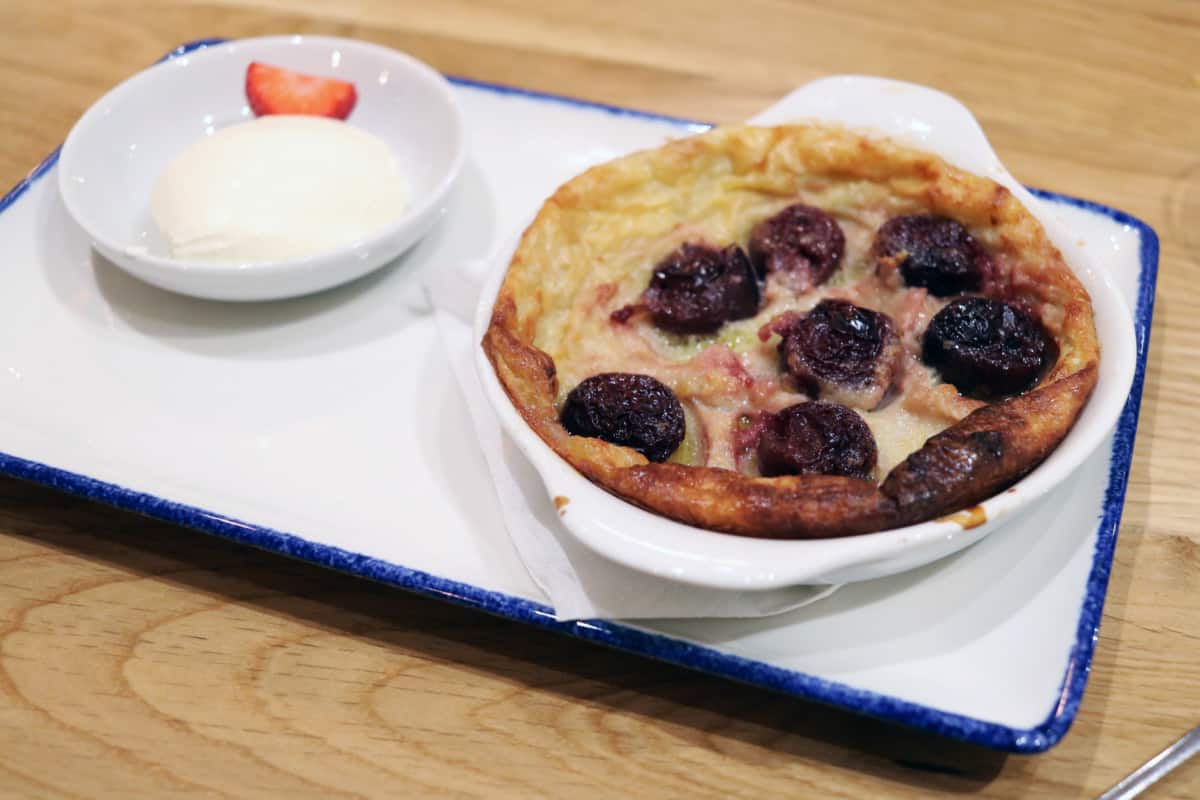 We then retired to our room and the kids settled down to sleep. The glass door offered some privacy, but we had to dim virtually all the lights in the main room so as to not disturb them as they drifted off. Although the glass door looked great, I think that a regular solid door would have been a more practical option.
After a great night sleep, we got ready for a delicious hotel breakfast, something that many of my regular readers know I love! There were cereal options alongside a continental buffet, pastries and a cooked breakfast. This was served to you as you went along the bar instead of if just diving in yourself. It was all delicious and set us up for the day ahead.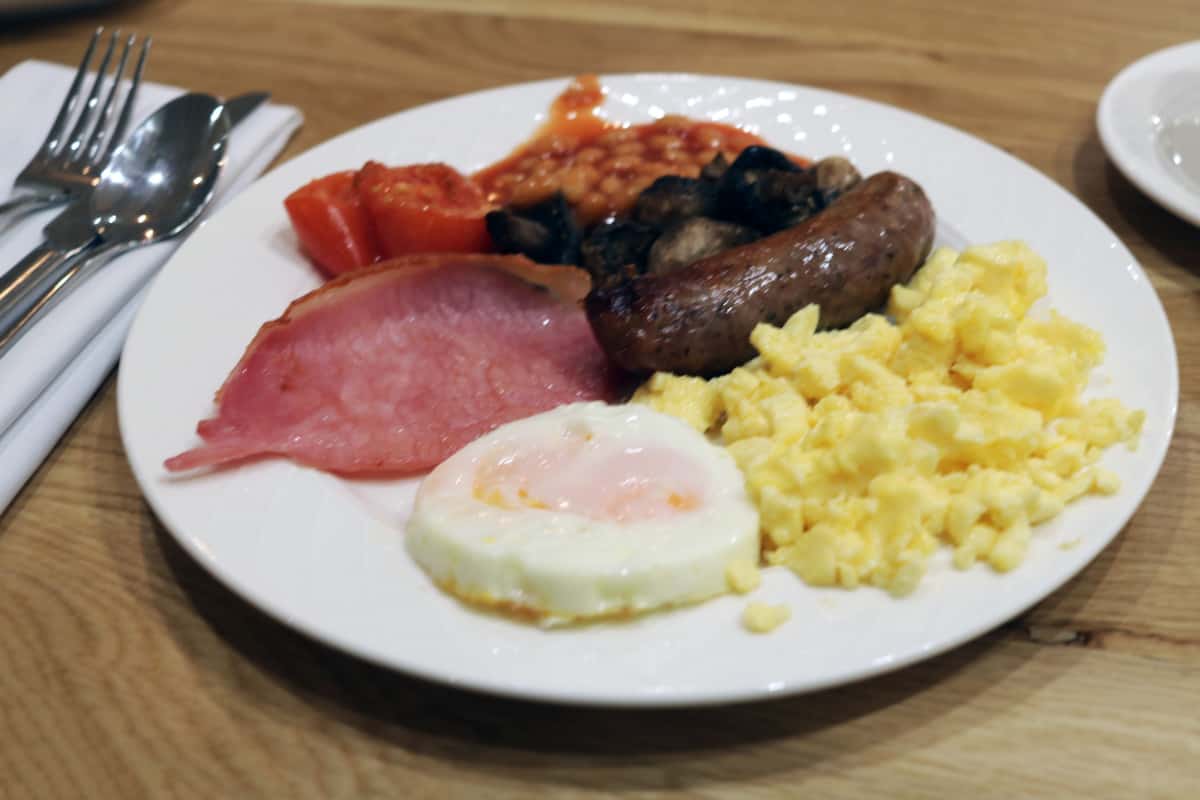 Checkout isn't until 11am as standard, which gave us a little time to gather our things and for the children to have one last go of TV in their own bed. We could have also made use of the leisure facilities in the morning if we wanted to.
The south coast is wonderful to visit and we made the most of the location by going rock climbing just a couple of minutes away on our way home on Sunday. We had a really great time and wouldn't hesitate to book again as a family or even a break away for us as a couple.