Disclosure: We were invited on this day out for the purpose of this post however all opinions are my own.
I love a day at a spa but it's not something I get to do that often. But, last week I was invited to Nirvana Spa to have a day away from work and childcare to just relax and enjoy some time out.
Nirvana Spa is probably my closest spa, based in Wokingham, Berkshire but one I hadn't visited until last week however, I had heard so many great things about it – from friends with memberships and friends who had been there for celebrations, for an evening with friends or just for some time out. It has to be the most talked about spa in the south east so I was excited to see what all the fuss was about.
I found Nirvana Spa easily and was impressed by the amount of parking available. When you arrive there are two entrances – one for members and one for day spa guests, making the start of the day as seamless as possible and as soon as we arrived we saw that Nirvana Spa was full of festive cheer – and decorations!
We were given fluffy robes, a towel, a day pass and a map of the facilities which we were talked through to make sure we knew exactly where everything was. Now, I have never been to a spa before which required a map but Nirvana Spa is unlike any other spa – it's huge. But there are maps around the spa to look at too and you soon get used to where everything is.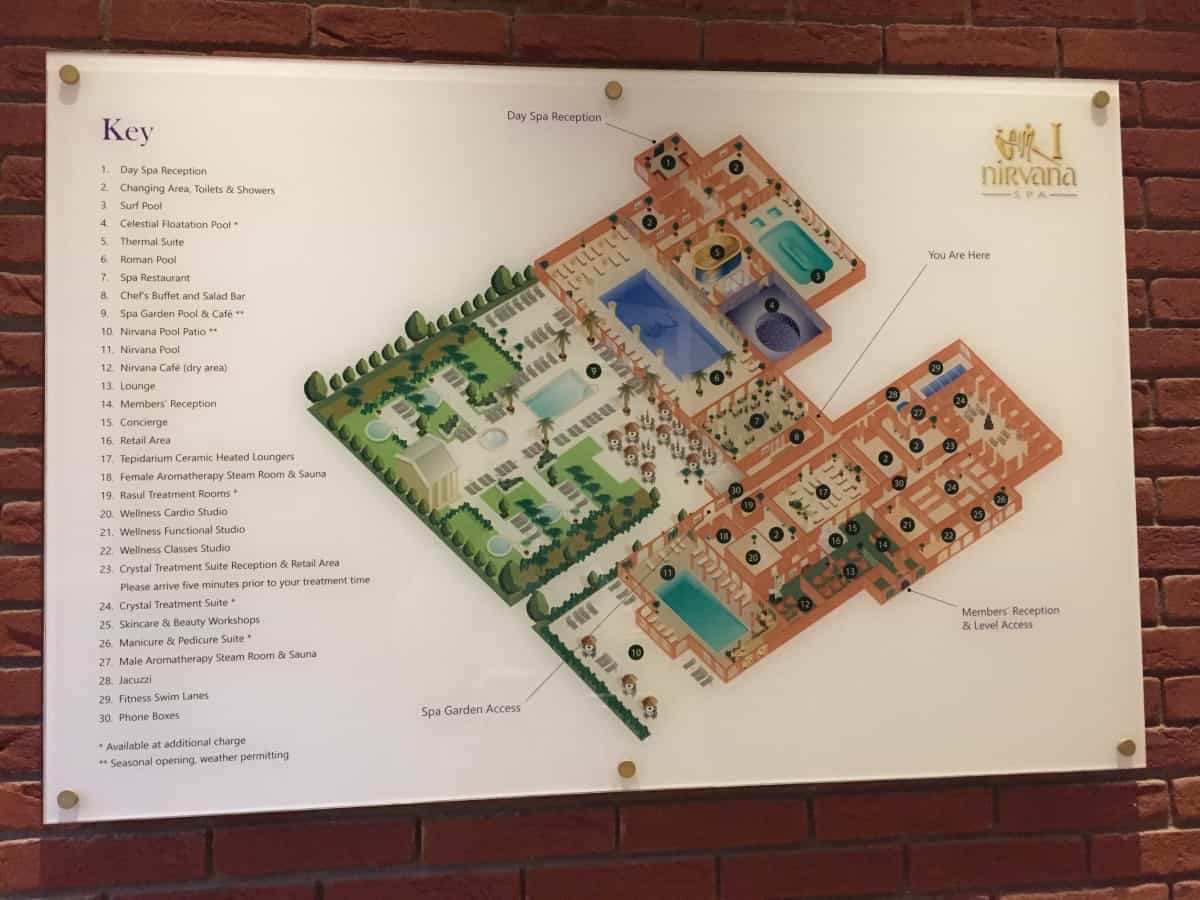 We went straight to the Crystal Treatment Suite and on the way we passed so many different pools and areas that I knew we were in for a spa day like nothing else. But first, we had a Mediterranean Candle Massage which was the perfect start to the day.
A Mediterranean Candle Massage is nearly an hour and a half of pure relaxation. It's a whole ritual of sweeping soft ostrich feathers, warm obsidian stones and melting shea butter wax to create such a luxurious full body massage. It has to be one of the best massages I have ever had.
After our massages we took time to sit outside the treatment rooms on heated loungers whilst we looked at the map and worked out what to do next. We ended up wandering around the spa to get our bearings, passing three seperate pools, the thermal suite, the tepidarium, jacuzzis and a pool specifically for lane swimming.
Nirvana spa had really good size and modern gender specific changing rooms and also seperate saunas and steam rooms for men and women as well as the thermal suite that could be enjoyed by everyone. I was pleased that the Nirvana lockers didn't need you to have change or remember a code and it was clear that everything at Nirvana Spa was aimed at making the day as stress free, simple and enjoyable as possible.
We spent a lot of time in the tepidarium, a really warm room with heated loungers and a fountain in the centre. It was a silent room where you could really switch off or read and relax in complete silence with just the noise of the fountain in the background.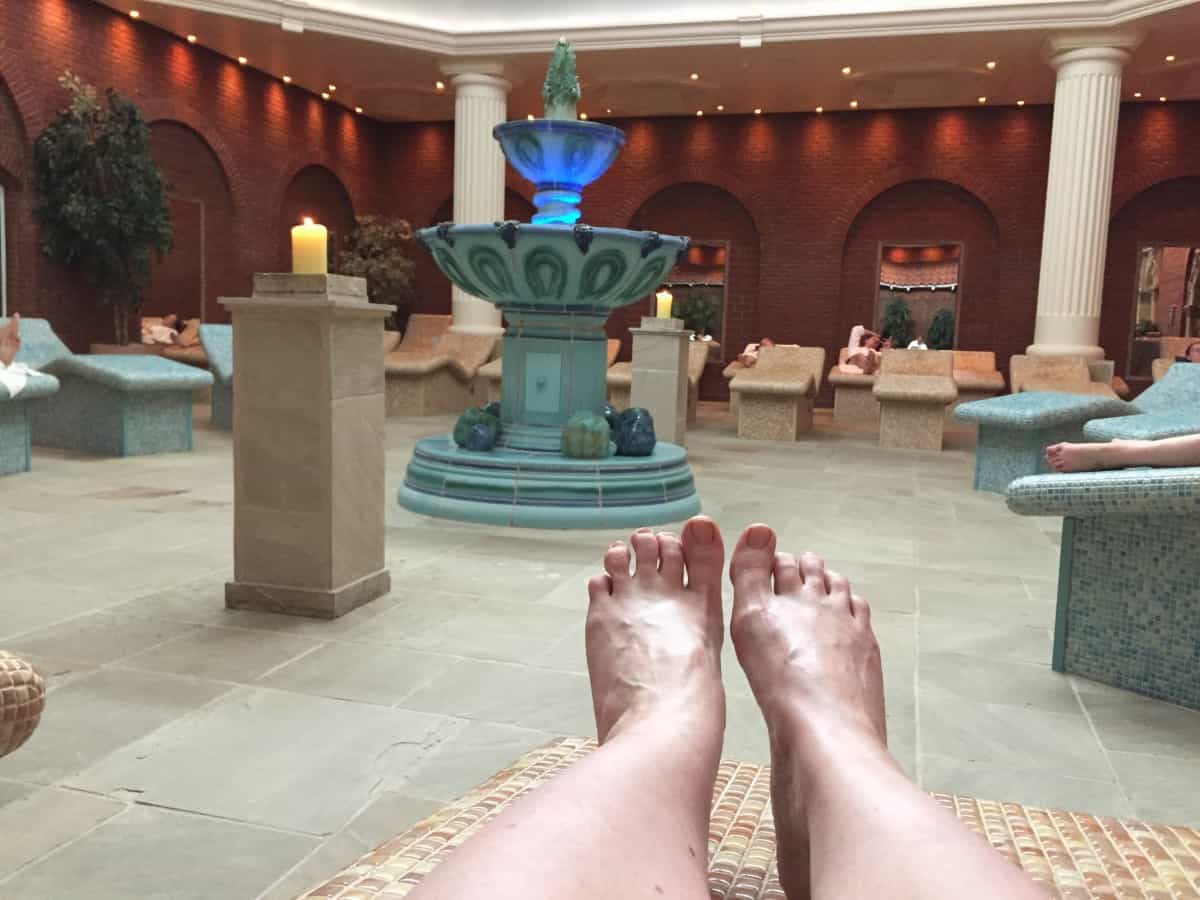 The Nirvana pool was a lovely place to relax. Situated at one end of the spa it was quiet with plenty of places to sit and the pool was a good size to swim or just relax. I think it was my favourite pool at Nirvana Spa.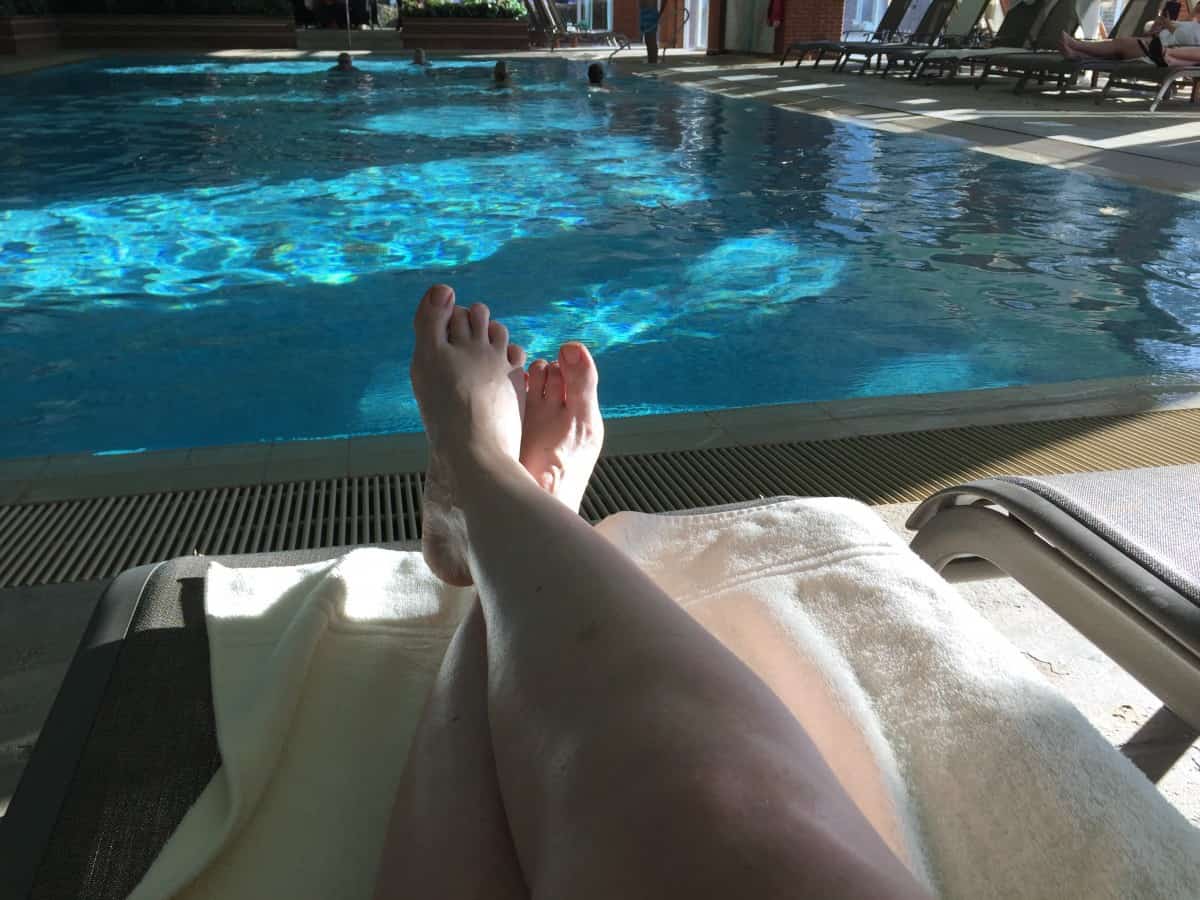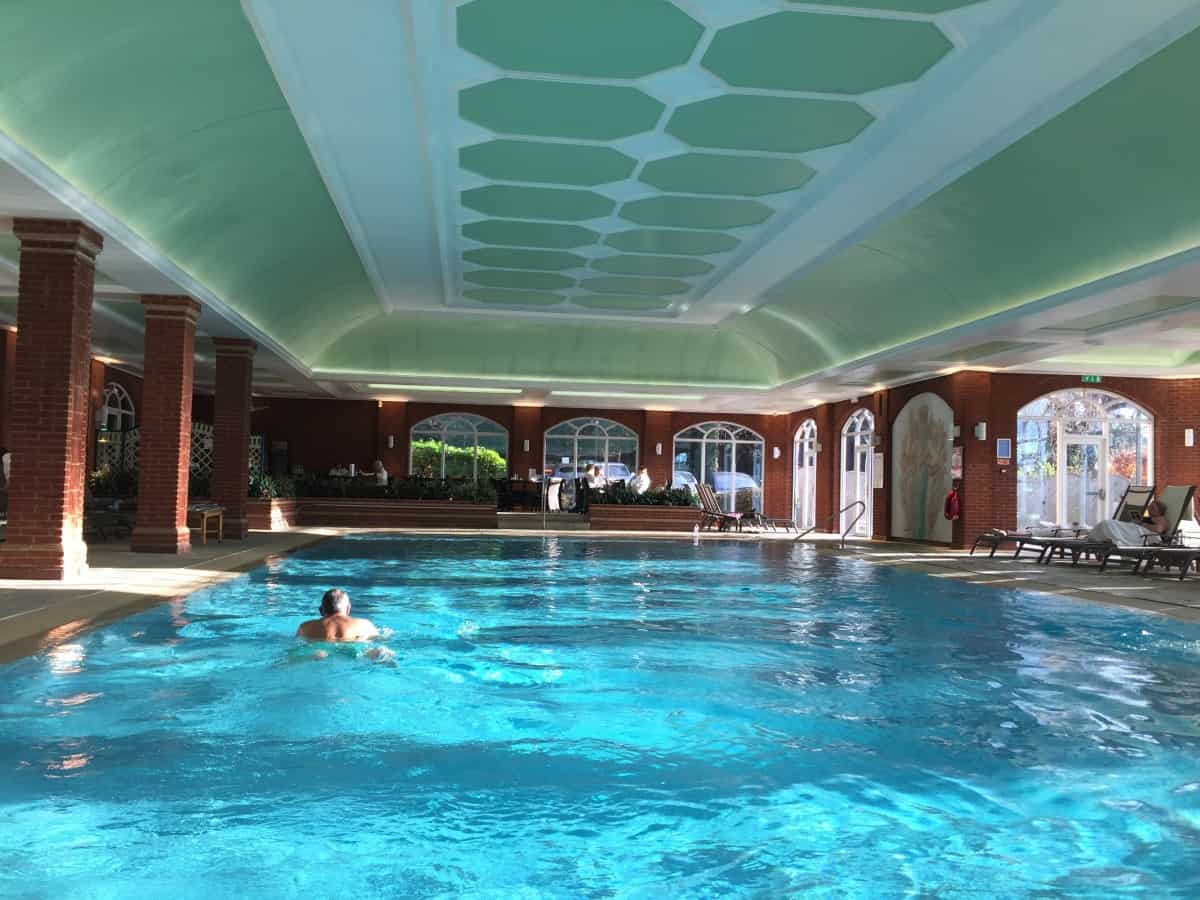 There was also a Surf Pool which is full of really warm water and jets which massage your feet, hips, back, neck and shoulders. This is a really popular pool because of the jets so it did get busy but there was always room for more people to enjoy the water.
The main Roman Pool felt like being on holiday. It had palm trees and, like a lot of Nirvana Spa, there were roman murals on the walls and such a relaxed, holiday feeling to it. It was a beautiful room, with sun streaming in from outside and being right next to the Nirvana Restaurant meant it was well situated for food and drink breaks too.
For lunch we dined in the spa restaurant where they have a Chef's Hot Buffet and Salad Bar which is included in all of the spa day or evening packages and tea, coffee and soft drinks are also included in packages. But, they also have an a la carte menu which I had a huge wrap from for lunch which was so full of flavour. They also sell alcohol at an additional cost and your day spa pass or membership pass works as a charge card – meaning you don't have to carry money with you.
After lunch we had a Celestial Floatation Experience where we went into a special celestial pool which is full of salt to make you float and you lay back in the water, looking up at the roof twinkling like the night sky. The lights are dimmed and it really feels like you're floating in the sea looking up at the sky. I don't think I have ever been that relaxed before.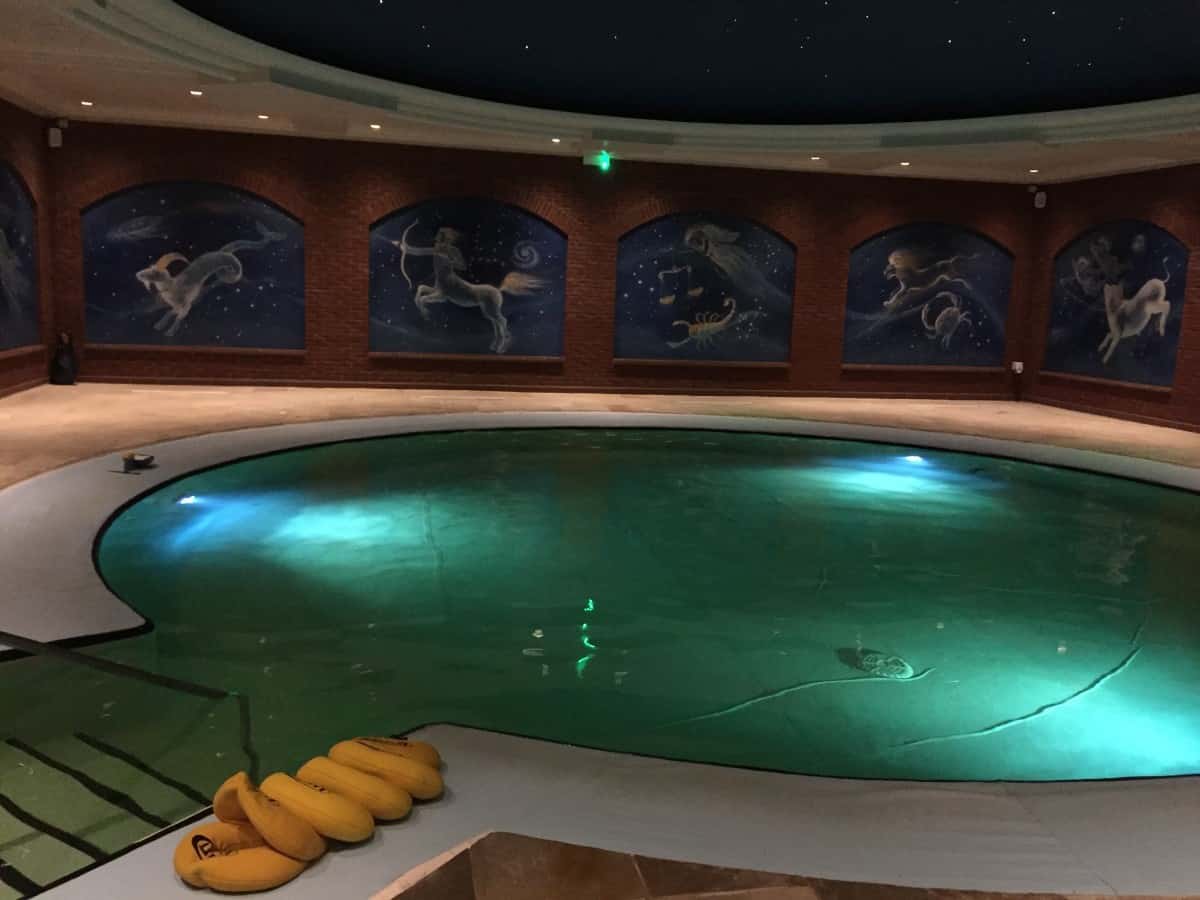 The experience lasts for thirty minutes and we had a Celestial Floatation Massage included which took up half the time. So for half the session we were floating and for the other half we had a really lovely massage whilst floating in the pool. It was surreal but felt amazing and that half hour was the longest but most relaxed half hour of my life.
There was so much to Nirvana Spa and I think we only really scraped the surface. There were Rasul rooms for special Rasul treatments and a wellness suite full of gym equipment and offering group classes and one on one sessions too.
Due to the time of year the Spa Garden was closed which I know is a huge part of Nirvana Spa through most of the year. I would love to go back in the warmer months to experience the outdoor pool, jacuzzis and seating areas – it looks like a proper vacation brought right to your door and the perfect place to relax in the sun.
Before I left Nirvana Spa I was treated to one of their complimentary workshops. They have a whole range of skincare and make up workshops and the one I did was about make up that could be tailored for a night out or the day time. There were five of us all sitting round a table with make up brushes and mirrors, being introduced to the product ranges and getting to try them for ourselves – it was a great use of an hour and so nice to learn more about make up too.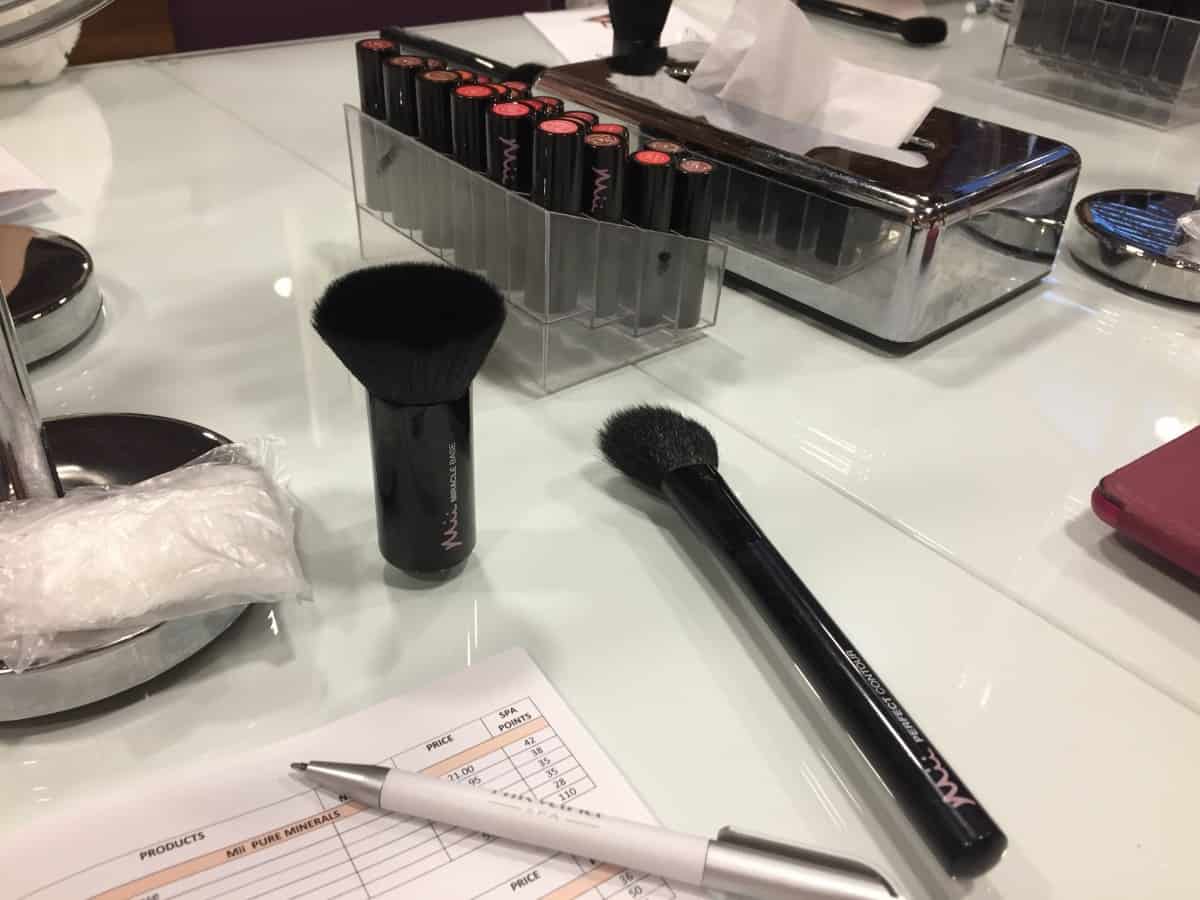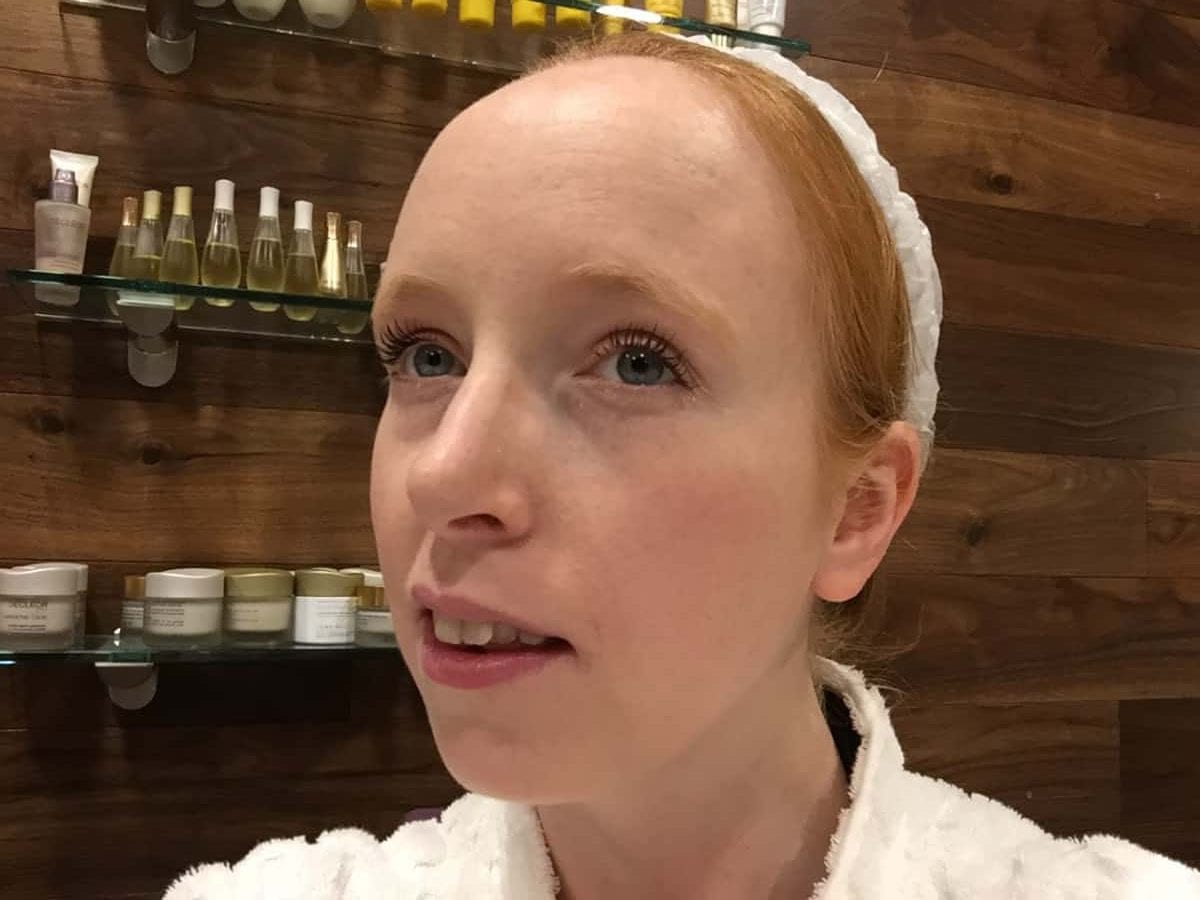 I had such a nice day at Nirvana Spa and it was just what I needed after a busy and stressful week. Nirvana Spa do so many membership options and it would be lovely to sign up, have a small payment go out each month and know that I could go to Nirvana Spa a few times a year or even every month to relax, unwind and have time out from day to day life.
The spa is having an expansion at the moment but work isn't even noticeable but it will make the spa even bigger than it already is when it opens in the spring and will add a whole new Coliseum Suite to experience as well.
Nirvana Spa is so popular and I can completely see why. It's accesible and a scale of membership options make it affordable. It's open from 8:30am until 10:30/11pm with day and evening spa options too. I have never known a spa have such long opening hours or offer so much – and from that perspective it is fantastic value for money.
A Nirvana Spa membership would make a fantastic gift – or a lovely investment. Starting at just £9.50 per month for four evening visits a year or £39 per month for an all day visit every month it's definitely something to put on your Christmas list and you can find out more on the Nirvana Spa website.