*This is a collaborative post
At this time of year most of our days out and gatherings revolve around food. We'll have friends round for pre-Christmas meals, we'll meet up with friends for meals out and we'll be planning Christmas dinner for months.
But, limiting the amount of sugar you consume doesn't mean you need to avoid your favourite treats, even at Christmas. With Splenda, you can really embrace the season of treats – and the sweet life – without compromise! It's so nice to have healthier options and with Splenda you can create many of your favourite desserts without compromising on flavour or satisfaction.
This year Splenda gave us the opportunity to recreate their Christmas Trifle, creating a dish that would be perfect to finish any meal. It can be made as one large trifle or individual ones. We made individual ones as there is something so lovely about handing someone their very own perfectly formed dessert at a dinner party.
Here's the recipe if you'd like to try the trifle for yourself:
Ingredients:
Serves: 10
Preparation time: 30 minutes
Cooking time: 60 minutes
For the sponge:
125g low fat spread
2 eggs
5 tbsp SPLENDA® Granulated
1 tsp vanilla extract
125g self raising flour
For the fruit:
750g plums, stoned and cut in to ¼'s
6 cloves
1 stick cinnamon
2 tbsp SPLENDA® Granulated
For the custard
300ml skimmed milk
4 eggs yolks
3 tbsp SPLENDA® Granulated
2 tsp vanilla extract
2 tsp cornflour
25ml sherry, Madeira or masala
25g flaked almonds, toasted
Method
To make the sponge, preheat the oven to 180°C. Line a 22cm square tin with parchment.
Place all the sponge ingredients in to a large bowl and whisk for around 2 minutes. This is an all in one method for a sponge. Once everything looks smooth, scrape into the prepared tin and bake for 15-20 minutes. Cool.
Place the plums in to a pan with the SPLENDA® Granulated and cinnamon stick. Add a splash of water, cover and cook for around 15 minutes until soft and a little jam like. Leave to cool.
To make the custard, place the milk into a pan with the vanilla and bring up to a boil. Whisk together the yolks, SPLENDA® Granulated and cornflour then pour the hot milk on to this giving it a whisk all the while. Pour back into the pan and bring slowly up to heat stirring and whisking at the same time. Bring it just up to the boil. Set aside.
Break up the sponge and lay it in to the bottom of your dish/es. Sprinkle with a little of your chosen alcohol. Top with the plum mixture then pour over the custard.
Scatter with the flaked almonds.
It's so nice to find a recipe that tastes great, is lovely and indulgent but has a lot less calories than sugar whilst finishing a meal perfectly. But, there are so many other ways to have sweet treats over the festive season whilst lowering your sugar intake and calorie consumption.
Splenda's Consultant Dietician, Helen Bond, has also put together these top tips to help you make your way through the minefield of festive feasting as healthily as possible:
Splenda's Consultant Dietician, Helen Bond, has put together these top tips to help you make your way through the minefield of festive feasting as healthily as possible:
Always start the day with a healthy breakfast. It's easy to miss this important meal, or give in and indulge in fatty croissants to ease that Christmas party hangover. But eating a good breakfast will help kick-start your metabolism and keep you feeling full, making it easier to ignore the inevitable chocolates lying around.
Get creative with your advent calendar. Even big kids love opening those little advent calendar doors – but, enjoying 25 days of chocolaty goodness will do your waistline no favours! A little chocolate Xmas character provides around 26 kcals, 1.5g fat, 2.8g sugar – even more if they are truffle or alcoholic filled – that's an extra 650 kcals, 37.5g fat and 70g sugar over 25 days. Why not get creative with your countdown to Christmas, so you've got a daily treat, without the daily guilt.
Love seasonal fruit and veg. With the abundance of festive food, it can be easy to forget the basics of eating healthily and achieving the (at least) 5-a-day recommendation. I like to pile the veg on my plate first, rather than last.
Make time for exercise. However well you plan, life is going to get hectic over the festive period, so schedule your 2.5 hours of moderate intensity exercise into your week now. Exercise is also a fabulous stress buster, as it releases endorphins, making you feel happier and calmer.
Don't skip meals. If you're going to the office party straight after work, or you've got a dinner date with friends, don't ditch lunch for fear of overdoing your daily calorie intake. You'll be famished and hungry people tend to make bad food decisions.
Try not to burn the candle at both ends. Burning the festive candle at both ends, with parties during the week and weekend hosting duties, can also affect your waistline. Too little sleep can reduce the level of the appetite-controlling hormone leptin and increase the hormone ghrelin, telling the brain you need to eat – and not always the right healthy food choices.
Rethink your tea breaks. Cut cutting down on the 'white stuff' is a tall order, especially around Christmas. It appears in so many of the traditional festive favourites, that it's near impossible to keep track of how much you're eating.  An easy win is to rethink your tea breaks; instead of adding sugar to your tea, swap to a low-calorie sweetener, like Splenda. If you drink four cups of tea a day with two teaspoons (8g) of sugar in each cup – that adds up to 128 kcals. Your sweet tea also tots up to nearly one 1kg bag of sugar over the 25 days of December and 3,200 kcals! You, and your Xmas shopping could be a whole lot lighter for a simple sweet swap!
Treat sweets as treats. The constant supply of treats from guests and salty savoury snacks at work can be too tempting to avoid. Keep healthier seasonal snacks, like clementines, to hand; a medium clementine has just 25 kcals and will provide you 31% of your daily needs for immune boosting vitamin C and 1g of gut healthy fibre.
Wise-up to the buffet. Faced with a buffet, resist the temptation to start filling your plate at one end of the table and continuing to add to it until you reach the other. Before you pick up the plate (and always take the smallest one!), pause for a moment and then prioritise healthy choices; smoked salmon, slices of lean ham and vegetable crudités. Now, step away.
Keep in mind portion size. Most of us are over-generous with serving sizes at Christmas and it's a fact that the bigger your tableware, the more you'll fill it. Research shows that simply downsizing from a 12 to 10-inch plate could help you eat roughly 22% fewer calories, and you'll not feel like you are missing out.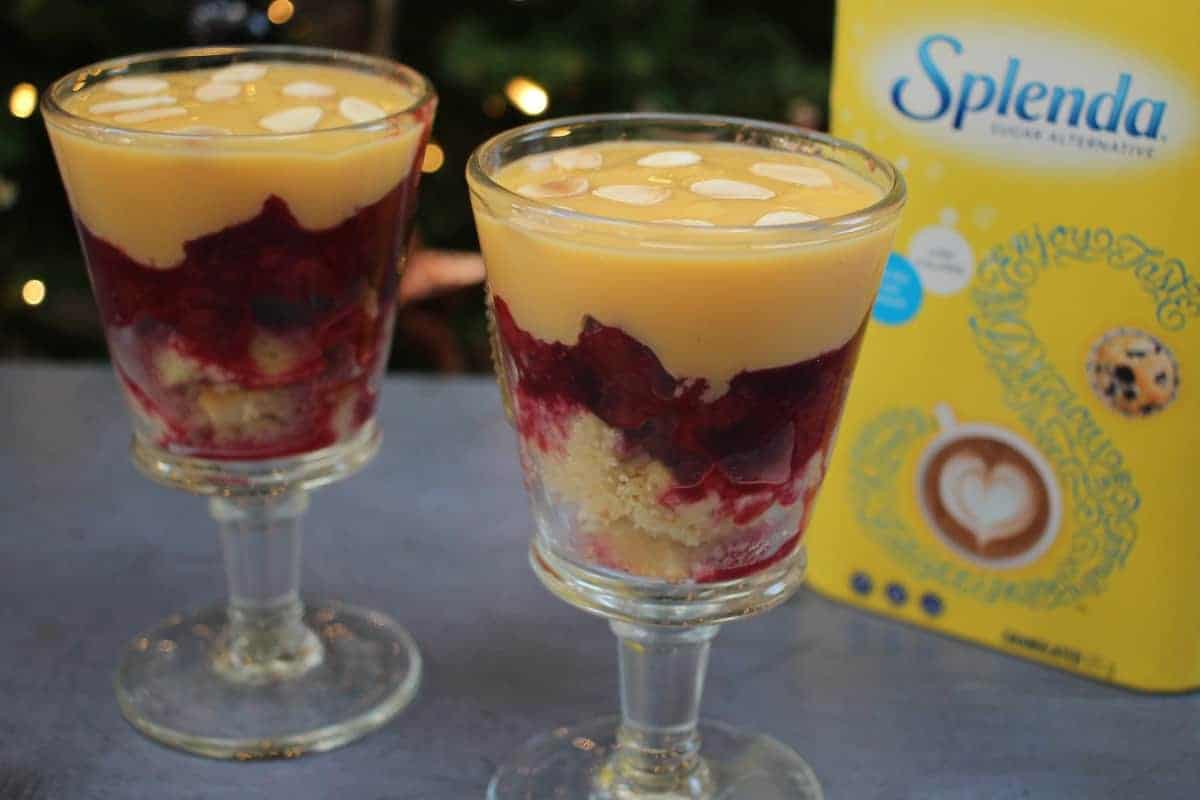 As Splenda is made with sucralose, unlike other low-calorie sweeteners, it can easily be used as a replacement for table sugar in most cakes and bakes – visit www.splenda.co.uk/recipes for more recipe inspiration and baking tips, perfect for the festive season.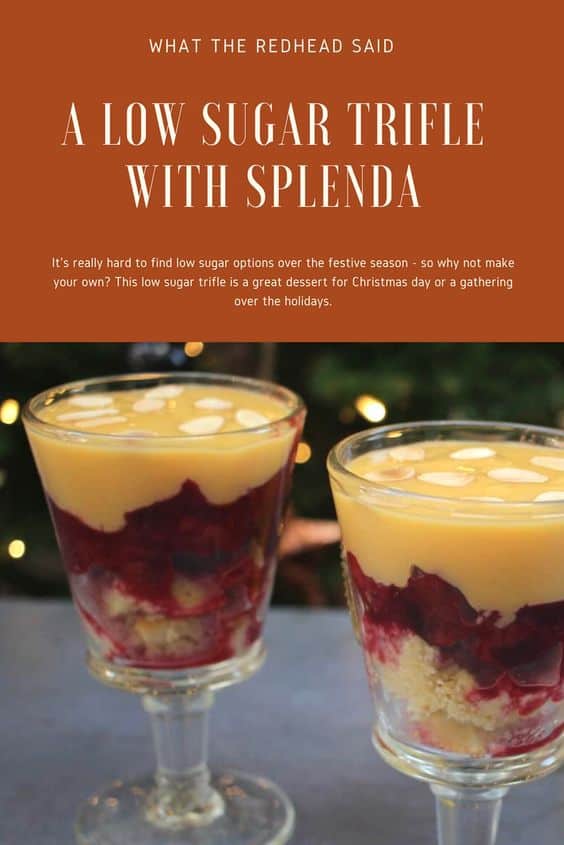 *This is a collaborative post