Disclosure: We were invited on this break for the purpose of this review however all opinions are my own.
Hand Picked Hotels are my favourite hotel brand – and not just because Dave and I got engaged at one of their hotels. I have stayed at a handful of Hand Picked Hotels across the country and the high level of service and hospitality is always the same. So I had been looking forward to our break at the Ettington Park Hotel since it was booked.
Ettington Park Hotel is the only AA 4 Red Star hotel in Stratford Upon Avon, Warwickshire. It's a neo-gothic mansion – complete with turrets, arched windows and so much historic extravagance. The hotel is such a beautiful building, like a huge country house, that suits its surroundings perfectly and although it's really grand, almost majestic, the staff and atmosphere are both warm and welcoming.
I arrived at Ettington Park quite early in the day and headed straight for the leisure facilities to relax and start our break in style. The layout of Ettington Park is so quirky, with rooms and corridors going off in all directions. I was shown the way to the swimming pool and loved that it felt tucked away at the end of the building where you could really switch off and not be disturbed.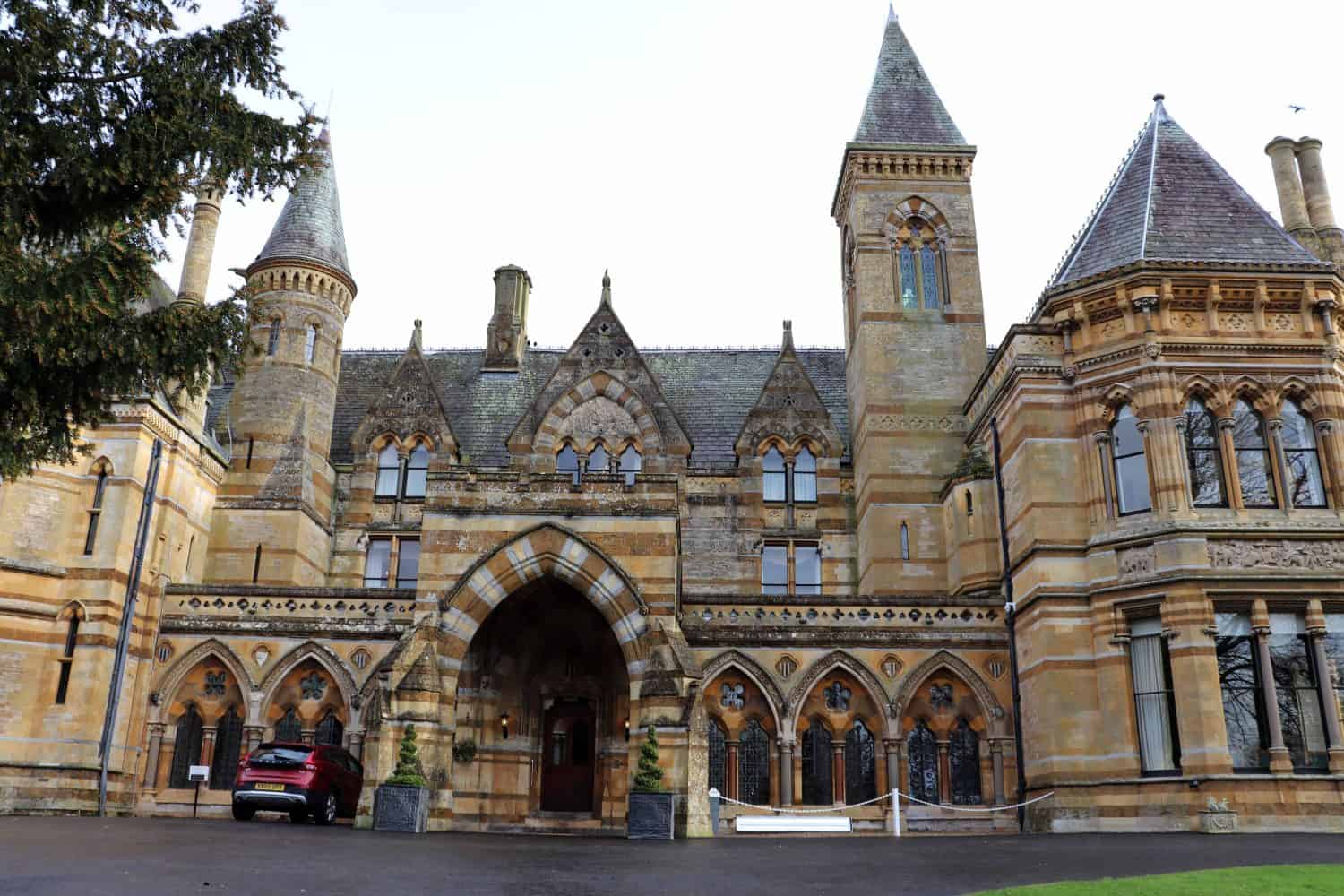 The leisure facilities at the Stratford Upon Avon Ettington Park Hotel include a really good size pool with plenty of loungers around it, a sauna, steam room and spa pool plus compact but clean changing rooms with plenty of fresh towels and lockers provided free of charge.
The pool was such a beautiful place to spend time and relax. It's full of natural light, with windows in every direction helping it to bring the outside in. I spent a couple of hours flitting between the facilities and relaxing but could have quite easily spent all day there! Ettington Park doesn't promote the leisure facilities as a spa – as there aren't any spa treatments on offer and the facilities are only available to guests of the hotel making it a much more intimate and quiet experience.
After my time at the pool I sat and worked for a couple of hours in the Great Drawing Room. It's such an opulent but bright and airy room and one that was wonderful to spend time in. I ordered lunch – a fantastic Croque Madame – and had tea that came with it's own timer to let me know when it had brewed enough. The service was impeccable and I knew that the staff would do all they could to cater for anything I needed.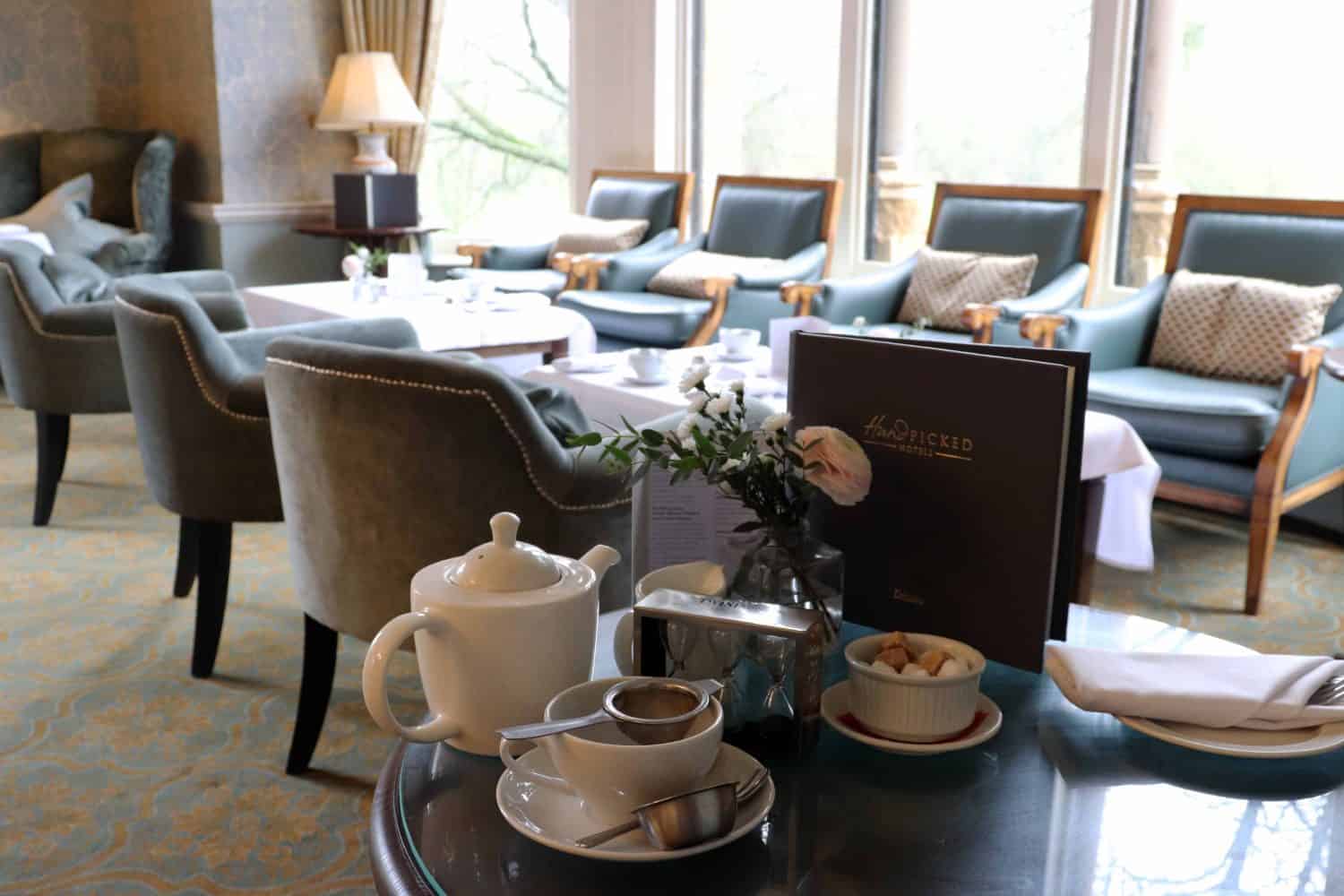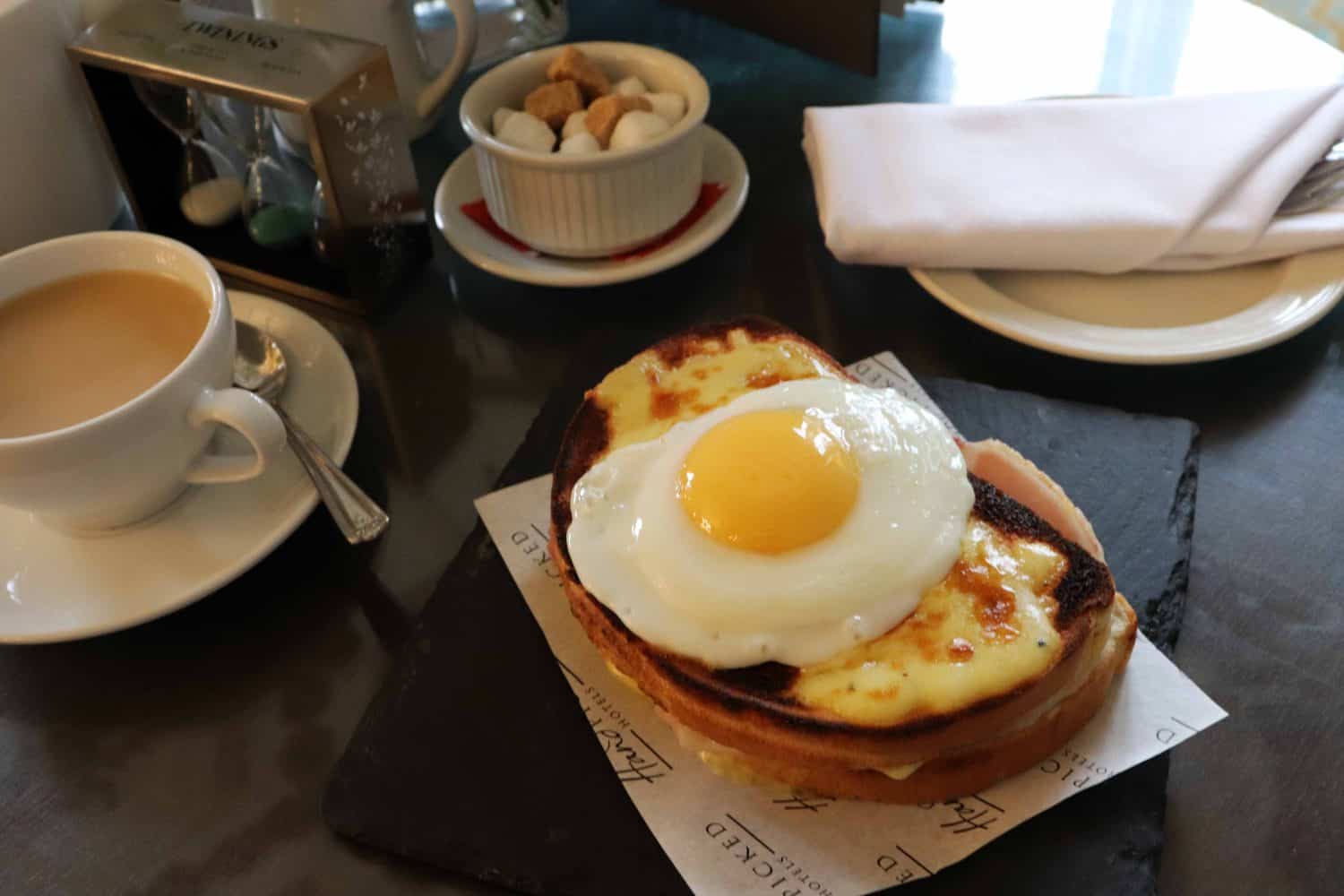 When Colette arrived I checked in smoothly and we were shown to our room – which happened to be the honeymoon suite. My bag had already been taken up for me and we were blown away by the room.
There was a four poster bed plus a spacious lounge and dining area. There were so many pillows, a TV, tea and coffee making facilities and even a fancy coffee machine.
There were plenty of towels, complimentary toiletries and robes and slippers in the wardrobe. The bathroom was spacious – with a big shower cubicle as well as a bath and the bath even had a TV you could watch whilst you were in it!
The room had a selection of magazines, free wifi, fresh milk and bottled water in the fridge and fantastic views of the Ettington Park grounds. It was perfect.
Colette ordered room service – a super food salad and halloumi fries – and we were surprised to see that the room service charge was just 10% – just over £1 in this case. Usually hotels charge a tray rate of £5+ so this made a welcome change.
We spent the afternoon working and relaxing in the room and it was so nice to look out at the chapel ruins outside, take time to appreciate the view of the beautiful grounds, see the rain against the window and just catch up with cups of tea whilst we worked.
Colette and I have working weekends whenever we can fit them in and Ettington Park was perfect for this. It would be such a nice base for any kind of weekend – exploring Stratford Upon Avon, a romantic weekend away, somewhere for a business meeting or somewhere to catch up with friends and family. The hotel is exactly what you want it to be – whatever that is at the time.
We had a table booked in the Oak Room restaurant for dinner at 7:45pm and were asked to arrive about 15 minutes before. When we went downstairs we were shown to seats in the lounge where we could relax, enjoy a pre-dinner drink and peruse the menu before ordering our meals. We were given nibbles to enjoy and drinks recommendations. Our waiter, Sam, was fantastic – talking through the speciality drinks the hotel offered and the vast array of gin too.
Our food orders were taken and we enjoyed our drinks before being shown through into the dining room. The level of service was so high – with chairs pulled out, napkins placed on our laps and every detail clearly thought about. It was a really lovely experience.
Soon after sitting down we were served an amuse-bouche of tomato soup and a crouton along with a bread roll. It wasn't just a white or brown option but a choice of flavoured breads – with both of us choosing the olive bread which was lovely.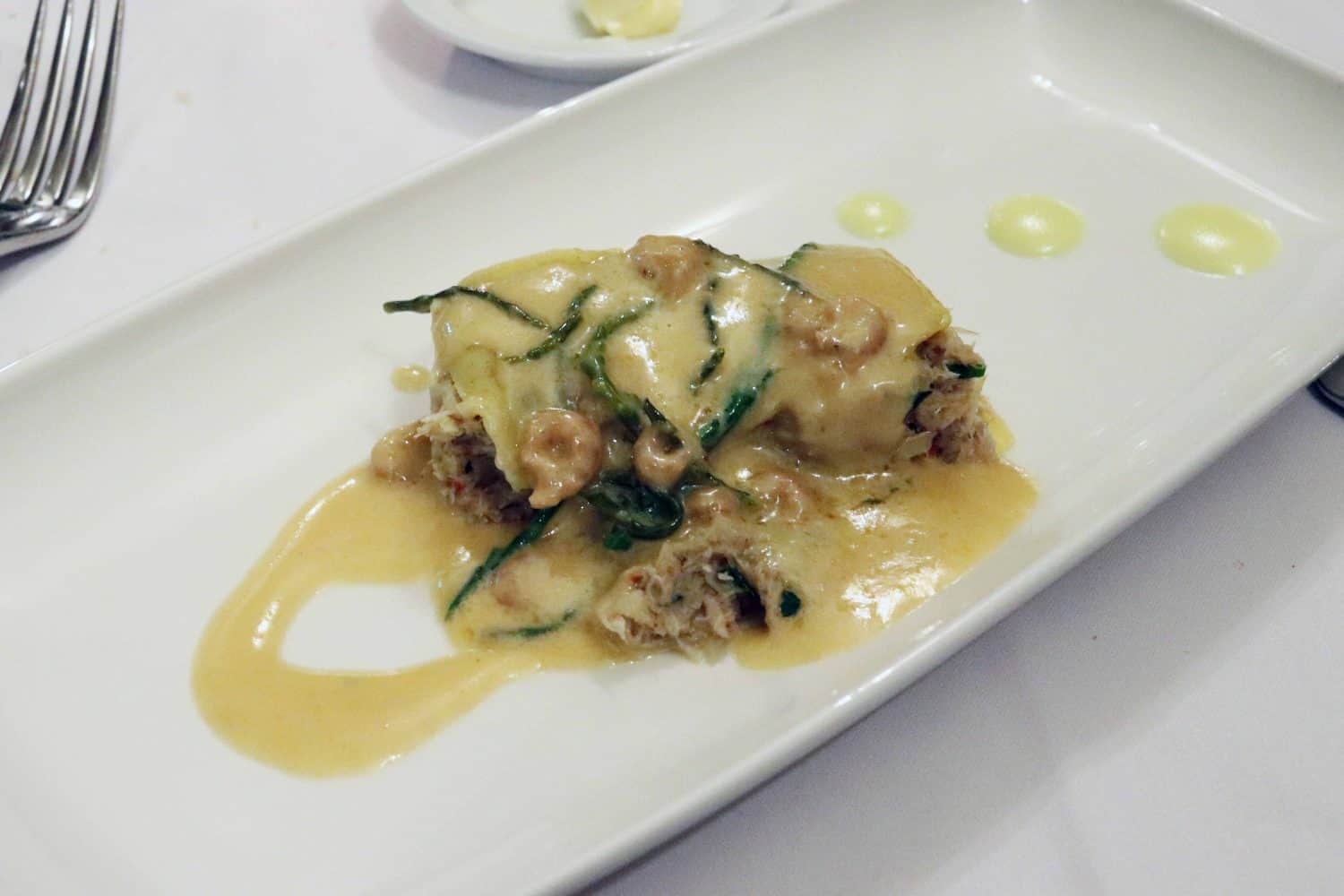 For our starters I chose the Cornish crab lasagne which came with brown shrimp, a butter sauce and lemon puree. Colette went for the chicken and bacon pate with a plum chutney, red chicory and brioche. Both the starters were a good size and although they didn't look very appetising they made up for this in flavour and were both a great way to start our meal.
Our mains were the Herefordshire beef served with a dauphinoise potato, kale, caramelised shallot and a jus and the Barbary duck breast, cooked pink and served with celeriac fondant, braised red cabbage and a carrot and orange puree.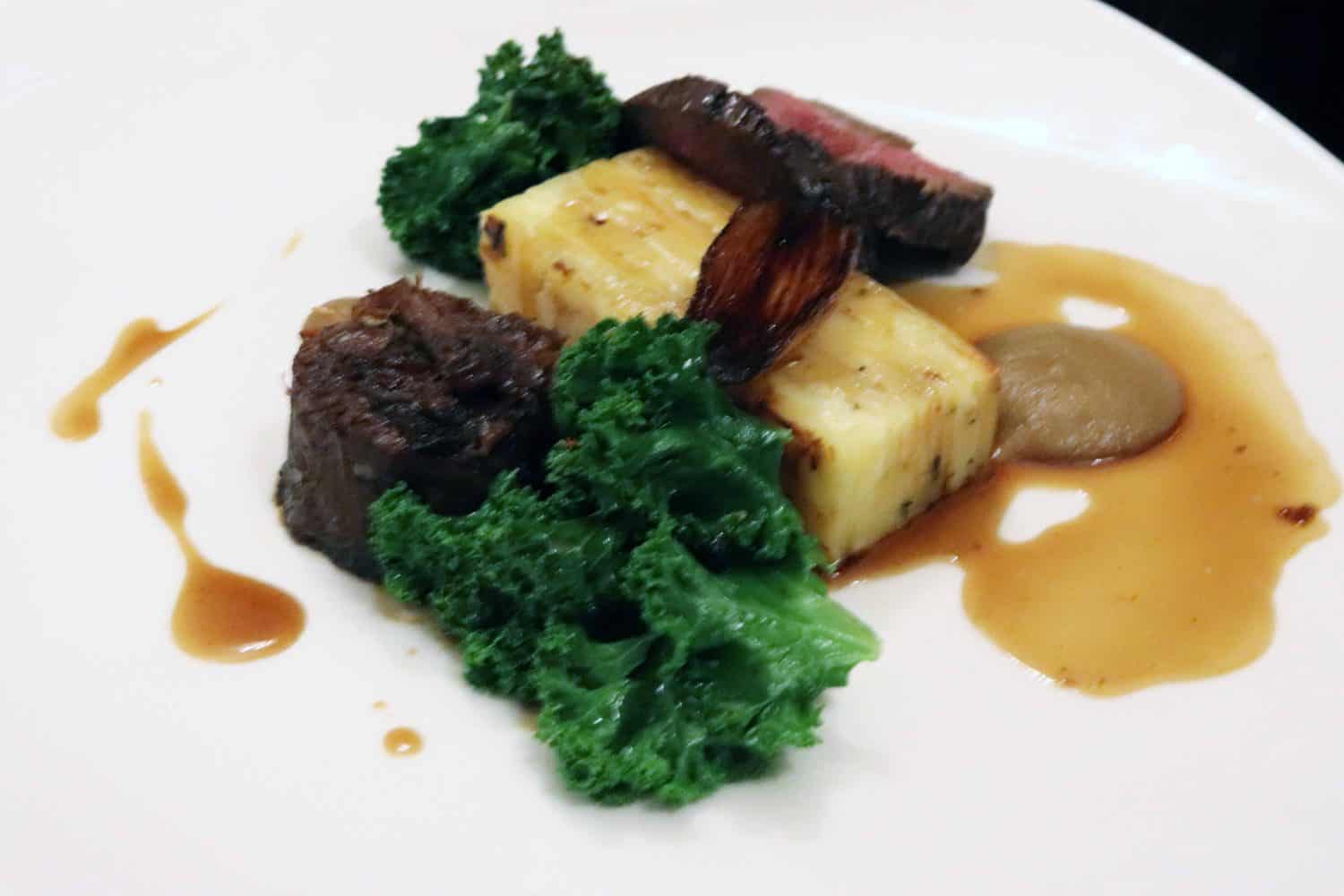 Both meals were perfectly cooked and a really good portion size. They were full of flavour and had just the right amount of jus on each to not overpower the dish.
We finished our meals with tart tatin and a rhubarb and ginger cheesecake. Both dishes were beautifully presented and light enough to not be too filling at the end of a meal. Tart tatin is a classic that you can never go wrong ordering and I loved how my cheesecake felt slightly deconstructed – with so many components, and had an unexpected liquid centre. I'm not sure the mango sorbet went with the rhubarb and ginger flavours though.
We had another drink after dinner and then went to bed, chatting for ages before it was time to sleep. We had a slight issue that one of the windows didn't have heavy curtains like the others and a roman blind instead which let light from an outside flood light through. Reception managed to turn the flood light off for us and we had such a good night's sleep.
Breakfast was served in another beautiful room in the hotel, the Library, with a view of the grounds and bookcases lining either side. There was a lovely continental buffet with fruit salads, pastries, bread, cold meats and cheeses and fresh juice as well as a cooked breakfast menu too.
Colette and I both went for the Ettington Park Breakfast which was a classic full english. The food arrived so quickly and was beautifully presented – with the beans in a separate pot which is always appreciated. It was a great way to start the day. Norbert served us at times during both dinner and breakfast and he was so attentive and efficient.
We finished our stay at Ettington Park by exploring the 40 acres of grounds surrounding the hotel. There's old chapel ruins, beautiful gardens and so many places to sit and watch the world go by. The sun came out and we could see just how lovely Ettington Park would be to sit outside when the weather's warmer and just take in the view that stretches for miles. It's perfect.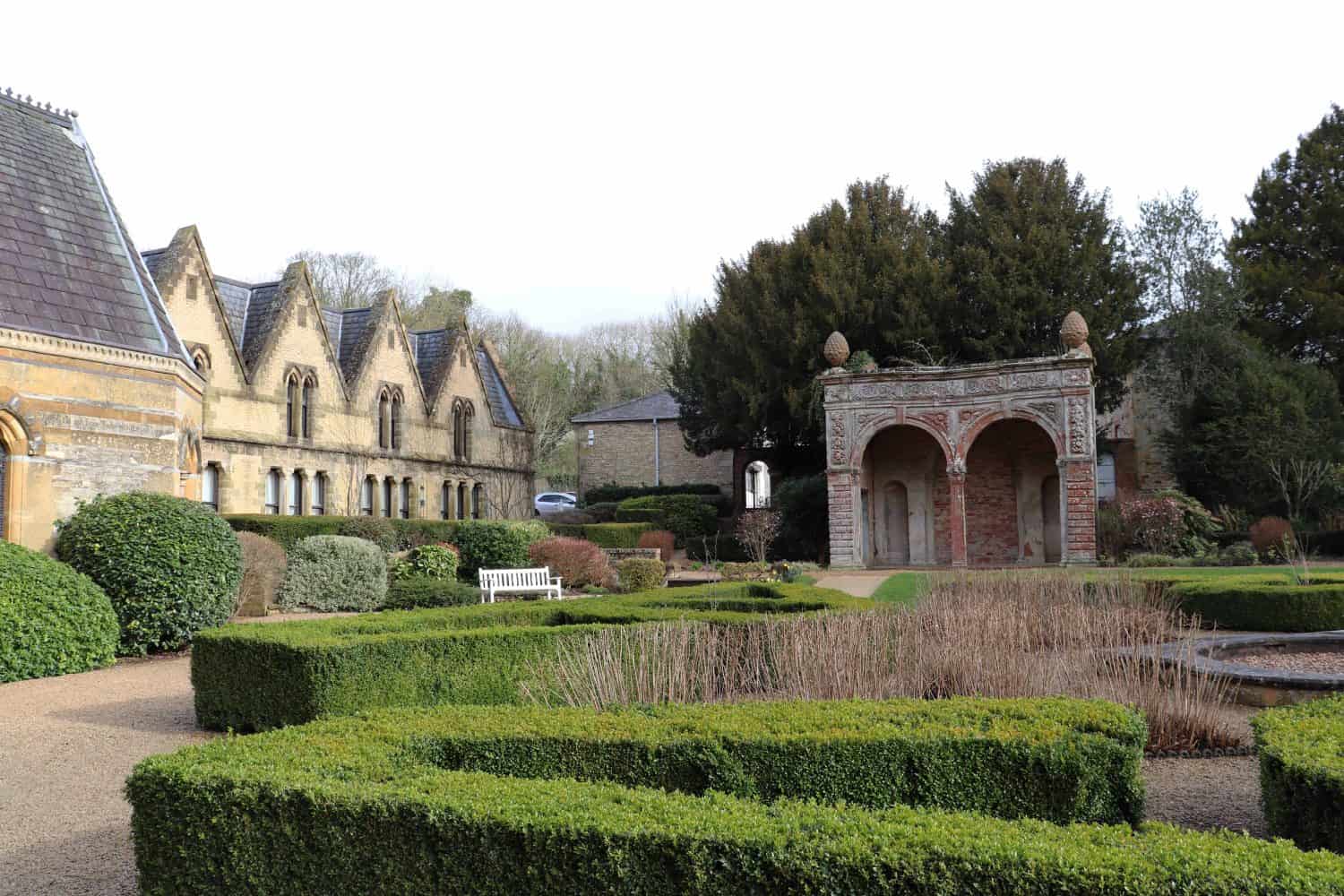 We had such a wonderful stay at the Ettington Park Hotel. It's very much what I've come to expect from Hand Picked Hotels – wonderful staff, beautiful locations, free parking, hotels steeped in history and so much to look at whilst being able to switch off and relax. It's an idyllic place to stay.