This day, 6 years ago, Dave proposed.
We whisked me away to a Audley's Wood Hotel in Hampshire for the weekend and we relaxed, had a lovely dinner and he asked me to marry him. I cried like I've never cried before and obviously said yes! He bought a ring already which fit perfectly and I then found out he'd even asked my Dad's permission! It was perfect, but not the proposal Dave had originally planned.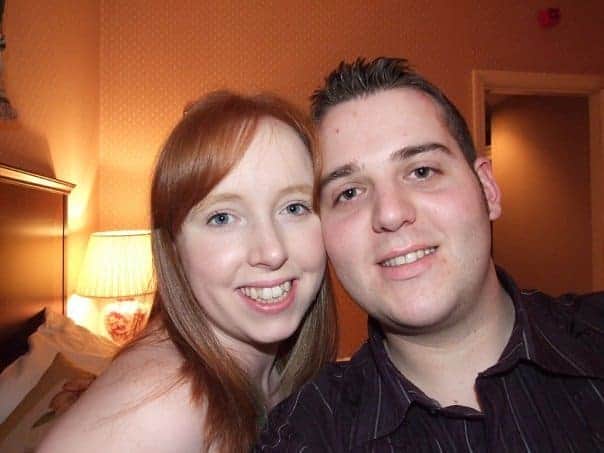 The October before we went to Tunisia on a 2 week holiday. Back then we'd only just bought our house and were in a bit of a mess with debts, so we couldn't afford luxuries very often and a holiday as a huge luxury to us. We went away that year for the first time in 2 years and booked an all inclusive break. Looking back it had been a bargain. Too much of a bargain really.
The resort was basic but fine for what we wanted – It was just a base to explore the country. We planned so many day trips and the holiday started off great. We visited Sidi Bou Said – an amazing blue and white town. Such a beautiful place! We also went on a day trip to see Tunis and Carthage. This, for me, was cut short. The day before was my Birthday and I must have eaten something 'dodgy' at the hotel. By the time we got to Carthage before lunch I was feeling very sick and needed the toilet constantly. Somehow I made it through the rest of the day – It was a planned full day excursion and we were miles from the hotel with no way of getting back unaccompanied.
The tour guide had to stop the coach next to the motorway on the way back to the hotel so that I could be sick. That has to go down in my mind as one of the most embarrasing moments of my life. It could have been worse though! The coach was full of British tourists and no one really even asked if I was ok, I wasn't too bothered, I just stared at the coach seat in front of me and willed us to be back at our hotel.
Eventually we got back and the next couple of days are a blur. The resort Doctor had to be called out a couple of times to give me injections, I couldn't stomach any food and was given something called Smecta to mix with water to rehydrate me. Disgusting stuff. None of this worked and Dave and I found myself in hospital. Dave was slightly sick but nowhere near as bad as me yet he stayed in a twin hospital room with me rather than leave me alone in a foreign hospital.
You know someone really loves you when they see you at your worst and still love you. For me, this holiday was the sign of that. We were in a Tunisian hospital where everyone spoke French. We had the clothes we came in and our passports and spent the best part of a week there. I have never felt so ill and dirty in my life. During the week they gave us things to have a shower once although we were on drips for rehydration and antibiotics so had to shower with a rubber glove over the cannula. Great experience! The hospital also gave us X-Rays and Ultrasounds to bump up the travel insurance fee find out what was wrong with us. It turned out we had food poisoning a virus… Or that's what the resort wanted us to believe. Our travel insurance paid the huge fees and we went back to the hotel with a few days left of our holiday.
Whilst we'd been in hospital we had been due to go on a 2 day desert safari that would have taken us through the desert to Tatooine where part of Star Wars was filmed. We would have camped overnight under the stars and Dave, a huge Star Wars fan, had planned to propose in Luke Skywalker's house. Unfortunately, we couldn't rearrange the desert safari, and I wasn't aware of the proposal plans anyway so Dave didn't get another opportunity to propose.
4 months later and we found ourselves at the hotel in Hampshire. Dave's proposal didn't involve Star Wars but it was perfect all the same. 6 years since his proposal and we will have been married 5 years this year.