Disclosure: We were invited on this break for the purpose of this review however all opinions are my own.
Dave and I don't often get time away without the children so when we were invited to stay at The George Inn in Barford St Michael we couldn't wait for a chance to relax and unwind in the middle of the Oxfordshire countryside.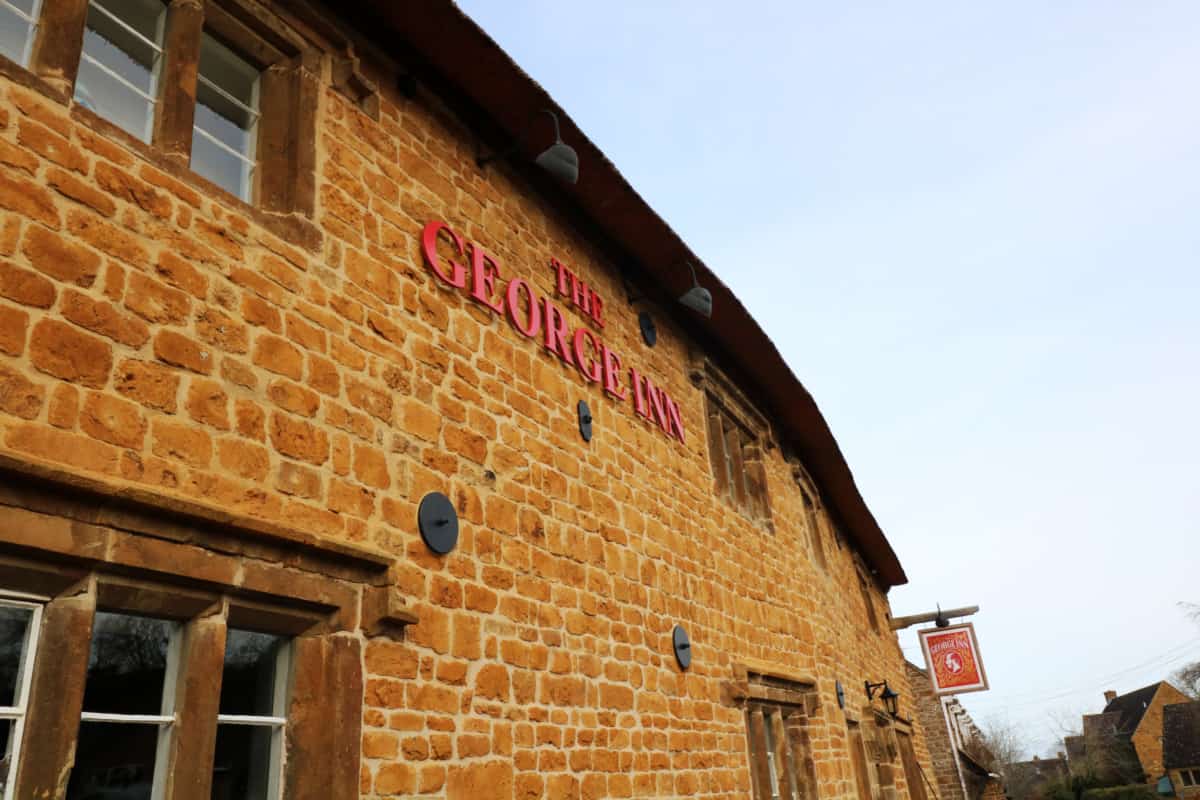 How easy is The George Inn to find?
The George Inn is easily accessible from the M40 making it a great location for anyone looking for a night away. The drive to it is beautiful – with so many traditional buildings and green landscapes in every direction. The George Inn has plenty of private parking and it looked so welcoming from the minute we parked up.
We were shown to our room which was in a recently built building of rooms outside the main pub. This new extension was completed in October and I don't think I've ever seen a new building as in keeping with the original build as this – it looked as traditional and old as the main pub, giving it a really rustic charm.
What are the rooms like at The George Inn, Barford St Michael?
Our room was one of eight at The George Inn and was absolutely beautiful. It had our main bedroom with a huge bed and an armchair as well the biggest TV I have ever seen in a hotel room. Dave was pleased to see that the TV had Netflix on and there is wifi throughout as well.
The bathroom was huge with a bath, shower above and his and hers sinks. There were fluffy towels, complimentary toiletries and a well stocked tea and coffee station. Add to that the underfloor heating throughout and we were set for a pretty cosy weekend away.
We spent time in our room relaxing and watching TV and were impressed with how quiet our room was. Considering it was right next to the pub garden and car park there wasn't any noise to be heard and we could have easily been in a much more remote location.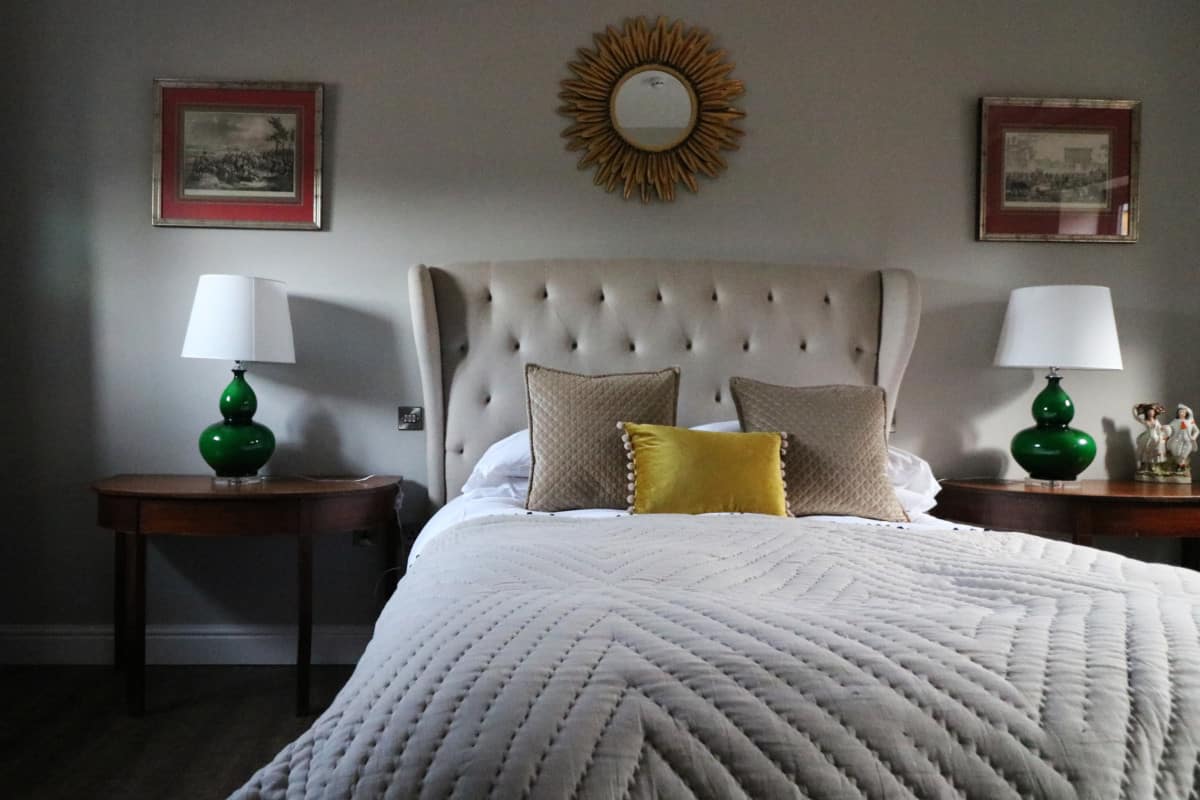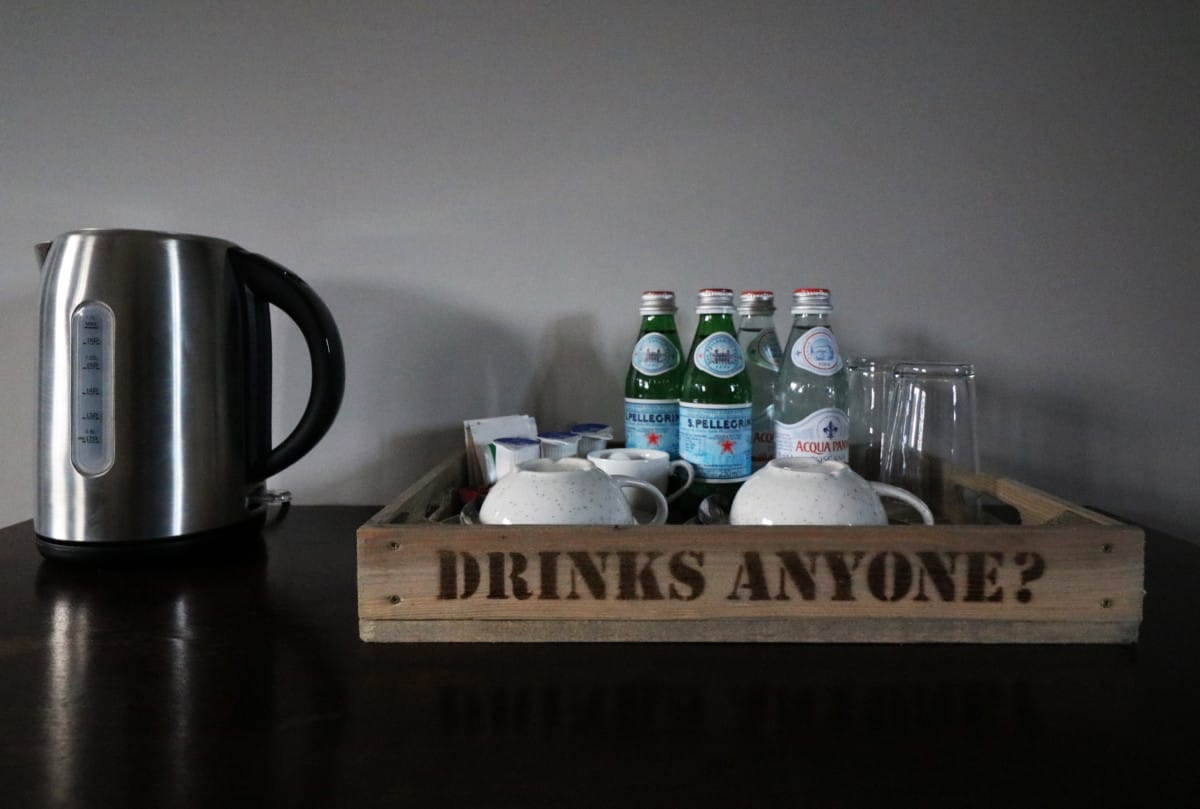 A couple of hours before dinner we headed into the pub to have a drink and relax. The George Inn is obviously right at the heart of the local community and whilst we spent a while relaxing, enjoying the open fire and chatting we saw so many people coming in to watch the sport, catch up with friends or just have a quick drink or something to eat.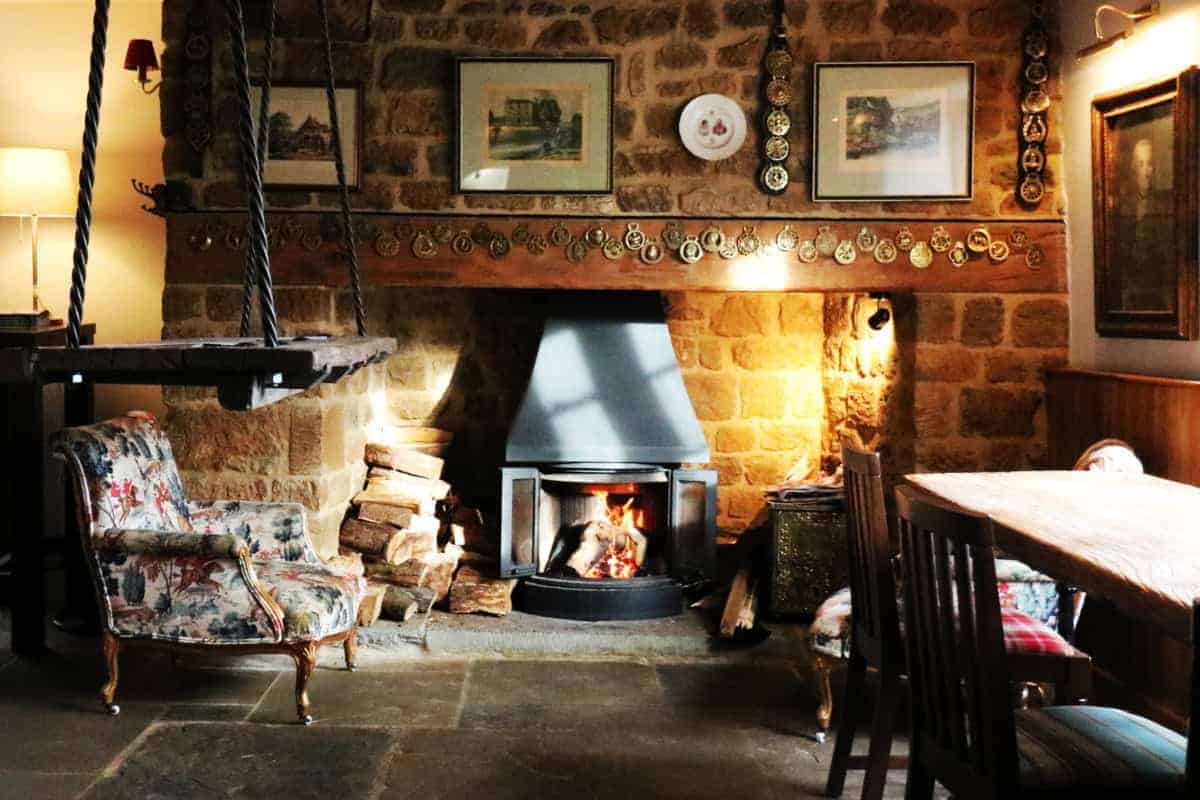 So many of the customers seemed like regulars – chatting easily to the staff – and we were welcomed into that immediately. The George Inn was such a friendly place to be whether just having a drink or staying for longer like us.
The George Inn have a really great range of gin – as well as other typical pub drinks – and we whiled away the time before dinner with a couple of G&Ts in front of the fire.
When our restaurant dinner time came the staff were happy for us to stay at our table in the bar area although the pub does have two different dining areas as well. I got the impression that as long as the customers are happy the staff are happy – and it made us feel really at home.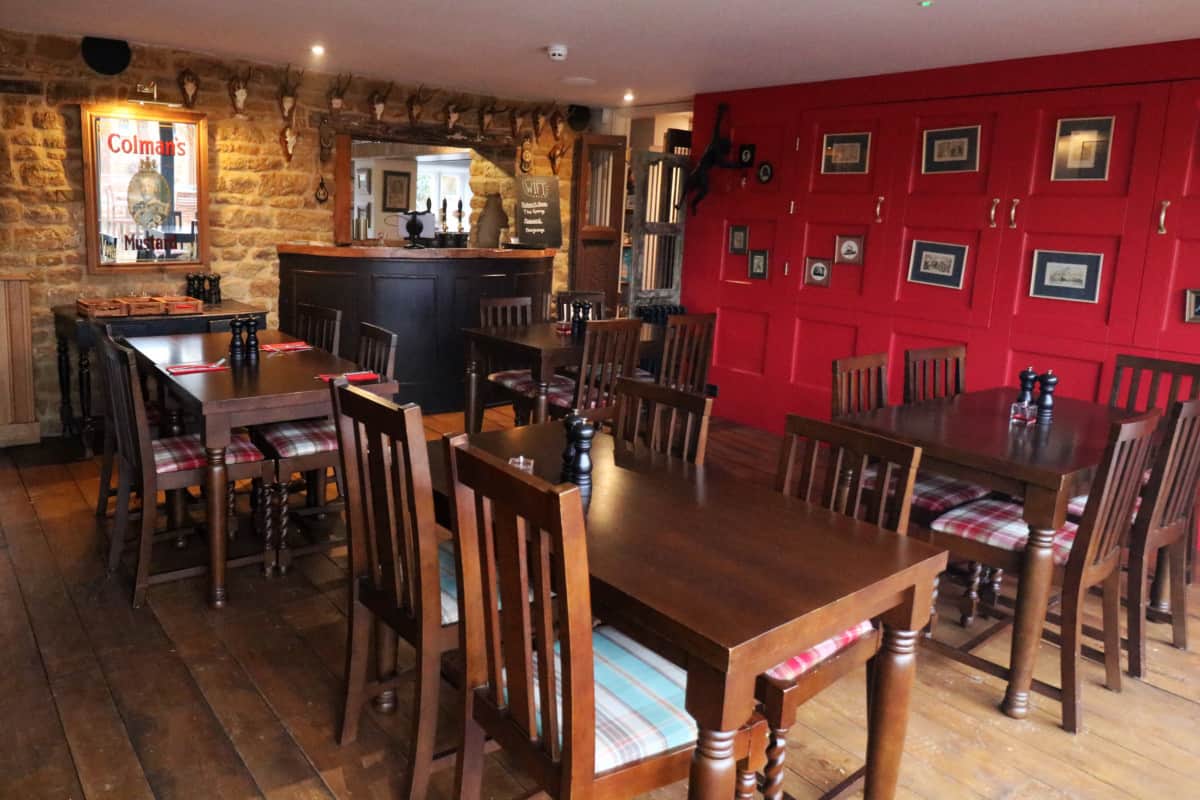 What is the George Inn menu like?
We started our meal with garlic mushrooms on toast and chicken liver pate. Both were really good sizes for starters and full of flavour. Plus, Dave was impressed that the bread to pate ratio of his starter was spot on – usually there's never enough bread when we order pate.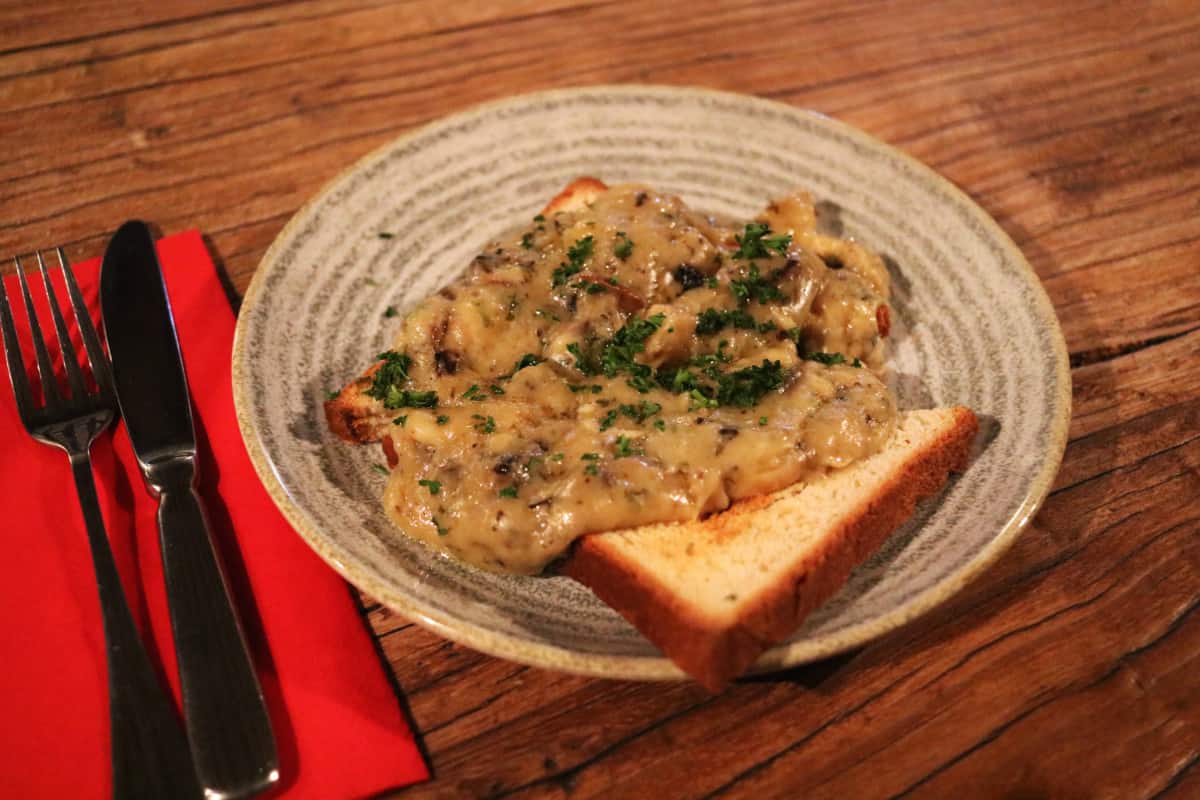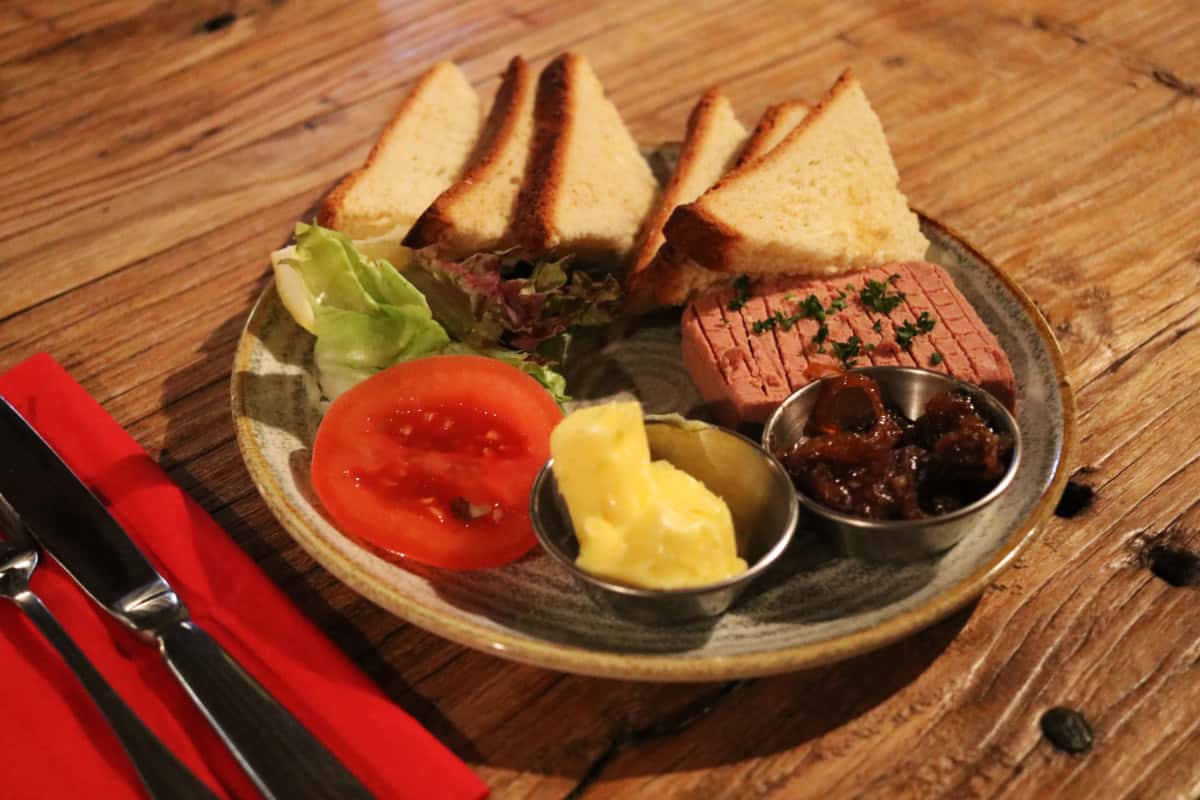 Dave went for the rare bavette steak for his main which came served with chips, onion rings, mushrooms and tomatoes as well as a peppercorn sauce. It's the kind of filling, hearty meal that he always enjoys and the steak was cooked to perfection.
I went for the British classic of fish and chips which was such a lovely meal. Served with peas and tartare sauce the chips were so crisp on the outside but fluffy in the middle and the fish was perfectly cooked with lovely, crisp batter.
We finished the meal with apple crumble for me and a chocolate mousse for Dave. Initially Dave was surprised that his dessert was so petite but he soon realised that it was so rich and indulgent that actually it was the perfect size. In comparison, my crumble was a really generous portion and slightly too much after such a lovely meal – so Dave finished it off for me!
We retired to our room and watched a movie on Netflix, appreciating the underfloor heating and the general cosiness of the room. We couldn't hear any of the pub's other guests in the main building or the beer garden and after the movie we slept really well.
We went for breakfast at 9:30am and were offered hot drinks, juice, toast, cereals and a cooked breakfast. We enjoyed the quiet of the pub before it was open to the public and the fire just starting to get going for the day.
Our breakfast was beautifully cooked and just what we needed to start the day. Complete with chips and fried bread it was such a treat and so filling, one of the nicest breakfasts I've had in a while.
Our stay at The George Inn Barford Saint Michael was wonderful. It was such a nice place to relax and unwind and the food was fantastic. With a really lovely ambience, friendly staff and a beautiful room there really wasn't much more we could ask for.
The George Inn felt like a real hub of the local community and it was a please to spend a night there. I'm sure that if we're passing in the future we'll stop for a drink or a bite to eat and it's somewhere we would definitely consider for another night away.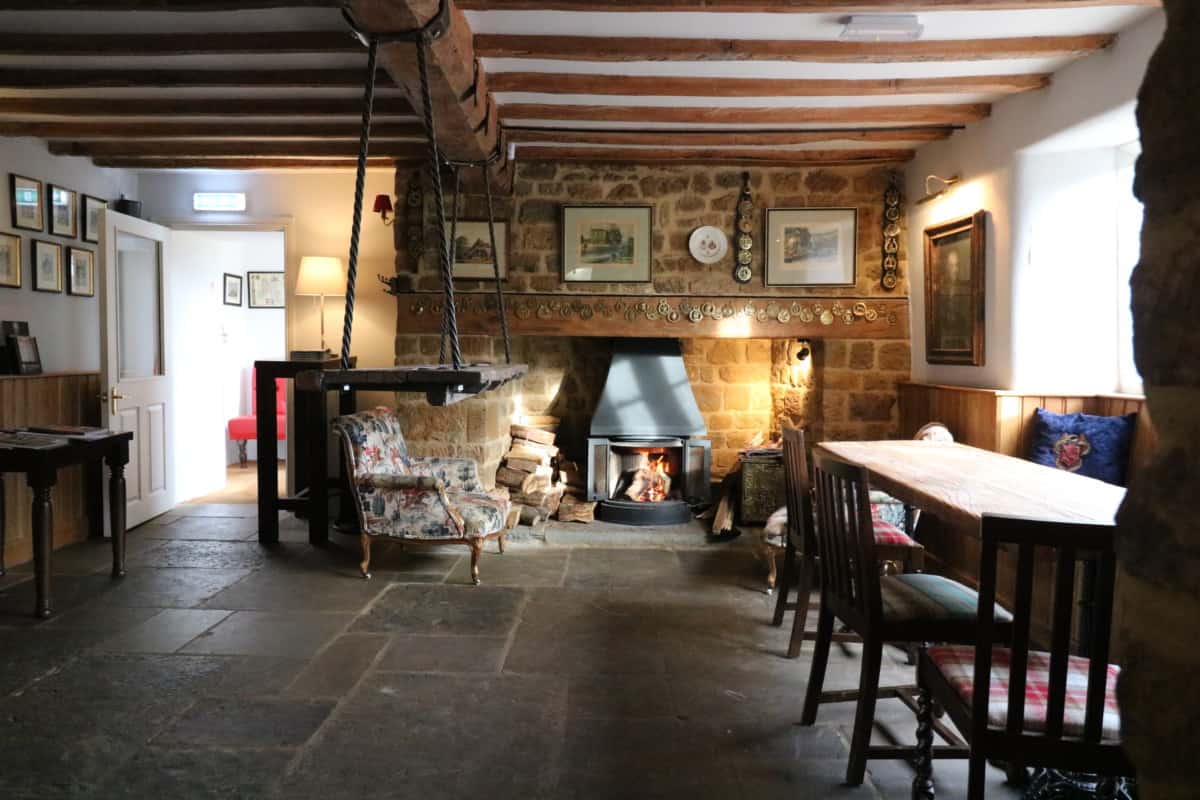 You can find the George Inn on Lower St, Barford St Michael, Banbury OX15 0RH.