*We were provided with this experience for the purpose of this post however all opinions are my own.
I think that Dave and I go out as a couple with friends once or twice a year. We would do it more often but we have to organise childcare, we have to decide who is driving or work out how we're getting home and even just a meal out ends up costing a lot more money than we anticipate. So what's the answer? Well, La Belle Assiette could be just the thing.
Having a private chef at home
La Belle Assiette lets you hire private chefs online for a private chef dining experience. You simply put in your location, when you'd like to have your meal, how many people you're inviting and La Belle Assiette does the rest.
La Belle Assiette offers three levels of service – Temptation which is perfect for any occasion, Prestige for a more gourmet experience and Signature for Michelin quality dining. You choose which option, with a cost per person, and then decide which professional chef and chef at home menu you would like. It couldn't be easier.
When we booked our meal with chef Ben Harris we were contacted at regular points by La Belle Assiette and Ben also contacted us to make sure the menu worked for everyone's dietary requirements and to confirm timings. Ben then contacted us a couple of days before to confirm when he's be arriving and to make sure we didn't need any last minute changes.
On the evening of our meal I cleaned the kitchen, laid the table and Ben arrived about 90 minutes before our dinner time to start getting the food ready. He brought literally everything with him – not just the food, but pans, utensils, knives, chopping boards and everything to serve the food too including cutlery and napkins. We had printed menus and it was just like being in a fancy restaurant – in the comfort of our own home.
Our friends arrived and we poured drinks, put music on and sat round the table chatting until Ben started serving the food – bang on time. We didn't know if it would be awkward having a chef in our kitchen but, honestly, we didn't even notice Ben was there most of the time.
Our meal started with a beautiful tomato and mozzarella salad served with sweet balsamic and basil. It felt like quite a hearty portion and was full of flavour. It was so well presented and we had a sharing board of fresh bread and butter to enjoy during the meal too.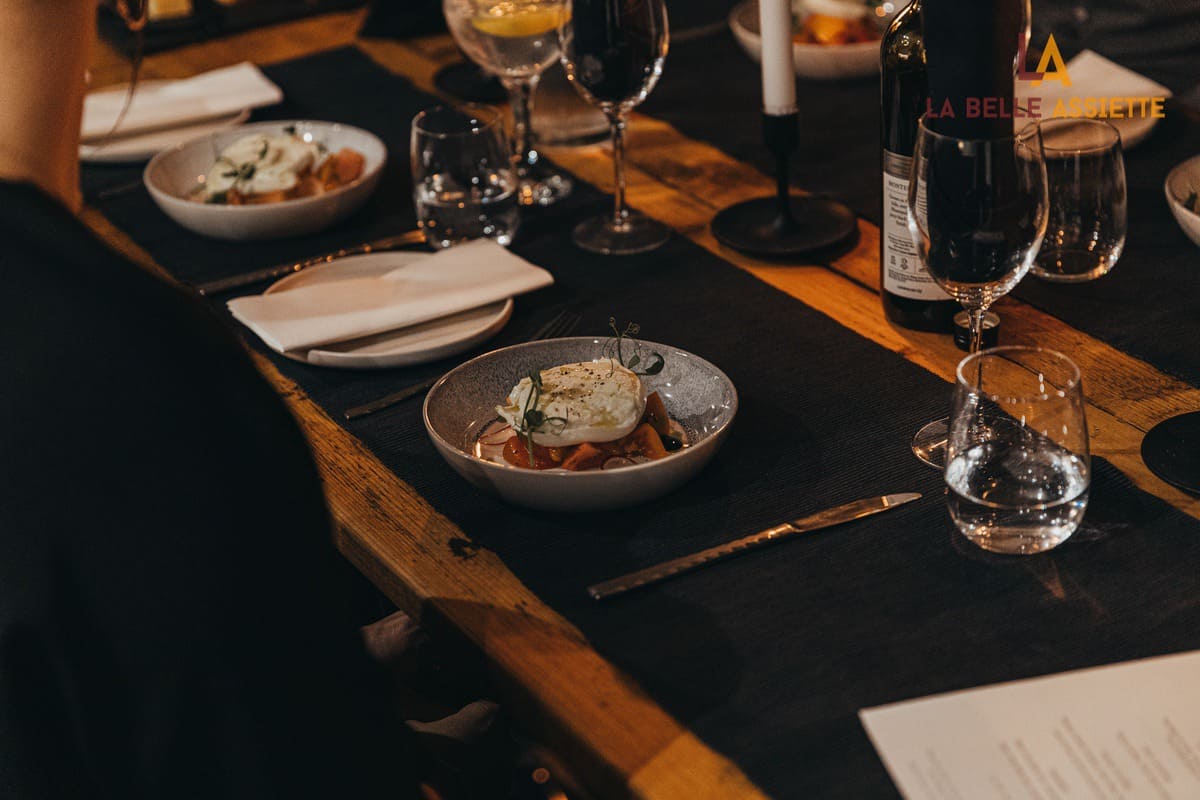 This was followed by roast scallop with a fresh apple salad which was a fantastic interim course. Delicate and flavoursome. We all really love scallops and this followed the tomato and mozzarella perfectly.
The final two courses were varied slightly as one of our guests is a vegetarian who was happy with a fish main. Three of us had rump of lamb which was served with a fondant potato, roast baby veg and a mint jus. Sarah had a loin of cod with curried mussels and courgette.
The dishes were the perfect mains. We don't eat lamb often and you could tell so much time had been taken over cooking it perfectly. Ben had done so much prep work before coming to our home and that was evident in the courses we were served. The food was devine.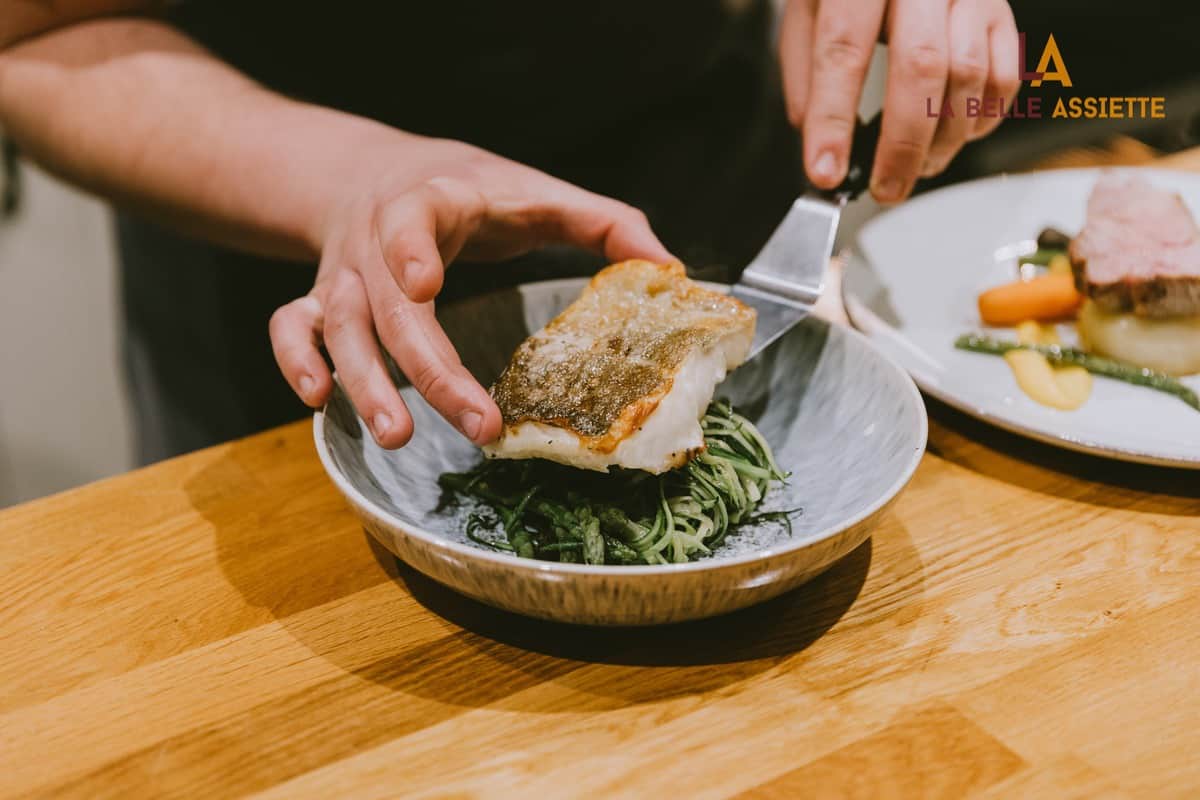 For dessert we had a dark chocolate tart served with either caramelised banana or caramelised orange. It was a fantastic way to finish a really lovely meal.
Throughout the meal the drinks flowed nicely, the plates were cleared and served in good time and we were able to take as long as we wanted over each course. We chatted, listened to music and had such a nice evening at our pace which Ben worked alongside faultlessly.
By about 10pm our meal was finished and Ben had cleaned the kitchen and tidied up – it looked even cleaner than before he'd arrived! I was so impressed with the service throughout – the chef even bought his own food waste bin with him.
We carried on our evening after Ben had left, chatting and drinking for a while longer happy in the knowledge that we had no washing up to do, no clearing up and could just enjoy ourselves for as long as we wanted. It was lovely.
Having a chef in our home was definitely something different but I think going forward it will be our favourite way of spending time with friends or family.
The dining experience isn't cheap but it is affordable compared to an evening out. Starting at £45 a head and without the extra cost of childcare – as the children could be asleep upstairs – without the worry or cost of how to get home afterwards and without the inflated cost of drinks when dining out too. We are able to supply our own drinks, have friends stay over and for £45 or £60 a head I think it's well worth the money and an amazing experience.
We are always wondering what to do for big birthdays, as we're not big party people, and La Belle Assiette would be just the thing. We can celebrate with those closest to us, with a private chef service dinner party at home, for the same price as going out to restaurants but in our very own home.
It would also be fantastic to get a personal chef if you were staying away somewhere – in a rental property or holiday home. As long as there's a kitchen and somewhere to eat the options are endless – and La Belle Assiette cover the whole of the UK too.
You can find out more over on the La Belle Assiette website and book chef hire across the United Kingdom.