Disclosure: We were invited on this break for the purpose of this review however all opinions are my own.
Last week, along with my closest friend, I drove to the heart of the New Forest to spend the night at Careys Manor Hotel and SenSpa. We'd been invited on a spa break and we couldn't wait for some time out and quality time together.
Turning the car into the car park we both just felt so at home. Careys Manor is a really beautiful manor house surrounded by a really mature garden and extensive grounds – we were won over from the moment we arrived.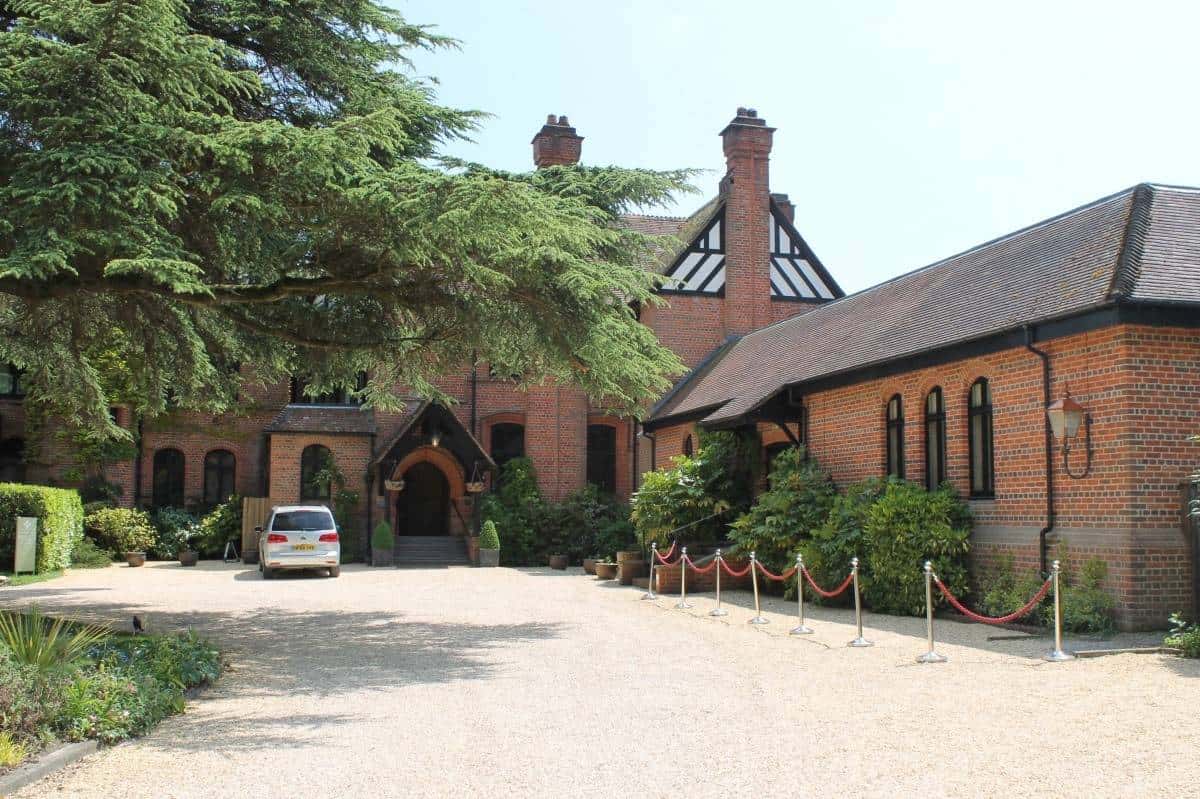 Our room at the hotel wasn't available until 3pm but the staff on reception were lovely – we were able to check in and our bags were taken and labelled up, to be taken up to our room ready for us. They also offered to drop our keys at the SenSpa when the room was ready.
On our spa break we were able to use the spa from 9am on our day of arrival and all day on our day of departure too – as long as we vacated our room by 11am. We went straight to the spa and were given robes, footwear and wrist bands to access the thermal suite and shown to the changing rooms.
The changing rooms were lovely with everything we needed – hair dryers, lockers, showers and plenty of dry towels. The lockers take £1 coins but the SenSpa staff found a locker token for us and we got changed before making use of the spa facilities.
Sarah and I have been on a lot of spa days but the SenSpa at Careys Manor is, without a doubt, the nicest and most well equipped spa we have been to. Any hotel guest is able to use the leisure facilities of pool, jacuzzi, steam room and sauna however, on a spa break you can also use the Hydrotherapy Area of the spa.
The main pool was a really good size for a hotel and the water was a really nice temperature, slightly cool to be refreshing after a spell in the sauna or steam room. The sauna was quite compact but the steam room, sauna and jacuzzi were lovely and aspects that we used a lot during our time in the spa.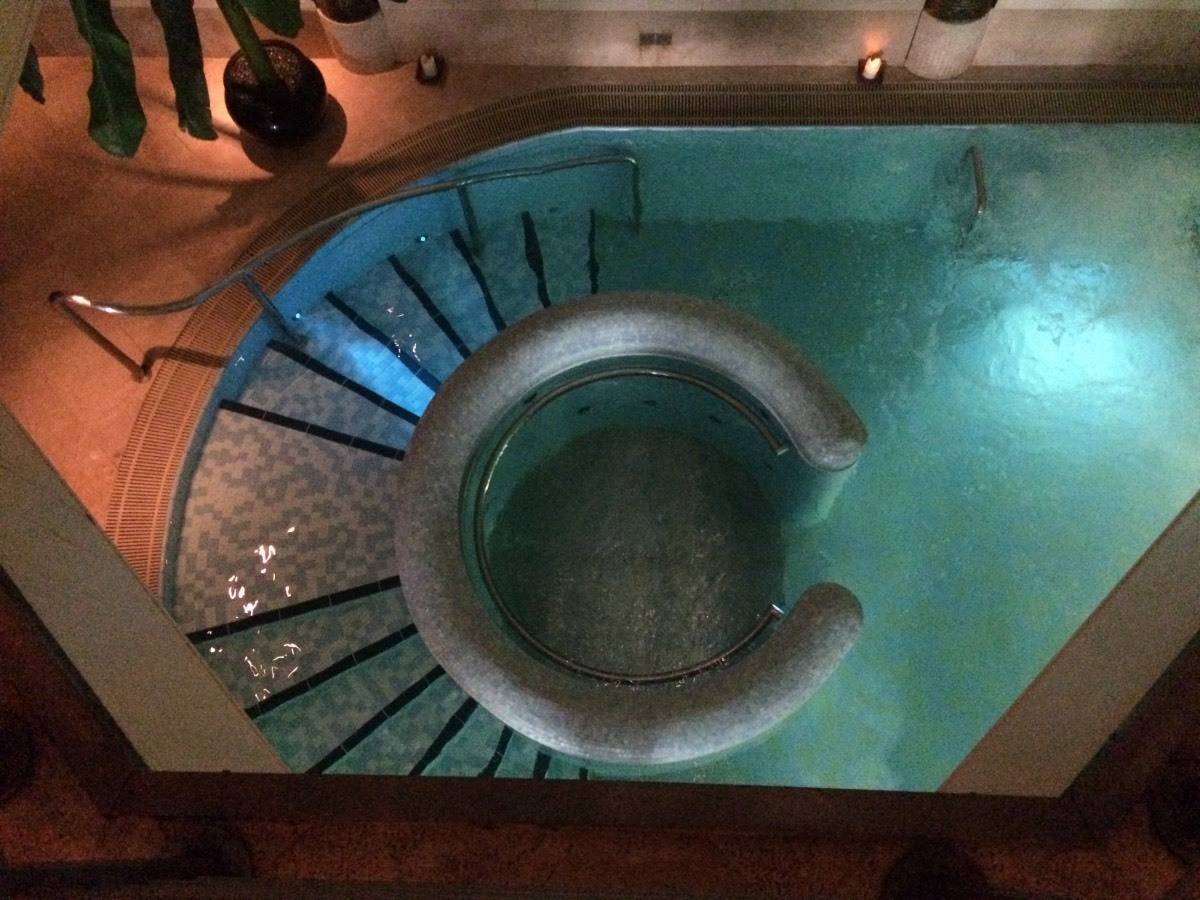 The Hydrotherapy Area was one of our favourite parts of our stay and the great mix of experiences and rooms worked really well together for a relaxing and invigorating spa break. The hydrotherapy pool was really lovely and warm with lots of different buttons for different water effects and showers. Then there were health showers, a herbal sauna, crystal steam room, experience showers, ice room, the tepidarium and laconicum. We spent a lot of time laying on the heated beds in the tepidarium and loved the relaxing sounds of water in the background.
Whilst spending time in the spa you are able to make use of a relaxation room which had a wide variety of complimentary drinks like fruit juices, water and tea as well as a menu of light meals and additional drinks that could be purchased separately. This room was a really great feature of the spa, it let us have time out, relax and rehydrate. There were so many comfy seating options and it was the perfect place to just sit and just be for a while.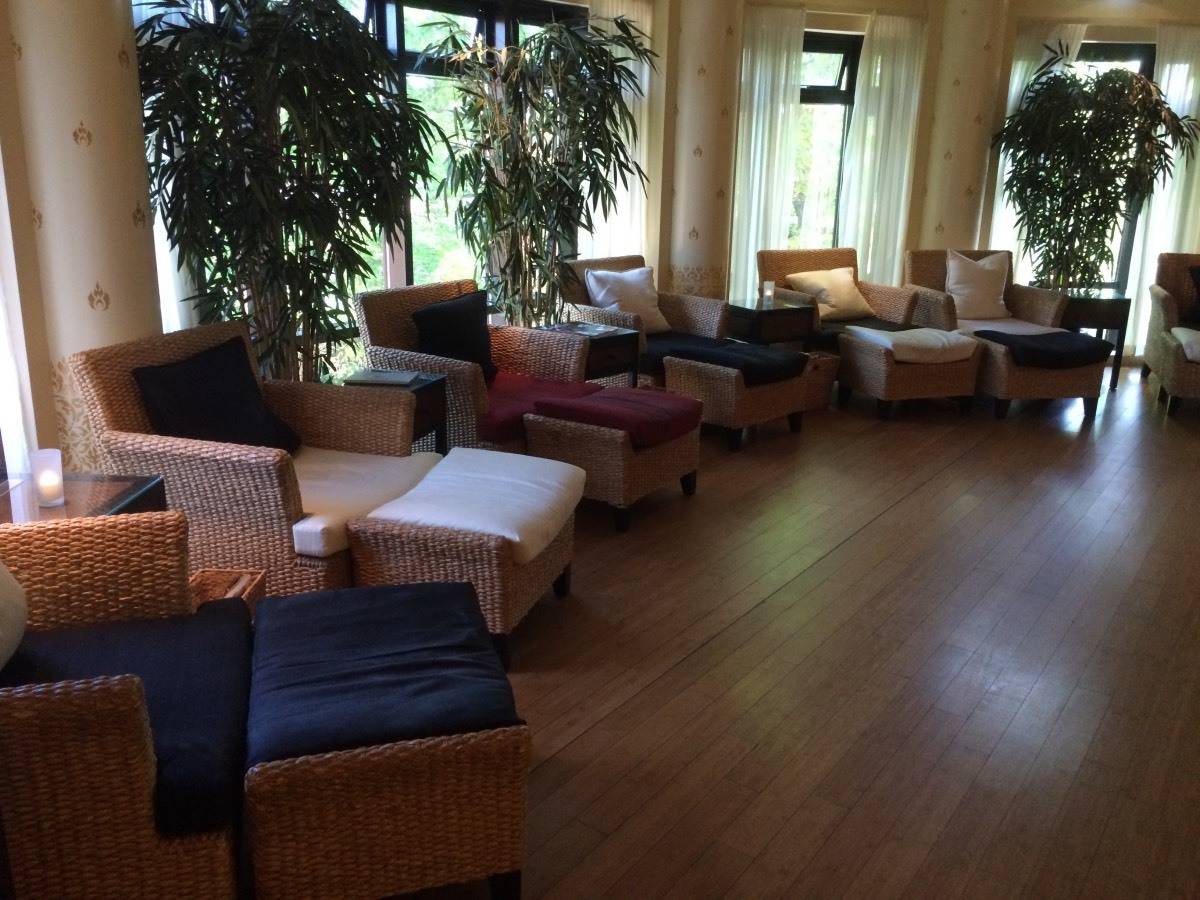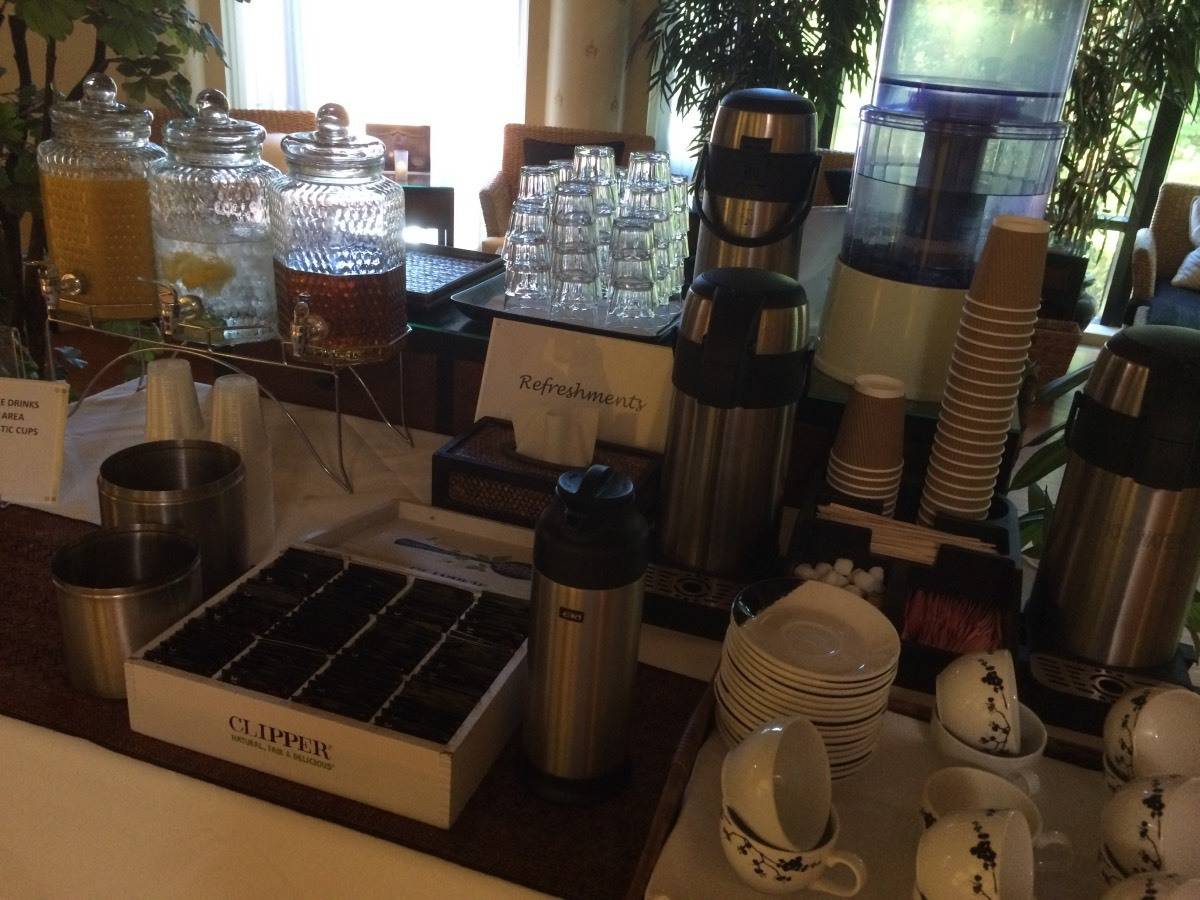 At the end of our first day in the spa we tried the Alphasphere Deluxe treatment. It's an experience to give you complete mental relaxation as well as being reenergising and inspiring. The treatment has five different programs to choose from and when we visited three of them were available – we chose the Energy program, designed to be activating and revitalising.
During the Alphasphere Deluxe treatment we were in a dark room with two pods made of fine mesh material. In each pod there was a bed to lay on which vibrated, warmed up and rocked gently as we moved. During the program the top of the pod changed colour and there were sounds to accompany the colours and it really gave a full sensory experience as the pods were sprayed with a fragrance at the start of the session too.
The Alphasphere Deluxe treatment is unlike any other treatment I have experienced before. It would have been nice to have a more constant fragrance, in a burner or something, but the twenty five minutes flew by. It was really relaxing and a great way to enhance your senses and tune out for a while.
After our treatment we put our robes on, collected our room keys and made our way to our room for the first time. We loved that we could walk straight from the spa to our hotel room without going through reception or any other public areas and so could happily wander around in our robe and flip flops.
Our room was perfect for our stay. There were twin beds and it easy to see that they would make a really good sized double room. There was also a seating area, a dressing table, hairdryer, tea and coffee making facilities, plenty of storage space and we had even been left a gift of prosecco for our arrival.
The room had a big french door that slid open to let a fantastic breeze in and to give a good view across the grounds. It was such a lovely bright room and we could see that the rooms below had a terrace to sit out on too.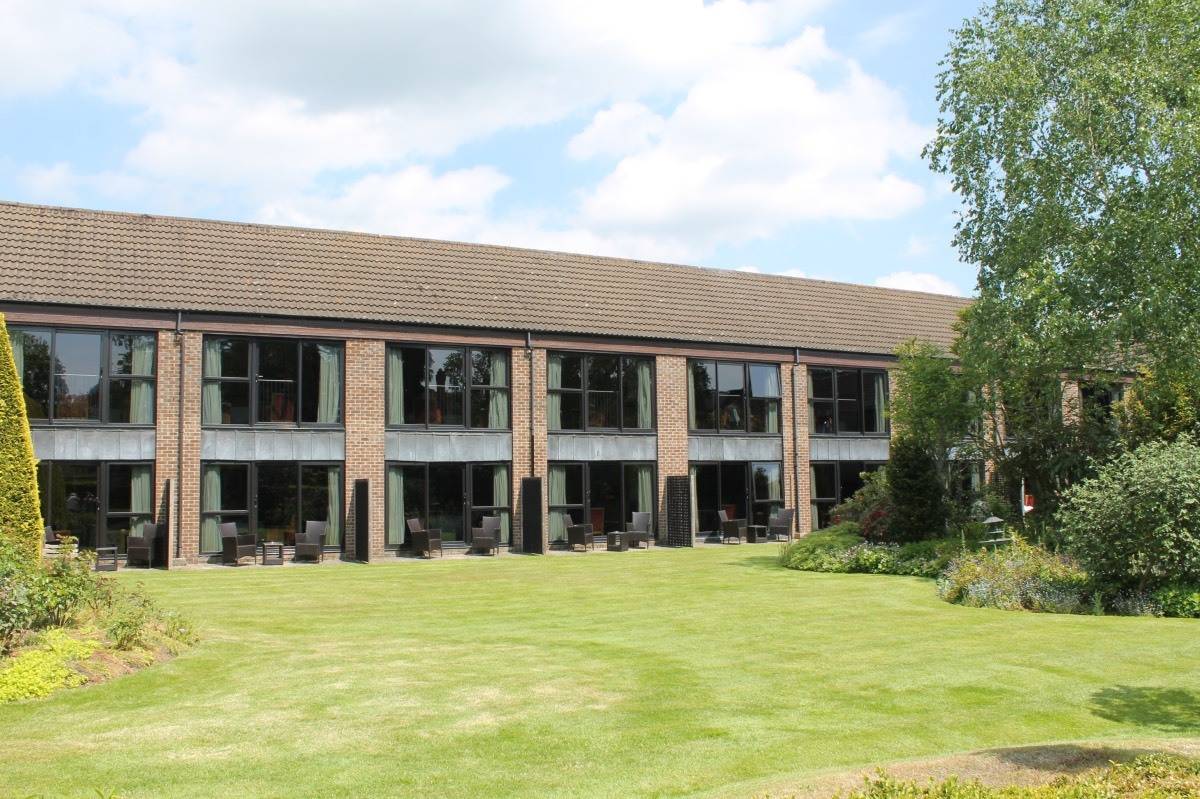 We also had a really good size bathroom, with a great power shower, lots of mirrors and complimentary toiletries. The room had everything we could need but I have to make my usual hotel room observation – there weren't any plug sockets next to the bed, one thing that I love to see!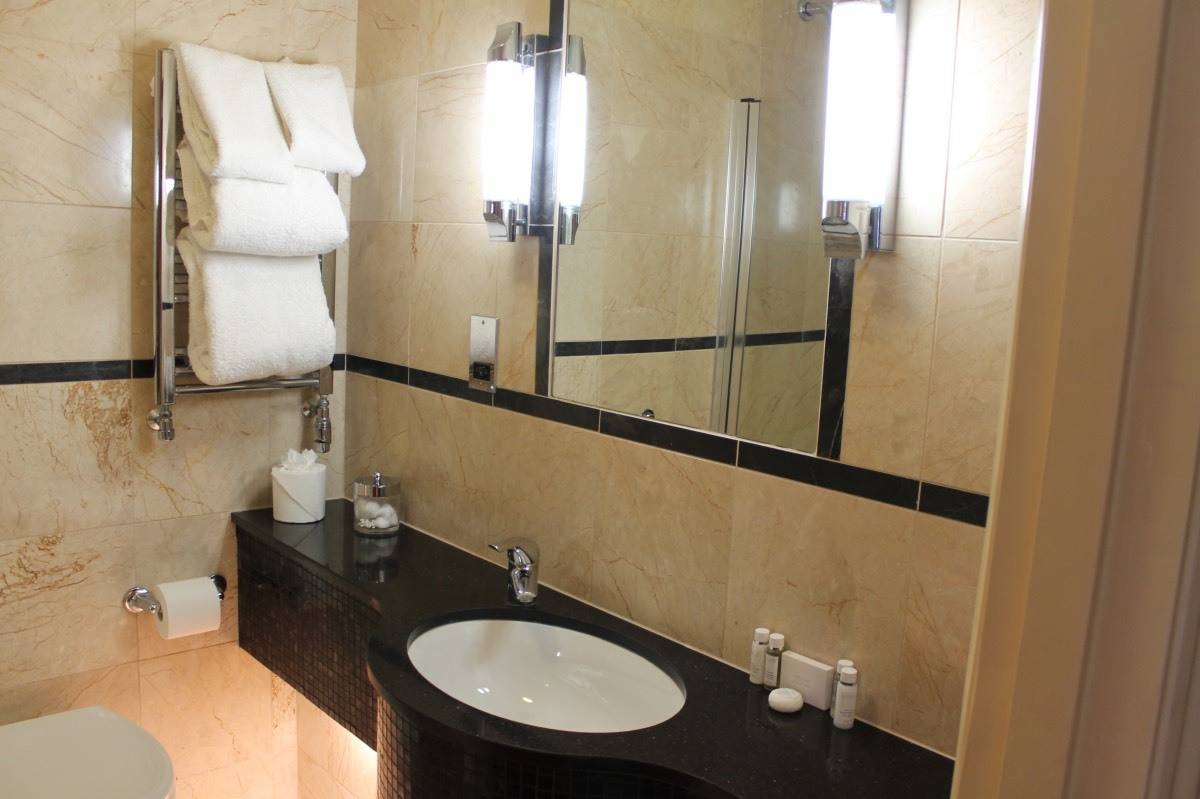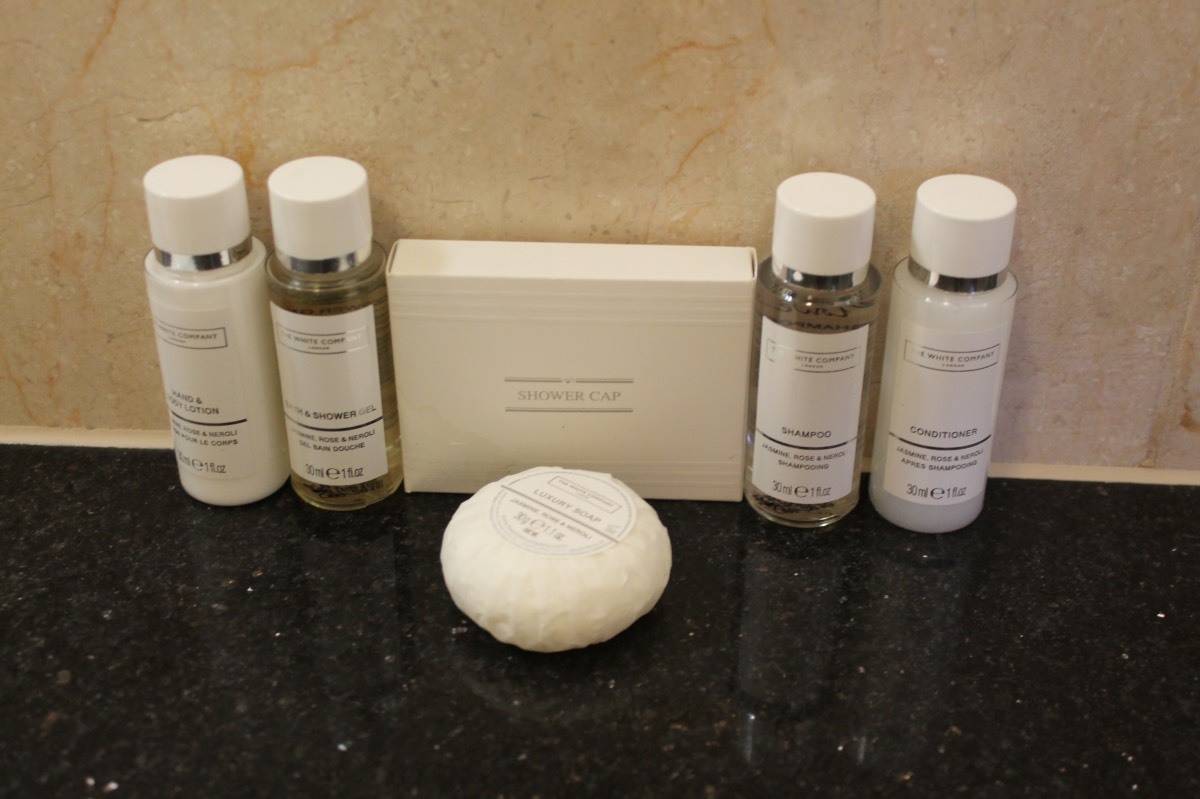 We spent a couple of hours relaxing in our room and getting ready. It was the perfect space to both relax or work and we loved our time there – especially with the sound of the birds outside and the sun shining in. There was also complimentary wi-fi which is always appreciated.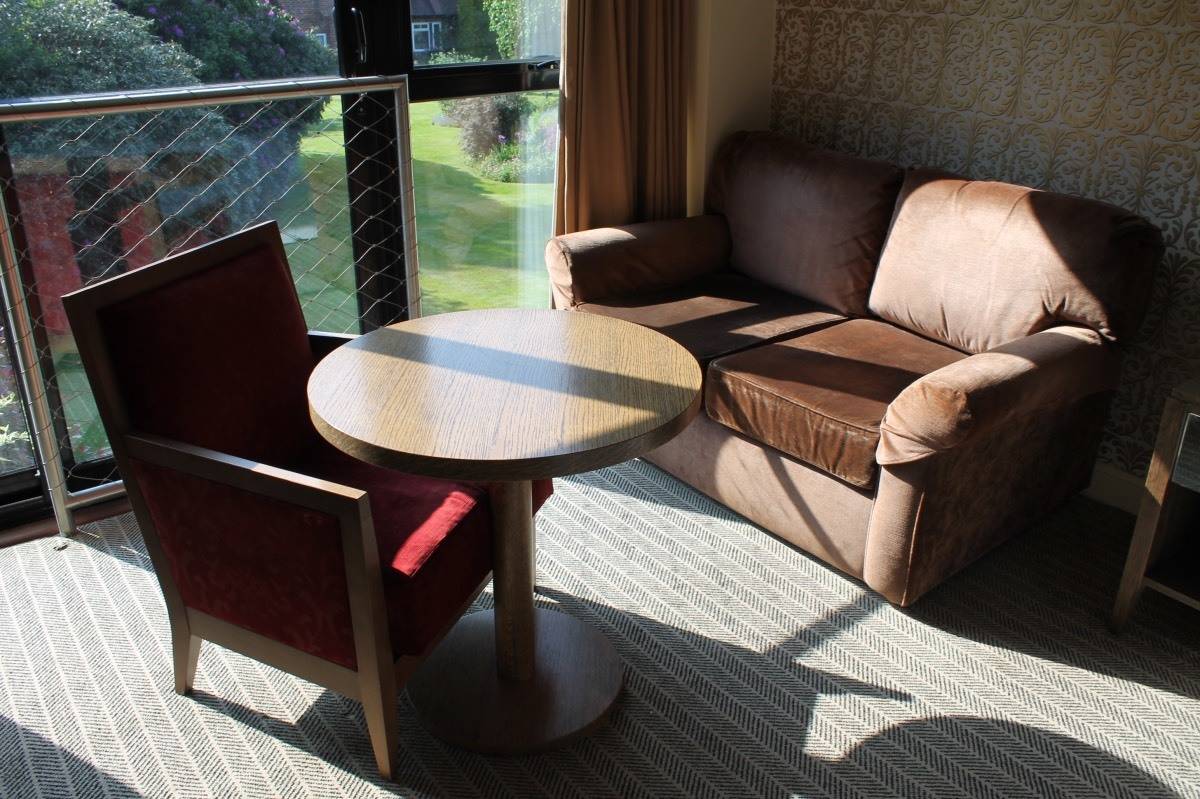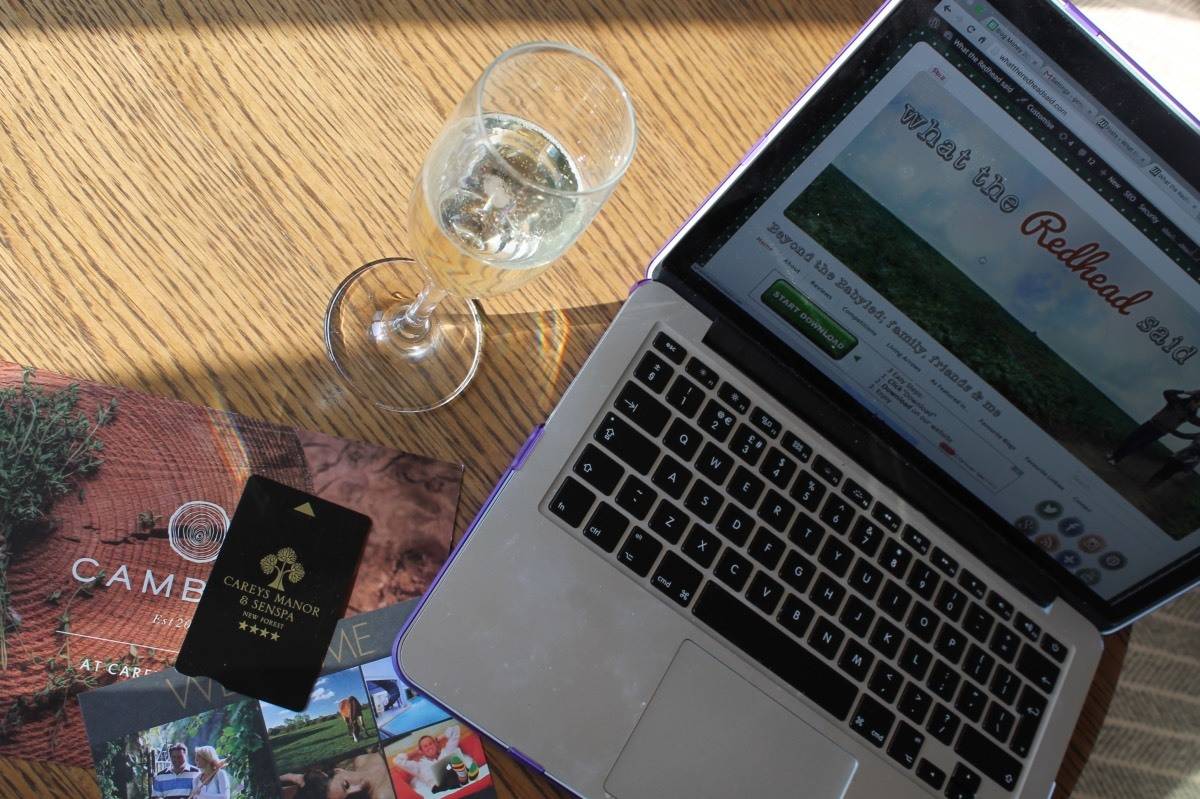 Before we knew it, it was time for dinner and we made our way to the hotel's Cambium Restaurant. The restaurant has a smart/casual dress code and so we dressed up for the occasion, loving the opulent booth we were seated in.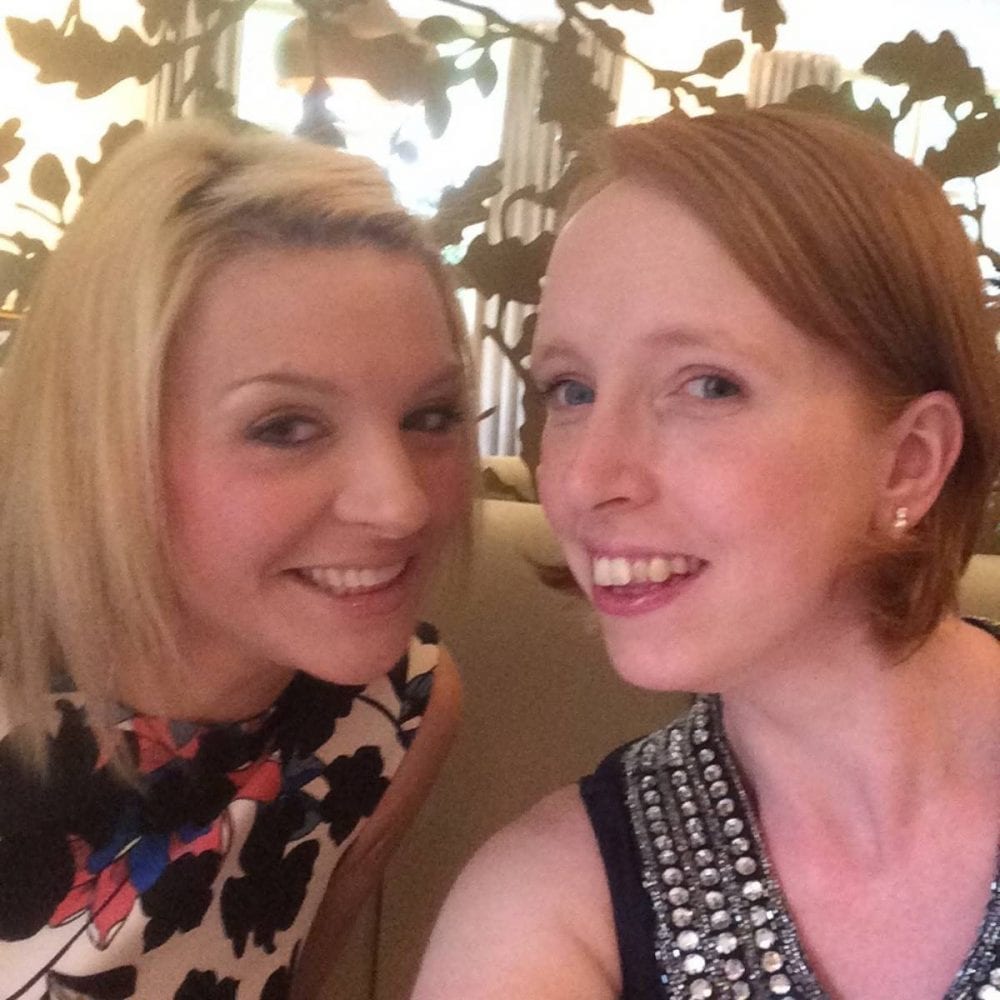 We were brought a tray of breads and an appetiser of tomato and goat's cheese cannelloni whilst we decided what to order. The ambience of the restaurant was lovely and the service couldn't have been better.
For starters I chose the Pressé of Rabbit, Bon Bon, Date, Smoked Carrot, Rye Crisp and Pickled Blackberries. The flavours worked wonderfully together and the blackberries gave such a lovely punch of flavour. Sarah chose the Hand Dived Scallops, Celeriac, Pear, Roasted Hazelnuts and Celery Cress which was cooked to absolute perfection.
For mains I chose the Loin of Lamb, Glazed Sweet Bread, Belly, Broad Beans, Pommery Mustard, Goats Curd and Wild Nettle which was full of flavour and so well cooked. Sarah chose the Halibut with Squid Ink Buck Wheat, Asparagus, Samphire, Yuzu and Salt and Pepper Squid. We were both impressed with the amount of choice for vegetarians on the menu as usually Sarah only has one or two options per course.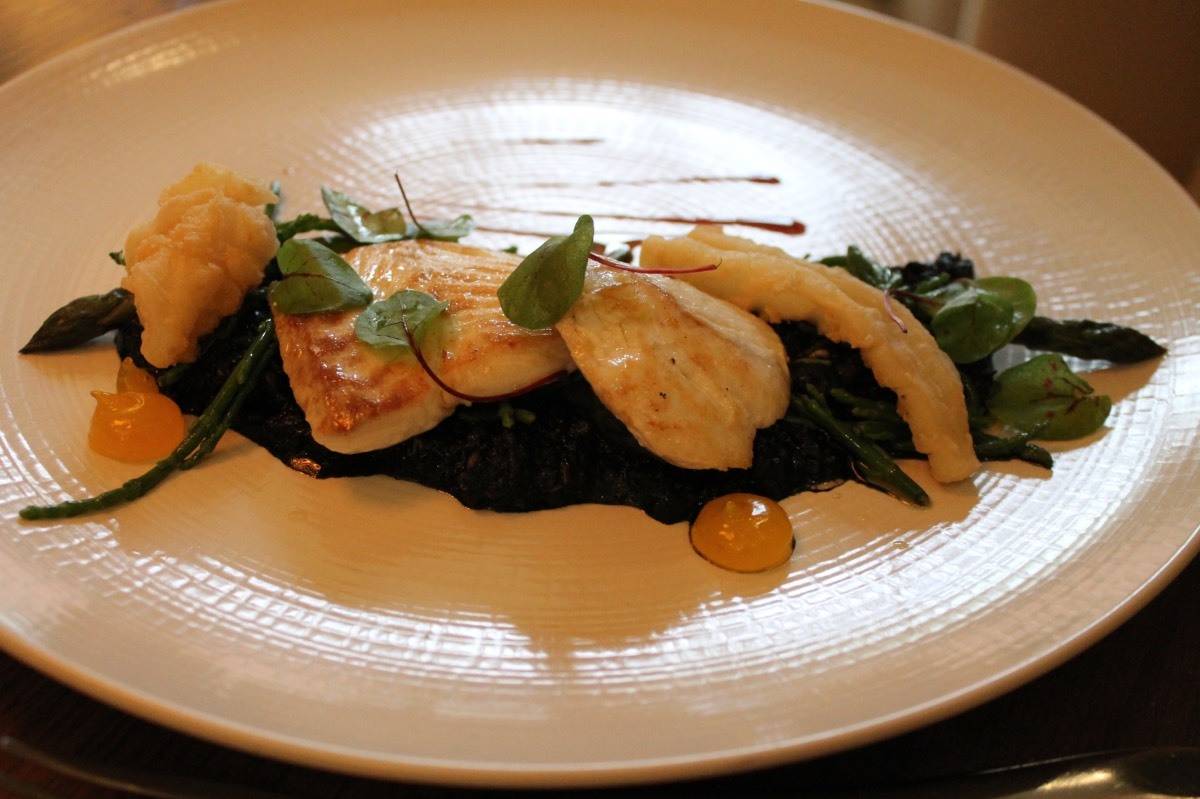 Lastly, we chose desserts and actually went for the same one – Warm Chocolate Mousse, Caramelised Banana, Toffee Popcorn and Caramel Ice Cream. Sarah isn't keen on bananas but there was no problem asking to have the mousse without the bananas – the staff couldn't have been more happy to answer questions and help with the menu.
After dinner we had some drinks in the bar and we loved the homely feel of Careys Manor. There were comfy chairs wherever you looked and so much choice for somewhere to sit and have a drink, read or just pass the time. It has to be one of the most welcoming hotels I have ever stayed in.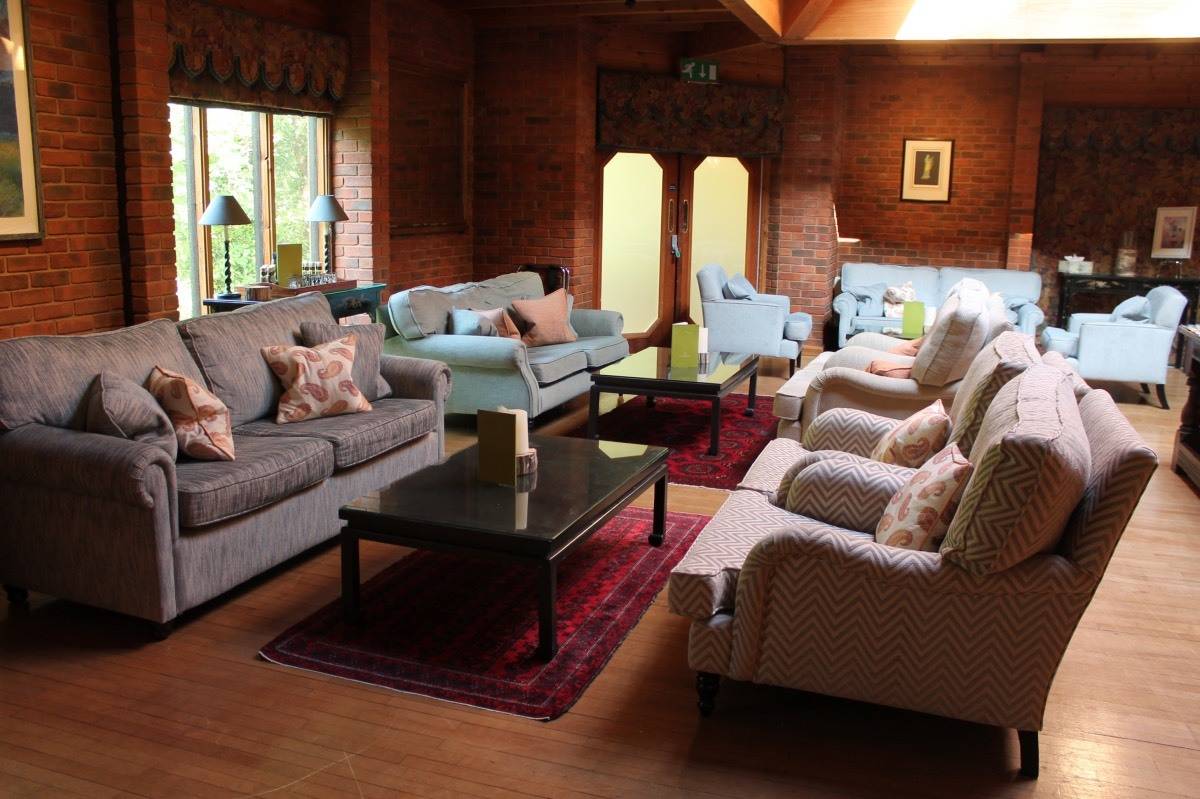 When we went to bed we slept really well although both woke early due to having our body clocks messed with through five years of parenthood! The beds and bedding were so comfortable and we could have happily lazed around the room all day.
Instead, we went down to breakfast, served in the Cambium Restaurant, and enjoyed the self serve buffet although they also had options from the kitchen – porridge, kippers and a vegetarian breakfast that Sarah chose. I made the most of the extensive cooked buffet, the fruit, yogurt, pancakes and muffins as well as plenty of juices and the obligatory cup of tea.
It was nice to be able to check out and still make our way back to the spa, able to keep using the facilities all day on the day we check out. Having a dip in the cool pool was the perfect hangover cure and we spent a couple of hours in the various areas of the spa – and even found a new appreciation of the ice room – and how nice it sometimes is to tip a bucket of freezing water over your head! Don't knock it until you've tried it.
Before we knew it the time had come to head home and we both agreed we would visit again in the future. The spa was the best we have visited. The hotel was beautiful and our room was perfect for our needs for a relaxing night away but without a doubt a highlight of our stay were the Careys Manor staff. From the friendly porter when we arrived, to the young man who checked us in and out, to the lovely waitress at dinner and the many staff in the spa – everyone was helpful, efficient and just so happy. There were people that had worked at Careys Manor for 45 years who were still smiling throughout their shift and for me that makes Careys Manor a wonderful place to stay – happy staff make for happy guests and we couldn't have had a better break away.