Disclosure: We were invited on this break for the purpose of this review however all opinions are my own.
Last weekend I was invited to Nutfield Priory Hotel and Spa along with a friend to enjoy a spa break and much needed relaxation in the Surrey countryside. It's not too far from London Gatwick airport and Redhill. We arrived at lunchtime to find plenty of free parking and were impressed with the beautiful gothic facade of the hotel and even more impressed that our room was ready for us – a couple of hours before the official check in time.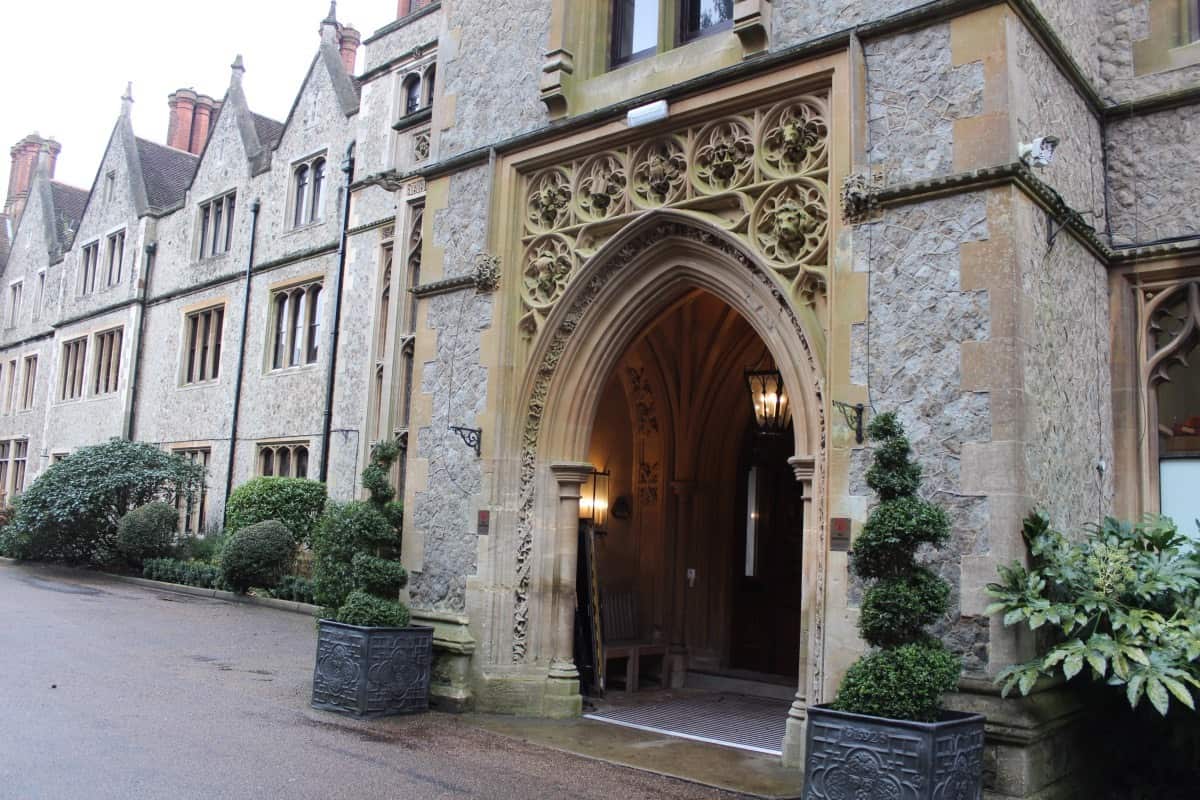 What were our first impressions like at Nutfield Priory Hotel Health Club and Spa?
We were given such a warm welcome, pointed in the direction of our room, the spa and restaurant. We headed to our room to drop our things before making our way to the spa. We were in a suite called Keats, with each of the suites named after a iconic name in English literature. Our Keats suite was dedicated to the writer – with artwork both outside the door and inside the room depicting his work.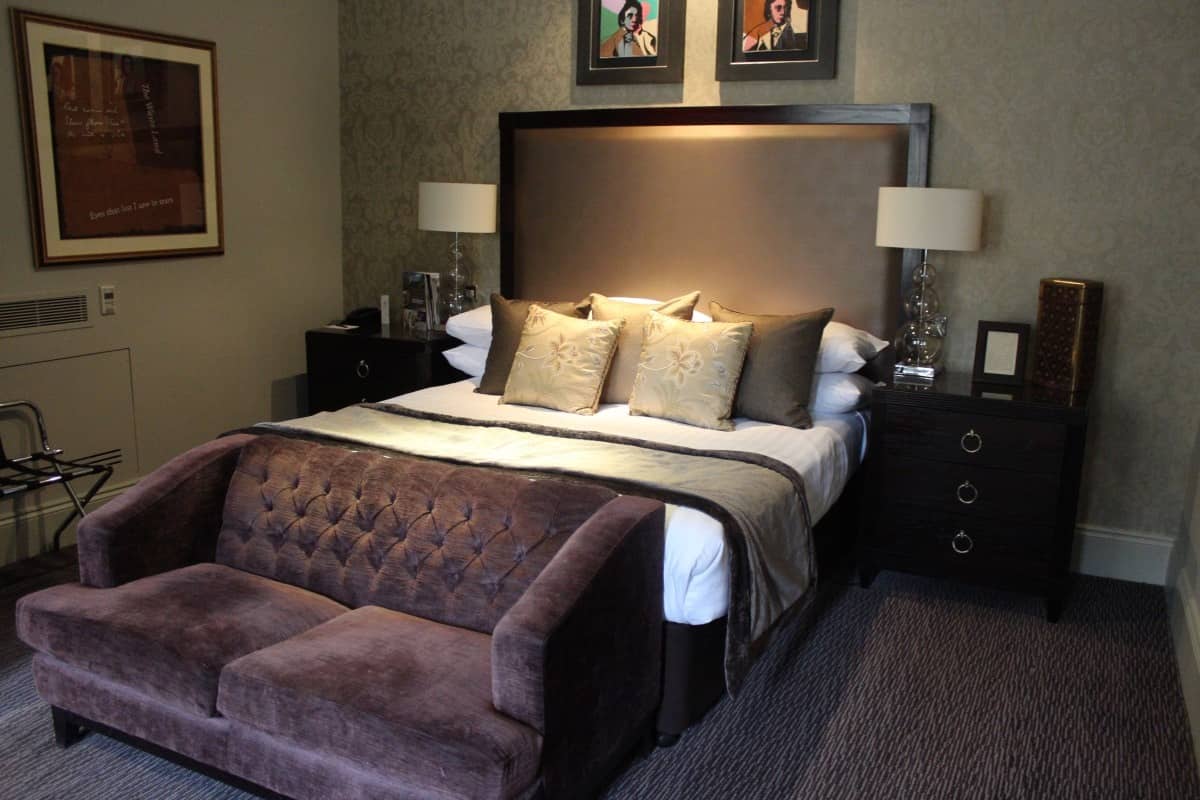 What are the rooms like at Nutfield Priory Hotel Health Club and Spa?
The room was beautiful. It had a really opulent style with twin beds pushed together, masses of pillows and even a separate seating area as well as a desk and air conditioning too. It had everything we could need for a comfortable stay.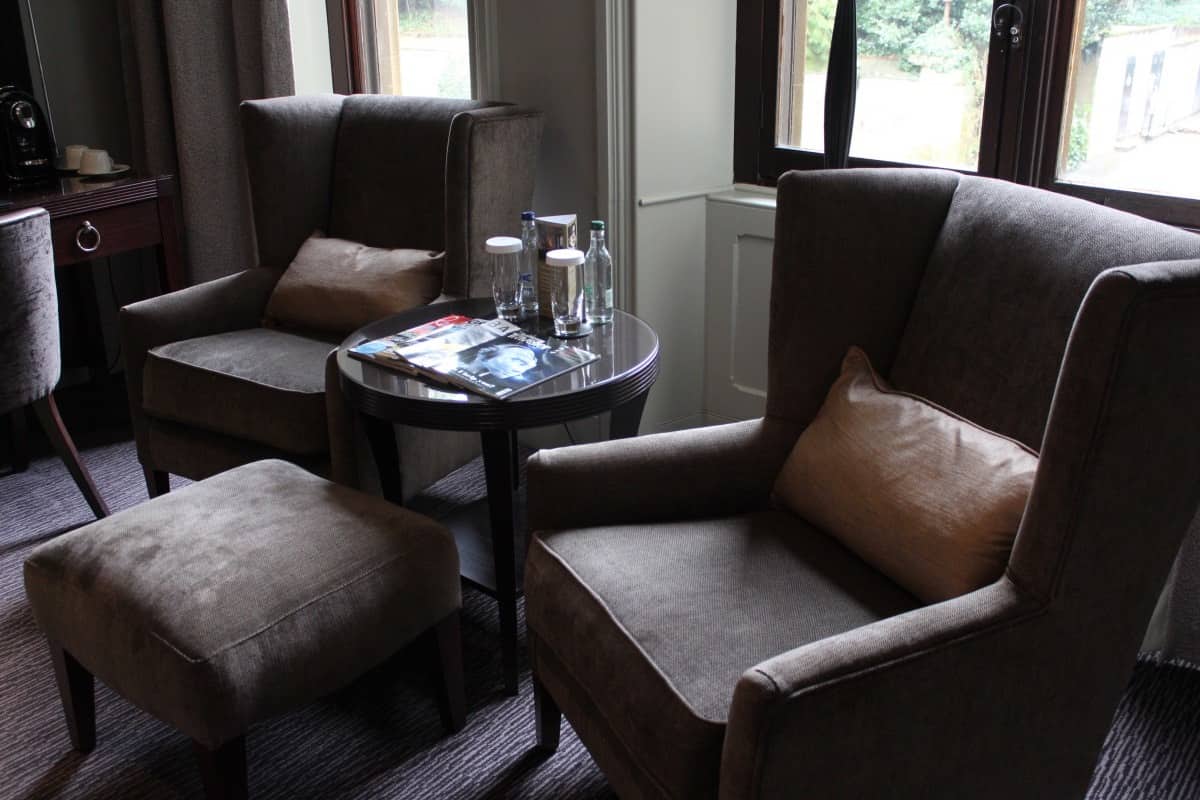 There was a fridge inside the wardrobe with fresh milk and water as well as a nicely stocked tea and coffee tray – plus, a fancy coffee machine which my friend, Sarah, was quite excited about. There was free wifi and room service too. The bathroom was huge with a shower over the bath and twin sinks as well as complimentary toiletries and plenty of fluffy towels.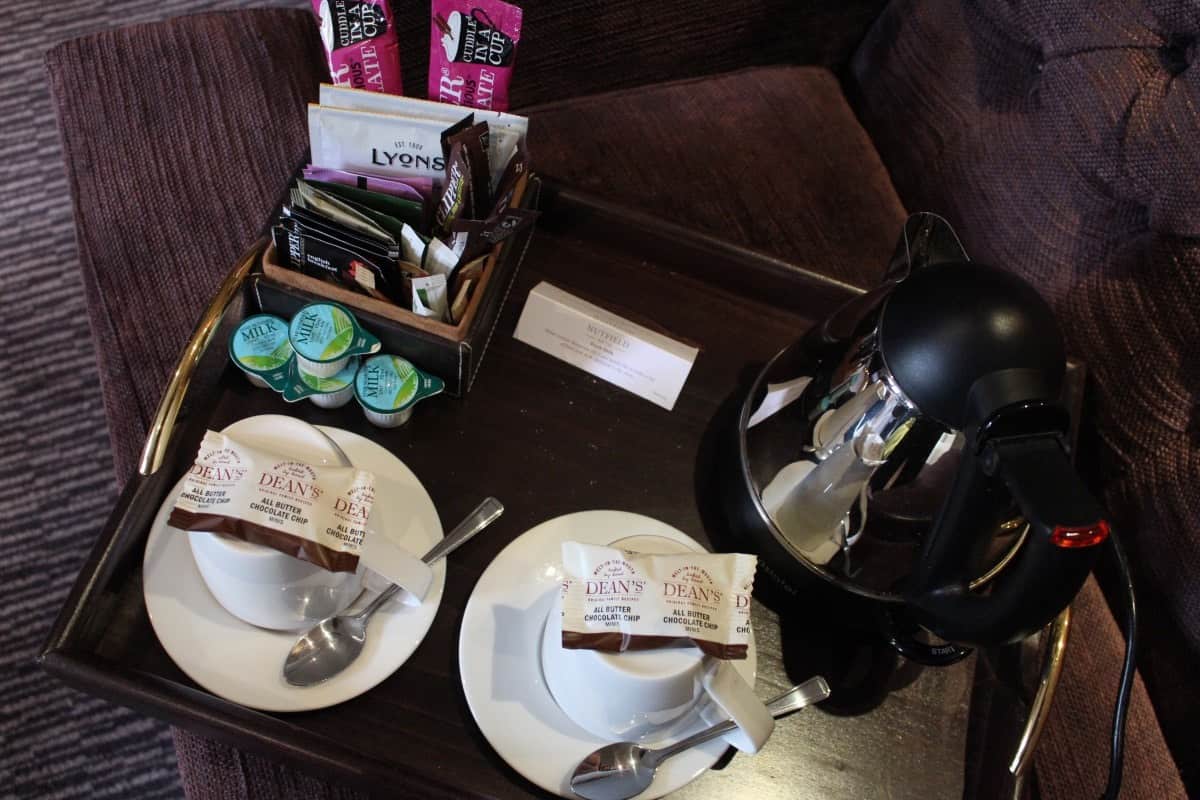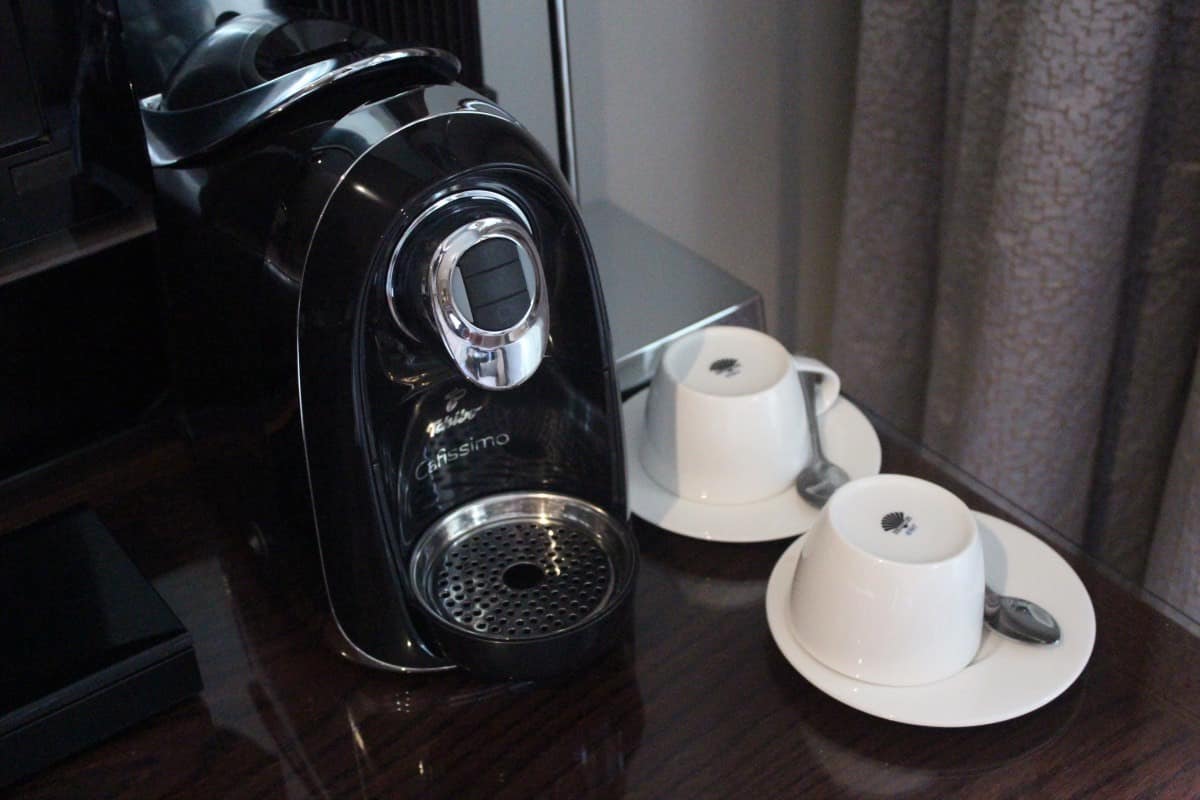 What are the leisure facilities like at Nutfield Priory Hotel Health Club and Spa?
We grabbed our swimming costumes and headed for the Health Club and Spa. We were greeted by a man on reception and in hindsight I think we went slightly wrong here. We told him we were guests at the hotel and were told we could use the spa facilities, he then checked us in, gave us towels and directed us to the pool.
The pool was lovely, with a jacuzzi, sauna and steam room. We spent a couple of hours there, relaxing, swimming and just enjoying the break but we did feel it was very much a health club rather than a spa but when I went for my treatment I realised we probably should have gone straight to the spa reception – further into the health club building – and not just to the main reception. The spa reception were giving people robes and slippers and showing them to the relaxation room and Amber Lounge, lovely spaces that would turn the health club facilities into a lovely spa break and if we'd had time – or known about them from the start – we would have made use of them. It would probably be nice if the main reception directed guests wishing to use the spa to the spa reception so they could get the full Nutfield Priory spa experience – as well as a nice robe and slippers to wear.
I had such a good massage – my therapist was nice and friendly but focused on the massage. She worked on my problem areas – always my neck and back – and could tell I was right handed from how tight the muscles on my right hand side were. I left feeling so relaxed and much more comfortable.
Sarah and I then spent a couple of hours in our room – reading, relaxing, watching TV whilst drinking Prosecco! We got ready for dinner at a leisurely pace and just enjoyed the beautiful surroundings.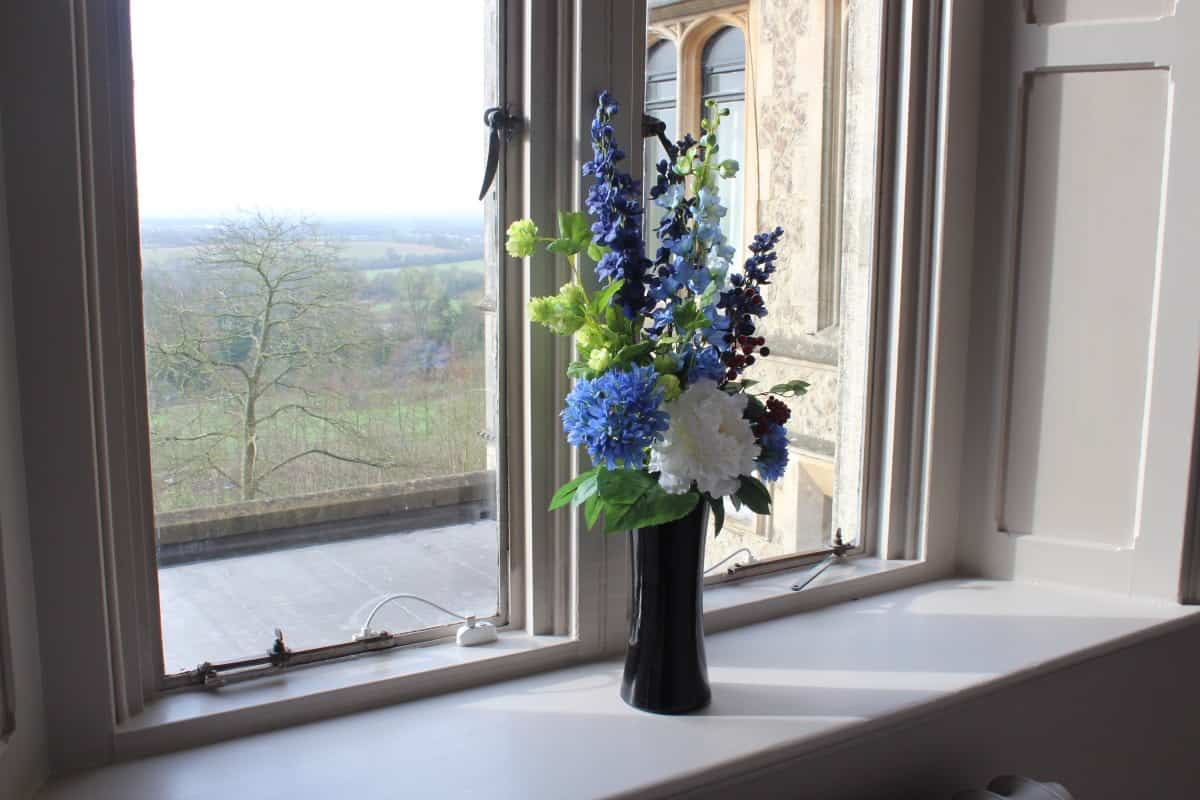 What are the dining options like at Nutfield Priory Hotel Health Club and Spa?
We had dinner in the Cloisters restaurant and chose our meal from the Cloisters set menu. There were four choices for each course and with plenty of options for vegetarians too – something I'm always aware of as Sarah is vegetarian. After we had ordered we were given a platter of breads, garlic butter and paprika butter as well as little cups of leek soup. It was the perfect start to our meal.
For our first courses I chose the clam chowder – not my typical choice but it was so lovely, really thick and full of flavour and the perfect portion size for a starter Sarah chose the marinated celeriac which was served with roasted goats crumble, courgette caviar and a balsamic emulsion – it had so many different parts to it but it all worked so well together and although it didn't look very substantial it was the perfect starter.
For our mains I went for the pan-fried ribeye steak with roasted heritage carrots, carrot puree, balsamic shallots, sauté potatoes and a beetroot jus whilst Sarah chose the seared sea bream with cauliflower textures and parsley cream. Both came with a side of green vegetables which complimented the meals perfectly. My steak was beautifully cooked and was served with potatoes, carrots and parsnips – all the components to make it a great alternative to a roast dinner. Sarah's sea bass was served on a bed of vegetables and it was lovely but it would have been nice to have some sort of carbohydrates with it to make it a slightly more substantial and balanced dish.
We finished the meal with the fondant glazed mille-feuille which was served with marinated blackberries and blackberry sorbet and a deconstructed sherry trifle. The trifle may well be the nicest dessert I have ever tasted. It had all the flavours I would expect from a trifle but beautifully presented in a modern format. The mille-feuille had a lovely crunch to it and was both fruity and chocolates without being too rich. The were the perfect desserts to end a really lovely meal.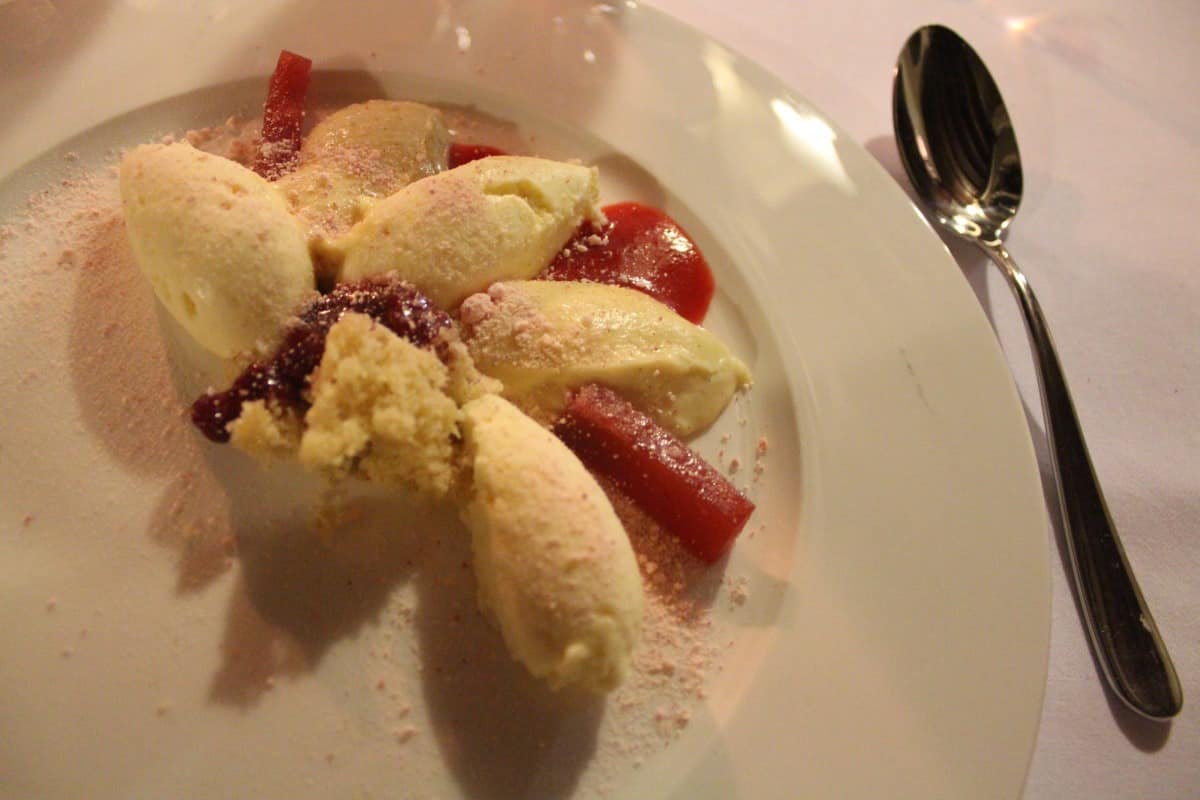 The service in the restaurant was fantastic and we had enjoyed all three courses in under an hour and a half – I have never known restaurant food to have such speedy service and the waiters and waitresses were all really friendly, knowledgable and happy to make recommendations. It was a lovely meal.
We finished our wine in the main hotel lounge and it was such a nice place to sit and relax. There were so many comfy seats and beautiful decor that was really in keeping with the hotels gothic appearance.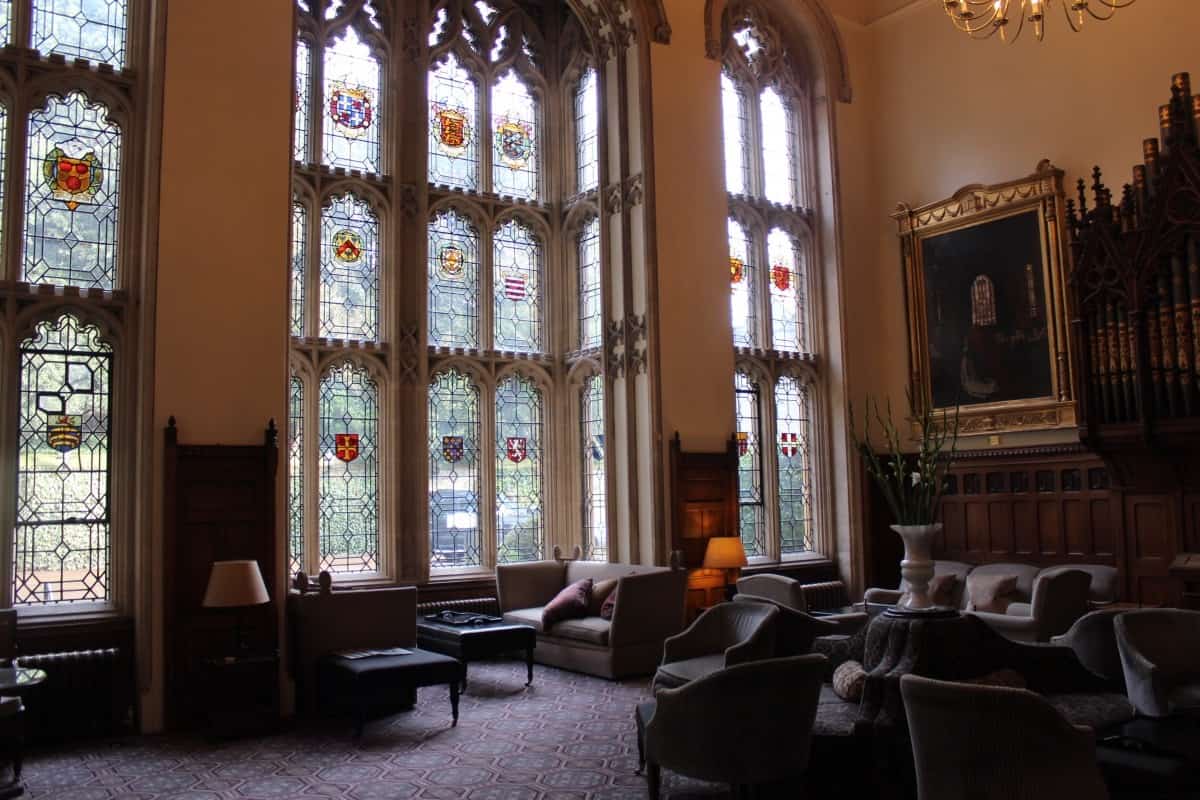 After dinner we went back to our room and made use of the hotel's DVD rental service – such a nice idea and with a great choice of 100 classic movies to choose from. We only managed to watch half of the movie – if anyone knows how Definitely Maybe ends please let me know!
Most importantly – how did you sleep?
We then went to bed and I had literally the best sleep I have ever had – I was asleep by 10:30pm (rock and roll I know) and woke up in the exact same position at 7am! It is the first time I haven't tossed and turned all night and the amazing blackout curtains really helped too – Nutfield Priory gets full marks where sleep is concerned!
In the morning we were back in the Cloisters restaurant for breakfast where we had a lovely cooked to order hot breakfast menu to choose from as well as a really well stocked continental buffet – complete with a dedicated free from range too.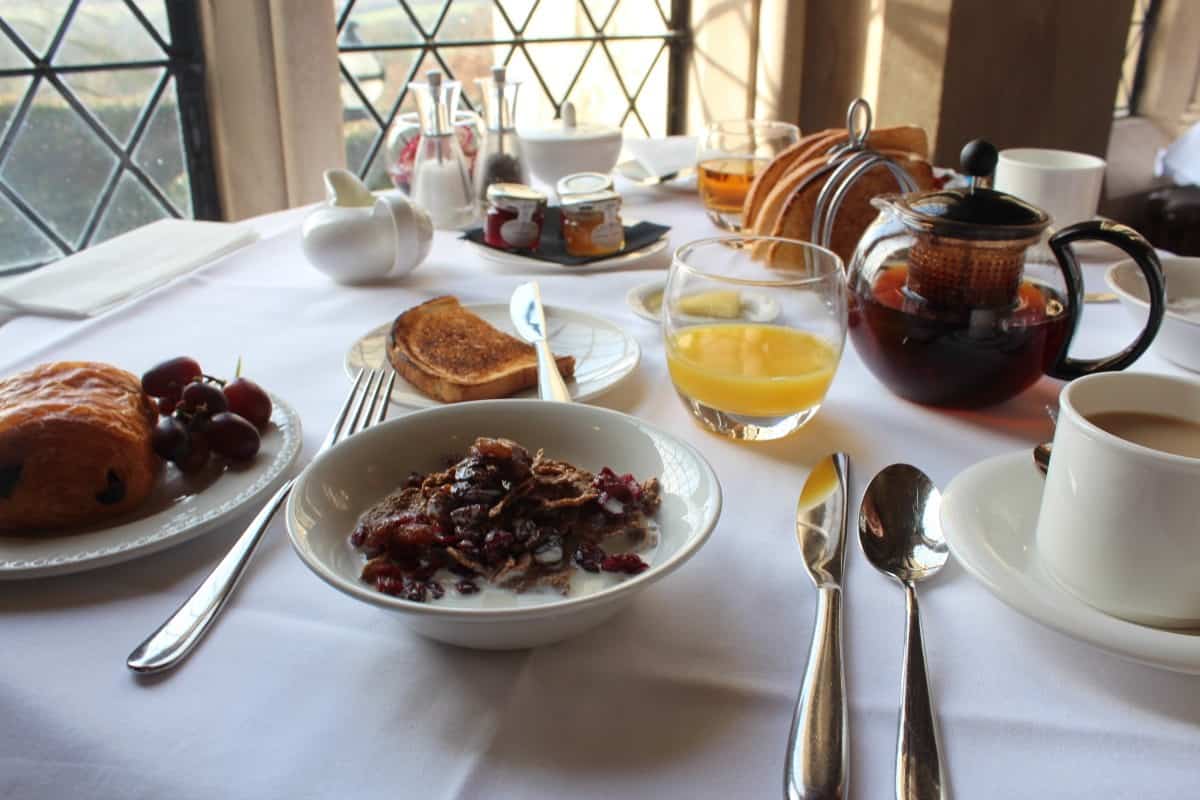 Sarah and I worked our way through the buffet, enjoying everything from pastries and cereal to ham, cheese, fresh fruit and yogurt. The staff brought us a pot of tea and toast – the best way to start the day.
I had the full English for the main part of my breakfast which was lovely and well cooked. The perfect size hot dish to accompany a breakfast buffet. Sarah had the Eggs Benedict which was also beautifully cooked and a really nice portion size.
Check out wasn't until 11am so we had time to revisit the health club and spa if we wanted to or could just relax in our room. We had a wander round the hotel grounds – loving that the hotel had a selection of wellies available for guests' use and showed how family friendly they would be too. We spent time admiring the views of the Surrey countryside and before we knew it our time at Nutfield Priory had come to an end.
What were our overall thoughts of Nutfield Priory Hotel Health Club and Spa?
We had such a lovely stay at Nutfield Priory and would definitely stay there again. Our room was perfect and we slept well, the food was pretty amazing and the health club and spa had good facilities. Nutfield Priory would be perfect for a special occasion or anyone looking for some time out and a chance to relax and unwind much like all Hand Picked Hotels.