On our trip to Orlando Florida last summer, we did all the big attractions like Walt Disney World, Universal Studios and Kennedy Space Centre. On our very last day we had to check out of our villa by 10am, but the flight from Orlando wasn't until 3pm so we had a spare morning to do something exciting. We researched attractions near the airport and discovered WonderWorks on International Drive, which isn't too far from the airport. We decided to give it a go to end our holiday with something different.
The first thing we noticed about WonderWorks Orlando was that it was upside down… Literally!! This amused the children to no end, and it came with a brilliant backstory as to how the building got to be that way, it completely set the tone for the visit.
What is WonderWorks Orlando?
WonderWorks Orlando is billed as an amusement park for the mind with 28,000 square feet of entertainment and education incorporating over 100 interactive exhibits that are all fun, hands on experiences to fuel the mind and spark the imagination.
WonderWorks Orlando Tickets
There are a few different ticket options available that give you extra perks such as credit for the arcade, meal deals, and even the Outta Control Magic Comedy Dinner Show! As we only had a few hours to pass, we went for the standard All Access pass that gave us entry, laser tag, a 4D cinema experience and a go on the indoor glow in the dark ropes course.
Adults cost $35.99 and children up to age 12 are $26.99 plus tax. You are allowed unlimited re-entry up until midnight on the day you visit so it's good value for money if you want to have a break before coming back later in the day.
What can you see and do at WonderWorks Orlando?
Without spoiling the legend of WonderWorks, the entire lobby is also upside-down, like the building on the outside. We found ourselves standing on the ceiling, talking to the cashier before she invited us to step through the 'inversion tunnel' so we would be the correct way up for the rest of the experience.
We immediately found ourselves (the right way up!) in the Extreme Weather Zone, where we got to hold lightning in a Tesla Coil, experience a 5.4 Richter Scale quake in the Earthquake Cafe, and the hurricane shack lets you experience 74 mph winds with no risk! It was great!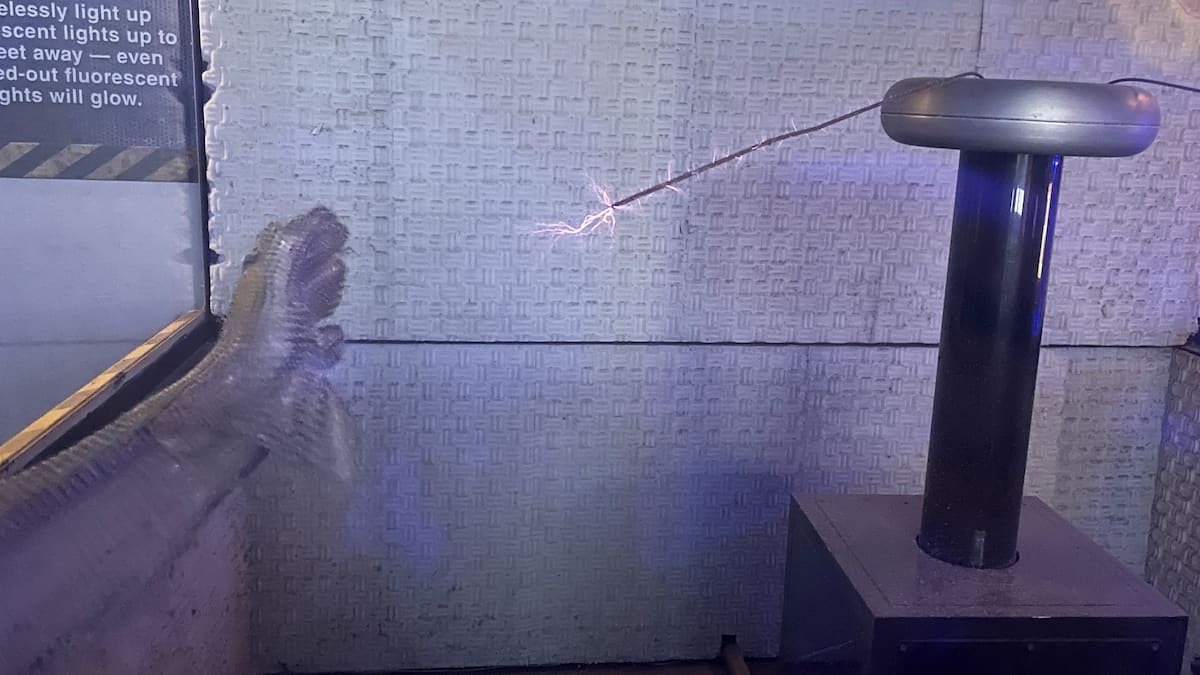 The Tesla coil was a particular favourite with 'Force Lightning' being thrown from our hands! There was also an ice challenge, where you put a hand – or two! – into a bucket of freezing water to see how long you can stand it. The water is -2 degrees Celsius and emulates the icy waters of the North Atlantic. A thermal imaging camera is also nearby so you can see the differences as your arm warms up again.
The Physical Challenge Zone was up next, and Dave impressed us all by going first on a bed of 3500 real nails. With the user being in full control of the raising and lowering of the nails, the science of pressure is put into practice and is amazing to be a part of. We all had a go eventually and loved it!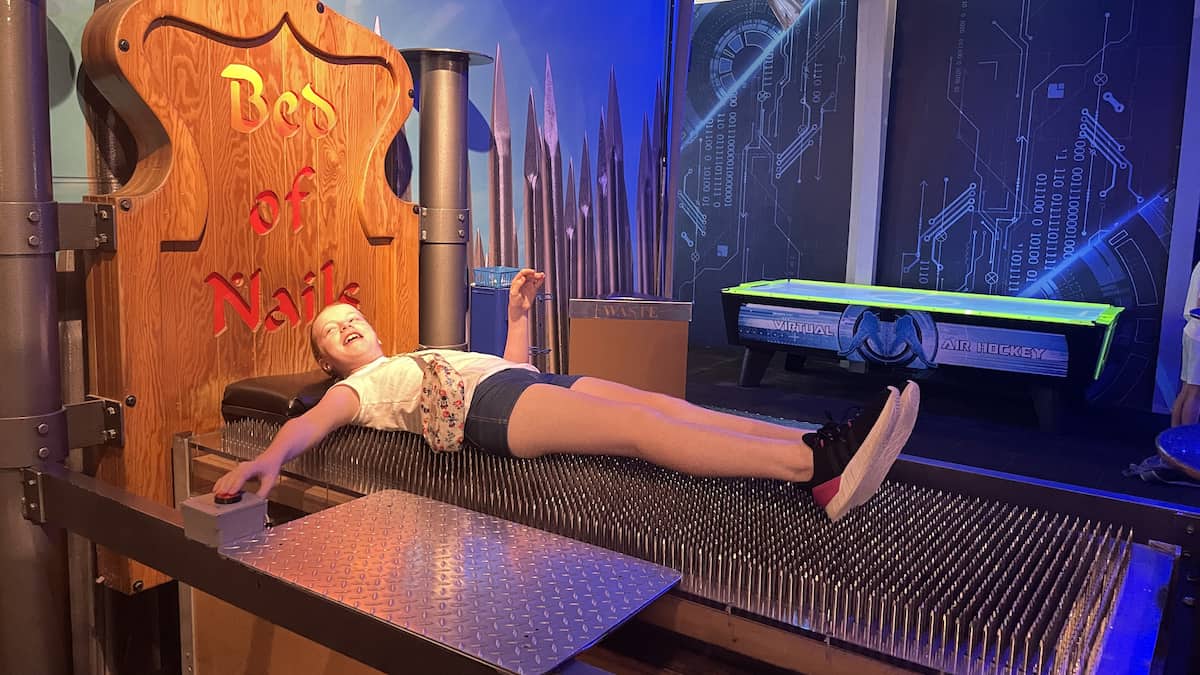 The children were quick to find the Bubble Lab afterwards, and would have spent hours in that small section alone, once they got the hang of using the hoops and ropes to make ginormous bubbles! The challenge was to see if you could get one over your head in one piece, it was so fun to watch.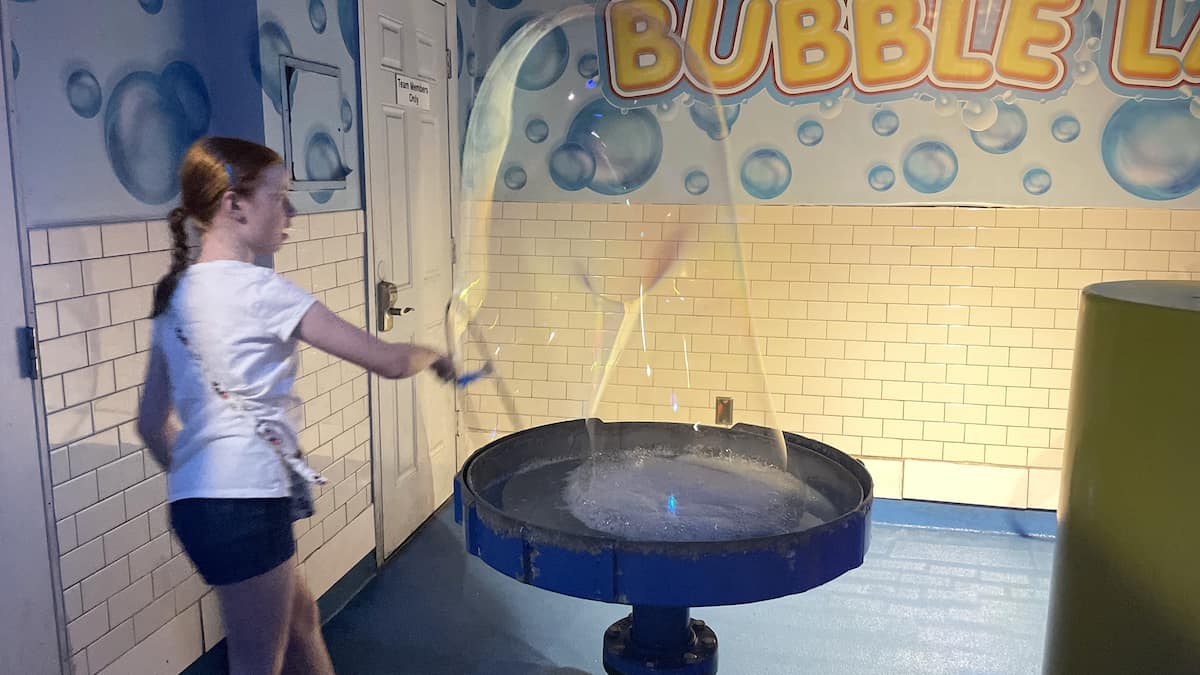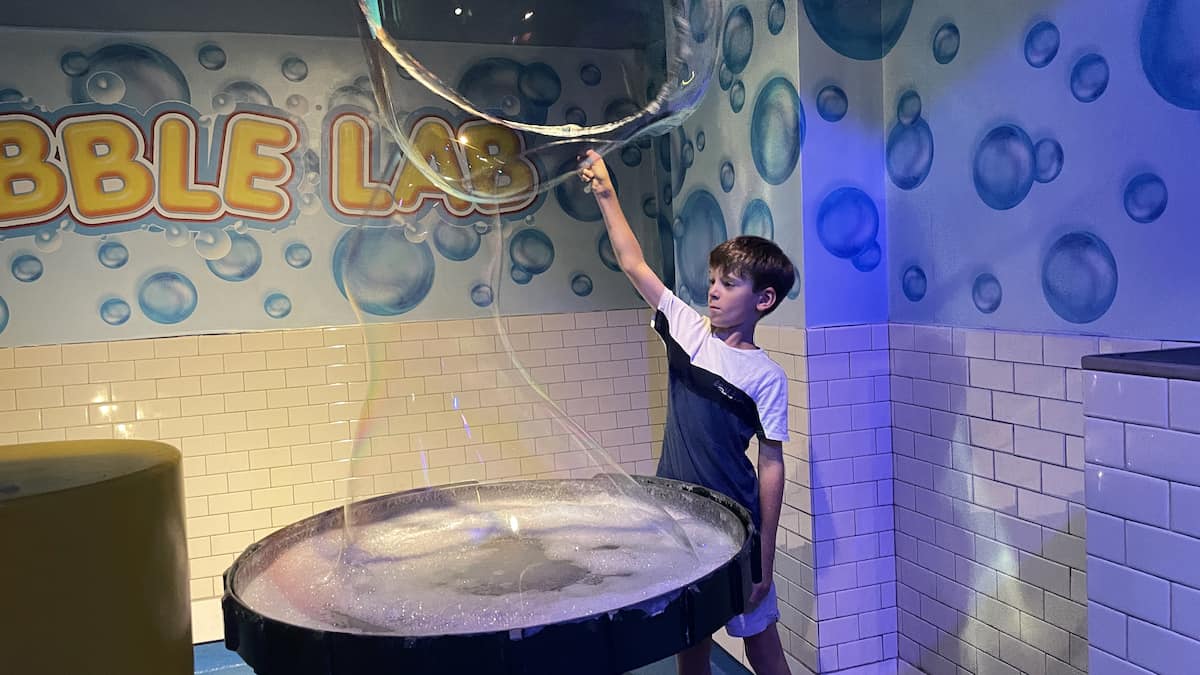 The power of pulleys was also shown where the user had to try to pull themselves up using different numbers of pulleys to see which one was easiest.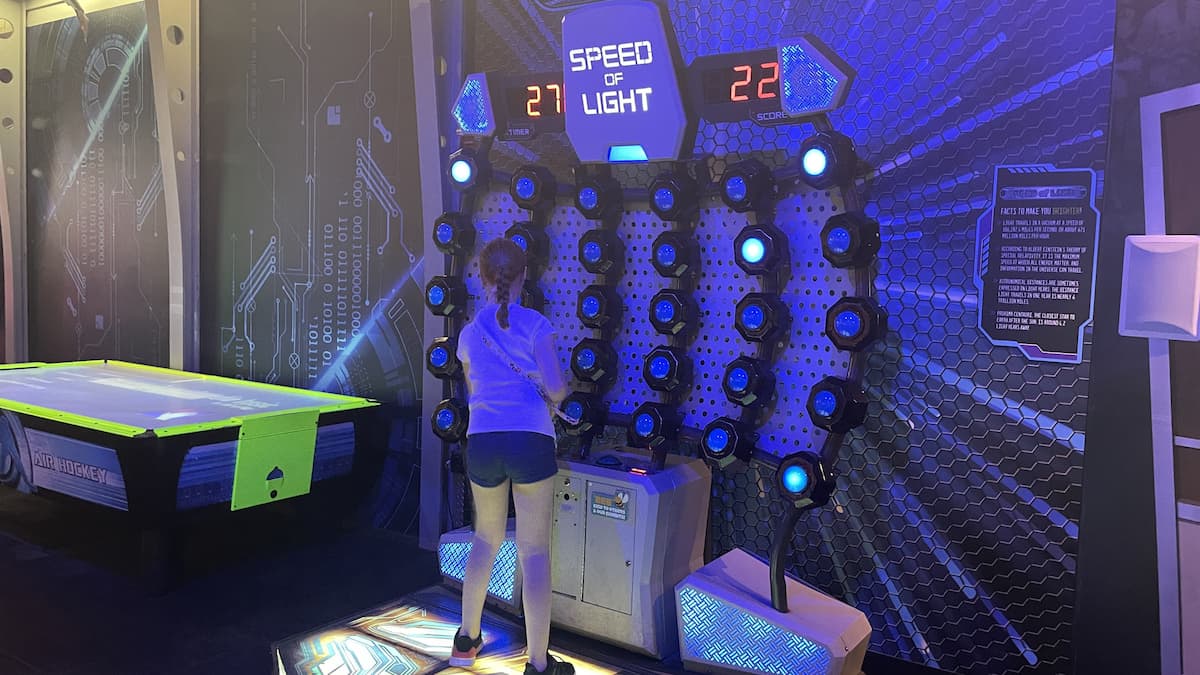 The Light and Sound Zone soon made an appearance with a screen that lights up as you pass it with your shadow multiplying and going crazy. We also got to strike a pose on a special wall before a flash showed up our shadow on the wall, exactly where we were standing even though we were moving and the shadow wasn't! I felt like Peter Pan!
A giant floor piano is also in this zone, begging to be jumped on and if you're skilful enough, to knock out a little tune. As you can see, there was just so much to do and everything was really interactive.
In the Space Discovery Zone there was a life-size replica of an EVA suit that US astronauts use in the vacuum of space. This makes for a great photo op and will bring a smile to your face.
With realistic space shuttle landing simulators and a mock-up 1960's era Mercury space capsule, there's enough to get the interest of all ages.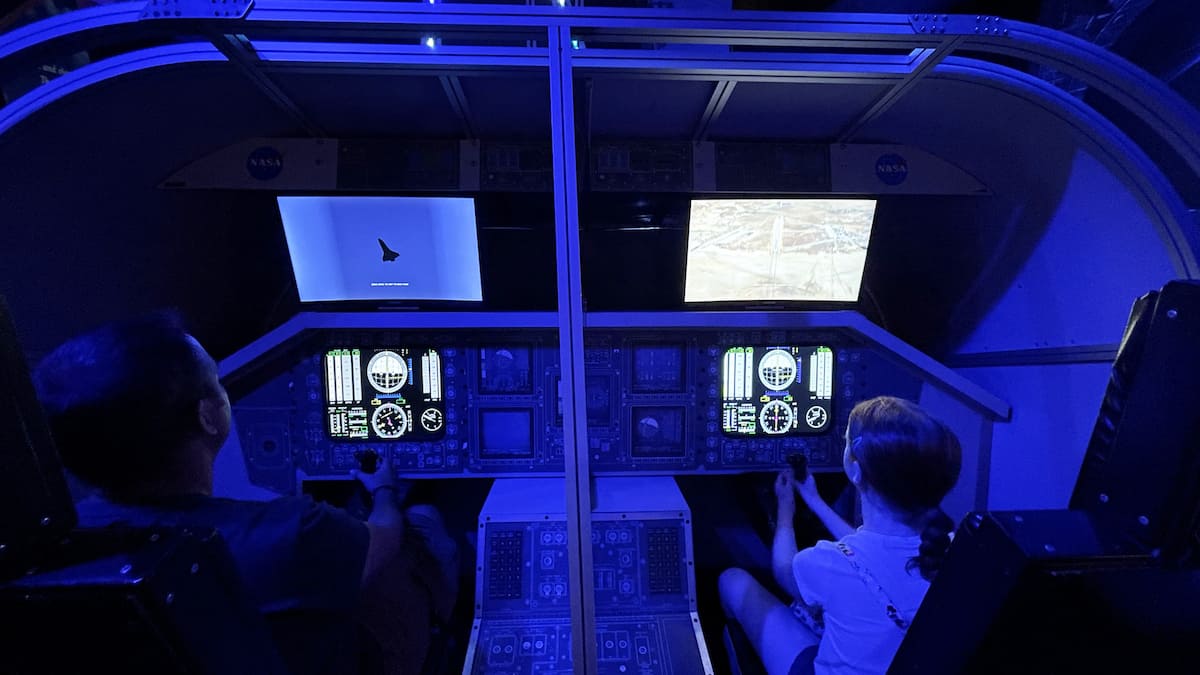 Gyroscopes similar to those used in real astronaut training are also at WonderWorks, but were undergoing maintenance when we visited.
This zone is also home to the Wonder Coaster, a virtual rollercoaster ride that moves around like the real thing, with riders enclosed with a huge screen in front which really sells the experience. Whilst not quite as scary as some of the real roller-coasters Florida has to offer, it was still fun and a unique experience.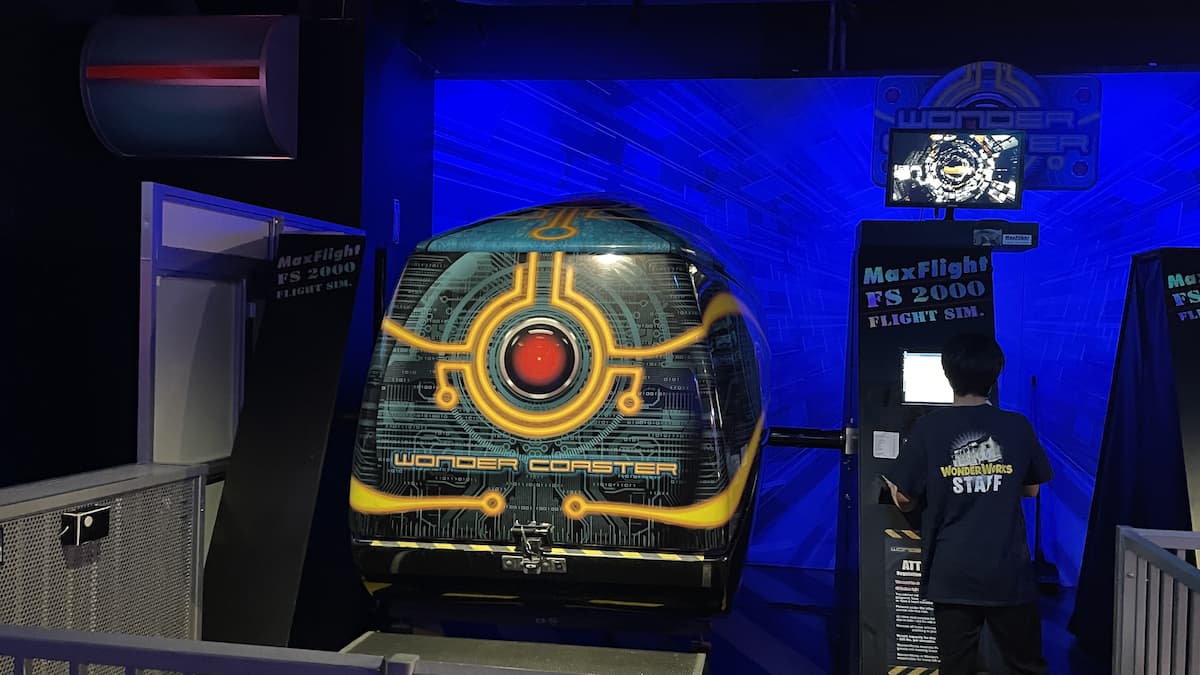 The Imagination Lab is home to Wonder Brite, a giant version of Lite-Brite! You get to rearrange the coloured pegs to create your own beautiful masterpiece that lights up the room.
An interactive sandpit in this section also lets your imagination run wild with augmented reality. You can create your own dinosaur island with a volcano or recreate the savannas of Africa with animals roaming around. The technology used is very clever and the only limit was our imaginations.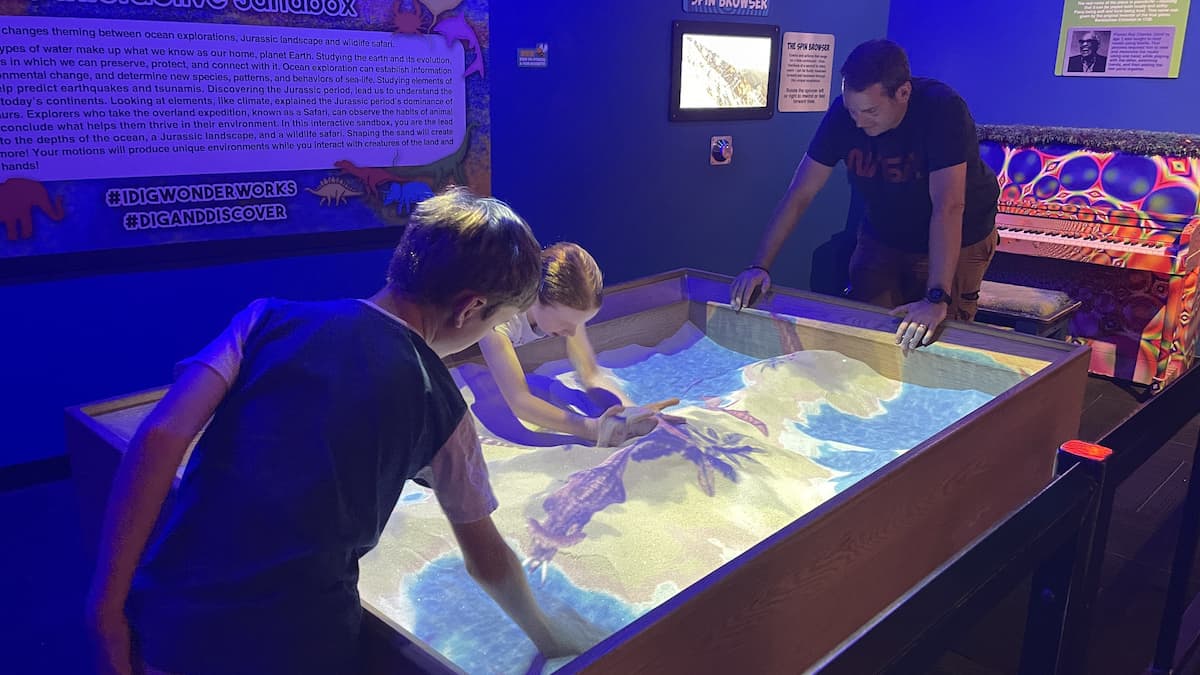 Another giant wall in this zone has gears and pegs all over it, encouraging the engineer in you to make each one move in unison from one side to the other.
The next section was a massive open plan area downstairs which had a refreshment bar, arcade machines and a bit more of a party atmosphere. It was home to the Wonder Works Indoor Ropes Course and after a friendly member of staff explained the safety briefing and made sure our harnesses were on correctly, we got to start our high rope course climbing adventure!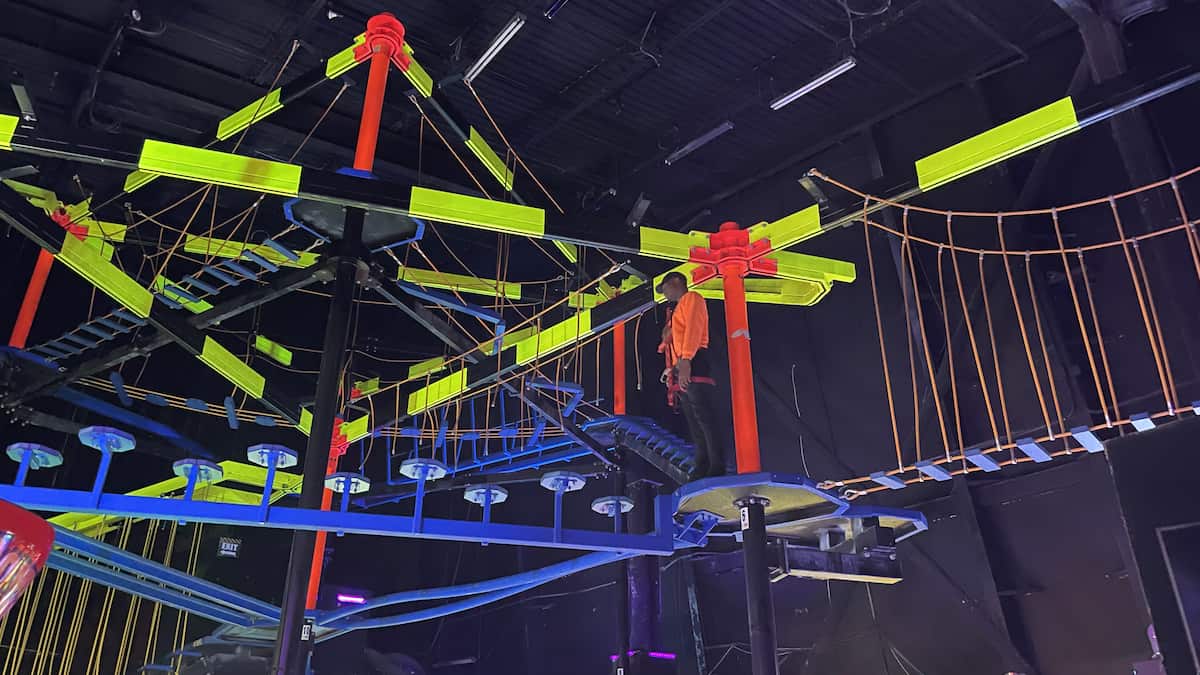 You climb up to the ceiling on thin steps to about 10 meters off the ground. With no real set route to follow, we were free to roam around the area above the arcade, conquering over 20 different obstacles, including suspension bridges, swinging beams, lily pads and more. It was like Go-Ape, but indoors, without the splinters and neon coloured!
The 4D cinema allowed us to experience a wild west themed rollercoaster with motion theater chairs that jumped around all over the place and with 3D glasses, we felt we were really in the movie as we were thrown about an abandoned mine cart system, it was great!
The Laser Tag was also fantastic, with a large area available to run around in, ducking and dodging incoming shots from the rest of the family. We chose an 'all-against-all' game in the black-lit maze and it was an awesome way to finish our morning at Wonder Works Orlando.
We had a really nice time at the Orlando WonderWorks and it made a nice change to the usual list of attractions. It's well located to add to a day at Disney Springs, Universal Orlando or even Volcano Bay and it something the whole family will enjoy.
One thing to be aware of. If you've already visited Ripley's Believe It Or Not Orlando or the Orlando Museum of Illusions, the WonderWorks upside down house will feel very familiar in places. One of these three attractions is probably enough rather than doing all three like us!
You can find out more about WonderWorks Orlando over on their website and for reference the address is: 9067 International Drive Orlando, Florida 32819