*We were provided with this experience for the purpose of this post however all opinions are my own.
Last weekend we had a really lovely break away as a family at the Whittlebury Park Hotel and Spa Resort in the Northamptonshire countryside.
It couldn't have been a nicer break away and it all started off with afternoon tea served in the hotel Bentleys lounge. We were treated to a preview of the Chocolate Lovers Afternoon Tea which the hotel offer at various times through the year – and it's available again throughout February.
We were shown to the Bentleys Lounge and seated on plush sofas around a low table. It was opulent but cosy, giving each dining group a really intimate feel to their afternoon tea experience.
Chocolate Lovers Afternoon Tea at Whittlebury Park Hotel & Spa
Afternoon tea is always such a treat and the special Chocolate Lovers Afternoon Tea is just that much more indulgent, perfect for a special occasion.
The afternoon tea comes with a great choice of teas – from earl grey and English breakfast tea to more exotic offerings. There's something for everyone – and with a choice of milks to accompany them. They can cater to all different dietary requirements.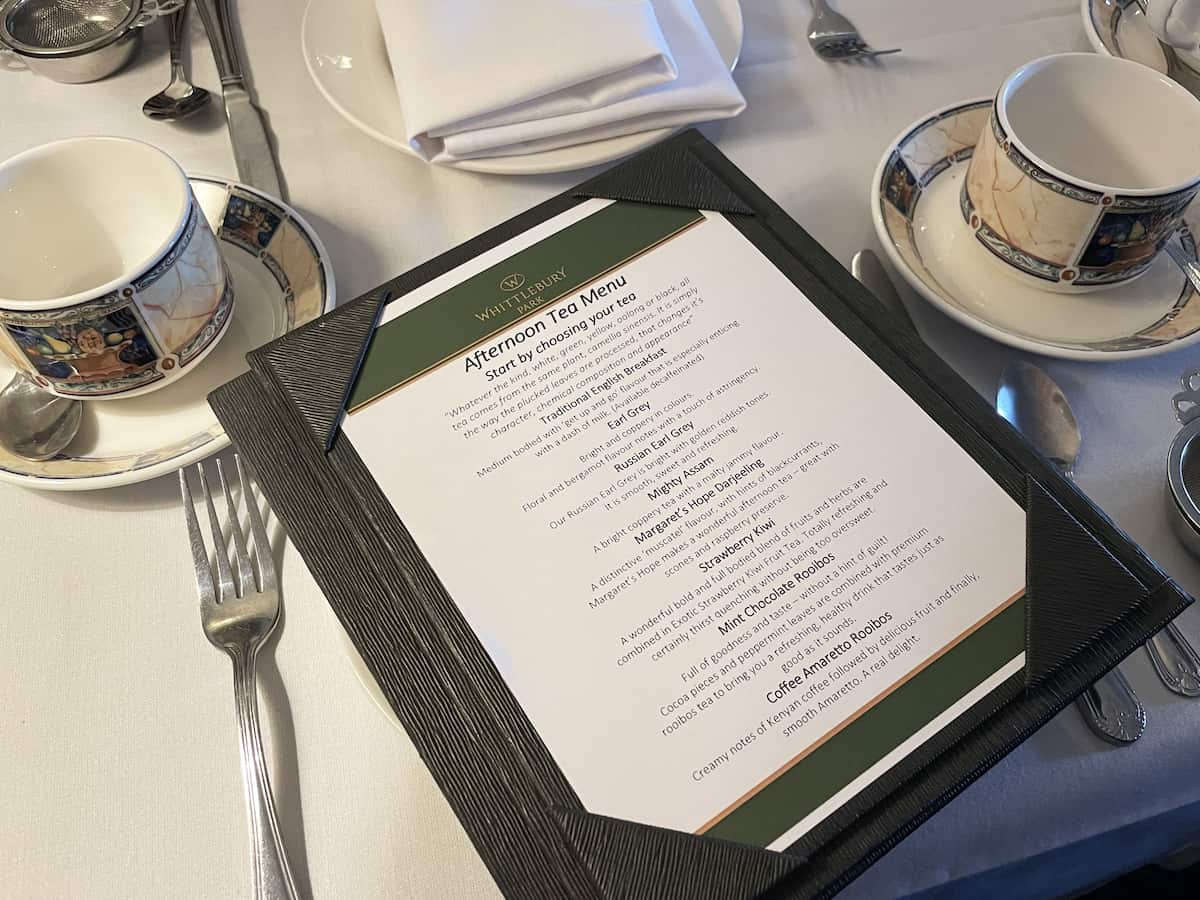 If tea isn't your thing, they also offer coffee or hot chocolate and brought us jugs of water to accompany our afternoon tea too.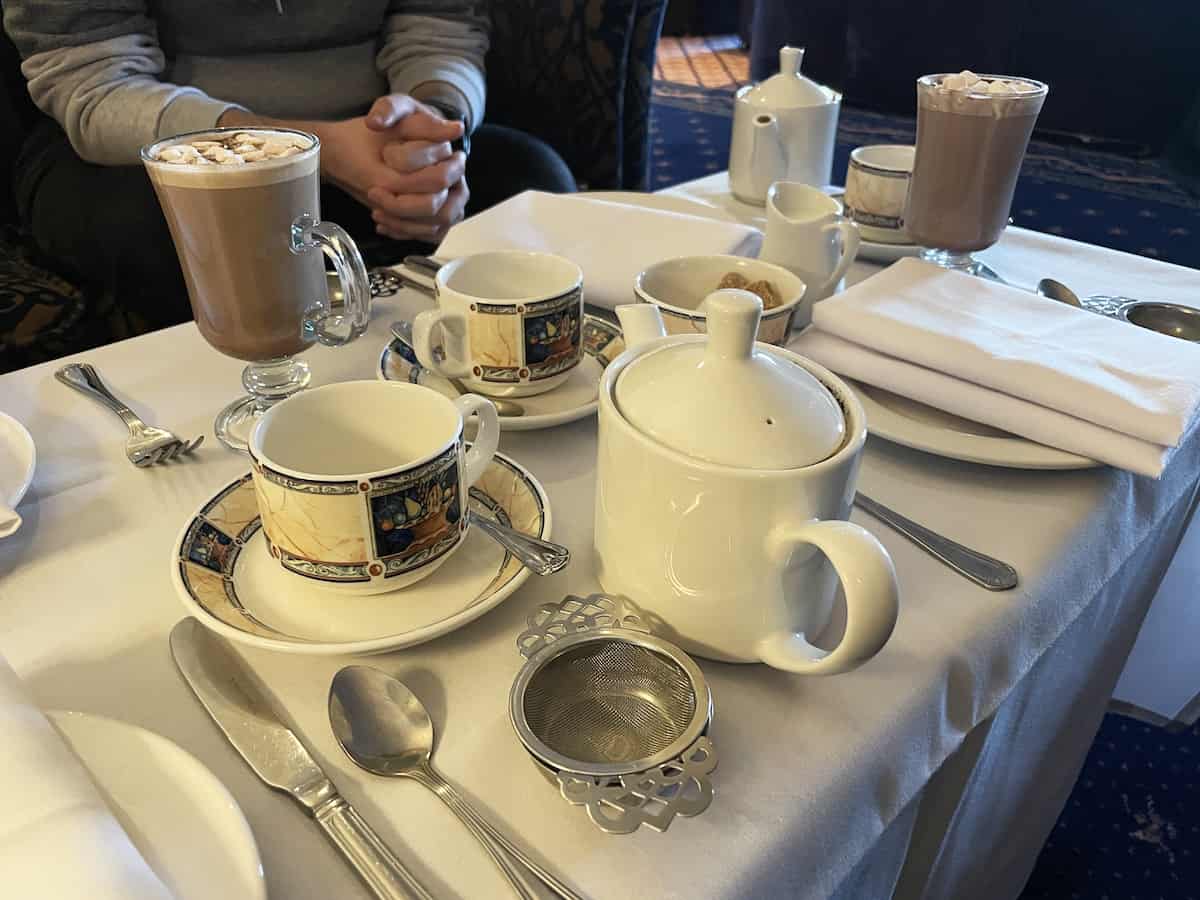 All four of us, adults and children, had the Chocolate Lovers Afternoon Tea and we weren't sure whether it would be too fancy for the children – but they loved it! However, Whittlebury Park do also offer a dedicated Children's Afternoon Tea if your children have simpler tastes – or smaller appetites.
The Chocolate Lovers Afternoon Tea menu
We were blown away when the afternoon tea appeared. Two three tier cake stands, full of delicious treats. It was beautiful, and filled the table! Surrounded by our teas and the children's hot chocolates, it made a wonderful spread that we couldn't wait to tuck into.
We started with the savoury course, kicking off with cucumber and cream cheese and smoked salmon finger sandwiches. These were full of flavour, perfectly cut to remove the crusts and with lovely, soft bread.
We all loved the chorizo and bell pepper sausage roll and the crayfish spring roll was so different to anything we have ever tasted before. We finished off the savouries with a garden pea and asparagus quiche and a coronation chicken wrap. Both were delicious.
We moved on to the sweet treats, saving the scones for last. This tier looked amazing. It has to be one of the prettiest afternoon teas we have ever had and we all really enjoyed the milk chocolate and tonka bean mousse served in the cutest little ice cream cones.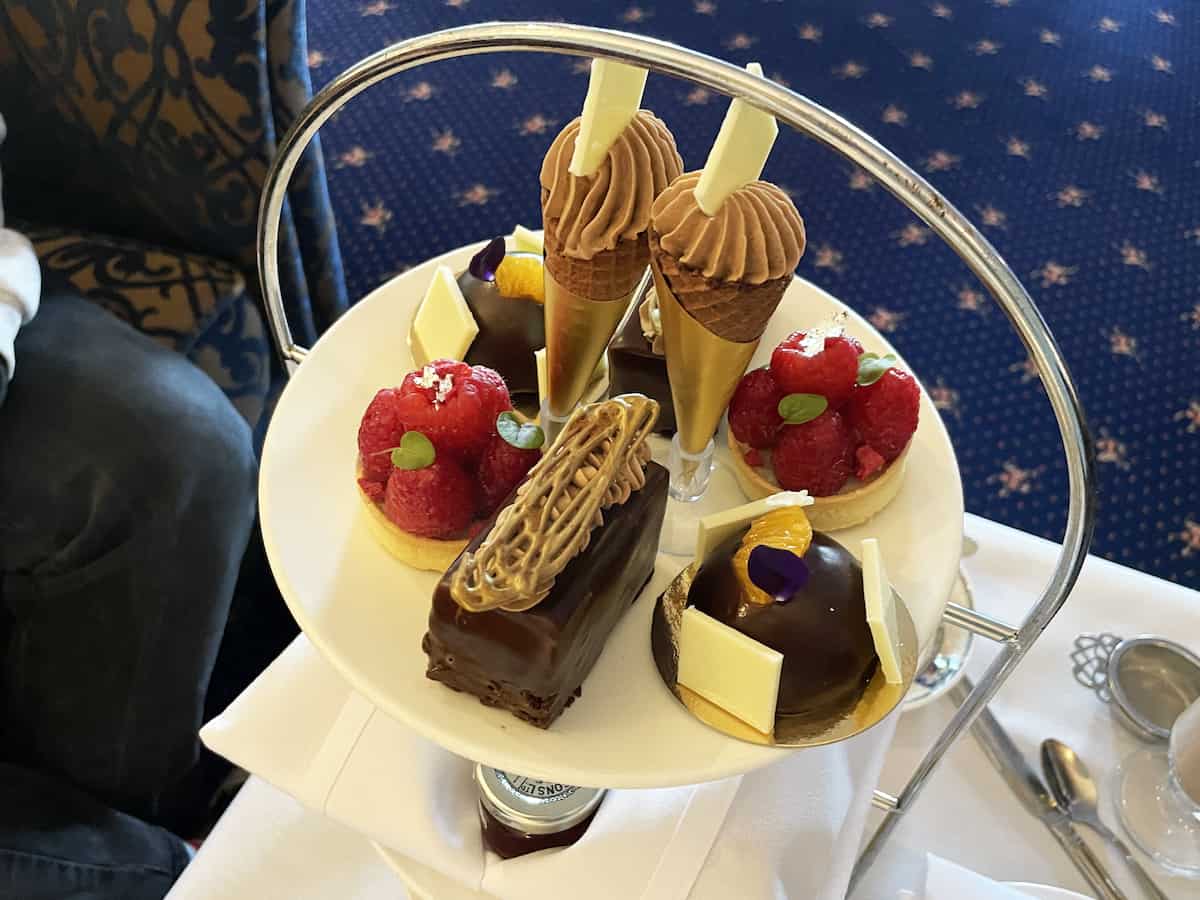 The dark chocolate and salted caramel brownie was absolutely delicious but so rich and quite large. We never complain about too much chocolate but we ended up sharing two brownies between the four of us. It's not a problem though as Whittlebury Park are always happy to box up any leftovers for you to take home with you.
The orange chocolate madeline were lovely too – a traditional madeline cake encased in chocolate. Such a lovely treat and not something I've ever come across before – we've always just had a madeline plain.
We all agreed that the white chocolate and raspberry tart was our favourite sweet. So light, fresh and fruity but with a glorious white chocolate filling in the tart, it was glorious to eat. I'd happily eat them every day!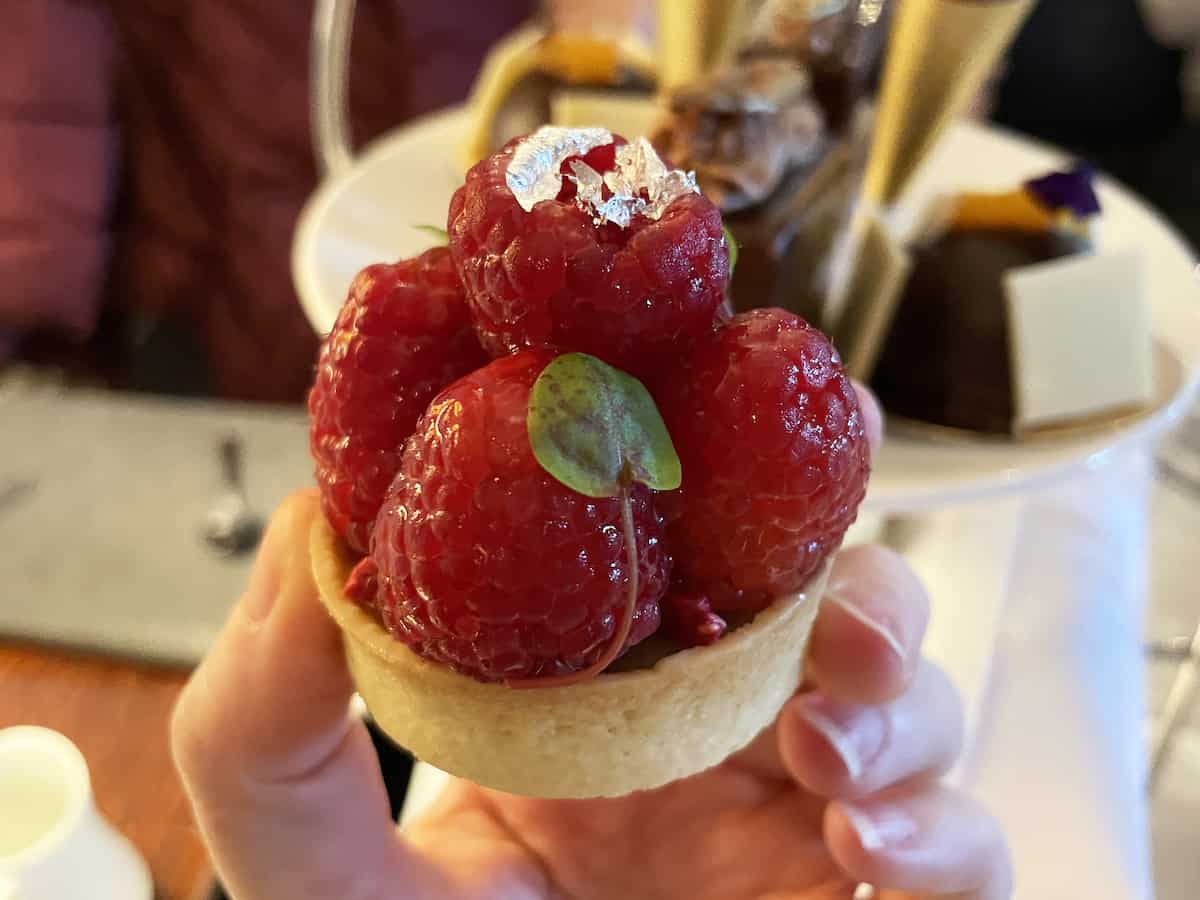 We finished our afternoon tea with a selection of home baked chocolate chip and plain scones, served with strawberry jam and clotted cream. These were delicious and just the right size to not be too much after polishing off the other two tiers of food.
We all loved the Chocolate Lovers Afternoon Tea and it was a fantastic way to start our break at Whittlebury Park. But, you can just visit for afternoon tea – which was the case for the other guests who were having afternoon tea when we visited.
In a beautiful location, set in a gorgeous room with lovely views, afternoon tea at Whittlebury Park will always be a wonderful experience. We couldn't fault the afternoon tea – and the service was fantastic too.

The Chocolate Lovers Afternoon Tea is £29.95 per person and available from 1st to 28th February 2023. Children's Afternoon Tea is also available. Find out more and book online here.