On our trip to Orlando over the summer we had free tickets to Gatorland that we received when we booked our theme park tickets through Orlando Attraction Tickets. So, we found a day to spend at Gatorland and we're so glad we went.
What is Gatorland?
Gatorland is the alligator capital of the world. It's home to alligators and crocodiles of all sizes but, surprisingly, there's so much more to Gatorland than alligators. There's an aviary, petting zoo, animal shows, zip line and an off road adventure!
Our visit to Gatorland
We arrived at Gatorland when it first opened and it was so lovely and quiet. The first thing we realised was that there was so much more to see than just alligators! Although we walked past a lot lazing in the sun in their enclosures, the next thing we saw were smaller animals to look at.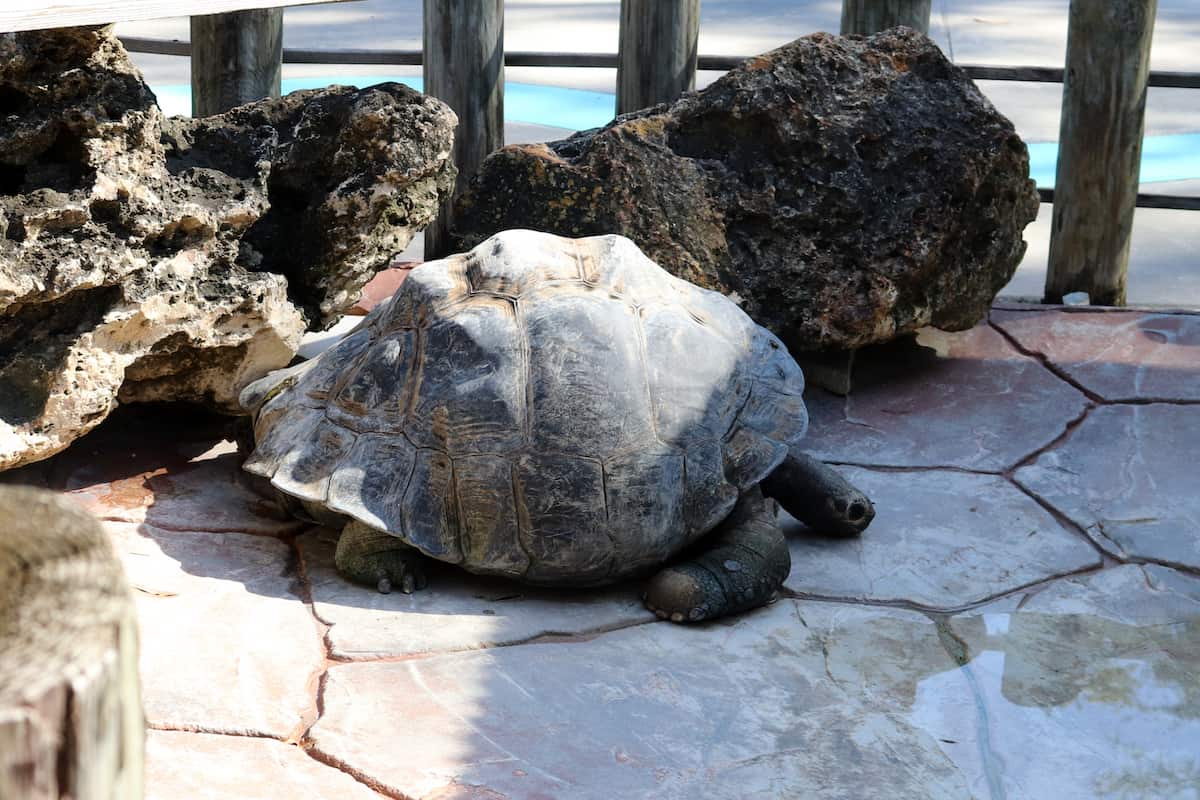 There were wild cats, tortoises and a whole baby alligator nursery that the children were so excited by. Alligators and crocodiles can be pretty scary but baby alligators are pretty cute despite growing up to be scary!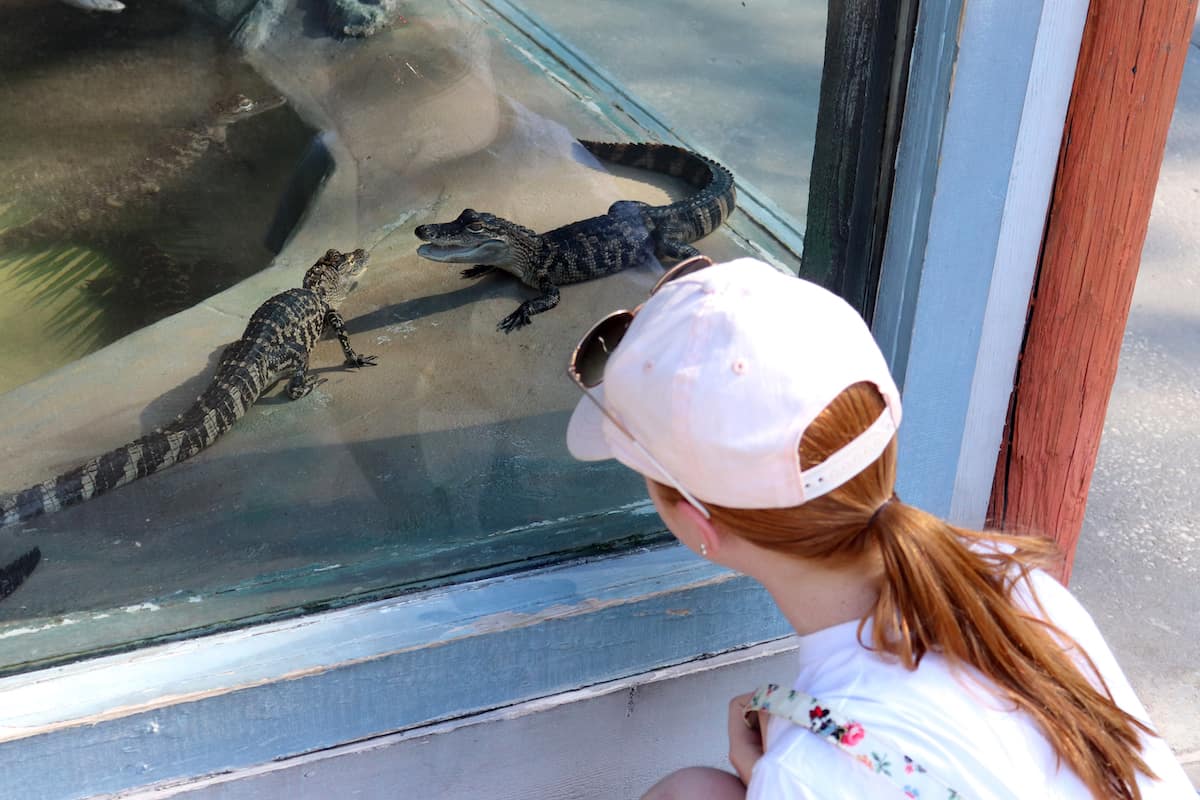 We discovered the Gatorland splash park quite early on in the day and the kids were upset that we hadn't bought swimmers with us. We didn't realise there was a water park at Gatorland. If you visit – definitely bring towels and swimwear!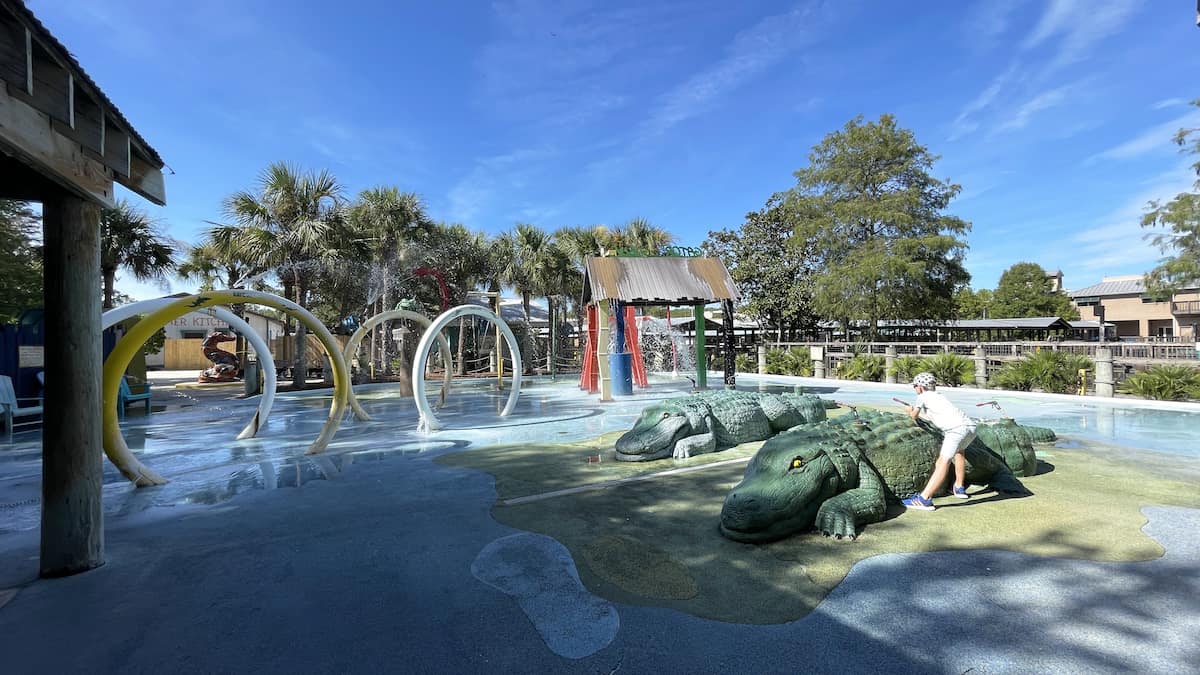 There's also a lovely shaded play area with plenty of seating around it. This is mainly for younger children but LP and Little Man loved having a little run around before we carried on exploring Gatorland. It's great that they have so much to appeal to all ages.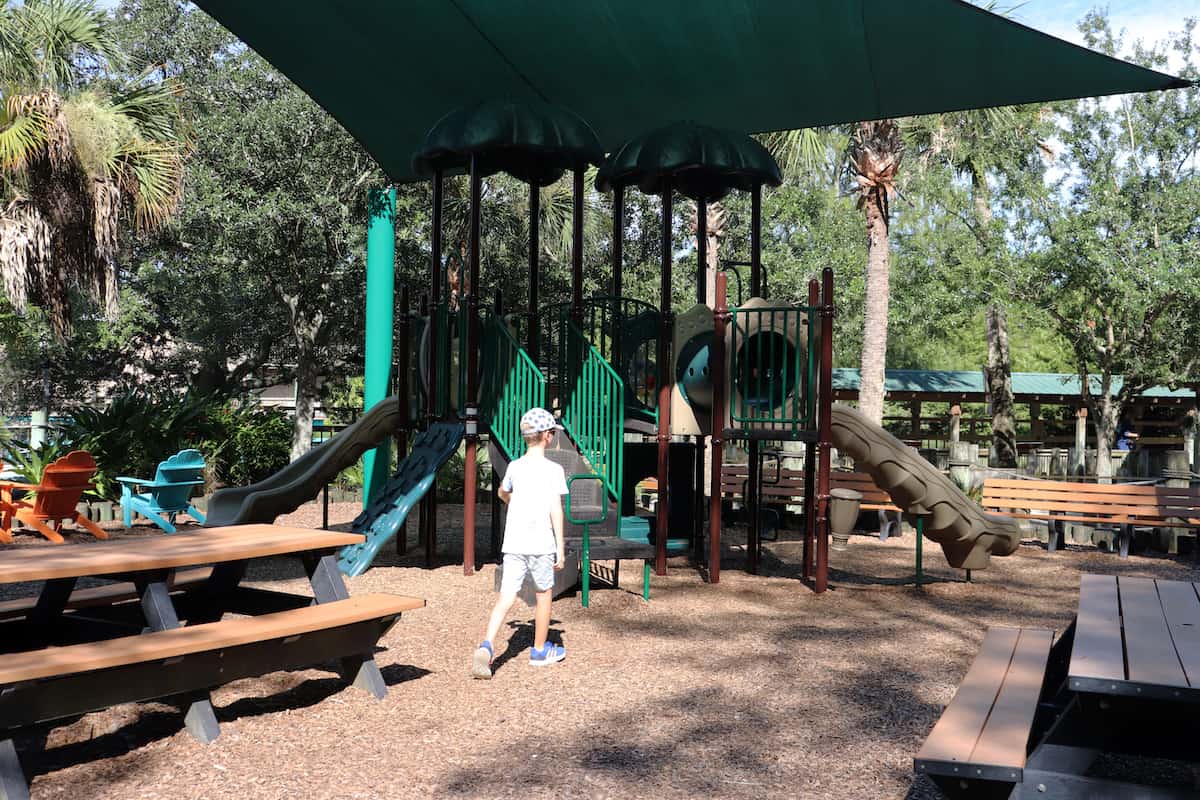 The middle of Gatorland is a big swampy lake habitat for alligators and we spent an hour or so walking around the lake, through the 'Jungle Crocs of the World' section, looking at all the alligators in their enclosures around it. This was a lovely, shady area and a really nice, relaxed place to spend time.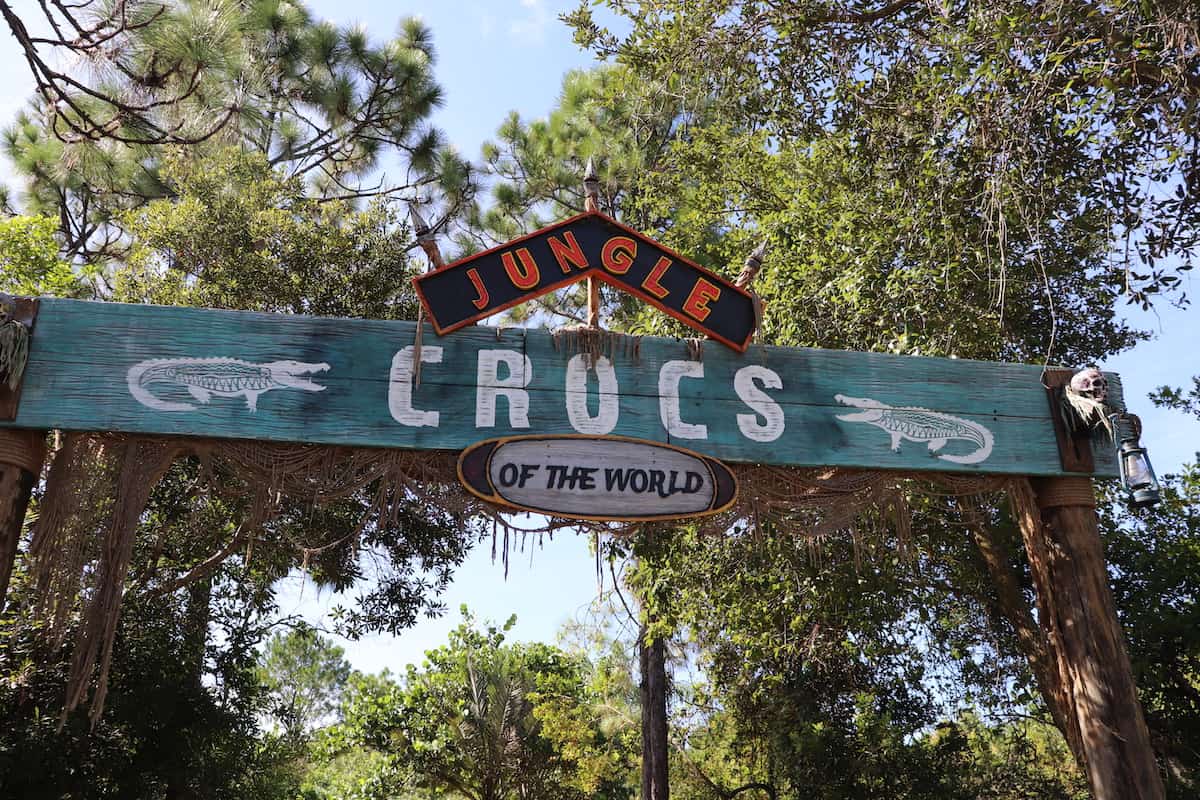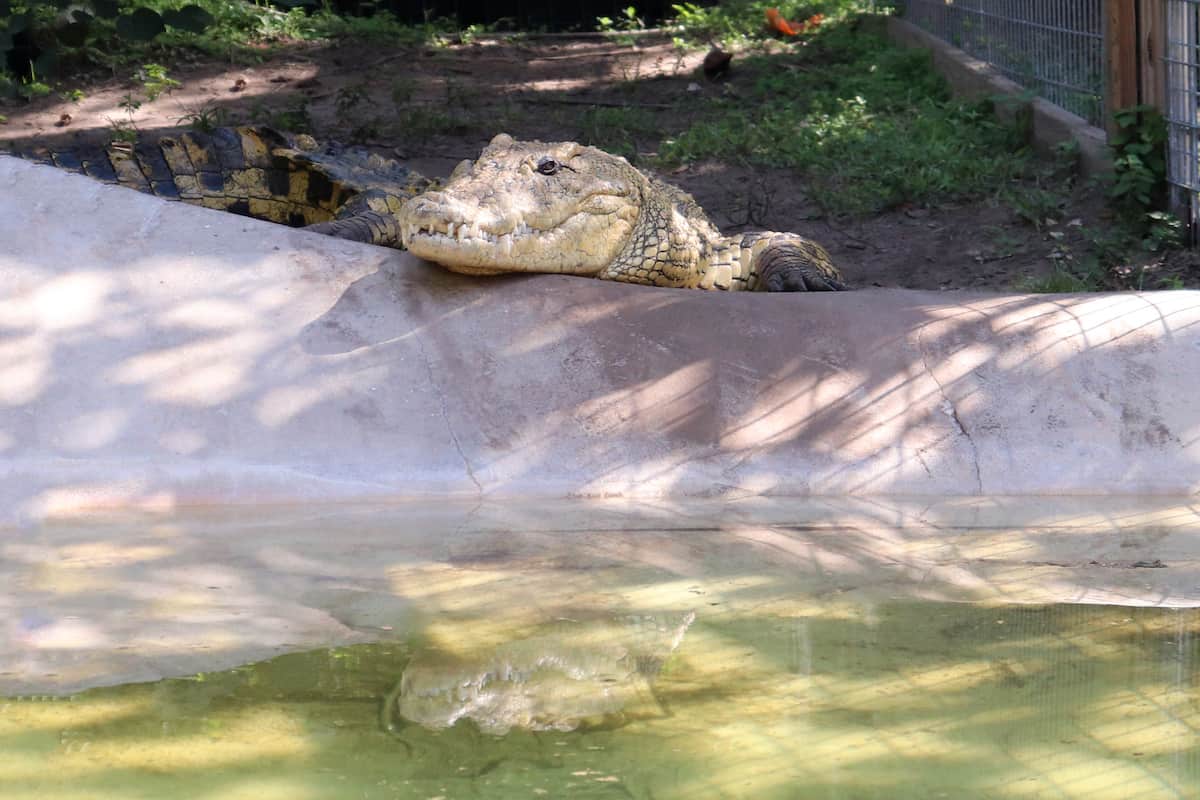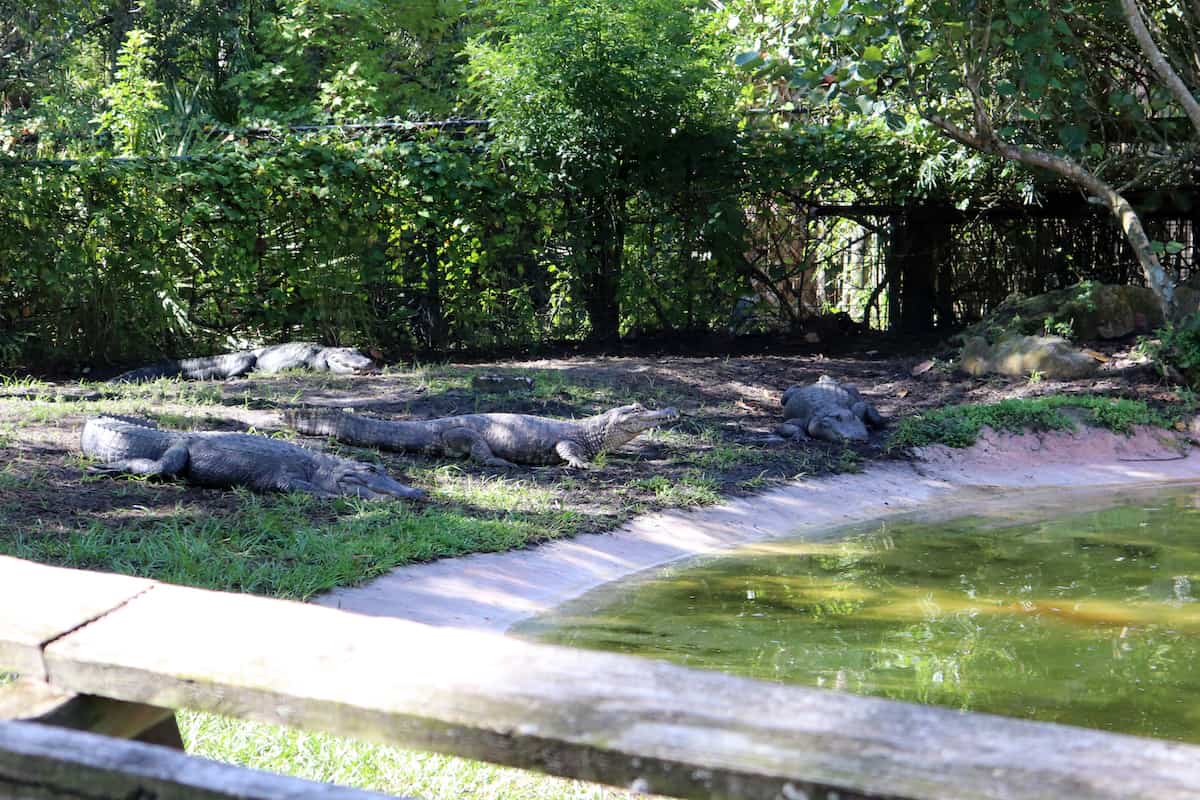 The Gatorland shows
Once we'd done a full loop it was time for our first show of the day – Gator Jumparoo Show. This was a really popular event and basically an alligator feeding show where staff sent raw chicken along a zip line, encouraging alligators to jump out of the water to grab it.
Apparently the alligators can jump up to four feet out of the water but we saw them jump probably a couple of feet during our show. The show finished with staff hand feeding the alligators – so the feeling of peril and risk increases as the show goes on.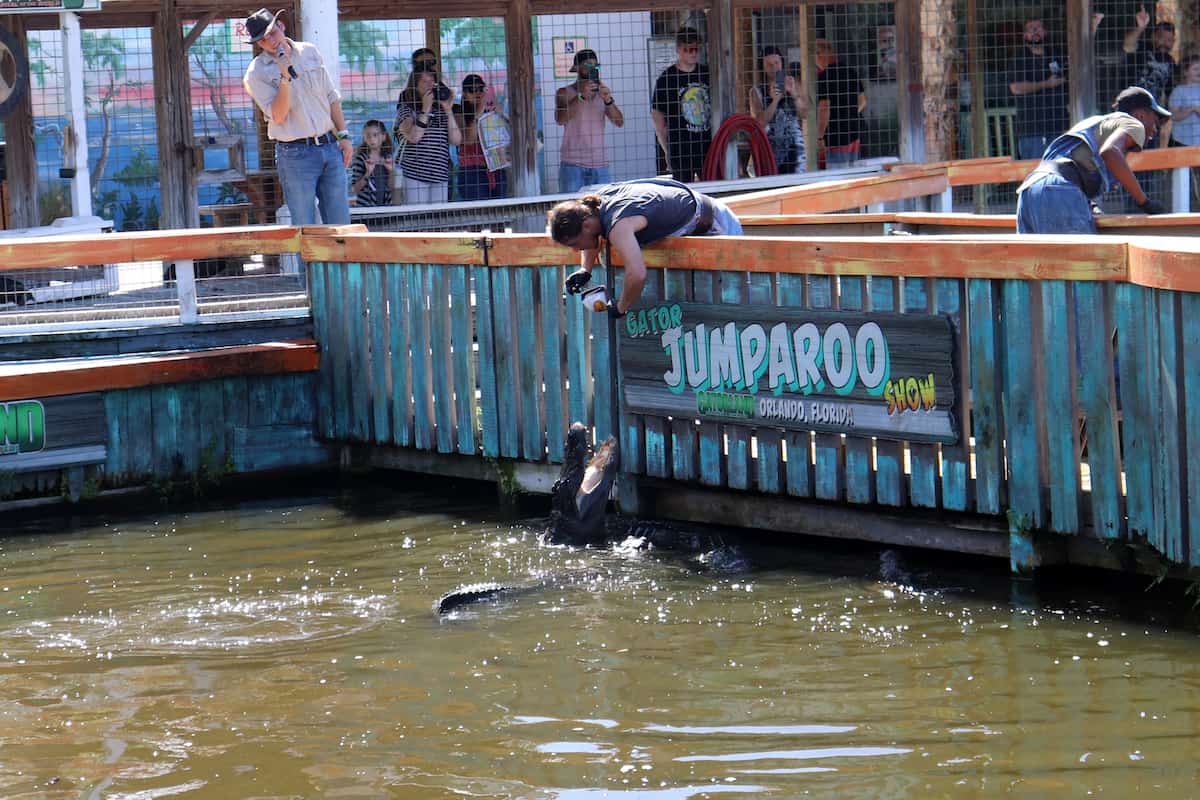 Later in the day we saw the Alligators: Legends of the Swamp show and it was a bit of a shock to the system. It started with an alligator having its mouth taped shut so that people could pay to sit on it and have their photo taken, their hands covering the tape so it looked like they were just sitting on a wild and free alligator.
After that an alligator was pulled out of the water by its tail whilst we were taught about alligators, their bite and some safety tips if we ever get bit by an alligator. Throughout, the alligator was turned this way and that with a trainer sitting on its back. I'm sure it's how a vet would do an examination on an alligator and so not a barbaric experience for the animal, it just felt unnecessary doing it for entertainment.
The standards for animal shows in America are definitely different to the UK and the whole show experience just wasn't something we would want to see again. The children didn't enjoy it and it all felt really dated although many of the other tourists were clearly having a great time – and have photo souvenirs to prove it.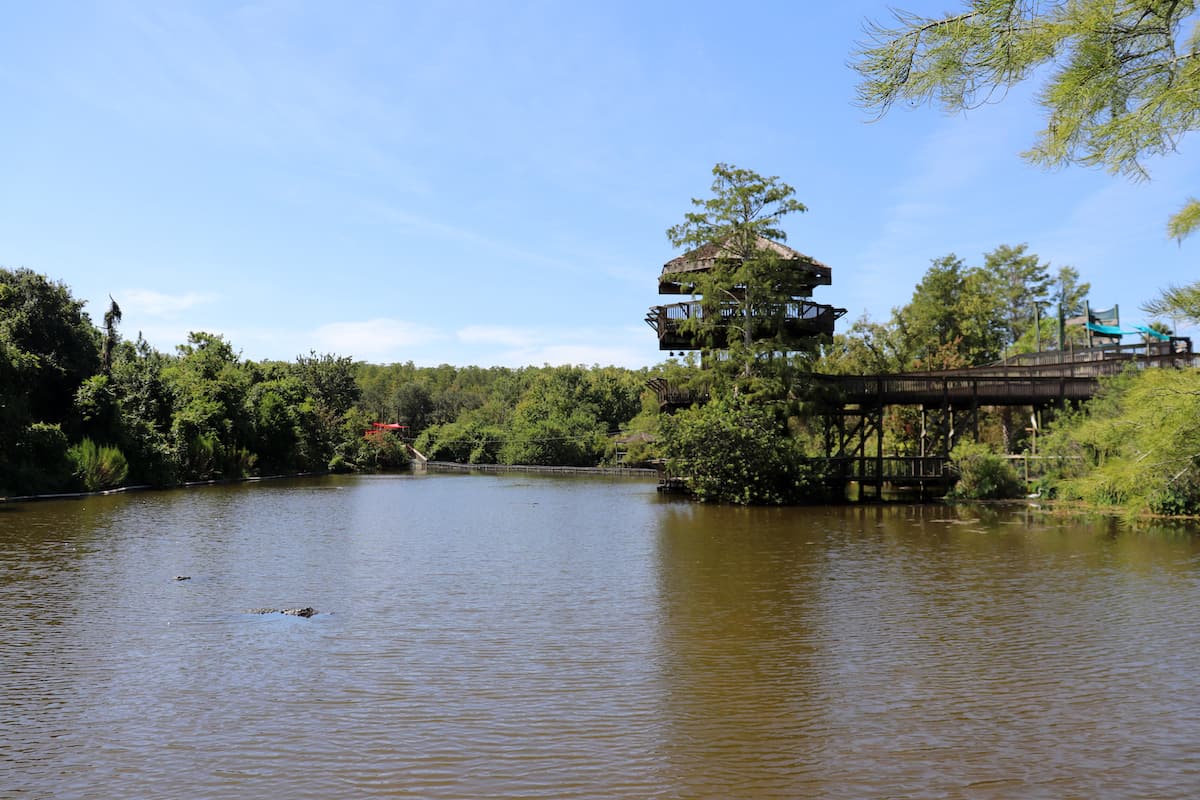 After the shows we went back to the lake and walked across the boardwalk that runs through the middle of it. It's the 'Alligator Breeding Marsh' and it gave us a whole new perspective, seeing alligators in the water and underneath us as we walked. There was also a big tower to climb in the centre that gave great views of the area. I didn't expect to find anywhere so beautiful at Gatorland.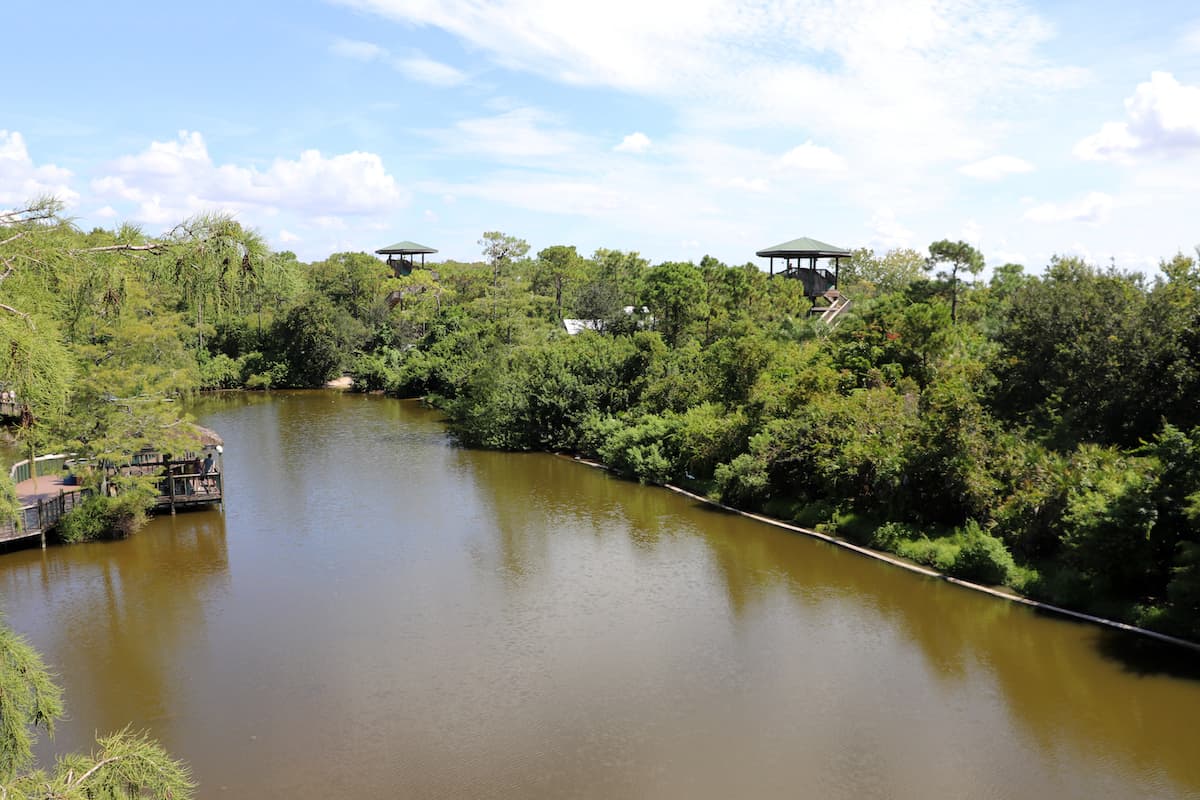 We then saw the albino alligators. Gatorland have the largest collection of rare white leucistic alligators in the world and they were really fascinating to see. They were housed alongside so many snakes and insects that we all loved learning more about.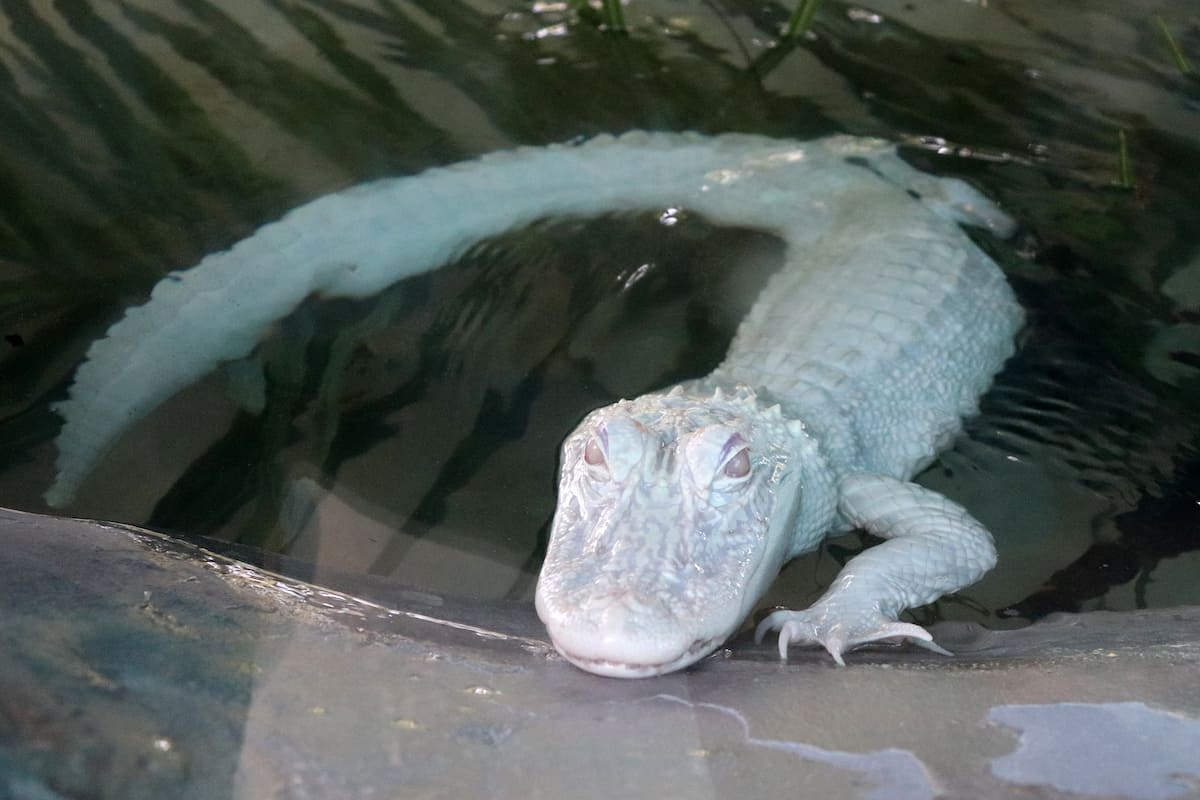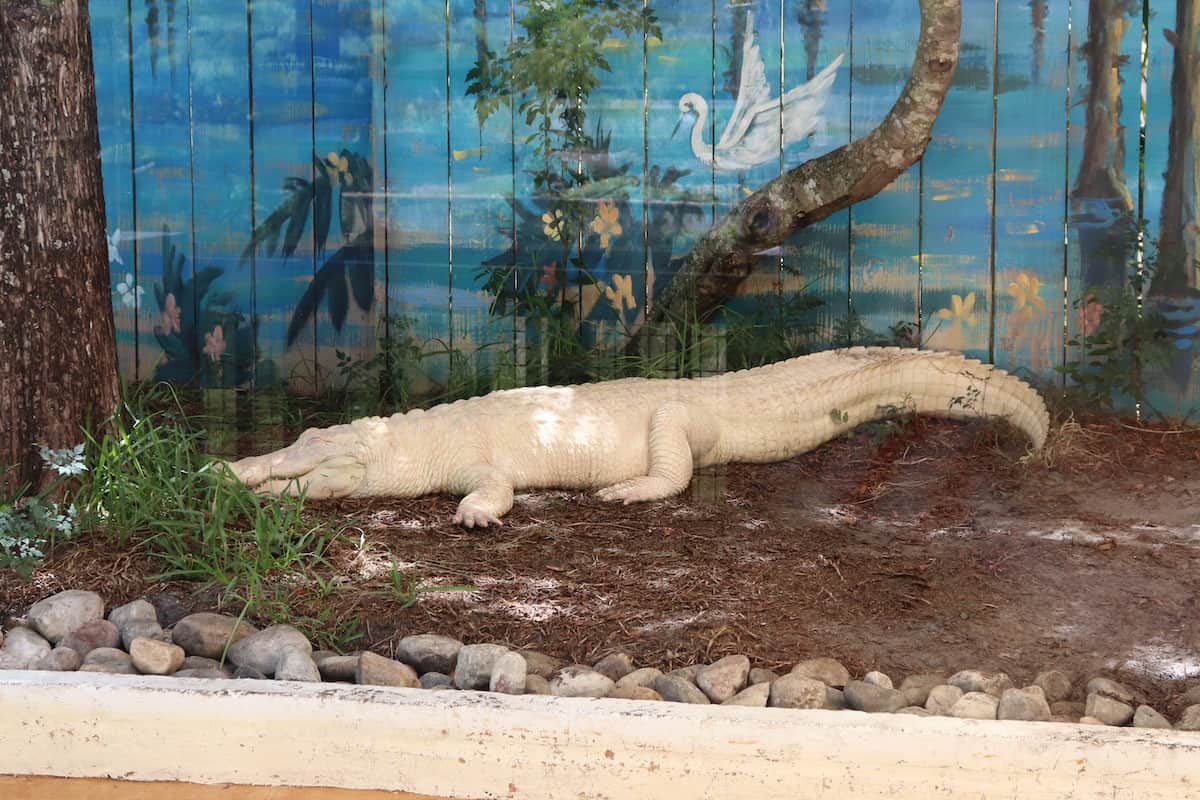 We paid a small amount to feed goats in the petting farm and also bought some emu feed from a dispenser at their enclosure. These sort of experiences are dotted around Gatorland and really add to the experience.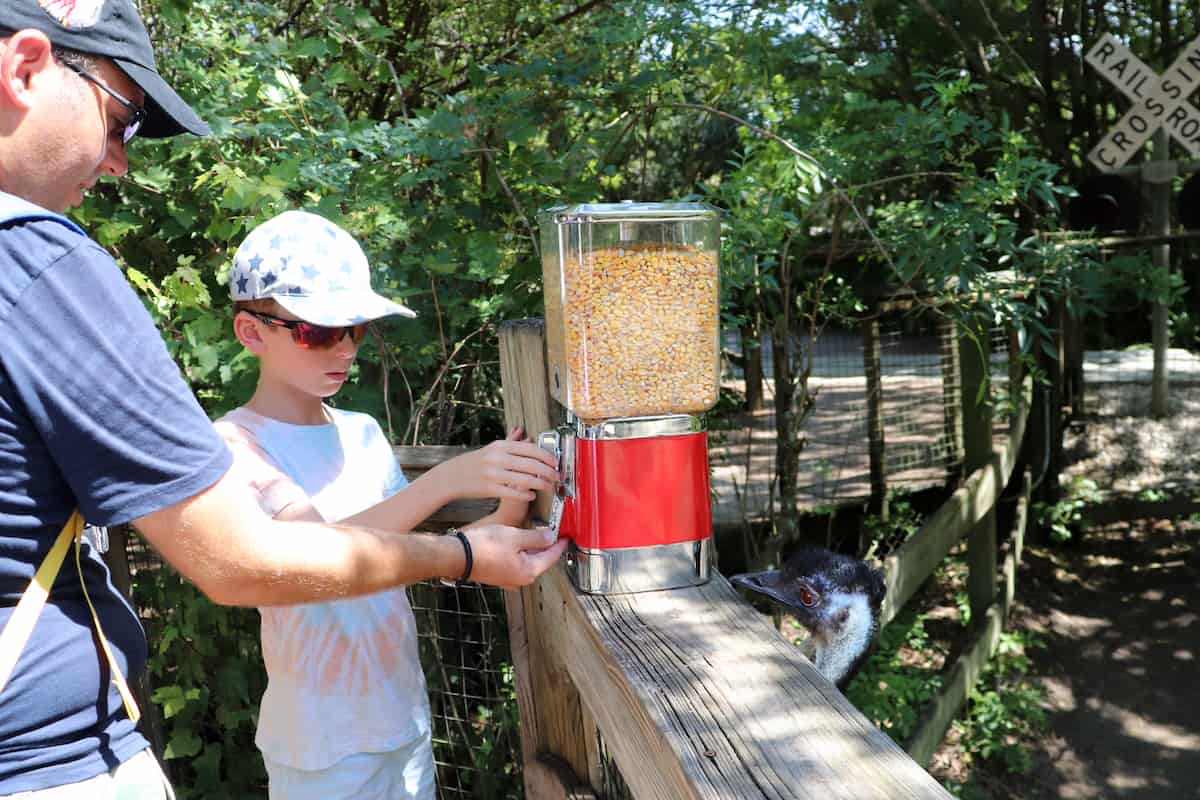 We finished our trip with the swamp walk which was lovely and shady and operating on a one way route since the pandemic. It was nice to go at a slower pace and there were plenty of stops to sit down along the way.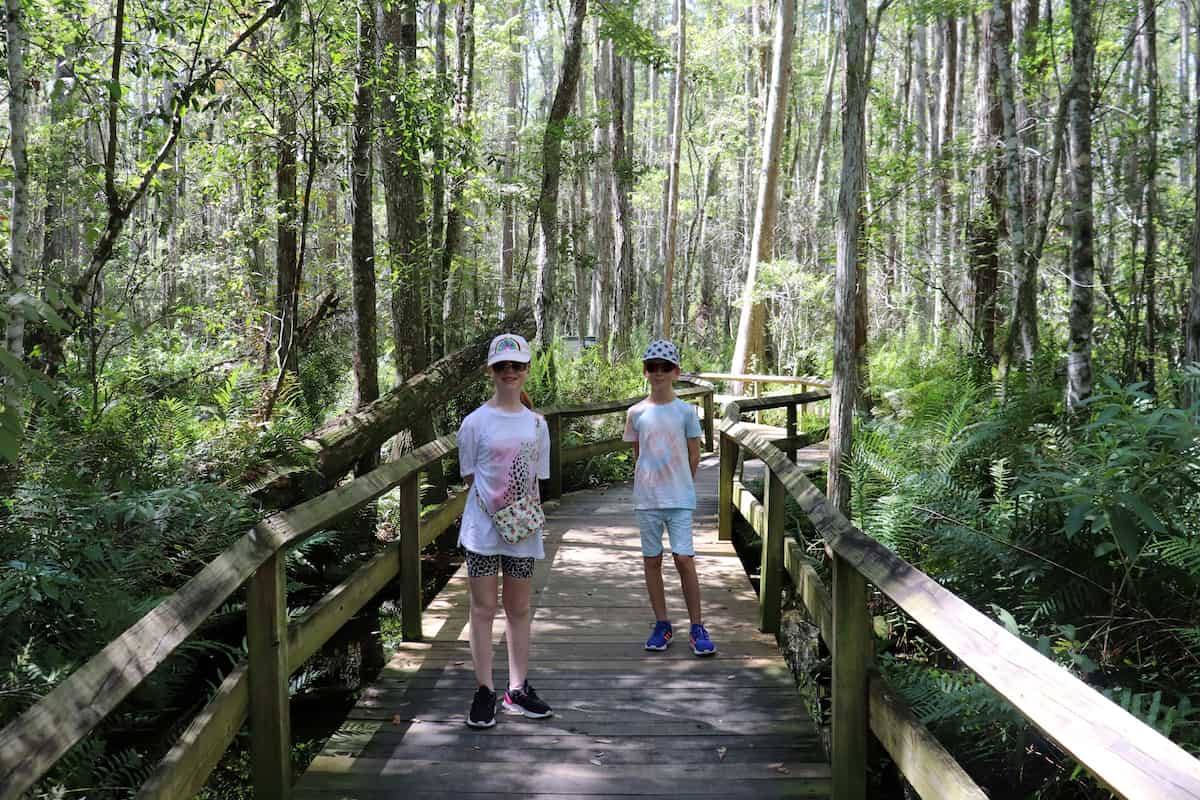 Gatorland experiences
A lot of Gatorland is based around experiences that are available at an additional cost. There's the Screamin' Gator Zip Line, Adventure Hour, Trainer-For-A-Day experiences, the accessible Gator Gauntlet zip line and Gator Night Shine.
Gatorland final thoughts
We enjoyed our morning at Gatorland. It was different and we got to learn more about alligators that we all really enjoyed. We also now know what to do if we get bitten by an alligator in the future. I feel like we've ticked a box on Orlando attractions – having been to one of the oldest ones that is promoted literally everywhere.
Although we had a nice morning, we wouldn't go again. It's all a very dated format and, although Gatorland does a lot for alligator conservation, I don't feel it's somewhere we would be happy visiting again in the future. The shows weren't entertaining – baffling and unsettling – and my feeling before we went of 'once you've seen one alligator, you've seen them all' still stands. I feel like we've done it and don't need to go again.
You can find out more about Gatorland on their website and for reference the address is: 14501 S. Orange Blossom Trail Orlando, Florida 32837
You can see a Reel of our day out on Instagram here: