On our recent holiday to Florida we got tickets to Walt Disney World. With three of the family being huge Star Wars fans, they were eager to go to Hollywood Studios and spend time at Galaxy's Edge, the Star Wars themed land that opened towards the end of 2018, after we went to Florida for the first time.
What is Galaxy's Edge?
Galaxy's Edge is every Star Wars fan's dream, and is set during the Resistance time period, or the Sequel Trilogy. It's a whole area dedicated to Star Wars and is like stepping into the Star Wars world. With rides, shops, restaurants and so many props as well as characters showing up every now and again too.
Savi's Workshop
One thing that the children really wanted to do was to build their very own custom lightsabers. This is one of the experiences offered at Galaxy's Edge in an outpost called Black Spire, in a place in Savi's Workshop.
After doing some research we found out it is very popular and books up fast. You also need reservations for the experience along with a park reservation for Hollywood Studios on the day you're planning to go.
If like us, you pre-bought tickets to Walt Disney World but aren't staying on site at Disney, you can book experiences up to 60 days in advance. This is usually done on the My Disney Experience app, but when we were trying to book, it just wasn't coming up with any availability.
Dave managed to find a UK based free phone number to get through to the Guest Experience team and called every day at midday UK time (7am EDT) to speak with someone. He was told there was a pause on reservations when he first tried, but within a few days of religiously calling back, reservations had opened up again and he managed to book the experience for the children.
How much does the Handbuilt Lightsabers Experience at Savi's Workshop cost?
Building lightsabers doesn't come cheap at $219.99 plus tax per lightsaber. But, Savi's Workshop allows each lightsaber builder to be accompanied by a guest for free, so Dave and I got to share the experience too.
The children knew that the experience was very popular and kept asking if we were able to do it. We kept them in suspense until the morning of the experience, saying that it was virtually impossible to get a slot reserved. Their faces when we told them we were doing it were worth the wait!
The Handbuilt Lightsabers Experience
When we arrived at Savi's Workshop, we were booked in by one of Savi's Gatherers, and shown to a shaded area outside of the workshop. We were directed to a page on the My Disney Experience App to look at the available themes for lightsabers that the children could choose between. Peace and Justice, Power and Control, Elemental Nature and Protection and Defense.
Each theme had four sleeves to choose from, two emitters, two pommel caps and two activation plates and switches. The children chose different themes so that they would end up with two completely different lightsaber hilts at the end. They were also given an exclusive pin badge depicting their chosen themes and a card that acted as a ticket, being collected at the start of our experience. Once the group of participants were assembled, we were ushered into the dark workshop. This is where the fun begins!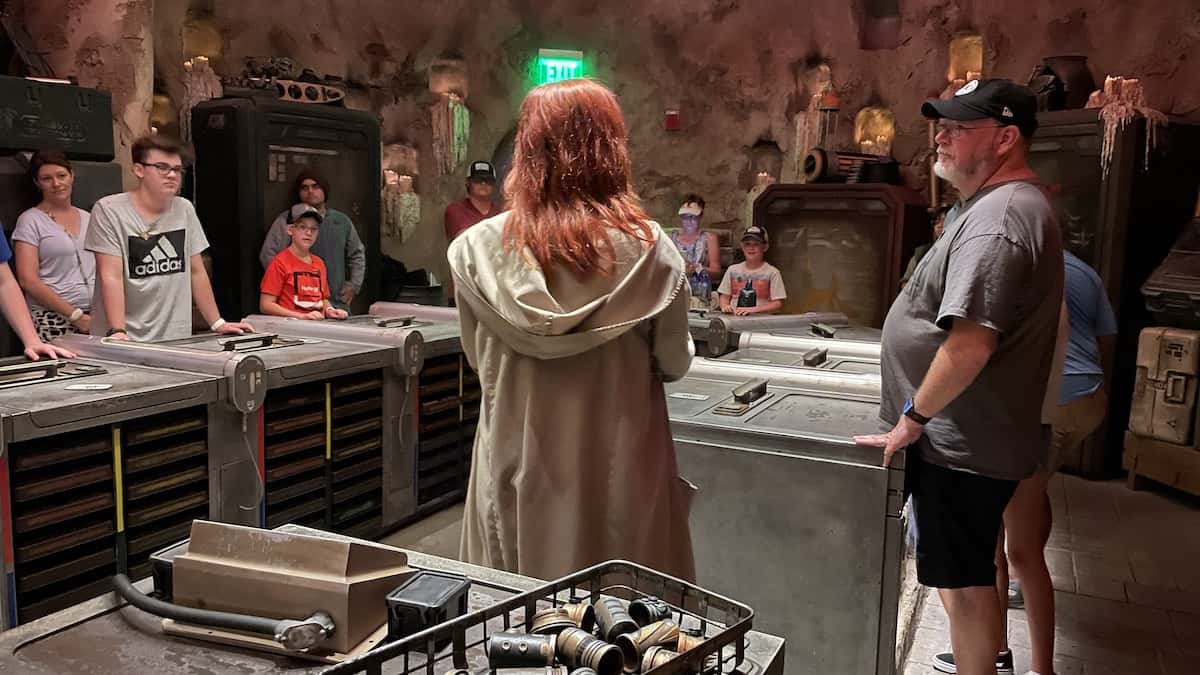 Each lightsaber builder was shown to a building station by a Gatherer. Gatherers are a group of men and women who have dedicated their lives to restoring balance in the galaxy by passing on their knowledge of the Force and ancient ways of the Jedi. They have scoured the galaxy and amassed a huge collection of Kyber crystals and other saber parts from around the galaxy. As Keepers of the Force, they have passed down their knowledge, keeping the flame of hope alive.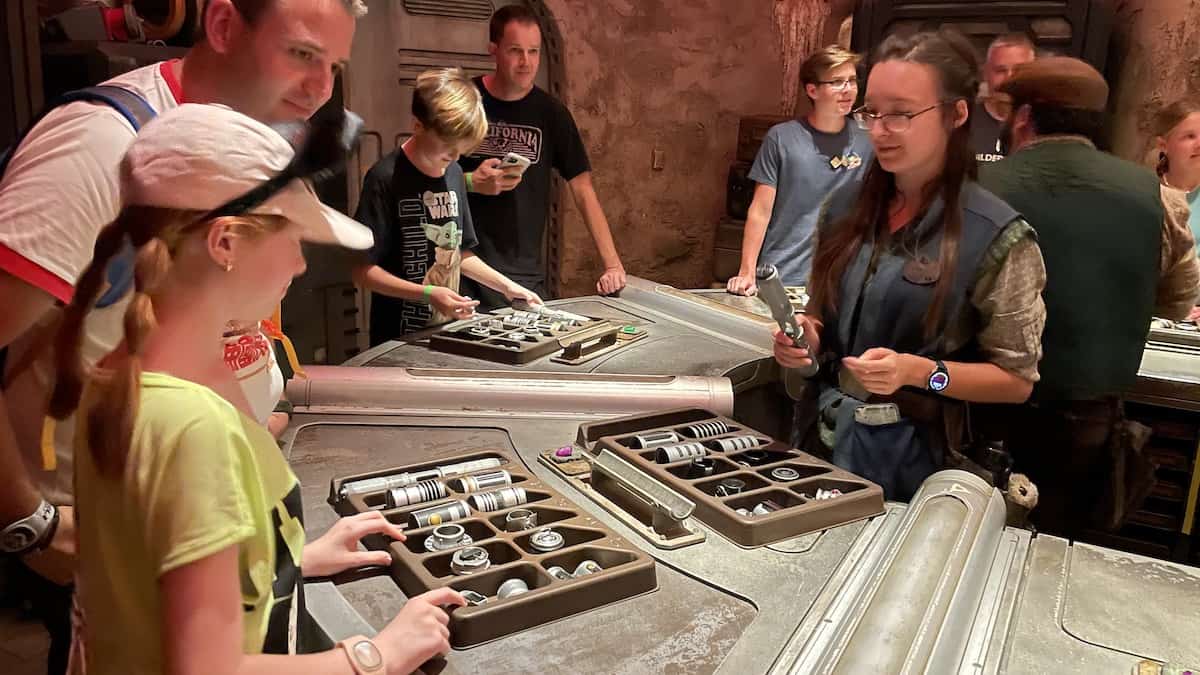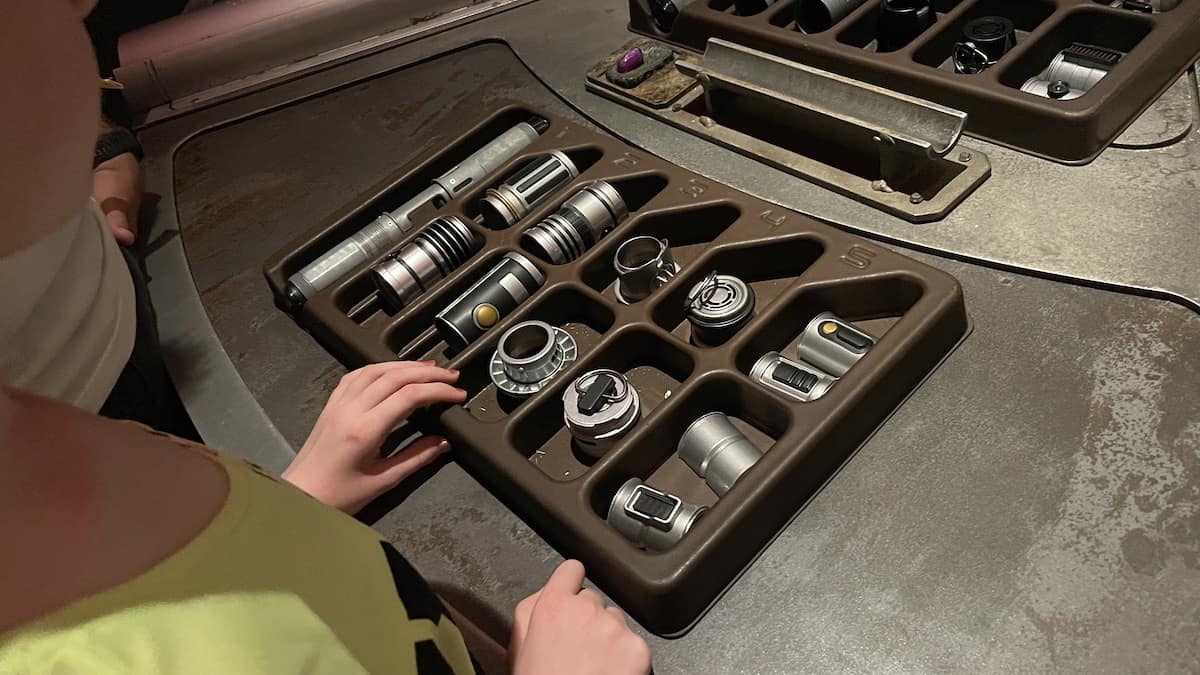 This narrative was delivered by an awesome group of Gatherers and really set the tone for the experience. The lighting was low and the whole place fit seamlessly within the Star Wars universe. The familiar background music was playing and it was so subtle, it was just like being in one of the movies.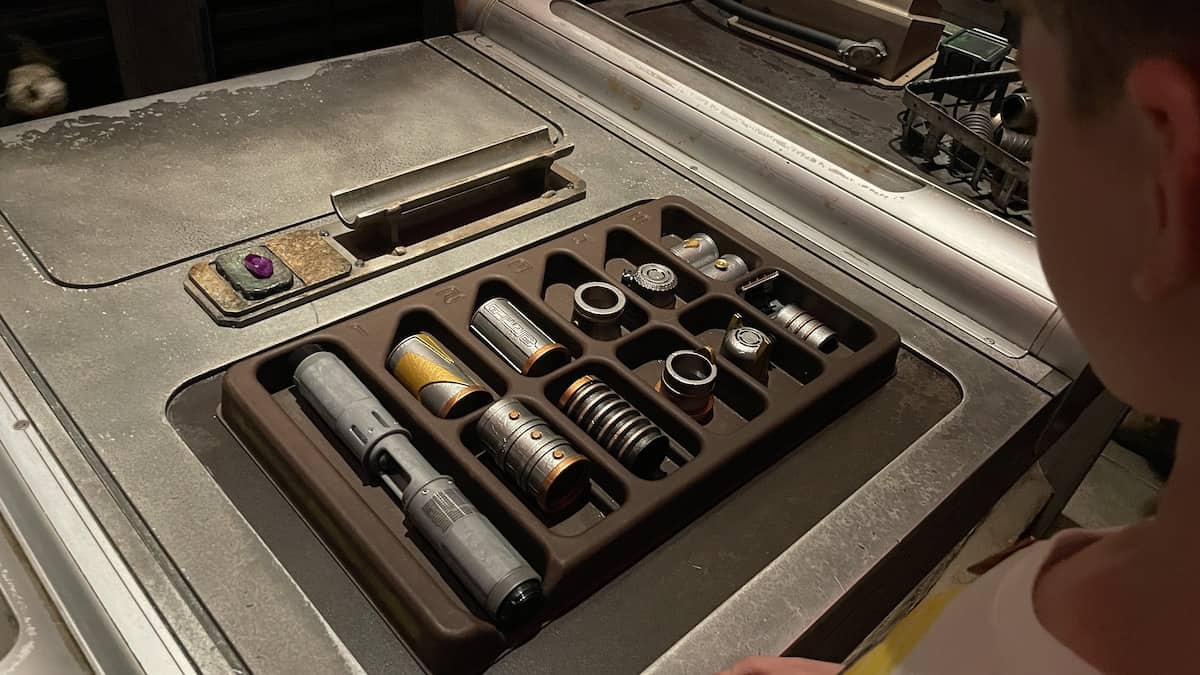 Gatherers came to each builder with the pieces needed to build their sabers in neat trays. The main lightsaber body was placed on a stand and builders were encouraged to be guided by the Force to choose pieces from their theme to build their hilt. Former Jedi were mentioned during the experience, reminding us that we are the future of the Jedi Order.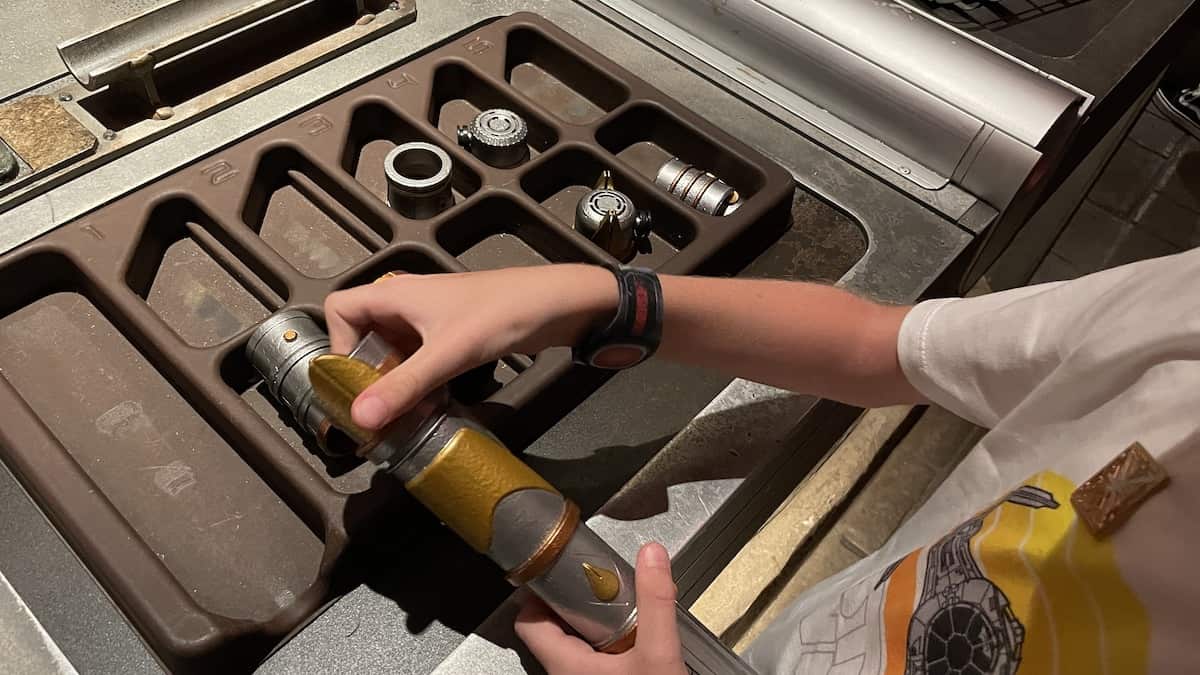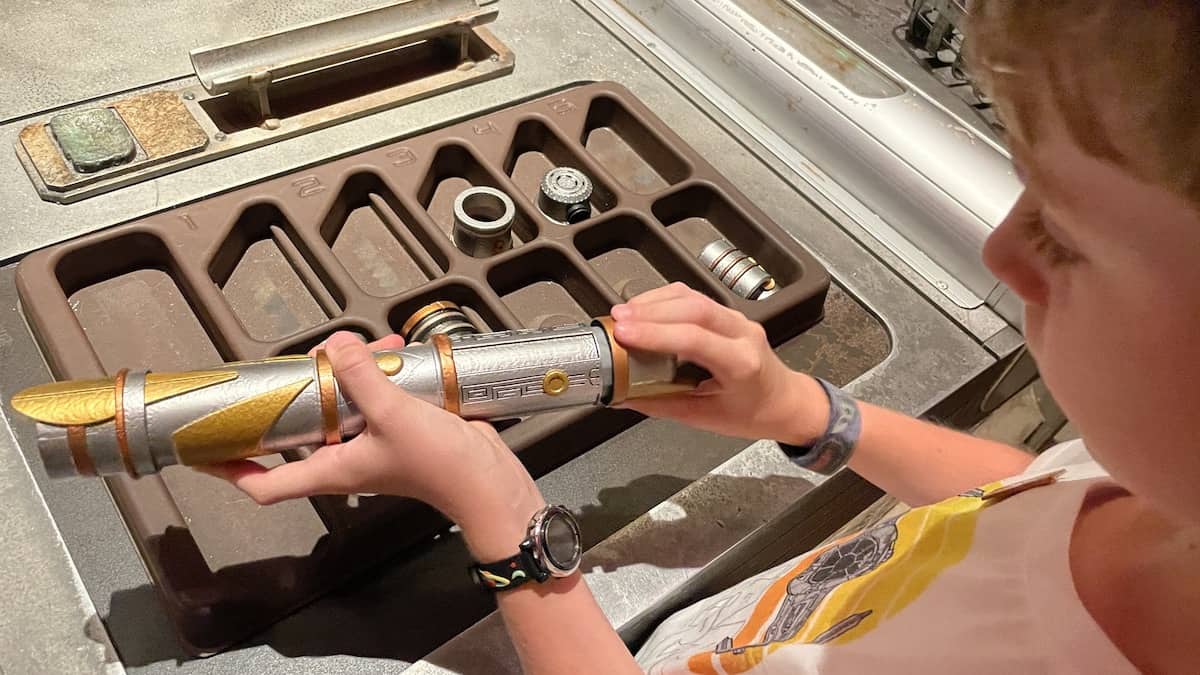 Once everyone had assembled their lightsaber hilt, Gatherers went to each builder with a selection of kyber crystals to choose from. Classic light side colours of blue and green are available, along with dark side red. Purple is also available during the experience if it calls to you! You'll never forget the sound when you first hear the crystal engage inside the hilt of the lightsaber. The colour that chooses you dictates the colour of your blade.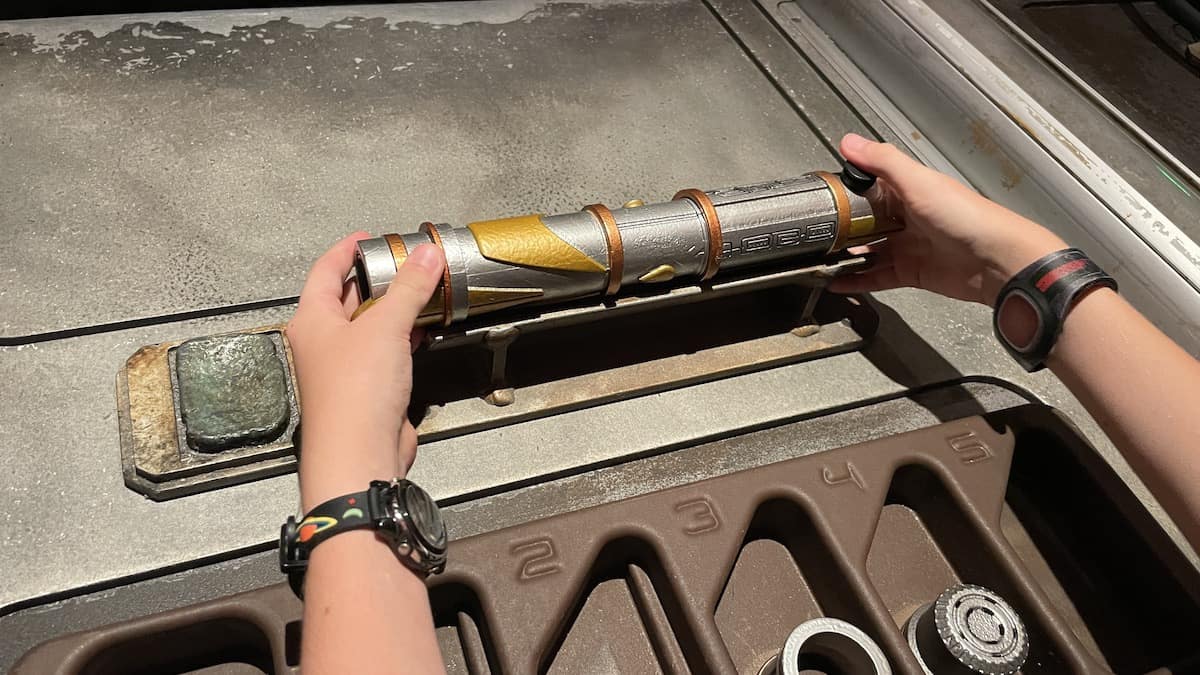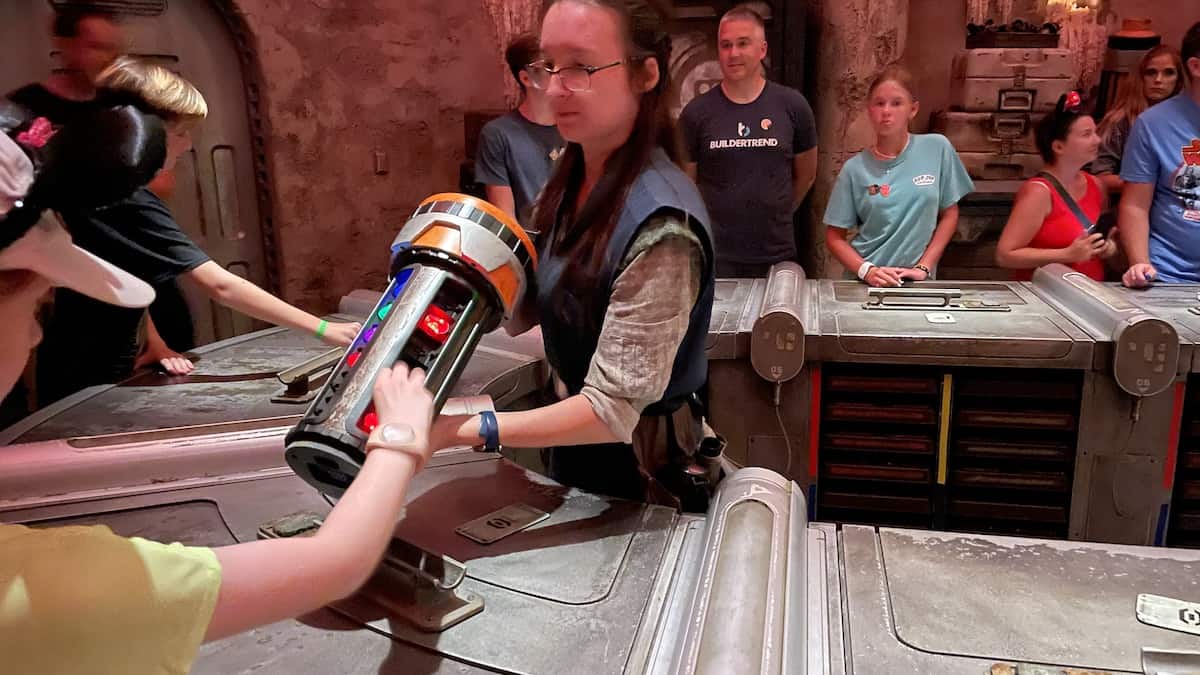 Once the crystals were in place, Gatherers came round and placed the hilt inside a device next to the building station. When everyone's was in place, the lead Gatherer reached out to Master Yoda and what happened next was incredible.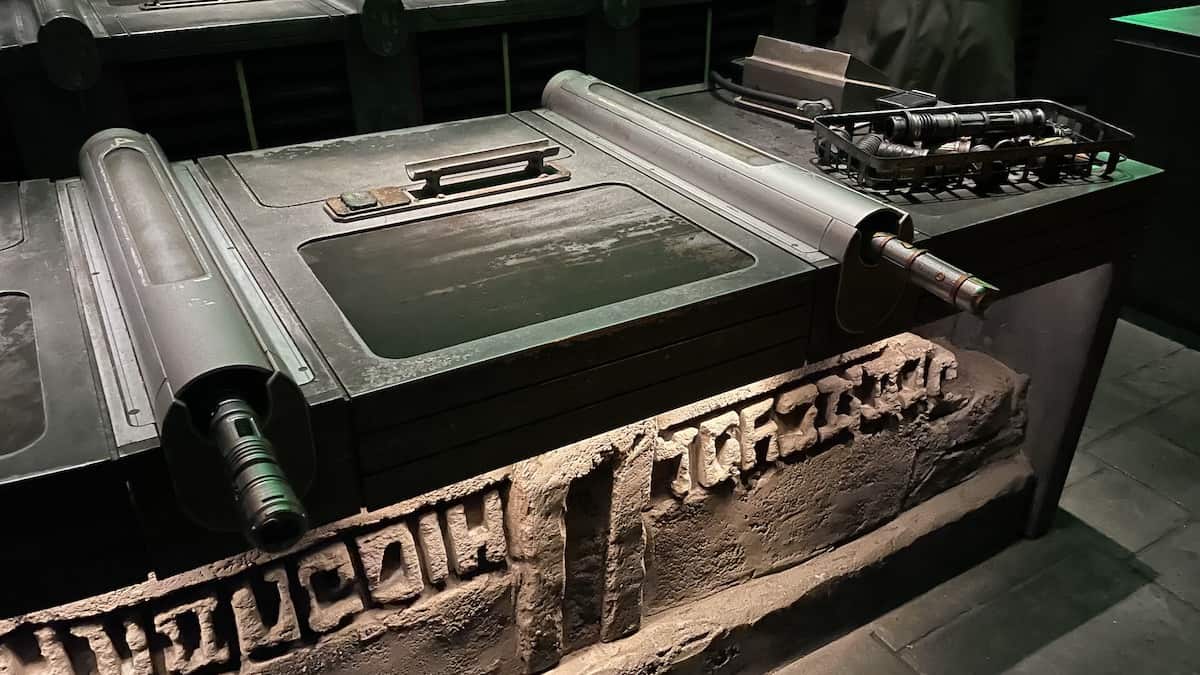 Without too many spoilers, the lights, sounds and the whole place came alive with what I can only describe as the Force, as each blade was revealed and ignited by it's builder. It is something that neither the children (or us!) will ever forget and the children's faces were amazing. It was complete awe.
Once the build was over, each participant was given a lightweight protective case for their lightsaber and escorted from the workshop. The whole experience was truly magical and unlike anything we had experienced before. The experience lasted about twenty five minutes and although expensive, is a once in a lifetime event that we will treasure forever.
The lightsabers
LP and Little Man absolutely loved their lightsabers from the minute we built them. As they came with a carry case, they were well protected and sturdy. They both know how to put them together and take them apart and they are so incredibly realistic. A fantastic souvenir.
At Galaxy's Edge you can buy extra accessories for the lightsabers – stands, belt clips and extra kyber crystals too. It can end up pretty expensive but after spending literally hundreds of dollars on the experience, an extra $15 for another crystal doesn't seem too bad!
Getting the lightsabers home
Sadly, Walt Disney World stopped the shopping service that transports purchases to the start of the park for you to collect when you leave so Dave took the lightsabers back to the car so we could continue our day unencumbered. However, we saw quite a few people carrying lightsabers around with them during the day.
One thing I was worried about was travelling home with the lightsabers but it wasn't an issue at all. We flew home from Orlando International Airport via Miami to London with American Airlines and it was pretty much smooth sailing.
We took the lightsabers as hand luggage and they went through the airport scanners without even any questions asked. We then took them on each plane and they stood up next to us during the flight to Miami and then lay across under our seats on the flight to London.
The lightsabers were too long for the overhead lockers but I have read stories about people putting the hilts in their main luggage, making the blades shorter which then allows them to be put in the overhead locker but we just took them in one piece without an issue – and didn't even need to remove the batteries. I worried for nothing!
You can find out more about the Lightsaber Experience at Savi's Workshop over on the Disney World website and you can see a Reel of our experience here. It really was a highlight of our trip.