For a while now we have been booking with Holiday Inn Express whenever we need a convenient, affordable hotel – for a weekend away, a wedding or anything else. We usually have a quick glance at other local hotels but, every time, we end up booking with Holiday Inn Express.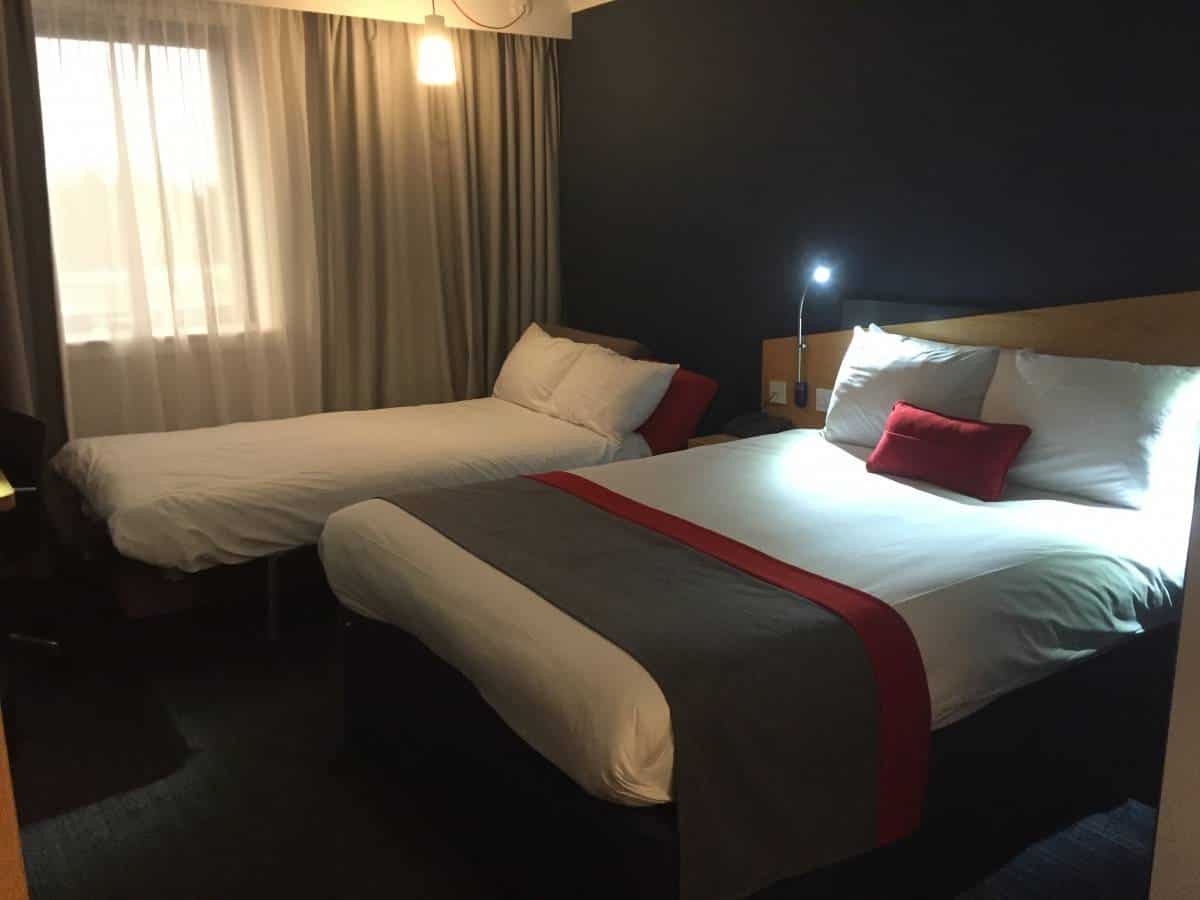 Here are a few reasons why we love Holiday Inn Express:
It's part of the IHG Hotel brand, with over five thousand hotels around the world. It means that all of the IHG brands – Crowne Plaza, Holiday Inn, Holiday Inn Express, InterContinental etc can be found all across the world with the same standards that we are used to. If I book a Holiday Inn Express I know exactly what I am getting.
The IHG Hotels brand has a membership system that you can join for free. It gives you so many benefits – the main one being discounts on bookings. But you can also collect reward points on your hotel stays, letting you stay for free in the future.
Holiday Inn Express give free wifi as standard – and as a blogger this is something often important to me. But not only that, the wifi is great quality, fast and reliable.
The breakfast is nice. There's a good mix of continental and cooked options, all buffet style and although the cooked breakfast is usually limited – sausage, beans and scrambled eggs – there's plenty of options to suit any appetite.
Parking is always plentiful and included in the price. There's no need to find somewhere to park, have an extra cost for the parking or have to drag your luggage across town from where you've parked.
Holiday Inn Express are all about convenience – they're situated in easily accessible places and have everything you need for a night away – hairdryer, iron and toiletries are included in the rooms. There's also a microwave and ice dispenser in reception and they sell anything you may have forgotten – toothpaste, deodorant etc.
Each room has tea and coffee making facilities but Holiday Inn Express are the first hotel I have seen where they tell you to help yourself to more tea, coffee, milk etc from reception if you need it.
There are lots of room options and the four of us usually share a double room – with a double bed and sofa bed (which is always made up on our arrival). But Holiday Inn Express also have interconnecting rooms that are perfect for longer breaks or breaks with more people.
Check out isn't until midday – and 2pm, if available, when you sign up to the IHG membership. This is amazing, and so much longer than other hotels, letting you relax and take it easy – or even use the time to get work done if you're away on business.
Lastly, we always have such a good night's sleep at Holiday Inn Express. Despite all being in the same room the children sleep really well and Dave and I do too!
So, that is why we love Holiday Inn Express and I know they will be our first choice for affordable accomodation going forward.