It feels like a lifetime ago that we came back from our two week holiday in Mauritius but we loved the hotel so much that I thought I'd write about it in case you're looking for somewhere to stay on a Mauritian holiday.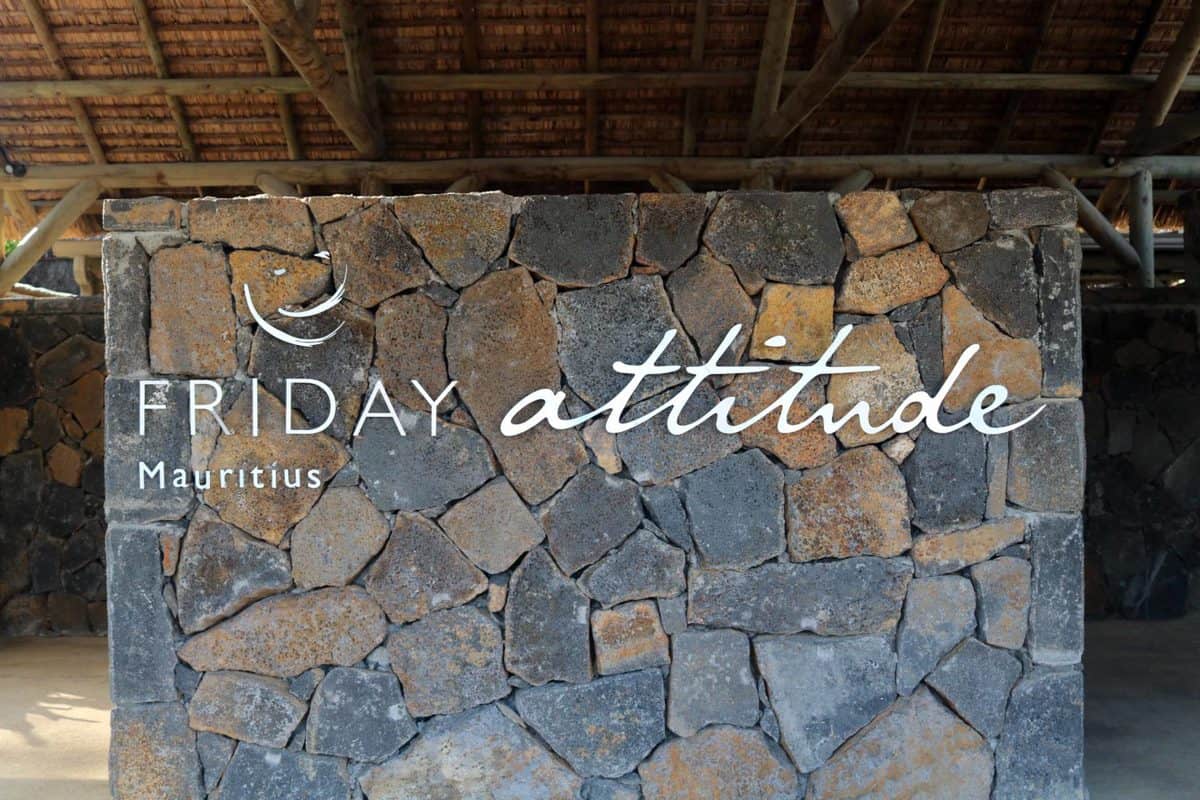 We booked the Friday Attitude hotel through British Airways – at the same time as booking our flights to Mauritius. It's a twelve hour flight from London, overnight, and direct into Mauritius which felt like the easiest option for us with young children.
We chose the Friday Attitude hotel as I loved the Attitude Hotels brand as soon as I discovered them. With a whole collection of hotels around the Mauritian coast, all promising to be a true reflection of Mauritius, with friendly staff, rustic appeal, great facilities and traditional food.
I really felt like they were somewhere we should stay to really get a true feel of what Mauritius is like. We then narrowed down the hotel options to ones with a separate sleeping area for children, true family rooms, and ended up choosing between Friday Attitude and Zilwa Attitude. Honestly, Friday Attitude was cheaper so we went with that one although Zilwa Attitude definitely has more facilities but we loved that Friday Attitude seemed to be a really quiet, intimate hotel.
We hired a car for the duration of our stay and easily found our way from Sir Seewoosagur Ramgoolam airport to Friday Attitude. There's free parking at the hotel which is a bit limited however staff are always on hand to help you find somewhere to park – across the road, at the side of the road or, hopefully, in the hotel car park.
We had a really warm welcome at the hotel and members of staff whisked our bags straight from the car to our room. We were given a welcome talk, shown where everything was and then began our vacation. Unlike other all inclusive hotels we didn't need a wristband or anything and could just begin our stay straight away.
The Friday Attitude Family Rooms
Our family room was perfect for our needs. Situated up a flight of stairs, above the main reception, it had a room for the children, a room for us and a bathroom in between with welcome air conditioning throughout. There was also a communal terrace out the front and a balcony behind where we could watch the sun set in the evening.
In our room there were plenty of towels – as well as pool towels that could be changed for fresh ones as often as we liked, complimentary toiletries, a complimentary mini bar and tea and coffee making facilities. There were also a few snacks in the room that we could have at an extra charge – chocolate bars and crisps and there was free wifi for as many devices as we needed too which worked all the way through the hotel and even on the beach!
The Friday Attitude Facilities
The Friday Attitude resort is tiny – in the words of the staff – and much smaller than other hotels we have visited. The reception is right next to the car park and is home to a traditional al la carte restaurant serving typical spicy Mauritian food. Because of the spiciness we didn't have dinner there and instead chose to eat at the main hotel restaurant.
The reception has table football and a pool table, a bar in the evenings and a shop selling produce from local disabled people, helping to give disabled workers in the community an income.
The hotel has spa treatments, a swimming pool, a beach bar and direct access to the beach with everything in a line from reception leading all the way to the sea. Because the hotel is small, everything is easy to find, you get to know the resort within minutes of arriving and it felt like home instantly.
We spent our holiday having a day out one day and a day at the hotel the next, spacing out our adventures and our down time. The hotel was a great place to spend time and the children were so happy just spending the day in the pool or paddling in the sea.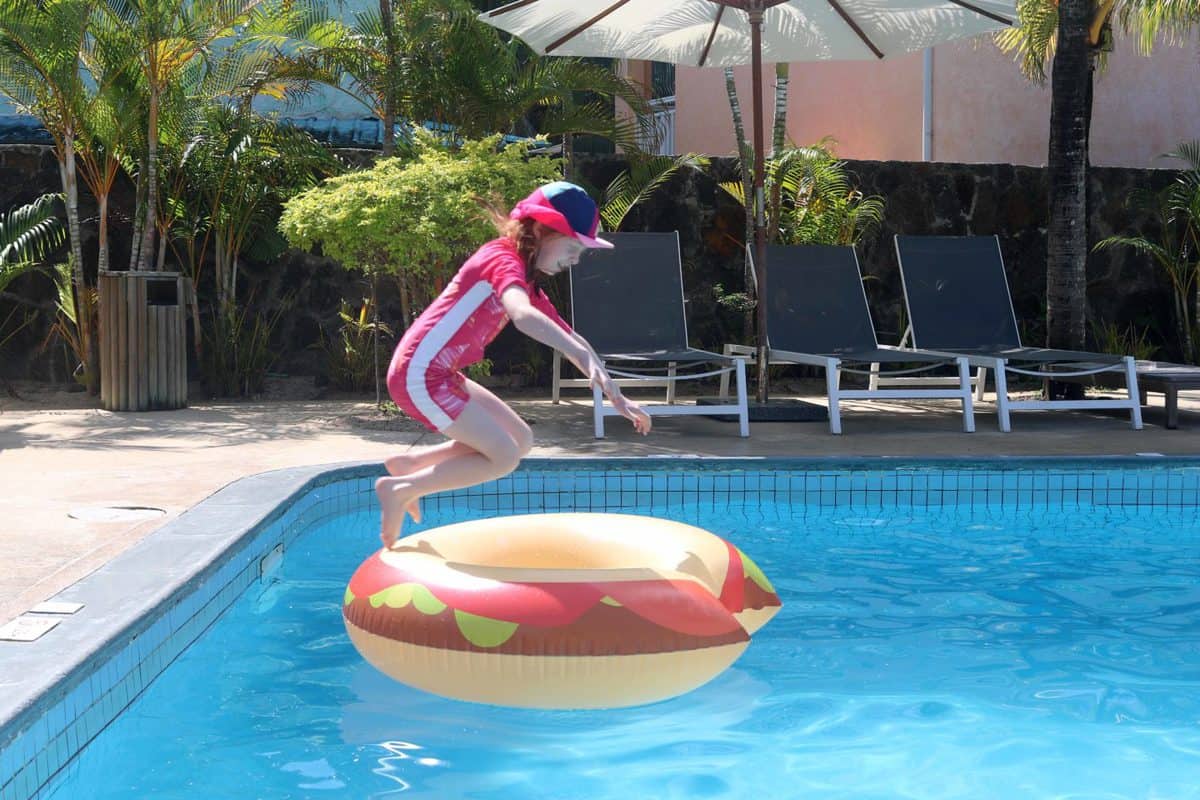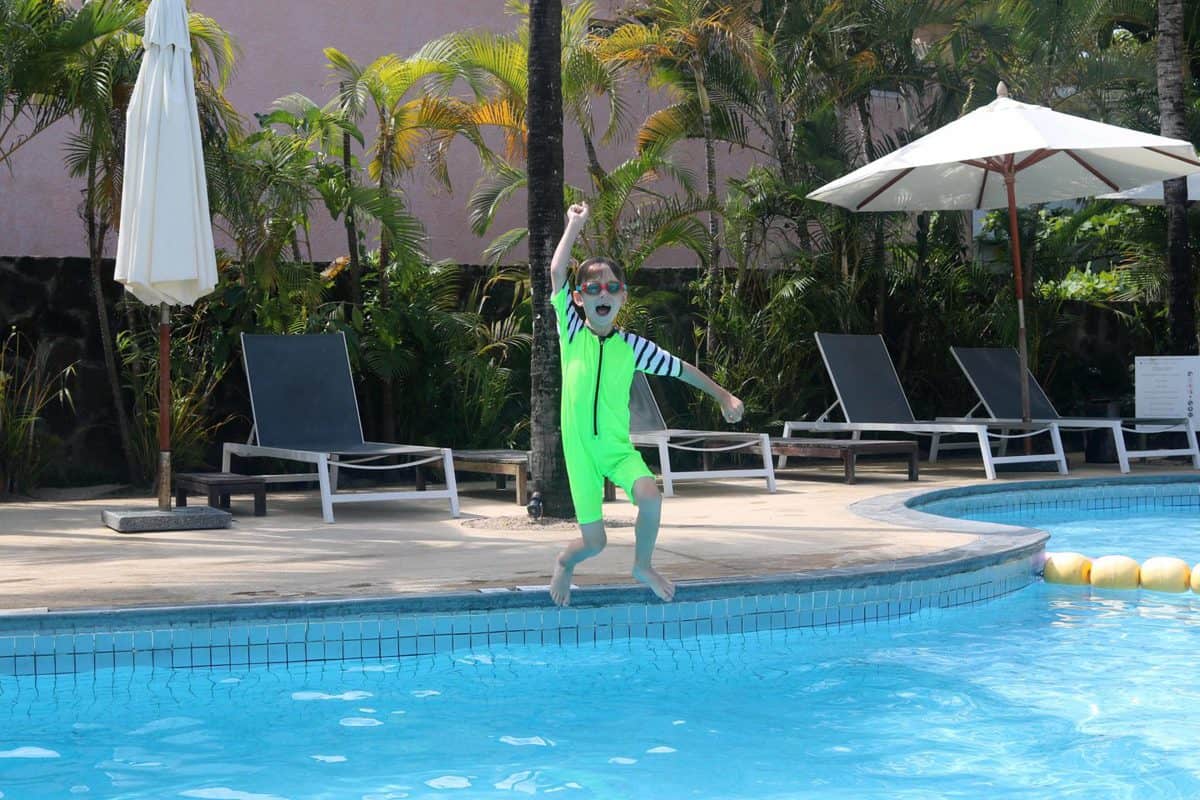 Dave and LP snorkelled close to the beach and Dave even organised diving trips locally too. The hotel didn't have their own water sports facilities but we did so much snorkelling on the beach and on our day trips that we didn't really need or want to do anything else.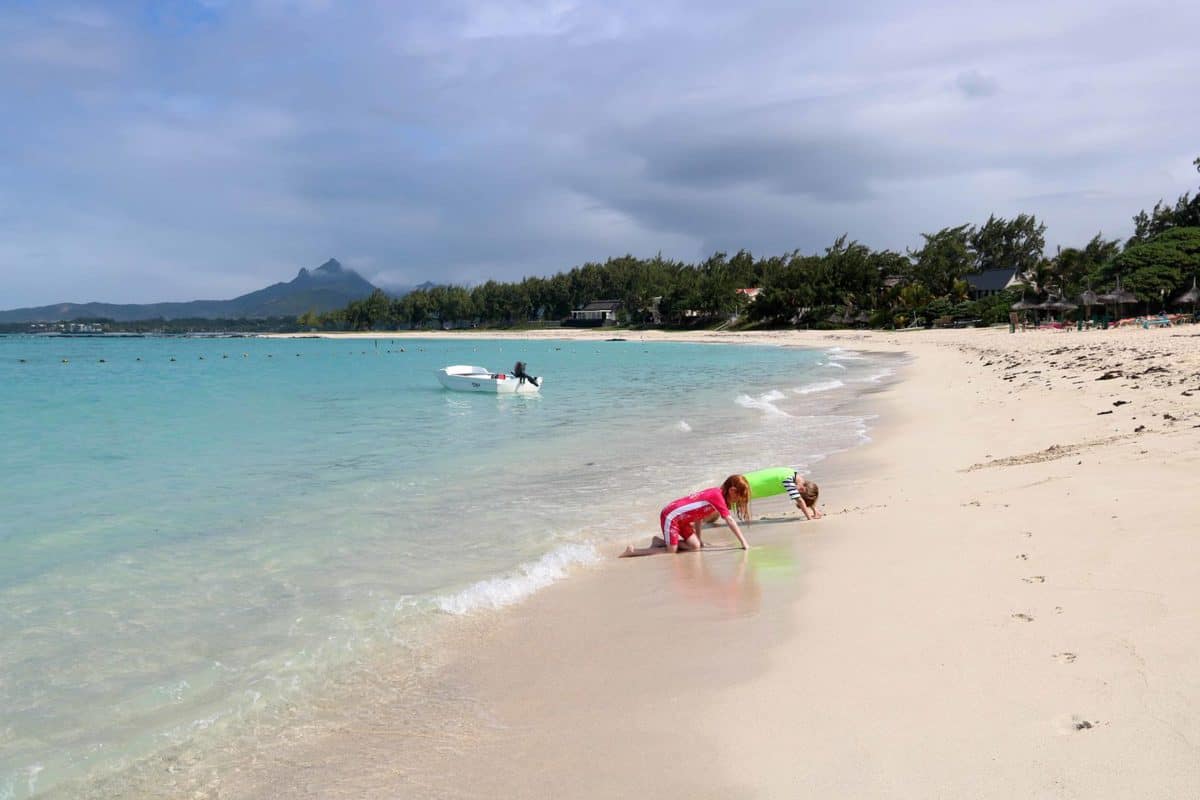 However, guests at the hotel are able to book a free boat transfer to Ile aux Cerfs which we did on our first week and was a great experience. We picked the boat up from the Tropical Attitude hotel, just a ten minute walk from our hotel, and got to spend the day on a beautiful island. It was a lovely excursion. The hotel are also able to organise other trips and the hotel have their own taxis right outside too. A full day use of a taxi costs roughly 3000MUR – about £70.
All Inclusive at Friday Attitude
With our all inclusive package we were able to get drinks all day. The drinks menu had a few cocktails and premium spirits that were an additional cost but most cocktails and spirits were available at no charge – we happily had gin and tonics without any extra payment.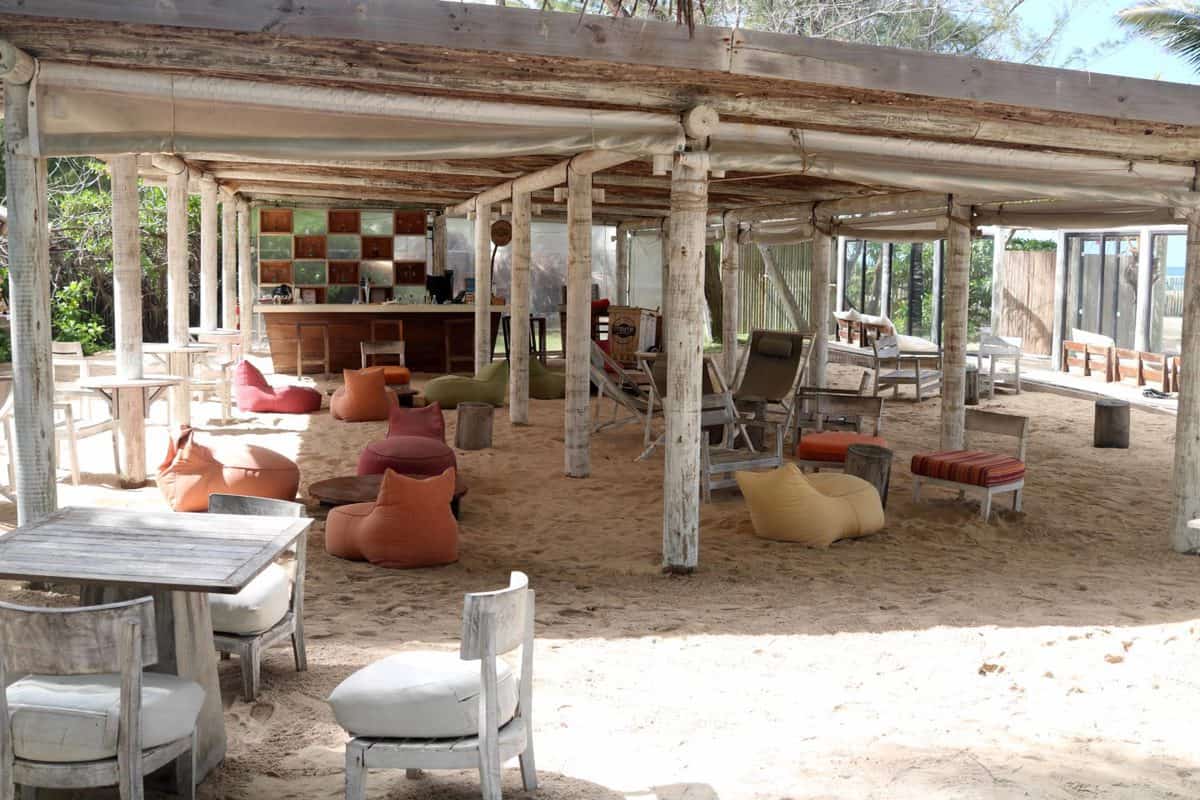 Breakfast, lunch and dinner were served buffet style and there was a great range of food with something the children would eat every night – from pizza and pasta to roast chicken, salads, soup and noodles. There was always a great spread with plenty of desserts too.
Two nights a week instead of the dinner buffet there was an al la carte dinner, served in the main restaurant. This gave a best of both worlds feel to the restaurant and was always a nice change to have table service and not have to get our own food.
The hotel also had a Taba-J stand next to the beach which served Mauritian street food at lunch time. There were amazing roti wraps and noodles which the staff would happily make plain or spicy for us – depending on whether the children were having them. At 4pm each day Taba-J opened for tea time too – with fresh pancakes and a variety of cakes which was always a lovely treat.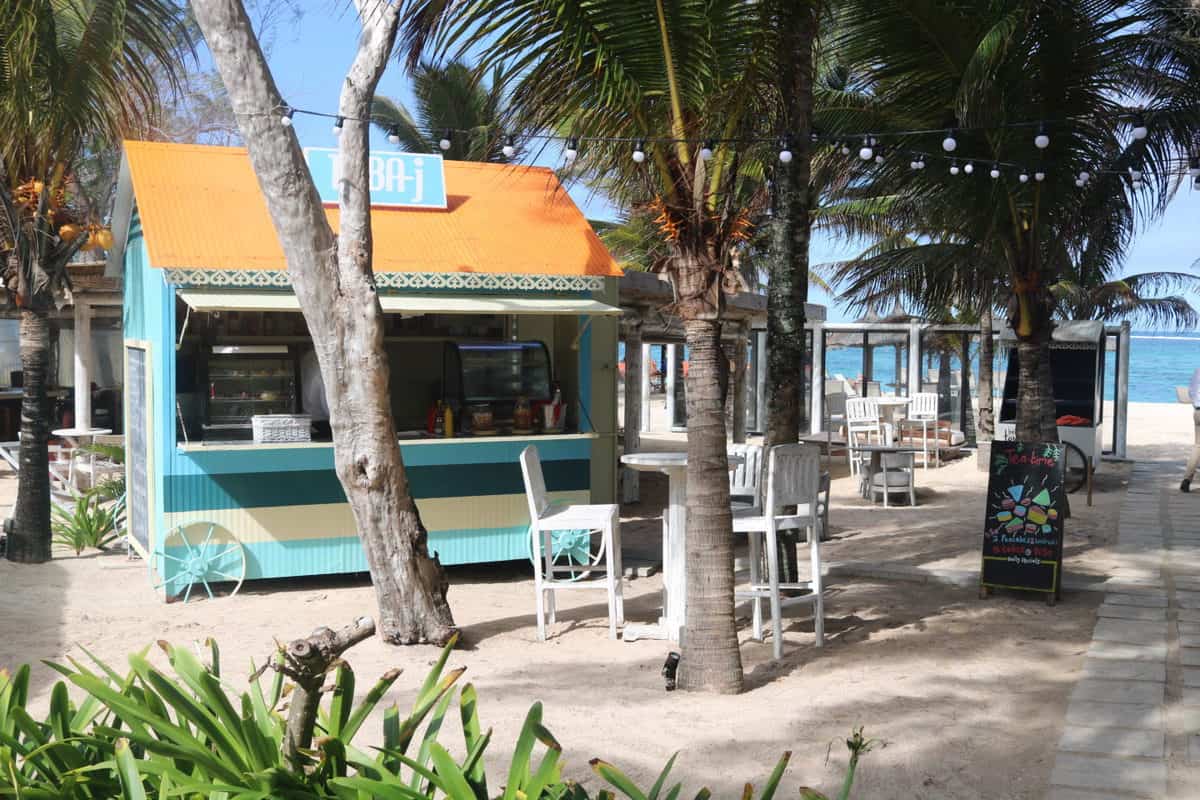 Most nights the hotel had entertainment in the evening which went on for a couple of hours. We didn't go to it, as the children wanted to go to bed by about 8:30pm each night, but we could hear it clearly from our room and it definitely sounded entertaining and the children slept through it without any issues.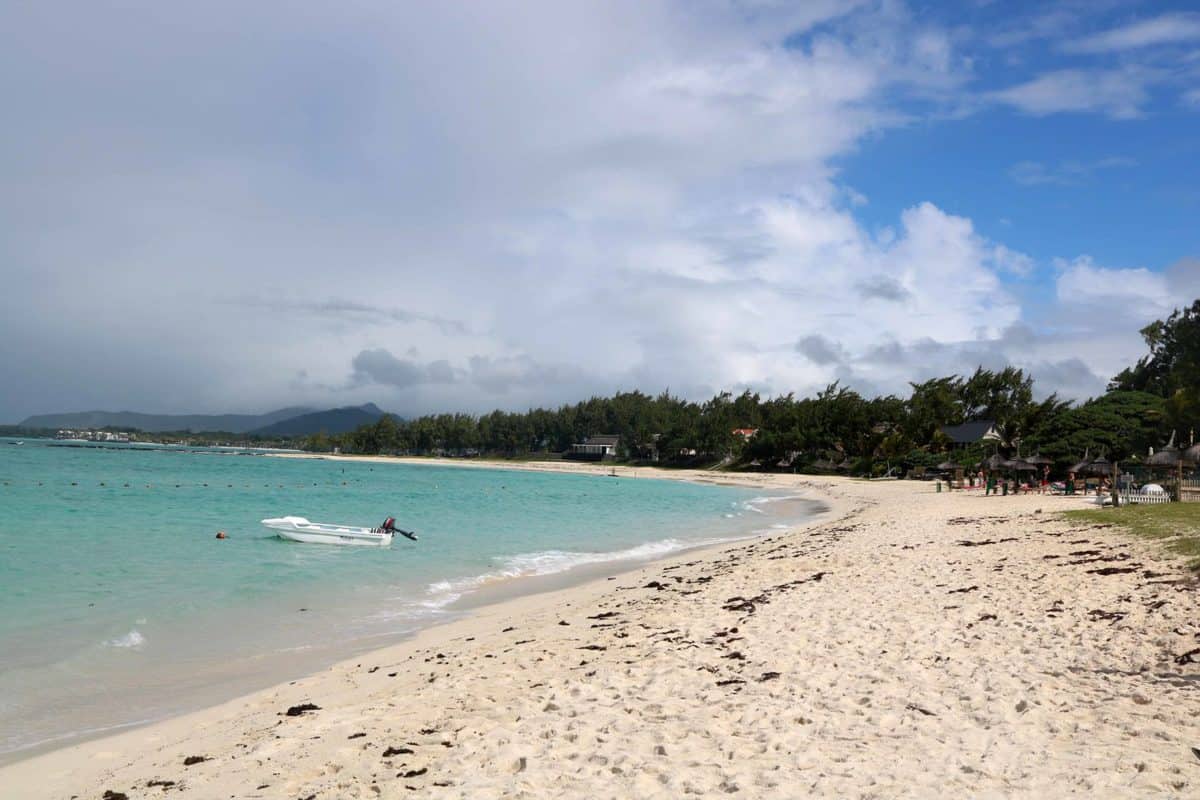 Friday Attitude had such a relaxed feel to it. There were places to sit everywhere, beautiful palm trees and foliage lining the walkways and plenty of loungers on the beach and by the pool. It was the perfect resort for us and we really enjoyed our time there.
One thing to bare in mind is that Friday Attitude is on the east coast of the island which is often windier than the west coast. All of the main attractions of Mauritius – Casela wildlife park, Blue Bay marine park, dolphin boat trips – are around an hour away which was absolutely fine for us although we did have to get up at 5am to get to our dolphin excursion on time!
Friday Attitude was a great hotel and somewhere I would definitely stay again in the future. It was great for families although there were many couples there too – honeymooners and even a couple who eloped and got married on the beach! It's a resort full of charm for anyone that wants to get a real feel for life in Mauritius and the staff were some of the nicest I have ever experienced at a hotel before.
Here's a little video we made of our trip: