Disclosure: We were invited on this day out for the purpose of this post however all opinions are my own.
On our recent trip to North Yorkshire we needed to break up our journey and decided to investigate the National Space Centre in Leicester. We'd seen signposts before on our travels and it made the perfect stop off for the journey we were doing.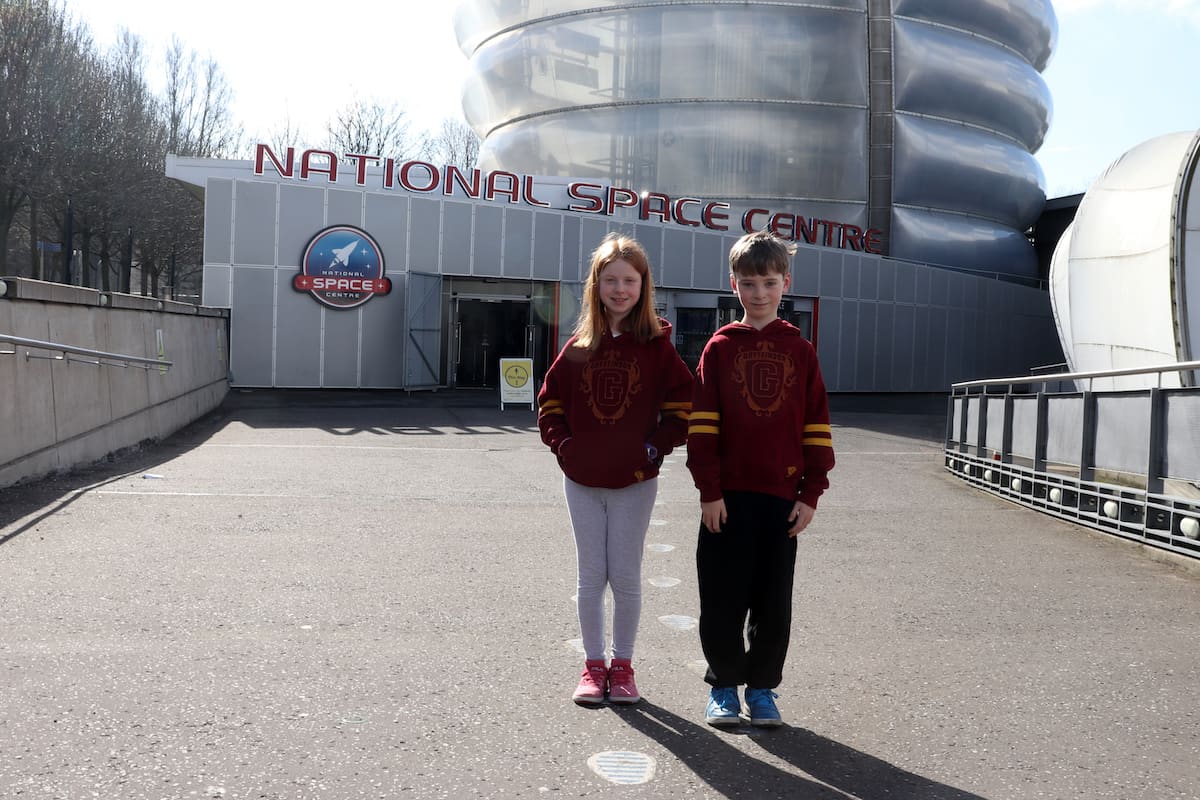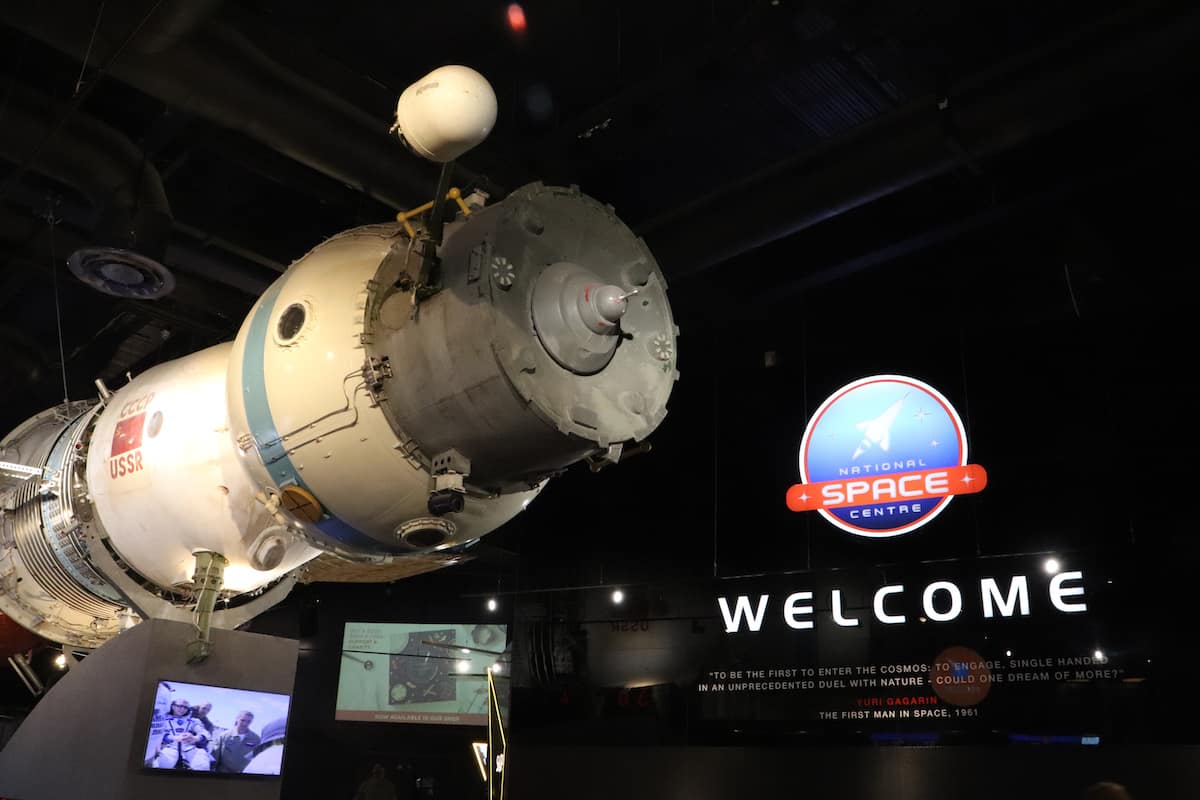 What is The National Space Centre?
The National Space Centre is home to six interactive galleries crammed full of space suits, rockets, satellites and meteorites. There's a 42 metre tall iconic rocket tower and the biggest domed planetarium in the UK, the Sir Patrick Moore Planetarium. The Rocket Tower is probably Leicester's most recognisable landmark with the outer shell made of the same material used in the Eden Project in Cornwall.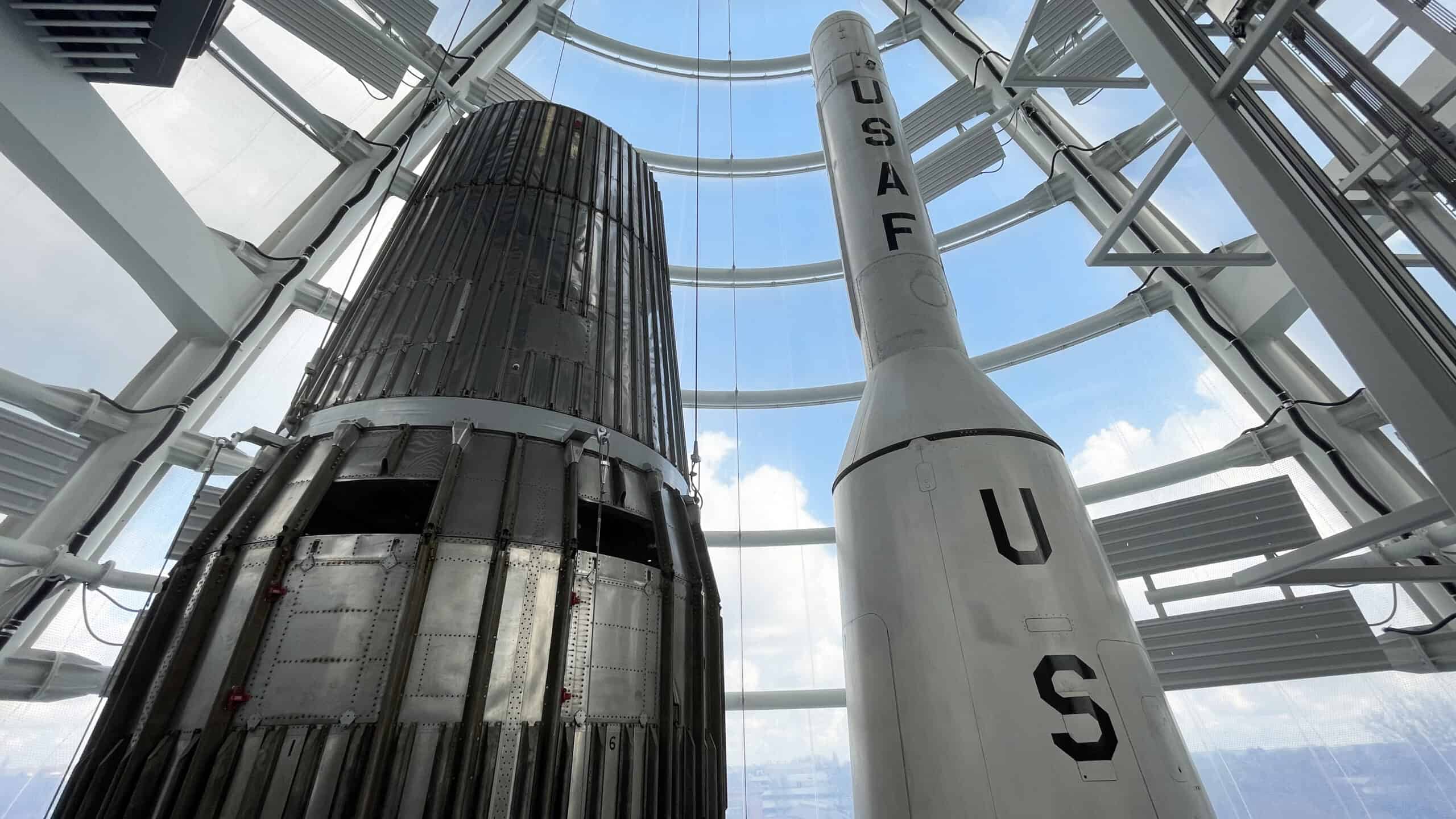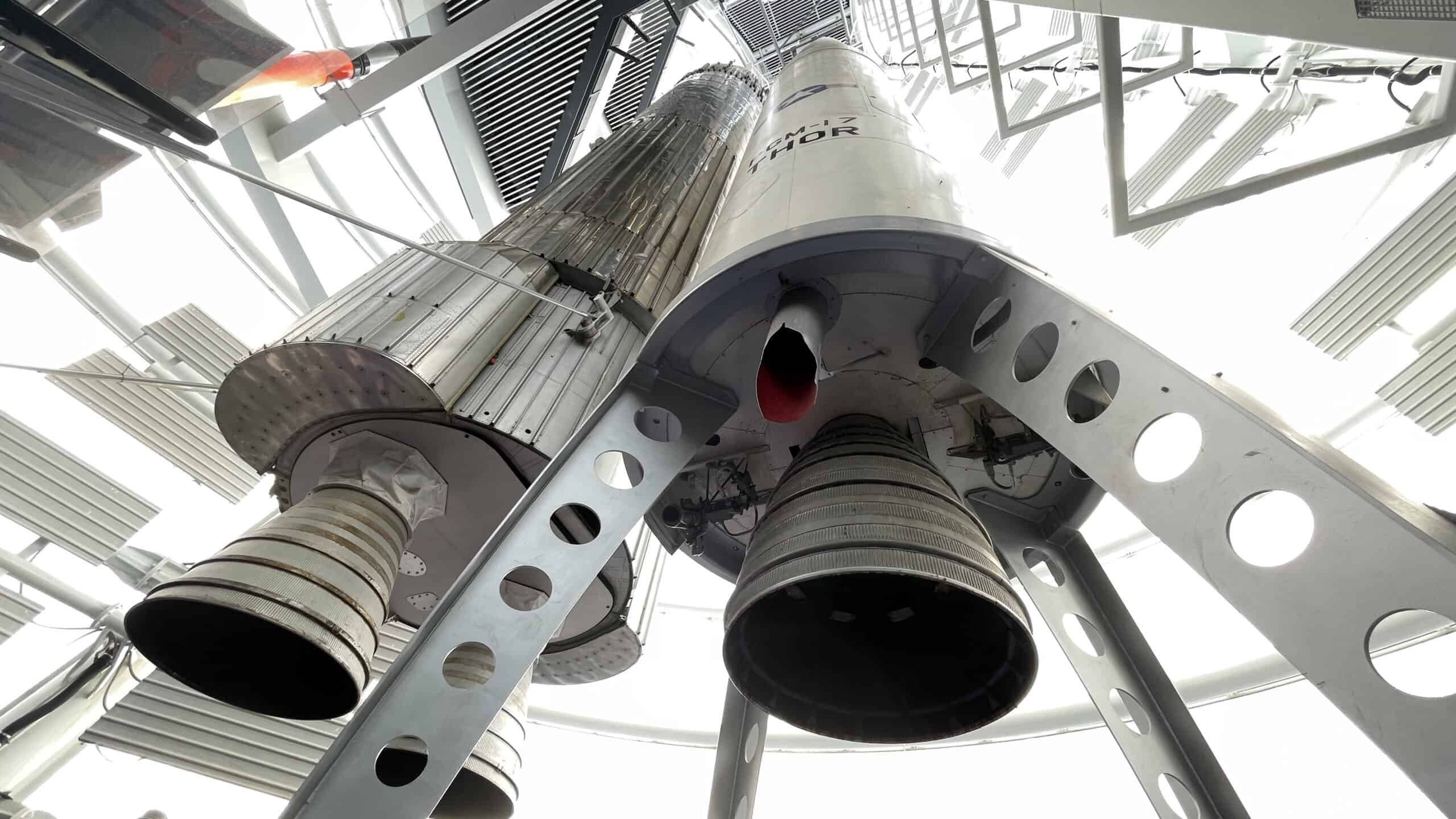 We arrived just after the Space Centre opened and queued for a short time before we were checked in by friendly space crew, given a map and had he highlights pointed out to us. Our first stop was for a hot drink for the grown ups to enjoy whilst we walked around the museum.
Boosters Cafe at the National Space Centre
Boosters Café is just inside the main museum and had a selection of reasonably priced refreshments for sale including a food menu serving through the day. With hot dogs, nachos, sandwiches, wraps and more, there's something for everyone – and Little Man was just disappointed there were no chips on the menu! There's plenty of seating to enjoy cafe food or a picnic if you've brought your own.
Armed with our hot drinks, we made our way to the Rocket Tower to learn all about how Britain's nuclear deterrent had been repurposed to assist in the UK's fledgling space program in the 1950's.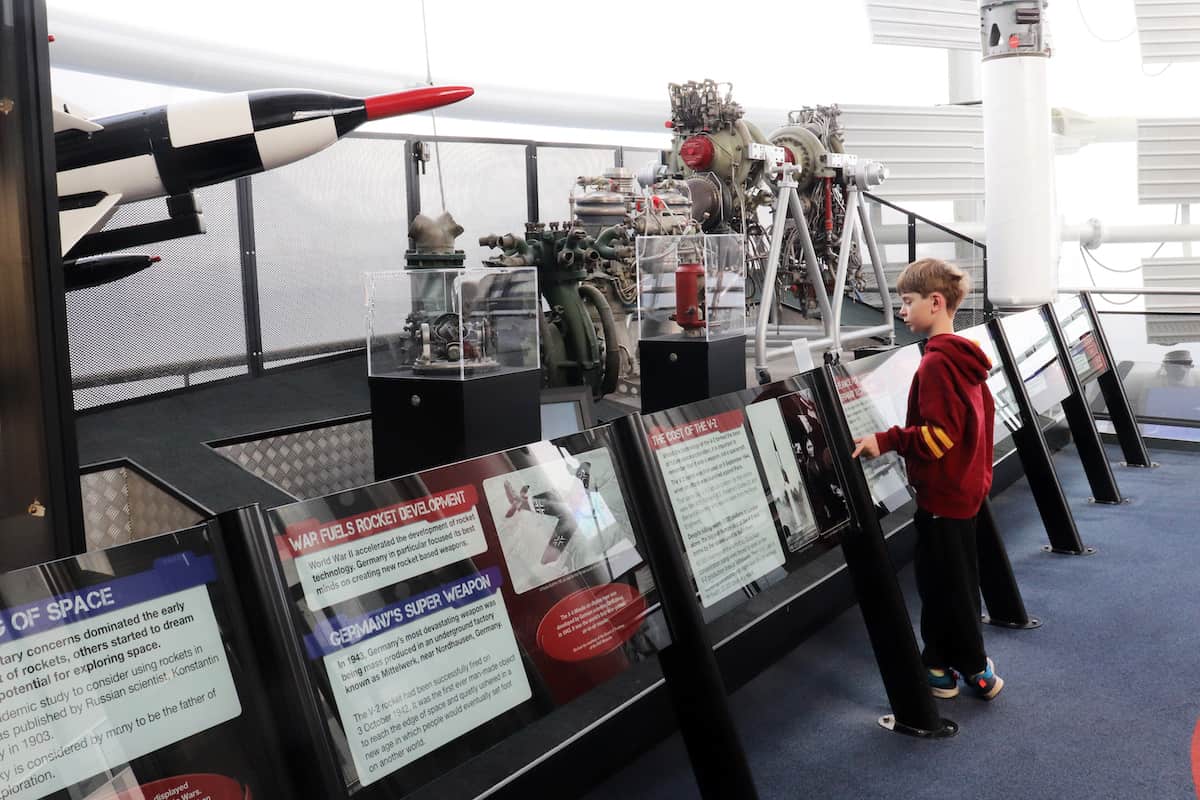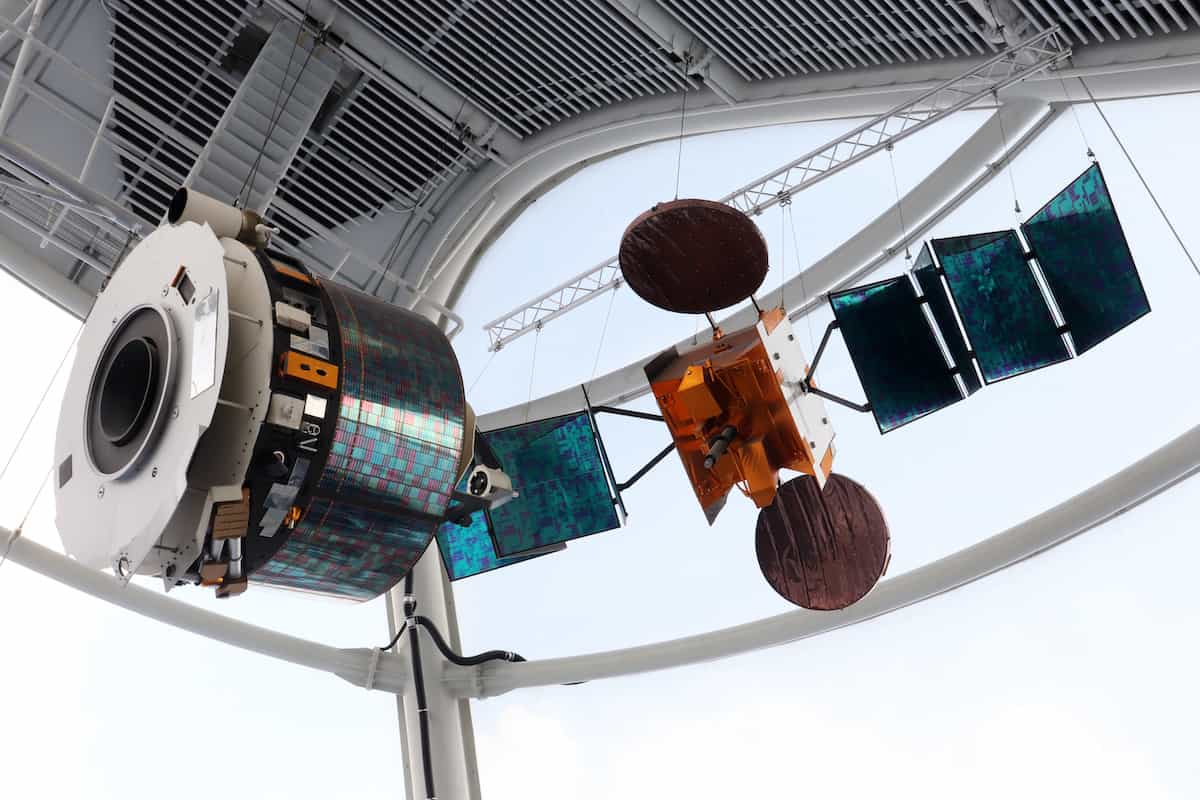 Each of the three levels in the Rocket Tower houses a different exhibition and currently culminates in the Apollo missions on the top floor, with the history of the moon landings and a genuine piece of moon rock on loan from NASA, brought back by astronaut Eugene Cernan on Apollo 17 in 1972.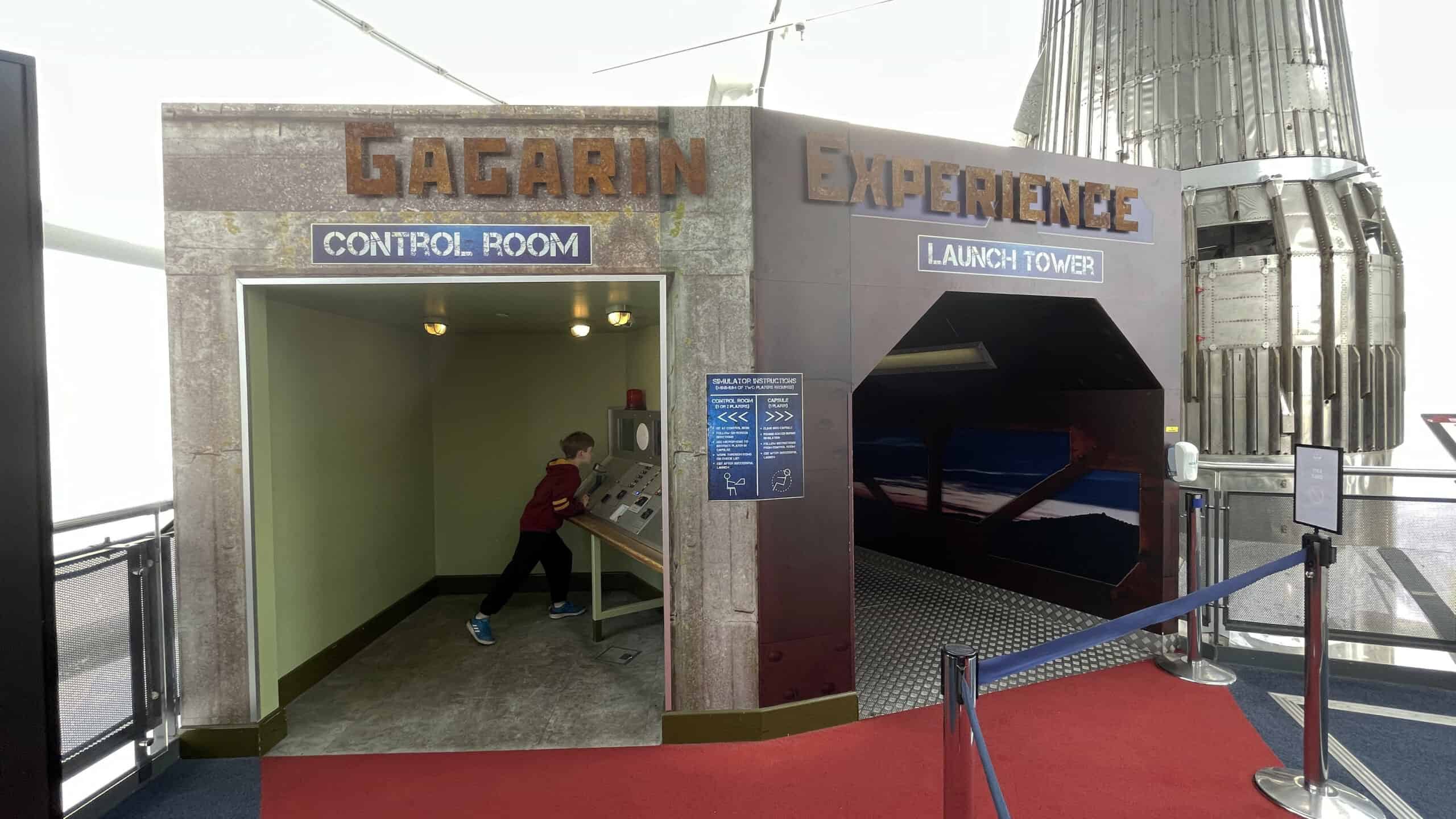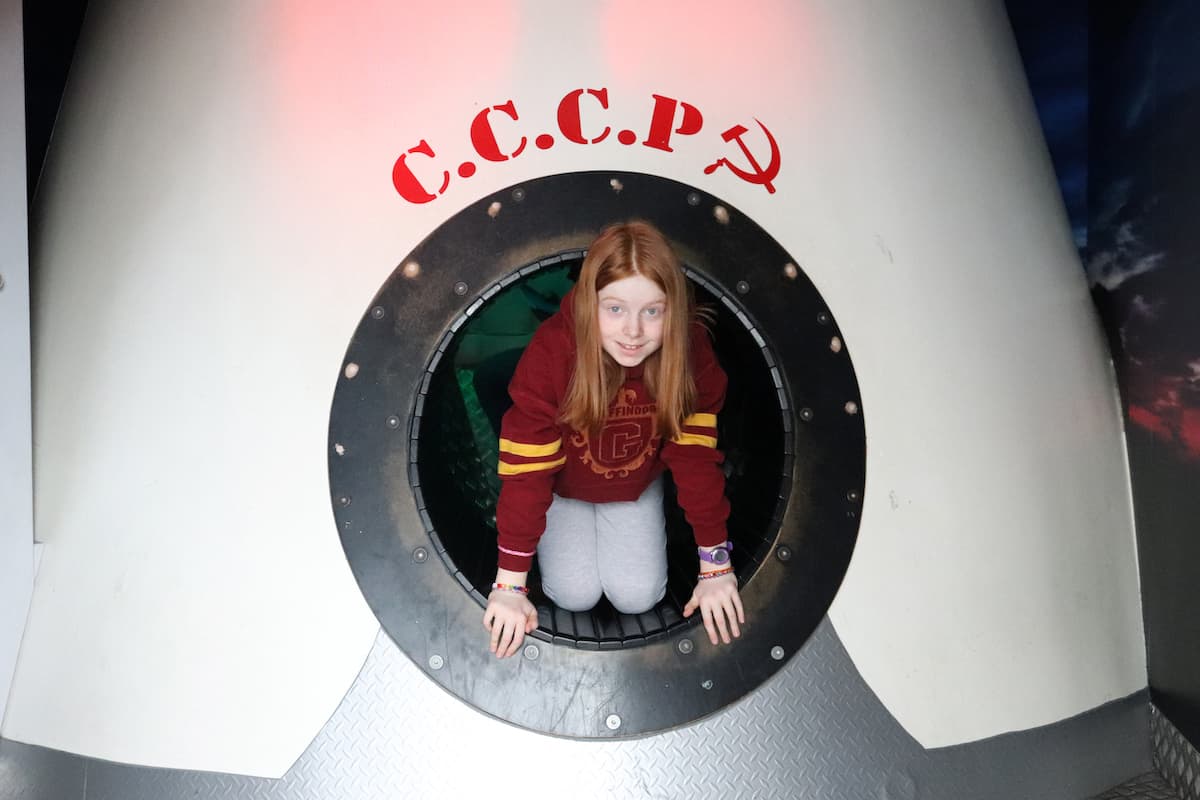 The children were in awe of this, having seen a similar piece of moon rock at the Kennedy Space Center in Florida, they had no idea that it been spread amongst the world.
We also got to see space suits that had actually been used in space, including ones worn by Helen Sharman and Tim Peake, both British astronauts. Included in amongst the exhibits are pouches of food preserved from various missions with different space agencies such as NASA and Roscosmos. There was food on display designed by Heston Blumenthal for Tim Peake's Principia ESA mission which includes truffled beef stew and a bacon sarnie in a tin – so very British!
There is a whole section devoted to Tim Peake and his groundbreaking Principia mission, the children – and us adults too – loved it! We got to see space flown mission patches, handwritten logs and phenomenal photographs. It's a really awe inspiring day out.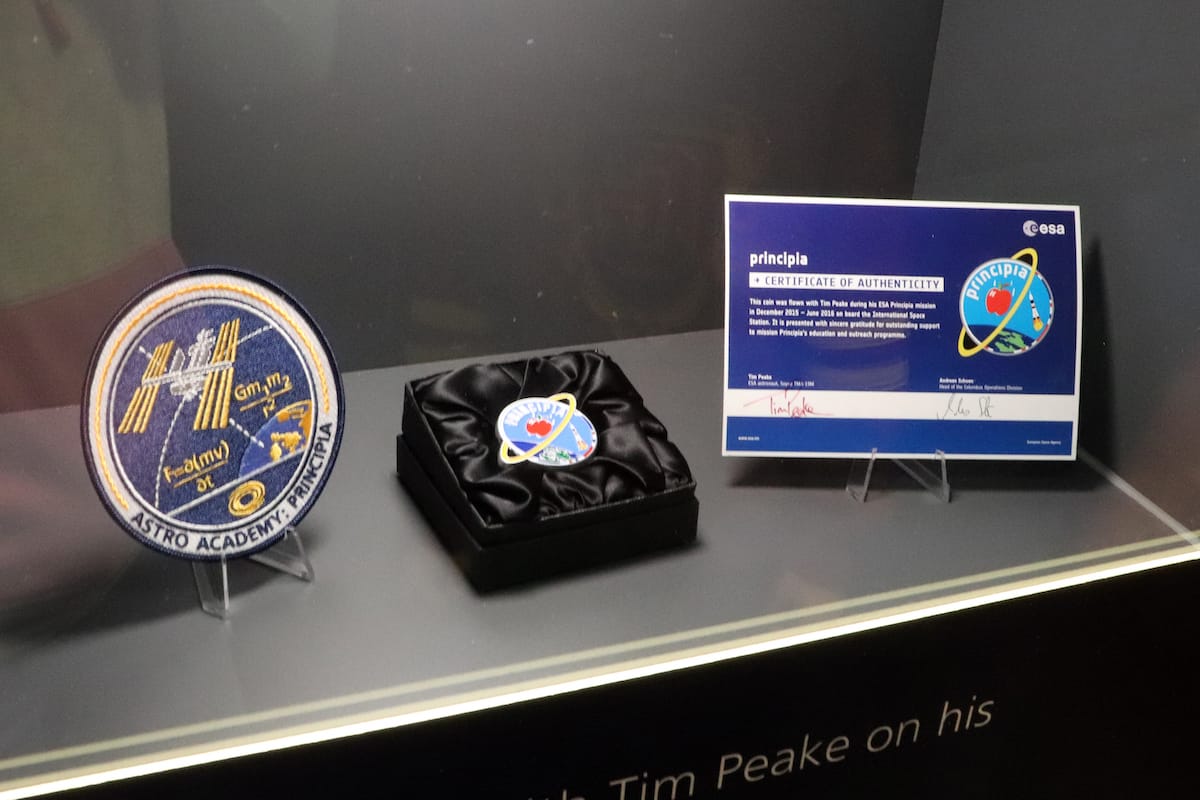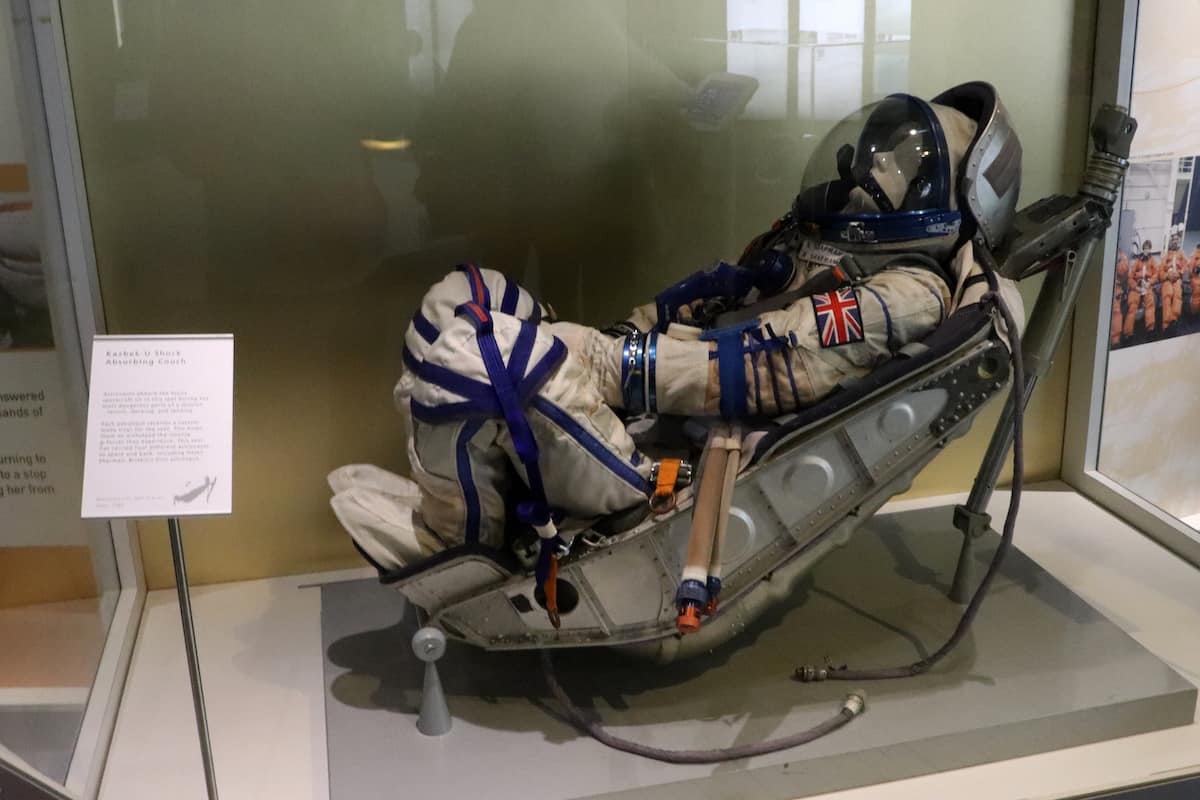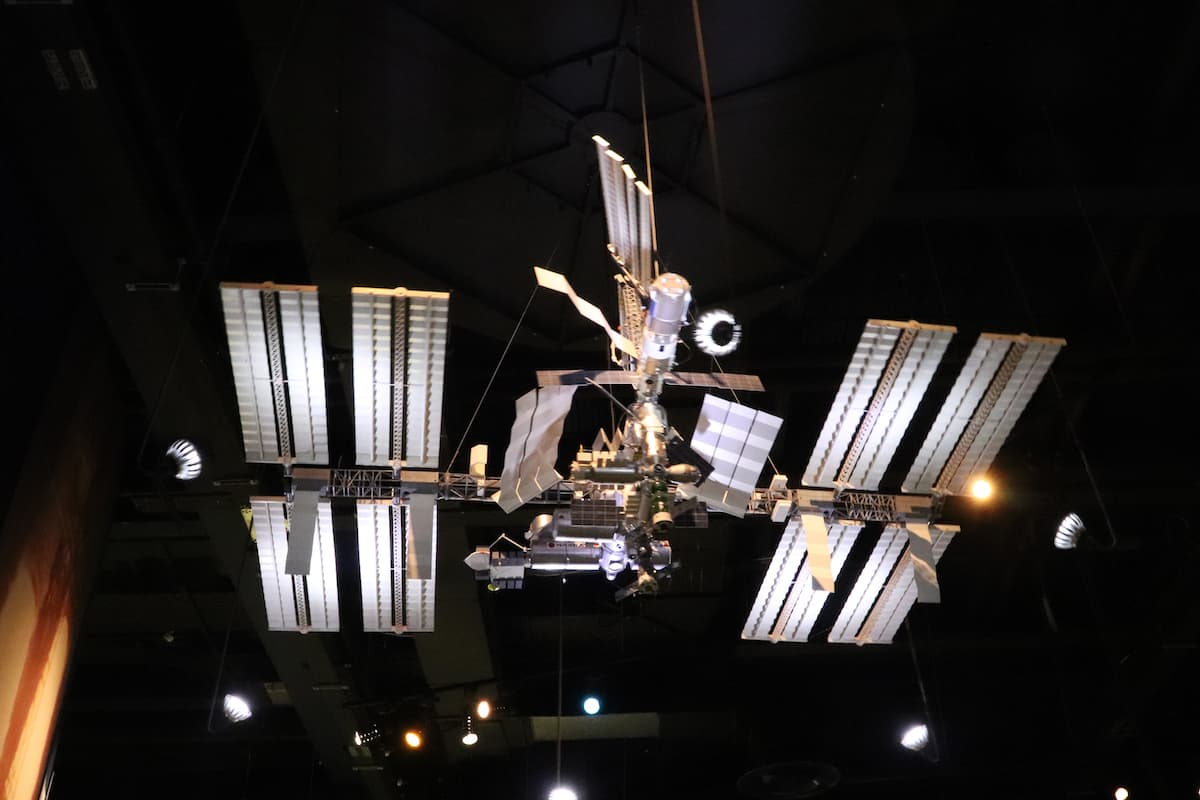 The children loved walking through a mockup of the Columbus Module from the International Space Station and laughed so much learning about how you go to the toilet in space! It's such a great day out for children with so much that they can get hands on with and discover.
Other areas of the centre include a tour of our solar system with interactive exhibits and real scientific research conducted at the space centre itself. Did you know that the 2003 Mars Express mission, that landed the Beagle 2 rover on Mars, had its mission control at the National Space Centre?! Okay, the rover was presumed lost on landing and never called back home to Earth, but it proves that space exploration isn't only just for the Americans and Russians!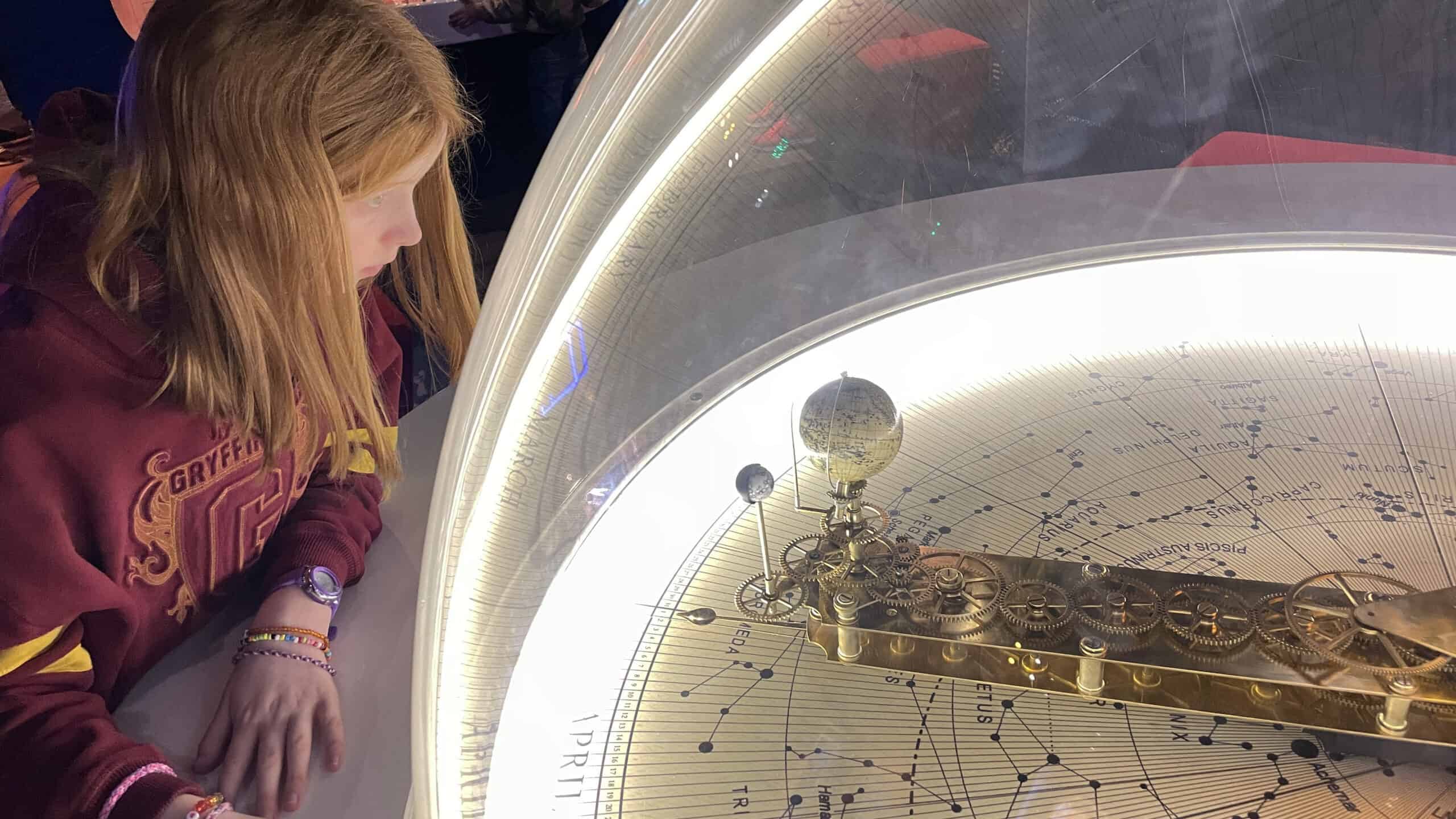 The National Space Centre Leicester had so many exhibits dedicated to Britain's part in space exploration that the children found it really inspiring. It reinforced to them that space isn't just something other countries excel in, we play a part too. I think that Little Man now wants to be an astronaut more than ever!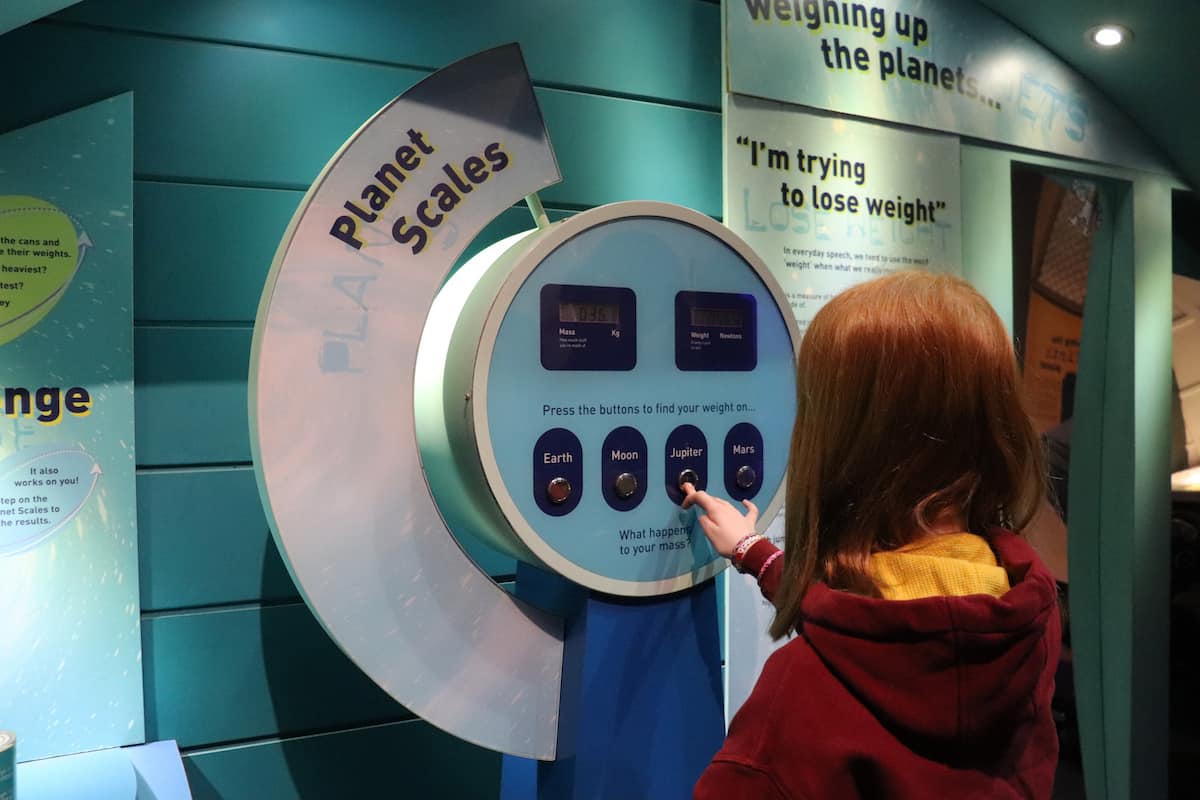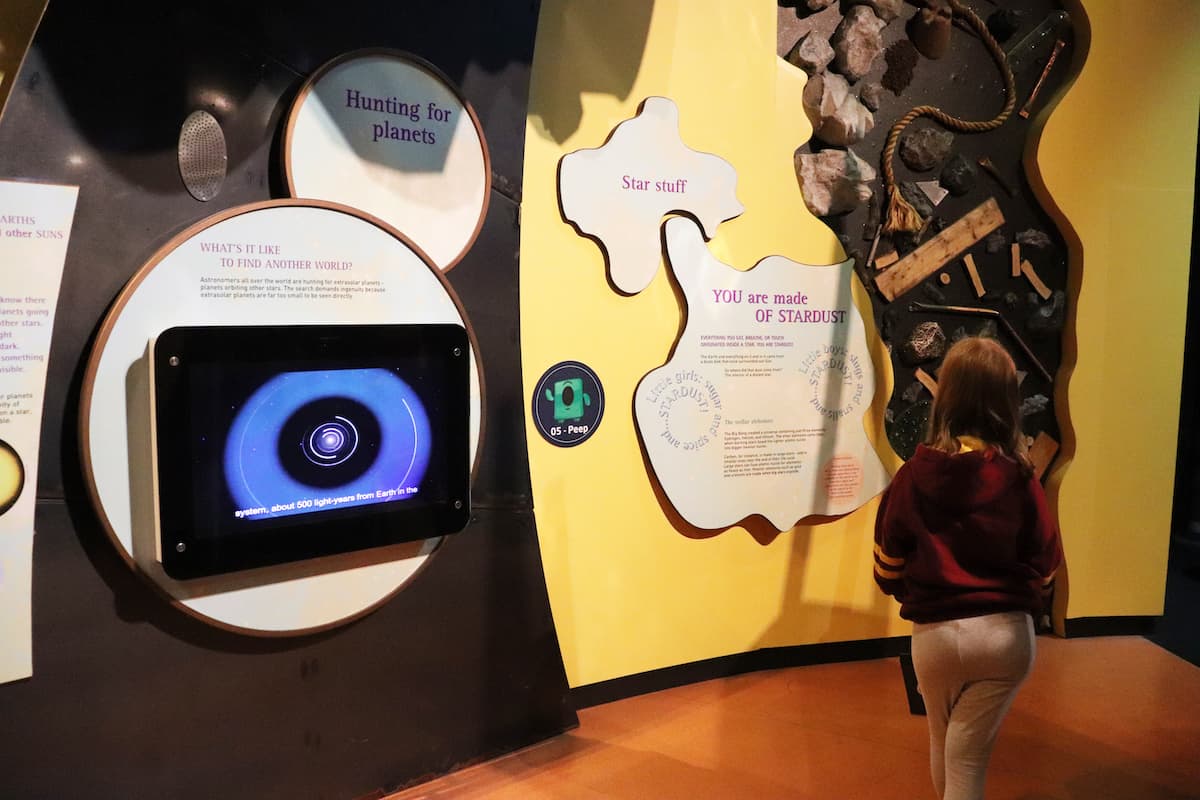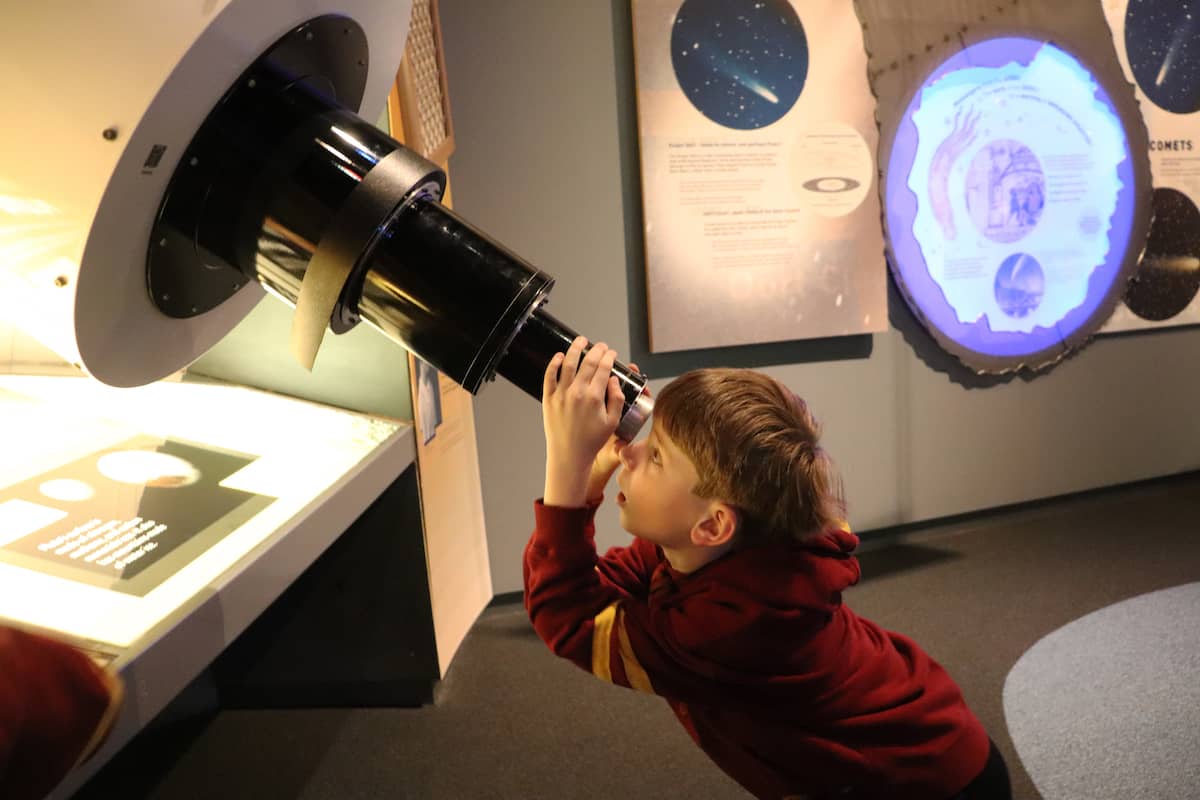 Sir Patrick Moore Planetarium
One of the most exciting parts of the National Space Centre was seeing a show in the UK's largest Planetarium, 'We are Stars'. Professionally produced and narrated by Andy Serkis, it delves into the beginnings of the universe and shows how we are all made of the same thing – stardust. It's such an educational but fun show.
The shop rounded off our visit and we found a great selection of items at pocket money prices, including a good mix of our favourite Sci-Fi brands and science facts with posters, keyrings, button badges, magnets and more.
Events at the National Space Centre
If we'd had longer to spend at the National Space Centre we would have taken part in some of the activities and events on offer. Each day the centre has live talks, demonstrations and activities available to take part in and experience. There's bound to be something different on each time you visit.
We had such a great day at the National Space Centre and cannot wait to go back in the future. If you buy a ticket it turns into a free annual pass, giving 12 months access for just the one price. You can find out more, check opening times and book tickets over on their website. For reference, the National Space Centre address is: Exploration Drive Leicester, Leicestershire LE4 5NS
The National Space Centre also have Space Cadet Club online sessions that any young space fan would really enjoy taking part in. Find out more here.
Here's a little Reel we made of our trip: