Disclosure: We were invited on this break for the purpose of this review however all opinions are my own.
We were invited to spend October half term at Potters Resort in Hopton on Sea in Norfolk. We had a lovely break there before the pandemic, when the children were much younger, and were excited to go back and see what Potters was like for older and children and how Potters had changed or if it was the same wonderful break we remembered.
What is Potters Resorts?
Potters Resorts are home of the UK's only all inclusive short breaks. They offer breaks for adults only or families with activities, entertainment, food and drinks all included in the price of the break.
They currently have two sites – Five Lakes in Essex and Hopton on Sea in Norfolk. We reviewed the Five Lakes adult only breaks recently and, having been to Hopton on Sea twice now, it's safe to say that you can't compare the two sites. They both are both so different but offer fantastic all inclusive breaks with something for everyone.
When you arrive at Potters you're given a welcome pack full of all the information you need for your stay. There are wristbands to show that you're all inclusive, room keys and the schedule of entertainment. From there you're all set to enjoy your break!
Accomodation
Hopton on Sea has got two completely different accomodation options. You can stay in the hotel, with rooms for all party sizes and adjoining rooms also available. Or you can stay in one story brick bungalows situated across the Potters site. Again, they have rooms for all different group sizes and also have adjoining bungalows available.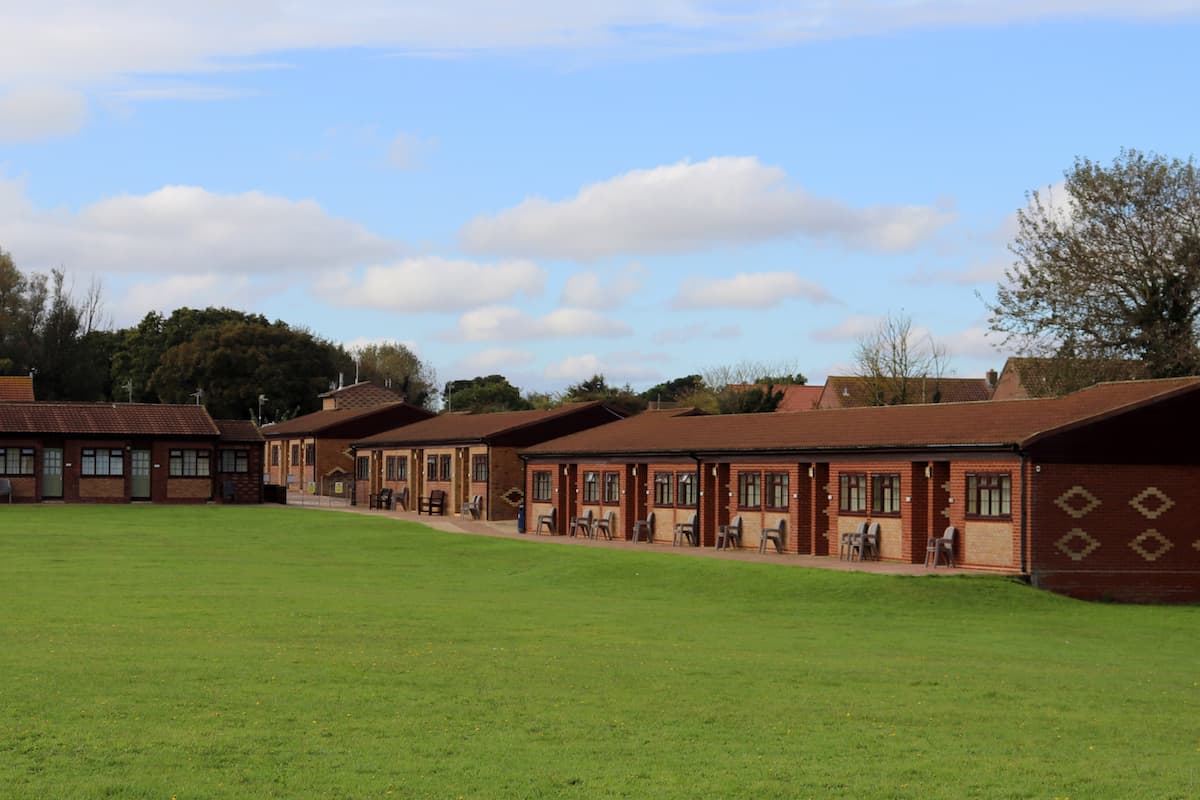 We were in adjoining bungalows for our trip with one being a twin and one a double, perfect for a family break away. The children and adults each had their own space and the connecting door could be closed if we wanted more privacy.
Each room had a good size bathroom, complimentary toiletries and plenty of towels as well as loads of storage space, tea and coffee making facilities, a mini fridge and wifi.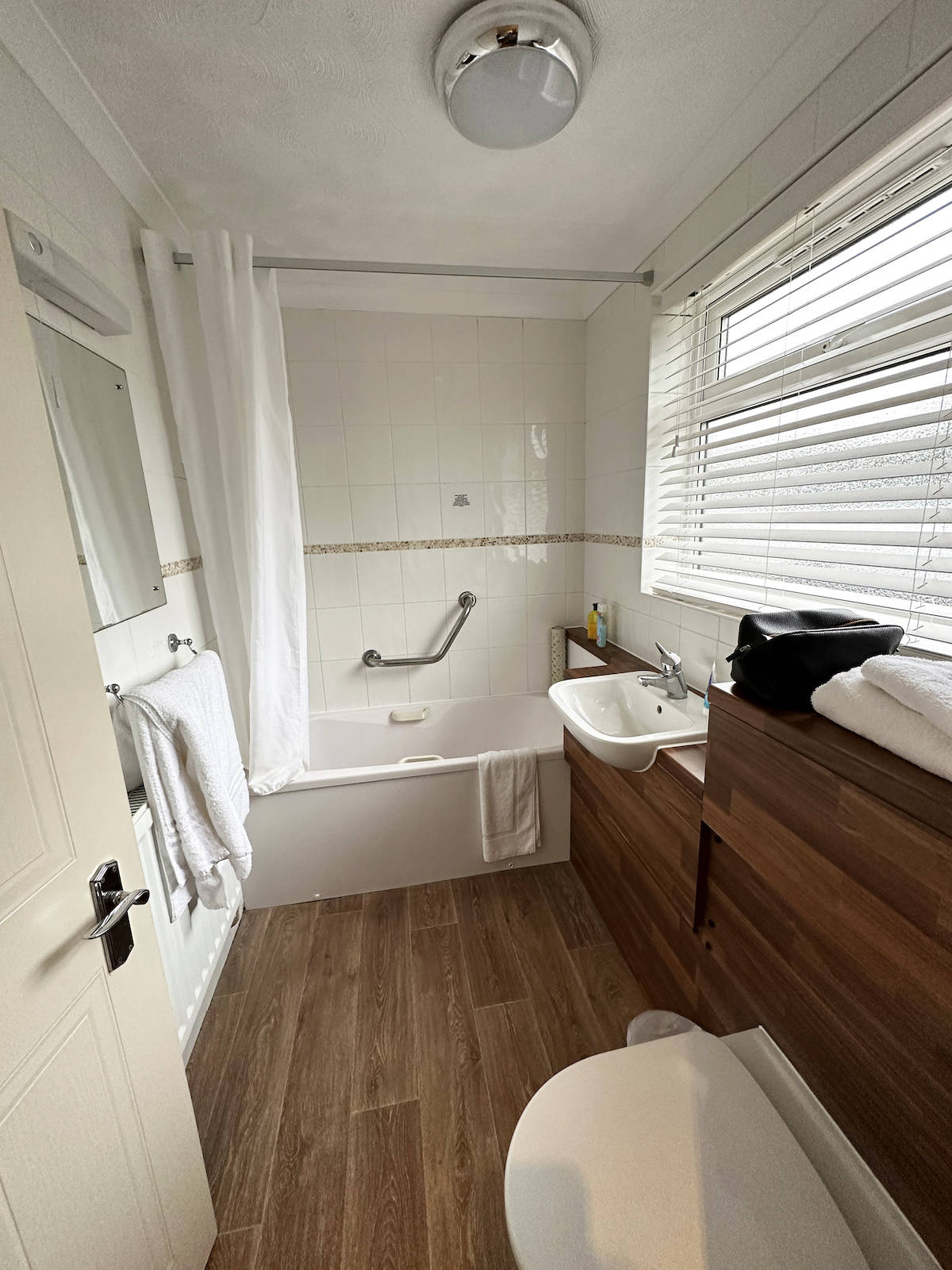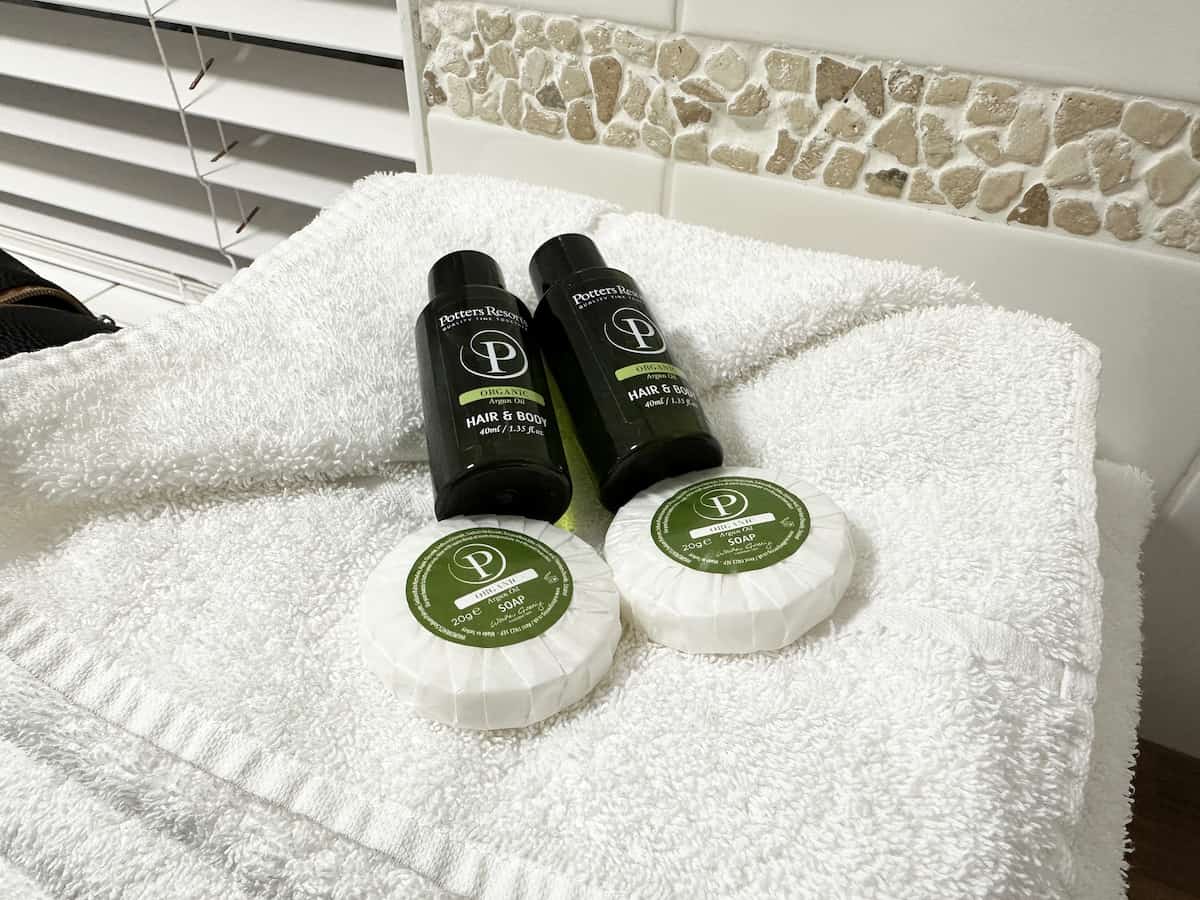 We stayed in the hotel on our last trip to Potters Hopton on Sea and the bungalows are a different experience but a great base for a break away. The children preferred the bungalows as ours was right opposite the play area, right by the beach and it felt like a real home from home.
Our bungalows were warm, private and even had patio furniture outside to make the most of nice weather and there's plenty of free parking at Potters Resorts too, with car parks dotted around the site so you don't have to go too far to get to or from your car.
Activities
There are so many activities on offer at Potters Resorts and it's impossible to do all of them. Many are aimed at specific ages which definitely made it easier for us to choose what activities to take part in during our trip!
The children loved Junior Archery – and there's standard archery for anyone over 13. There's also air rifles for older teens/adults and laser clays for anyone over the age of 10. The kids gave that a go but it was quite hard – so they stuck to archery which they ended up winning two medals at and were super pleased! Who doesn't love a medal?!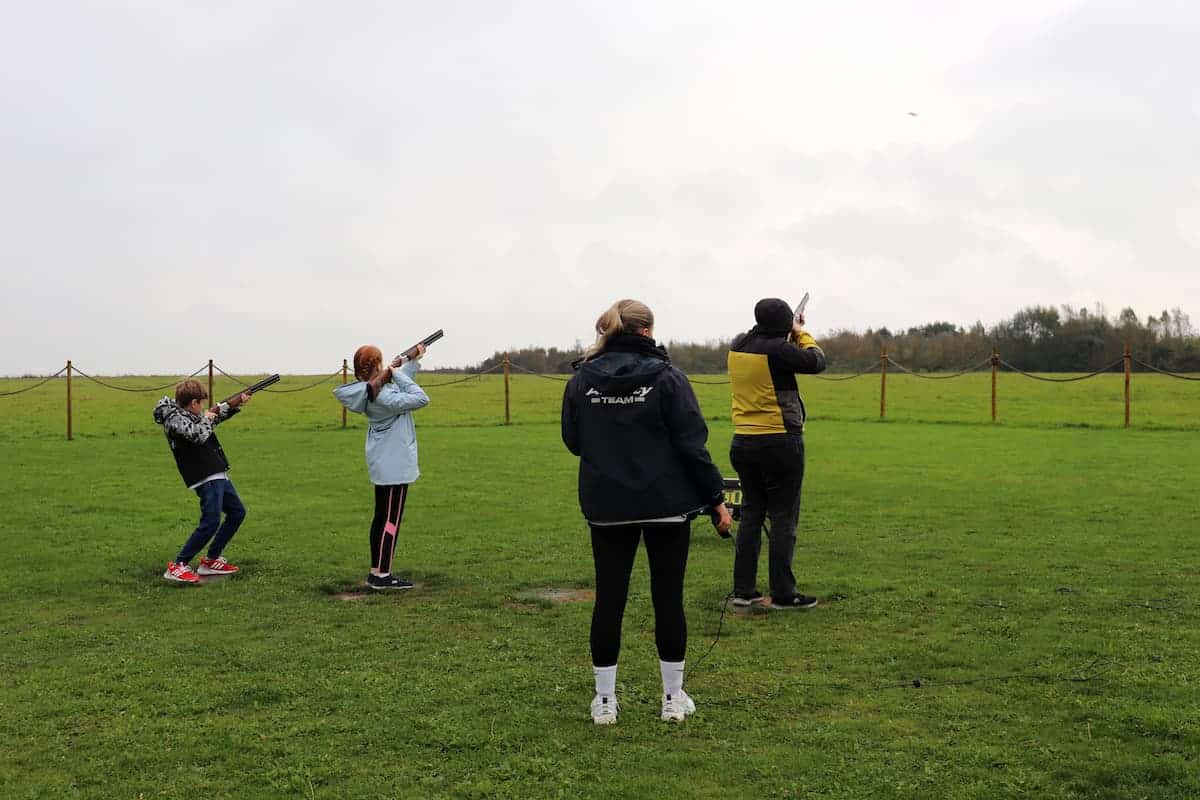 Another favourite activity was Mini Segways – which also had a full size version available for anyone over 7 stone. They were shown how to use the segways and then went round the course with ease. It was great fun!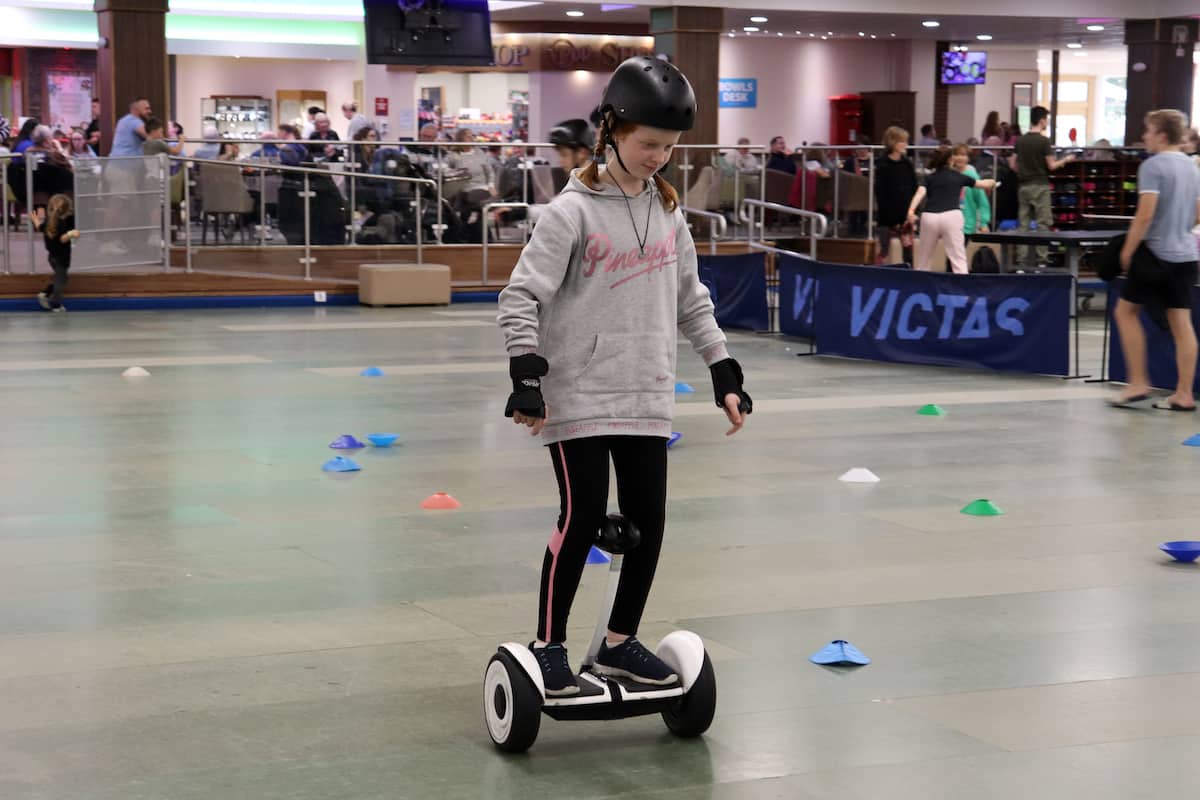 They also did rock climbing, played last man standing, rode KMX bikes and had a go on the giant swing which was a highlight of the trip! On our last day the kids tried bungee trampolines which were great fun – especially as they were able to do somersaults midair too!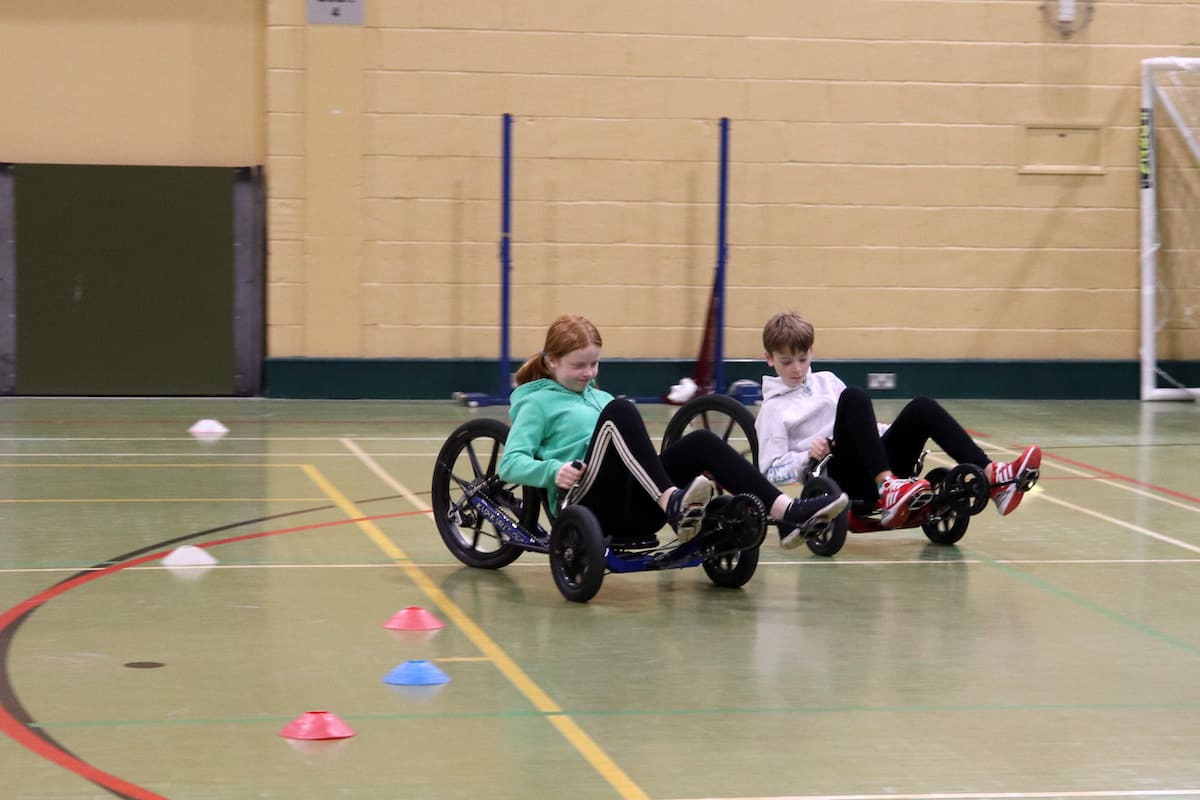 We also took part in a craft workshop where we got to paint plant pots! They also had pumpkins to paint for Halloween, tie dye crafts and other Halloween craft activities throughout our break.
There were so many different sports to take part in too like boules, badminton, bowls, darts, pitch and putt, disc golf, tennis and more. Plus, things like exercise and dance classes for those who fancied them – and even fancy dress parties for the little ones.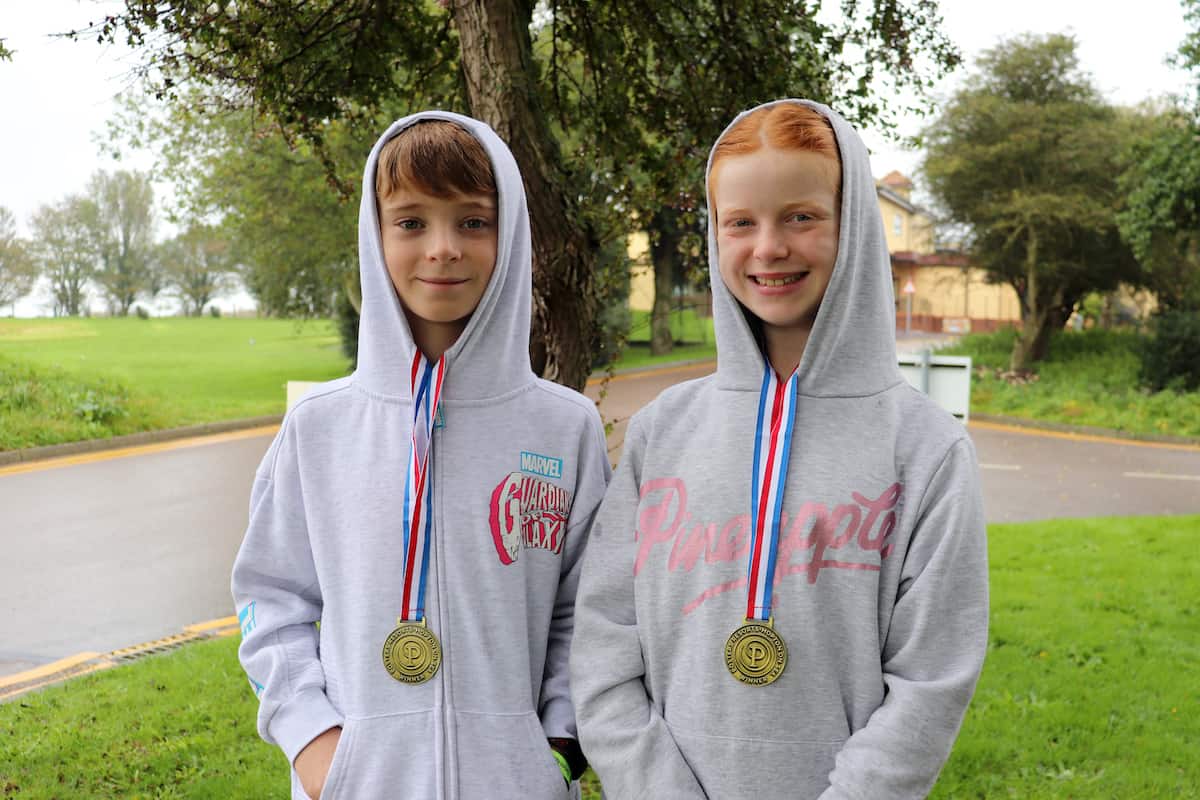 The quality of the included activities is fantastic and they are the sort of activities that would cost any family a lot of money to do as a day out. It's amazing that all of the activities are included at no extra cost during your Potters break and the only thing we had to book in advance was archery – everything else we just turned up and had a go.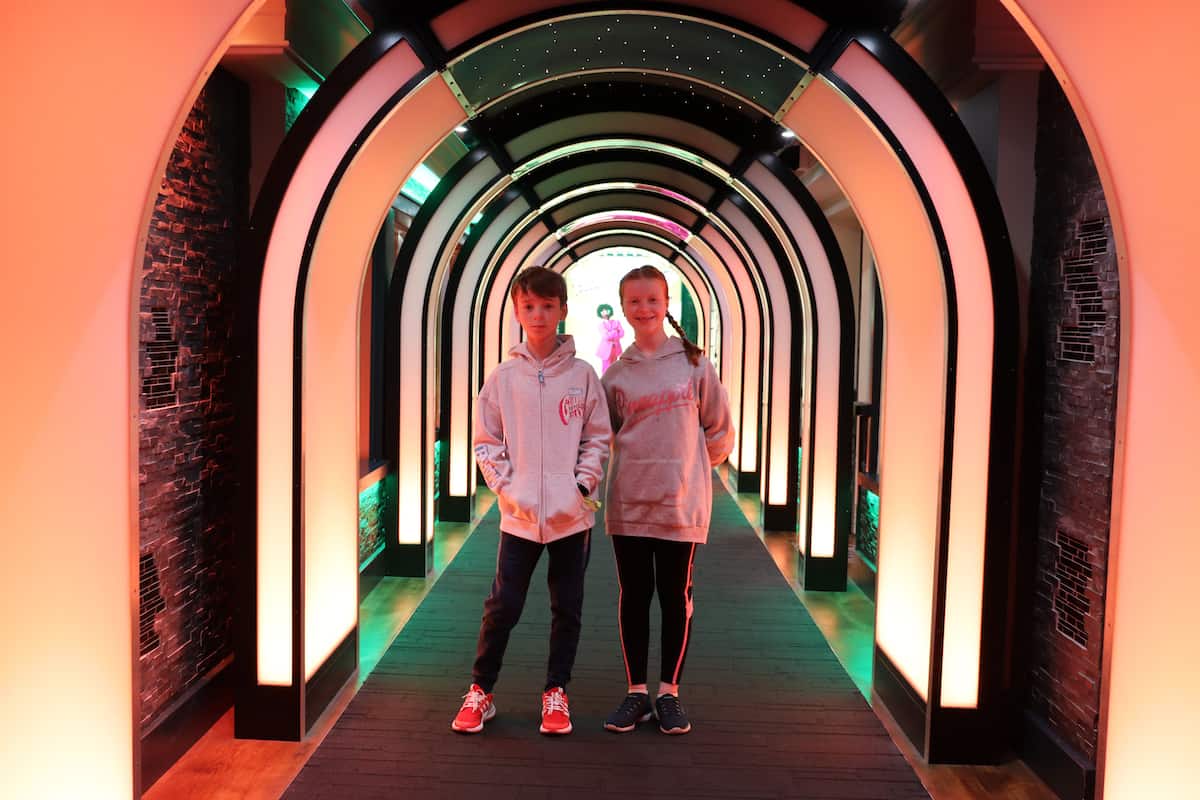 Entertainment
As well as all the activities there was plenty of entertainment on offer. With live music, various quizzes throughout the day and a fantastic hour long stage show each evening. Plus, we even got to meet dinosaurs thanks to a Dino Squad interactive show one afternoon.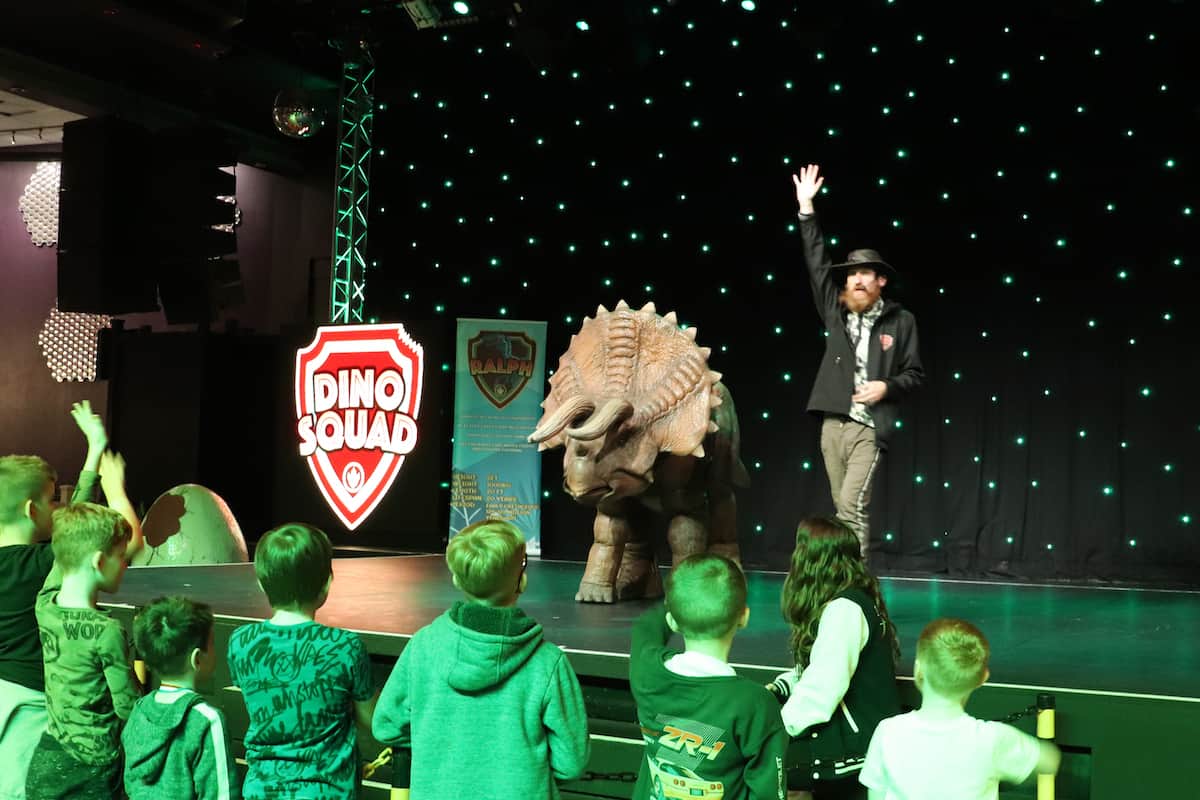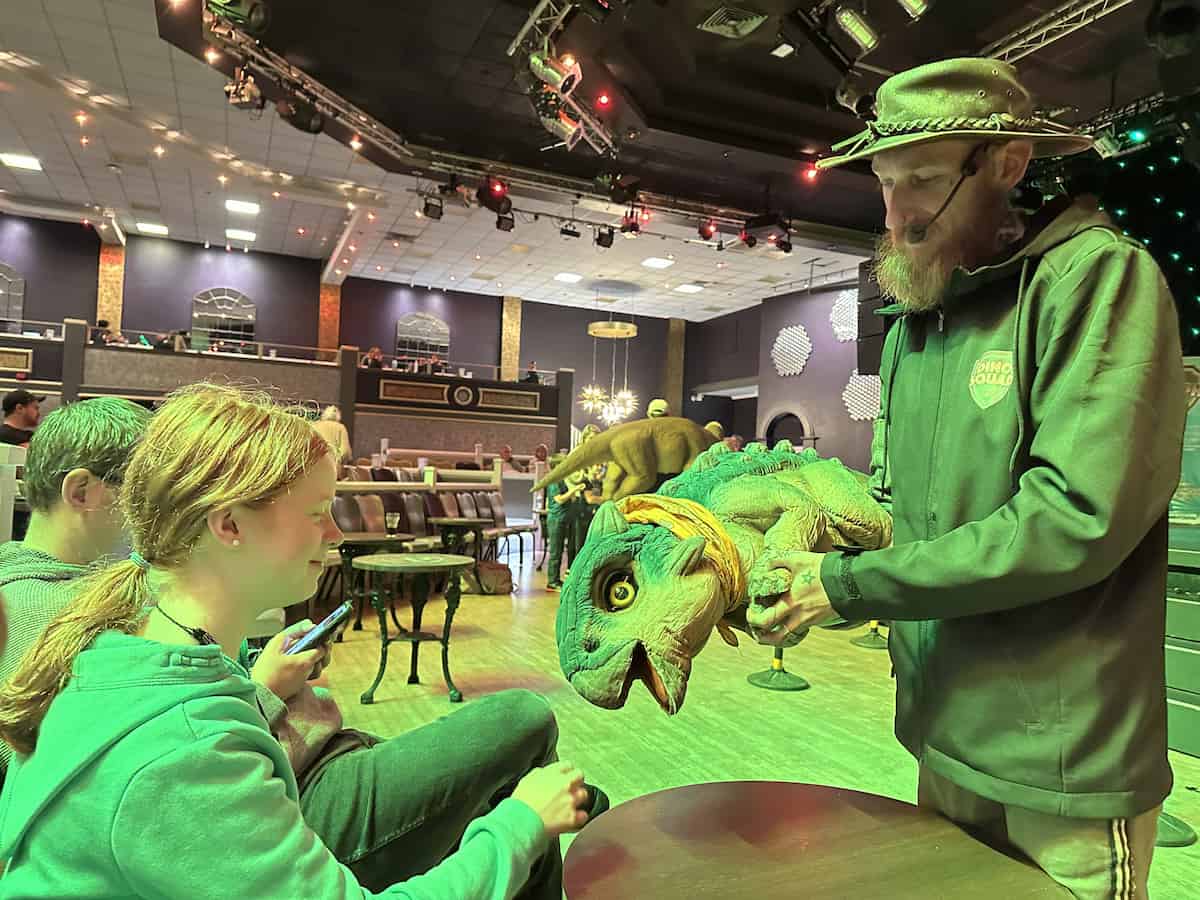 The quizzes were such a great way to spend time together. It's the first time we'd taken part in quizzes with the children and they absolutely loved it. The staff made the quizzes so entertaining and there were ones for all interests – from history to theme tunes, the natural world and food. Great fun for all.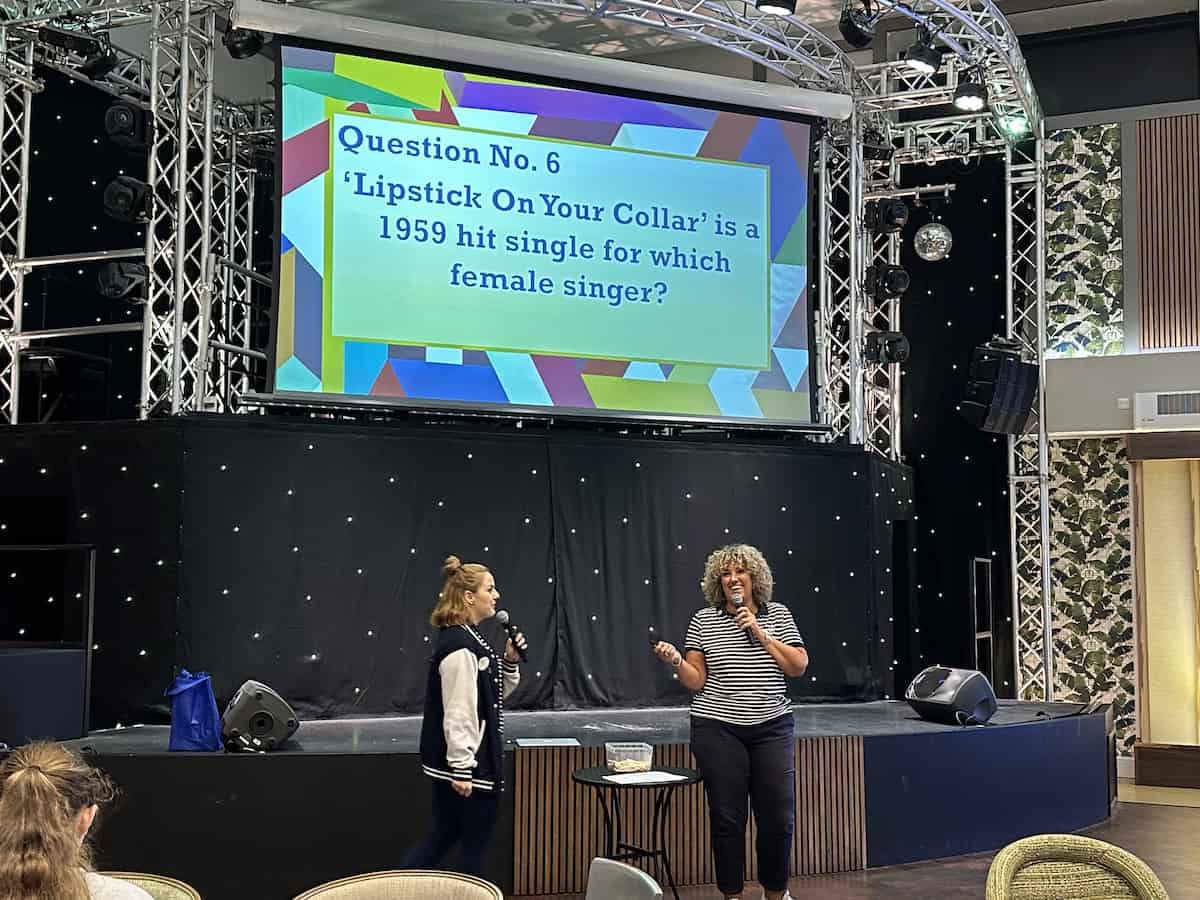 The evening shows were fantastic – with great choreography, costumes and lighting plus musical numbers that everyone could sing along to. They were a great way to end the day and the Atlas Theatre is a great venue for a show. We absolutely loved Simply The Best on our last night, celebrating 100 years of Potters – and hearing from Mark Brewer about his own experiences of Potters through the years.
Food at Potters Resorts
Another great part of a Potters Resorts break is the food. You get breakfast, lunch and dinner as well as a late night snack included in the price of your break and the quality of the food is first class. You're given a table at the start of your break and that's your table for the duration which makes meal times a lot quicker and simpler. Plus, you have the same waiting staff for the duration and it's nice to see their friendly faces at each meal.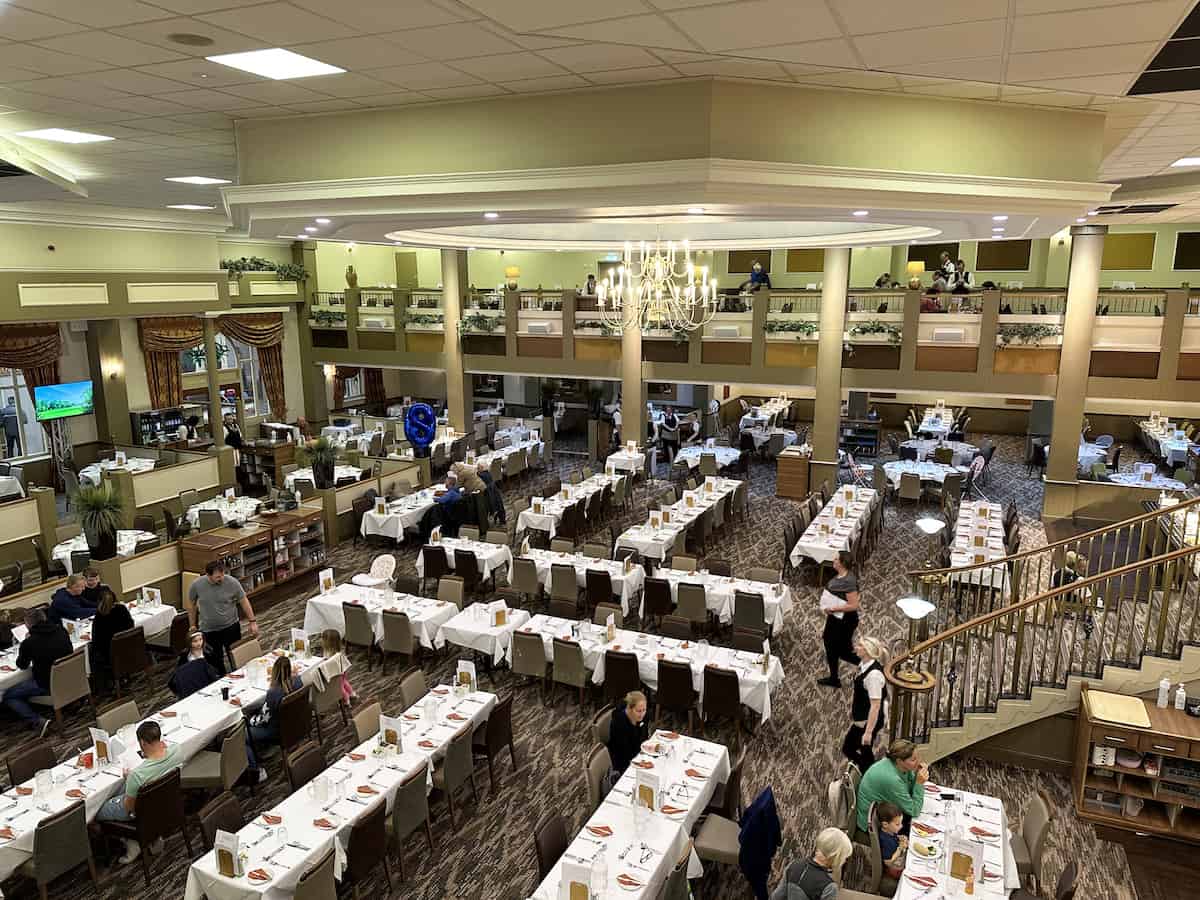 Breakfast is mainly a buffet of all the full english options, cereal, fruit and pastries as well as a few items available from the kitchen – like porridge, eggs cooked to order, smoked salmon and Quorn sausages. Our waitress brought tea, coffee and toast to the table too.
The breakfast was a great start to the day and LP found a new love of peach slices whilst Little Man had the same thing every day – hash browns followed by coco pops! Dave and I just loved having a cooked breakfast – especially with fried bread each day!
Lunch was a three course table service menu with a buffet option each day plus jacket potatoes and a really lovely salad bar full of salad vegetables, pasta salad, potato salad, coleslaw and so much more. There were even things like fish, quiche and coronation chicken too.
Each lunch had a soup starter, a good variety of mains and dessert. For lunch we had things like fish and chips, ham, egg and chips and shepherd's pie. There was always meat dishes, fish dishes and plenty of vegetarian options plus all dietary requirements are catered for.
At dinner time we had a table service three course menu again but with more options than at lunch time. There were three starters, a choice of mains plus a carvery buffet option and another buffet option each night.
We didn't have starters during our stay but saw so many of them arriving at the tables and they looked delicious! They were things like pate, soup, spring rolls or prawn cocktail.
For mains we had a lot of dishes from the carvery that were fantastic each time – with a different meat, yorkshire puddings, roast potatoes and a variety of vegetables. The other buffet option was things like paprika chicken or sweet chilli chicken with rice and other sides.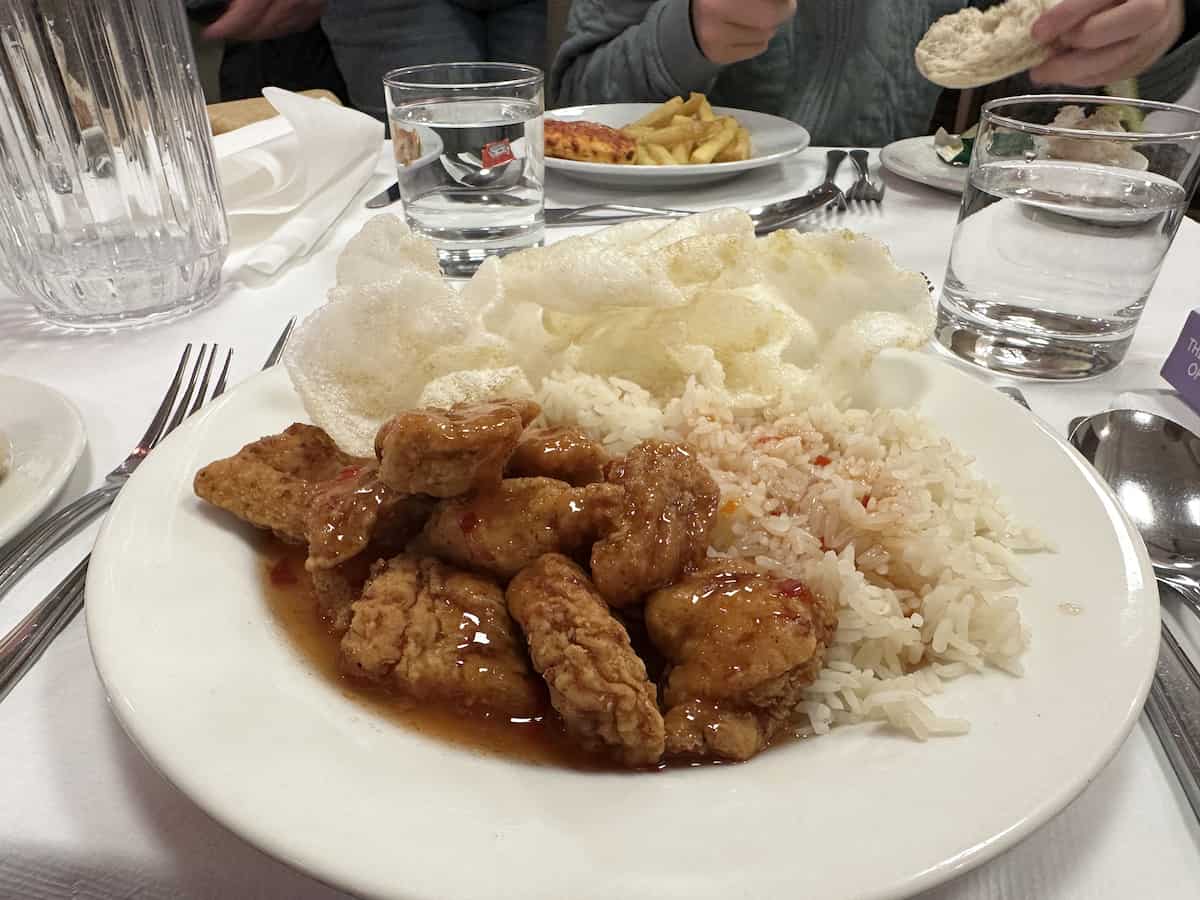 We also had many of the table service dishes like turkey steak, garlic butter gnocchi and pork belly. The service was quick and the meals were piping hot and full of flavour. Plus, we loved having the option of table service or buffet meaning that the dining experience can be as formal or relaxed or as quick or slower paced as you want it to be.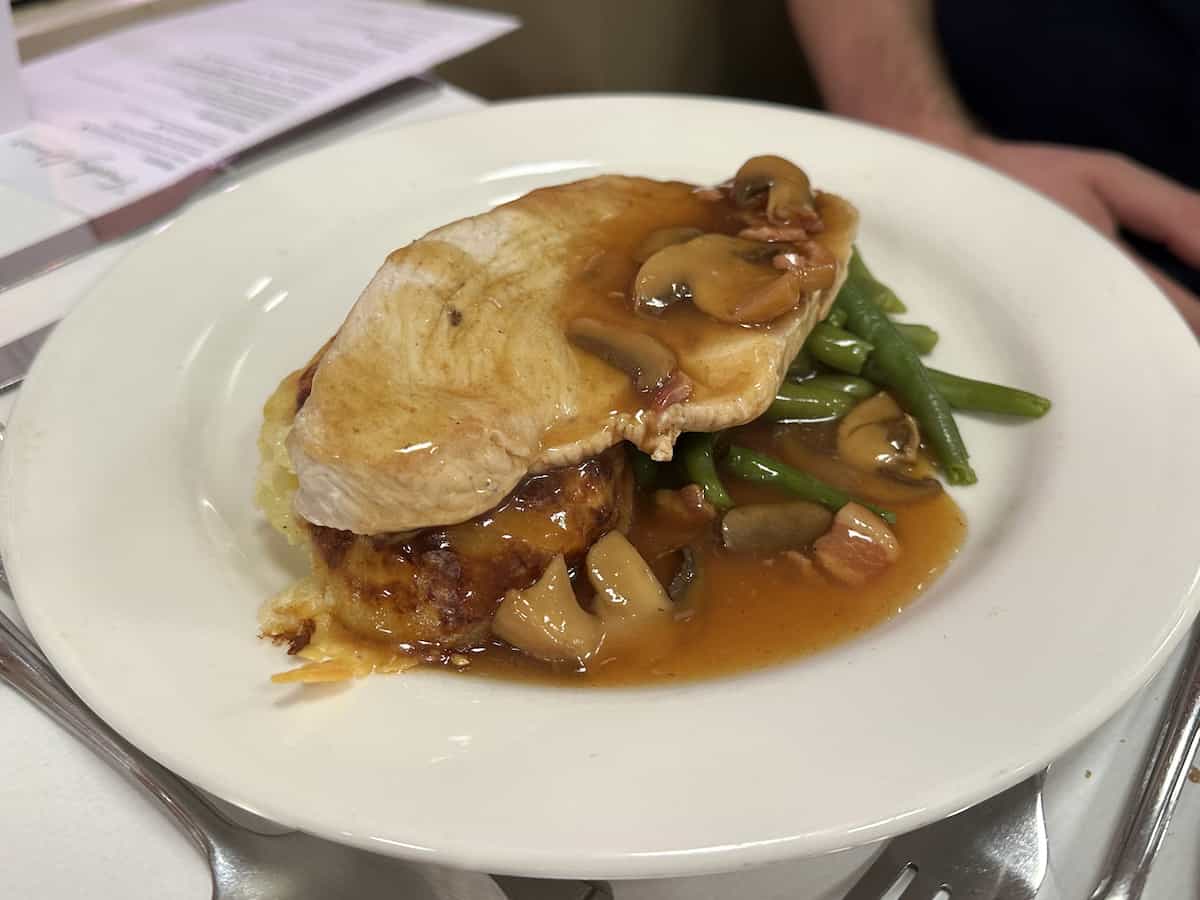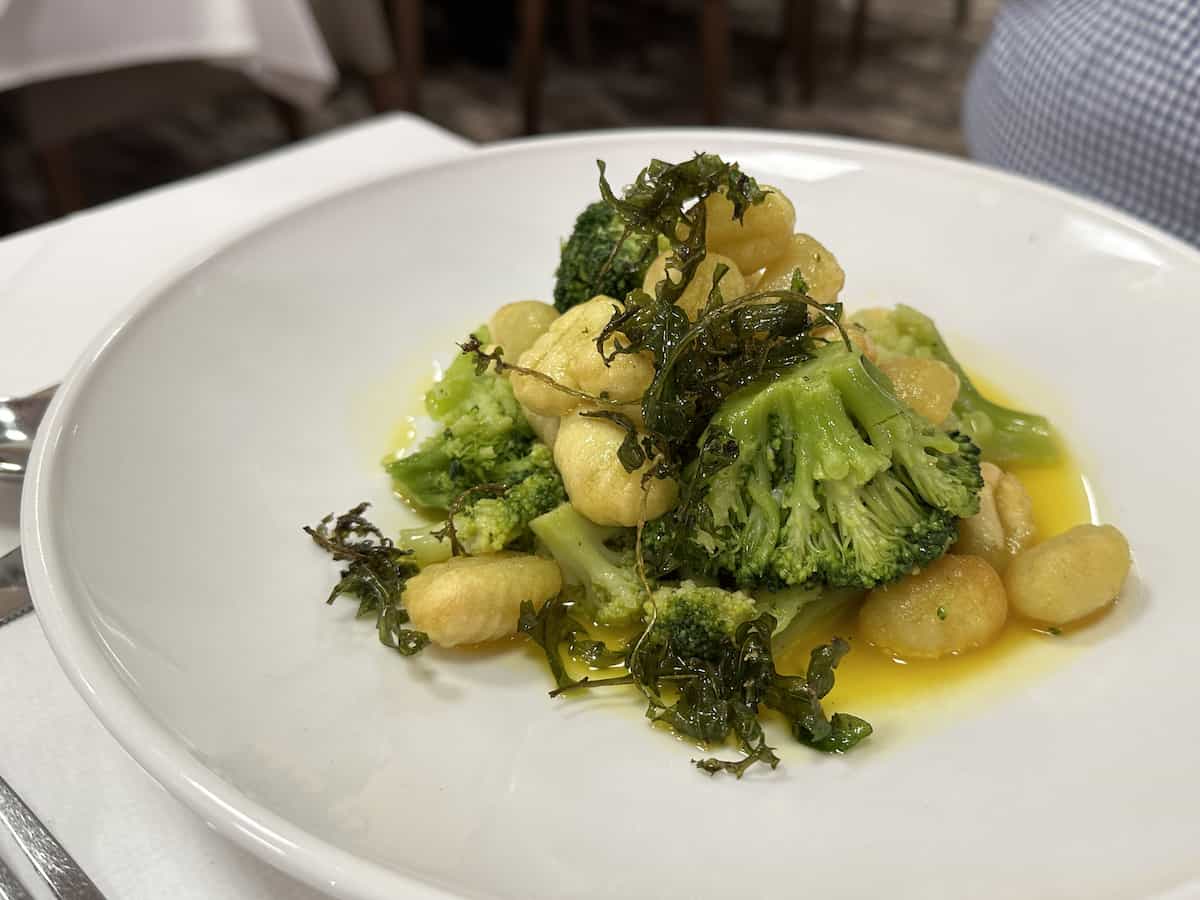 There was a really good cold dessert menu that you chose from for lunch and dinner each day plus a different hot option each lunch and dinner time. Over the course of the week we had passionfruit cheesecake, bakewell cheesecake, profiteroles, lemon meringue pie, a cheese plate, chocolate torte and so many lovely hot puddings with custard – plum sponge, gooseberry crumble and winter fruit pie to name a few.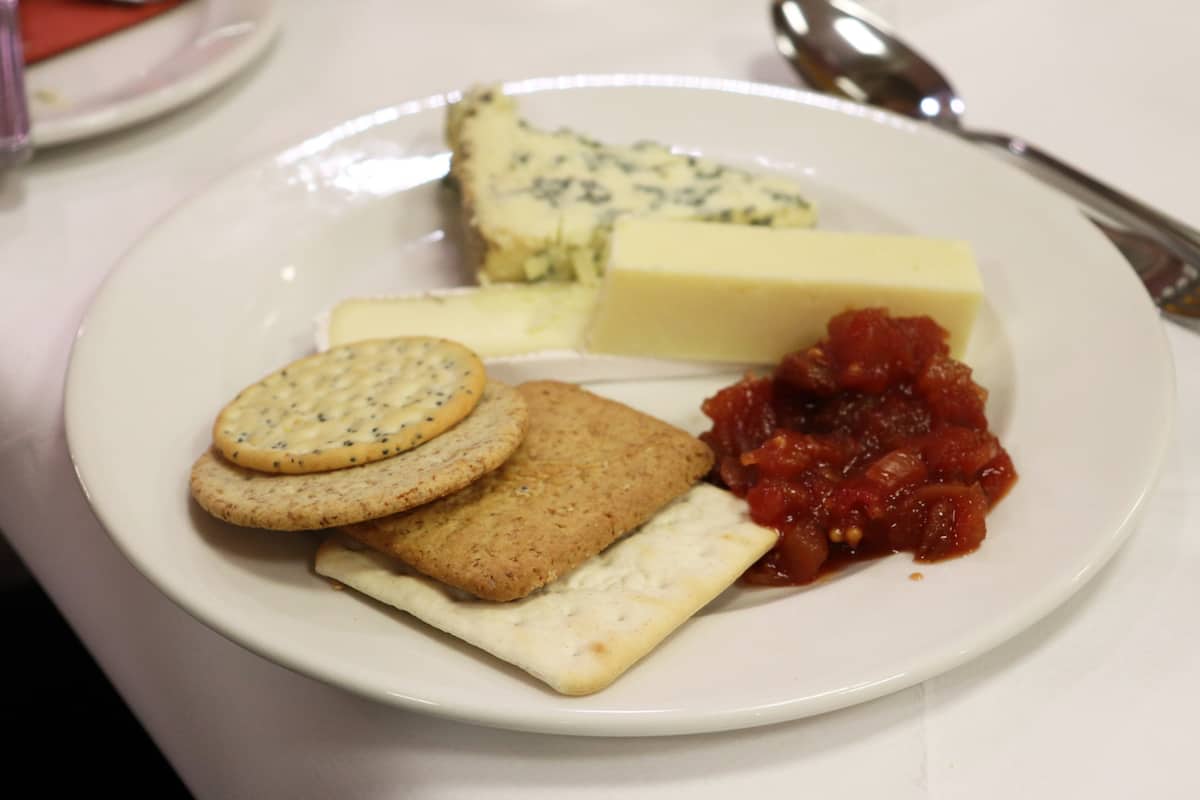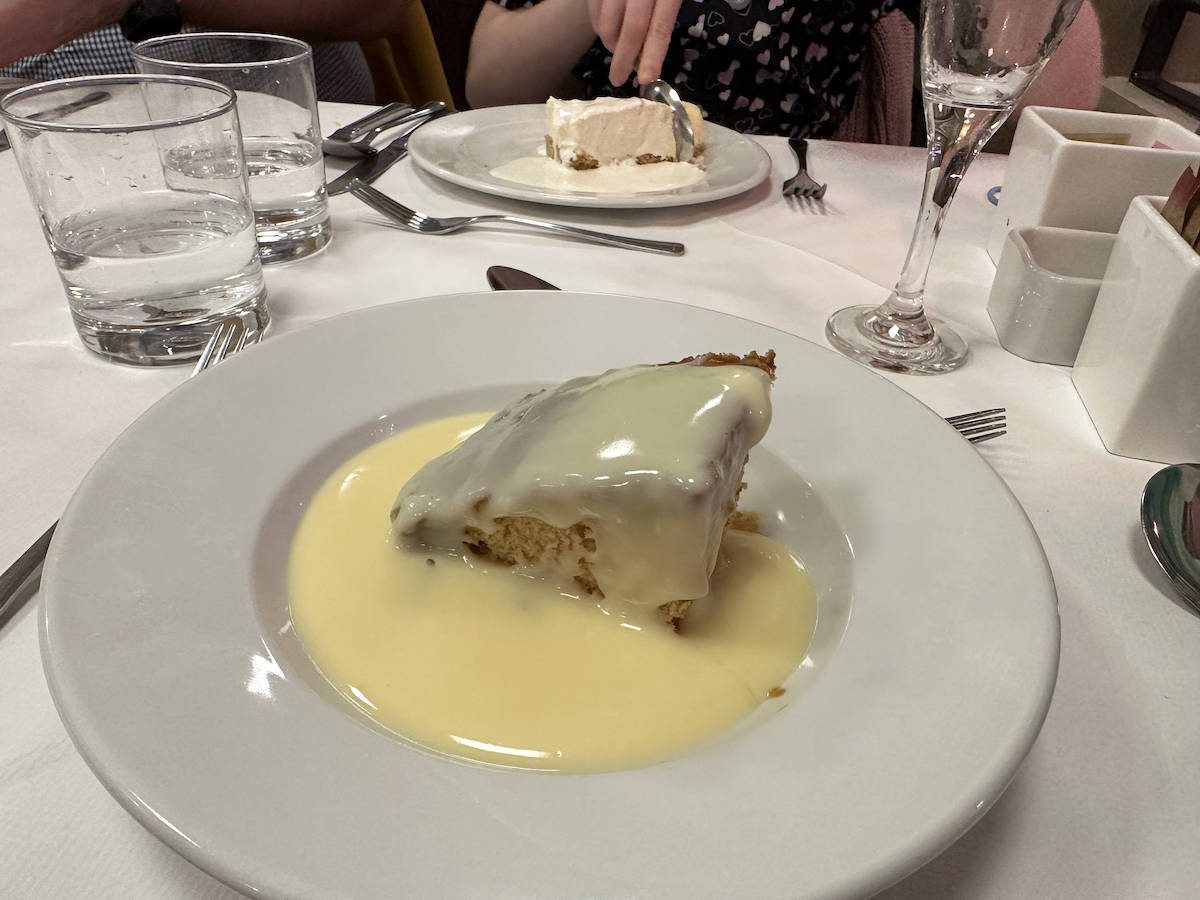 You may be reading this and wondering how your children will fare with this sort of food. But, there's also a dedicated children's menu at lunch and dinner times that is a complete buffet – so you can get children food they love straight away.
The children's options over the week were things like chicken nuggets, meatball pasta, sausages, pizza, mac and cheese and sausage rolls as well as chips plus another side like new potatoes or rice and peas, beans or sweetcorn.
Our children split their choices between the adult and children's menu. Kids can literally have whatever they want to eat from either menu and it worked really well for us. Plus, sometimes they'd have the carvery but add chips to it – or they'd have nuggets and chips with yorkshire puddings on the side! They absolutely loved the food as much as the adults. Plus, if adults fancy chips they can grab some too – it really is all inclusive like that.
Drinks at Potters Resorts
The vast majority of drinks are included in the price of your stay at Potters Resorts. The only drinks you need to pay for are some spirits and cocktails. Throughout the trip we had so many drinks from the menu and it was lovely to know that everything was included.
Bottled water was freely available from fridges on resort and each day we would have a couple of hot chocolates each – complete with whipped cream – whilst doing quizzes. These were delicious and something we really loved during our break. Coffees come complete with the Potters logo on top too!
The children worked through their body weight in J20s and we loved that things like Fruit Shoots and Capri Suns were also available. Often on holiday there are only fizzy drinks, fresh juice or water for children so it's great that Potters have a wider variety of soft drinks available.
Wine is available to order direct to your table at lunch and dinner and all other drinks can be ordered at the bar beforehand for you to take straight to your table with you. We loved that in the bar there are order points so you can order your drinks without queueing right at the bar and they're brought direct to your table. It's such a seamless service and we couldn't fault the process. It worked really well.
Facilities
As well as all the fantastic activities and entertainment at Potters, there's also great facilities. There's the Palms Health and Fitness Club which is home to the resort pool and gym including a sauna, steam room and a really good size pool for younger children. We didn't have time to visit during our break but have used the pool on our previous break and really enjoyed it.
Potters Resort also has the Aphrodite Beauty Studio if you feel like a massage or treatment during your stay. It has a really extensive treatment menu with something for everyone.
Also on resort there's bowling and arcades – literally the only extra cost we found on our trip – as well as soft play and tablet computers for the children to play on. The whole gamezone area is great for kids to hang out and enjoy themselves – and the soft play is perfect for little ones.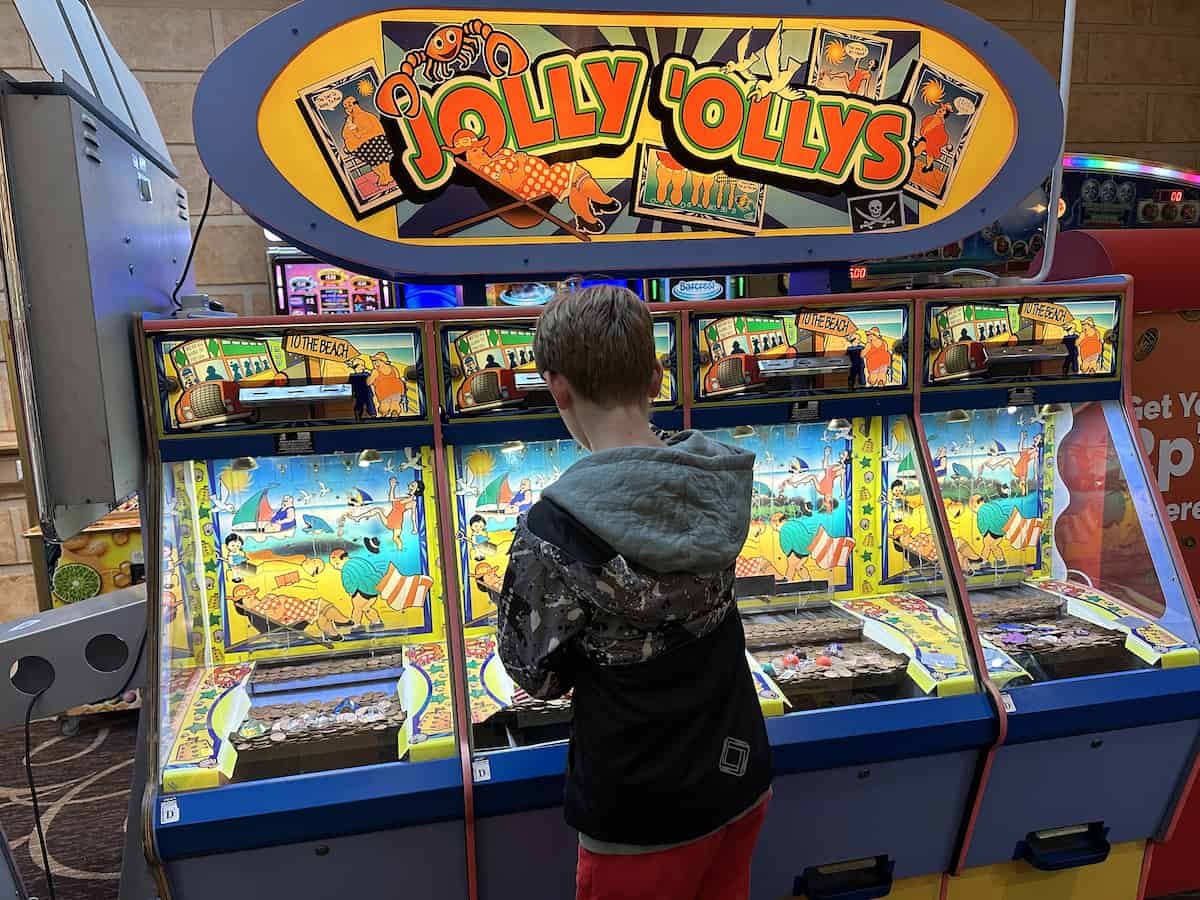 Also, as I mentioned earlier, there's a play area, direct access to the beach and so much space to kick a ball around or just run around and let off some steam. Potters Resorts is a really big site with so much to keep every member of the family entertained.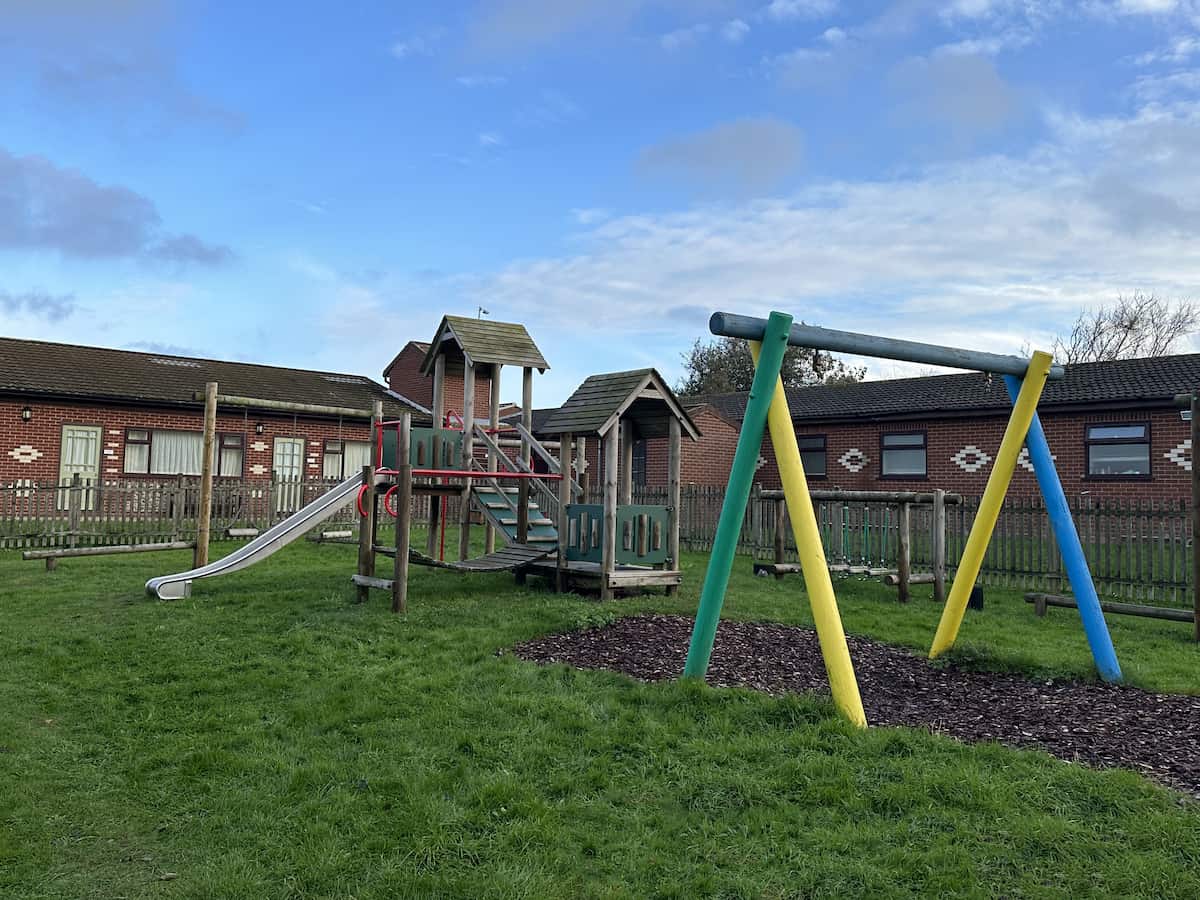 There's also a shop on resort if you've forgotten any essentials, want to grab snacks or magazines to read or want to pick up sports equipment, gifts or souvenirs. It's a lovely place to have a browse with a really nice variety of products.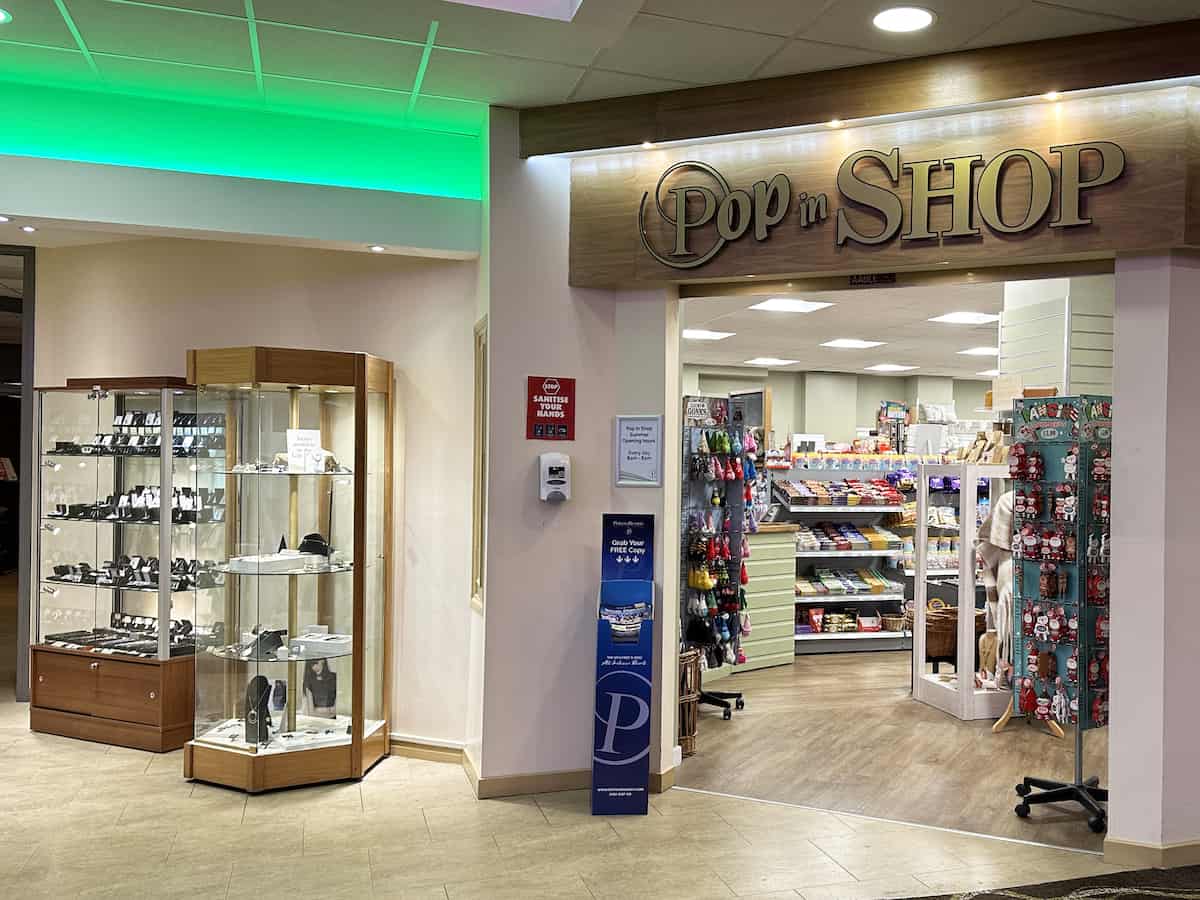 Our half term at Potters Resort in Norfolk was fantastic. It's our first visit as a family, as we went with friends last time, and we all really enjoyed ourselves. Potters Resorts focus on giving people quality time together as well as a chance to really relax and unwind – and that was exactly the experience we had.
At Potters Resorts there is something for everyone. The children loved all the activities, with plenty for adults to do as well, and Dave and I enjoyed the food and drinks, the quizzes, live entertainment and just seeing the children have so much fun.
Potters inspired us to do things as a family that we hadn't done before – like the quizzes – and gave the children the chance to try activities that they wouldn't usually be able to do – or that would usually be really expensive to do.
One thing I need to mention about Potters Resort is the staff. Throughout your Potters break you get to meet the same faces and get to know them. They'll be running an activity one minute and hosting a quiz the next. Some host quizzes and then appear in the shows in the evening or call the bingo.
The staff give out medals and goodie bags constantly throughout the break and the children loved winning medals – although they were disappointed to not win any of the quizzes to get a goodie bag. I told them it's even more reason to visit Potters again in the future!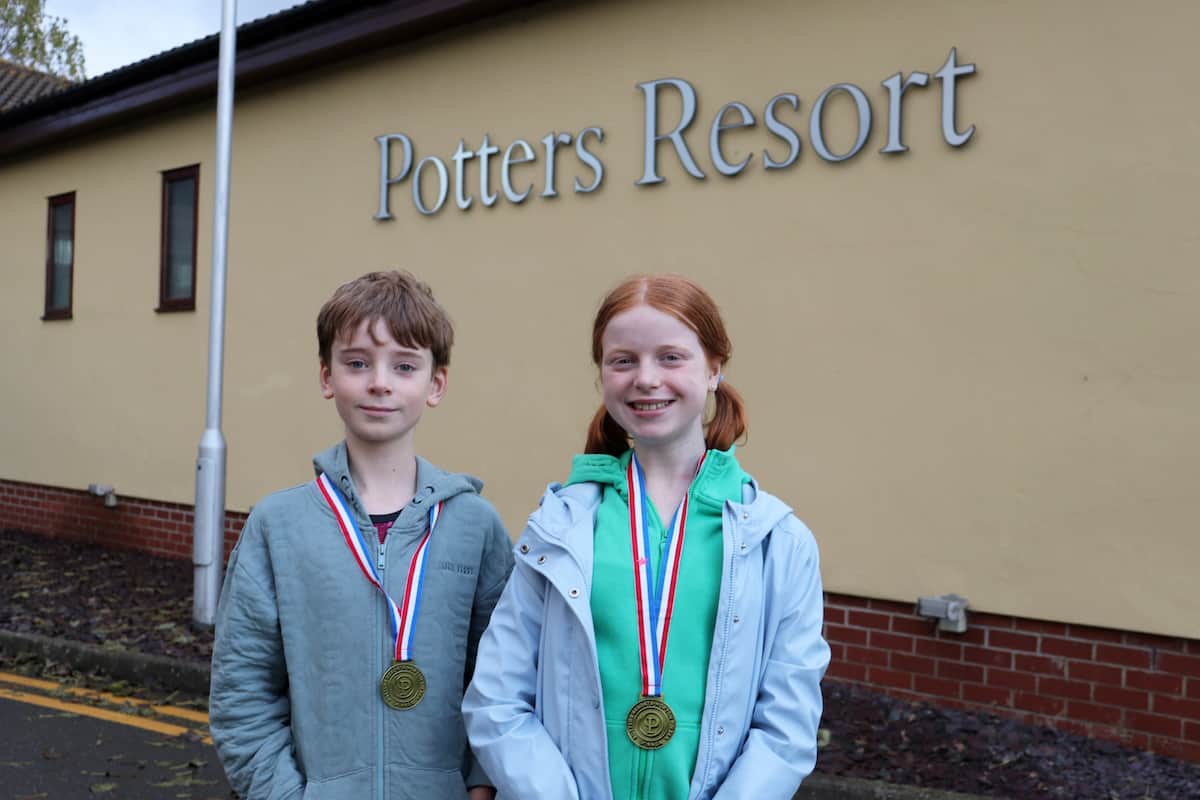 The staff are all fantastic at what they do, super friendly and go out of their way to make sure that everyone is having a good time. They are a huge part of any Potters Resorts break and we loved getting to know so many staff over the course of our half term at Hopton.
I'd like to give a special mention to Bruno for his fantastic archery session, Jo, Beth and Rachel for the quizzes and laughs and Henry and Mark for their unlikely double act that constantly made us laugh. Such great people and a credit to Potters.
We had such a great break and cannot wait to go back to Potters Resorts in the future. Hopton on Sea in Norfolk really is the perfect family break away in the UK. You can find out more about Potters Resorts over on their website.
I made a little Reel of our trip over on Instagram and here's a little video too: