Disclosure: We were invited on this break for the purpose of this review however all opinions are my own.
Last weekend we were invited to stay at Potters Resorts in Essex. The Five Lakes Potters Resort is the company's newest resort complex and we were lucky enough to stay at their sister site, Hopton-on-Sea a few years ago on a family break. However, Five Lakes is an adults only resort and we couldn't wait to see what it was like.
What is Potters Resorts?
Potters Resorts offer the first all inclusive holiday packages in the UK. They have breaks to suit all ages and interests, and all breaks include food, drinks, activities, fantastic facilities and high end entertainment.
Potters Resorts Five Lakes
Potters Resorts Five Lakes is located between Maldon and Colchester, next to the village of Tolleshunt Knights in Essex and set in 320 acres of beautiful countryside. It's a really lovely location, easily accessible from London, the South East and further afield, and it's somewhere that instantly makes you feel relaxed as soon as you arrive.
On a Potters Resorts all inclusive break, your all inclusive drinks package starts from 3pm on your day of arrival but you can arrive earlier and pre-book lunch if you like. We had plans on our arrival day and so arrived at around 3pm to a really warm welcome. We were given all the information we needed for our stay and directed to our room.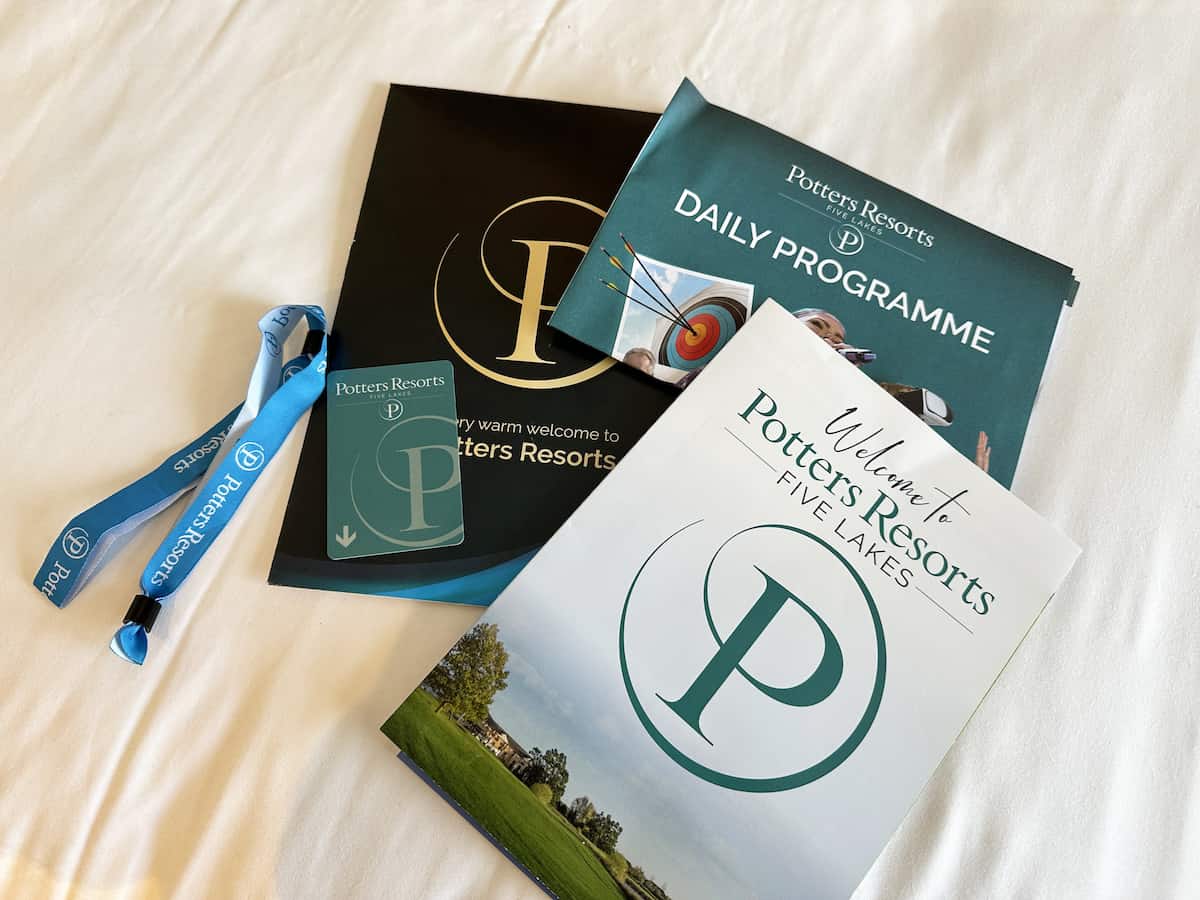 The pack we were given had an entertainments programme for the weekend, a map of the resort, a drinks menu, a spa treatment menu, our room key cards and also wristbands to wear throughout the break.
Accomodation
The accomodation at Five Lakes has Premium rooms as standard, with upgrades available, and with a choice of location. You can enjoy the peace and quiet of the Village rooms which are set in the grounds of the hotel, just a short walk from the main resort, or you can choose hotel rooms surrounding the central facilities.
We were in a twin hotel room for our weekend break and it couldn't have been better. The room was really close to reception, nice and spacious and had a great size bathroom with a big walk in shower – one of the best showers we have ever experienced!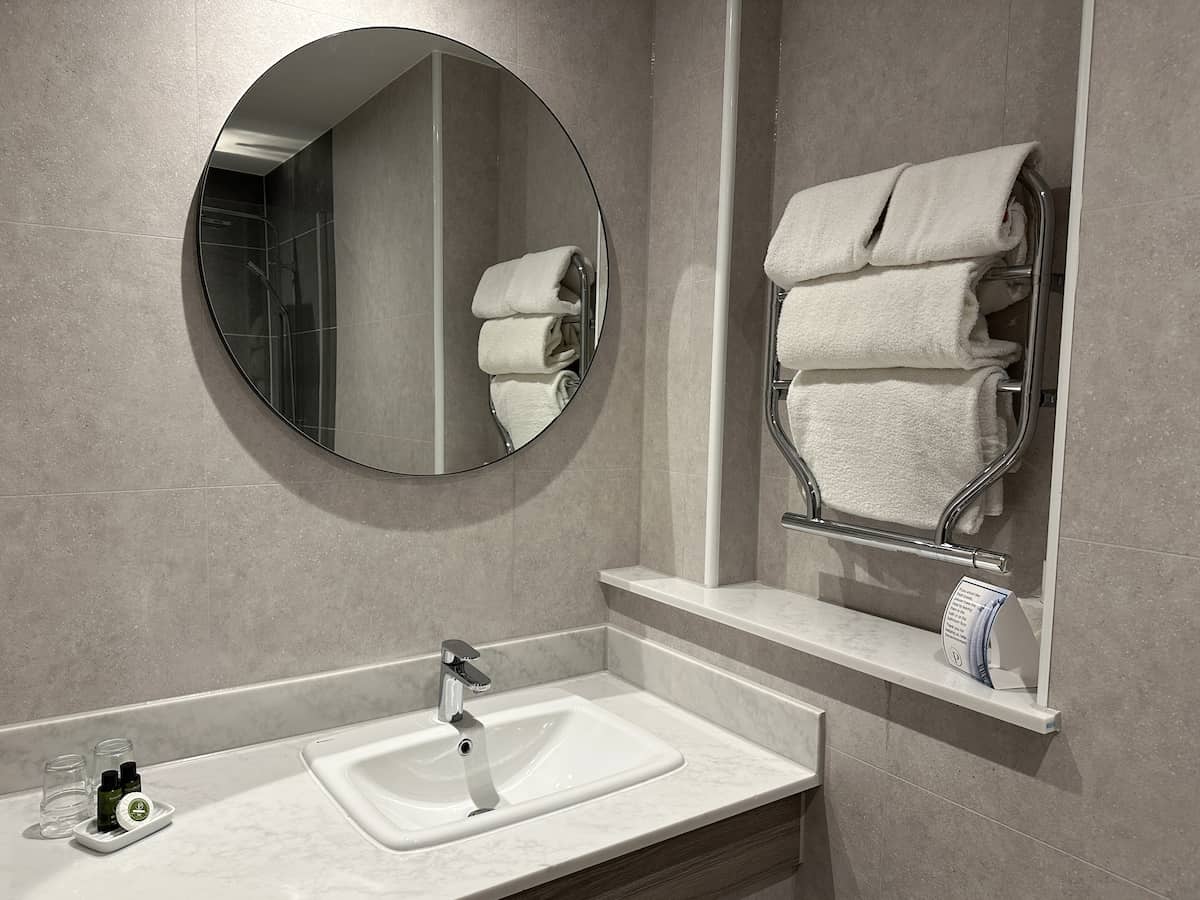 The room had a TV, tea and coffee making facilities, a safe, a hairdryer, iron and ironing board, complimentary toiletries and plenty of fluffy towels. Plus, there was a little drinks fridge that had two bottles of water put in it each day and free Wi-Fi.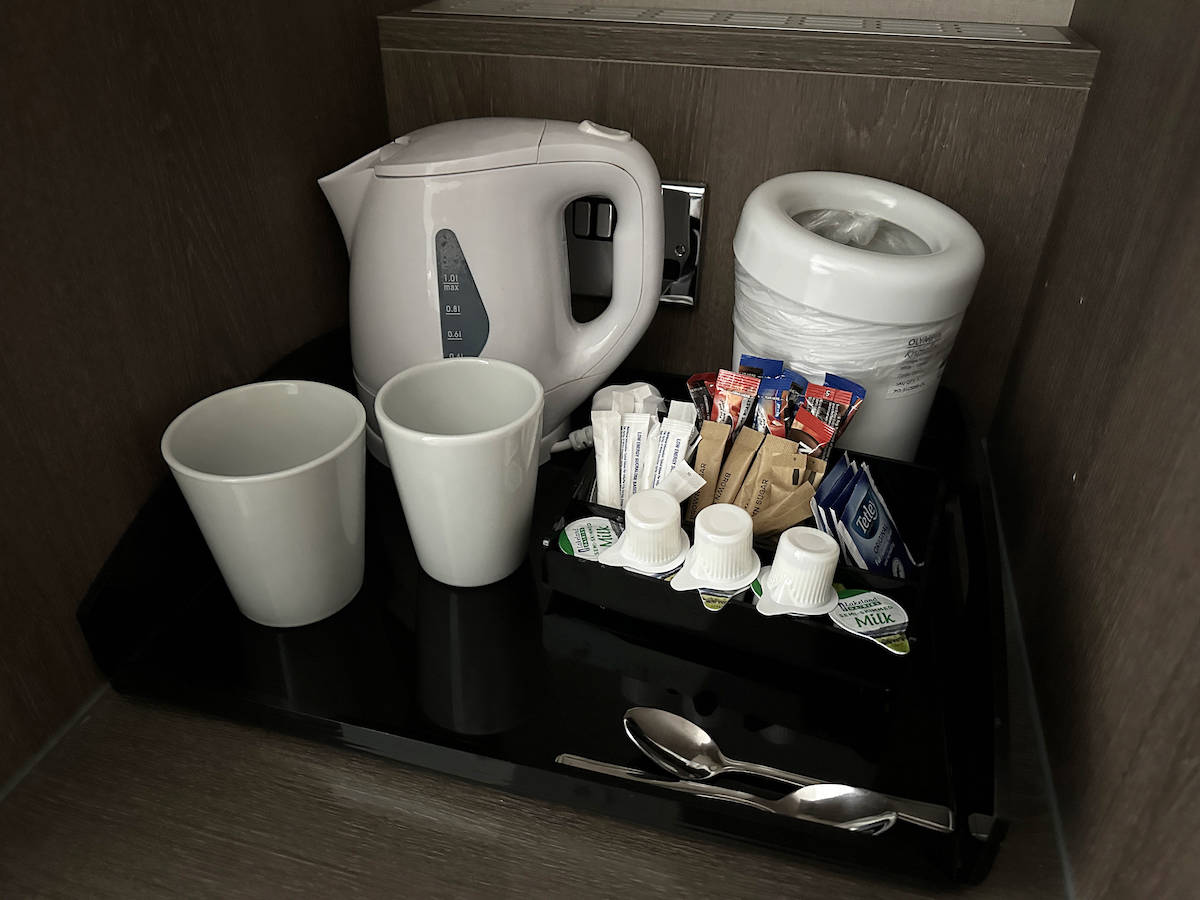 We slept really well throughout the weekend. The room had built in heating and air conditioning so we could get the temperature just right, the curtains kept all the light out, the beds and bedding were really comfortable and the area was nice and quiet overnight too.
Food at Potters Resorts
Food and drink is a huge part of a Potters Resorts break and it includes four meals a day and an all inclusive drinks package so you are completely covered during your stay.
When you arrive at Five Lakes you are allocated a table in the Eden Restaurant and that is your table for the duration of your trip. You also have the same waiting staff throughout which is lovely as you get to know them and look forward to seeing their friendly faces at meal times. We had Lili and Amy who were both fantastic and nothing was too much trouble for them.
For breakfast there's tea, coffee and toast served to the table as well as a few cooked options to order – poached eggs, vegetarian sausages and kippers. But, the rest of the breakfast service is buffet style – and it could not be better. There's a full cooked breakfast buffet plus fresh fruit, cereals, juices, pastries and more. It's the perfect way to start the day.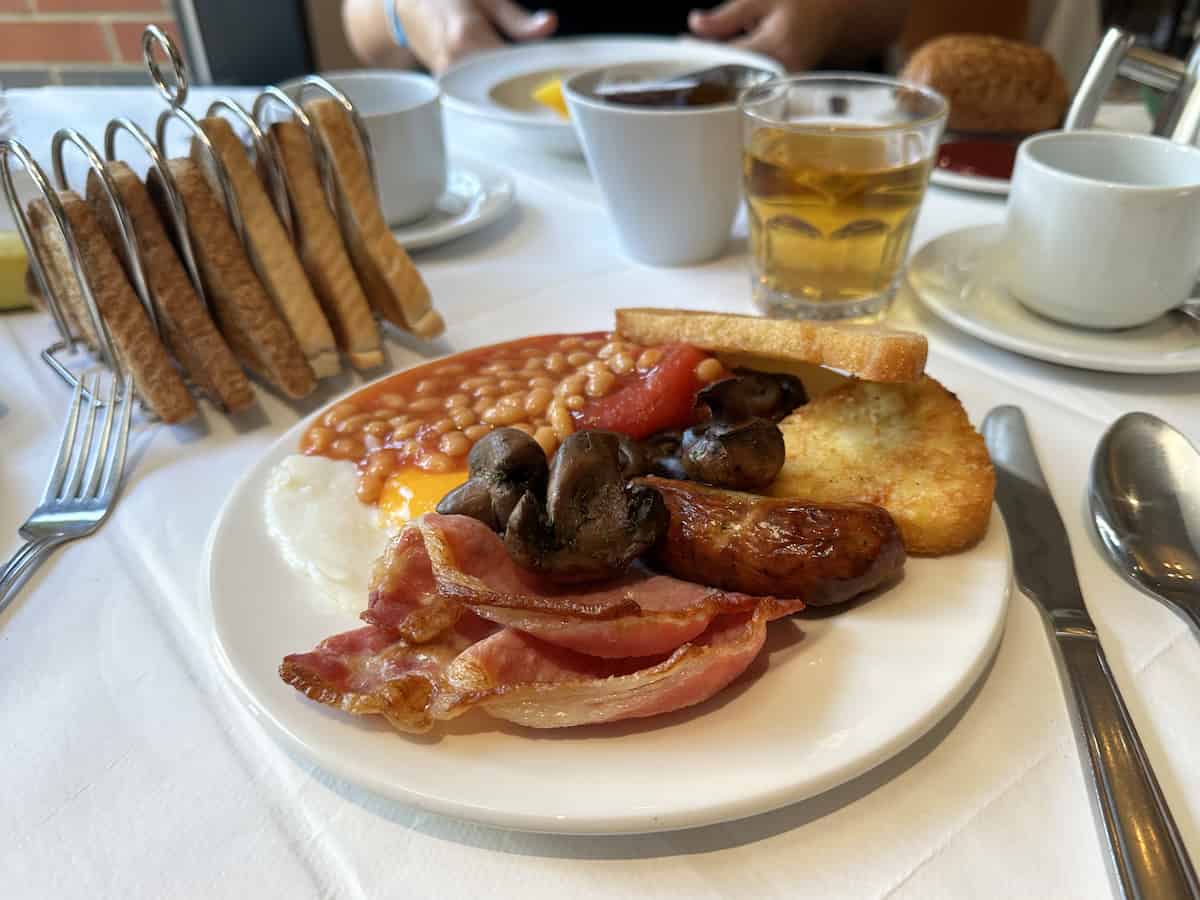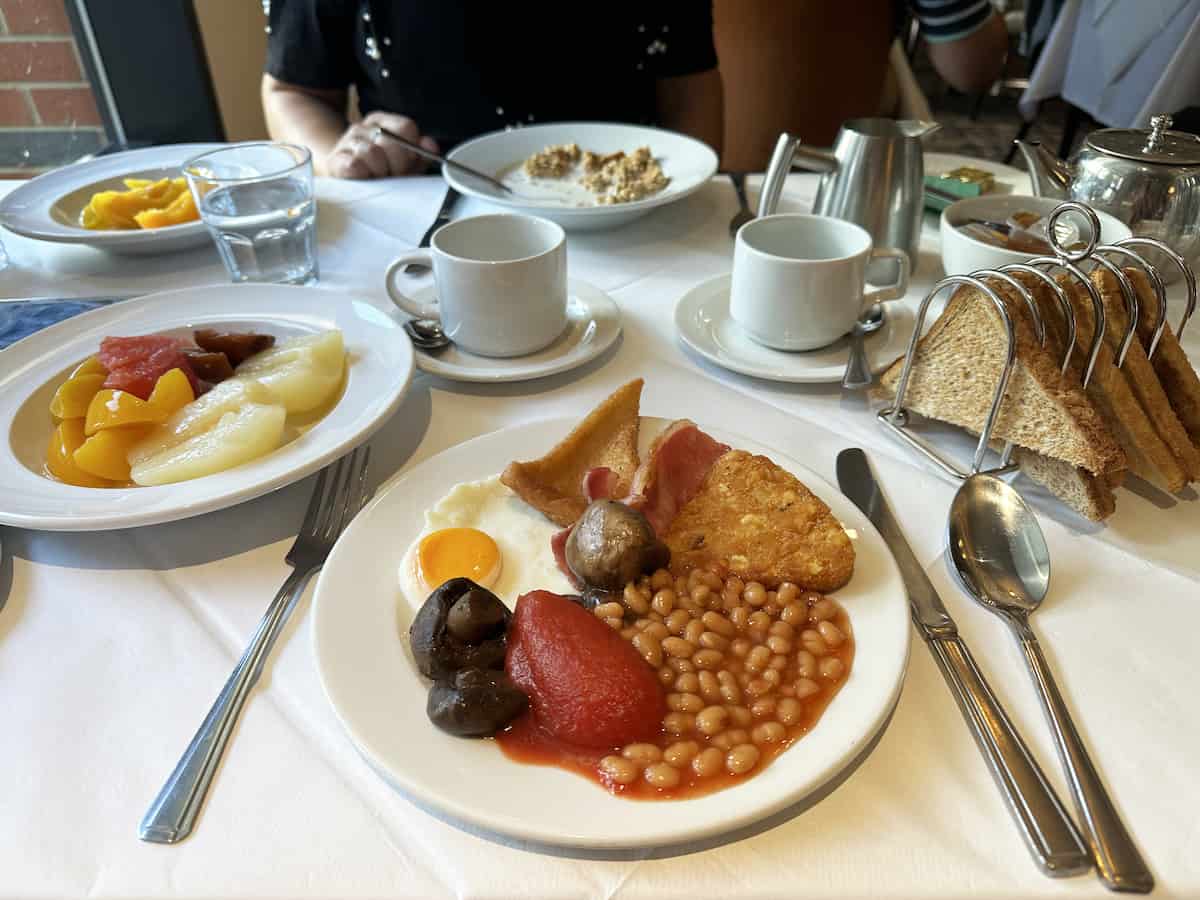 Each day for lunch there are three courses which are mainly table service. There's soup, followed by a choice of mains and then a dessert menu with cold options that are the same throughout the break and then a different hot pudding each lunchtime and dinner.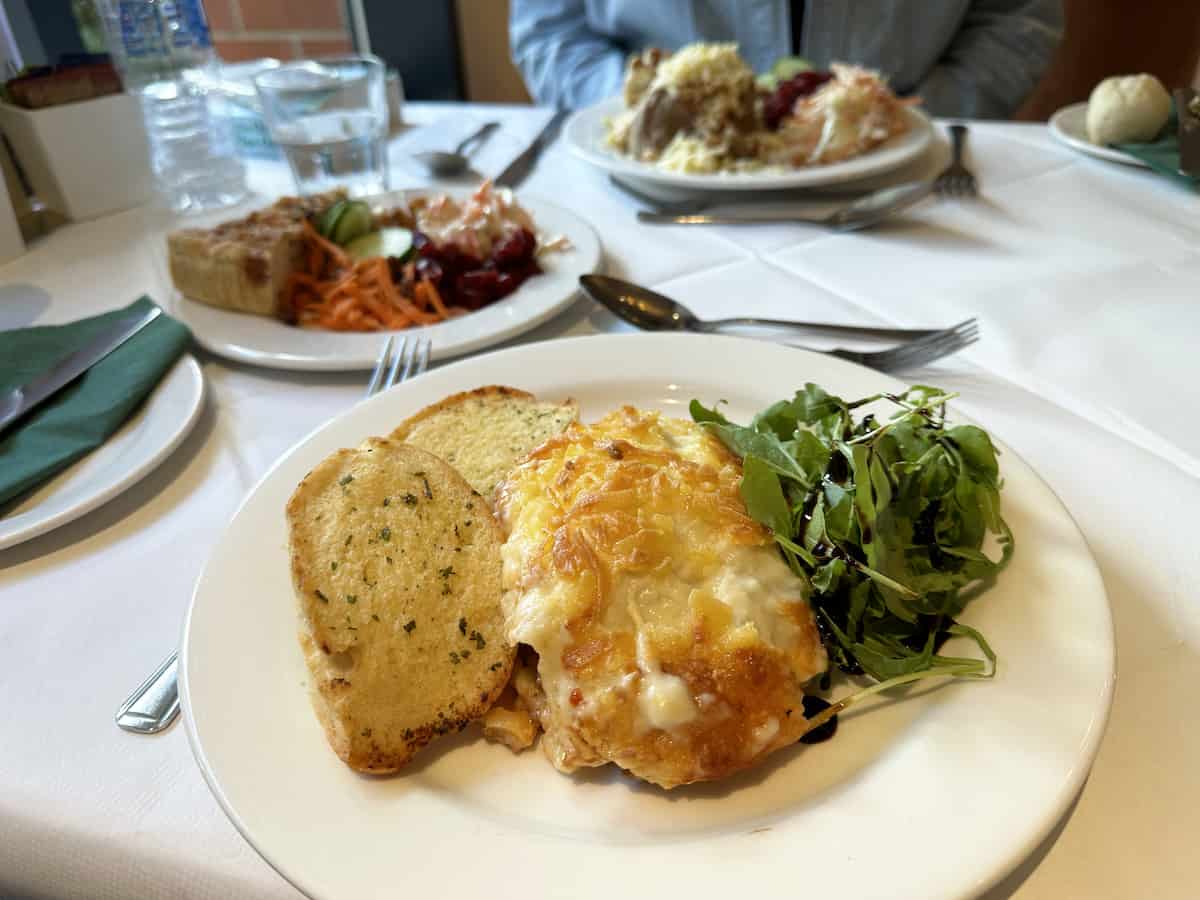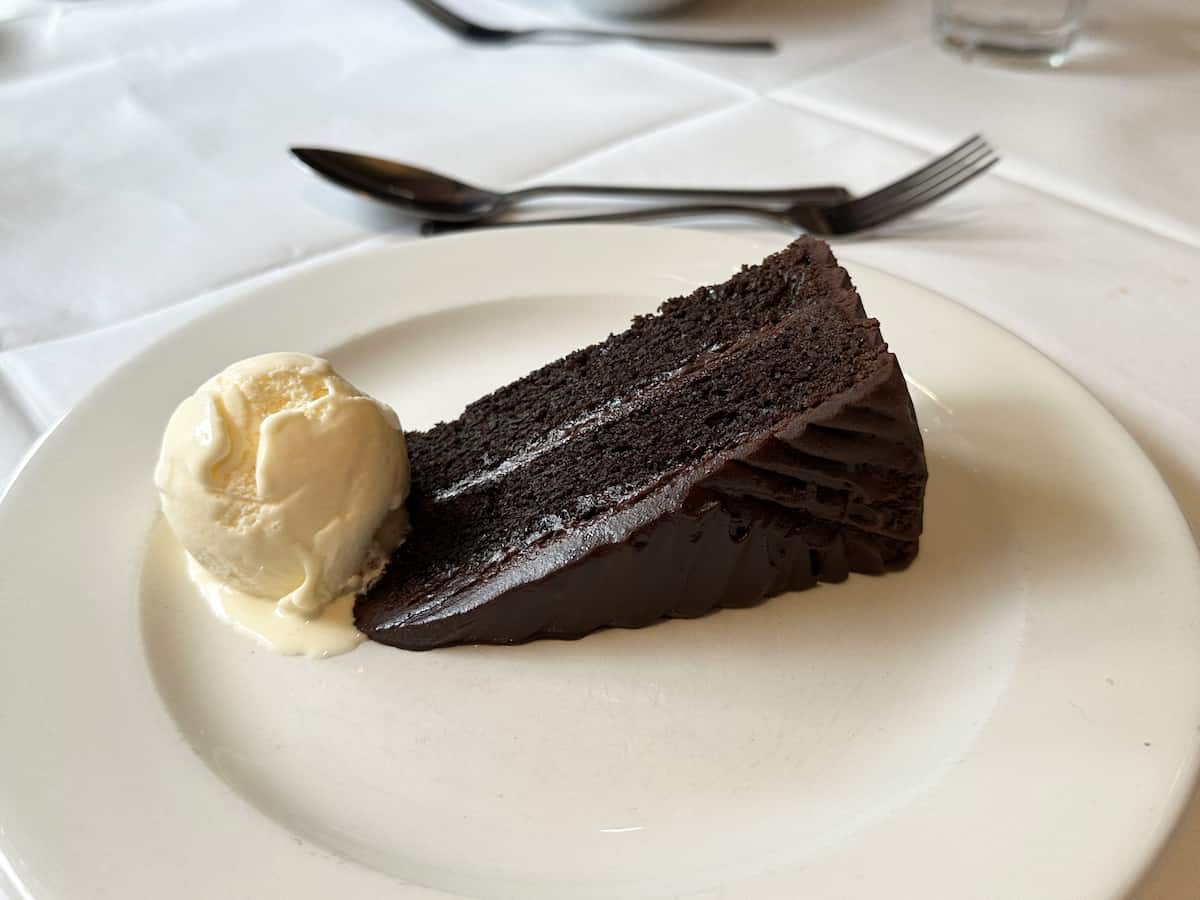 For lunch we had things like fish and chips, lasagne, fish cake and gammon but there was also a buffet of jacket potatoes and fillings each day as well as a hot buffet main like stroganoff or pulled pork. Alongside this there was a fabulous salad bar with plenty of salads, side dishes and things like quiche, fish and bread rolls. There really is something for everyone at lunch time.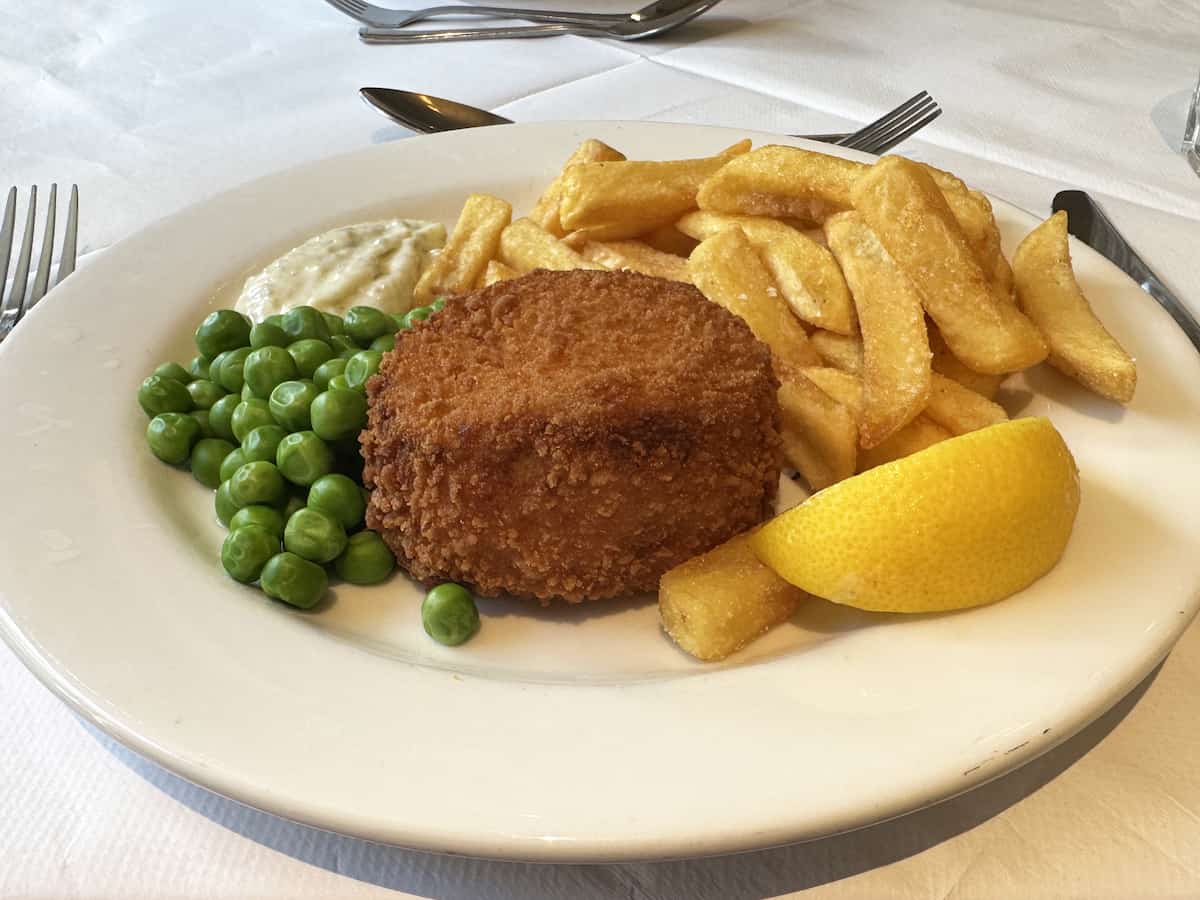 At dinner it's a similar set up to lunch with a choice of starters, a choice of table service mains and a selection of desserts along with bread rolls on the table when you arrive. But, there is also a carvery buffet every night with a different choice of meat each time and a hot buffet option too like chinese or curry.
I ended up having the carvery option twice during our break as it was just so good – you really can't beat a roast dinner – but I also had a really lovely stuffed pork belly and mash.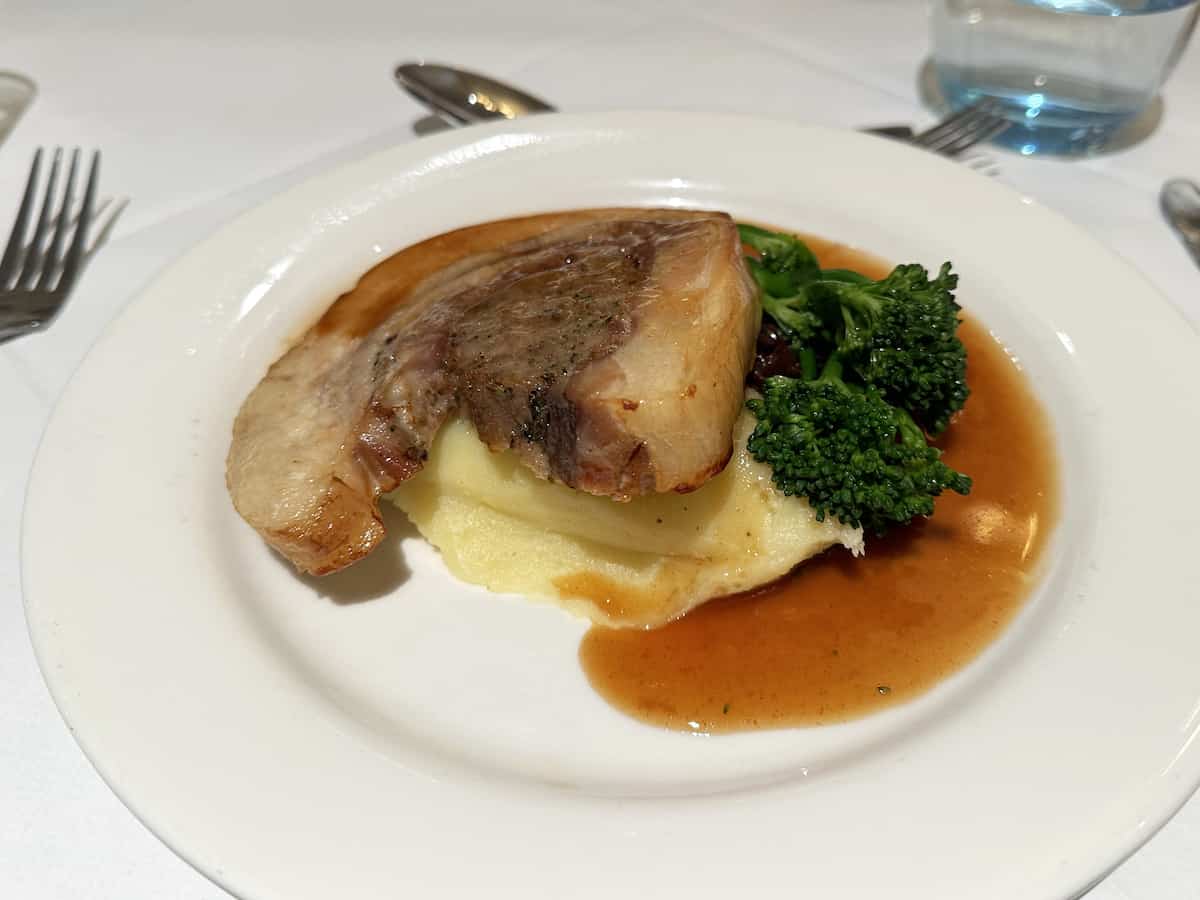 We also had some lovely starters – patê, arancini, breaded brie and really tasty soups. The desserts were fantastic as well and I made it my mission to try nearly everything on the menu!
The hot desserts with custard were some of the nicest I have ever tasted – syrup sponge, pineapple upside down cake and a apple and rhubarb crumble! But, the key lime cheesecake was pretty special too – as were the profiteroles and chocolate fudge cake!
My friend is vegetarian and we loved that for every lunch and dinner there was a fish option and a vegetarian option as standard but Potters Resorts cater for all dietary requirements too.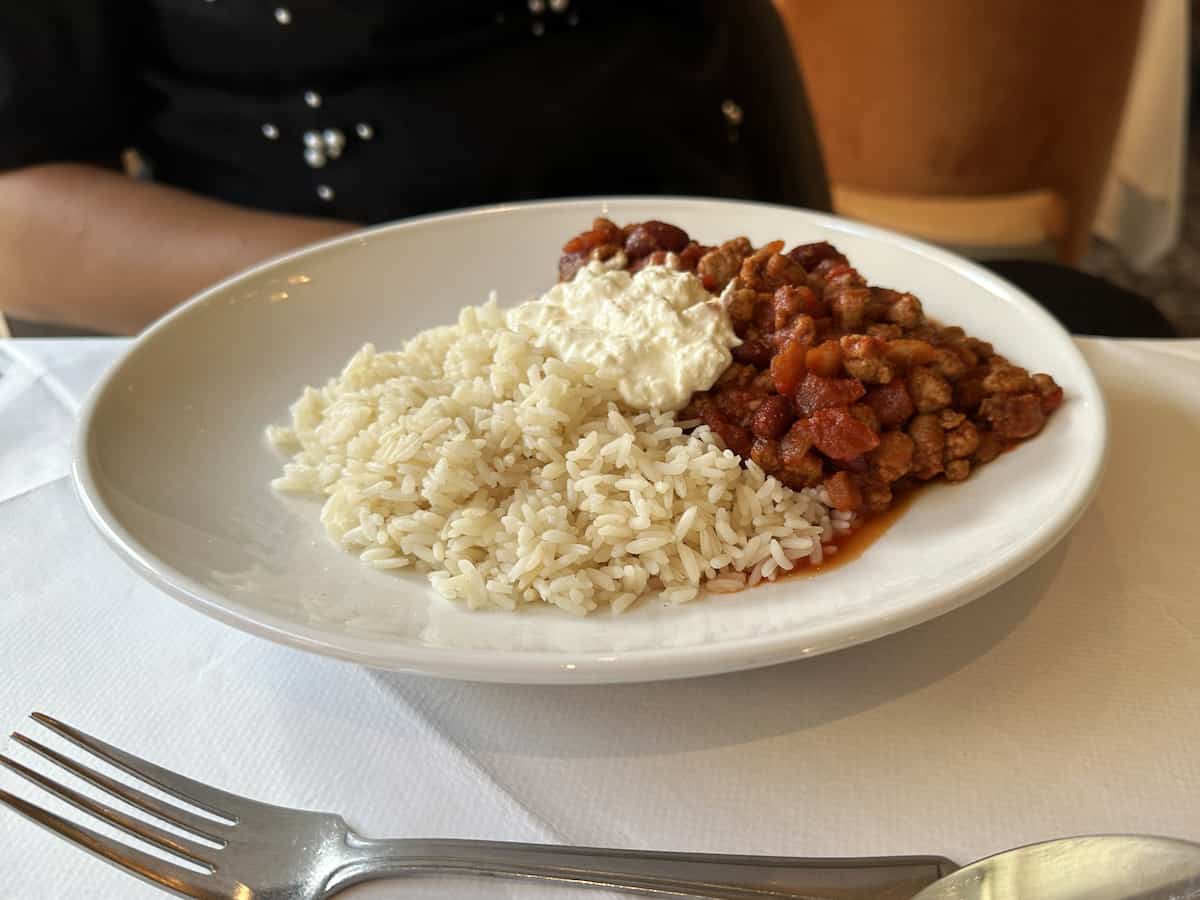 We couldn't fault the food at Five Lakes and, if we'd needed even more, they also have a late night fourth meal if you're still peckish after the evening entertainment. We didn't stay up late enough for this but it's lovely that there are food times to suit all apetites.
Drinks at Potters Resorts
As I mentioned, drinks are included in the cost of your Potters Resorts break and the menu is great. With everything from tea and coffee to bottled water, milk, fruit juice and fizzy drinks as well as plenty of beers, wine by the glass and spirits.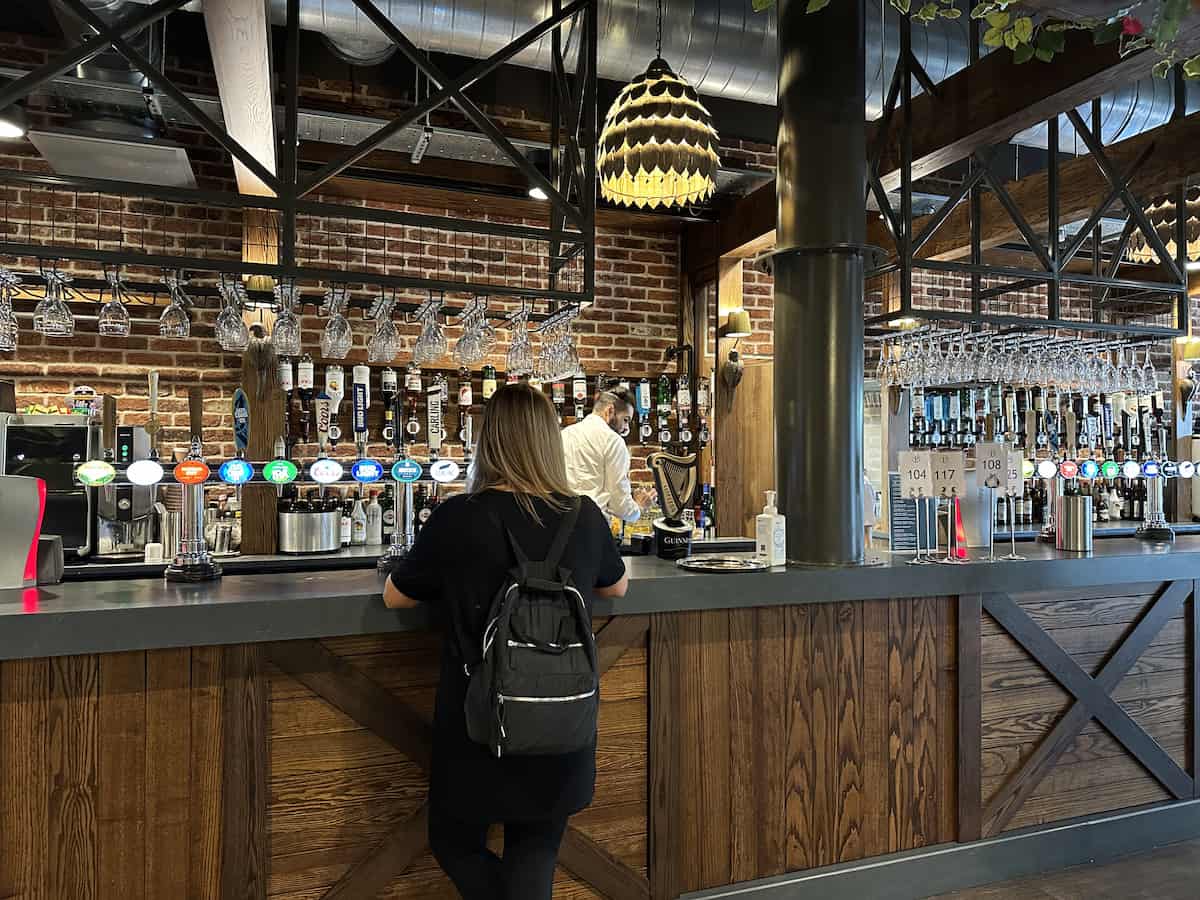 Potters Resorts also have a premium drinks menu with bottles of wine, premium spirits and cocktails on it. These are at an extra cost however, we didn't feel the need to pay for anything extra and happily had gin and tonics, malibu and cokes, prosecco, pimms and plenty of soft drinks and hot chocolates throughout our break, all included in our package.
In the evening, wine and prosecco are served to your table during dinner and all other drinks can be ordered at designated order points. These order points are in operation throughout the break and make getting drinks a seamless process. Outside of meal times, you can either get drinks delivered to your table in the Garden Bar and theatre areas or you can hang around and wait for them to be brought to you at the bar.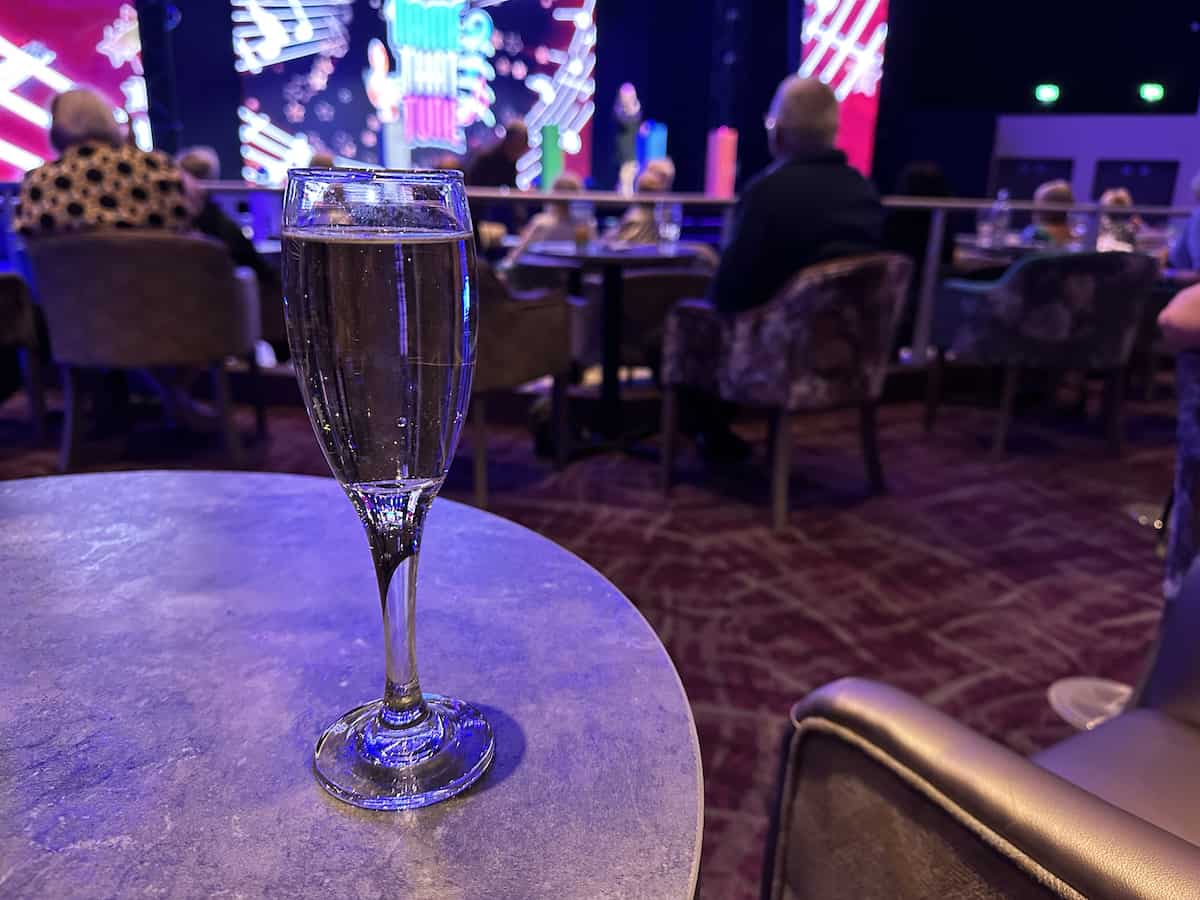 I've never experienced a truly all inclusive offering in the UK before and it was fantastic. Service was fast and the staff didn't mind if you ordered a couple of drinks each at a time. The wristbands we were given at arrival showed we were on an all inclusive package – along with everyone else staying on resort – and we just ordered whatever we wanted and sat back to wait for it to arrive at our table. I don't think we ever waited more than about ten minutes for our drinks. It was a great service.
Activities
One of the best things about Potters Resorts – as well as the food, drinks and beautiful surroundings – is the sheer volume and quality of activities and entertainment on offer.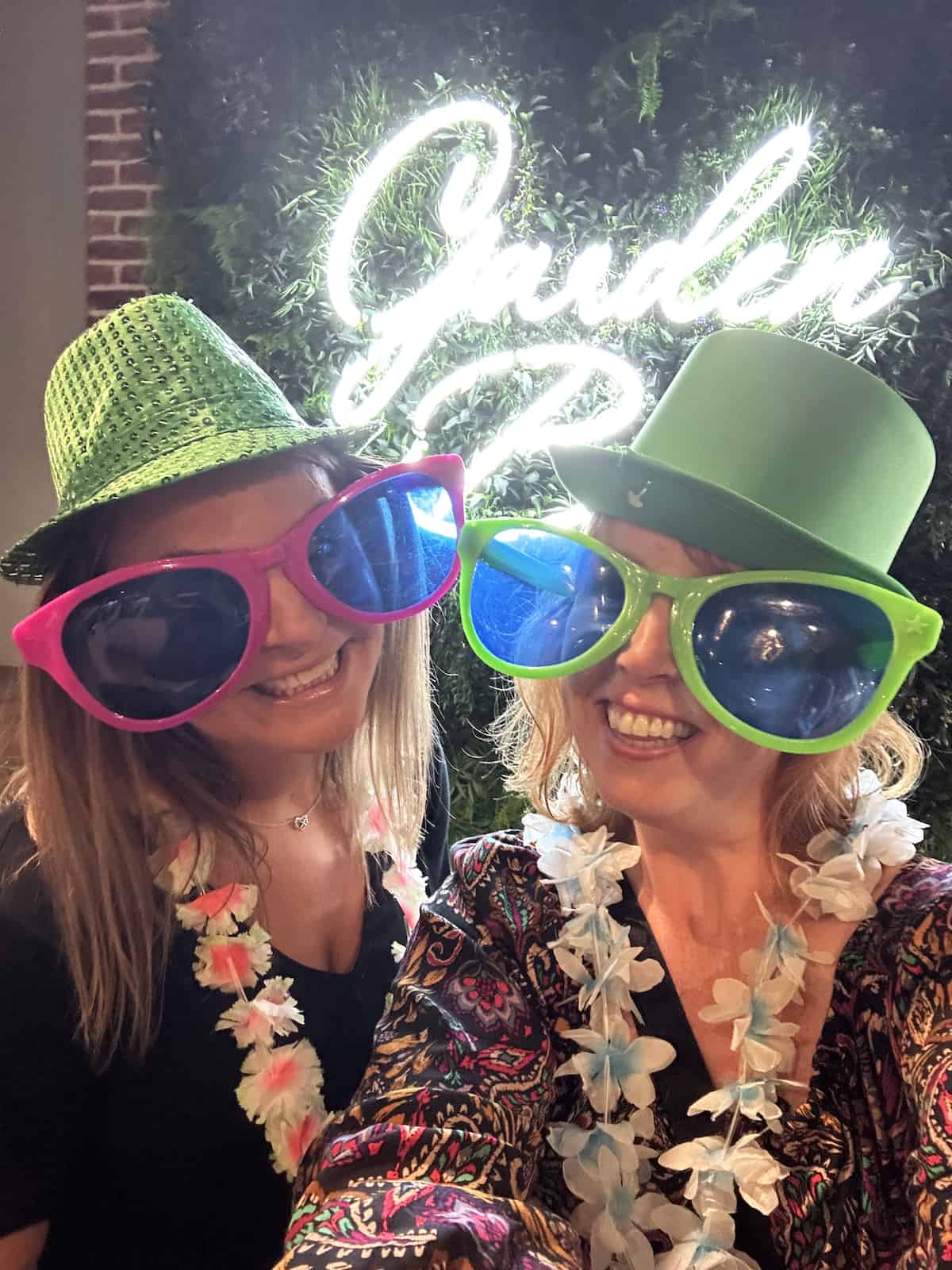 Your break starts with the Garden Party in the Garden Bar at Five Lakes. With live music, quizzes and games, it's a fantastic introduction to your Potters Resorts break and a great chance to meet some of the entertainments team too.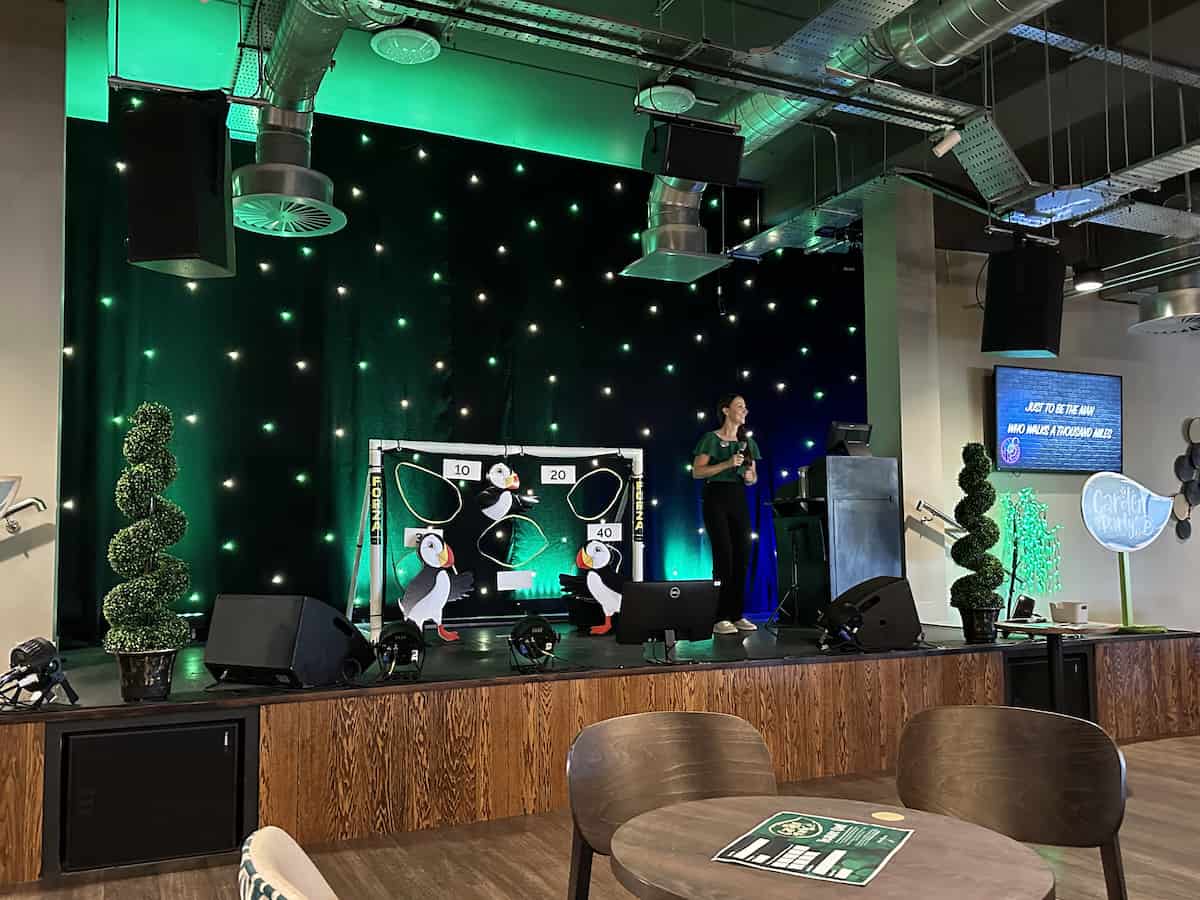 From there the break is full of activities from morning until night. Thankfully, the activities don't start too early – usually around 9am – and they are all optional. You do whatever you want to do, there's no pressure to take part in anything, and there really is something for everyone.
Throughout the break there are quizzes and live music which are always a great way to relax in between more high energy activities. We loved the keypad quizzes in the Garden Bar and we took part in many general knowledge and film and TV quizzes as well as enjoying a great game of scattergories too!
The other indoor, relaxed activity we really enjoyed was the craft sessions. Over the course of our weekend we could decorate mugs or canvas bags and had the opportunity to make keyrings and bookmarks too. It was nice to paint a mug whilst socialising with other guests, creating a lovely souvenir to take home with us.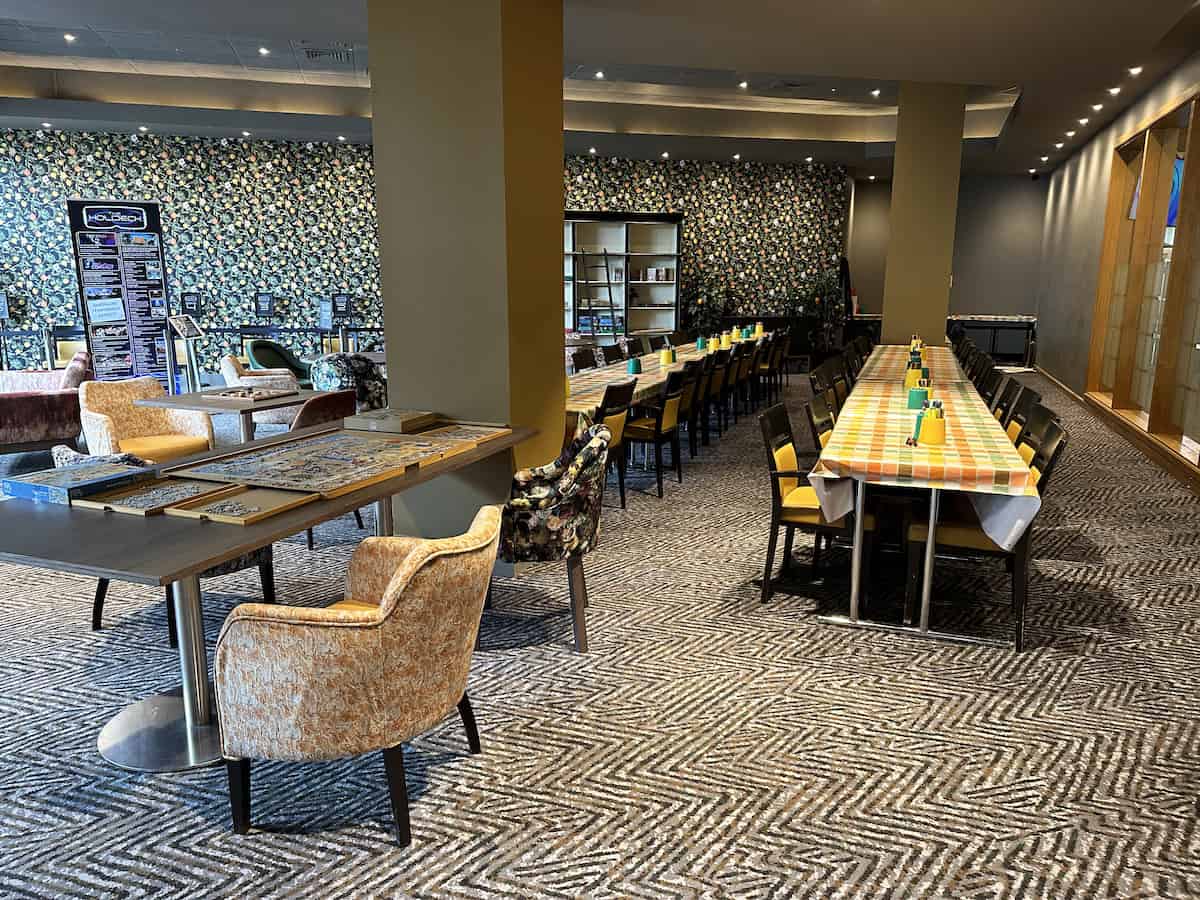 Usually this sort of activity has an additional cost on hotel breaks but at Potters Resorts everything is included – there are no hidden costs. Plus, the Orangery where crafts take place is also home to so many board games and puzzles! Simple fun if you fancy some down time.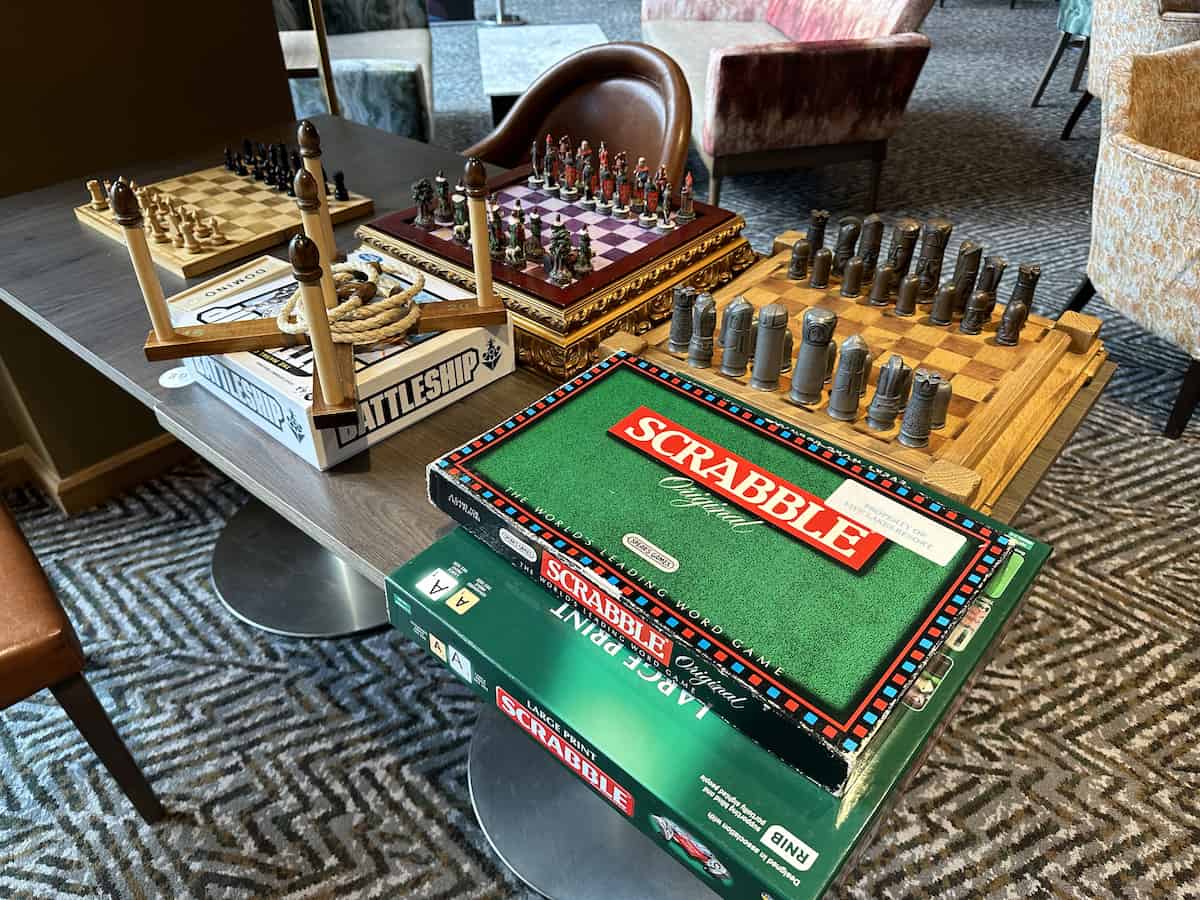 Five Lakes has a great Indoor Sports Park that is full of different games you can play in your own time or as competitions on the activities programme. There are pool and snooker tables and darts boards as well as many ping pong, marble and coin based games, a little kurling area and even giant jenga, connect 4 and shuffleboard. We loved trying something new and just enjoying the simple pleasure that games like this bring with them.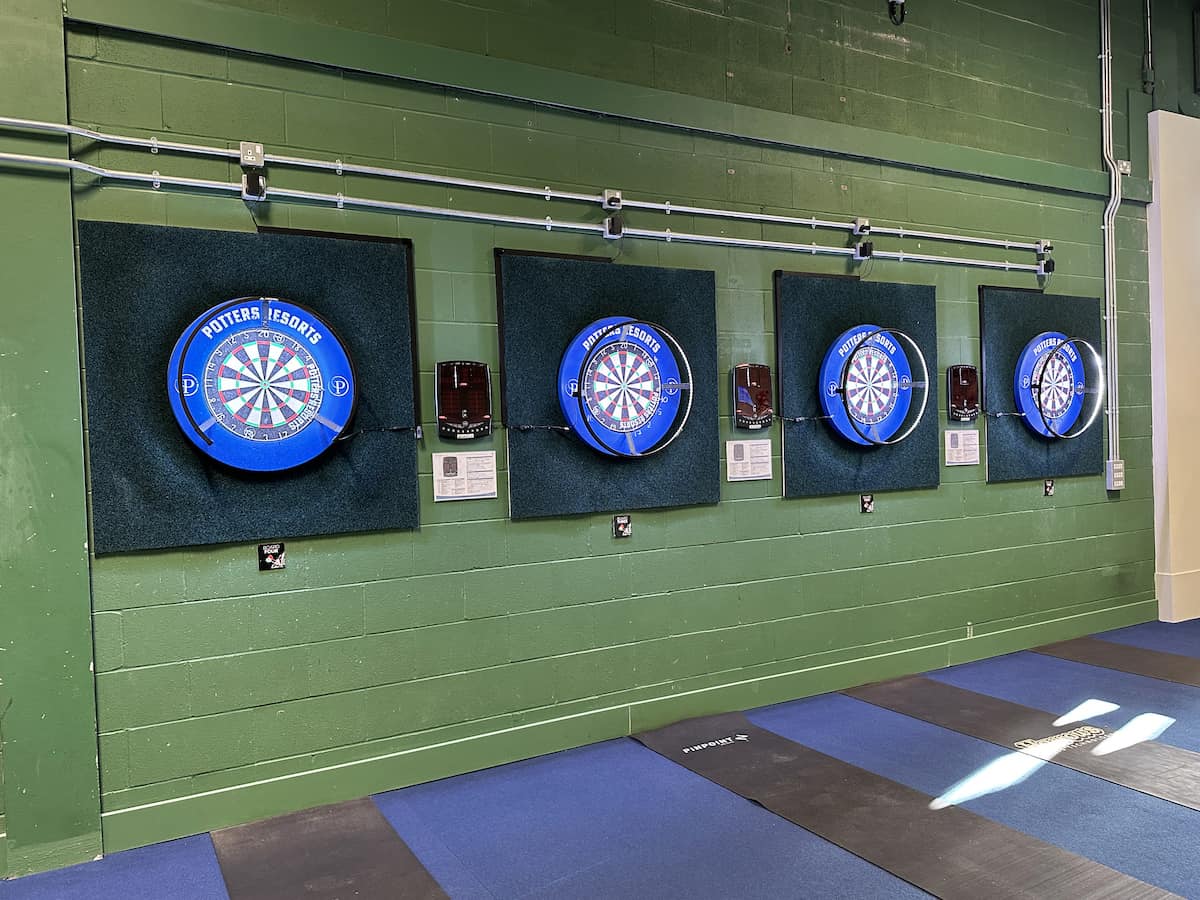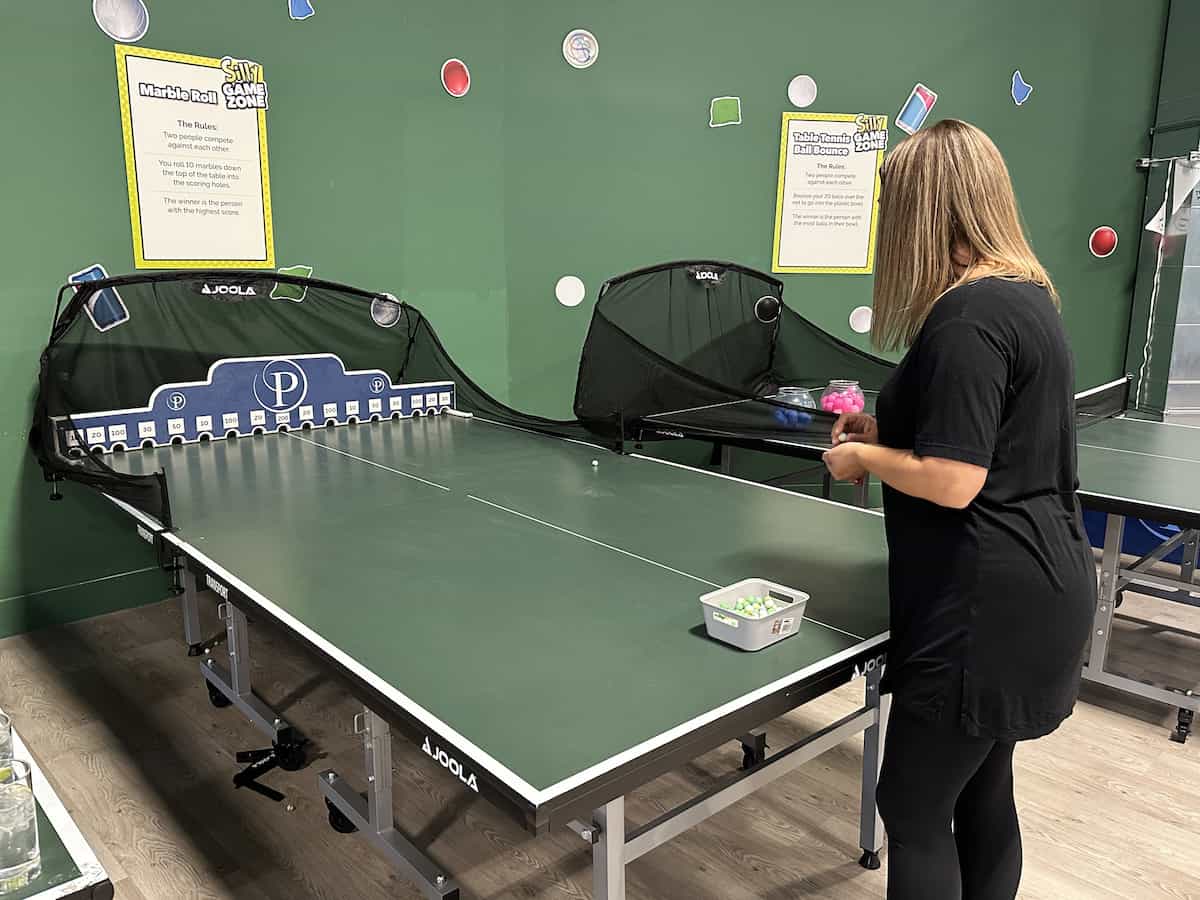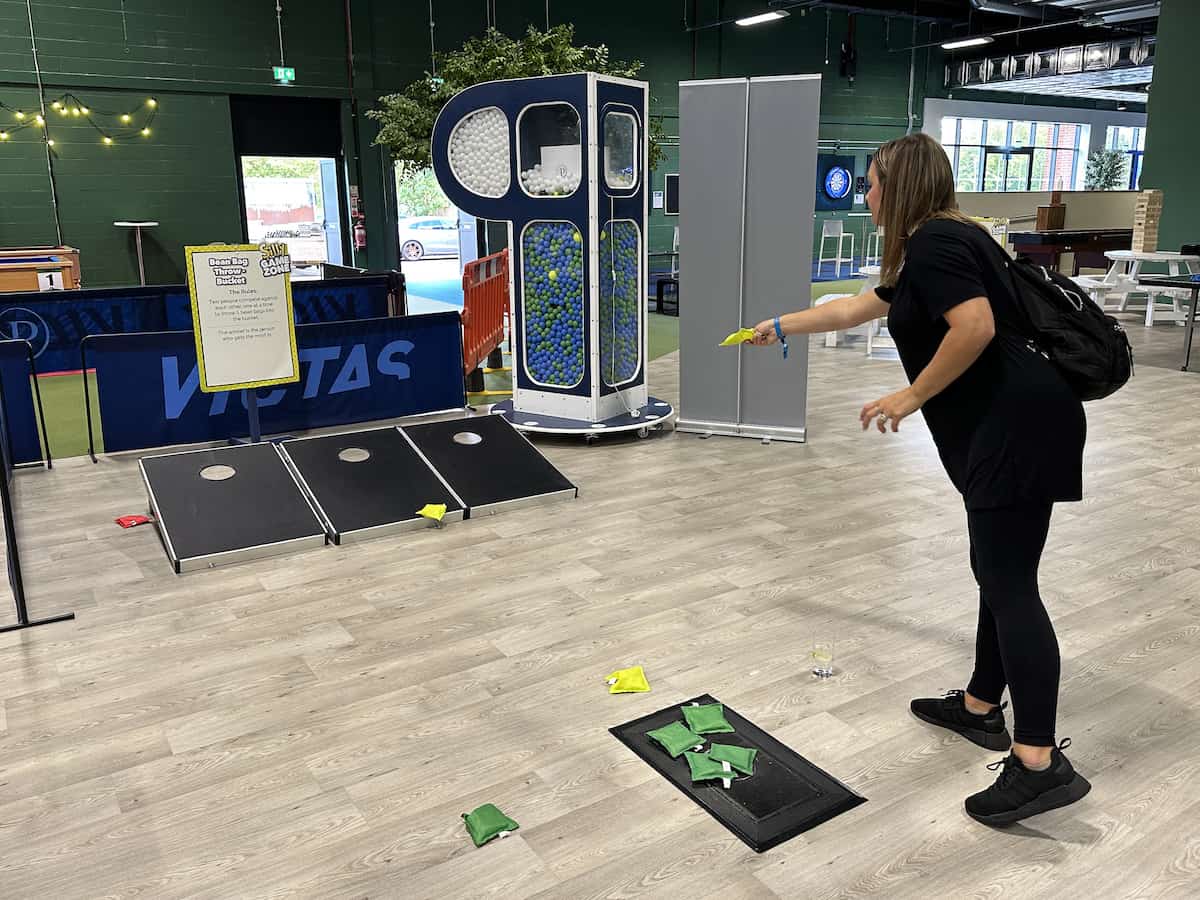 Outdoors, Five Lakes has so much land that they really make the most of. In the vast activities field there's archery, air rifles, wacky races where you get to race remote control cars and sports like disc golf that I'd never heard of before but that everyone enjoyed trying.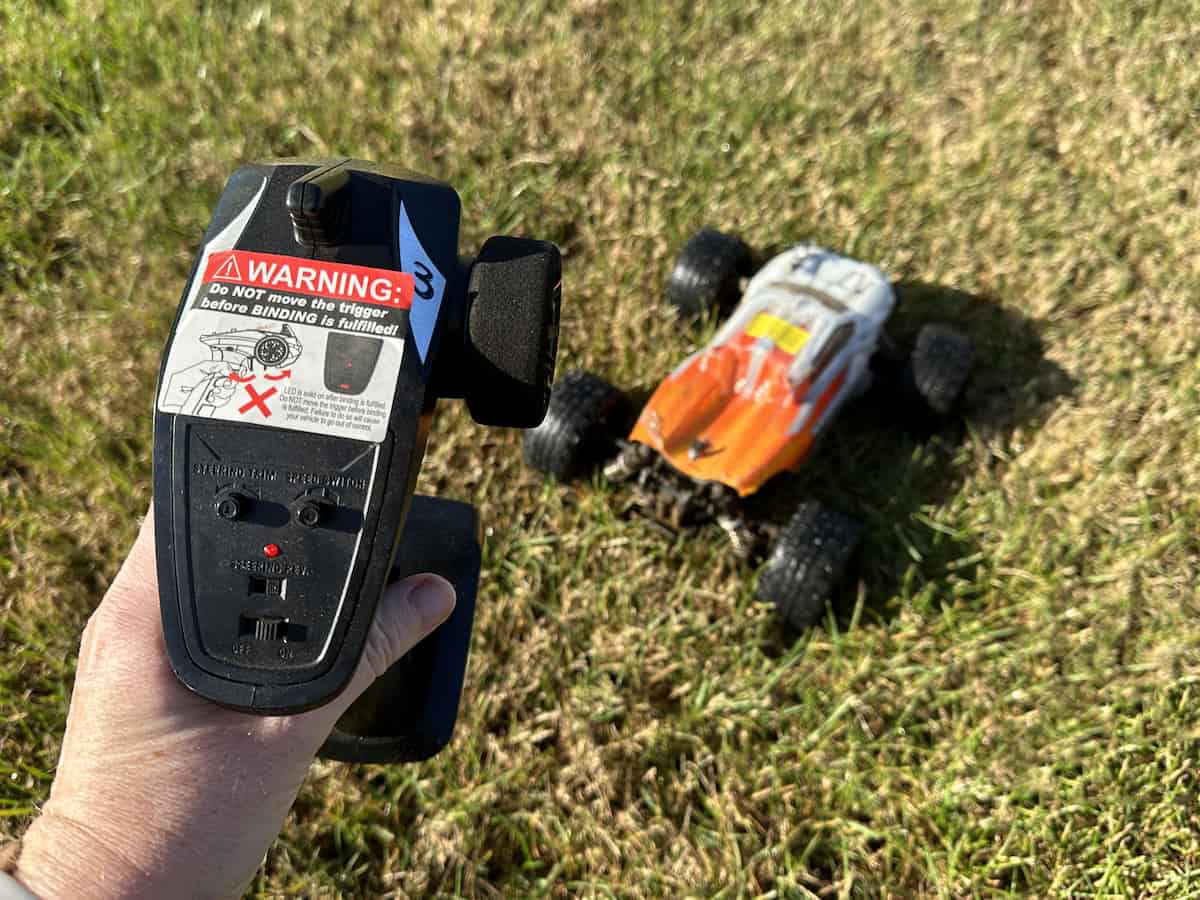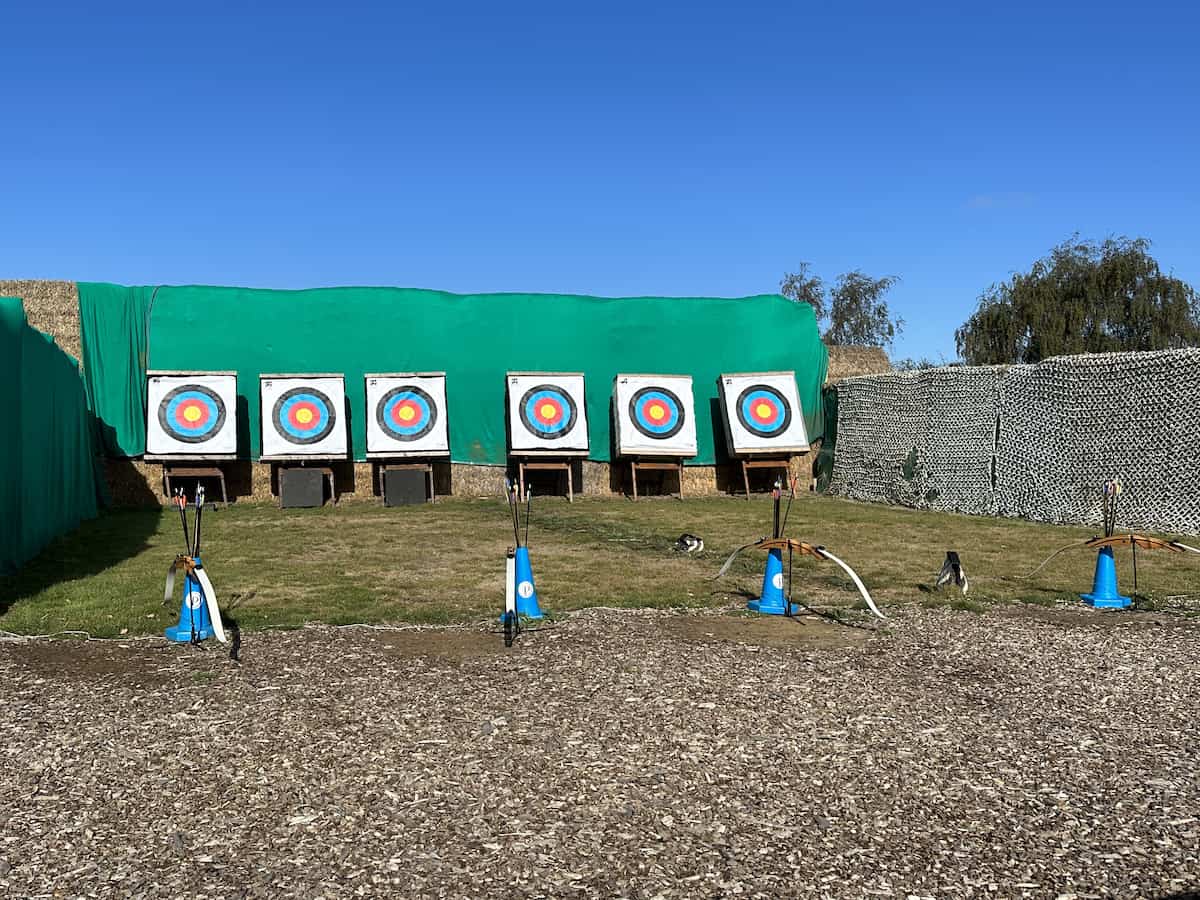 One of the most popular activities is Rally Karts where you get to have three laps around a track in a kart. It's fast and fun, with all safety equipment provided. Everyone who tried it came away with a huge smile on their faces. One of my favourite things about our break was seeing how happy everyone was. The activities brought so many people so much joy and gave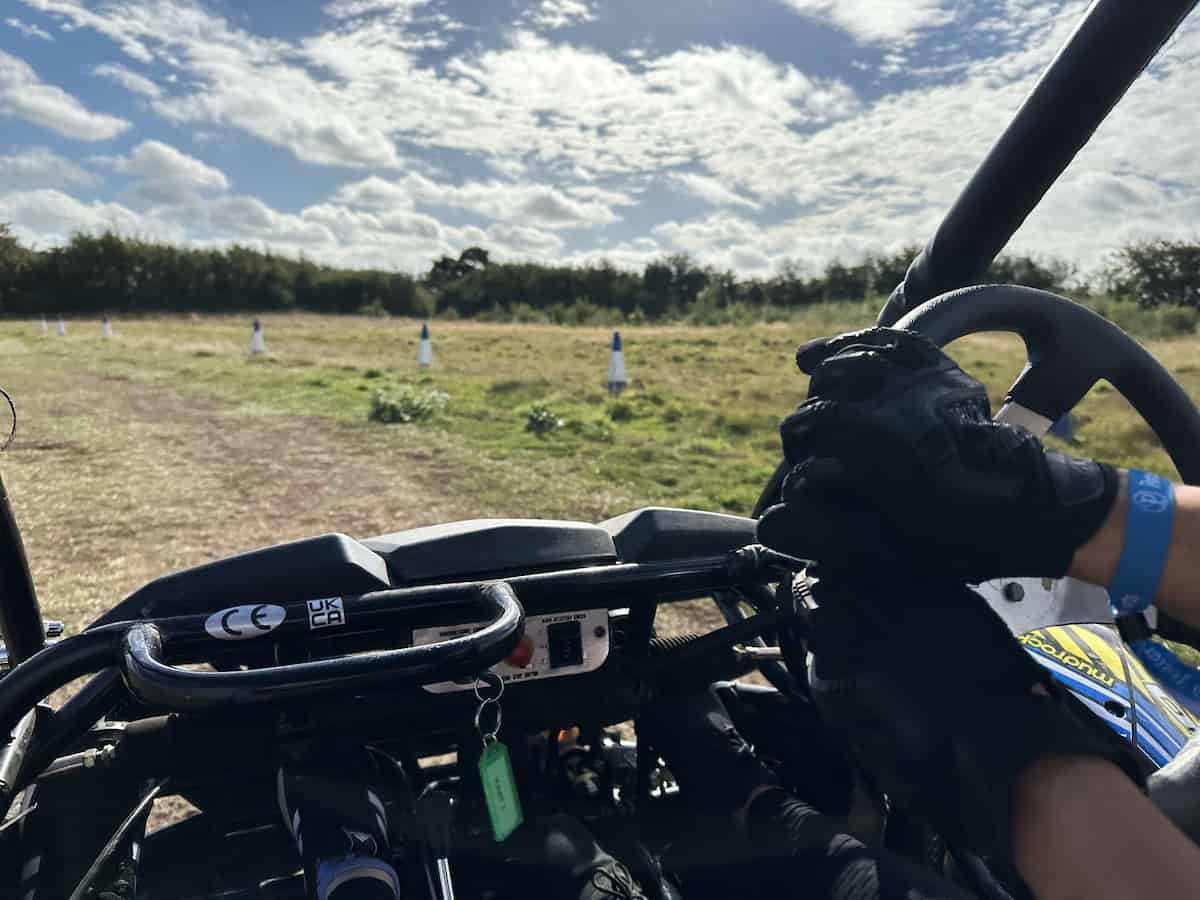 Our last activity of the weekend was the Golf Buggy Driving School which was hilarious. Harley and Sarah were great hosts, showing us how to drive the buggy and helping us race around the course without dropping too much water from a bucket on the back of the buggy. It was bonkers but great fun – and so competitive too!
On the other side of the resort, next to the tennis courts, is another area of fun and games. We got to play giant swing ball and hoopla, throw plungers at a target and even went welly wanging! This was an absolute highlight of our trip, seeing so many people giving it their all, and Shaun was a fantastic host for the games too. He was hilarious!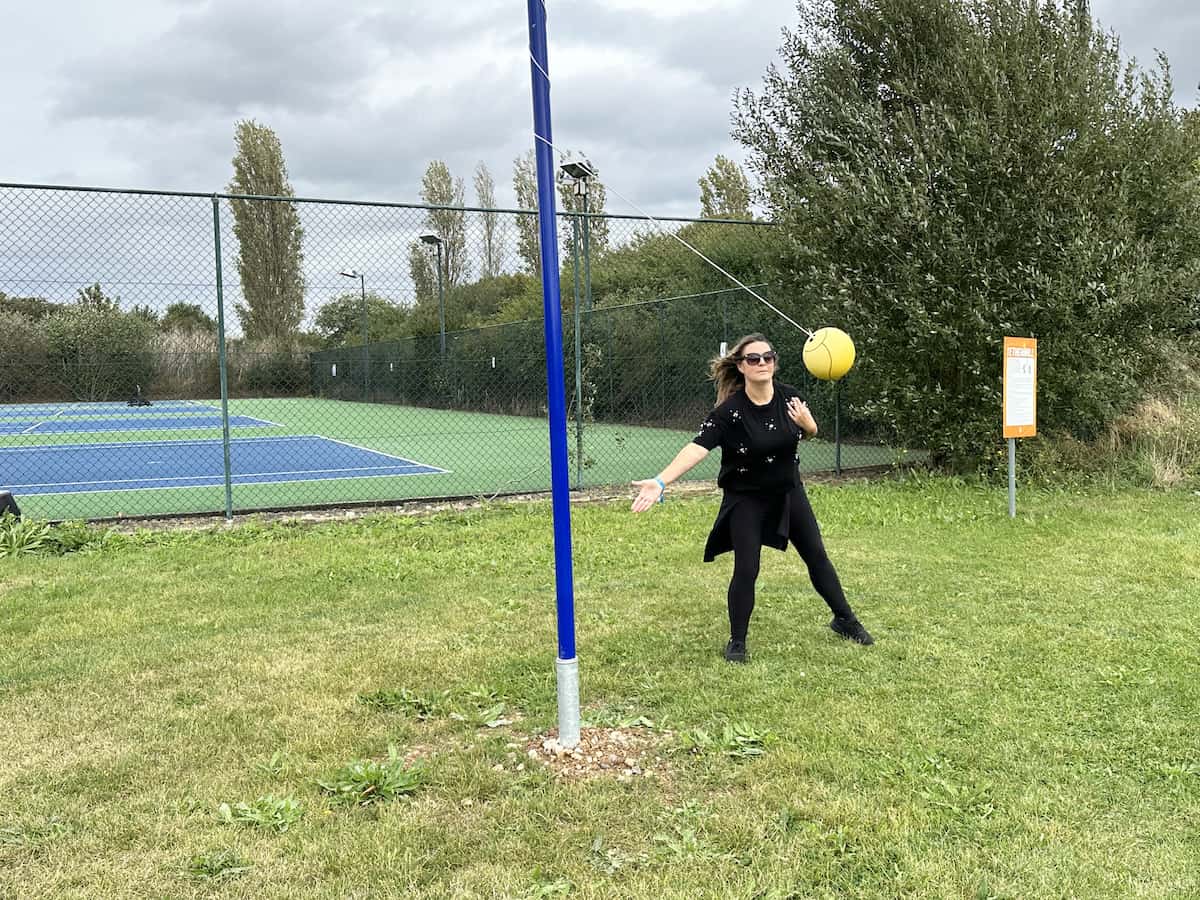 One of our favourite parts of the activities was the chance to win medals, pin badges and even giant bottles of lambrini! You're never too old to win a prize and we were lucky enough to win medals at archery on our last day. I have never been happier to win something!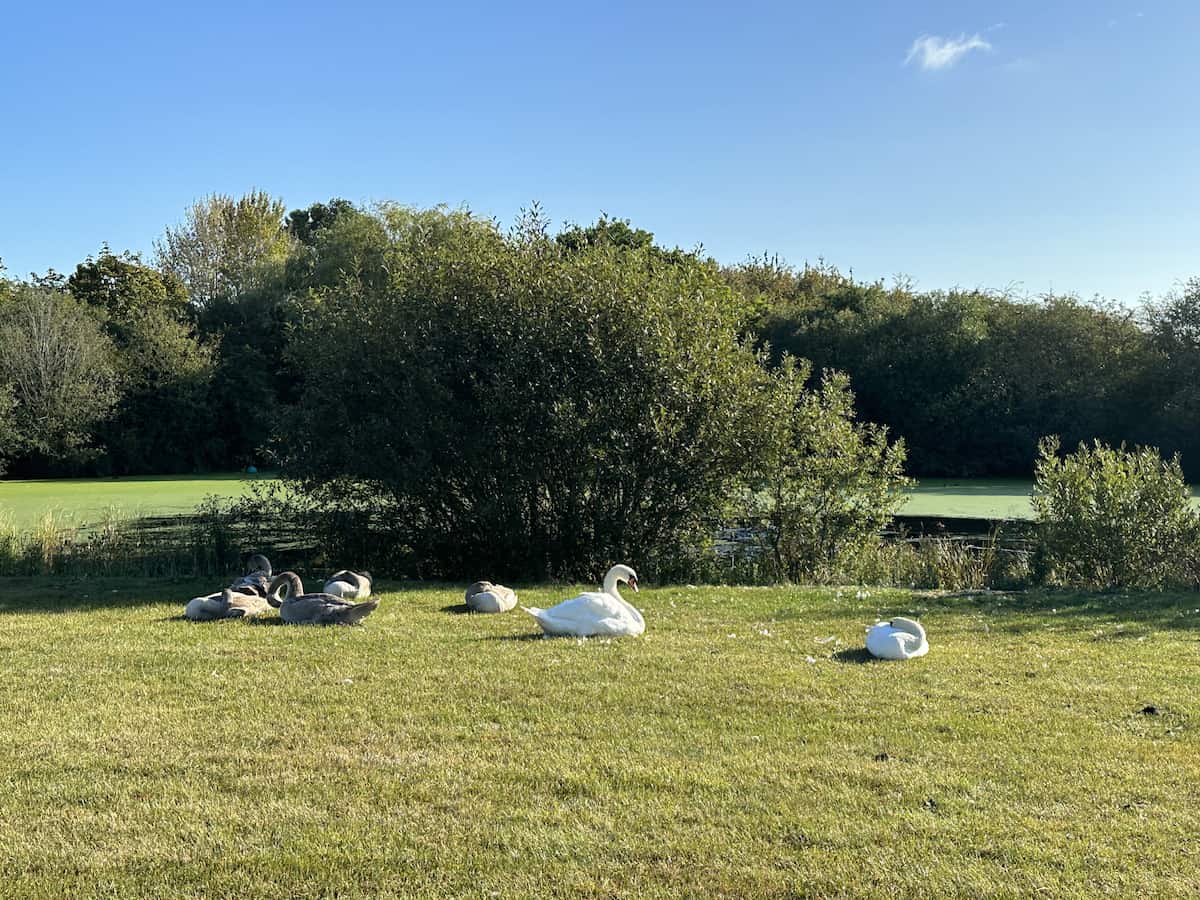 As well as all of these activities, there are also so many other things you can do in your own time – table tennis, bowls, badminton, tennis, pickleball… plus, Five Lakes is set in idyllic countryside that is perfect for walking, bird watching or just enjoying the peace and quiet. There's also a lake for boating but it was closed during our trip although we didn't notice as there was so much more to do!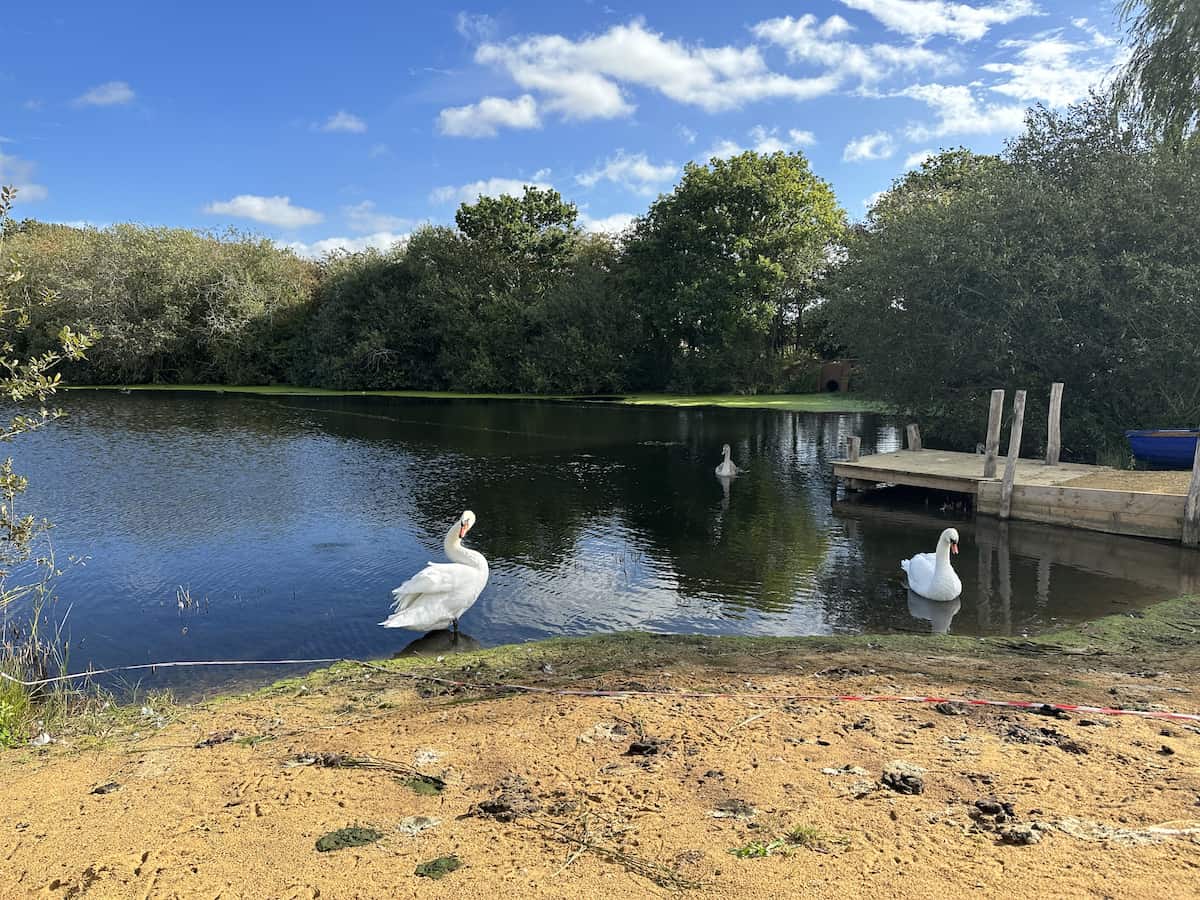 Entertainment
Throughout our break there were so many live performers doing sets in the Garden Bar and Glade Theatre. Jemma Hampton had such a beautiful voice and we loved listening to Ben Smith, Lauren Simpson and Dan Jones as well. It was also great that we met so many of the staff during activities or hosting quizzes as well as performing – they're all such multitalented people and a real credit to Potters Resorts.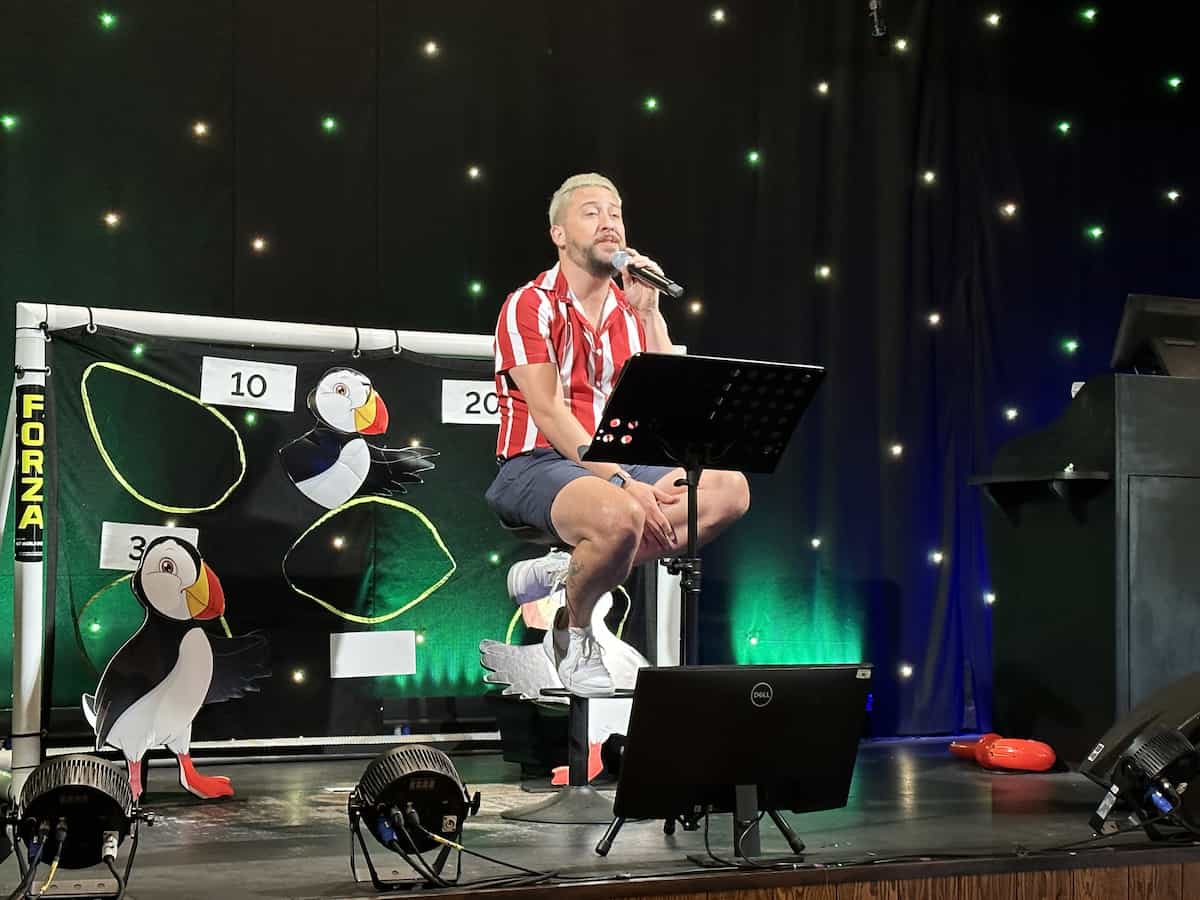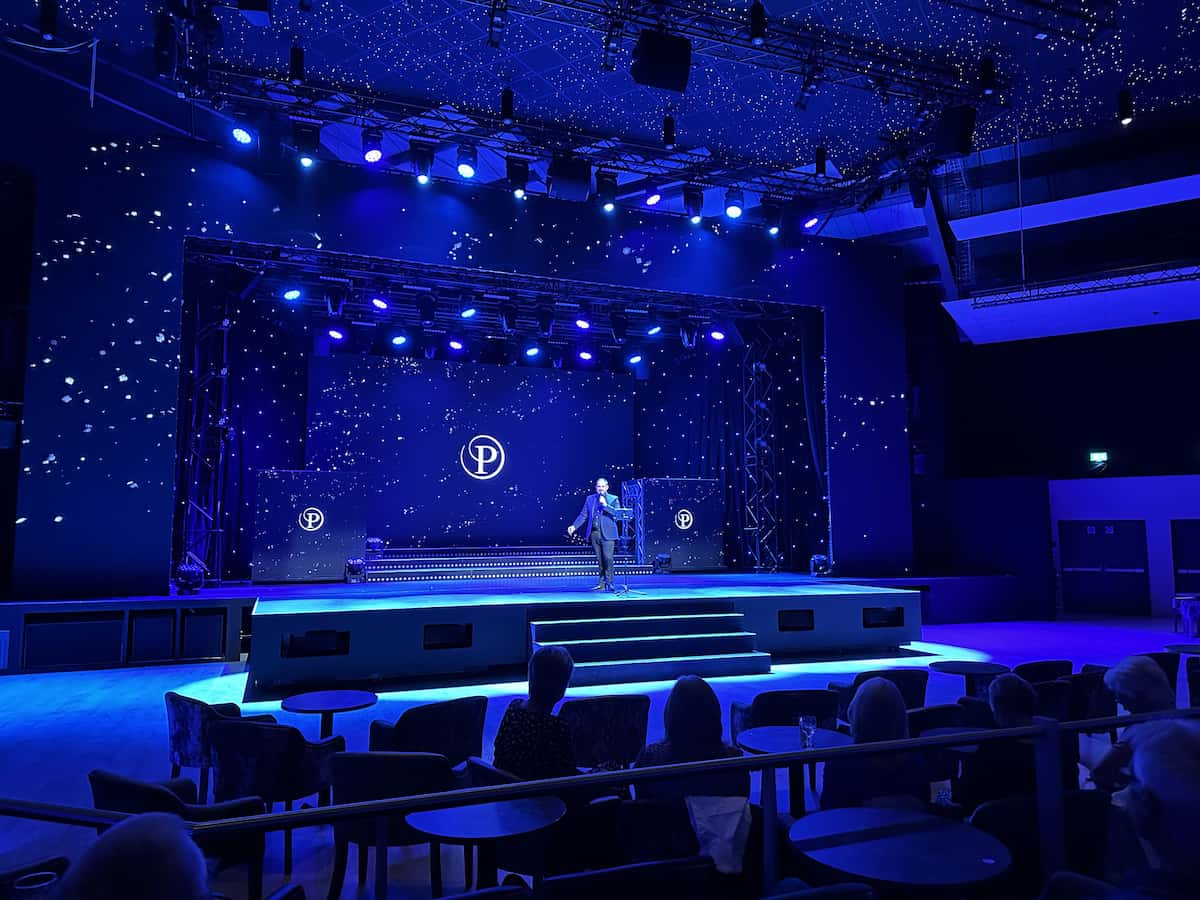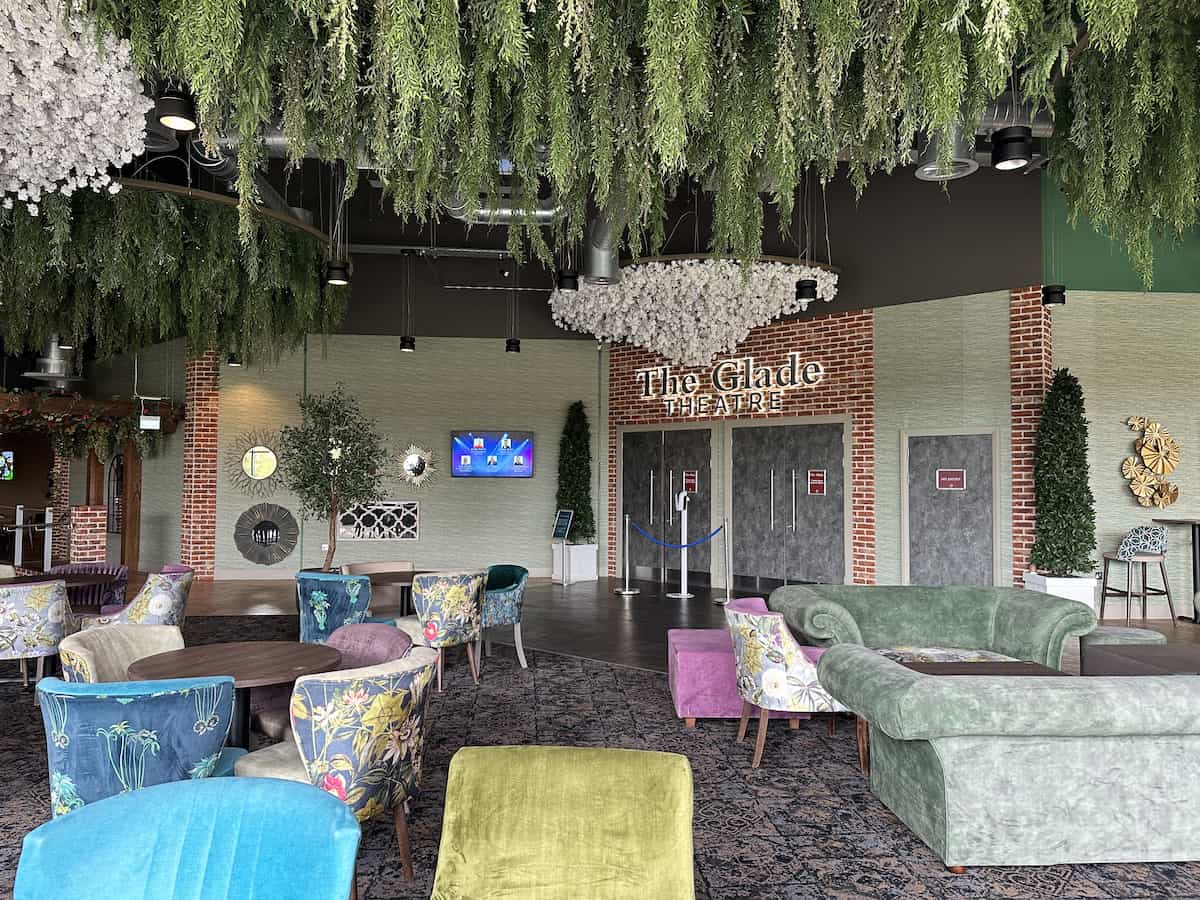 Another real highlight of our break was the evening shows in the Glade Theatre. Every evening the Potters Theatre Company put on a West End quality show and it is fantastic. The first night was Born in the USA, a whole hour of amazing songs, costumes and light effects showcasing the best in American music history. It blew us away.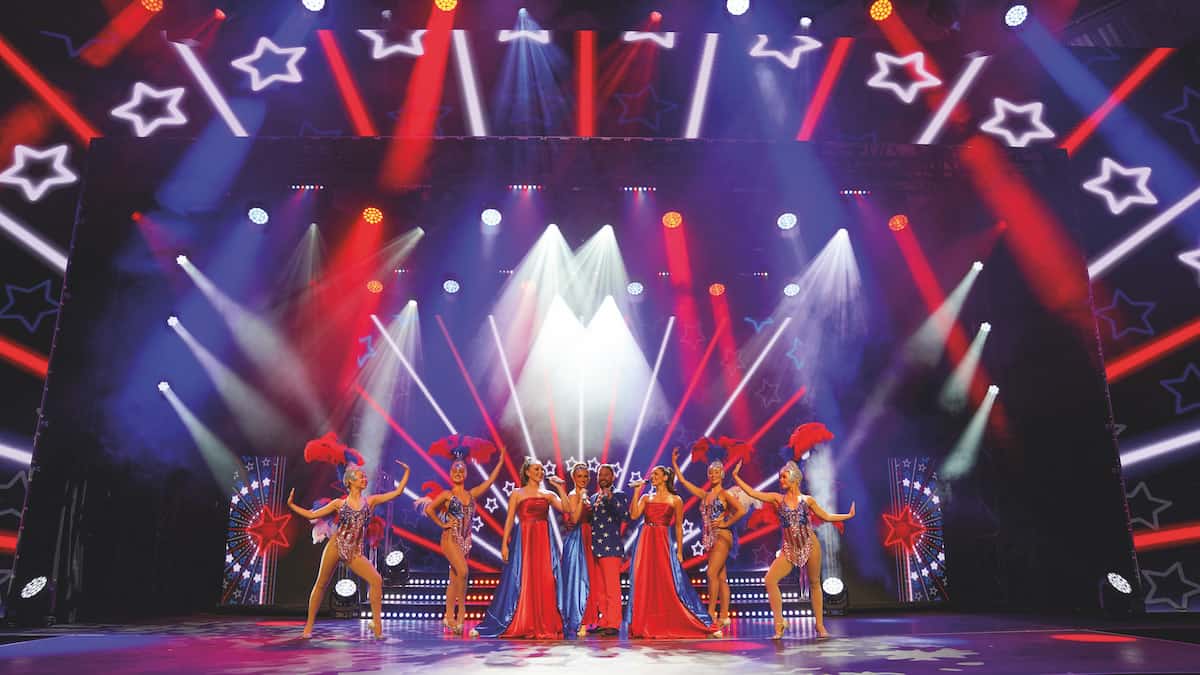 The next night was Lights, Camera, Action, an hour whizzing through thirty great songs from incredible movies. It was fast paced and a nice way to finish our evening.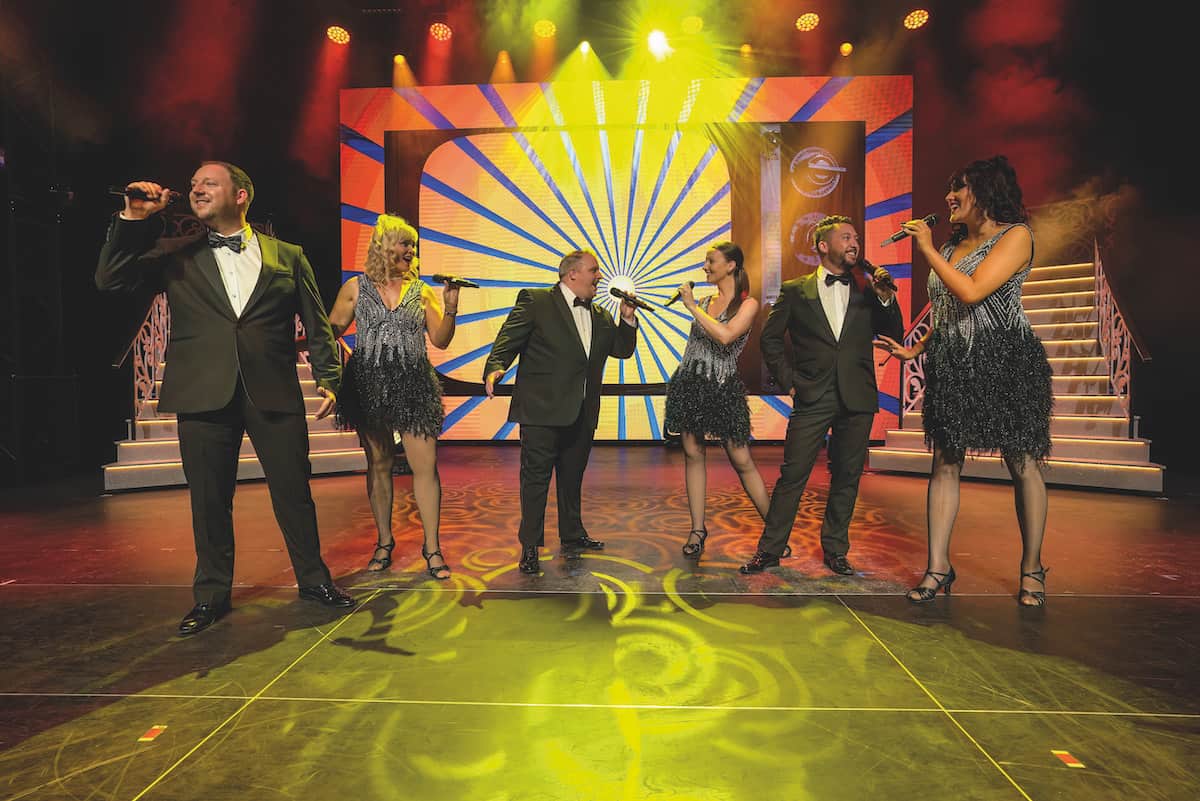 But Potters Resorts saved the best until last. On our last night we watched Simply the Best, a tribute to Potters Resorts and Potters guests over the last hundred years. It was a beautiful production and we left feeling quite emotional. It really showed us how important guests are to everyone at Potters Resorts and it was the perfect high to finish our break on.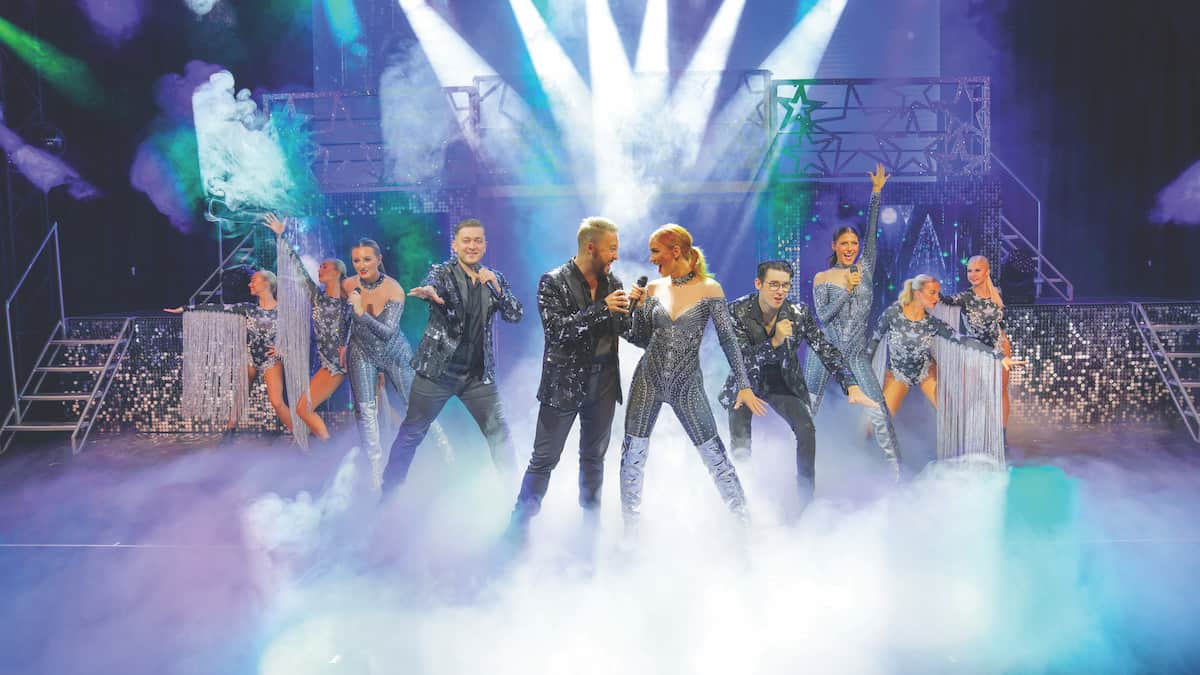 As well as the shows, live music and quizzes there was also bingo at various points through the break which was the only extra cost of the break – and completely optional. This was incredibly popular and saw most people buying multiple games of bingo to be in with a chance of winning fantastic cash prizes. In the evening you could win up to around £300 for a full house!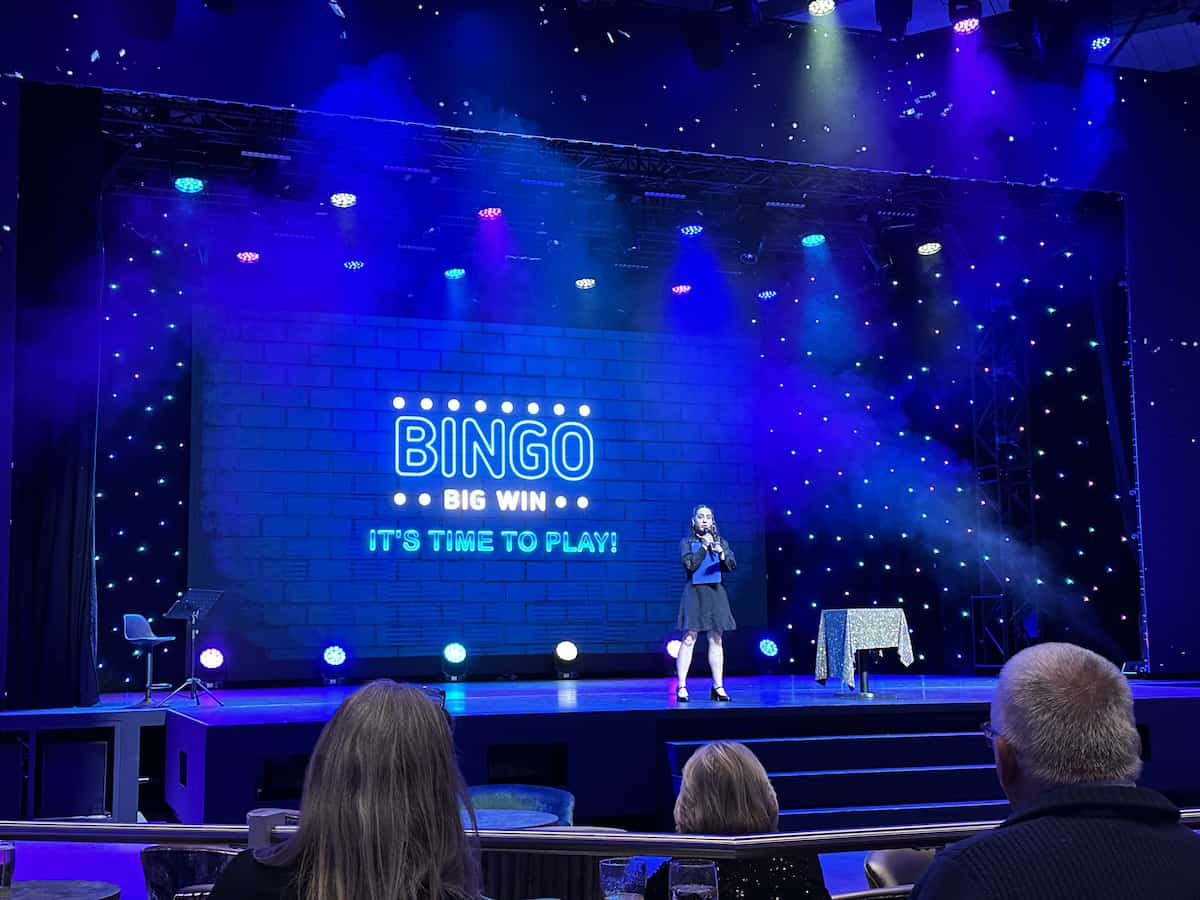 After the show there was always a Late Night Live set and disco in the Garden Bar but, try as we might, we never managed to stay up long enough! But, for the party people, the entertainment doesn't stop until 2am. Potters Resorts really cram in as much as they can but never compromise on the quality of the entertainment.
Facilities
As well as the fantastic activities and entertainment at Five Lakes, there were also plenty of toilets, loads of places to sit and relax plus a lovely little shop with gifts, toiletries and snacks.
Five Lakes also has a fantastic swimming pool – although we didn't get a chance to use it – complete with sauna and steam room, plus a spa with a wide range of treatments available along with a fully equipped gym. There's also a golf course if you want to add golf to your break away.
We loved that a Five Lakes break could be whatever you wanted it to be. It could be super relaxing, a chance to have spa treatments, enjoy the food and drink, read a book and simply unwind. But, it could also be a golfing weekend, drinks with your mates and a chance to try something new like air rifles or archery.
Or, like our break, it could be a really action packed weekend full of great activities, quizzes, live music, bingo and incredible theatre shows accompanied by the nicest of food and drink, wonderful staff and so many laughs. Our Five Lakes break was one of the best weekends I have had in ages and I feel like we really embraced everything that Potters Resorts had to offer.
A few days later and I am still on a post-Potters high. Everyone in the Potters family makes you feel so welcome and they all go out of their way to make sure you are having the best break. You end up feeling like the entertainments team are your best mates and wishing that your holiday could last just a little bit longer. It's no wonder that the majority of Potters Resorts guests rebook before their holiday has even finished.
You can find out more about Potters Resorts holidays over on their website and here's a little video of our break away – there's also a little Reel over on Instagram. For reference, the Potters Resorts Five Lakes address is: Colchester Road, Essex, CM9 8HX