Over the summer we spent two weeks in St Lucia and it was the most relaxing holiday we have had in a long time. St Lucia is a beautiful country, with calm, crystal clear waters and glorious sand beaches plus, it's a fantastic place to visit as a couple or with the kids.
Where is St Lucia?
St Lucia is an island in the Eastern Caribbean region, between Martinique and St Vincent and the Grenadines. It's around a 9 hour flight from the UK, with the airport situated in the south of the island.
Where to stay in St Lucia
We stayed at the Windjammer Landing Resort and had such a fantastic holiday – with great facilities, perfect accomodation and a food and drinks menu that had something for everyone. But, other high rated family friendly resorts in St Lucia are the Bay Gardens Beach Resort, Coconut Bay Beach Resort and Cap Maison.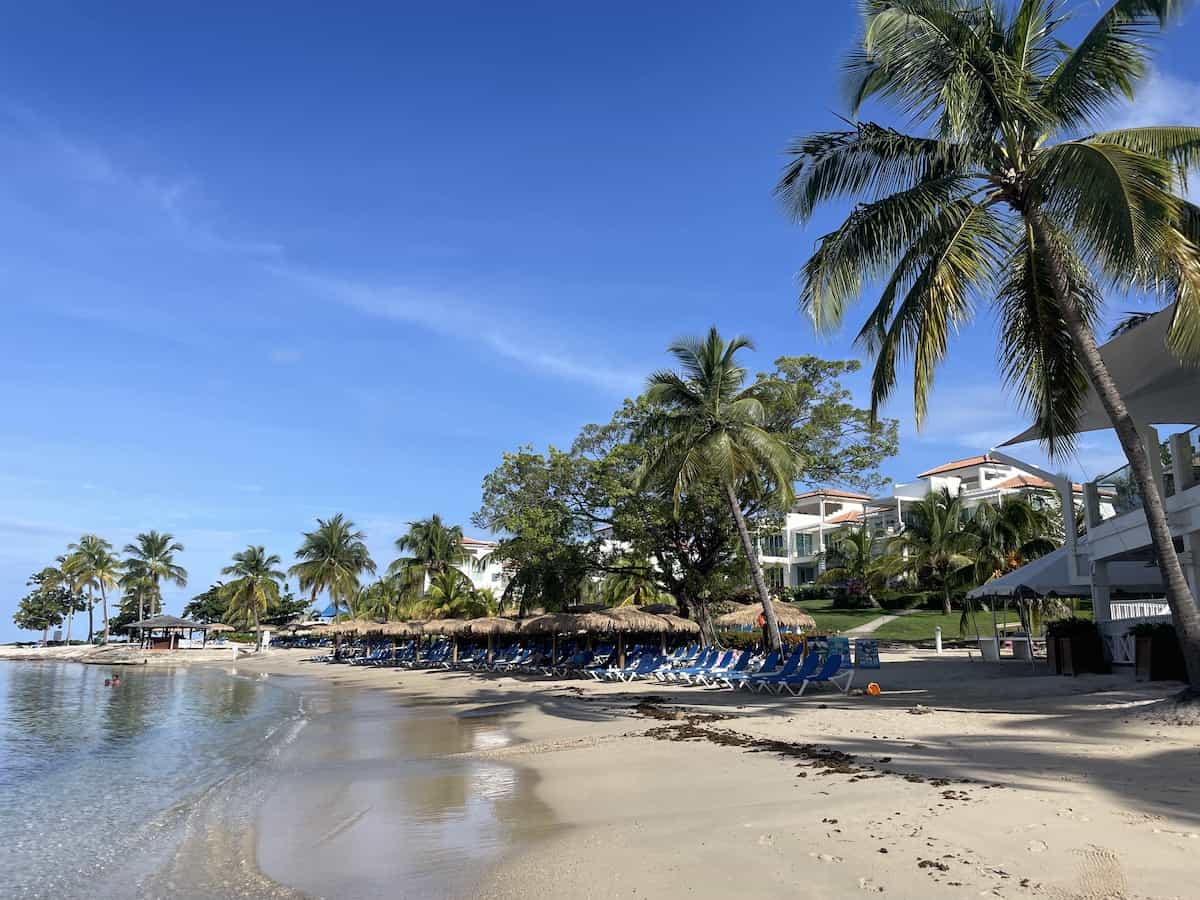 Visiting St Lucia with Kids
When travelling to St Lucia as a family you may wonder how a small caribbean island can keep kids of all ages entertained. But, St Lucia has so much to do, as well as fantastic facilities in the vast majority of the hotels, that you'll never have to worry about the children being bored. Here are just some of the family friendly activities across the island:
Beaches
The beach is always a big pull for children. Playing in the sea or building sandcastles on the beach, the coast is always a highlight of any holiday. Most resorts in St Lucia have great beaches to enjoy and you can also travel around the island to discover others. Reduit Beach, Sugar Beach (also known as Jalousie Beach), Marigot Bay and Grande Anse Beach are some of the most recommended beaches to visit in St Lucia.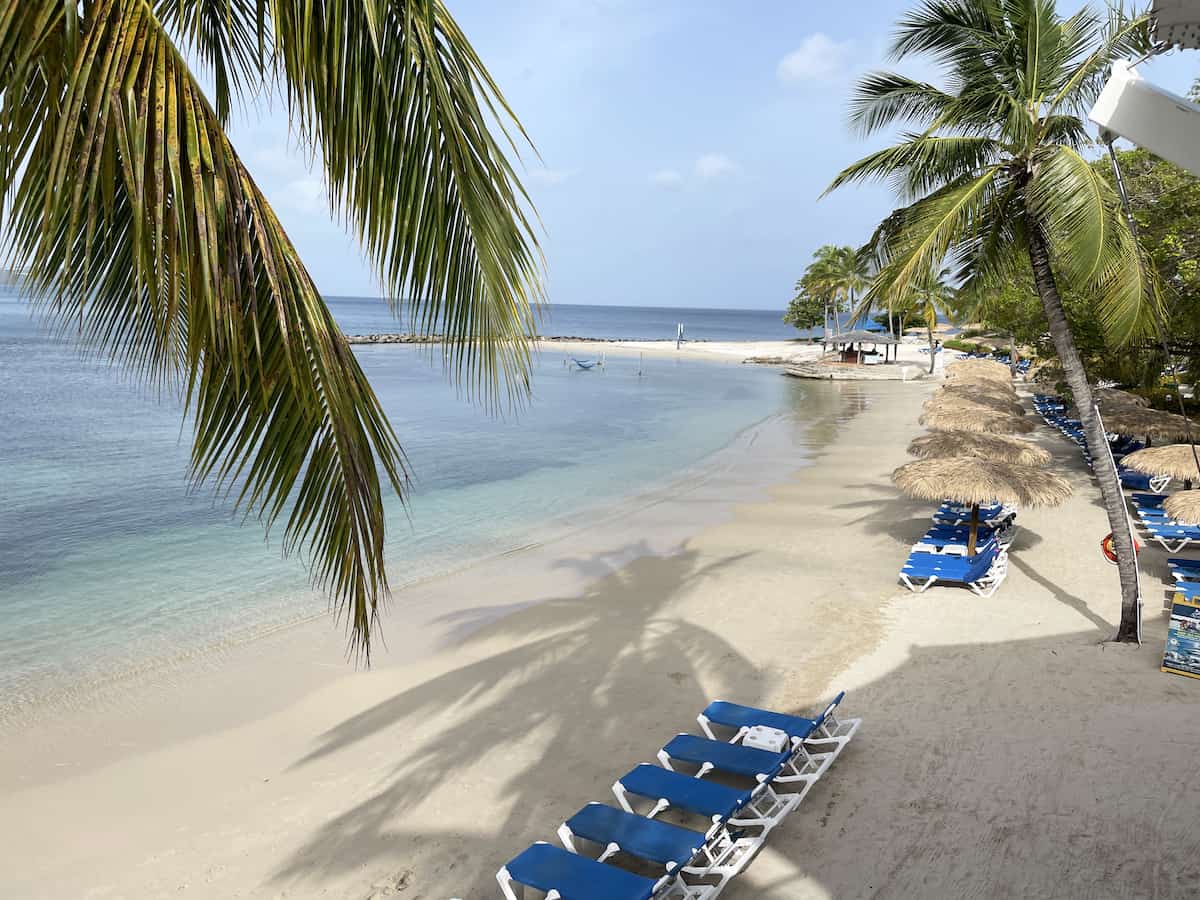 Snorkeling
Snorkeling is another great pastime in St Lucia that children of most ages can enjoy. We loved snorkelling around our resort and also at the Anse des Pitons Marine Reserve near Sugar Beach. There is so much to discover under the sea in St Lucia with coral reefs, so much marine life and maybe even some hidden treasure! Rodney Bay, Marigot Bay, Smuggler's Cove Beach and Pigeon Island National Landmark are some more great snorkelling spots.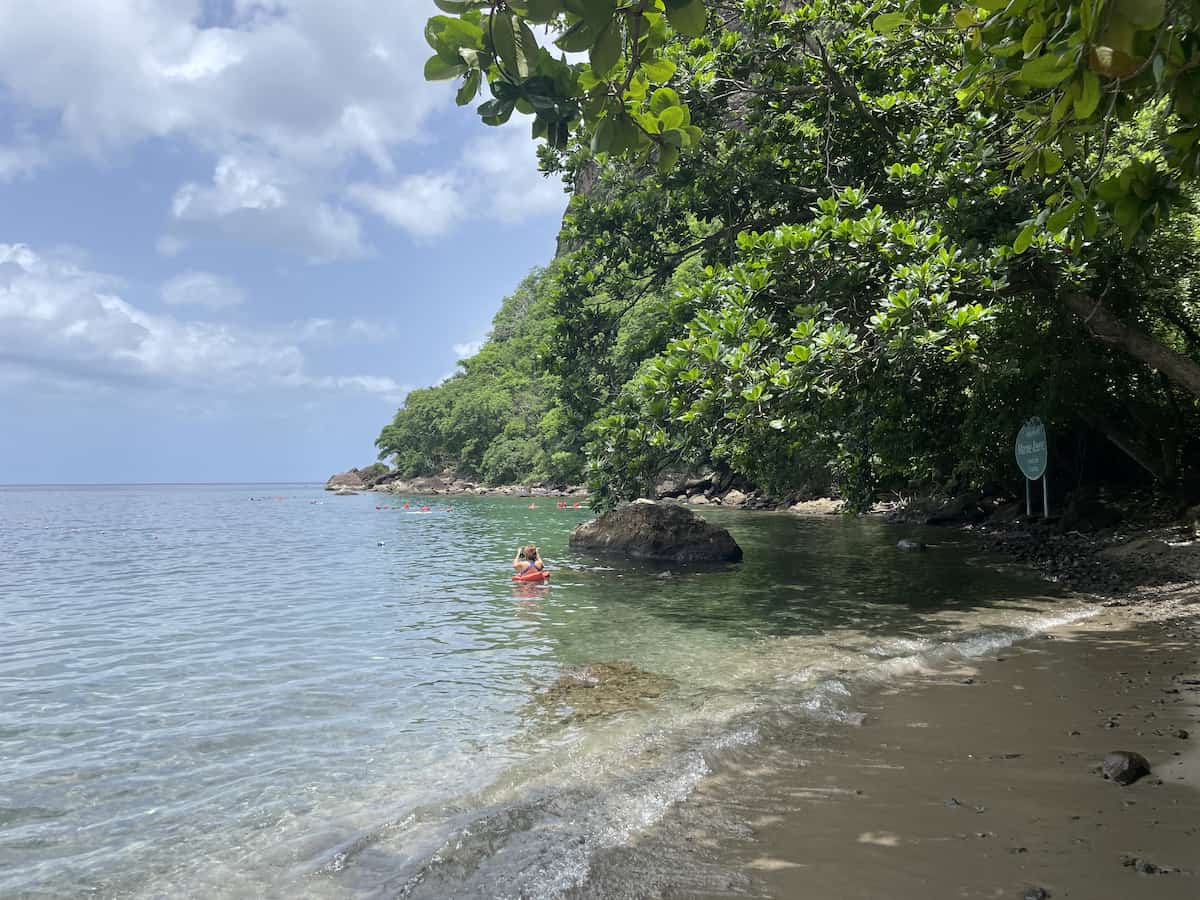 Watersports
Depending on your children's ages, water sports can be a great activity during a St Lucia holiday. During our break at the Windjammer Landing resort we were able to use kayaks, stand up paddleboards and sailing boats as well as going on banana boat and tube rides pulled by a speedboat! Windsurfing and water skiing are also really popular around the coast of St Lucia.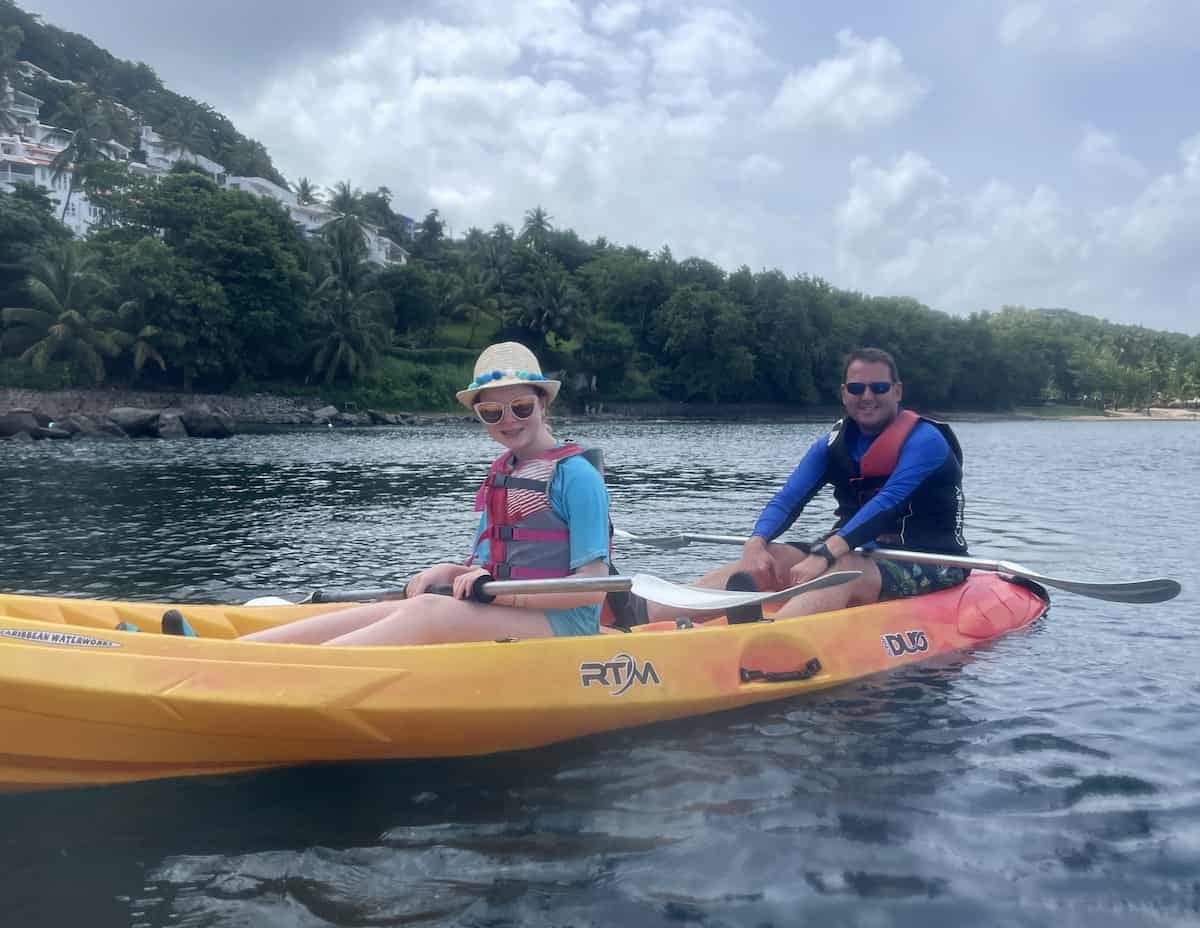 There are also so many scuba diving sites, bamboo rafting experiences, Sea Trek helmet diving tours and Snuba trips, coastal and river kayaking adventures as well as the Splash Island Water Park which children love.
Boat trips
There are many boat trips around St Lucia with dolphin and whale watching tours being some of the most popular. There's also sunset boat trips, catamaran sightseeing trips and private charters to take you wherever you want to go. Deep sea fishing is also hugely popular in St Lucia.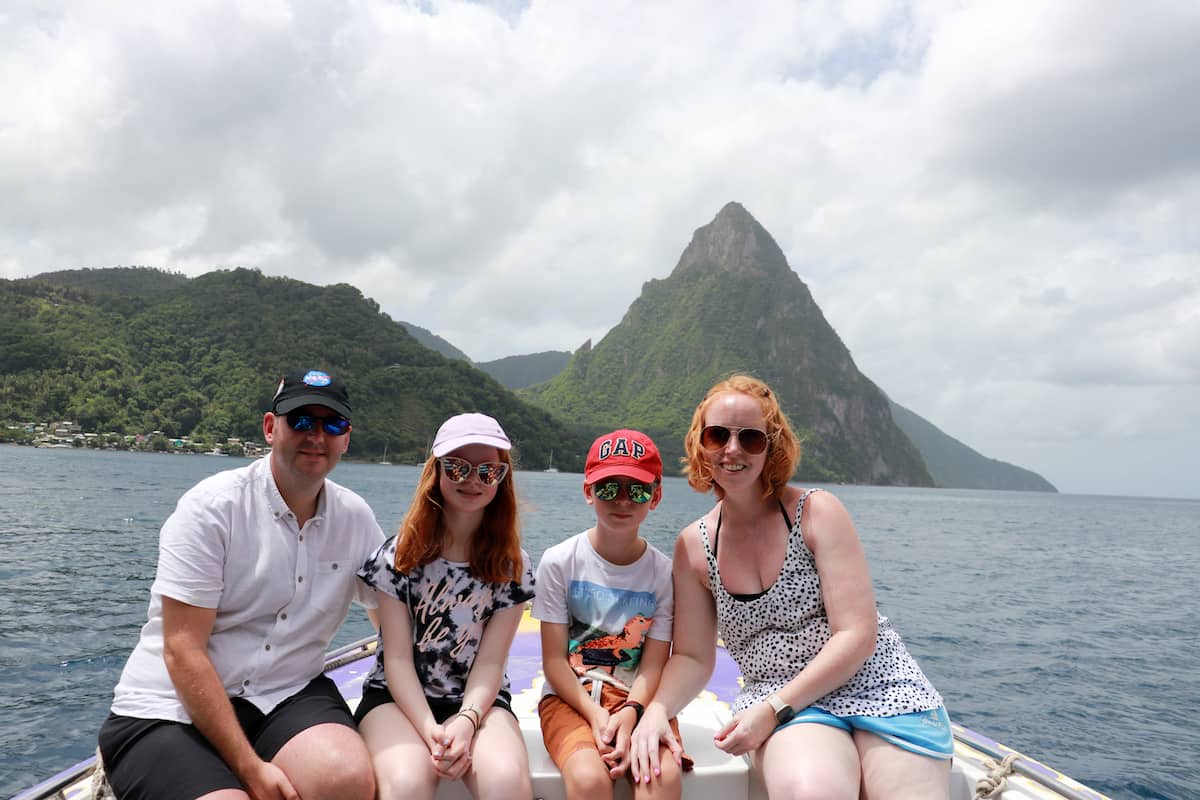 Land tours
St Lucia also has many land tours that are great for all the family. We did a Land and Sea Tour which showed us all the highlights of St Lucia in one day – as well as taking us snorkelling! We saw the drive in volcano, Sulphur Springs Park mud baths, waterfalls, banana plantations and so much more.
You can even complete the Tet Paul Trail, do an ATV Tour, Segway Tours, Jeep Safaris and cycling tours, making St Lucia a country that you can really explore your way, on a tour that's perfect for your family.
Food and drink tours
St Lucia is a real culinary paradise. The food is incredible and they have so many drinks to sample too. The island has many tours available to really immerse yourself in the food and drink – the Project Chocolat Tree to Bar experience from Hotel Chocolat is always a good choice for families. There are also many rum tours for the grown ups and even cooking classes so you can rustle up your own St Lucian feast back at home!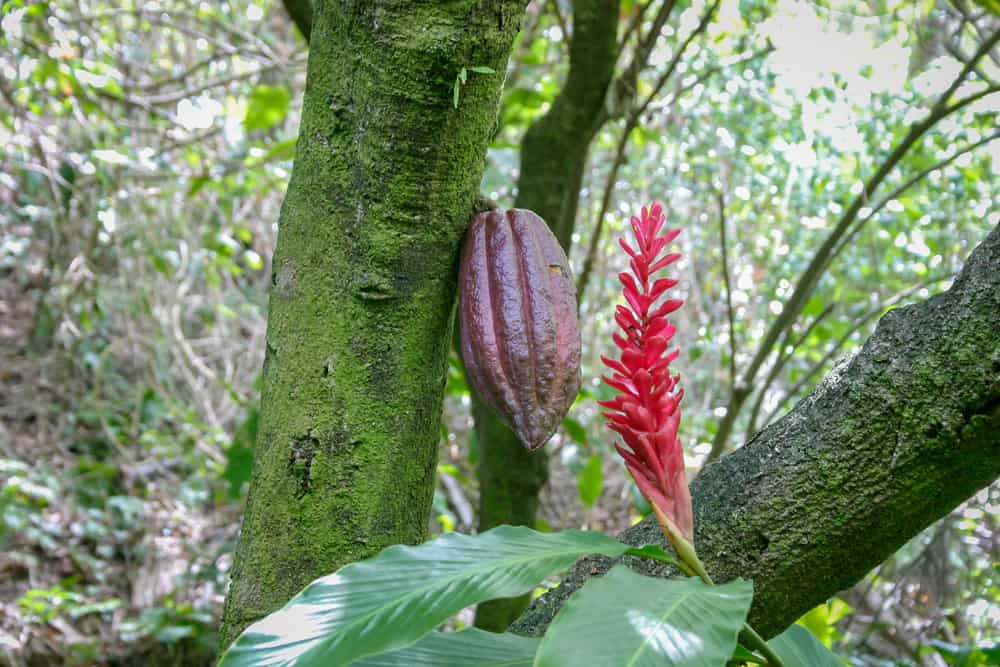 Rainforest adventures
The Saint Lucian rainforest has so much to offer including many nature trails and treks, a zip line course and even the aerial tram tour. It was closed for maintenance when we visited and we can't wait to go back and experience it!
Mountain climbing
Not something for the little ones but teenagers might love to climb the Pitons – the pair of famous mountains in St Lucia. You can get escorted tours to guide your way and many even pair the tour with snorkelling or the mud baths afterwards as a great way of relaxing after hours of mountain climbing!
Horseback riding
There are a few places across the country that offer horse riding experiences and tours, with durations to suit all ages, abilities and interests. You don't need to have ridden a horse before and many of the experiences finish by riding the horses through the sea. Such a great experience for the whole family.
Street Party
The Gros Islet Friday Night Street Party is a highlight of many tourist itineraries to really immerse yourself in the culture of St Lucia. With food, music, dancing and entertainment, you'll find it on all hotel excursion lists.
Is St Lucia good for families?
As you can see, St Lucia has so much to do for all ages. Add to that the fantastic hotels, all inclusive family resorts, beautiful beaches and laid back atmosphere, it really is a wonderful place to vacation with children. Kid friendly holidays don't get much better than St Lucia and, for us, it really was the perfect family vacation.