When we went to St Lucia over the summer one of the top things we wanted to do was try and see dolphins and whales in the wild. After researching a lot of different whale watching tours, dolphin adventure tours and excursions we booked Captain Mike's Whale and Dolphin Watching Tour.
Who are Captain Mike's?
Captain Mike's are a sport fishing, whale watching a sightseeing cruise business who have been in operation for over 50 years. They operate seven vessels out of Castries Harbour, for sport fishing, whale and dolphin watching, snorkeling, sightseeing, and private cruises.
The Captain Mike's Whale and Dolphin Watching Tour
The Captain Mike's Whale and Dolphin Watching Tour is a three and a half-hour cruise aboard a cruise boat. It offers spectacular views of the west coast of St Lucia and includes complimentary rum punch and non alcoholic drinks during the trip.
The St Lucia whale watching tour gives an opportunity to see common species like pilot whales, sperm whales, and humpback whales, as well as spinner dolphins, spotted dolphins, Fraser's dolphins, and common dolphins. They also often see leatherback, green and hawksbill turtles, a variety of seabirds and flying fish. The tour is also run by friendly and knowledgeable crew who help you spot the ocean creatures.
Our Captain Mike's Cruise Experience
We booked direct with Captain Mike's and paid an extra fee to add transport to and from our hotel. This still ended up cheaper than booked through the Windjammer Landing hotel where we were staying.
We were picked up at 7:15am and had been told what to bring with us – just a camera, sun cream and comfortable clothes. The transfer took us straight to Castries Harbour in an air conditioned vehicle where we got straight onto our boat for the day.
During the 3.5 hour trip we sailed through Castries Harbour and down the east coast of St Lucia island. We got to see so much coast, beautiful hotels and resorts and the Pitons which are always a wonderful sight.
The trip came with complimentary drinks throughout with a choice of sodas, fruit juice, water and rum. The sun was shining and it was so hot that the drinks were much appreciated! Due to the time of day and the length of the trip you may want to take snacks with you as well.
We were well over half way through the trip without seeing more than a flying fish and birds and had resigned ourselves to not seeing any dolphins or whales. The tour states that they can't guarantee you'll see anything but they will try their best.
However, during the last hour of the trip we saw sperm wales and false killer whales which was amazing! One person on board would spot something and the whole boat of people would turn to look. There really is nothing like seeing whales in their natural habitat.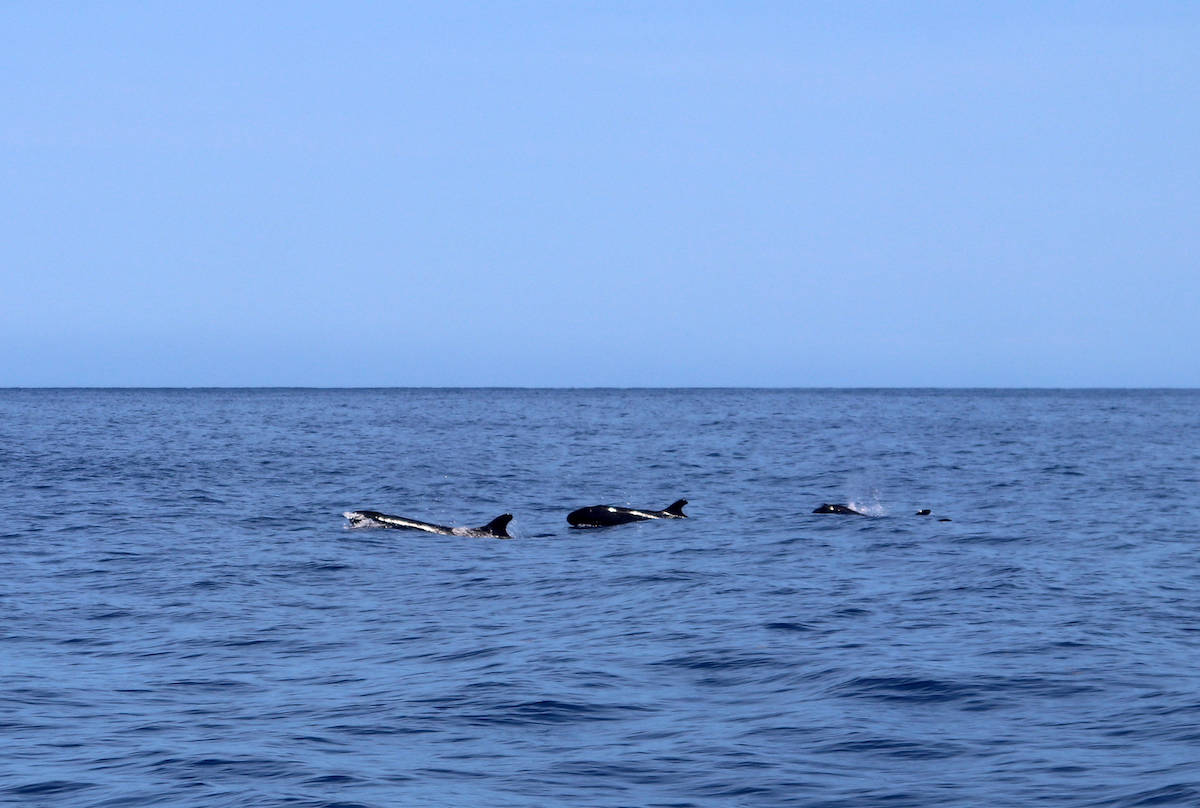 The staff told us that the presence of false killer whales keeps the dolphins away so we weren't able to see any but seeing the whales was enough for us and it was a great way to break up our St Lucia vacation.
We really enjoyed our Captain Mike's Tour and would definitely do it again. The three and a half hours did seem quite long at points, due to the lack of marine life we saw in the first half, but you need a good amount of time to maximise the chance of seeing anything.
The Captain Mike's excursion was great value, well run with friendly staff and included plenty of drinks too. It's definitely a great activity to add on to your trip to the Caribbean! Saint Lucia is beautiful to see from the sea.
You can find out more about Captain Mike's Whale and Dolphin Watching Tour over on their website.