During our summer holiday to Mauritius last year we were keen to explore the island at our own pace with the car we hired. Before travelling we researched things to do with children and came across the Chamarel Seven Coloured Earth Geopark, located in south west Mauritius on the edge of the Black River Gorges National Park. It was around an hour and a half drive from our hotel in Trou d'Eau Douce, but with magnificent tropical scenery and small villages along the way the drive flew by.
Chamarel Seven Coloured Earth was well signposted in the Ebony Forest Reserve area of the island but before we stopped at the park we went a few minutes out of our way to one of the most beautiful stops on the island – the Chamarel Viewpoint. This gave us a wonderful view over the island to the coast where we saw ile aux Benitiers, where we had previously enjoyed a day trip to whilst swimming with dolphins in the wild.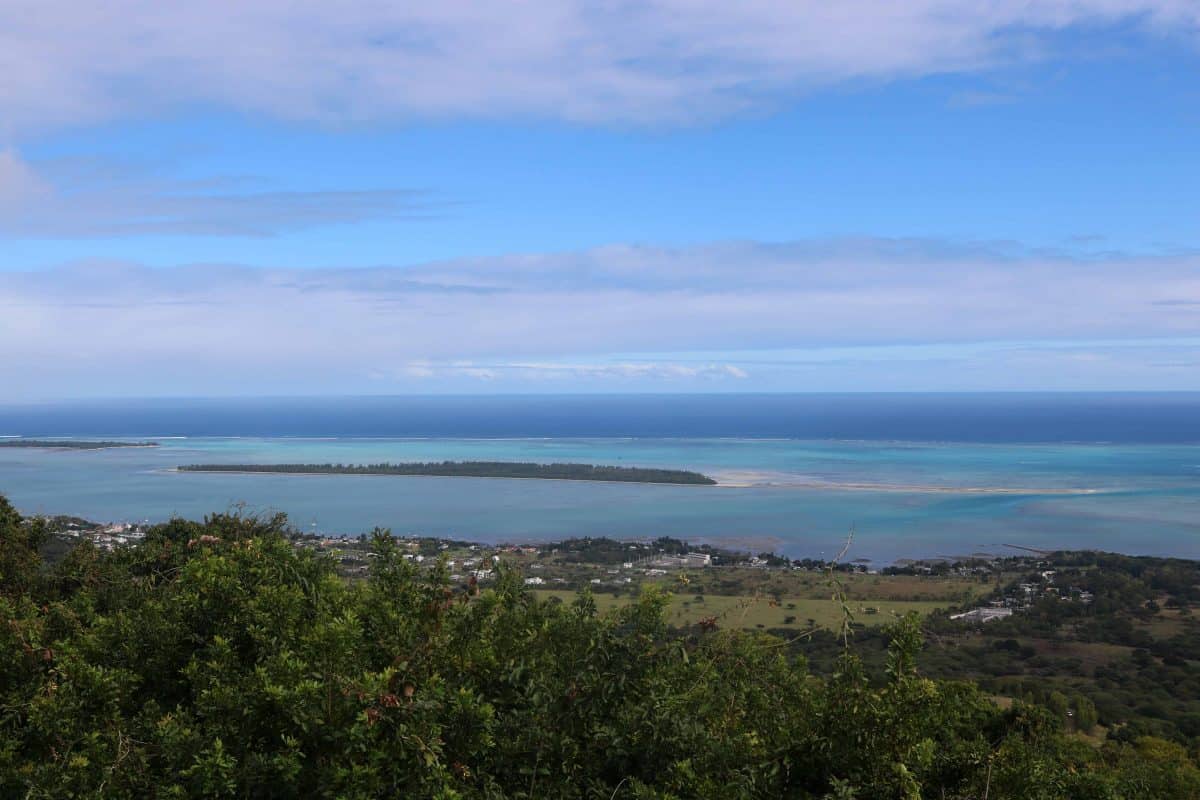 As we approached the entrance to Chamarel Seven Coloured Earths there were signs to read giving information about the location and its history as well as the outdoor activities available. The ticket booth is a drive thru style and staffed by friendly locals. Adult tickets are 250 MUR with children between 5 and 12 years of age costing 150 MUR and under fives go free. It's roughly £16 for a family of four and you don't need a guided tour, it's easy to navigate by yourself.
Much like safari parks around the world, we were able to drive around the geopark at our own pace, something we very much enjoyed as it allowed us to pace ourselves and spend our time where we wanted to be. There is a sensible low speed limit within the park and winding roads to navigate.
Following signs and the map we were given, our first stop was the Chamarel Waterfall. This is a breathtaking 100m high piece of nature, the tallest waterfall on the island. It is fed by three different streams and appears to be in the middle of the dense tropical forest. You can hear it from the very moment you enter the park.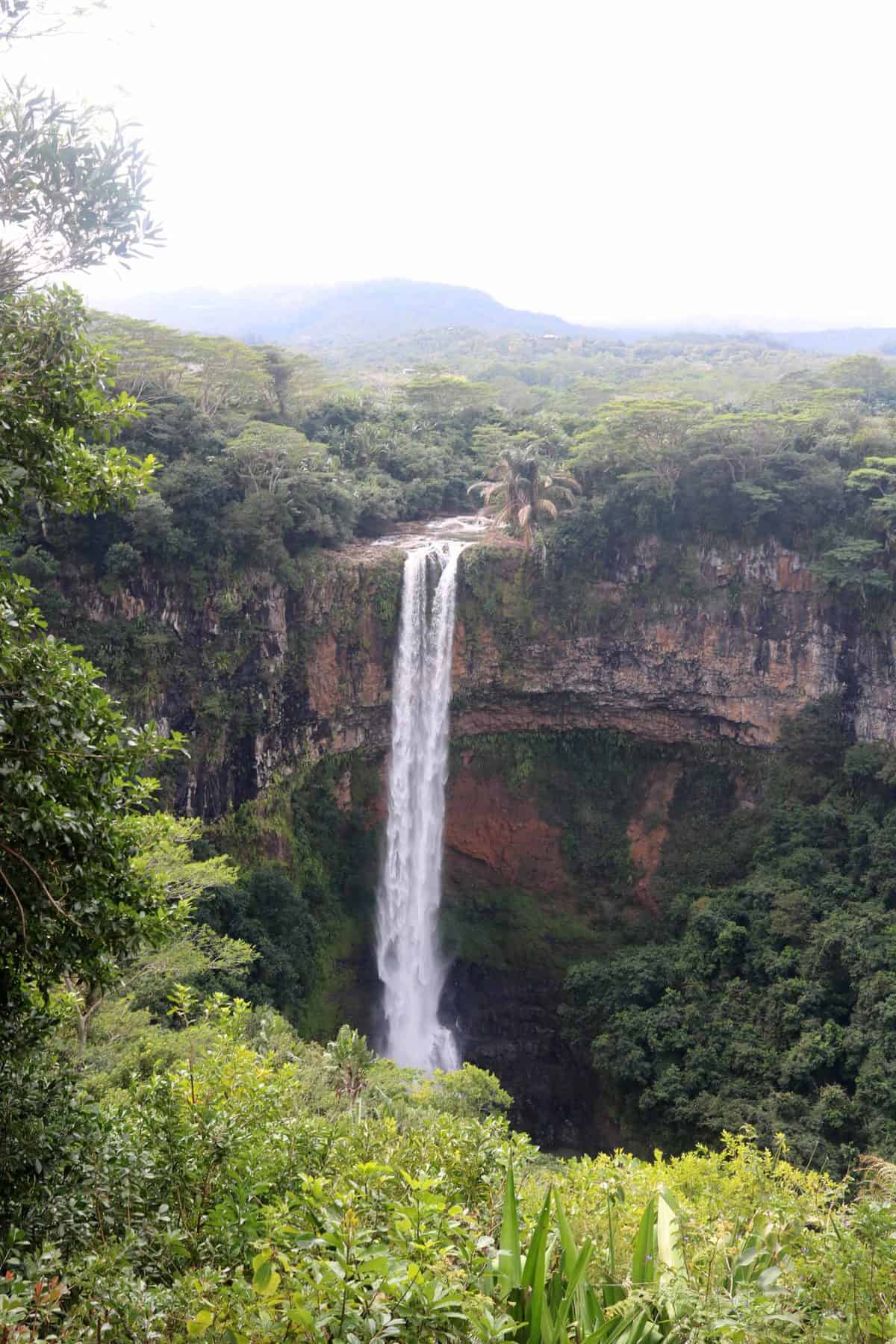 There is a convenient viewing point with plenty of space to park that allows fantastic photographs of the waterfall and the tropical forest. It is very safe with sturdy wooden barriers and when we attended at around 10am, it wasn't busy at all. We spent some time at the main viewpoint, taking in the atmosphere and sheer tranquillity of the place.
We also discovered a second, higher viewpoint nearby accessed by man-made steps – again with a great viewing platform for awesome photographs. You can also book a guided three hour trek down to the base of the waterfall.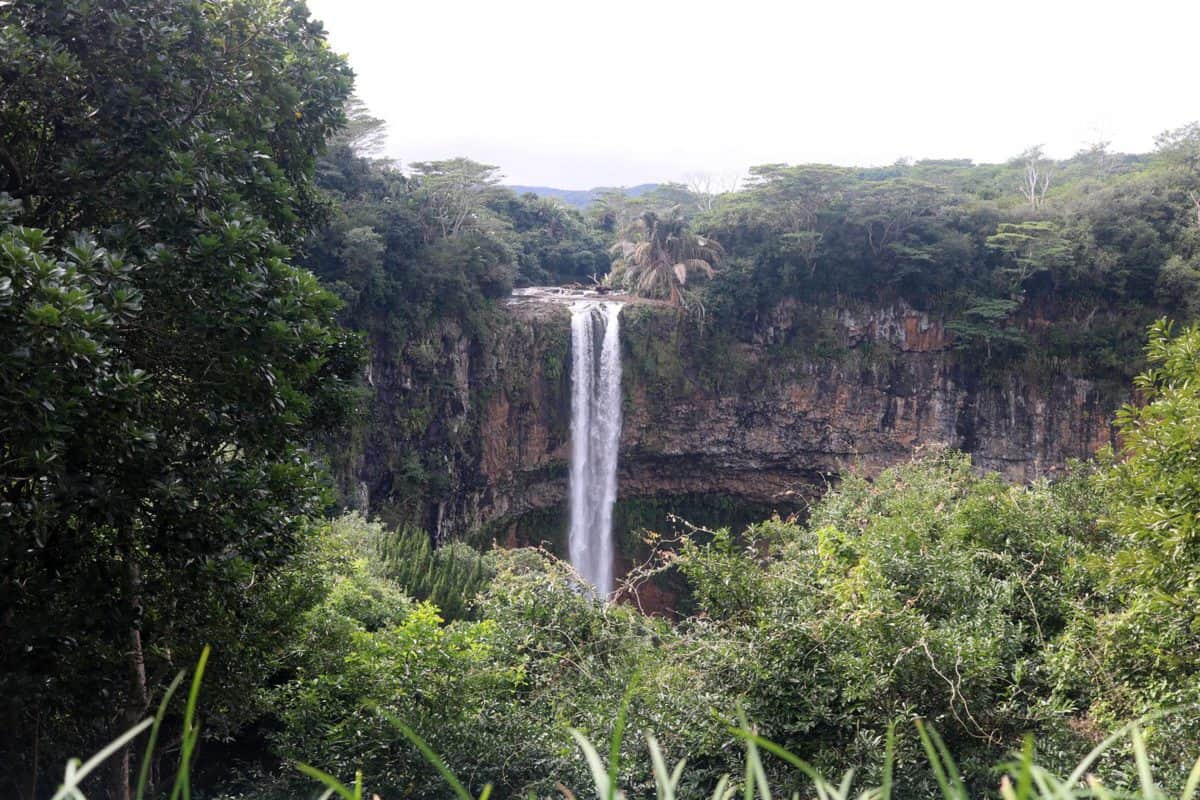 Once we had our fill of the waterfall, we got back in the car and drove a short time to the main car park for the seven coloured earth attraction. We found some toilets on the way to the geopark along with welcome drinking water fountains.
As we walked around the dunes the children were excited to count the colours they could see, and yes, there were seven! Red, brown, violent, green, blue, purple and yellow. Each layer is clearly visible and mesmerising, with millions of years of geology visible in each layer. It gives a unique insight into the formation of the island and it's volcanic origins.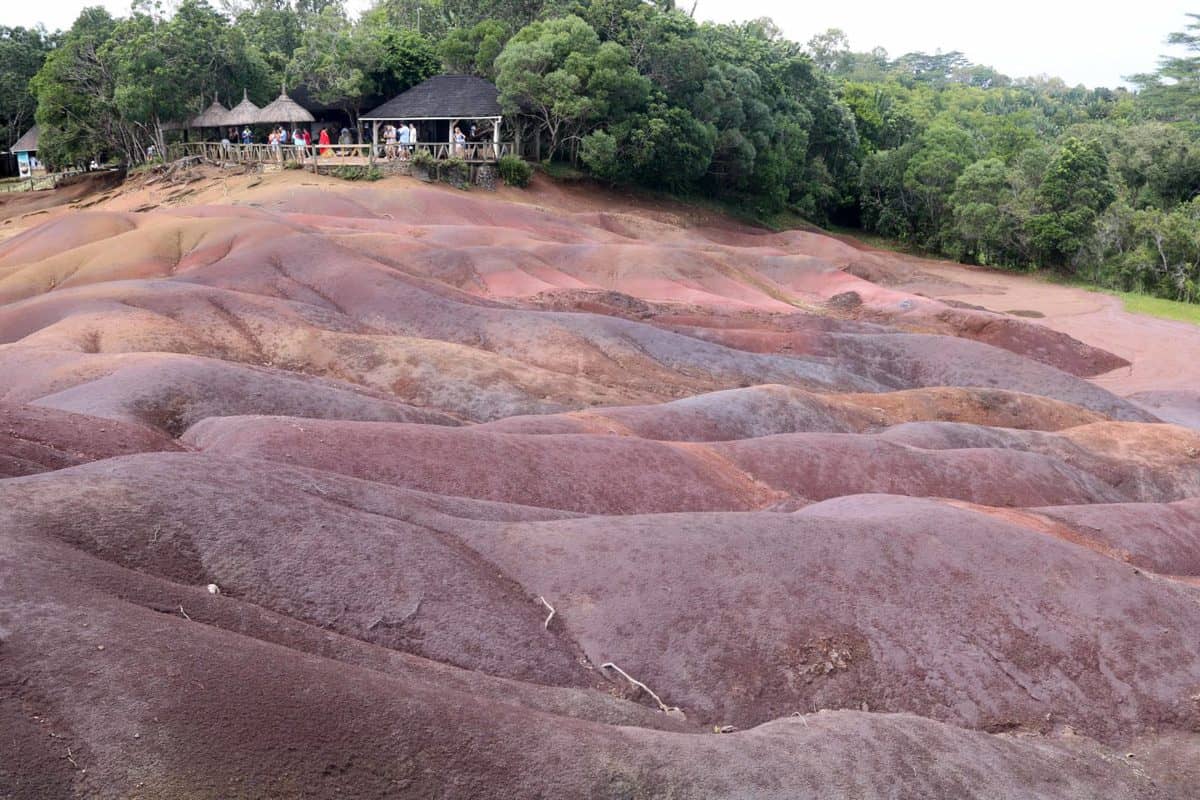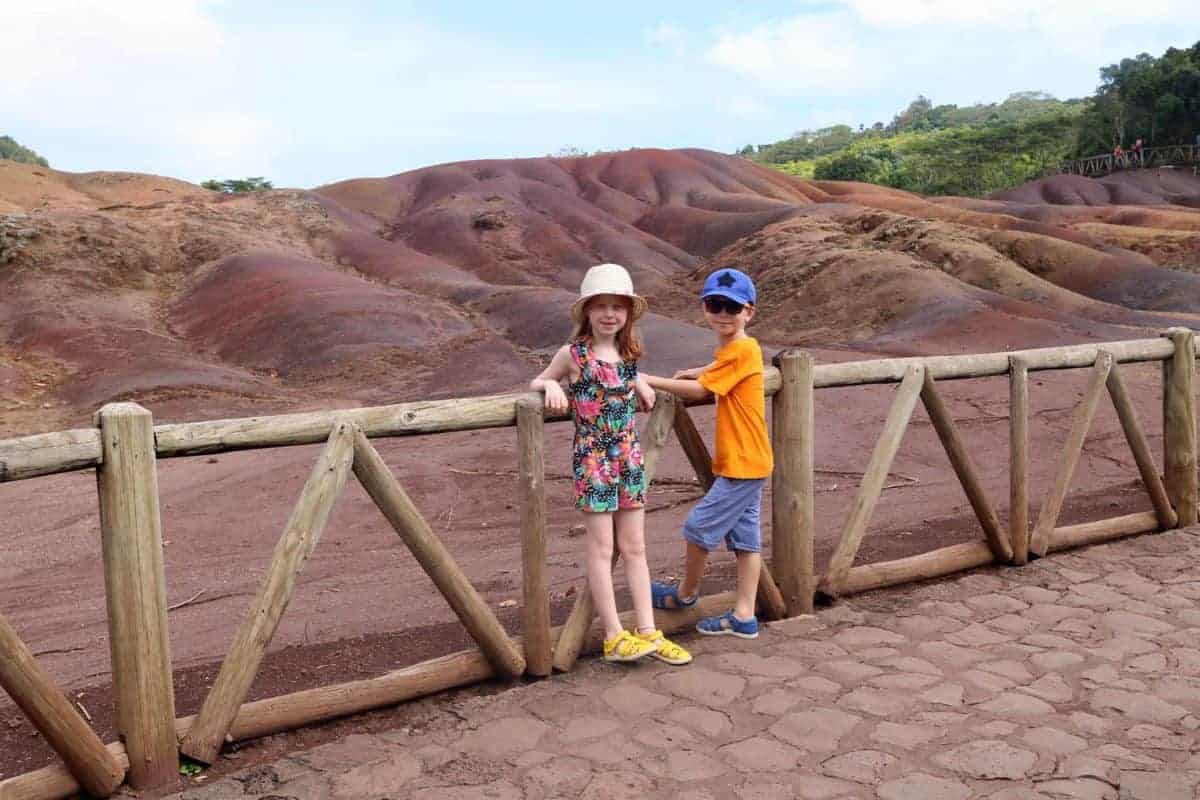 Situated around the viewing area is a small tortoise park. They are the second largest species of giant tortoises in the world, and the children loved them.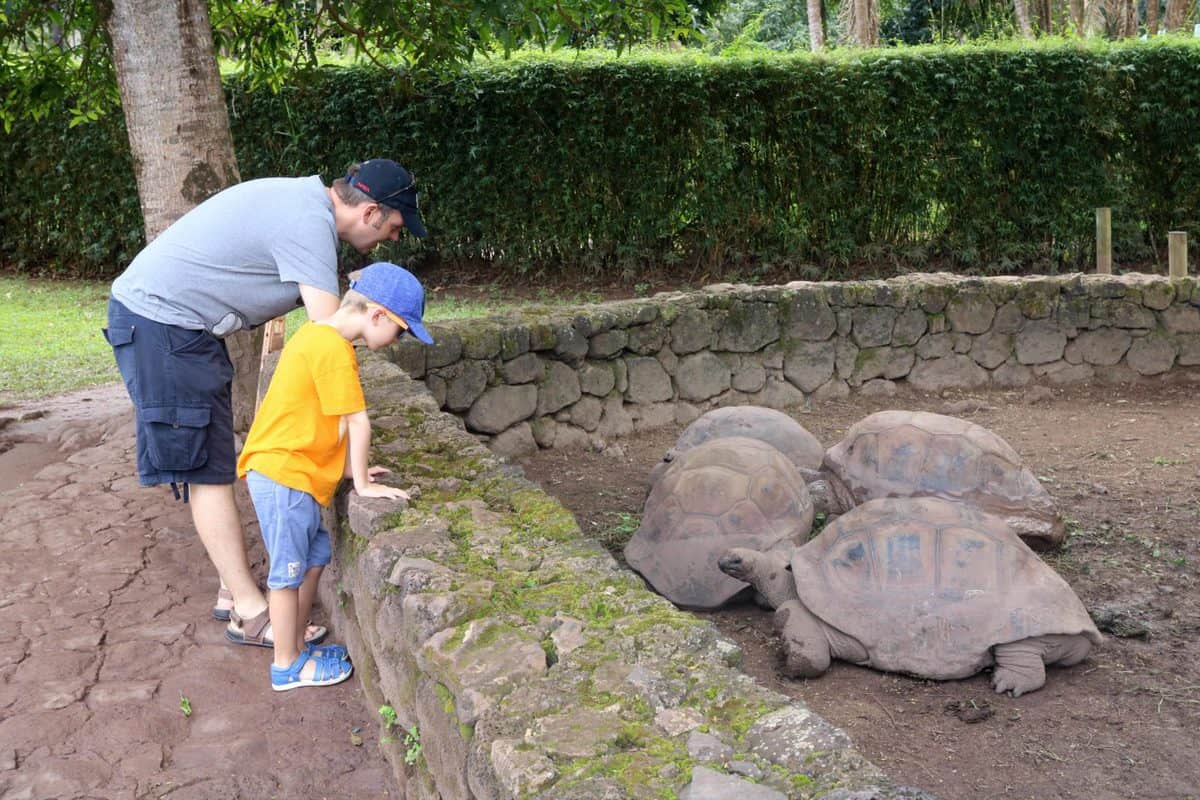 Also around the main seven coloured earth area is a souvenir shop that sells vials of the sand as a keepsake. You can also buy coffee grown at Chamarel, and there is also a decently priced café serving hot food and delicious ice cream! You can sit and appreciate the magnificent view whilst chilling out.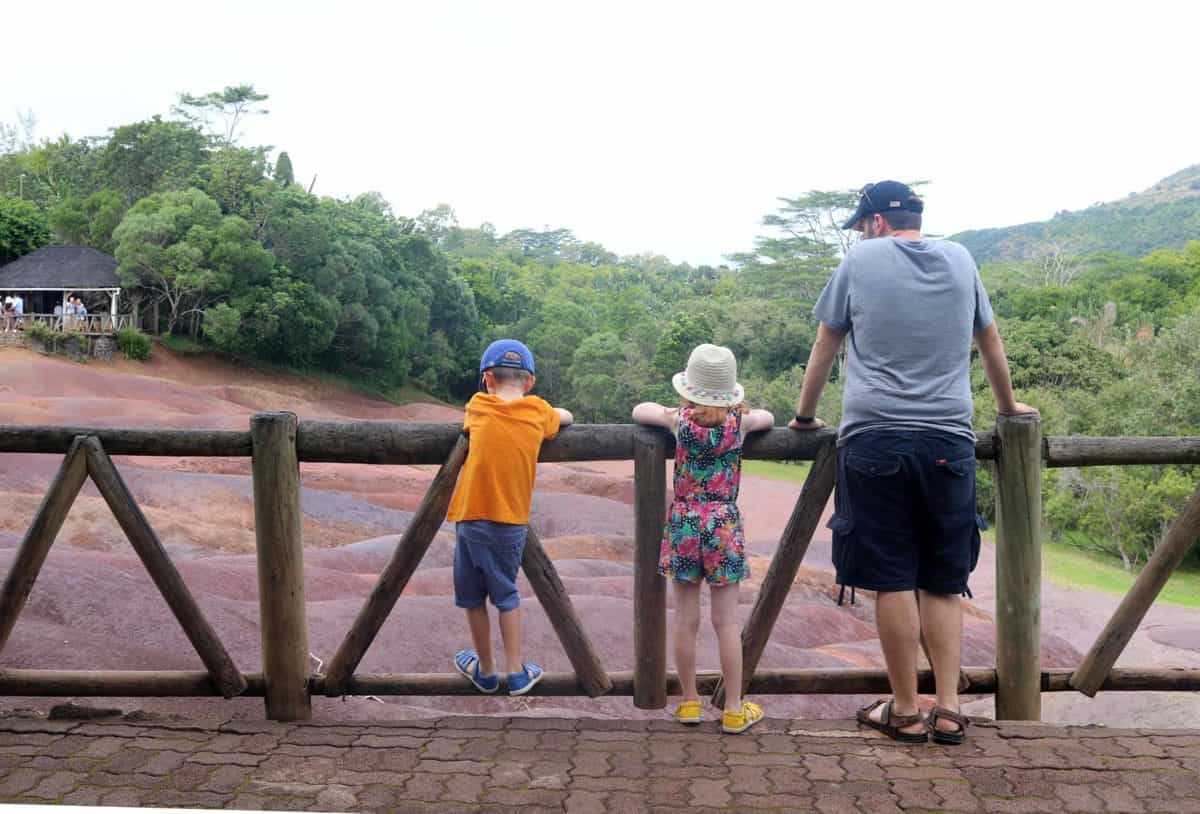 We then returned to our car and enjoyed the rest of the slow drive back out of the geopark, passing by the magnificent waterfall again. It had by now gotten a little busier and we were grateful for our early start!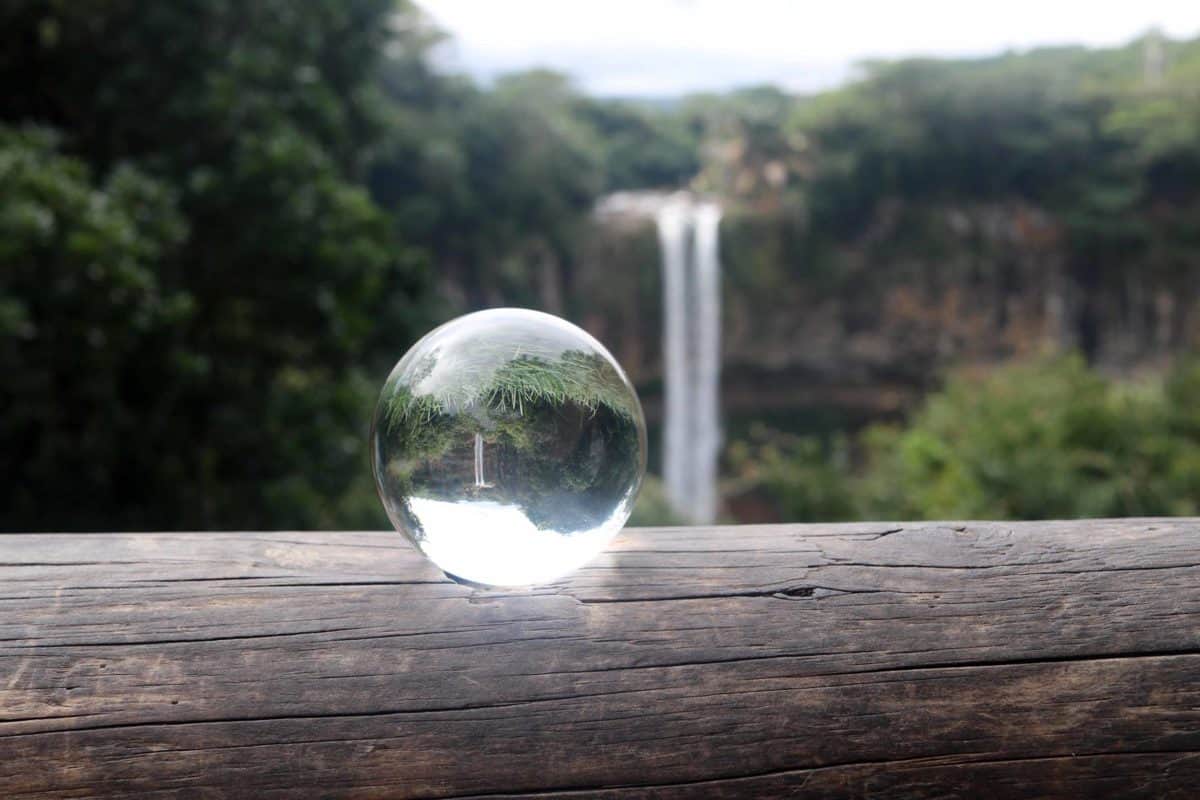 As we left Chamarel Seven Coloured Earth around lunch time we decided to also visit The Curious Corner of Chamarel which is literally opposite the Seven Coloured Earth.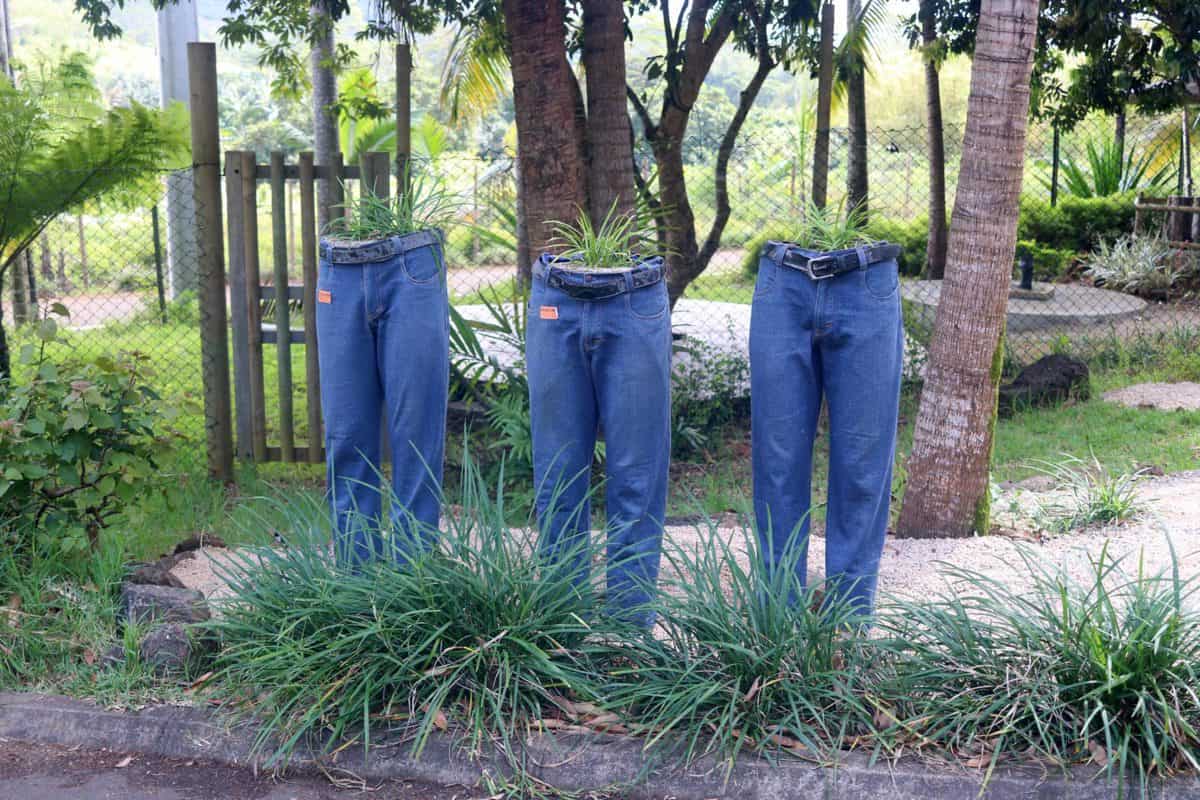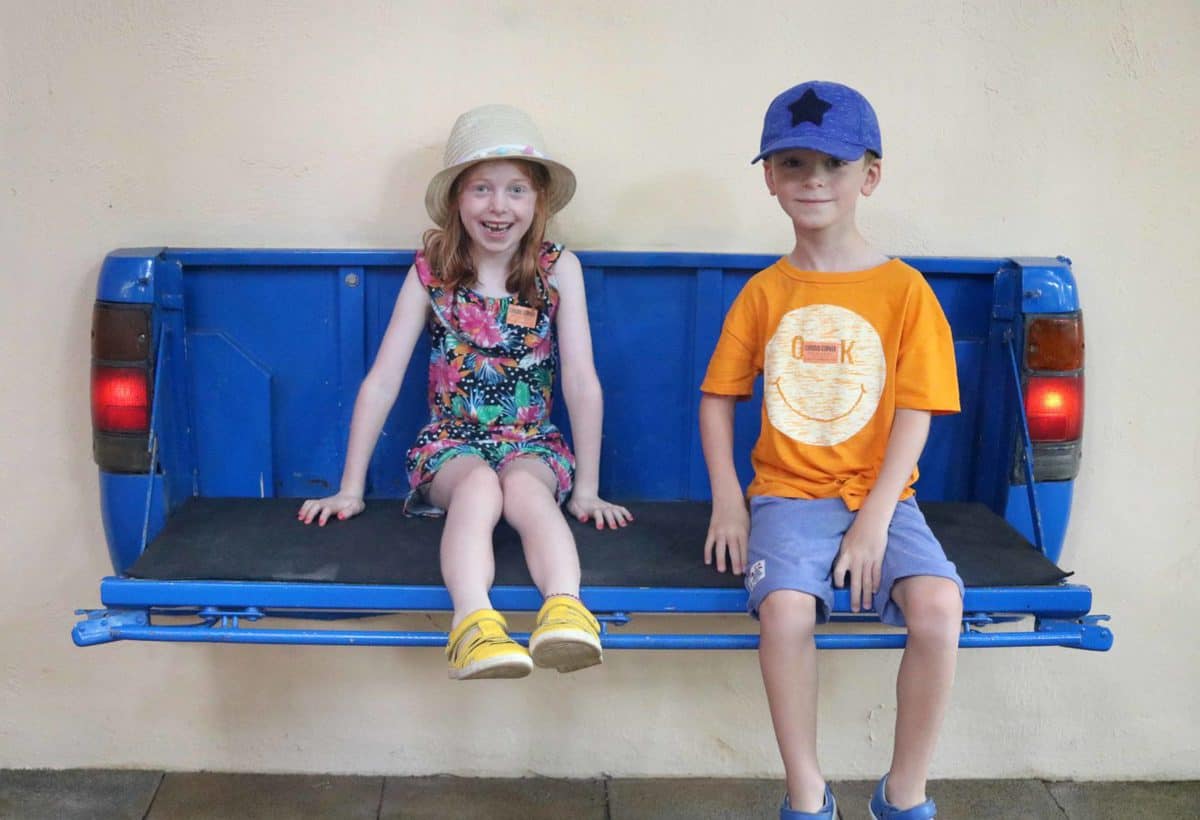 This is a very strange attraction and full of curiosities! It's priced at 275 MUR for adults and 150 MUR for children, around £18 for a family of four. The attraction starts with massive, interactive optical illusions that only come to bare when viewed from the correct angle – looked at individually, things just look like a piece of wood, a platform etc… But when viewed together from a distance, they come together as a chair, or even a giant catapult!
The kids had great fun in setting themselves up for appearing different sizes in the same photograph! It was obvious that other families were enjoying the illusions too, with friendly staff helping out if people were having trouble making the magic happen. These were all outside with a pizza café and gift shop in the lovely tropical garden setting.
We then moved inside towards the upside down room, but not before we were challenged by a member of staff to find our way out of a seemingly impossible escape room! We spent a good few fun filled minutes with the children opening books, pushing walls and moving furniture in an effort to find the way out! When we eventually did, we found ourselves in a completely upside down room in a house, made up to look like a kitchen.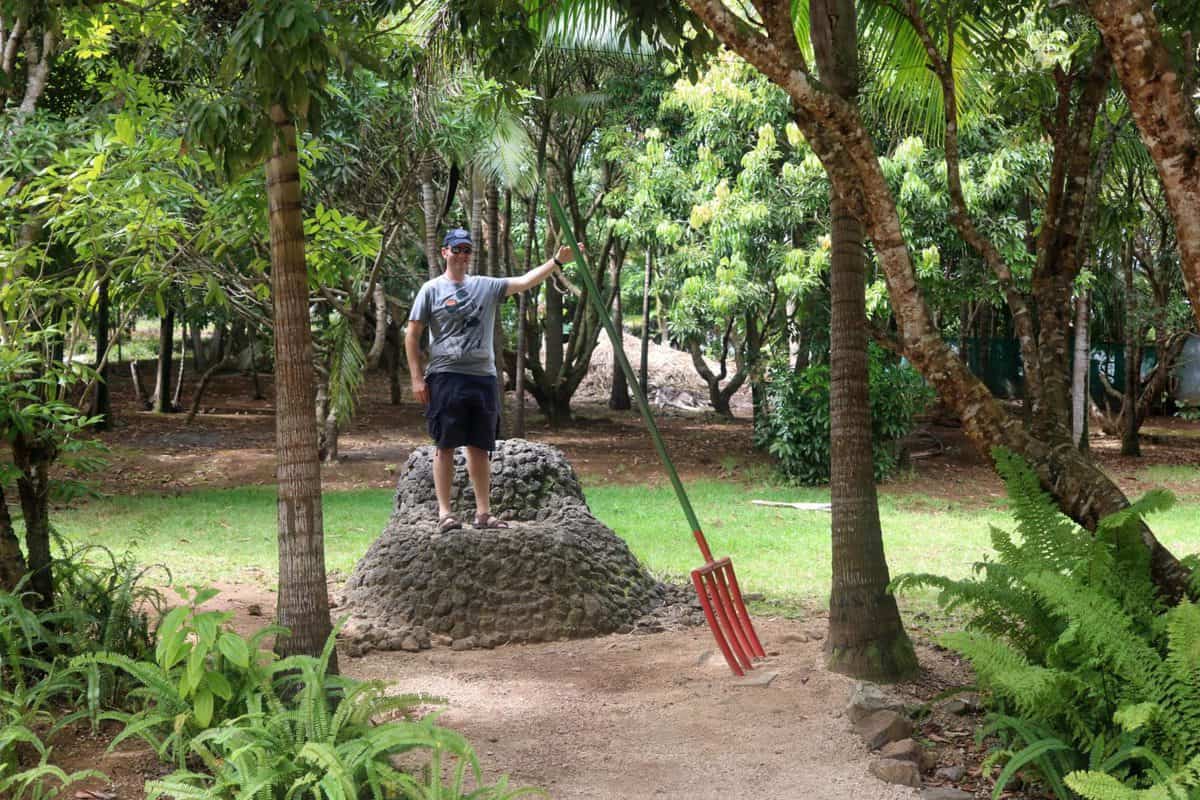 After the upside down room, we went upstairs to find a floor full of more weird and odd things to do. It's like an interactive museum, with light and sound shows, lifts with no floors and optical illusions. There's also a room where you and someone else can appear to be together but one is giant and one is small! It's hilarious! You can also take and email a photograph to yourself for free. The children also loved the hands free musical area, operated by moving through different coloured light beams. The whole floor was full of curiosities with friendly staff on hand to guide you through them.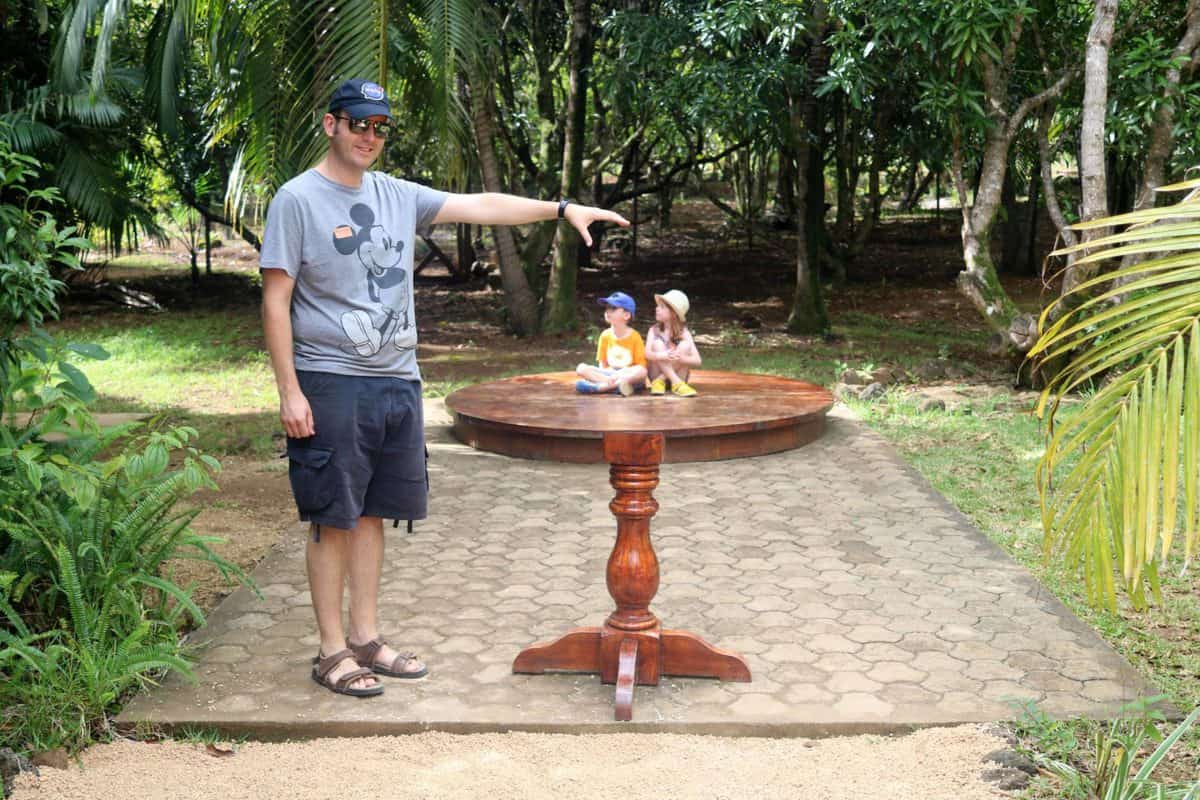 The two attractions make for a great full day out as they are next door to each other and completely different. Both family friendly, everyone will enjoy Chamarel Seven Coloured Earth and the Curious Corner of Chamarel.