A couple of weeks ago we got back from one of the most relaxing holidays we have ever had at the Windjammer Landing Villa Beach Resort and Spa in St Lucia. It was our first all inclusive beach holiday since before the pandemic and, thanks to the British Airways sale, we were able to go somewhere we had always dreamed of going. St Lucia really didn't disappoint.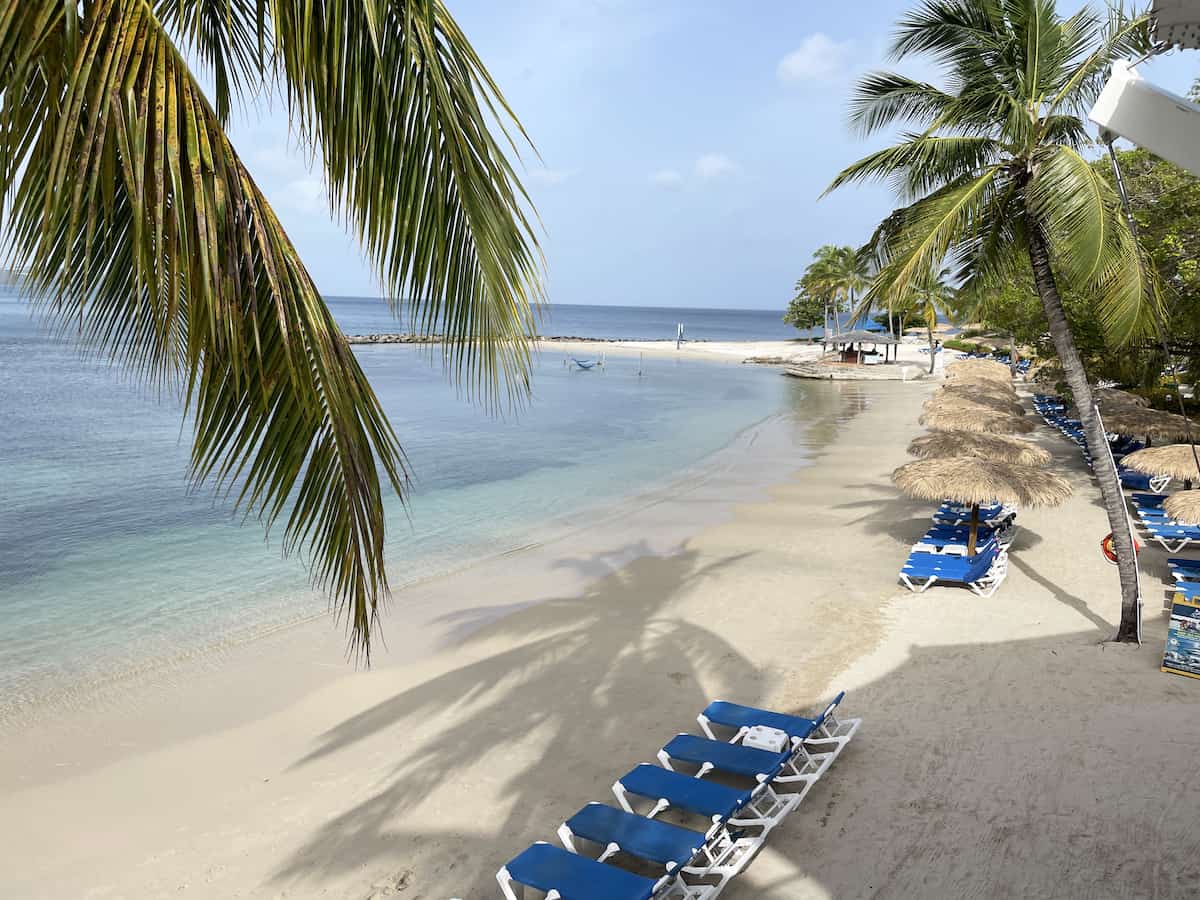 Booking our holiday
We booked the holiday as a flight and hotel package through British Airways. I think we timed our booking just right as it was the British Airways sale plus, the hotel had a fantastic sale of their own on as well, meaning a usually unaffordable holiday was suddenly within our budget.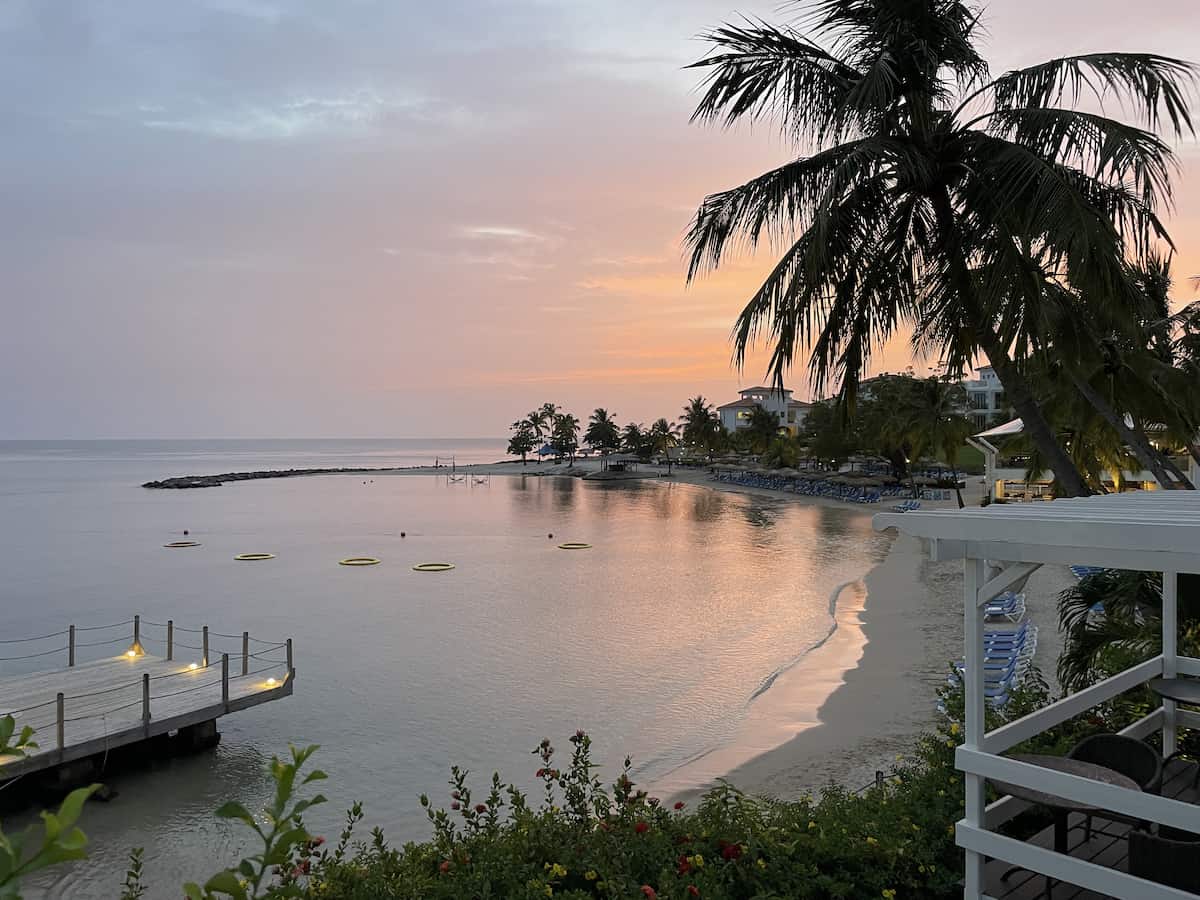 The Windjammer Landing App
Before we even went on holiday I downloaded the Windjammer Landing app. This was fantastic for checking menus during our stay, seeing what activities were on and seeing what was happening at kids club in case the children felt like going. I haven't experienced a holiday with an app for the hotel before but it was a fantastic resource.
Location
St Lucia is an island in the Caribbean and it's about a 9 hour flight from the UK. We arrived at Hewanorra Airport in St Lucia fairly late in the day and then had a transfer to Windjammer Landing.
We organised our own private transfer which cost about $100 each way but meant we went straight to our hotel rather than stopping off at others along the route. This was preferable as Windjammer Landing is an hour and a half from the airport and we didn't want to make an already long journey even longer – especially after a long flight.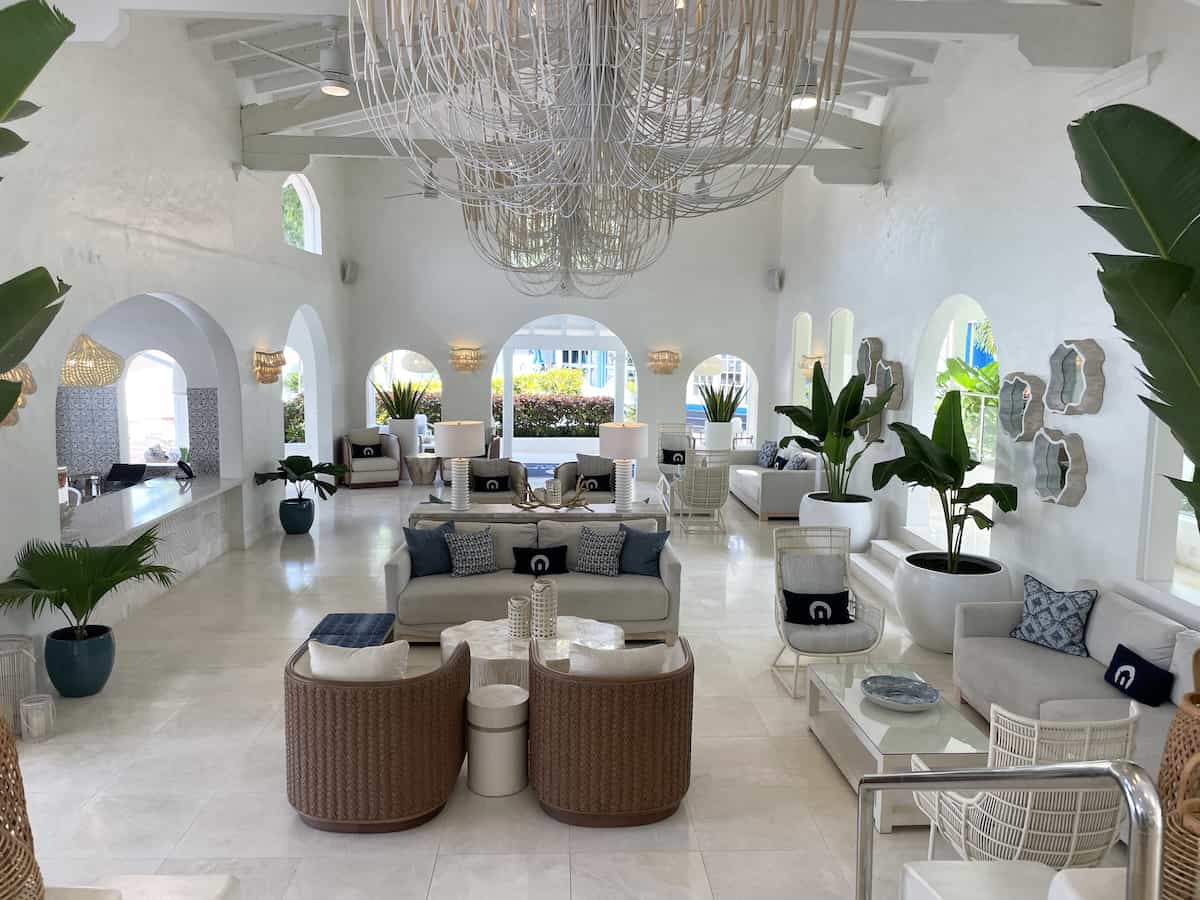 We ended up arriving at Windjammer Landing at about 8:30pm – or 1:30am UK time! We were shattered but had such a warm welcome with cold towels, fruit punch and a shuttle to our hotel room. We ventured back out to eat and then went straight to bed before starting our holiday properly the next day. It was already dark when we arrived and we couldn't wait to see St Lucia in the daylight!
Accomodation
All accomodation at Windjammer Landing is on the beach and hillside, with a feel just like a Mediterranean village. The rooms and estate villas look out across Labrelotte Bay, a beautiful location for any family holiday.
Our room was a two bedroom ocean view suite which was perfect for us as a family. It consisted of two rooms that can be booked separately with an adjoining door in between. One was upstairs and one downstairs, both with their own shower rooms, outside areas and storage.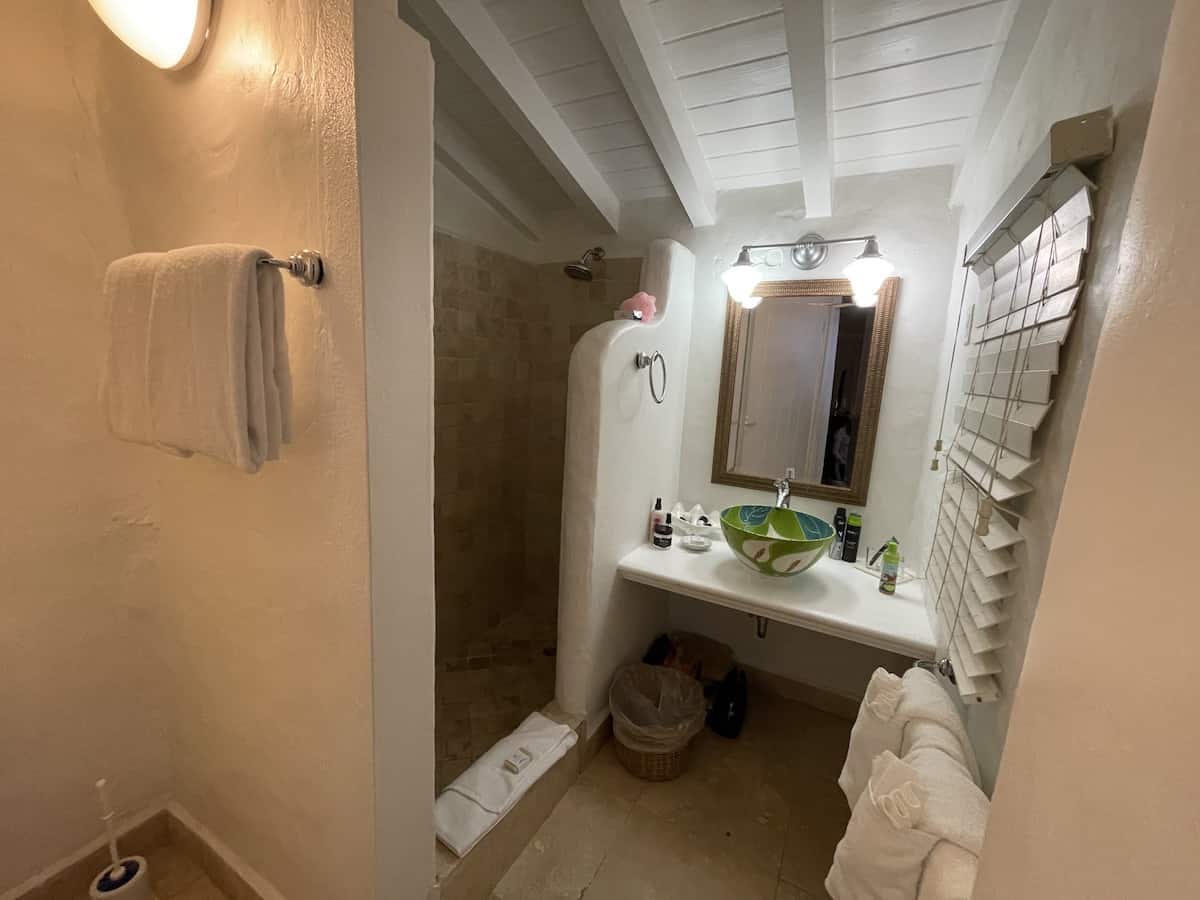 Dave and I had the upstairs room which had a seating area looking straight out across the hills and ocean plus it had a roof terrace with loungers and great views – especially at sunset!
The children's room downstairs was a little smaller, without the seating area, and had a nice terrace looking over the trees of the Windjammer Landing site. Both of our rooms were lovely and quiet, with just the sound of birds and occasional music drifting over from Papa Dons restaurant nearby.
Our rooms had a daily housekeeping service and we were always left with plenty of towels, complimentary toiletries and tea and coffee. Strangely, the room only had a filter coffee machine and no kettle so we made do and used it to boil water for tea a couple of times which worked fine.
The room also has air conditioning and a mini fridge but no mini bar which was unusual for an all inclusive hotel. We usually always have at least bottled water in the fridge but Windjammer Landing provide the fridge but you would need to fill it yourself.
I didn't take many photos of the room but I did make a little Reel of the room just before we left. Take a look here.
As the name would suggest, Windjammer Landing Villa Beach Resort and Spa also have many villas to book from one bedroom villas to four bedroom villas and even huge residences, making sure there is perfect accomodation for anyone visiting Saint Lucia.
We could have booked one bedroom villas for roughly the same price as our two bedroom ocean view room and this would have had a kitchen, lounge and dining area like a smaller version of villas we have had in Florida, many with private plunge pools too. However, the children would have needed to sleep on a sofa bed so instead we went for the ocean view room and it was perfect for us.
Shuttle service
The accomodation at Windjammer Landing is all laid out around the hill that the hotel backs on to. Because of this, some of the rooms are quite far from the beach and facilities and the walk up or down is quite steep in places. Windjammer Landing offer a complimentary shuttle service to help with accessing the rooms which works really well.
We ended up walking down to breakfast each morning and then getting a shuttle up to our room at the end of our day. It worked well for us and we got into a nice routine. The shuttle buses were quick, air conditioned and all with lovely, friendly and polite drivers. Usually we only had to wait a few minutes for a shuttle and the couple of times we got a shuttle from our room down to reception they arrived within a couple of minutes of us ringing to request one.
Food and drink
Windjammer Landing has so many food and drink options across the resort. Guests stay on either a bed and breakfast or all inclusive package but there are no wristbands like other all inclusive hotels we have been at. Instead, all customers get a bill to sign every time they order something throughout the stay but all inclusive customers aren't actually charged, it's all taken off the bill at the end of the stay.
This felt so strange to us at first but it works really well – and means that all customers are treated the same whether they are actually paying or are on an all inclusive tariff. It also means that as all inclusive guests you can see how much you'd have paid if you'd been bed and breakfast – which was eye opening at times!
The drinks range at Windjammer Landing is fantastic, with cocktail and mocktail menus everywhere and staff willing to make you pretty much any cocktail you can think of – or virgin versions of your favourite cocktails for the kids.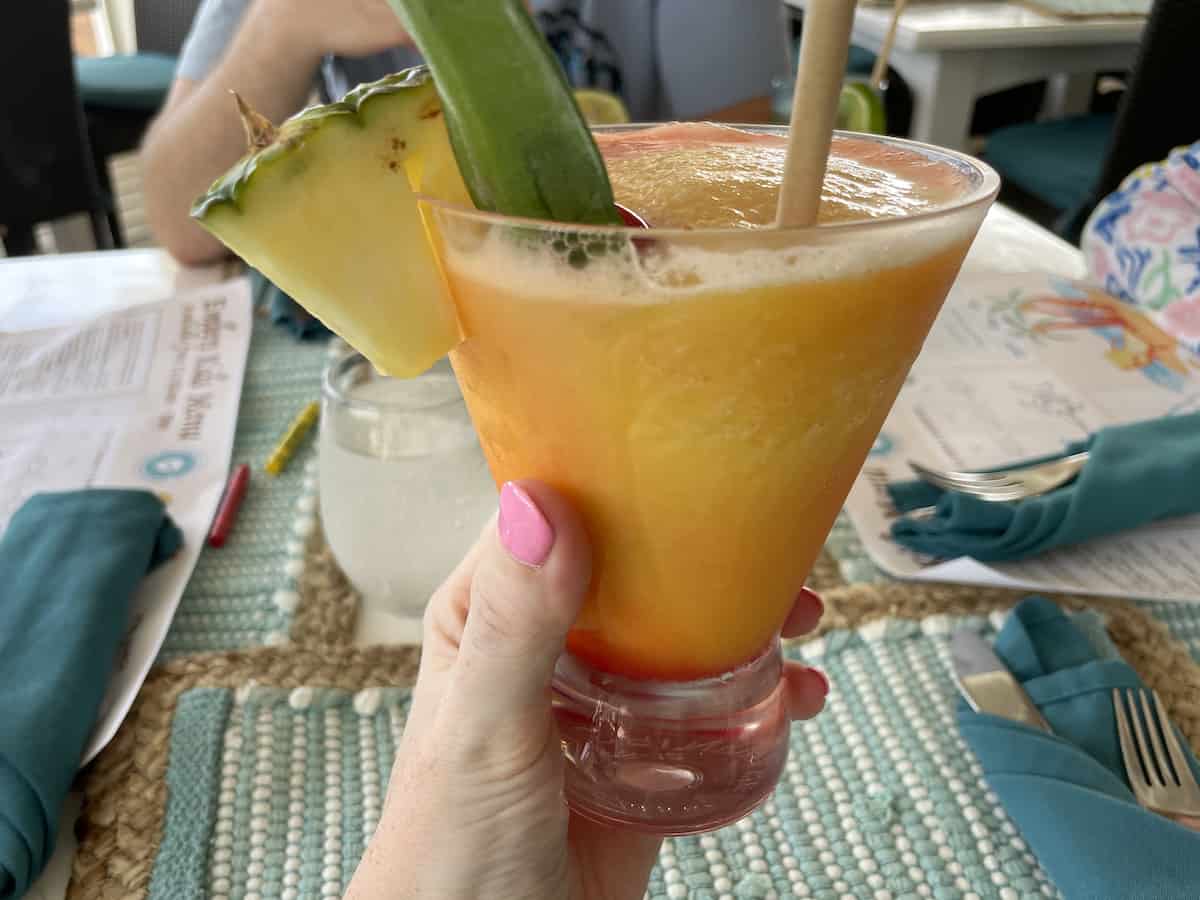 One thing we loved about drinks at Windjammer Landing is that both the Jammers Bar and Embers Bar offered service directly to your sun loungers – by the pool or on the beach – and you could just sign for your tab at the end of the day, again all included in the all inclusive package.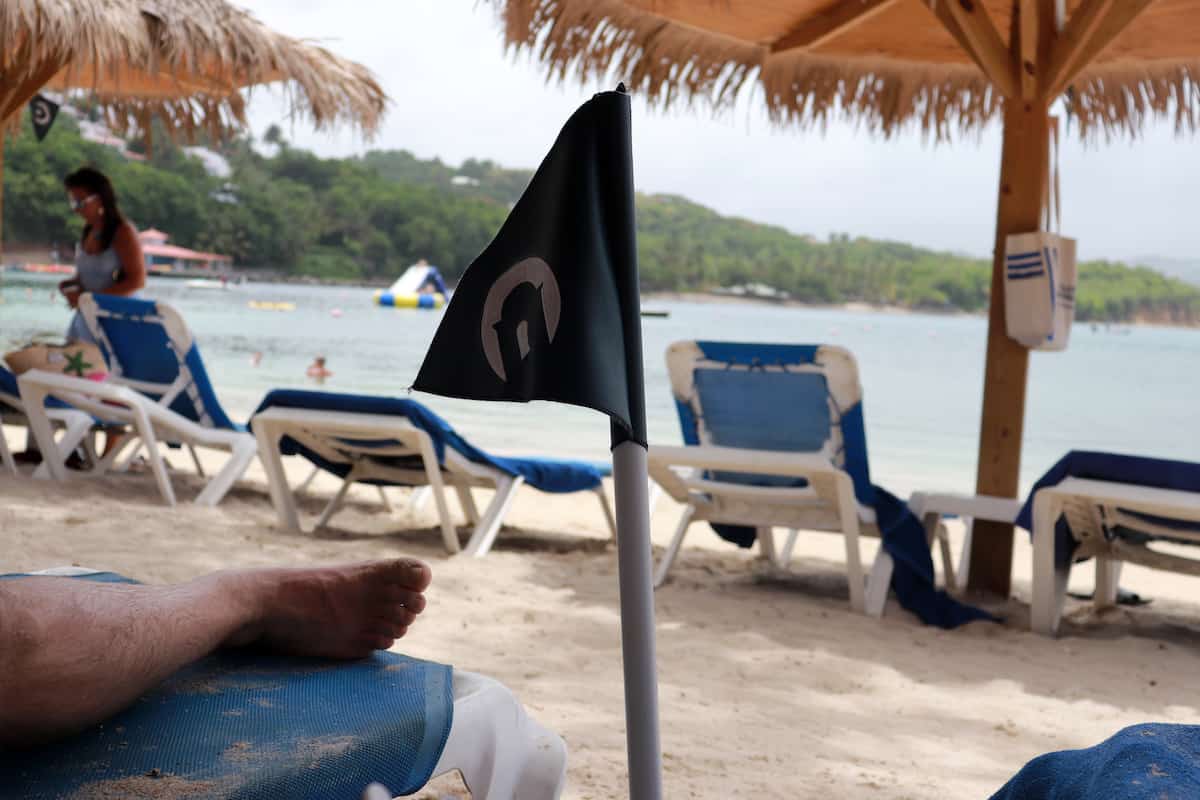 On the beach you just had a little flag you'd put up when you wanted to order something and someone would come along and take your order – usually singing and dancing as they went along! By the main pool someone would just come around and ask if you wanted anything which worked just as well. They also came round with cups of sorbet or fresh fruit a couple of times a day which was much appreciated.
Also, every day on the beach a nice man arrived in a boat selling fresh fruit and coconuts. $5 may be a lot to drink from a coconut but it's the sort of thing you do on holiday – and the children loved it! He blows a conch shell horn when he arrives at about 11am and stays for a couple of hours.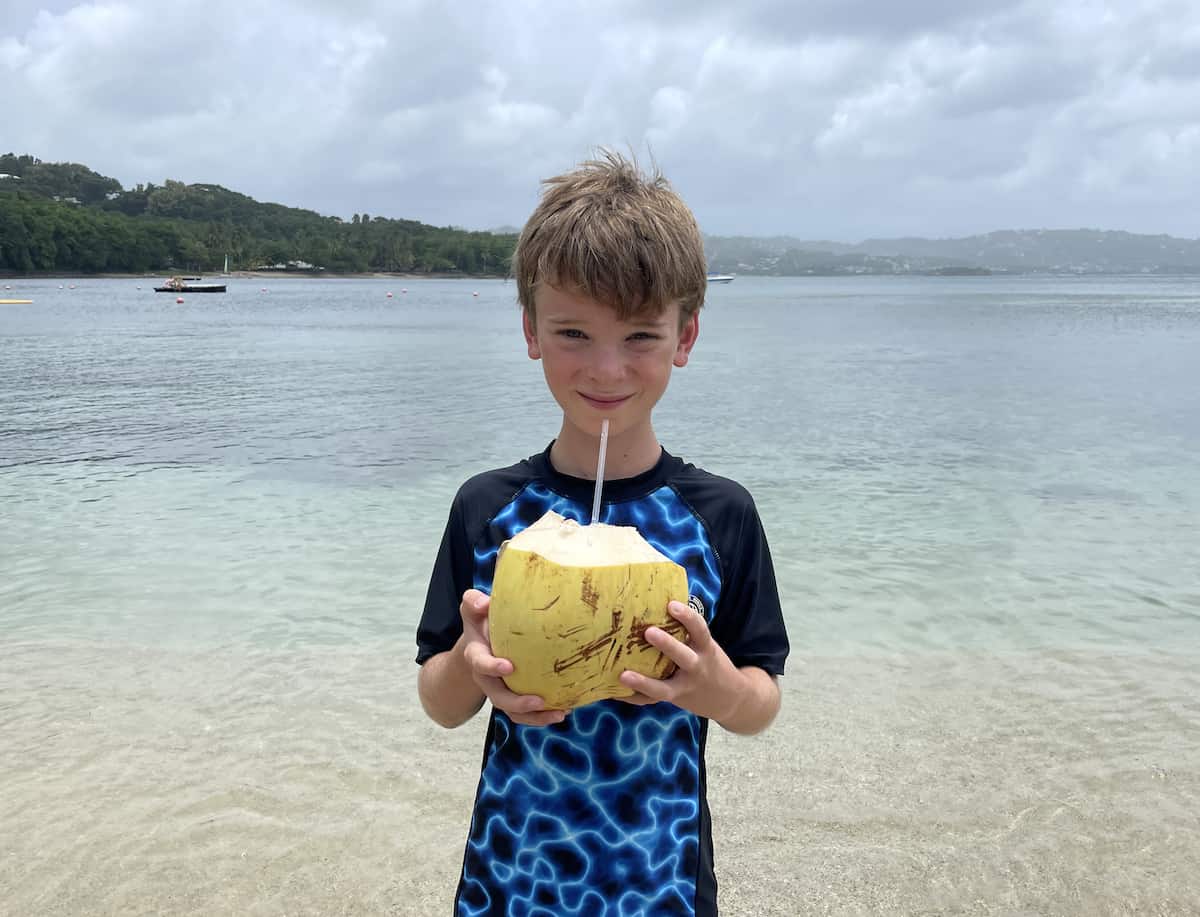 Jammers
Jammers Restaurant and Bar was our first Windjammer Landing experience and then somewhere we dined often throughout our stay. It's the resort's only dinner restaurant where you don't need a reservation and is also open for lunch.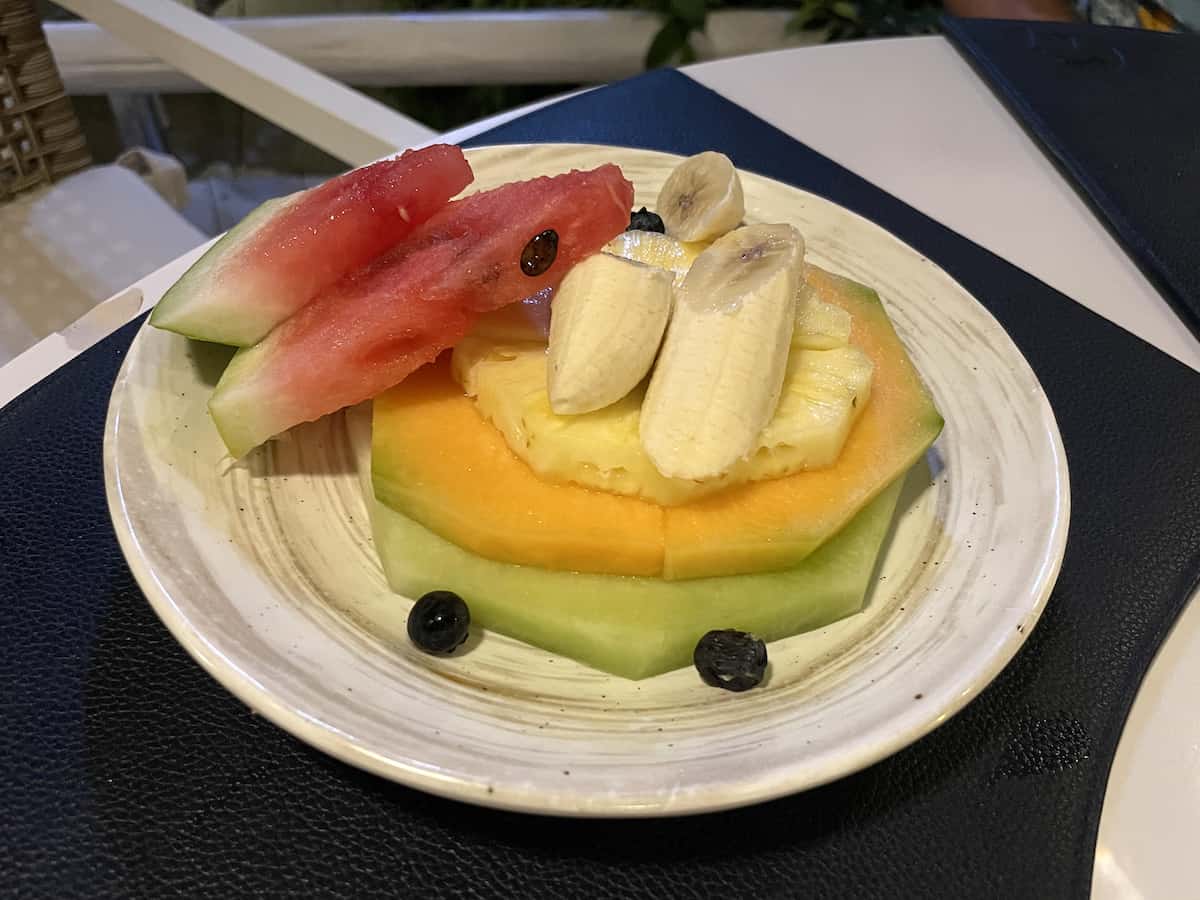 Jammers had a great children's menu with things like chicken fingers, fish fingers, pasta and a choice of sauces, pizza, grilled fish and hot dogs on it. There's also an adult menu and, at all restaurants, children can have whatever they like across the children's or adult menu, and it's included in the all inclusive offering.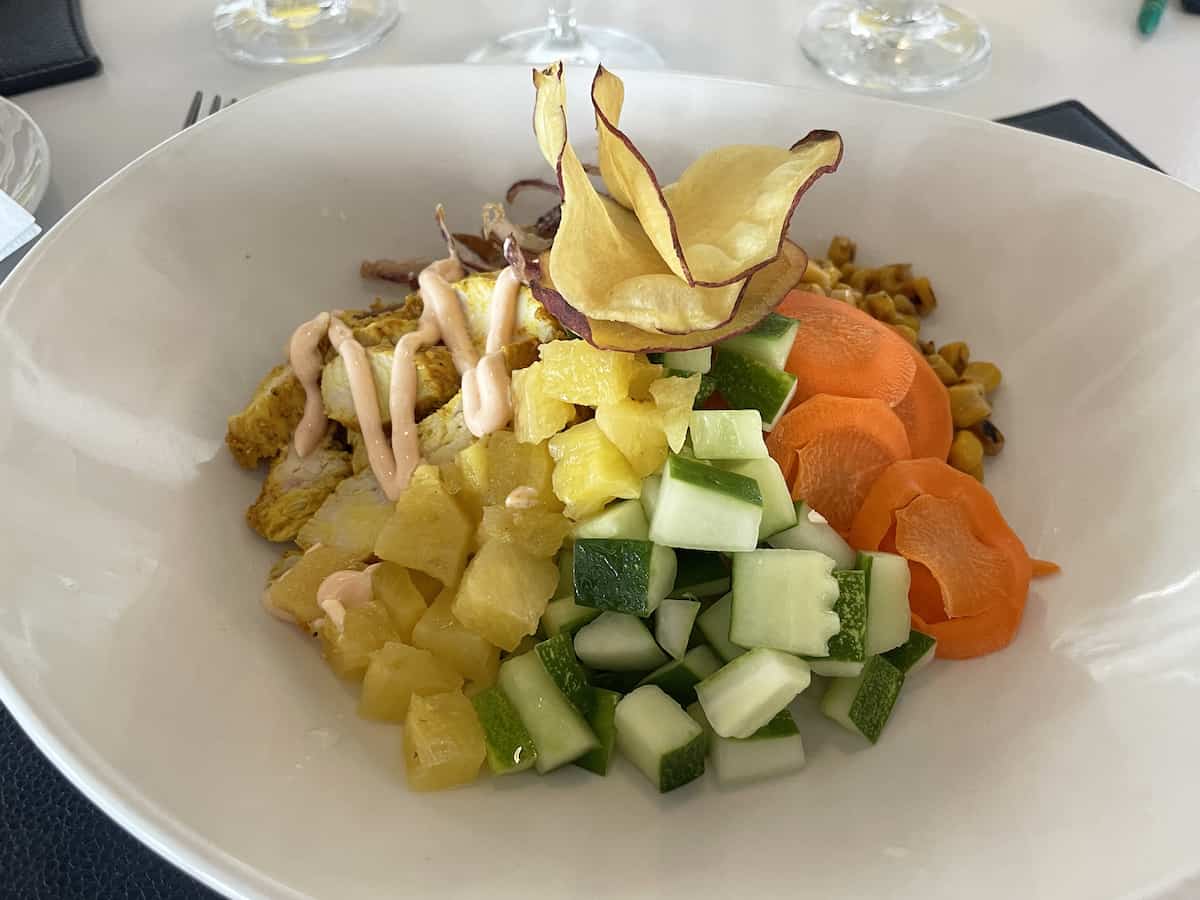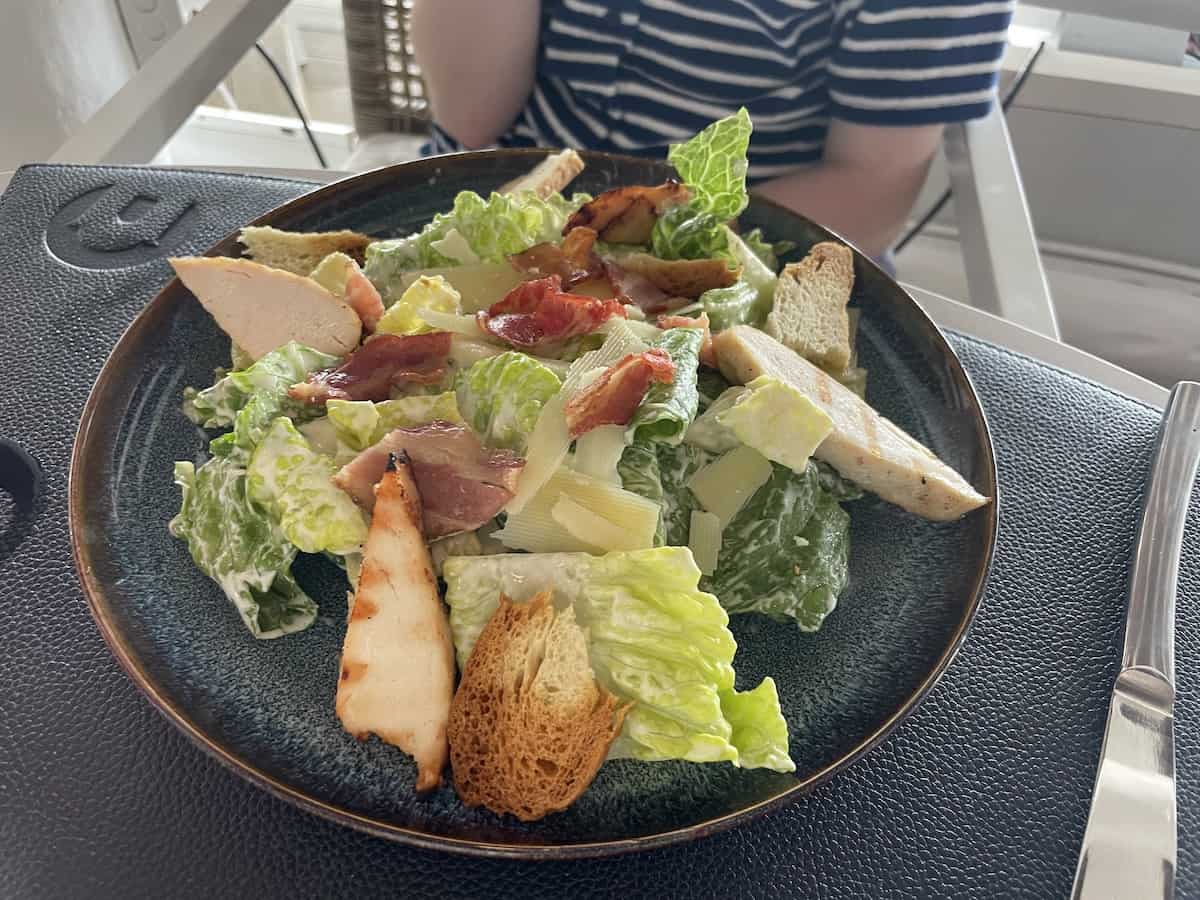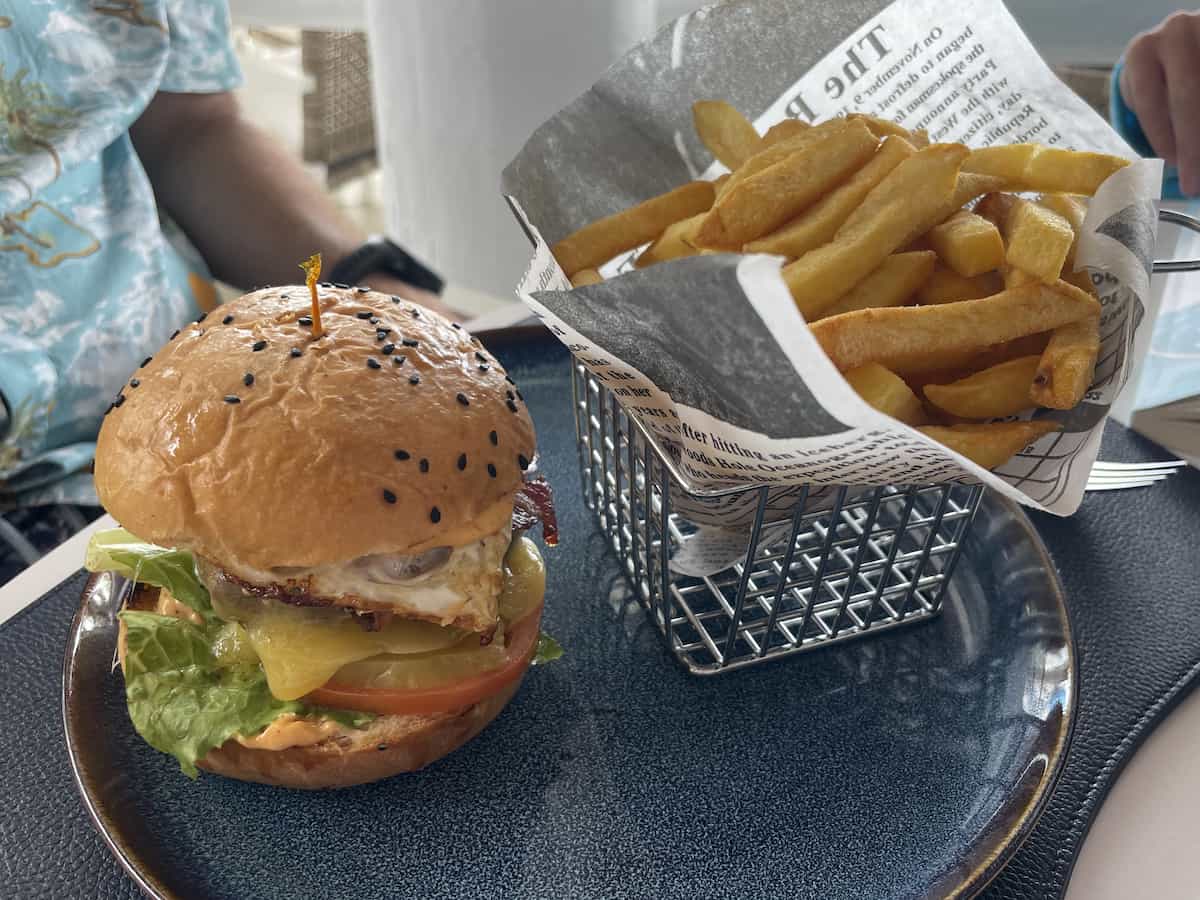 The adult menu at Jammers was great at lunch time – with burgers, salads, poke bowls and the best club sandwich we have ever had. But, at dinner time it felt quite limited. There were a couple of burgers and the rest of the menu felt quite adventurous with goat curry and oxtail stews amongst chicken roti and quinoa salad. We would have loved if the lunch time menu had been offered all day or if there could be some simpler options at dinner too.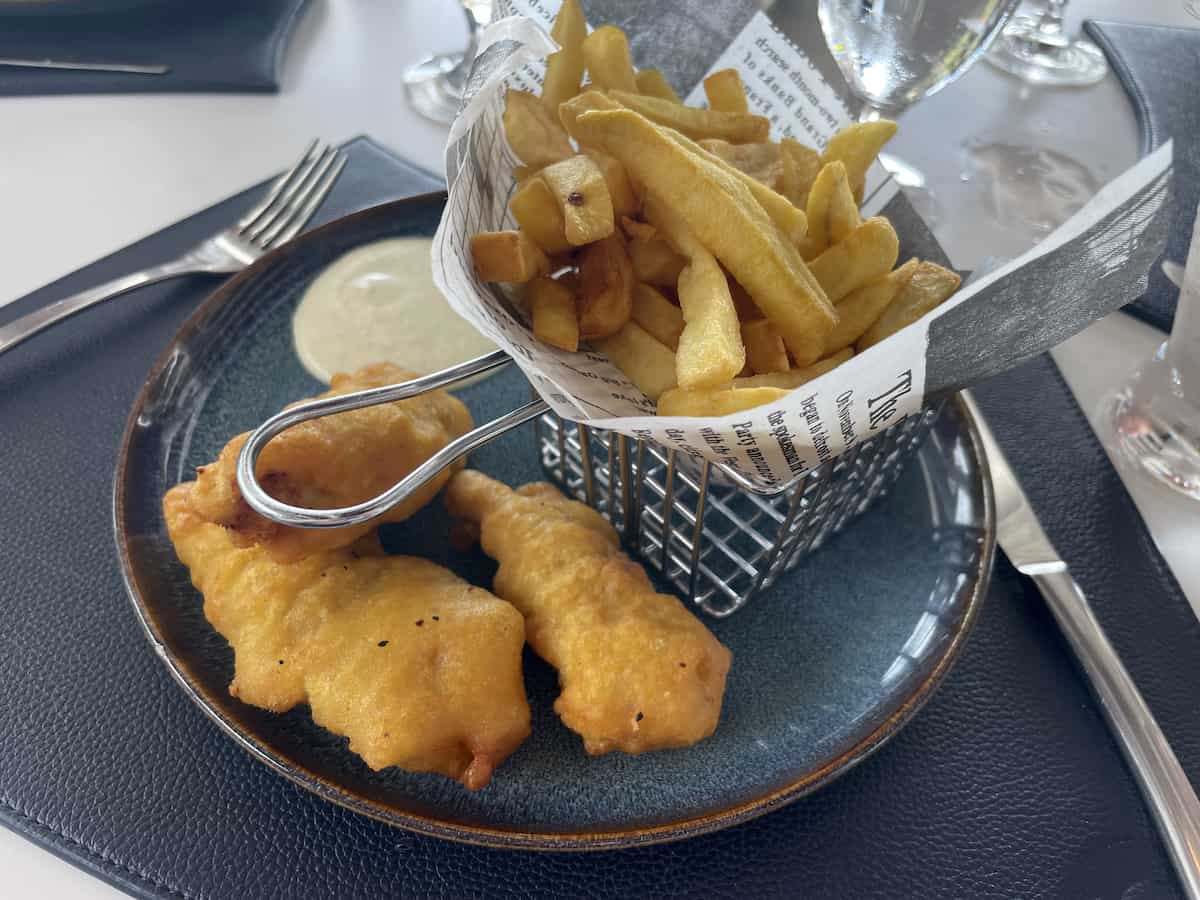 Embers
Embers was our favourite place to eat at Windjammer Landing and we were only sad that it was lunch time only! They have a fantastic menu of nachos, tacos, burritos, burgers, salads, pizzas and more, all freshly cooked and full of flavour. Set right on the beach, it was a lovely, casual place to spend time and somewhere we all loved going.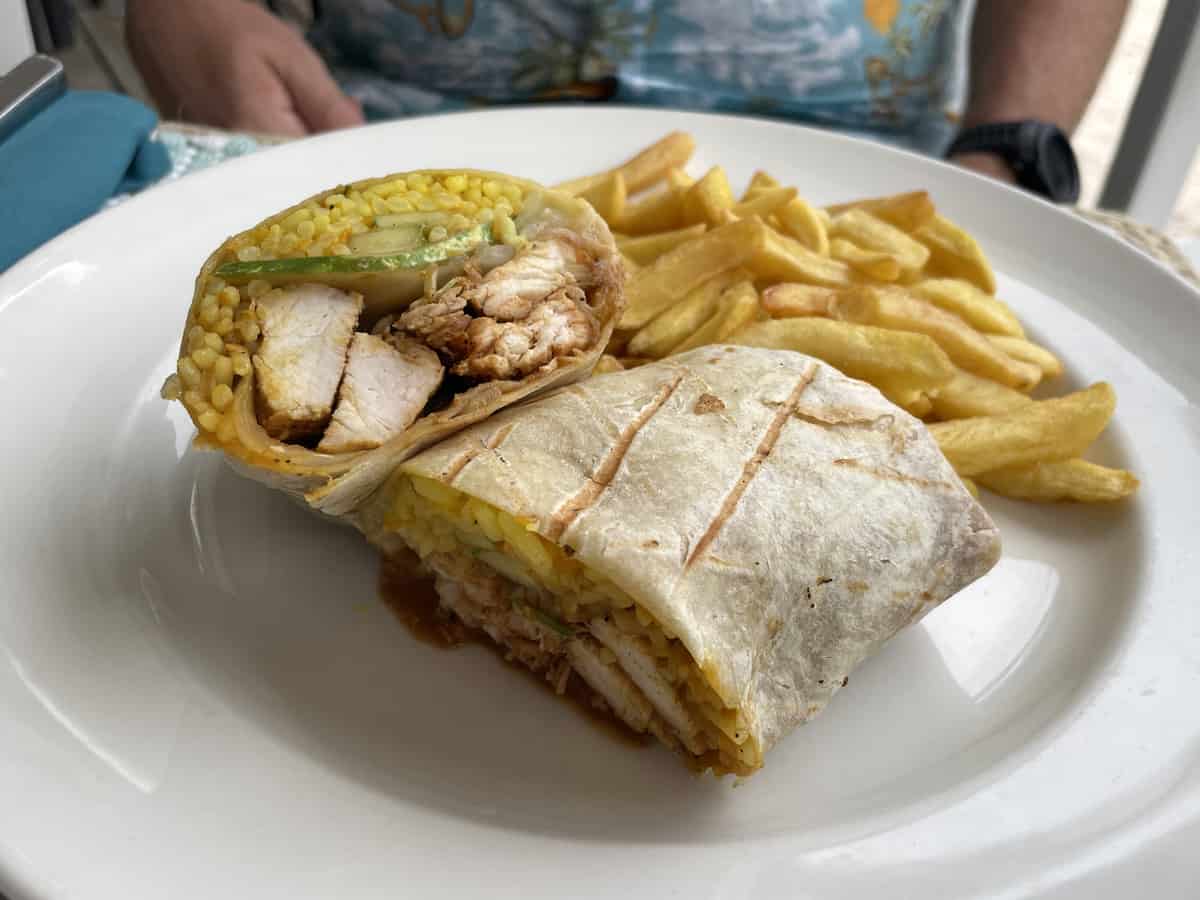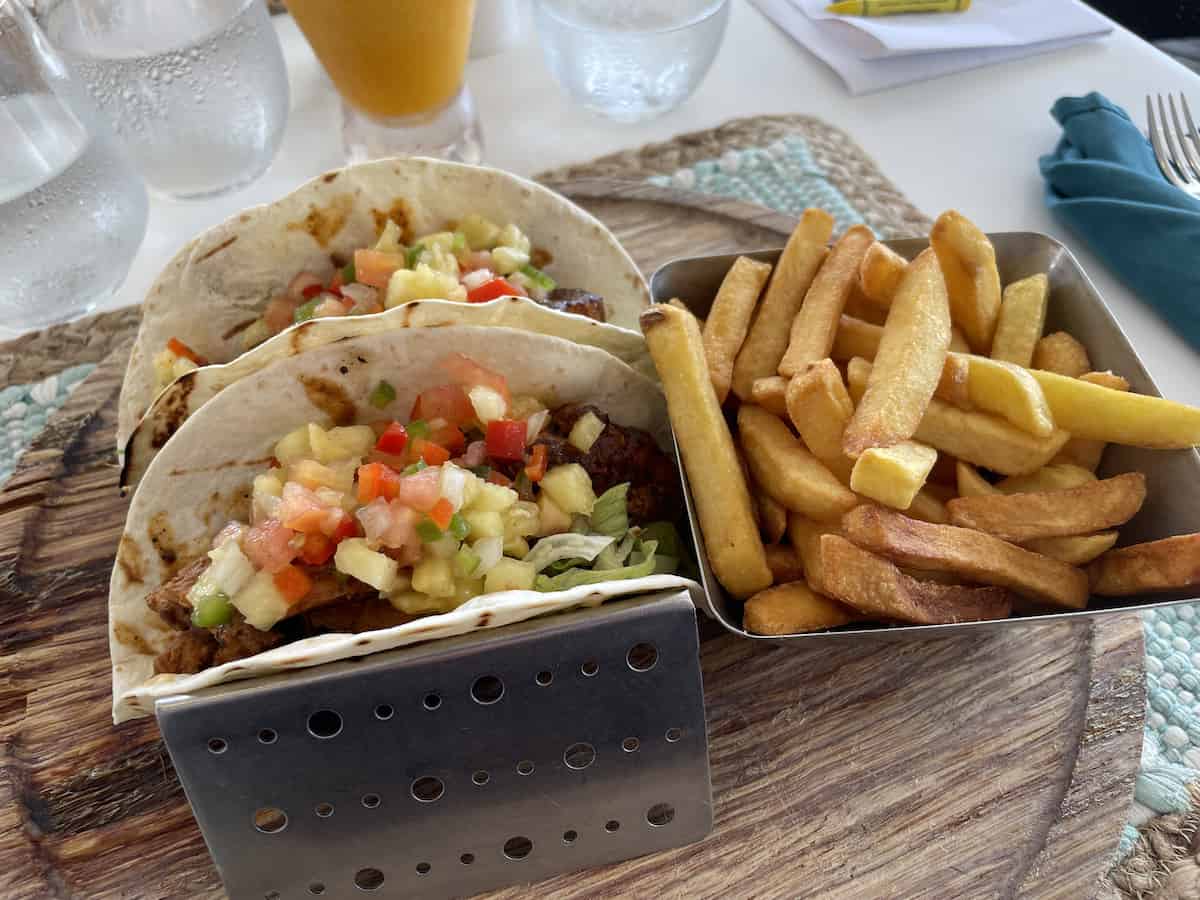 Masala
In the evening, Embers turned into Masala, a fantastic Indian restaurant on the beach. Dave and I both said that the curries were the best we have ever tasted and we loved the two meals we had there. They were not the cheapest curries at $50 each but it was all included on our all inclusive plan.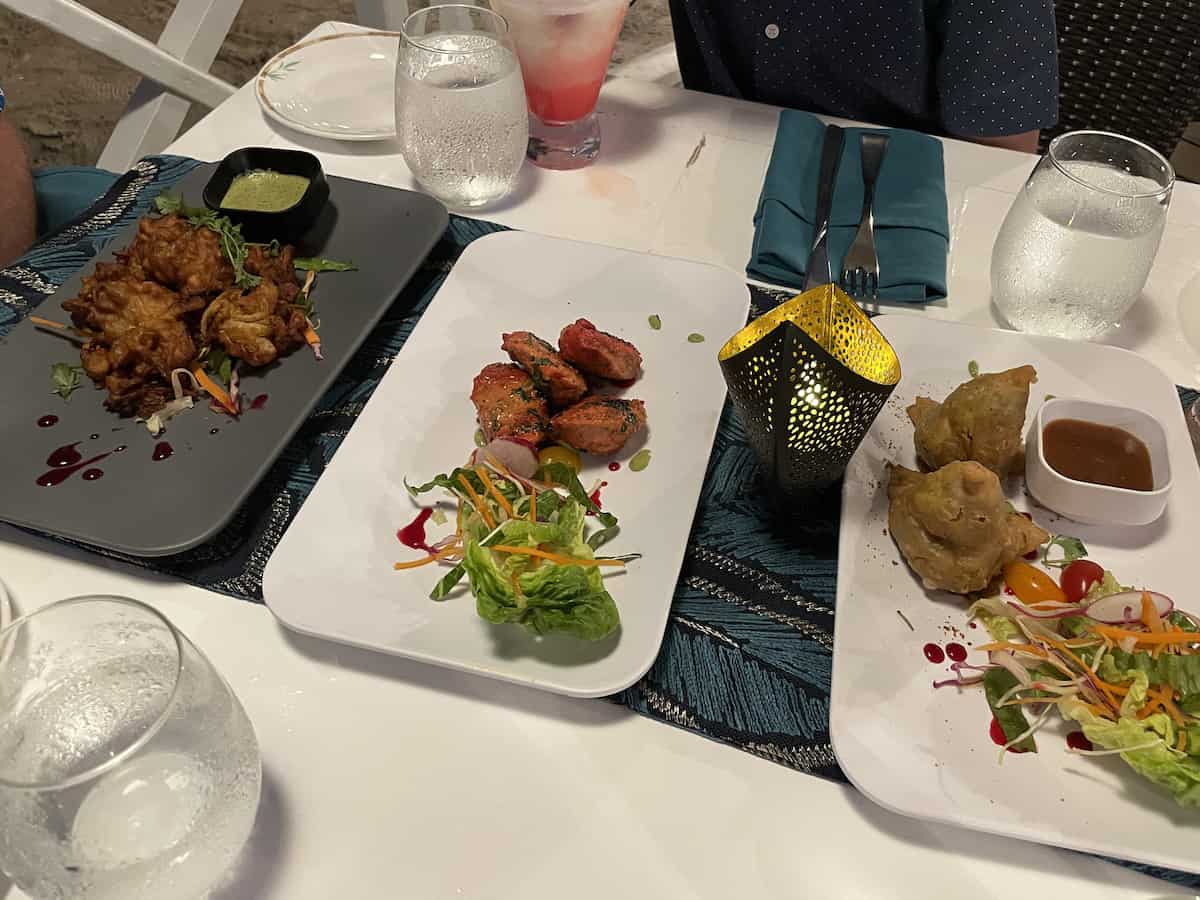 Dragonfly
The Dragonfly Restaurant is where we have breakfast each morning, the only buffet style part of a stay at Windjammer Landing. Breakfast was lovely, with a great selection of cooked and continental options. There were pancakes, waffles, fresh toast, bacon, sausages, hash browns and a great selection of bread products.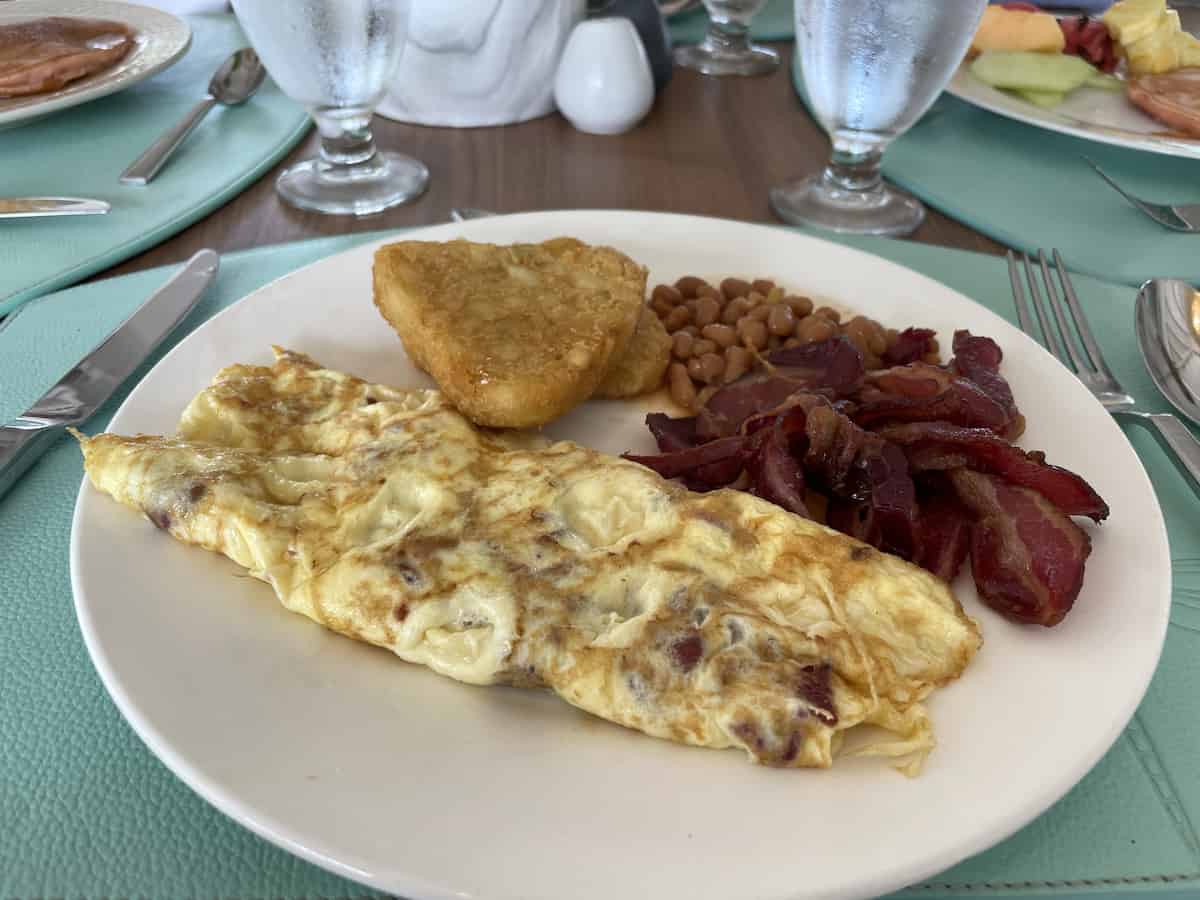 There was also so much fruit, crepes, eggs and omelettes made right in front of you and specials like egg wraps and smoked salmon bagels. It was a fantastic way to start the day and also included tea, coffee, juice and smoothies.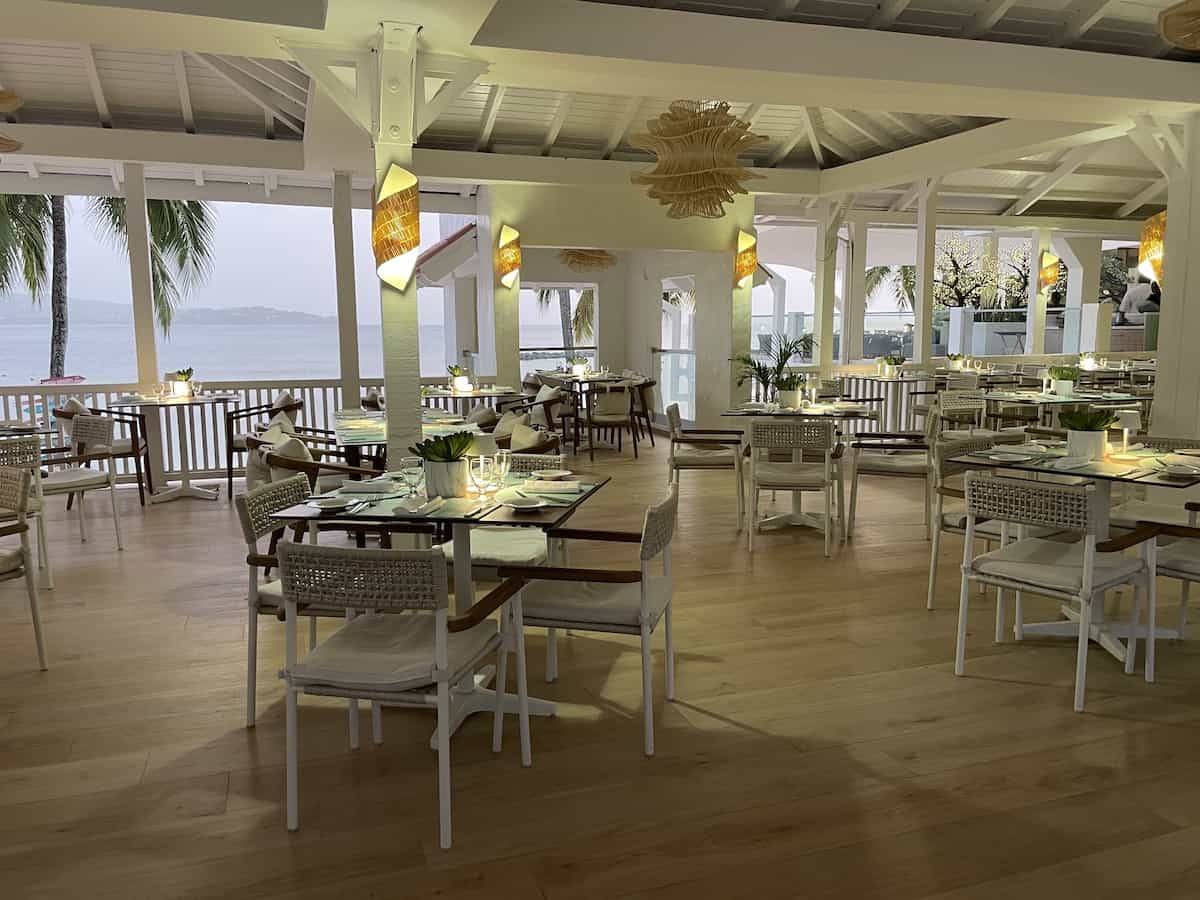 In the evening The Dragonfly Restaurant turned into a fantastic, ambient seafood restaurant. With sushi, paella and fresh fish alongside a token chicken, lamb and beef dish, it's somewhere any fish fan will love. We only dined there once – as none of us are huge fish fans – but Dave had the nicest steak of our trip, I had scallops and the children had a lovely chicken dish. They were also able to have anything from the Jammers children's menu.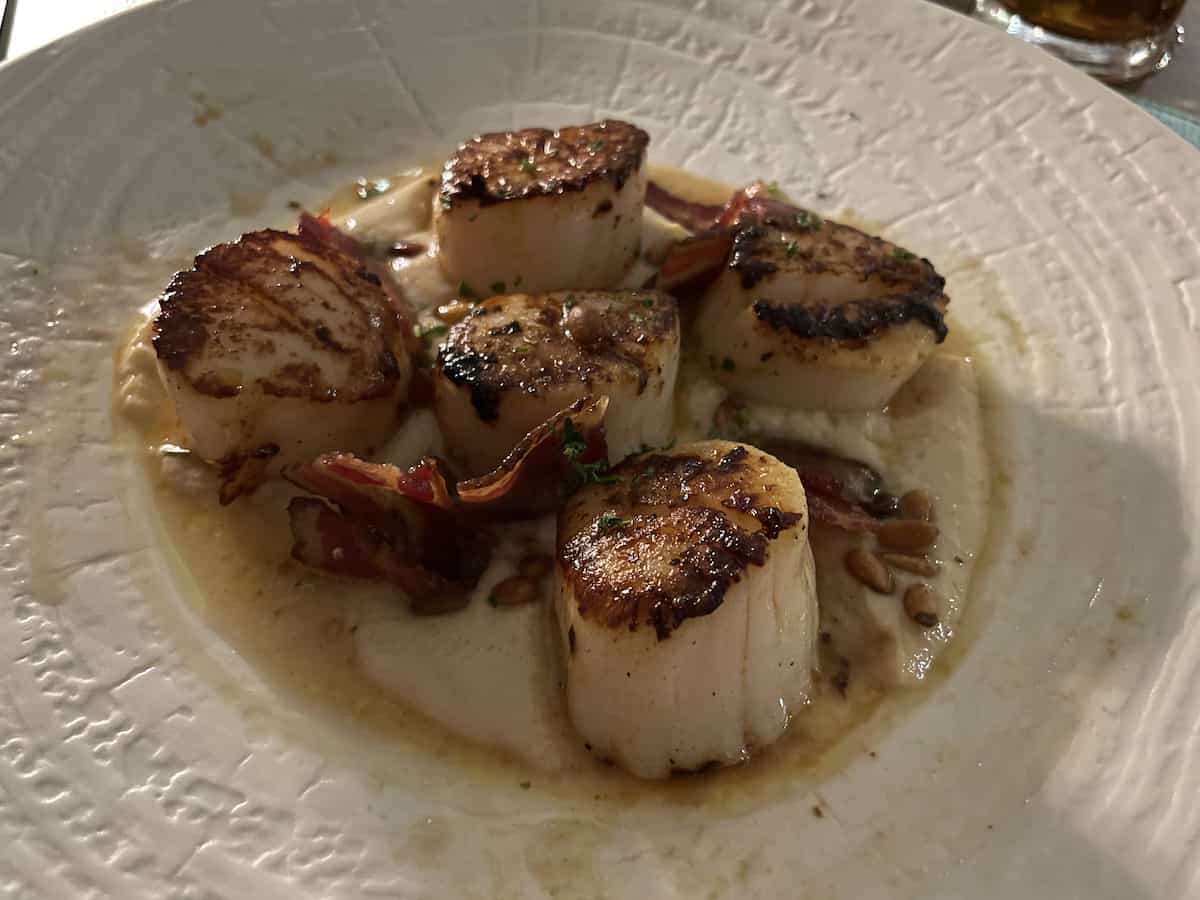 Upper Deck
Upper Deck is what felt like the most upmarket restaurant at Windjammer Landing. Billed as a steak house, it has so many different cuts of beef on the menu and the top ones, at over $100 per dish, come with an $18 supplement for all inclusive customers.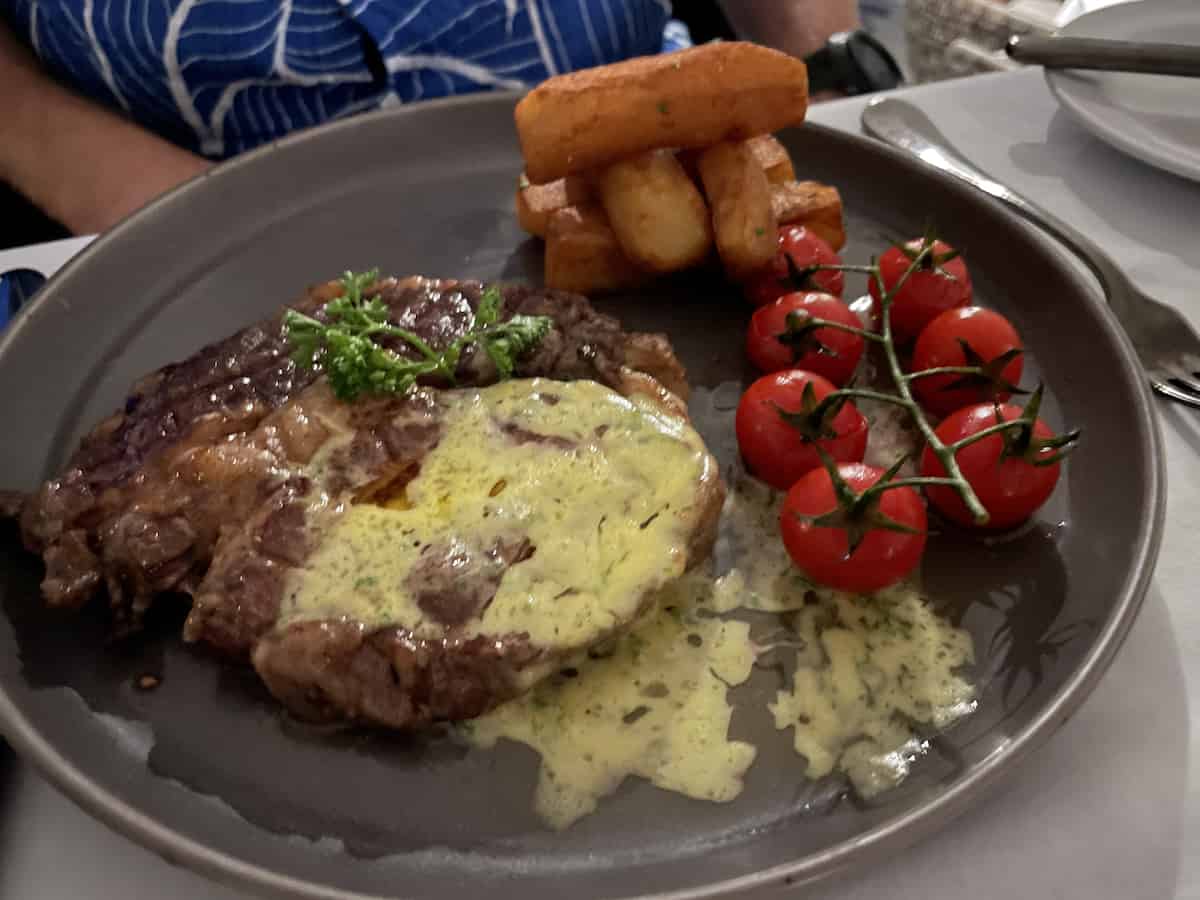 We ate at Upper Deck twice and the food was lovely. The children had a wagyu beef burger one time and a pesto pasta dish another – and they could have also had anything from the Jammer's children's menu too. Dave and I had a few steak dishes and it was always well cooked and delicious.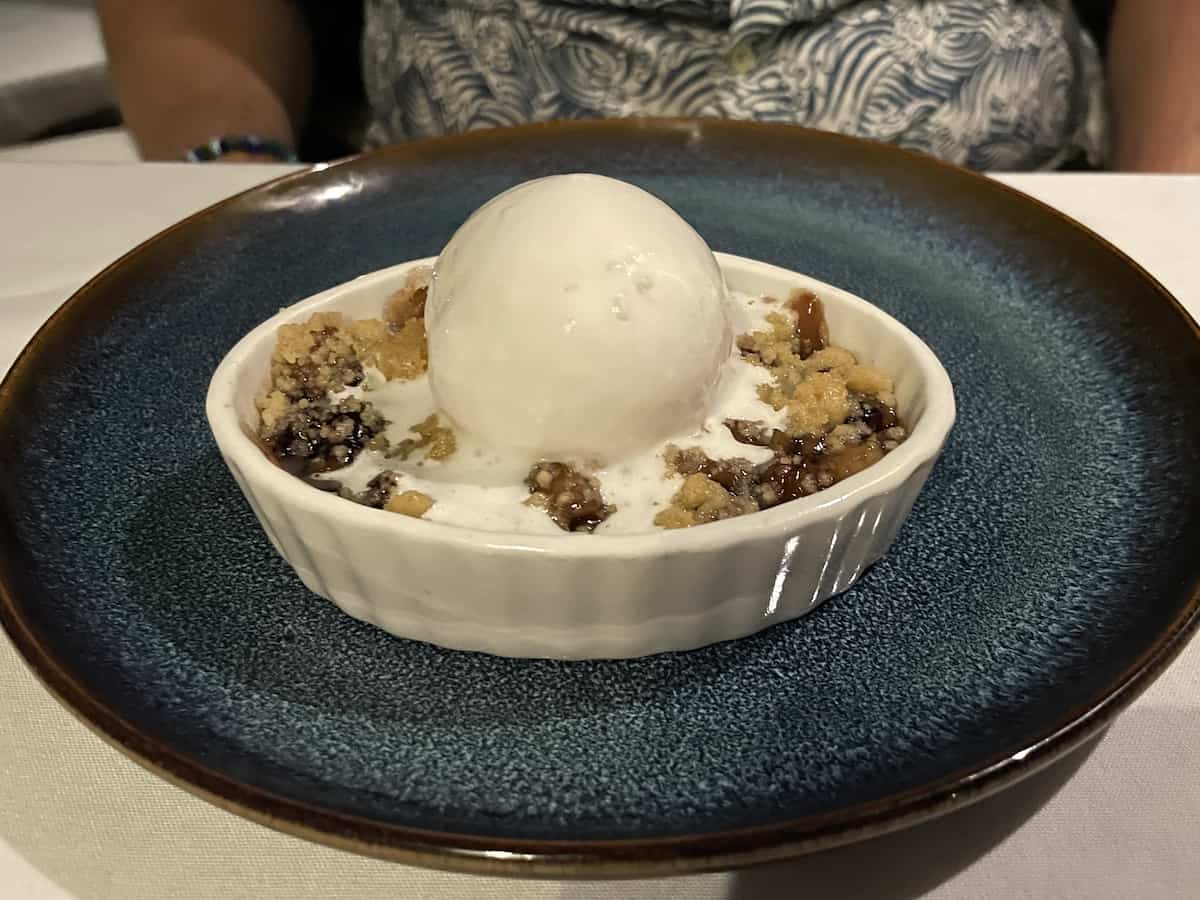 Papa Don's
Papa Don's ended up being our favourite restaurant. Situated just by our suite, it was easy for us to get to and stagger back from! A traditional Italian restaurant, the menu was a great mix of pizza, pasta and antipasti as well as salads and meat dishes. They also had their own children's menu which the kids loved.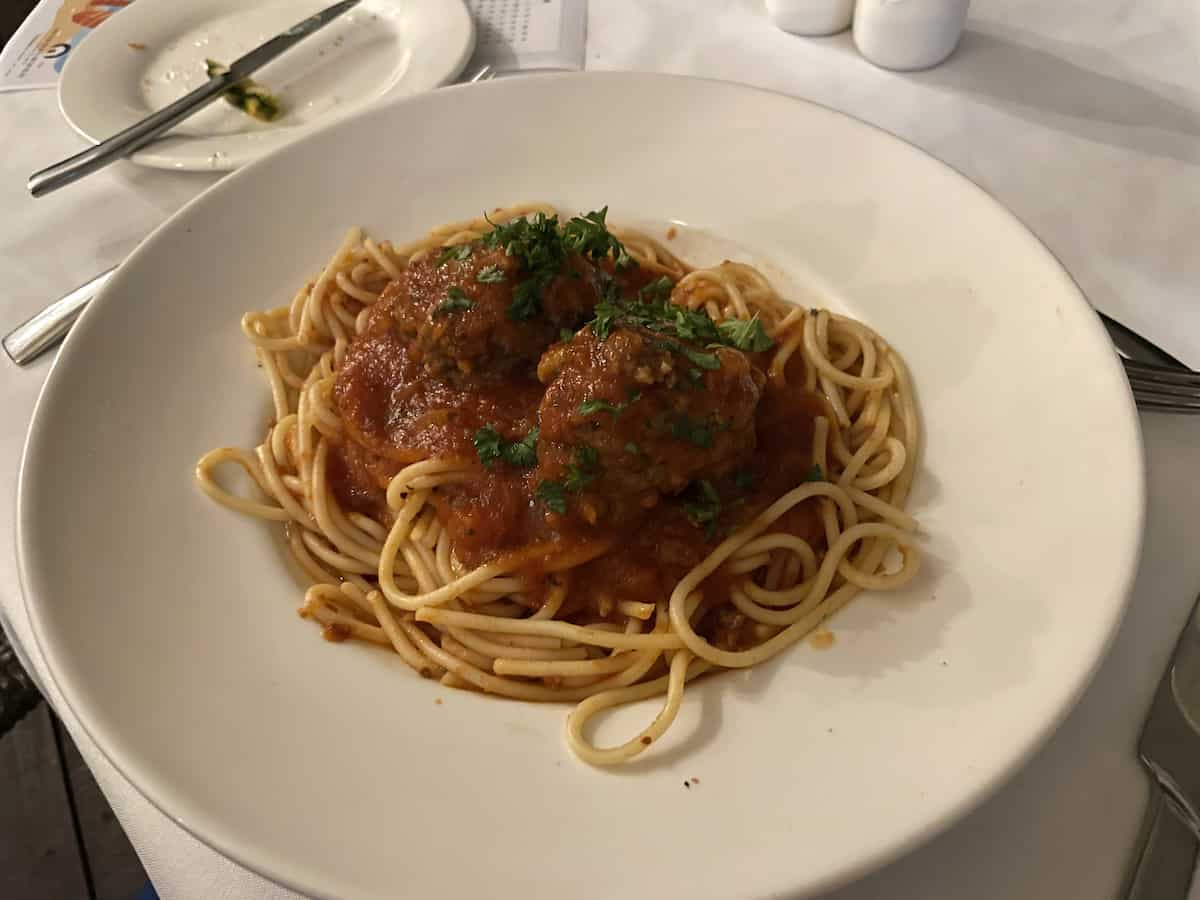 We tried so many dishes during our stay and loved all of them – lasagne, pizzas, an antipasti platter and some of the best cocktails of our trip too. Papa Don's also have someone performing each night which really adds to the ambience.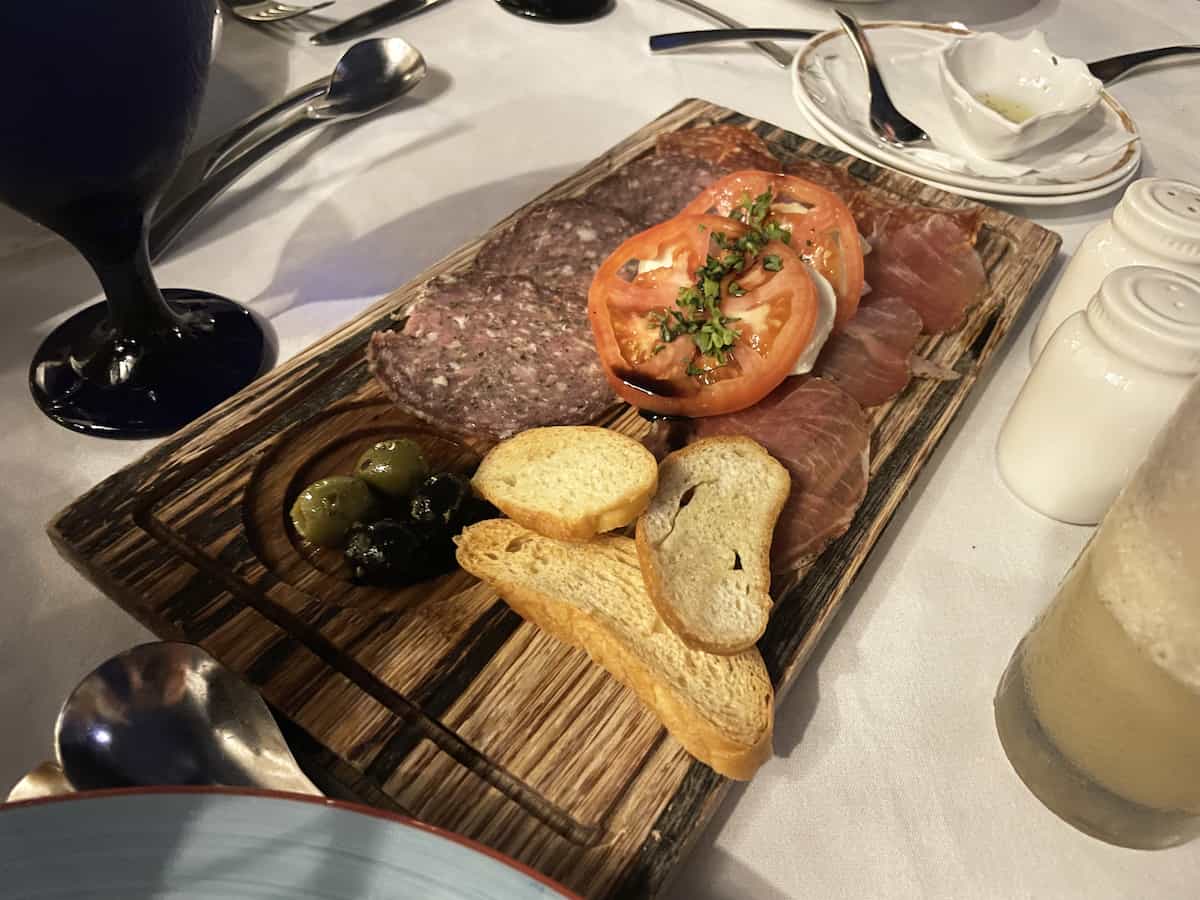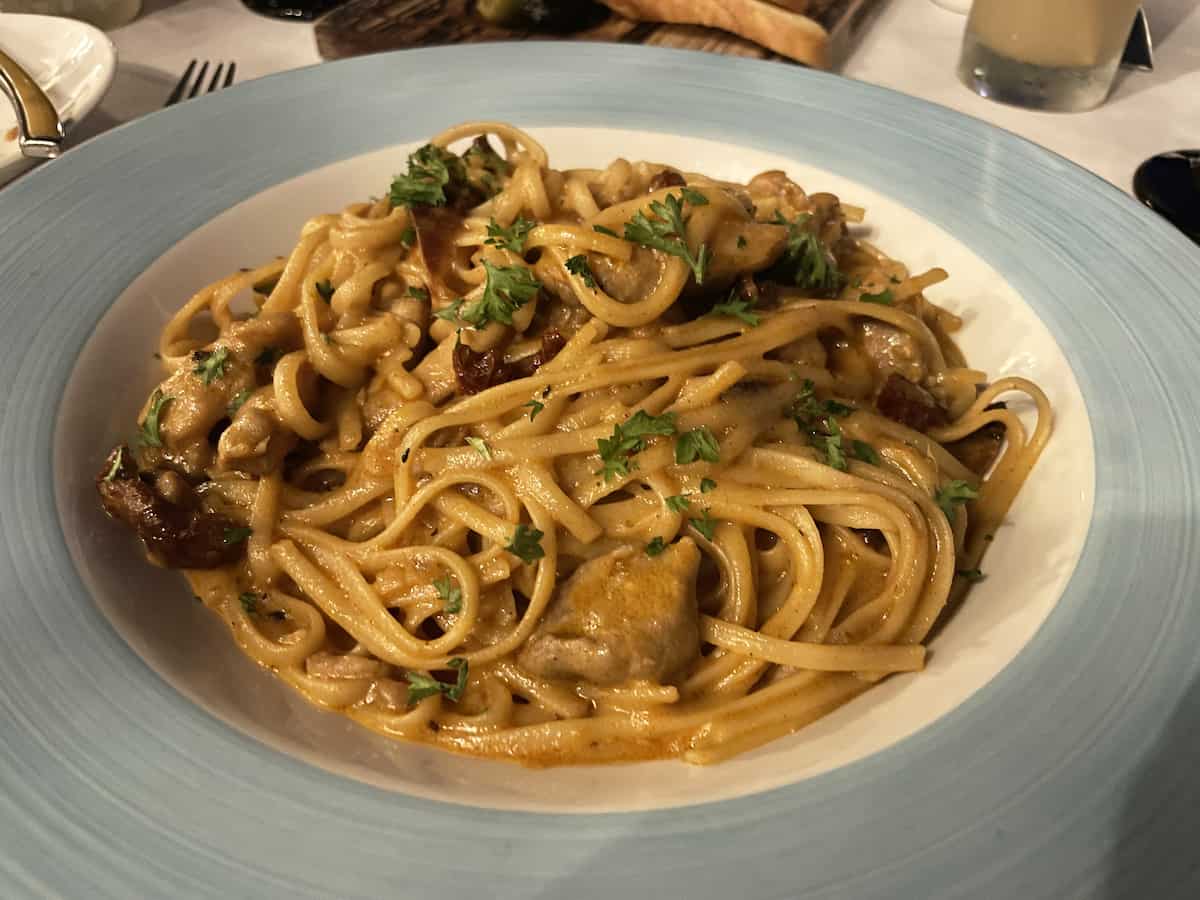 As well as all the restaurants, there's also Topper's Ice Cream Bar on the beach which is open each day with a selection of ice creams, sorbets and toppings. We also found out half way through our stay that they also make milkshakes by request! All included in the all inclusive package. What a treat!
Room service
Windjammer Landing offer room service even on the all inclusive package and this would definitely have been something we would have utilised if we had a dedicated eating area in our suite. The room service menu was great, with breakfast and day time menus, and only incurred an additional charge of $7 per tray.
We did get one room service delivery of breakfast boxes the night before an early trip and they arrived quickly and were well packaged in recyclable boxes.
Service at all the restaurants was fantastic although you do have to switch mindset to be on St Lucian time. Everything in the Caribbean is slower than what we're used to. It was pretty normal to wait an hour for our food whilst drinking cocktails and enjoying the sunset and sound of the waves but I know that it's something that wouldn't work for everyone. If you had young children who wanted dinner there and then you could probably find this difficult.
Swimming
A huge part of our holiday was swimming and the main pool at Windjammer Landing was fantastic. A good size with a good varied depth and plenty of access points. We all spent a lot of time in the pool during our stay and it has a smaller pool for little ones just above it too.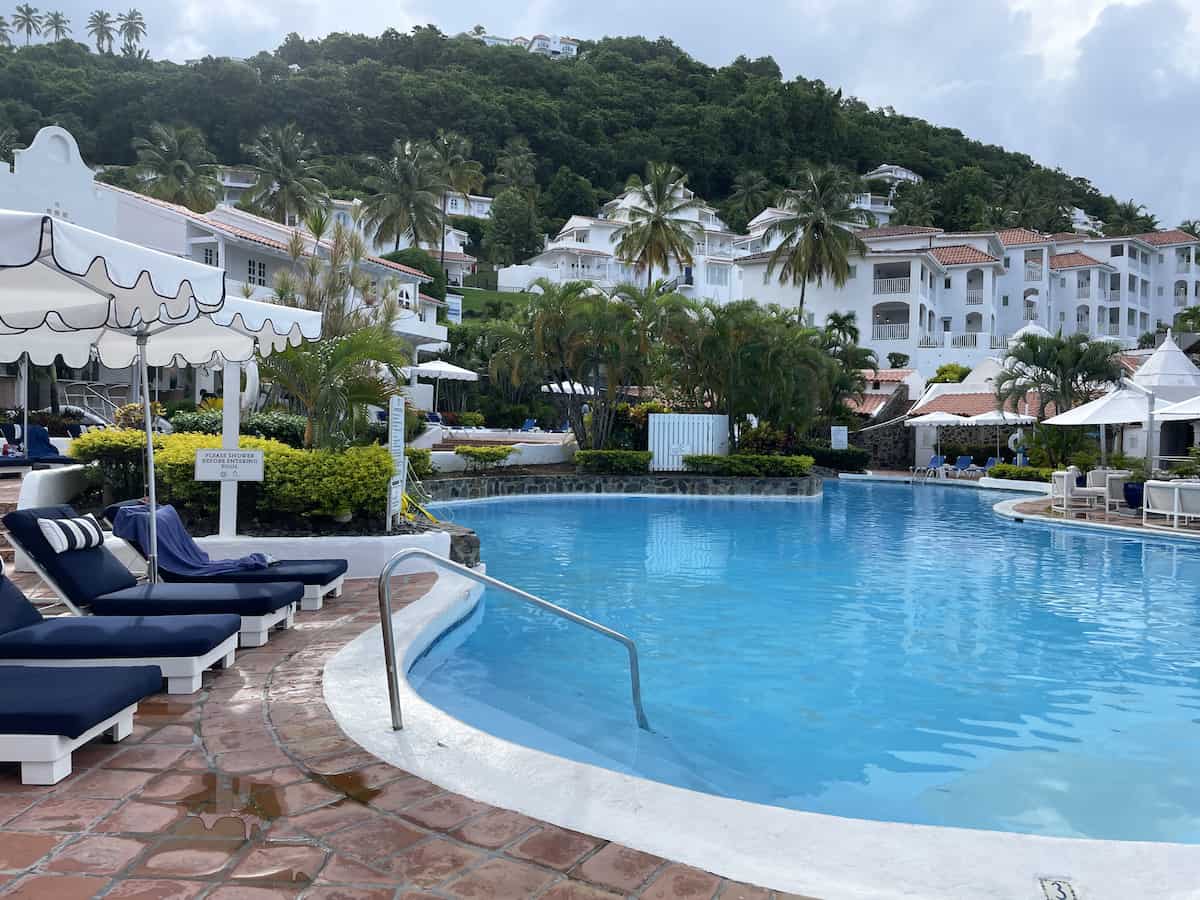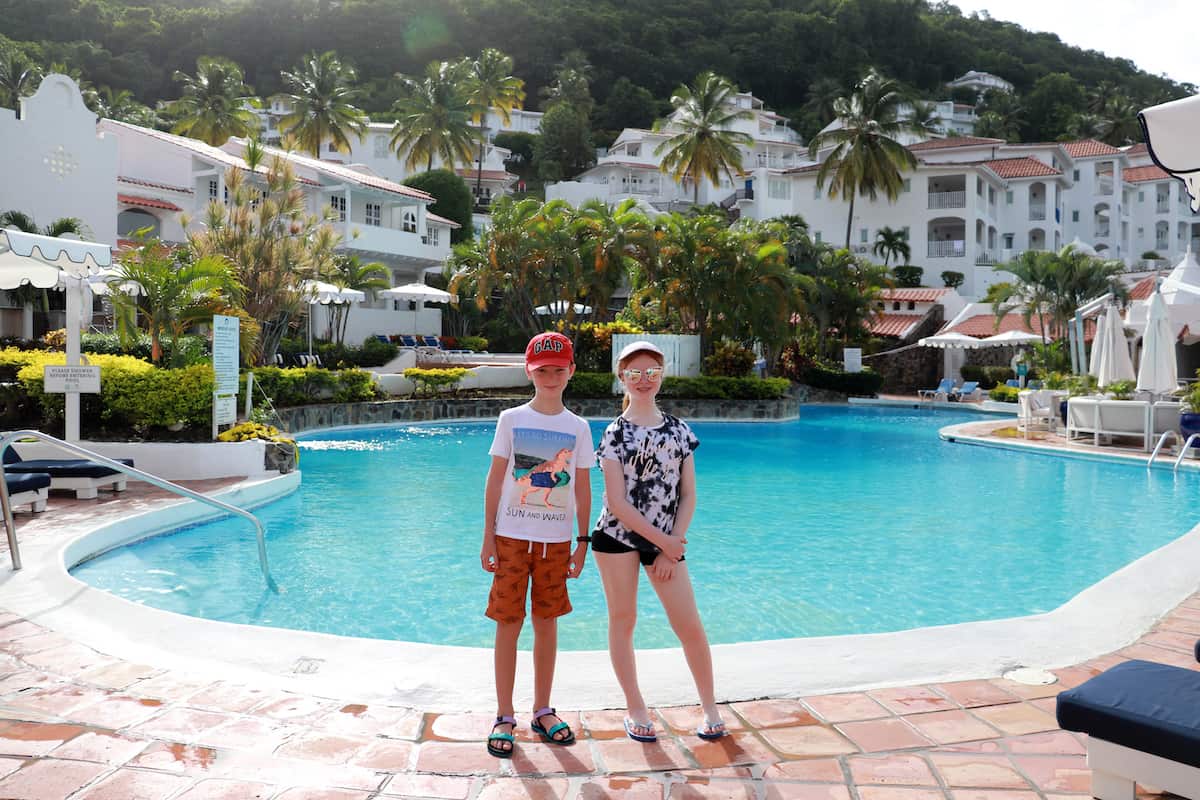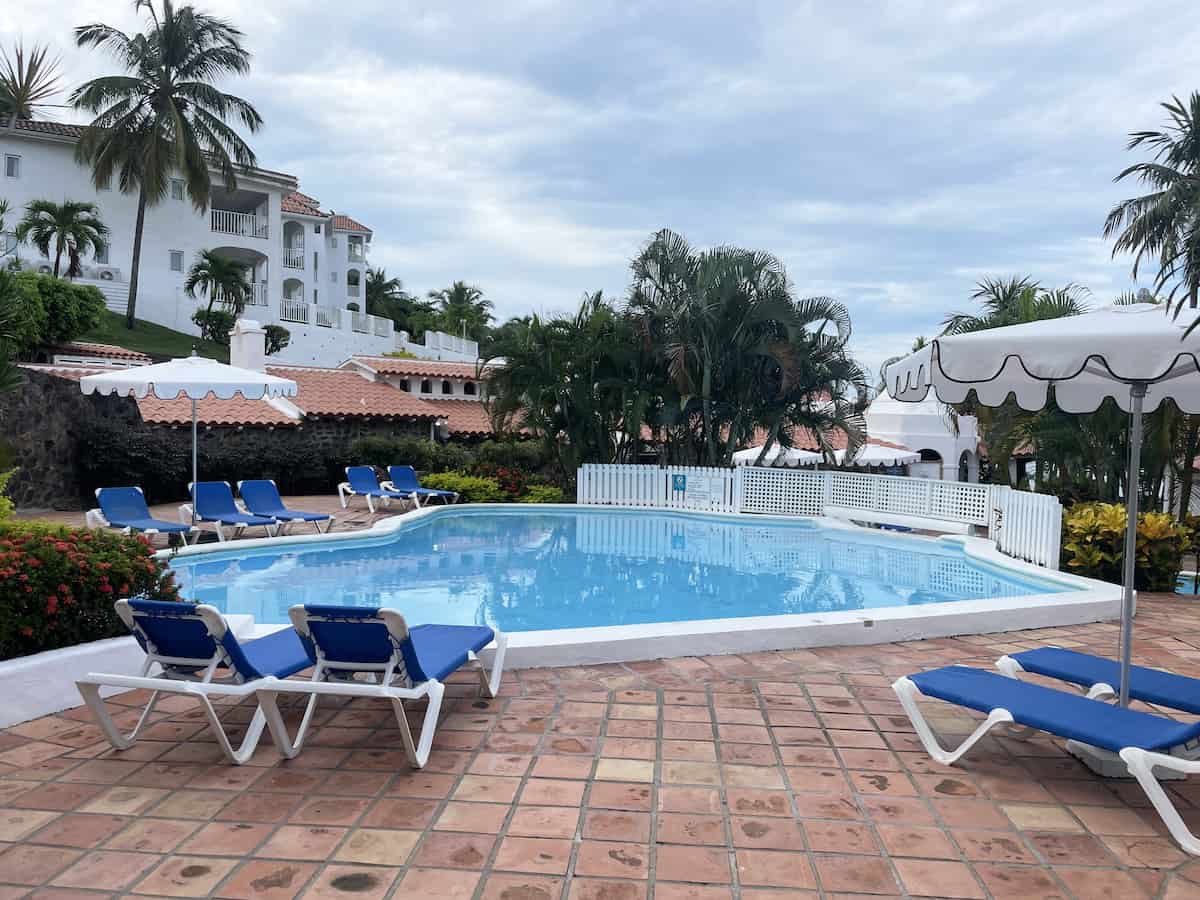 But, Windjammer Landing actually has six different swimming pools. There are two more just outside the Papa Don's restaurant that we visited a couple of times and a couple more Hibiscus Pools next to the Hibiscus suites which we didn't venture to.
The Papa Don's pools were lovely, shallower than the main pool and had the added bonus of a hot tub. But, as Papa Don's isn't open until the evening there isn't anywhere to get a drink from nearby and there's also very little shade so we ended up just going to the main pool each day.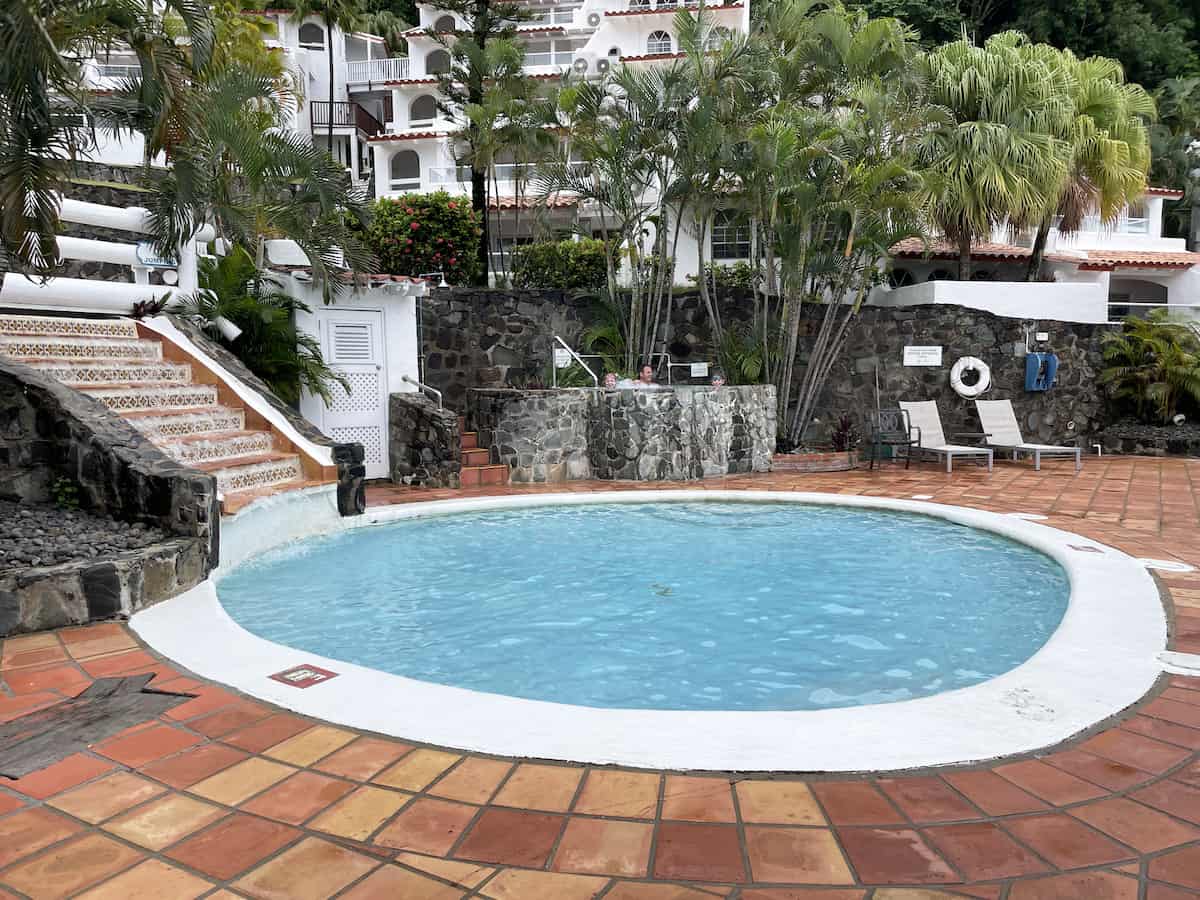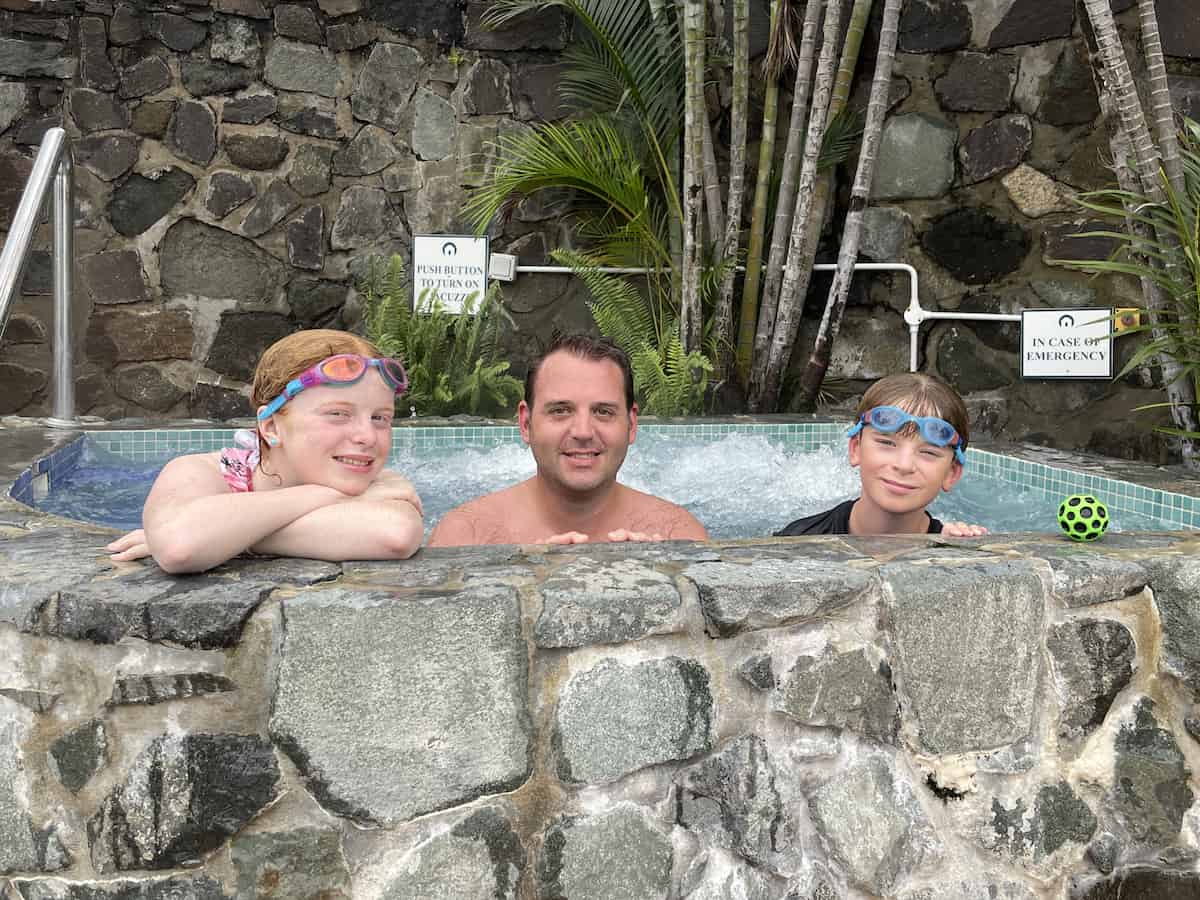 The beach
A great bonus of the Windjammer Landing resort is the expanse of beach that it sits on. With plenty of loungers and shade, it's a great place to spend time. The sea is lovely and clear, with good visibility for quite a way out. Plus, it's pretty shallow at the edge which is great for little ones.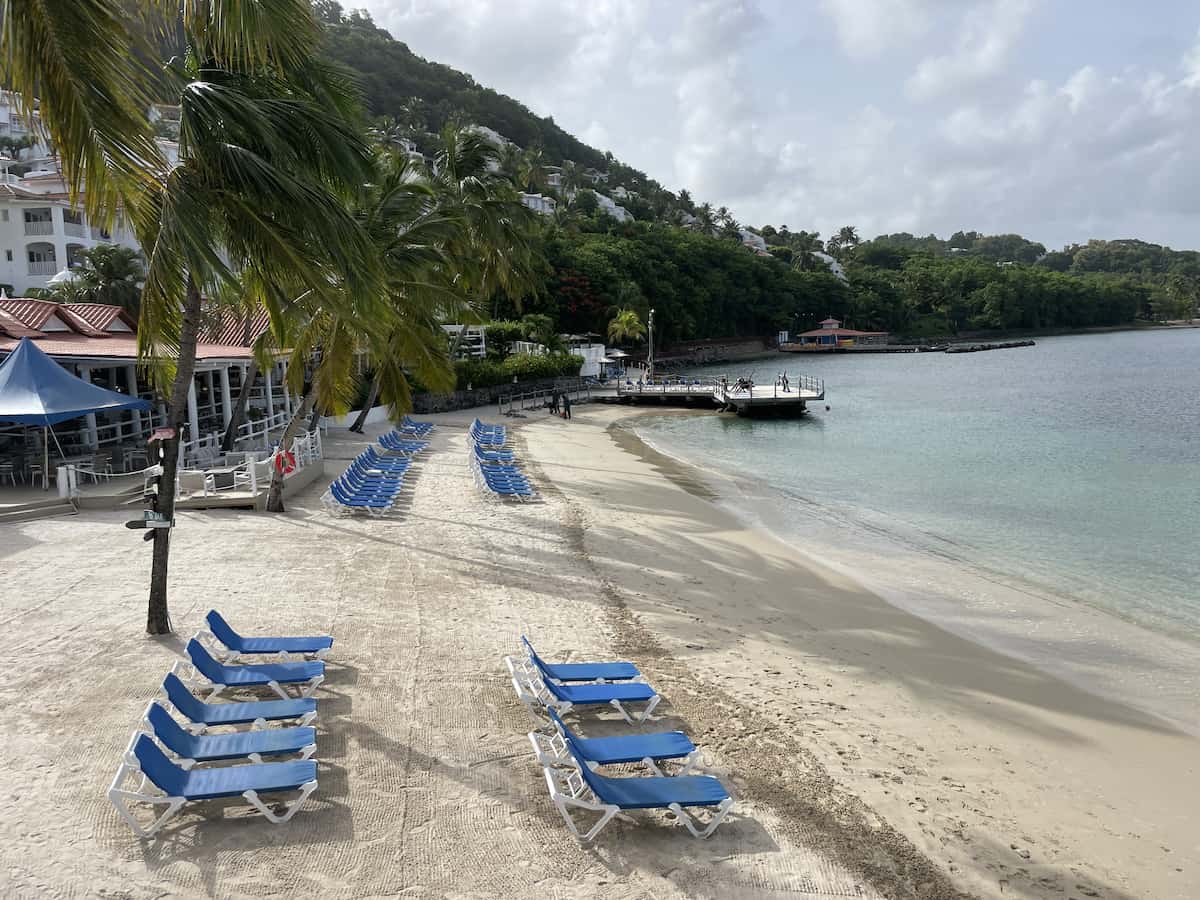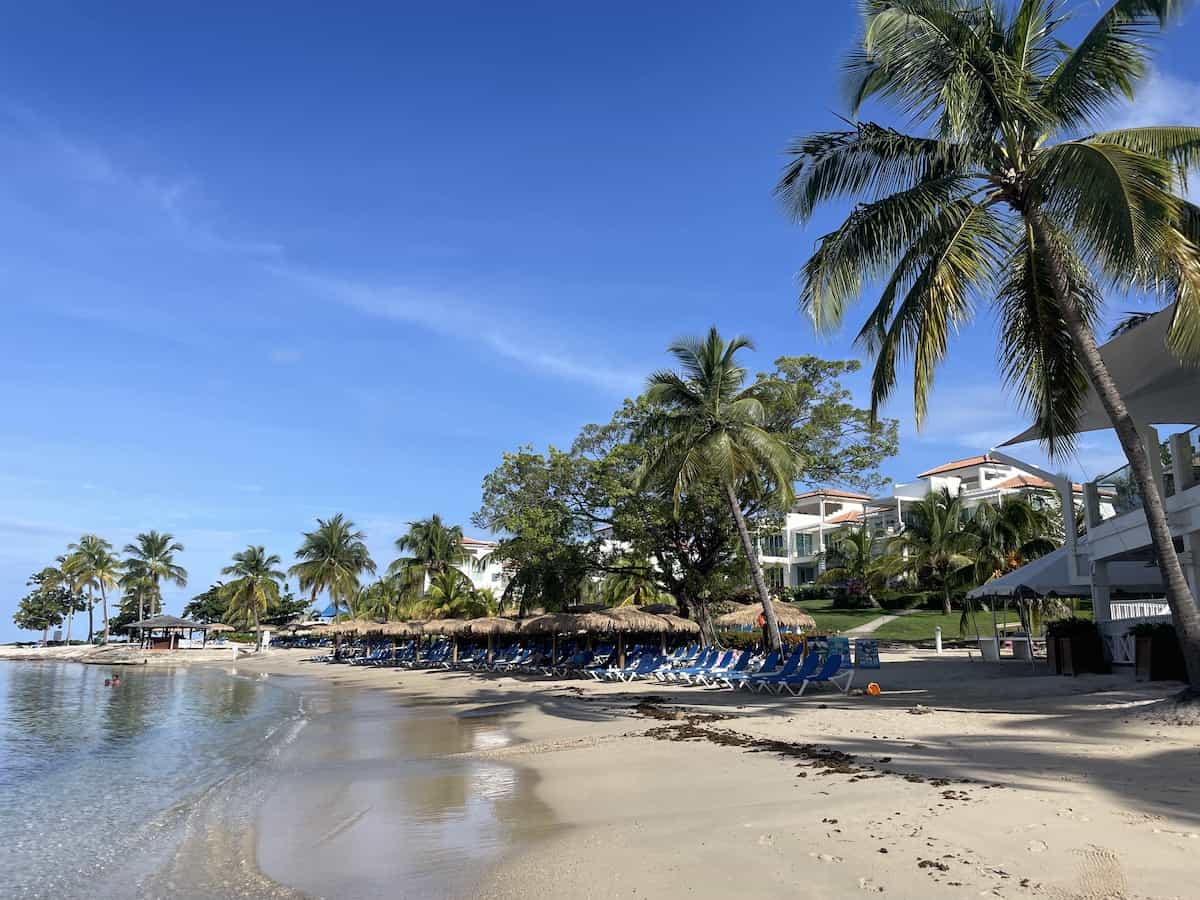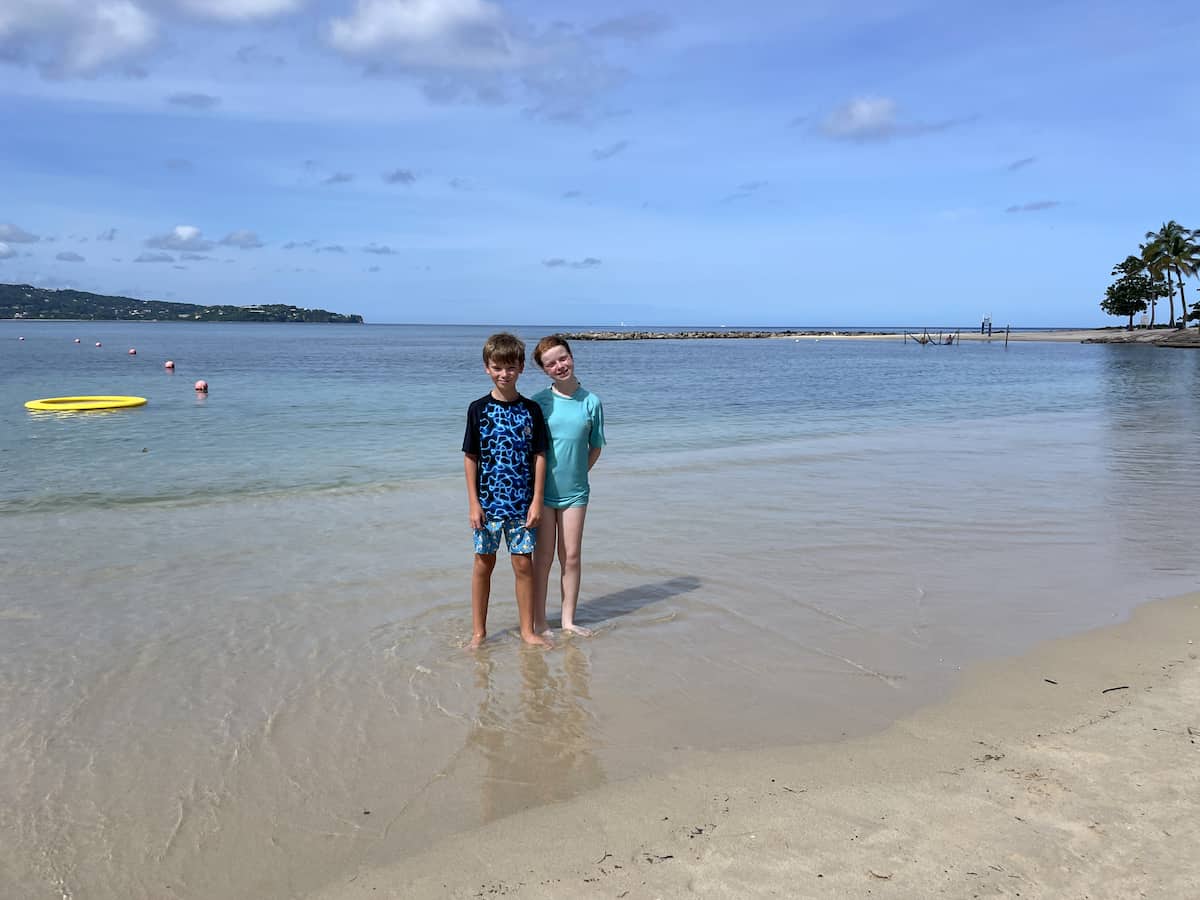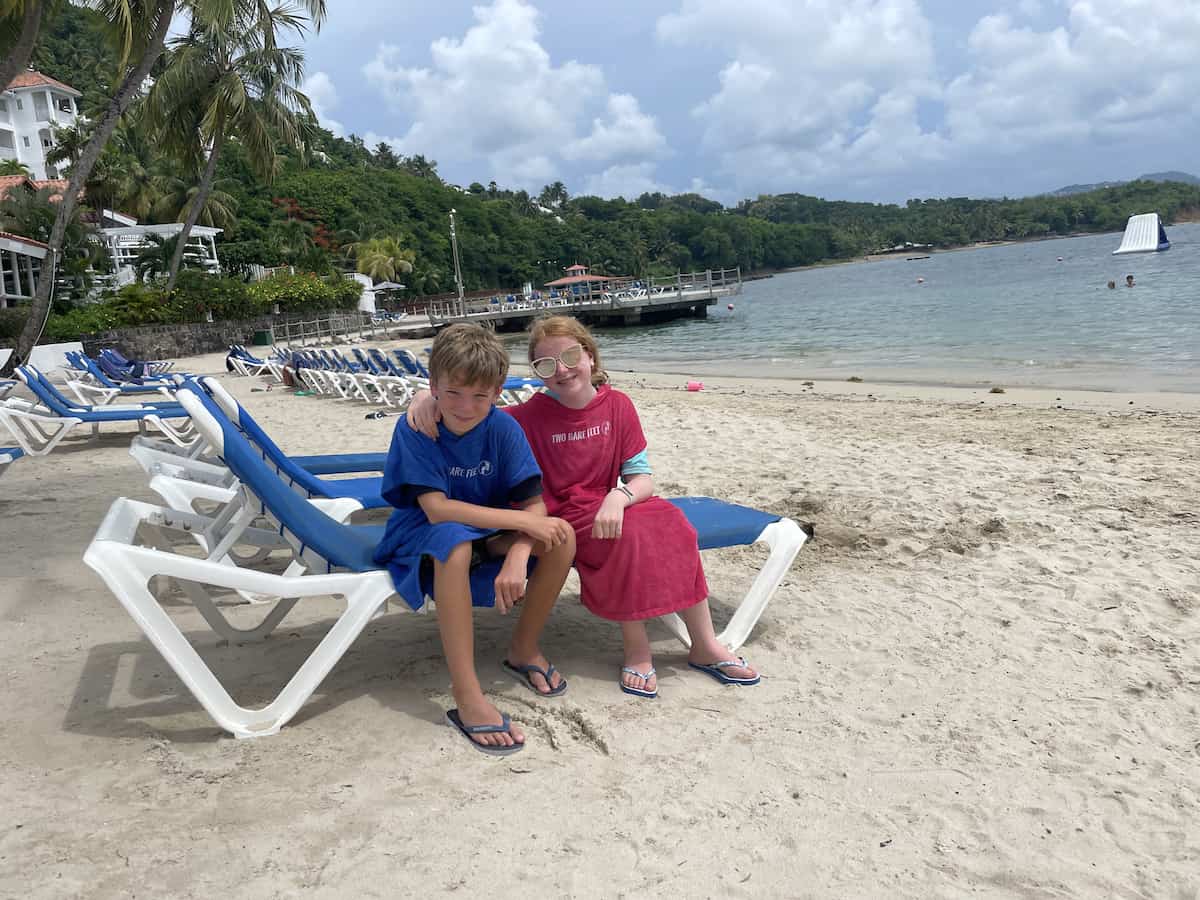 Further out there are hammocks to lay in, a giant slide, a pontoon to rest on or jump off, a giant trampoline and round floats to rest on. There's something for everyone. Dave and LP spent a lot of time snorkelling during the holiday and they saw so many fish and other creatures, they loved it. Water shoes are a must if you're snorkelling as there are quite a lot of things you could step on further out – you wouldn't want to step on a sea urchin with bare feet!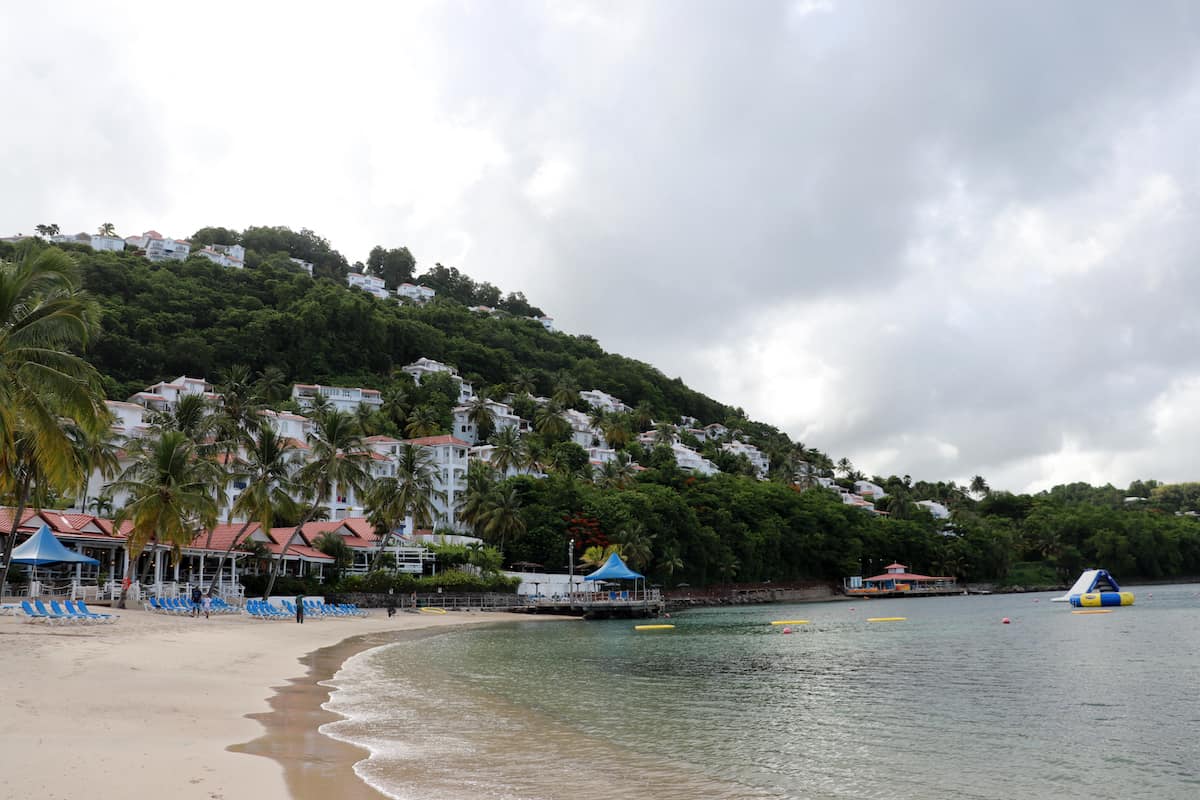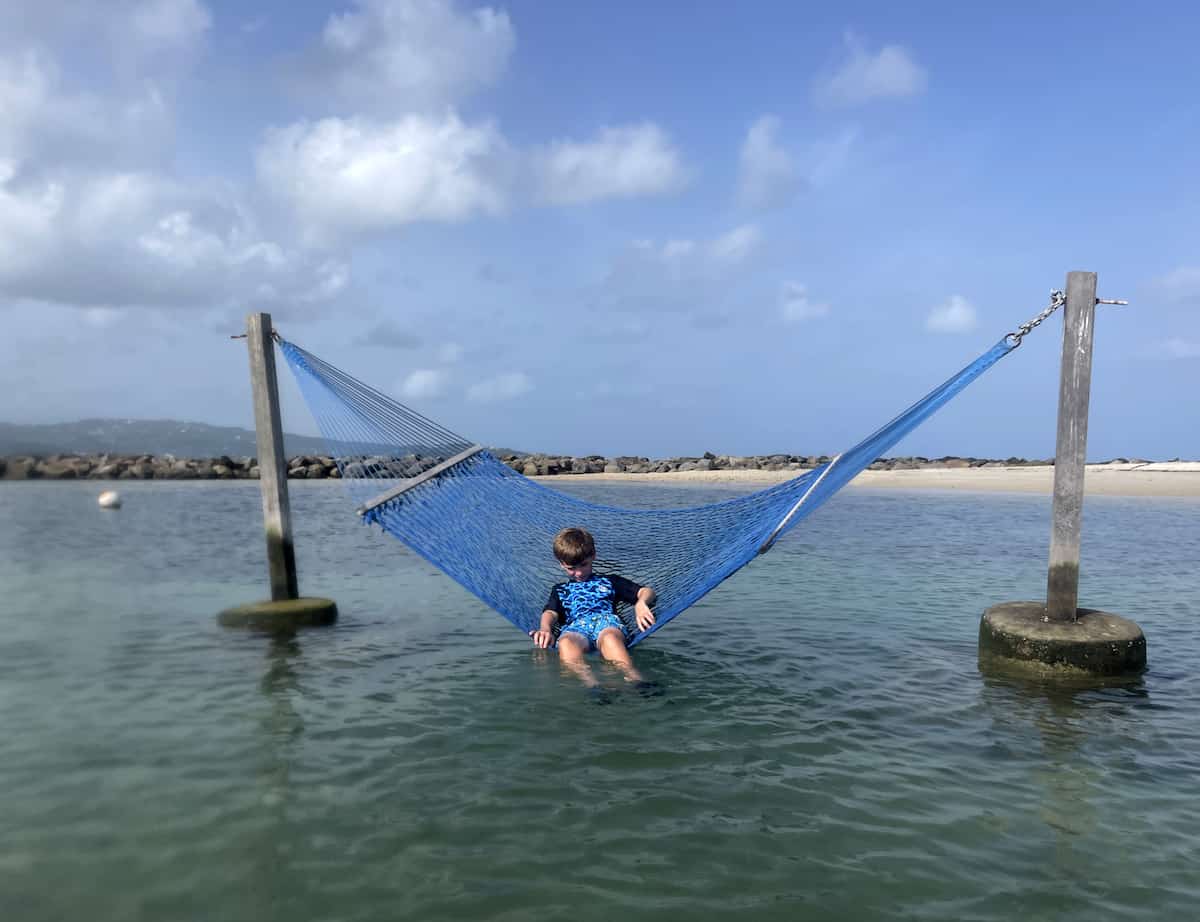 Water sports
Another great part of Windjammer Landing is the water sports offering, with most of the activities included in your stay. Kayaking, sailing, windsurfing, paddle boarding and pedalos and all included as well as snorkeling equipment available to borrow.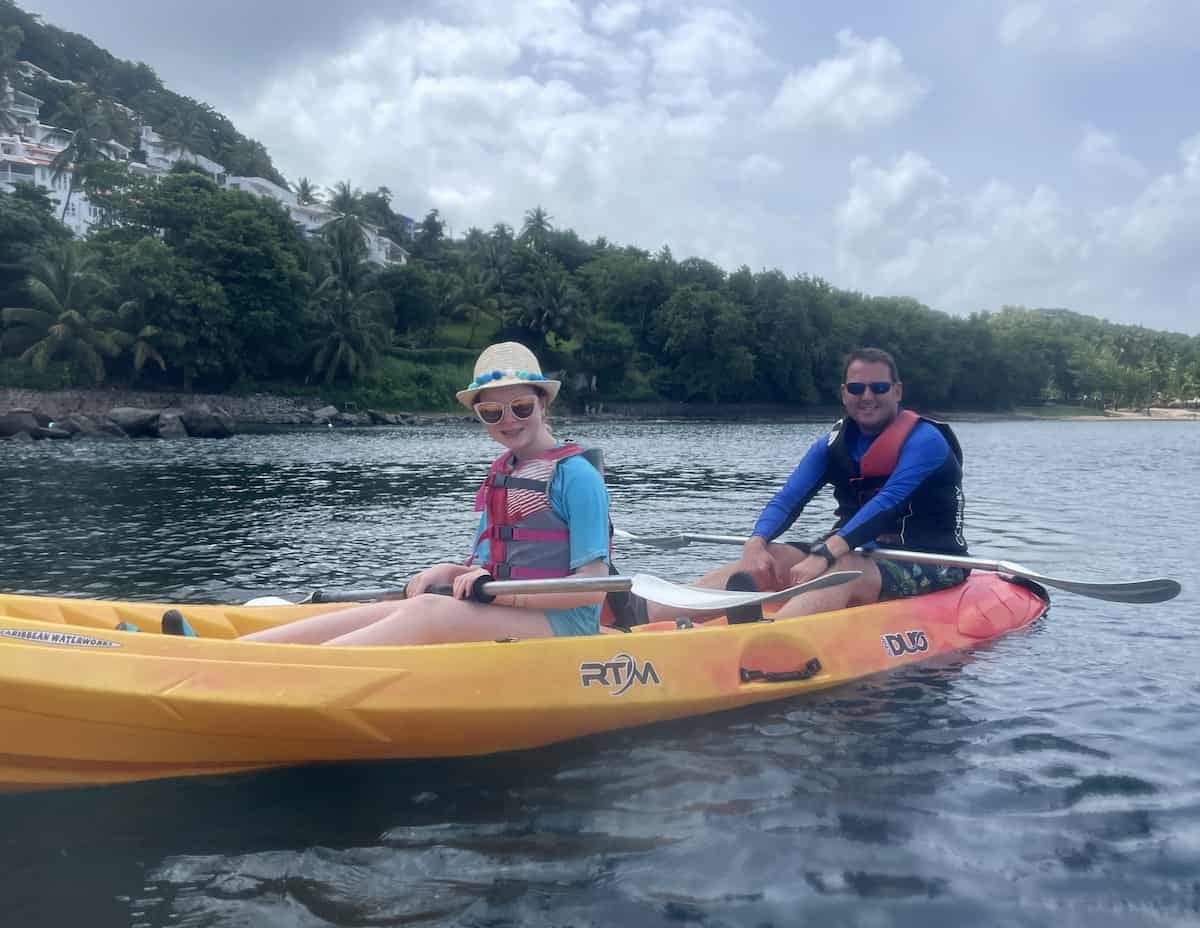 There's also a daily inflatable ride at 4pm which you sign up for at 3pm each day. This could be a tube ride or a pull along sofa and the children loved it although only got up the courage to give it a go just before the end of our trip.
There are also water skiing sessions each day and jet skiing available at an extra charge. We took kayaks, pedalos and paddle boards out a few times during our trip and loved it. It's fantastic to have such great facilities right where you're staying.
Dave also went to the on site dive shop and organised a couple of dives during our holiday. They were affordable – about $150 for a trip consisting of two dives – and he saw so much each time. Turtles, lobsters and shipwrecks to name a few!
Towels
Windjammer Landing have a good towel system where you get a towel card at the start of your day, switch it for towels and get it back when you give the towels back, or just switch dirty towels for fresh ones when you need them.
Entertainment
Windjammer Landing had entertainment from early morning until late at night each day but you don't feel pressured to take part at any point. There's yoga and pilates sessions, competitions, volleyball, kayak races and so much more.
Plus, in the evening there's always music at Jammers Bar, someone performing at Papa Dons and a fantastic beach party on a Thursday complete with a wonderful St Lucian buffet dinner. We enjoyed the meal (again, included in the all inclusive package) and loved seeing the performers eating fire, stilt walking and playing steel drums. It was a great night.
Kids club
Windjammer Landing has a kids club open for all ages each day but LP and Little Man didn't want to go to it – they're not really kids club kids and aren't that keen on organised entertainment!
That said, many kids went to kids club for a morning, afternoon or all day and they all seemed so excited by it. There was so much on offer for them from craft sessions to rock pooling, pool games to sports and even horse riding on the beach for a small extra cost.
The spa
Our holiday included a $100 spa credit so I felt the need to try out the spa during our trip. It was such a beautiful, fresh and airy place with the best air conditioning across the resort! There was always a warm welcome and lovely changing rooms where you're given a locker, robe and a complimentary bottle of water.
I had an aloe vera body treatment to rehydrate my skin just before the end of our trip and it was wonderful! Getting covered in aloe vera, wrapped and left to moisturise whilst you're given a head massage. It was bliss! The spa offer so many treatments with many aimed specifically at men, couples and even children.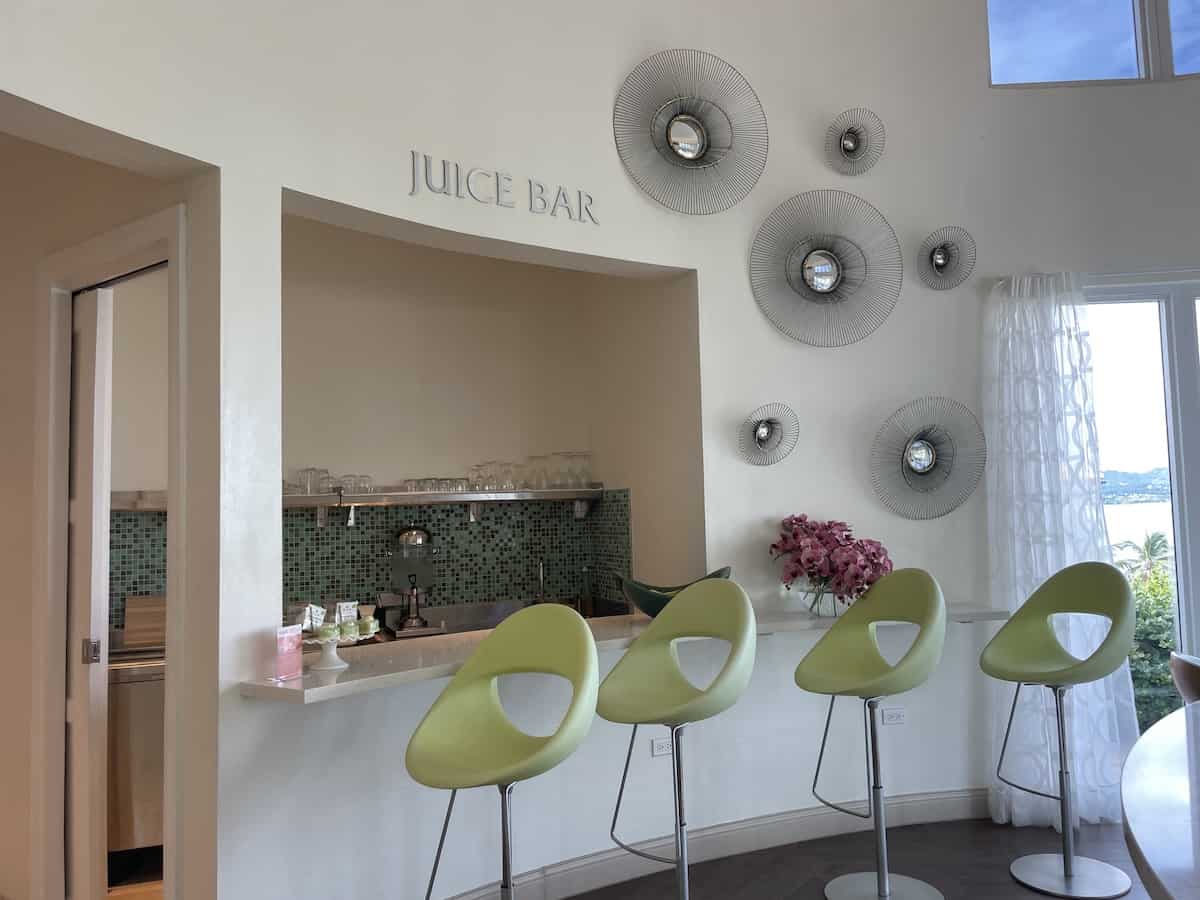 Excursions
Windjammer Landing have an excursions team who can book you on a whole array of trips during your time in St Lucia but we booked tours direct with suppliers before we travelled. You can see all the tours that Windjammer Landing offer on their website.
St Lucia during rainy season
Our trip to St Lucia was during the rainy season which we didn't actually realise until we travelled. However, it was still 31-32 degrees each day and on most days there were passing rain storms. These lasted probably ten minutes before stopping as quickly as they started and with blazing sunshine soon after.
We only had one day where it rained solidly and it was actually a nice change. We played games all day and had real down time and it was lovely. Our last week we had pretty much solidly sunshine every day – and it was nearly unbearable at times. We welcomed the rain as it kept the temperature down.
Wildlife at Windjammer Landing
Having been to a lot of tropical hotels, wildlife is something we're used to but I know it's not for everyone. Windjammer Landing is mostly open to the elements with restaurants covered but open air at the sides. Many get birds coming and going and there are insects all over the place. It's island life and something you get used to but I know there are people who would hate for birds to be sitting on the next table whilst they're having their breakfast!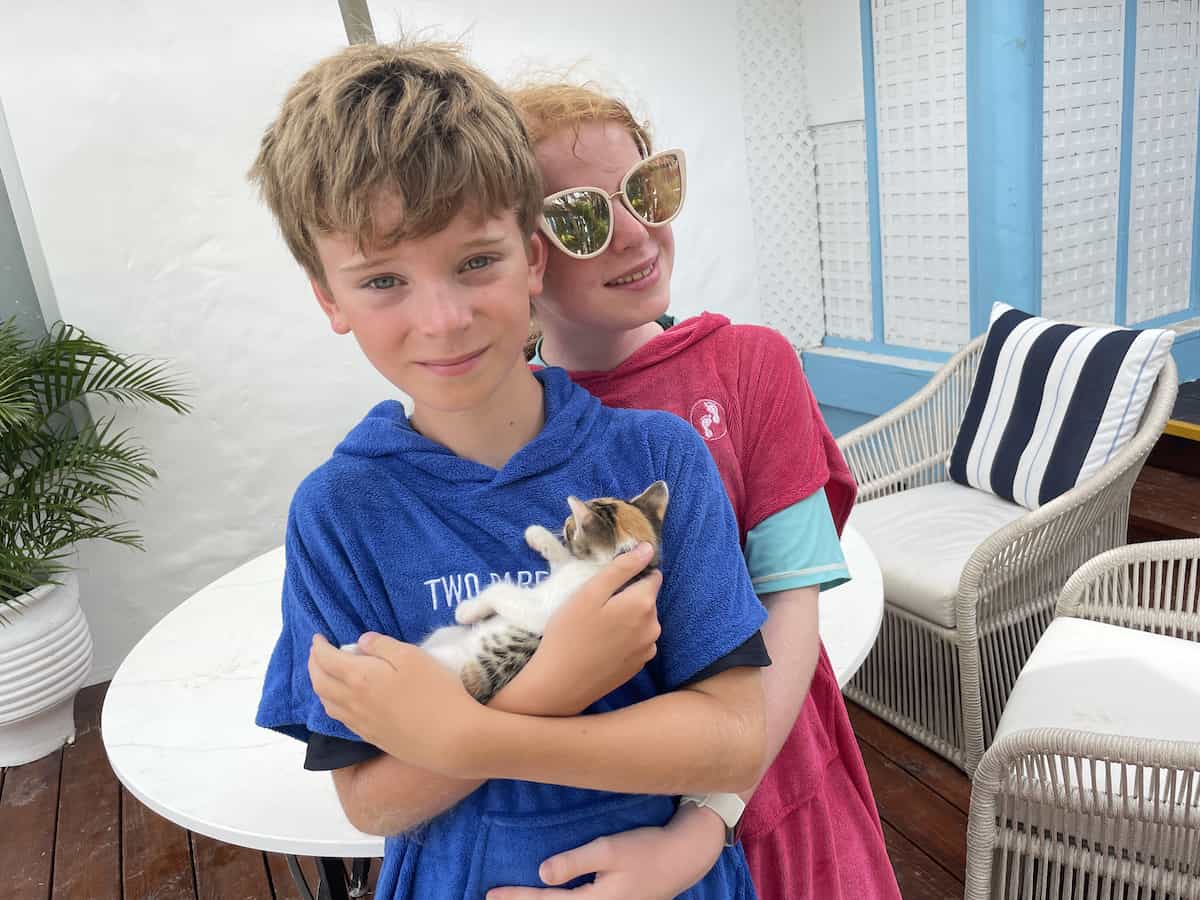 Cats are also everywhere at Windjammer Landing. They don't bother anyone and you can easily ignore them but, if you feed them they get to know you and sit next to you at meal times silently begging for food. We loved the cats, and the children fell in love with a bunch of kittens during our stay, but I know, again, having cats all around the resort may not be for everyone.
Does Windjammer Landing have room to improve?
Our holiday at Windjammer Landing was wonderful and really it was a 5 star experience for us. But, I always like to think of a few little things that places could do to improve.
We would have loved for the fridge in our room to have an actual mini bar in it. Some bottled water and cans of soda would have been much appreciated.
It would be great if the hotel could have one quick, maybe buffet option for dinner. There were nights where the children were tired and a long drawn out dinner wasn't for them. Room service is an option but, an alternative could be somewhere you can go and help yourself to a quick buffet dinner, being in and out in half an hour.
The Jammers children's menu got very repetitive during our trip, with it being offered at lunch and dinner at Jammers and also at Upper Deck and Dragonfly. It would be good if the hotel had a little more variety where children are concerned – although ours loved the Embers and Papa Don's children's menus – and the Jammer's Children's menu in moderation!
Lastly, I would love for Windjammer Landing to introduce a bookshelf for guests to pick up a book to read and leave the books they've left. It's something I've loved in other hotels and was surprised that Windjammer Landing didn't have one.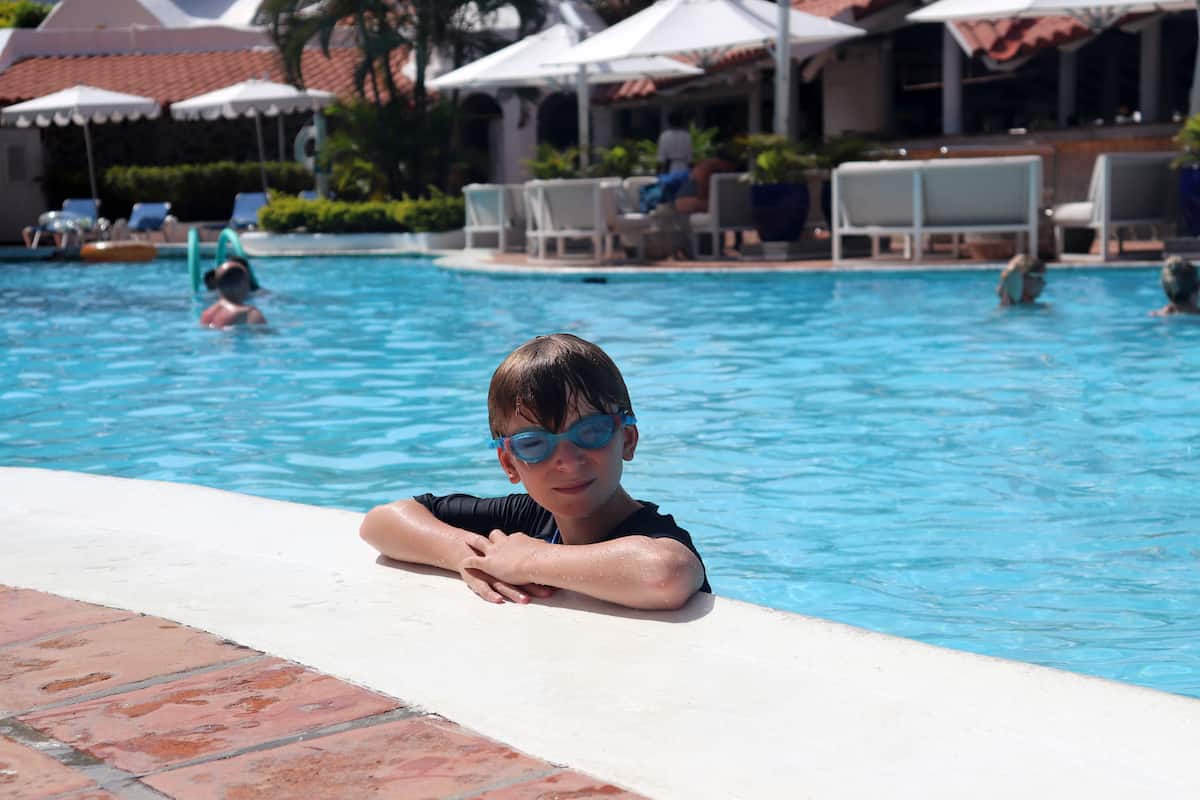 We had a fantastic time at Windjammer Landing. Our first trip to St Lucia and our first experience of a really premium All Inclusive offering. We really couldn't fault it and it was a holiday we would happily repeat next year!
Find out more about Windjammer Landing Saint Lucia over on their website and take a look on the British Airways website to book the same package as us. You can also see a video of our trip here and a little Reel on Instagram here.